The noble endeavor of choosing the perfect wedding gifts for mother of the bride is a wonderful opportunity to convey emotional thanks for her extraordinary role in the bride's life and the thorough wedding arrangements. The carefully chosen symbols of affection are a wonderful way to communicate how much you adore her. Whether you're seeking a heartfelt memento to cherish or a luxurious treat to indulge her senses, the world of gifting is brimming with delightful choices.
Let's take a deep breath and release all that stress because, guess what? It's okay if you haven't quite nailed that perfect present idea yet. Oh Canvas gives an amazing selection for those wishing to present their beloved mother with a token of their deepest affection and gratitude. So, grab your favorite cup of tea, cozy up in your comfiest spot, and get started on this gift-giving adventure together!
Best Personalized Wedding Gifts For Mother Of The Bride
1. Photo Pillow Cover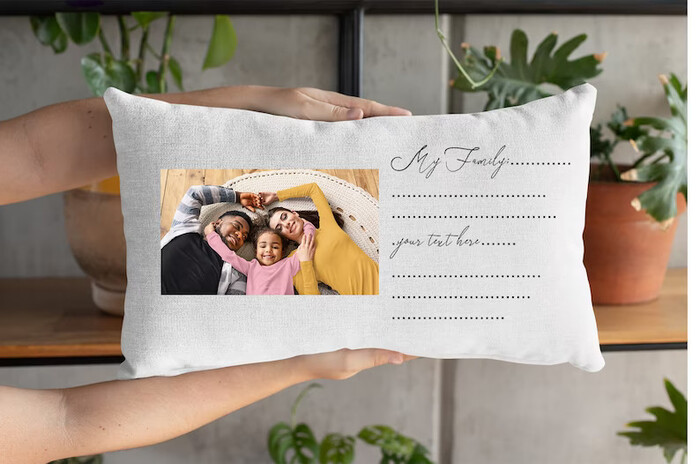 If you're looking for sentimental wedding gifts for mother of the bride, these photo-printed pillowcases are the way to go. It's a terrific way to add a personal touch to any area, whether it's for yourself or a loved one, or even as a novelty gift for a friend or family member.
What we love:
Our quality 100% polyester pillow cover will elevate the look of your bedroom or living area.
Can personalize it with your favorite photos, and touching messages.
These standard-sized pillowcases will add a splash of color to any couch, bed, or chair in your house.
2. Bath Caddy Tray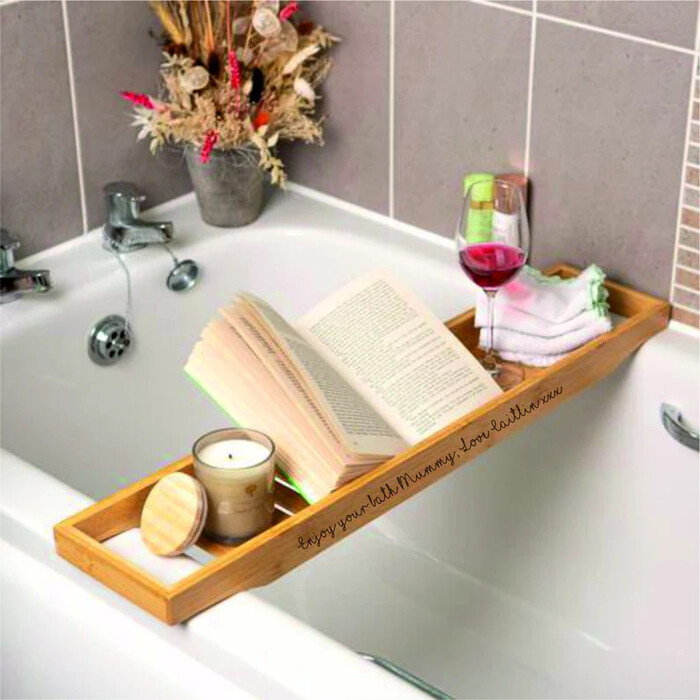 Your mother will love the Bath Caddy Tray as a present because it makes bath time more relaxing and convenient for her! Using this tray, we're sure that your mother will have a delightful time getting ready for bed.
What we love:
This bathtub table is made from eco-friendly premium bamboo and is lacquered for protection against water and wear.
To set the scene and unwind on a date night in, use this expandable bathtub tray that seats up to two people.
Every essential needed to send you to a spa-like state of relaxation is included in this bathtub tray.
3. Cheese Board Set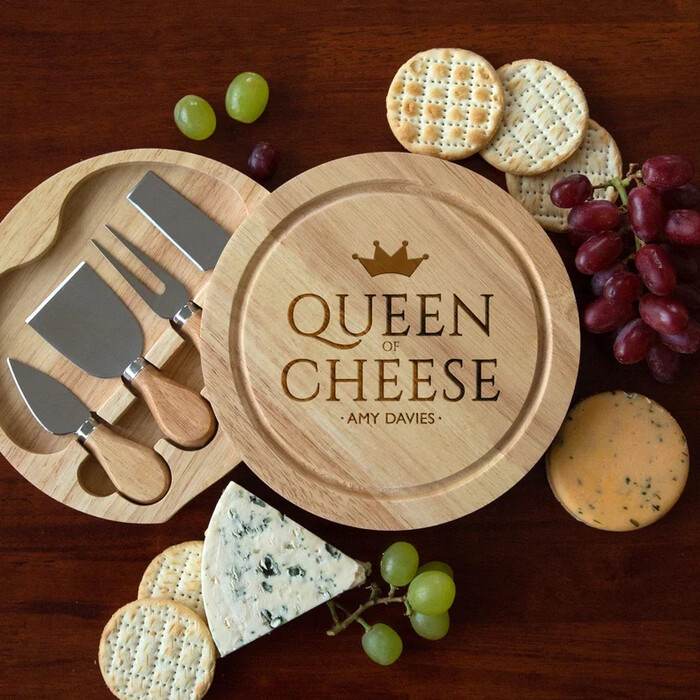 When she's not using it to contain cheese, crackers, or other grocery store snacks, it also serves to protect her fingers by concealing a set of knives. If you're a person who hosts, you get it.
4. To My World Canvas Print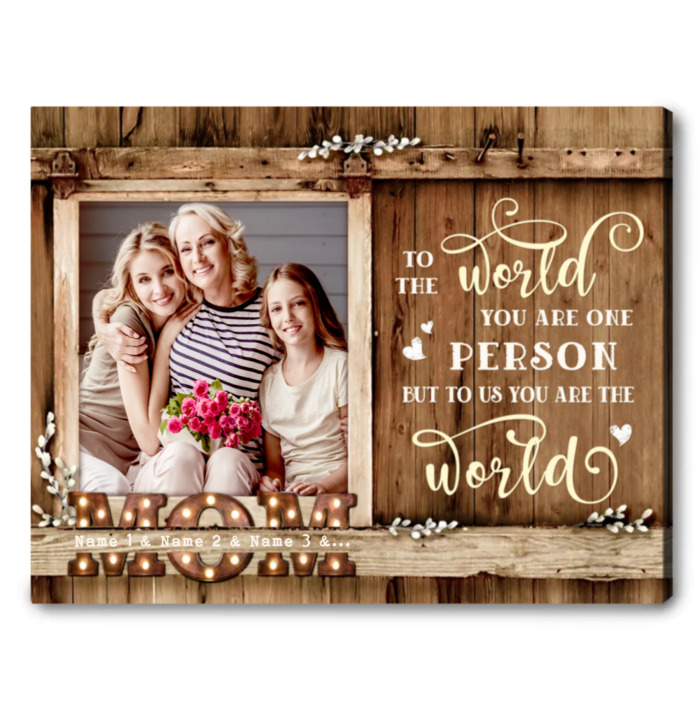 Your mother will treasure these unique and meaningful wedding gifts for mother of the bride for years to come on the day of her daughter's nuptials. You can add your photos to this customizable canvas print of a poem dedicated to your mum.
5. Customized Handwriting Bracelet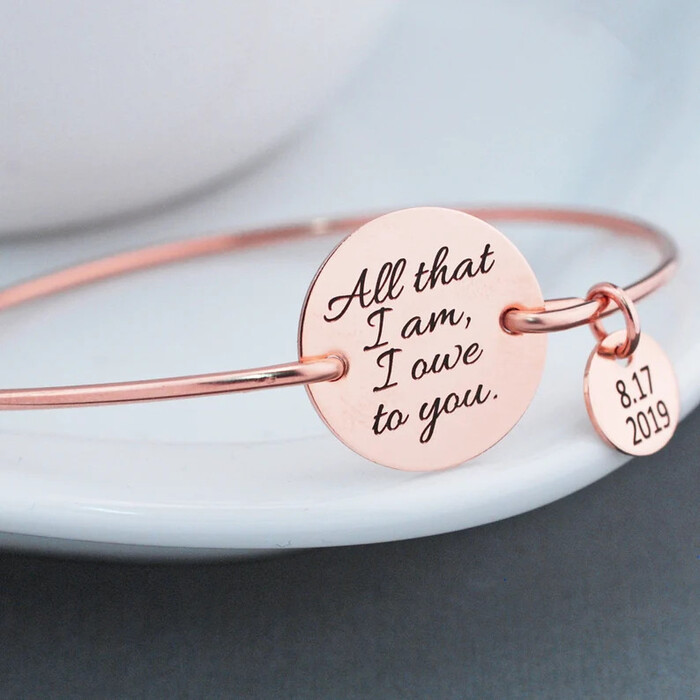 In search of the best mother of the bride gift? Personalize a gift for your mother with this heartfelt handwriting by having it engraved on a bracelet. Get ready for a hug when you select the metal and provide a photo of what you want it to say.
6. Personalized Photo Clutch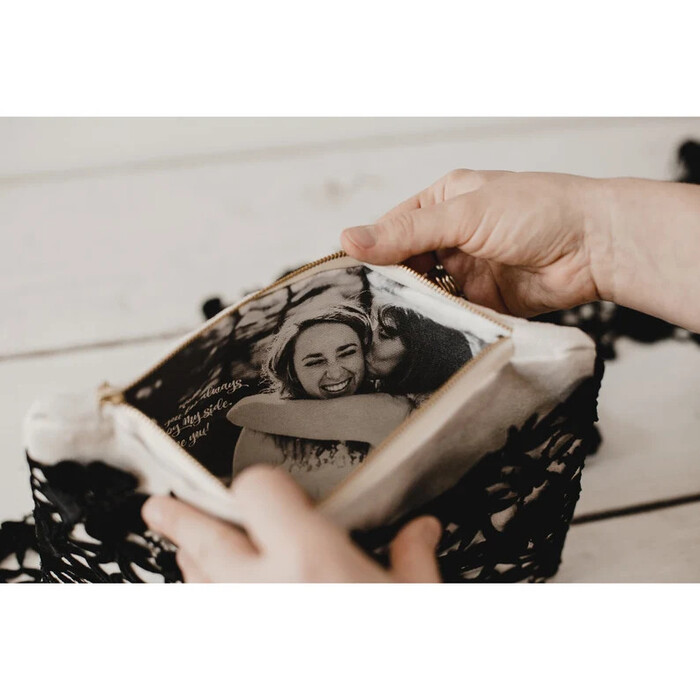 Looking for the best mother of the bride gifts? Your mother's dress would be complete with this beautiful purse, but the best part is the secret it holds. This clutch may be personalized by choosing a photograph to be printed on the inside of the bag when she opens it.
7. Personalized Jewelry Box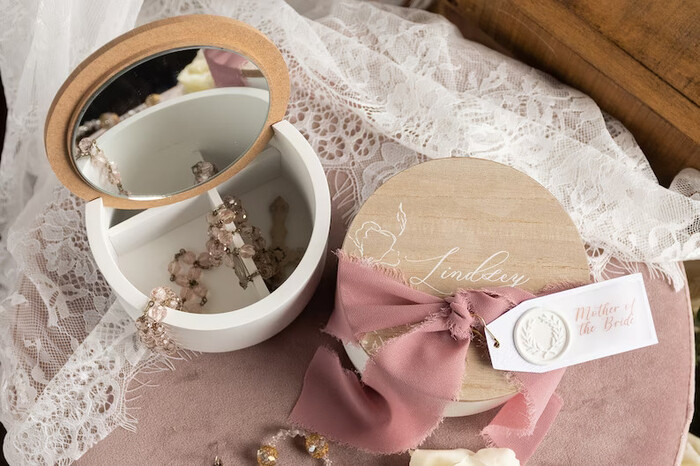 Your mother will be delighted to receive this bright jewelry box. This classic box would be perfect for storing her most prized possessions.
what we love:
This adorable jewelry box can be customized with your little girl's name, a date, or two lines of any other custom writing you like.
When you open the top, you'll find a superb vanity mirror and a horizontal pouch for stashing away any extra accessories.
8. Photo Necklace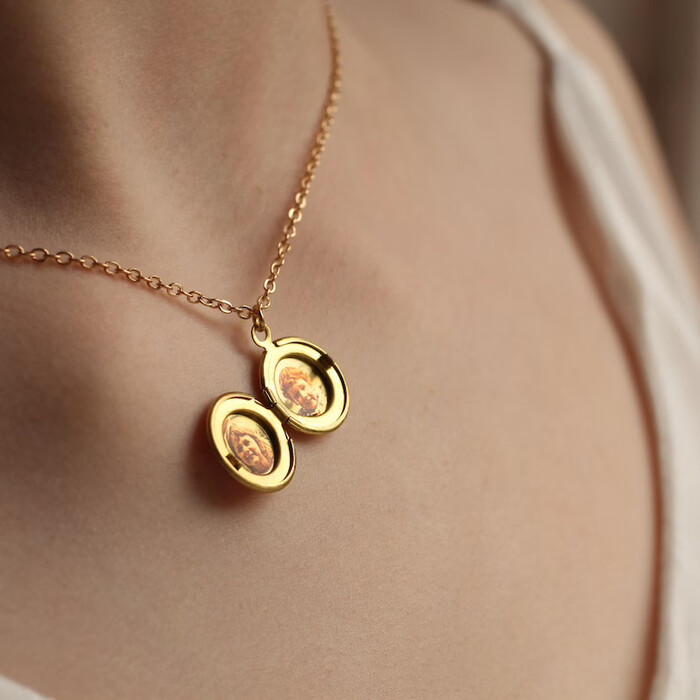 Personalized gifts make the best wedding presents. Wear a necklace with a special photo as a memento for years to come. Every day, she'll be able to keep this close to her heart.
what we love:
Your loved one will always be able to be beside you in your heart, no matter the distance.
Each necklace is custom-made, designed, and handcrafted by talented craftsmen.
It makes for a precious keepsake since the pendant is personalized with your favorite photo.
9. Mother Of The Bride Tote Bag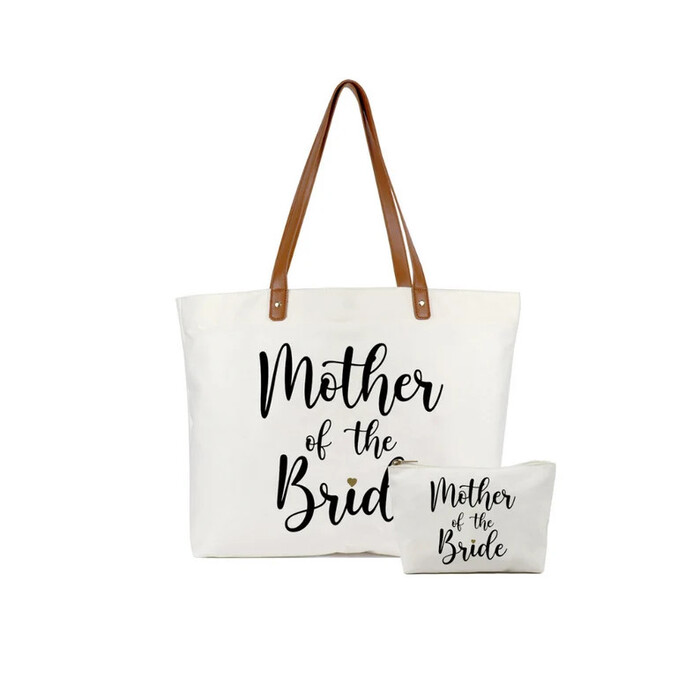 Looking for a bag that can serve as both a fashion item and a functional everyday carryall? By giving Mom one of these environmentally friendly reusable shopping bags, you will be helping her save money and save the environment at the same time! Even on the busiest of days, she'll be reminded of your affection thanks to a customized style.
10. No Matter How Big We Get Canvas Art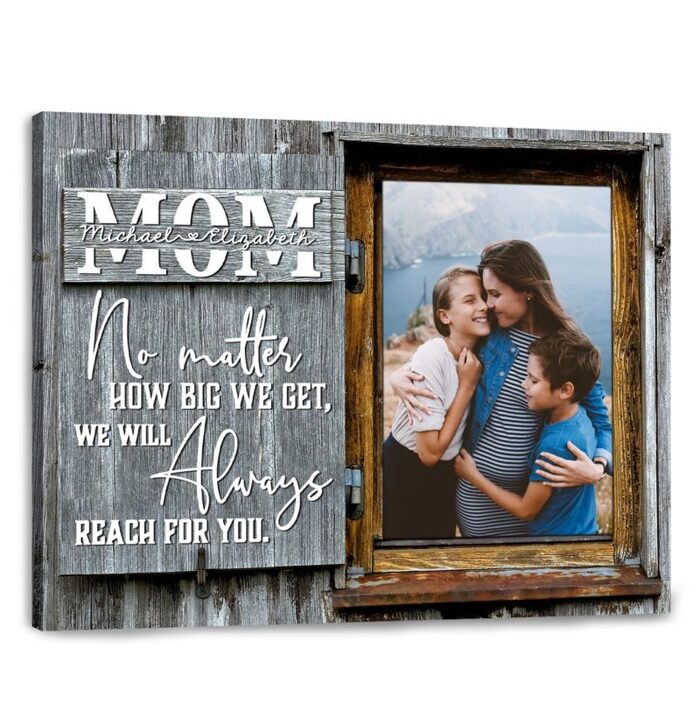 Be thoughtful and give your mum a lasting memory. You can show your mom how much you love her with this personalized photo plaque. You can personalize it with a photo, a new name, and the date of your wedding.
11. Personalized Photo Blanket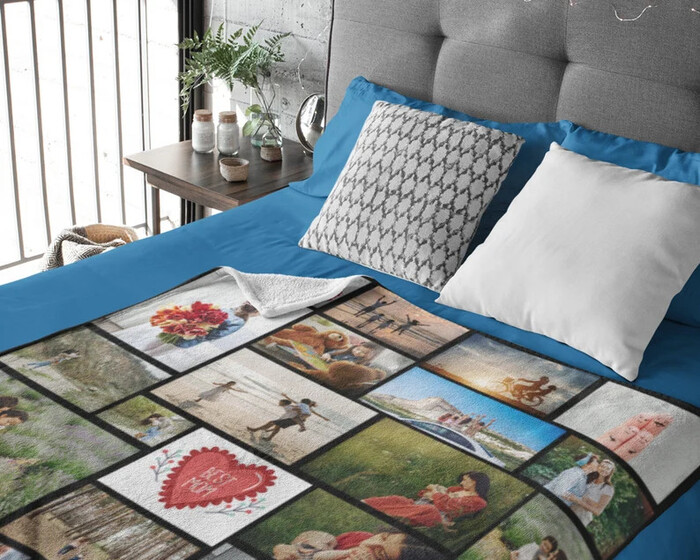 Personalize a fleece blanket with a photo of your mother to give her as a gift. She'll be reminded of all the affection she has around her when she curls up in bed. This wedding gift for your parents will be perfect for a summertime picnic or for curling up on the couch.
what we love:
The premium version of these photo blankets is made with an additional layer of incredibly downy plush, making it even softer and cozier than the standard polar fleece.
Custom blankets display a full-area print of any image you choose in vibrant color, making them the perfect gift.
12. Glass Magnets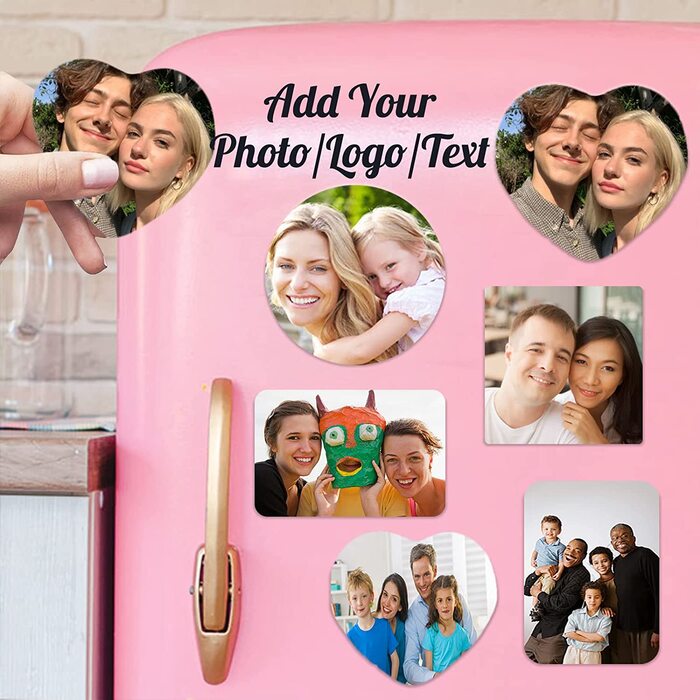 Personalize Mom's fridge with your magnets. Photos, memorable messages, and bold hues are all welcome additions. You can guarantee she'll be beaming whenever she sees a picture or postcard on the fridge.
13. Family Photo Calendar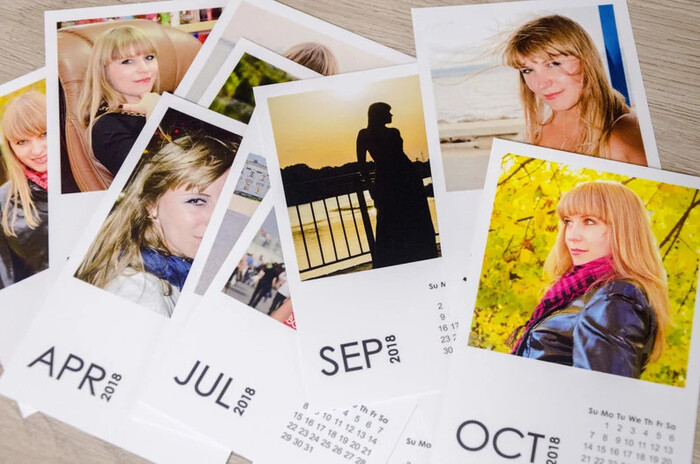 Organize a year's worth of memories for her to savor. There's more than enough family vacation, wedding, graduation party, and anniversary photography for you to draw from after all these years.
14. Mother of the Bride Mug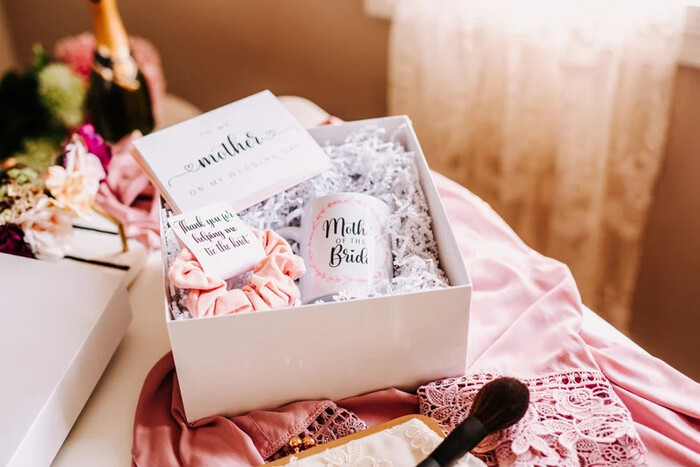 For the morning of the wedding, we believe these mugs would be the ideal mother of the bride gifts. They would also look lovely in photos taken by your photographer while you get ready. Make it extra special by adding your wedding date to the cup.
15. Makeup Bag for mother of bride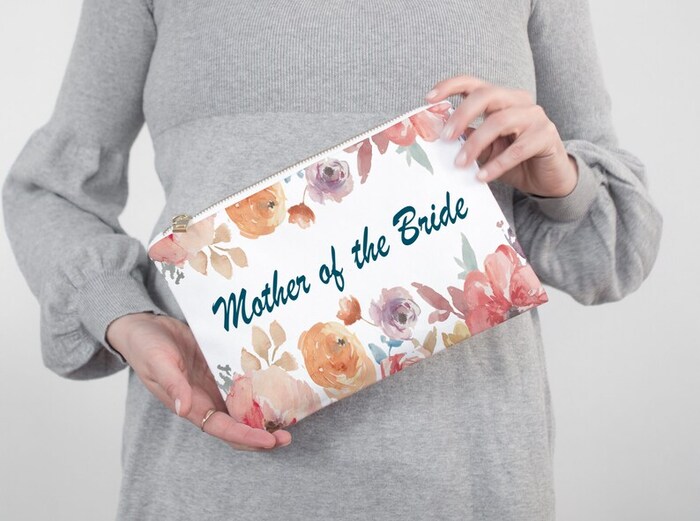 Treat her to a new beauty bag if she's doing her makeup on the day of the wedding. This tote bag, which can be customized with a wedding date, is one of our favorites. If you'd like to buy matching gifts, there is also a version for the mother of the bride!
16. Personalized Jewelry Dish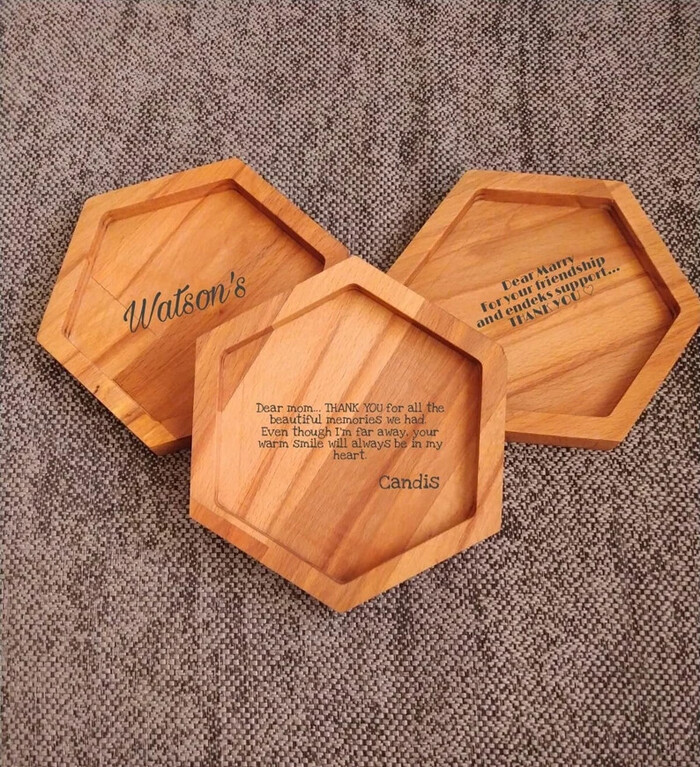 When it comes to partying and hosting, this platter is a must-have for your mother's china cabinet! An heirloom-quality bracelet that can be made with your mother's initials and the date of your wedding is on sale.
17. Mother of the Bride Wine Glass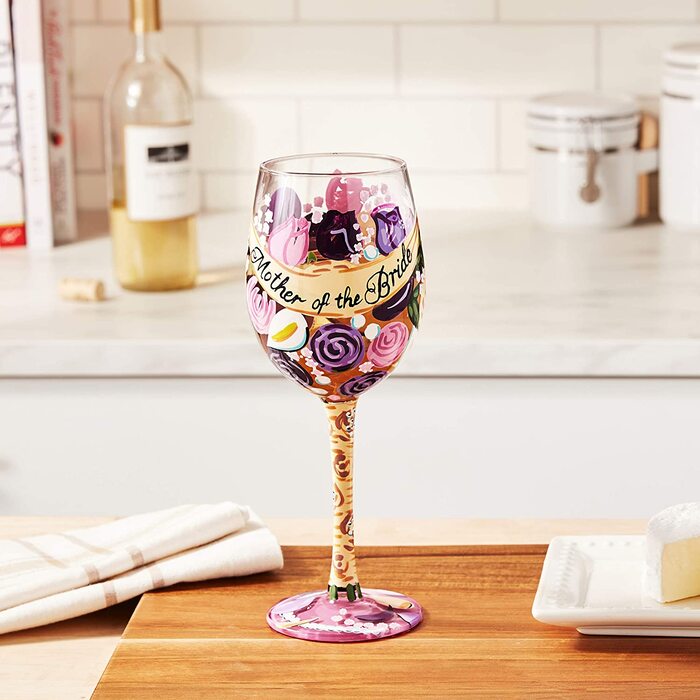 Cocktails are etched into the base of each stemmed glass. As a bonus, you'll also get to try out a new favorite cocktail to go with the glass you've just purchased! This glass is a one-of-a-kind work of art, each wrapped in a colorful gift box and hand-painted with designs to suit any personality.
18. Dear Mom Canvas Painting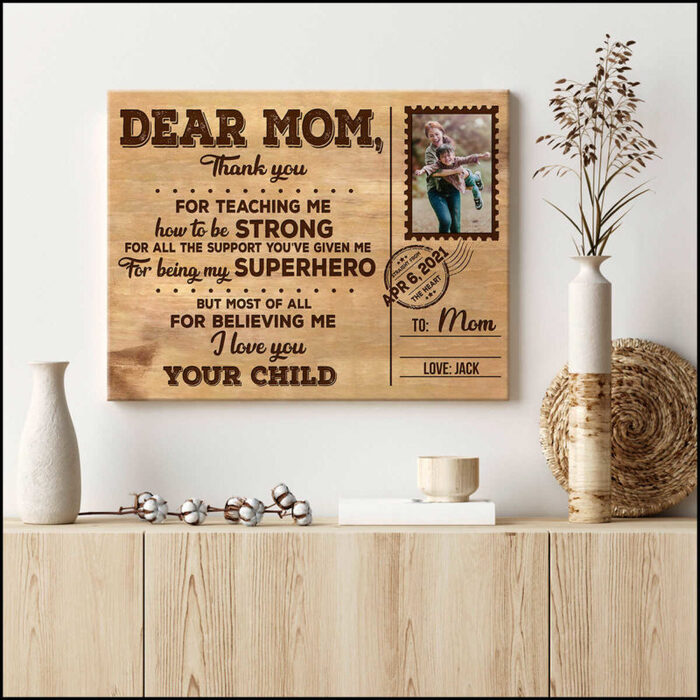 The "Dear Mom" Canvas Print is a meaningful and long-lasting present of devotion that will always remind her of how much you value her. This work of art is a permanent representation of your gratitude and affection. Create a genuinely personal wedding gifts for mother of the bride by adding your name and beautiful messages. Your mother will remember your thoughtfulness and enjoy the lovely design and one-of-a-kind touches you included.
19. Engraved Wooden Tray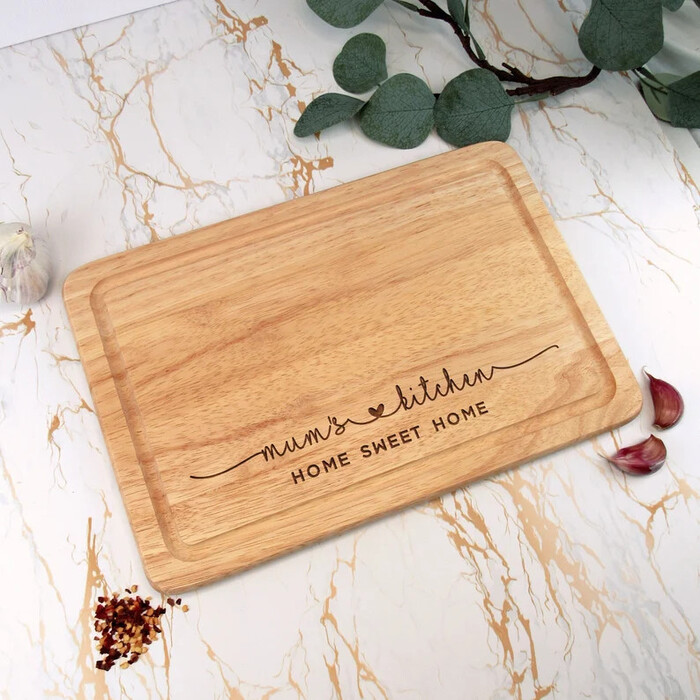 These one-of-a-kind cutting boards, which include a handwritten recipe laser engraved into them, will appeal to moms of all stripes. She plans to utilize her new item for many years.
20. Gift Box Set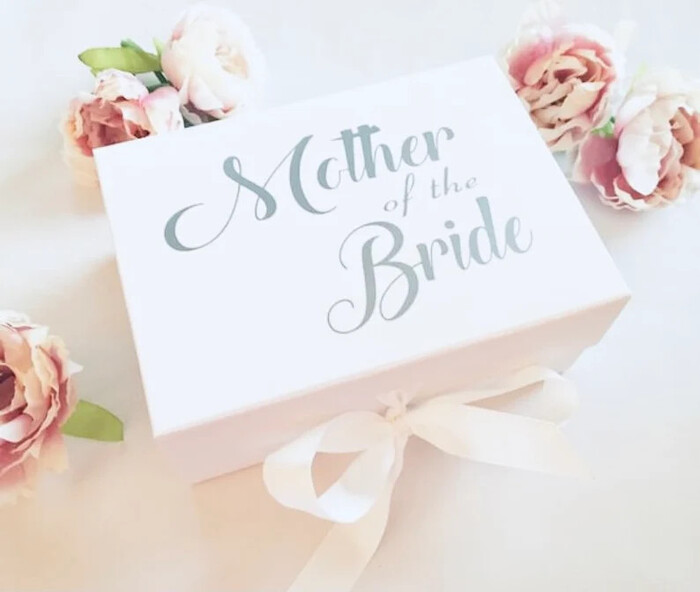 If you're stumped on finding wedding gifts for mother of the bride, don't limit yourself to just one present. Purchase a Mother of the Bride gift bundle as an alternative to an individual item. For the ultimate gifting experience, give someone the gift of their choice with this multi-piece gift box set.
21. Family Names Canvas Print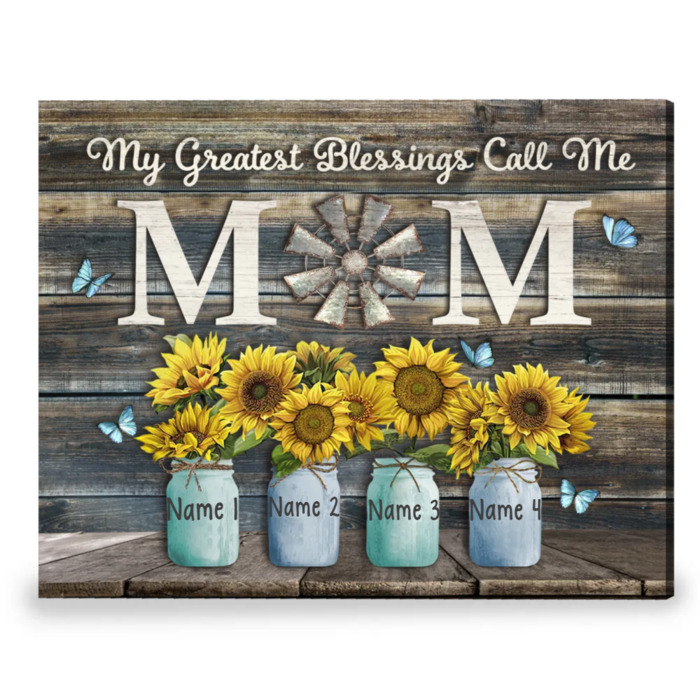 Believe us when we tell you that this one is going to bring her to tears. A canvas painting of you and your mother on your wedding day is a treasured keepsake that will most likely occupy pride of position on her mantelpiece. In addition to a matte print or canvas, you have the option of selecting from a variety of different sizes.
>>> Read more: 40+ Unforgettable Wedding Gift For Father Of The Bride
Awesome Wedding Gifts for A Self-Care Addict Mother
22. Self-Care Book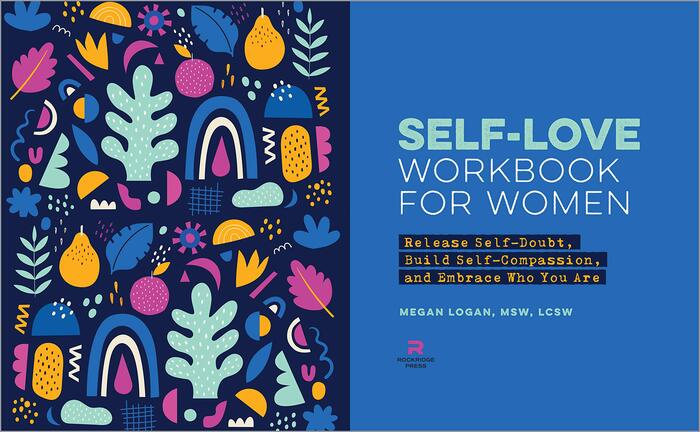 Every mom is aware of the importance of prioritizing her well-being. But, how do you go about doing it? That's a hard one. Even if she only has five minutes to herself every day, this book provides some excellent ideas.
23. Spa Treatment
Take your mum to a spa to rest and unwind from the stress of the wedding preparations. Mothers who enjoy taking care of themselves will undoubtedly appreciate this present.
what we love:
Give your mother a spa gift card as a way to remind her to focus on her own self-care.
Many spa treatments have health benefits, such as increased circulation, reduced muscle tension, and stress relief.
24. Hair Shampoo & Conditioner Bar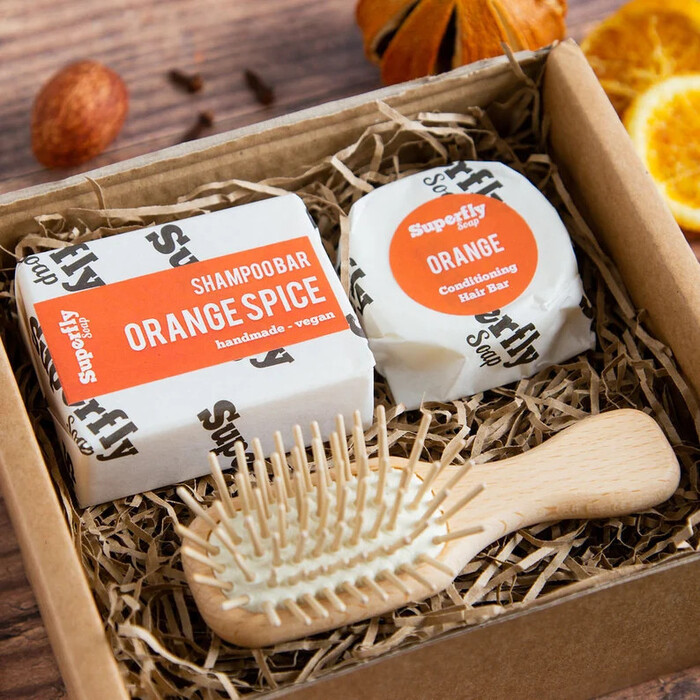 If you're attempting to cut down on the amount of waste you produce, shampoo and conditioner bars are essential products. She'll love the way her hair smells and looks after using this kit, which is made with organic components.
25. Facial Toning Device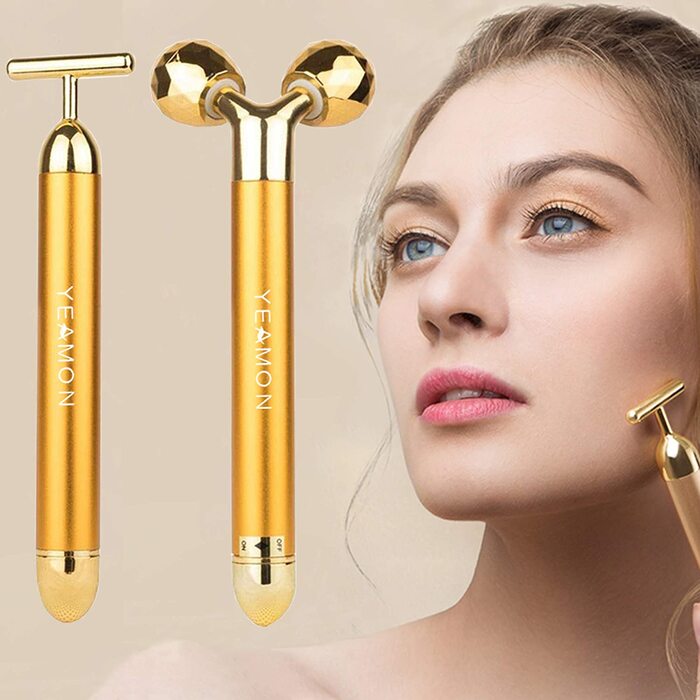 This beauty appliance is a must-have for any mother who enjoys pampering her skin (night, and afternoon). It can be used to tone and firm the skin by using this gadget, which comes with a mild gel that helps smooth and hydrate the skin. Don't miss out on this magical piece when finding the best mother of the bride gift.
what we love:
Improves facial contour, tone, and the appearance of fine lines and wrinkles by stimulating the larger surface regions of your face and neck with microcurrent.
Top estheticians' favorite technology is now available for home usage.
Fits in your luggage or purse whether traveling or running errands.
26. Mental Wealth Subscription Box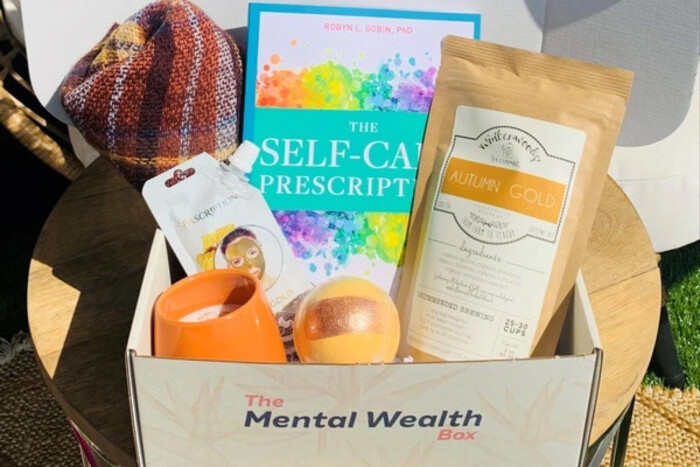 The best way for a mom to instill the importance of mindfulness in her children is to send them inspirational quotations and encourage them to slow down and enjoy the little things in life. This box provides a conduit for that energy, providing her with monthly materials to help her de-stress, ease her anxiety, or simply learn more about mental health.
27. Hand Care Gift Set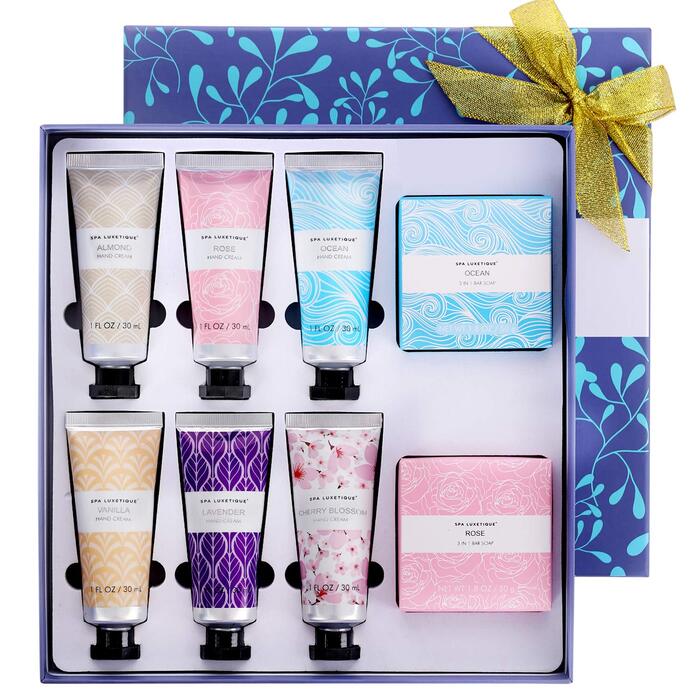 These lovely scents will be irresistible to moms who enjoy luxury soaps. She will be delighted by these fantastic wedding gifts for mother of the bride from you.
what we love:
These hand lotions are 100% natural and made without parabens, phthalates, petrolatum, or SLS to revitalize your skin.
This 6-piece lotion collection is infused with distinctive scents created by renowned French perfumers.
28. The Essentials Oil Kit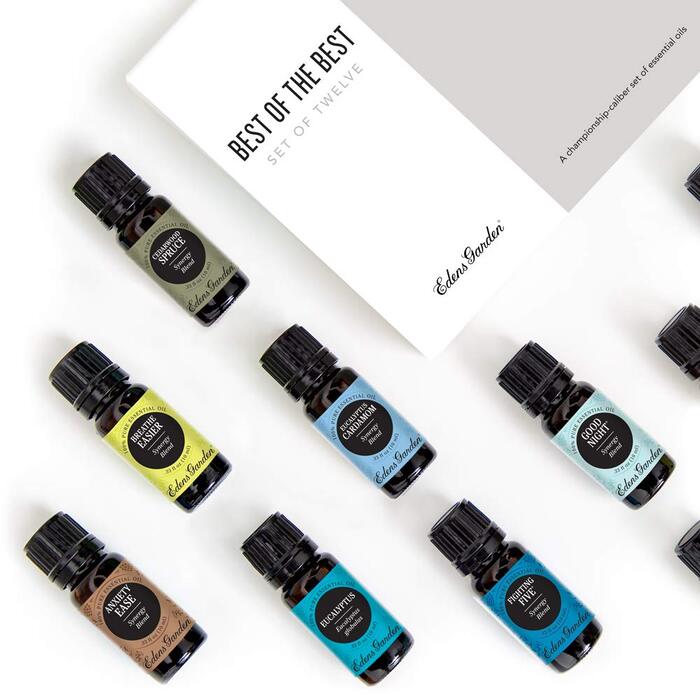 In this essential oil gift set, the aromas of grapefruit and lavender are sure to help the exhausted mother unwind after a long day. Your mother will appreciate the thoughtfulness and practicality of a gift of natural oil.
29. Skincare Gift Box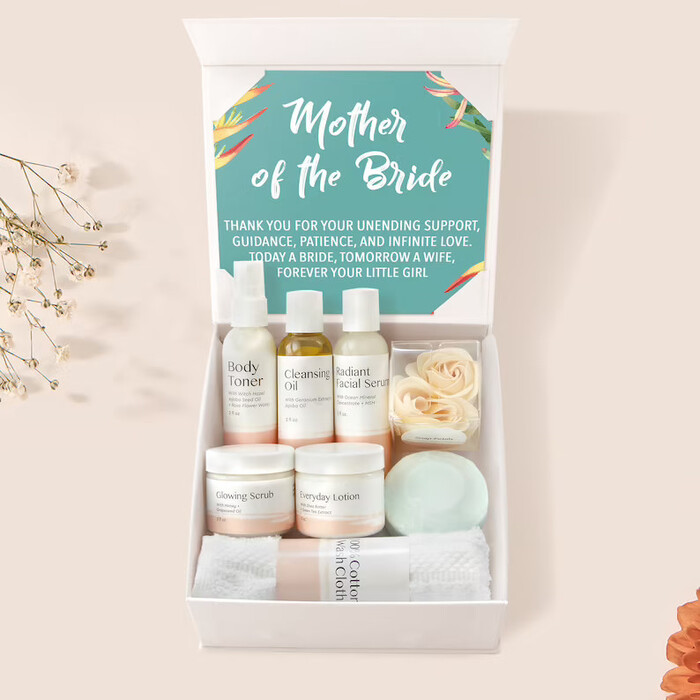 Any mother is concerned about her skin, especially as she gets older. On this wedding gifts for mother of the bride list, you can't miss out on a gift box full of skincare goods that your mother adores.
30. Tea Meditation Gift Set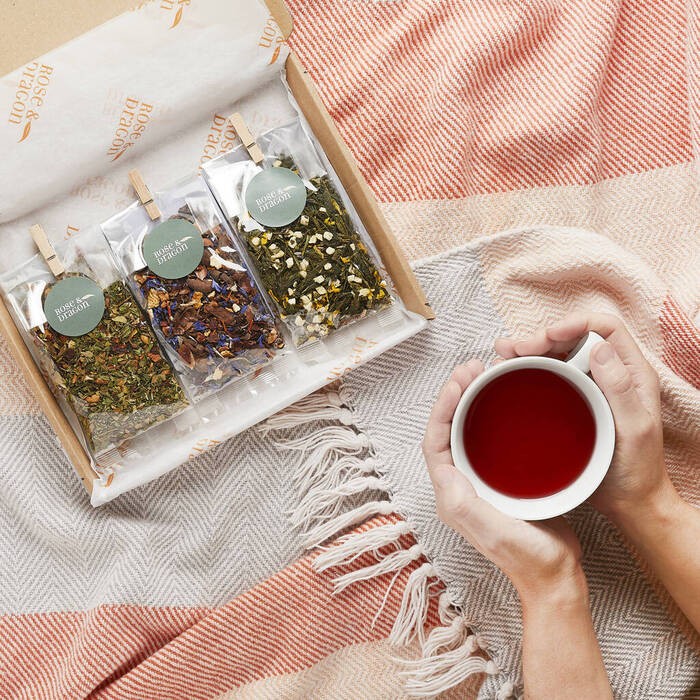 Taking a few deep breaths at a red light isn't enough self-care, and we need to talk. Using this tea meditation set in the morning will help her relax her thoughts and soothe her soul. With each mindful offering, she'll find a herbal combination enlivened with cinnamon and citrus, as well as a porcelain cup that fits perfectly in her hand. Using a meditation card, she may change her morning cup of tea into an opportunity to cultivate a sense of well-being.
31. Healing Bracelet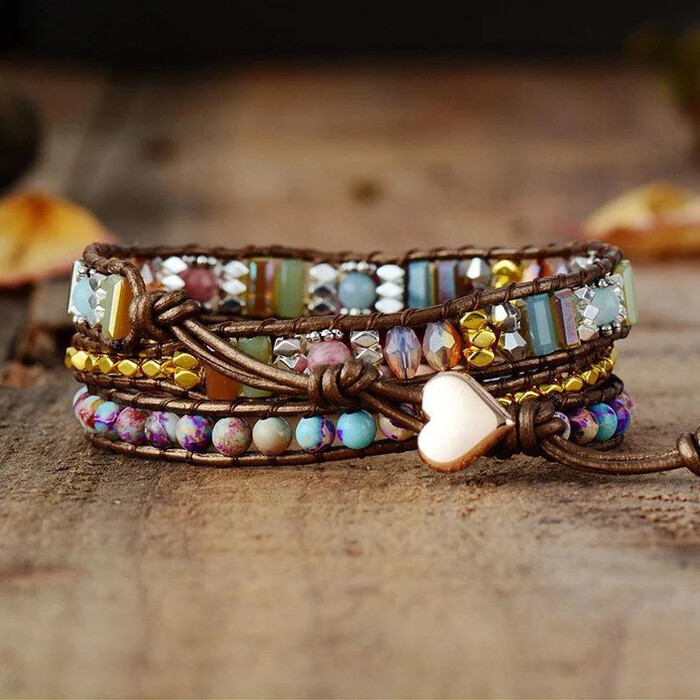 The chakras are a collective term for the body's seven major energy centers. They run the length of the spine, and each one has a unique meaning. All of the seven chakras should be open and in balance with each other so that energy can flow freely through them to achieve a healthy state of mind, body, and soul. Anybody who could benefit from a little more symmetry in their life will love this healing bracelet!
what we love:
Wearing healing bracelets in your daily life to eliminate negative energy.
Wrap bracelet created without metal, perfect for those with metal allergies.
Have a button to adjust the bracelet's size. Brown thread is handwoven throughout natural brown leather.
>>> Read more: 41+ Superb Wedding Gifts for Sister That Make She Say Wow
Ideal Wedding Gifts For The Bride's Mother Who Enjoys Cooking
32. Cookware Set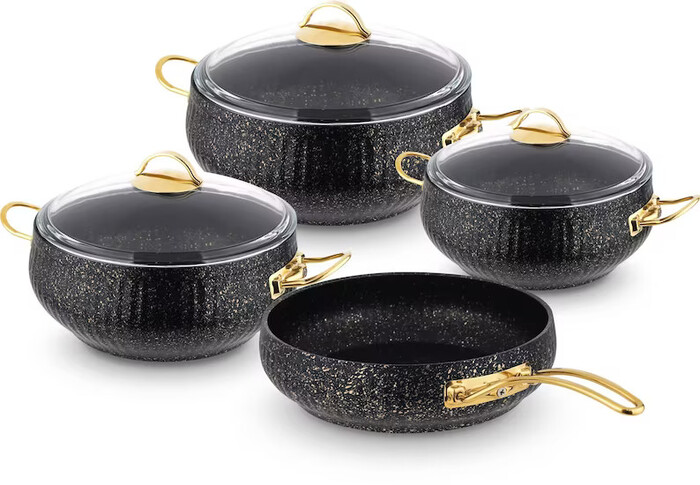 Choosing a present that reflects your relationship with your mother is a great way to win her over. If she taught you everything you know about cooking, treat yourself to a new set of cookware in celebration of all the beautiful memories you have of her.
33. Air Fry Oven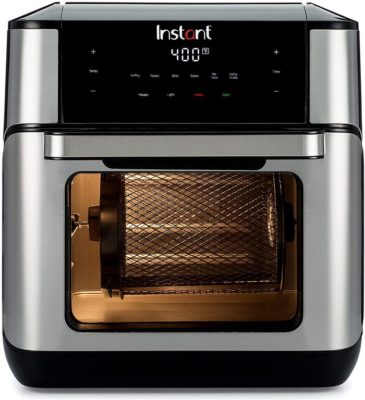 She may already own an air fryer, but this dual air fryer-toaster oven means she can get rid of her old toaster and save a lot of counter space.
34. Battery Spice Grinder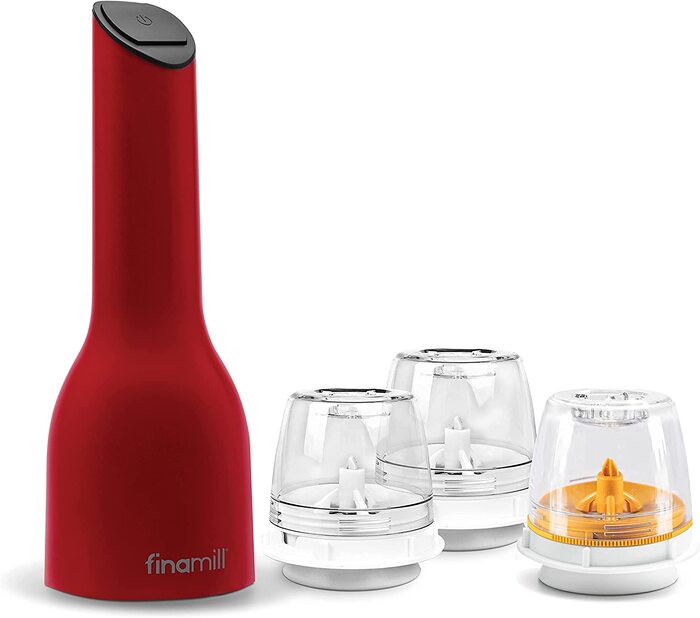 If it's possible, having the ability to grind fresh spices at the push of a button will free up your mom's time in the kitchen so she can try new combinations. What does this imply, then? More delectable fare is now available for your consumption.
35. Coffee Maker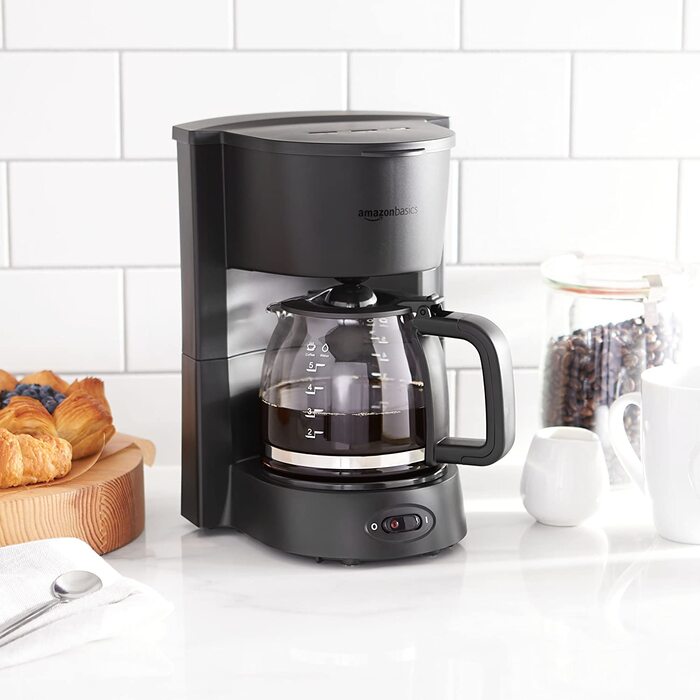 This present is great if your mother's day begins with a cup of coffee. Every morning, she'll be grateful for the Keurig coffee maker, which is widely regarded as one of the best in the world.
36. Copper Measuring Cups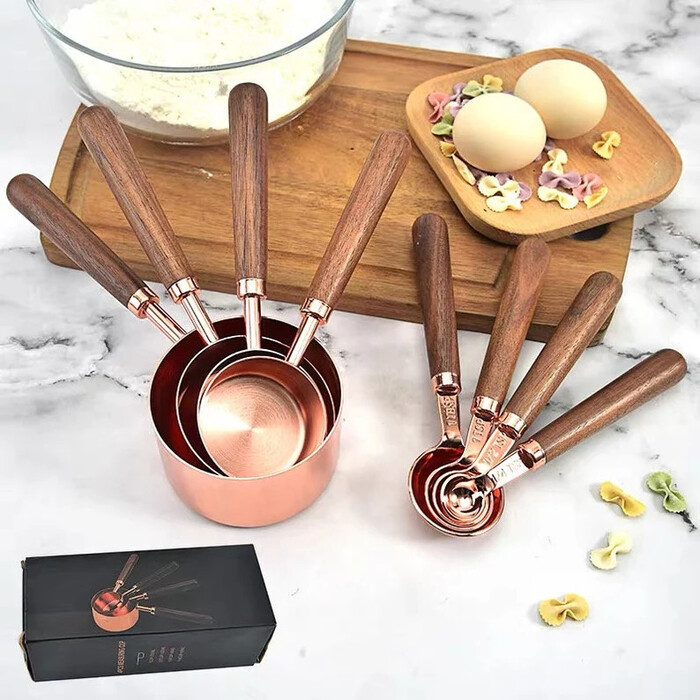 What should you present as wedding gifts for mother of the bride? We'd like to introduce you to a new set of measuring cups that we think you'll love. Because of their beautiful, garden-inspired design, they'd be foolish to keep them hidden away. The set comes with four different cup sizes: 1 cup, half cup, third cup, and quarter cup.
>>> Read more: 44+ Best Personalized Wedding Gifts Ideas For Any Couple
Stunning Wedding Gifts
For

Bride's Mother Who Adores Accessories
37. Hairpin Set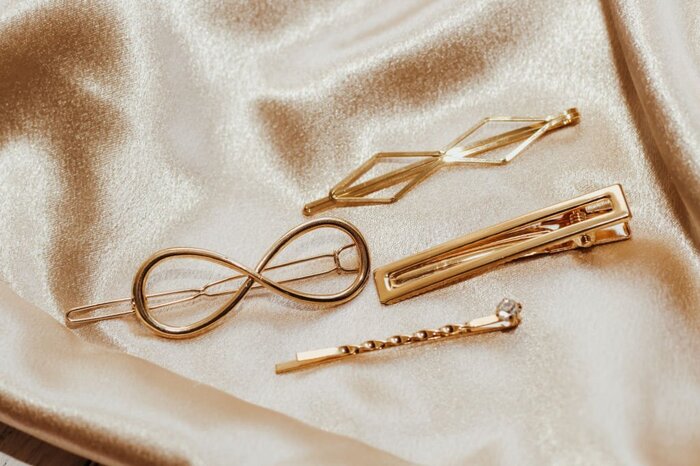 You should think about how your mother's hair will look on your wedding day. With her hair in an up-do or half up-do, a well-crafted hairpin set will look great on her. Glass and resin cabochons with antique gold and silver plated castings, findings, and a hairpin set complete the design.
38. Jewelry Set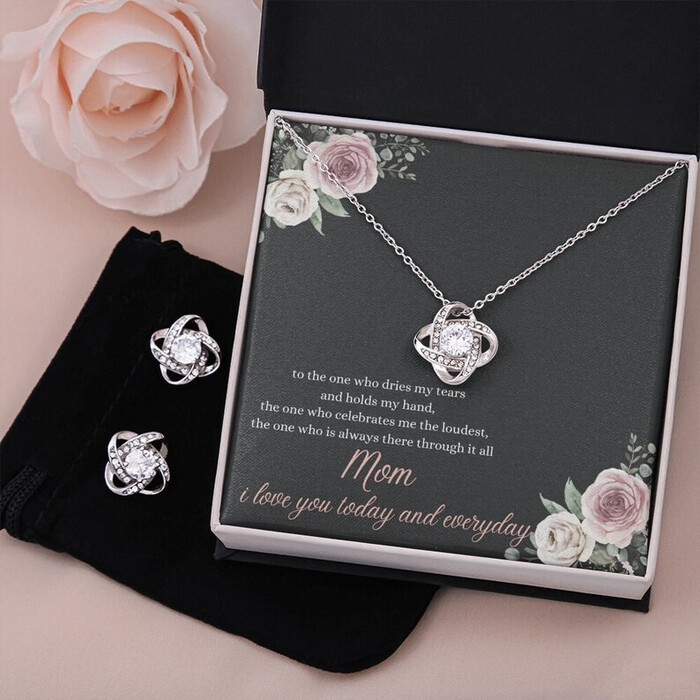 The mother of the bride is sure to love these stunning earrings and necklace sets! This jewelry set is a great choice for every event. What are you still sitting on your hands about? You should give it to her because she deserves it.
What we love:
The lovely Love Knot is made of stunning 14k white gold over stainless steel, and it hangs from an adjustable cable chain.
This lovely present features smaller cubic zirconia crystals surrounding a core crystal with a diameter of 6mm, adding more sparkle and shine.
39. Gorgeous Watch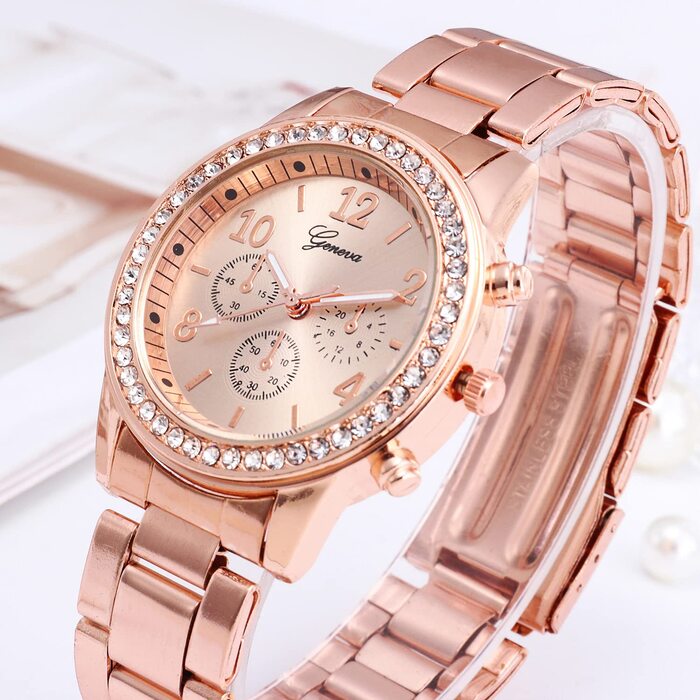 Pick out the best mother of the bride gift that she'd never buy for herself, but that she deserves in spades. It is a reminder of how much time she has given you during the planning of your wedding and as a child. This is a gift your mother will treasure for years to come. When searching for a watch, seek one that can be worn both during the day and at night, like this diamond-encrusted model.
40. Mama Gold Ring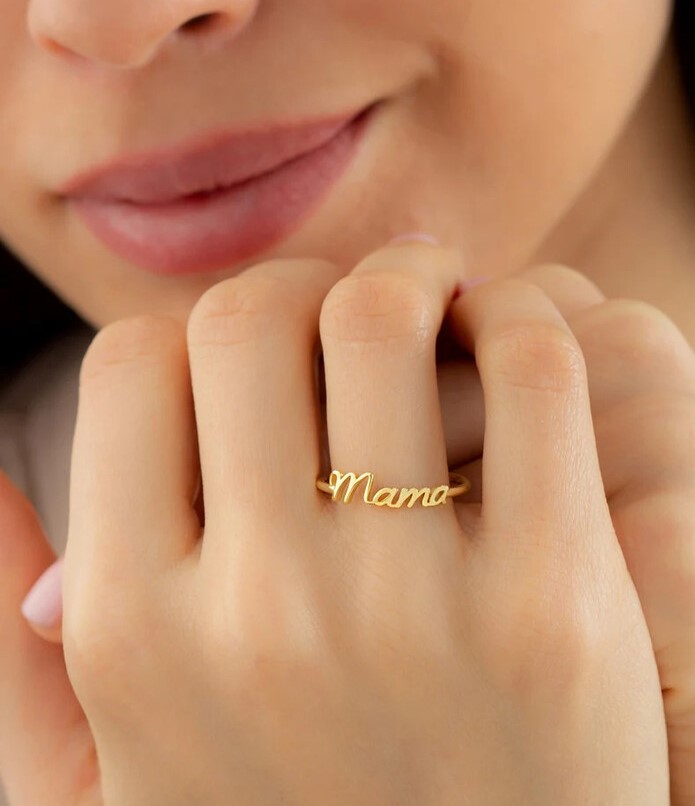 A ring is a must-have accessory for any woman, even your mother. Give your mother a meaningful ring that she will always remember you by looking at.
41. Carlotta Wrap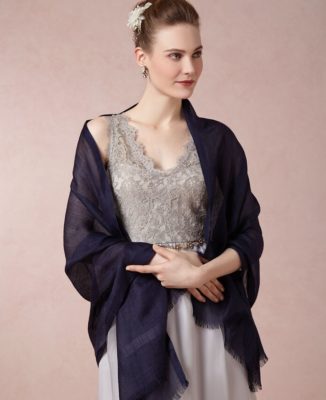 This is it! Now it's just her and the dog. Invest in a beautiful headpiece for the mother of the bride to wear at her daughter's wedding. At this point, she'll need something to occupy her hands while the ritual is taking place. This wrap allows her to fidget with it without others noticing.
>>> Recommend reading: Top 45 Heartfelt Wedding Gifts For Mother Of The Groom
Sentimental Wedding Gifts For Mother Of The Bride
41. Picnic Basket Set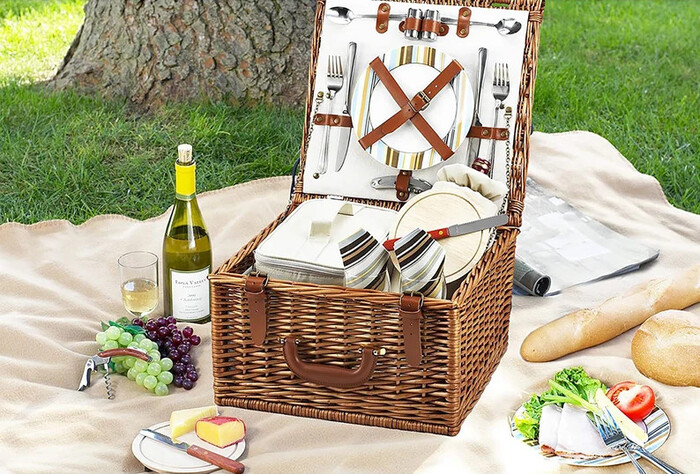 This picnic basket set includes wine glasses, plates, and utensils, making it ideal for those family outings to the park. I don't know. It may be the beginning of a new tradition! Adding their favorite bubbly to the mix will earn you extra points.
42. Kindle Paperwhite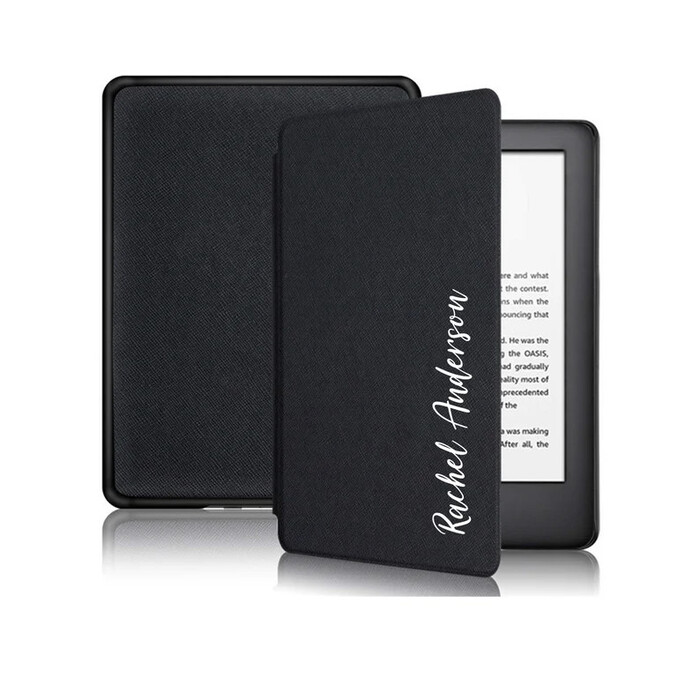 If you choose a piece of technology that you know your mother will use, you can give her a nice present. Any bookworm who hasn't yet purchased their Kindle might consider this bundle as an ideal present (or need an upgrade). It includes a Kindle Paperwhite, a power adapter, and a protective fabric cover in black, blue, or pink.
What we love:
With a 300 ppi glare-free display that reads like real paper even in direct sunlight, and a flush-front design.
Designed to withstand short submersion in water, making it suitable for both the beach and the bathtub.
Thousands of titles can be kept and then taken with you. Instead of hours, a single USB-C charge lasts for weeks.
43. Stunning Bouquet Delivery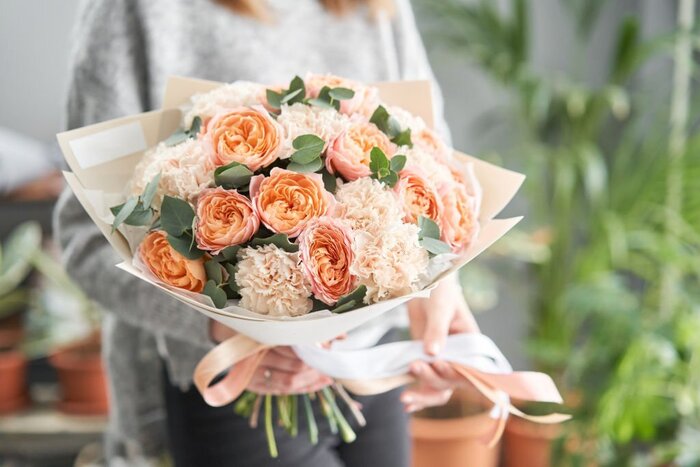 Whatever the reason for giving her flowers, a bride's mother will appreciate the thoughtfulness. To make an impression on her, we recommend that she sign up for a membership. Her favorite flowers will be delivered every month.
44. Perfumes Gift Set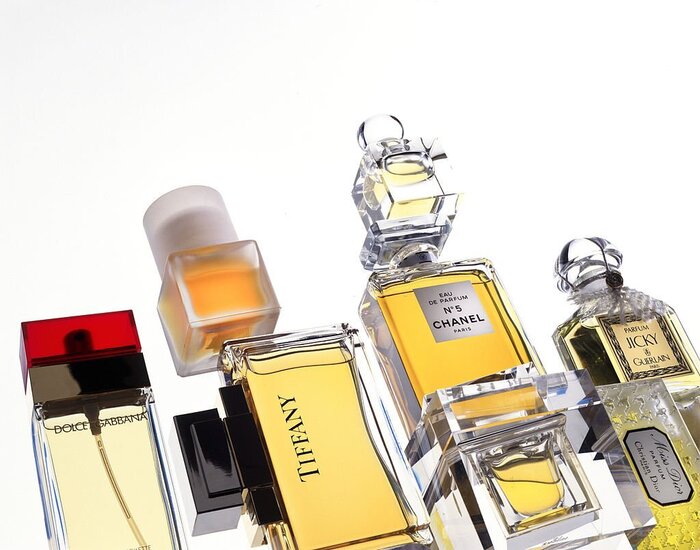 Replace Mom's favorite perfume bottle if she's a fan. Surely, no woman can resist the temptation of a beautiful perfume bottle.
45. Satin Pajamas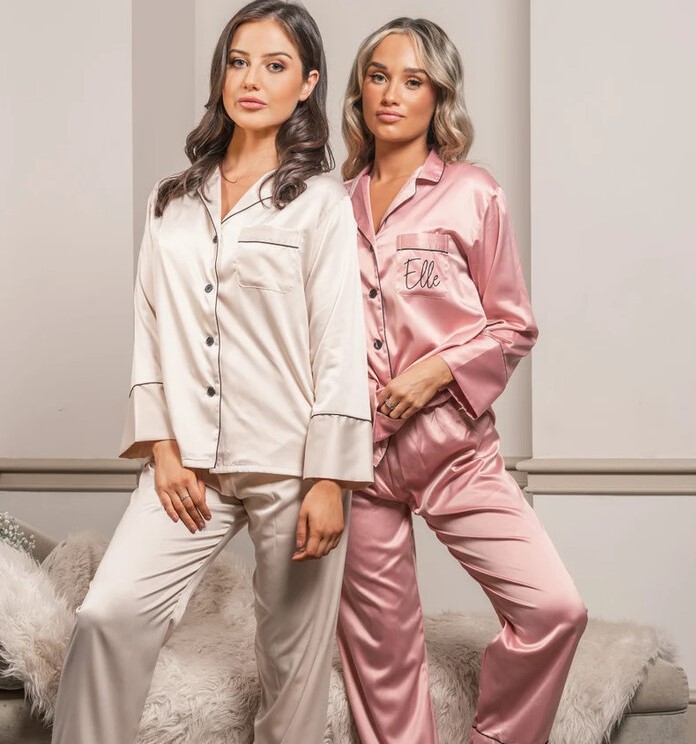 Luxurious loungewear is impossible to imagine without satin pajamas. Pair it with her favorite bottle of wine for a luxurious night at home.
46. Mother Of The Bride Robe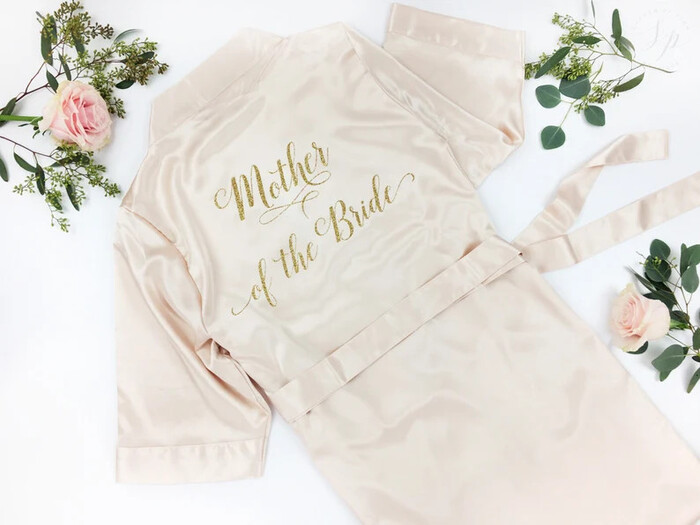 If you're planning a wedding, these are excellent wedding gifts for the mother of the bride. But they're also a wonderful present for the mother of the bride. A satin robe is the best way to get into the wedding atmosphere!
47. Macrame Plant Hangers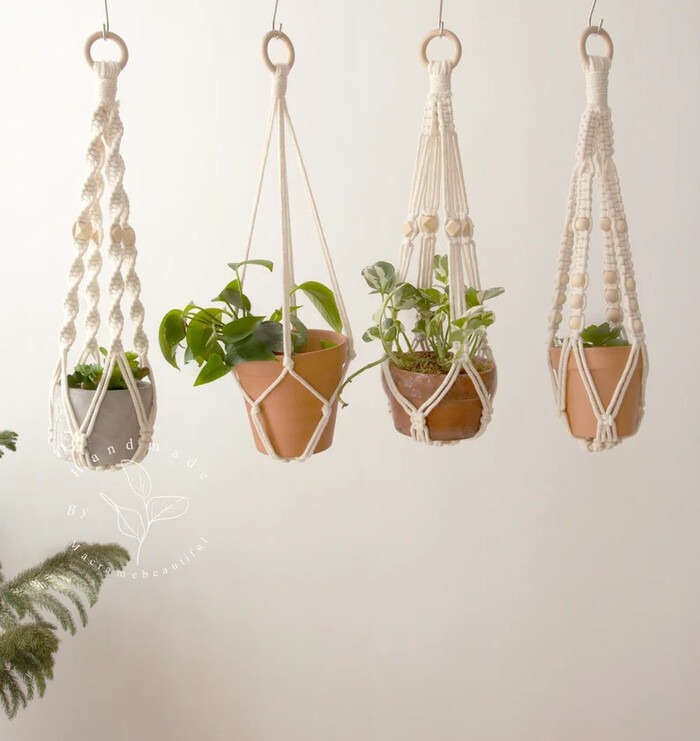 If you buy it for your mother, you can be sure that she will adore this eco-friendly jute hanging planter. One or more tiny potted plants in one's home are something that almost every housewife enjoys taking care of.
48. Candle Holder Statue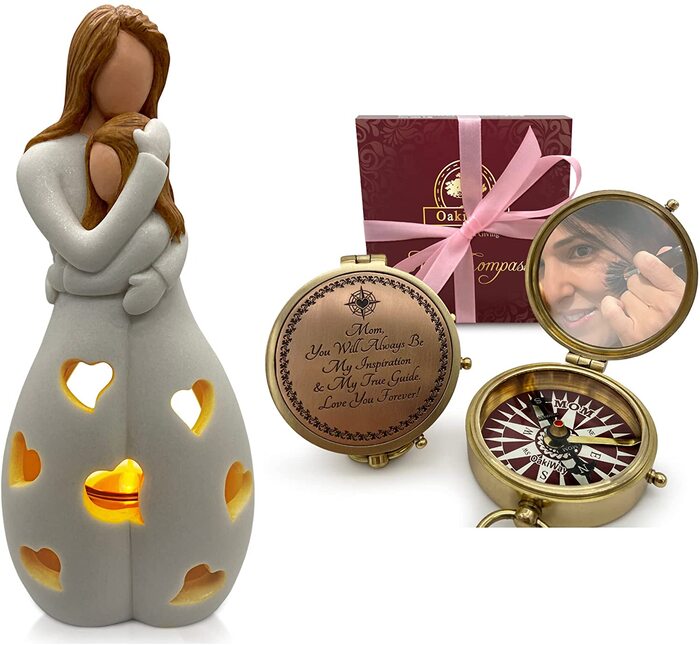 Every time she turns on the LED candlelight, she'll remember you and cherish this lovely statue you gave her. This candle holder is a reminder of your undying devotion to your mum.
50. Makeup Organizer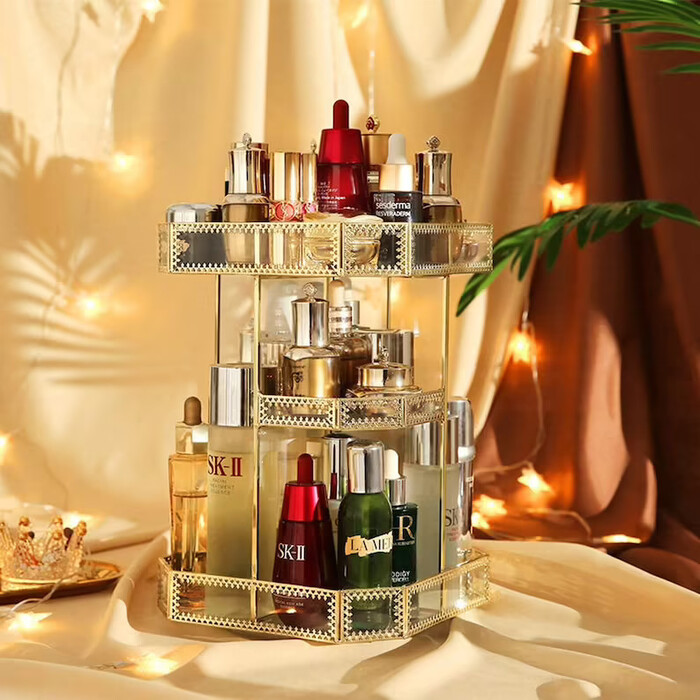 Add a dash of style to her makeup area with this cute tray. Her makeup corner will undoubtedly become a professional station in due time.
Read more:
Her advice and support were invaluable when you were facing a wedding planning crisis and were the first person you told when you announced your engagement to family and friends. Hope these heart-touching wedding gifts for mother of the bride are a great way to show your appreciation for her wisdom and support.