Your father's retirement is a significant and emotional time in his life. Even if you don't need a big party to show your dad how much you care, a family gathering with everyone in attendance is a celebration that he'll enjoy. To show your love and support, now is the moment. There are over 30 retirement gifts for dad ideas on this list that will not disappoint you. You can discover the right present for him based on his interests and from Oh Canvas's product recommendations. Your dad will appreciate your thoughtfulness because he knows how much you love him. It's time to get inspired!
Personalized retirement ideas for dad
1. Whiskey Decanter Set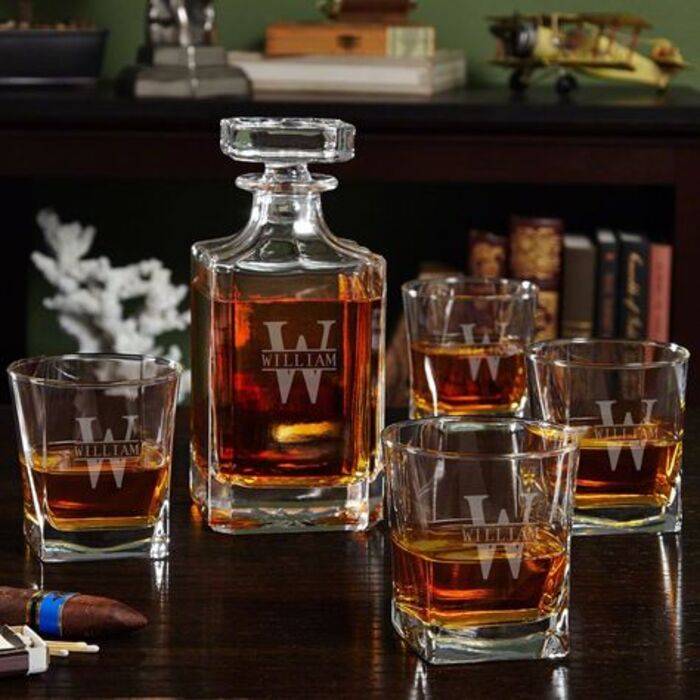 These whiskey glasses are a wonderful gift for your father, grandfather, or any other man in your life who appreciates a good drink. Whiskey or other spirits can be decanted into this decanter, which makes it ideal for entertaining guests at a home or office party. The clear glass allows your dad to see the color of the drink as it is poured, which is a lovely touch for any home bar.
2. Wine Bottles Labels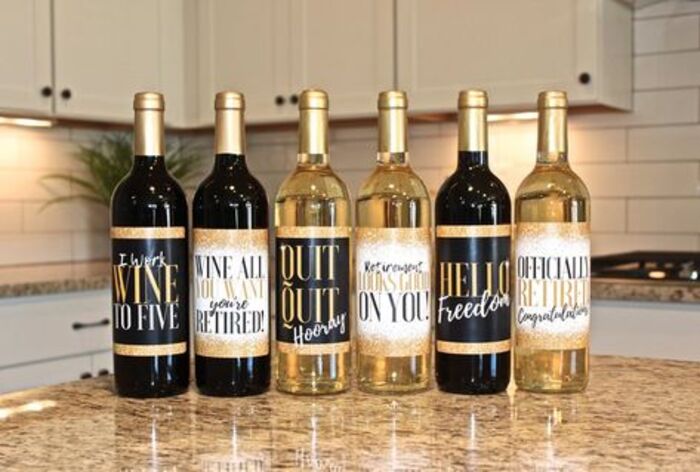 This collection of premium wine bottle labels is the perfect retirement gift for father. They can be personalized with a design and language of your choice. These gifts will please him on any occasion, whether it's for a birthday, holiday, or no purpose at all.
3. Vintage Notebooks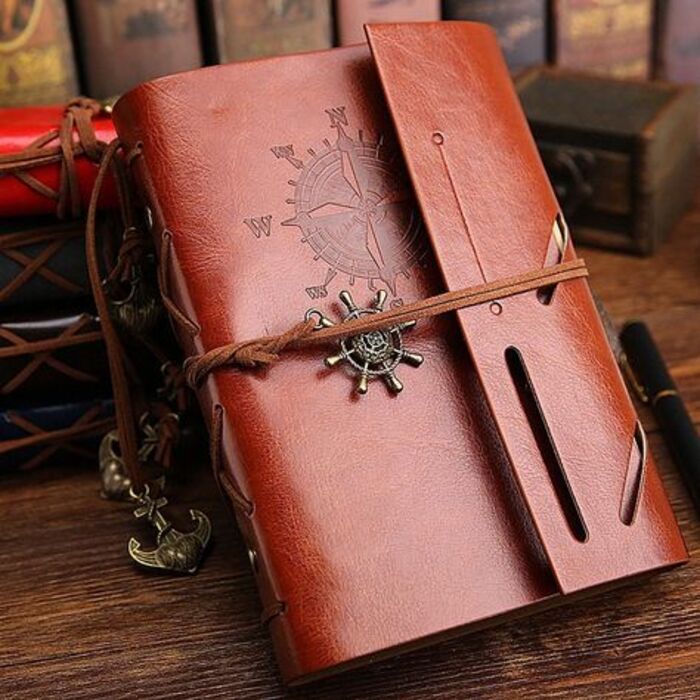 Another fantastic travel companion for your loved one is this vintage notebook. It's perfect for your dad if he's a writer or artist who wants to jot down intriguing observations while on the road. As a notepad, it might be used for anything from sketching to writing poetry. Pen and paper fanatic dads will appreciate this one because it's a keepsake that they can hold on to for a lifetime.
4. Wacky Beer Glasses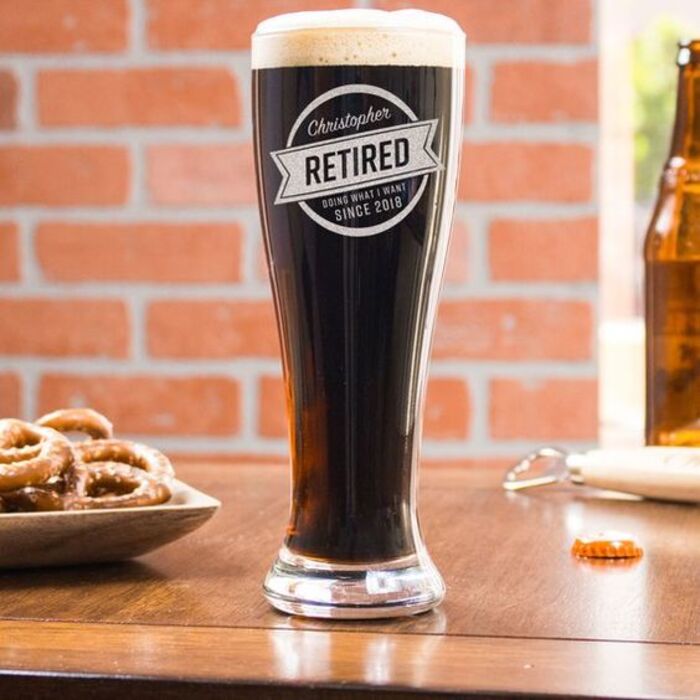 Gift this amusing novelty item to a newly retired father who still craves his morning brew. The amusing design plus the fact that they hold a perfect pint of beer will keep him occupied for a long time. A variety of hilarious sayings printed on each glass make it one of the best retirement gifts for dad. Dishwasher-safe beer glasses will be a hit with him as well.
5. Tumbler For Retirement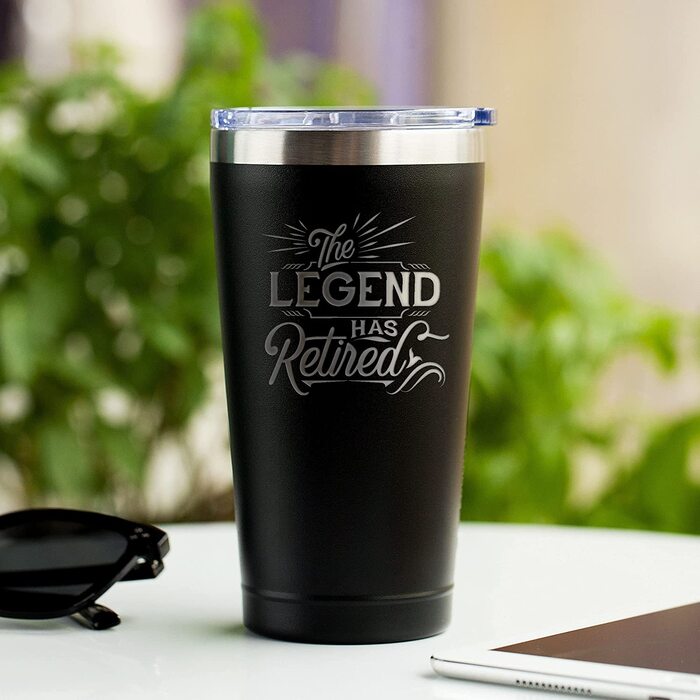 Give your father-in-law a gift he'll never forget. The insulated stainless steel tumbler makes a thoughtful and useful present for any event. It features a comfortable, easy-grip handle and high-quality, double-wall construction. Now that the legend has retired, he will have enough tales to share with his future grandchildren!
6. Engraved Wooden Keepsake Box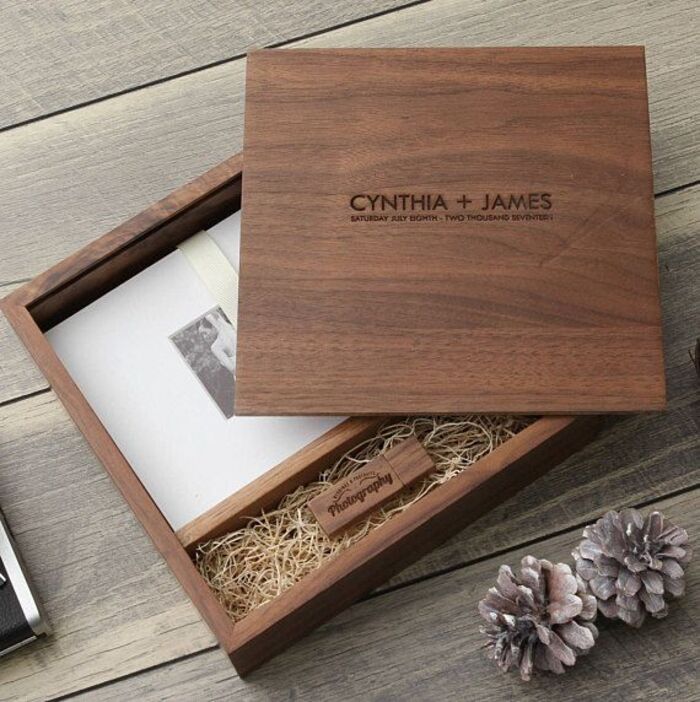 This gift is a wooden box with a natural finish and a blended varnish on top. It is possible that your father keeps his wallet, watch, phone, keys, and change all in one place. It's the perfect gift for your father that expresses your love and admiration.
7. Spa Treatments Gift Set
Fathers-in-law who are retired will like this spa gift set. This all-natural bath and body luxury spa gift package is the perfect way to pamper yourself or a loved one. All of the products in this gift set are packaged in a paper suitcase and ready to be given to the recipient. That wonderful scent will put your dad at ease and bring him back to his zen-like state of mind.
8. Customized Cutting Board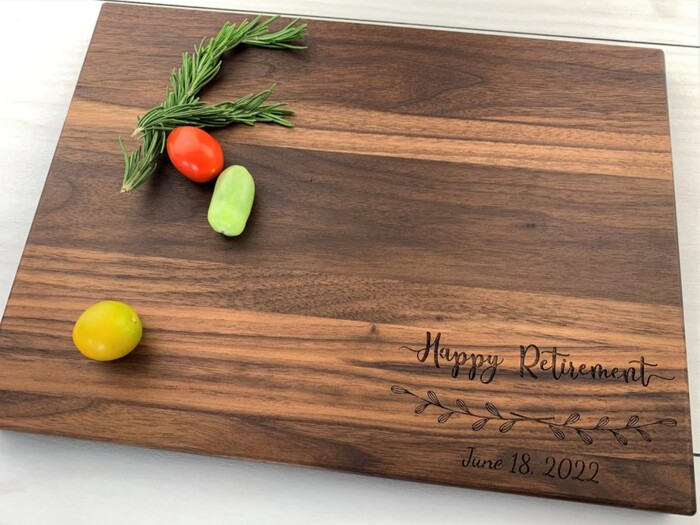 Looking for meaningful retirement ideas for dad? In addition to brightening up your kitchen, this cutting board is sure to impress your family members. Because he can cut on the solid side while showing off the personalized side, your dad will adore this gift if he enjoys cooking. He may get a beautiful piece of furniture and a useful piece of kitchen equipment all in one package.
9. Engraved Golf Ball Set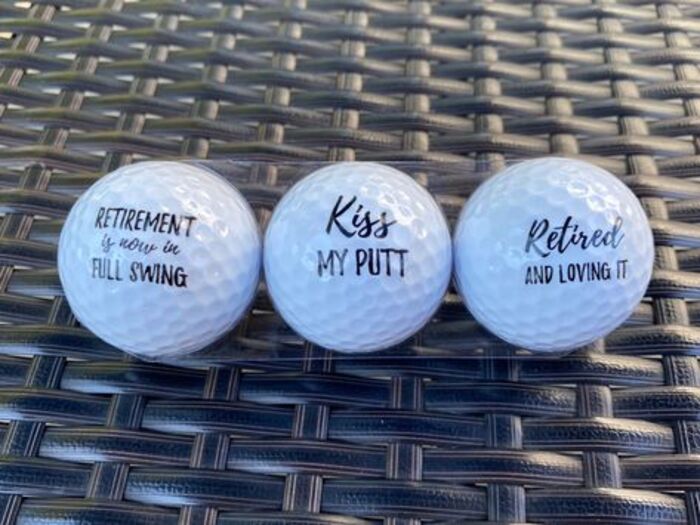 These custom golf balls would be a wonderful gift for your father, especially if he enjoys the game. There are three golf balls in the set: each says "Retired and Loving It", "Kiss My Putt", and "Retirement is now in full swing." This funny retirement gift will be treasured by your father and he will have a lot of relaxation with it.
10. Retirement Print For Dad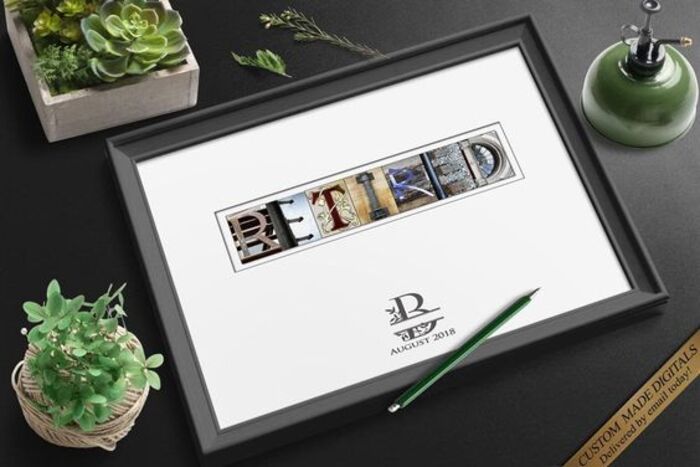 Custom prints are wonderful retirement ideas for dad after years of hard labor. In addition to commemorating a particular occasion, this present can also be used as a piece of decoration; your father can hang it or arrange the piece any way he likes. Every time he sees it, he'll be in a state of ecstasy.
11. Custom Tile Plaque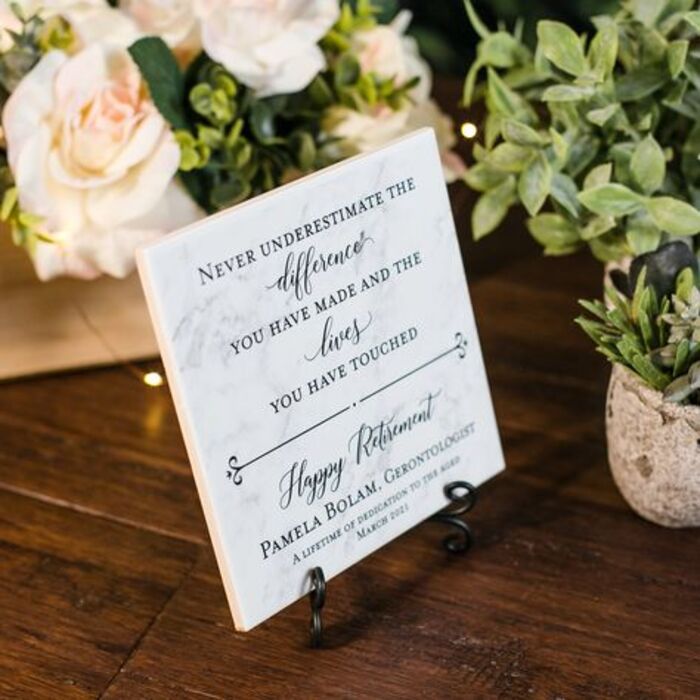 Is there anything you need to say to your father to show your appreciation for his consistent support? As a thank you or birthday present for him, this personalized happy retirement tile plaque will be treasured for its heartfelt message. The plaque is well-made, shiny, and just the right size. You can personalize this plaque with your own words to show your love for your father, and he will be able to feel it.
12. Personalized Ornament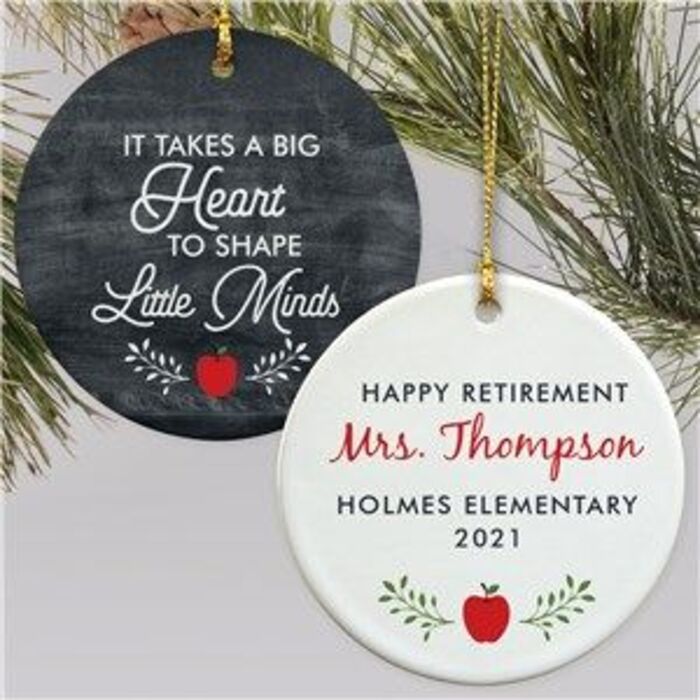 Decorated with high-quality ceramic, these accents exude elegance and class. Permanent sublimation inks are utilized to generate a long-lasting image that will not peel off or deteriorate. With its unique design, you'll have him a keepsake tree ornament that he'll treasure for many years to come. Your father will be pleased with this ornament.
13. Stamped Fork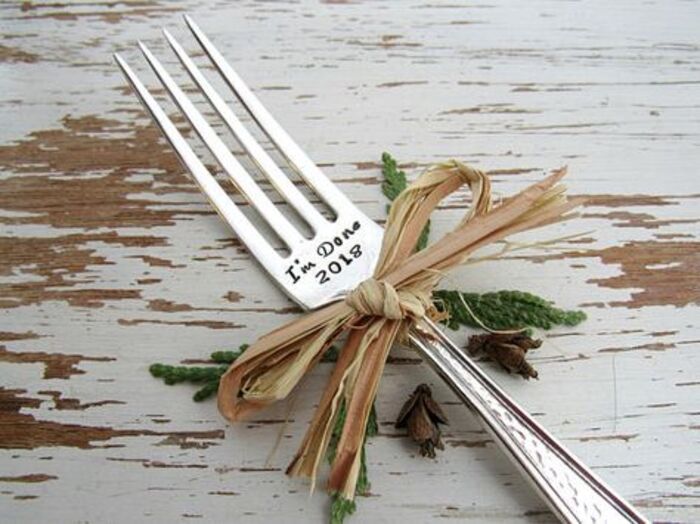 This beautiful stainless steel stamped fork with an attractive grip would make a thoughtful retirement gift for father. With this "I'm done" fork, you may serve him a witty meal. Non-toxic ink is used to hand-stamped each letter on this novelty fork. Even while your father can safely use this as everyday flatware, please be aware that repeated use will eventually wear out the ink.
14. Wooden Beer Caddy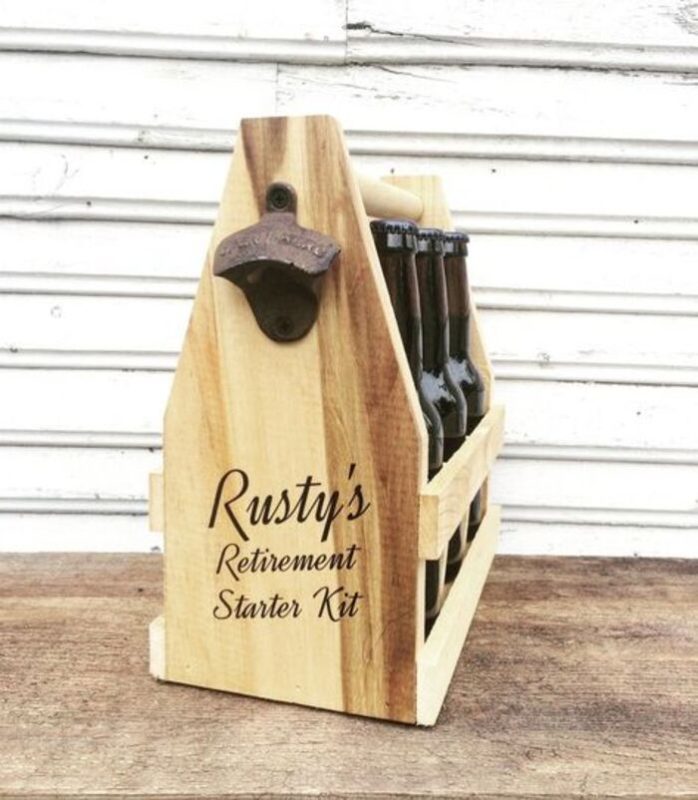 You can't go wrong with this beer holder for your beer-drinking father. Regardless of the event, he will be able to transport his six packs in elegance thanks to this high-quality beer luggage. To ensure he doesn't lose its meaning, have the item personalized with his name using laser engraving.
15. Engraved Bookmarks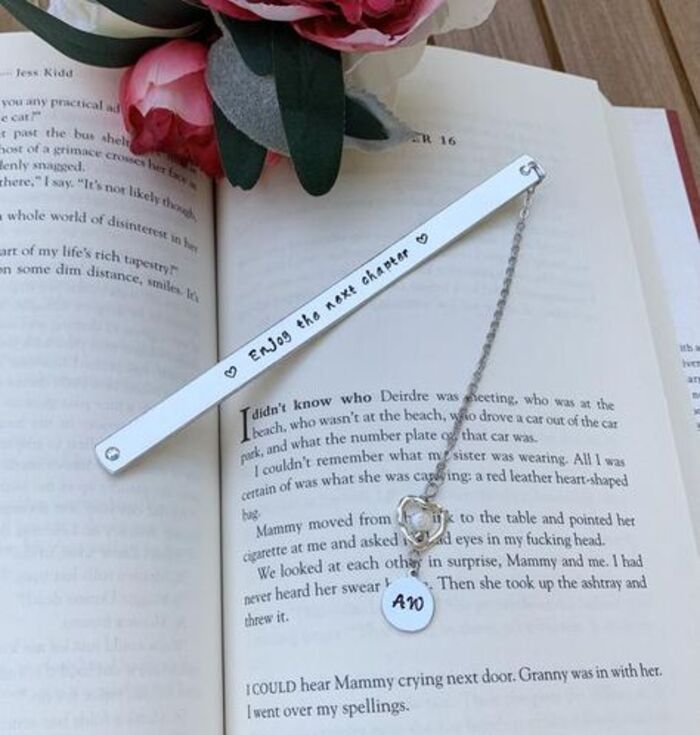 This beautiful bookmark, made by hand, is the ideal finishing touch for your father's favorite book. You can rest assured that he will enjoy it for many years to come, and the overall design is appealing enough to garner attention. Colorful and eye-catching, this bookmark's design is sure to be his favorite option.
16. Retirement Rules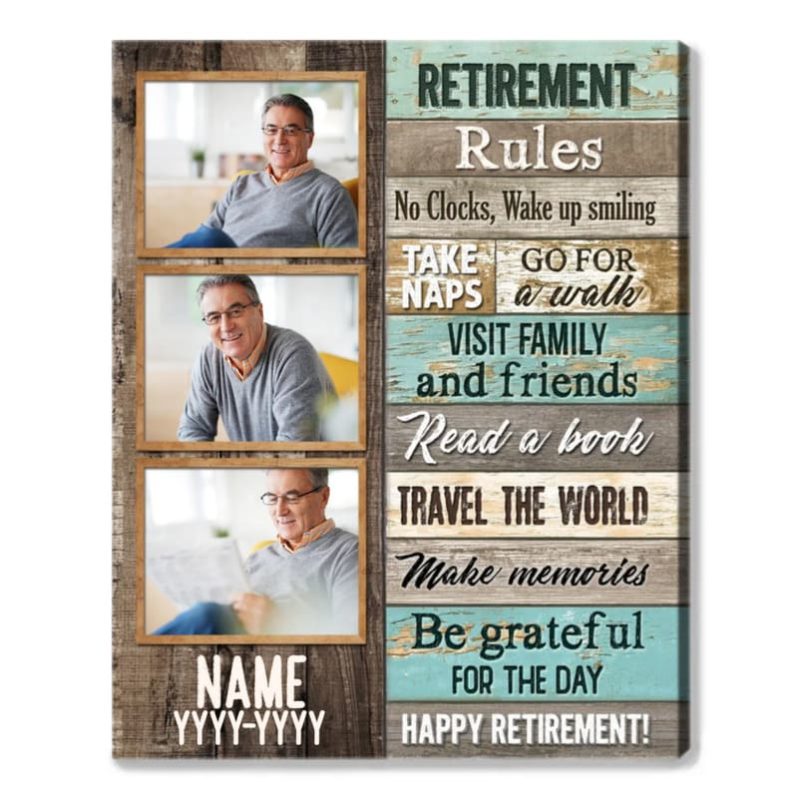 You are in luck if you are seeking for the perfect presents to give to a dad who has reached retirement age. Any retired person would benefit greatly from having this encouraging piece of wall decor hanging in their home. And the imaginative word art it contains serves as a gentle reminder to her to savor each and every moment of her retired life.
17. Custom Blanket For Retirement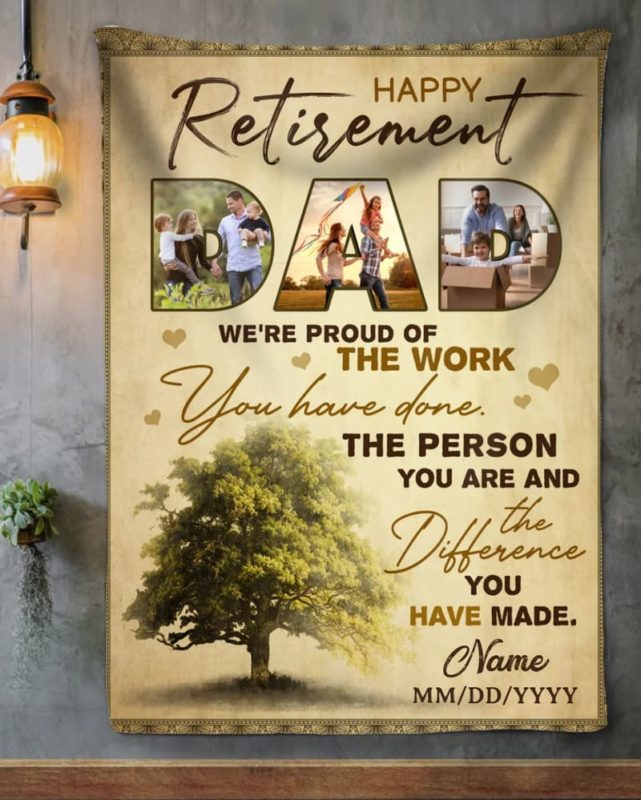 This blanket can be personalized by inserting your father's complete name and a short sentiment in celebration of his retirement. This Personalized Retirement Blanket is very cuddly and has a lot of fluffy texture to it. Even if he is not being with another person, he can have the feeling of being embraced by wrapping himself in a blanket.
>>> Recommend reading: 30 Unique Personalized Retirement Gifts Ideas In 2023
Best retirement gifts for dad: Fashion and Wellness care
18. Shirts for Retirees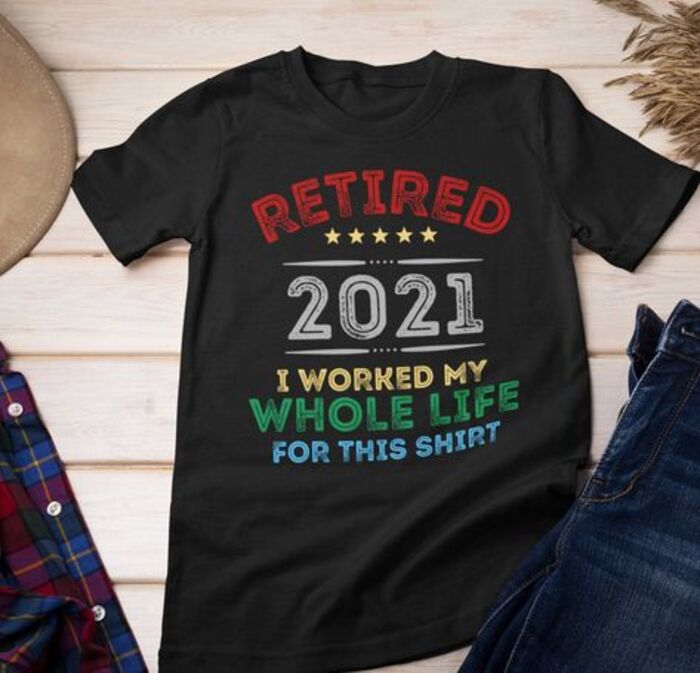 Dads who have retired will love receiving one of these amusing retirement tees. Real men have the freedom to do whatever they want whenever they want. So why not wear this shirt to commemorate your retirement? Add your own wording and a selection of colors to make it uniquely yours. All those who have worked hard their entire lives will appreciate this practical joke present.
19. Shiatsu Neck and Back Massager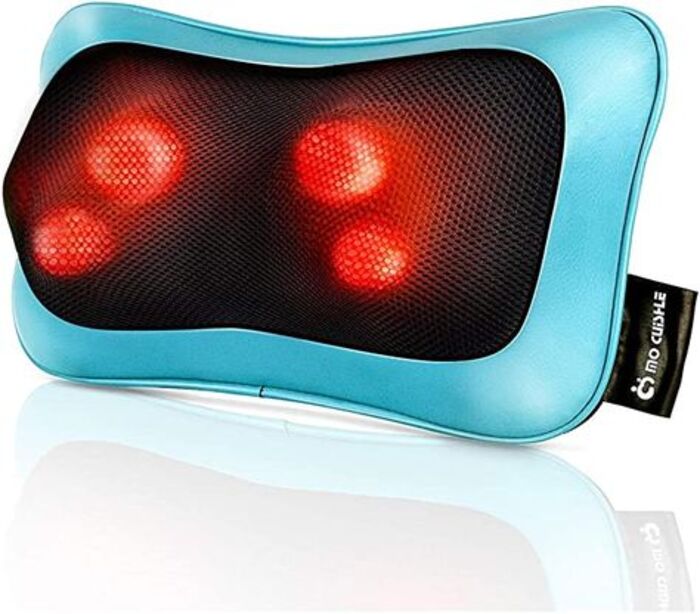 Seeking the best retirement gifts for dad to show how much you care? This gift will allow your hard-working father to take a break. It's comfortable, has a heating function that's both advanced and strengthened, and helps relieve muscle soreness and pain while also promoting blood flow. In addition, it provides true relaxation and relief because it tailors your massage to your specific needs.
20. Men's Beard Grow Kit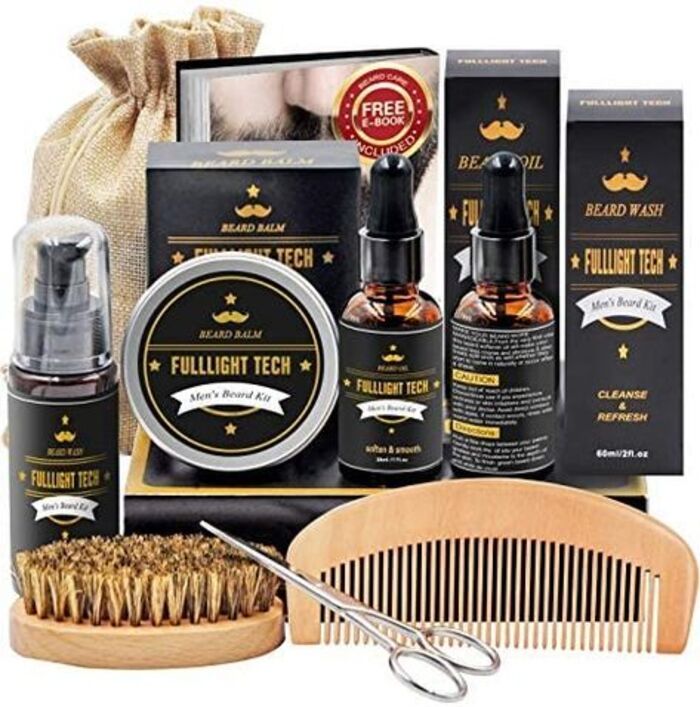 Acne scars, wrinkles, sun damage, and dehydration can all be banished thanks to the facial tools included in this beard growth kit. It is possible to use the Roller to encourage hair regrowth in balding areas. If your father is a member of the "bread gang," this could be a good gift for him.
21. Fitbit Smartwatch
This Father's Day, if you want to encourage your dad to get more active or to try something new in his retirement, give him a Fitbit as a gift. There is a companion app that is easy to use and comprehensive in terms of activity tracking, and the wristband displays all of your metrics (such as sleep patterns and steps taken).
22. Long Sleeves Shirt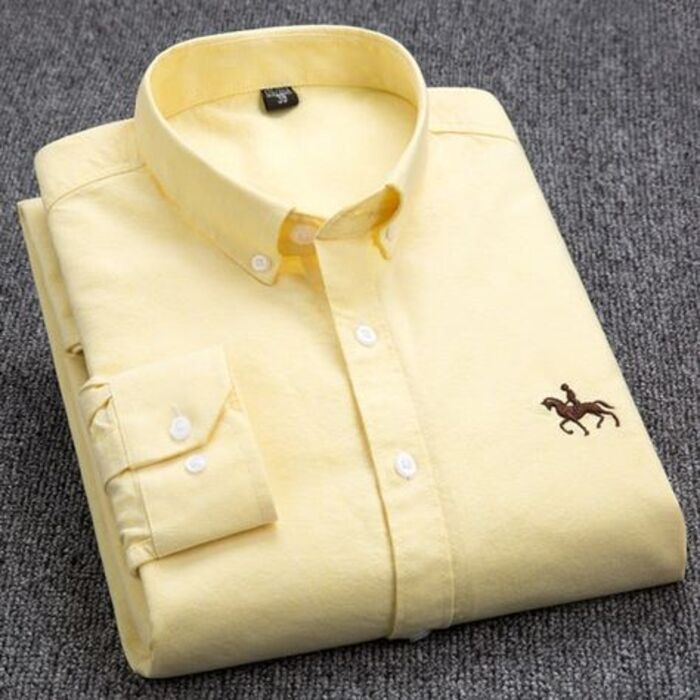 You can never go wrong with sleeves shirts as thoughtful retirement ideas for dad if you want to show him how much you care. A fashionable shirt with his favorite hue is sure to earn itself a place of honor in his wardrobe.
>>> Recommend reading: 30+ Best Firefighter Retirement Gifts To Express Your Love
Practical and pleasing retirement presents for dad
23. Business Cards for Retirees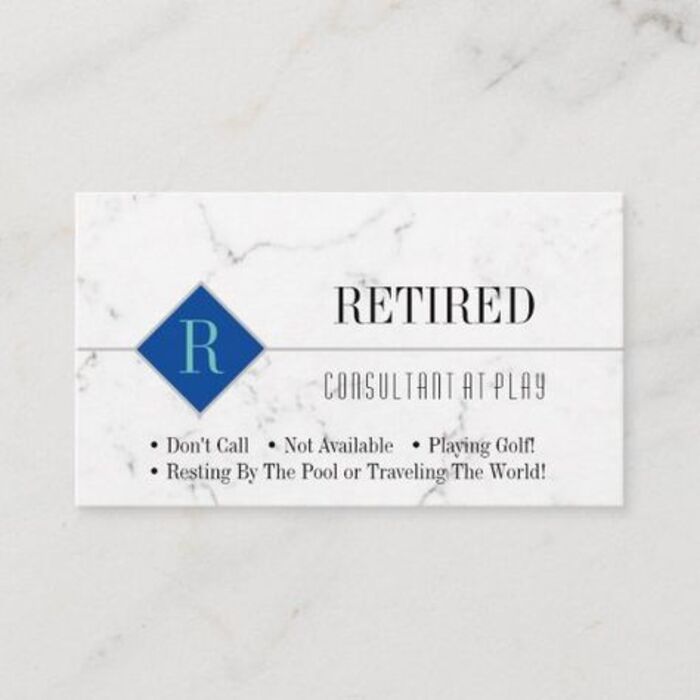 Show how much you care about your dad with this entertaining and considerate present. "Retired" business cards are all he needs to tell everyone that he's done the job and it's time for relaxation. Get him this card and you'll make his day.
24. Coffee Mugs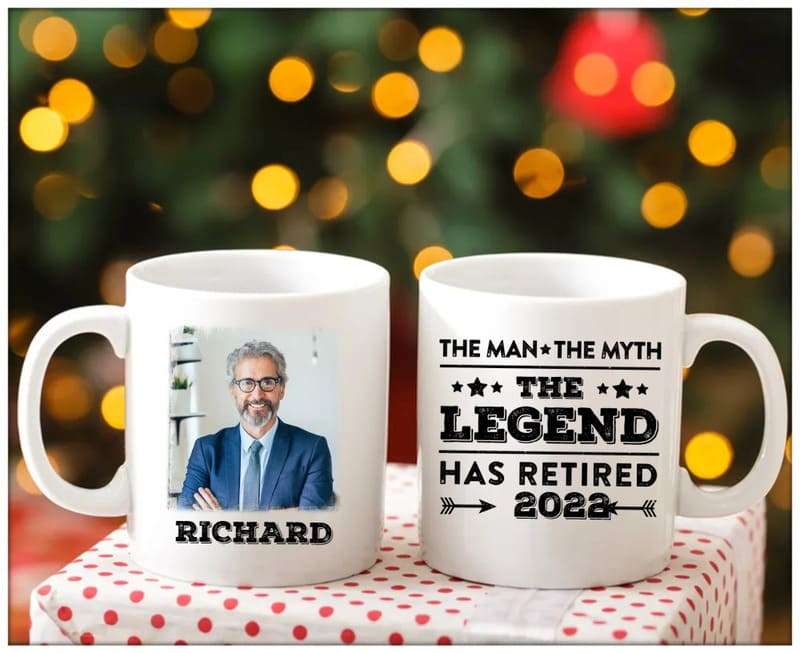 Gifting this retirement gift to dad is a great way to help him plan for the future. Every morning, he can check his schedule and drink his favorite hot beverage. This 11-ounce ceramic mug is dishwasher and microwave safe, making it ideal for brewing your morning cup of joe.
25. Customized Canvas Art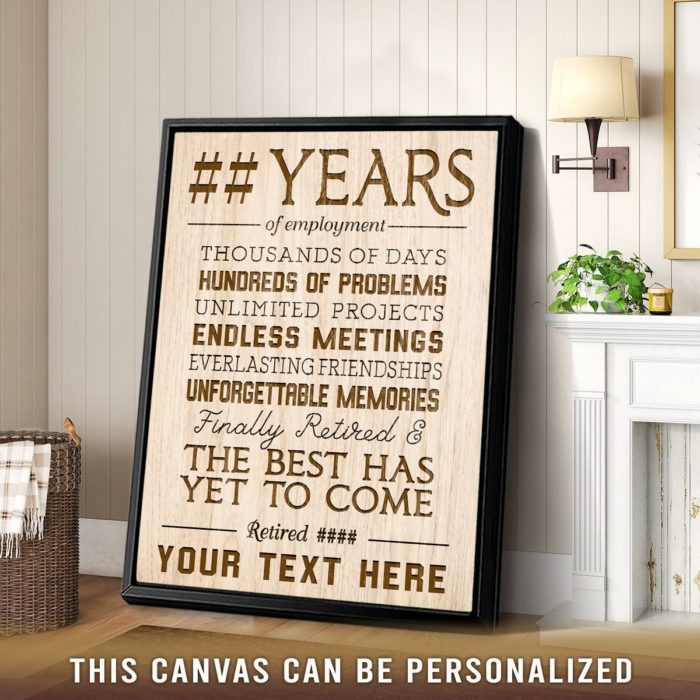 With this one-of-a-kind canvas print, they can kick off their retirement in style. The perfect answer would be this stunning piece of bespoke typographic art. This one-of-a-kind present will be treasured by the retired gentleman for years to come.
26. Whiskey Stones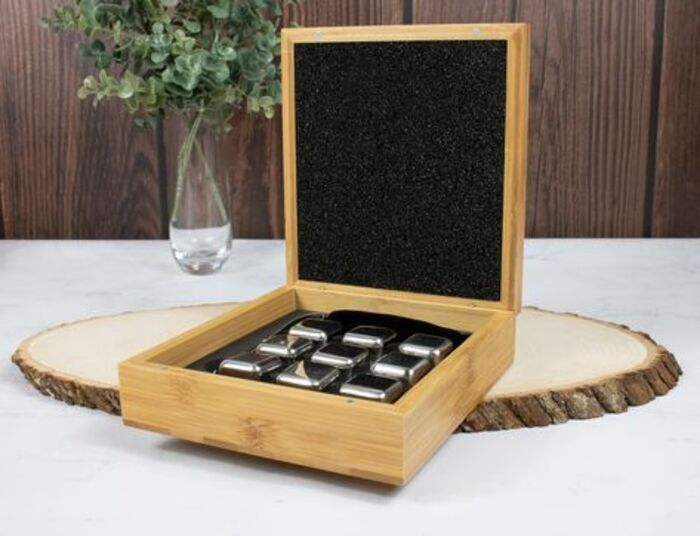 Are you trying to figure out what retirement presents for dad to get this year? These whiskey stones are all you need to please him. Being composed of stainless steel, they are both practical and long-lasting and come packaged in a beautiful wooden box. If you want to ensure that your drink stays cold for as long as possible, freeze it overnight. The high-quality design of these whiskey stones makes them simple to use and simple to clean.
27. Weekender Bag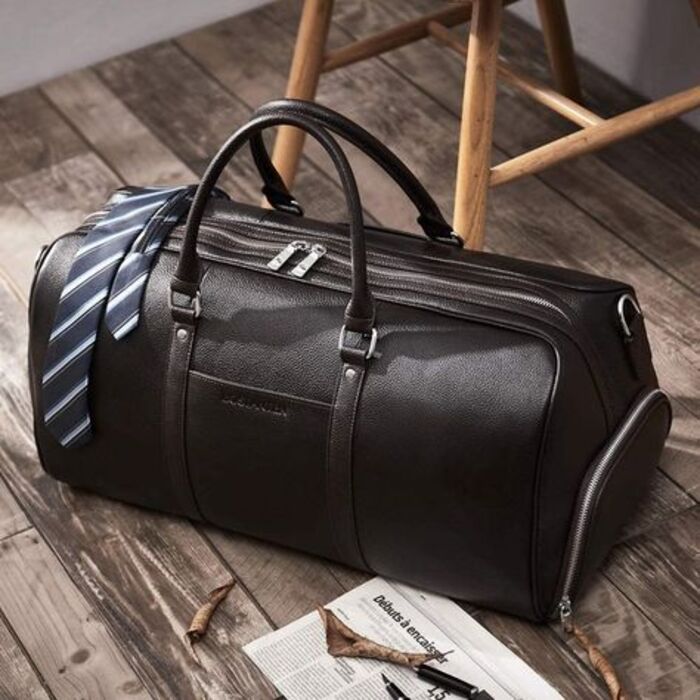 The novel duffel bag is a great way to keep your dad's hands free and organized. It's perfect for a day trip or a weekend break for having a large main compartment and exterior pockets. You can carry it with ease thanks to the padded shoulder strap. The bag is small, light, and easy to use when on the go.
28. Funny Retirement Coaster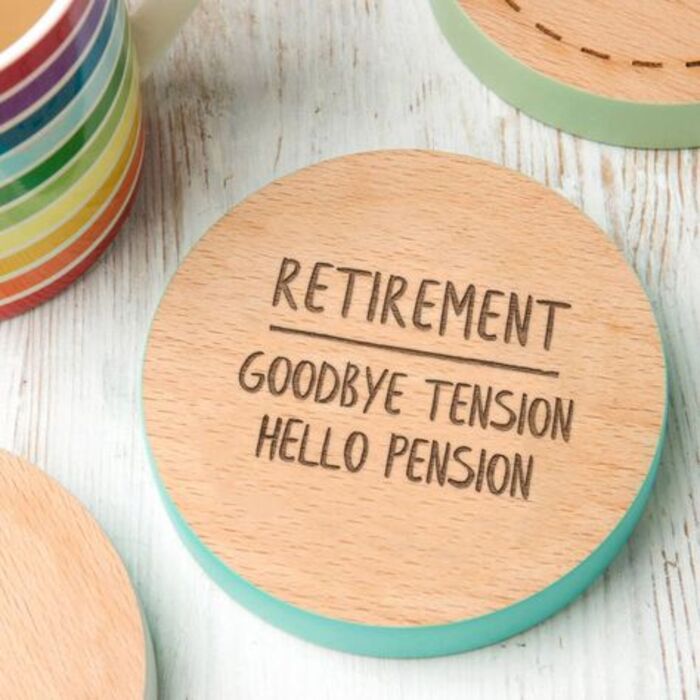 A humorous coaster is a great retirement present for men. It will keep your coffee table free of water damage while simultaneously making you giggle. "Goodbye tension, Hello pension" is printed on its surface, which can be used to remind the recipients of how much fun they'll have in their golden years.
29. Magnetic Wristbands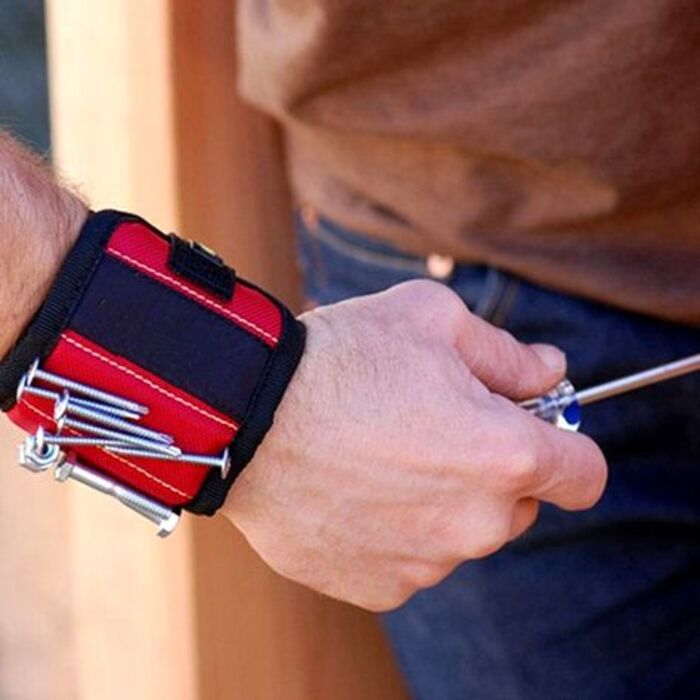 While working in the garage or clearing his driveway of snow, he can wear this magnetic wristband. It allows him to simply transport screws, washers, nuts, drill bits, and nails from one place to another while working. For the retired men on your list, this would be a wonderful present!
30. Geometric Glass Terrarium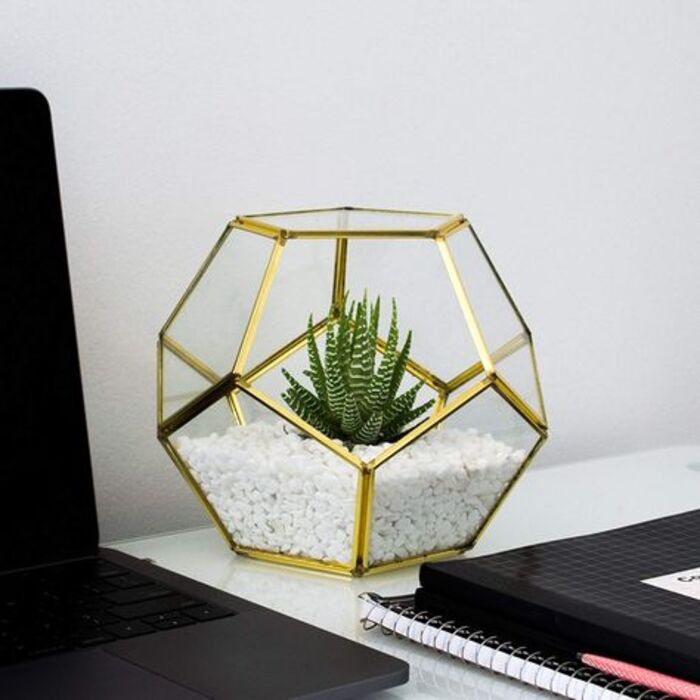 This work of art is a stunning retirement gift for father who loves to add a dash of style to his desk or shelf. Succulents and little stones will make a beautiful touch. For maximum ventilation, it includes a movable roof and thick windows. If he enjoys the elegance and trees, this is a great present for him.
31. Mug Warmer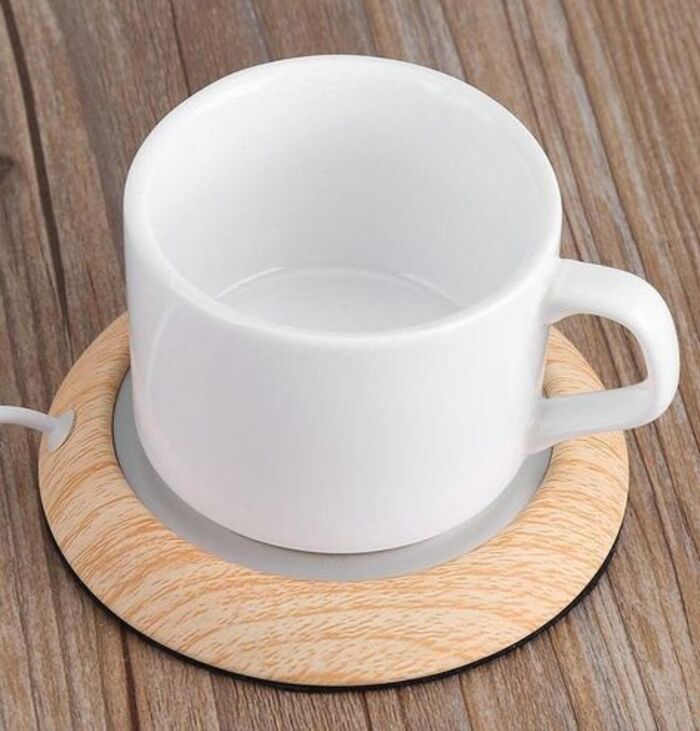 It's time to relax with a cup of hot coffee and a stack of books. With this ultra-sleek cup warmer, he'll be able to enjoy his hot beverage again. Because it's lightweight and won't move about your desk like other coffee heaters, this one is a great choice.
32. Herbal Tea Set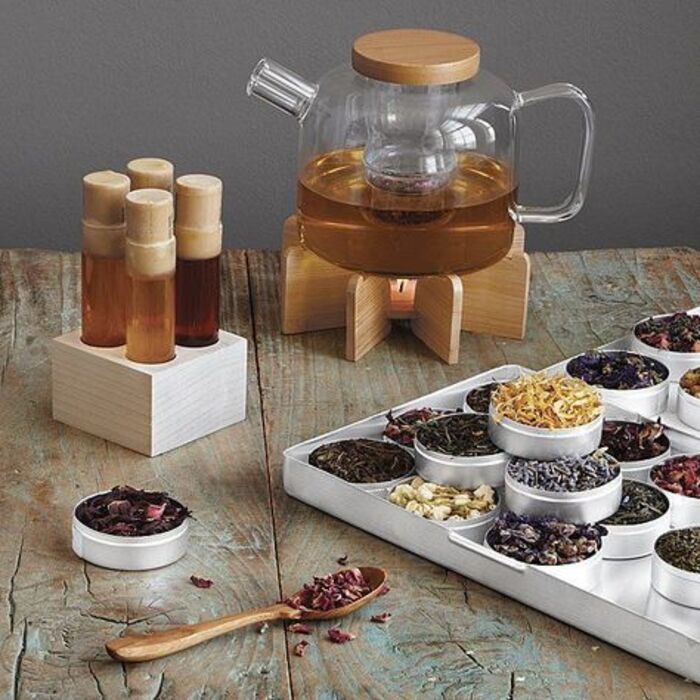 Make him a cup of herbal tea with this herbal tea kit if you don't know what to get him at this special event. It's a terrific present for someone who enjoys herbal tea, or for someone who wishes to get into the habit of drinking tea on a regular basis.
33. Bluetooth Record Player
Due to the versatility of this gorgeous Bluetooth record player, your father can now enjoy his favorite music in various ways. If he's a vinyl fanatic, this is a terrific option for your living room, bedroom, or office. He can also simply connect your headphones to the headphone jack for personal listening. Such fantastic retirement presents for dad will win him over!
34. Japanese Teapot set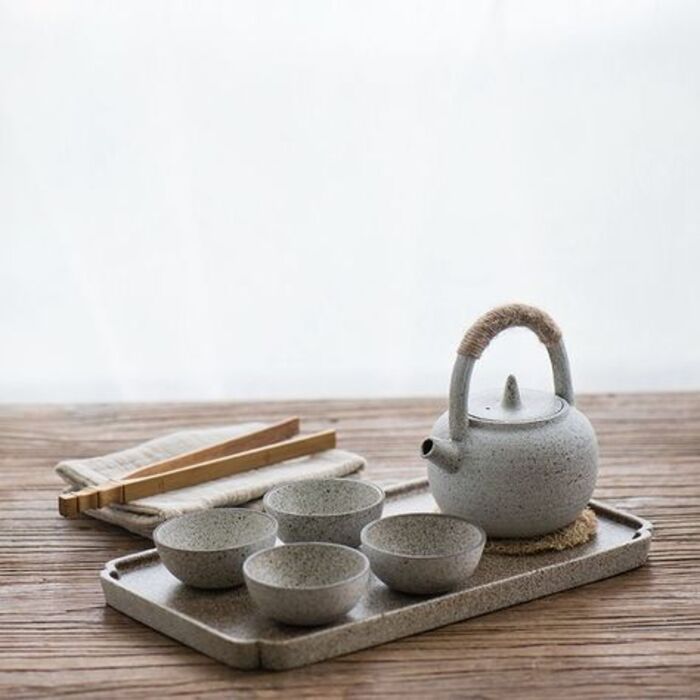 After a long day, he can finally relax with a cup of tea. Because of the matte coating on the surface, this teapot is really comfortable to hold. Just remember to tighten the copper screw on the handle before using it, and to remove the wooden handle before putting it in the dishwasher. There is no lead, cadmium, or TUV approval for this teapot.
35. Retirement Canvas Print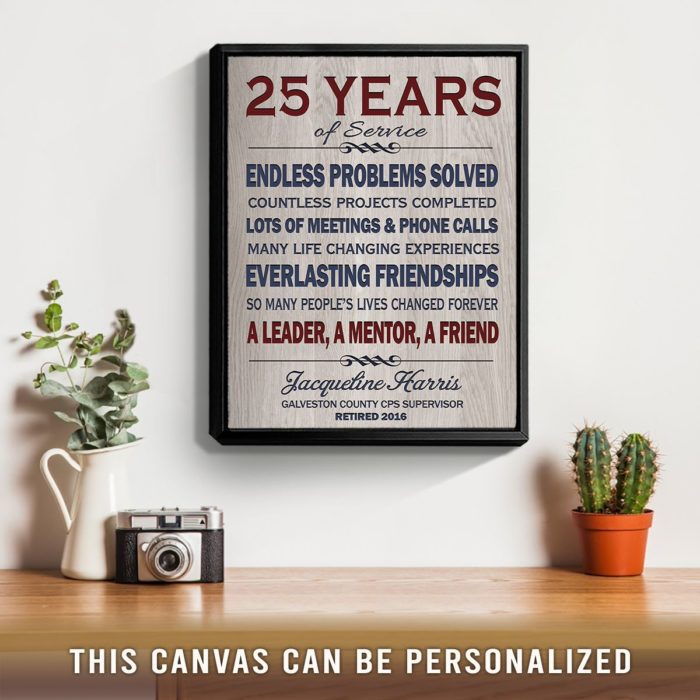 If you're looking for a one-of-a-kind retirement canvas art, this is the ideal option. This photograph captures his entire professional career thus far. For the rest of his life, this painting will be a special memory for him.
36. Customized Name Pillow For Dad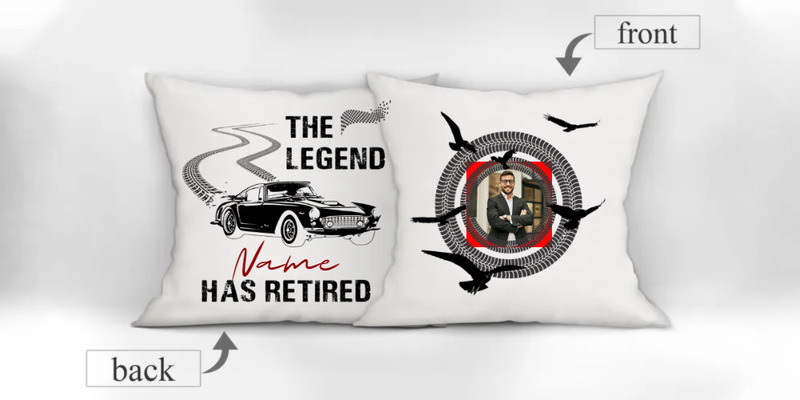 If you give your father this pillow, he will keep it like a cherished possession for many years to come. This pillow cover is made of linen, and it contains a photograph of your dad alongside an image of an antique car. As a reward, our mythical figure has successfully finished a challenging but ultimately fruitful voyage. It would put a smile on the faces of the people you care about the most!
Read more:
Choosing retirement gifts for dad is a significant element of the celebration of his life's accomplishments. You'll want to offer him a gift that not only conveys your love but also serves a practical purpose and fits into his new routine. On the day of his retirement, be sure to express your joy and pride in him. Oh Canvas believes that your gift is something that will make him feel so loved and special.