You undoubtedly have a long list of ideas for firefighter retirement gifts at this very moment. However, think about giving a retired fireman a present that will mean a lot to them. After a lengthy career as a fireman, these kinds of gifts will be treasured for a lifetime. Before you make your final decision, consider these gift suggestions and inspirations by Oh Canvas that will make the best surprises for the country heroes ever. From practical pieces that they'll actually use to a personalized keepsake that lasts a lifetime, you'll find at least one thing to wrap for them.
Personalized Firefighter retirement gifts
1. Engraving Whiskey Decanter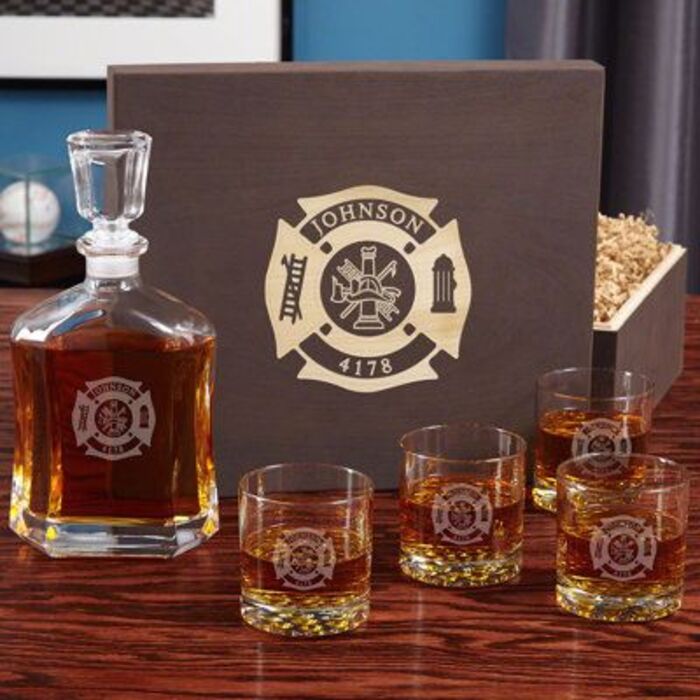 Do your loved ones who work in the fire service appreciate a post-shift swig of bourbon? Then this personalized whiskey decanter set will be a hit with him. For newly promoted or recently retired man, or as a thoughtful thank you retirement gift for firefighter, this set is a beautiful choice of gift. You can bet he'll enjoy having it in his bar and sipping scotch with some of his former coworkers after a long time apart.
2. Elegant Decor Item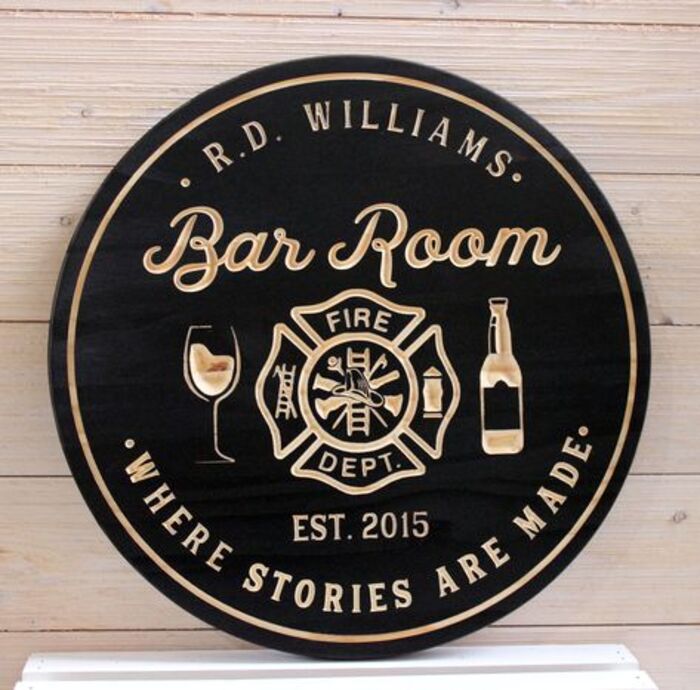 It may surprise you, but a piece of wall art is an excellent fireman retirement gift. This heartfelt sign would look fantastic in any room of the house, but it would also work well in a fire station or other public building. Whether it's a job advancement or a retirement after a long life of devoting, this fantastic handcrafted sign is a great gift idea. If it's for Father's Day, we're pretty sure that your gift is a delight.
3. Personalized Poker Set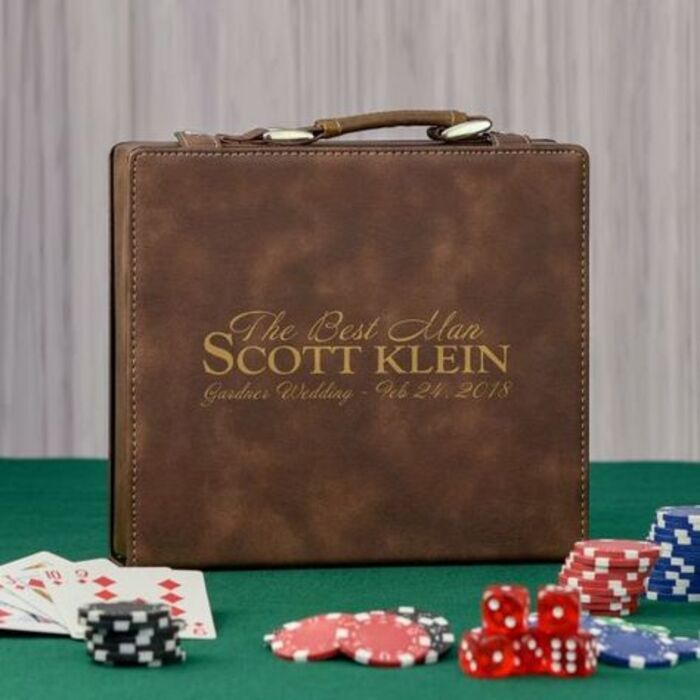 Why not get them something they can give to their coworkers as a thank you? Firefighters can carry this customized retirement gift set to their friends' houses for a weekly poker night with some glasses of beer. Whenever your firefighter wants, he or she can play a soothing game with their favorite comrades, thanks to your thoughtful gift.
4. Engraved Hatchet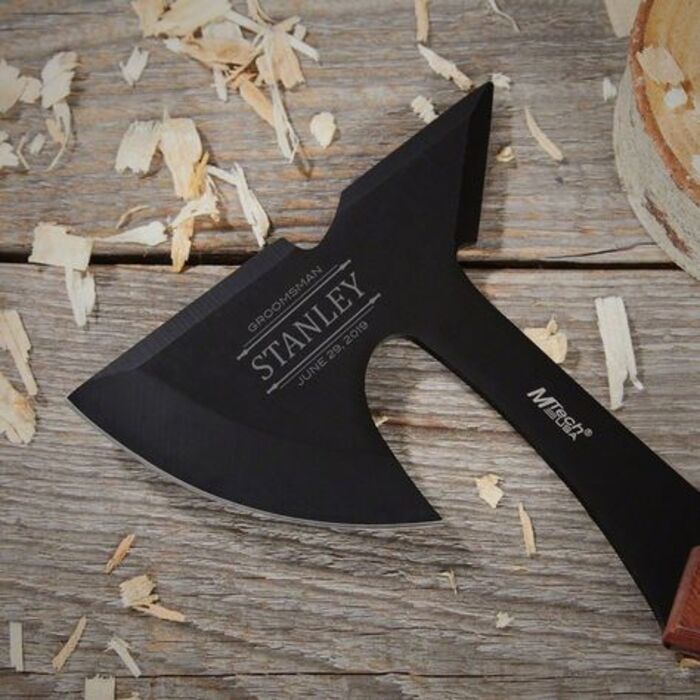 Whether it's liberating a kid trapped in a burning building or freeing a family stuck in a storm cellar, firefighters routinely use axes in their rescue efforts. It's also possible to have the stunning blade personalized in any way you like. The fact that you got him or her a customized hatchet that will make a keepsake will delight them.
Oh Canvas Tip

It's recommended to begin with a handle length of 17 inches, since this gives you plenty of wiggle space to trim it down to the perfect length for your throwing technique. The further you are from the target, the longer the handle needs to be for it to rotate once.
5. Beer Mug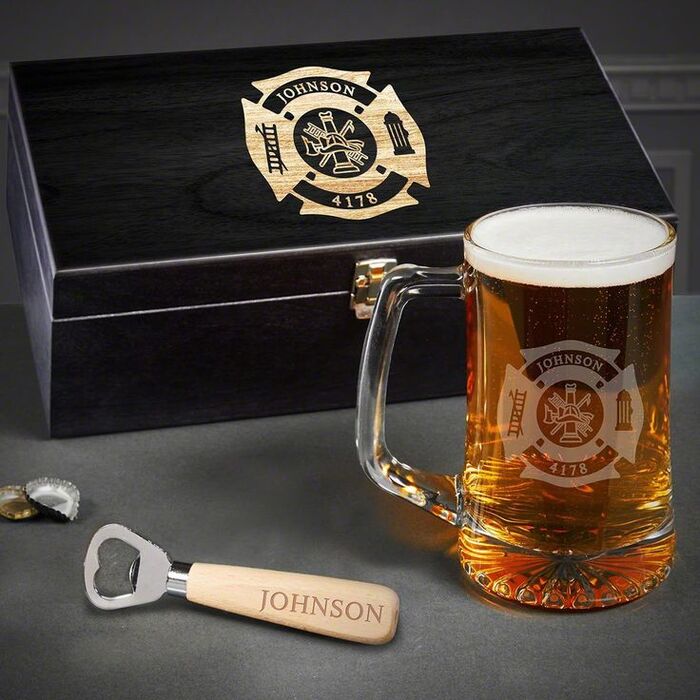 When it comes to personalized firefighter retirement gifts, nothing beats a custom-made beer mug. They will appreciate this personalized mug as a kind token of appreciation. With their names, retirement years, or a sentimental saying engraved on it, this mug will become a special part when that move to the next chapter of life.
6. Bamboo Grilling Tools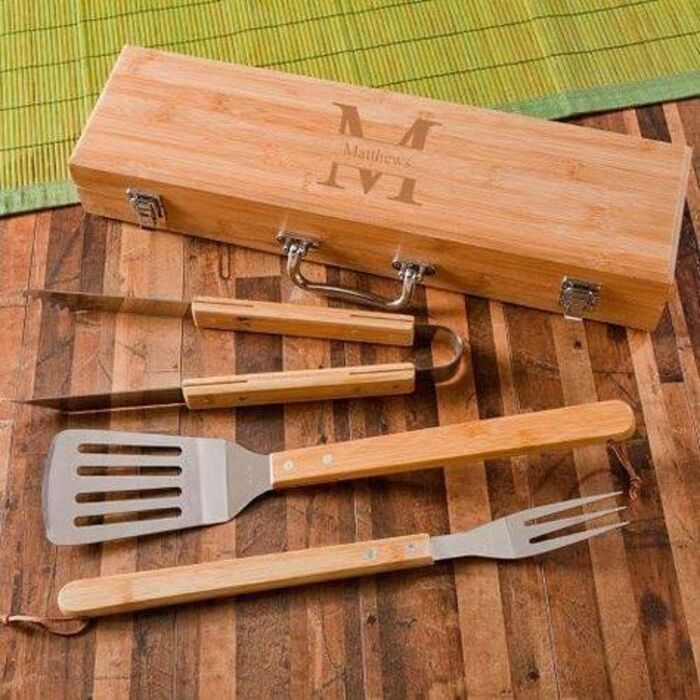 We all know that firefighters enjoy grilling, and these personalized bamboo tongs are a great way to show their appreciation! As a bonus, these tools are lightweight and heat-resistant, making them a welcome addition to any griller's arsenal. Perhaps their favorite feature is that they can take their new tools to the lake on weekends in a convenient carrying case. Grilling burgers and brats for the entire family will be a breeze thanks to your thoughtful fire department retirement gifts!
7. Firefighter's Thin Tee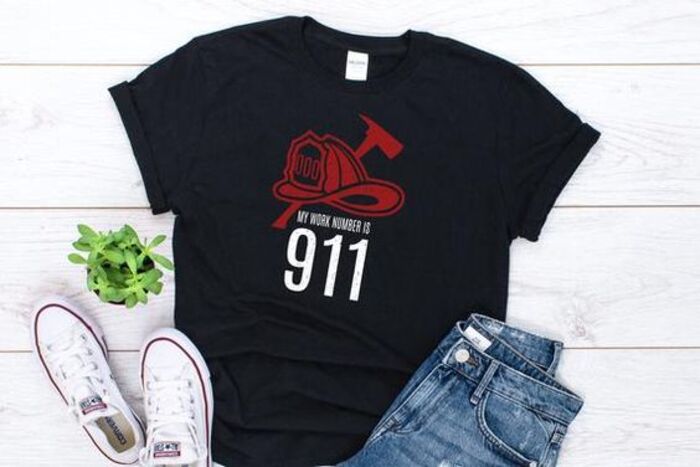 In the same patriotic tradition as police officers, our firefighters wear a thin red line as their insignia. Funny firefighter retirement gifts like this graphic T-shirt are an excellent way to show your appreciation for the bravery of firefighters around the world.
8. Leather Wallet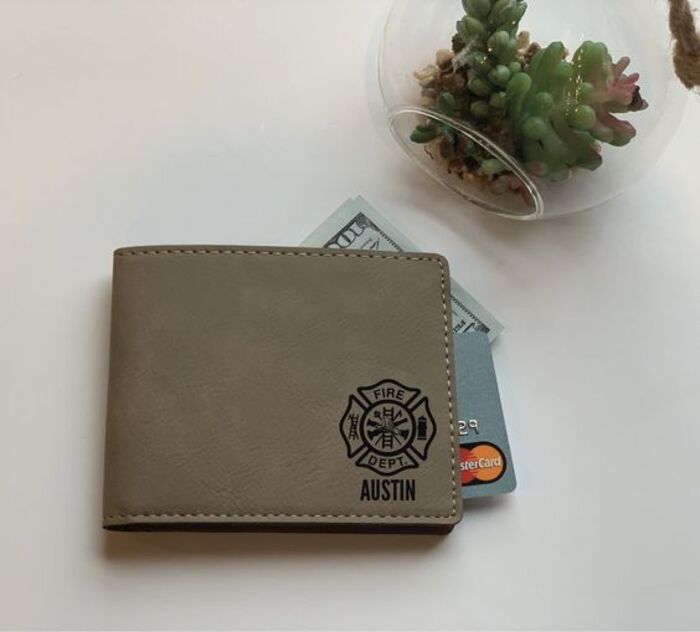 This genuine leather wallet is handcrafted and may be personalized on the inside with an engraved fire department shield and a personal message of your choice. At the bottom of the "Maltese Cross" shield, there is room for a name to be added. Add a handwritten message carved into the wallet's interior and you'll have a long-lasting retirement gift for him.
9. Tumblers for Firefighters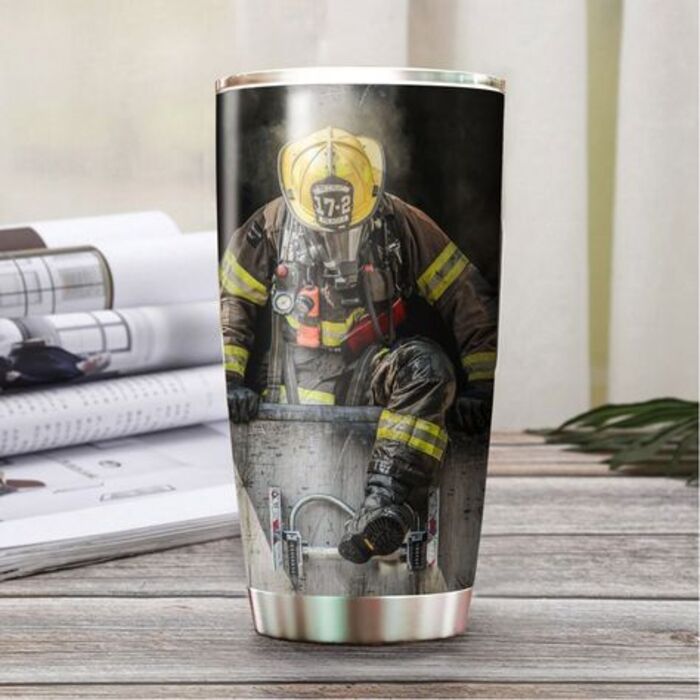 Among unique firefighter retirement gifts, we recommend this laser engraved tumbler if you want to surprise them on their birthday. You can save money by purchasing multiples, even if each one is personalized with the name of a specific firefighter. Very impressive!
10. Custom Art Print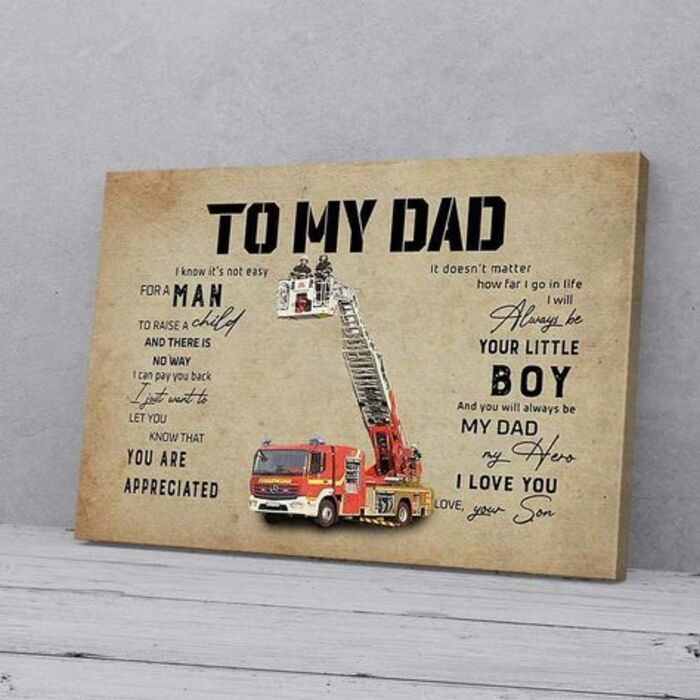 The poster with the message "To my Dad" is something that will win his heart over. It's also a perfect retirement gift for firefighter for dad from son to give on his birthday or Father's Day.
See also: 30+ Impressive Retirement Gifts For Principals In 2022
11. Thin Red Line Bottle Opener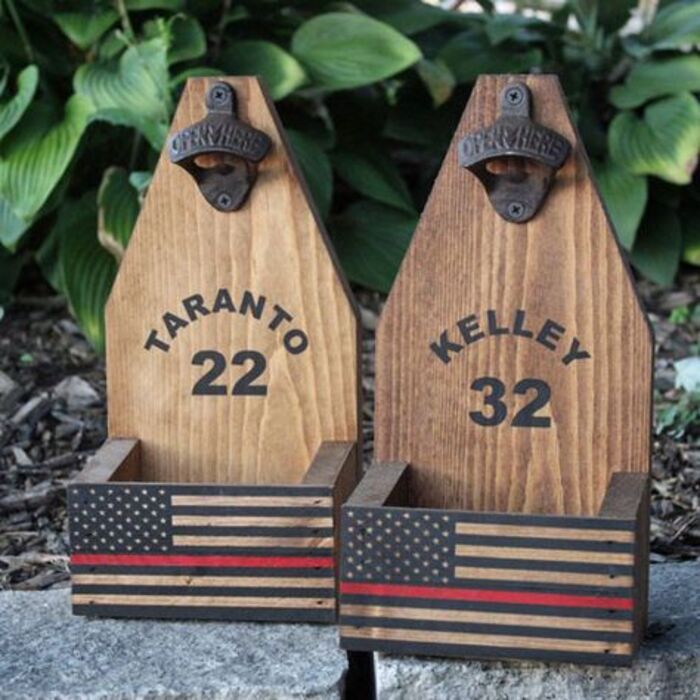 The firefighter's name and phone number can be added to this rustic wooden bottle cap opener that can be attached to a wall! On the cap-catcher section, there is an American flag with a "thin red line" on it.
12. Customized Coaster Set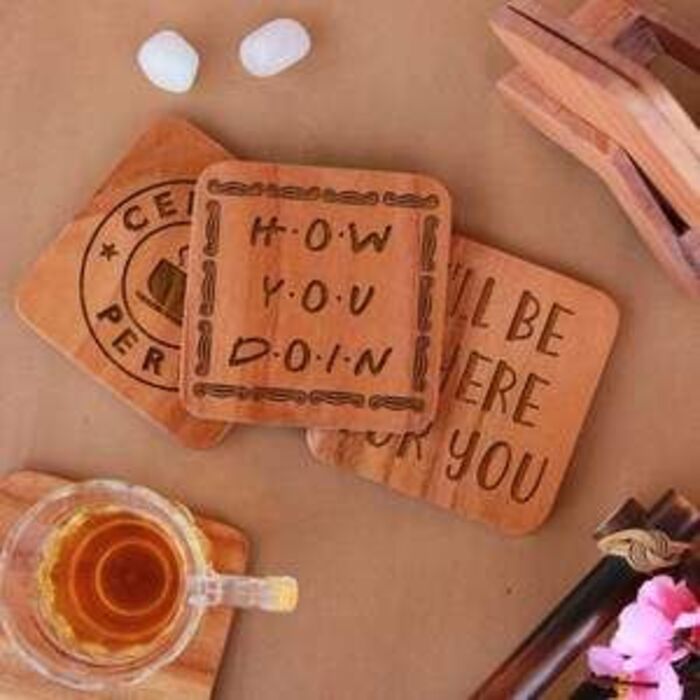 A wonderful set of personalized coasters is a great way to keep your home or office furnishings safe. If you're looking for a unique and thoughtful fireman retirement gift, this would be an excellent choice.
13. Personalized Cutting Board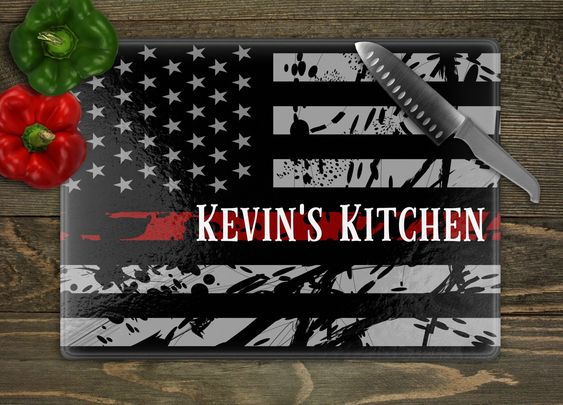 A retired firefighter who has a lot of free time at home may discover new interests, and cooking may be one of them. If you're looking for thoughtful fire chief retirement gifts, this personalized cutting board is a great option.
14. Necklace for Retired Firefighters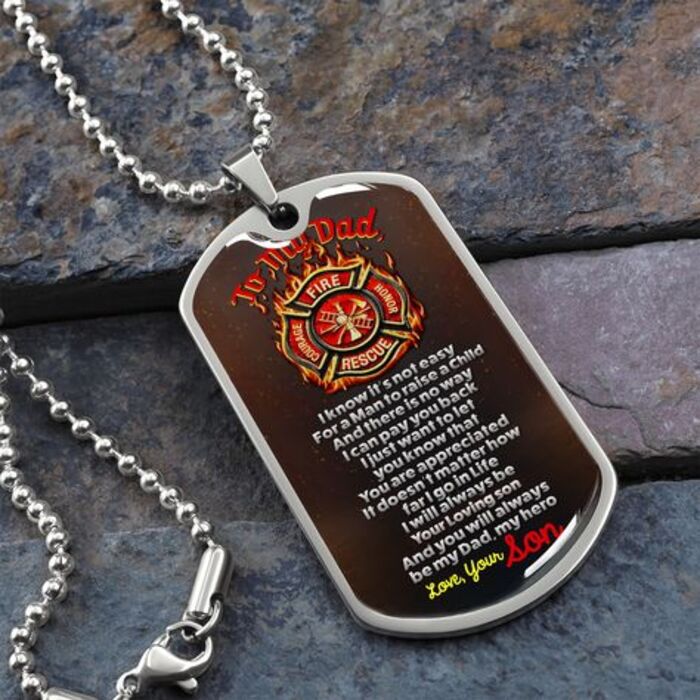 For a retired firefighter, you can personalize this necklace by engraving your own sentiments on the pendant. It's perfect for showing off your firefighter spirit everywhere you go.
15. Adorable  Keychains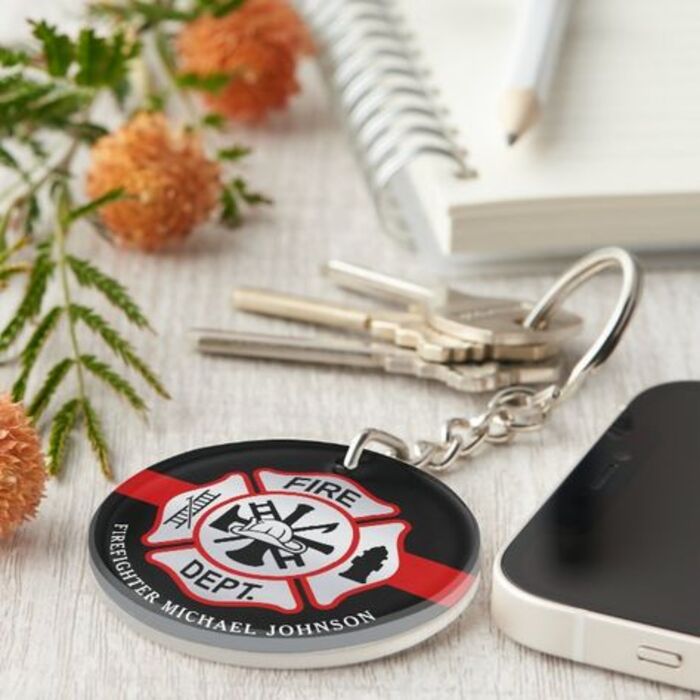 This thoughtful present will serve as a constant reminder to a retired fireman of the bravery he showed and the amazing things he accomplished while serving in the fire service. In addition, this keychain will ensure that his keys are never in jeopardy.
16. Personalized Timepiece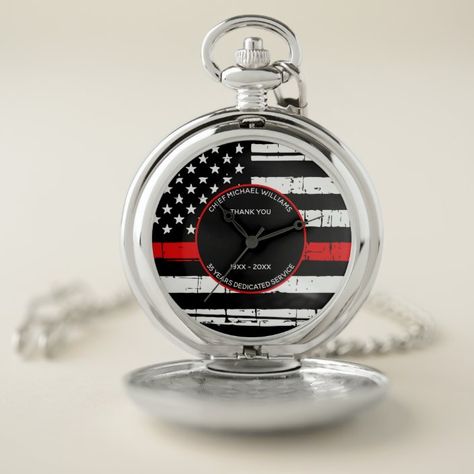 This is a watch that you may offer to a retiree as a token of your appreciation for their service and to wish them well in their new phase of life. This unique fireman retirement gift will provide them more chances to enjoy time with their loved ones and unwind after a long career.
Oh Canvas Tip

Firefighters have tough, high-pressure, and fast-moving responsibilities. These conditions can test a quality watch. These occurrences require a watch that stays intact, functioning, and reliable. To ensure that your watch will last, examine the crystal, the strap, and the overall quality of the manufacture and design.
17. Wooden Docking Station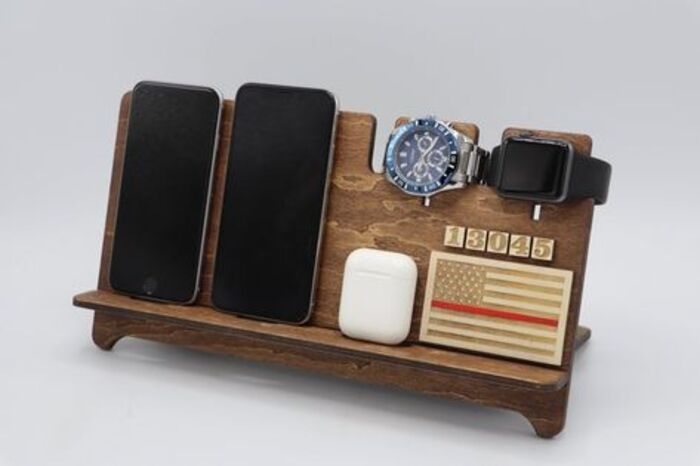 There's no longer any justification for the firefighter in your life dumping his pockets on the dresser. Personalize their docking station with their name and the Thin Red Line for a convenient place to keep their phone, keys, watch, and other small equipment.
18. Firefighter Apron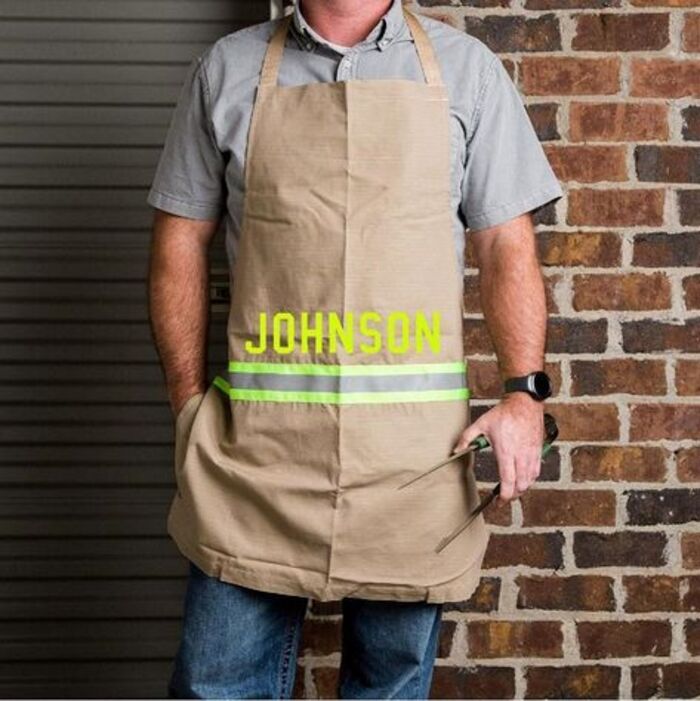 Firefighters are the best grill masters because they know fire better than anybody else. Their uniform is the inspiration for this personalized apron, which will show everyone that they are true professionals. It's one of the unique fire department retirement gifts that he'll actually use.
19. Customized Pillow Cases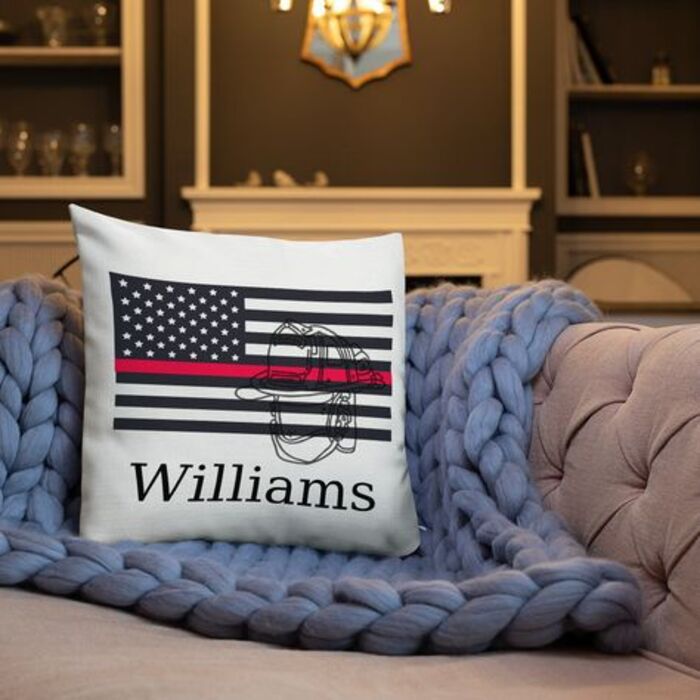 There is no one who doesn't appreciate a good night's sleep, not even the hardest of firefighters. They'll be able to keep warm and identify their bed at home thanks to this custom-made case.
>>> Recommend reading: 28 Unique Police Retirement Gifts That Show Your Gratitude
Practical gifts for a retired fireman
20. Pour-over Coffee Maker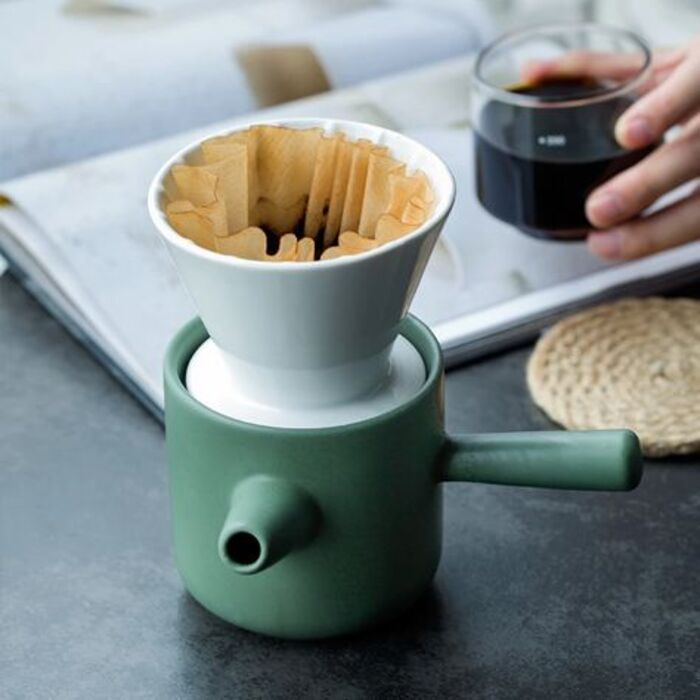 Coffee enthusiasts will tell you that the pour-over method is the best way to fully enjoy a cup of coffee. To ensure that all of the taste from the grounds is absorbed by the hot water, which is poured from the top, a filter is used.
A good coffee machine is a need at every home for the retired firemen to enjoy fresh moments with their grandkids and the entire family.
21. Shiatsu Massager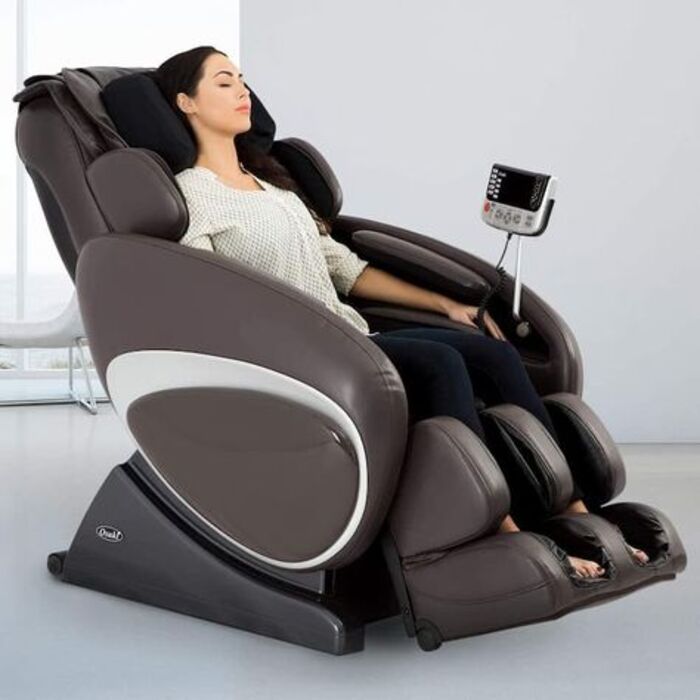 In search of thoughtful fire chief retirement gifts for your father this year? It's no surprise that his back and neck suffered pain and other problems all the time after years of hard work. This massage chair appears to have the potential to alleviate his symptoms, or at the very least, soothe his aching muscles. With 8 massage points, he can get a full-body massage, including the neck, back, and feet.
22. Traveling Backpacks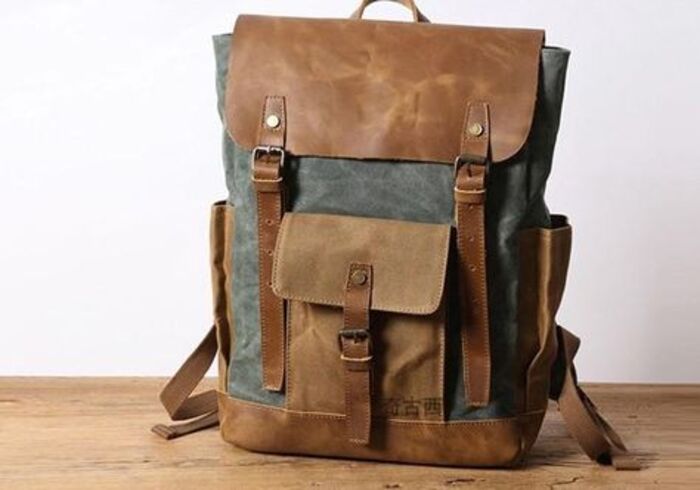 We all have a bucket list destination that we'd like to visit at some point in our lives. If so, this fireman retirement gift would be ideal for your father. What's stopping him now that he's out of the workforce? He'll finally be able to fulfill his ambition of traveling the world with this bag.
23. Firetruck Blanket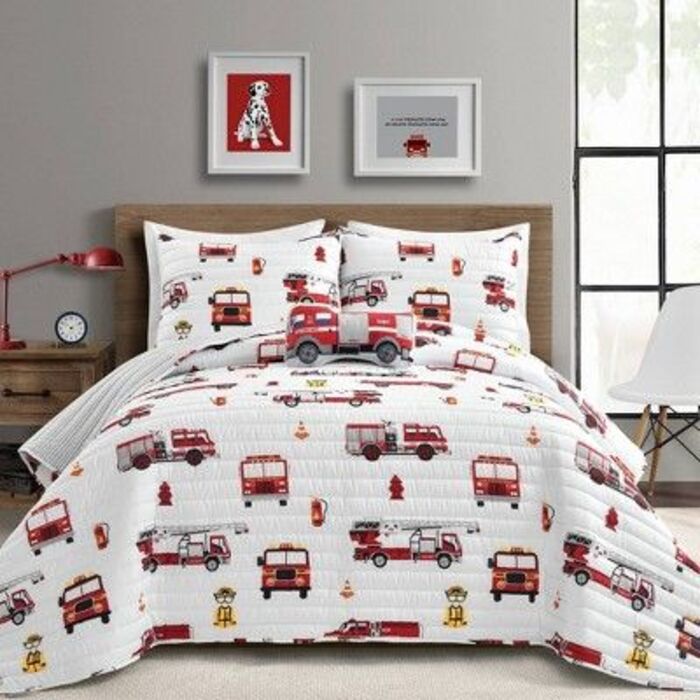 For all seasons, this firetruck blanket will keep you cozy toasty with its softness, breathability, and snugness. It's the ideal option for a practical and long-lasting retirement gift for a fireman. The blanket will be treasured by the retired firefighter's children and grandkids as well!
>>> Recommend reading: 25 Retirement Gift For Fisherman Ideas That Make Them Full Of Joy
Pleasing and unique firefighter retirement gifts
24. Fire Extinguisher Mini-Bar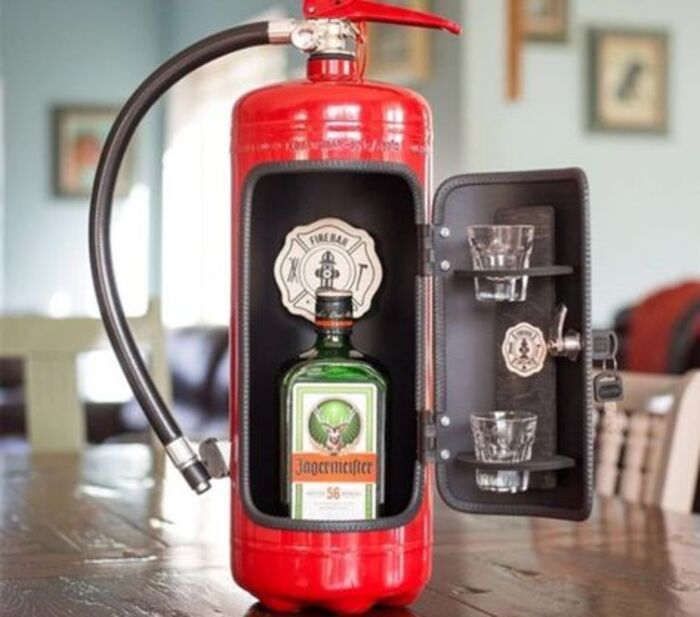 Yes, this does look like a fire extinguisher, which is very common in a firefighter's home. But there's a lot more to it than that. Two glasses and various accouterments are included in this special mini-bar. These are firefighter retirement gifts for those who enjoy relaxing with a drink of whiskey. We're sure he'll put it to good use.
25. Cufflinks with Firefighter Shields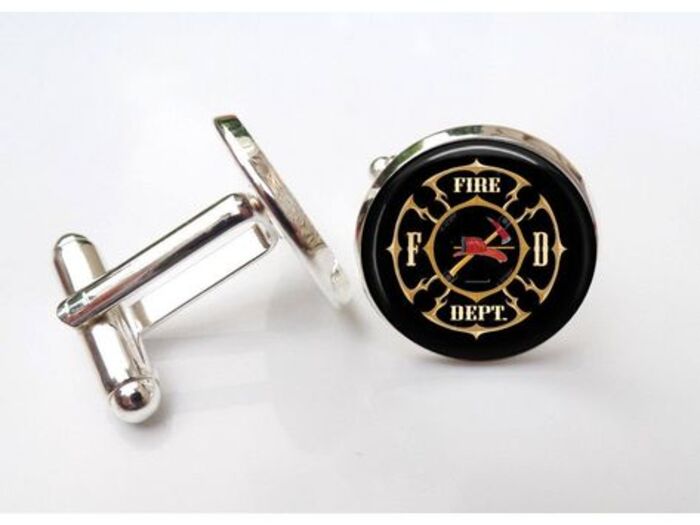 Fire department retirement gifts can't be better than this pair of cufflinks, which features a brilliant red enameled shield. Even a former firefighter, don't you think, enjoys wearing cufflinks to complete his ensemble? He undoubtedly can't wait to use them for a formal dinner with his wife, complete with a suit and tuxedo.
26. Planting Herbs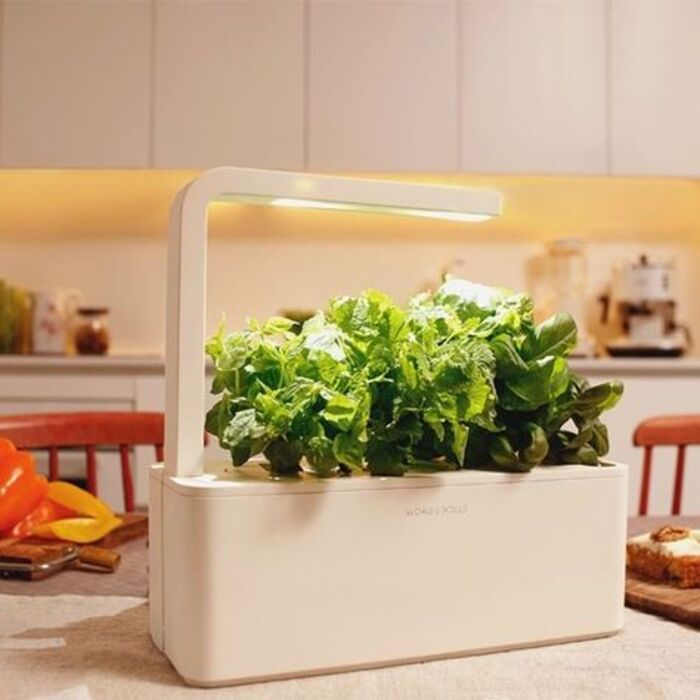 The time has finally come for him to put his love of gardening to good use and begin cultivating his own plants. In order to cultivate fresh herbs, he doesn't have to worry about whether or not he'll succeed with this indoor garden.
27. Turntable Player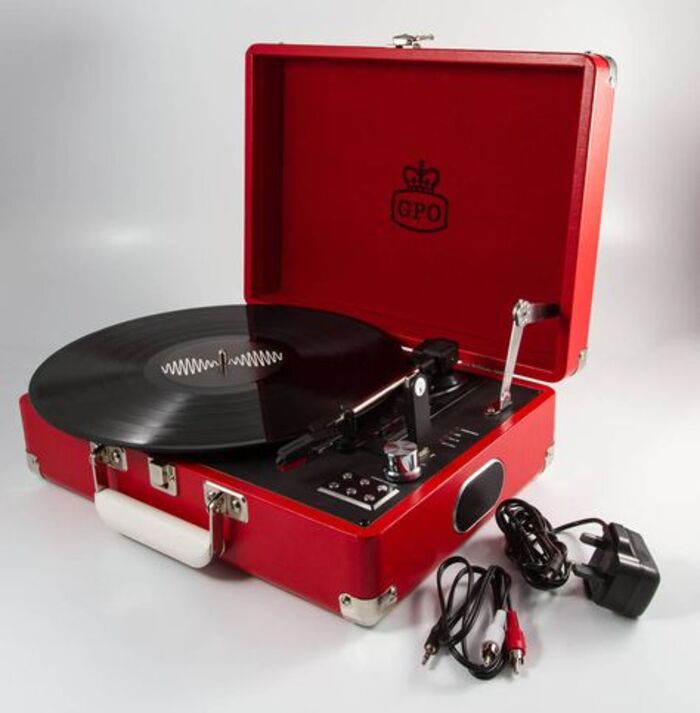 Unique fire chief retirement gifts can be hard to come by. But this turntable player will look amazing in any home decoration. The built-in speakers will allow him to hear his favorite singer's voice in a way he's never heard before. Grandpa will be reminded of the fun moments he had as a kid when he sees the old-fashioned style of your gift.
28. The Legendary Coffee Mug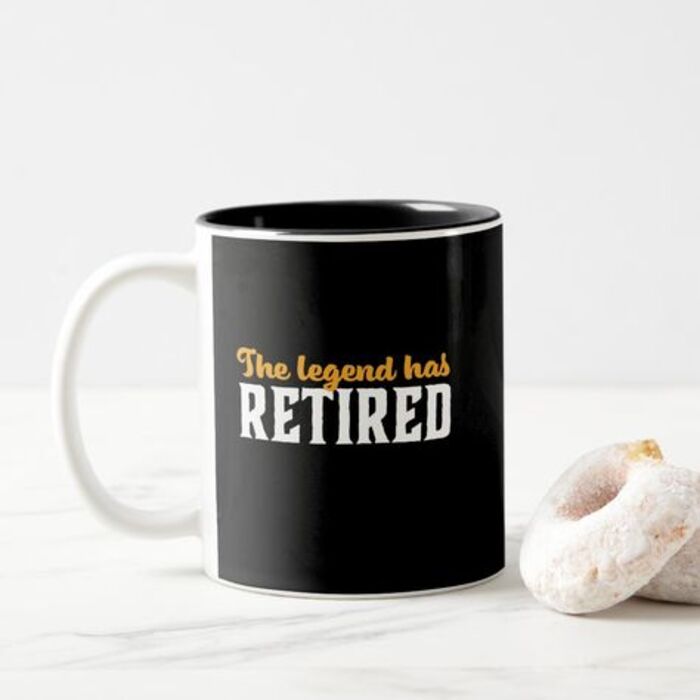 This 'The Legend Has Retired' retirement gift is a one-of-a-kind and amusing item. Firefighter retirees may enjoy their favorite hot beverage in style thanks to this set of ceramic mugs that come with a lid and spoon for added convenience.
29. Fire Hoses Drinks Coolers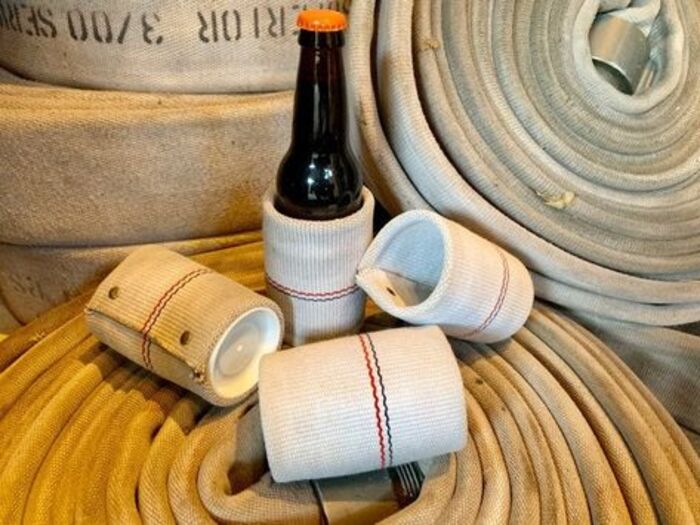 You can show your patriotism with a vintage-inspired beer koozie crafted from old firehose by firefighters. When it comes to creative fire department retirement gifts, this is an excellent option that will leave the best impression on him.
30. Firefighter Lawn Gnome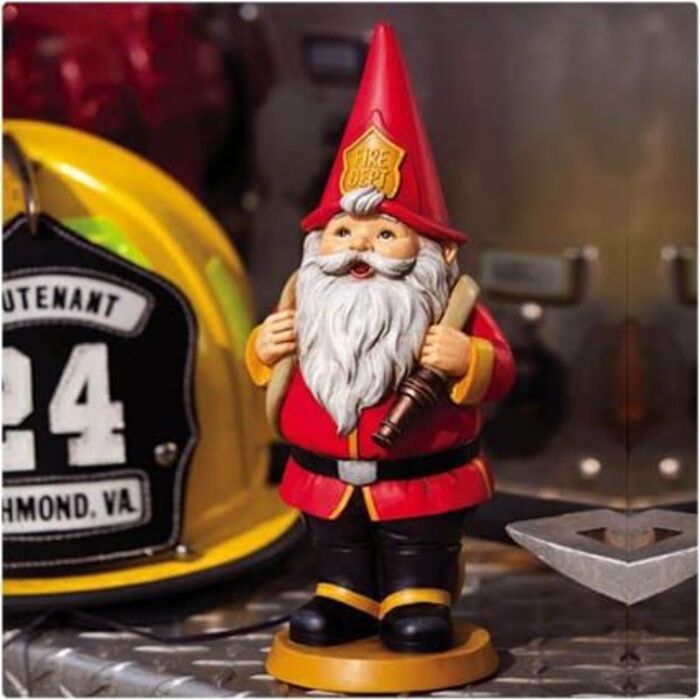 The word "firefighter body" has never had such a literal connotation as it does in this case. Your firefighter's yard will get a tremendous boost from this little guy, who stands at just 10 inches tall.
31. Fire Exit Shelf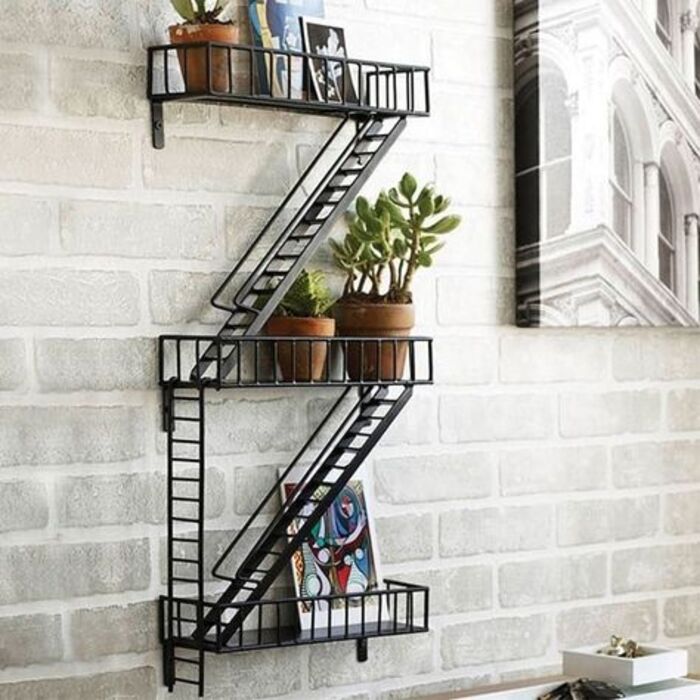 This shelving unit has a fun, contemporary vibe that we're in love with. You can use it to display plants and other items, but we also thought it would make a perfect kitchen accessory for spices, cookbooks, etc. It's guaranteed to draw attention anywhere you put it!
Read more:
Our bravest and best citizens are our firefighters! How do you say "thank you" to a fireman for risking their own life to save others? You can start with the heartfelt firefighter retirement gifts ideas on this list. There's something here for everyone, from the charming and emotional to the essential and life-saving.
Beer glasses or a neck massager can help them relax after a long day at work. It's a great way to ensure that your loved one has a good night's sleep. Or, you could give them a life-saving multitool! Oh Canvas is pretty sure that the firefighter in your life will appreciate your love and support no matter what you decide to give them.