To say the least, a wedding anniversary of 75 years is a significant landmark. You and your spouse have been together for seventy years after you tied the knot. No matter if you're looking to celebrate your own 75th wedding anniversary with your sweetheart or wish to congratulate your parents, grandparents, or another happy couple in your life on this wonderful marital milestone, Oh Canvas has a ton of great 75th anniversary gifts ideas to help you do so.
What is the symbol 75-year anniversary gift?
It makes sense to celebrate a marriage's 75th year with a diamond anniversary. Diamonds are known for their durability, clarity, and beauty, all of which describe a marriage that has lasted 75 years. Brilliant gemstones are not only the traditional gift for a 75th anniversary, but they are also the modern gift theme and gemstone for this occasion.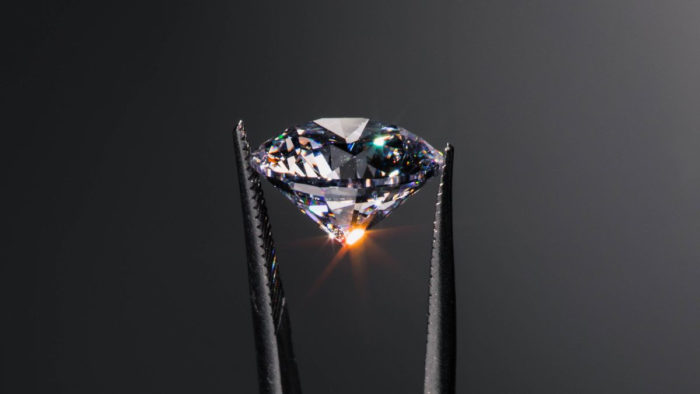 Fittingly, diamond white is the color chosen to celebrate the diamond wedding anniversary, and the sophisticated orchid is the flower of choice. Of course, there's no rule that says you have to stick to any particular theme for a gift, so we've also included plenty of non-theme options for a 75th-anniversary present.
Ideal 75th Anniversary Gifts For Her
1. Aquamarine Earrings for Her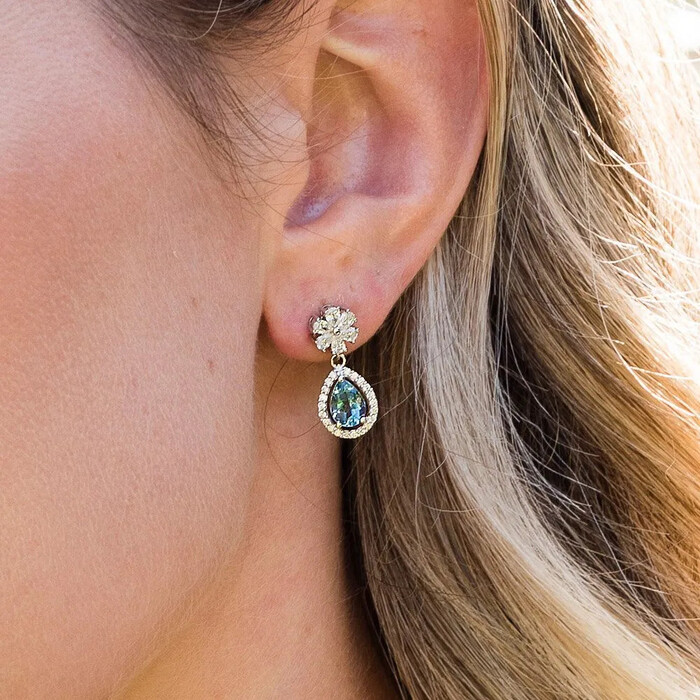 A pair of aqua earrings are a fashion item fit for royalty. Even though they are modest and elegant enough to wear every day, these blue gems are worthy of being saved for special occasions. She can keep wearing them forever without worrying about finding something more appropriate for a special occasion.
2. Heart-Pendant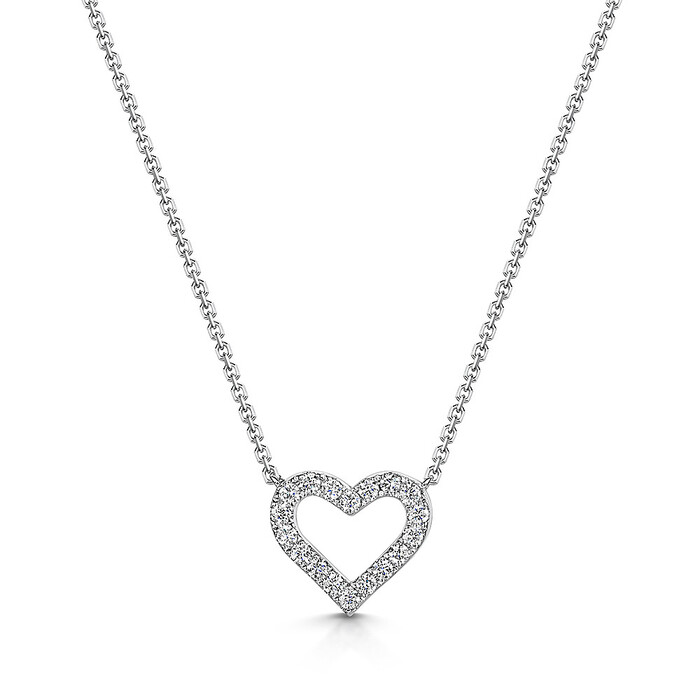 A diamond heart necklace is a classic token of affection that will always be appreciated. It will become an instant favorite among your jewelry because of the diamonds and the white gold.
3. Rose Gold Bracelet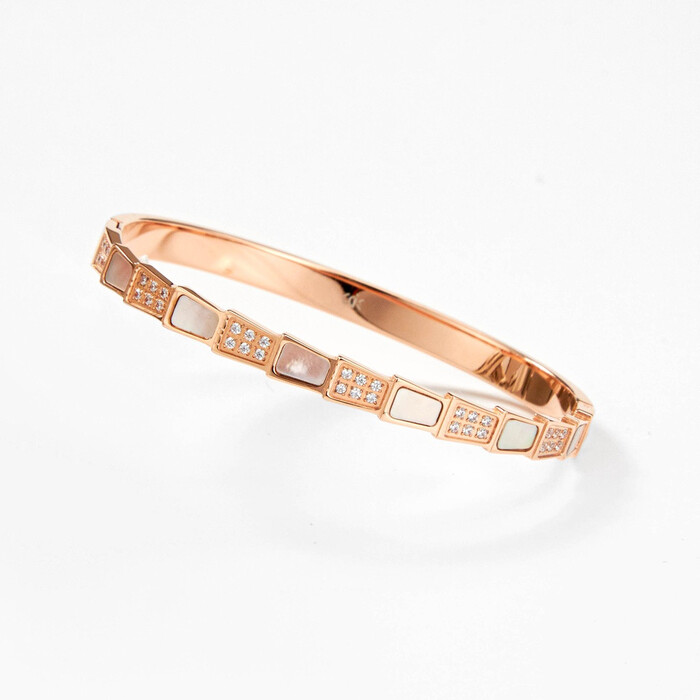 Bolo closure bracelets, like this one, are a contemporary spin on the classic diamond tennis bracelet that makes a strong commitment or anniversary present but still feels fresh and current.
4. Personalized "To My Wife" necklace
The greatest 75th-anniversary gift for her is something personalized. Give her a necklace to keep as a keepsake for years to come in a unique message box. She'll be able to hold onto this and think about it every day.
5. Roses Box Gift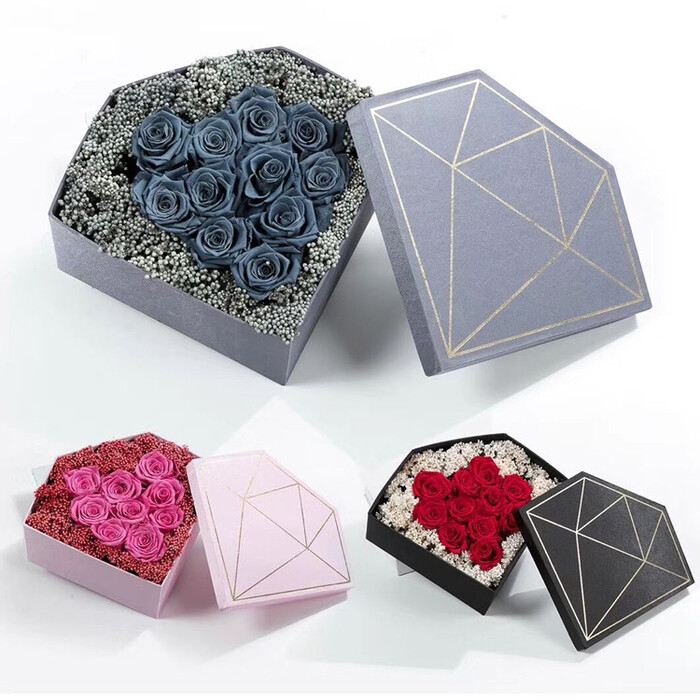 Regardless of the event, roses are always a good choice. A magnificent assortment of colors is available for these 75 fresh roses that are nestled in a white gift box. Traditionally, the color silver is given as 75th anniversary gifts, so you might honor the occasion by giving white flowers.
6. Celebration Glass Vase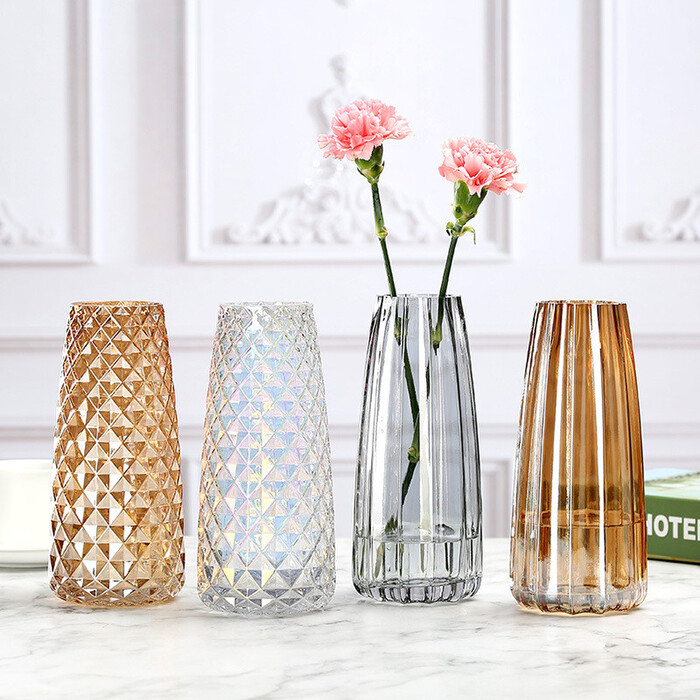 Fill this magnificent vase with an anniversary bouquet and countless arrangements in the years to come, and it will always remind you of your 75th anniversary gifts and the diamond anniversary you shared.
7. Diamond Ring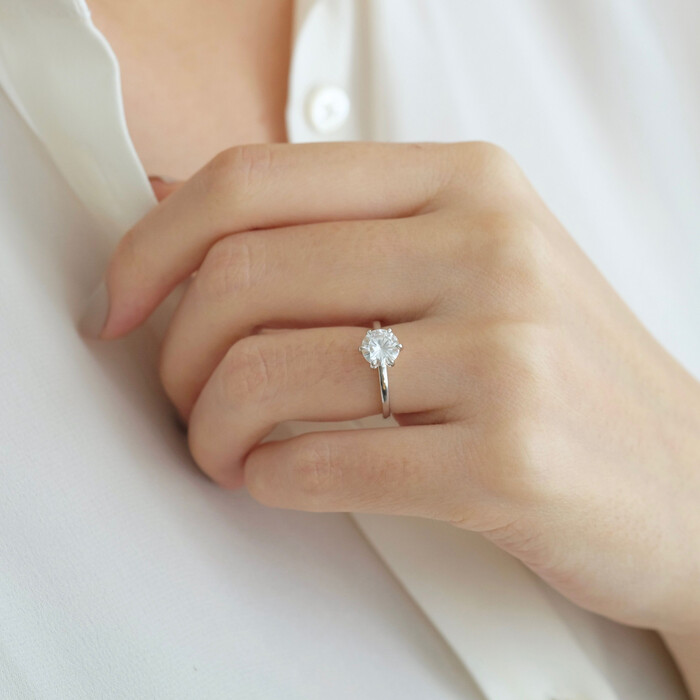 Buying a diamond ring for your loved one is a great way to commemorate this special occasion. It may be a bit pricey, but nothing compares to the timeless appeal of this tried-and-true token of affection.
8. Cozy Scarf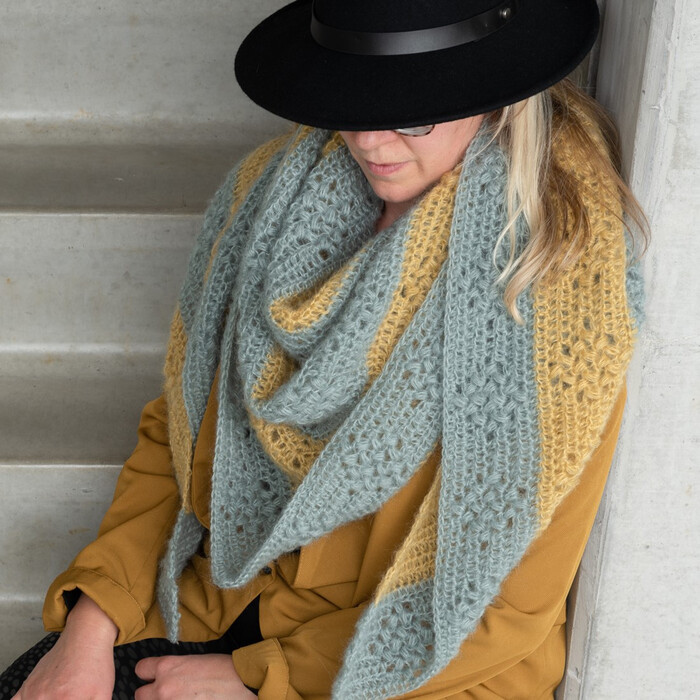 What about a useful, on-theme present with a diamond pattern to give to the happy couple on their wedding anniversary? Surely, your sweetheart would appreciate this classic and soft scarf.
9. Home Decoration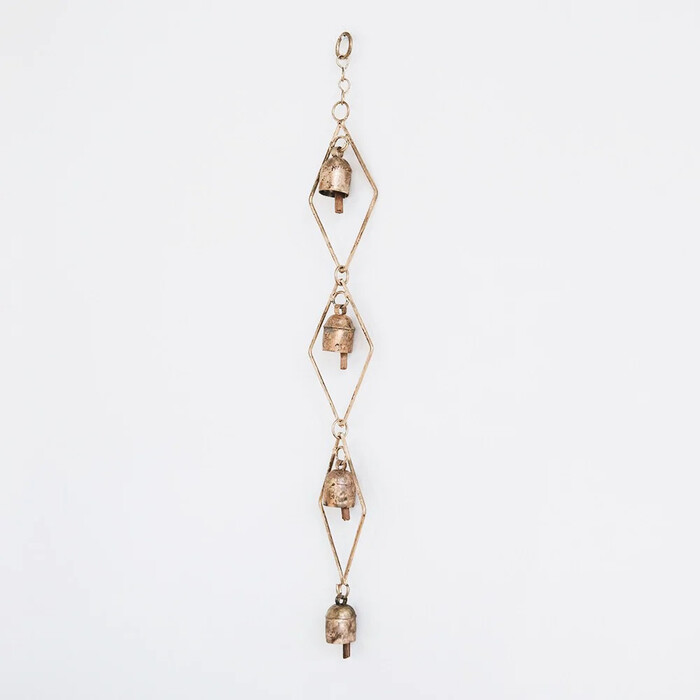 This rustic copper bell chime is the perfect diamond present to give to someone who appreciates whimsical touches in their home. You can hang it outside to hear the bells or bring it inside to use as a decorative piece.
10. Trendy Bag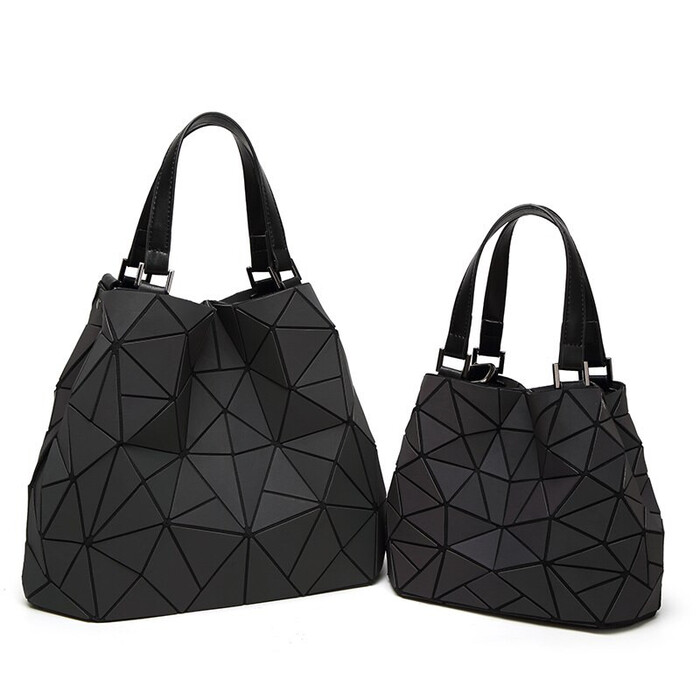 This slouchy leather bag, with its braided diamond pattern, is a fitting present for 75th anniversary gifts. She may sling it over one shoulder or hold it in one hand thanks to the single sturdy strap, meaning she'll never leave the house without it.
11. I Choose You Canvas Print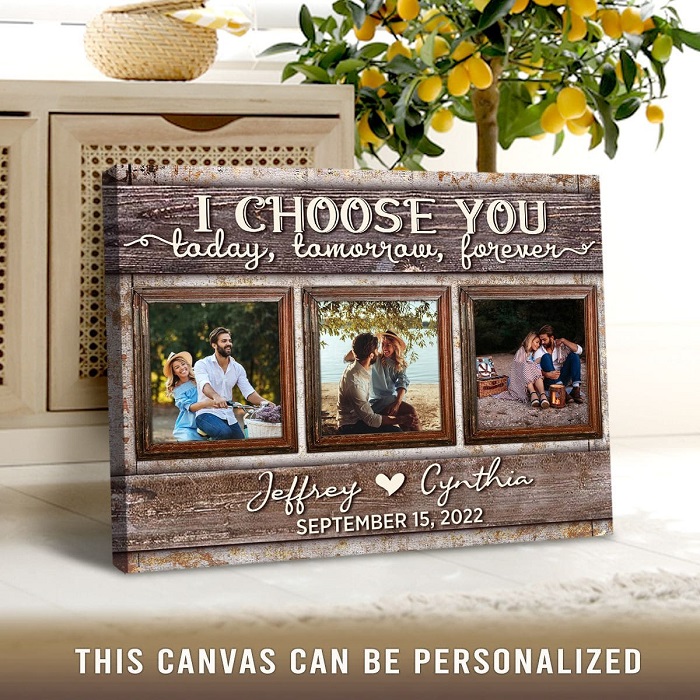 The 75th anniversary is quickly approaching, so get something to express "I love you" to your special someone right away. The devoted and everlasting love you have for her for 75 years is captured in the canvas painting "I Choose You."  Even after 75 years, the one you choose is her. This piece of bespoke art is adaptable to your specific needs, allowing you to include as few as three photographs and your preferred shape for arranging them.
>>> You can also read: Best Anniversary Gifts by Year: Traditional & Modern Guides 2023
Awesome 75th Anniversary Gifts For Him
12. Whiskey Glasses with Diamonds Shape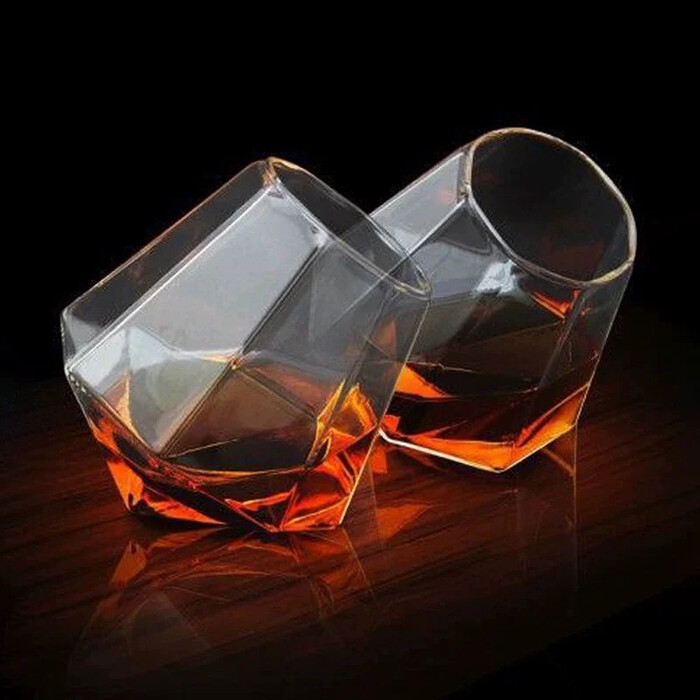 The question is whether or not they have whiskey glasses that defy gravity and spark up talk. The diamond detailing makes this the best 75th anniversary gift that he could get. When he gets this gift from you, he will be astounded.
13. Diamond Timeless Piece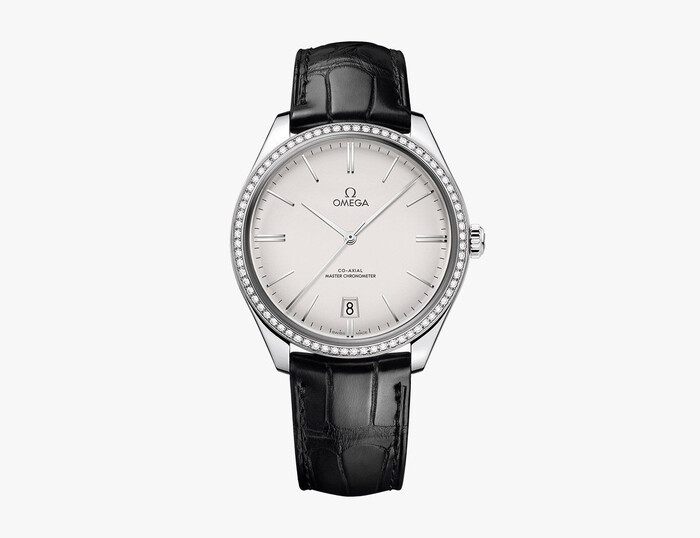 Given the length of your marriage, a watch is a fitting token of appreciation. This watch fits both the traditional and modern gift ideas.
14. Cufflinks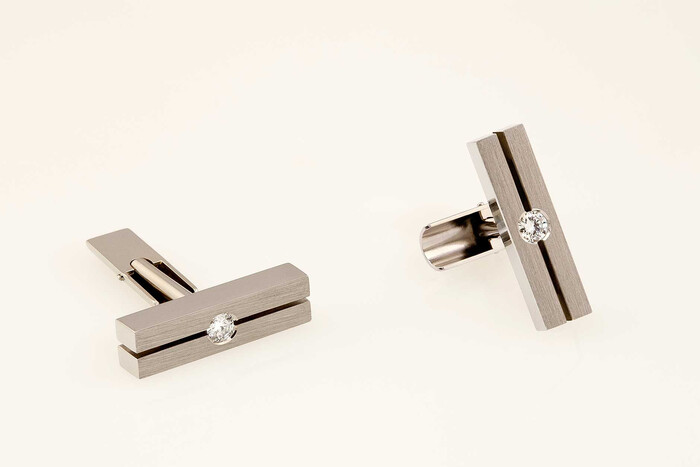 Personalized cufflinks are a great present idea if your spouse adores getting dressed up. Tie clips fall into the same category. Cufflinks and tie clips can be personalized with the couple's initials or the wedding year.
15. Engraving Wallet Insert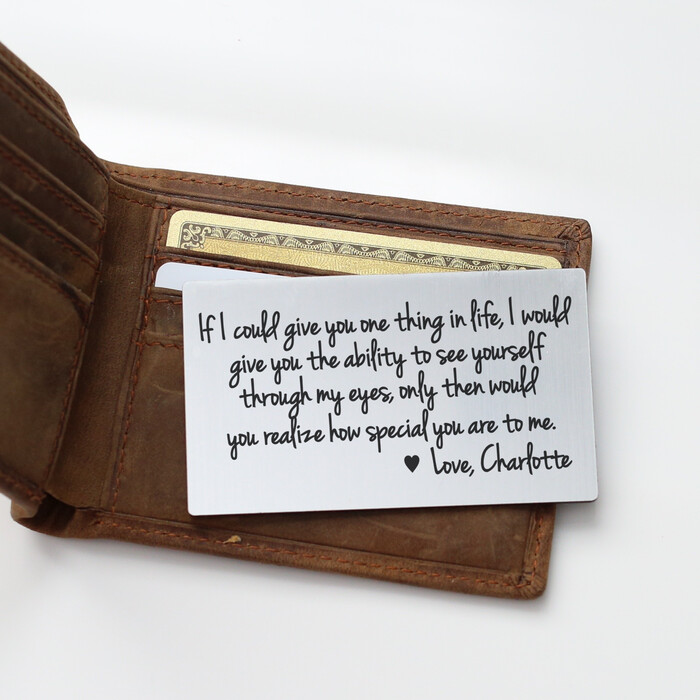 A fantastic present for a married couple celebrating their 75th wedding anniversary. A metal wallet insert card is included with your purchase of this present. This is such a beautiful expression of your affection for them. If a couple wants to show they're still in love after 75 years of marriage, this is the perfect gift.
16. Customized Compass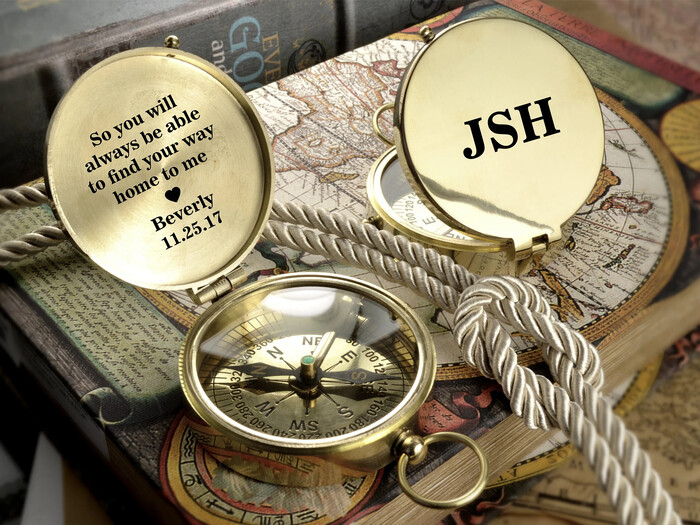 Sundials have been used as accurate timepieces and divining tools for over 200 years. This stunning compass, engraved with the date of your anniversary, will serve as a constant reminder of how much he means to you. Give this lovely brass sundial compass with an engraved greeting to show your loved ones how much you care. It's a great way to commemorate this special year and will give hours of entertainment.
17. Patterned Diamond Tie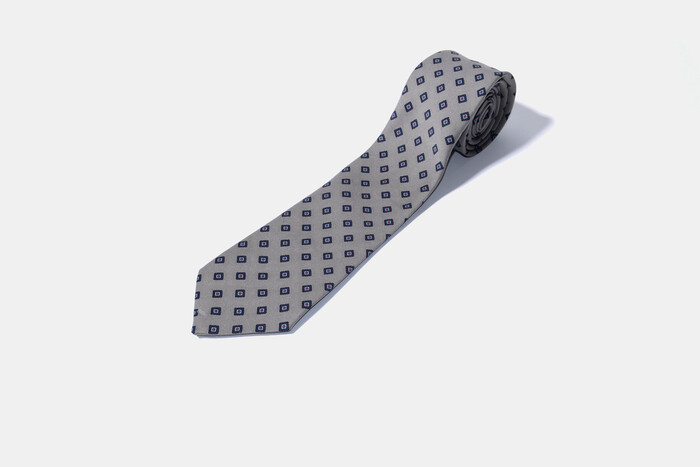 Without purchasing a real diamond, the depiction is the next best thing if you want to include the diamond sign in your gift for your husband on your 75th anniversary. This diamond-patterned tie is versatile enough to work with any anniversary motif you can dream up.
18. Diamond and Silver Money Clip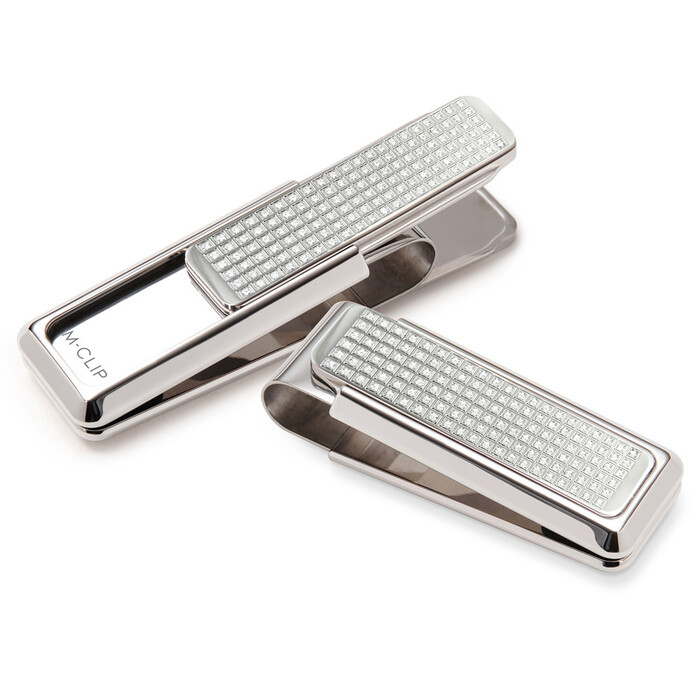 Find a present for him that plays off of the diamond anniversary motif and give it to him. This fashionable diamond money clip will help him organize his bills and add a dash of glitz to his wallet. Not only that, but engraving services are also available.
19. To My Husband Canvas Art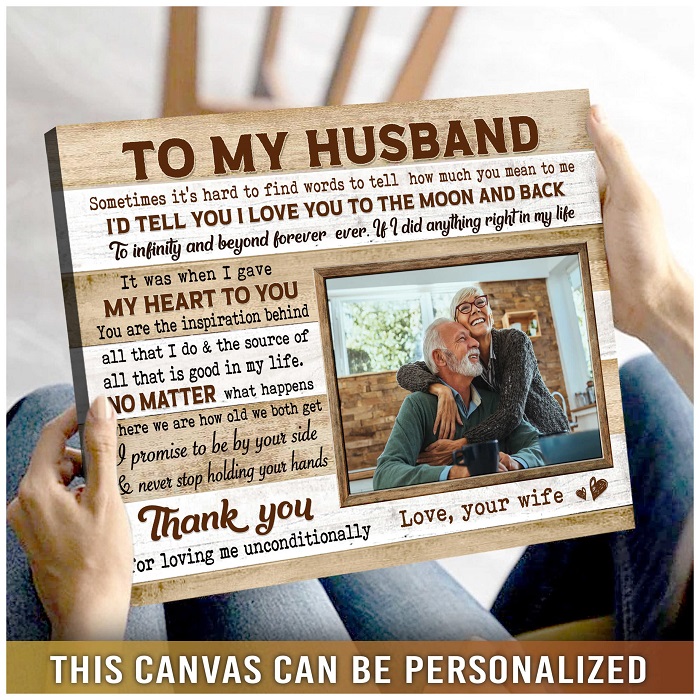 You and your husband have been married for 75 years, and in that time you've shared countless joyous occasions. Why not make a custom-framed canvas to hang in your house as a reminder of all the happy times you have shared together? You can tell your husband everything you've been dying to say by showing him this painting titled "To My Husband." A couple's photos, favorite messages, or text can be added to this beautiful piece of art to make it unique. It is something your sweetheart will treasure forever.
20. Luxury Pen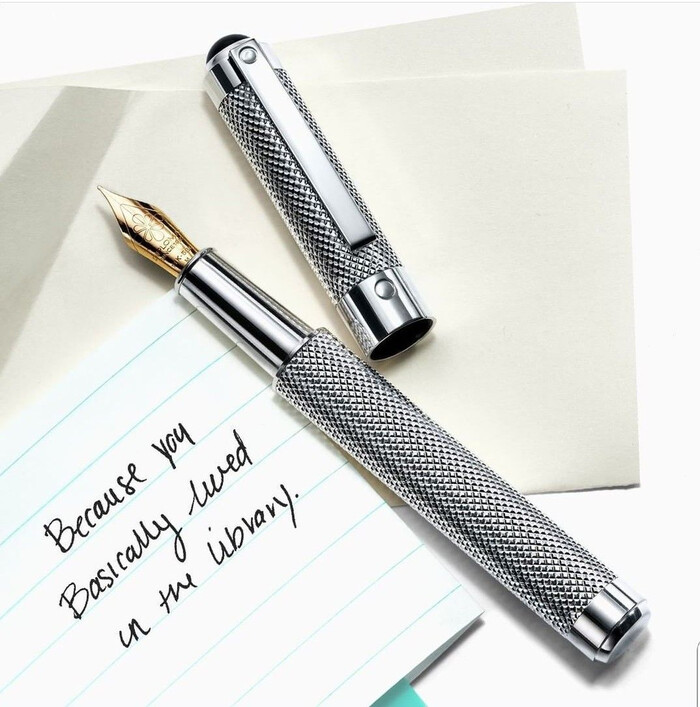 There's something unique about fountain pens, and the finest ones make excellent anniversary presents. This high-end writing instrument will make an excellent impression on any man.
21. Whiskey Decanter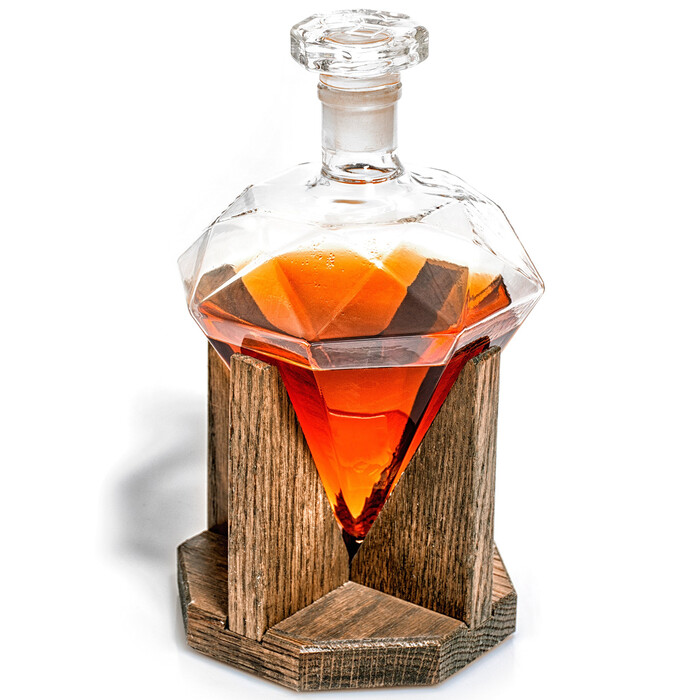 The best present for a whiskey-loving man, this diamond whiskey glass set comes with two crystal whiskey glasses, granite whiskey stones, tongs, and two slate table coasters. He can whip this out and show it off to his friends whenever he likes, thanks to the high-end wooden box in which it was presented.
>>> Read more: Top 43 Shiny 60th Anniversary Gifts for Wife, Husband & Couples
Great 75th Anniversary Gifts For Couples
22. Custom Song Lyrics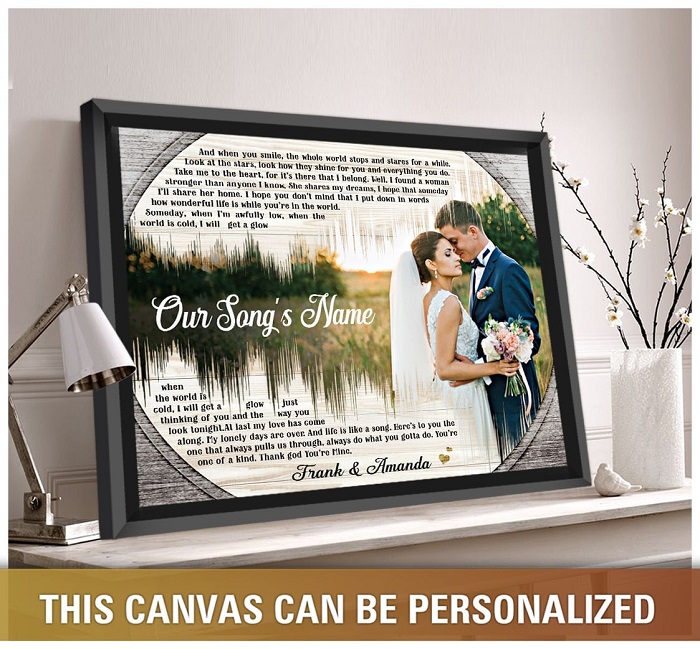 Give this personalized love song print to the happy couple as a gift for their 75th wedding anniversary. A wedding song with written lyrics is a sweet way to bring back happy memories. What an original and touching anniversary present. Add a touch of romance by writing the couple's names and the date of their first date or wedding at the bottom of the lyric section.
23. Customized Pillows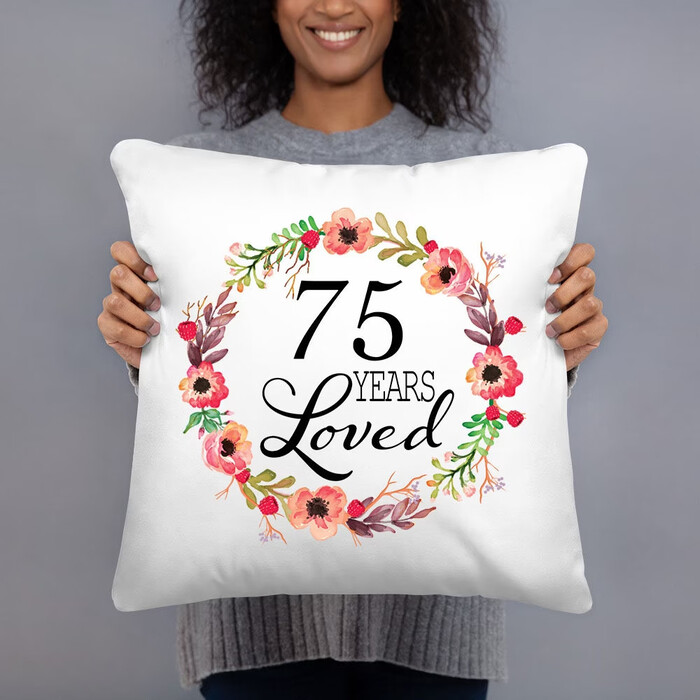 Your love's 75th anniversary is cause for celebration, and this cushion is just the thing to do it in. There's no doubt that the mere sight of this cushion will increase his or her affection for you. They will always remember the care you put into selecting this special present for them.
24. A pair of Personalized Mug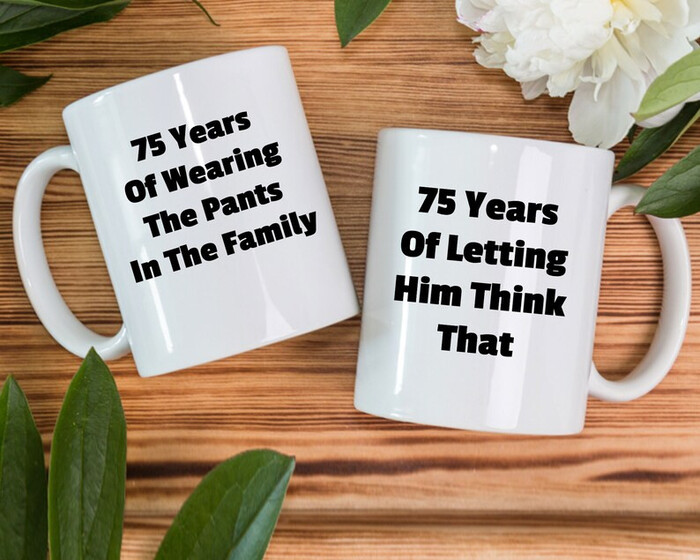 This mug anniversary is a timeless keepsake that will be treasured for years to come by even the most discerning couple. Each one of these mugs is produced by hand and given its own special touch with a handwritten message and date. What a wonderful way to honor 75 years of marriage!
25. Bottle Openers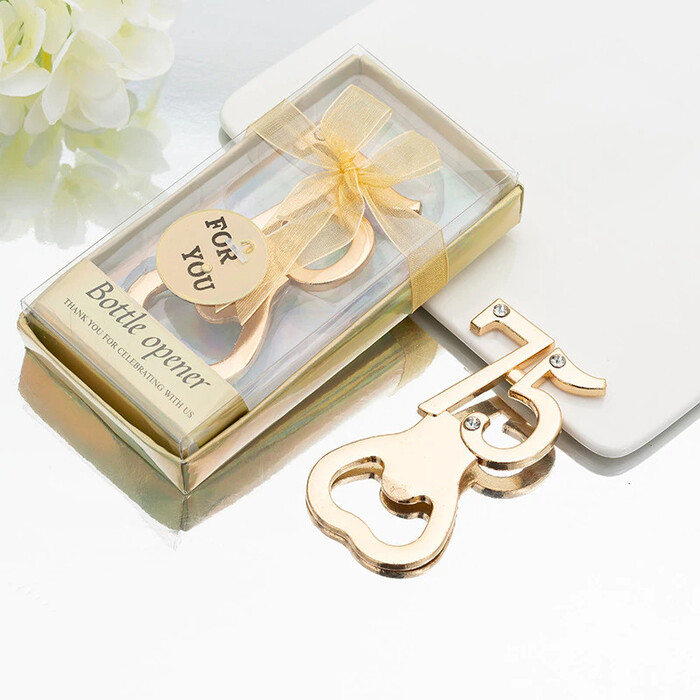 This bottle opener is an excellent choice for the couple to commemorate their 75th anniversary gifts. This thoughtful present is one they will remember for a very long time.
26. Customized Clock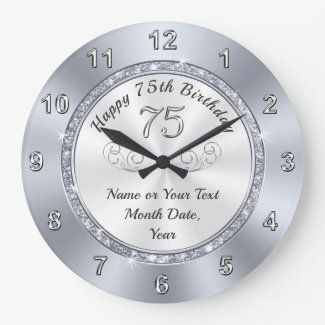 This classy wall clock can't go wrong. An elegant finishing touch to their home decor, this clock is a must-have. And when they wear one of these watches, they'll always remember you.
27. Laser Engraved Glass Diamond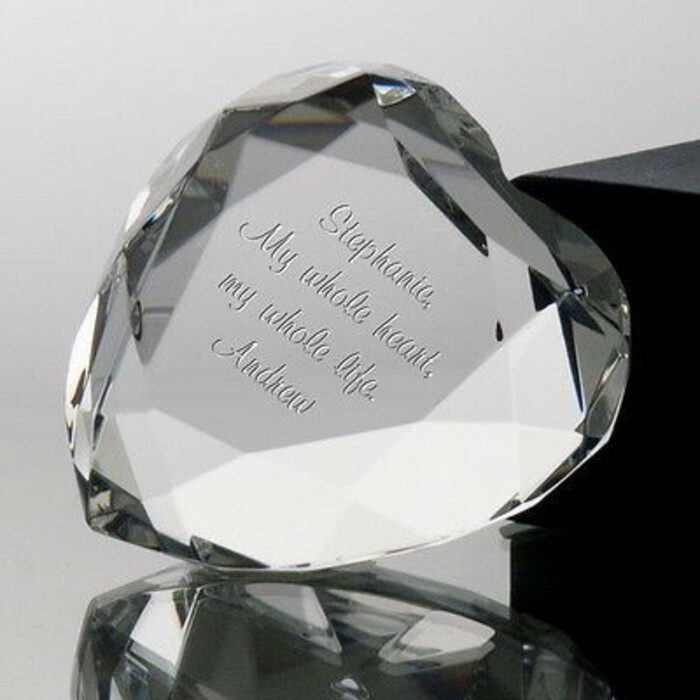 Any recipient would be thrilled to receive a unique glass diamond bearing their name. The sentimental value of a piece of jewelry is sometimes considered to be greater than its monetary value. The recipient will know how much thought and care you put into selecting their present with a diamond. It will have lasting significance and be analyzed for eons. Perfect for the bridal party, this glass diamond paperweight can be engraved with a name or special message.
28. Meaningful Plate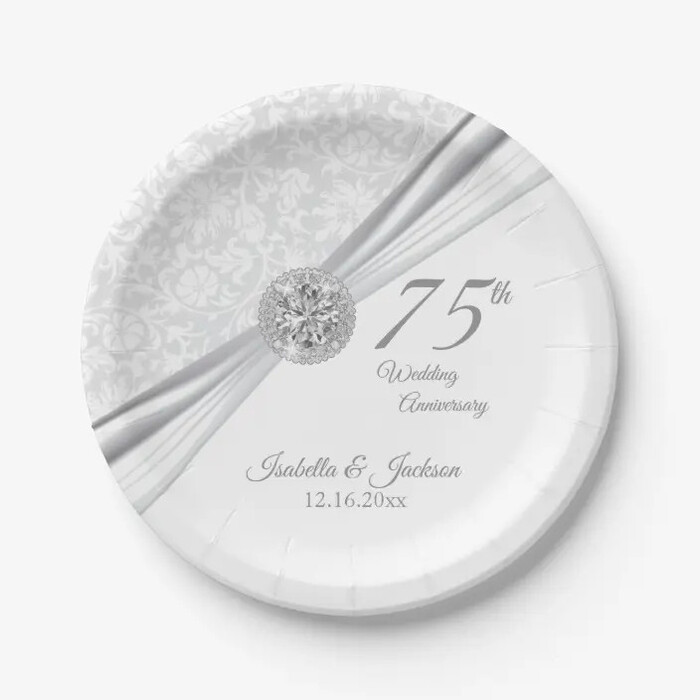 If you're typical, you celebrate your anniversary by considering ways you may help others. Create a ceramic plate and have the recipient's name etched on it. Create something you're passionate about, share it with others in the same way you were shared with, and enjoy watching the positive effects ripple outward. One selects a treat to be presented on the golden plate before providing the gift, and the plate and its message are presented at the same time as the treat.
29. 75th Anniversary Shirt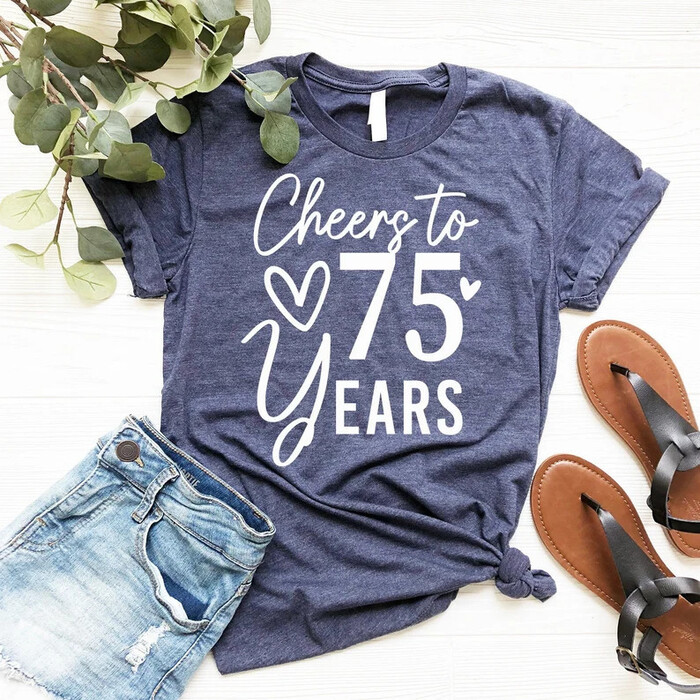 You can't go wrong with a sweatshirt as a present for the laid-back traveler in your life. Besides being affordable, this gift is both useful and thoughtful. Adding a personal touch to a gift is a great way to ensure it is truly special for the recipient.
30. Elegant Rugs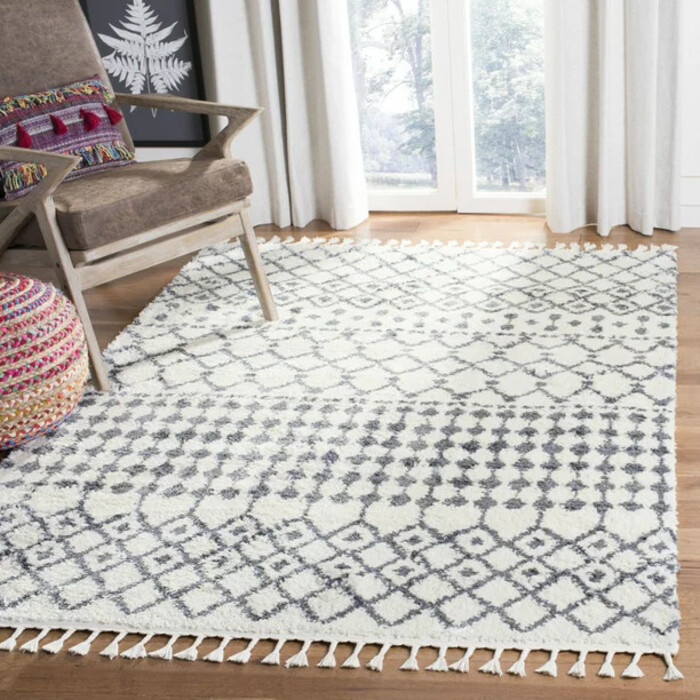 However, a gift for a diamond anniversary need not be glitzy. This stylish diamond-shaped rug is a perfect way to put a twist on the traditional 75th wedding anniversary gift.
>>>Maybe you're curious about: 
Oh Canvas has compiled a list of the best 75th anniversary gifts for wife, husband, or parents that will always be appropriate for a couple celebrating 75 years of wedded bliss. Make sure the gifts you give them have that special touch of personalization that will let them know how much you care.