Looking for a special gift for your son in law to give him a warm and cozy feeling on Christmas day? Regardless of his preferences, occasion, or personality, we've compiled a list of top Christmas gift ideas for son-in-law in 2023. Go beyond the ordinary gift, these ideas from Oh Canvas are the perfect way to welcome him into the family and show that he's an essential part of your family. Besides, this thoughtful gesture is bound to bring a smile to his face and make him feel truly appreciated.
Personalized Christmas Gift Ideas For Son-in-law
1. Chain Necklace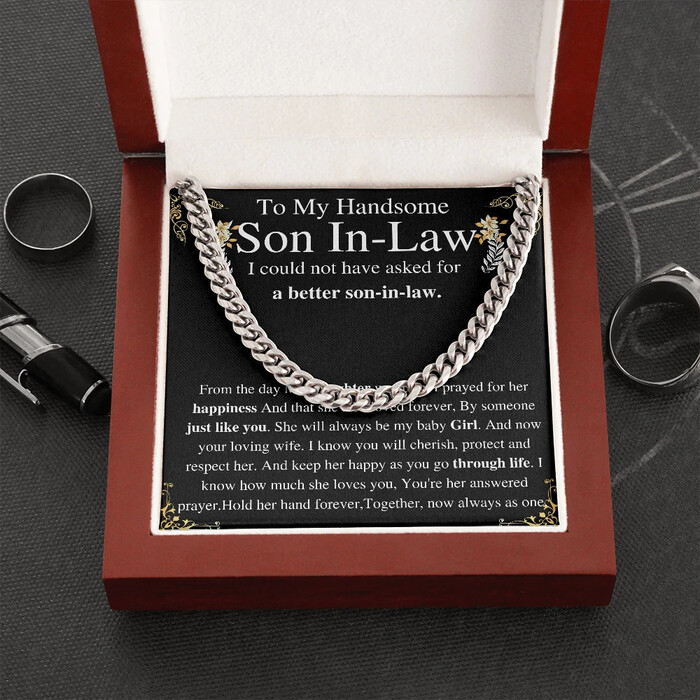 Give your cherished son a timeless necklace that embodies their bravery and sense of style! This link chain necklace is an awesome gift for any occasion and a must-have accessory for any outfit. They will undoubtedly grow to love and wear this wonderfully weighted necklace every day. It is available in polished stainless steel or 14K yellow gold over stainless steel.
2. Photo Song 3D LED Night Lamp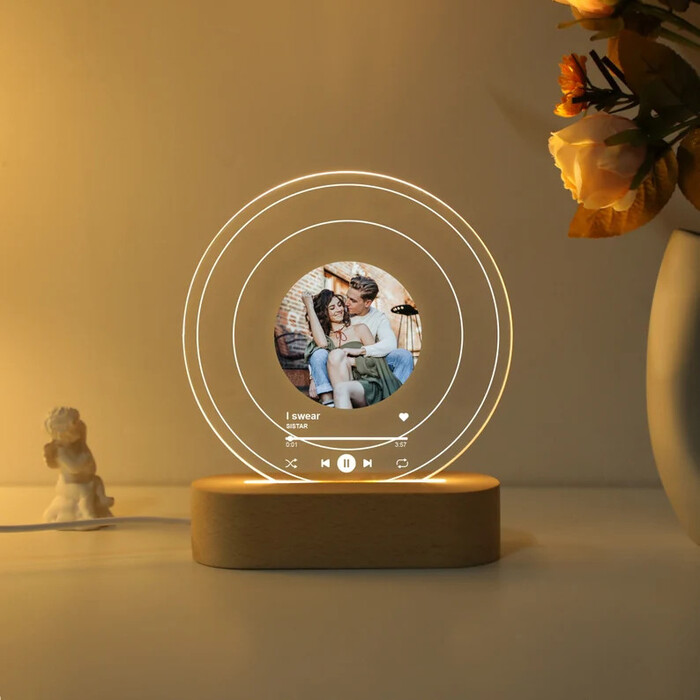 Is this his first christmas as your new son in law? This is a perfect gift for a warm welcome for him as a new one member of your family. Instead of giving him a wedding gift, you can give him this Custom Photo Song 3D LED Night Lamp for a Christmas present. He will treasure this great gift for the rest of his life.
3. Steel Money Clip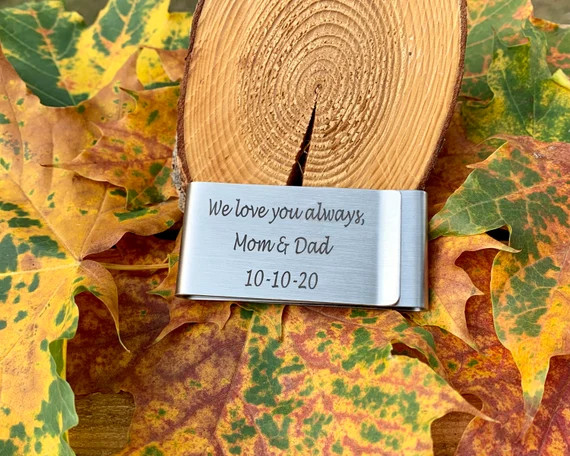 These money clips can be inscribed with a signature, a handwritten note, or text in a regular computer typeface. The item will be delivered in a gift box with tulle bows and decorative ribbons that are appropriate for giving as a unique gift. We recommend you get these perfect Christmas gift ideas for son-in-law as soon as possible.
4. Personalized Blanket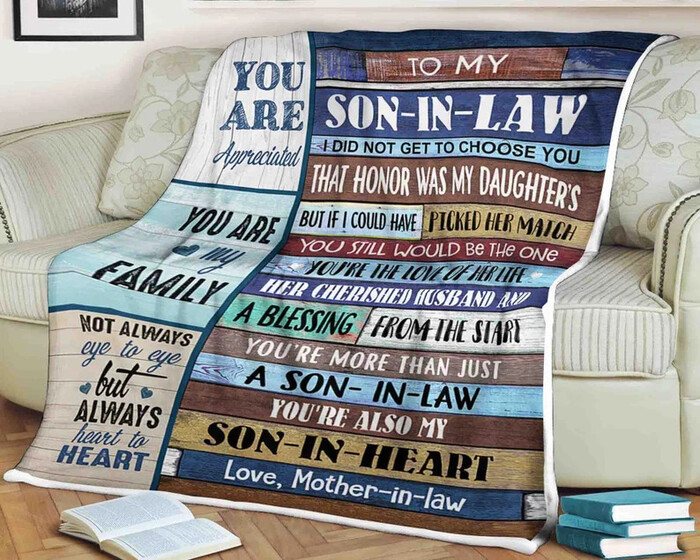 You may help him wrap in this cozy blanket while reading a book, watching TV with the whole family, or simply reclining on the couch or sofa. It can also be used as a decorative item or as part of a bedding set on the bed. When placed on a couch in a living room or a sofa workplace, etc., it may also be used all year round.
5. Trendy Bracelet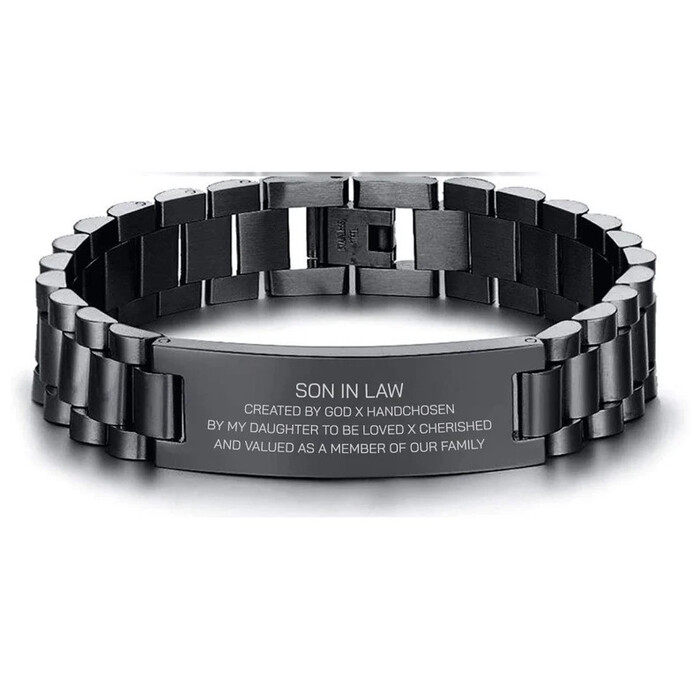 Are you looking for other great Christmas gift ideas for son-in-law? These lovely bracelets with their own message are great for sons, husbands, or partners. He may take these fashionable bracelets with them wherever they go.
6. Customized Leather Wallet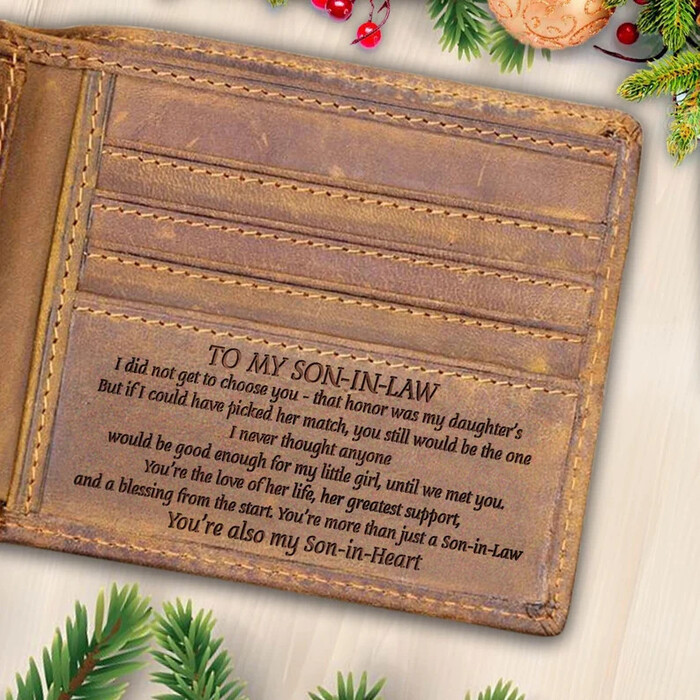 A beautiful personal gift for your cherished son-in-law, whether for a birthday, Christmas, wedding, anniversary, or other occasions. He will treasure these amazing gifts for son in laws for Christmas and never forget your sincerity and love.
7. Customized Wallet Card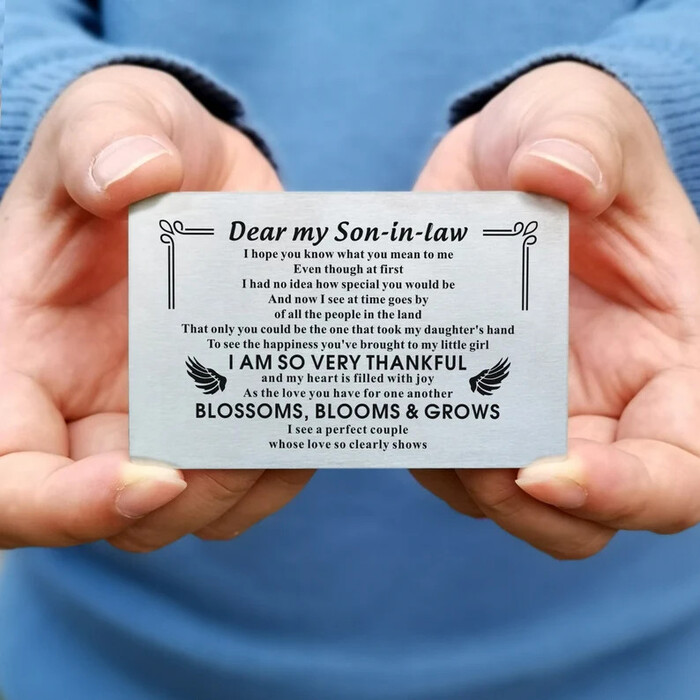 A heartfelt approach to express your gratitude for your daughter's husband's kindness and admiration is to send him this stunning son-in-law's pocket card. Whether he married your daughter recently or many years ago, send him lovely cards with an inspirational personal message.
8. Family Personalized Canvas Art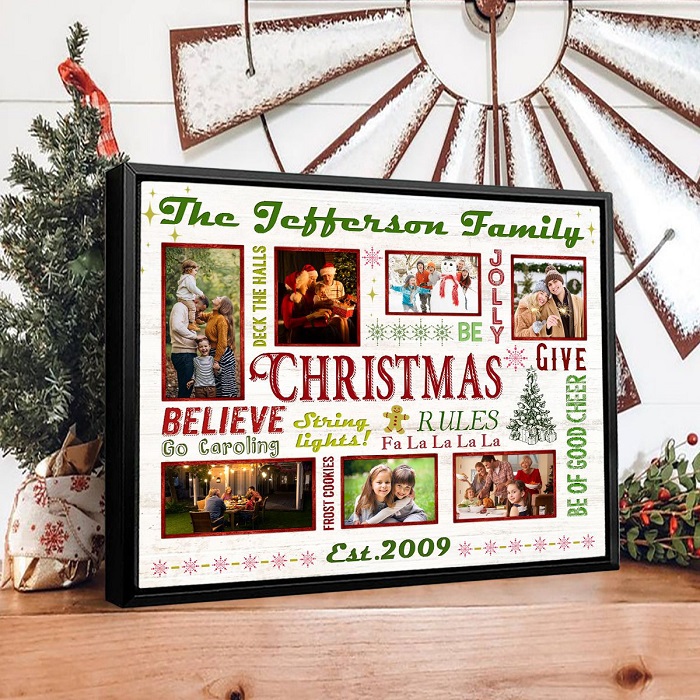 What to get son in law for Christmas? Add impressive canvas art to his bland wall to liven it up. Whether you use a typical canvas wall art as a movie background or create a gallery wall out of collages, it can unquestionably enhance any atmosphere.
9. Bamboo Cutting Board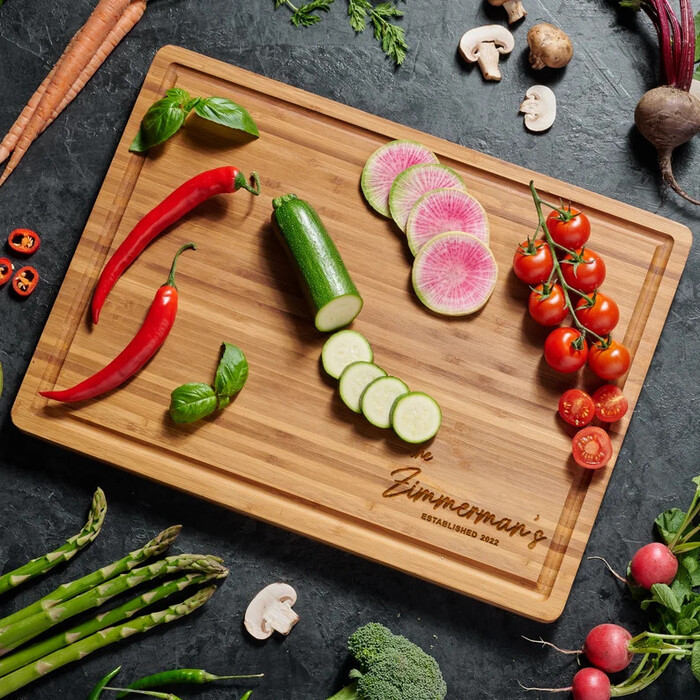 If your son-in-law enjoys cooking, show him how much you care by giving him a magnificently engraved, all-natural, organic bamboo cutting board. The letters on the Decor side are covered in a non-BPA food-safe lacquer and are deeply carved into the bamboo so they may be enjoyed for a lifetime.
10. Decanter Set
During the upcoming dinner parties, it's possible that he would gather all his friends in his man cave to celebrate the holiday. Therefore, he could require something to enjoy some cold beverages, wouldn't you agree? Give your son-in-law these gorgeous decanter sets, and you'll always have a special place in his heart. These unique Christmas gift ideas for the son-in-law can spark conversation and are also one of a kind.
11. Meaningful Watch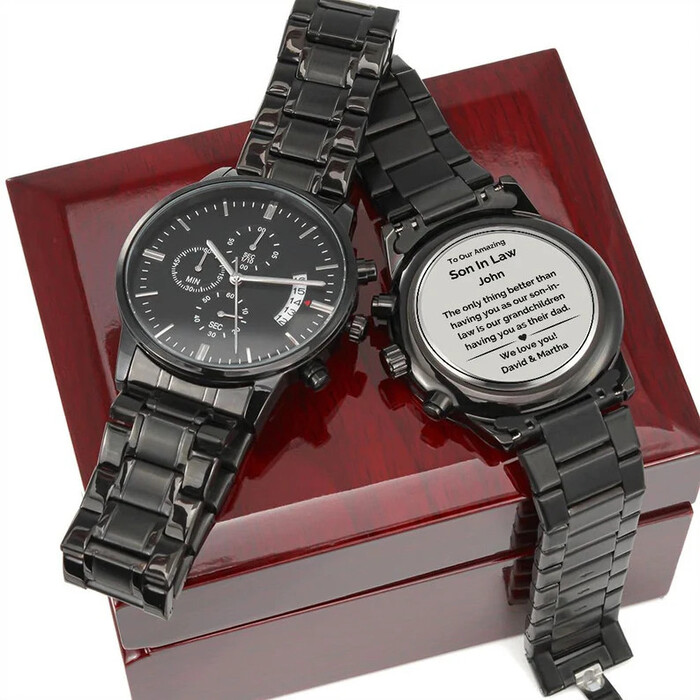 You can't go wrong with these engraved watches as heartfelt, unique gifts for son in laws for Christmas. Give him a timepiece suited to his character. A watch is an ideal accessory to showcase one's personality.
12. Holiday Pillow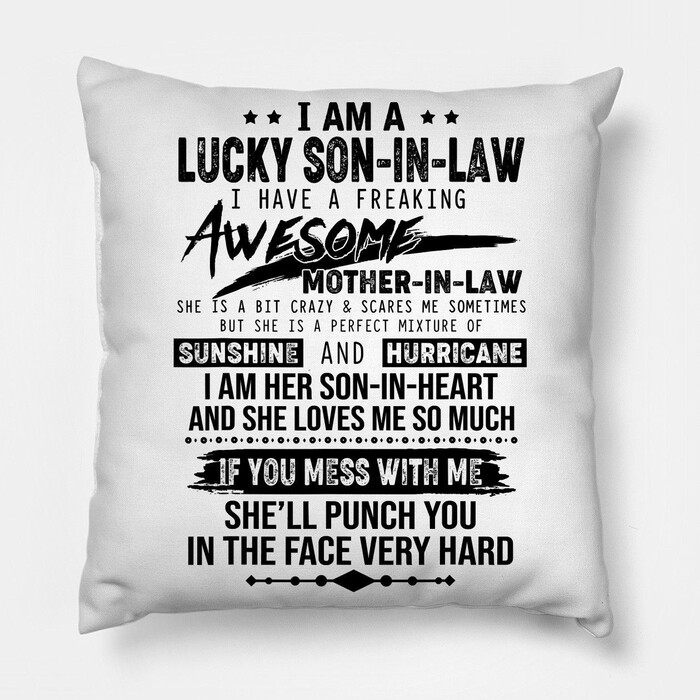 Do you get trouble finding the perfect gift for your son-in-law this holiday season? We know how crucial it is to win over your prospective in-laws. This Perfect Christmas Pillow is a terrific place to start if you're unsure where to start.
13. Canvas Art For Son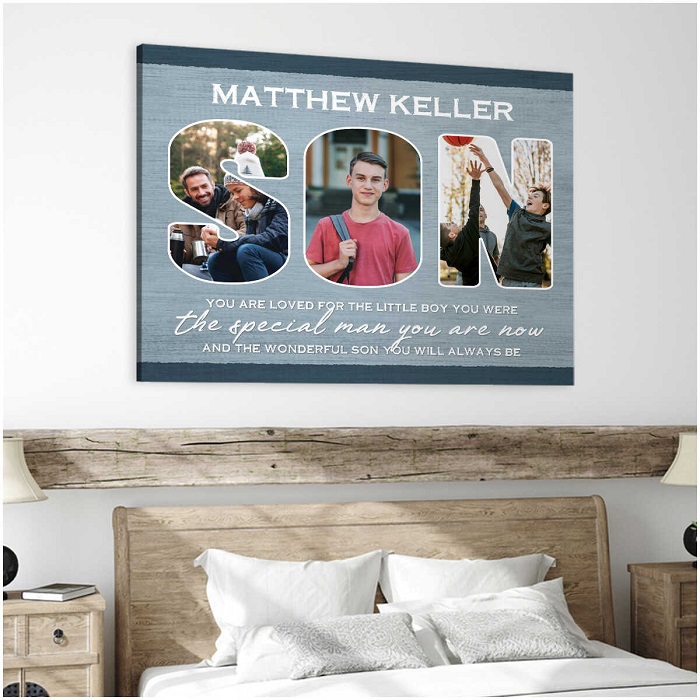 Help him enjoy the season with our Christmas ideas for son in law. This timeless and distinctive art print uses a picture of the lucky recipient and an engraved message from their loved ones to commemorate a moment. It is the ideal way to show and recall the occasion with a memento that will endure a lifetime.
14. Personalized Catchall Tray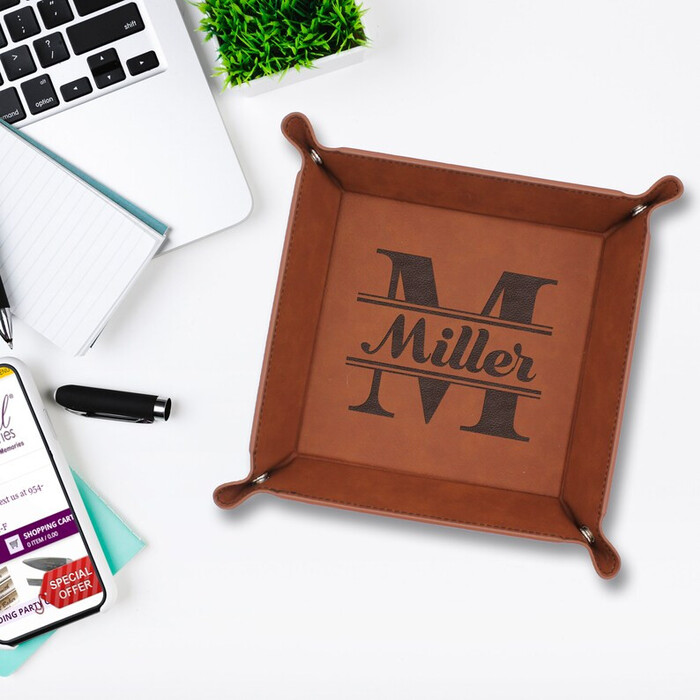 Get this tiny leather tray monogrammed with your new son-in-law's name if you're searching for compact Christmas gift ideas for men. It's a perfect spot to keep his necessary accessories.
15. Funny Son-in-Law Shirt
Get your son-in-law for Christmas a t-shirt speaking out a big love form you – his best mother-in-law. He frequently wears this T shirt while out and about and at family dinners and reunions. The shirt has a casual fit that he'll love and comes in various colors that will catch his eye.
16. Leather Hip Flask
A leather hip flask is one of the best Christmas gift ideas for son-in-law that you shouldn't miss out on. Every man needs a stylish hip flask. He can sip his favorite drink anywhere with this hip flask.
17. Golf Bag Tag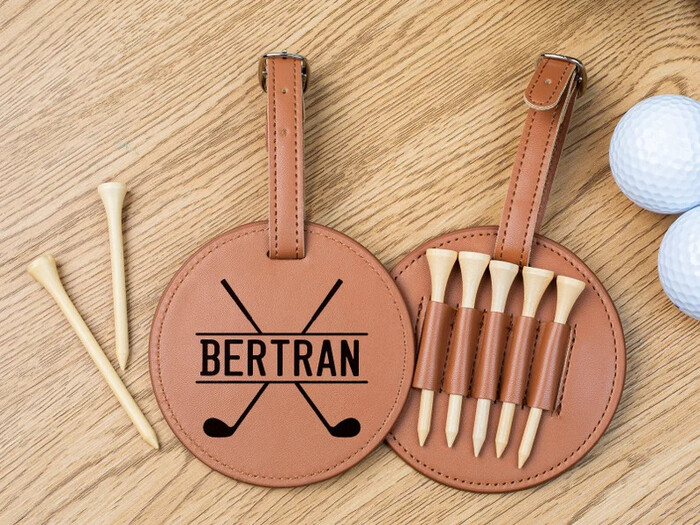 Not only a birthday gift or a wedding gift, but also it's a great gift for this Christmas. You can't go wrong with a fashionable golf bag tag as a stocking stuffer for the son-in-law who enjoys playing golf over the holidays. These tags come in various leather colors and may be customized in several different styles.
18. Star Wars Board Set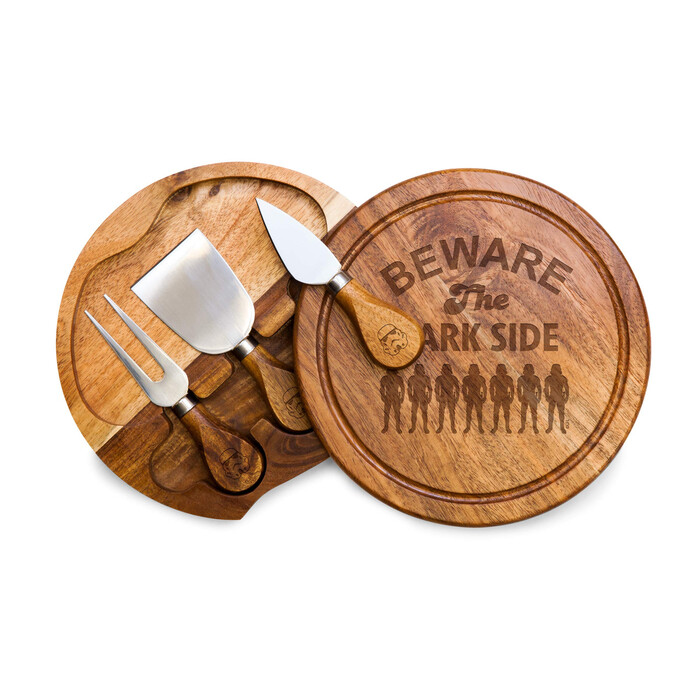 With this unique charcuterie board set, your son can bring the Star Wars universe into his kitchen. The cheese board comes with four stainless steel pieces of cheese equipment and has a natural Death Star motif. Your son-in-law may feed his cheese craving this Christmas and show off his love of Star Wars when he has guests over.
>>> Read more: 41+ Unforgettable Christmas Gift Ideas For Father-In-Law In 2023
Fashion Christmas Gifts For Son-in-law
19. Warm Sweater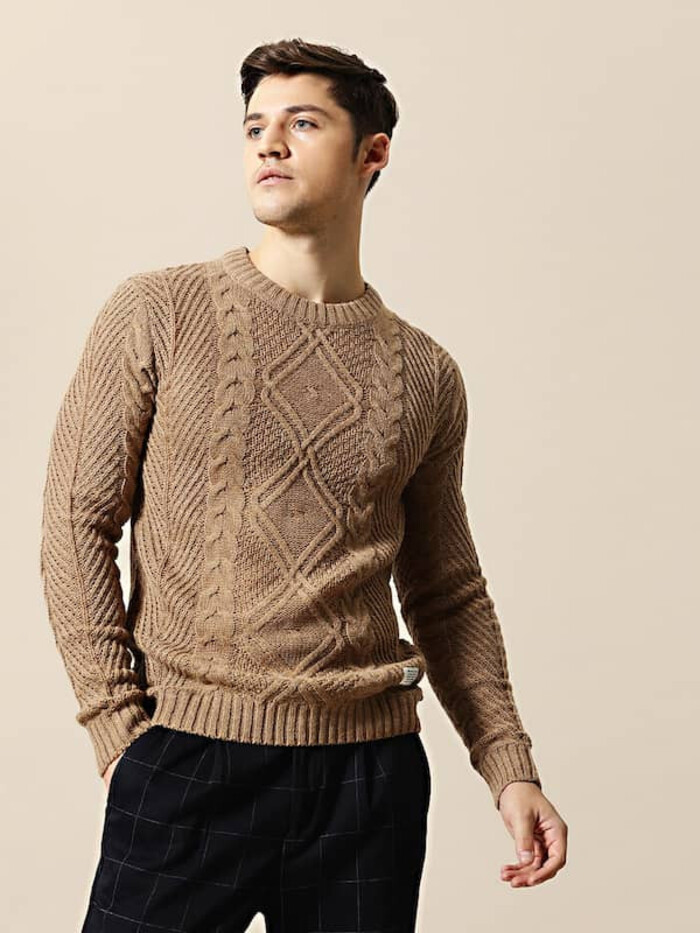 Want to find thoughtful Christmas gift ideas for son-in-law? This soft cashmere crewneck sweater will keep him warm and fashionable all winter. And you can be sure he'll be using it for years on special occasions.
20. Fashionable Sunglasses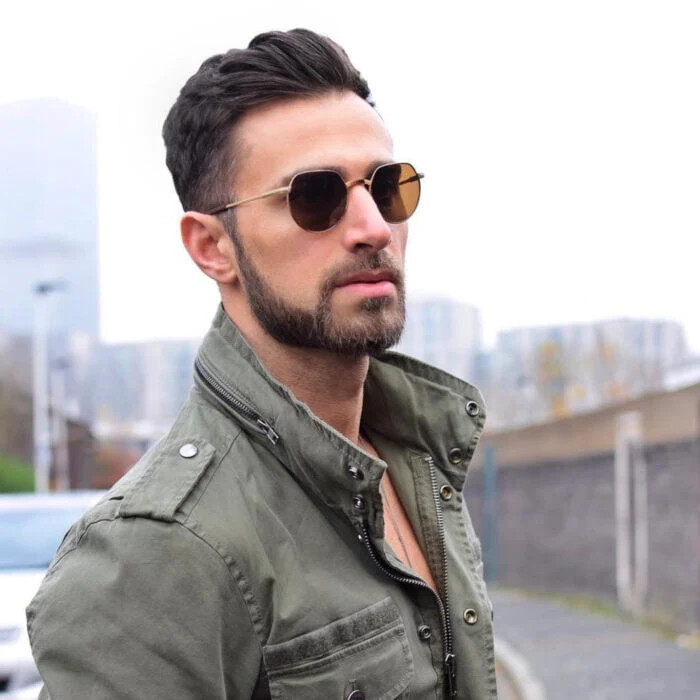 Give your son-in-law some sunglasses for the upcoming family beach vacation. These chic sunglasses combine a timeless tortoise design with vibrant blue lenses for a look that suits everyone.
21. Helmet Gloves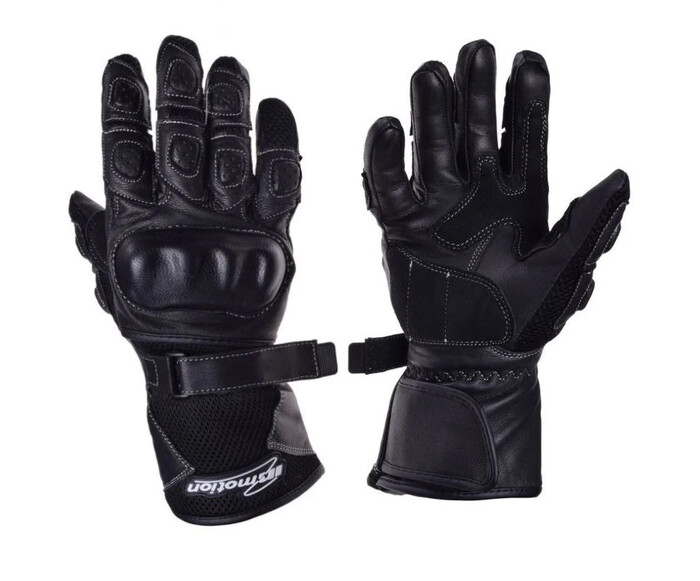 Is your son-in-law an avid rider? If so, gifting him riding gloves would be fantastic Christmas gift ideas for son-in-law. Riders like collecting riding equipment and accessories; They spend money on items that increase the rider's look, ensure safety, and provide exceptional grip.
22. Men's Tie Gift Set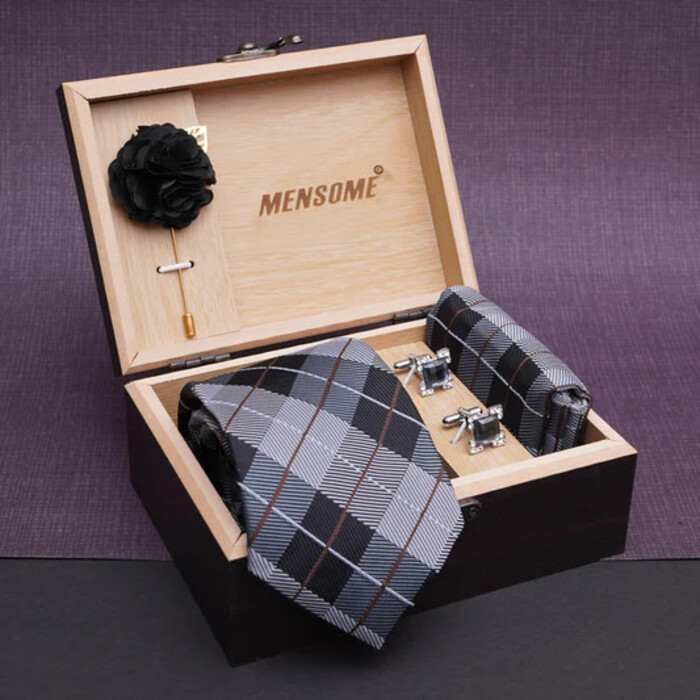 This pair of men's ties is excellent if you're looking to upgrade your guy's wardrobe or if he's starting to get into fashion. This set can be combined to create unique designs that guys adore. It is an excellent option for all occasions, even if it is a wedding gift, birthday gift, or perfect gift for a Christmas party.
23. Weatherproof Jacket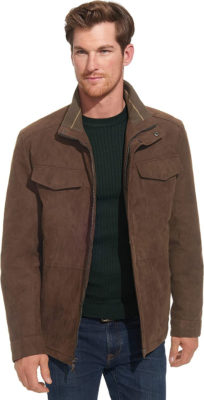 Consider this popular jacket if you're buying it for an adventurous person because it's both practical and stylish. We can assure you that your special son in law will treasure forever receiving this nice jacket all year, from his first father's day to Christmas.
24. Leather Travel Bag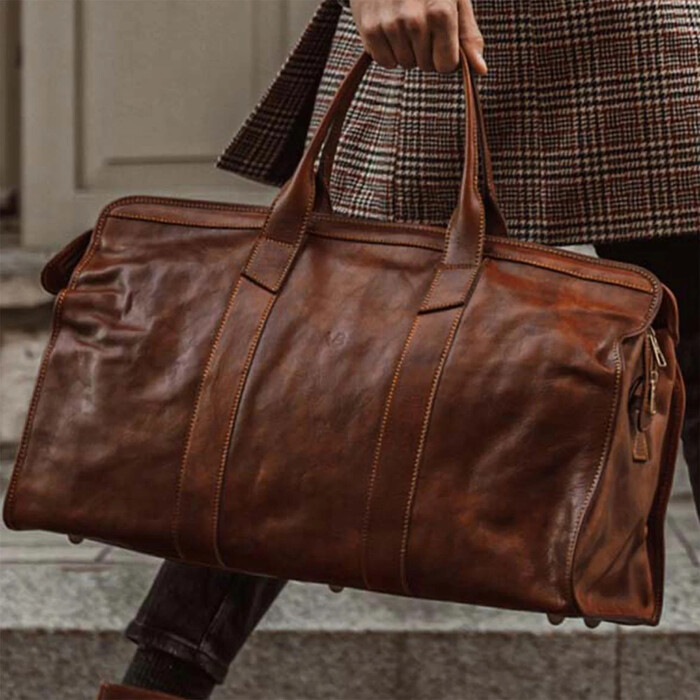 Among the best gifts for son in laws for Christmas, maybe this one could be the one he'll love. The genuine leather bag exudes vintage charm and has enough space to include everything they need. Their Christmas clothing won't arrive wrinkled, thanks to a hidden pocket in the bag for shoes and other bulky goods.
25. Cozy Loungewear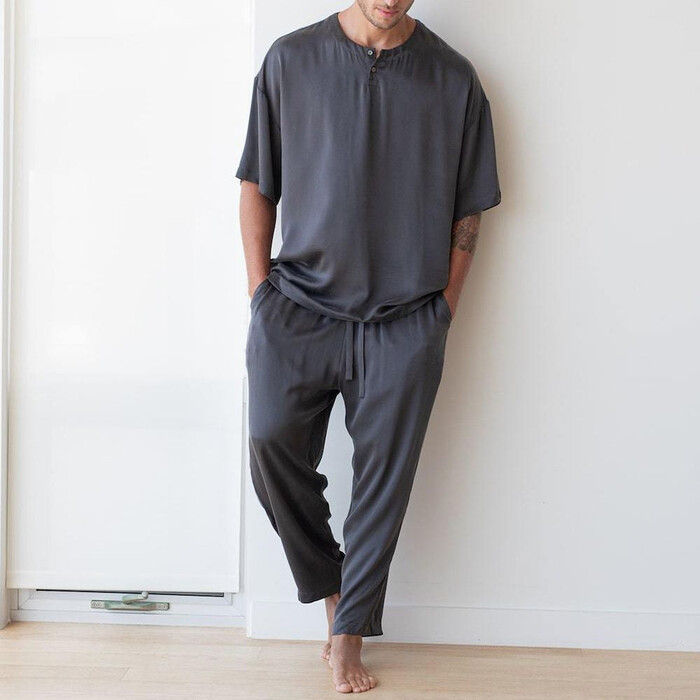 Does your family always dress in matching Christmas pajamas? Make sure your son-in-law participates in the fun! These cozy cotton sweatpants, which he will want to wear even after the holidays are over, go well with a themed shirt. They fit loosely and include big pockets and a drawstring waist.
26. ​​Preston Socks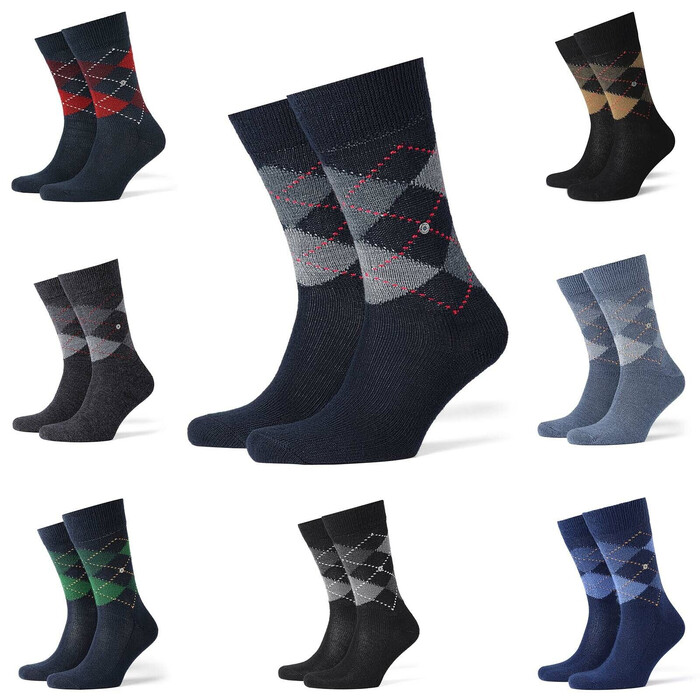 These Burlington socks feature an argyle pattern and are soft, cozy, and available in various colors. Although there are 14 different pairs, we adore this navy and green combination. We're sure he will adore these Christmas gift ideas for son-in-law from you.
27. Versatile Backpack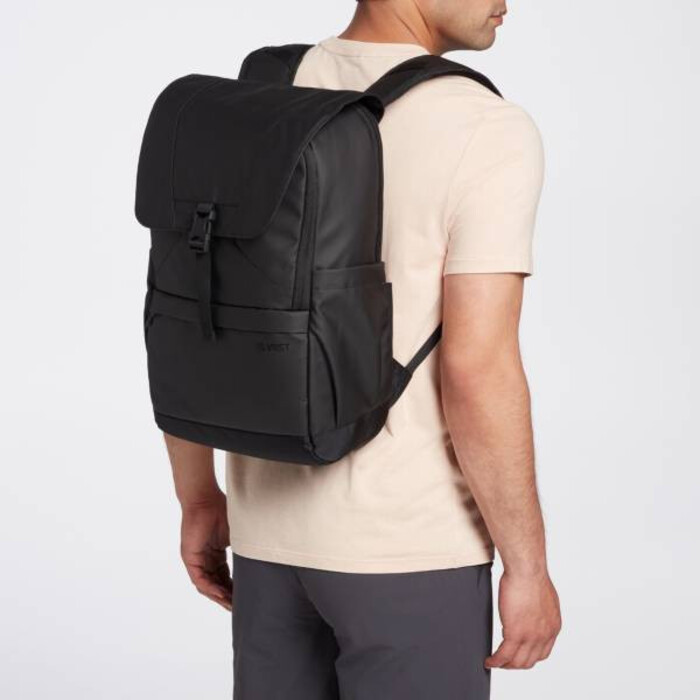 Whether he's traveling by plane or taking the bus to work, your son-in-law's all the essentials will fit in this chic bag. He might never consider spending money on a good backpack, but it will frequently come in handy.
>>> Recommend Reading: 44 Amazing Christmas Gift Ideas for Brother That He'll Love
Practical Gifts for son in laws for christmas
28. Skincare Set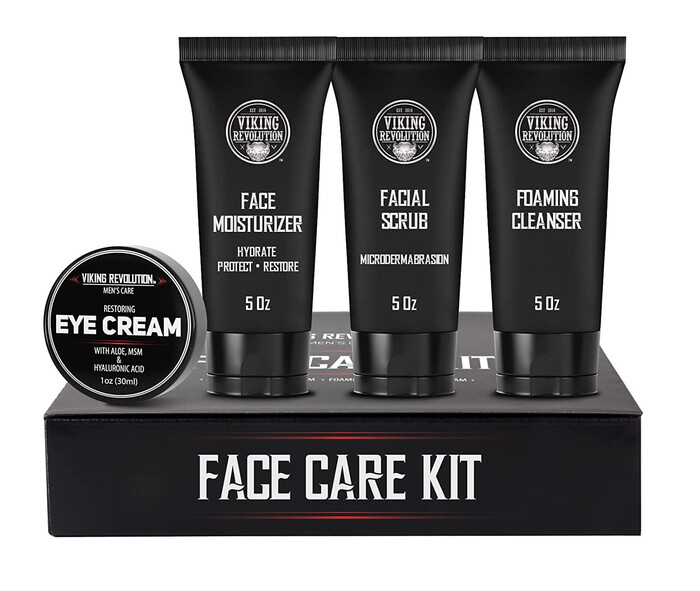 This skin care kit includes a charcoal cleanser for daily detox, a moisturizing balm for hydration, and an exfoliating rub, which will encourage your son-in-law to practice self-care. This is one of our favorite son-in-law gifts for Christmas since he can begin the new year feeling as bright and revitalized as he is.
29. Stainless Steel Speaker Tumbler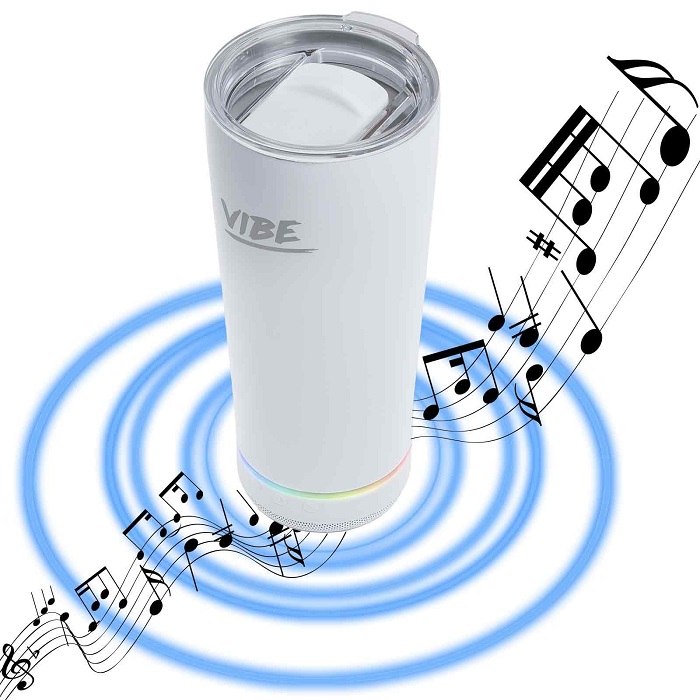 Are you looking for the best Christmas gift ideas for son-in-law so he can enjoy hot beverages while listening to a music song? The entire device is waterproof if it rains and has a battery life of up to eight hours. He may listen to music while mowing the grass by sipping from a water bottle that also functions as a Bluetooth speaker.
30. Sports Game Tickets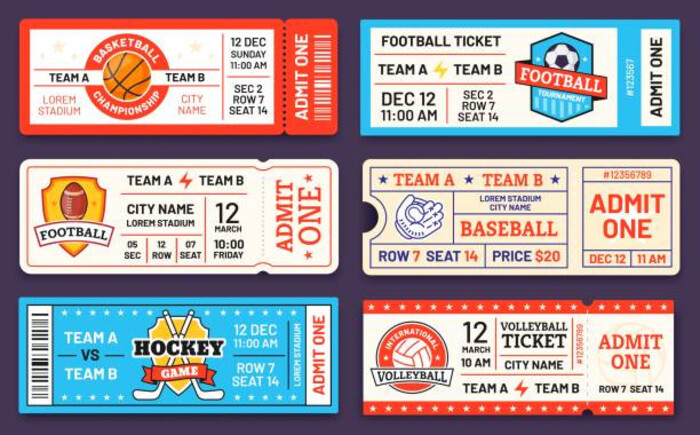 Gift your son-in-law game tickets so he may share his passion for sports with your daughter. If watching sports isn't their thing, they can use the gift card to visit concerts or other events instead.
31. Cool Stadium Model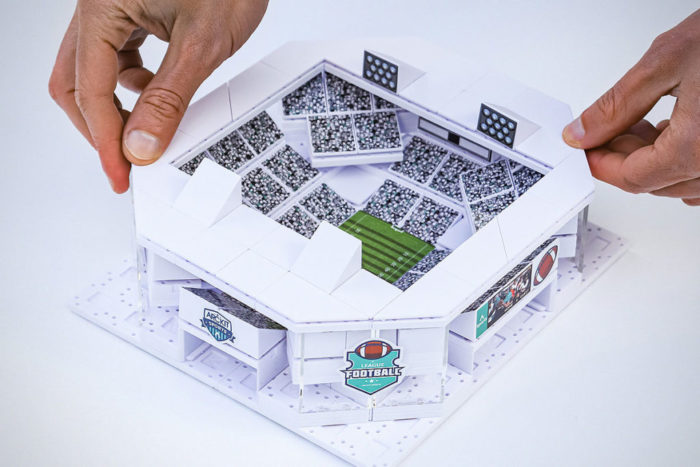 Is he an enthusiast who loves collecting sports memorabilia? Whether he enjoys playing basketball, baseball, or football, FOCO provides Lego sets to construct practically any stadium or arena.
He'll adore putting it together and showing it in his man cave. He'll have a blast doing it. Your son-in-law will love receiving a ticket to his favorite team's home stadium as a holiday or birthday present.
32. Signature Hot Sauce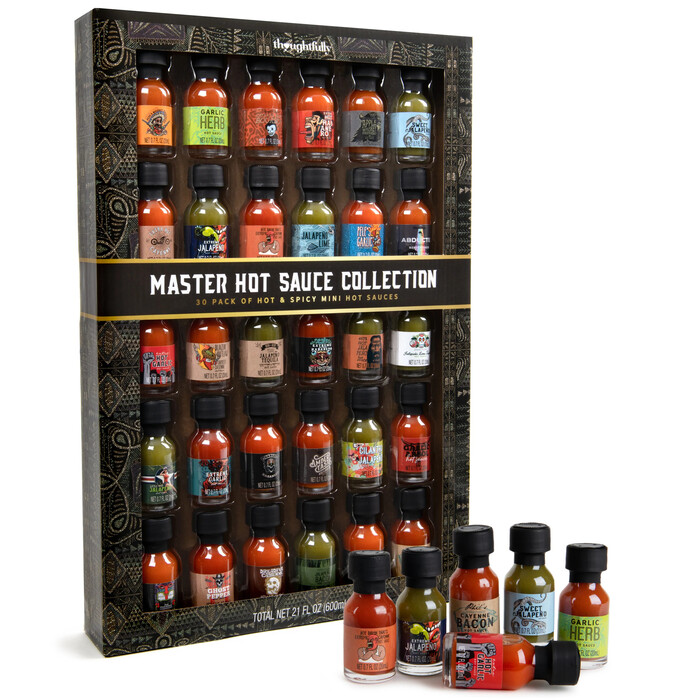 These sauce bottles are good Christmas ideas for son in law who enjoys adding spices to every meal. This spicy sauce kit features savory ingredients, six glass bottles, and labels for unique sauce names so he can make his own.
Even though the kit includes instructions, you can take the gift to the next level by adding a live online class so he can master the craft of making chili sauce from a pro.
33. Mini Fireplace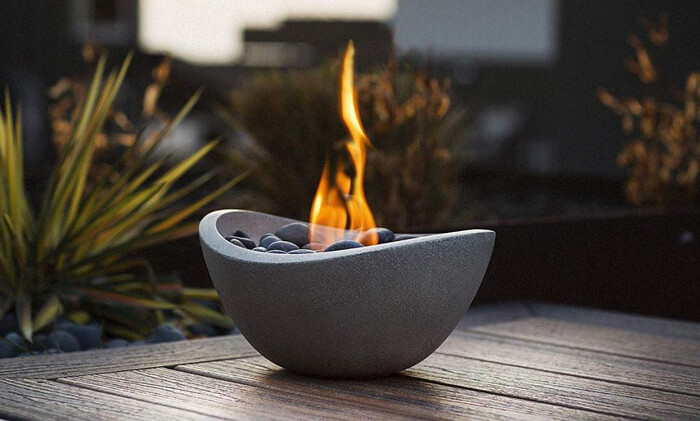 Are you having trouble finding Christmas gift ideas for son-in-law that instantly makes his house seem festive? With merely rubbing alcohol and a match, you can start a warm flame in this small concrete fireplace, which can be used both inside and outside. Also, it can be used to cook food, so he and his wife can make s'mores anywhere.
34. Monocular Smartphone Telescope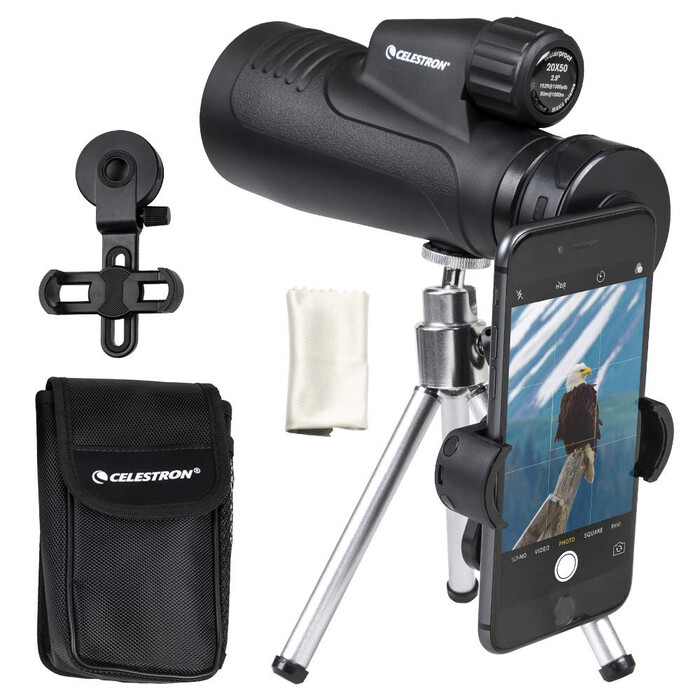 This smartphone-enabled monocular telescope has powerful magnification. To deliver a clear image, it can stick out through rough, grubby, and rainy situations. Guys can approach stage performers, animals in the wild, and sporting events up close at will. It is portable and quickly connects to any smartphone.
35. Happy Holidays Beer Gift Basket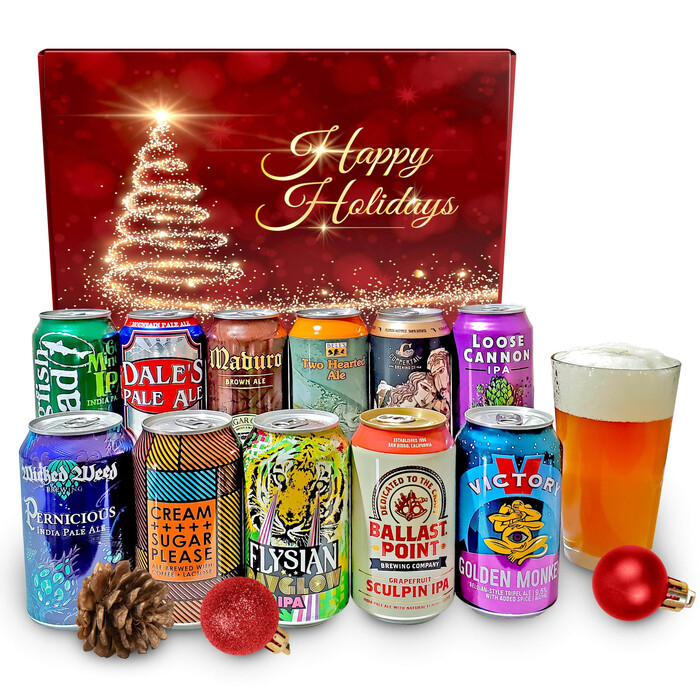 With this premium beer gift basket, you can wish a guy you care about a happy holiday. There are 12 beers in the carefully picked selection, ranging from IPAs to microbrews. Victory, Maduro, and Funky Buddha, among other names, are all present.
It resembles a Christmas advent calendar, except instead of chocolates, it contains beer, which should appeal to most guys you know just fine.
36. Cell Phone Screen Magnifier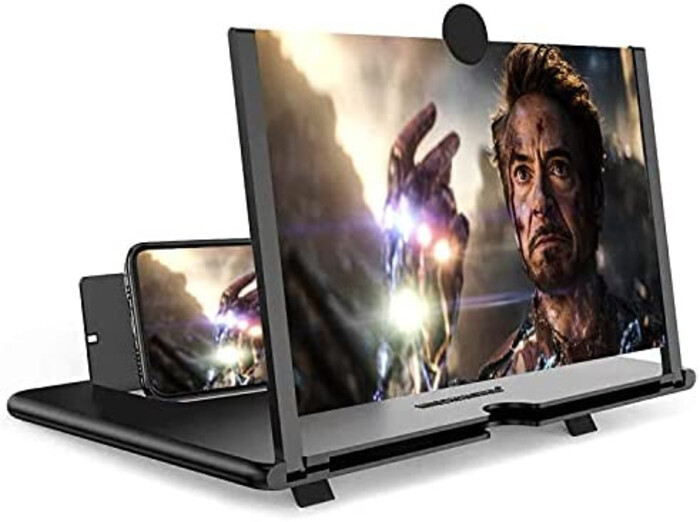 This screen magnifier is for men who require a larger viewing area when using their phones to watch television. One of those adult-themed toys makes a great gift for a son-in-law on Christmas.
All he has to do to get his phone to project onto the 14-inch magnifier is place it on the dock. The next time he decides to binge-watch his favorite shows, his eyes will thank him.
37. Christmas Tree DIY Kit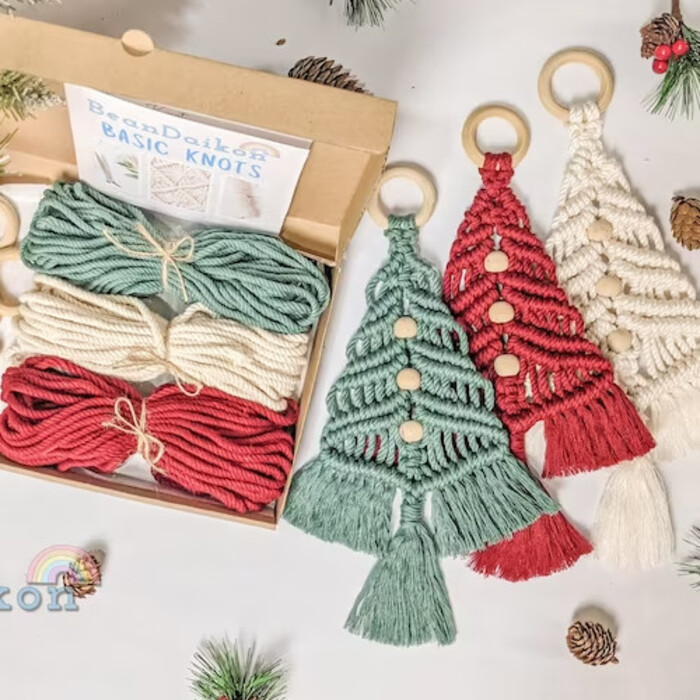 Your son-in-law and his family will have fun working on this Christmas present together, and it will be a fantastic token of their appreciation. This kit provides them with all the materials and instructions they need to create a beautiful Macramé Christmas Tree on their own. It's also an excellent option for decorating the walls of a bedroom or a living room.
38. PS4 Charger Station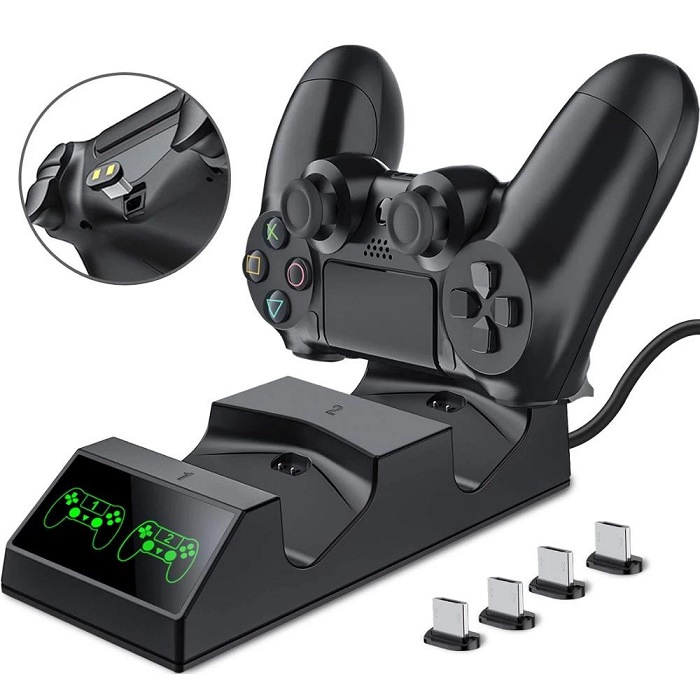 No man is too old to use his PS4 to play video games. This dock station is the best way to charge two PS4 game controllers simultaneously. Once the controllers are ready, they work quickly and transform from red to blue. Then, he and his favorite players can start again, one game at a time, to take over the galaxy.
>>> Recommend reading: 31 Cool Christmas Gifts For Kids That Will Get Them Excited 
39. Bluetooth Beanie Hat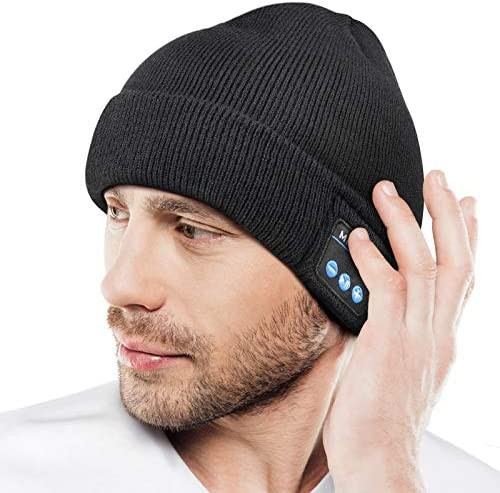 Like any warm hat, these Christmas gift ideas for son-in-law will keep the chilly wind and snow off his head, but it also has other valuable features.
He may listen to music or converse on the phone using Bluetooth and in-hat headphones. His worldview will sound fantastic regardless of what is going on in the outer world.
40. Chocolate Caramel Gift Basket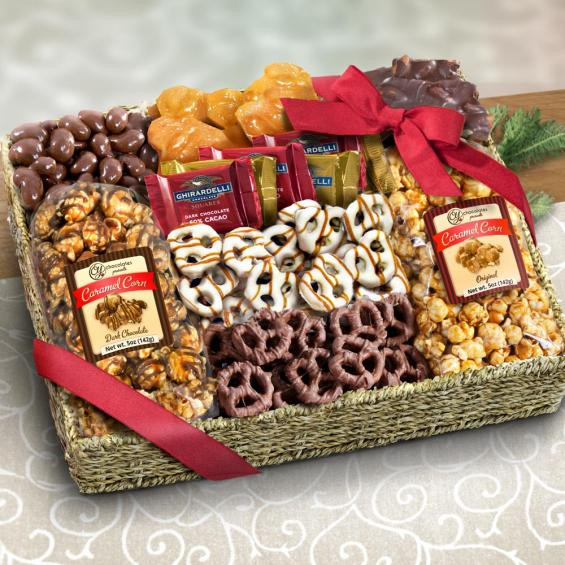 Men may enjoy savory foods but also want decadent desserts during the holidays. All of their favorite sweet flavors are included in this gift basket. Caramel corn, chocolate pretzels, nut bark, peanut brittle, and Ghirardelli squares have chocolate as the main ingredient.
41. Headphones for Sleep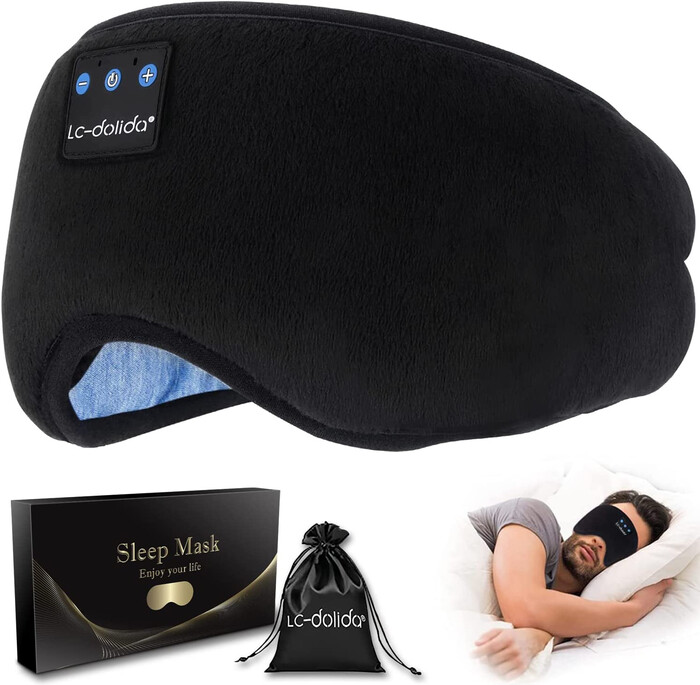 You can't go wrong with these stylish sleep headphones as Christmas gift ideas for son-in-law. Getting a good night's sleep isn't just for the ladies. They are ergonomically made to relieve tired eyes, but they go further than that.
He can operate the Bluetooth-capable headphones that are included with the eye mask. He finds it easier to fall deeply asleep with his favorite song, one final phone call before bed, or meditation.
42. Laptop Stand
They can utilize it wherever they are, whether working in bed, in a garden, on a plane, or a beach. Their laptop is safe because of the aluminum's durable construction.
Ergonomically, the stand gives them a much healthier work session for their head, neck, and upper back. These laptop stands are practical gifts for son in laws for Christmas that he will appreciate!
43. Flatware Set for Travel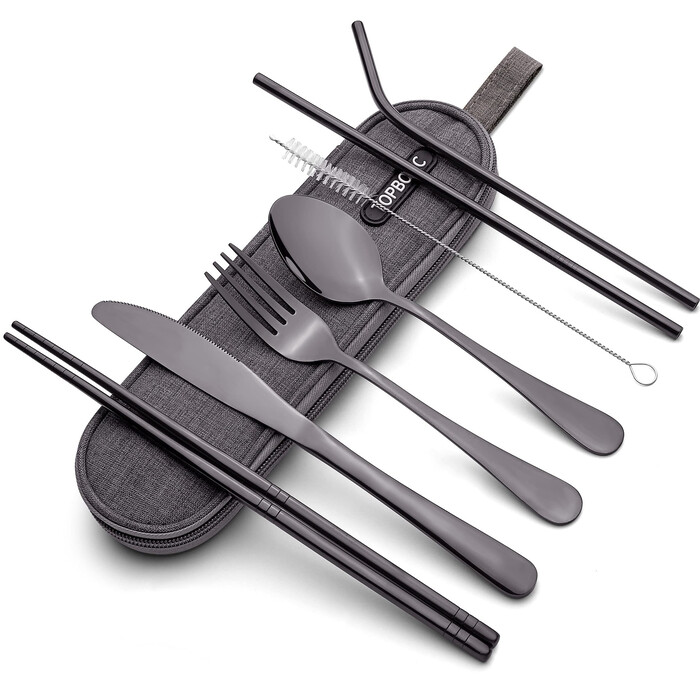 These creative gift ideas for your son-in-law for Christmas are something he will need for all the dinners. Get your son-in-law a set of travel flatware if he wants to feel like he's in the dining room during his lunch break! Everything he will need to enjoy the food that your amazing daughter has cooked is easy, affordable, and portable.
44. Noise Canceling Ear Buds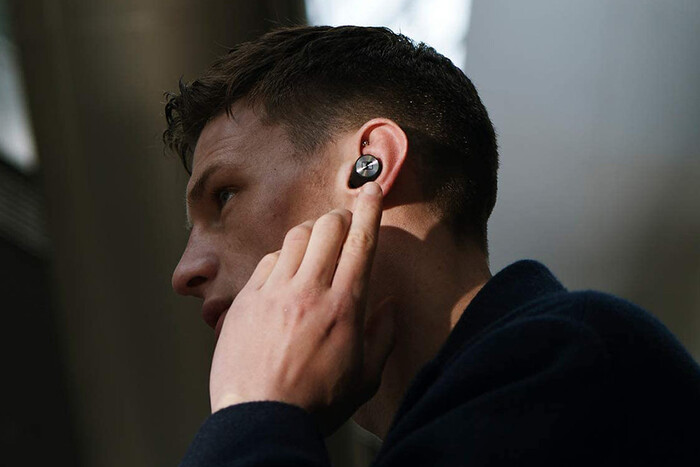 The next time he's flying to visit you, he can use Beats Fit Pro to block out the noise around him. When exercising or driving, noise-canceling earbuds are a godsend. These tech gadgets feature six hours of continuous listening time, active noise cancellation, and Siri compatibility.
45. Car Scent Diffuser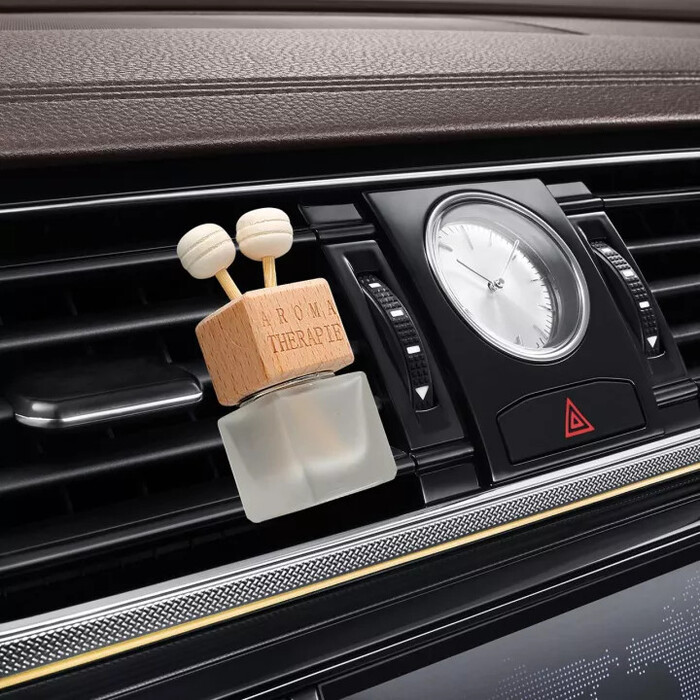 Now is the time to start thinking about what to get son in law for Christmas. Why not make every drive a chance to refresh and refocus his mind and body? Substitute a high-end perfume for your son's car's air freshener as a unique and appreciated present. This is a one-of-a-kind gift he'll love because you can personalize every detail, from the perfume to the name of the creation to the engraved family photo on the bottle.
46. Gadget to Keep Beer Cold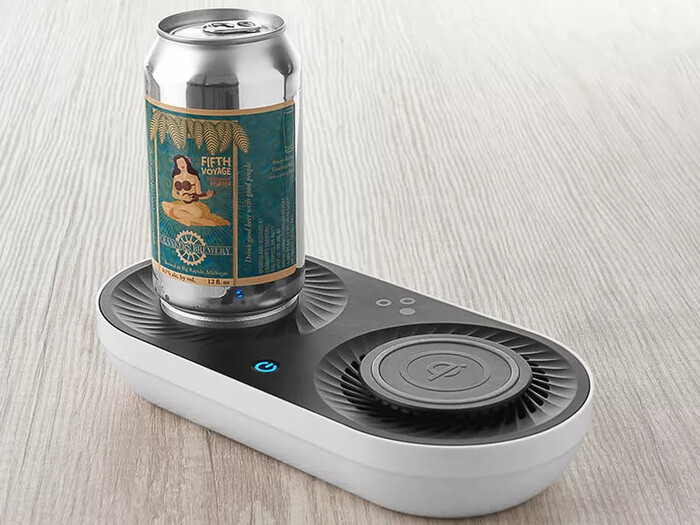 With this smart gadget, your son's table will be upgraded. In addition to being a wireless charger, it also functions as a coaster that controls the temperature of his drink. Now that his phone and a cool drink are conveniently close by, he can relax after work. Or he can leave it on his desk, where it will always be warm.
>>> Recommend Reading:
Hopefully, you've found some sweet ideas among these Christmas gift ideas for son-in-law. Think about what you could get your guy that would stand out. We hope you have a lovely Christmas celebration with your loved ones.