The innocence of the past, the tractor driven by dad, the animals laying on the field, the sun shining all over the place, and so on. It is difficult to discover a fresh environment like that in the city nowadays. However, we have a fantastic tip to treat your mind. Decorating your home in urban farmhouse style to bring back memories of the good old days in the country. You will be able to immerse yourself in the country feeling even if you live in a modern home!
Maybe you also love to read: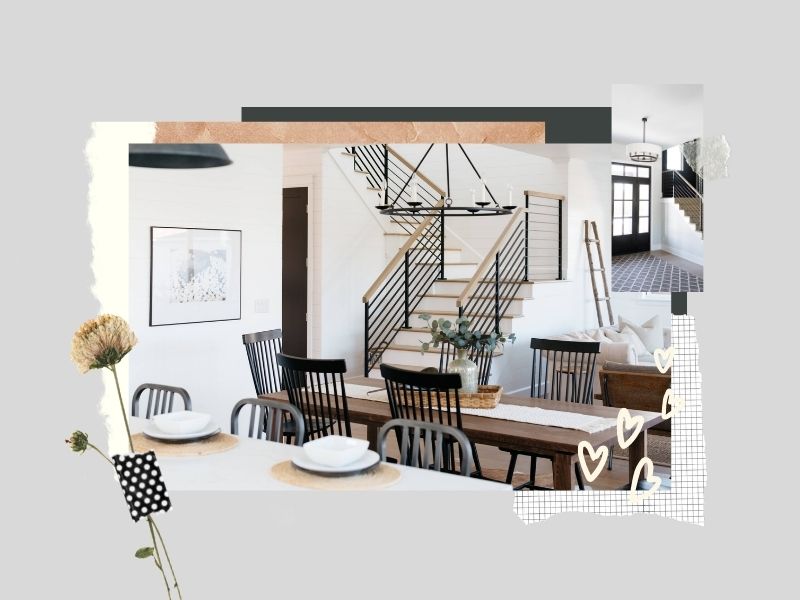 What is the urban farmhouse style?
Childhood on the farm is the best memory that we have had in life
Farmers' jobs, like your family's in the past, are essential for human life. Farmers must work long and hard hours to be successful. Growing up on a farm teaches you to accept new challenges as always in order to reap the delightful rewards, and you will learn to enjoy them. 
Cows are close friends of us when living on the farm
Many of us who grew up on a farm or had children on a farm would tell you that it was one of the finest parts of our childhood. There are a thousand stories that can be shared while thinking about the farm. Remembering when we were smaller than a cow and had to follow our dad's footsteps to feed the cows at the barn. I even followed the cows from home to the field on the long and narrow path since I could not recall the route as the cows did.
Playing all day is what I wish to do these days 
Everything was large, green, and tranquil. I recall flying the multicolored kites with my buddies. We played a lot of games from morning to afternoon and did not get tired. It was as much joy, as usual, to sit on the tractor with dad and look out over the entire field from the top down. They play an unforgettable part in my memory. Life is fresher than ever in the old days. Are you missing all the plainness and relaxation in your childhood?
Read more: 25 Easy DIY Farmhouse Decor Ideas For Your Home In 2021 | OhCanvas
Life in the city is now convenient but not as fresh as the farm
Thousands of young people left rural homes for city life as the United States transitioned from an agricultural to an industrial society. In any way, childhood memories on the farm are some of the nicest we have ever had.
The crowd and active environment make me stay in the city
The rural lifestyle is less stressful, yet people have greater options in cities. Cities are fantastic places to gain education, experience the modern culture, and participate in social activities. If you live in a city, you have a wider range of educational options and a higher standard of schooling. There is also a good assortment of entertainment. Cities have vibrant cultures because museums, musical halls, sports teams, and nightlife areas require a huge population to maintain. 
The convenience is what I really wish to get when I was young
Image source: google.com
Another wonderful aspect of city life is transportation. There are several public transportation choices, which means that a large group of individuals may travel together while saving gasoline and money. Major urban regions are easily accessible. Because of the numerous chances available in the city, it would be advantageous to adjust to city life and embrace the change.
See also: Farmhouse Style – Combination of Cozy & Modern Appearance for your Room
Urban farmhouse style in this life nowadays
It would be ideal if we could enjoy the many advantages of living in the city while immersing ourselves in the countryside surroundings. That is why I recommend decorating your home in an urban farmhouse design. Urban farmhouse style is a fusion of the contemporary, which is inherent in the city; and the tranquil, which is inherent in the country. It is a pleasant, informal mixture that combines classic and up-to-date design features such as a neutral color palette and a combination of metals and natural components. 
Decorating your modern living room with urban farmhouse style
In the song Barefoot In The Grass, Sonya Isaacs wrote that:
"Mom brought us lemonade
On a Coca-Cola tray
Ice rattling in plastic glasses
We'd see who drink the fastest
In a split second, we were gone
Racing across the fresh-cut lawn
And we were running barefoot in the grass" 
Wooden floor to stay cozy in the vibrant city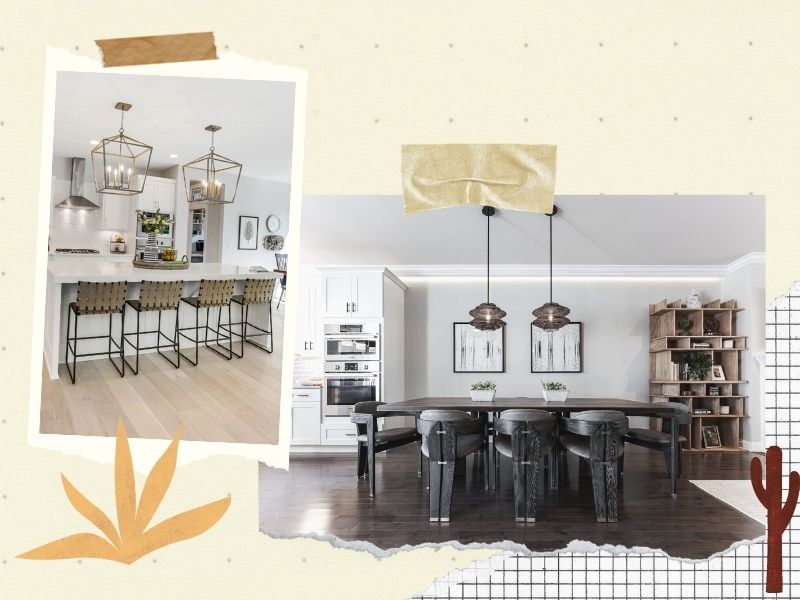 A warm sensation may be evoked by wood in a home. If you are a kind of high-fashion person, I suggest applying the dark color of the wood floor. On the other hand, the light tint of the wood floor is ideal for those who appreciate elegance. In an overview, both of the two types fit the modern farmhouse as well. Think about the fresh days when you run around the house or playing on the field with your barefoot. With this type of floor, you may now experience the pure sensation of touching your foot to the ground. 
Bold colors covering the sofa to highlight the welcome guest place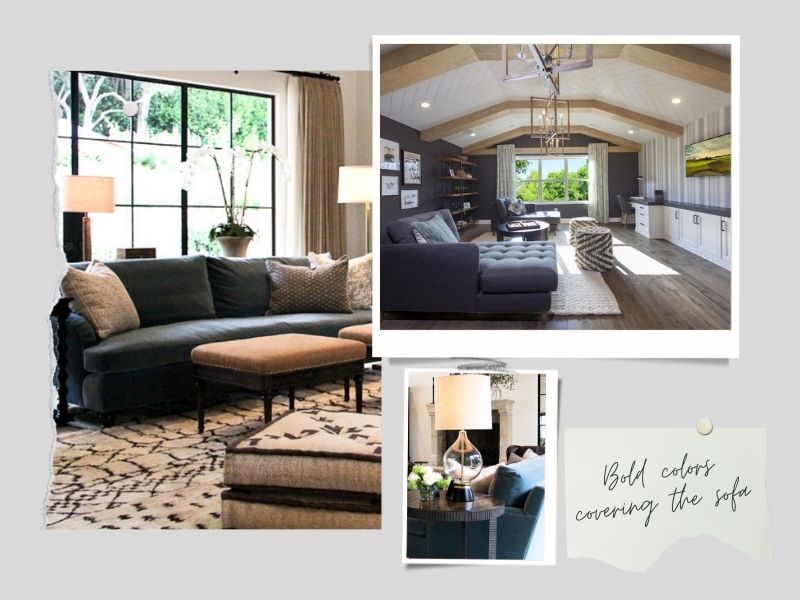 Put a bold color in your living room to remark the balance of color combinations. The sofa is an important item in the house to welcome your guest. This area should be the most beautiful place to make an inviting vibe for anyone who comes to your house. Because dramatic colors are less matched than neutral hues, you need also to pay attention to the rug, curtain, cushions, etc. To make your space feel more spacious, we recommend that these pieces use the same colors as the sofa or neutral tones. 
You might favor this: A Guide To The Perfect Colors For Farmhouse Style In 2021 | OhCanvas
OhCanvas farmhouse canvas wall art hung on the wall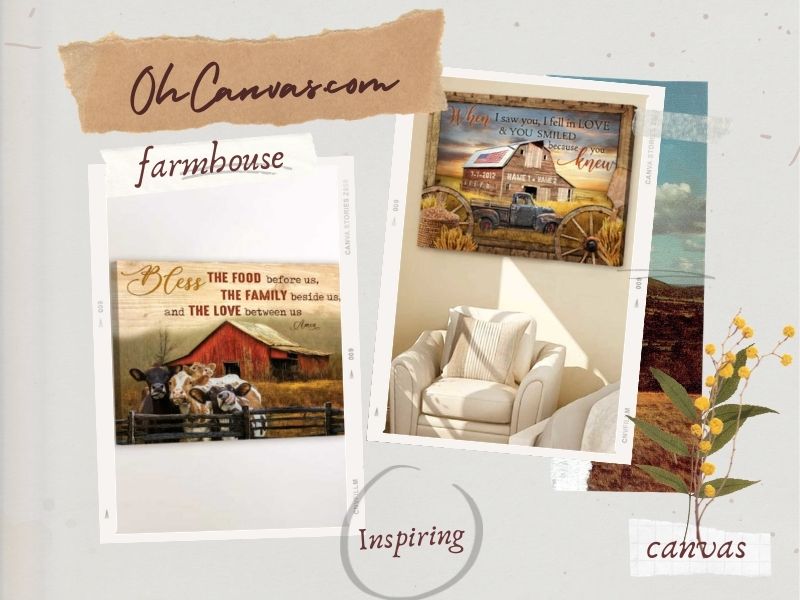 Click here to see more details about product 1
Click here to see more details about product 2
Do not let your wall plain.  A bare wall is OK, but I do not advise you to do nothing with it. Because walls take up the greatest space in your home, they should say something important. I recommend combining a wise phrase and an attractive photograph on a rustic canvas. The art print describes the genuine sight of the field, cows, and so on. It plays an important part in adding a country feel to your city home.
Blending the convenience and coziness to the new style dining room
Comfortable and warm are not easy to come together with. Think about your family including 3 generations having dinner together and talking about anything in their days. It exemplifies that mixture. The term cozy perfectly represents being both comfy and warm at the same time. The kitchen is the symbol for that pretty adjective. 
Metal pendant lights for the high-style dining room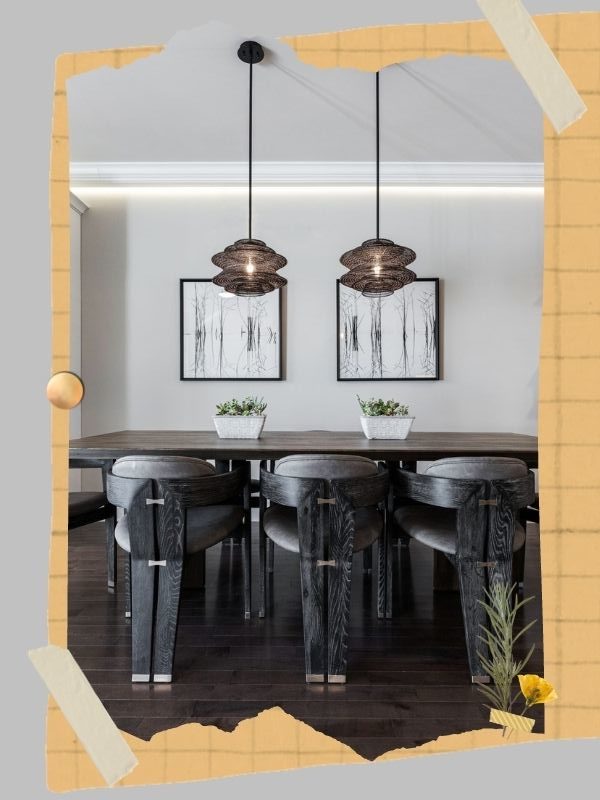 Begin with the metal ceiling light to nail your kitchen lighting ideas. Different materials and textures improve the overall appearance and make the home more intriguing and surprising. Each area has its individuality, yet they all work well together. Metal adds a sturdy but elegant touch to your kitchen. This item is a perfect home decoration to remind me of the old scene with my grandpa. When I look at the metal pieces, I think of the shovel used for digging, hauling, and hauling bulk materials. 
Metal basket to contain the eggs or fruits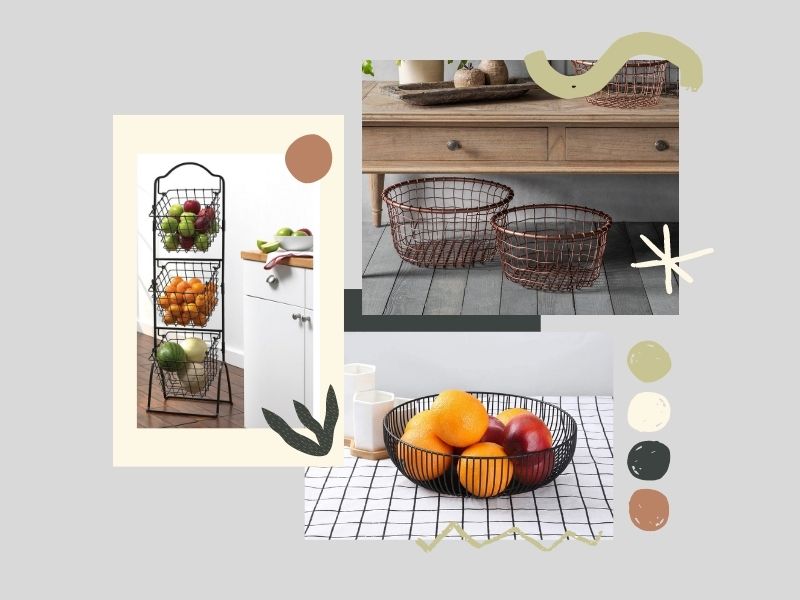 The modern farmhouse style is the ideal marriage of a classic rural aesthetic with a more minimalist contemporary design. This appears to be my mom's and grandma's kitchen. I cleaned the fruits and eggs acquired on the farm and placed them in the metal basket. Remember my grandma told me that when it comes to a full basket, it symbolizes abundance. It means a basket full of eggs might represent contentment. These wire basket storages provide an out-of-this-world experience for transforming your home into a gorgeous and magnificent look. They are not only robust and strong enough to hold your goods, but they are also lightweight.
Check this: 5 Ideas Make Your House Stunning With Modern Farmhouse Living Room
Mixing the fresh atmosphere to your urban farmhouse bedroom
"Every child's bedroom is as important as a telescope orbiting the planet earth or a philosopher's study." – Jerry Spinelli
Do you remember your best place ever in the house when you were young? You could do whatever in that space and dive into your unique imagination. Let's call that vibe once again in your own house now!
Wooden bed to warm up your relaxed space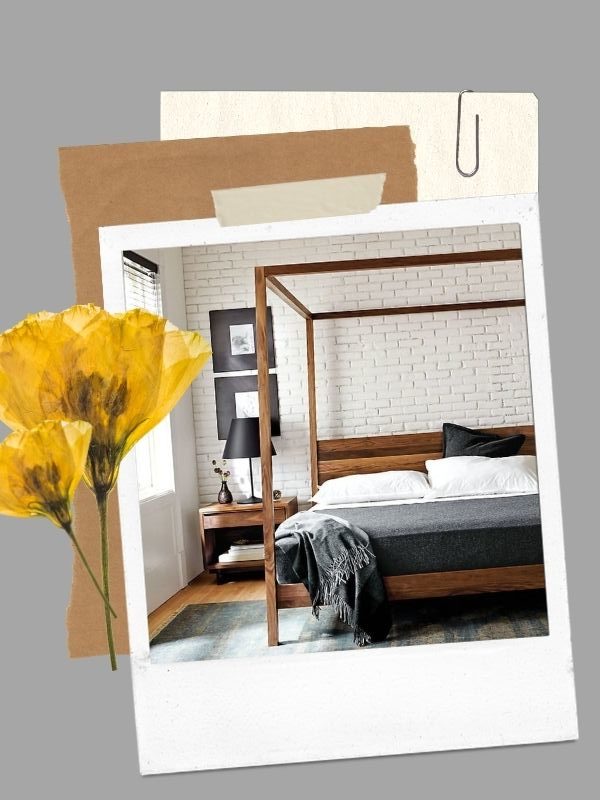 In comparison to other materials, wooden beds are extremely durable and simple to maintain. Because of its durability, wood has traditionally been the most commonly utilized material. Touches of wood may make your environment seem just as cozy. This bed has a special place in my heart because it was where I spent my youth. Every night until I fell asleep, Mom told me dozens of stories. The fragrance of wood is something to which I am attracted. Furthermore, because wood is a poor conductor of heat, it can resist weather extremes. Your hardwood bed will survive for centuries if properly cared for. My grandparents' generation utilized the bed I slept on as a youngster.
Metal and wood nightstand is the best idea to make this area look solid
Your nightstand adds aesthetic to your urban farmhouse bedroom, but it may also serve other uses. As a general guideline, the top of your nightstand should be level with or slightly higher than the top of your mattress. When someone is laying on the bed, it is much easier for them to reach above rather than below to grasp something. Metal and wood items complement your urban farmhouse vibe well. The strong nightstand frame emphasizes the modern style, while the wood drawers call to memory the farmhouse atmosphere. Furthermore, metal will give your bedroom a modern feel. This combination's design is simple, yet it exudes elegance.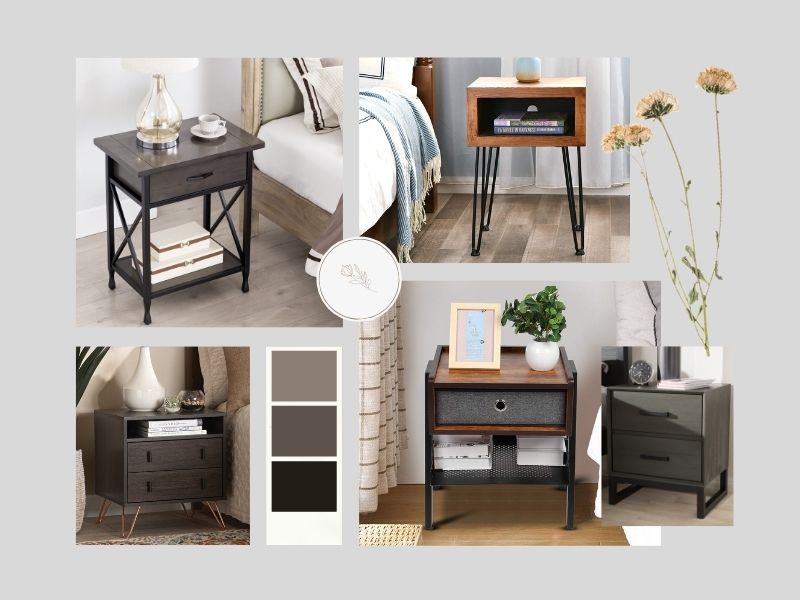 Do not miss this: Coupon OhCanvas and All Excited Things You Should Know
The urban farmhouse design is ideal for bringing back and reminding you of all the nice things you have learned in the country. Opportunities, connections, and even convenience are still readily taken in the tranquillity mood. The above are sensible recommendations we make for those preparing to design or enjoy designing a lively and soothing atmosphere. We trust that this blog will be beneficial to you. If you have any brilliant ideas, please share them with OhCanvas right away!