Can we just take a moment choosing the best 6 month anniversary gifts for him ti bask in the sheer beauty of love? It's an enchanting tale, one that has unfolded over the course of six magical months. It's truly remarkable how something so seemingly ordinary can blossom into an extraordinary force that alters the course of one's life. And fear not for it is the perfect opportunity to commemorate this momentous occasion with a delightful gift!
There is a wide range of possibilities to add a touch of romance or practicality to your celebration. To help you discover the special gift to show your man how much he means to you after 6 months of love, this post from Oh Canvas will go through some original and meaningful suggestions for your 6-month anniversary.
Best Suggestions for 6 Month Anniversary Gifts for Him
1. Glassware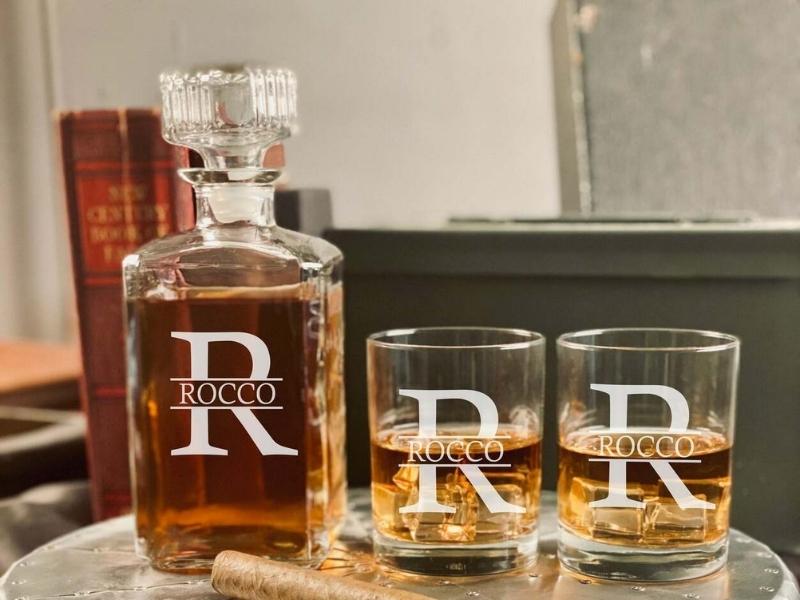 A beautiful piece of glassware is always a welcome present. Good 6 month anniversary gifts for him can't be better than this personalized whiskey decanter set. If your guy likes to drink whiskey, this gorgeous decanter with four rocks glasses will allow him to do so in elegance.
This is the best gift for your boyfriend since he can share his whiskey with his closest friends or you in new matching glasses with his personalized touch.
2. Land of the Free USA Beer Cap Map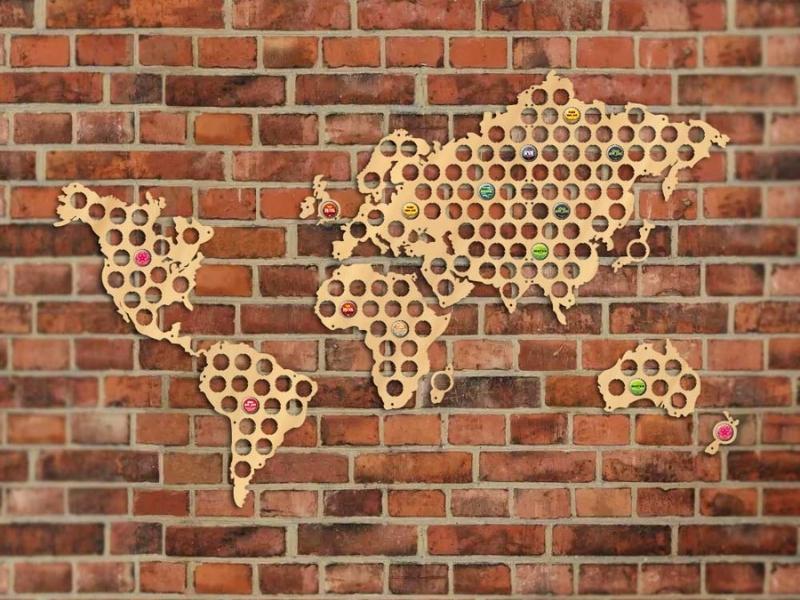 Few things evoke the spirit of the United States like a cold one of the local brew. Because he loves all things American, the extra-large USA beer cap map should be displayed prominently in his home.
When a visitor enters the room, they'll be greeted with this massive placard. So that he can show off all of his favorite beers while simultaneously professing his love for his nation, this perfect gift is a perfect 6 month anniversary gift for him.
3. Beer mugs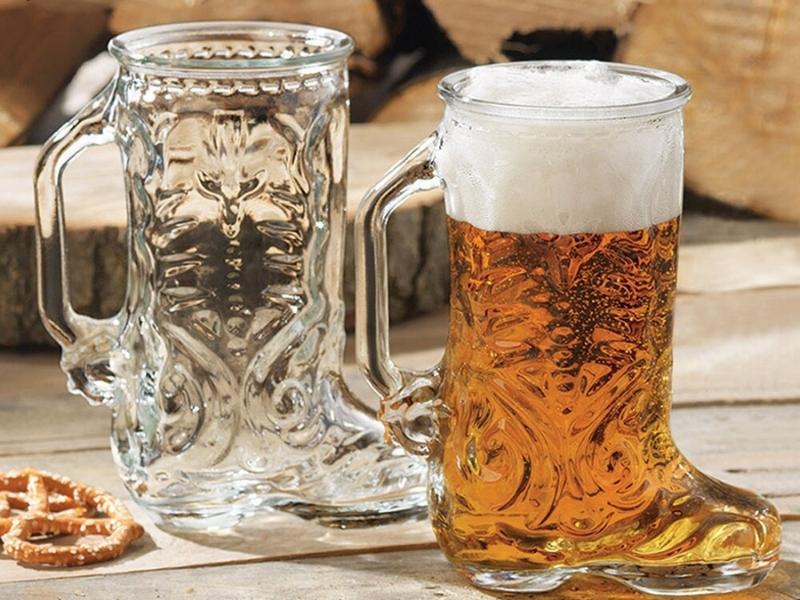 It's impossible to go wrong with a present that's both traditional and powerful, which is why customized beer mugs are good 6 month anniversary gifts for him. With this beautiful custom mug, his beer will taste better than ever before since you, and he may both sip from the same glass to commemorate your anniversary.
You can choose the one with lines of customization, a name, an anniversary date, and a year; this mug will surely put your loved one in the mood to shower you with tenderness on your anniversary.
4. Neck Massager with Heat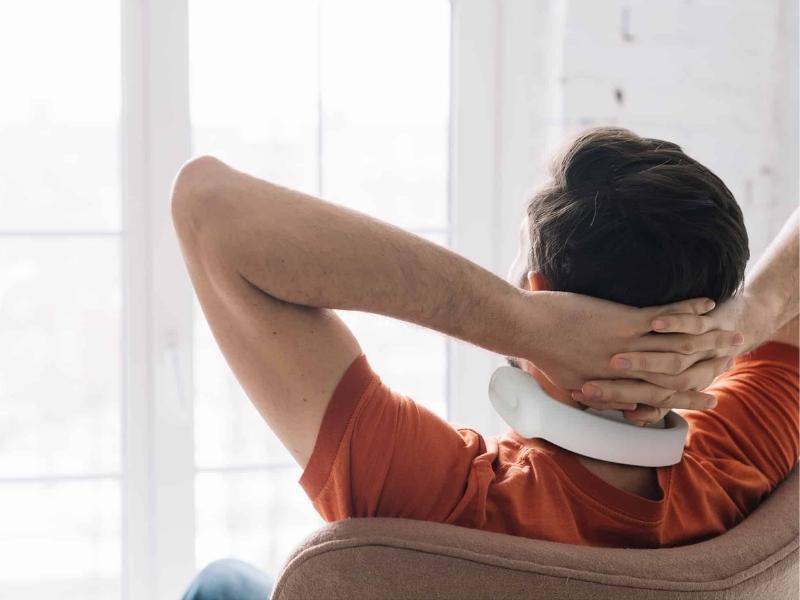 Using this neck massager is guaranteed to put a smile on the face of anybody you care about! Neck, back, shoulder, thigh, calves, and foot stiffness will be relieved with this massager. With so many options, your loved one will be thrilled with this perfect gift.
5. Personalize Canvas Prints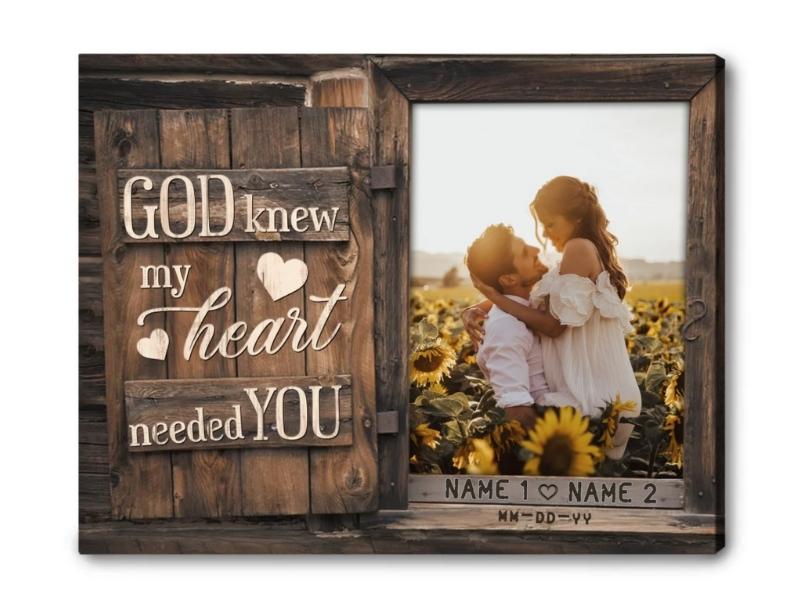 A personalized gift as a perfect 6 month anniversary idea for boyfriend is very special. This item, with its serene and antique appearance, is perfect for fans of farmhouse decor or other designs with a rustic feel. Isn't it much better when you can include a romantic quotation in your print? You don't have to be a flawless person to have a loving relationship. "God knew my heart needed you" is the goal. Let this piece of art speak for you when it comes to declaring your undying devotion to your sweetie.
6. Large Flask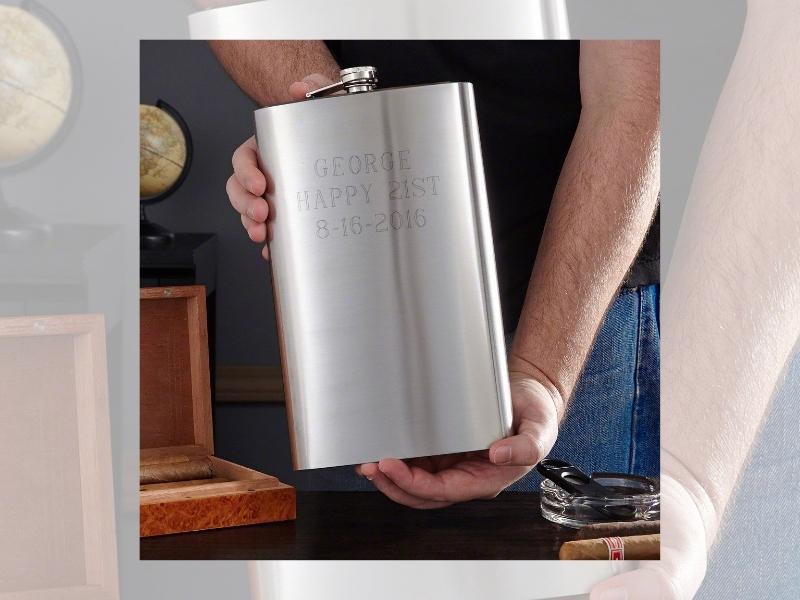 You need to express your gratitude for how hard he works when it comes to unique 6 months anniversary gifts for him. Isn't he entitled to a bit of fun now and then? If you want to show your boyfriend how much you appreciate his hard work, this sasquatch 128 oz flask is the perfect anniversary present! He won't be able to contain his excitement when he sees it, and he'll be even more excited when he sees you get it for him.
7. Smoked BBQ Grill Set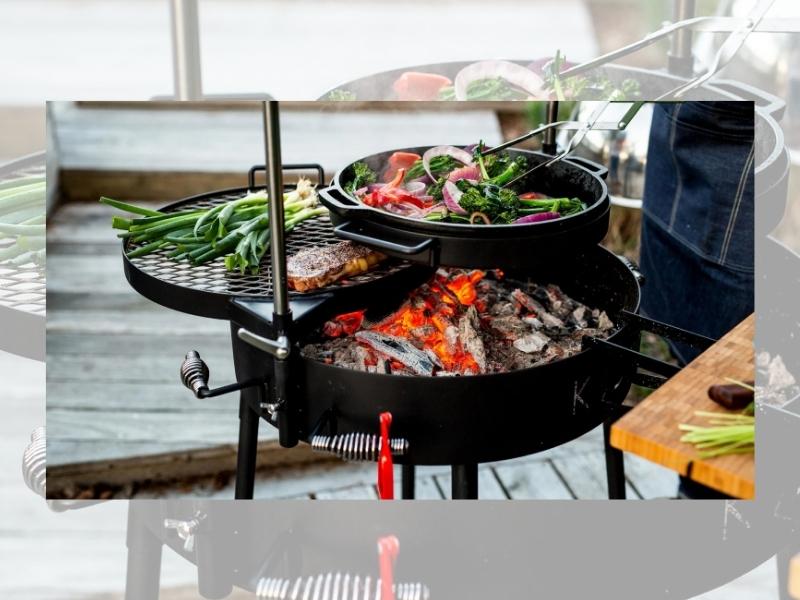 It's no secret that men like grilling! This smoked BBQ grill set is sure to be a hit with your guy on this 6 month anniversary for boyfriend, too. Everything he needs to start infusing your dishes with wonderful smoked tastes is included in this easy-to-use grill kit. Three different kinds of smoker chips are included. His face will light up, and the dinner table will be filled with anticipation when he gets his hands on this grilling set.
8. Engraved Whiskey Set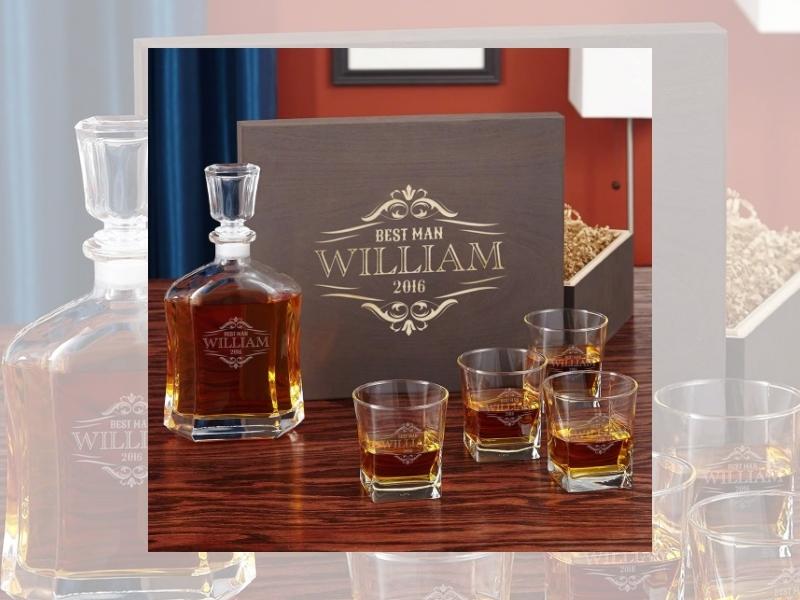 Having a drink of whiskey after work is something your lover enjoys, and you want to make it even more delightful for him. He'd be treated like a king with this personalized whiskey set, and you'd be treated like a queen in return.
Because of the whiskey stones, his whiskey will not get diluted by the ice. His initials inscribed on the side of the glass will make him want to drink from it all the time, except when he's giving you a huge embrace. You can bet he'll believe you discovered a list of 6 month anniversary gifts for him with this kit!
9. Canvas Personalized Gift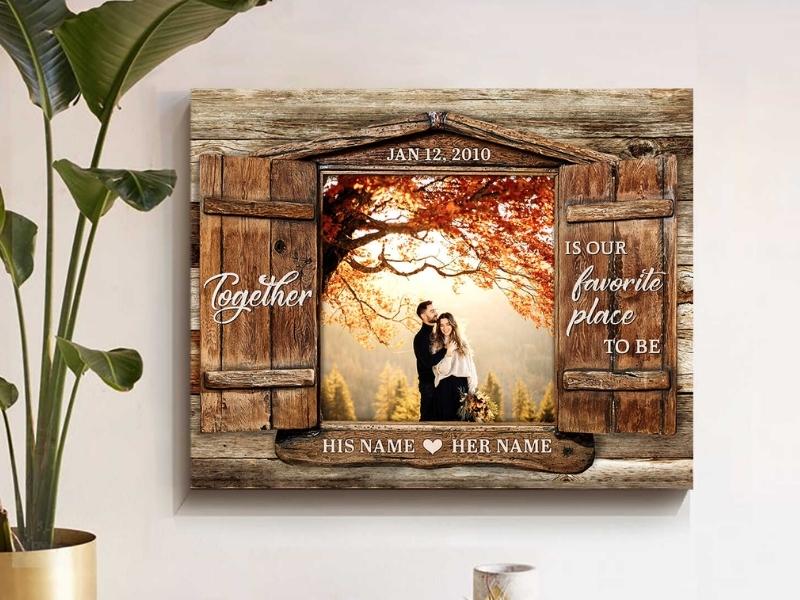 A customized canvas is an excellent option if you're looking for something different to give your significant other this day. The most memorable present is one that embodies the feelings of the donor; we are convinced that the recipient will be delighted to weep as a result of your cute gift.
Allow us to make this canvas painting into the most amazing 6 month gift for boyfriend ever by adding his or her most gorgeous photographs to your cart.
10. Acrylic MiniBlox Photo Frame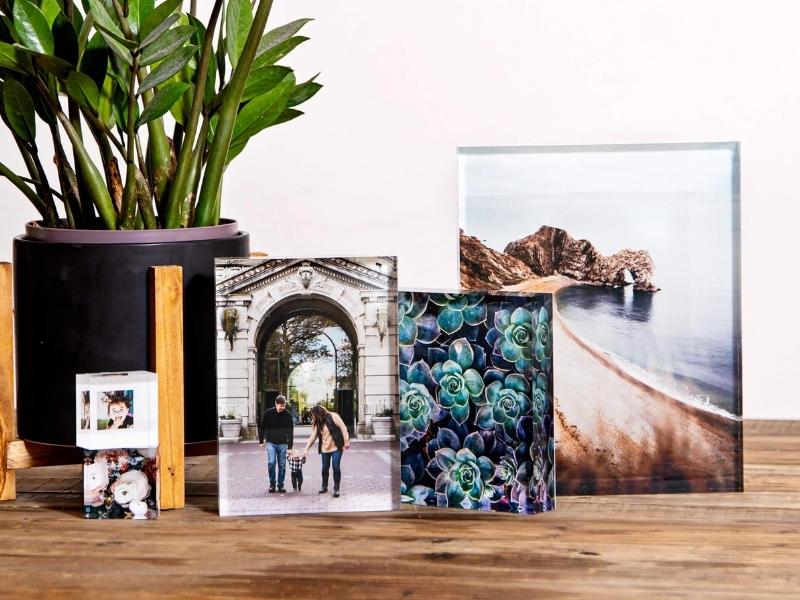 What better way to show your love for someone than by giving them a huge selection of the keepsake photo? Consider giving your lover these Acrylic MiniBlox as a perfect 6 month anniversary gift. If you have a current image of you and your loved one or a picture that was taken on your first date, it would look great in the MiniBlox. In addition to beautifying his home or apartment, they're an affordable approach for your guy to push you and your relationship.
11. Custom Cutting Board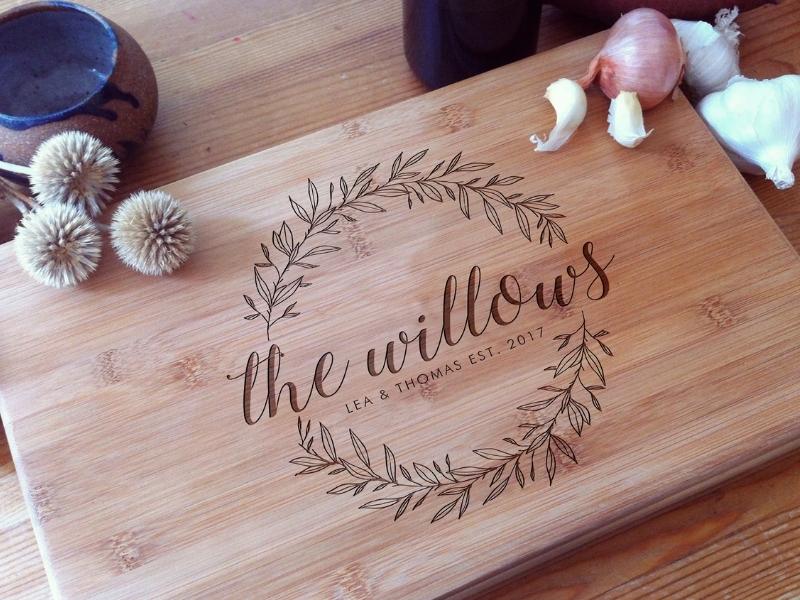 The ability to cook is a desired attribute in a man, and your guy possesses it. Make his life a bit simpler with a personalized cutting board for 6 months anniversary for boyfriend as a perfect way of saying thanks for all the wonderful meals he has prepared for you. You may show your partner how much you appreciate him and his culinary prowess by giving this anniversary present to him.
12. Insulated Wine Picnic Basket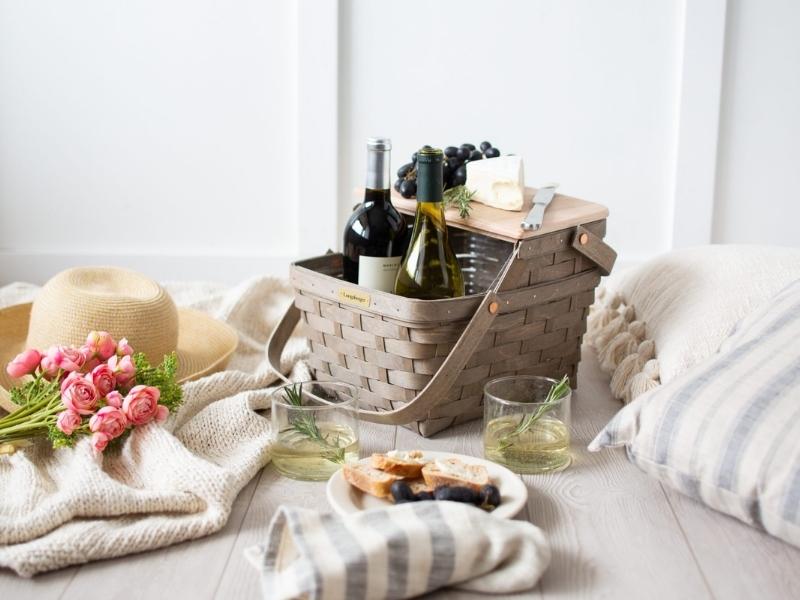 The Insulated Wine Basket is perfect gift for a romantic picnic with your beloved someone. Wine and cheese accessories are included in this picnic set to guarantee a relaxing day. You may enjoy a romantic day with this sturdy wicker basket. Invest in 6 months anniversary gifts for him that will be put to good use time and time again.
13. Premium Beard Kit for Men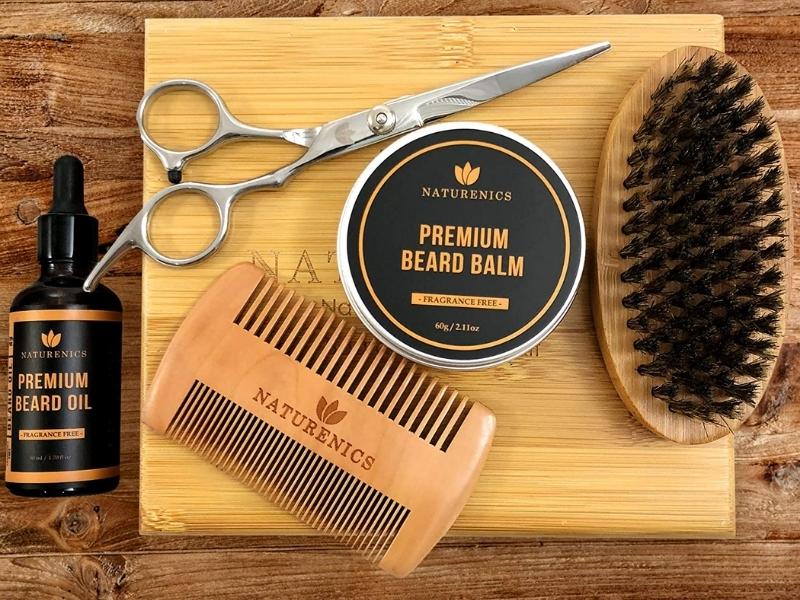 Don't miss out on this great gift package for 6 month gift for boyfriend. A beard trimmer, shampoo, and conditioner are included in this premium beard kit. You'll be able to maintain your beard looking its best all day long thanks to the organic oils in this product.
14. Monogrammed Stainless Steel Drink Tumblers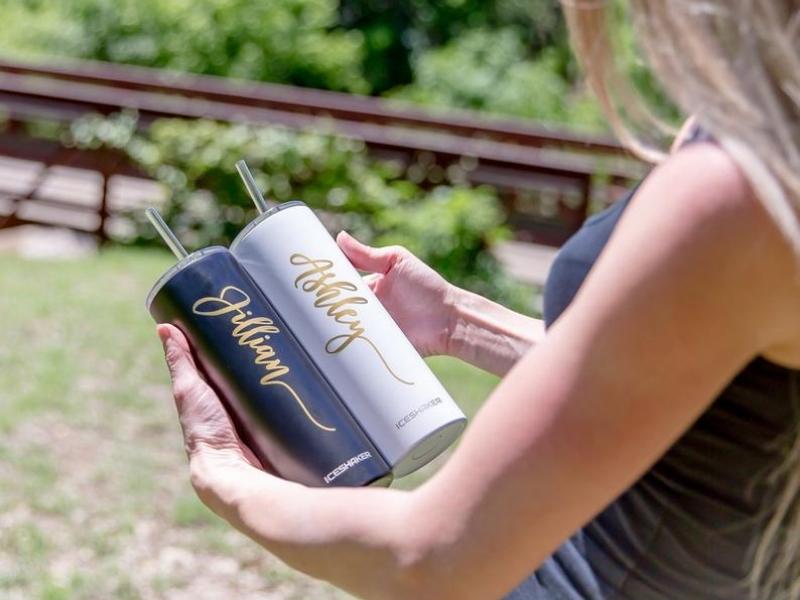 A room-temperature beverage is the pits, and your partner is entitled to hot beverages that stay hot and cold beverages that remain cold. You can't go wrong with these traditional monogrammed stainless steel drink tumblers for 6 month anniversary gifts for him. Your lover will always have a remembrance of you with him thanks to these fashionable and readily transportable accessories.
>>> Maybe you interesting: 21 Most Surprising 1st Anniversary Gift for Couple
15. Serrated Personalized Hunting Knife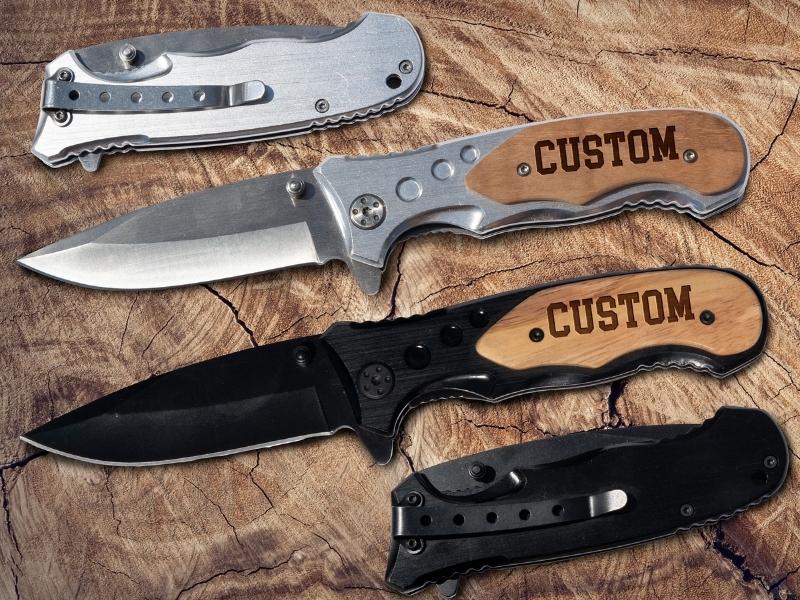 Think about a knife while you're shopping for a DIY present. The versatility of a serrated customized hunting knife makes it an ideal anniversary present. Knives are a man's best friend, whether at work, home, or on a camping trip. The multi-faceted, sleek knife with his name engraved on it will delight him, but he will also be grateful that you are getting him something useful.
16. Bluetooth Beanie Hat with Headphones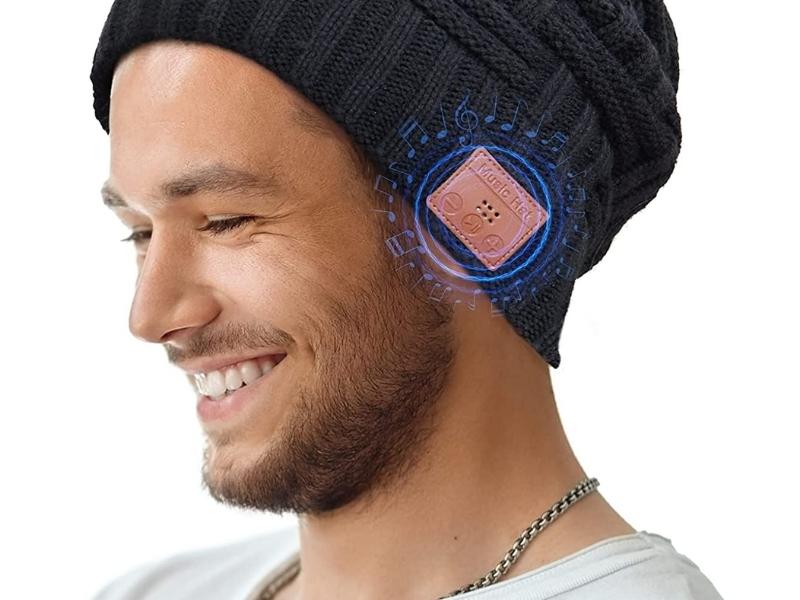 Give the techie in your life something they will adore. For up to 20 hours of music, this Bluetooth-enabled beanie lasts before needing to be recharged. These high-performance headphones are both clear and sharp thanks to their enhanced HD speakers. This 6 months anniversary idea is guaranteed to be a hit with him.
17. Personalized Faux Leather Coasters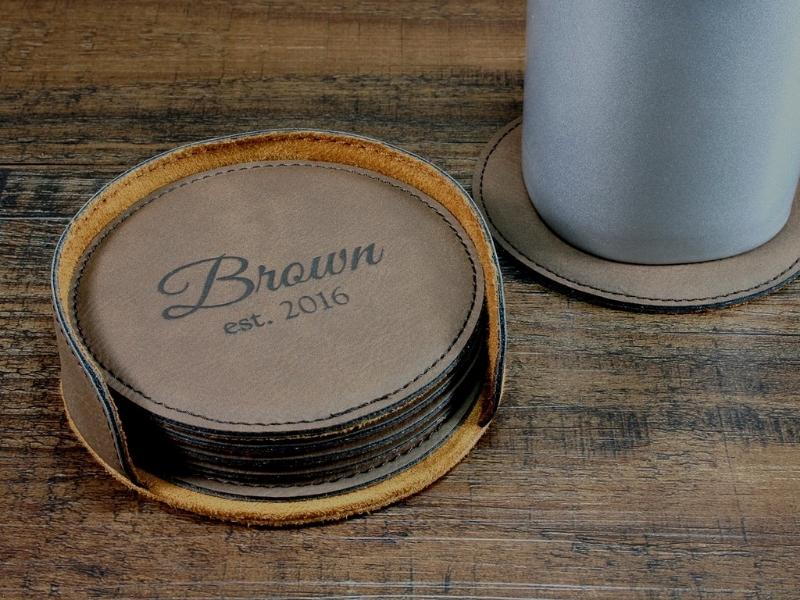 This guy is exactly what you've been looking for: he emphasizes cleanliness and elegance. So why not purchase him the ideal DIY present: a set of customized fake leather coasters? In addition to looking great on any coffee or end table, their streamlined design keeps them free of unsightly condensation rings. This is one of the greatest gifts for boyfriend for 6 month anniversary since you can have his initials engraved on them.
18. God Blessed The Broken Road Wall Art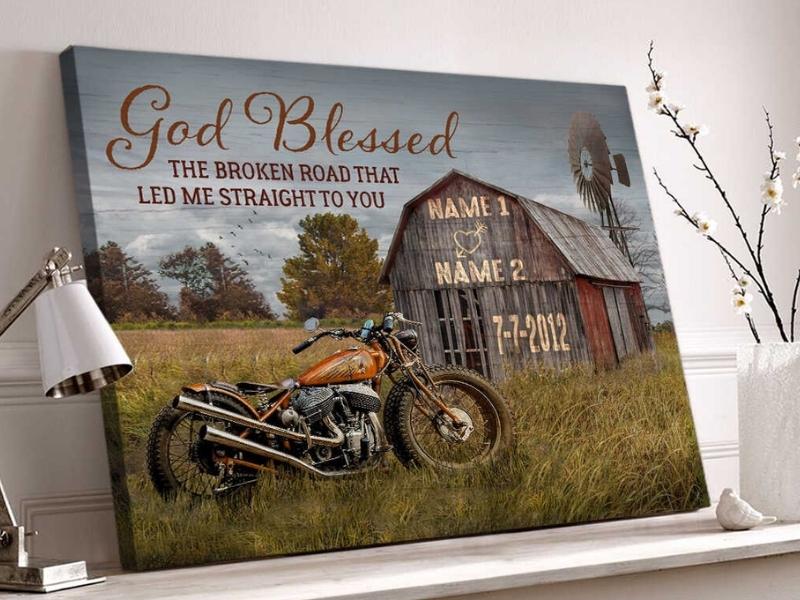 This simple and creative statement to express your feelings for your spouse says it all: "God blessed the broken road that led me straight to you." And now this 6 months anniversary gift for him is more than just a message. By including just your name and, your partner's name, your first date, you've made the message more personalized and unique for years to come.
19. Junk Food Gift Basket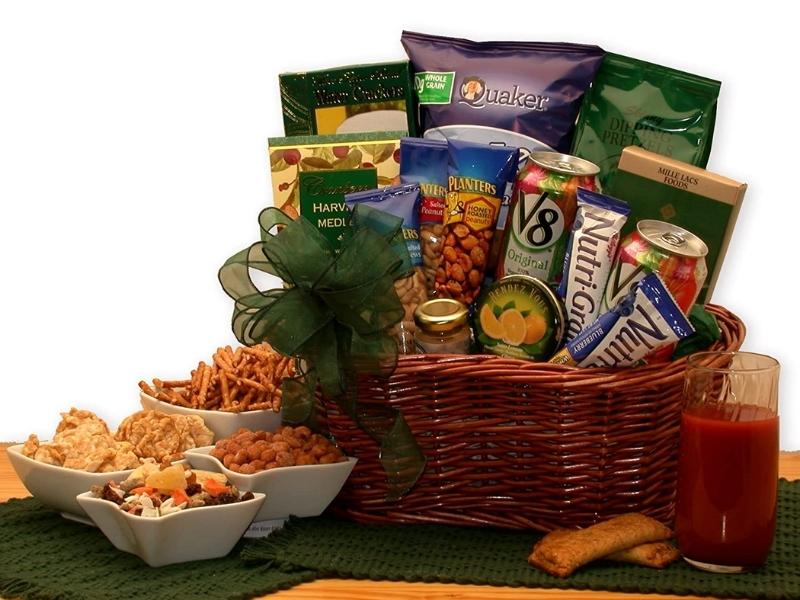 6 months anniversary gifts for him should contain nibbles, as men are known to be foodies. You can purchase him a beautiful gift basket full of his favorite treats, but don't give him just one or two or even three nibbles! For weeks to come, your guy will appreciate the sweet sweets in the Super Sweet Snack Gift Basket. You can be sure he'll tell you about it.
20. Personalized Cocktail Bar Sign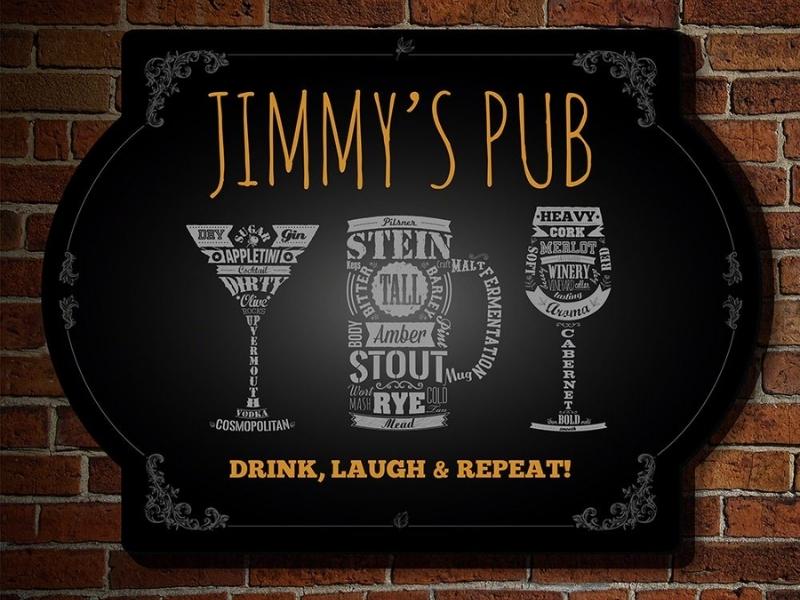 Let your partner know how much you appreciate all the beverages he makes you by handing him a sign with your name on it. Having a customized cocktail bar sign hanging in your kitchen or bar will be a great way to show your boyfriend how much you care about him, even on 6 month anniversary for boyfriend.
21. Survival Gear Kit for Men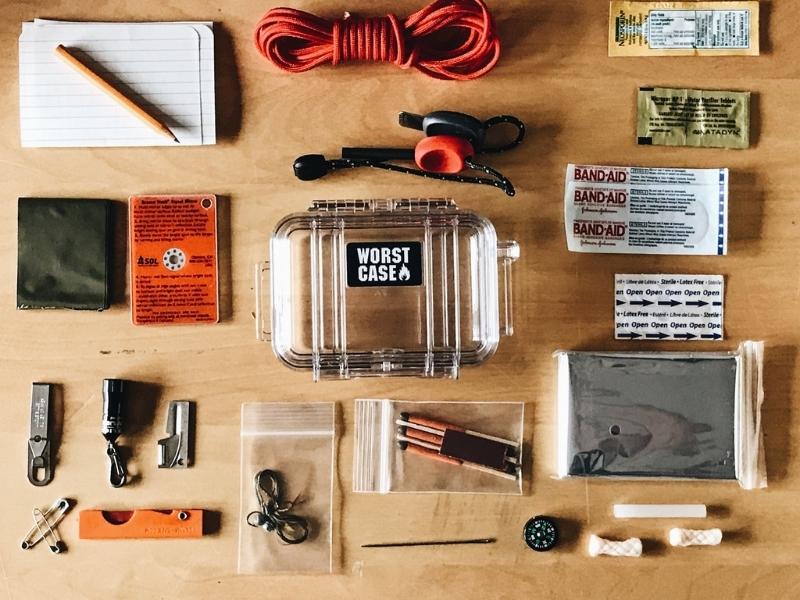 Prepare him for all events. Everything you need to survive in the wilderness is included in this survival pack. You may give it as good 6 month anniversary gift ideas for him for the great outdoors. This gift set is sure to make your boyfriend appreciate for a long time.
>>> Read more: Top 30+ Easy 6 Month Anniversary Gifts for Her She'll Cry
22. Insulated Ice Bucket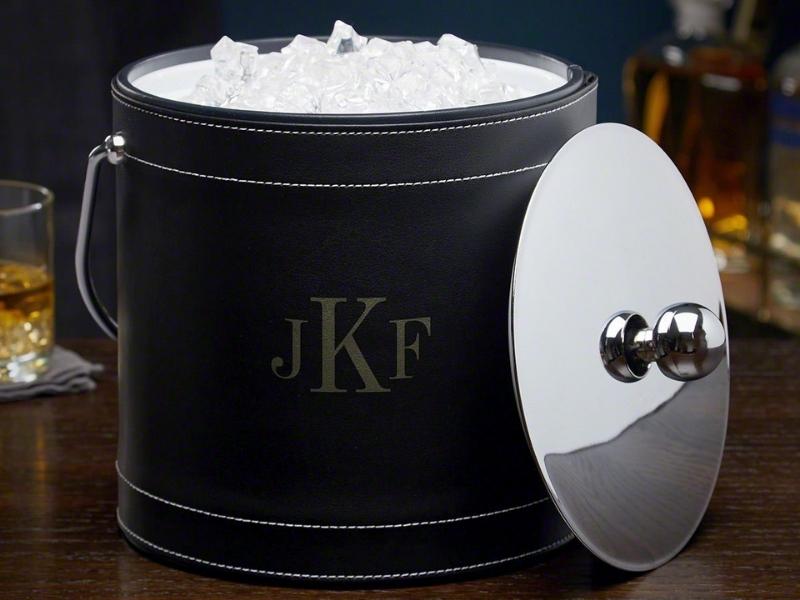 Consider the fact that some men prefer practical gifts when you're unsure what to purchase for 6th anniversary gifts. If you're looking for a great anniversary gift for him, go no further than this insulated ice bucket with a scoop and cover.
With its stainless steel exterior and double-wall insulation, you and your lover may enjoy your favorite beverages in comfort. As a result, he doesn't have to worry about anything and can instead concentrate on you.
23. Cigar Whiskey Case and Cigar Glass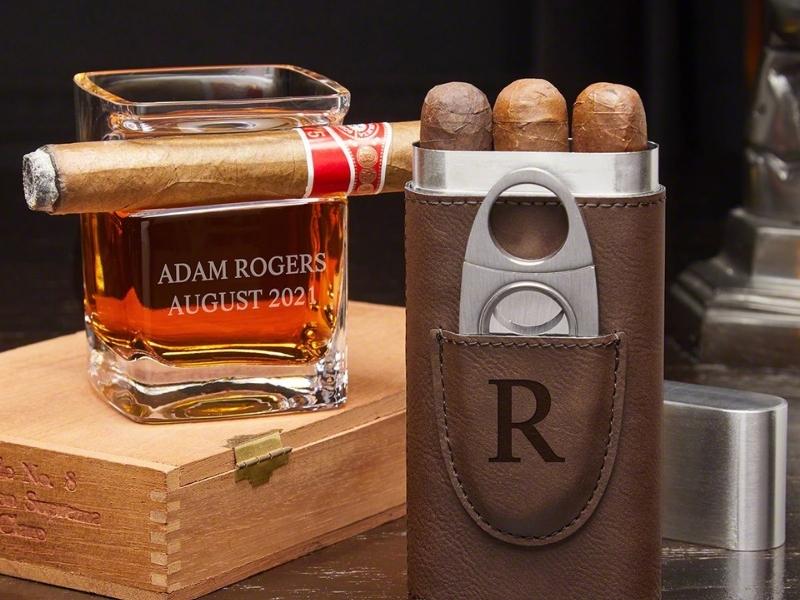 If you're looking for 6 month anniversary gift ideas for him, think about pairing whiskey and cigars together. It's hard to find a better present for your guy who appreciates the finer things in life, like fine cigars and whiskey, than this pair of bespoke cigar glasses. You may personalize this sentimental gift even further by etching the glass and the casing. His cigar will be in his glass, so he can grasp your hand more comfortably.
24. Women's Nightgown Sexy Nightshirts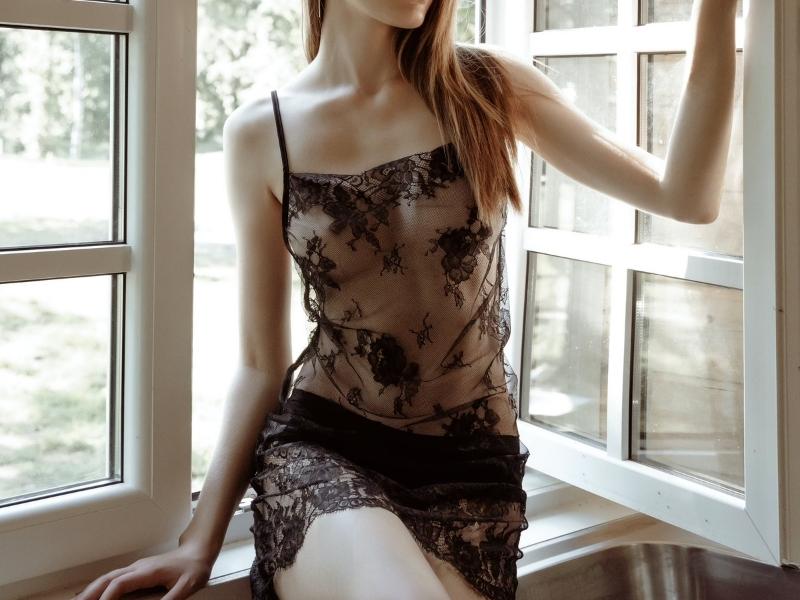 Celebrate your anniversary and make him feel like a king and you will be a queen at night. With this beautiful 6 month gift for boyfriend, you can help keep the flames burning in your relationship! Seeing you in this seductive nightgown will make him forget about sleep for the rest of the night. Let your legs shine in this lover's nightdress. The more fun you have together, the more fun he'll have.
Oh Canvas tips

Although style is obviously a concern, comfort shouldn't take a second either. Be careful to pick out something simple, however, since showy outfits are not ideal for nighttime.
25. Hammered Steel Bar Tool Set
You like your guy because he is an excellent host and bartender who enjoys throwing parties for your friends. On 6 month anniversary for boyfriend, let him know and show how much you love him by gifting him a luxury hammered steel bar toolset that will help him become a better bartender.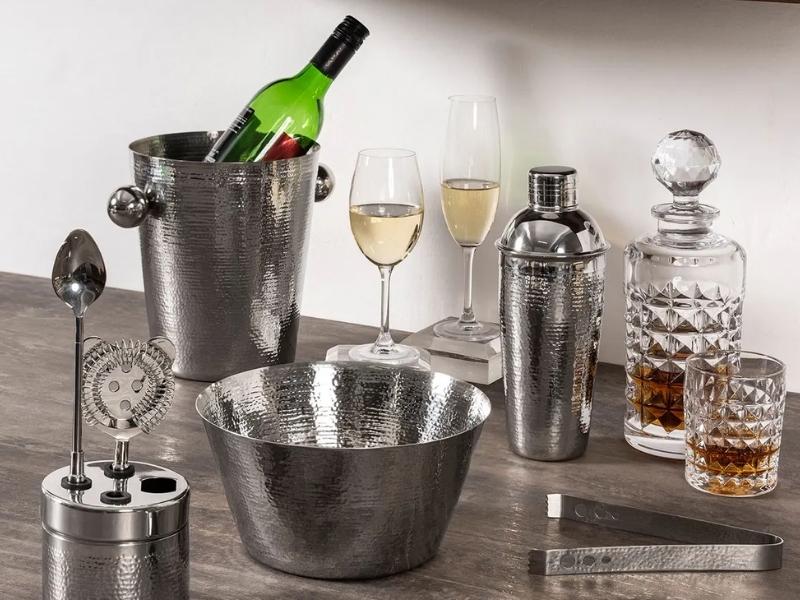 It's safe to say that his new cocktail shaker, serving tray, and stir spoon made of stylish stainless steel will greatly enhance his ability to mix drinks for customers. In addition to making him look beautiful, this is an excellent 6 month gift for boyfriend since he gets to enjoy an excellent drink.
Oh Canvas tips

Clean bar tools only in warm, soapy water, and only by hand (this will remove corrosive acids found in citrus fruits). In addition, to protect the finish on your tools, never put them in a glasswasher.
26. Custom Human Face Pillow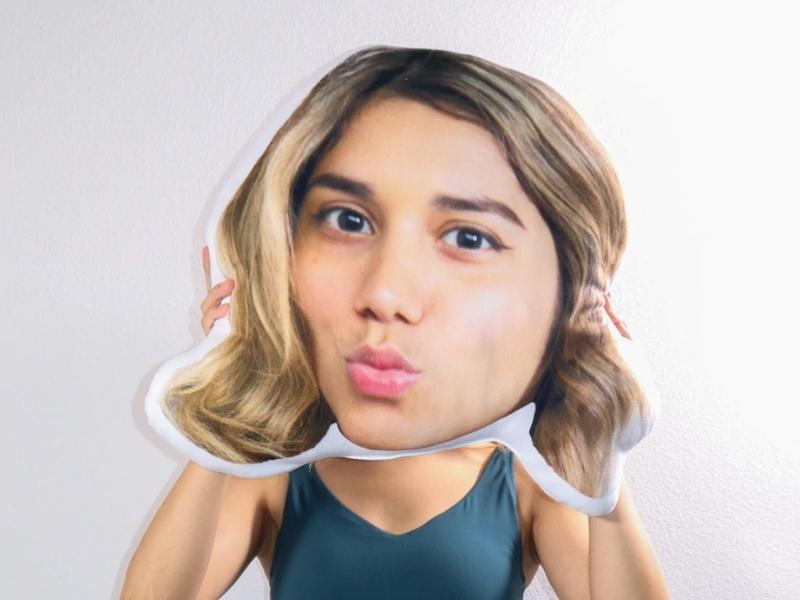 You should show your partner how much he means to you by giving him a memorable and humorous wedding anniversary gift for him. He'll laugh out loud at a custom-made human face cushion, which will also be a discussion starter for visitors. A sofa or a bed will be more comfortable as a result. Because his face is so endearing, it really belongs on a pillow.
27. Slim Wallet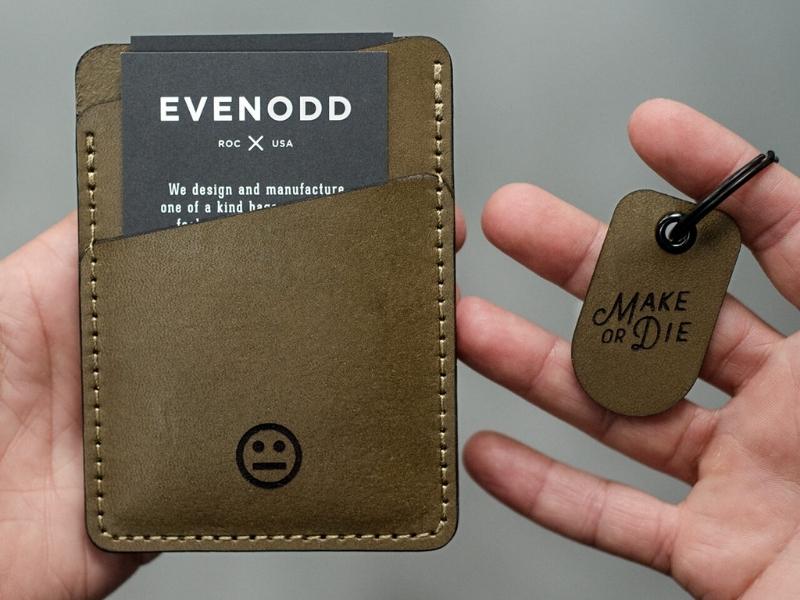 Your boyfriend's wallet is likely to be full of old receipts and cards he no longer uses, and it's likely to be breaking apart. Help him declutter his life with a sleek and small wallet that can hold many cards and cash without taking up too much space in his pocket. As one of 6 months anniversary gifts for him, he'll use this wallet for many years to come since it comes.
28. Personalized Shadow Box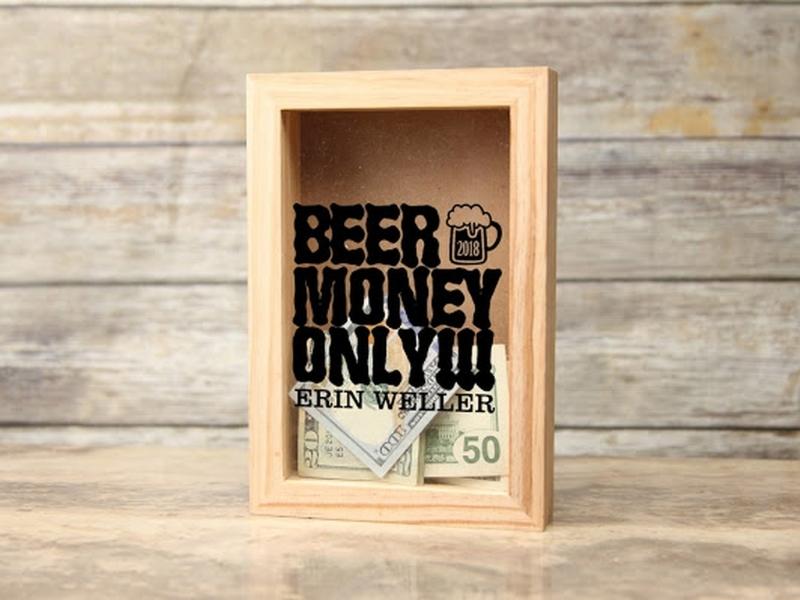 You want to commemorate not just the six months that have passed but also the many more to come. Create a lasting keepsake that you and your lover may add to overtime with this elegant customized shadow box.
From beer bottle caps and wine corks to pictures and other little items, it can hold them all. This charming gift box may be personalized with your boyfriend's first and last name and initials, making it the ideal DIY present.
29. This Is Us Photo Collage Oh Canvas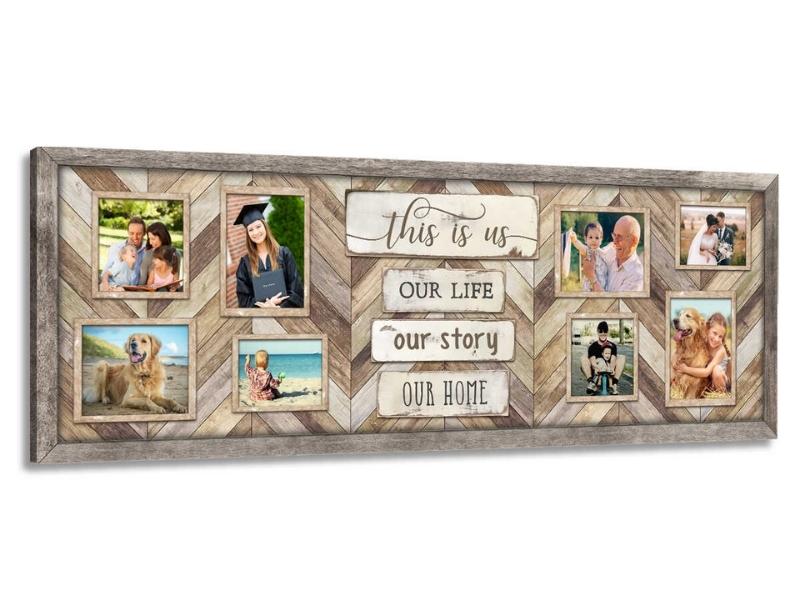 Do you want a 16×48-inch photo collage canvas instead? Personalized wall art for the family is a great option. You may personalize it with four images, the anniversary date, or other details of your big occasion, and your name. A unique and rustic farm wall art piece will surely make your house stand out from the crowd. Giving these as 6 months anniversary gifts for him will warm the hearts of everyone who received them. Don't miss out on any opportunities to express your admiration!
30. Heartfelt Song Plaque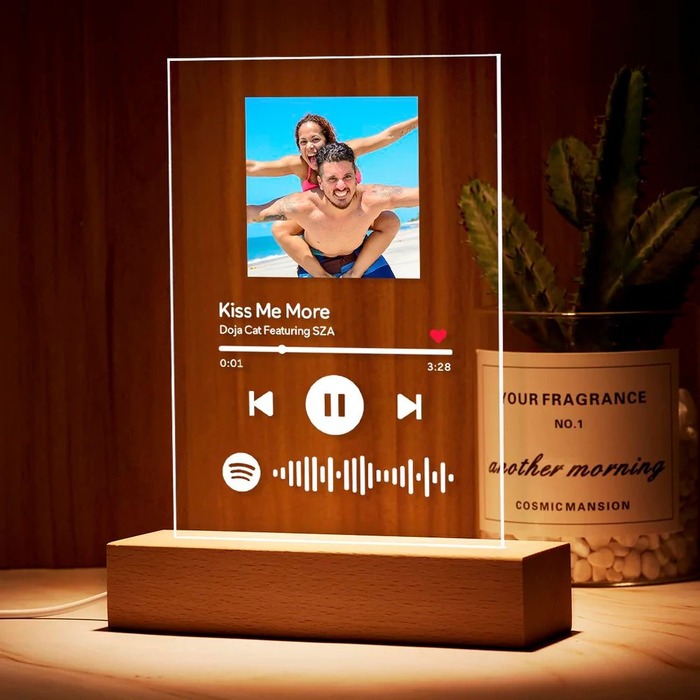 Spending quality time together for a happy sixth month anniversary is a beautiful tradition. This personalized plaque is the meaningful 6-month anniversary gift for your love. The acrylic stand is included with this accessory and allows the plaque to be displayed either on the wall or freestanding. Feel free to customize it by swapping out the tune or photo as you see fit.
31. "I Stole Heart" Mug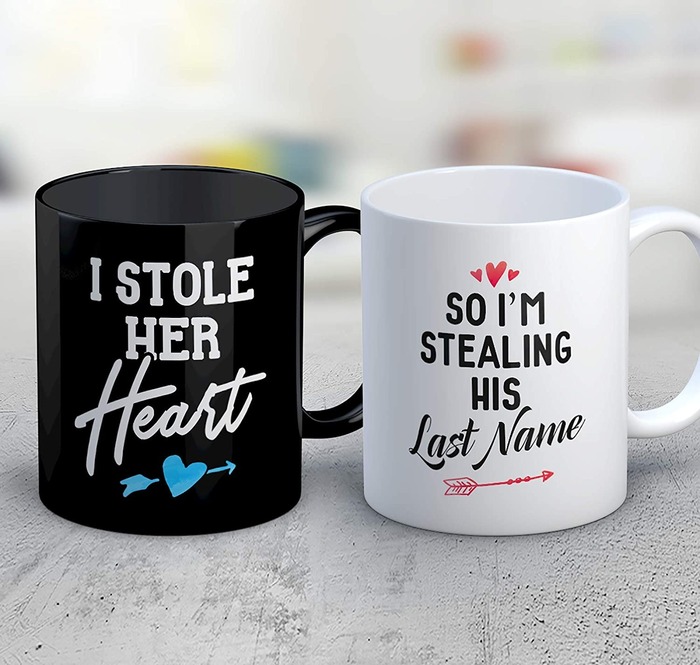 Share this pair mug with your special someone and throw a party in honor of your happy 6 months anniversary. It's possible that your item will arrive as a pair, but you're free to pick whichever spouse you'd like to surprise with it.
Strong and robust, it can withstand the temperature extremes of both icy and scalding beverages. You deserve to have someone think of you every time they sip their morning coffee or tea, so treat them to this mug.
32. Music-themed song personalized blanket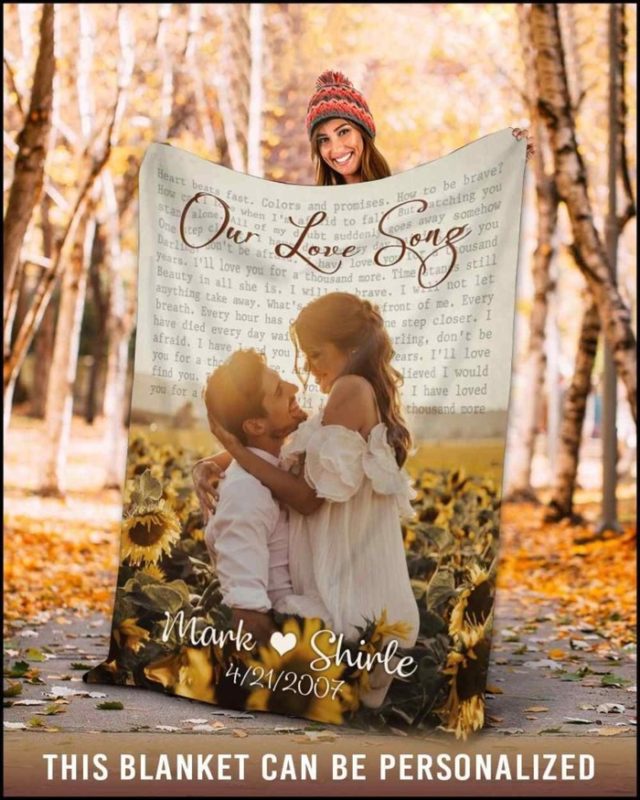 Looking for unique and memorable 6-month wedding anniversary for husband? Then bring along this unique fleece blanket with your favorite tunes! The blanket is reversible, with the plush faux fur side facing outward and the soft sherpa side facing inward, so it can be shown either perfect way and still look and feel amazing. You can get a high-quality print made of your uploaded favorite pictures at the shop by simply entering the song title and the artist's name.
33. Light Me When You Candle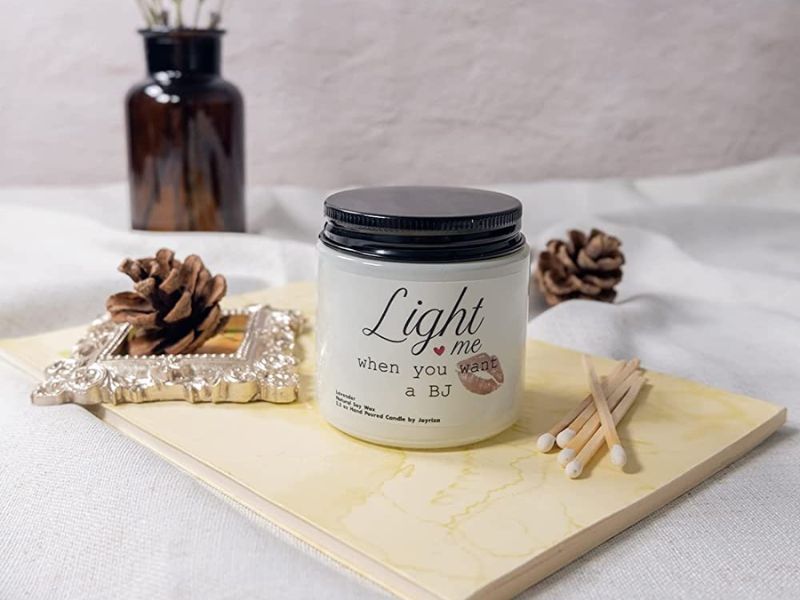 With this jokey gifting, you won't even have to say a bad word. Your six months together have been burning, just like this candle. Use this hilarious candle without needing any candle holder to keep the fire heating warmly. He is going to light this candle at any desire that comes itself to him.
34. Spa Day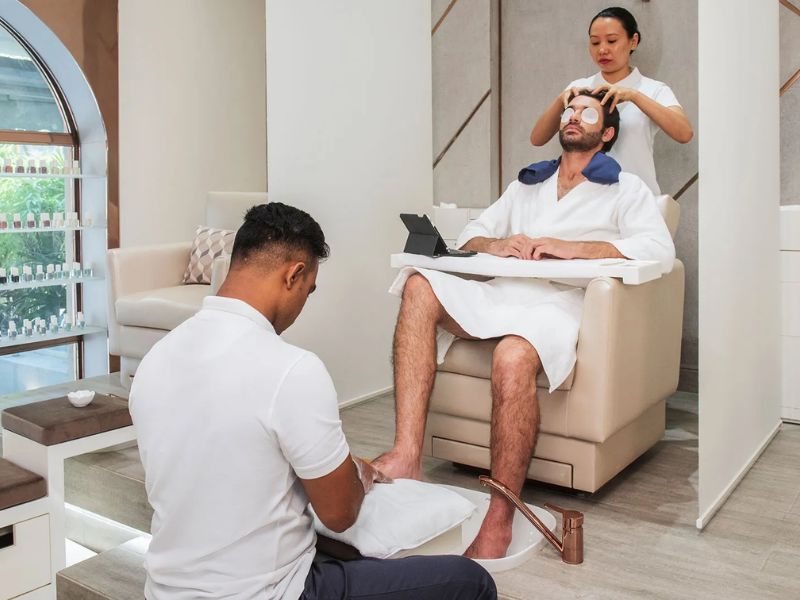 Most people are surprised to learn that males enjoy trips to the spa as much as women do. There are options available that are designed specifically for guys, just as there are for women.
Any guy who works out often and wants a great way to relax, any man who works long hours at any profession, or any man who seldom takes the time to treat himself would appreciate this. Men, like women, like being treated well.
Oh Canvas tips

Make an appointment for him to have his nails done, feet massaged, face scrubbed, hair washed, and hair trimmed. He'll appreciate the thoughtfulness that put into the offering and the resulting sense of calm it brings him.
Q&A for the 6 Month Anniversary Gifts for Him
1. Should I get 6 month anniversary gift?
While the six-month mark isn't particularly significant, reaching the halfway point in a relationship may be a romantic moment to evaluate how the relationship is doing and how you feel about it overall. Hence, a 6 month anniversary gift is still remarkable to this day!
2. What should I get my boyfriend for our 6 month anniversary?
Acrylic MiniBlox
Large Flask
Cigar Whiskey Case and Cigar Glass
Road Barn and Vintage Motorcycle Wall Art
Survival Gear Kit for Men
Hammered Steel Bar Tool Set
Slim Wallet
Personalized Shadow Box
3. How can I surprise my husband for our 6 month anniversary?
Glassware
Custom Human Face Pillow
Women's Nightgown Sexy Nightshirts
This Is Us Oh Canvas
Bluetooth Beanie Hat with Headphones
Premium Beard Kit for Men
Smoked BBQ Grill Set for Men
Neck Massager with Heat
Photo Collage
Candle Holder
Photo Frame
4. Are six months of dating a big deal?
For many couples, 6-month milestone is a major occastion, particularly for college/university students who have been dating for more than one semester. Six months of being together is a significant milestone in a relationship. Your commitment and dedication to making the relationship better show your partner that you are on the same page. After six months, you'll be able to ascertain if you want to remain together or go your separate ways.
5. How long before a relationship becomes serious?
Wait six months before making any long-term plans for a new relationship. It's during this six-month time that the most significant discoveries about another person are made. If you haven't met him, don't waste your time thinking about whether or not he'd make a good spouse.
According to a relationship expert, it's socially acceptable to broach the subject after two months. But some people will get to the stage earlier — it all depends on how much time you're spending together, and how much of a good fit you are. If you're not sure, try introducing them to your friends and see how they react.
Read more:
When it's time to mark your six-month anniversary, you have a wonderful opportunity to celebrate your love in a truly meaningful way. Choose a gift that shows your feelings and the happiness and add a romantic touch to celebrate your six-month anniversary.
Make sure to get the perfect gift for your loved ones with our list of anniversary for 6 month. We hope this article of Oh Canvas will help you pick the thoughtful gift for your loved one, and in that great way, you both enjoy it much.