Gift-givers should take care to ensure that their funny engagement gifts are well-received by the recipient. For this reason, it is crucial to remember that what the gift-giver thinks is amusing may not be amusing to the recipient or their family members. Every couple will enjoy the well-intended joke if the present is well chosen and given with a good heart. Fortunately, Oh Canvas has done some research and come up with some creative engagement gift ideas for couples who are about to be married. Scroll down and read the blog till the end.
What Makes a Good Funny Engagement Gifts?
Even when given with the best of intentions, funny engagement gift ideas might turn out to be a terrible option. You must remember that if the present has to be explained, it may not be as amusing as you think it is.
As soon as a present fails to bring forth the smiles you had hoped for, you should tell the couple that you didn't intend to disrespect their love or their upcoming marriage. A heartfelt apology may go a long way toward ensuring a couple that the gift-giver does really support their engagement and wish them all the best for a happy marriage.
When it comes to funny engagement gifts for couples, the donor may wish to follow up with a more suitable and clear-cut present. There are many possibilities here: the couple may decide to return or give the joke present back, or they may see the comedy in it after all.
Best Funny Engagement Gift Ideas
1. Marriage Recipe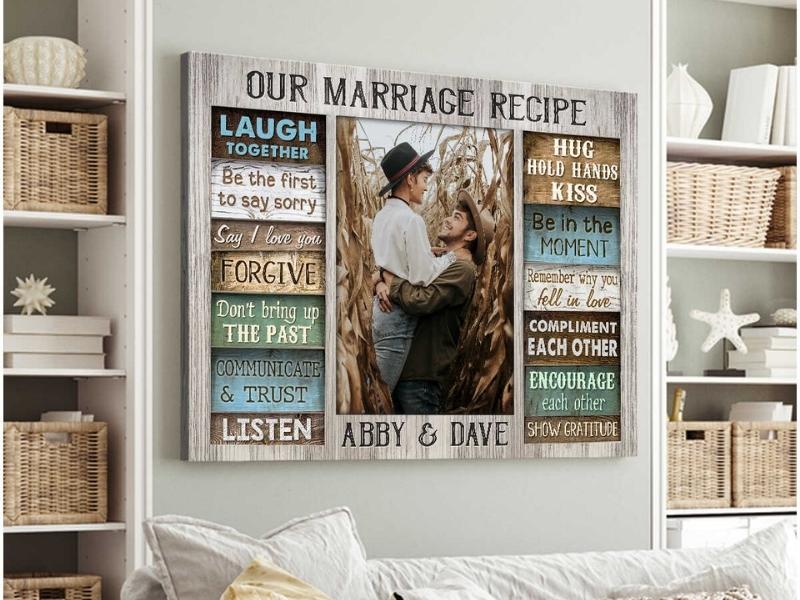 After getting married, most newlyweds are at a loss as to what to do next. How about gifting them a gag present that's both funny and useful? You and your significant other will love this customized canvas poster since it encourages you to tread the marital path together!
2. Game Over T-shirt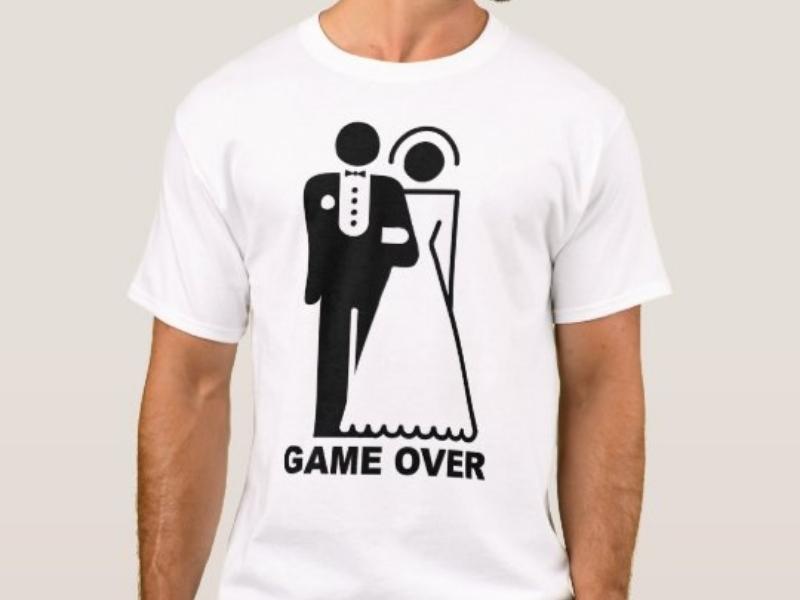 Is your childhood pal getting married soon? Consider surprising him with a wedding gift that's a little out of the ordinary. You can't go wrong with this "Game Over" T-shirt as the perfect prank gift for someone who's a little more laid back than you. He'll be thrilled to wear it anytime he goes out with his wife!
3. Playful Puzzle
Use a silly puzzle to see how well your group works together. These puzzles are a great way to engage with your friends and family while also creating a beautiful piece of art for your house.
4. Custom Face Socks For Groom And Bride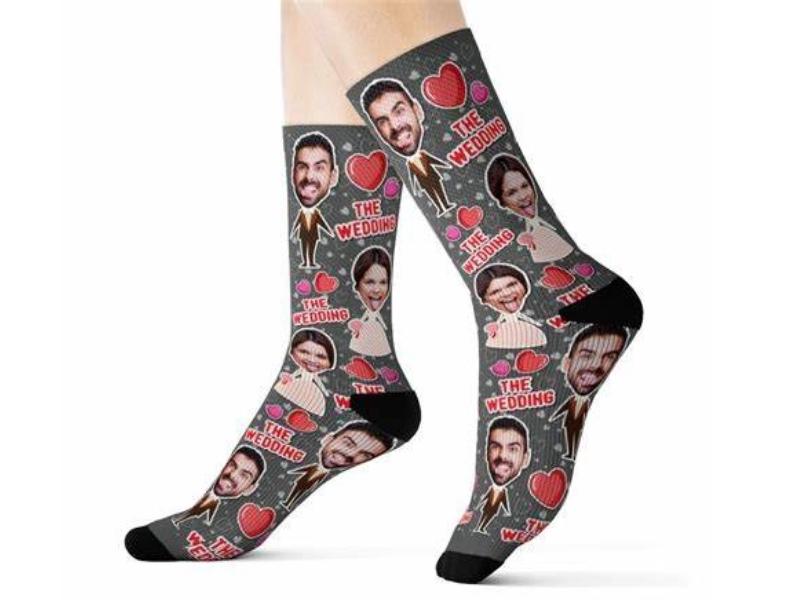 The fact that customized funny engagement presents are more popular than generic ones is not surprising. Why don't you brighten the happy couple's day by coming up with amusing gift ideas that are also useful? These unique face socks are perfect for funny couples, even if most others think them strange.
5. Tonight Not Tonight Pillow
What additional amusing wedding favors can you come up with for the happy couple to make everyone in the bridal party laugh? There's probably none of that! These hilarious pillows will have the married pair blushing every time they see them. If these funny engagement gifts end up being their favorite, don't be shocked.
6. I Do What She Says Forks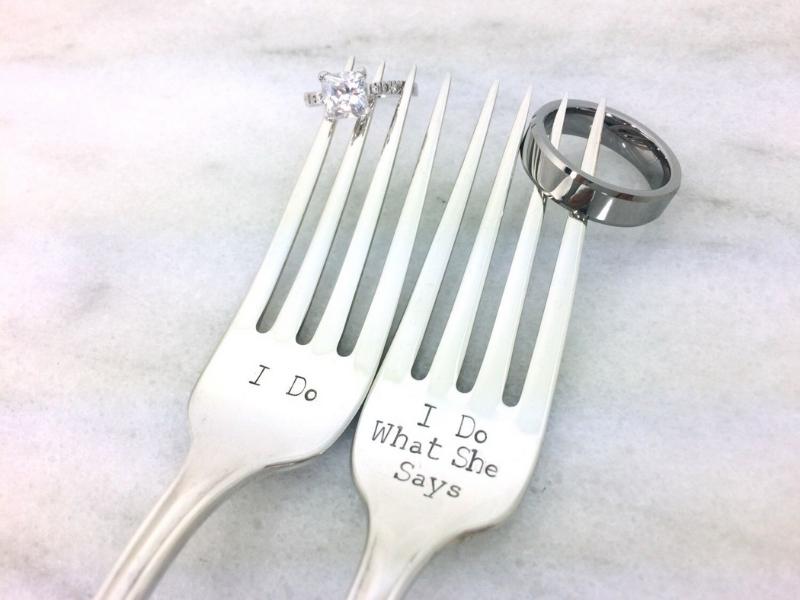 One of the best methods to express your admiration for a couple's relationship is by purchasing funny gifts for newly engaged couples. Because of this, these wedding forks are not only useful but also the ideal presents for him and her. You can get the newlyweds matching presents with this creative strategy!
7. Horse Art You Have My Whole Love Canvas Print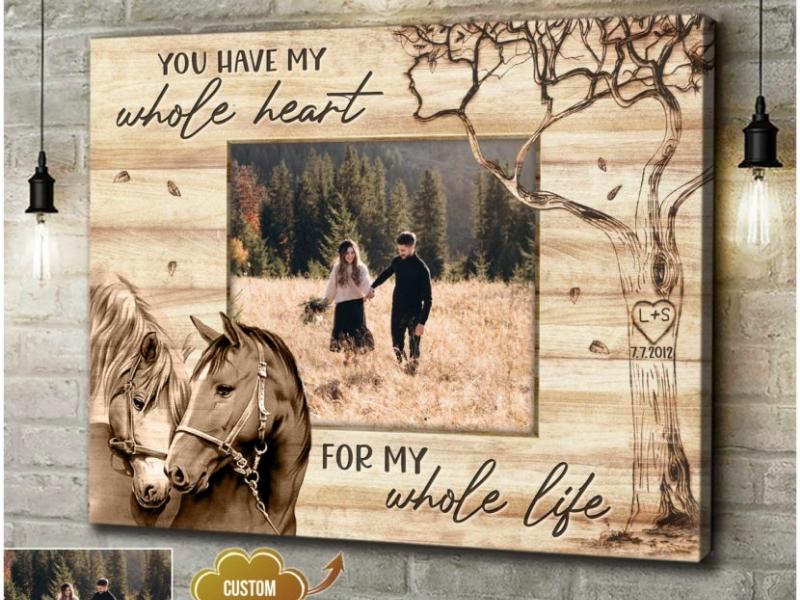 When it comes to decorating your home, this horse canvas painting is an excellent choice. This piece of art will create a calming and relaxing ambiance in your home. These customized picture gifts may also be given as funny engagement gifts for friends, wedding gifts, or for other important events to your family and friends. "You Have My Whole Love," a painting of a horse will be a hit with them.
8. Wedding Date Change Wine Glass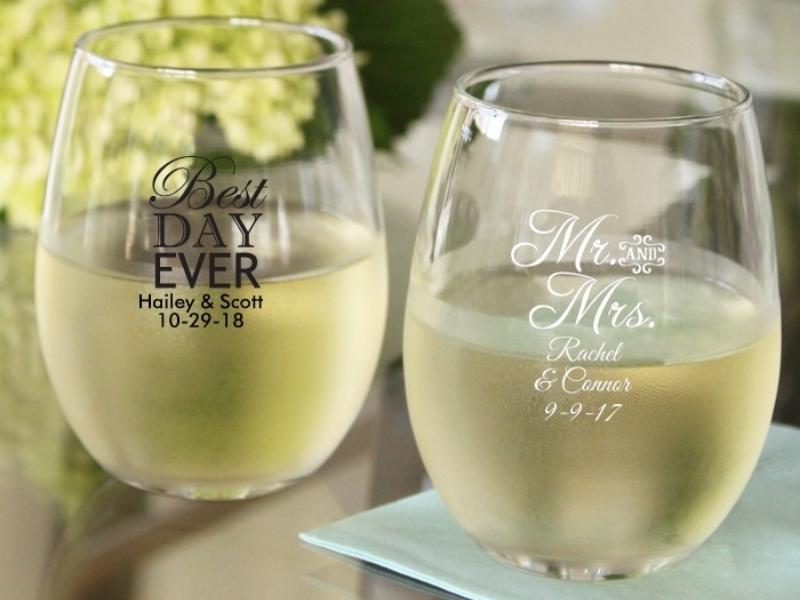 Bad jokes are the best kind of humor. Joking about a poor joke!" Instead of the typical presents, give your buddies funny engagement presents for the occasion of their nuptials instead. But these wine glasses are the perfect gift for a couple that had to put off their wedding because of COVID-19.
9. Spooning Forking Dish Towel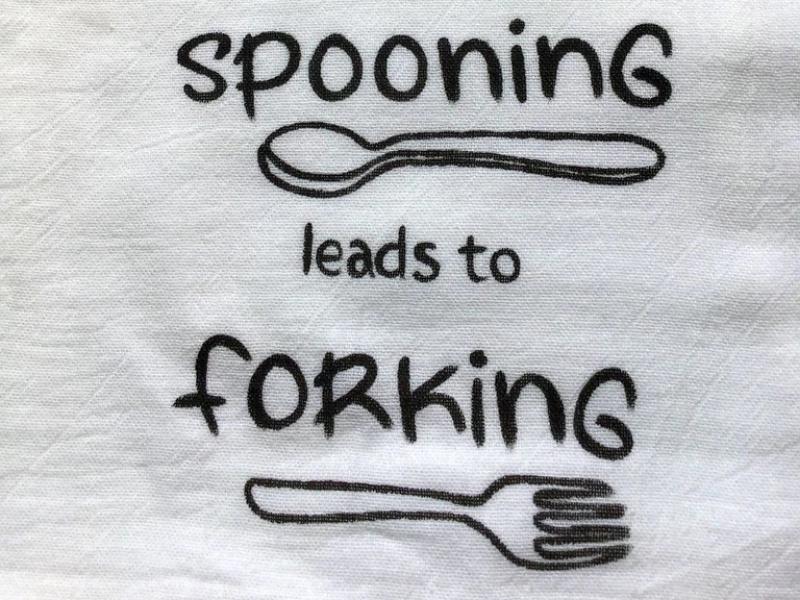 Looking for a way to make the bride and groom laugh with their joke engagement gifts? Surprise your loved ones with a gift they'll never forget by getting them something out of the ordinary. A dishtowel that's a little too wicked! I love the fact that this present is a conversation starter. As soon as they see it, even the visitors will be in stitches.
10. Wine Label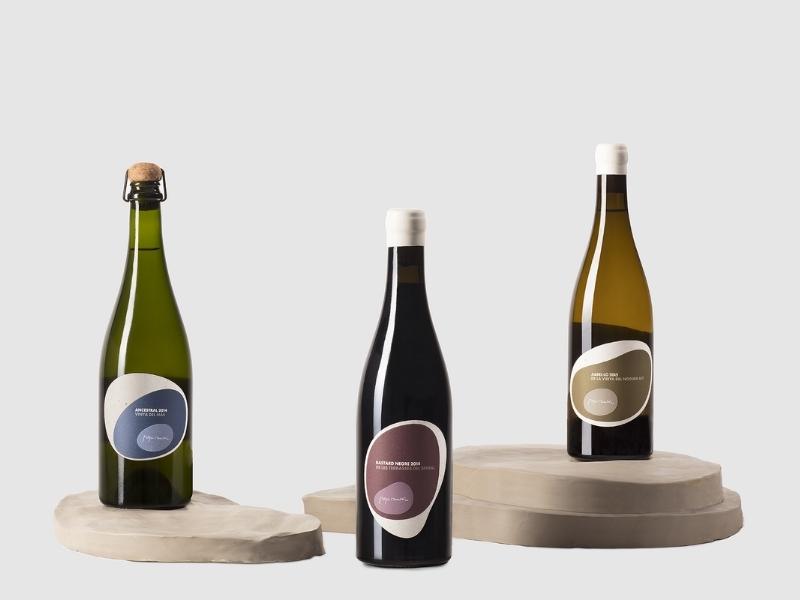 The key to choosing humorous presents for newlyweds is to not overthink the situation. This wine label may seem a little odd at first, but it's perfect for a couple that enjoys watching The Office. They can't wait to have a drink and commemorate the momentous occasion.
11. The Newlywed's Instruction Manual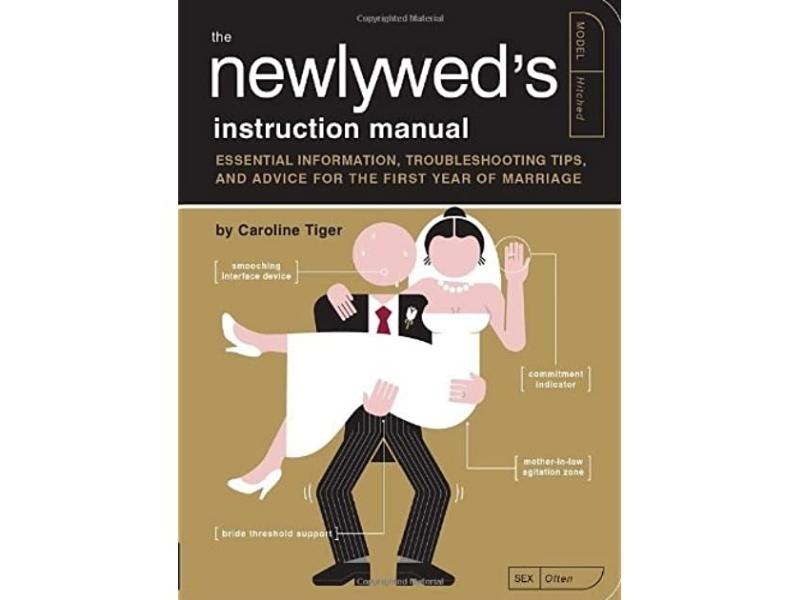 Is there a couple you know getting married soon, and you forgot to purchase them anything special? We have your back! On the big day of their engagement, surprise your loved ones with this unique yet useful hilarious engagement gift. They'll be a happy pair even if you got it at the last minute with this instruction booklet.
12. Weight Lifting Groom and Bride Bobblehead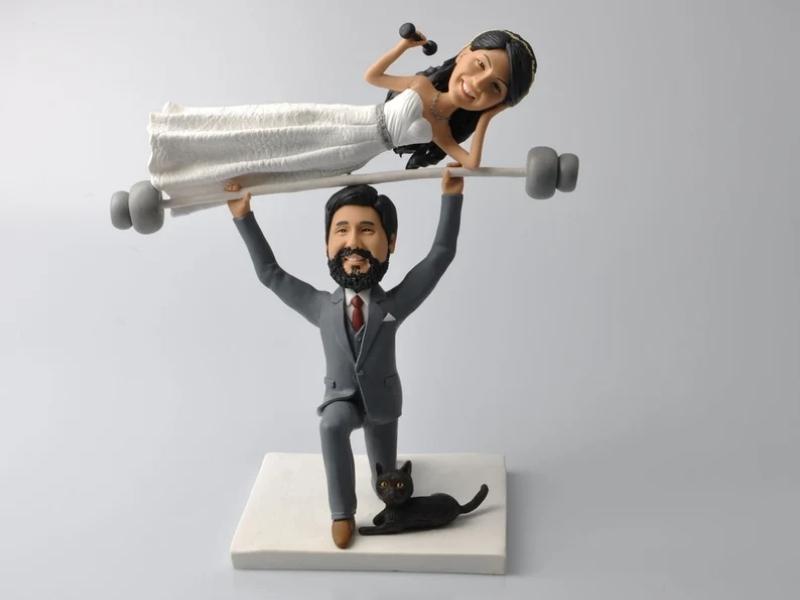 What other engagement gag gift ideas can you get for your best friend's wedding that will have them in tears of joy? Make everyone at the event laugh out loud when you give the newlyweds a gift they won't expect. It's also a terrific alternative to the standard bobbleheads.
13. His and Her Ring Dish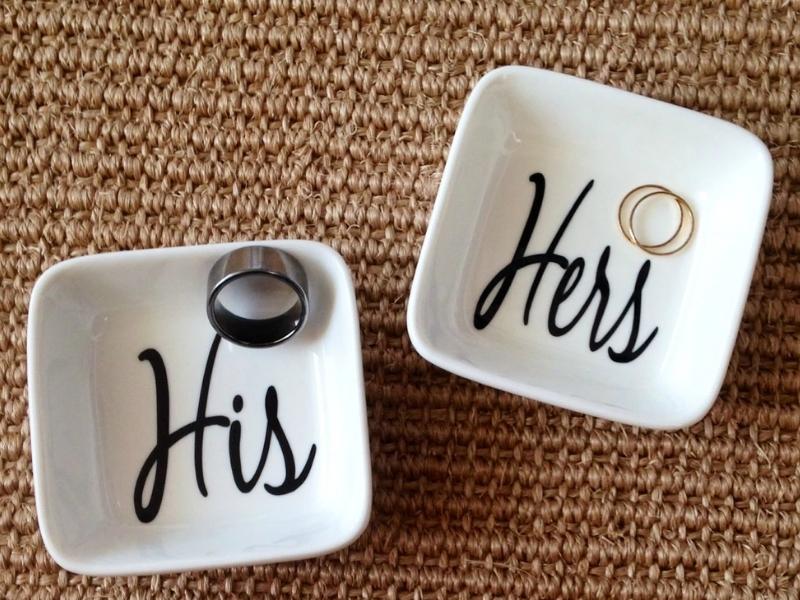 Did you know that newlyweds often lose their wedding bands? With this in mind, what better way to show your loved ones how much you care than by giving them a thoughtful and humorous engagement present for bride or groom? There is little doubt that the bride will be overjoyed at the prospect of her priceless jewelry box remaining private.
14. Custom Canvas Prints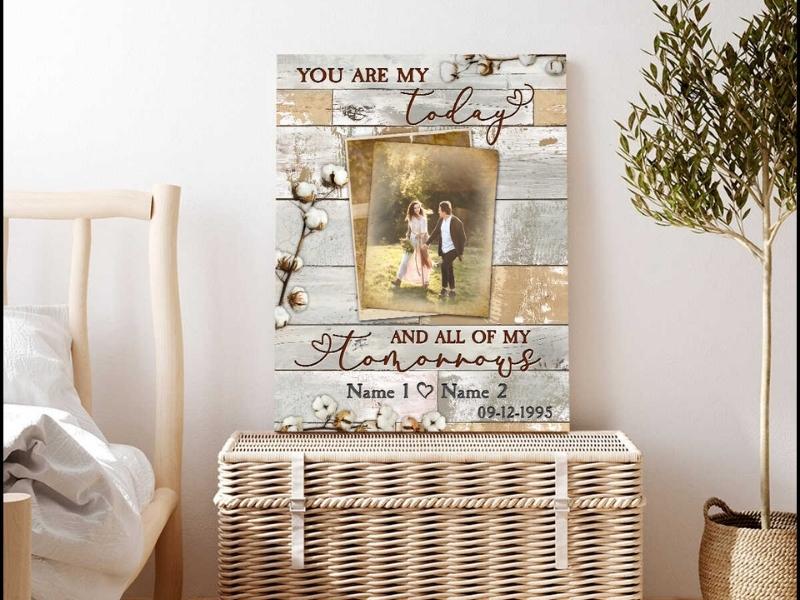 A heartfelt present with a special meaning is the best way to show someone how much you care about them. Leo Christopher's poignant "You are my today and all of my tomorrow" statement on a customizable canvas print could be just the thing you've been looking for.
You don't even have to speak a word since the quotation on the wall painting properly expresses what your heart desires. For an engagement, give your lover this gorgeous print. You may reassure them that you'll be there for them in the years to come by giving them a picture gift. When they view this "You Are My Today and All of My Tomorrows" unique canvas print, it will bring a smile to their face every time they see it.
15. Mood Blocks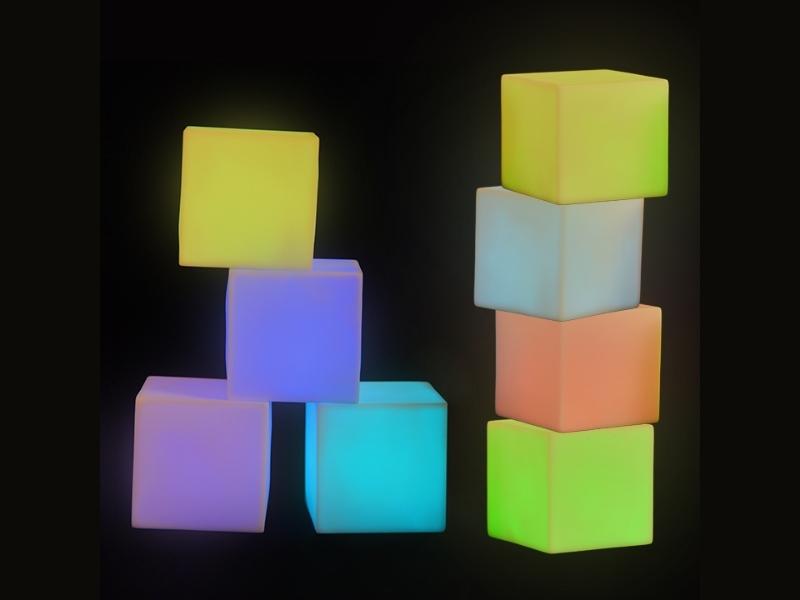 Do you want to assist the newlyweds in improving their relationship after the wedding? It's a charming and hilarious engagement present that both parties may keep on their workstations to plainly express their feelings.
A wooden foundation holds three distinct blocks. In order to convey various emotions, you may move around the various emojis on the side of the screen. An amusing remark may be added to the base of each block, which can be engraved with the recipient's name.
16. Mr. & Mrs. Treat Jar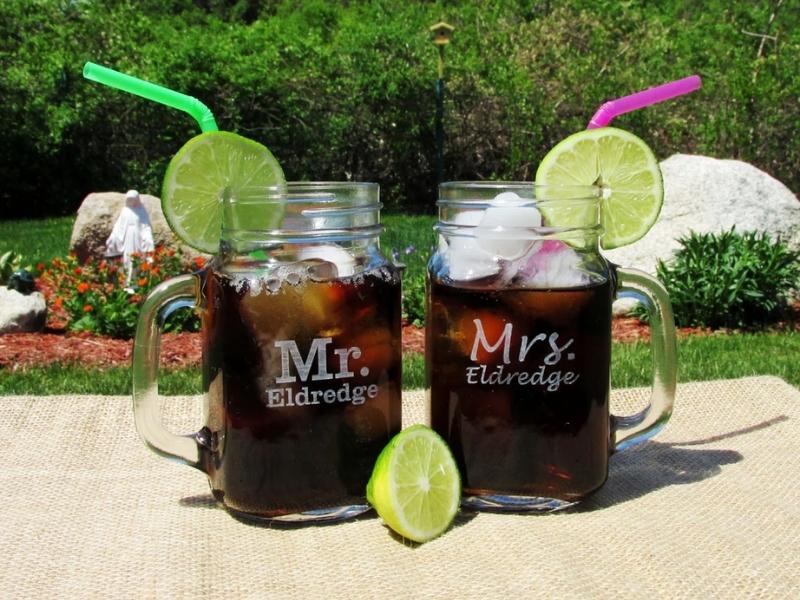 Do you think the newlyweds will like sweets? If so, then this Mr. and Mrs. Treat Jar gift set is a must-have. Ceramic treat jars with airtight lids guarantee that the goodies they place in them will always be fresh and ready to consume.
17. Eat, Drink, and Be Married Mariposa Serving Tray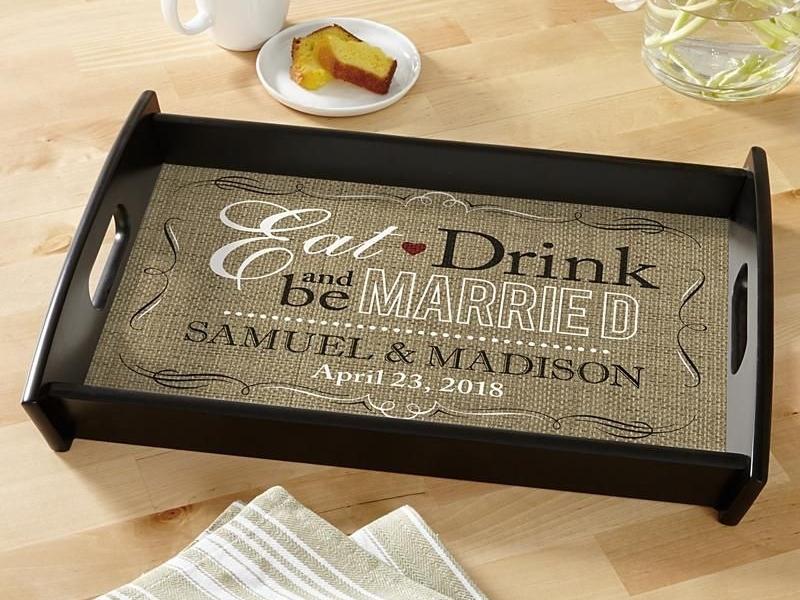 Serving trays are a great addition to a new house since they make it easy for the newlyweds to invite guests over. Recycled metal is used to make this mariposa-style serving tray. Beaded borders give it a trendy appeal and it can hold everything from hot coffee cups to cold mugs.
18. New Wife and New Husband Voodoo Doll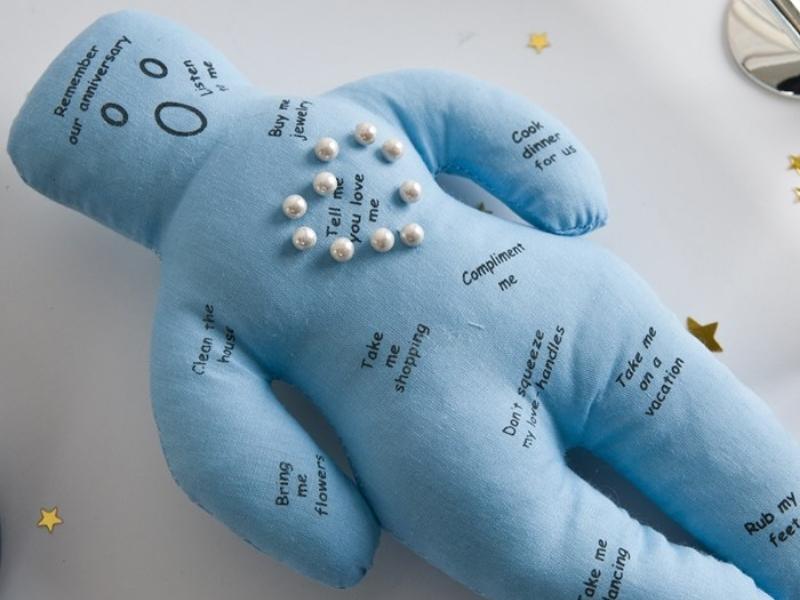 Here are a few voodoo dolls to get things started. There's no negative connotation here, since these dolls are given as funny engagement gift ideas. Cute and humorous, these dolls are a great way to improve interpersonal relations by getting people talking to one another.
19. Marital Bliss Gam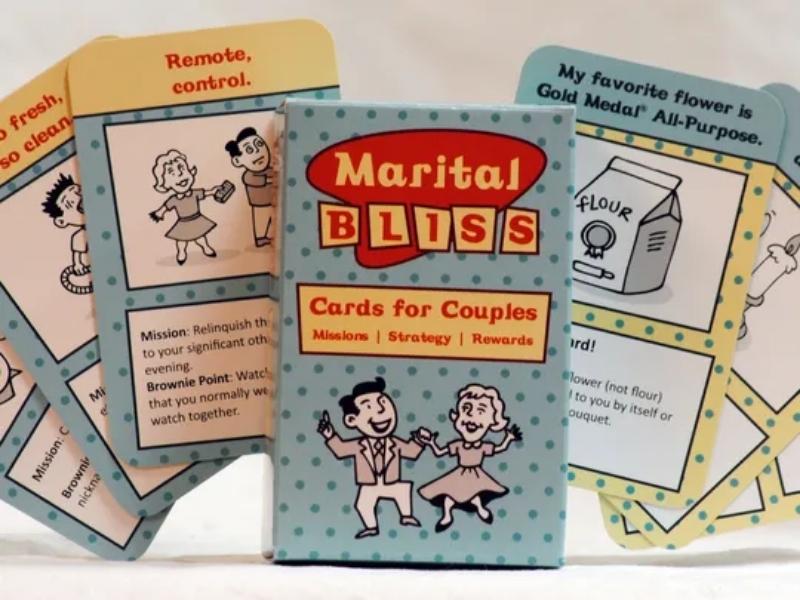 Funny gifts for newly engaged couples are a great way to improve a new couple's bond. You and your spouse may spend precious time together playing Marital Bliss Game. Furthermore, it will strengthen their relationship with one other! Many chores connected to housework are included in this funny engagement gift, as well as prizes for doing them.
20. When I say I love you more Wall Art Decor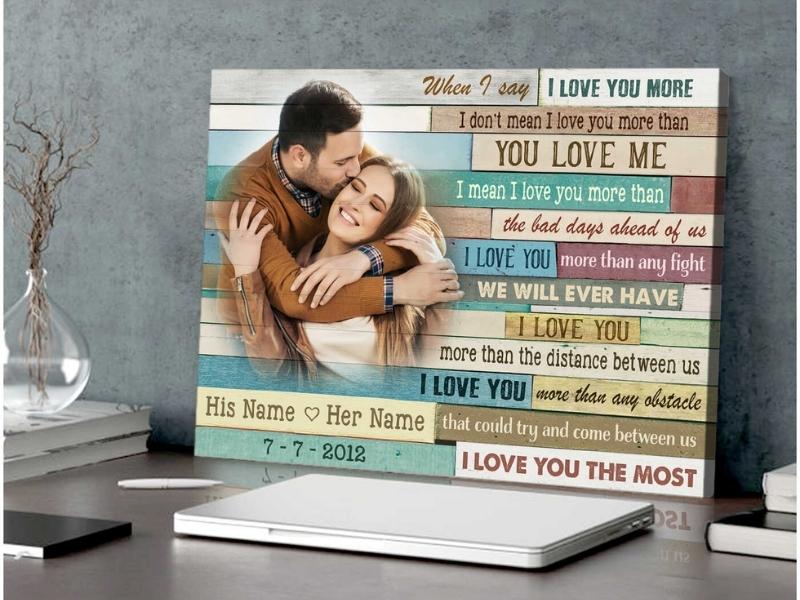 This personalized canvas with the phrase "When I Say I Love You More" is a thoughtful present. Your significant other will appreciate this unique method to show your affection.
"When I say I love you more, I don't mean I love you more than you love me. I mean, I love you more than the bleak days ahead of us. "You are the most important person in my life." You may personalize this by adding your name and a picture that represents a key moment in your relationship.
21. Truth or Dare Game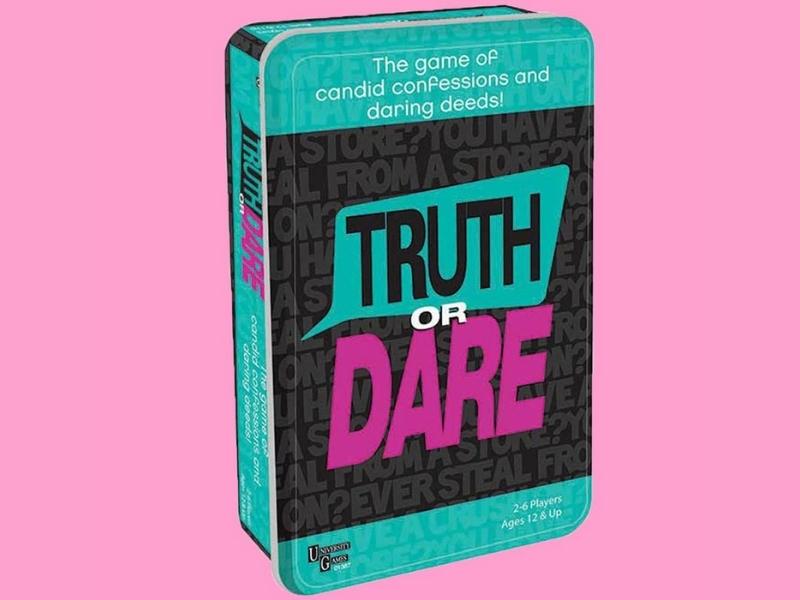 Anybody looking for a little lighthearted competition, especially newlyweds, may have a good time playing Truth or Dare. With a special newlywed in your life, you may have plenty of fun playing Truth or Dare with some sexy challenges. Because of this, this Kinky Truth or Dare game is one of the most hilarious engagement gifts out today. What are you waiting for?
22. Funny Bride Groom Figurine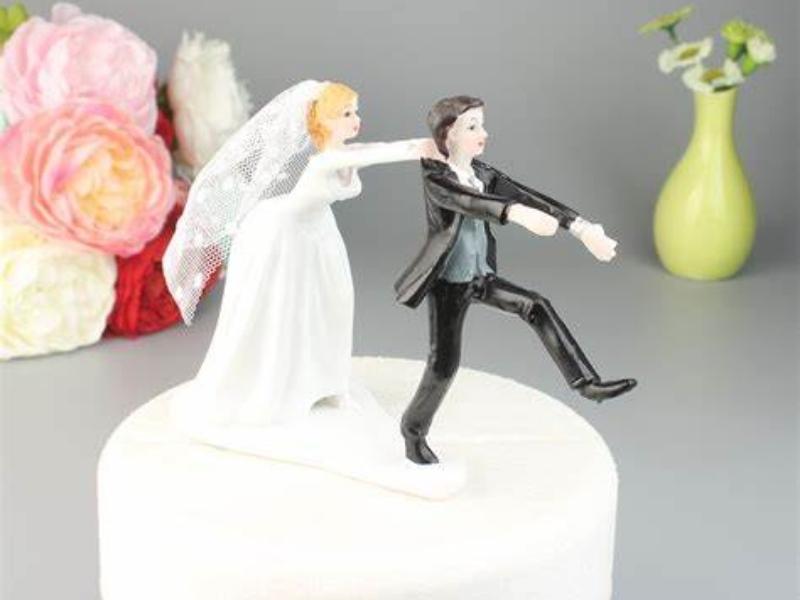 For more than simply its aesthetic appeal, this figure is a humorous and realistic depiction of the couple in question. Giving this humorous figure as funny engagement gifts to the newlyweds will be a pleasant surprise. They may put it up in their living room or bedroom. The fact that you know both of them so well via this present is sure to amuse them.
23. Personalized Mixtape Pillow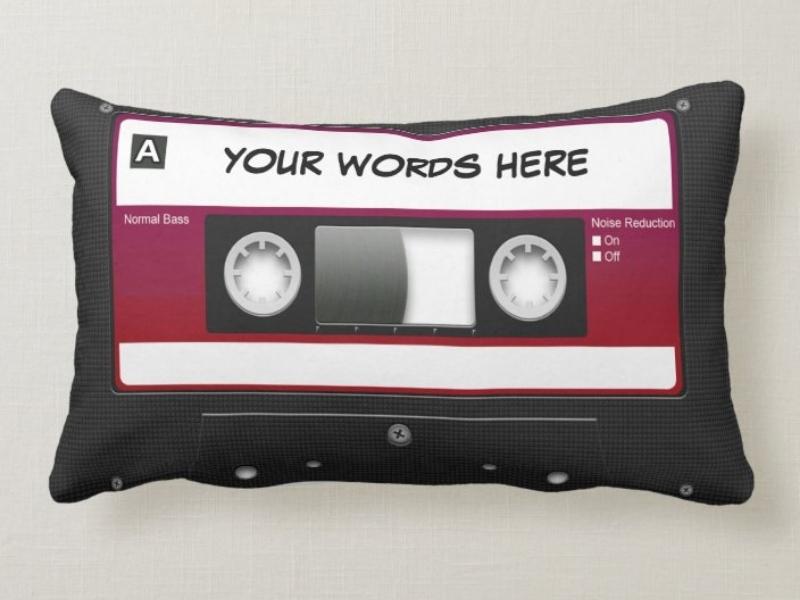 You can't go wrong with a witty present for your childhood pal. Reminisce over the good old days with a cushion emblazoned with an old cassette cover. This item may be be personalized by having the couple's name printed on the cover, as well. Stunning and one-of-a-kind, right?
24. Funny Couple Aprons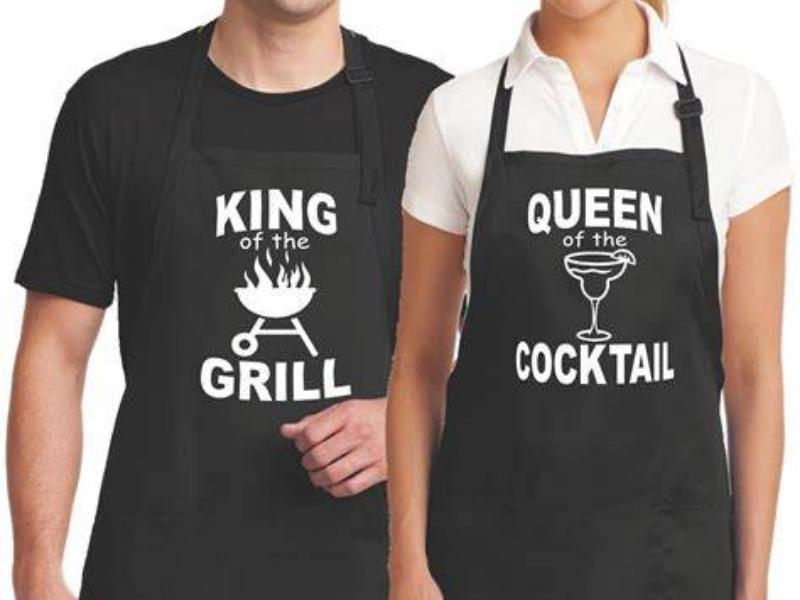 These pair aprons, complete with graphic joke wording, will make the best gag gifts for engagement party for your newlywed pals. We're confident they'll like wearing it as they prepare.
25. Loving Horses and Old Church Wall Art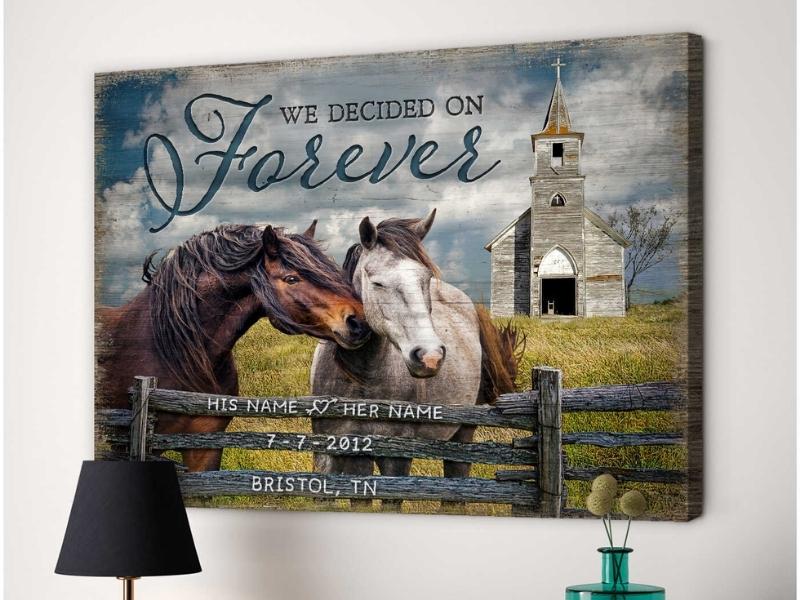 This pair of adoring horses is a powerful symbol of family, collaboration, and teamwork. The fact that you may include your special date and names on this custom canvas painting makes it a thoughtful present for your spouse. Hanging this wall art decor on your wall conjures the frigid weather but the warmest date ever when you decide on forever is very kind. Why aren't you purchasing it immediately?
26. The Marriage Survival Kit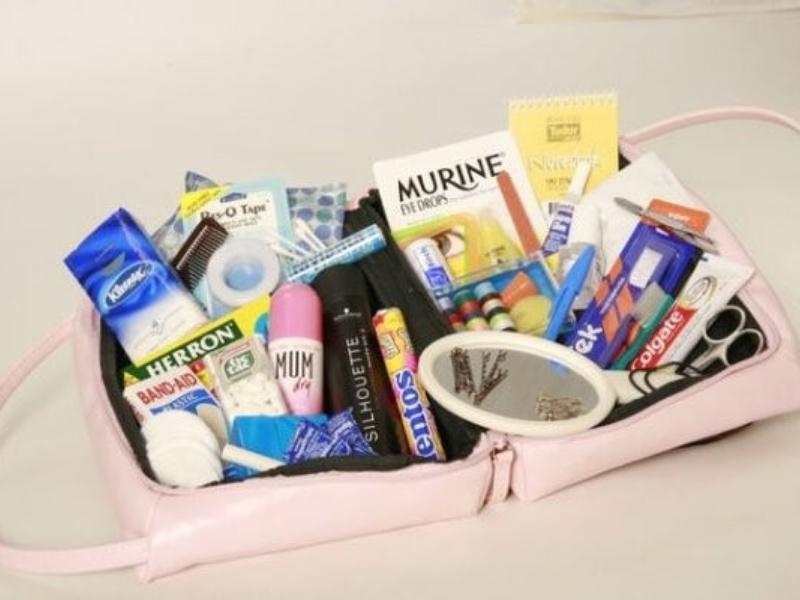 The perfect gear for spending quality time as a new couple has arrived! The newlyweds will appreciate this collection of marital survival kits, which you may offer them as funny engagement gifts. All of their favorite pastimes may be enjoyed at home with their friends. You don't need to purchase any wrapping paper anymore to send this loveliest gift to the new couple since it's in a gorgeous box.
>>> Get to know more about luxury engagement gifts!
How to Give Funny Engagement Gifts Well?
Consider if the present is for the engagement day or before/after.
It's possible that you're saying something that only a select group of people will get, whether it's an inside joke or something else entirely. Alternatively, you may gift it to them during their bachelor/bachelorette party or mail it to them. If you decide to offer a registry gift on their big day, you may do it with ease.
Be a little more refined.
Not everyone thinks being crude is the only way to be hilarious, but this isn't always the case! Funny engagement gifts come in all shapes and sizes. It's best to avoid coarse comedy unless you and your spouse are on the same page about what constitutes a joke.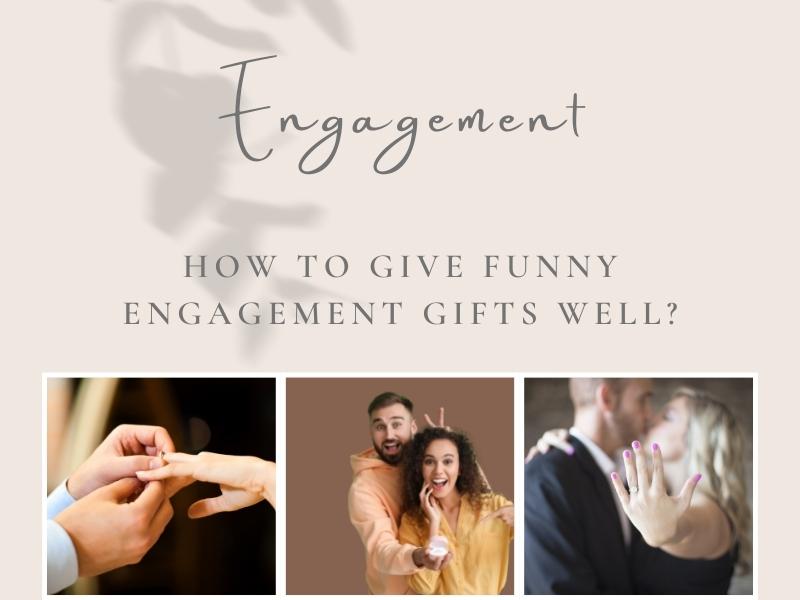 Do not be a bully!
No need to drag out the "ball and chain" jokes; they're not very pleasant! You don't have to be harsh to any of the people participating in the wedding to be hilarious. That day is all about them, their love for one other, and how much everyone at their engagement loves them. Don't ruin it by making sarcastic comments or making fun of others.
>>> Maybe you also love reading them:
As soon as you're done perusing our list of funny engagement gifts, it's time to go out and purchase! The best gifts for newlyweds might be found if you have a good time. And if you find this blog interesting, don't forget voting 5 stars at the Oh Canvas rating box below! Happy engagement!