When two people become engaged, it's a really special time. There are many people involved in a wedding, not simply the couple. Instead of merely buying your friends or acquaintances an expensive engagement present, try to make it more personal and considerate. If you're not sure what to give or how to make them feel special, take a look at these great ideas for engagement gifts for gay couples from Oh Canvas.
Personalized Engagement Gifts for Gay Couples
1. The Intersection of Love Photo Print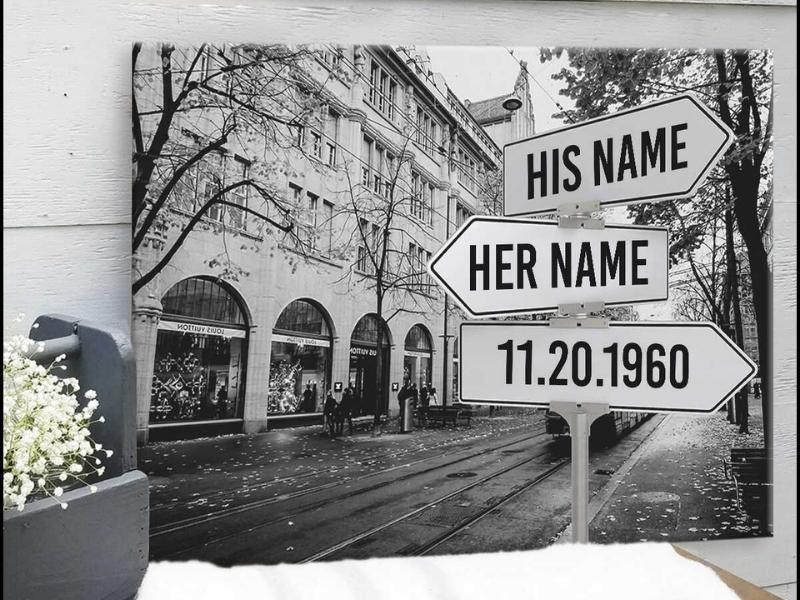 After marriage, not every couple chooses to keep their maiden names the same. As an engagement gift for gay couples, this art print displays the intersection of love by showing both names, which is a great way to demonstrate how much you care about them. Personalization means you may include any names and dates you wish here.
2. Handmade Sign for LGBT Couples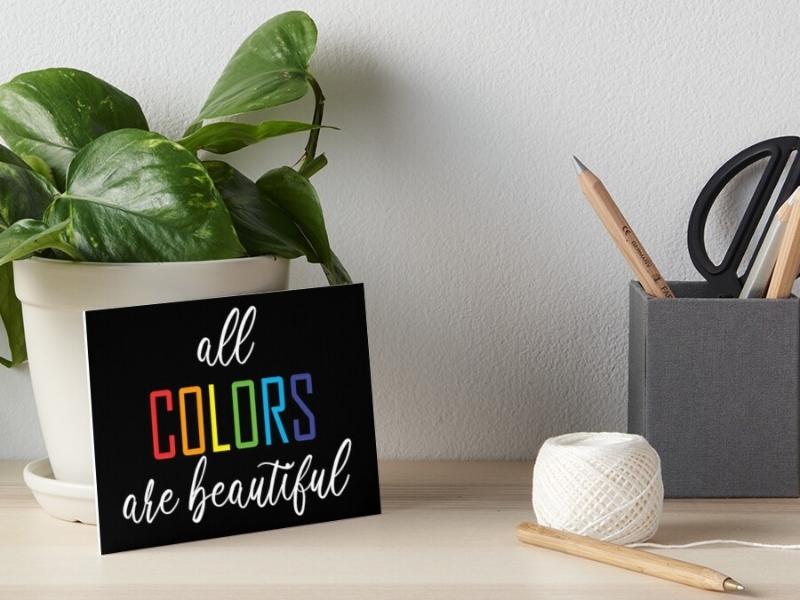 The year, date, and names of the newlyweds are all included in this unique engagement gift for guys. Color, black and white, or multicolor are all options for the year.
It's much more gorgeous in person and may be used for a wedding or any joyous occasion, not just an engagement. On the wall or on the counter, the large-framed present may be displayed.
With these kinds of engagement gifts for gay couples, the engaged couple will always have a special memory of their engagement.
3. His and His Pillowcase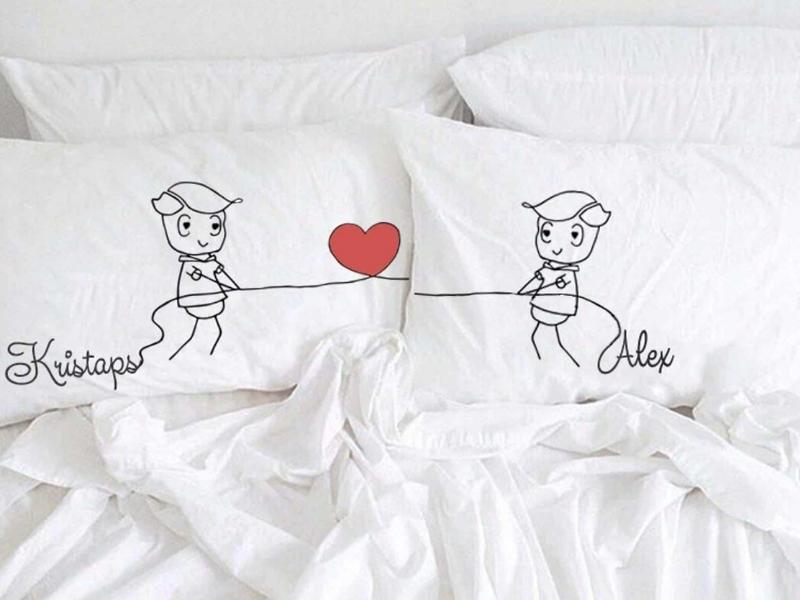 He said yes, and the happy pair will sleep on pillowcases that remind them how incomplete they are without one another.
The adorable pillowcases feature two people holding puzzle pieces, one with a half-heart and the other without. Isn't that what a happy marriage looks like? Two individuals whose hearts are intertwined and who cannot be whole without one another.
In addition to being able to be used as pillows, the white pattern may also be utilized in any room in the house!
4. Groom & Groom Gay Mug Gift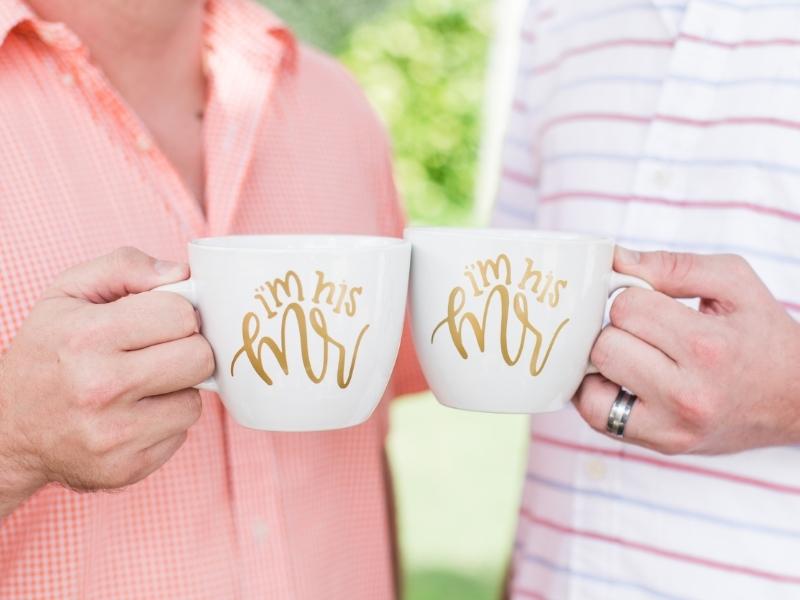 Some engagement gifts for gay couples are almost indistinguishable.
The wedding is all but set now that the happy gentleman has said yes. It's a good idea to gift them mugs that can be used on the big occasion and any other day following.
Both sides of the coffee cups for husband and husband are expertly printed. Put a picture on one side and the traditional husband and wife writing on the other. The cups are dishwasher and microwave safe, as well as FDA-certified.
5. Gay Gift Personalized Candle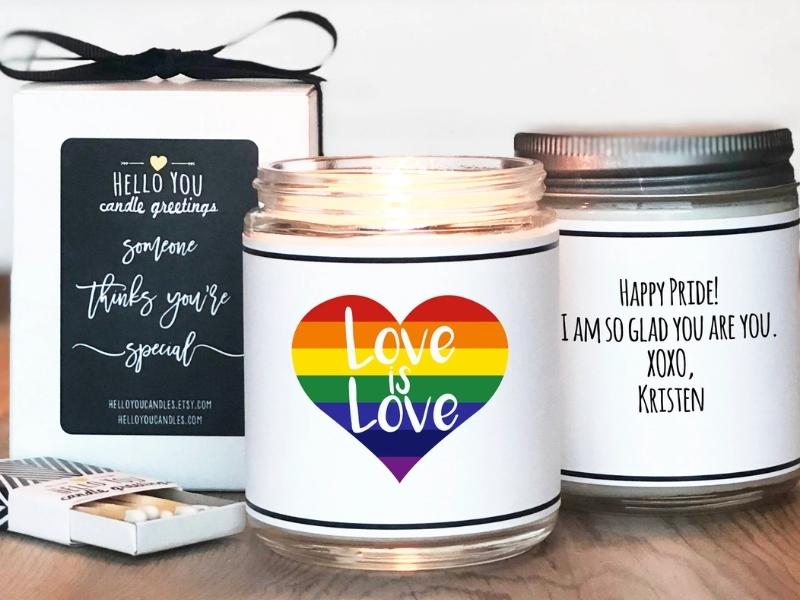 As someone who enjoys lighting candles, this present was a perfect fit for me. This candle comes in a variety of sizes and scents that you may mix and match to suit your preferences. It's not true that you can't smell any of the options, since there are plenty of engagement gift ideas for gay couples to select from.
The label will include the seller's own distinctive skyline. We think the city's skyline would be more significant if it were a destination wedding. Thereafter, the jar may be used for keeping coins or other tiny items.
>>> Make something special with these lesbian engagement gifts!
6. Engagement Party Gift Wine Labels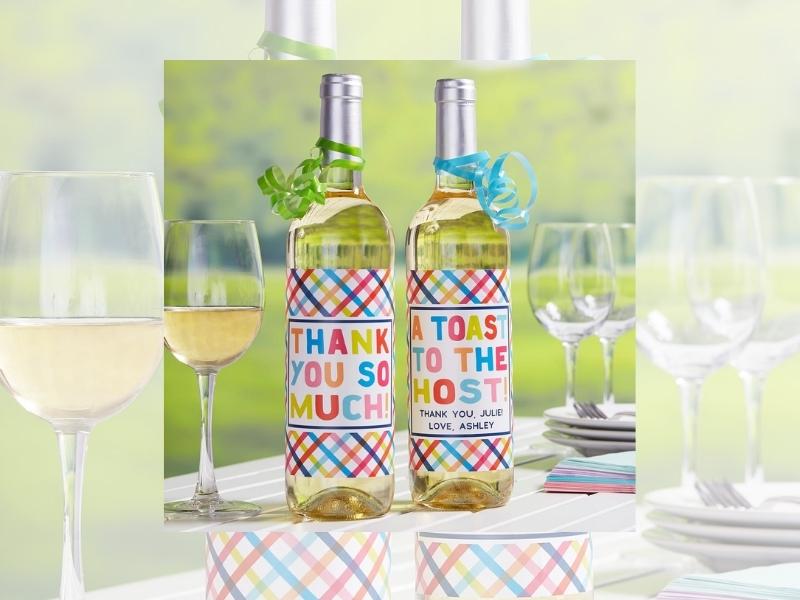 During the planning of the big surprise, you may put these stickers on all of the bottles of champagne or wine.
The newlyweds may retain a handful of the labeled bottles as a memento of the event. Those on a tight budget will appreciate this thoughtful engagement present idea for gay couples.
7. Love Never Fails 1 Corinthians 13 Canvas Print
The artwork with the theme Love Never Fails Gifts was inspired by the importance of love symbols and depicts the joy that comes from living in a home full of love. Dandelions are thoughtful engagement presents for gay couples, and your love will cherish them for years to come. Order this canvas now and have it personalized with your name and the date of your wedding anniversary, so you don't miss out on this once-in-a-lifetime occasion.
8. Personalized Cutting Board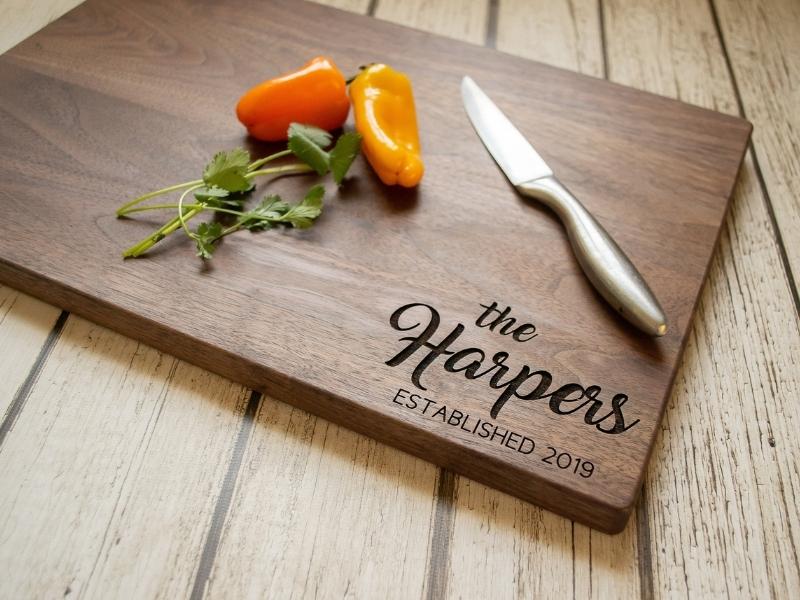 This cutting board will serve as a constant reminder to the newlyweds of what they're striving for every day: a happy, healthy marriage.
This wood-crafted present is totally handcrafted in your choice of two distinct designs and sizes. Before you complete your purchase, don't forget to mention the recipients' names and the date. Simple and charming, this is a long-lasting engagement gift for male gay couple!
9. Black Satin Future Groom Sash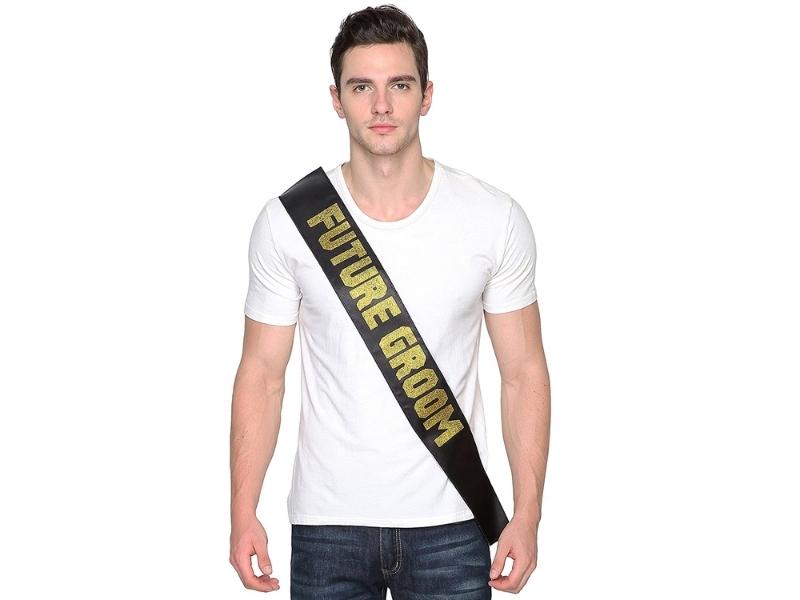 There are possibilities for individuals with lower budgets as well as those who are willing to spend more money for persons they care about.
This is a low-cost and easy alternative. On the day he said "I do," she'll wear the satin ribbon around her waist.
For maximum effect, request that the grooms wear it during their engagement and bachelorette parties as well as in all of the wedding-related images. To be utilized as a simple domestic decoration after the big day, it may be hung or sewed to simply display the "groom".
10. Groom and Groom Cake Pops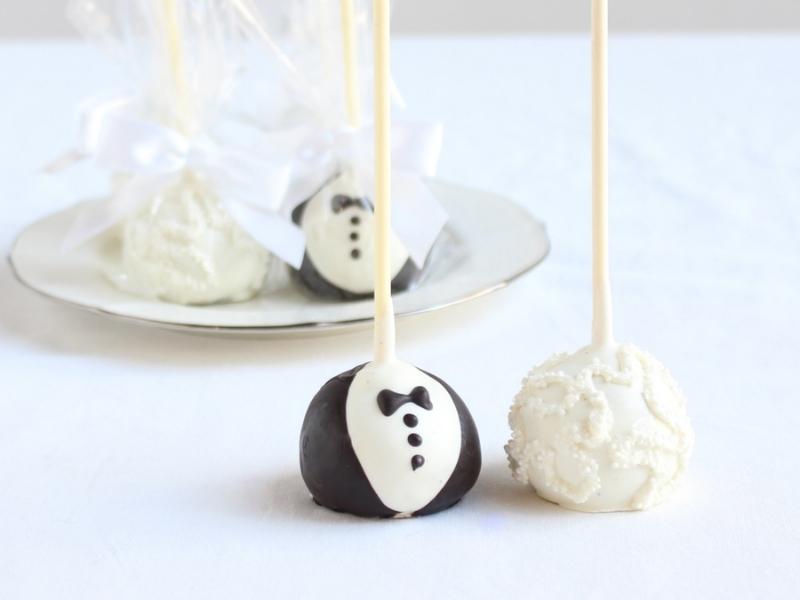 Cakes – specifically cake pops – are an essential part of every reception. Cake pops for the newlyweds are a great way to show your affection for the couple. After drizzling the truffle-style vanilla cake in luscious chocolate, the cakes are hand-decorated with icing and bow ties.
11. Wifey Pillows Cases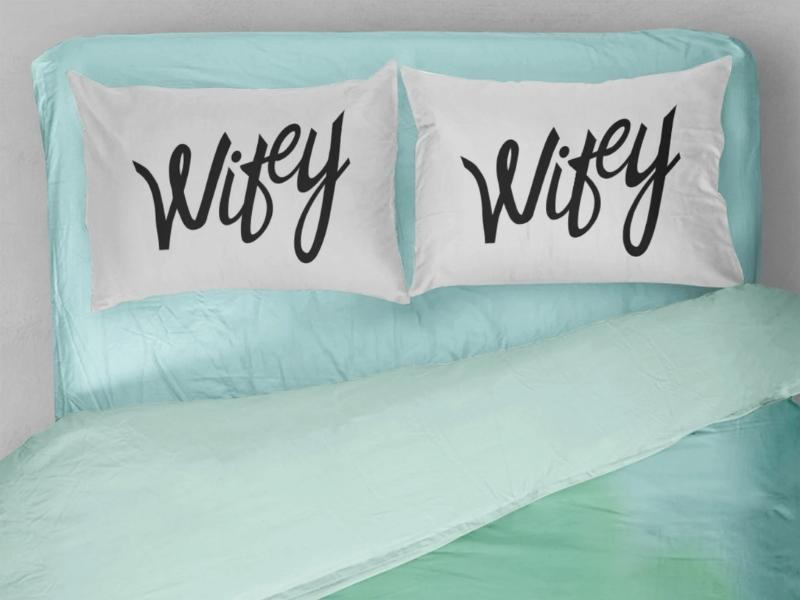 Moreover, these pillowcases for wives are adorable. Percale or sateen cotton textiles are available in a variety of sizes. Bridal showers and engagement parties are perfect occasions to give as engagement gifts for a gay couple.
>>> Also looking for engagement gifts for bride?
12. Matching Couple Bracelets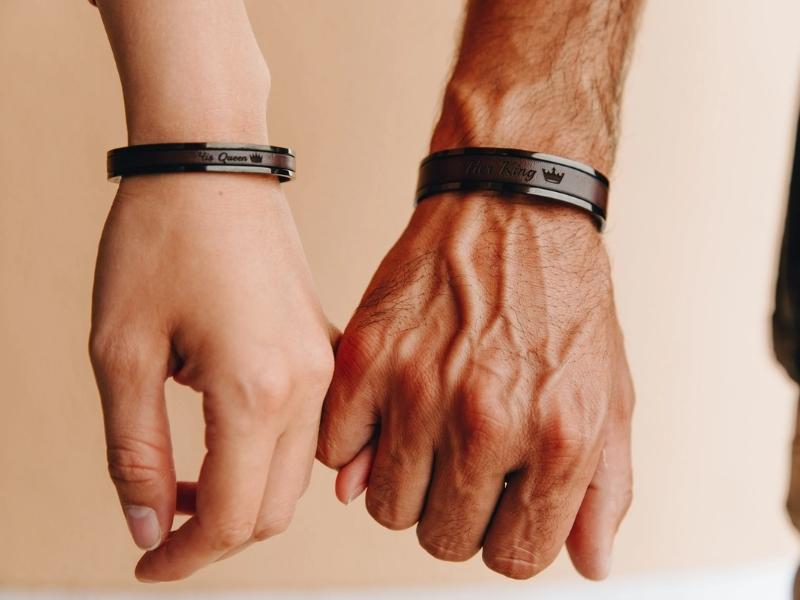 These leather wrap bracelets, crafted by hand, are ideal for bridal showers and engagement parties. The set may be customized with leather and imitation suede cords in a variety of colors, as well as aluminum, bronze, or copper bars.
13. Personalized Silverware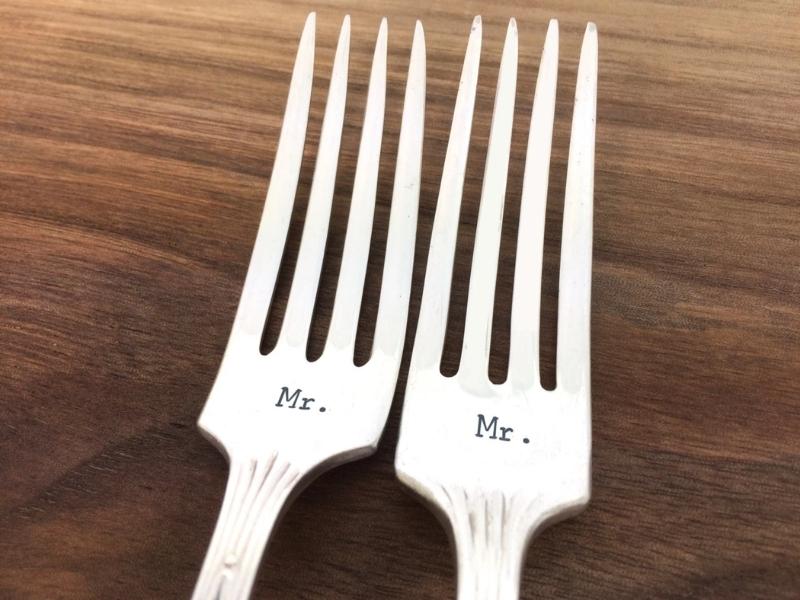 A romantic table at an engagement or the infamous first cake bite shot would be lovely with these custom forks. They're also a terrific souvenir, unlike other engagement décor and rentals.
14. Two Grooms Card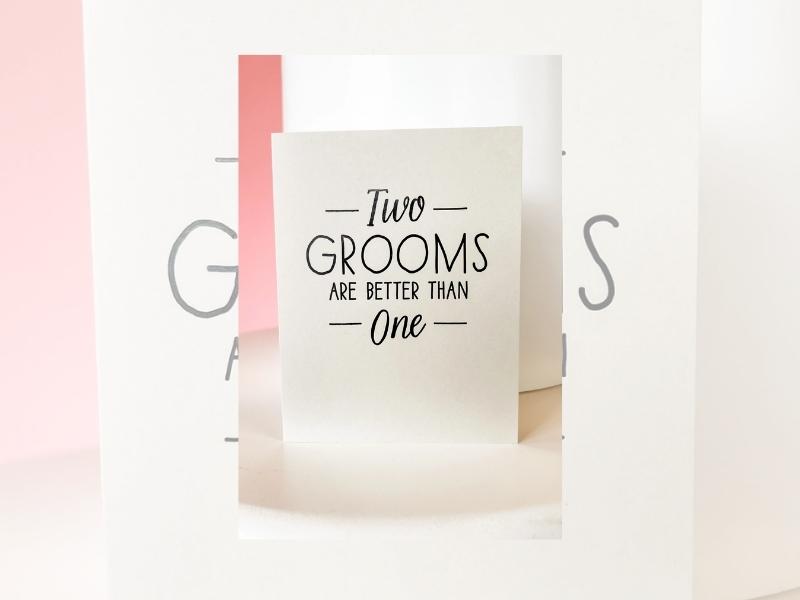 These two groomsmen's cards are adorable. The couple's favorite restaurant or shop gift card goes well with this card. From the engagement announcement through the big day itself, it's ideal.
15. Rustic John Deere Tractor Wall Art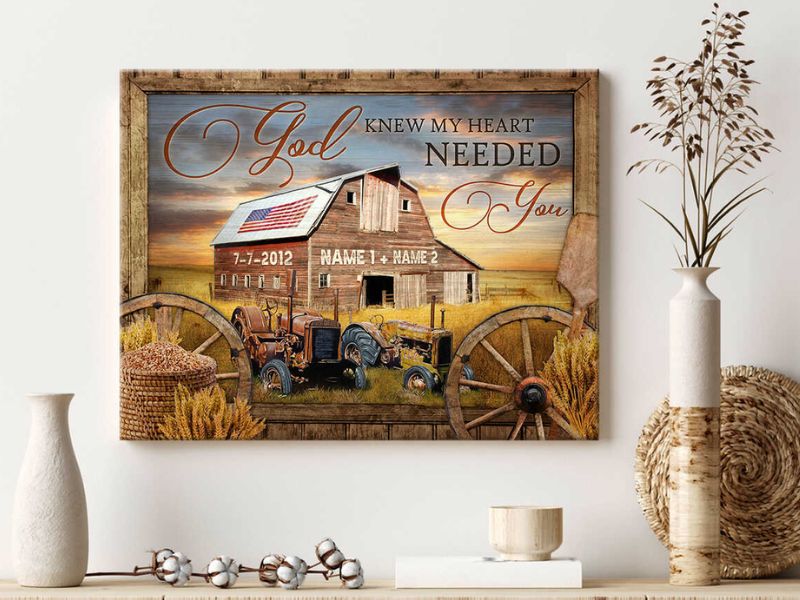 Staying together forever is the most beautiful pledge that can be made. To remind yourself of your vow, display this artwork on your wall. This beautiful image of the country demonstrates the importance of maintaining a sense of calm and elegance in any relationship.
16. Personalized Doormat
With their last name in common, this personalized doormat is a great and surprising engagement gift idea for gay couples. Make it seem more like a wedding present by including the couple's wedding year.
17. We Tied The Knot Wall Art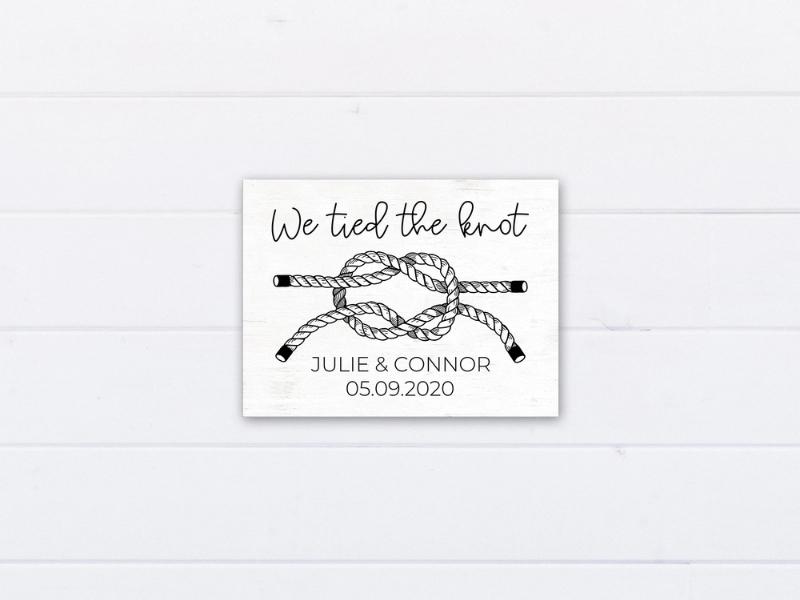 This adorable print of a bowtie would be a great engagement gift for a gay couple who likes to wear a necktie. You may customize it by adding their names and the date of their engagement. You may add a great frame to this print if you choose, but it is not included.
18. Dog Key and Leash Hanger
The newlyweds will appreciate your thoughtfulness if you include their beloved puppy in their engagement gifts for gay couples. This key, hat, and dog leash rack are ideal for placing just outside the front entrance.
19. Mr. and Mr. Wooden Luggage Tags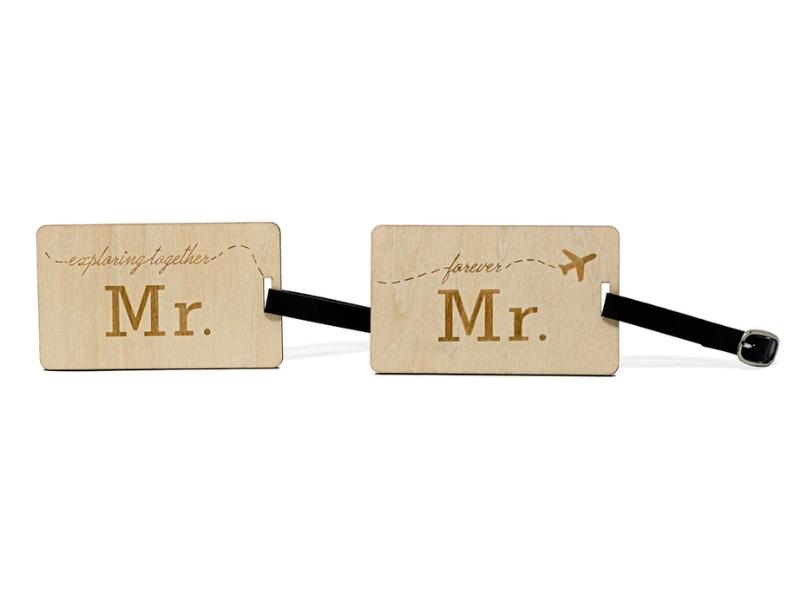 Smaller engagement gift ideas for gay couples like these wooden luggage tags are a considerate complement to a larger present. With their message, "Exploring together…forever," the couple's grand honeymoon or any future vacations they may have planned will be complete.
20. Print Throw Pillow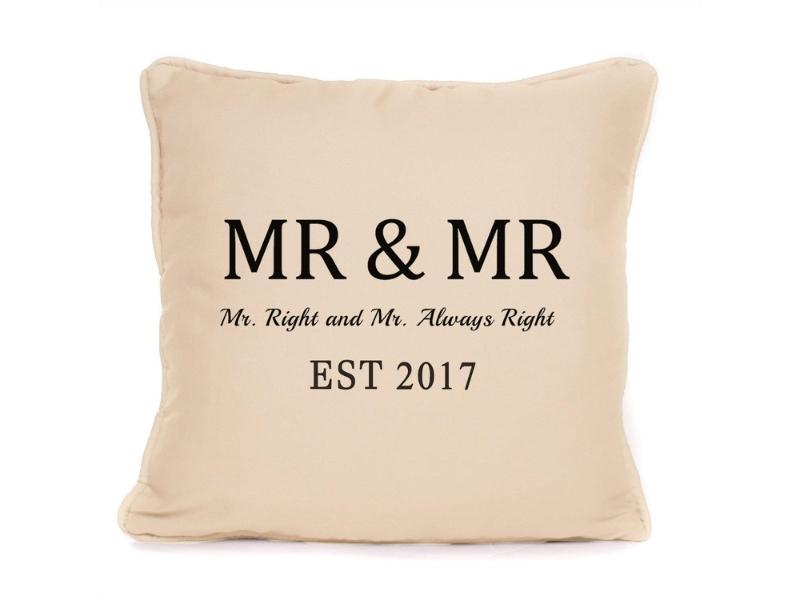 A personalized throw pillow is a lovely addition to any living or sleeping space. The happy couple's names and engagement dates may be added to this one to make it seem extra special.
21. I Love You To The Moon And Back Canvas Print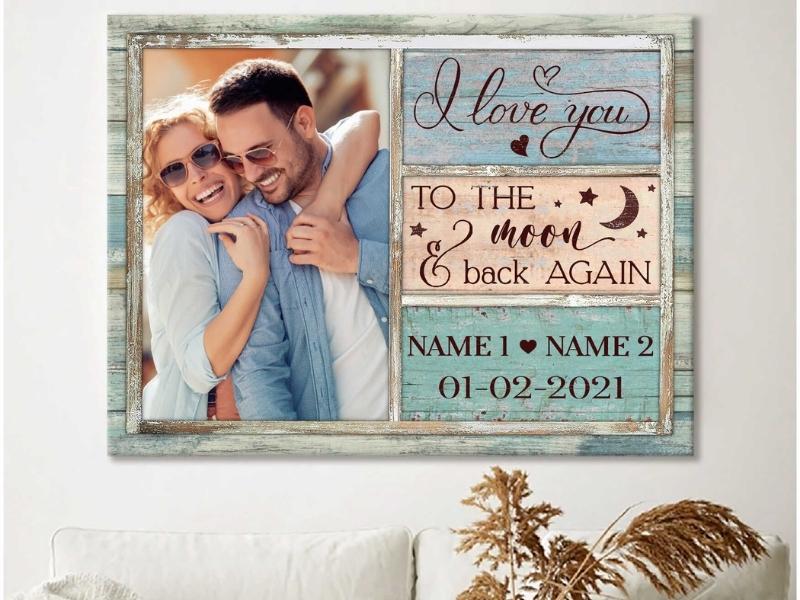 I Love You To The Moon And Back Again" is an original present that celebrates the love you and your partner have for each other. On the occasion of your engagement, why not send your beloved a special message on a canvas print? You may use it to show how much you care about your significant other with this canvas print. It's merely the beginning of a lifetime of happiness for you and your loved one.
Customize this "I Love You To The Moon And Back Again" canvas poster with your names and the date of your engagement to commemorate special moments and deepen your love for one another.
22. Mr. and Mr. Metal Wall Art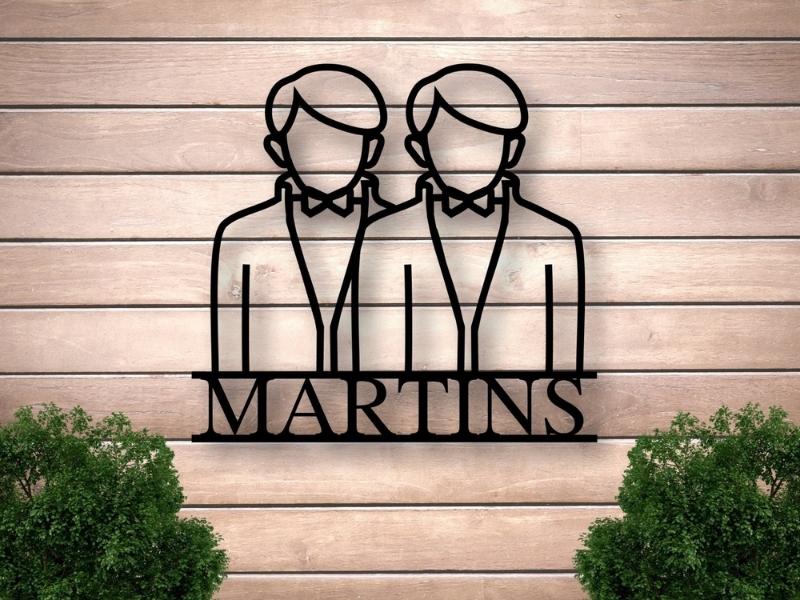 This fascinating metal artwork is another alternative for wall decoration. It has their silhouettes on it, as well as their newly-assigned name. This piece of art is a great engagement gift for gay couples since it can be used both inside and outside.
23. Customized Hubby Sweatshirt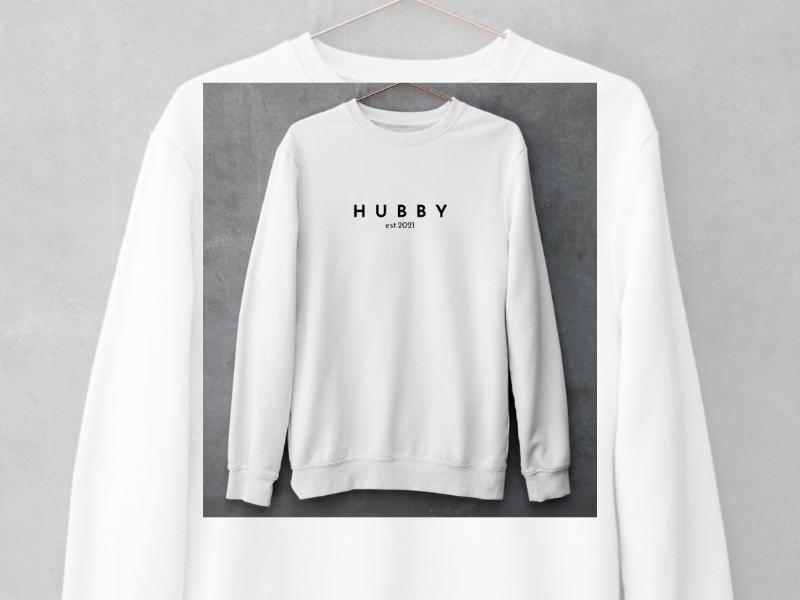 Have an idea for an unusual gift? Invest in a set of matching hoodies. 'Hubby' and the year of the wedding are all that are written on them. If you're looking for the best engagement gifts for gay couple that are both adaptable and comfy, these are the items for you.
>>> Be happier with these engagement gift for son!
Intelligent Engagement Gift Ideas for Gay Couples
24. Cotton Robes + Massages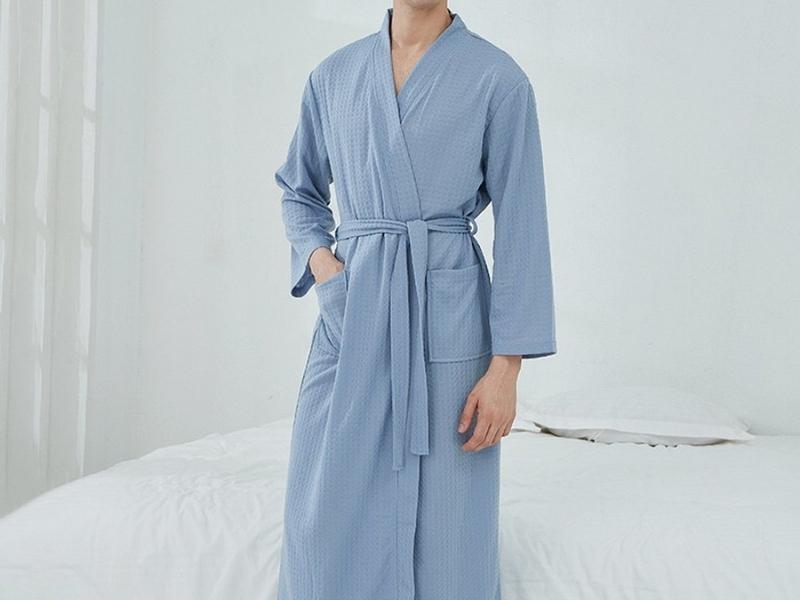 A matching pair of Turkish cotton robes are great engagement gifts for gay couples that enjoy spending time at home. The spa-like wraps are thin yet opulent all at the same time. Gift certificates for a post-wedding couples massage may be paired with the luxury package if you'd want to go all out.
25. Hubby Pillow Cases
Consider giving the newlyweds identical pillows as a token of congratulations. Prepare for their honeymoon by sending them engagement presents for gay couples in advance of their arrival at the hotel. We're in love with this wacky set.
26. Farmhouse Wall Decor Print Photo On Canvas Prints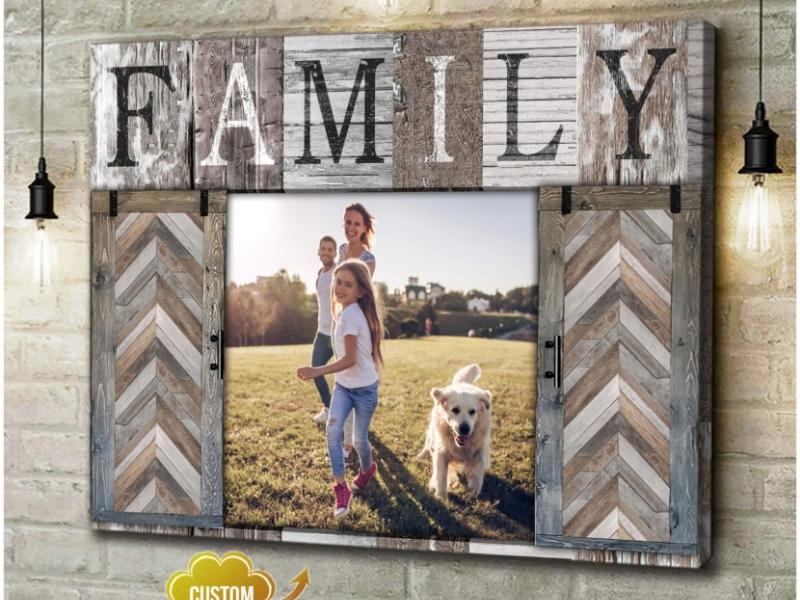 Do you want to show your loved ones how much you care? Any workspace would look great with this Family Personalized Photo Gift to show how much you care. There are many ways to utilize the canvas print in the house, including as a piece of art. Hang the farmhouse canvas on your wall and decorate it with photos of your loved ones. Creating a picture collage doesn't even need a special occasion. This Photo Gift for the Family is a simple yet heartfelt gesture. All that's left for you to do is change your last name and upload a picture of your gorgeous family.
27. Missing Piece Bracelets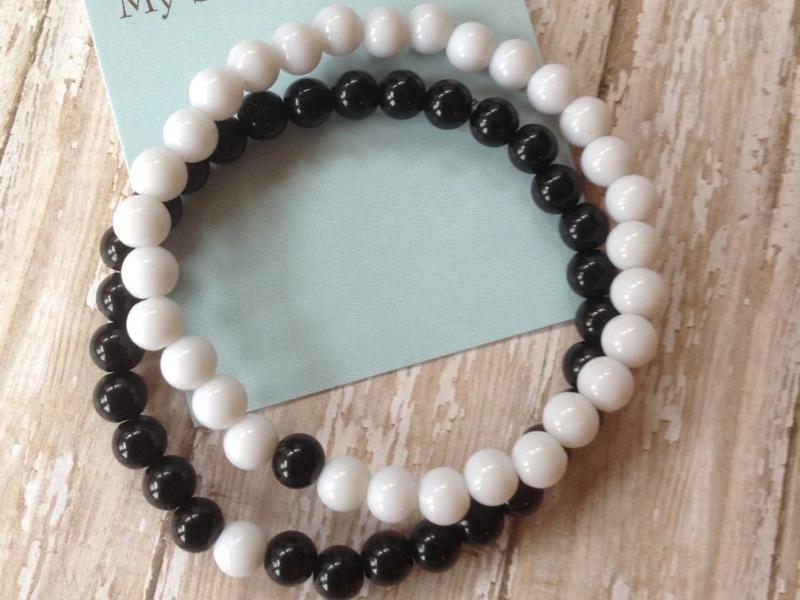 For an engagement, these "missing piece" bracelets are ideal engagement gifts for gay couples. They remind the pair that their partner is always there with them thanks to the natural aquamarine beads and black agate beads.
28. Mr. and Mr. Signature Statement Frame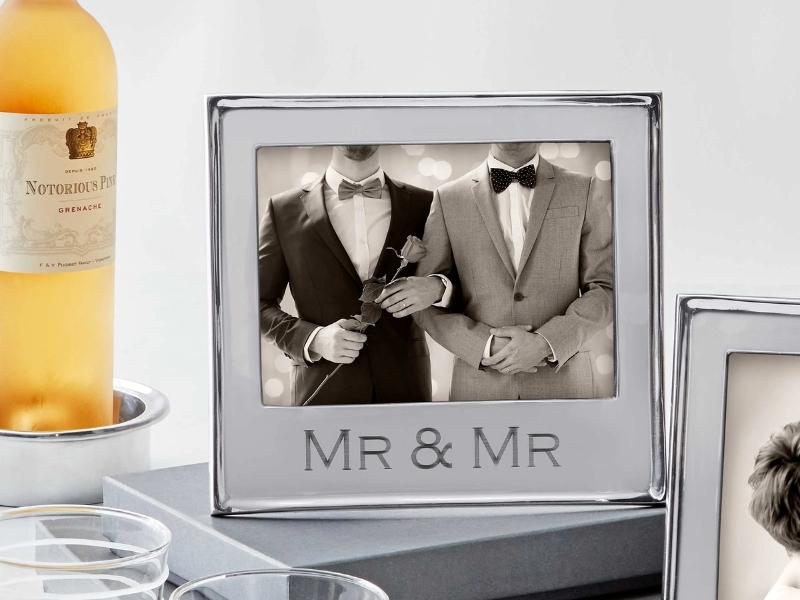 To commemorate their big day, the newlyweds are likely to have a ton of images in mind for a picture frame. With this sterling silver choice, you may give them a simple yet stunning engagement gift for a gay couple.
29. Mr. and Mr. Contemporary Champagne Flutes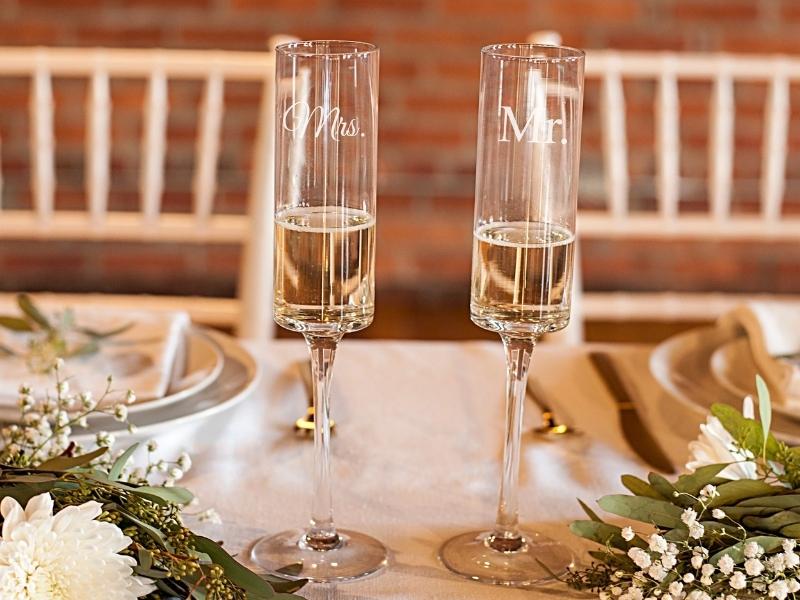 Wedding guests love receiving champagne flutes as engagement gifts for gay couples. Because of their square design, these Mr. and Mr. glasses have a contemporary and unusual appeal.
30. Wood and Marble Appetizer Serving Platter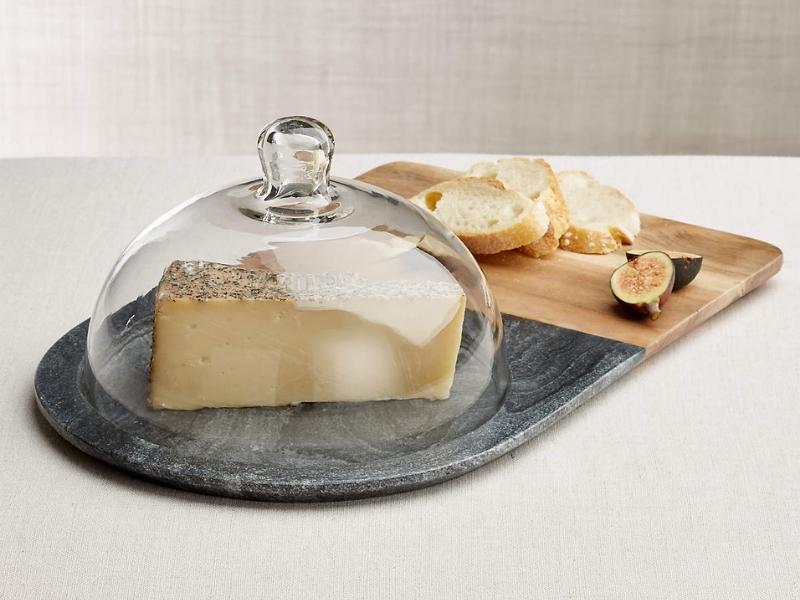 I love the idea of giving someone a customized engagement gift for male gay couple with these beautiful snack boards. You can't go wrong with this unique combination of wood and marble. It's also great for parties since it comes with three little condiment dishes.
31. Champagne and Chocolate Pairing Deluxe Box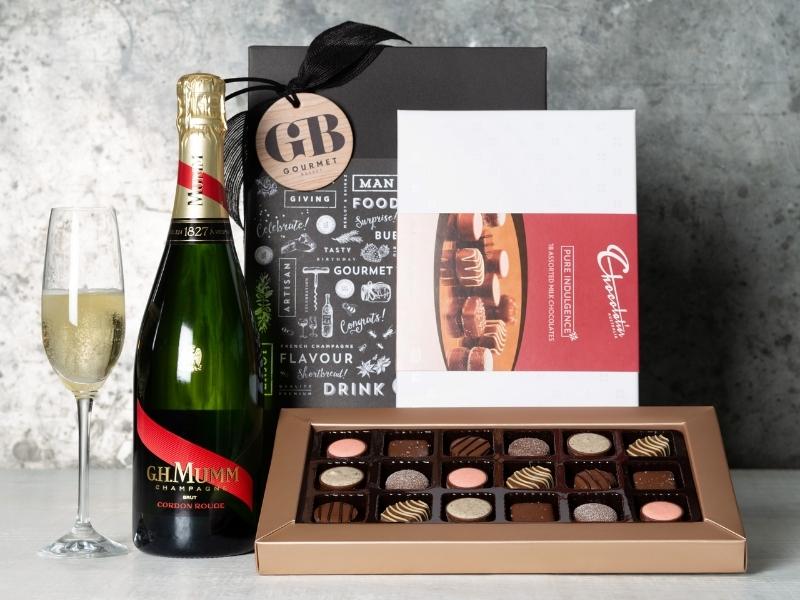 Gifting Champagne with chocolate is nearly always a good idea. It comprises a box of chocolates, two miniature Champagne bottles, and a pair of glasses. It's lovely and a cinch to give as engagement gift ideas for gay couples.
32. All Of Me Loves All Of You Oh Canvas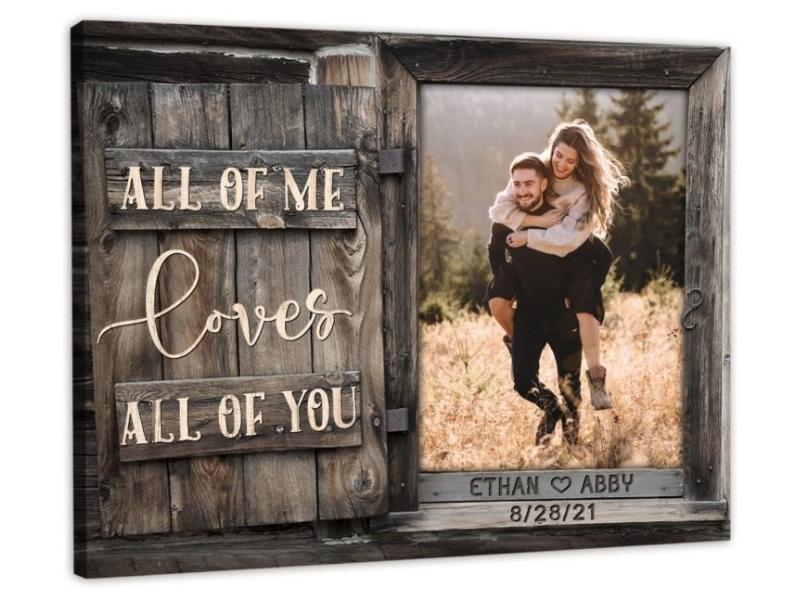 It might be challenging to express your deepest feelings of love to someone you care about. Love is more than simply stating it out loud. However, you should never miss an opportunity to tell your partner how you really feel. One of the best methods to convey the statement "All of Me Loves All of You" is to offer them canvas presents. Oh Canvas has designed a special piece of wall art for you, complete with a love message and a special date, to help you remember your special occasion. Now is the time to purchase this customized picture gift!
33. Scrapbook Album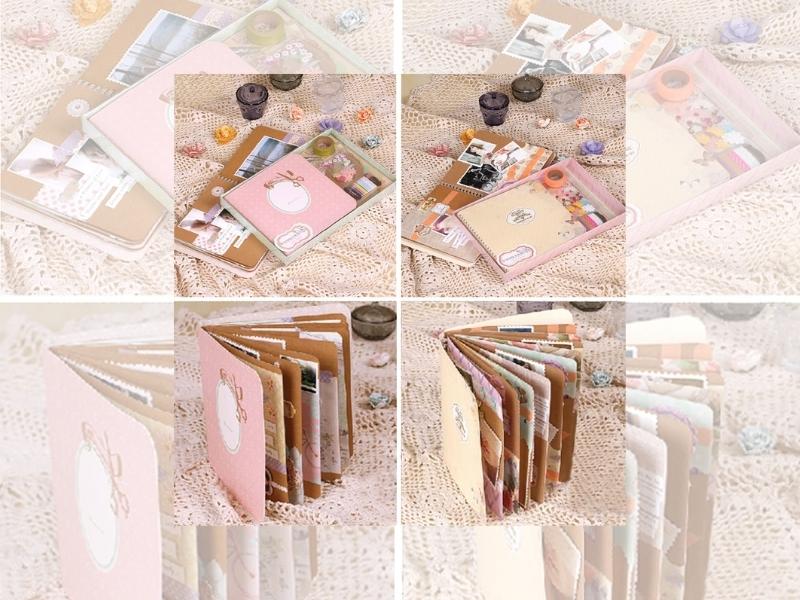 Scrapbooks are an underappreciated method of displaying your images. The pair may use this scrapbook album to document their love journey via images and prompts, and the high-quality materials used in its construction give it a luxurious appearance. Couples that just got married will enjoy this endeavor for a long time to come.
34. Wine and Cheese Backpack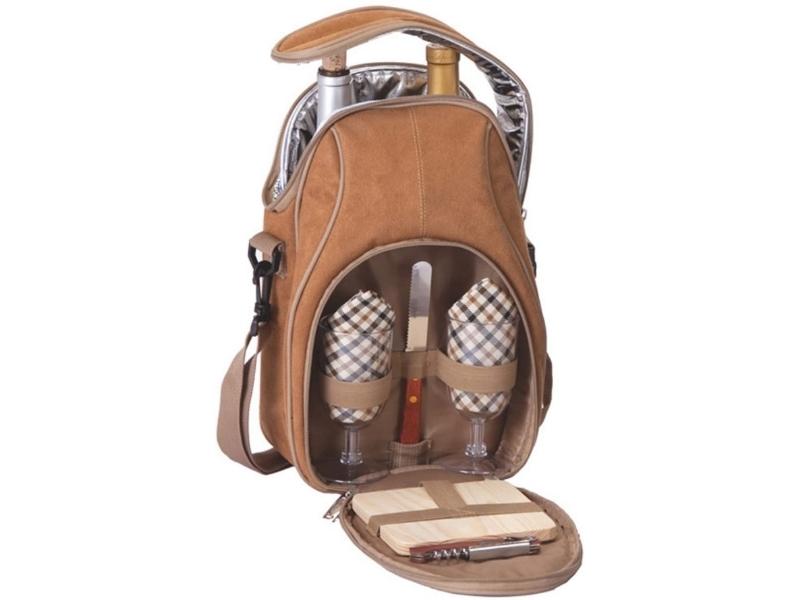 Gifting the soon-to-be newlyweds this wine and cheese backpack is a considerate and unusual way to show them how much you care. A cutting board, corkscrew, cheese knife, and divider for two wine bottles are included in the package. Not only does it have everything you'll need for a posh picnic, but the bag itself is very stunning.
35. LGBTQ+ Just Married Shirts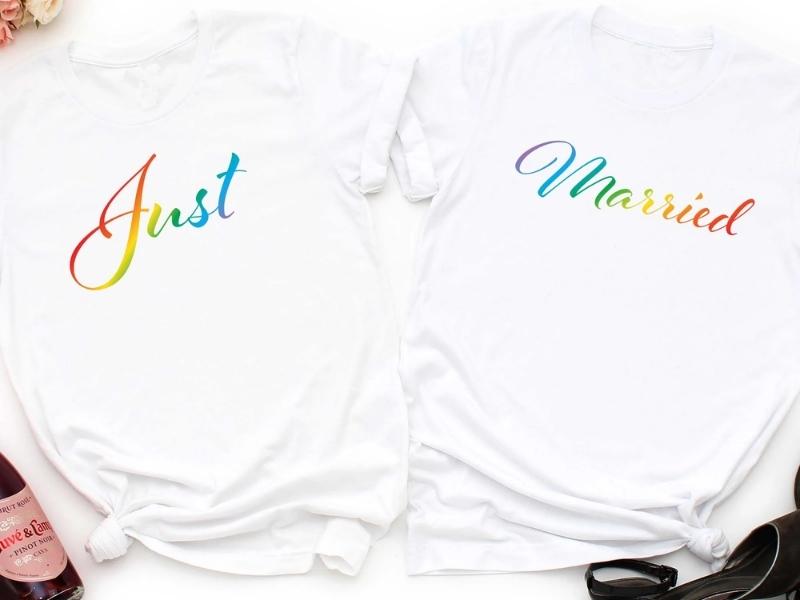 Simply married shirts are the best engagement gifts for gay couple, whether they're heading on their honeymoon straight away or just want to show off their newlywed status. The addition of the rainbow hearts is also one of our favorites.
36. Picnic Backpack
It's time for a romantic picnic with this picnic backpack. It has a wine bottle holder, making it ideal for a picnic.
37. Ring Holder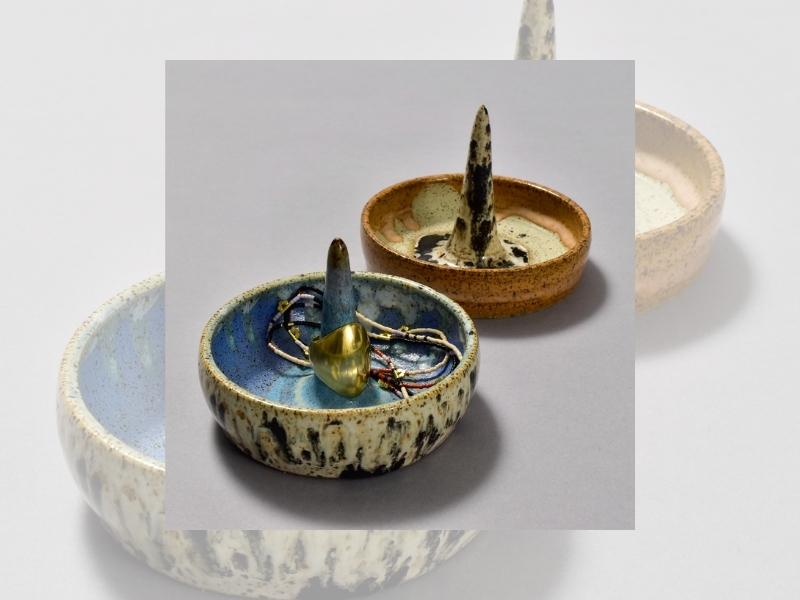 You can't go wrong with this stunning ring holder, which is crafted by hand. For now, their rings will have a particular place even when they're not wearing them.
38. Favorite Song On Canvas Wall Art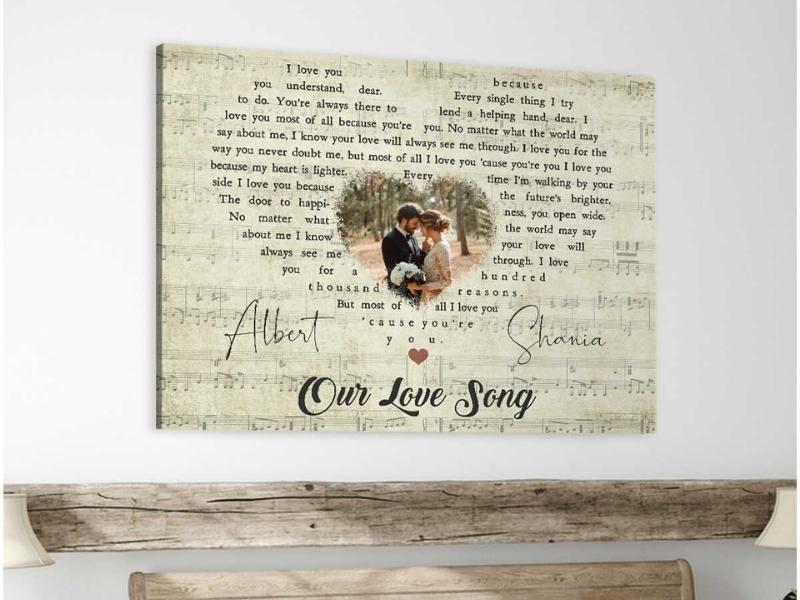 Despite the ups and downs of life, your love for each other endures. Congrats! You both did a great job! Make sure you thank the individual who has been there every step of the way to help you overcome those challenges. A canvas print of your favorite anniversary song might be a wonderful way to express your feelings.
A love song, a crucial image, and the names of your sweethearts are all you'll need to create your own unique take on this magnificent piece of art.
Frequently questions about gift ideas for gay couples:
What are gay couples called?
A romantic or sexual connection between two persons who are the same sex is referred to as a same-sex relationship. Marriage between people of the same gender is referred to as same-sex marriage, which is the institutionalized acknowledgment of such relationships in the form of marriage. In countries where same-sex marriage is not legal, civil unions may exist instead.
What do you buy an engaged gay couple?
As a gift for a gay engagement party, a bottle of sparkling wine or a bunch of flowers is more than sufficient. Instead of a traditional present, you might alternatively consider giving the happy couple a gift card. Send them a gift voucher to their go-to eatery so they may toast the good news in style.
What do you give a gay wedding gift?
Presents for gay guys are typically the same as gifts for straight men since LGBT men have the same interests and demands as anyone. Everything from furniture to toys to apparel and knickknacks! Does their interest in working in the kitchen? Give them cookware or cooking aids. Do they spend plenty of time caring about how they look? In terms of attire, you really can't go wrong.
How do you wish a gay couple happy anniversary?
In the eyes of many, the wedding anniversary is just as significant as the wedding event. Sending your same-sex pals an anniversary card is a sweet way to show your appreciation, especially if you had a significant role in their wedding. Pick up the most heartfelt anniversary greeting you can for them.
>>> Read more:
What should I get for engagement gifts for gay couples? Do not be frightened! When same-sex marriage becomes legal, you'll confront a new societal strain. This tutorial from Oh Canvas will be the best guide that shows you that shop for your homosexual friends. If you love searching for more gift ideas for the engagement day, don't miss out on our latest blogs!