For most people, getting engaged is a significant milestone. It is a great occasion when two people and their families join together in marriage. Finding the proper engagement gift for groom is a top priority at this time. Wedding engagement gift ideas for potential husbands-to-be are easy to come by at Oh Canvas, so don't worry!
Take a look at my selection of groom-focused wedding best engagement gifts and show your appreciation for the upcoming new husband-to-be!
40 Awesome Engagement Gift For Groom He'll Treasure
Best Engagement Gift For Groom From Bride
1. Set of Ceramic Marble Coffee Mugs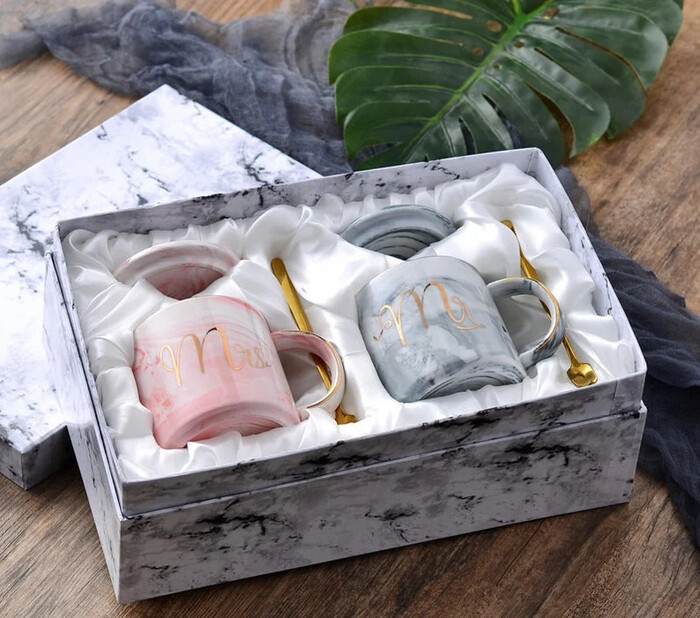 Make a coffee mug with a picture of you and him plus a message and give it to him. Unique engagement gifts for men don't have to be expensive all the time. The most romantic things in life are the simplest.
2. Engraved Marble Wood Coasters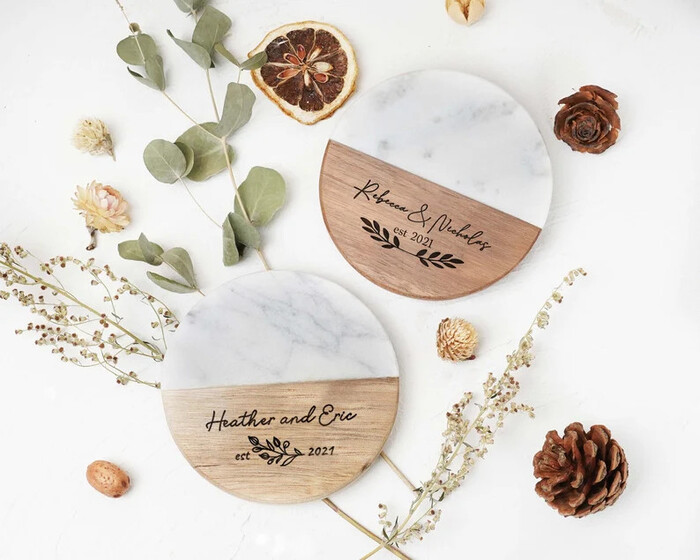 The nicest engagement gift ideas are personalized coasters. Add some mugs or wine glasses to complete the look. They'll make an excellent team.
3. Ring Dish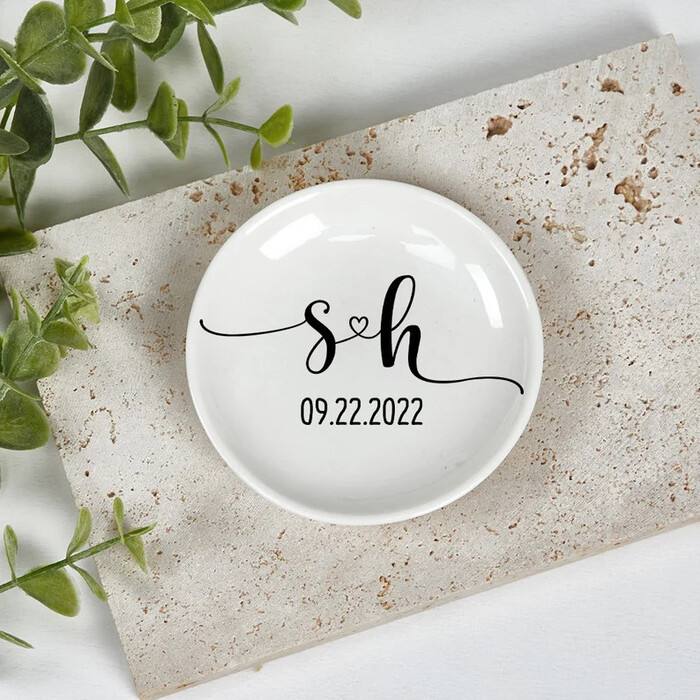 Because a ring dish will keep his cherished object safe on the nightstand or next to the sink, this cute engagement gift for groom may be the one he values the most. The happy couple's initials and engagement date might be incorporated into the design.
4. Personalized Cutting Boards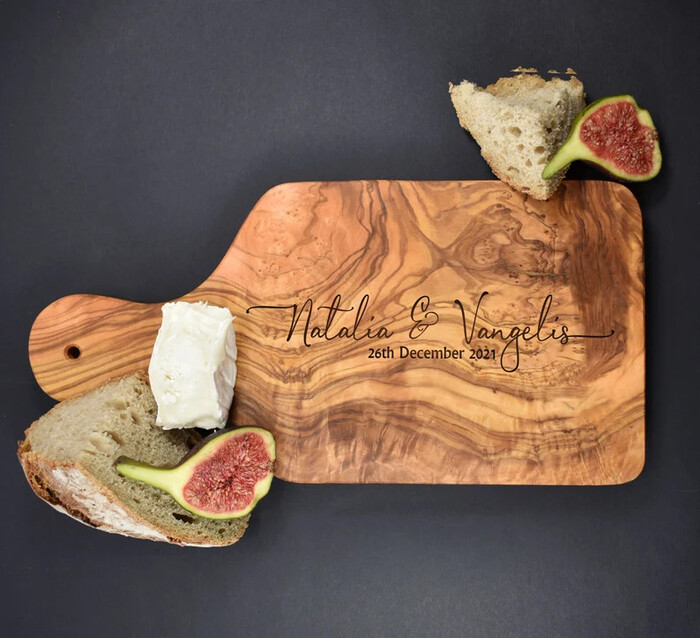 It's possible to find a slew of bespoke cutting boards (and they make excellent engagement gift ideas), but few are as well-made and tasteful as this one. Additionally, you can choose from a variety of sizes and materials (such as marble or walnut), so you can find the perfect fit for the groom's taste.
5. Rose Gold Wine Glasses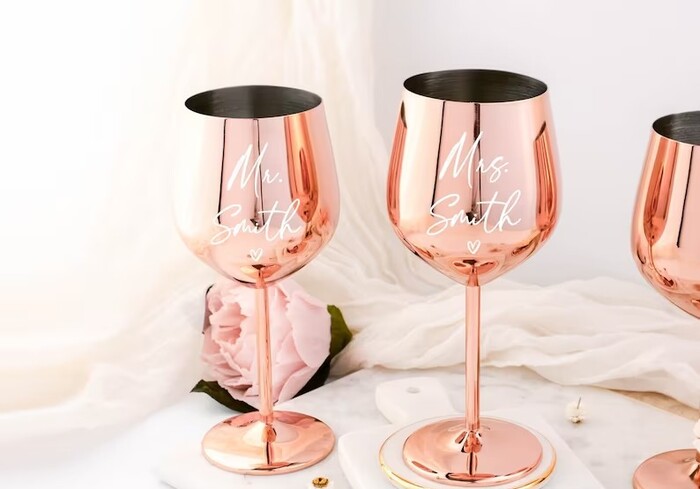 This adorable set of wine glasses says it all: he's getting married! As a kind engagement gift for groom, include a bottle of their favorite wine with the pair.
6. Tie Collection Gift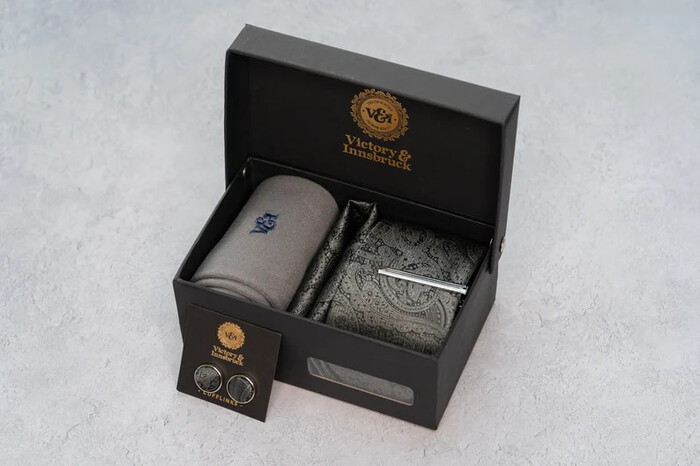 You can absolutely help him out with a tie to go with his suit. As a sentimental engagement gift for groom, give him a tie collection box that matches his outfit.
7. A Personal Wine Glass Chiller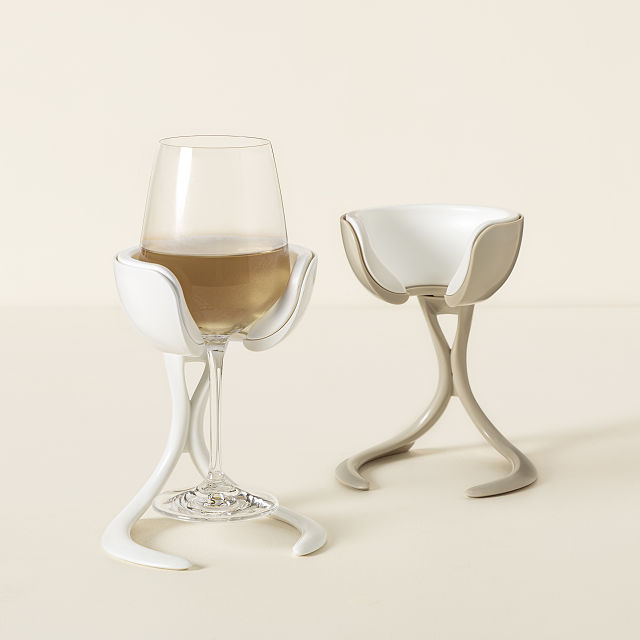 This is the awesome engagement gift the groom never realized he needed if he and his groomsmen enjoy sharing a glass of wine. For up to an hour and a half indoors or 45 minutes outside on a hot summer day, the two personalized wine glass chillers will keep their favorite stemmed glass of rosé or white delightfully cool.
8. Adorable Couple Tees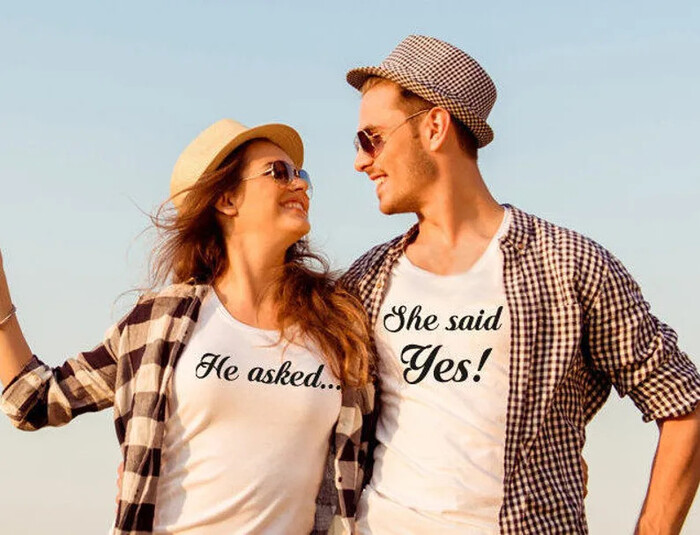 It's a great idea for a thoughtful engagement gift for groom. They'll look adorable in their engagement photos or just lounging about the house in these matching t-shirts.
9. Stylish Champagne Flutes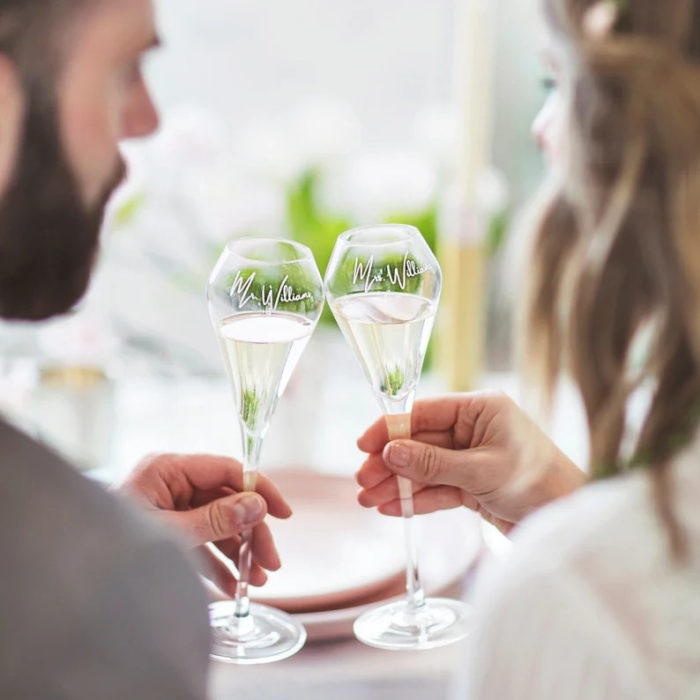 These crystal champagne glasses are stunning, aren't they? Over the next two months, the groom will be celebrating a lot, so this pricey barware will be a welcome addition. Because they are so beautiful, he may even use them as bridal champagne flutes! And it's hard to fault them. Those carved hearts are just incredibly sweet.
10. She Said Yes Canvas Print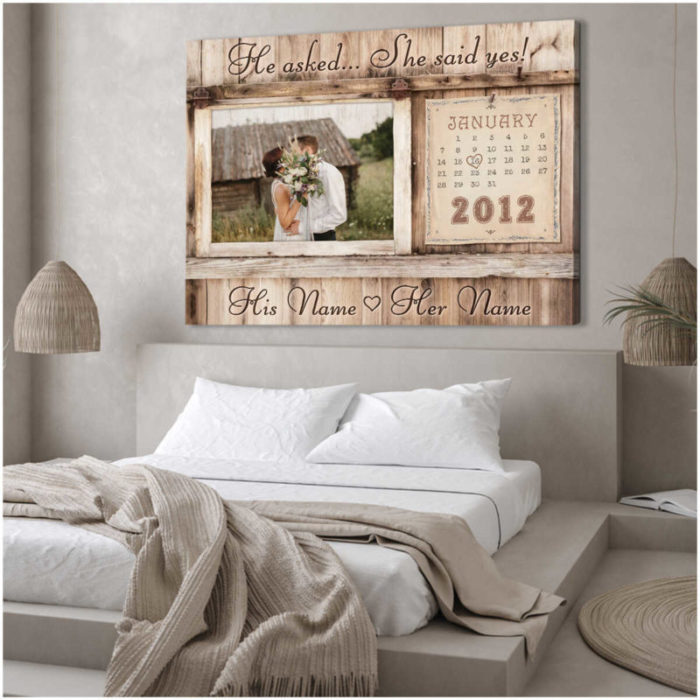 Consider a piece of custom wall art for the home. Using your couple's surnames and significant dates from your relationship, this print can be customized. For the personalized gifts that are exactly on the money, personalize them with the year your first met and the year you and he got engaged.
11. Magnets for Couples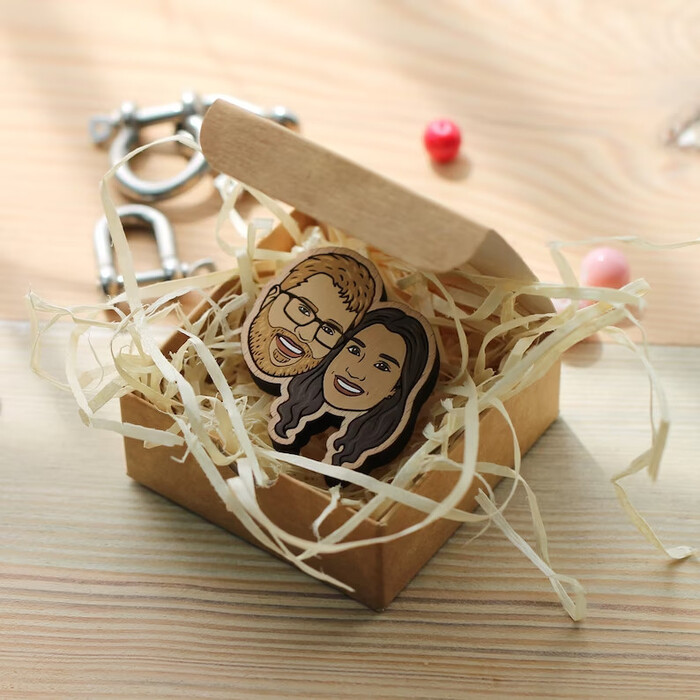 Get them a set of floating head magnets (in their likeness) to put on their fridge now that they've bonded. How about that for a unique proposal present? These handy magnets can be used to keep track of save-the-dates if they happen to know a few other individuals who are getting married soon.
12. The Whiskey Decanter Set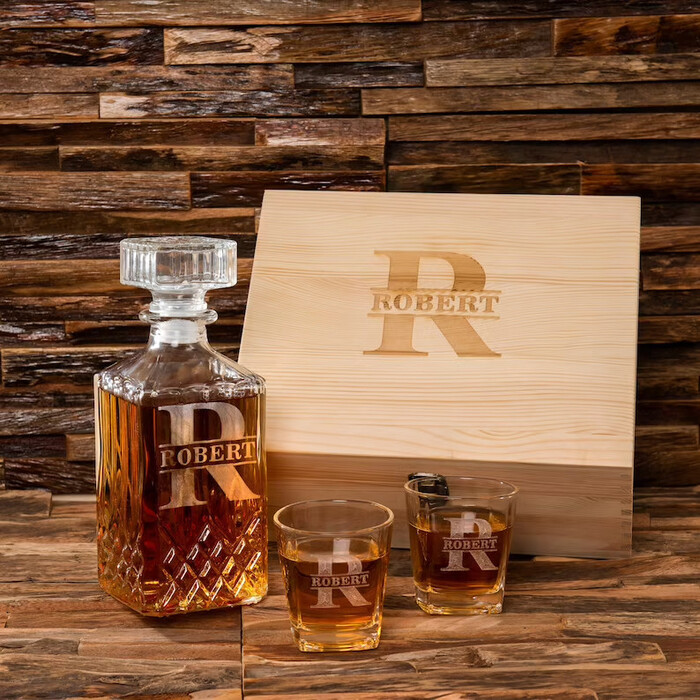 What better way to celebrate your upcoming nuptials than with a swanky decanter from a high-end brand? For a truly unique engagement gift, personalize the spirit holder with their initials and fill it with their favorite whiskey.
13. "Why I Love You" Box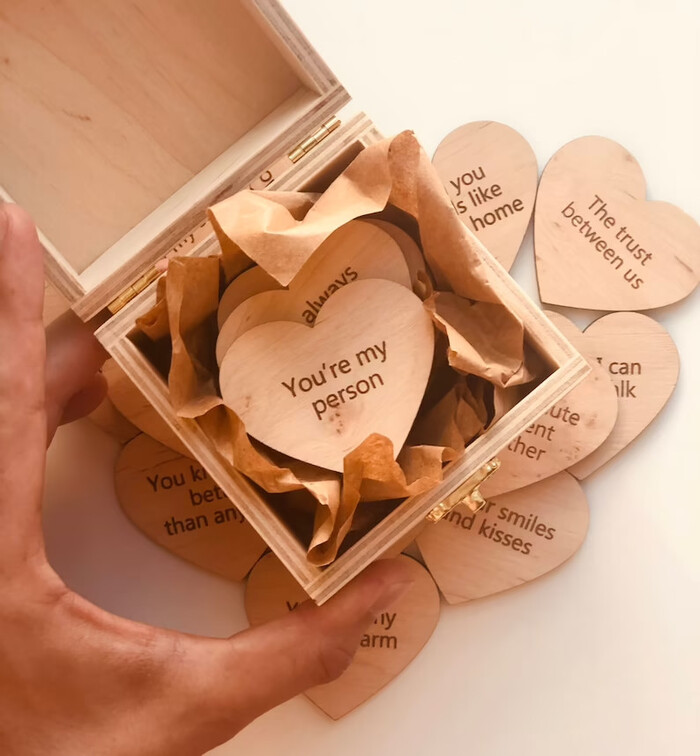 Consider this jar of "reasons why I adore you as a gift for the groom". These personalized gifts will be greatly appreciated by your future spouse.
14. Everlasting Roses
This stunning bouquet is a wonderful choice for individuals who wish to give a genuinely distinctive and luxurious gift. Take a whiff of these real roses and they'll last for up to a year without any care.
15. Waterproof Speaker
It's time to put your off-key a cappella days in the past! It doesn't matter if they use it to relax in the tub or to sing love songs in the backyard, the groom is sure to appreciate this fantastic gift.
16. Sports Watch For Men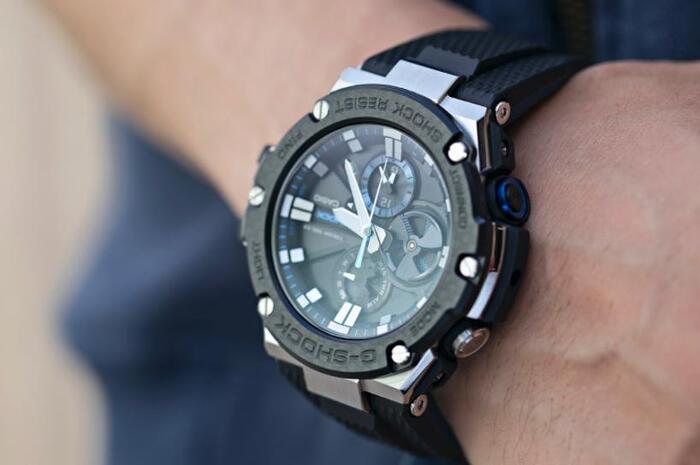 If he's a fan of sports watches, this could be the greatest engagement gift for groom. It could be on his list of things he can't live without. These timepieces are resistant to water, heat, and shock. Barometric altimeters and global positioning systems are also available on some of these aircraft. He'll adore it if he's a nomad.
17. Engraved Tie Cuffs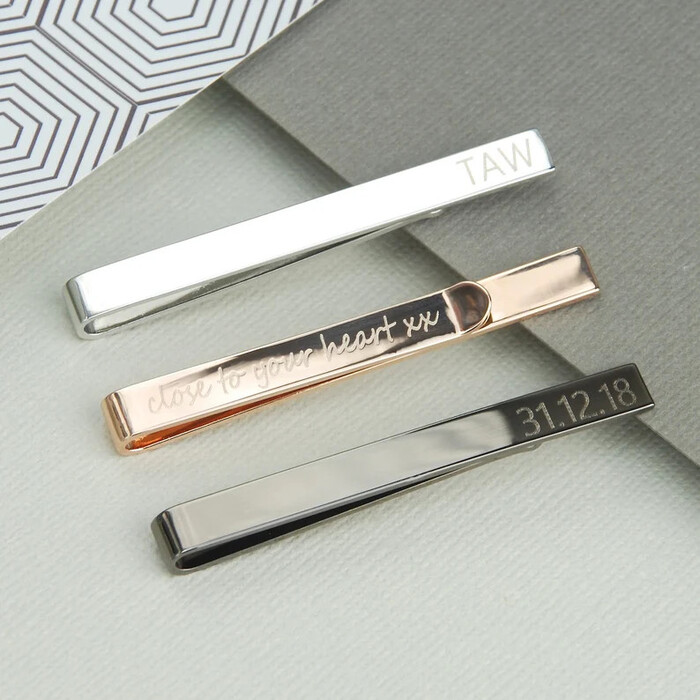 Personalized engagement gifts are a one-of-a-kind way to show your love. In the event that you want to give him something conventional for his engagement or wedding day, a new tie clip is a fantastic option.
18. Elegant Suits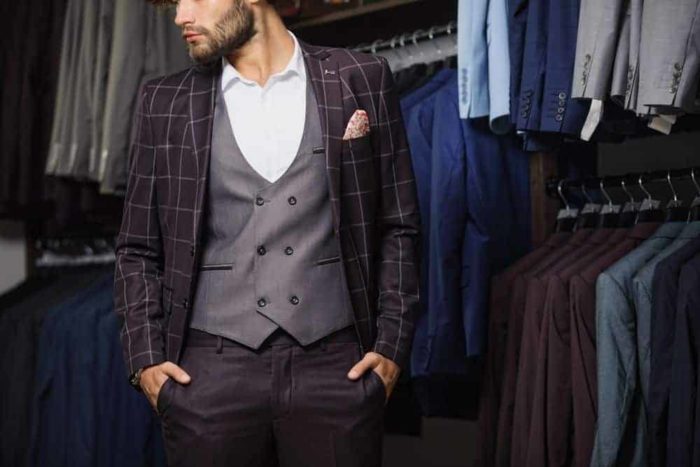 For newly engaged males, a suit may be more valuable than most other possessions because it can be used for formal meals following their engagement. Suits also come in a lot of different colors and sizes, which makes them a cheap and useful choice.
19. Pen and notepad Gift Box
If you've been looking for a stylish engagement gift for groom, consider a combo of a pen and a notebook. In the case of guys, they can be ideal engagement gifts. The groom will appreciate how thoughtful you are by giving him something like this as a token of your appreciation.
20. Inside plants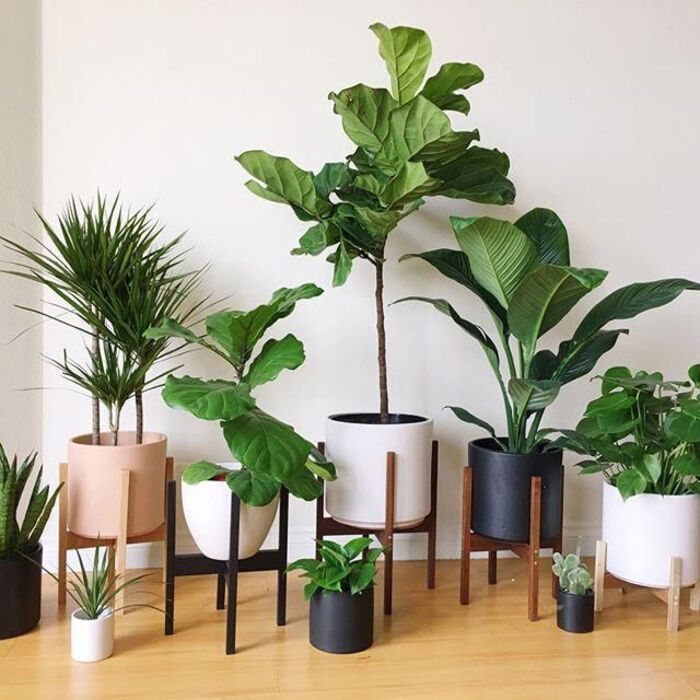 You can't go wrong with plants as engagement gift ideas for him. There's a strong impression that you know him better than he does. He is a nature enthusiast who enjoys being surrounded by plants and trees. I'm sure he'll be delighted.
Having a shoe collection is a favorite pastime for many men. Make sure to check out this list of unique engagement gifts if you need ideas. I recommend bringing a pair or two of sneakers with you.
>>> Read more: Top 26+ Super Funny Engagement Gifts for any Couple in 2022
Awesome Engagement Gift From Groom's Parents
21. Modern Telescope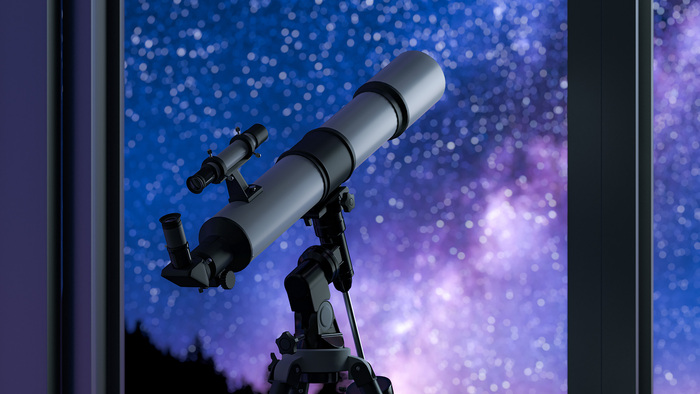 You can't go wrong by giving him a telescope as an engagement gift for groom who enjoys stargazing. He will be able to see the world from a new perspective.
22. Beer Glasses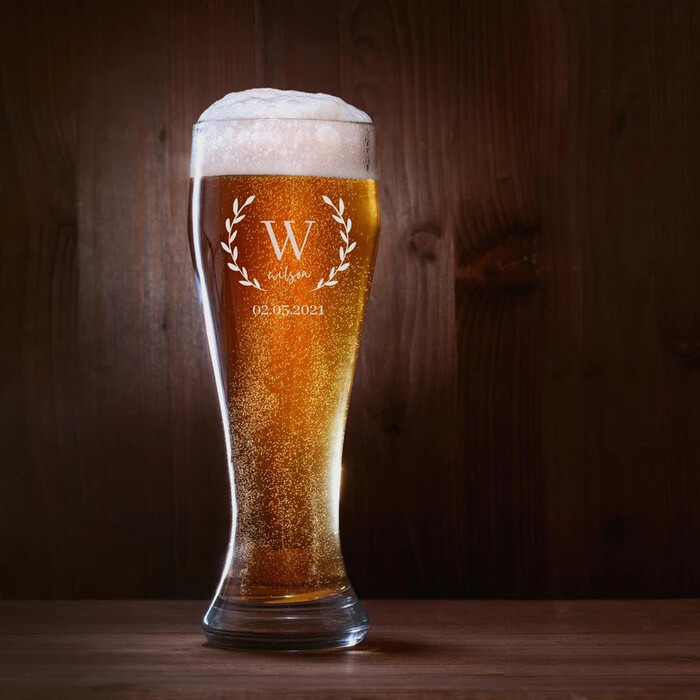 Personalized beer glasses make a timeless engagement gift for groom. You can pick from a variety of patterns and shapes for a pair of two or more. It'll make his house bar a fun place to hang out.
23. Engagement Map Ornament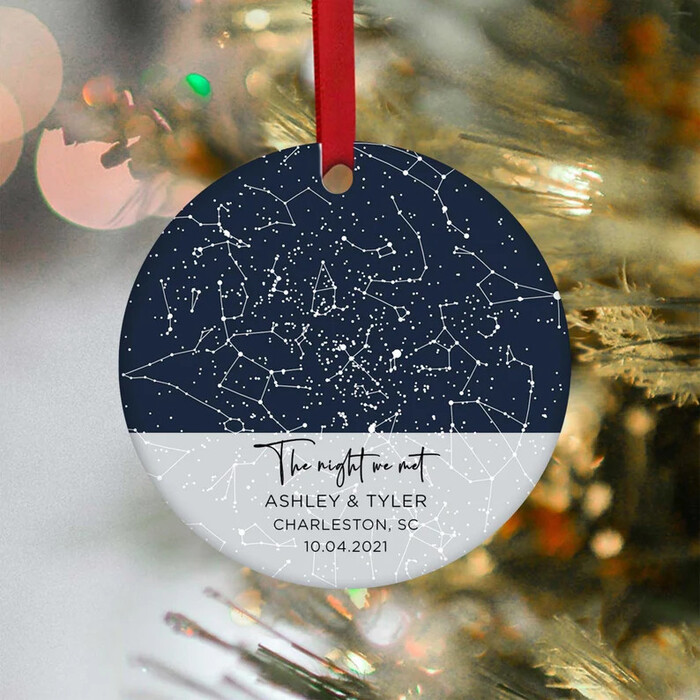 You can get a personalized engagement ornament with the couple's names, the date they got engaged, and the place where the proposal happened. This gift is one of the best engagement gifts for couple that you should consider.
24. The Wedding Keepsake Collection
Give him a place to store all of their most treasured mementos after the wedding with this stunning and highly functional storage system. Unlike the cardboard box they could usually use, this one has all the labels, drawers, and envelopes he will need.
25. Every Love Story Canvas Art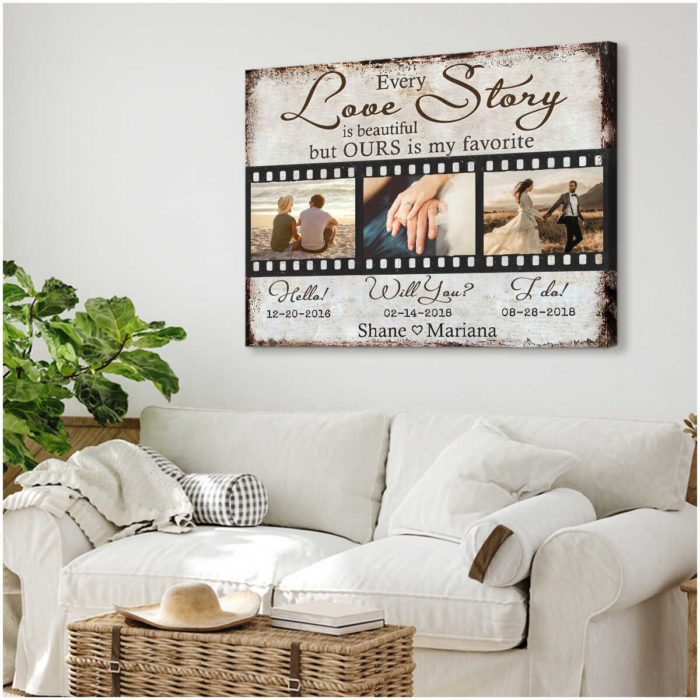 Make a personalized picture frame for the groom to remember their special wedding day. Three lines of text and 3 photos can be added to make it uniquely yours. Additionally, you can select either a vertical or horizontal frame.
26. Customized Travel Fund Box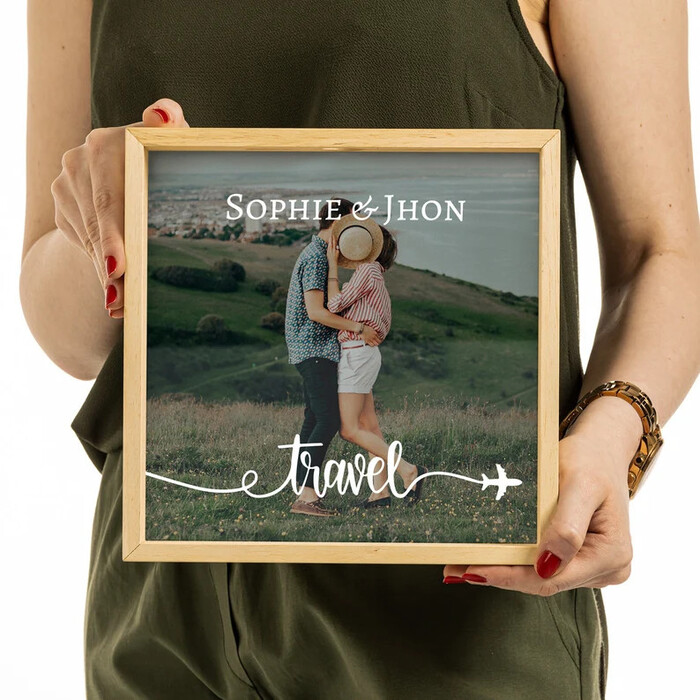 This postnuptial getaway has probably been discussed before the wedding planning process has even begun for the newly-engaged couple. Use this honeymoon fund box to help them save for their trip. As long as they put a few bucks in there every time they see it, the bucket will be full and ready to burst.
27. Date Night Art Box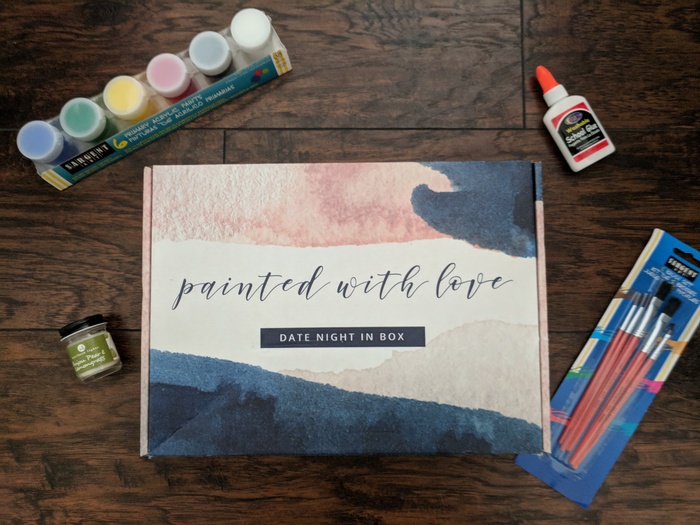 The process of putting together a wedding is both time-consuming and stressful. With this art box, you may bring date night to his engaged pals even if he doesn't have time to go out on a regular basis.
28. Personalized Ring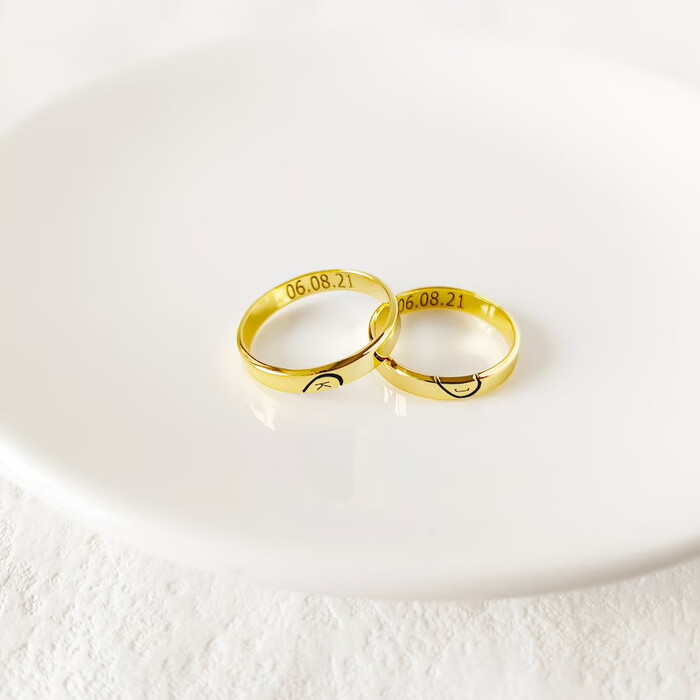 Nowadays, it's all the rage to engrave objects with personal messages. You'll be able to give him something he'll remember for a long time. Because of your thoughtfulness, his heart will be warmed by your thoughtfulness.
29. Fujifilm Instax Camera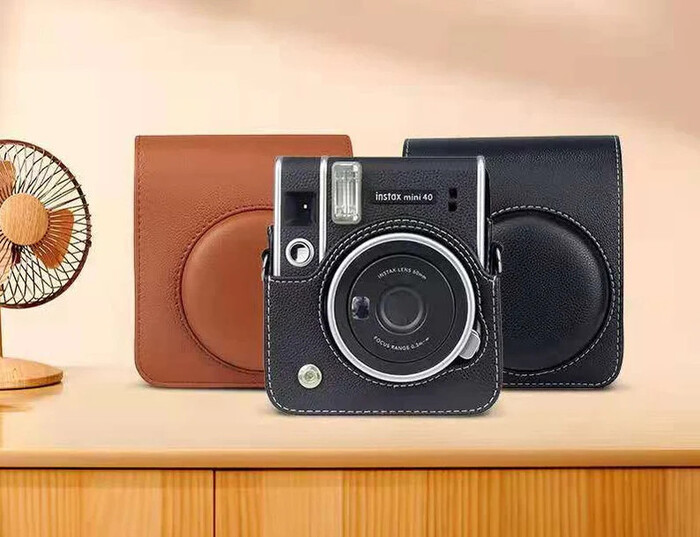 The perfect engagement gift for groom would be a camera that takes images instantaneously. As an anniversary gift or for any other special event, it's utterly lovely.
30. Photo Display Plaque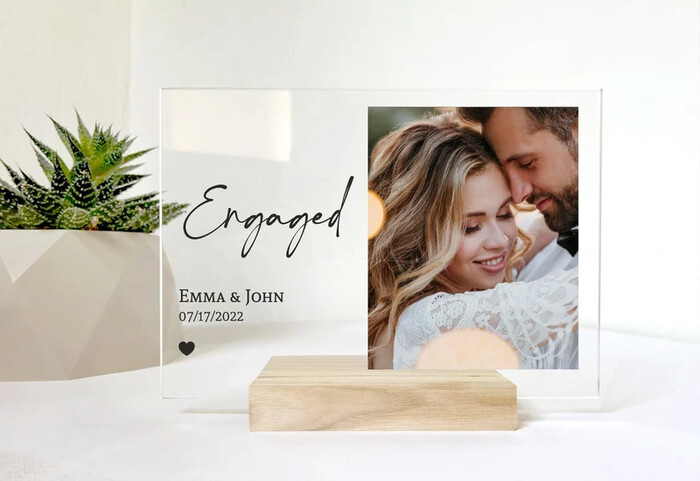 The groom can have his wedding photos preserved in this unique photo display. "Congratulation on your engagement!" That's an unnoticed note at the bottom of the photo. What is the end result? Every time he takes the picture out of the album, he gets a little thrill. This is a lovely engagement gift for groom that plans to live together.
31. I Love You To The Moon and Back Again Canvas Art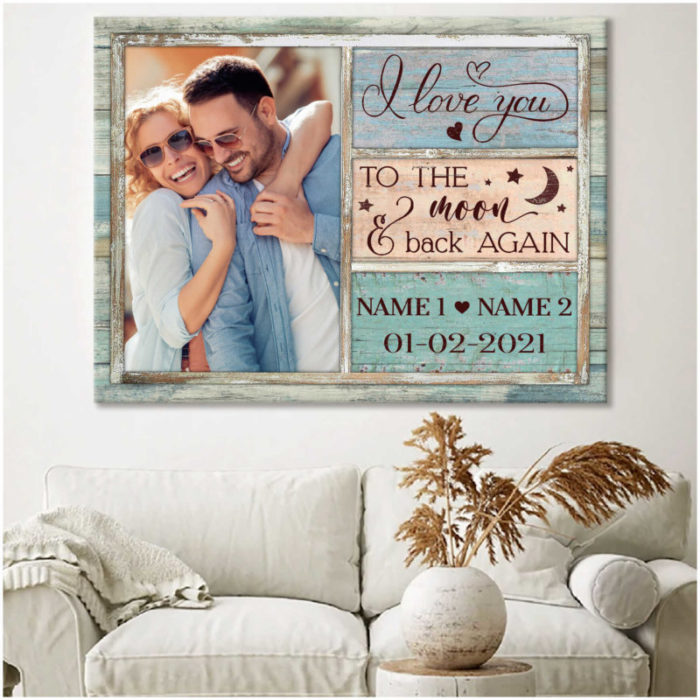 Consider a customized canvas print from a memorable wedding day if you're looking for a personalized engagement gift for the groom. You can add your names, the wedding day, or a verse from your vows to further personalize the canvas. The wait was certainly worth it for this present!
32. Engagement Candle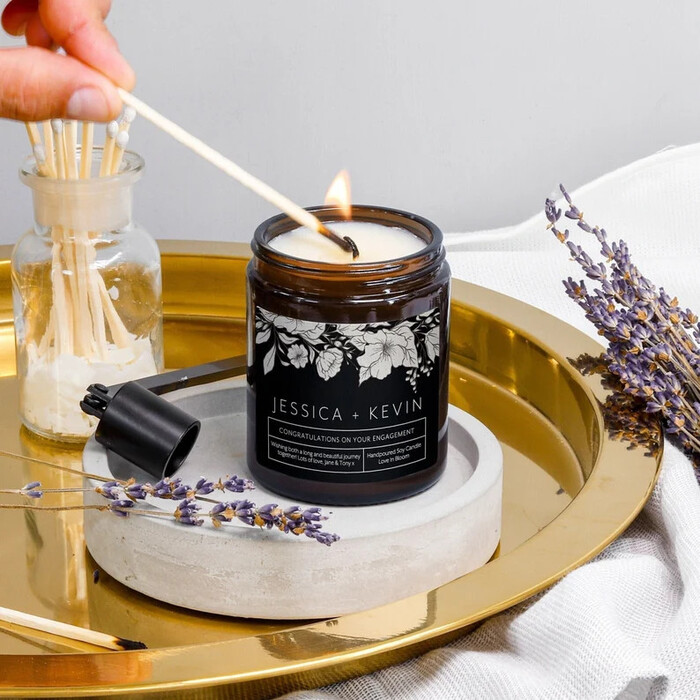 It's hard to go wrong with candles as an engagement gift. You can choose from a wide variety of scents when you present a engagement gift for groom. You can personalize them by having both of your names or initials engraved on them.
33. Customized Cigar Humidor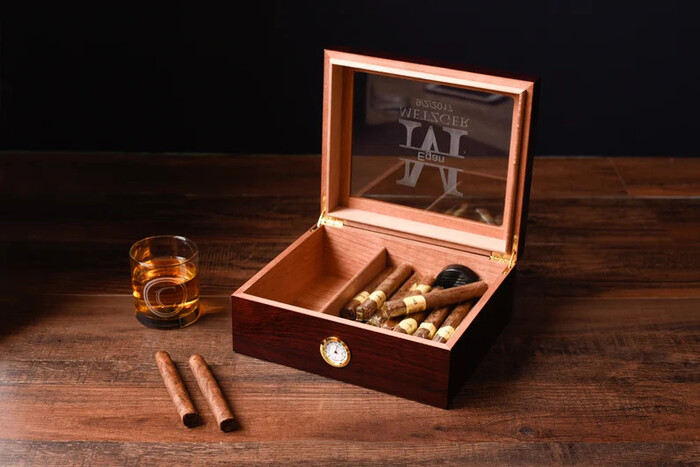 The groom will be grateful if you give him a reason to unwind before the wedding. Adding the couple's wedding information can elevate this wedding gift to a whole new level of coolness.
34. Engraved Family Tree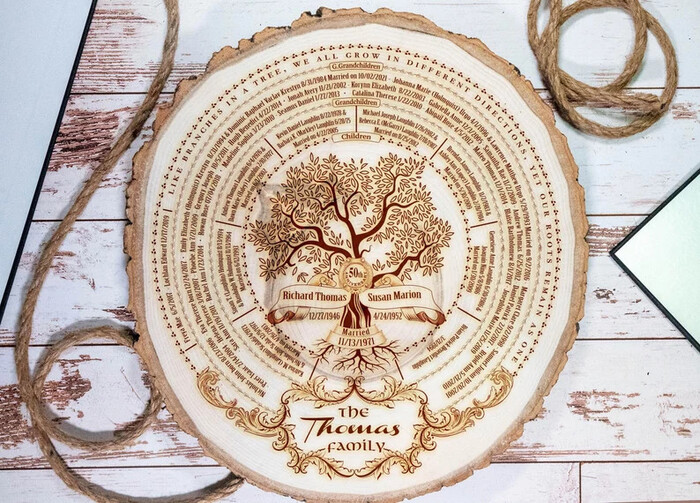 The marriage will unite two families into one! What better way to mark the occasion than with a personalized family tree as engegament present? It's a touching tribute to his ancestors that he won't soon forget.
35. Set of Bar Tools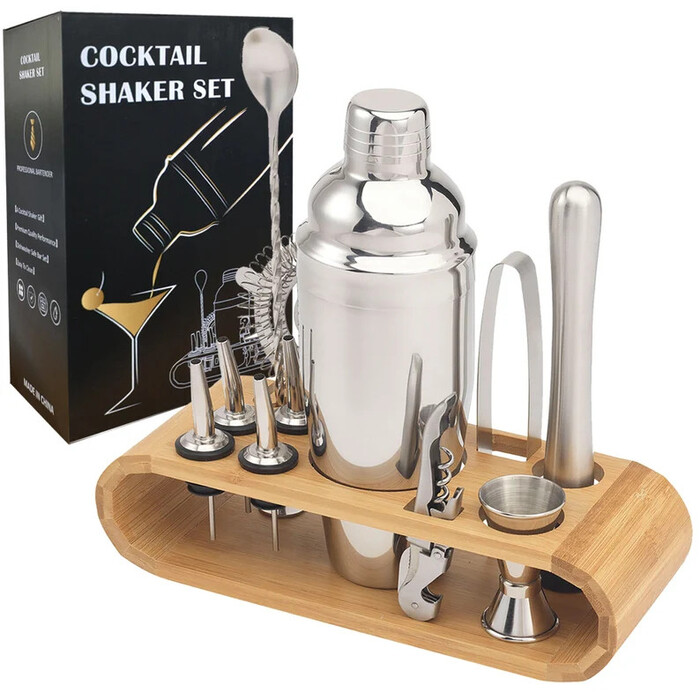 Bar equipment can help the newlyweds create the bar cart of their dreams. It comes in different metals, such as silver, gold, copper, and graphite, which makes it a great addition to any room.
36. Mr. and Mrs. Robes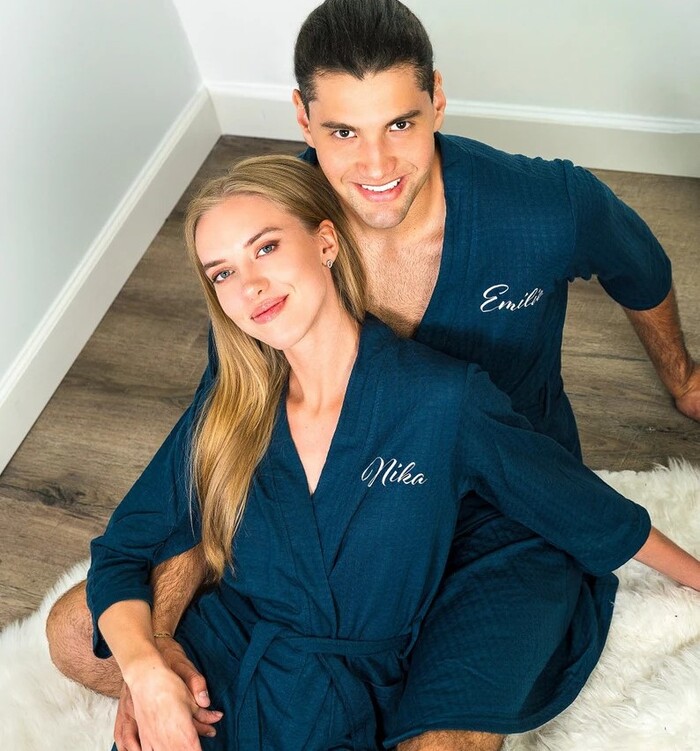 Macy's bathrobes are the perfect way to help the newlyweds unwind after all the hard work of organizing their wedding. They will both appreciate the convenience if you get one for each of them!
37. A Teapot Set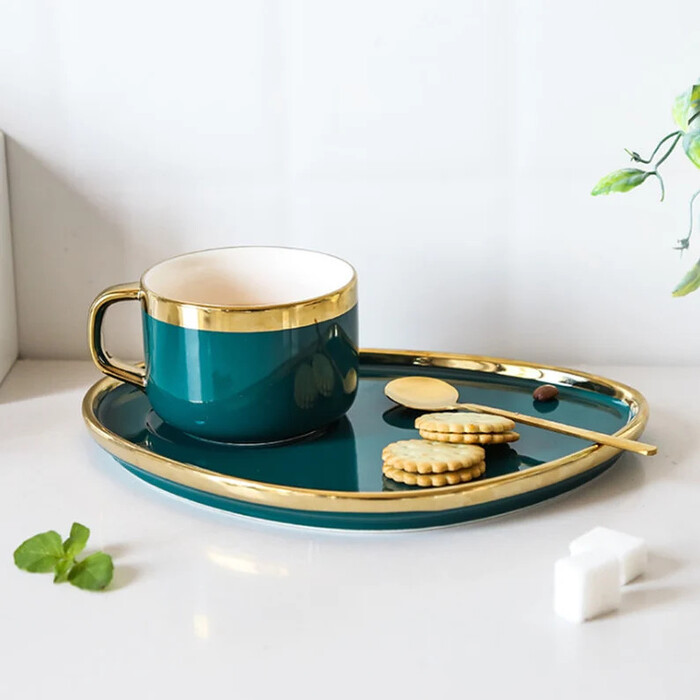 Occasionally, you just want to dress up. Make your groom's luxury fantasies come true by giving him this lovely set of two teacups and saucers. Delicate yet useful, these pieces are a beautiful compromise.
38. Airbnb Gift Card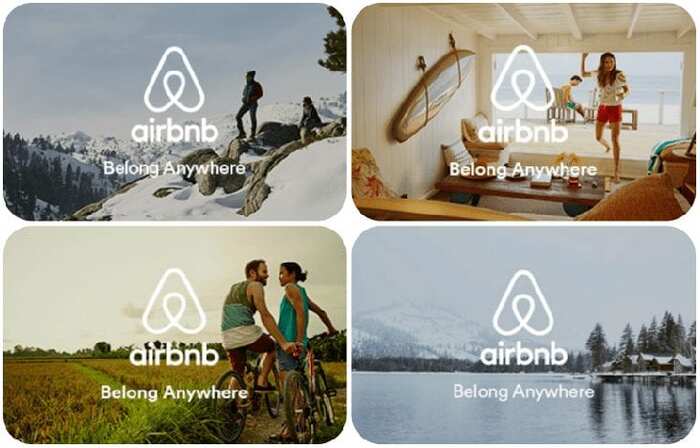 An Airbnb gift card for a weekend away is a great alternative to a traditional present. A weekend away can be so rejuvenating after the wedding is done and the stresses of everyday life have settled in.
39. Subscription Box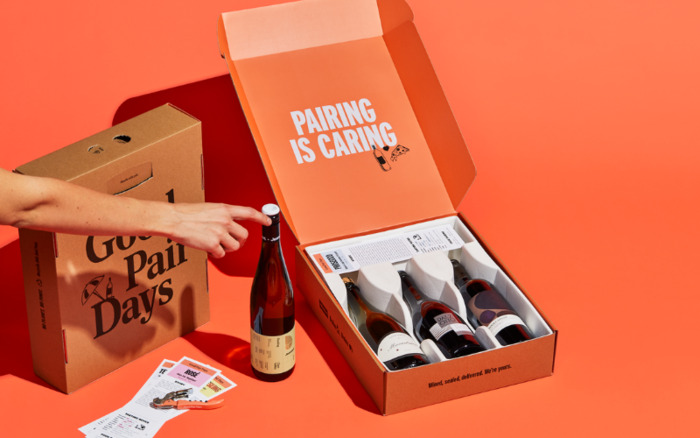 You can choose to give him a single box or to sign him up for a year's worth of dates. Even if they don't use it, it's an amazing gift that he'll enjoy for a long time.
40. Customized Tic-Tac-Toe Game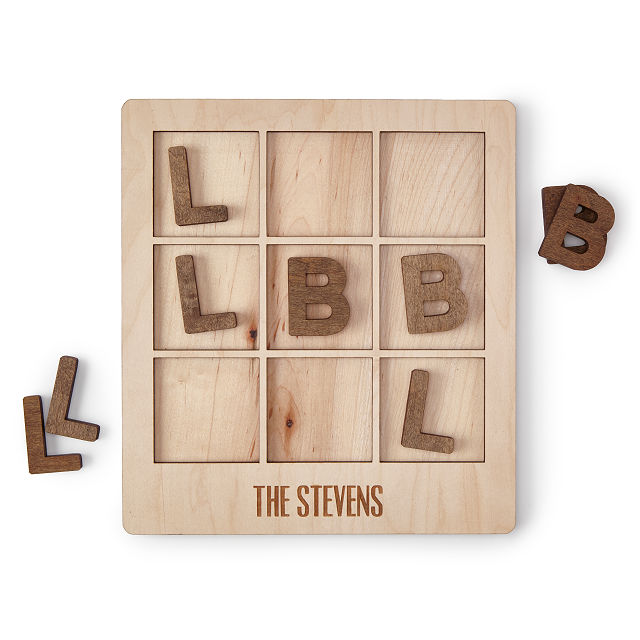 Using this sweet present, you can wish the groom-to-be a happy engagement. They can have their new family name carved into the wooden tic-tac-toe board. It's a terrific approach to get the couple to take a break from wedding planning and have some fun together.
41. Personalized Engagement Notebook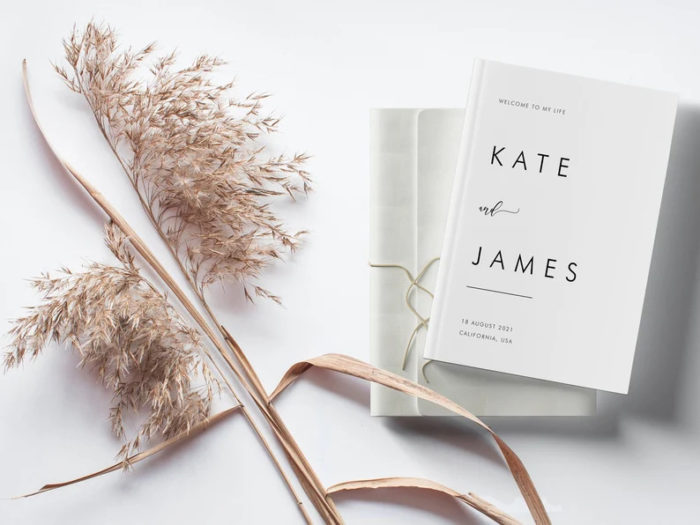 Anyone can give the engaged couple a hat with the words "groom to be" printed on it. You may also give him a notebook with the words "the groom's unique note" on it. However, you may also give him a pair of glasses that feature a lapel and a bow on them.
>>> Maybe you're interested:
It's a thoughtful gesture to give your groom a gift, regardless of the type you select. Even if you've run out of time or money to buy the perfect engagement gift, you can draw inspiration from Oh Canvas's list of 40 best engagement gifts for groom.