The use of various Christmas decorations in your yard is a wonderful method to spread the cheer of Christmas blessing. Thanks to Ohcanvas's diverse selection of outdoor Christmas decor, no matter what your style or preference, you are sure to discover the right accent for your yard this holiday season and for many more to come. Our outdoor holiday decorating ideas can help you create the winter paradise of your dreams, with a variety of options to choose from.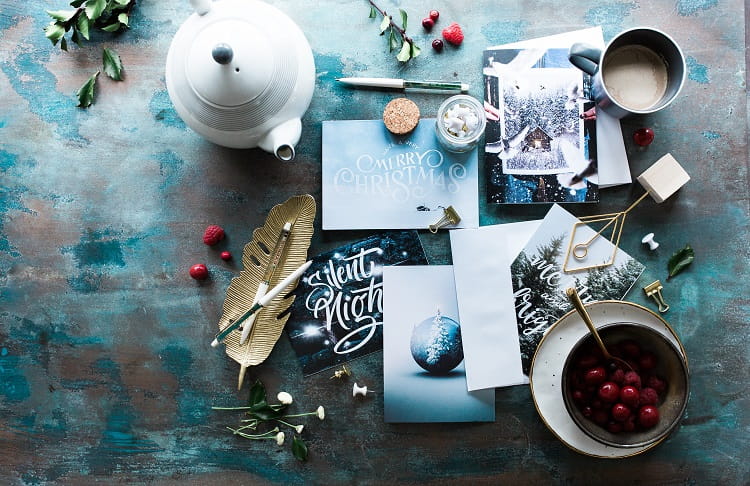 25+ Outdoor Christmas decor ideas you will fall in love
We have come up with the following 20 intriguing ideas to help you decrease the time it takes to prepare for outdoor Christmas decor. Although we have carefully picked these concepts, I am confident that you may design your own styles. Make this Christmas the most meaningful one yet.
10 outdoor Christmas decor styles for your home
Lighting the house's exterior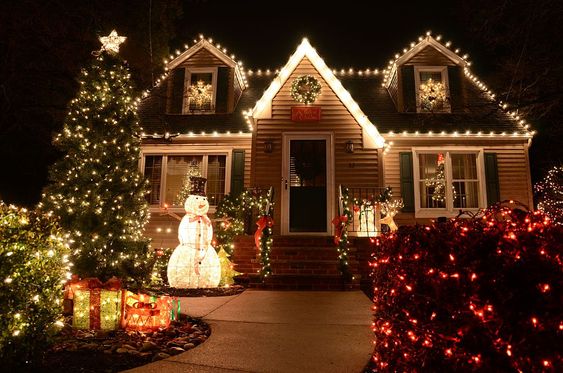 First impressions are always formed by the most intuitive of eyes. The stars began to twinkle in the sky, and the full moon emerged like a lovely fairy spreading light over the planet. By the dazzling yellow lights, a shimmering and stunning mansion is hidden somewhere in that tranquil place. Christmas Eve is bright and oddly cheerful. Isn't it more lovely to have outdoor Christmas decor for your home?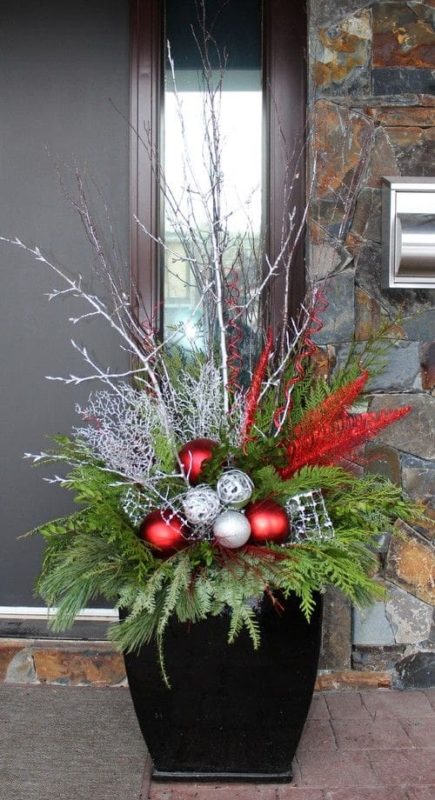 Flowers represent distinct beauty all across the world. Plant pots or flower pots are always selected for usage as home décor, party decor, or as a memorable present. Outdoor Christmas decor is no exception; we may enhance the space outside our home with a planter or flower pot. And it would be much more spectacular if it was made of ivy leaves, which is a Christmas emblem, wouldn't it?
Cover All of Your Aspects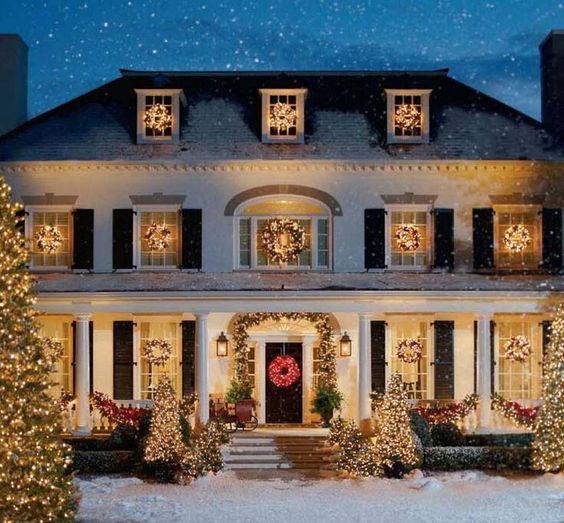 How do you avoid your Christmas decorations from becoming empty if your house has a lot of windows or a big garden? It's quite simple. Cover them with wreaths. It not only makes the home more gleaming and beautiful, but it also demonstrates God's eternal and unending love.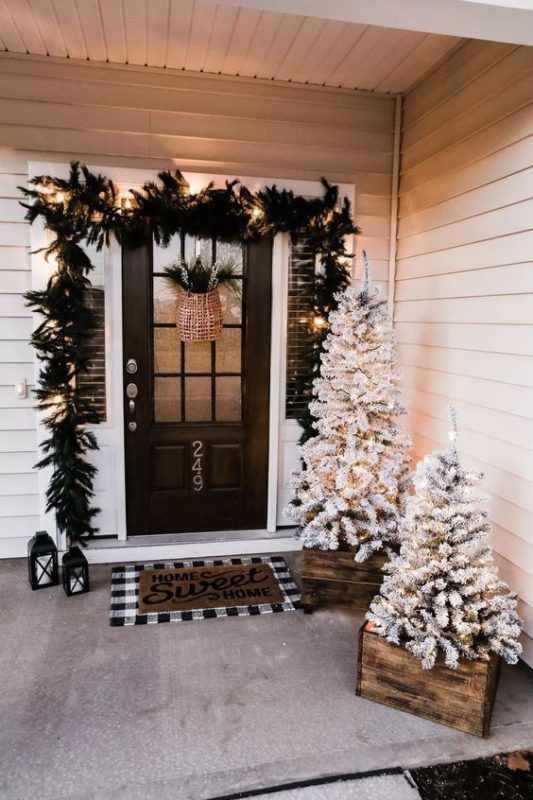 I know that many of us like the winter season. I enjoy the biting cold and the white snowflakes that blanket the sky. Because winter has a peculiar and hidden beauty, and the cold brings people together. This is also an excellent idea for your outdoor Christmas decor. With snow-covered pine trees, you may transform your front yard into a winter wonderland. Just as shades of white-blue opposition take us into a magnificent primeval forest.
Bring Outside Christmas Presents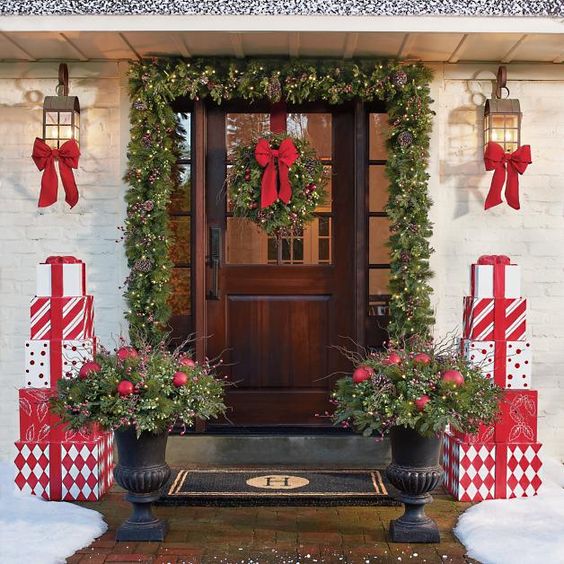 Bringing lovely present boxes outside the home to decorate for Christmas is a good idea. Red and white gift boxes are always appreciated in every Christmas environment on the planet. Each present embodies honesty, loving sentiments, and a wish for everyone's happiness. If you include them in your outdoor Christmas decor, you will leave a lasting impression on your valued guests.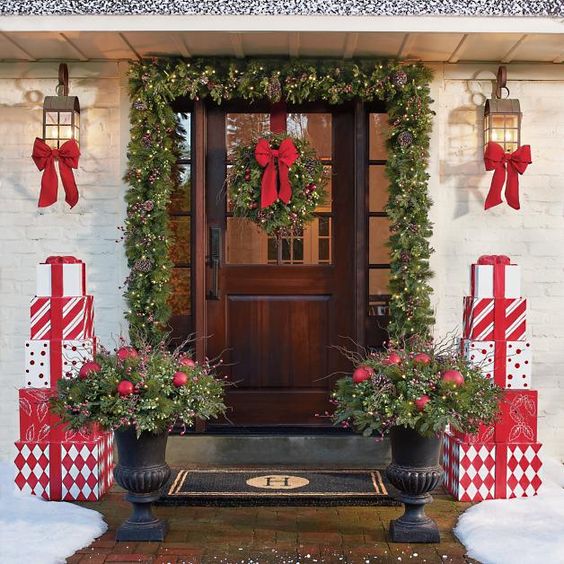 Christmas arrives with incredible zeal and pleasure. It is the expectation, hope, and desire to see family and friends. Bring that outdoor Christmas decor and you'll have a great Christmas image at first sight for your home. Harper, Graphic Holiday Ribbon to fit and light in front of Madison Cordless Greenery to frame it are top cons. A gleaming white woodland deer as little as a touch?
Greetings from the outside porch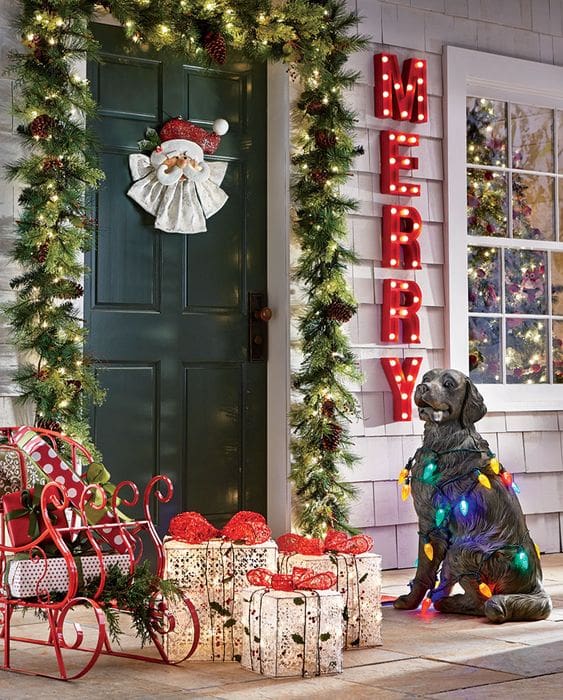 Giving guests a welcoming impression from the start will be a primary emphasis in outdoor Christmas décor. Bring the spirit of Christmas to your porch decorations with the ideal ivy, complete with gifts that can be placed wherever, and a lovely dog.
Simply spoken, yet charming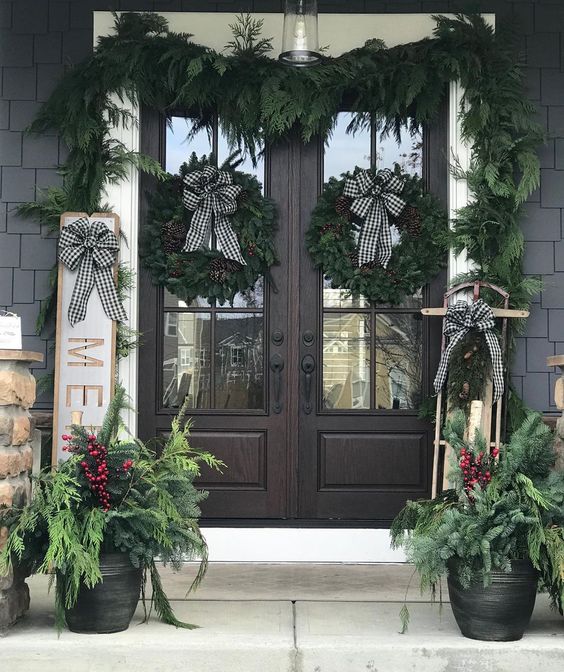 Simple, yet extremely natural and relaxing. The green tint of the trees always conveys vigor and optimism for the future. So why not use it to adorn the outside of your home for Christmas? There is no color, no glimmer of light, but it is still incredibly lovely and wonderful. When combined with the gorgeous bows, you have the ideal outdoor Christmas decor.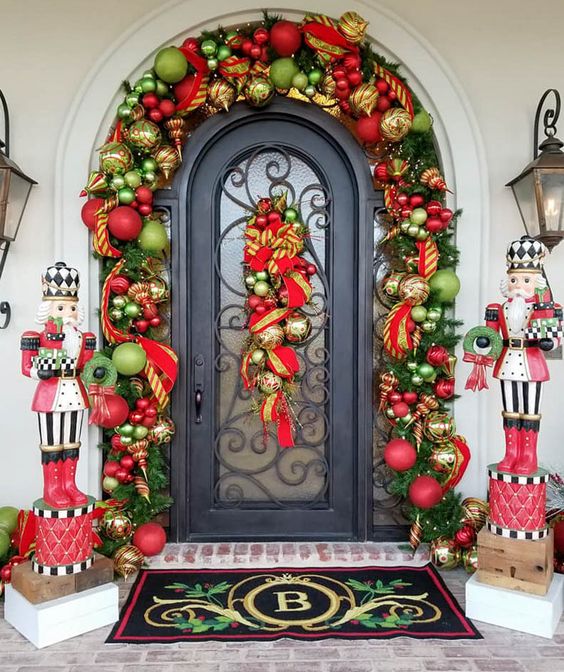 Consider this option if you want the space outside your home to be eye-catching and appealing even throughout the day. From the ball to the ribbon, the ideal blend of the key hues for the Christmas season: green, red, yellow… Everything appears to be a jumble, yet it does look oddly suited, doesn't it?
Fall outdoor Christmas decor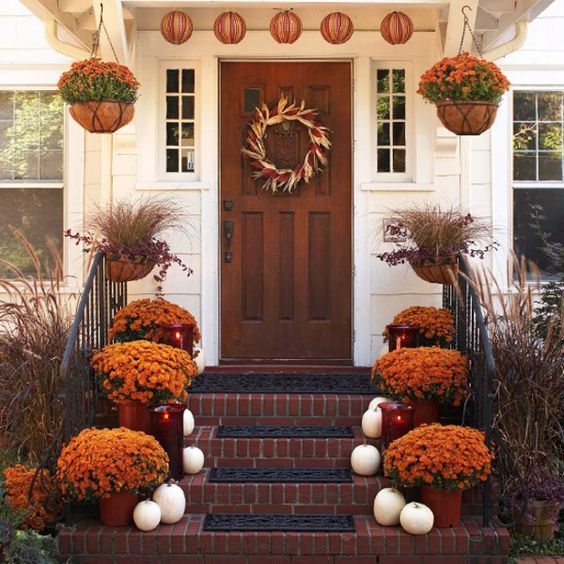 This design, I believe, will appeal to individuals who value warmth and peace. A home with autumn breath appeared amid the bone-chilling cold at the end of the year. From flower pots to laurel wreaths, the warm color, as if to remove all the cold, is ideal for the Christmas season. It may appear ridiculous, but it demonstrates a loving heart during the Christmas season of 2021. Isn't it a lovely outdoor Christmas decor idea?
More ideas for decorating your lovely home and inspiring your strength
10 Outdoor Christmas decor with lights 
A warm fireplace illuminates the room.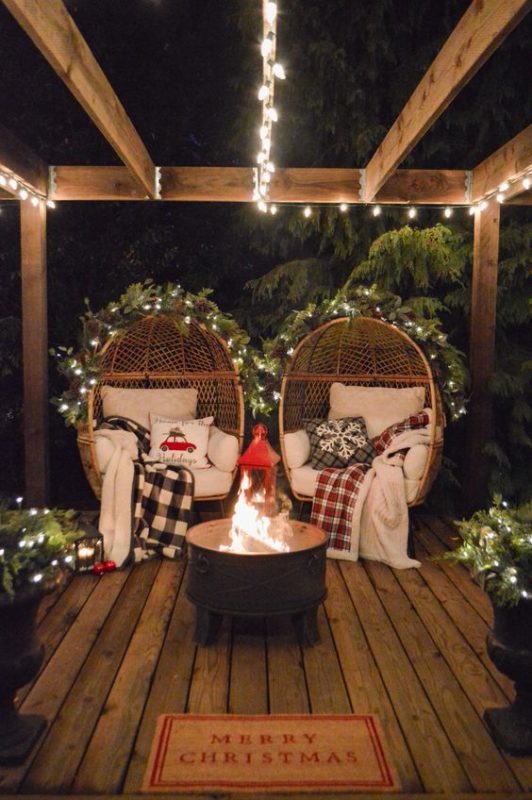 I love it, really love it. This, you see, must be an idea for decorating an outdoor Christmas decor with the most beautiful lights. A cozy and charming setting for Christmas Eve tales. What could be better than a glass of wine in hand, gathering around the fire and the laughing that lights up a little part of the courtyard on Christmas Eve?
Impression of a white lantern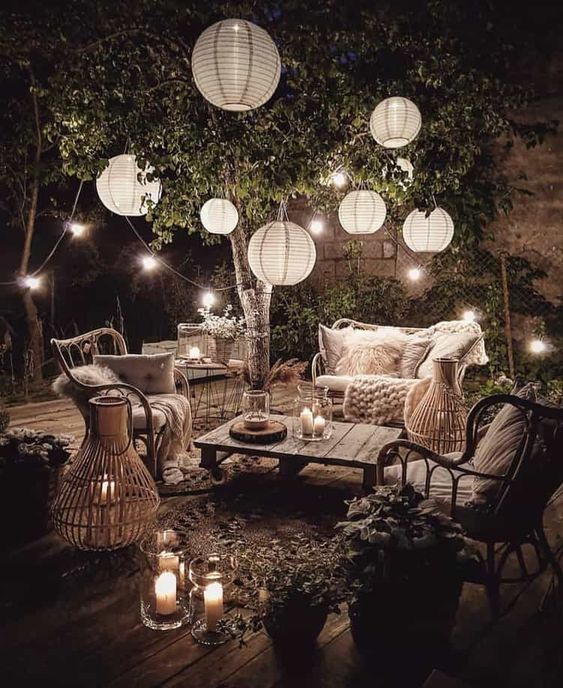 These lights take on a distinct hue when used to decorate for Christmas outside. It's no longer cozy; instead, it transports us to a more wonderful storybook realm. Do you recall the white queen from Alice in Wonderland? I'm confident that this concept will assist you in feeling as if you were living in that ideal beauty in real life.
Set of Snowflakes Lighting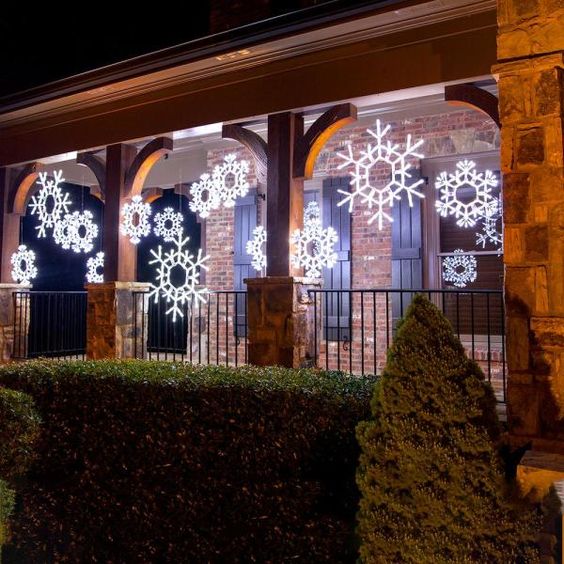 Snow blossoms are as lovely as an angel's smile as they fall from the sky. The snowflakes are intense as it flies a long distance to land. When it touches the ground, however, it rapidly melts. Snow flowers are lovely and make people happy when they see them. 
It's a funny idea to use pretty snowflake lights for outdoor Christmas decor. It not only illuminates a dark winter night, but also provides faith, joy, and hope for the future.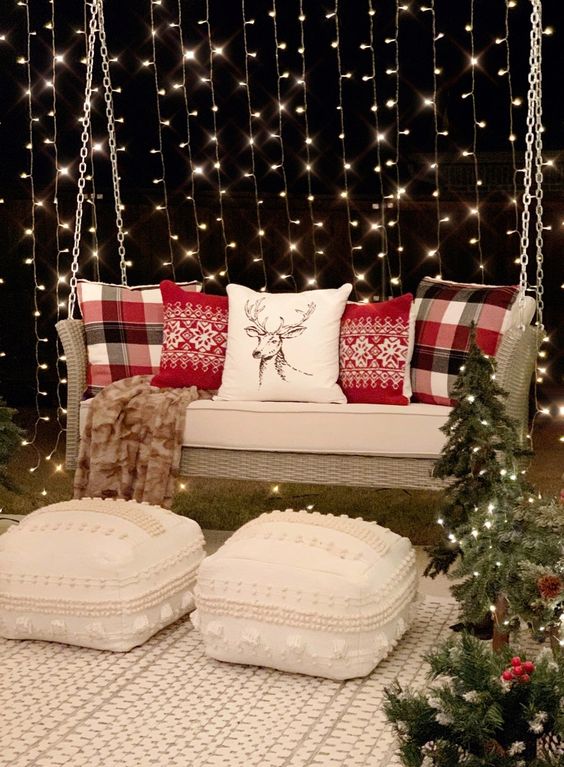 The ice-shaped lights are modest, but they make a charming outdoor Christmas decor. Make an additional swing by filling it with soft cushions with Christmas patterns. On a quiet Christmas Day, a lovely white carpet offers a gathering place for family and friends.
Christmas lights with stars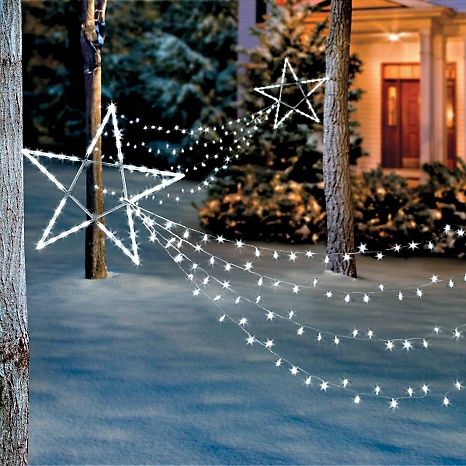 The Christmas star has a very special meaning. Believers believe that the star's brightness will dispel the gloom of the chilly winter night, ushering in a warm and joyful new spring for all species. Decorating for Christmas outside with shimmering star lights not only provides a wonderful beauty, but it also has a symbolic significance of God's promise from the previous years.
Pathway Lights Made of Candy Canes for Christmas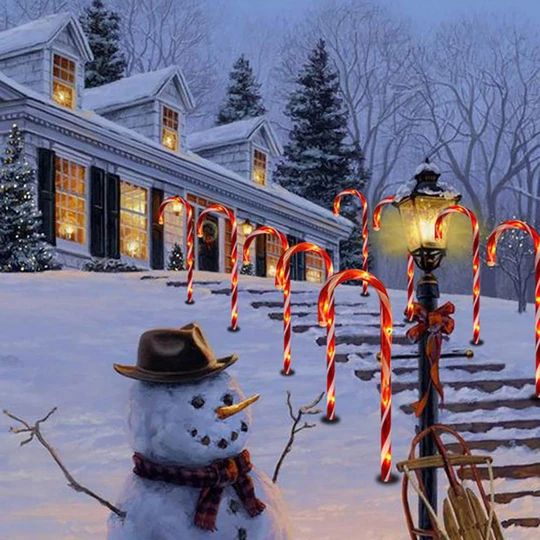 The candy stick represents Jesus' love and sacrifice. We all believe that candy is only for eating and enjoying, don't we? However, candy can also be utilized as an outdoor Christmas decor. Candy-shaped lights will illuminate your front door with the faith and light that Jesus brought to the world.
Firework Outdoor Christmas lights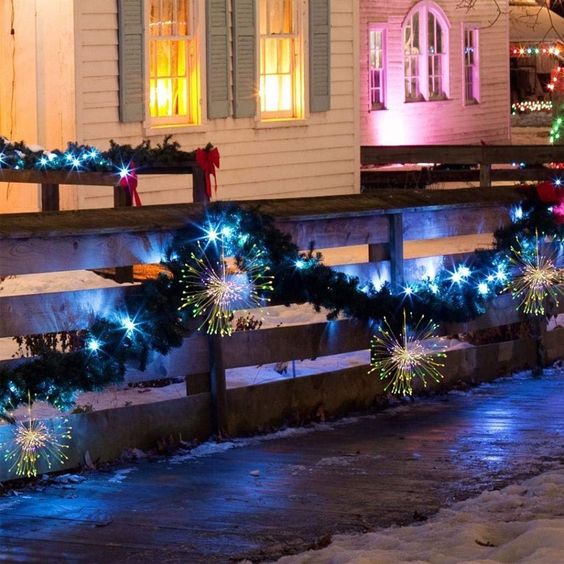 Christmas is more than just a date that marks the conclusion of an old year. It is also the beginning of a fresh chapter, a cheerful new year. These firework lights represent a bright, fortunate, and joyful start to the new year.
Pre-Lit 4-foot Christmas Lamp Post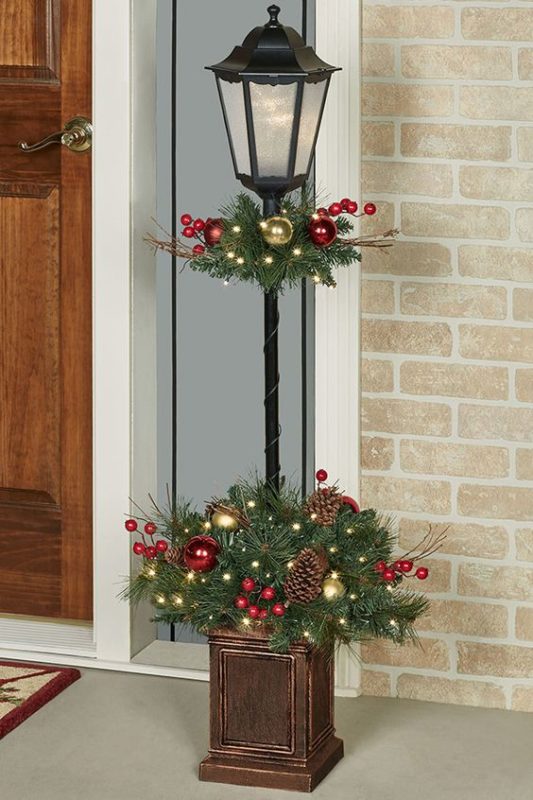 The 4-foot Pre-Lit Christmas Lamp Post appears simple but opulent and lovely. You may use it without needing to buy anything else for the fee. Simply adorning it with ivy leaves, colorful balls, or a few little pines is enough to give it a Christmas feel. Isn't it an outdoor Christmas decor idea with the most basic lights?
String Lights with Christmas Bells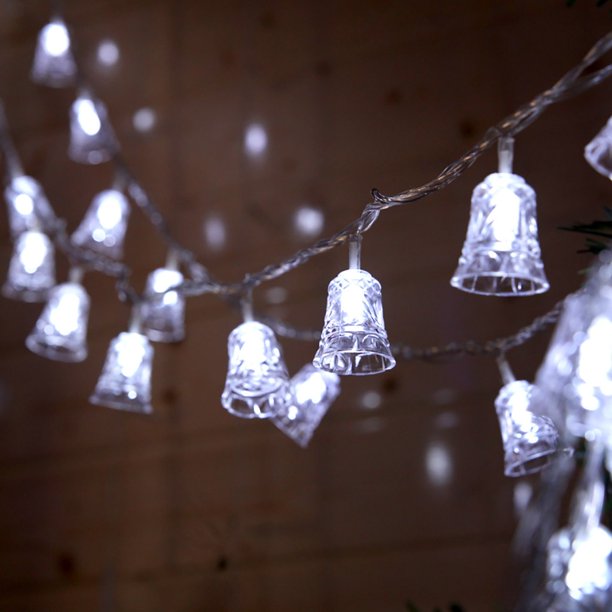 Have you heard the church bells ring? The ringing of the bell also represents the direction and reminds us that we are all valued in God's eyes. The gleaming silver bell lights will enliven the space outside your home.
Outdoor String Lights Christmas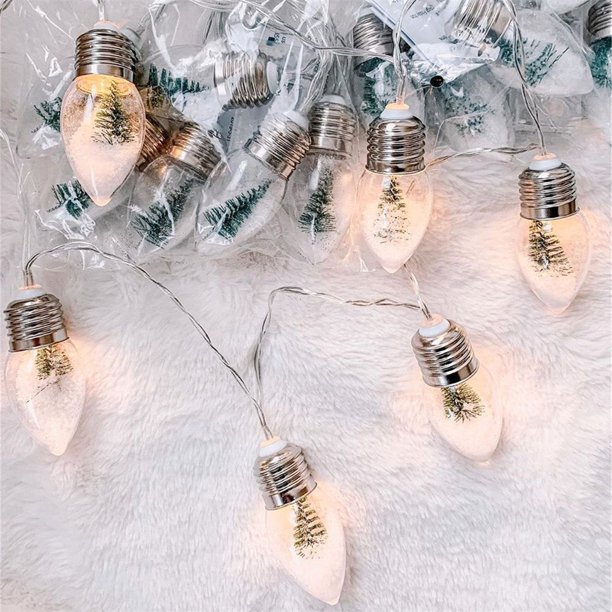 Surely these Christmas lights are one of the most beautiful. Use it to decorate your home's outdoor Christmas look more fairytale and vintage. The Christmas space with white snow and Christmas trees seems to be shrunk in just a pretty lamp. It's a great decoration for Christmas Day.
More lovely Christmas ideas for you and your family at
-> 21+ Awesome Christmas Gift Idea For Your Loved Ones
8 Large Nutcracker Outdoor For Decorating Christmas 
Giant Christmas Inflatables Nutcrackers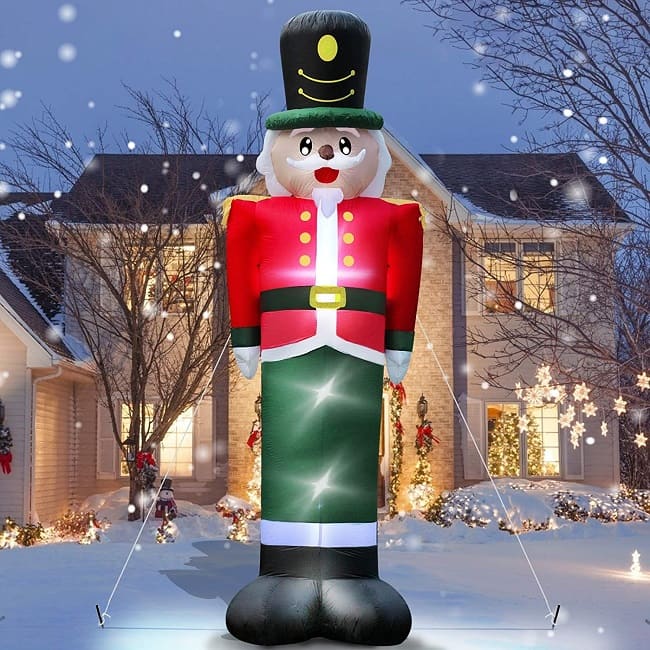 The thicker waterproof nylon used in the construction of the outdoor yard Christmas decorations is environmentally friendly. This nutcracker soldier is a work of art. Can be utilized to decorate an outside yard, garden, or lawn, as well as a party! The bottom pocket is intended to hold a substantial item.
Christmas Inflatable Nutcracker Soldier
The illuminated Christmas soldier creates an eye-catching outdoor lawn ornament for your family, visitors and is an excellent choice for festively adorning homes, workplaces, yards… At night, this beautiful inflatable decoration with LED lights will illuminate your yard and dazzle your guests.
Christmas Bowler Soldier Nutcracker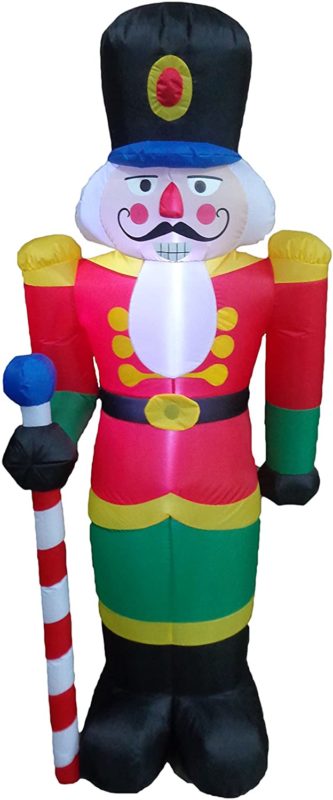 This inflatable Christmas decoration is illuminated on the inside. When you return home, you might notice a charming Bowler Soldier smiling and paying honor to you. The inflatable yard ornament is ideal for outdoor Christmas decor, allowing you to have a fantastic Christmas party. 
Wooden Nutcracker Soldier 

Hand-painted, consistent color, vibrant, and long-lasting. The full image of the nutcracker soldier is lovely and inventive. The classic nutcracker doll is used as home décor, collectibles, and Christmas decorations, as well as party favors, contributing significantly to the ambiance during Christmas and theme parties.
Nutcracker Ballet Trumpeting
When you and your visitors snap a photo selfie with enormous Christmas outdoor decor sculptures, these Christmas soldiers will declare that it is Holiday Time. This outdoor holiday nutcracker statue is ideal for holiday homes, outdoor Christmas decorations, or store displays of Christmas decor.
Giant Inflatable Nutcracker
The Nutcracker is dressed in typical nutcracker garb and carries a candy cane scepter. This Holiday Greeting is visible throughout the day and night thanks to the LED lights.
Exhart Nutcracker King Soldier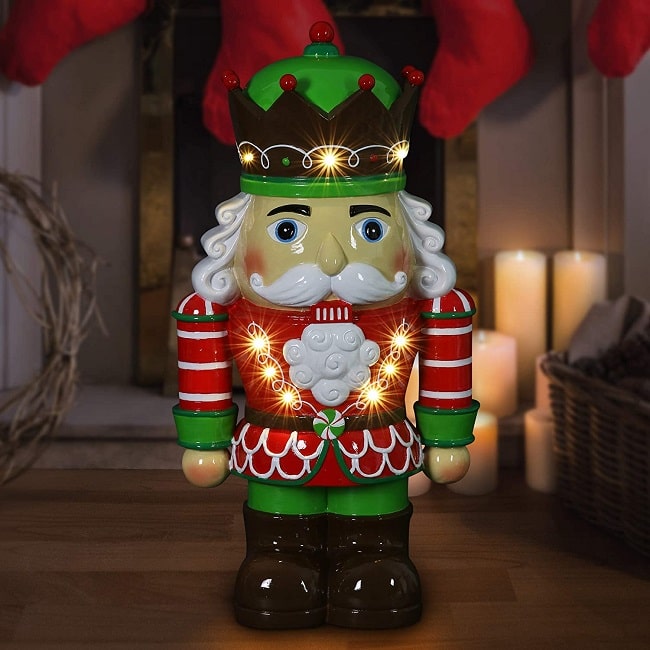 This outdoor Christmas decor nutcracker is a great addition to any holiday décor! This LED décor nutcracker figurine is hand-painted and manufactured of weather-resistant resin. This nutcracker Christmas decoration may be used inside or outdoors at any time of year.
Nutcracker Christmas Soldier

This illuminated ornament is a lovely way to infuse your outdoor Christmas décor with a bit of seasonal whimsy! That is correct! This nutcracker statue is one of the most thoughtful presents you can give a loved one, and it is certain to put your family or friends in the holiday spirit.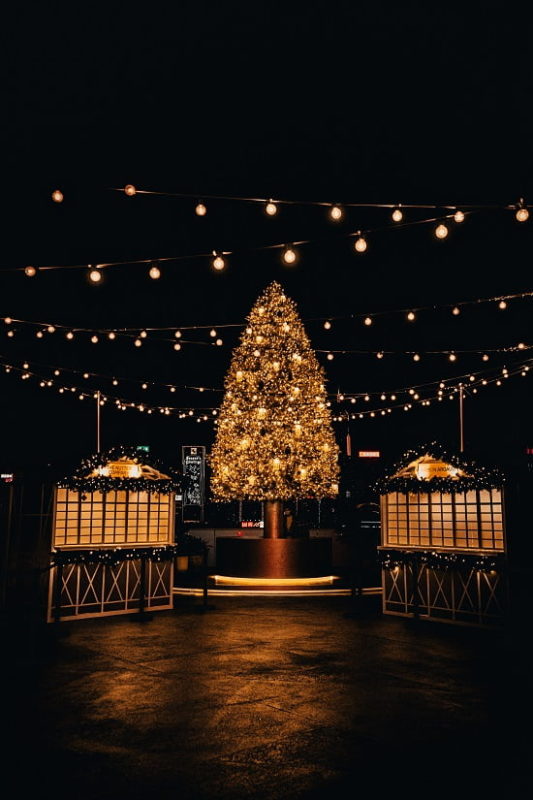 Do you like the above outdoor Christmas decor ideas? I am sure that we shall be welcomed to a tranquil Christmas season in a short time. I know the blood in you and me is churning with excitement and expectation for the most spectacular and momentous holiday season of the year. We have very limited time to prepare, so pick and study the style of outdoor Christmas decor for your home as soon as possible. 
Merry Christmas to you and your family.