Meaningful sentences will help evoke your wonderful feelings and your understanding of what you have been through. "Just Breathe" or "Just Breathe You'll Never Live This Moment Again" are messages that will help motivate you in life. It is wonderful to be able to keep this quote in your lovely home. Along with OhCanvas, check out 20+ excellent Just Breathe wall art that brings colors to your home.
1. Why Does Just Breathe Wall Art So Hot? – Just Breathe Quote Meaning
"Yes I understand
That every life must end
As we sit alone
I know someday we must go
Oh, I'm a lucky man
To count on both hands
The ones I love
Some folks just have one
Yeah, others they got none
Stay with me
Let's just breathe
Practiced on our sins
Never gonna let me win
Under everything
Just another human being
Yeah, I don't want to hurt
There's so much in this world
To make me bleed
Stay with me
You're all I see
Did I say that I need you?
Did I say that I want you?
Oh, if I didn't, I'm a fool you see
No one knows this more than me
As I come clean
I wonder every day
As I look upon your face
Everything you gave
And nothing you would take
Nothing you would take
Everything you gave
Did I say that I need you?
Oh, did I say that I want you?
Oh, if I didn't, I'm a fool you see
No one knows this more than me
As I come clean
Nothing you would take
Everything you gave
Hold me 'til I die
Meet you on the other side"
– Just Breathe's song lyric –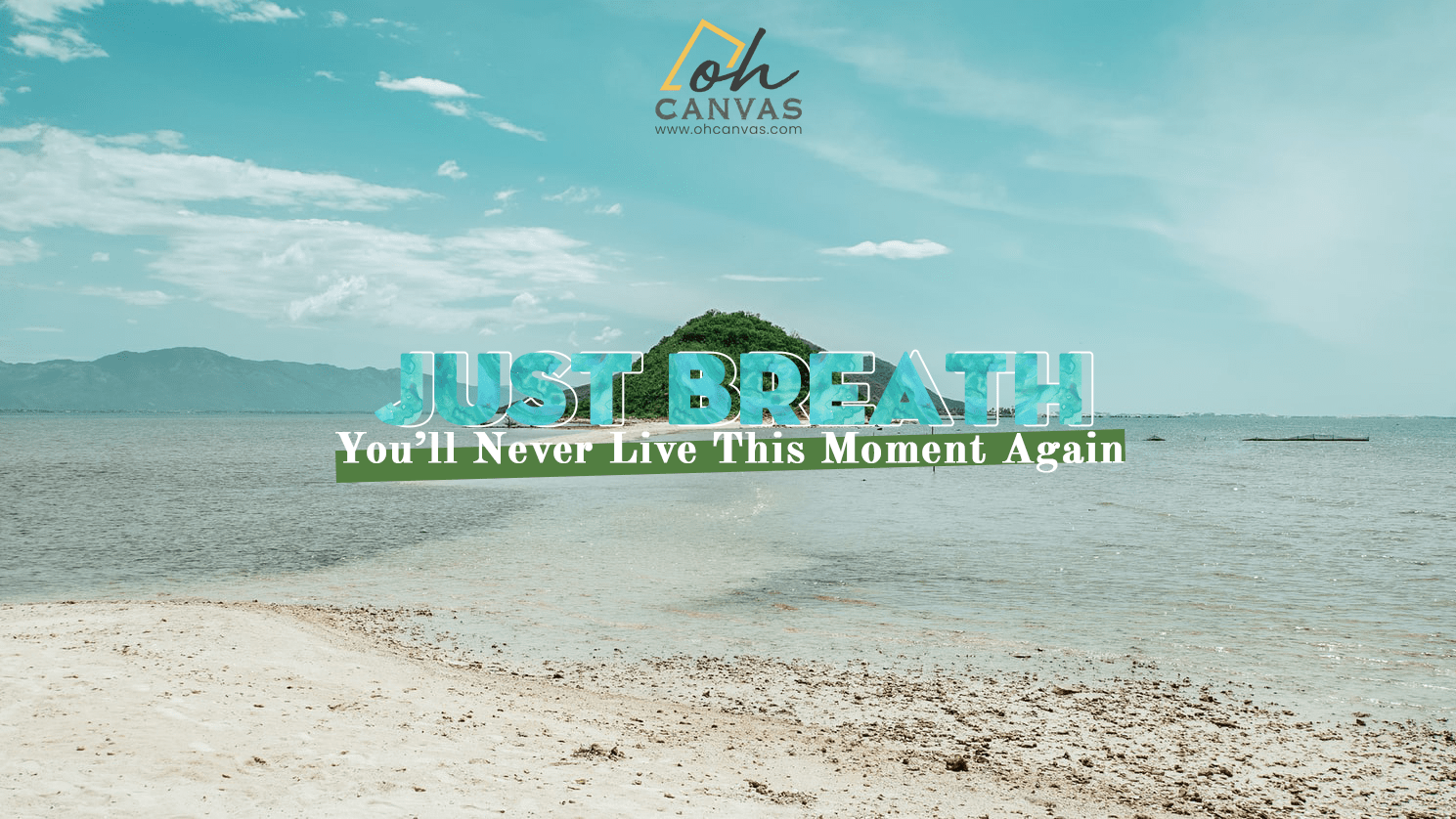 It is undeniable the positivity that quotes bring to life. "Just Breathe .." is the same. This statement is the same way that today's young people often aim to live a real life. Every day, everyone is affected by the hustle and bustle of life, the negative effects from some things around lead to a very boring and tasteless life. This makes some people in the modern wave feel the pressure being suppressed, causing many illnesses not only physically but also mentally.
Pearl Jam's song "Just Breathe" is a captivating indie-rock anthem from the early 2000s. For their ninth studio album, Backspacer, the band released "Just Breathe" on October 31, 2009. Hence, this quote had been trending for these years. 
The most interesting reason is that Just Breathe has come back and become one of the most loved quotes in recent times. Because through the simple words, this quote brings emotions and empathy from everyone. In the simple way to explain "Just Breathe", means to stop and enjoy each other's company. Breathe and feel each other's presence without talking during this time. Whenever things seem out of control, this is a reminder to calm down and take a deep breath.
You can take a break from your work for a time. Just take a deep breath. Regain your sense of serenity and normalcy in your life. Maintain a healthy balance in your life by anticipating exciting things to come. There are a plethora of fascinating stories just waiting to be discovered by you. So, take a deep breath and remember that you will never experience this moment again! It's time to find some great Just Breathe wall art!
>>> Recommend reading: All Of Me By John Legend – The Cult Of Romantic Relationship 
2. 20+ Just Breathe Wall Art & Ideas – Lovely Canvas For Your House!
One of the most essential rules of interior design is that every area should have some kind of the focal point. Wall art is the simplest and most effective method of accomplishing this goal. It serves as both a focal point and a conversation starter in the room. Just Breathe wall art is a perfect element that you should not ignore. If you are finding a motivating item to place in your house, take a look at this blog! 
2.1. Just Breathe Wall Art – Best Decorating Ideas For Your Cozy House
2.1.1 Just Breathe Wall Art – Easily Hang On Wall
Together with the mind-blowing motivation from this quote, you can hang canvas prints anywhere in your cozy home. Hanging it in the living room, bedroom, dining room or kitchen area is possible. Your home will look brighter and more eye-catching for sure with this inspiring artwork.
Furthermore, you can use canvas print inserted quotes to decorate your house according to the style you are aiming for. It would be a farmhouse style, vintage style, or hundreds of other styles. The wall of your home will be less empty when filled with colorful Just Breathe canvas prints.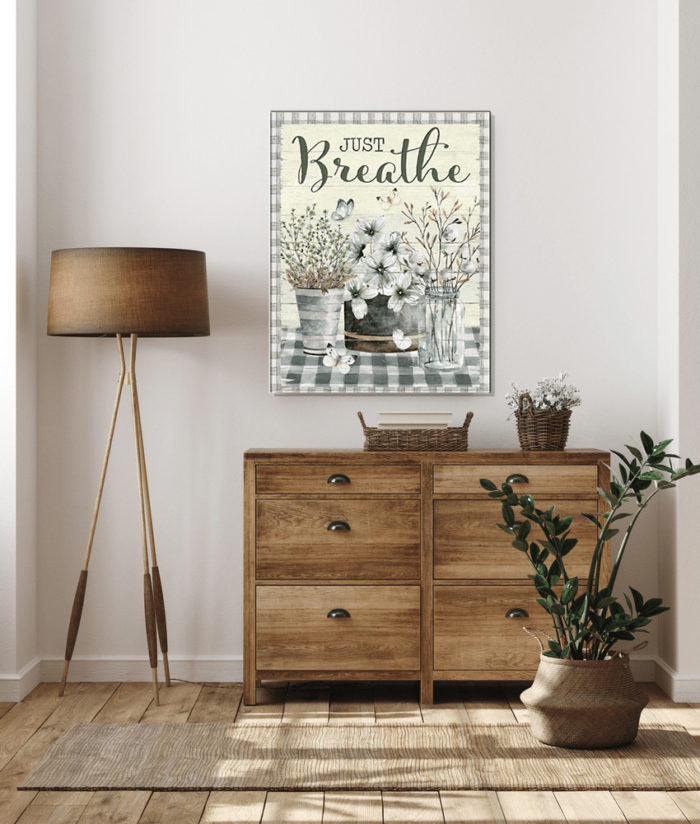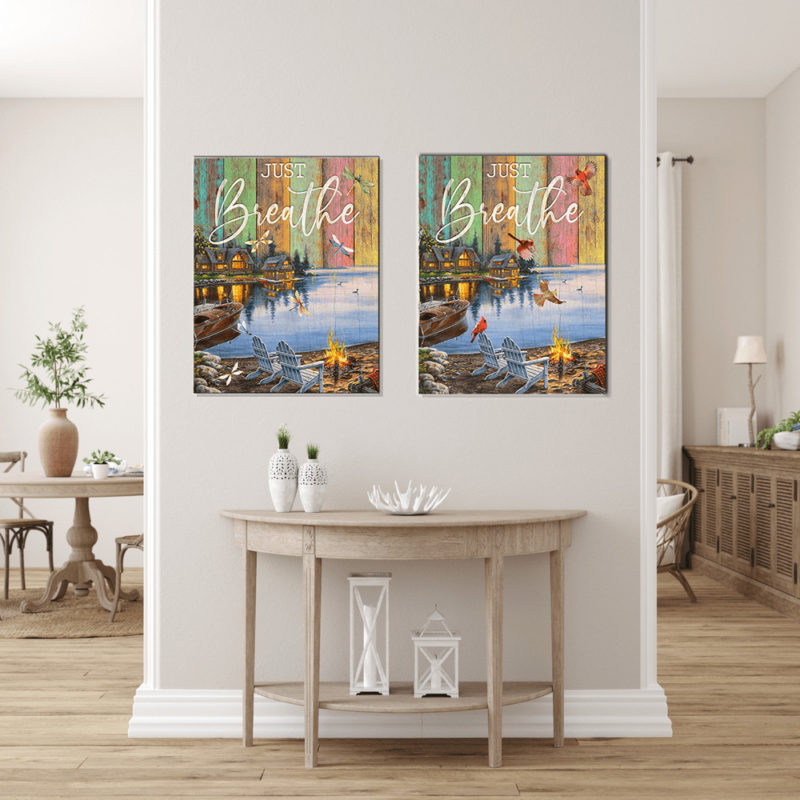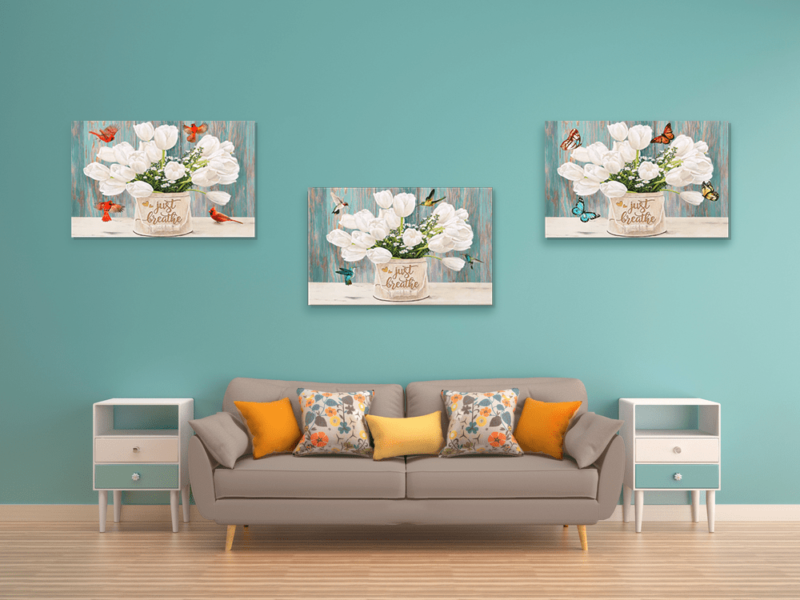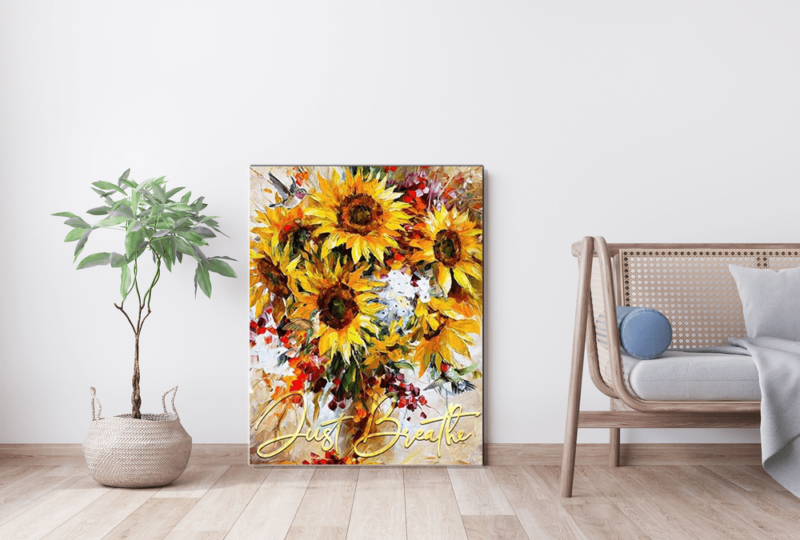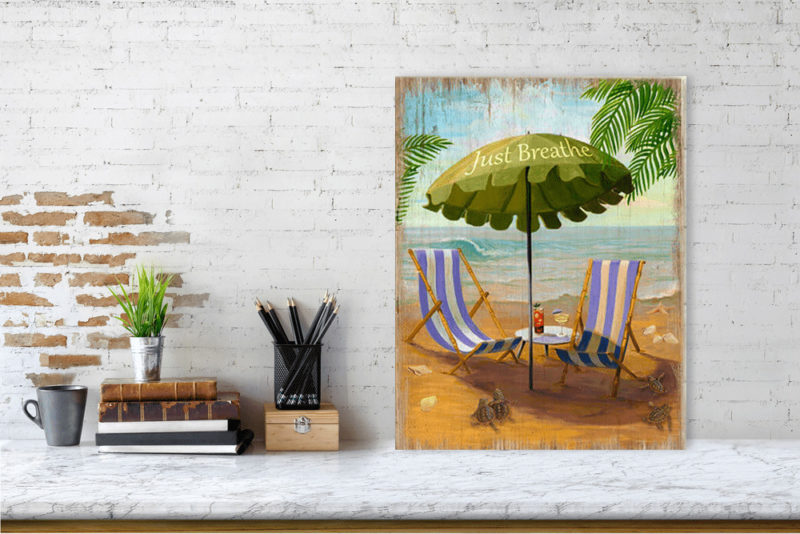 It is not true to say that life is always joyful. There is a time that we are driven to the edge and out of our control. There are many unpredictable things that are not easy to be accepted. That's life. In this situation, the best thing that we need is having an encouragement. As a result, having a motivating artwork like this Just Breathe wall art is ideal to make yourself think positively.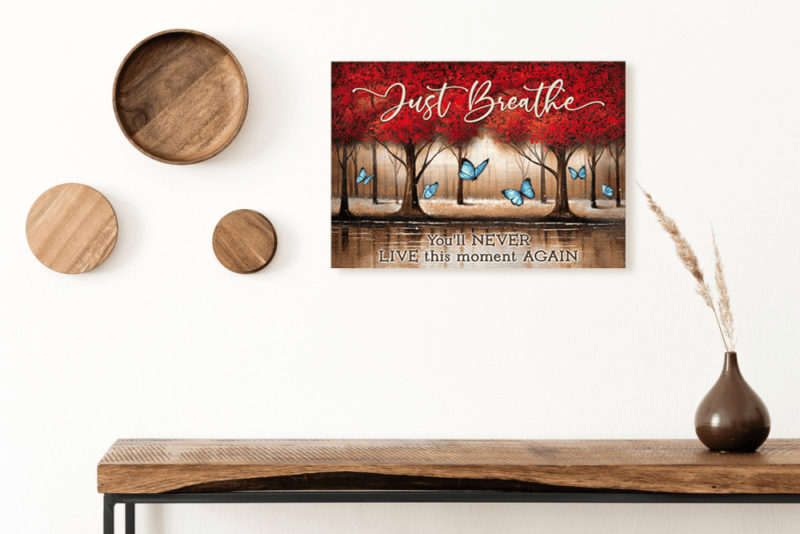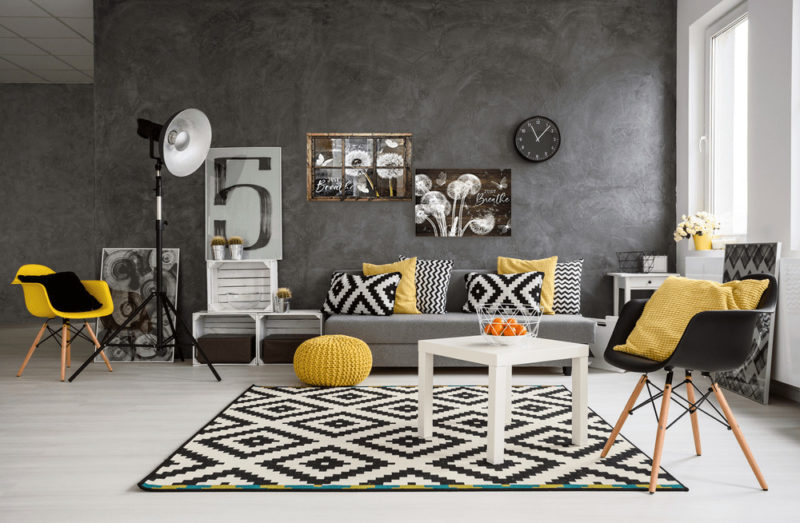 Imagine that after a long day working hard with the hustle of the world, you may feel yourself is under the pressure. However, coming home in a tired mood is not a good thing. You may wipe out all of the worries and lay on the comfy sofa, thinking about something motivating to fresh your mind. Therefore, a Just Breathe canvas that goes together with the neutral tone will not only soothe your eyes but also remind you to be happier and more optimistic. That's why your living should have this item to place on the wall!
2.1.2. Just Breathe canvas wall art for living room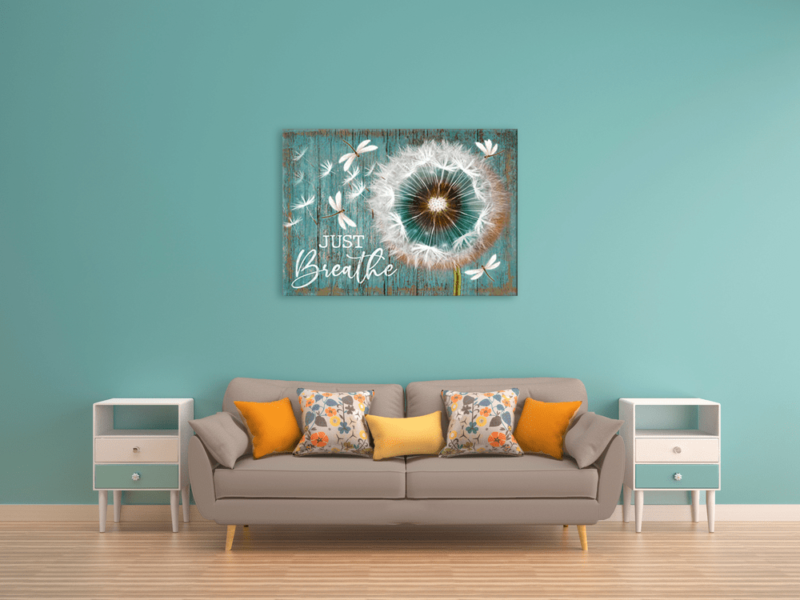 Hanging a picture on a wall may provide a sense of satisfaction to many individuals. Many art connoisseurs have turned to collect into a rewarding addiction. It's possible that every time you look at a wonderful artwork in your house, you'll be filled with sentiments of pleasure, contentment, and nostalgia.
Artwork is always the focal point in your living room. There are many ways art may impart information, impact our daily lives, make a social statement, and be beloved for its beauty. Sayings if used for decoration in the living room the overview looks great! Make sure to both help make your living room polite while creating a more friendly feeling. You can also check out some cow canvas print products if you are interested.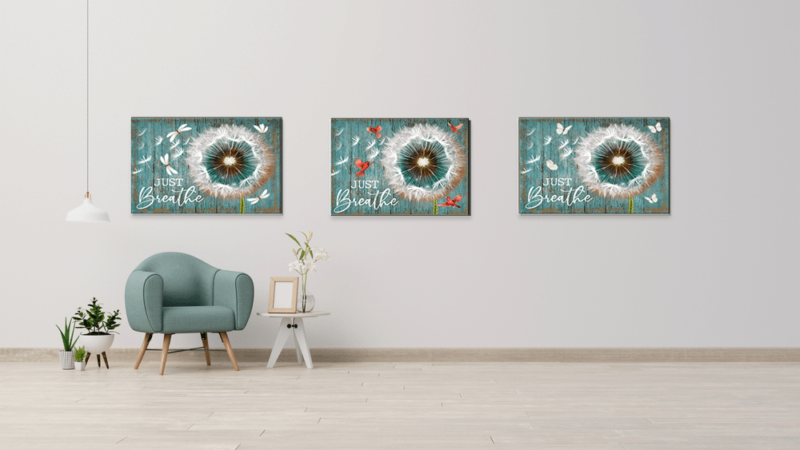 2.2. Just Breathe Ideas May Be You Admire
2.2.1 Mugs – Why don't you try these Just Breathe ideas?
When you start the day with a solid cup of coffee, you're setting yourself up for a good day. Drinking your favorite beverage from a lovely & respectable Just Breathe mug usually adds to the fun of having a fantastic preferred drinking experience. Furthermore, your custom mug gifts may be utilized in a variety of ways such as work, travel, outdoor…, and you may select the appropriate cup based on where the mug will be used.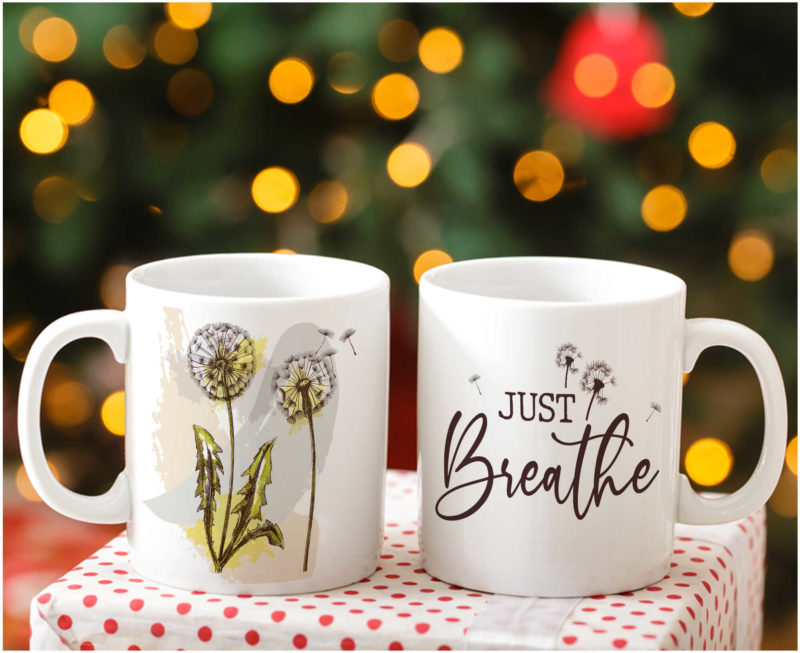 2.2.2. Do not forget, let's plan!

–

Just Breathe Notebook
Life is a series of planned days. Therefore, a notebook is an indispensable part of almost everyone's life. Use this notebook to plan for the next several days, weeks, months, and even years. You can also use it to jot down all the things you need to remember on a daily basis. You may use this notebook as a diary, which is a novel idea. It's a good idea to keep a journal of your experiences. Simply "breathe" when you're in the midst of bad emotions.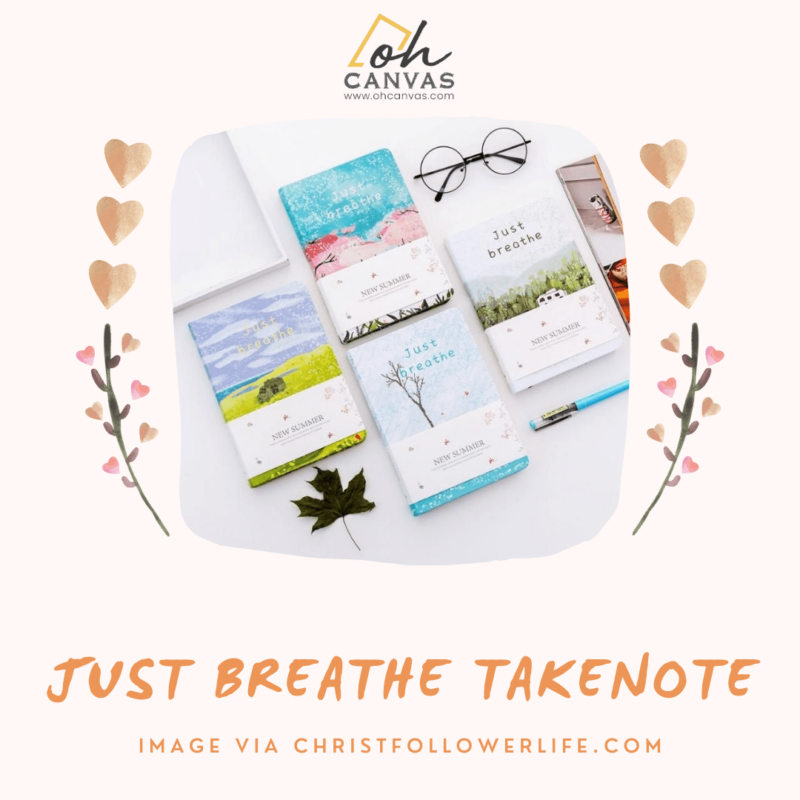 2.2.3. Just Breathe art ideas to show your personality
T-shirts are also excellent Just Breathe art ideas for you to spread the message and express your own thoughts on the subject. To the rest of the world, it represents your opinions, tastes, and personality. They have the power to entice or deter. The T-shirt communicates an unspoken message to others.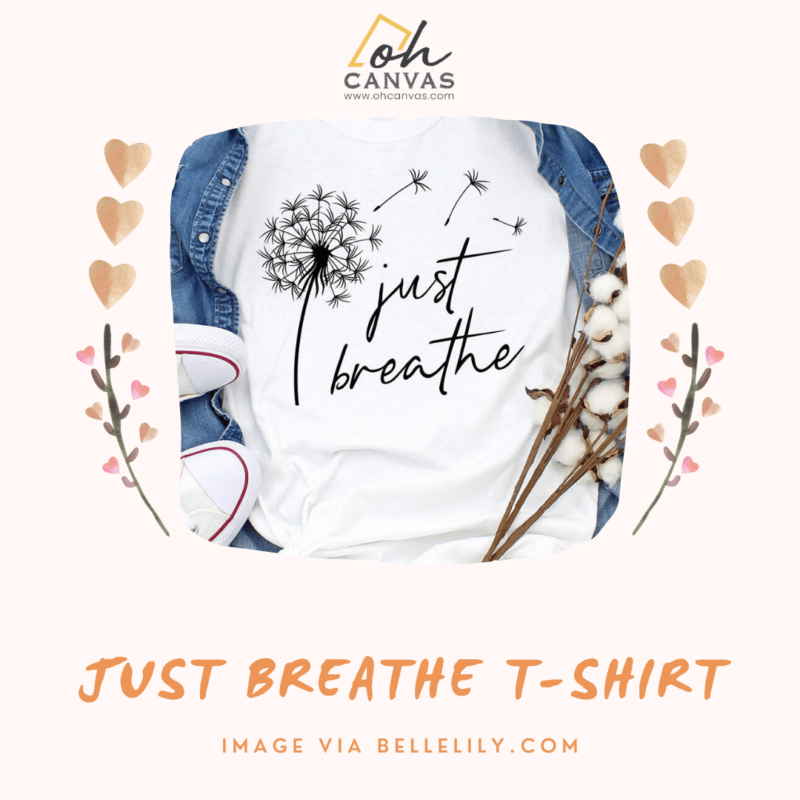 2.2.4. Little things from Just Breathe Sticker
If you're searching for something more particular, I recommend taking a look at some of the "Just Breathe" stickers that can be found by doing a quick Google search. Regardless of where you decide to place them, these stickers will look great on just about anything. You can stick these stickers anywhere you want: laptop, phone, notebook, water bottle, etc "Just Breathe" stickers will help you get through tough times.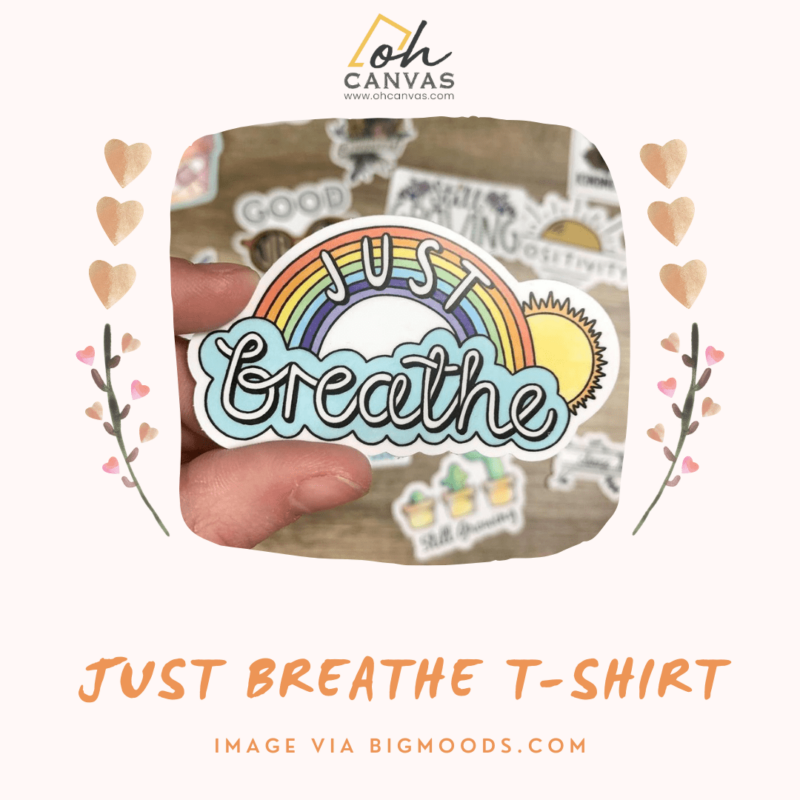 3. Just breath canvas in the OhCanvas store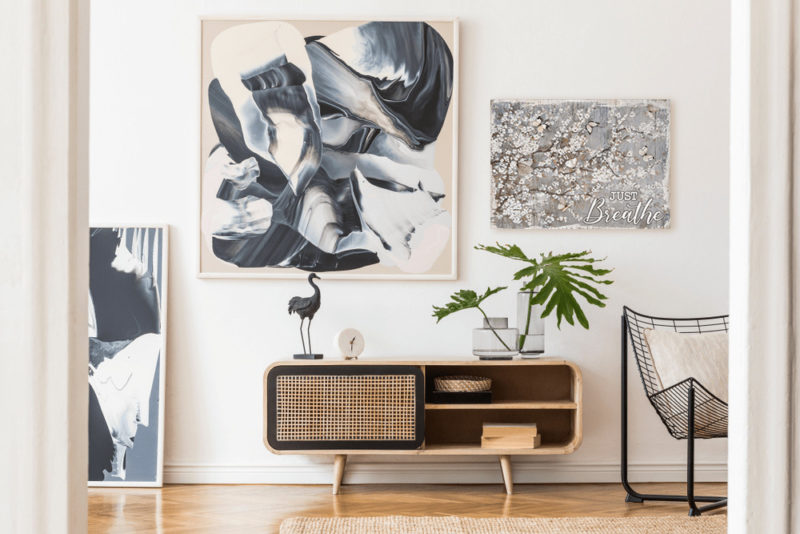 Together with the trending of these beautiful words, Just Breathe artwork is created in our canvas painting store. They are available in a variety of colors and sizes suitable for each individual customer's choice. Each color will have a characteristic as well as create an accent for each different house feature.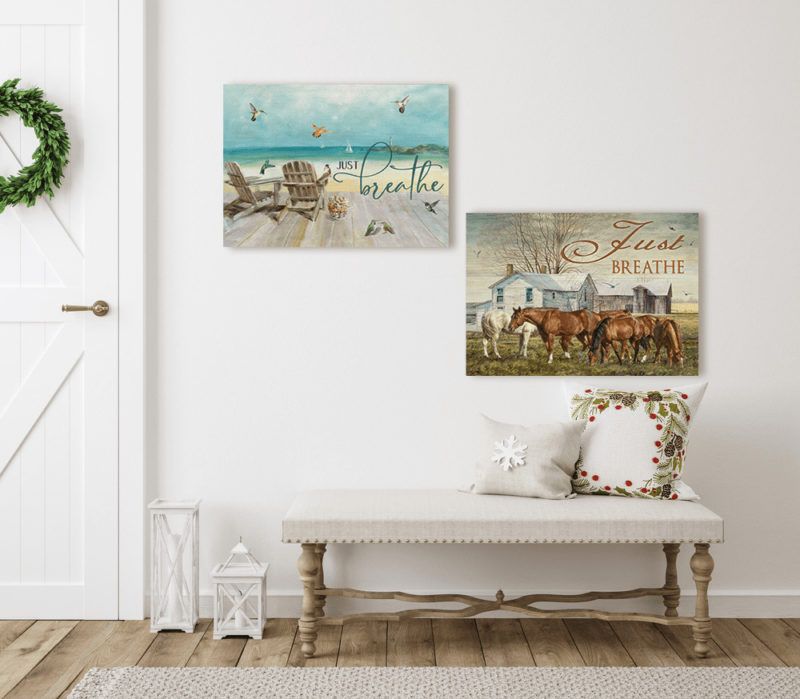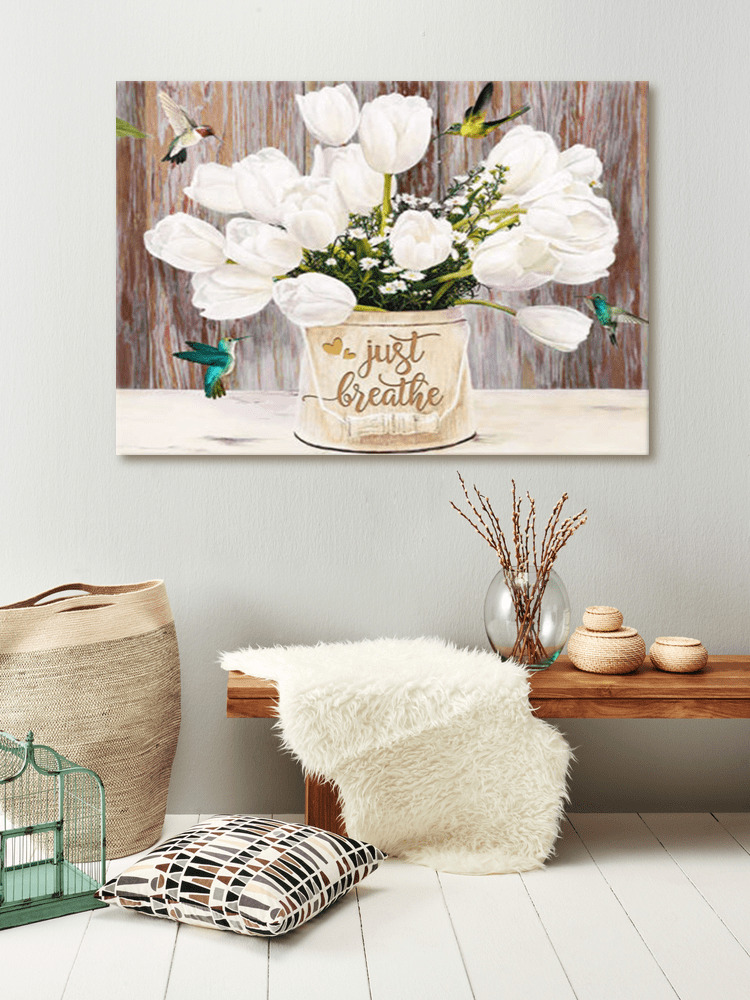 As it is one of the best-selling items in the canvas paintings market, it is so ideal to send someone as a present. Spreading mindful thoughts to others kindly with a home decor item is never a bad choice. We are all touchy with just small care from the ones we love. Thus, let's grab this chance to express our love for someone important to you. He/ She will love a kind gift like this Just Breathe canvas without a doubt.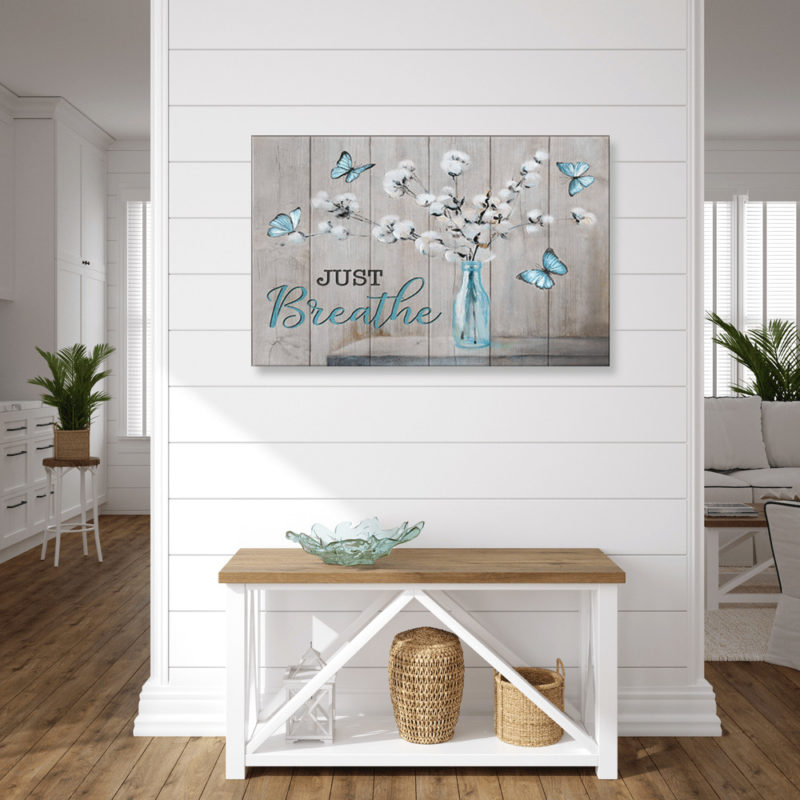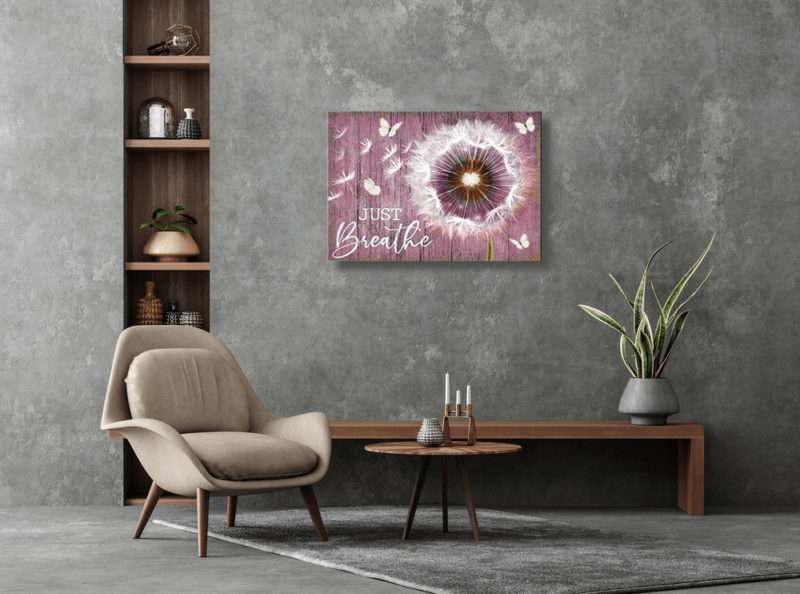 Animals also have feelings. Thus, Just Breathe canvas is not only used for people, but also for your pets and animals. From the first day when you meet together, your love is never faded over the year. As a result, you can consider it as a gift for your pet on the upcoming national pet day. Celebrate your best friend ever on this day with a significant gift to remark your close connection. 
Read more:
Above are the 20+ ideas about Just Breathe wall art that you can consider to decorate your house attractively. Do not pass up on any opportunity to cheer up your house with inspiring artwork like this! If you are interested in any product at our OhCanvas store, add it to your cart now!