If you're trying to come up with 24th anniversary gift ideas for him or her, this list should come in handy. Your spouse or another couple who has been together for that long would appreciate receiving a meaningful gift from you after 24 years of marriage. If you have any questions regarding what to get your loved ones, check out this Oh Canvas blog.
What is 24th Anniversary Gift?
24th Anniversary Gift Traditional
Traditionally, opals are given as 24th year anniversary gift ideas. The 24 years of marriage are a likeness of that. Love, support, and optimism are all qualities that opal may evoke in the wearer. For those who hold it, it may bring joy and good fortune into their lives. It's the perfect present.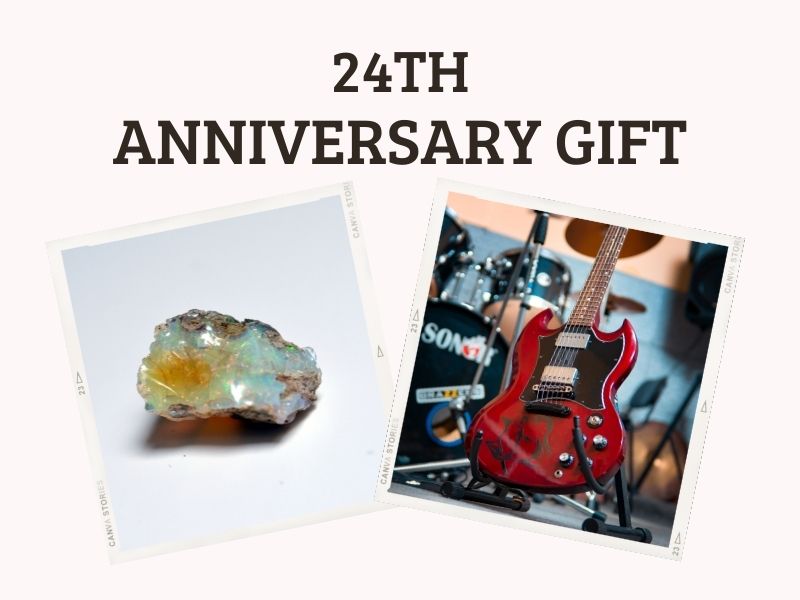 24th Anniversary Gift Modern
A 24th anniversary contemporary gift is a musical instrument, such as a guitar or piano. If the recipient is also a musician, this is the ideal gift for them. For those who don't use them, they're just as effective. You may choose from a variety of thoughtful and creative music presents. If you're looking for a unique gift idea, music-themed items are perfect.
What is the Gift for 24th Anniversary?
24th Anniversary Gift for Her
On your 24th anniversary, you may want to give her a present that is meaningful, a souvenir, or something that can be personalized. Regardless of the type of gift you're looking to give, any of these choices are perfect, and they come in a range of prices to suit your budget. Choose from the following selection of anniversary gifts for her.
1. Opal Stud Earrings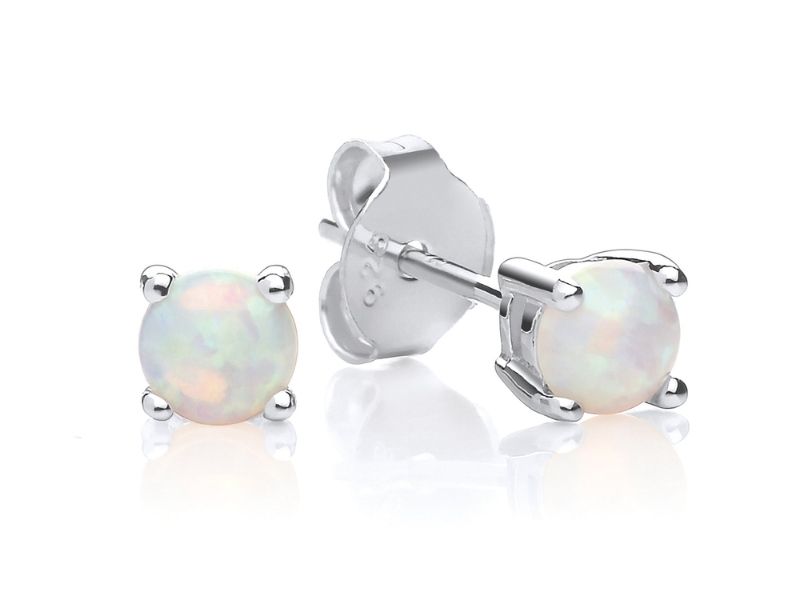 The nicest 24th wedding anniversary gift ideas are often found in the tiniest of packages. In keeping with tradition, these dangling opal studs have just the perfect amount of glitz to go with just about every ensemble. These 14K gold-plated earrings will bring a dash of sparkle to your loved one's day.
2. Wood Musical Rolling Pin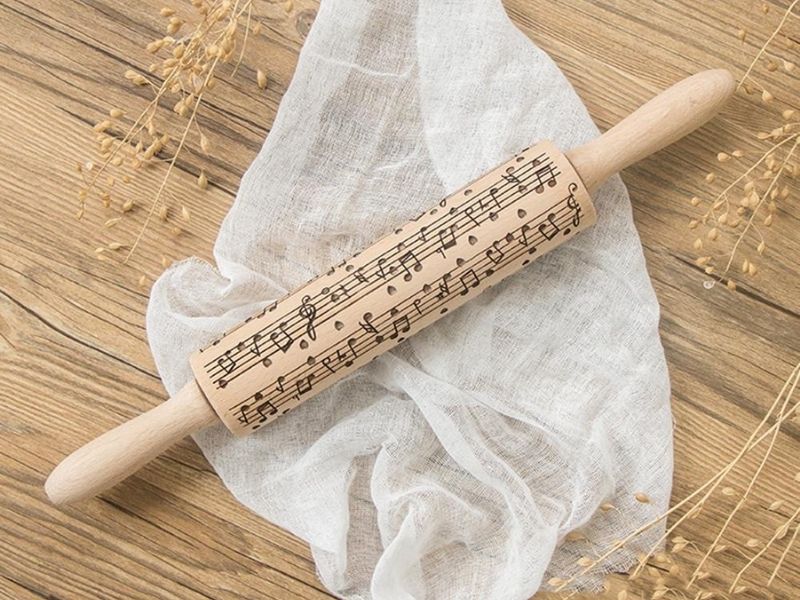 You can jazz up your kitchen with this handcrafted rolling pin. If your sweetheart is a fan of baking, she'll appreciate this thoughtful 24th anniversary gift for her. It can be used to emboss anything from pie crust to cookies and danishes, and it's decorated with musical symbols and notes.
3. Personalized Lyrics On Canvas Print Oh Canvas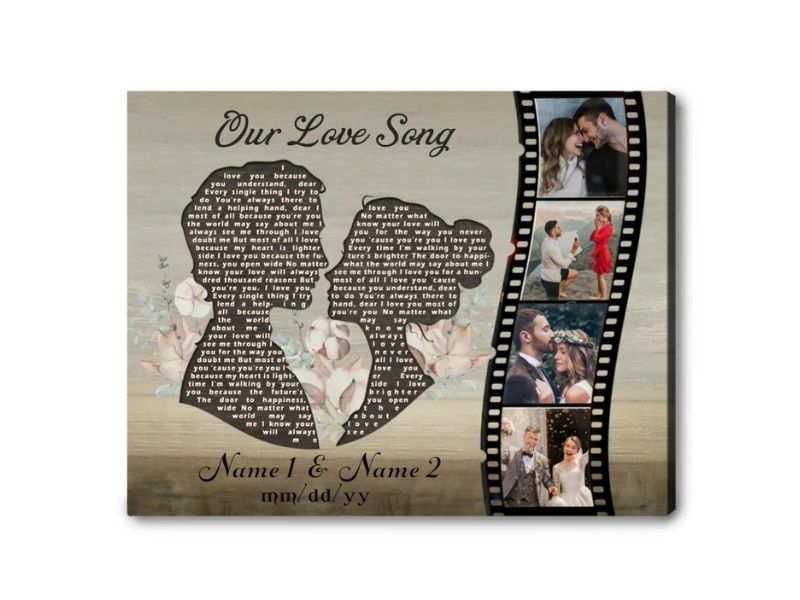 You may mark your anniversary with the Oh Canvas Personalized Lyrics On Canvas Print Unique Anniversary Gifts For Couple. This lovely piece is the one thing missing from the home of a kind couple. Every day will be filled with at least one passionate dance when you have this gift.
For 24th anniversary gift ideas, you won't find anything like this anyplace else. It is possible to order a picture gift that is both attractive and useful, such as this. By adding four images, the lyrics of any song, the day of their nuptials, and their names, it can be made absolutely unique.
4. Gold White Opal Necklace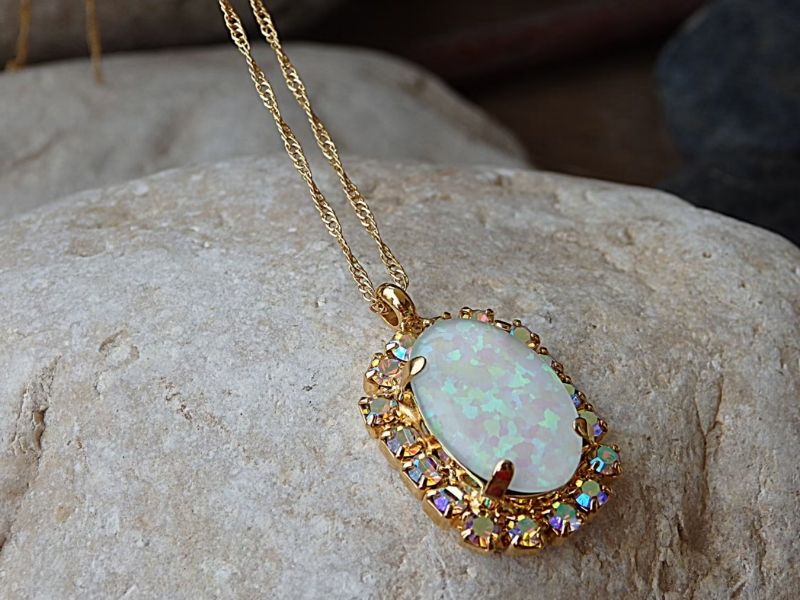 You can never go wrong with a piece of jewelry as an anniversary present. In keeping with the 24th anniversary motif, this gorgeous opal necklace is absolutely eye-catching. This 14-karat gold necklace will be worn time and time again by your lover.
5. I Love You to the Moon and Back Opal Necklace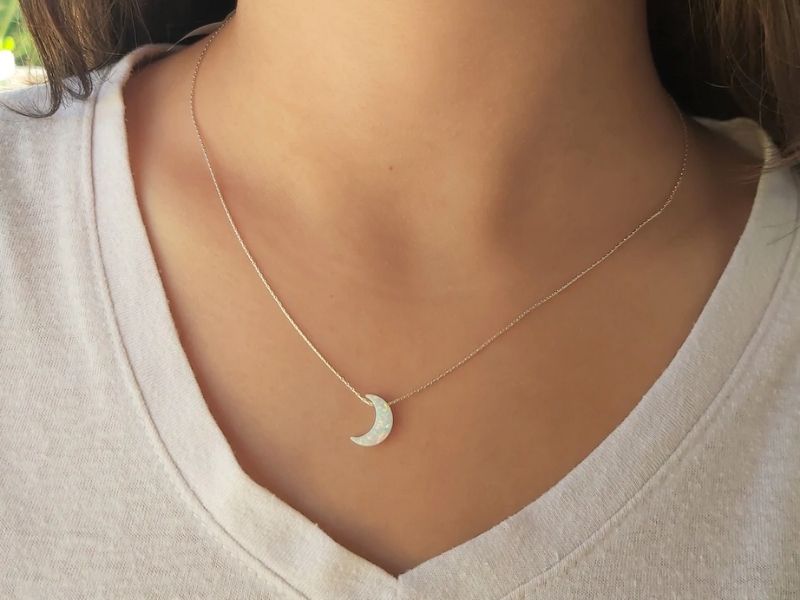 Isn't this opal moon necklace just too cute to wear? To us, it's the perfect 24 year anniversary gift for wife!
6. Gold and Opal Hoop Earrings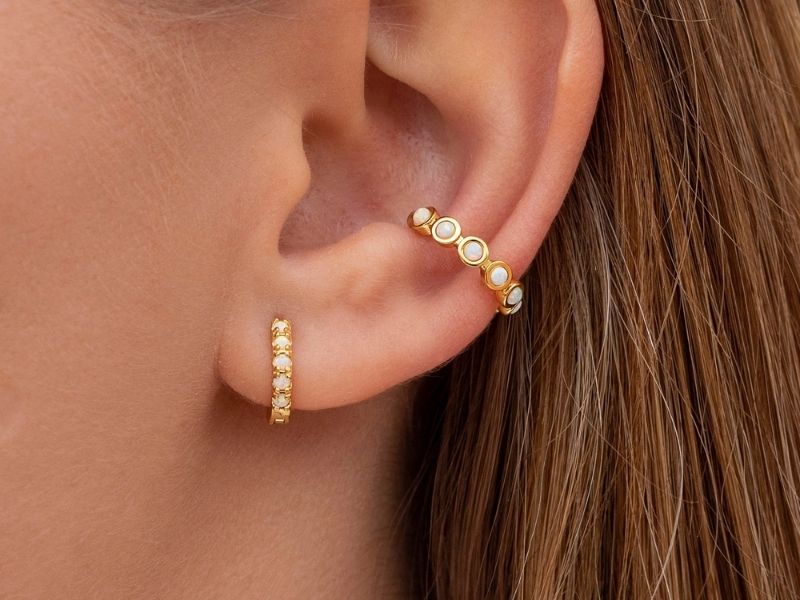 An easy choice for the best anniversary present, these gold and opal earrings are delicate and unique at the same time.
7. Pink Opal and Diamond Ring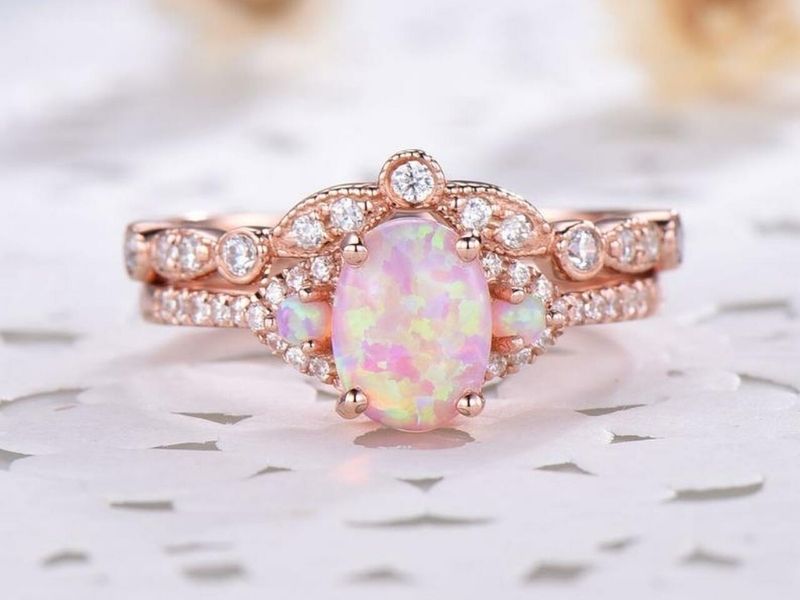 Even if it's expensive, can you believe how stunning it is? We adore this rose gold ring with pink opals and a diamond in the middle, and we know your significant other will, too.
8. Japanese Opal Gold Twist Ring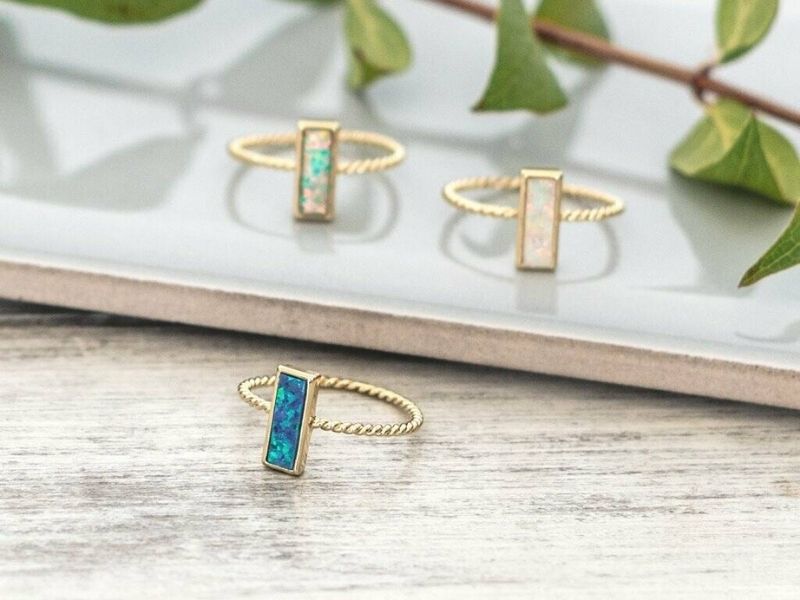 You may not realize this, but opals aren't simply white; they may also come in a variety of shades of blue. The deep blue Japanese opal ring in this collection is one of our favorites, and we plan to wear it all the time.
9. Triple Opal Stud Earrings
These triple opal studs, on the other hand, are a very stunning 24th anniversary gift for her. Huggies and hoops look great with this delicate design.
10. Dainty Double Chain with Iridescent Opal Bracelet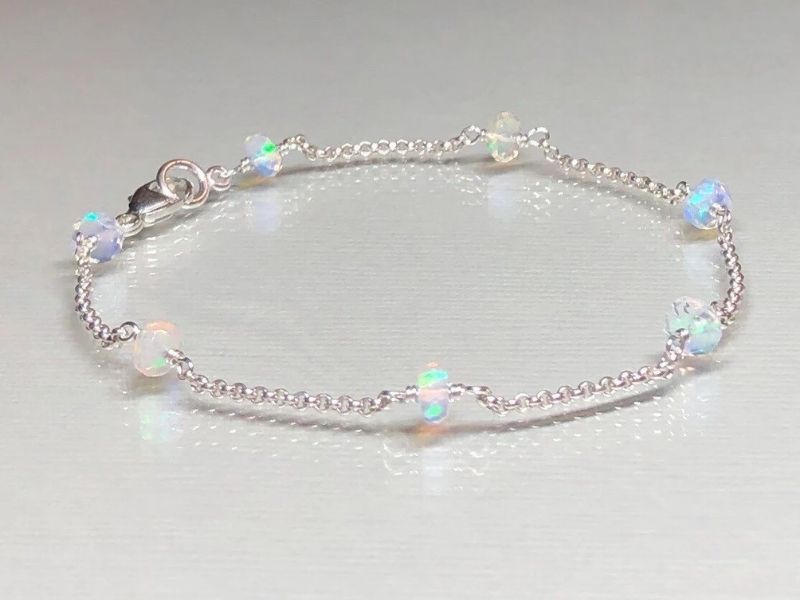 This iridescent opal and gold bracelet has a classic look to it. The delicate twin chain may be worn alone or paired with other jewelry. It's a lovely 24th wedding anniversary gift for wife.
11. Opal Facial Roller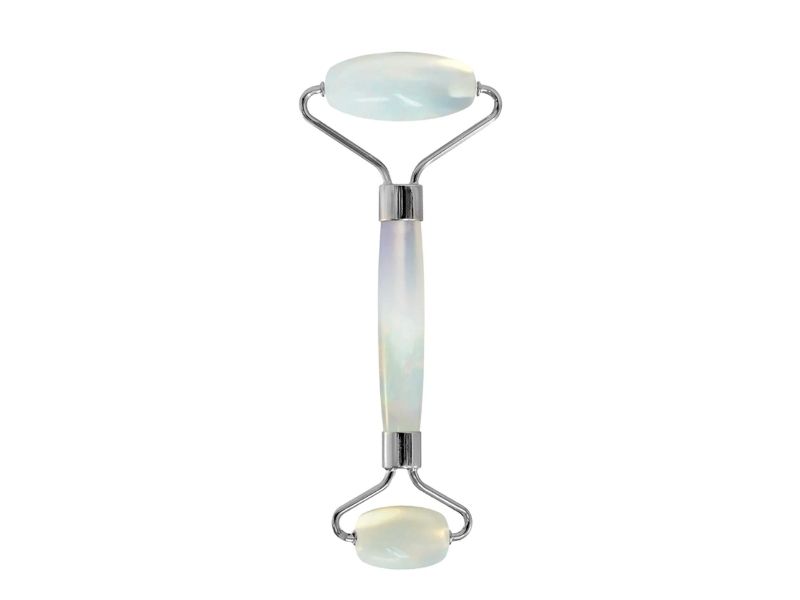 This opal face roller will elevate your partner's next at-home spa experience. In addition to attracting love and good vibes, the garment is supposed to stimulate, brighten, and detoxify the skin.
12. Any Song Lyric On Canvas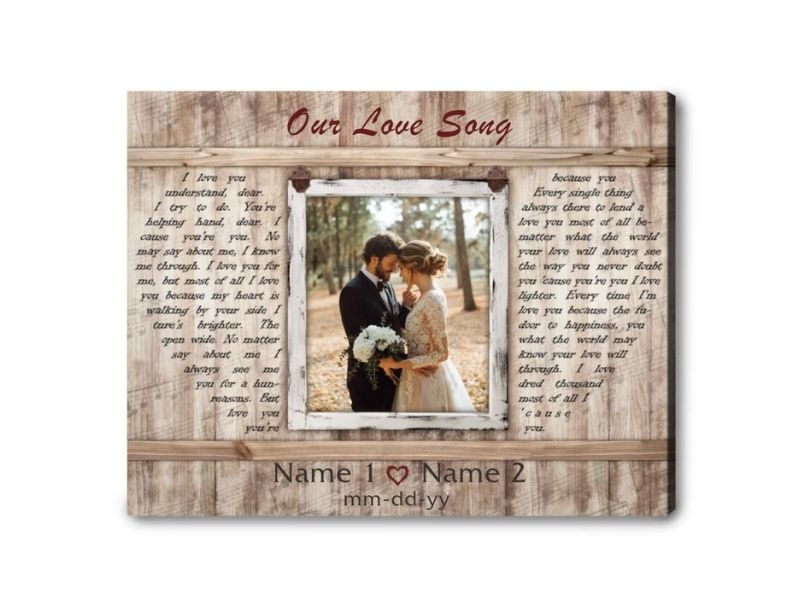 One of the most significant anniversaries in a couple's lives is their wedding anniversary, which serves as a poignant reminder of their very long marriage. As a result, couples may have a difficult time finding a meaningful present for their anniversary celebration.
Couples who want to savor the sweetness of love music while also preserving the beauty of their wedding day may go no farther than a canvas cotton print personalized with a favorite song lyric.
In all likelihood, giving a canvas print as a 24 year marriage anniversary gift enhances the adoring atmosphere of the pair.
13. Layered Opal Necklace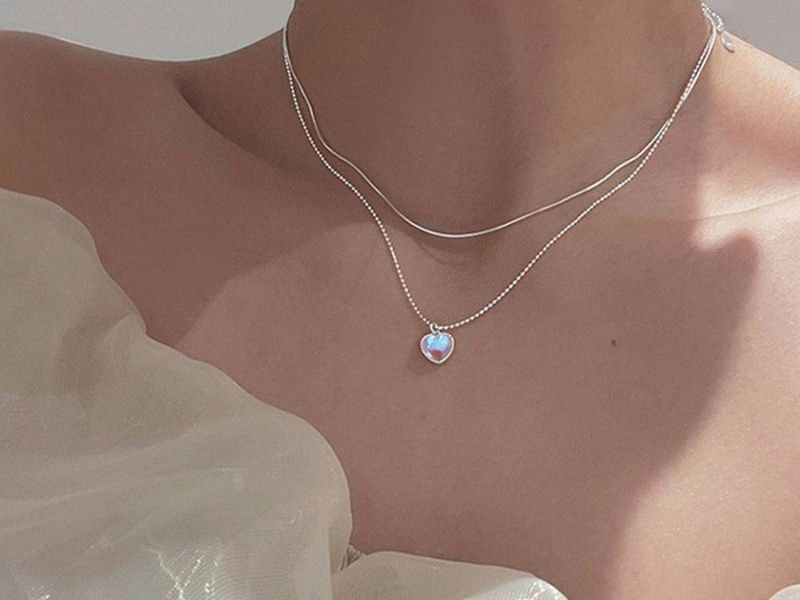 For your 24th wedding anniversary, give your spouse a real opal necklace to add to her jewelry collection. This exquisite stone is ideal for daily use since it adds a splash of color to any ensemble. In addition, the two piled chains in this necklace give it a fashionable, layered appeal.
14. Raw Opal Stone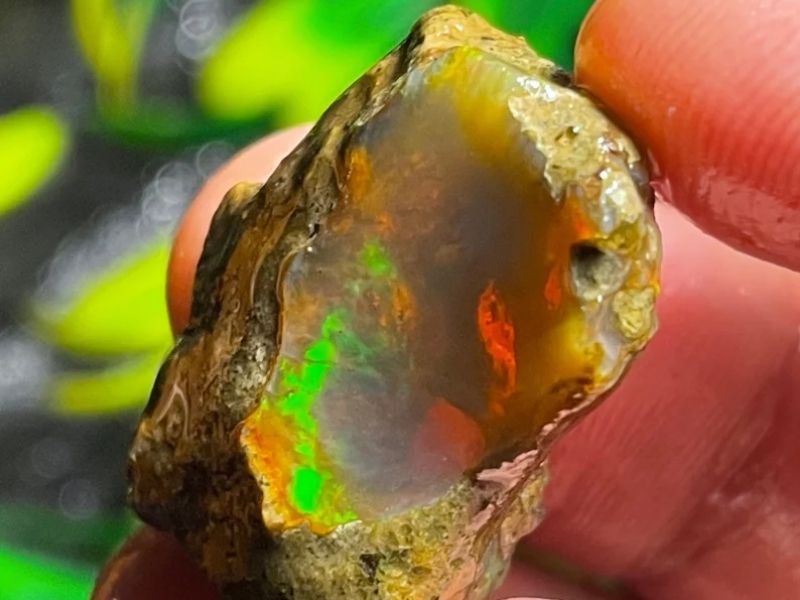 This opal anniversary present will help your partner keep their tie in place. An eye-catching raw opal stone is set in a basic steel tie clip. When they wear this sharp piece to their next formal occasion, they'll be the talk of the town.
15. Opal Earrings
For your 24th wedding anniversary, surprise your spouse with a stunning pair of opal earrings. These 14-karat white gold studs are versatile enough to wear with a variety of outfits. You can't go wrong with the 24th anniversary traditional gift like this traditional one.
16. Opal Whimsical Dragonfly Eternity Necklace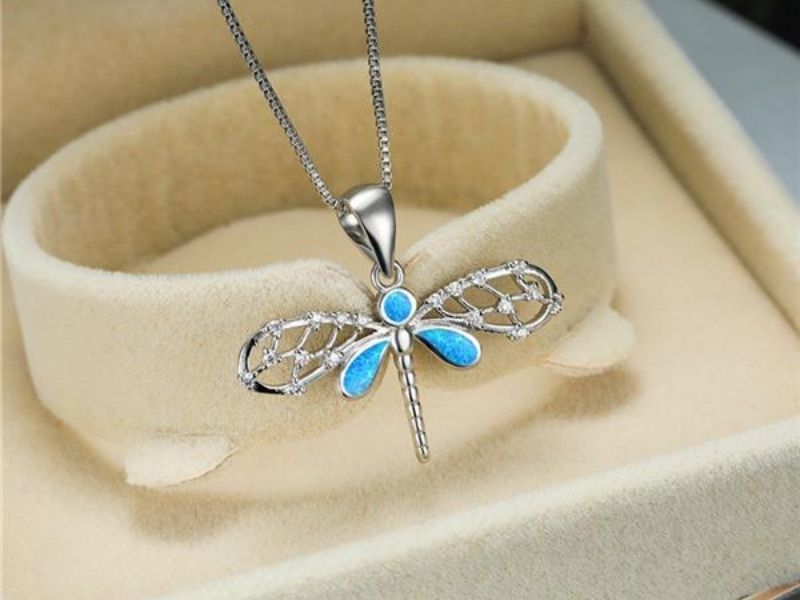 This dragonfly eternity necklace is the perfect way to show your eternal love. Opals, blue sapphires, round diamonds, and 14-karat gold combine to form a dragonfly pendant. Give them something they won't anticipate, something sentimental, something they can cherish for the rest of their lives.
17. Chocolate Vinyl Record and Cassette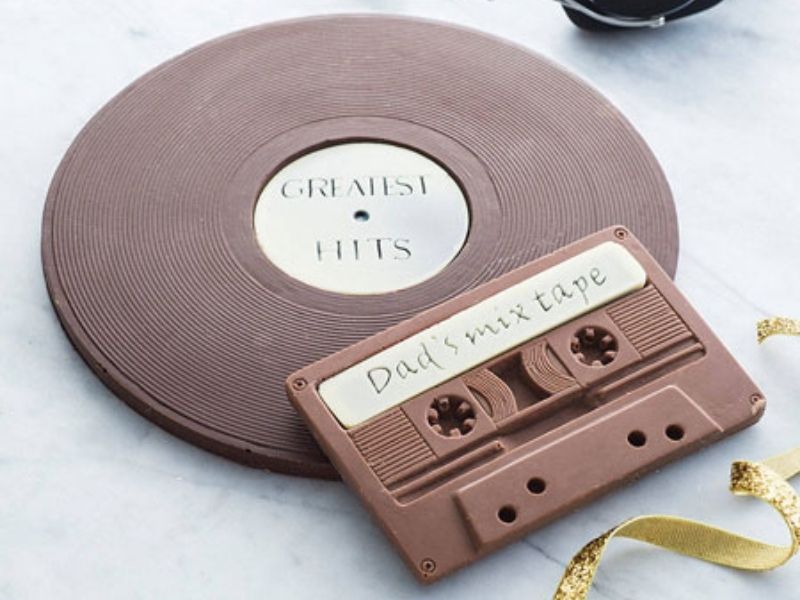 If your significant other is nostalgic for the days of mixtapes and vinyl but also likes sweets, this is the perfect 24th wedding anniversary gift for them. The degree of detail is fantastic!
>>> Read more: Top 41+ Glossy 25th Anniversary Gift for Her, Him & Couples
24th Anniversary Gift for Him
When it comes to finding the right anniversary gift for him, it might be a challenge. In addition to being great for him, these suggestions will also make him feel appreciated, loved, and cherished. A nice anniversary present for him may include one of the following options.
18. Rock-and-roll Doormat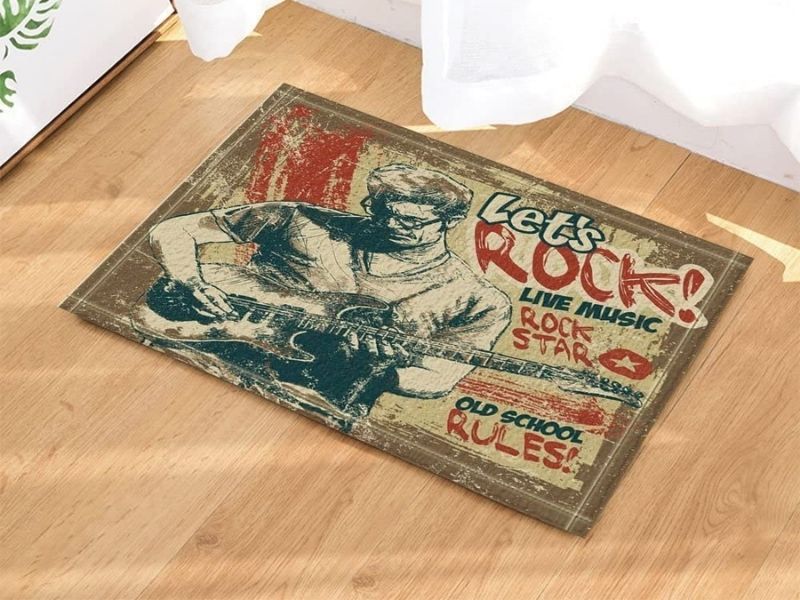 Give the music-loving couple a unique opportunity to express themselves in their foyer. This rock-and-roll doormat has the family name at the top making it ideal for the 24th anniversary gift for husband.
19. Music Custom Photo 2in1 Canvas Print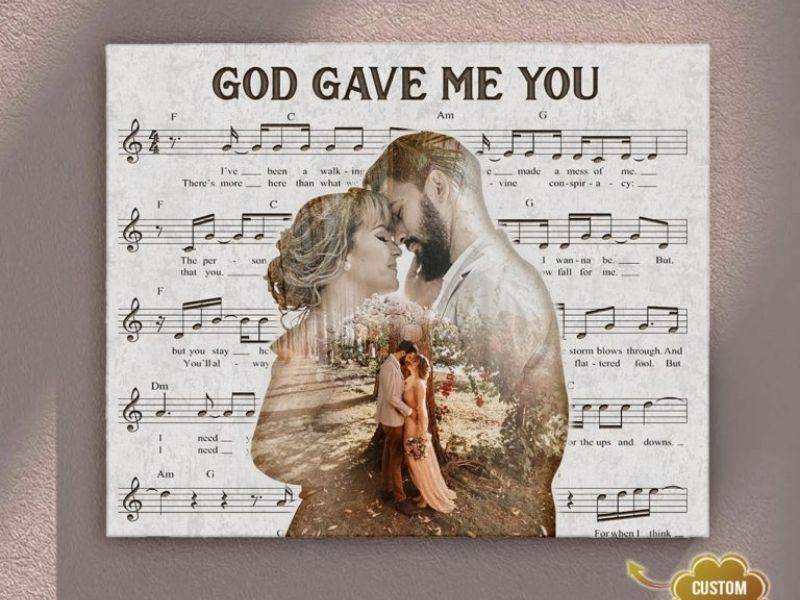 Check out our customized wedding gifts and anniversary gifts if you're looking for a unique way to commemorate your big day. You'll love this "Wedding Anniversary Gifts Happy 20 Anniversary Music Custom Photo 2in1 Canvas Print."
When you submit your favorite wedding images and add the song title, our experienced designers will transform them into a one-of-a-kind piece of canvas art. Within 1-2 days, you'll get an email with a preview of your work. Because of this, don't let the 24th anniversary pass you by without doing anything lovely for your beloved.
20. Bluetooth Speaker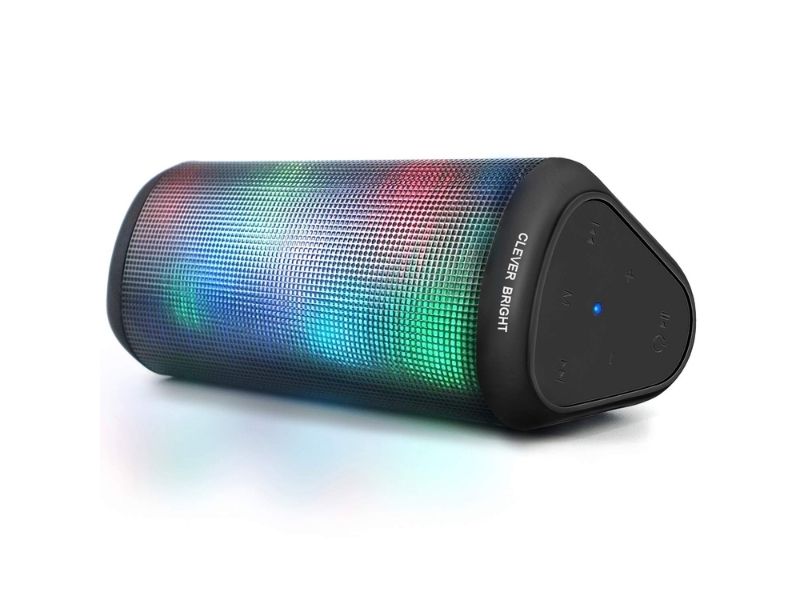 You can't have a game night or dinner party without good music, so give your favorite pair a Bluetooth speaker to help them out. Among the many beneficial characteristics of this device are its touch controls, long battery life of 11+ hours, and water resistance. And because it's portable, you can take it with you wherever you go.
21. Opal Cufflinks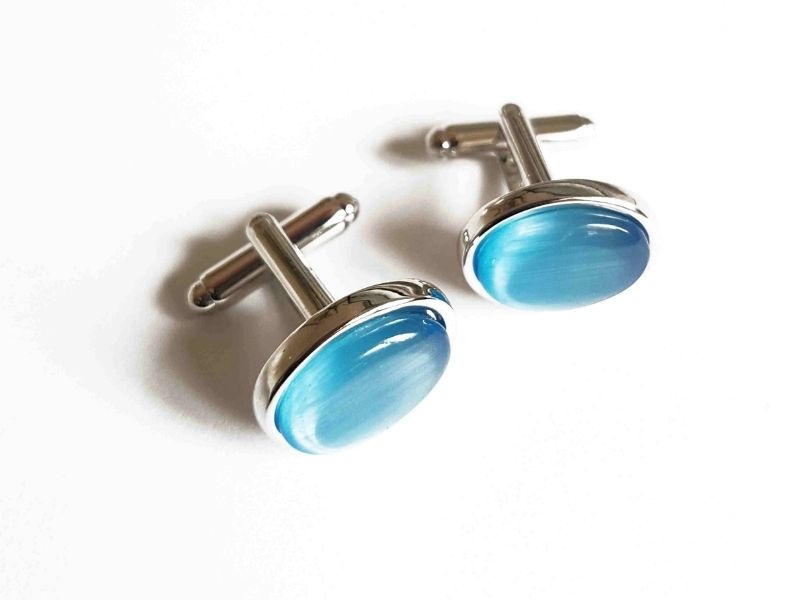 Choose these cufflinks as the perfect 24th anniversary gift for him whether you're shopping for her or him. Handmade, they may be worn for special events or every day, according to the wearer's preference.
22. Opal Fountain Pen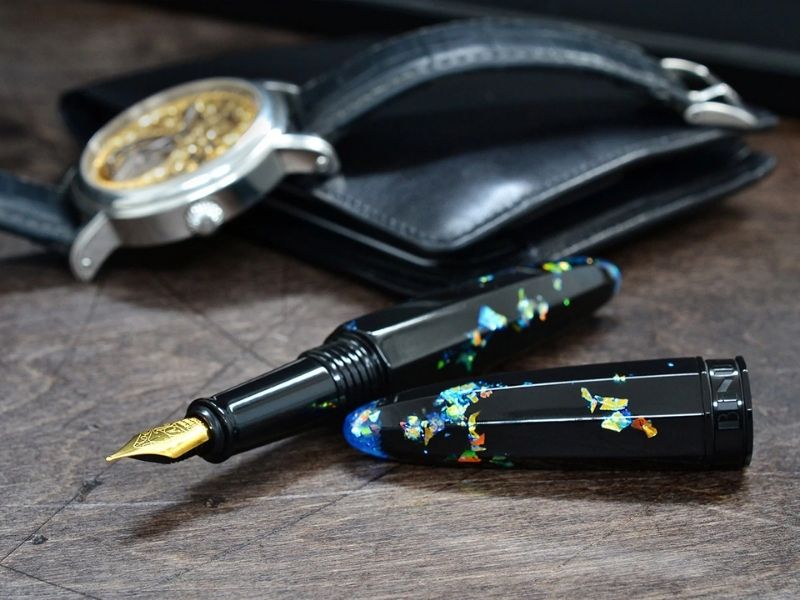 If your companion enjoys writing notes and cards by hand, why not get them a high-end pen? To commemorate your 24th wedding anniversary, consider giving this opal-cased fountain pen!
23. Dendritic Opal Sterling Silver Cufflinks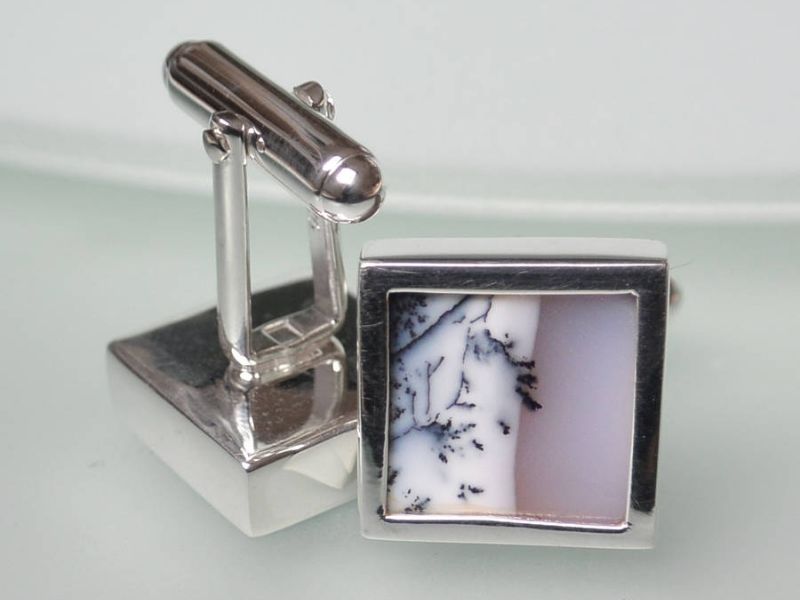 Tree branch-like dendritic opals are known as "moss opals" because of their resemblance to moss. Dendritic opal cufflinks are a one-of-a-kind 24th anniversary gift for him.
24. Vinyl-inspired Cufflinks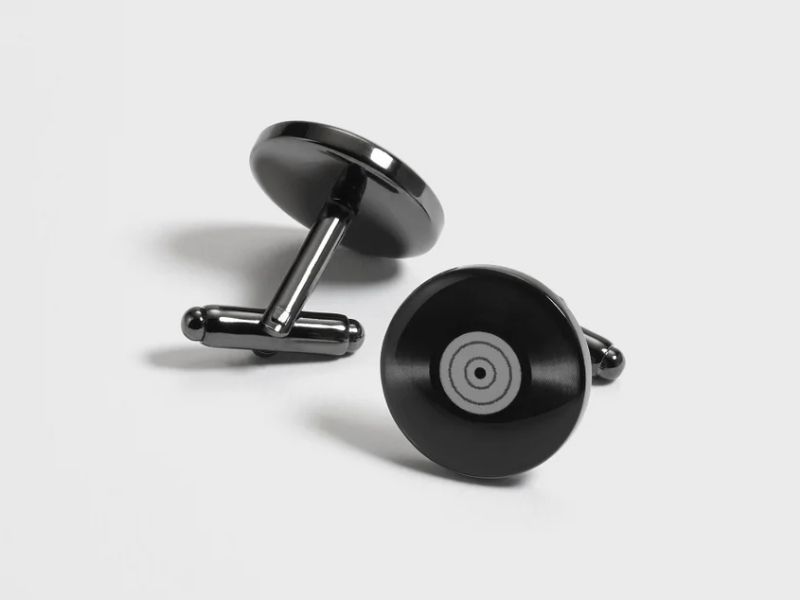 We couldn't resist including these beautiful vinyl-inspired cuff links as part of our trendy 24th anniversary gift list. A great way to spark a discussion and spruce up your formal attire. Let us know what you'd want to see in the future! Cool cufflinks with an electric guitar and piano may be found on this website.
25. "I pick you" Engraved Guitar Pick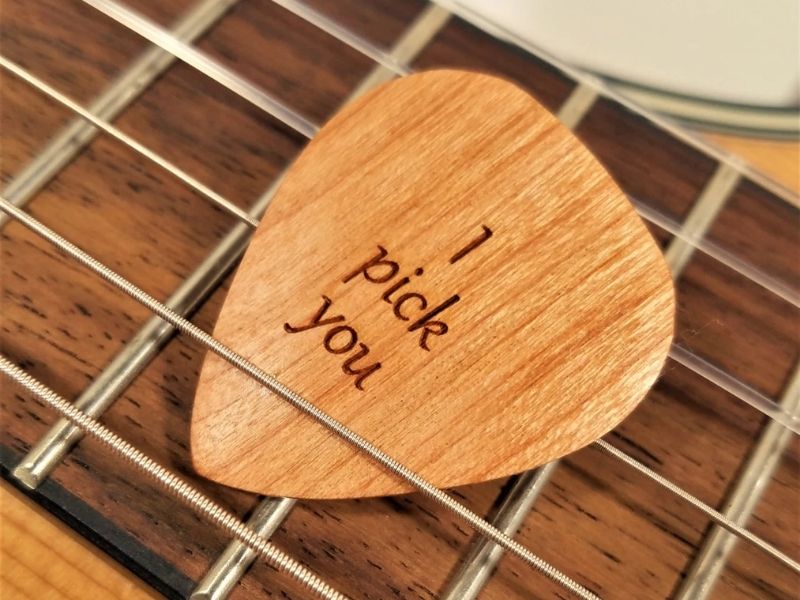 This handcrafted "I pick you" engraved guitar pick will serve as a constant reminder to your spouse after 24 years of marriage that they will always be your first choice. Every time they use it, they'll think of you since it's music-themed. We like to think of it that way.
26. Apple AirPods with Charging Case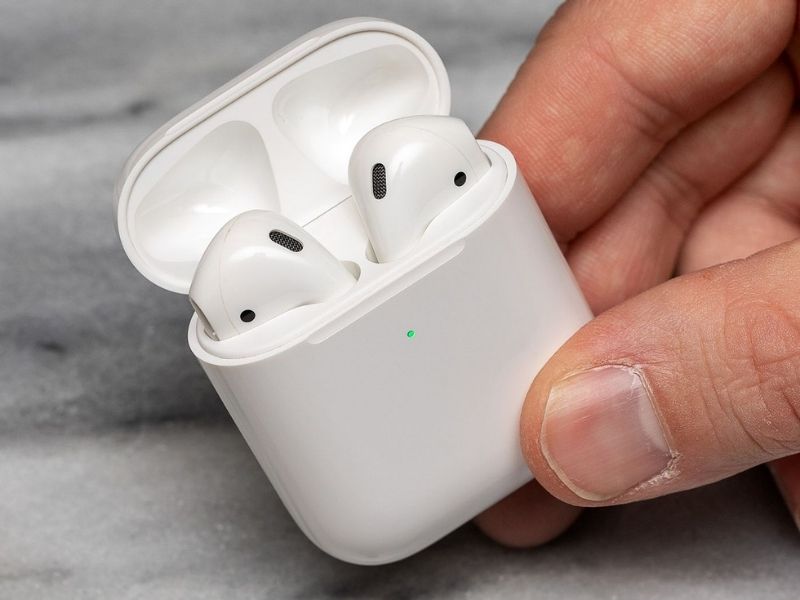 Apple AirPods is a sure-fire technique to win over your partner's affections! It's a 24 year marriage anniversary gift that's a snap to put together, thanks to Amazon's charging case.
27. Personalized Song Lyrics On Canvas Music Wall Art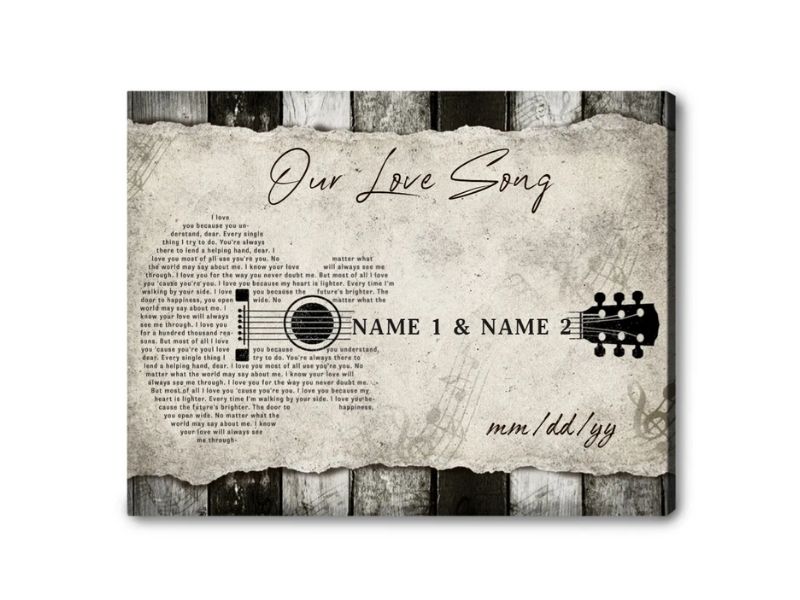 The best 24th anniversary gift for husband maybe this Song Lyrics Custom Photo Canvas Print. The words, names, and dates of the song may all be changed on the canvas.
Your present will be remembered for years to come thanks to the unique lyric art engraved on the canvas. With this painting, the receiver will be able to display a memento of your friendship and affection for each other.
With this token of affection, you may make someone else's day even happier. As a result, you have the option of having the words to many songs, including your wedding song, printed on the canvas.
28. Personalized Leather Earphones Holder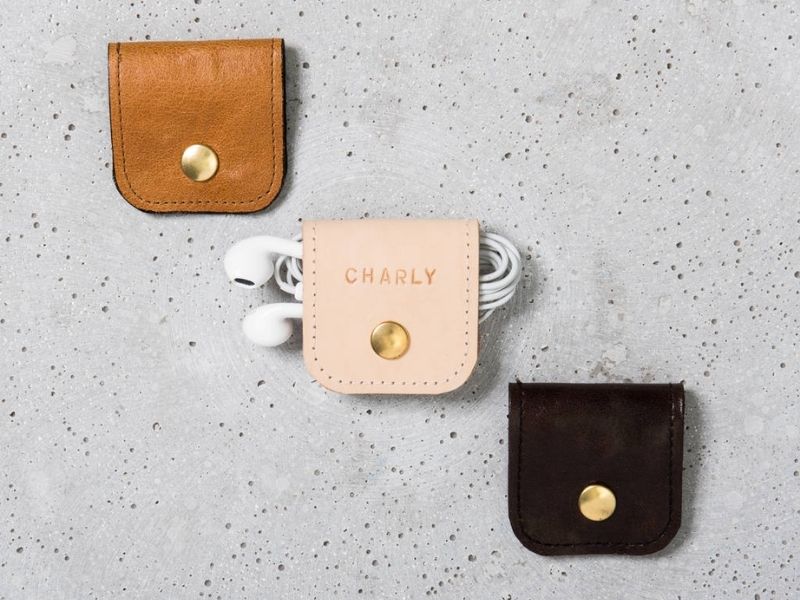 A terrific 24th anniversary present idea for anybody who has difficulty dealing with tangled headphones is one of these handy monogrammed earphone holders.
29. Real Guitar Coat Key Hook Hanger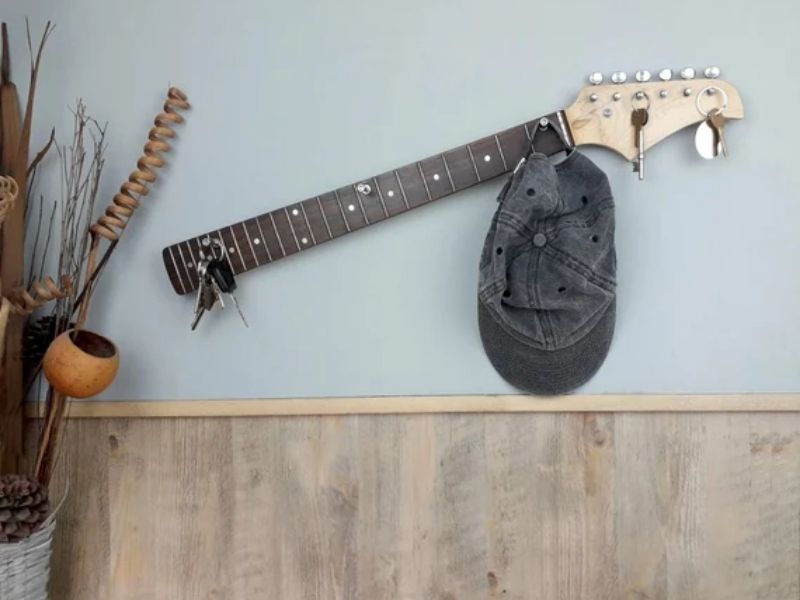 This one is for the guitar players out there! These guitar key and coat hook hangers are just too hip for school. Music fans would enjoy this in their homes!
30. Personalized Drum Sticks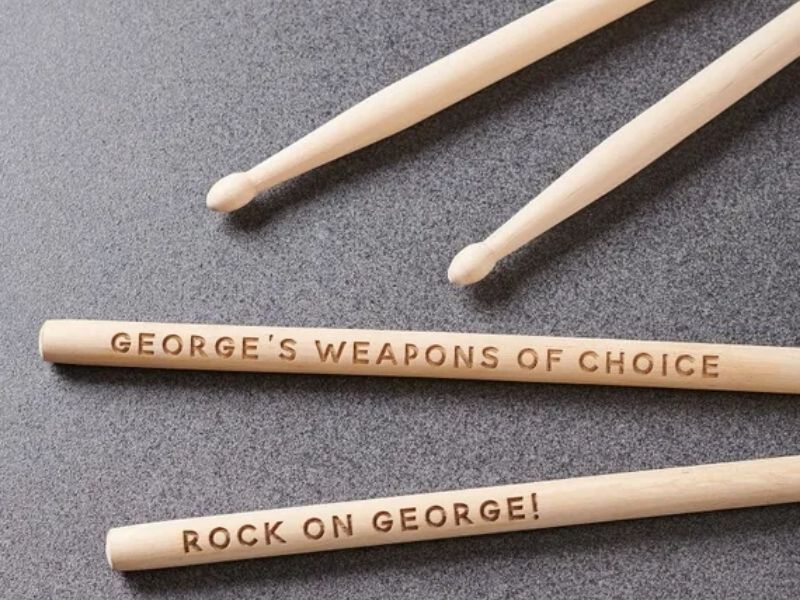 Personalized drumsticks are the perfect year 24 anniversary gift for a drummer's wife. Engrave the sticks to make them more distinctive.
>>> Read more: Top 41+ Artistic 26th Anniversary Gift for Wife, Husband & Couples
24th Anniversary Gifts for Parents
Your parents or other couples celebrating their 24th anniversary are going to need to discover the perfect present for you and your significant other. These anniversary gifts for parents' suggestions may be useful. Listed below are a few possibilities.
31. Opal Shade Pendant Light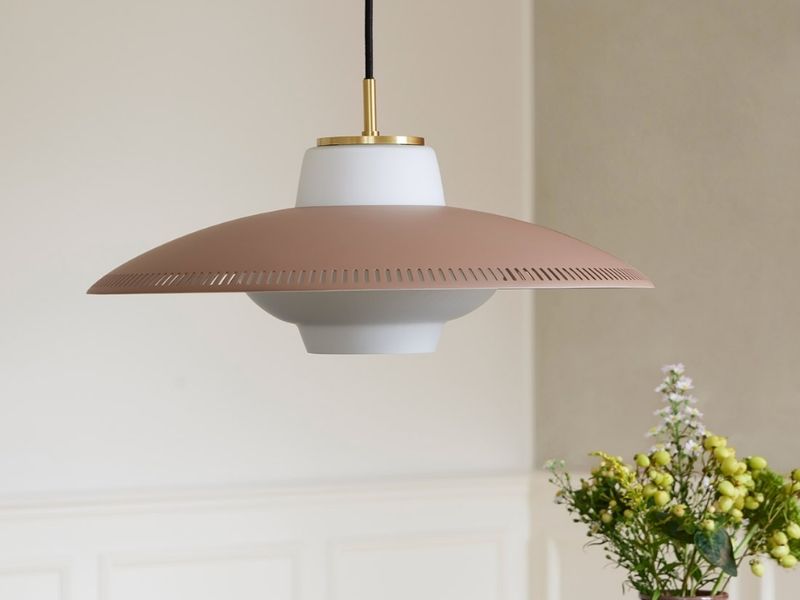 Next on the list is an opal-themed present. Breakfast bars, dining tables, and living areas may all benefit from this opal glass pendant light!
32. Opal Ring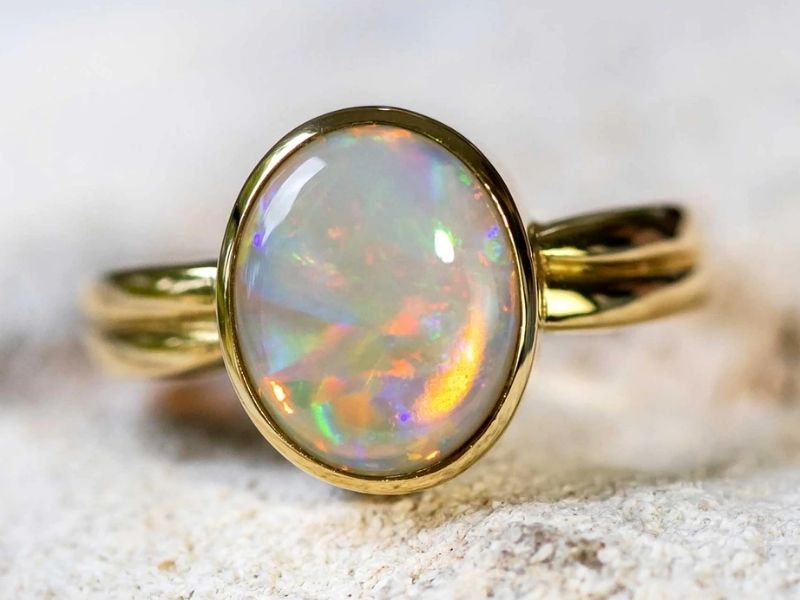 After being together for 24 years, the opal has a lot to say. This ring may represent a lifetime of joy, love, and companionship. It may be a very memorable 24th wedding anniversary gift.
33. Unique Anniversary Gifts For Her For Him Oh Canvas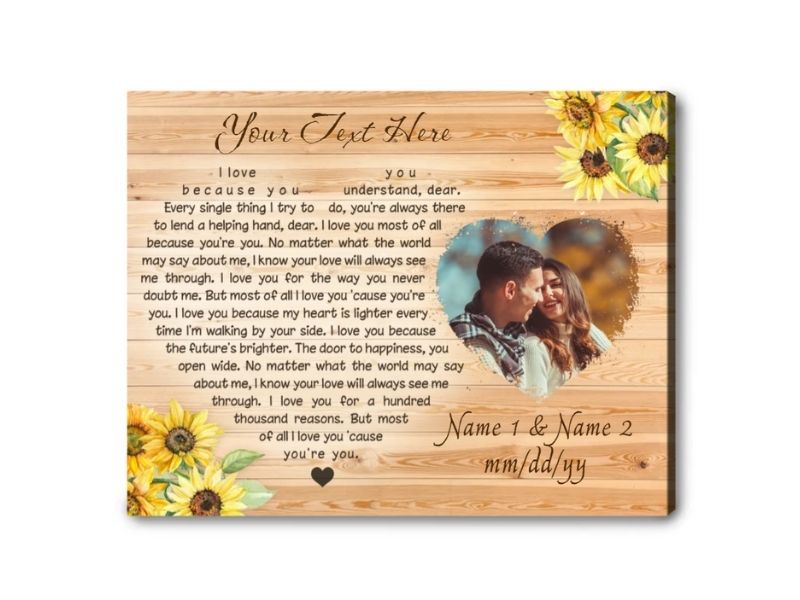 What music comes to mind when you think about your significant other? It might be the music that was playing when you first met, your wedding ceremony song, or the first dance tune. Make a heart-shaped song lyrics canvas wall art for your lover out of it this anniversary if you have one!
Making a 24 year marriage anniversary gift of your favorite song lyric is as simple as 1, 2, 3. Enter the name of the song or artist, or a lyric phrase you recall, by clicking on the title or the lyrics in the customization box. This is when you'll see the song's lyrics. Go ahead and put in your names and the date of the occasion.
The end product is a gorgeous canvas print of song lyrics in the form of a heart that will have your spouse in tears! Wedding anniversaries, Valentine's Day, and birthdays are all excellent occasions to give a personalized gift. They'll be reminded of your thoughtful gift every time they look at it on the wall.
34. Pink Opal Crystal Tower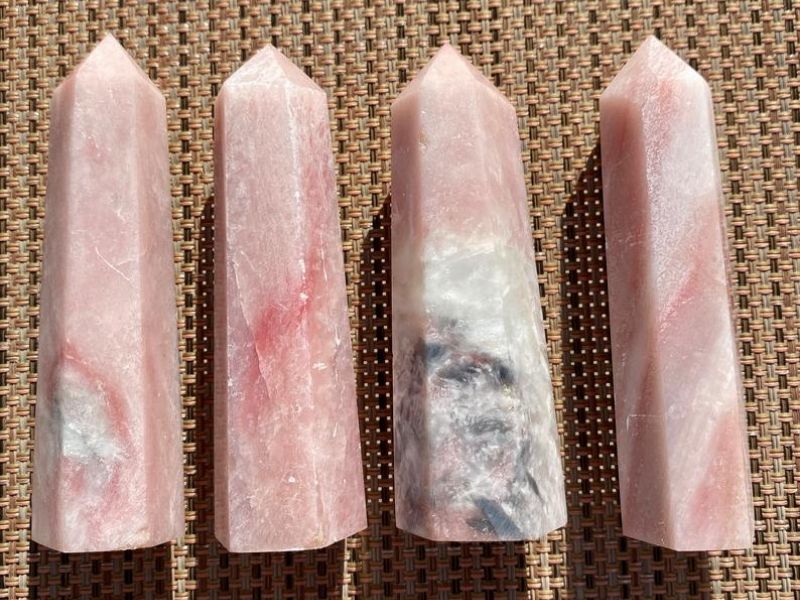 A pink opal crystal tower is a great workplace ornament for your spouse since it is said to alleviate tension and anxiety.
35. Turntable-inspired Cheese Board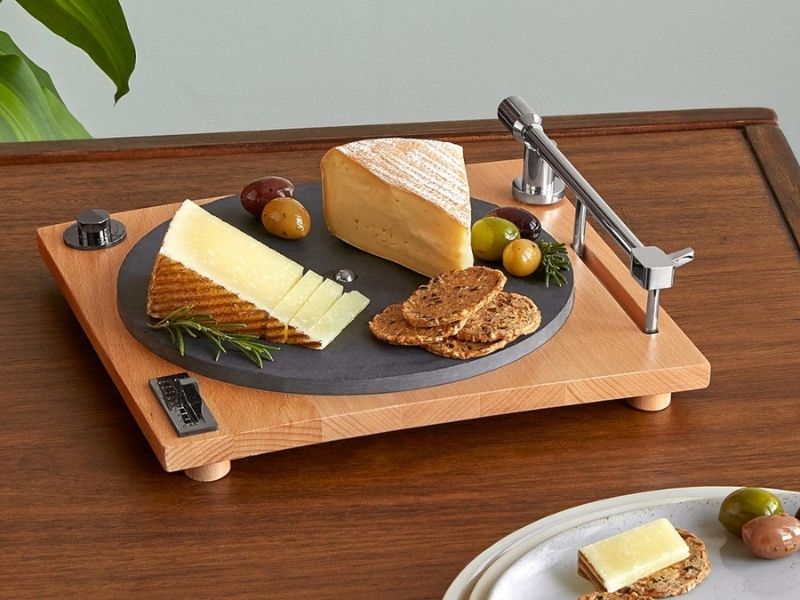 What do you buy a cheese lover who is also a music fanatic? Of course, a turntable-themed cheese board! The needle on this slate plate seems like it belongs on a record player, but it's really a cheese cutter. Once they get the hang of it, they'll be dishing out delectable treats to their loved ones in no time.
36. Vinyl Turntable Record Player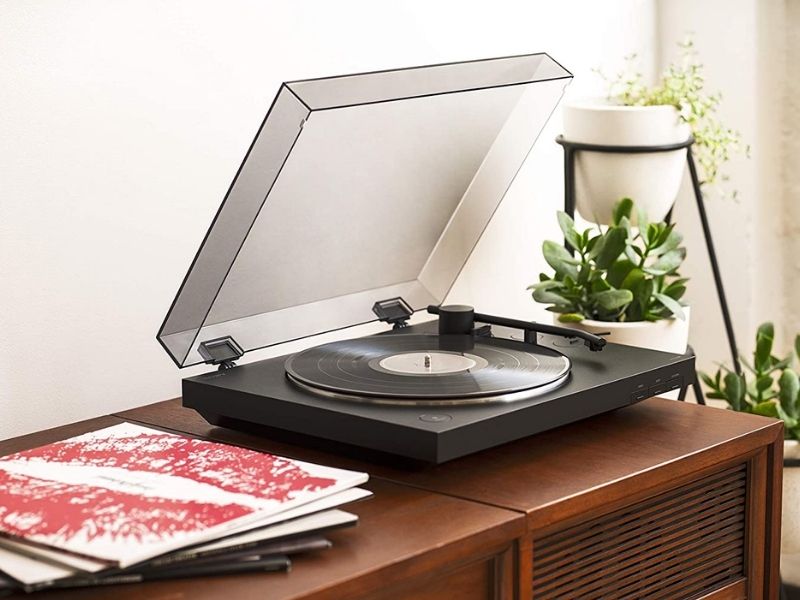 If you're shopping for a 24th anniversary present for a musician or music lover, this record player might be an excellent choice. It includes dual speakers and is portable.
37. Microphone Key Ring
A keychain is usually a nice suggestion since it's simple, sweet, and something they can use every day. If you're looking for 24th anniversary gift ideas, this microphone keyring is perfect.
38. Custom Song Lyrics on Canvas Wall Art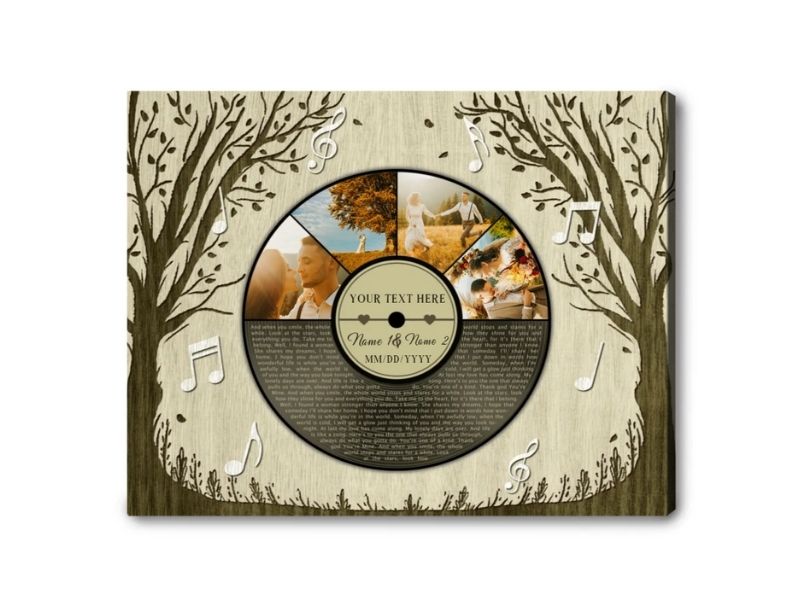 It's a considerate gift for your spouse that will be remembered for a lifetime. The photos, dates, names, and lyrics displayed on the canvas may all be customized by you. To add a personal touch, you may print the lyrics to your wedding song or your favorite music.
Your spouse will recollect the reasons they chose to marry you, as well as how much they admire and appreciate you for who you are as a person. To commemorate the wonderful life you and your spouse have created together, give this one-of-a-kind 24th wedding anniversary gift. The recipient of this personalized artwork is likely to be touched by it. Due to its uniqueness, this customized picture gift will never let you down.
39. Leather Vinyl Storage Case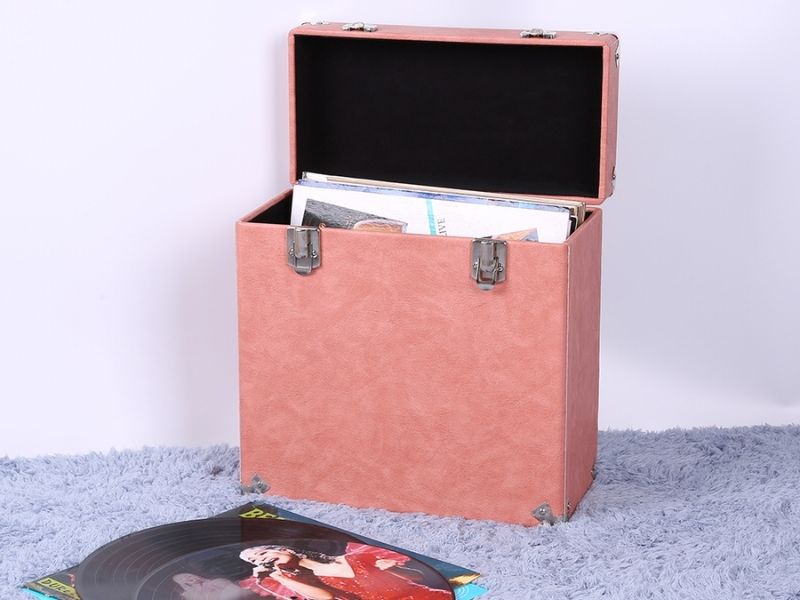 Isn't this leather and vinyl storage case slick and classy? For an office or living space, we believe this would look great hidden up in the corner.
Read more:
It doesn't have to be difficult to select the right 24th anniversary gift for the ones you love. A personalized anniversary canvas art might also be a great addition to the present. Consider any of the above-mentioned gift suggestions from the Oh Canvas list for that special someone on their 24th anniversary, regardless of what the occasion signifies. Happy anniversary!