Every son and daughter wants their mom to feel happy all the time. So how to make her smile (or even laugh)? You might come up with some ways but we'd like to help with this amazing list of funny gifts for mom. No matter the occasion (her birthday, Mother's Day, or Christmas), these hilarious presents will make her full of joy and happiness. Browse the archive below and Oh Canvas believes that you'll find at least one thing to wrap for her.
Fashion and wellness gag gifts for mom
1. "Wonder Womum" Tote Bag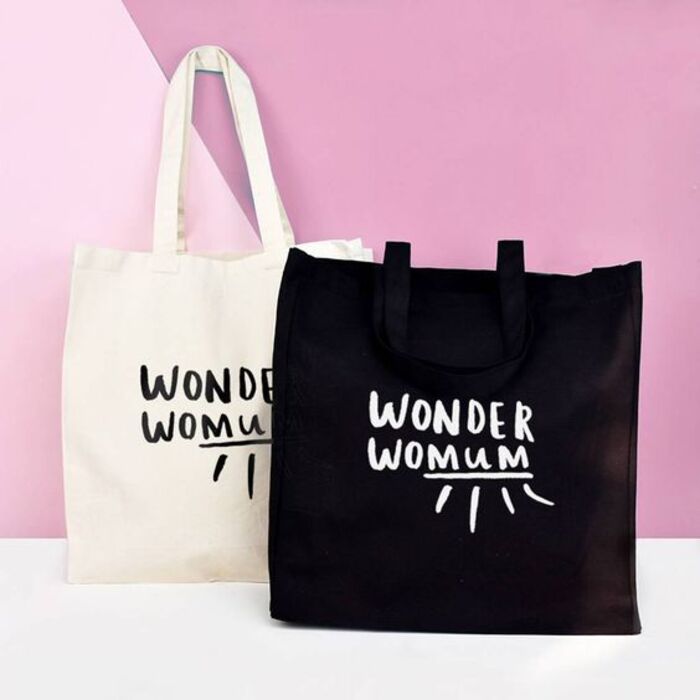 Luxury gifts like diamond rings are great, but they're not always the best ways to make your mom happy. Sometimes you have to think outside the box and give her something she'll treasure for a lifetime. Funny tote bags are one of the most adorable presents for mom. She could use it all the time, and be proud of being your mother.
2. "This Mom Is Off Duty" Socks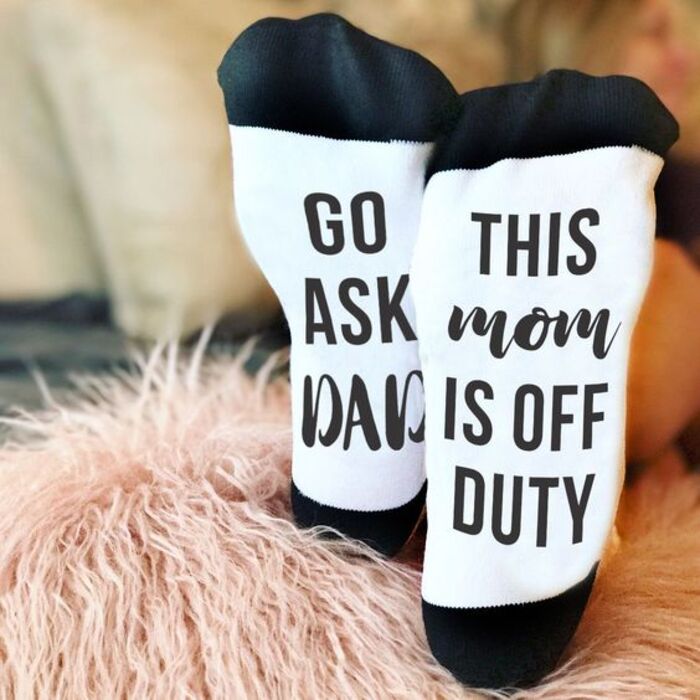 Looking for funny Mother's Day gifts? Count on us! Whether your mother is a nurse, a teacher, or a world-class cook, it's about time for her to have a break. Socks like these are a great way to remind everyone of your mom's power in the family. She's sure to get excited about trying them on.
3. Hilarious Apron
This strong apron ensures that your mom owns every corner of her kitchen. It's an award for what she has devoted to the whole family. In other words, you're telling mom how much you appreciate her cooking over the years.
4. Wine Bottle and Glass Earrings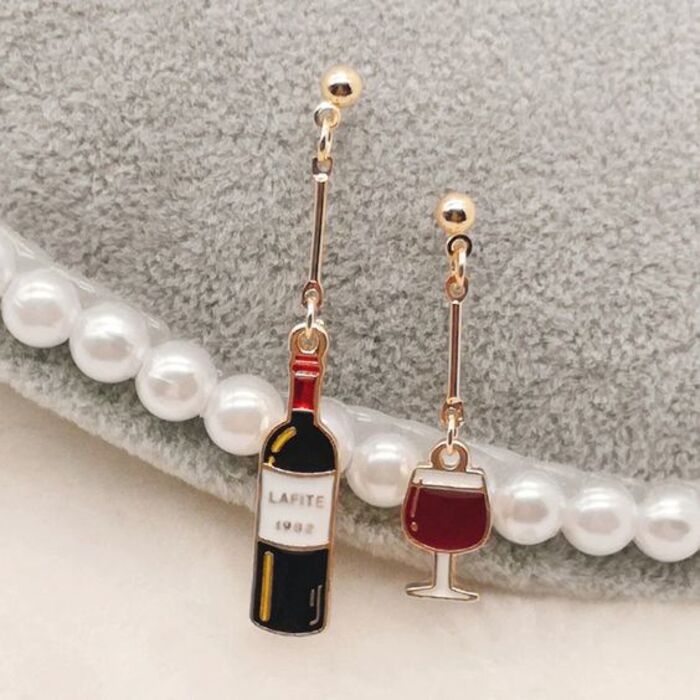 For the best Mother's Day gag gifts of the year, this pair of earrings is a must-have. They are sure to make your mommy smile, especially if she likes wine. In addition to being entertaining, these earrings are also stylish. Mom may enhance her personal style, thanks to these delicate accessories.
5. "Favorite Child" Candle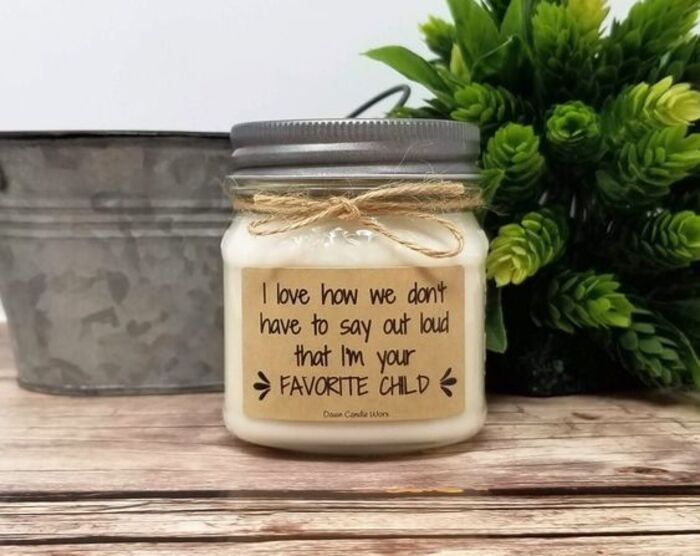 In the journey of finding funny gifts for mom, we challenge you to locate a better gift for your mom. She'll enjoy this dye-free and eco-friendly candle, featuring that you're her favorite child. When she lights it up, her room will be filled with love, joy, and refreshment.
6. Cute Animal Slippers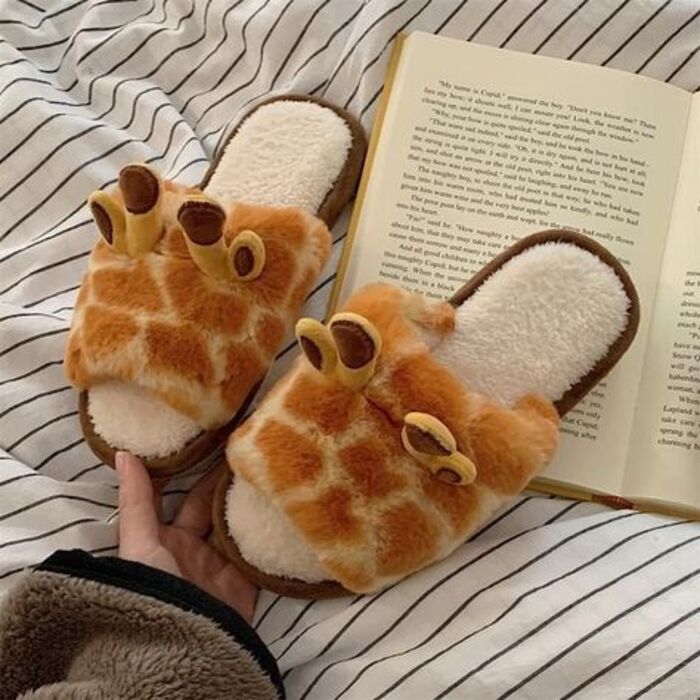 Ensure that your mom's feet are always warm thanks to these adorable slippers. They're surprisingly the gag gifts for mom that can be given on any special occasion or when she has pregnant. We believe that she'll have some serious 'feet,' if you get her these slippers as a baby shower gift for mom.
7. Corgi Butt Heating Pads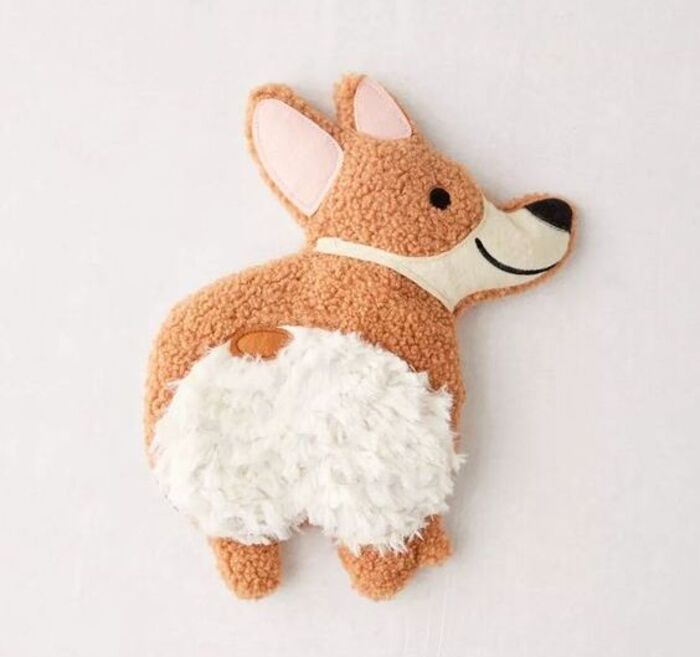 If you want to find practical yet funny Mother's Day gifts, puppy heating pads are an excellent option. Designed to alleviate pain and cramps, they're sure to give your mother relaxing experiences. This gift is cute enough for her to use at home or carry whenever she travels for work or holidays.
8. Pasta Necklace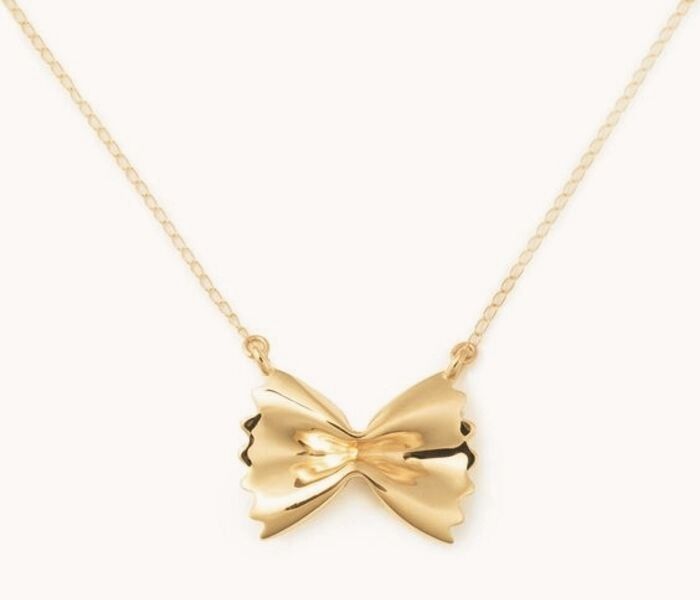 How much do you love pasta dishes that your mom has made? As a daily reminder of her top recipe (and your favorite dish), this necklace will make her feel so proud and loved. Whether it goes in gold or silver, it'll fit her outfit and make her look more charming.
9. Amusing T-shirt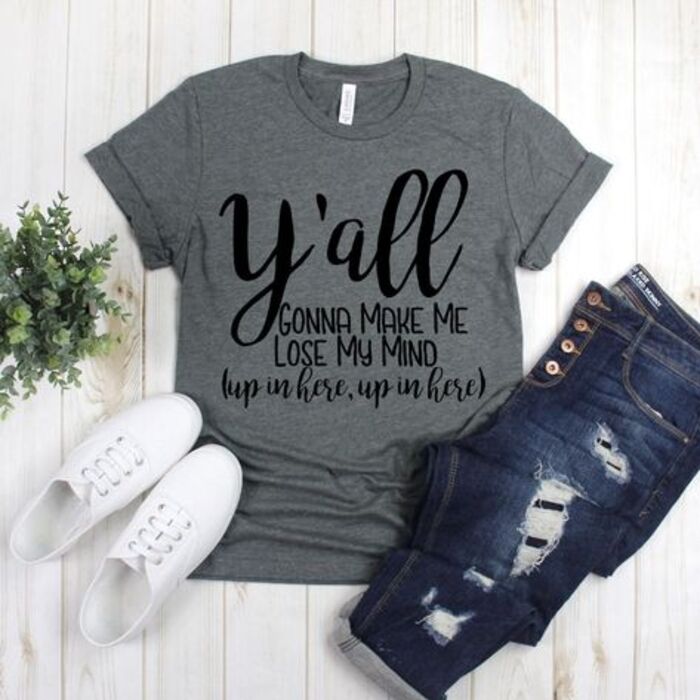 On the hunt for incredibly hilarious Mother's Day gifts? Help her feel comfy at home or when going to the market with this adorable T-shirt. When it's made of cotton and rayon, it'll be amazingly soft and comfortable. She'll love showing off this shirt which can bring joy to herself and her family.
10. "Bring Me Tea" Socks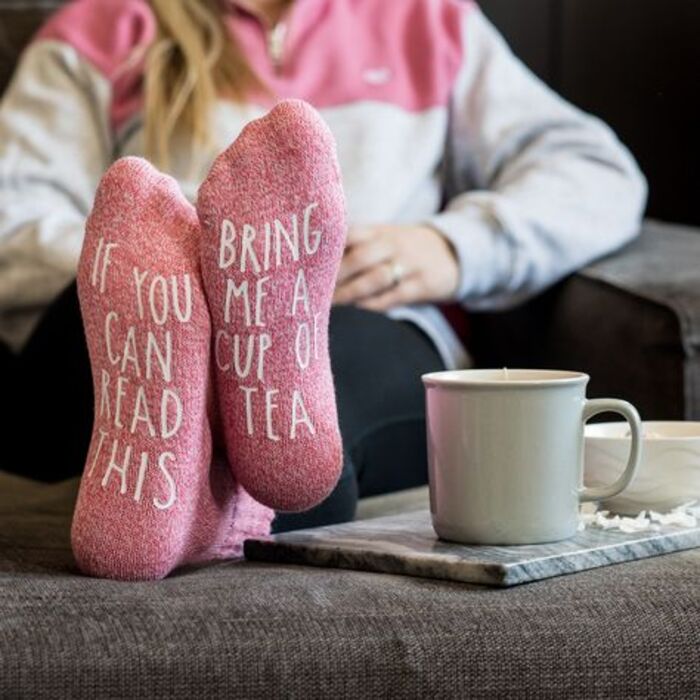 These socks are perfect for the tea-loving mother. Besides keeping her feet warm and cozy, they add a funny ambiance to her home. Practical and amusing as they are, "Bring Me Tea" socks are excellent Mother's Day gag gifts for mom that you shouldn't miss out on.
>>> Recommend reading: 36 Best Gardening Gifts For Mom To Show How Much You Care
Funny gifts for mom: Home furnishings
11. Funny Oven Mitts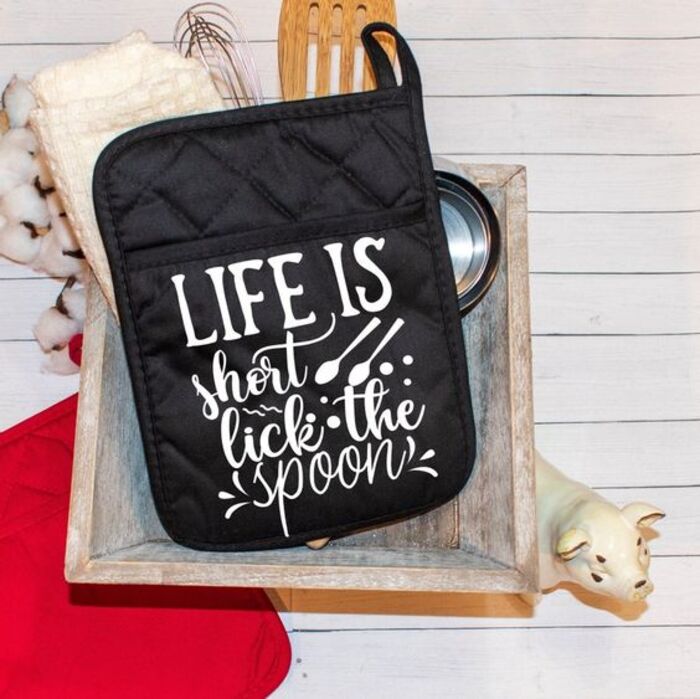 This year's Mother's Day is going to be a first, but there are ways to make it memorable with unique, gag gifts for moms. These oven mitts will add an amusing vibe to her beloved kitchen. Made of reversible, heat-resistant, and high-insulation cotton, they will be used for a long time to protect her fingers.
12. Unusual Kitchen Towel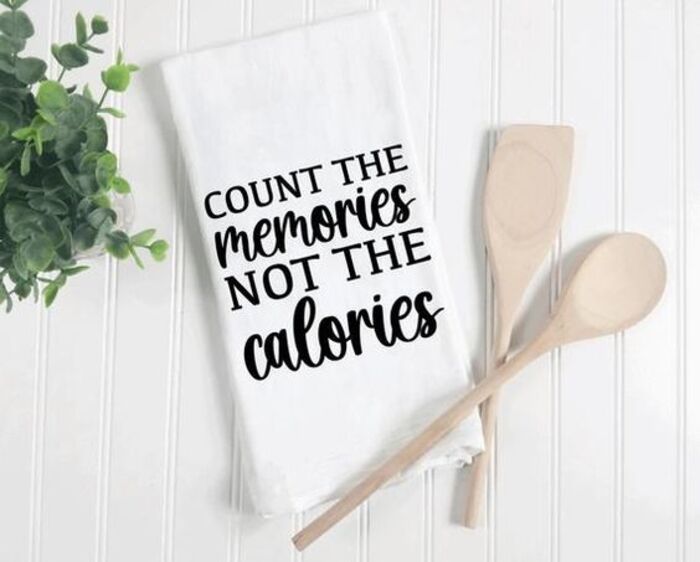 Despite our mothers' efforts, we sometimes complain about the food they prepare for us. These creative and distinctive kitchen towels are what help your mom raise her speech. No argument, this gift is funny and thoughtful at the same time.
13. Photo Gift From Son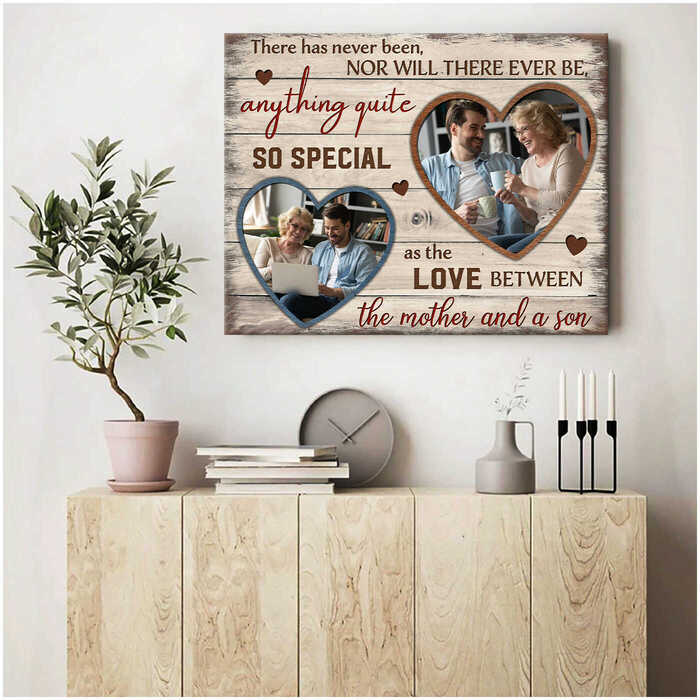 For funny Mother's Day gifts from a son, look no further than this amazing canvas art. By displaying any amusing photo of you and her, you're bound to create a lovely keepsake. She'll be surprised to know you're a sweet and thoughtful man. Getting her a gift that will make her giggle every day is the nicest thing you can do.
14. Amusing Door Mat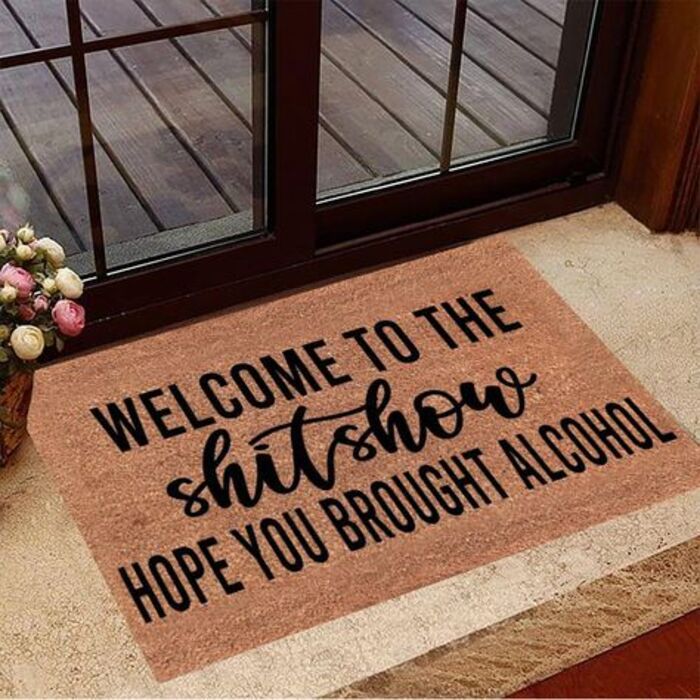 You may not think a welcoming doormat is a great Mother's Day gift idea, but you'll be pleasantly surprised. As a starting point, this is an excellent approach to making your mother giggle. She'll be eager to display this mat in front of her door and feel excited whenever entering her home.
15. Hilarious Throw Pillow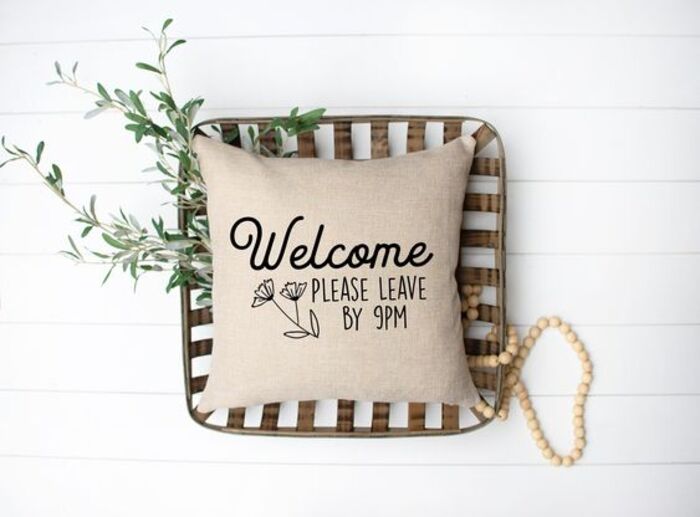 Everyone in the family is guaranteed to have a good time with this witty pillow. It's likely to be one of the best funny gifts for mom from daughter she's ever received. Get this pillow now and make her home full of joy and happiness.
>>> Read more: 40+ Best Gifts For Stepmom To Show How Gorgeous She Is
Funny presents for mum on Mother's Day: Memorable keepsakes and others
16. Custom Cookie Cutter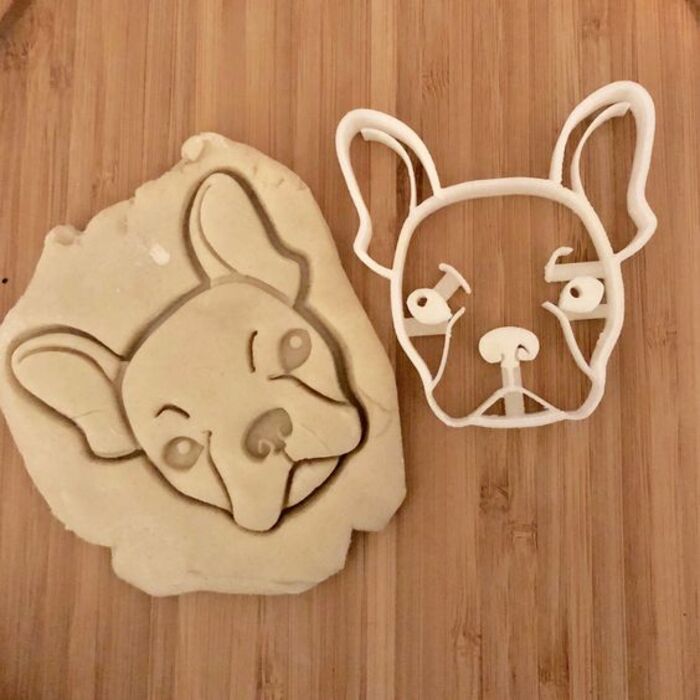 If she enjoys baking and experimenting with new recipes, a cookie cutter is a great gift for her. It could be your family member's face or her favorite pet's portrait. She'll find it funny to bake an unusual batch of cookies for her family.
17. Funny Mugs from Daughter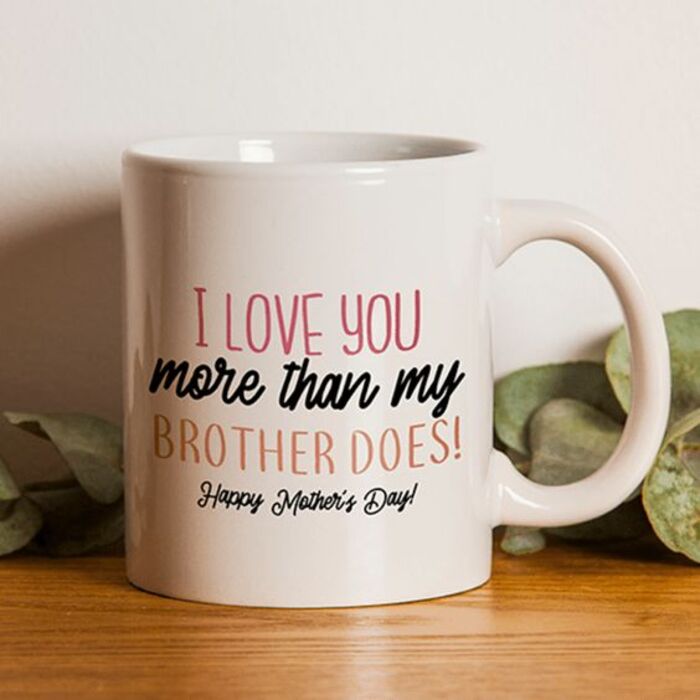 This personalized mug is one of the perfect funny personalized gifts for mom from daughter if you and her have had a lot of good times together. Let it be a humorous way to develop the mother-daughter relationship. Besides an amusing quote, add a humorous picture of you and your mum to make it even more memorable.
18. Super Mom Super Wife Keychain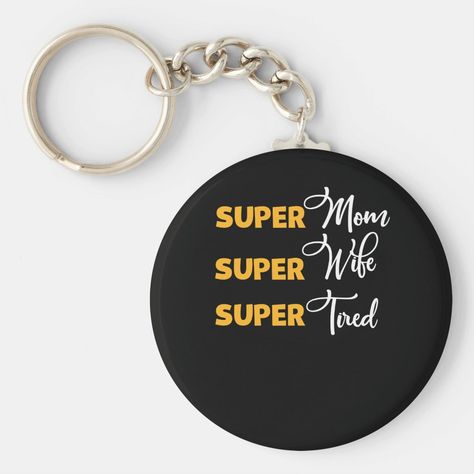 We can help you gain the best impression on your mum with this cute "Super mom" keychain. It's a memorable keepsake that tells her how much she means to you. No need to argue, she'll think of you every time she sees it.
19. Tired As A Mother Tumbler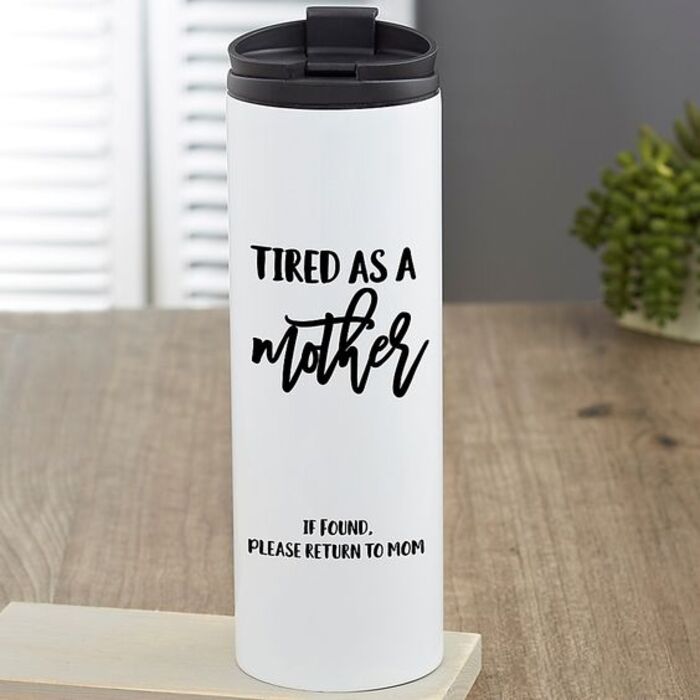 You can't go wrong with this "Tired as a mother" tumbler when looking for gag gifts for mom. It'll make her full of joy whenever she drinks water or juice using this tumbler. Opt for mom's favorite color once you need to elevate your gift.
20. Funny Pet Portrait Canvas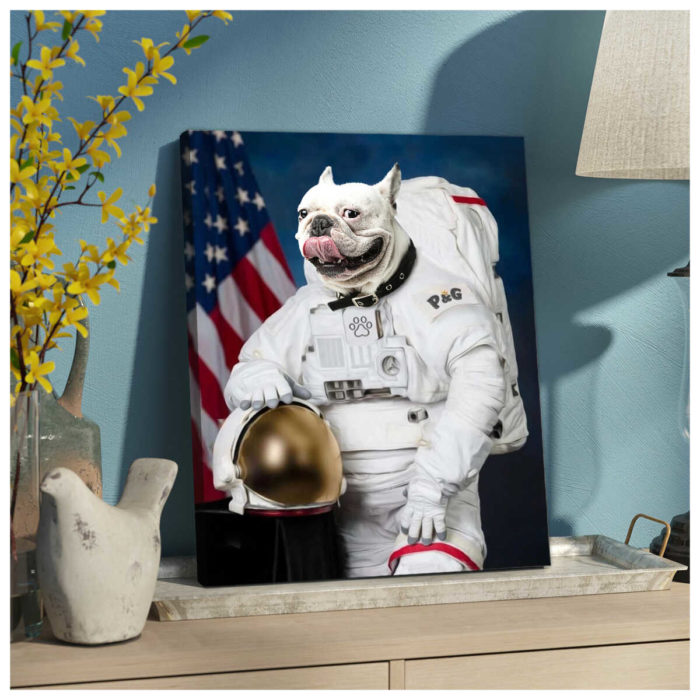 Your mom will laugh out loud seeing how her little pet appears hilarious in this canvas print. With this charming gift, you can be sure that every day is a happy day for her.
21. Loch Ness Monster Tea Infuser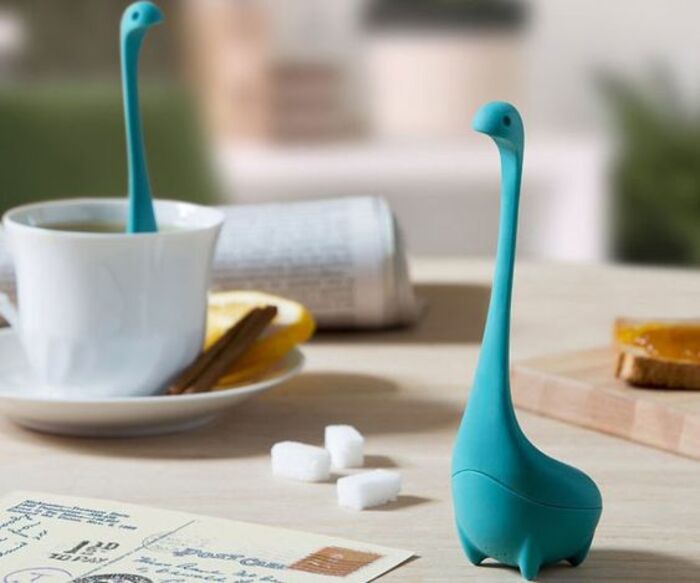 There are many fascinating and funny presents for mum on Mother's Day to choose from here. Surely she'll enjoy an unusual present that she hasn't seen before. The tea leaves are brewed to perfection thanks to this unique infuser. It's a lovely combination that will make her laugh out loud.
22. "Officially Quite A Good Mum" Pin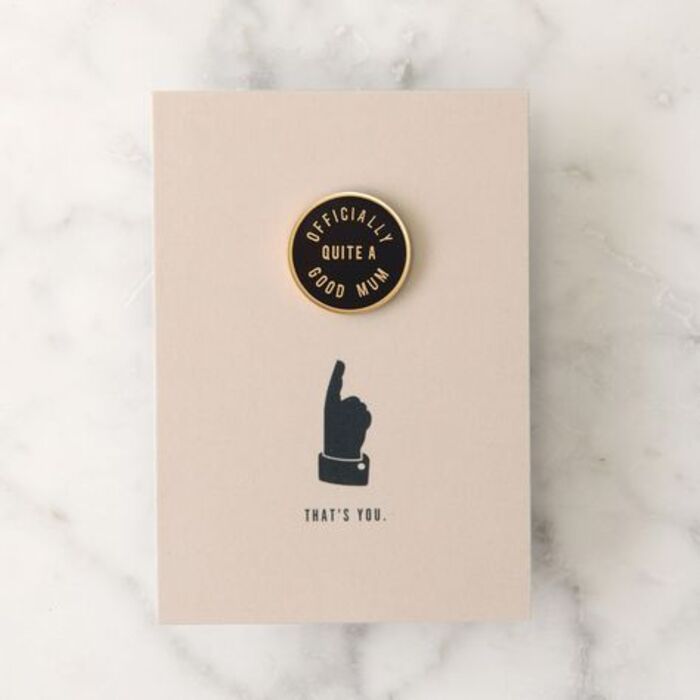 Finding the perfect gifts for a mother can be a long and exhausting process. Mother's Day presents that are both original and amusing are hard to come by. But don't worry much when you've already had this "Good mum" pin for her. This keepsake will ensure that she's always the best mother in your heart. It's perfect for adding a pop of color to her favorite coats, purses, or bags.
23. Funny Mother's Day Wine Labels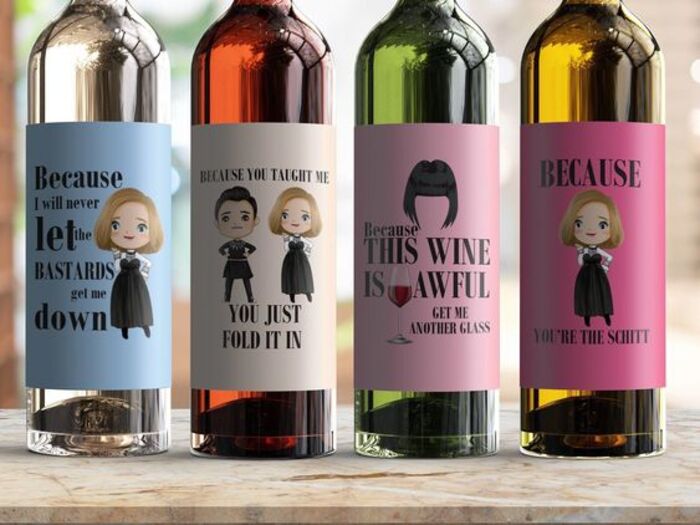 All of Mom's favorite wine can be labeled in an amusing way in this customized gift for mom set. Customize these labels in different ways to make her laugh every time she reads them. You can then share a glass of wine. Moms will display them as unique keepsakes afterward. Trust us!
24. Adult Achievement Stickers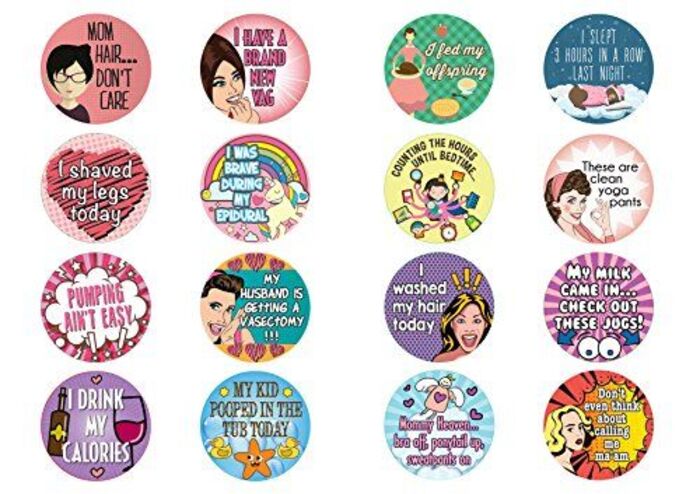 Looking for other Mother's Day gag gifts to give this year? Gift her a bottle of Chardonnay with these treats. She'll feel happy whenever she accomplishes a new goal. All of the stickers are excellent in adding a new fun vibe to her daily routine. Sounds interesting?
25. "I Love My Mum So Much" Card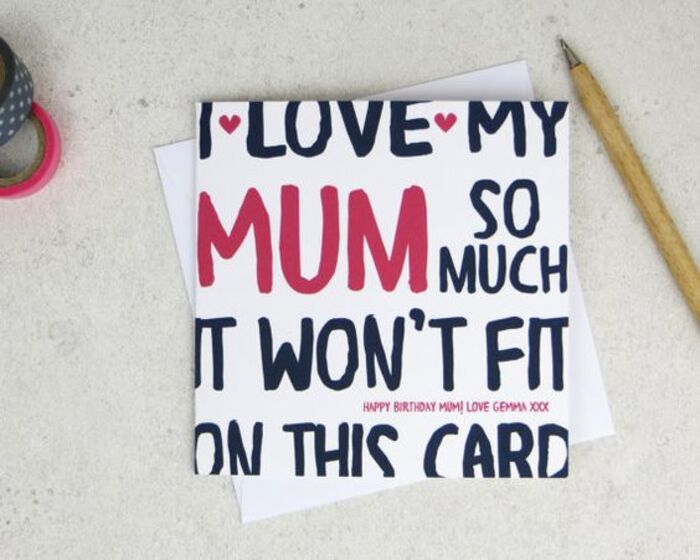 How cute it is to make your mom a funny card for her birthday or any occasion! You can write everything that can make her giggle. She'll treasure this card for years to come. Sometimes when your mum needs some motivation and relief, she can look at it and think of her beloved child – that's you.
26. Fifty Shades of Chicken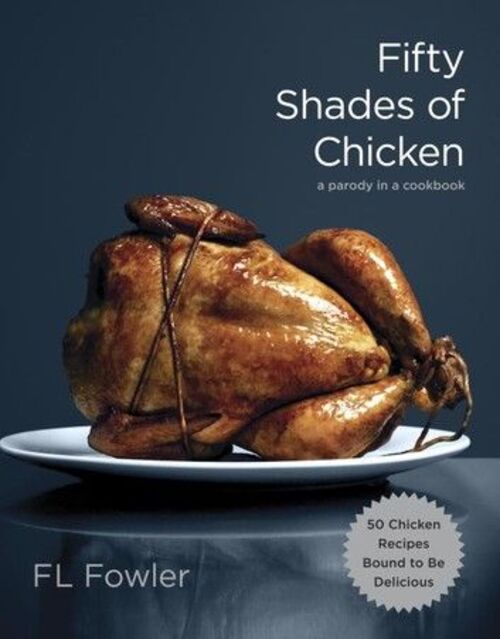 This cookbook is a wonderful option if you're seeking gag gifts for mom. It will not only offer joy and laughter to every meal, but it will also be a lot of fun for mom. There's no doubt that whatever type of chicken you're eating, it's going to be delicious. This Mother's Day, let's have some fun and some new chicken!
27. Size matters coasters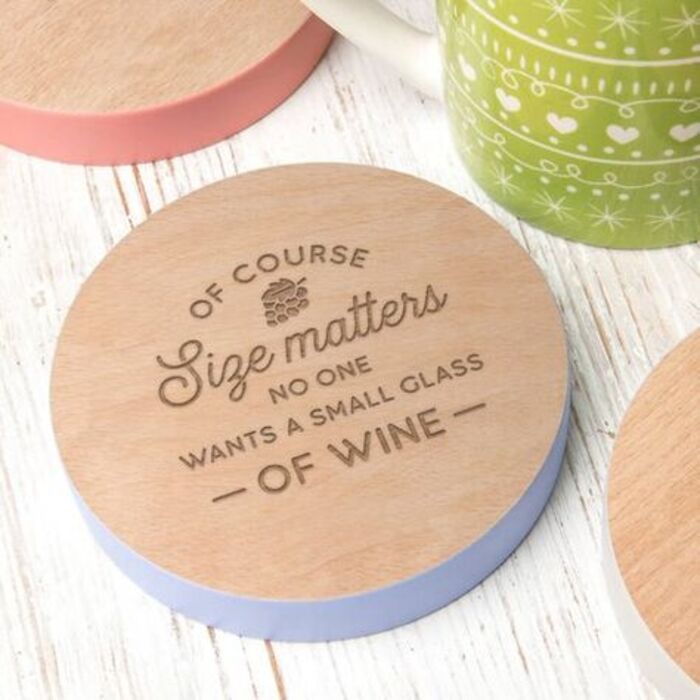 Dad will read on and breathe a sigh of relief instead of seeing this coaster. As for mum, she'll be chuckling at the phrases carved onto it. These coasters deserve to be funny gifts for mom from daughter that never go over the top. When moms receive this gift, three things approach her: your love, joyfulness, and no water ring.
28. "Mom Off Duty" Glass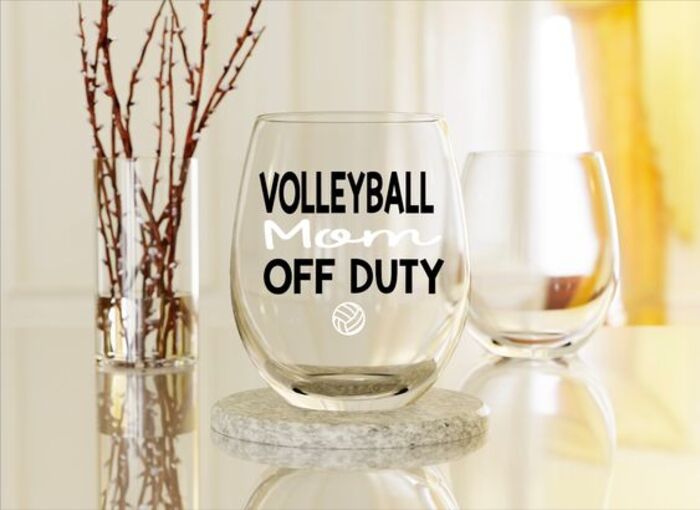 Want to show your mom how much you care? This special glass is a reminder that your wonderful woman needs a little break right now. Whether she's sipping sangria or shiraz, your mother will be thinking of how funny and thoughtful you are.
29. Donut Bouquet
Doughnut bouquets are wonderful choices when finding gag gifts for mom. For several days or weeks, mum will be able to eat a lot of delicious desserts thanks to the bouquet subscription sent straight to her home. If you know what her favorite flavors are, you're bound to make her over the moon whenever she tastes them.
Read more:
It's sweet that you're finding funny gifts for mom. That's a brilliant way to show how much you care and think about her. Follow Oh Canvas's gift guide above to choose the best gifts that can make her laugh, not only when she receives them but also whenever she sees and uses them afterward.