One of the loveliest Christmas traditions is Christmas wall decor for your gorgeous home. Only a few days remain till the most beautiful holiday season of the year begins. The dazzling lights on the streets brought joy, and people gathered around the modest house's fire to await the arrival of Santa Claus. As a dazzling star in the night sky, Christmas offers blessings and a festive mood. Consider some of our Christmas wall decor ideas from Ohcanvas to get an unforgettable holiday.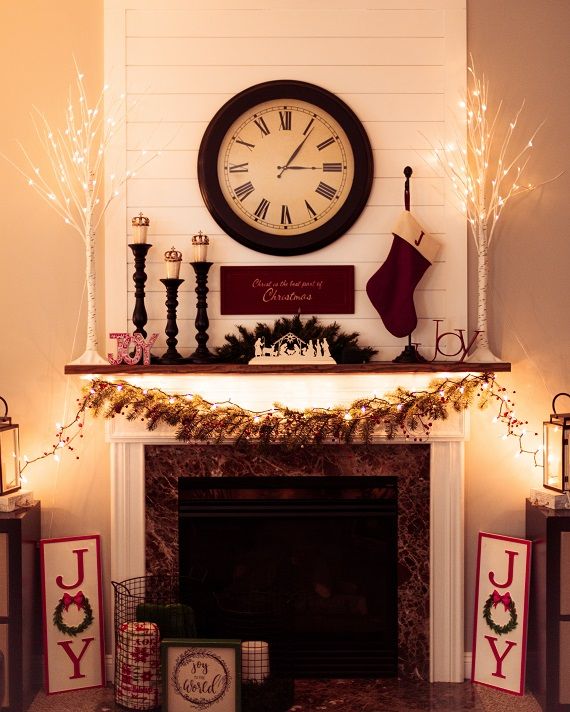 Why we should have Christmas wall decor
A year has gone by with many hopes, regrets, laughs, and tears. There are moments when our hearts seem as lonely as the withering autumn leaves in the deep blue sky. Christmas is like bringing a beam of light into each heart and lightening up the dark places in the soul. The arrival of Christmas brings hope, pleasure, and tranquility to every street and home. Christmas is also a time to unwind after a year of hard work and overcoming life's hardships. Christmas is every family's dreaming of.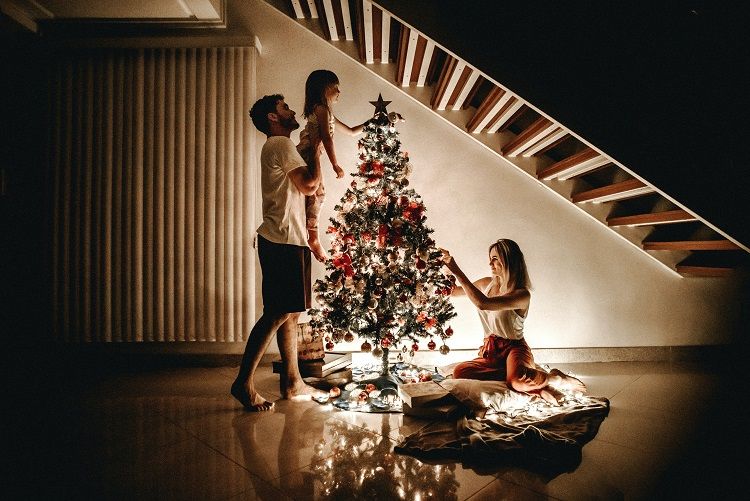 Christmas decorations have become a tradition of the holiday season. Because of the unique importance of Christmas, this work has also become more important than ever. Allow the Christmas spirit and blessings to pervade every room of the house. This duty also provides an opportunity for loved ones in the family to gather, discuss, and work together to decorate in the most fun and pleasant way possible. We can't ignore the Christmas wall decor because it takes up a modest space in our home. Furthermore, it will be the focal point for making each home's area the most shining and attractive during the Christmas season.
Christmas Wall Decor Ideas For Your Lovely Home
10 Christmas Wall Art For Your Stunning Home
1. Home For The Holidays
No present can ever replace your little family since it is the greatest gift that God gives to man. Each holiday of the year is made more important and exciting by the presence of family. Family is the source of life, a bridge, and a fulcrum for each step in our lives to be more solid, stronger, and confident. This Christmas canvas wall art will be ideal for decorating your wall. It not only brings out the spirit of this great Christmas season, but it also demonstrates your love for your family.
2. Christmas Hummingbirds Canvas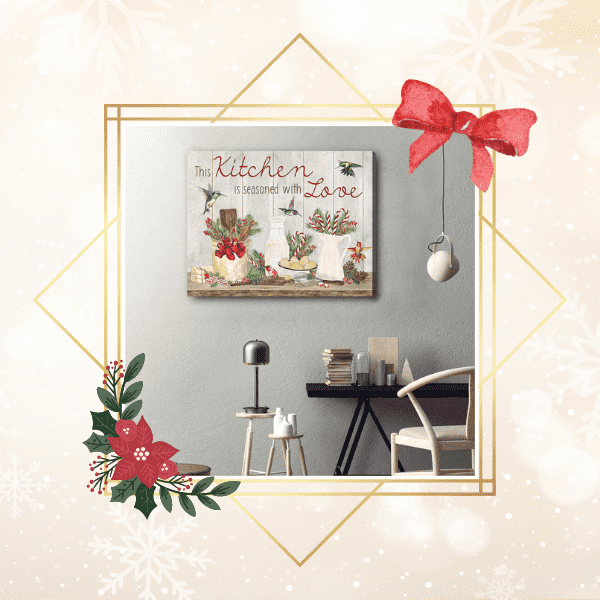 This canvas art will make your kitchen wall sparkle over the upcoming holiday season. Many things may be taken away by time, including our youth and dreams. But memories and experiences concealed deep within each of us will not be readily wiped by time. And stories are built in the family's loving kitchen becoming a memorable memory. The Christmas details and photos are what make this canvas such a popular Christmas wall decor idea.
3. Christmas Canvas For Lovely Friends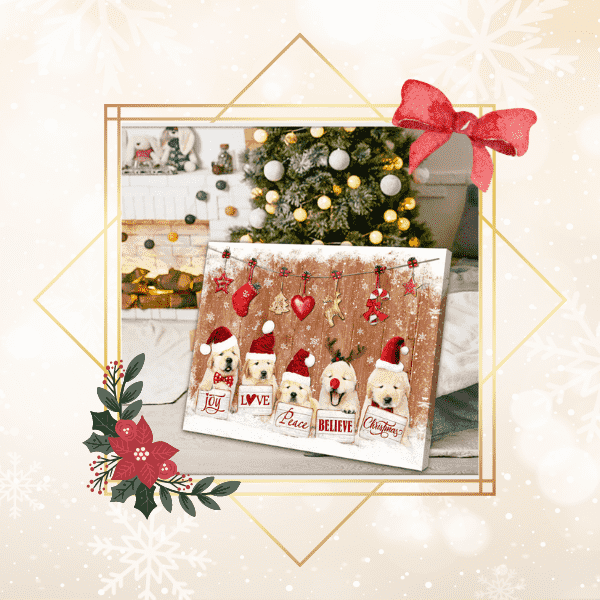 How could we forget our lovely little friends? Cute small faces can brighten up a nook in your home. Another Christmas season has here, and nothing makes us happier than watching these happy faces. All weariness and problems will be lifted, and you will be greeted with the warmest and most joyous Christmas season.
4. Christmas Evergreen Tree Wall Art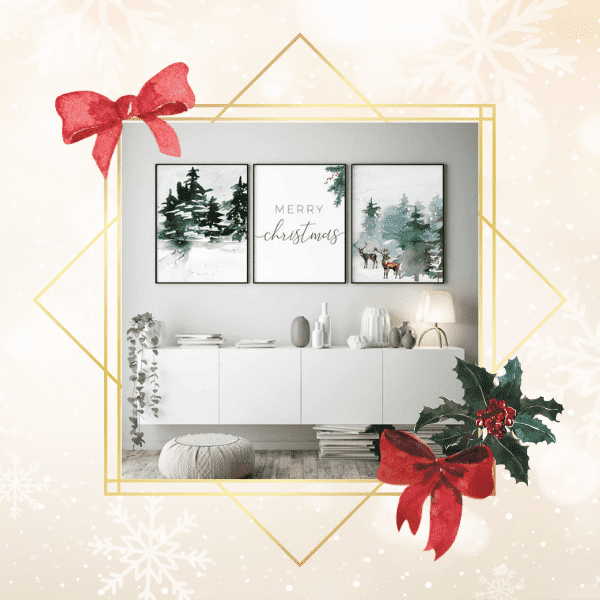 If you like simplicity and elegance, this is the Christmas wall decor art for you. Each line in this image, despite its simplicity, is quite effective. Although there are no standout hues of the Christmas season such as red, yellow, orange… it creates the impression of a frigid winter with white, misty snowflakes. That alone is enough to make us want to bring the Christmas spirit into our home.
5. Christmas Joy Canvas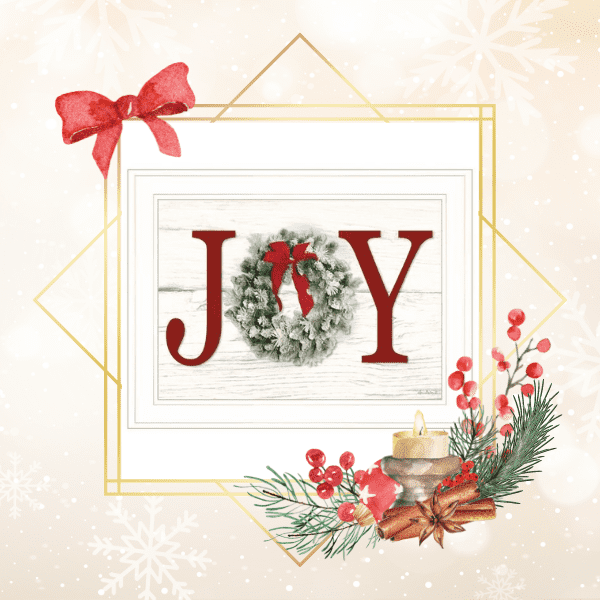 What is Christmas? Christmas is a time when family and friends come together to eat great food. And, of course, Christmas means joy, pleasure from the dazzling lights on every tiny street, joy from the delight of children beneath the Christmas tree. As a result, this Christmas wall decor will liven up and brighten up your space.
6. Christmas Stockings Wall Art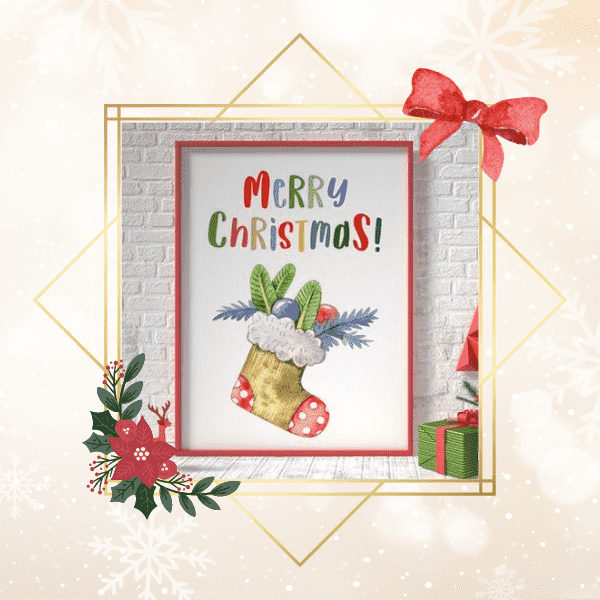 A simple but eye-catching Christmas design. Red stockings have long been associated with Christmas Eve folklore. It is not just a gift, but it also holds hope for the future. It has an entire fantasy sky, which might represent a favorite gift or even future ambitions. As a result, this Christmas Stockings Wall painting is an excellent option for Christmas wall decor Ideas.
7. Christmas Winter Wall Art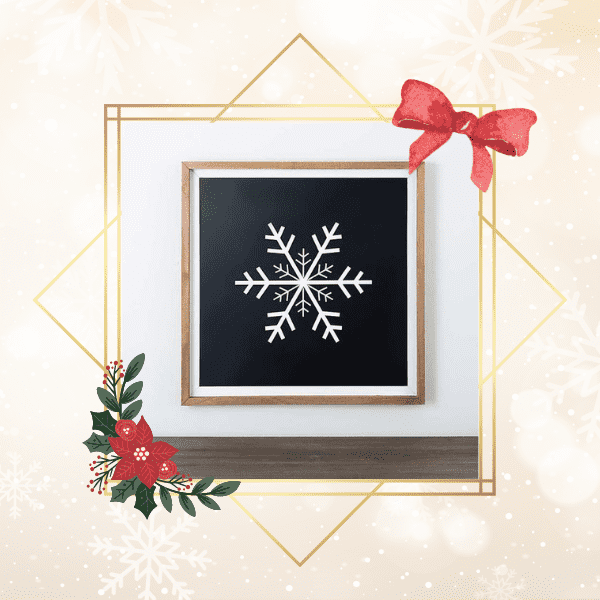 Christmas arrives only four days after the start of winter. As a result, snowflakes have become an essential Christmas emblem in many nations. Snowflake stands out because of its enigmatic sparkling beauty, therefore it has connotations that are most comparable to the lives of all humans. This Christmas winter wall art is simple, yet it has profound implications regarding a Christmas symbol.
8. Wooden Wall Art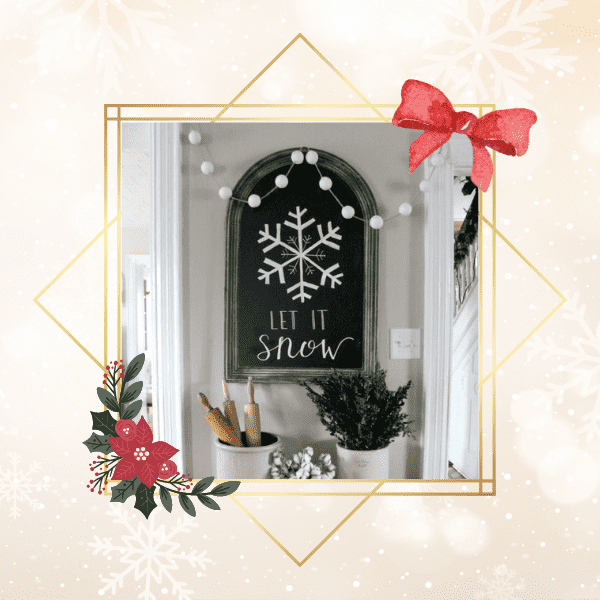 No other natural phenomena can compete with the exquisite beauty of snowflakes. They exist in a brief but highly subtle manner, making people miss and uneasy. Snow draws people closer together, eventually transforming everything into a beautiful setting. Snowflakes, it appears, have also become a beauty of the Christmas season.
9. Creating Wall Art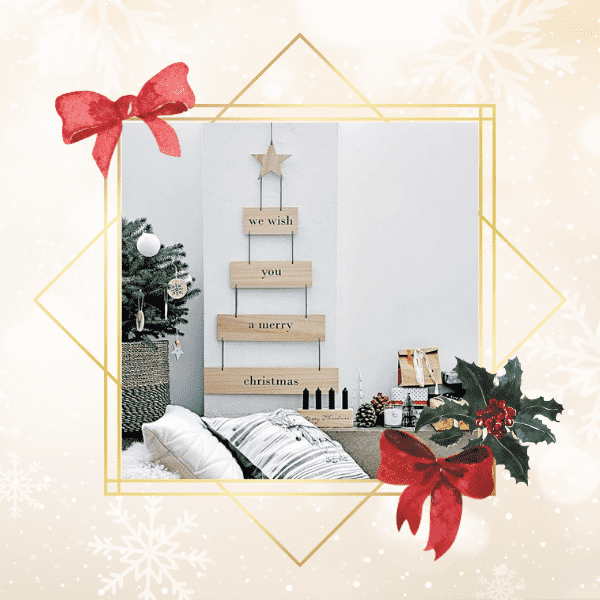 The Christmas star represents something unique. When Jesus was born, a brilliant star emerged. The Christmas star also represents God's enchantment. The Christmas wall decor that you should attempt is a unique and imaginative Christmas wall art, lead by the twinkling of a small star.
10. Lovely Christmas Wall Art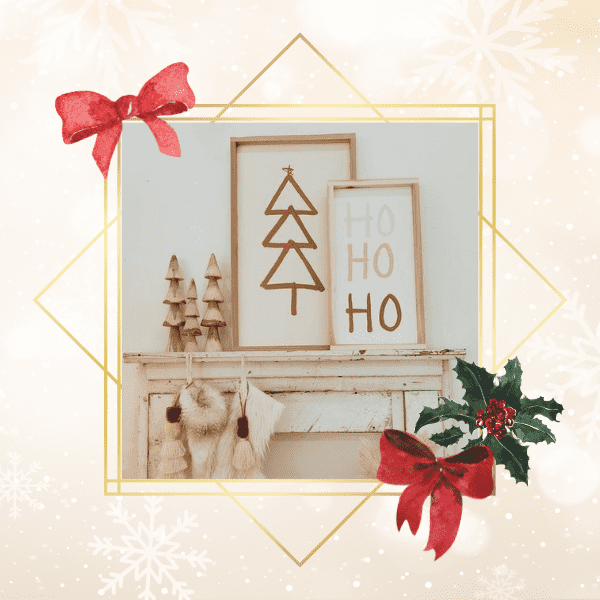 This Christmas wall decor is perfect for girls who like to daydream and have a feminine, delicate flair. In addition to being quite perfect for attractive pink-orange interiors, the color elicits a sense of warmth and comfort in the viewer.
10 Farmhouse Christmas Wall Decor Ideas
Maybe you like:
1. Farmhouse Christmas Canvas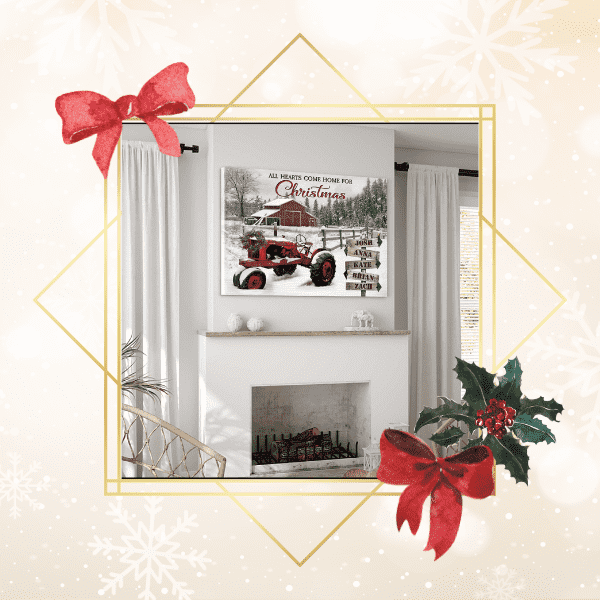 When we talk about farmhouse style, we're talking about warehouses with a rustic atmosphere. The pictures of the barn and tractor on this farm painting nicely mirror the scenery of the isolated suburbs. The contrast between red and gray emphasizes the chilly yet lovely Christmas ambiance in the farmhouse style. Alternatively, you may arrange the names of family members on this custom canvas print to make the ideal Christmas wall art.
2. Christmas Gift Canvas Print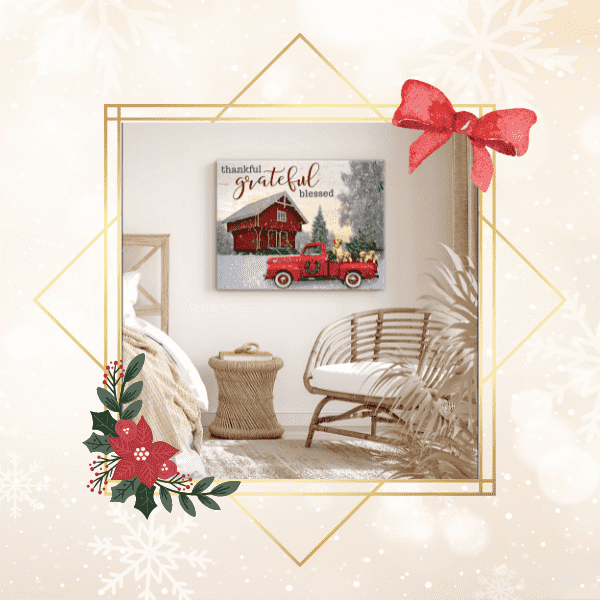 This Christmas wall decor is ideal for dreaming girls with a feminine, delicate flair. The hue is highly appropriate for attractive pink-orange spaces, and it also produces a sensation of warmth and comfort.
3. Farmhouse Kitchen Christmas Canvas Art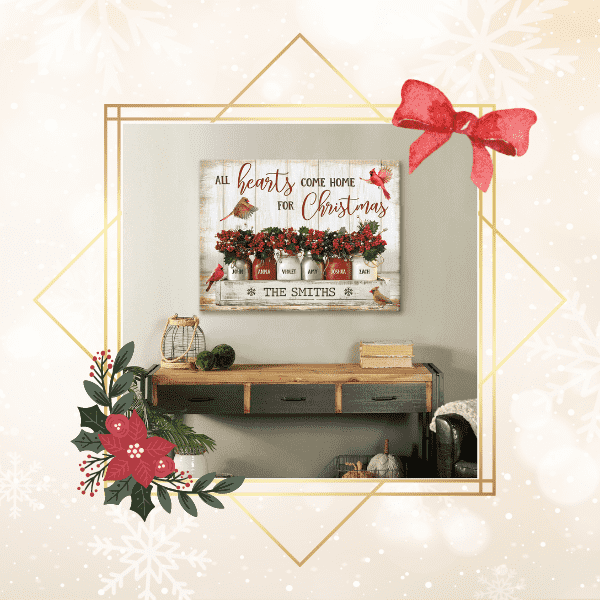 Another unique canvas in a farmhouse theme for the forthcoming holiday season. In contrast to the frigid mood of a snowy winter, this canvas art exudes warmth and enthusiasm. This canvas art glows with a gleaming light that will brighten your family's Christmas feast.
4. Christmas Farmhouse Fall Decor
Why not do a Christmas wall decor in a fall style? Wall art and versatile pumpkins can be used to create an autumn farmhouse atmosphere on your Christmas wall.
5. Charming Christmas Wall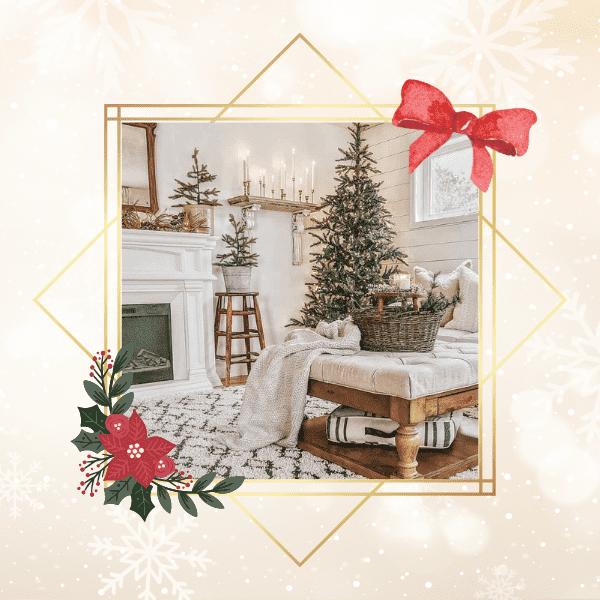 Candles have provided warmth to frigid winters for millennia. Candles can also symbolize the light of the star that shone at Christ's birth. And, like other lamps, He serves as a reminder that He is the Light of the World. Isn't it a good idea for the Christmas wall decor with shimmering and romantic candles?
6. Cozy Entry Space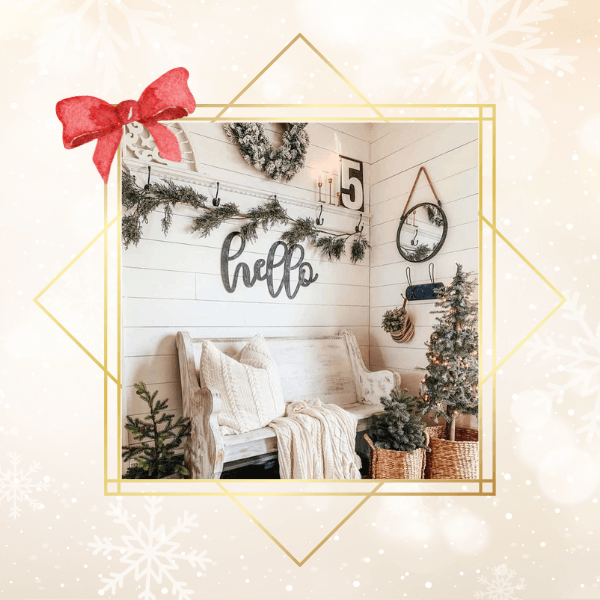 Decorate the wall in the entry area to make every house guest feel welcome on Christmas Day. Each guest's presence is always a blessing for us, therefore let's make them feel as welcome as possible when they arrive. Let them know how much we cherish and are proud of our great friendship.
7. Farmhouse Kitchen Christmas Wall Decor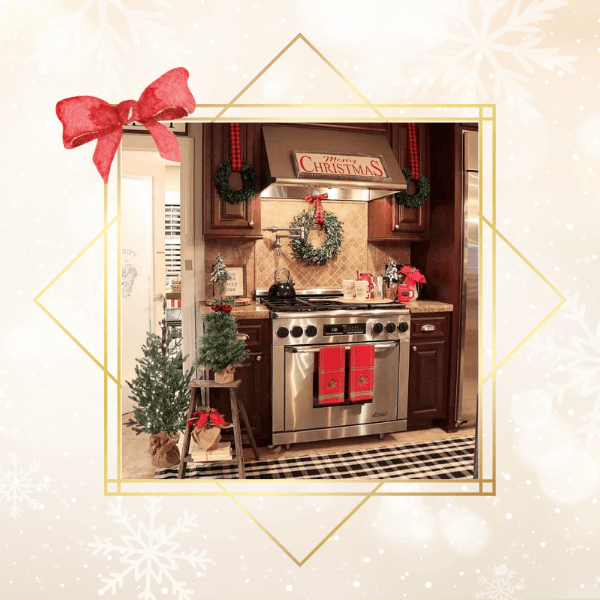 Ideas for unusual and one-of-a-kind Christmas wall decor for your kitchen. A simple laurel wreath made of ivy leaves and a crimson ribbon can brighten up your kitchen space. Allow each item to be prepared in a festive and lively Christmas setting. Lovely red scarves will brighten up the Christmas ambiance when combined with other decorations such as little pine trees.
8. Imitation Fireplace And Vintage Mirror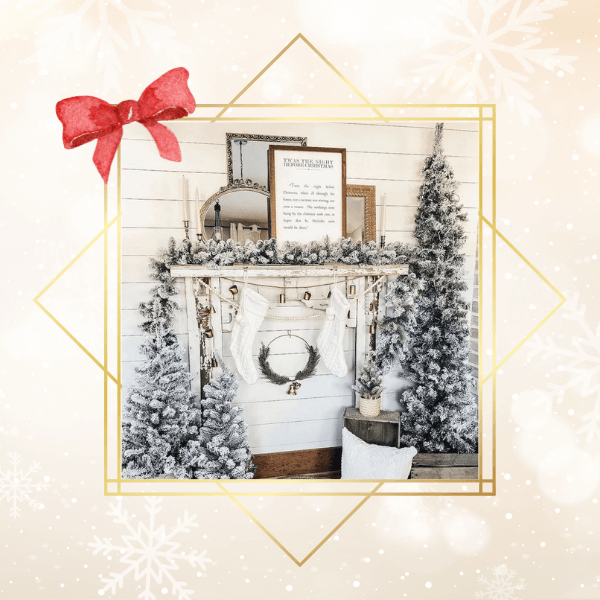 What if your family doesn't have a fireplace to decorate for Christmas? Don't be concerned; human creativity is limitless. Make an imitation fireplace frame out of white spray paint slats and ivy strips. Vintage mirrors and sparkling candles may be put to the top to create a rich but rustic beauty. To add elegance to the wall, hang little bells and a few white socks.
9. Minimal Farmhouse Wall Decor
Minimalism has emerged as a shining point in modern farmhouse decor in recent years. Despite its rough lines, it has a supple and sensitive personality. As a result, this is a terrific option for farmhouse Christmas wall decor that you may explore for the approaching Christmas season. Still one of the most well-known Christmas icons, it now has a beauty that is both modern and timeless.
10. Farmhouse Christmas Kitchen Decor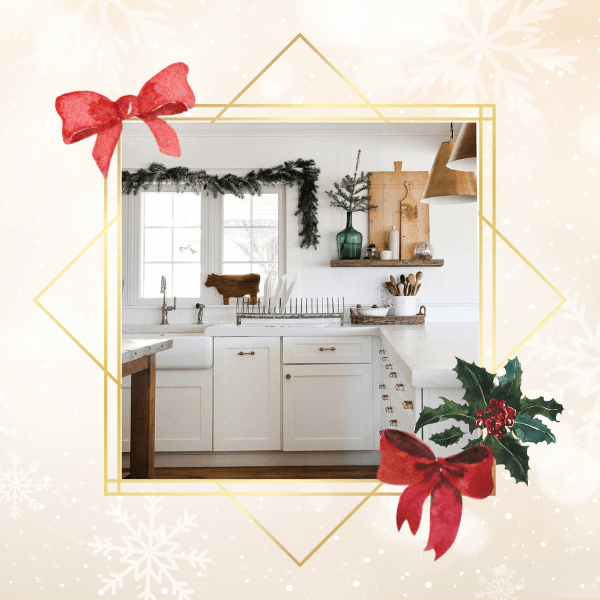 The farmhouse style embraces simplicity to the greatest extent feasible, yet being neither too shaky nor missing. Overall, this form of Christmas wall decor provides warmth in its way. This farmhouse Christmas kitchen decor concept will assist you in creating the simplest but most lovely Christmas wall decoration.
Learn more:
20+ Great Just Breathe Wall Art You Will Choose For Your House This Year
4 Reasons You Cannot Ignore Floral Canvas Wall Art
9 Diy Christmas Wall Decor Ideas That Are Easy To Make
1. Christmas Tree Family Photo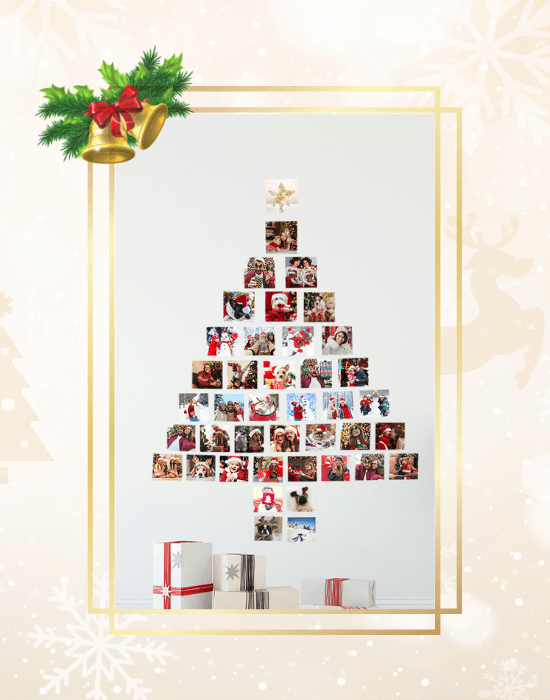 In 2021, a DIY Christmas tree formed by pasting charming family photos from the year will be a terrific option for Christmas wall decor. With so many swings from the pandemic in the last year, all of the times captured on camera may be quite valuable. Take advantage of the upcoming Christmas season to reflect on a challenging but yet extremely happy and joyous 2021 with your loved ones.
2. Letter Decor
Cutting letters and paste-up on the wall is certainly a basic task that anybody can do, right? Let join your children in cutting and pasting their favorite words to greet a calm Christmas season.
3. Driftwood Christmas Tree Wall Hanging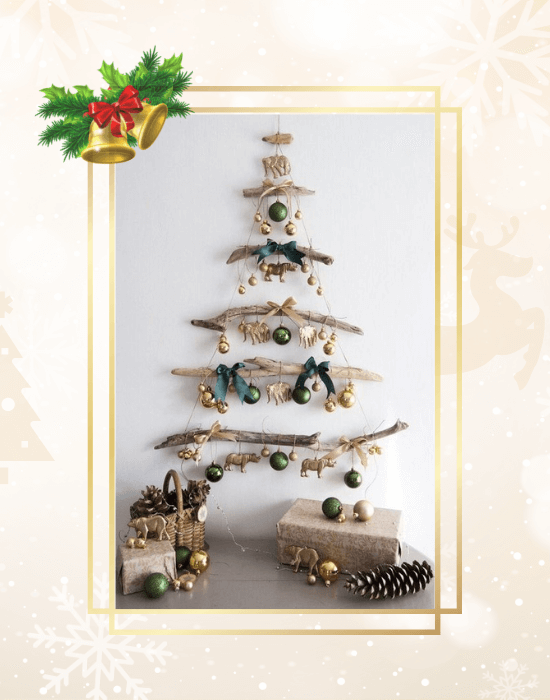 At first inspection, it appears that short, crooked wooden bars will be useless. But what if it was utilized to make a unique Christmas tree? Isn't it adorable? Hang extra tiny ornaments that your family likes to create a simple and lovely Christmas tree.
4. Pretty Little Gift Packages And Laurel Wreaths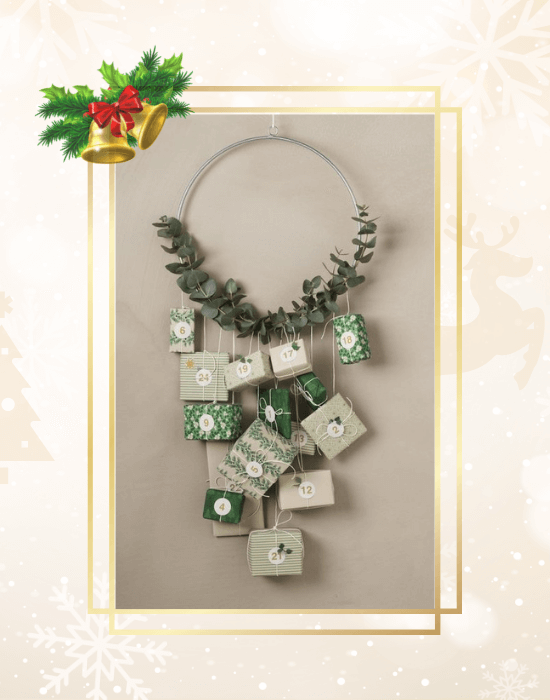 A metal rod twisted into a circle and miniature gift boxes combine to produce a charming Christmas wall decor. Is it simple to find these ingredients? Wrap ivy leaves around the bracelet to soften it and make it more elegant.
5. An Interesting Laurel Wreath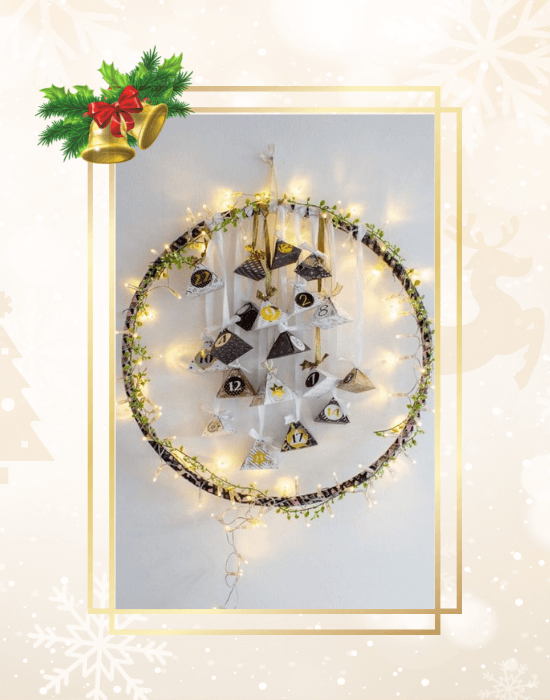 Similar to the last design, however, this time we'll add more sparkling led strips to make an eye-catching Christmas wall decor. Furthermore, the present boxes have been updated with more beautiful shapes to add to the originality of this arrangement.
6. Christmas Scroll Art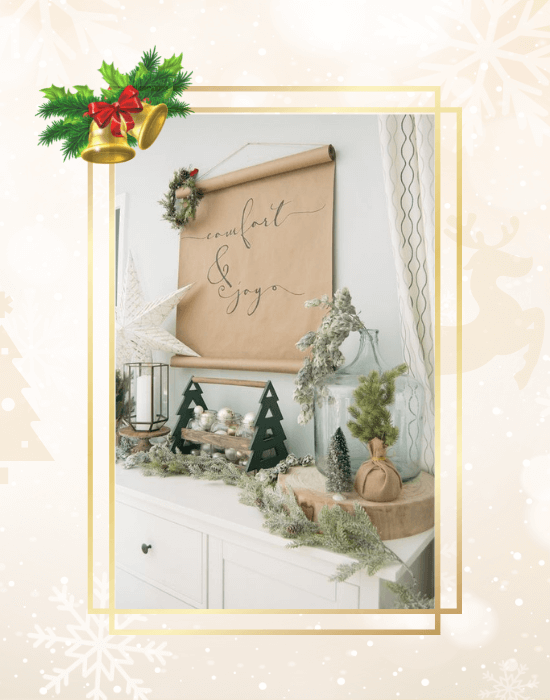 A scroll and your calligraphy abilities will make an excellent Christmas wall decor. Simple but elegant, with a lot of art. It is adorned with laurel wreaths, stars, and a few other Christmas ornaments.
7. Christmas Lighting Tree
Another simple DIY Christmas wall decor idea. Ropes link the dry branches, which are illuminated by glittering LED lights. Decorate it with little and lovely Christmas ornaments such as balls, miniature stars, and snowflakes.
8. Reindeer Card Holder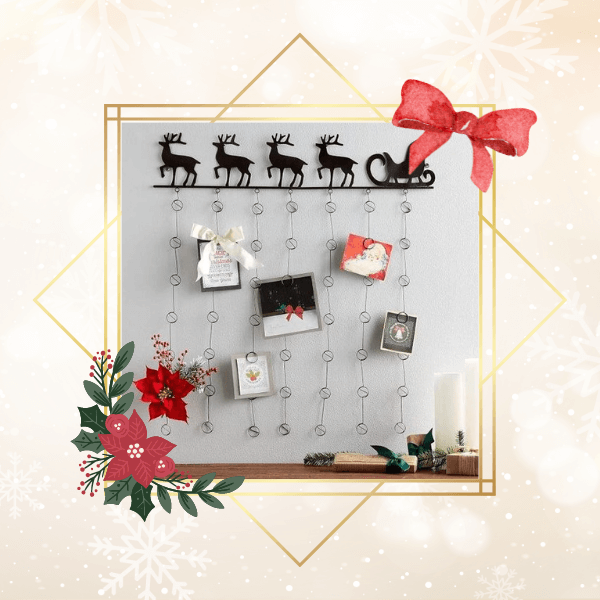 How do you store and display Christmas cards in a distinctive and eye-catching manner? Try it out with this Christmas wall decor idea right now. So far, images of reindeer and rickshaws have been blended with basic ropes and charming cards. That's it; we now have a wonderful cardholder.
9. Simple Pine Tree
Simple Christmas trees that are quick and easy to construct for family members. We only have wonderful and lovely pine trees because of blue ropes or finely cut blue wool. This must be a fantastic Christmas wall decor concept if combined with little balls to put on the wall, right?
Our Christmas wall decor ideas may not be the most unique and stunning. Because we know that you – our beloved customers and readers – always bring with you infinite ingenuity and aesthetic taste. We merely hope that the above Christmas wall decor ideas will help you minimize your work and save more time. Merry Christmas to you and your family!