When it comes to gifts for your wedding anniversary, you don't have to stick to a certain theme. If you're looking for something unique or surprising, it's important to take a different path than the norm. That might mean a variety of things to your spouse. Read on the Oh Canvas blog to discover the best ideas for personalized anniversary gifts!
Why do personalized anniversary gifts feel so much more special?
Because of today's rapid environment, it's easy to feel overwhelmed. You may forget to text each other back or both of you are fatigued after work. As a result of our stress, we sometimes take out our frustrations on one another.
But remember that, no matter how amazing or awful the last year has been, you and your darling have made it through another year together. You have faced challenges together, traveled to new places, and engaged in novel things. On this day, remember to make her/ him know that your love for her/ him is unbreakable, no matter what. With personalized anniversary gifts, it may work the best!
Top 35 Custom Anniversary Gifts
1. Custom Anniversary Gifts Ohcanvas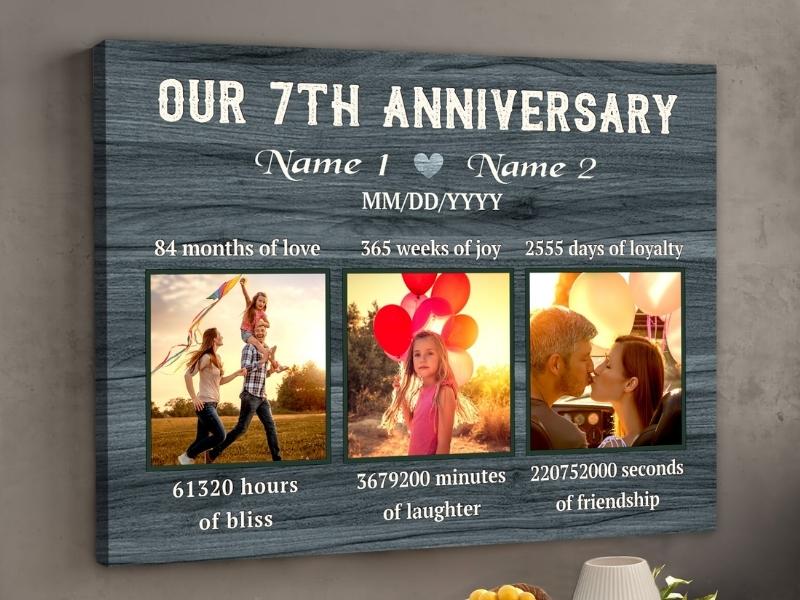 These beautiful kinds of personalized anniversary gifts are the perfect way to commemorate a special occasion. Your sweetheart will always remember where you were and what you were doing on the day you gifted it to her/ him, down to the exact second.
2. Embroidered Blanket Hoodie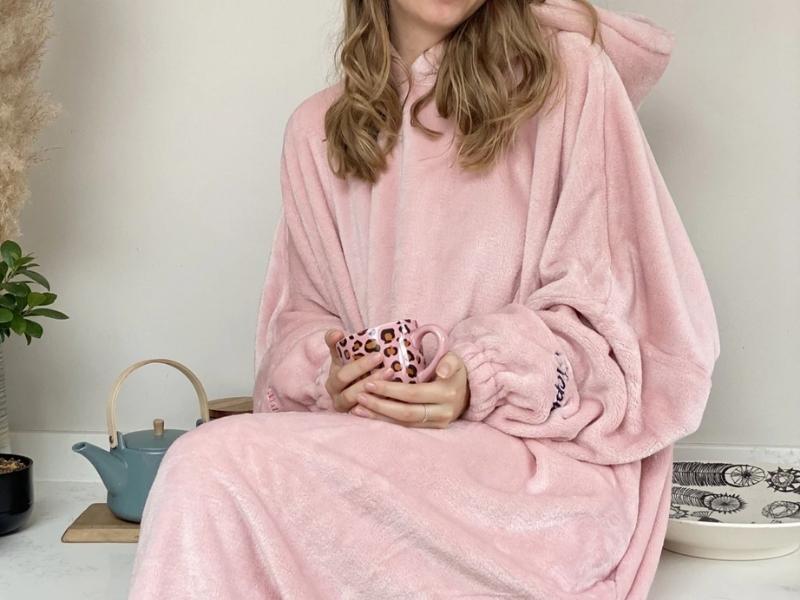 Check out this embroidered blanket hoodie if you're seeking personalized anniversary gifts for her. You may choose from a variety of colors for the embroidery, which will keep her toasty all season long.
3. Personalized Leather Wellness Case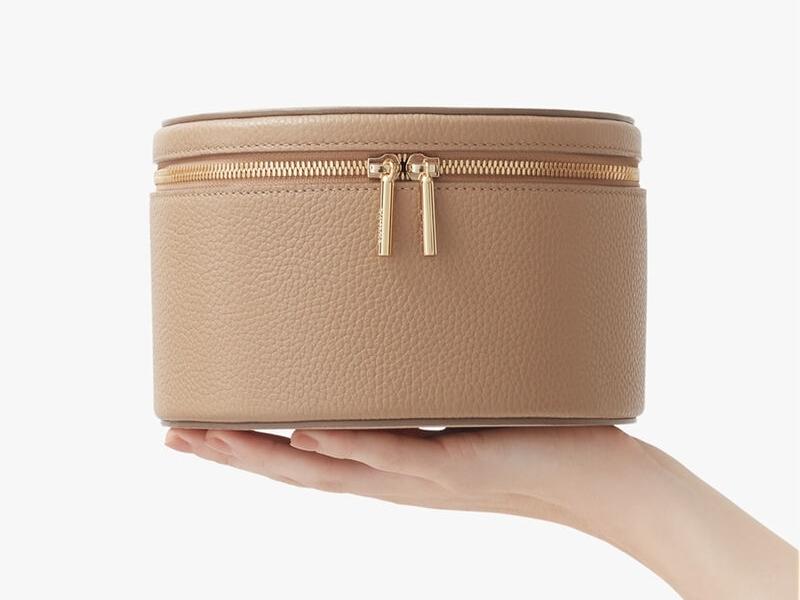 This pebbled leather wellness case is ideal for the on-the-go lady who needs to keep her skincare products organized while on the road. In addition to the jade rollers and brushes attached to the lid by a strap, there are elasticized slots for serums, moisturizers, and eye creams. Even the internal strap may be personalized with gold foil monogramming.
4. Personalized Gift Glass Art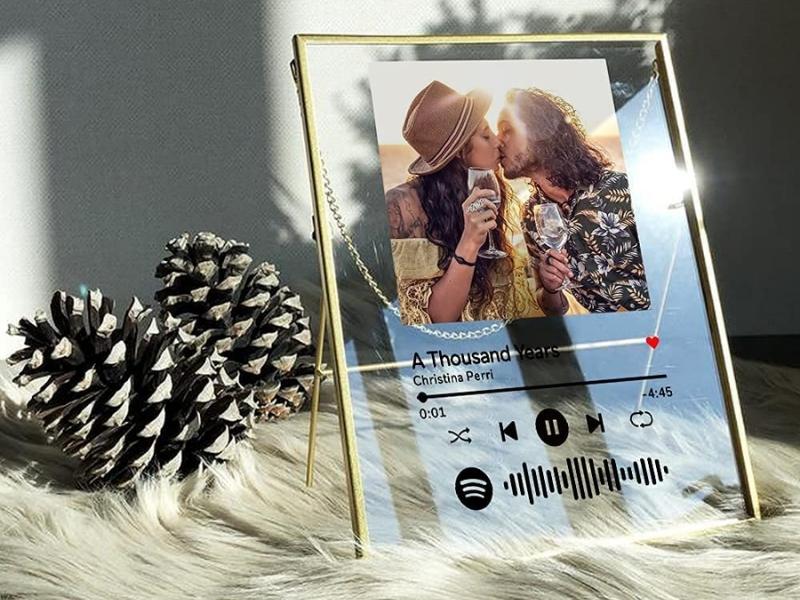 Custom acrylic album covers are the perfect way to preserve a cherished memory. For a modern 3rd anniversary gift, we recommend picking a piece of music from your first dance and a picture of you and your beloved to create a one-of-a-kind present.
5. Where We've Been World Map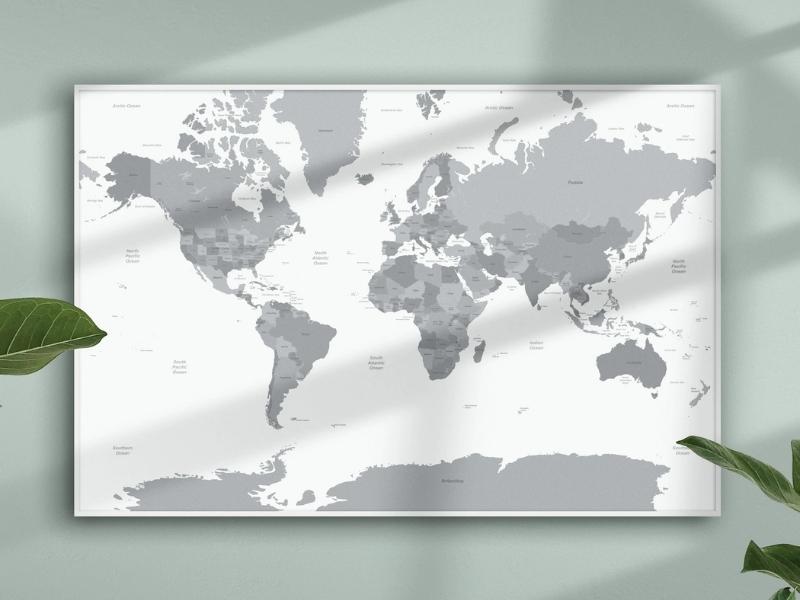 It is possible for a traveling couple to mark all the destinations they've visited together on this map. This item is also perfect for the 1st anniversary gift that you should not pass up.
6. Personalized Cuff Bracelet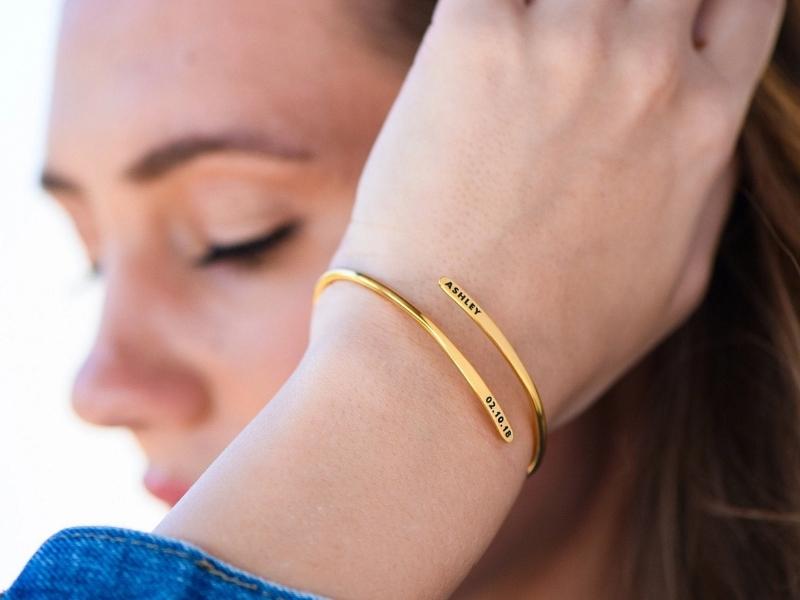 Customize this bracelet with a personal message or your name to express your feelings. You'll be in the back of her/ his mind every time she/ he puts these anniversary engraving ideas on. Adjustable so it can fit any wrist and comes in a variety of metals so she can find one that matches the rest of her jewelry collection.
7. Personalized jewelry box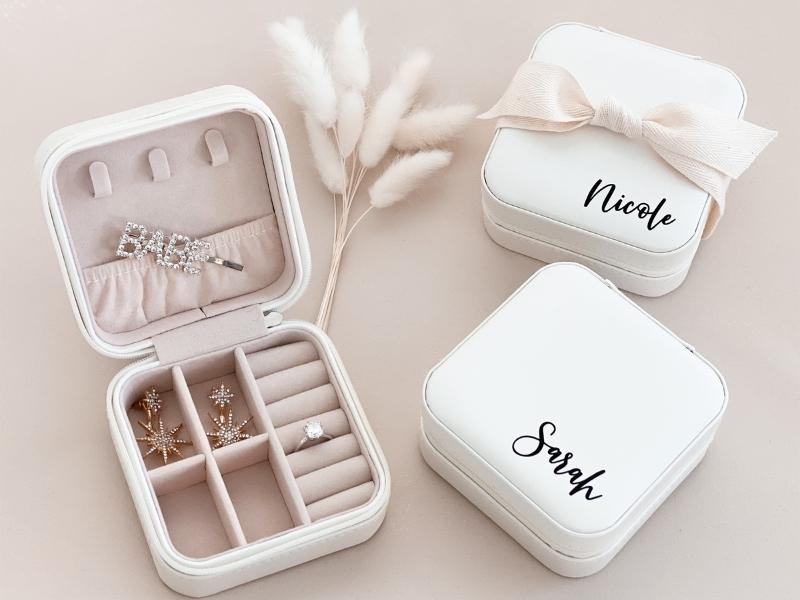 It's the perfect personalized anniversary gift for her if you gave them a necklace or bracelet on their previous anniversary. In addition, a monogram may be added to the box to make it more personalized.
8. A custom puzzle of a favorite photo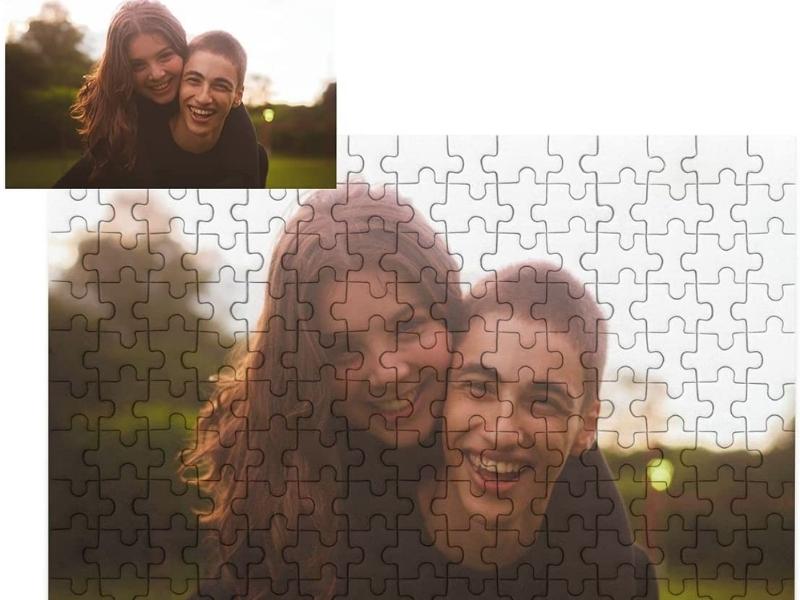 If you're searching for meaningful and heartfelt personalized anniversary gifts, consider a puzzle made from pieces of your favorite picture.
9. Delight Custom Message Shortbread Cookies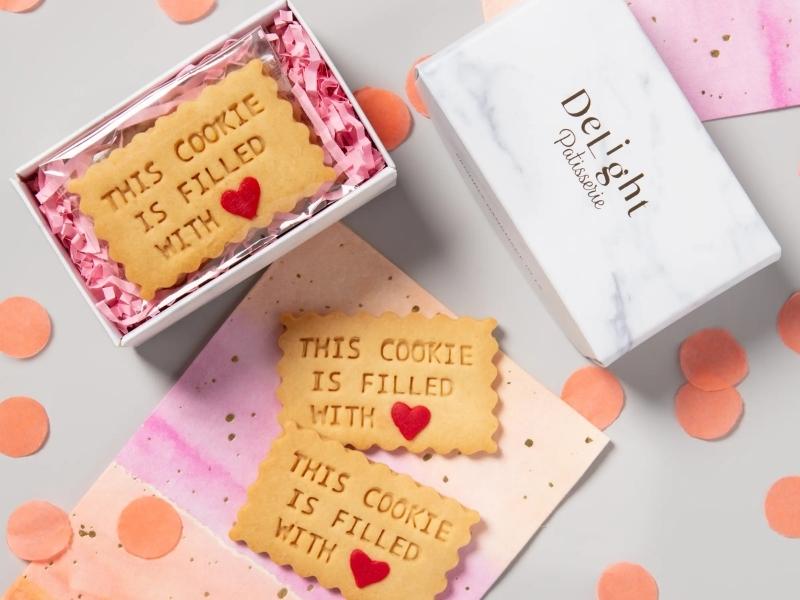 Shortbread is the best option for conveying a delicious message. This buttery 24-piece batch of cookies may be customized by baker Celine Zhou with up to three lines of writing (think inside joking, lyrics, or simply "Enjoy Anniversary!"). In addition, there's no need to wrap them because those personalized anniversary gifts for him come in a lovely floral gift box already prepared for you.
10. Engraved Wood Heart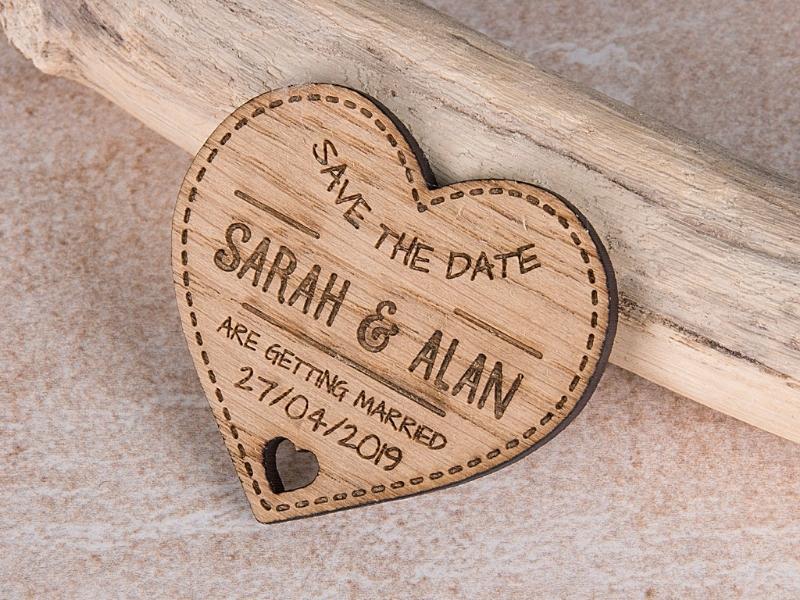 There are no stone hearts to be found here. Wooden anniversary gifts are known as the symbol of the 5th wedding anniversary It's a lovely addition to a fireplace mantel or desk. Melt your wife's/ husband's heart by sending these custom anniversary gifts.
11. Song Lyrics on Photo Canvas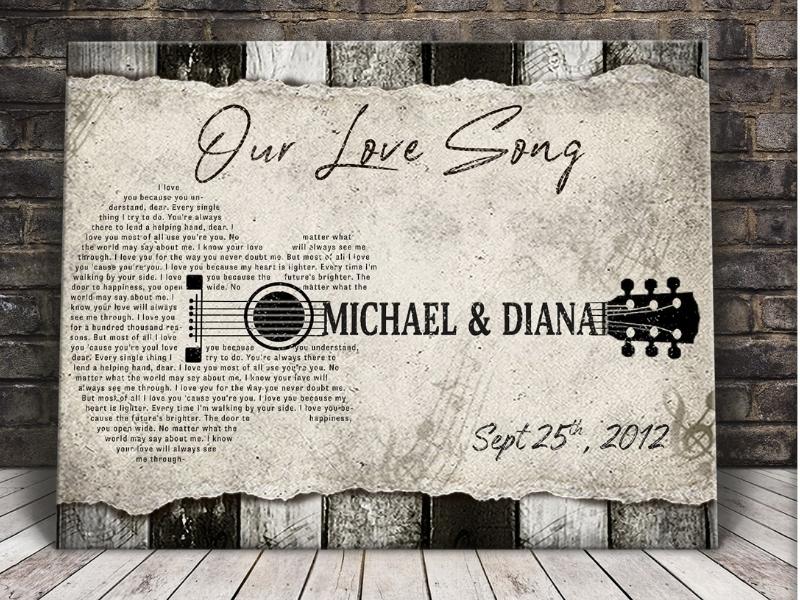 Gifting a song lyric-based present is a genuinely significant way to express your love for your loved one. There are several options for personalized anniversary gifts, but you can be sure she/ he will like this painting. This one-of-a-kind present will serve as a beautiful reminder of your undying devotion to one another.
12. Custom Map Heart Necklace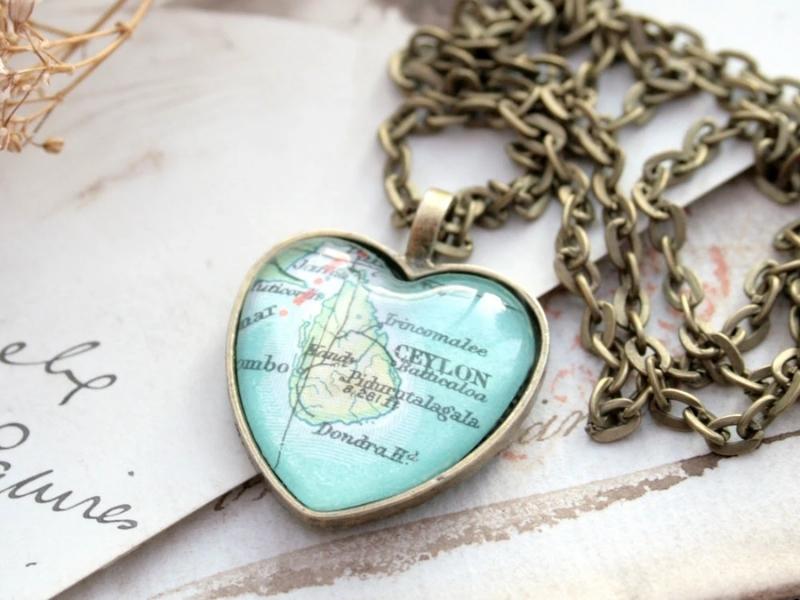 If the place where you met is significant to you, you may want to buy her this heart necklace, which has a map of where you met.
Read more:
13. Diamond Necklace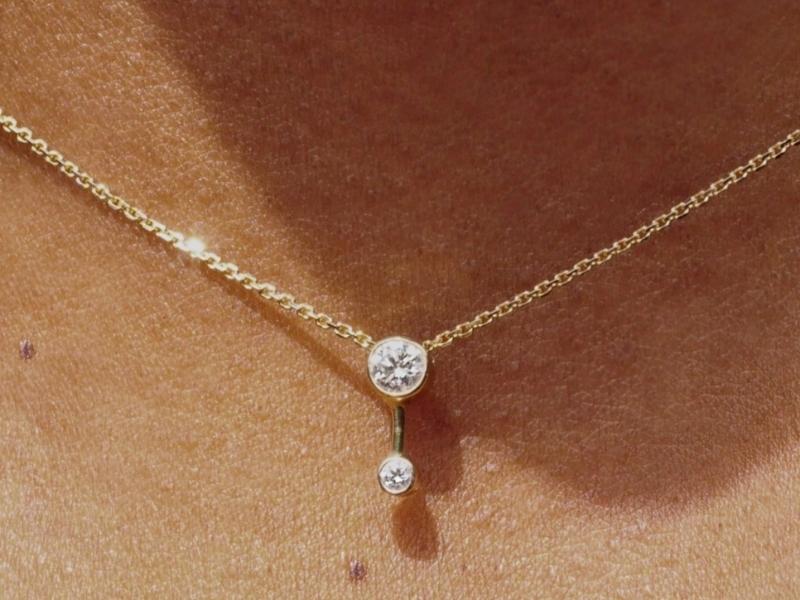 A sparkling diamond, particularly one set in a stunning necklace like this, will always put a smile on a woman's face. The diamond can be shaped into a hexagon, Octavia, or lozenge shape, and it hangs from a delicate chain made of yellow gold or white gold, depending on your wife's preference for metal. Any jewelry box should have one of these. Hence, these personalized anniversary gifts for her are both classic and never go out of style.
14. Engraved Wooden Keepsake Box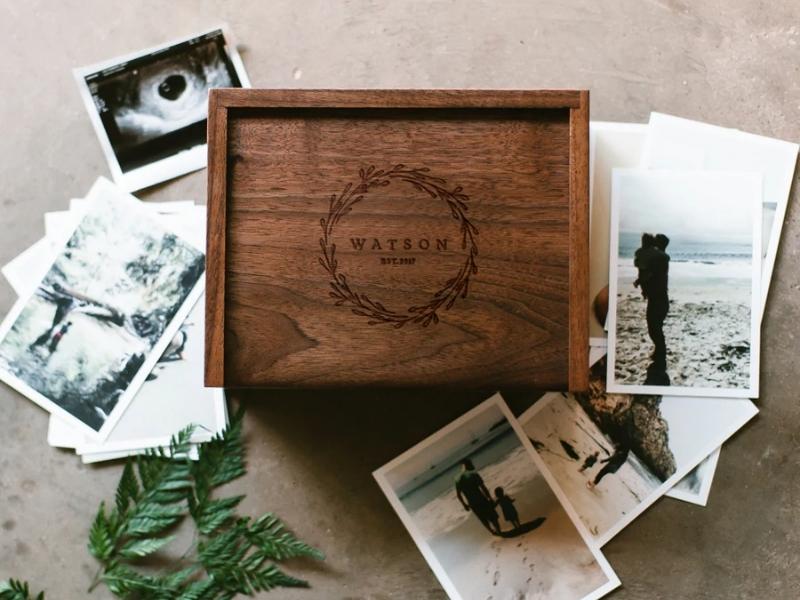 Are you looking for anniversary presents for him? Invest in a beautiful wooden memory box for your wife and fill it with meaningful keepsakes of your time together.
15. Personalized Apron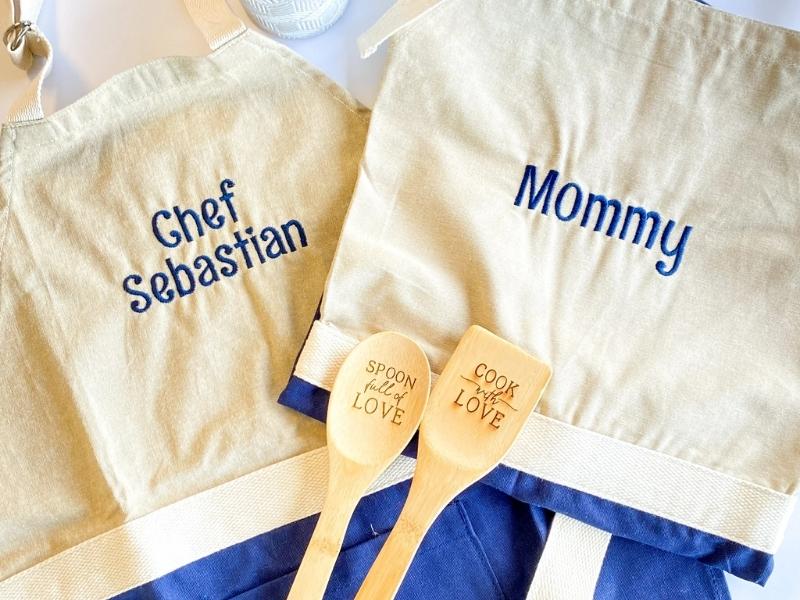 This monogrammed apron is a must-have for the cook in your life. They come in two colors: white and black, which we like since these personalized anniversary gifts are balanced in the kitchen.
16. Hand Decorated Teapot Set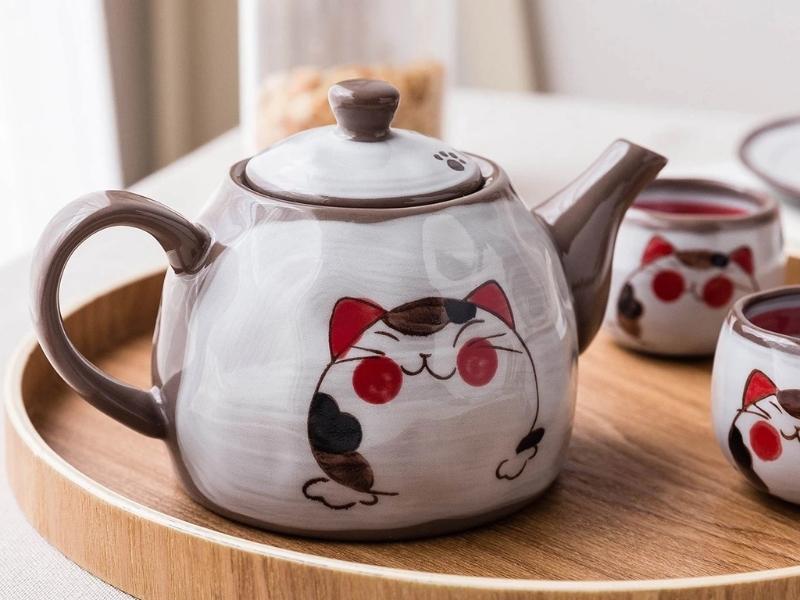 A hand-painted porcelain teapot is an ideal 9th anniversary gift for a spouse who enjoys a cup of tea. Make the teapot a one-of-a-kind gift by having the recipient's name or a phrase of your choice painted on it.
17. Washable-Silk Tee Set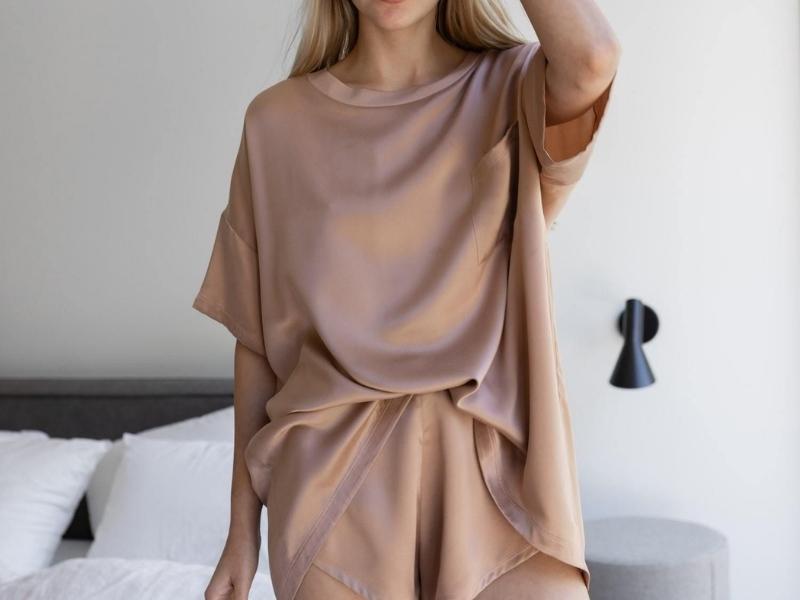 Wearing this silk tee set to bed is like sleeping in a cloud. It's one of our favorite pajama sets because of its large fit and thermoregulating fabric, which helps keep your sweetheart comfortable.
18. Custom Wood Cutting Board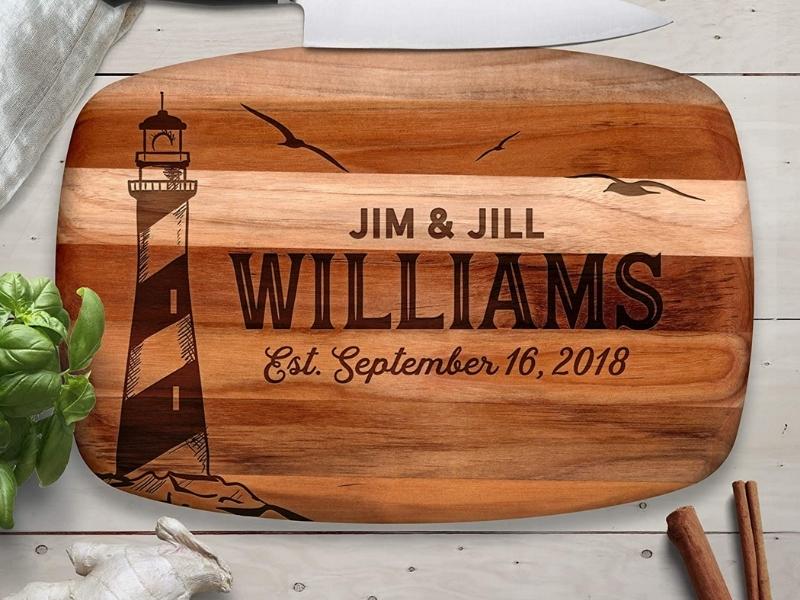 This cutting board may be personalized with a recipe that has particular meaning to you, such as the meal that was prepared for you on your first date or the dessert served at your wedding. Since wood is often associated with 5th-anniversary presents, this would make lovely engraved anniversary gifts for him.
19. Custom Photo Song Plaque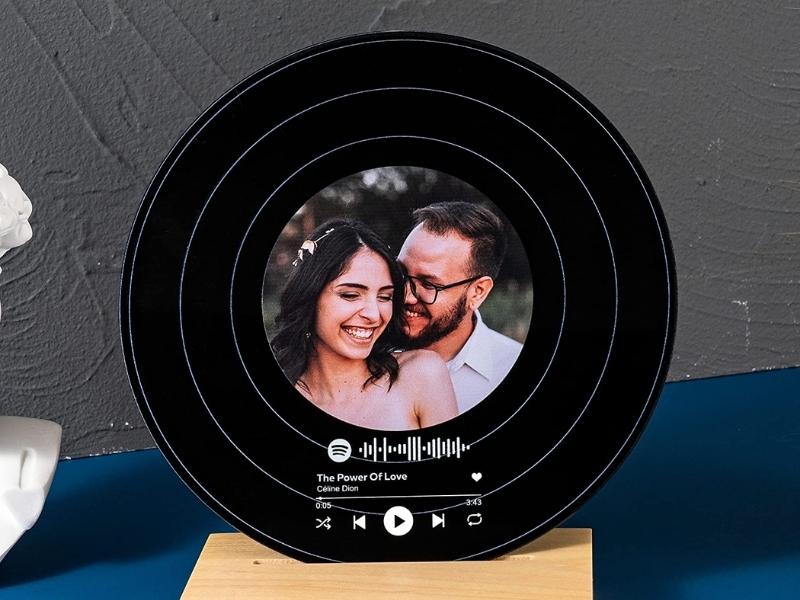 A photo of the two of you and a particular tune, such as your first dance song from your wedding, may be added to this display record. In addition to their work-from-home station, these photo gifts anniversary would benefit greatly from this.
20. Personalized Ring Dish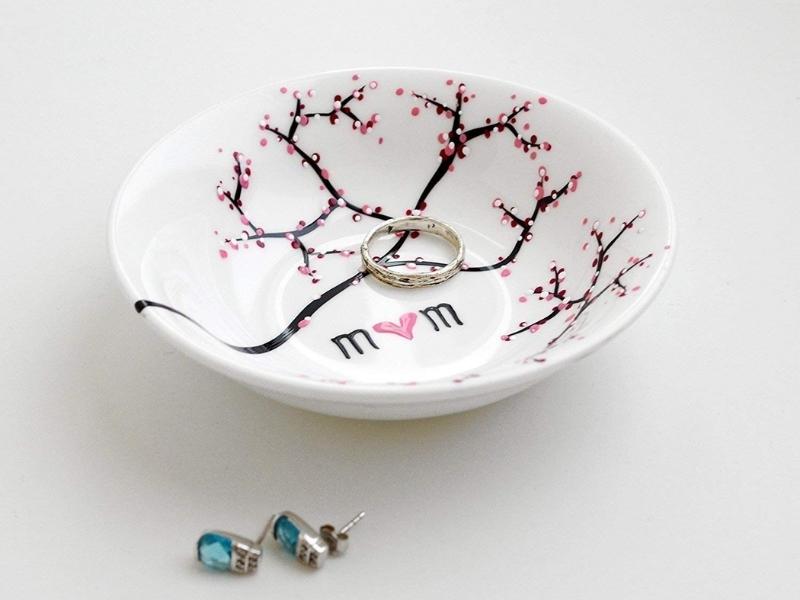 With this jewelry dish on her dresser, she'll never lose her wedding ring again. For an added personal touch, have both of your monograms put on these custom anniversary gifts for her.
21. Personalized Record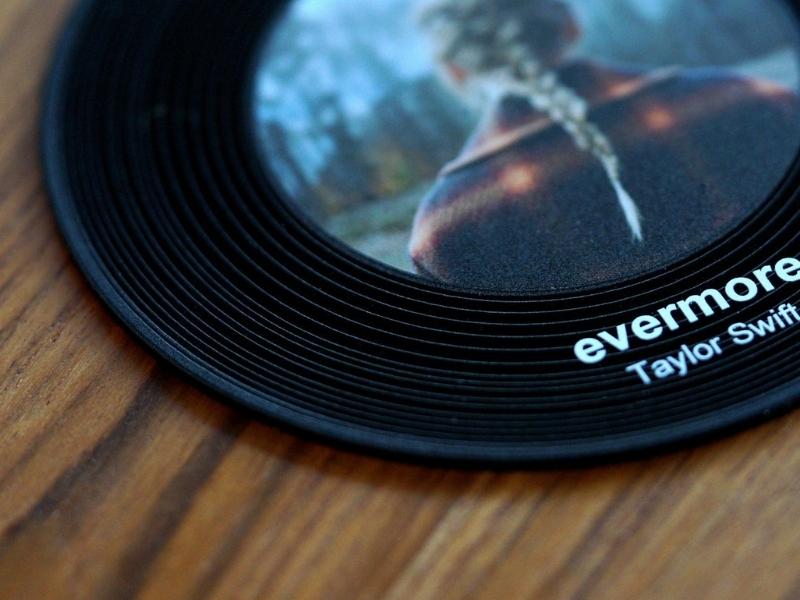 Your music-loving sweetie will like receiving customized records as personalized anniversary gifts, regardless of what song you choose.
22. Personalized Music Box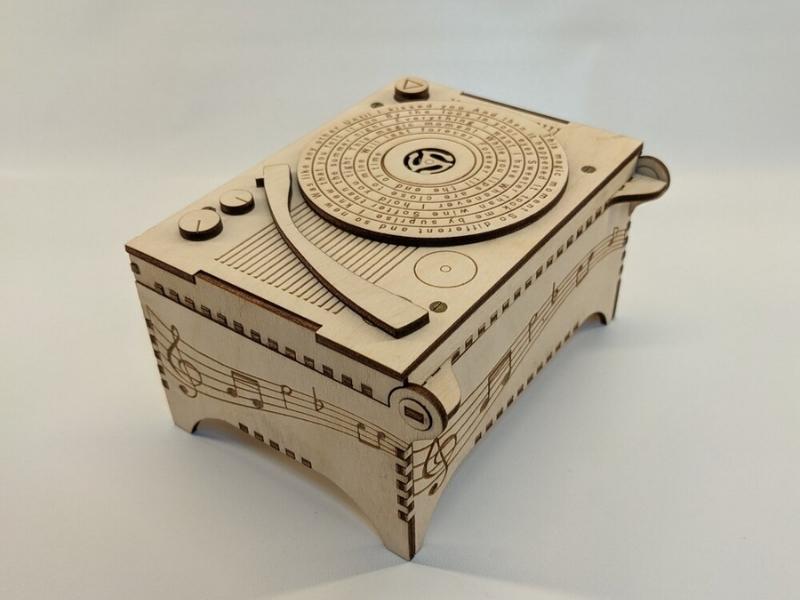 Personalized with a heartfelt message, this antique music box is the perfect gift for your sunshine.
23. Sound Wave Art Canvas Wall Art Ohcanvas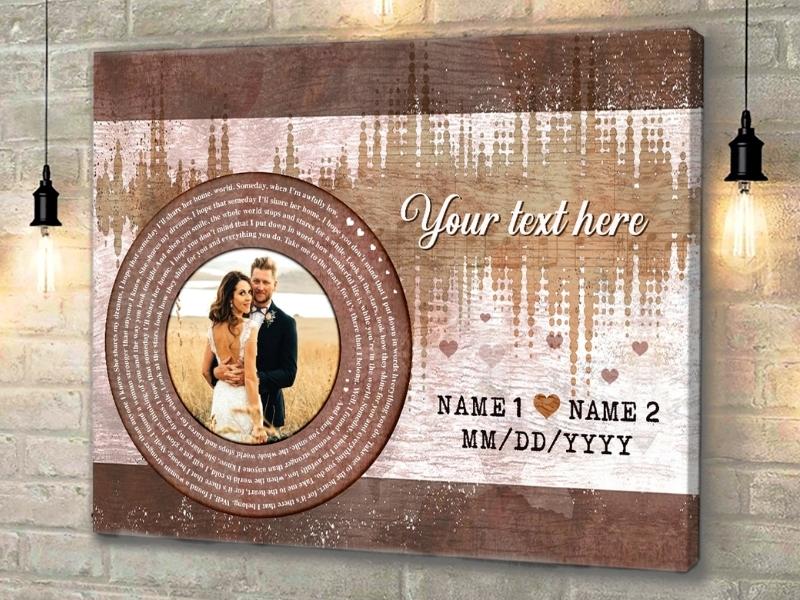 Spiral song lyrics wall art is perfect for engraved anniversary gifts if you have a favorite love song that expresses your relationship perfectly. It brings back memories of the first time you danced together. Also, if you and your spouse had picked this track as your wedding music, you should hang it somewhere in your house.
24. Leather Luggage Tag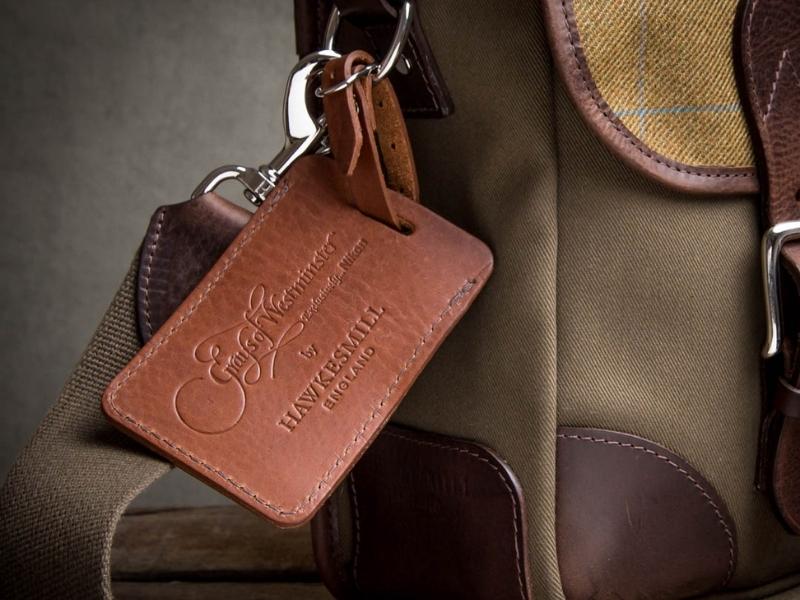 For all the experiences you've already shared, you know there will be more. Give these leather anniversary gift ideas for her to your woman in both classic and contemporary ways.
25. Papercut Art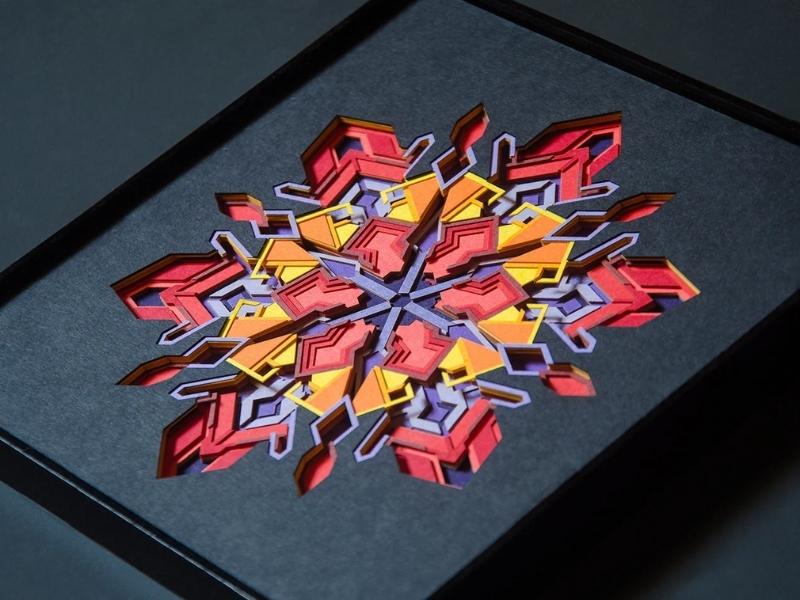 Celebrate your wedding anniversary in style this year with this beautiful painting. For a paper anniversary for her that she'll adore, choose from a variety of paper, couples outline, text, and other possibilities. You're sure to find something she'll love from the many options available to you.
26. Scrabble Board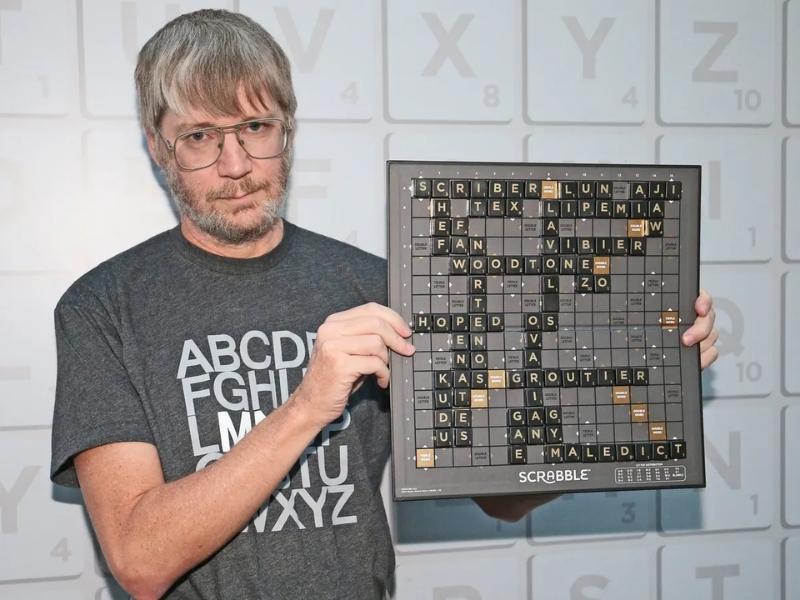 These personalized anniversary gifts are perfect for a lady who can't get enough of her favorite word game. To make it more personal, include a photo of your family.
27. Love You Handkerchief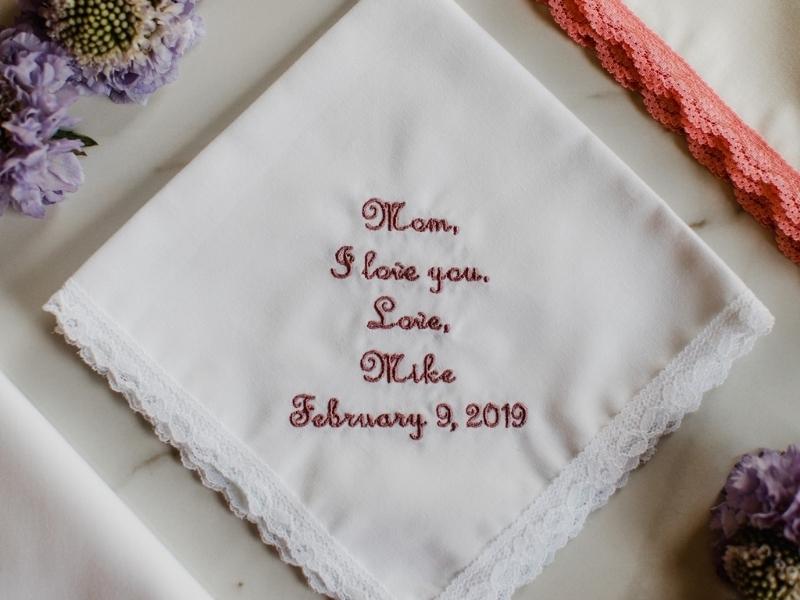 This handkerchief is a simple but exquisite cotton second anniversary gift if you want to go with the traditional linen theme. One of the most classic presents for women is the perfect way to honor your long-standing partnership. She'll be able to pass this handkerchief on to her children as a treasured family heirloom.
28. God Blessed The Broken Road Old Truck and Barn Wall Art Decor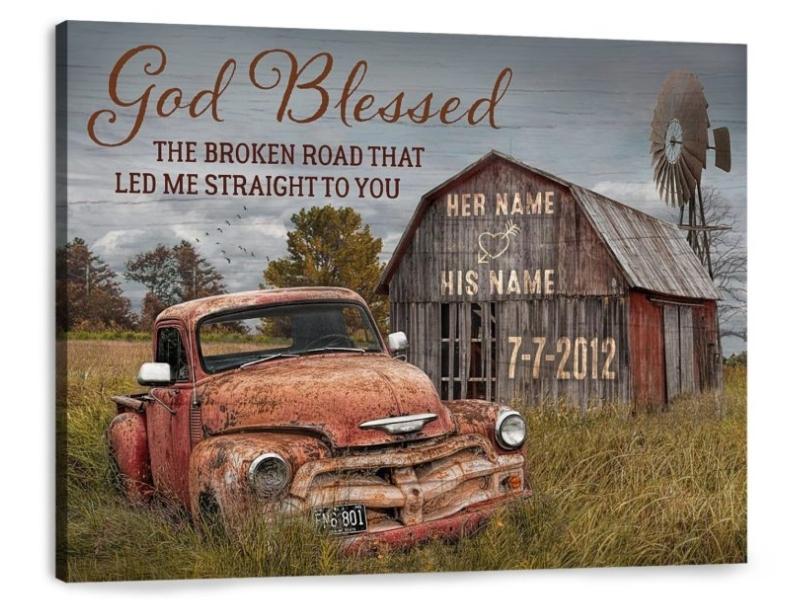 Customize your own version of God Bless the Broken Road lyrics Custom Canvas Print with your own personal message. With the option of personalizing your names, your most memorable day, and the lyrics of your favorite songs, it's so romantic and wonderful anniversary gift for your parent that you can both experience and conjure memories together. Add those personalized anniversary gifts to your cart now!
29. Desktop Plaque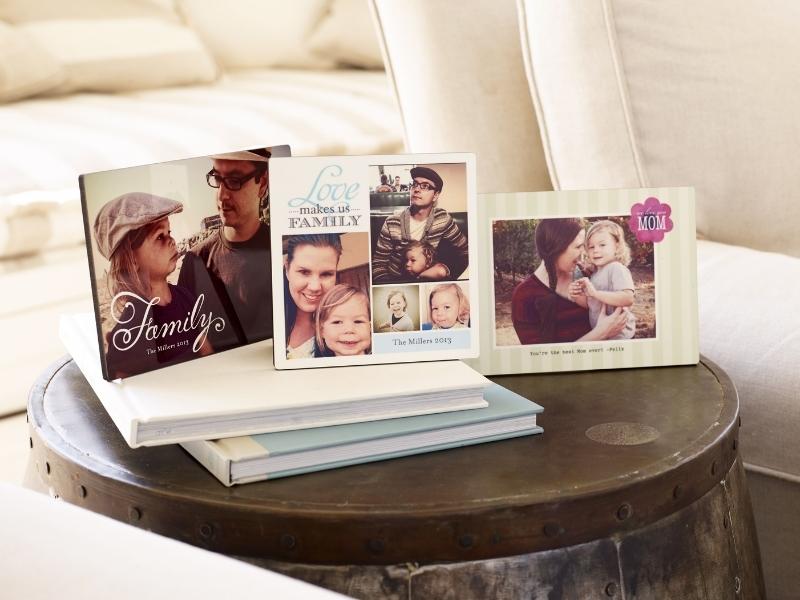 Both of you seem ecstatic about the prospect of spending the rest of your life together. So offer your spouse a personalized photo desk plaque with your names, the date of your anniversary, and a photograph of the two of you together to commemorate the occasion. Show them how much you care by putting it on the wall as a reminder of the affection you have for them.
30. Custom Couple Bobbleheads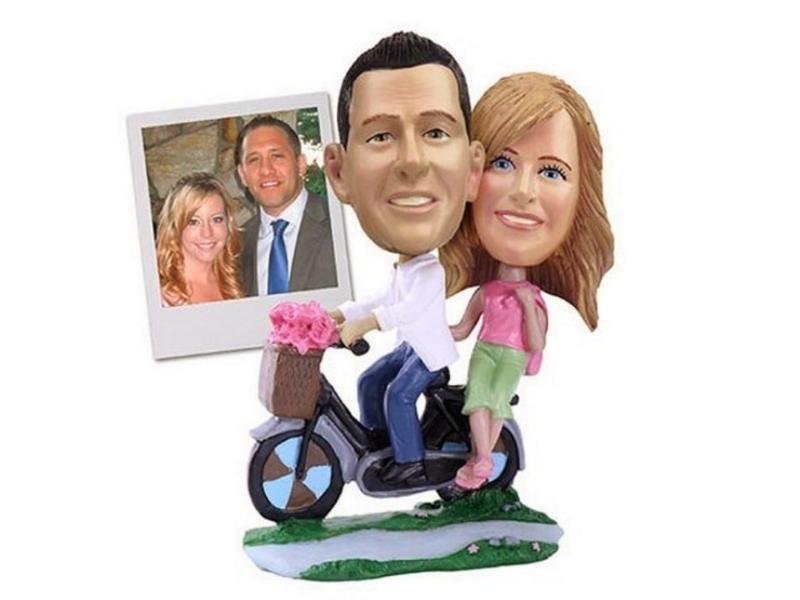 If you and your sweetheart like a good prank or two, these bobbleheads are a must-have. It's the perfect way to show her how well matched you are, and she'll laugh out loud when she sees it. If you give her these custom anniversary gifts, she will be even more enamored with you.
31. Personalized Mixtape Pillow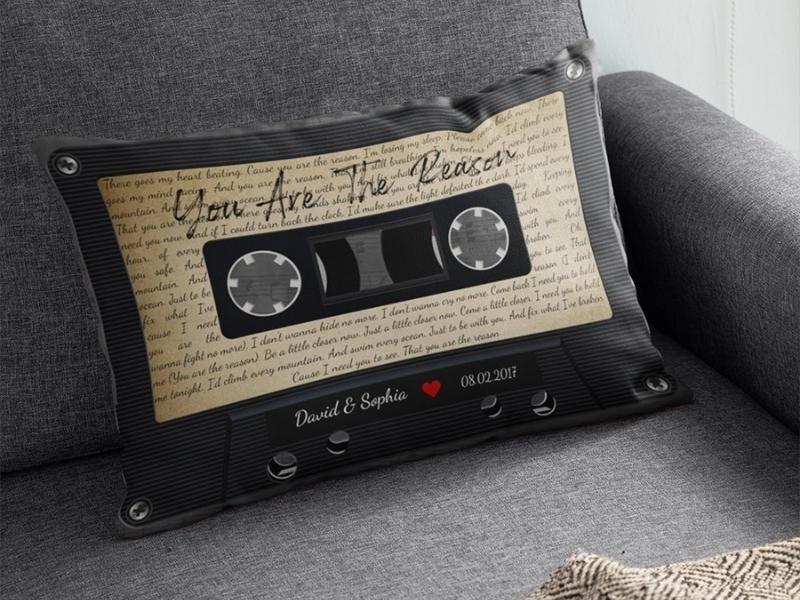 Who says you can't still utilize mixtapes as a way to express your feelings of love? Personalize this mixtape pillow with your names and the year you and your spouse started your relationship on one side and the year you two were married on the other. A heartfelt and adorable approach to remind them that you'll always be in love with them.
32. Main Squeeze Apron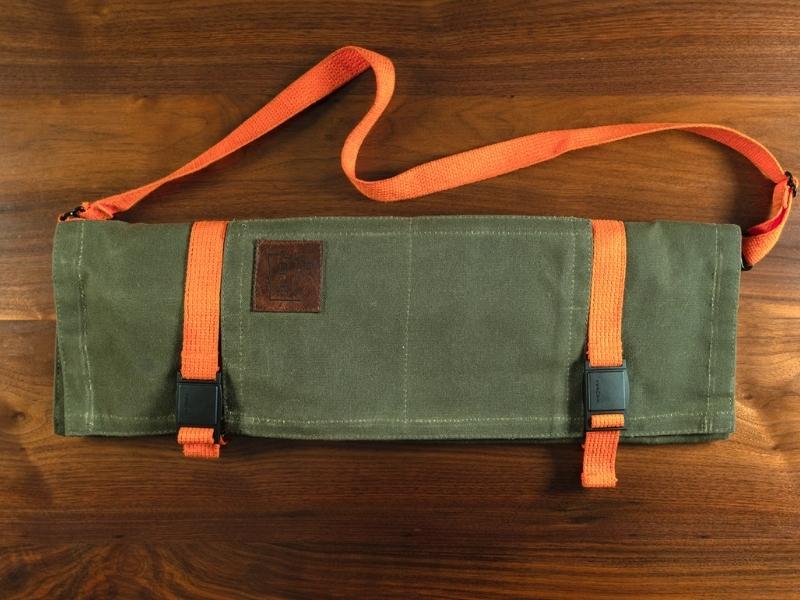 It's the perfect way to show them how much you care about them in the kitchen with this canvas apron. Give your lover these helpful personalized anniversary gifts now!
33. Funny Wine Glass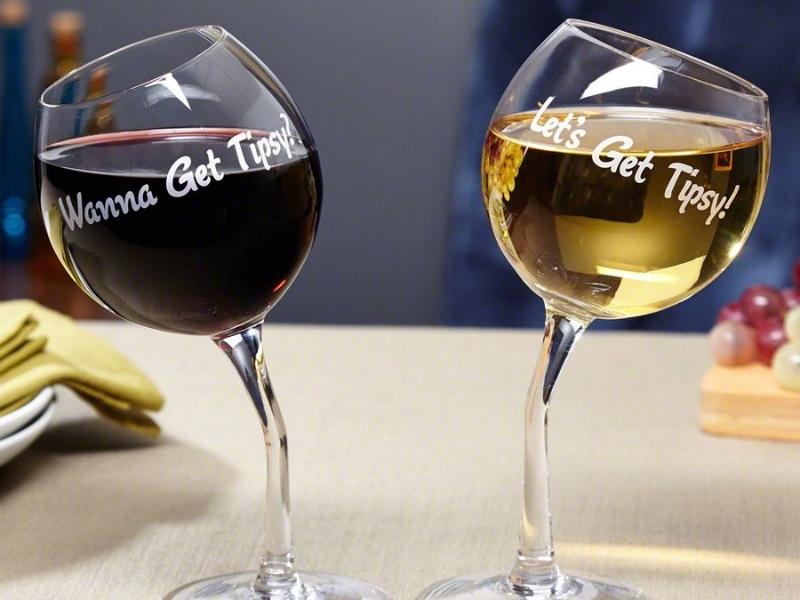 She's the one who leads the castle or at the very least her own home, like a true queen. Isn't it about time she/ he had a drink to prove it? Send you darling those personalized anniversary gifts now!
34. Massage Candle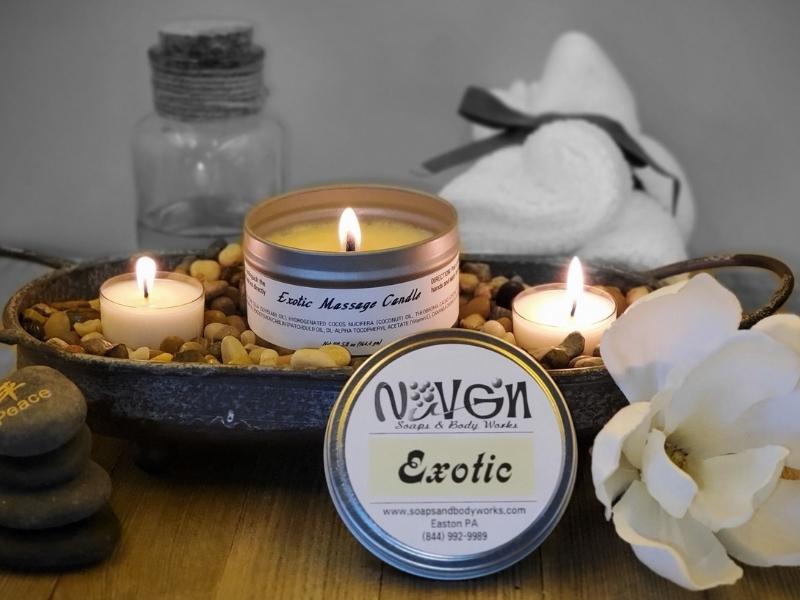 For personalized anniversary gifts, this candle is a good choice. Soy wax melts into an oil that may be used to massage your spouse while it burns. Vanilla and crème de cocoa, snow pea and cedarwood, and black pepper and pomegranate are just a few of the aromas available.
35. Personalized 5 Year Anniversary Gifts For Couple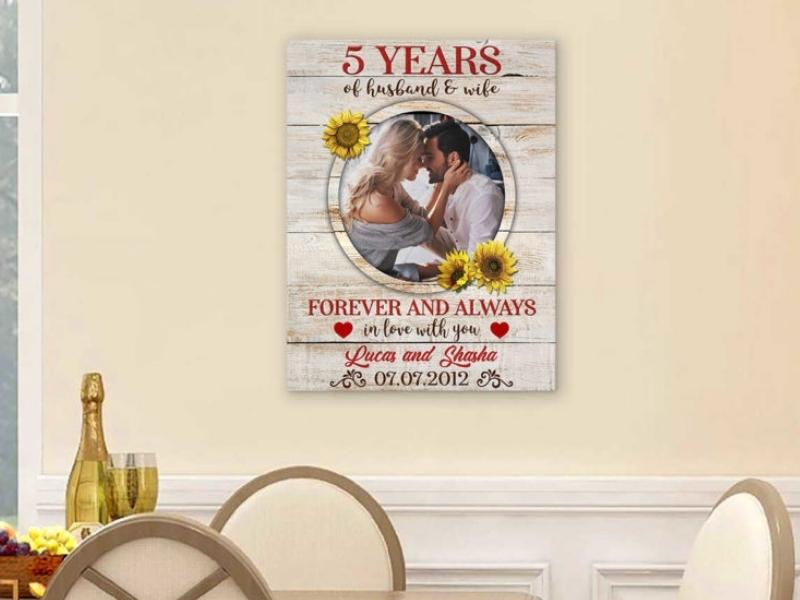 Making a work of art out of your love for someone is a very personal and meaningful experience. You may show your spouse how much you love them by giving them this unique photograph of you two. Regardless of how many years pass, this present will be a treasured keepsake for the recipient.
Further reading:
There is nothing more meaningful than an anniversary, whether it's your fifth, tenth, or even your third, seventh, or eighth year together. For every year that you spend together, you are given a chance to look back and see how far you have come. Make her feel special even in odd-numbered years. After all, she/ he did make a commitment to you to spend the rest of her/ his life with you. It will be much more special if you choose personalized anniversary gifts that are both thoughtful and outstanding. Hence, do not forget to read more Oh Canvas blog for more informative suggestions on your remarkable day!