What do you gift a couple who is getting married? Personalized engagement gifts will become a treasured memento box for a happy couple as they begin their new life together. Gifts with a personal touch, whether an heirloom to commemorate their engagement or a functional item to assist them in preparing for the big day, will be remembered fondly. Visit Oh Canvas's blog for some of the most inspiring ideas ever!
Best Personalized Engagement Gifts for Him
1. Custom Photo On Canvas Print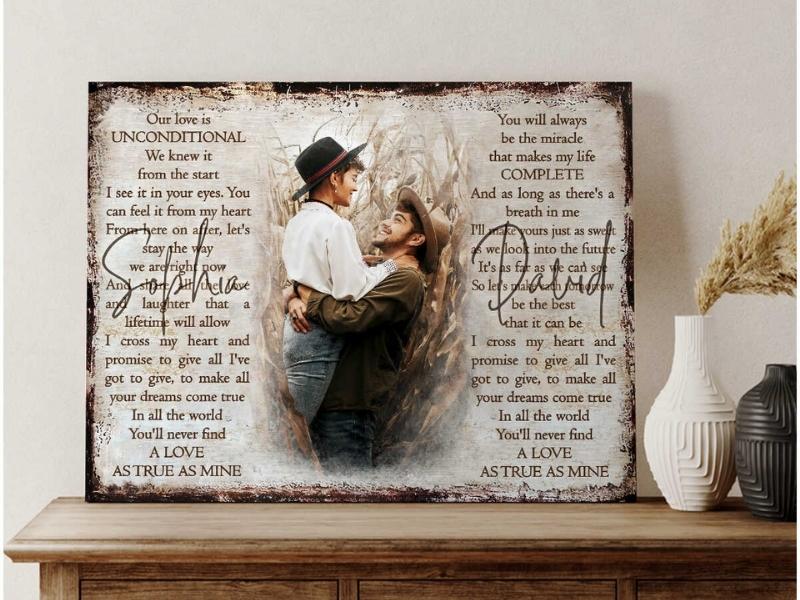 "Our Love Is Unconditional – My Heart Is Crossed…" using a Custom Photo On Canvas Print to show your affection for your significant other is a thoughtful gesture that will be much appreciated. In the songs, you want to convey your feelings and memories for each other via the use of romantic language, a picture of a memorable moment between you two, and the titles you both choose for the song.
Follow these easy steps to create the most unique present ever. The sooner you get started, the more wonderful your partner will feel about your personalized engagement gifts!
2. Personalized Poker Set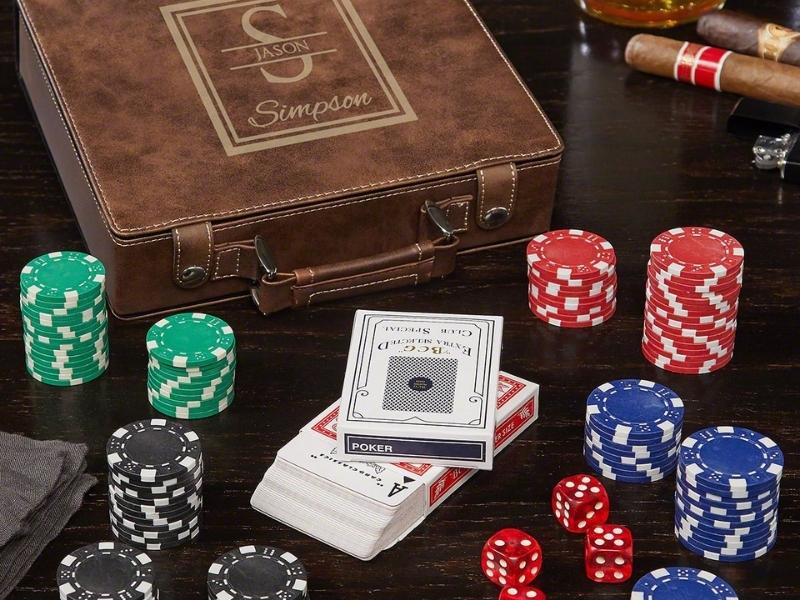 You want to give the groom fun, one-of-a-kind personalized engagement gifts that he can use to celebrate with his friends. Why not provide the recipient with this customized poker set as a present? Invite your friends over for a night of poker and card games, and the groom will have a great time. He and his buddies will have a great time, and he'll be extremely grateful for this wonderful present.
3. Custom Engraved Bottle Stopper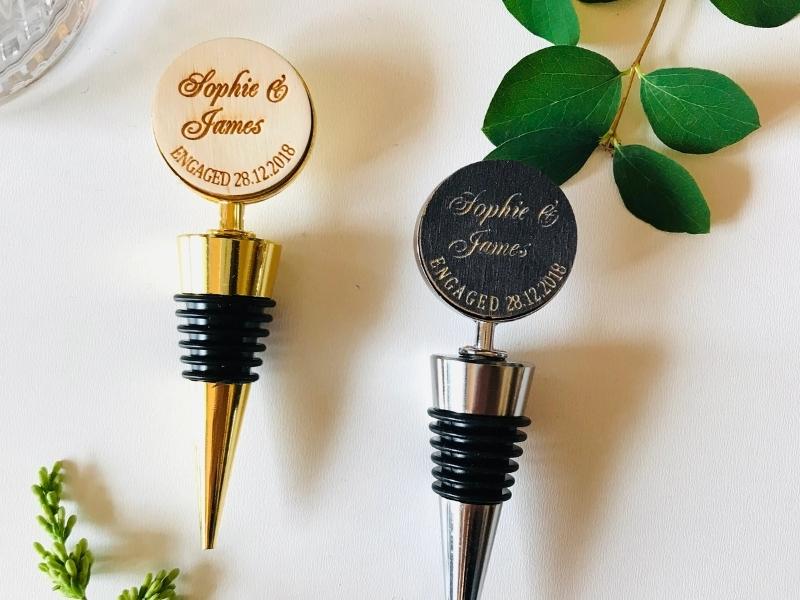 It's the best-personalized engagement present that will be utilized over and over again for years to come since it's a real one-of-a-kind remembrance. Names, dates, or a brief message may be engraved on the wood stopper (choice of cherry or walnut).
4. Personalized Wine Bowl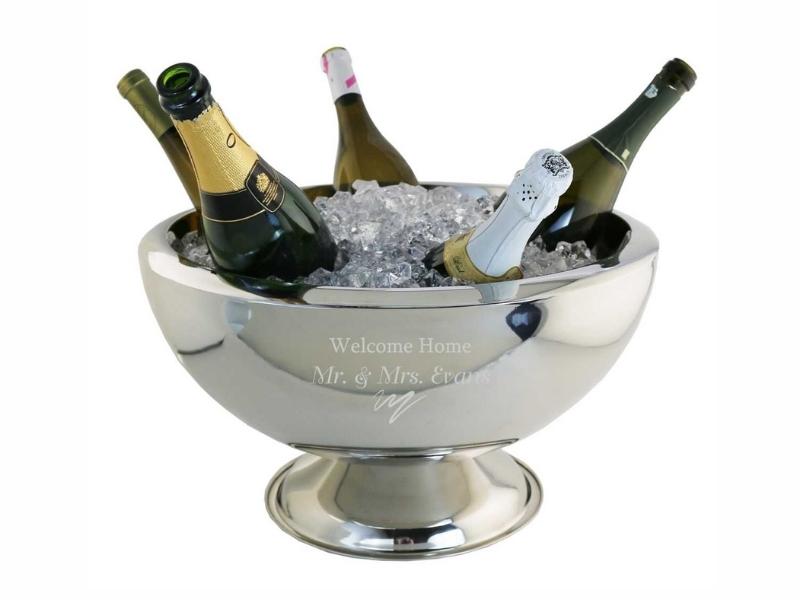 This kind of personalized engagement present idea is the perfect way to mark the occasion of a couple's engagement. With a generous amount of storage for champagne, this wine bowl will help you keep the engagement party going all night long.
5. Personalized Champagne Flutes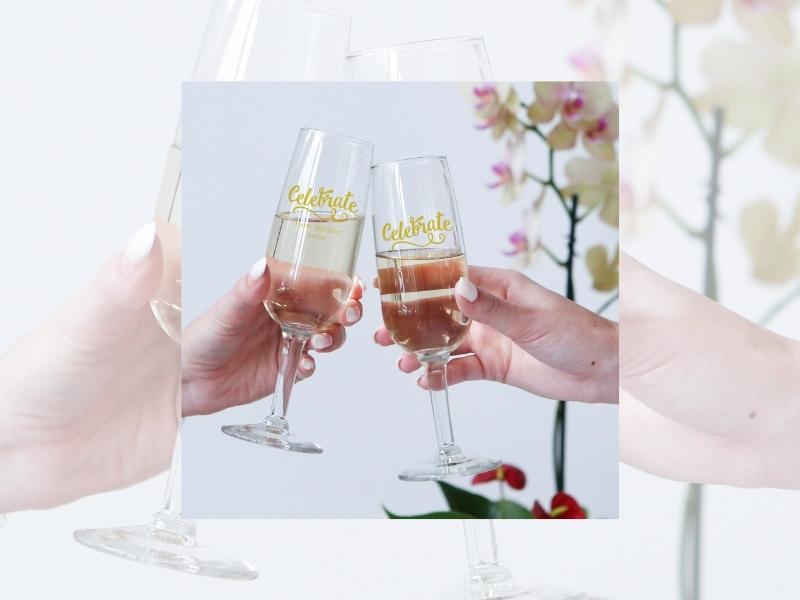 When your favorite couple announces their engagement party, it's customary to toast the happy pair with a set of monogrammed champagne flutes. A personal touch is added to each toast when the crystal flutes are etched with the recipient's initials.
>>> Looking for luxury engagement gifts?
6. Engraved Tie Clip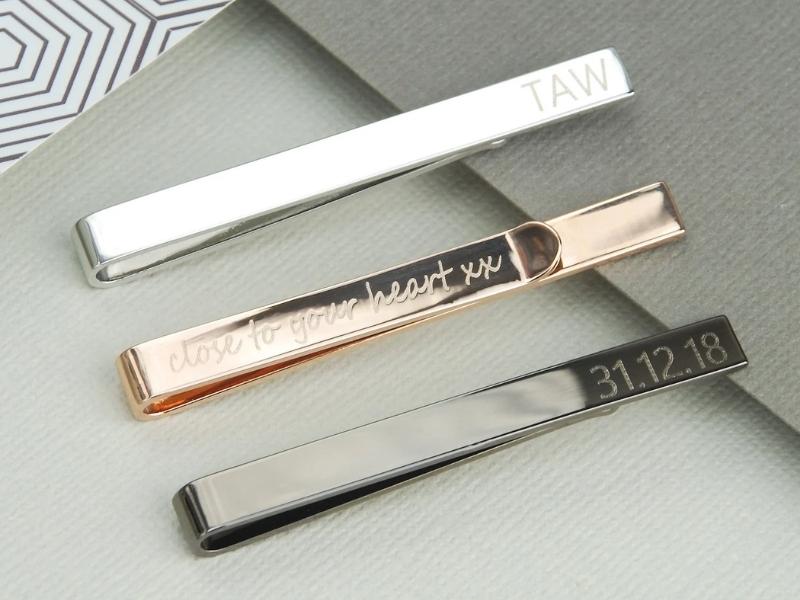 The most memorable presents are those that are given with care and consideration. Wedding dates and unique messages like "Dreams really do come true" may be engraved on engraved tie clips for the soon-to-be husband. During the ceremony, he'll always have a memento of your relationship with these customized gifts for engagement.
A modest symbol of your affection, such as our cufflinks, is a great way to show your appreciation for someone. Designed for both men and women, these items are built to withstand the test of time – and we've been there ourselves! Designed and built in New York City utilizing traditional methods and materials.
7. Once Upon A Time Canvas Wall Art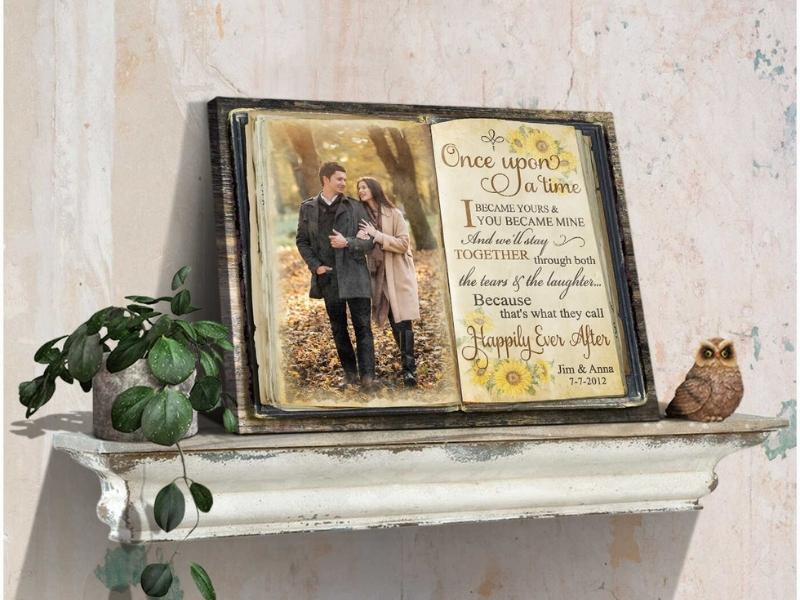 The ideal present for a pair, right? Songs have a unique ability to unite two individuals. They're like handwritten love notes intended only for two particular people. As a housewarming gift, this is a great option for custom engagement gifts!
8. Personalized Travel Accessories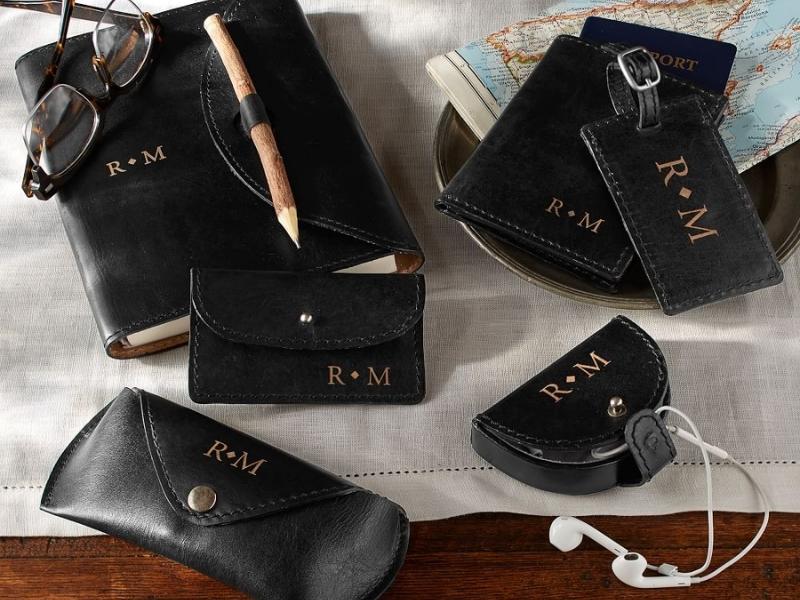 If you're searching for the best personalized engagement gifts, look no further than this. There are many travel accouterments he'll like, and you'll love them too! Why not leave behind good luck charms everywhere he travels with his monogram or name in strong lettering?
He was responsible for every detail of the big day, from beginning to end. If he needs time off, give him a few reminders in the form of both concrete and intangible objects. Sparking debates over where to go first, all the time!
9. Personalized Cufflinks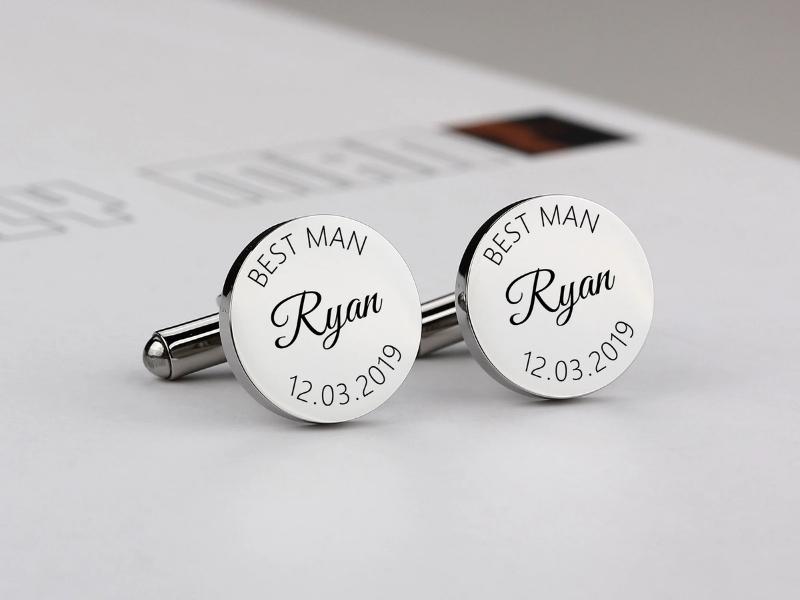 You can't go wrong with this set of cuff links for the man who doesn't wear anything with his jeans. In both official and informal settings, they are equally appropriate. These lobster clasp cuff links are ideal if you want him to be lucky on your wedding day!
His personality and life experiences will be tastefully captured on an engraved piece of jewelry as a present for the future husband-to-be. He has a wide selection of phrases, pictures, and colors to pick from. The best personalized engagement present ideas are waiting for you to purchase, no matter what the occasion is!
10. Monogrammed Knife Kit
In addition to the customized love inscribed on the blade, this considerate knife set is excellent for him to use every day.
Your hubby will love this kind of custom engagement present! A bartender-inspired set of knives will make him feel like one, regardless of whether he enjoys cooking or simply collecting them. As a polite reminder, you might leave this note for him to remember that he must share your home.
>>> Be more interesting with 26+ Super funny engagement gifts in 2022!
Unique Custom Engagement Gifts for Her
11. Personalized Star Constellation Gift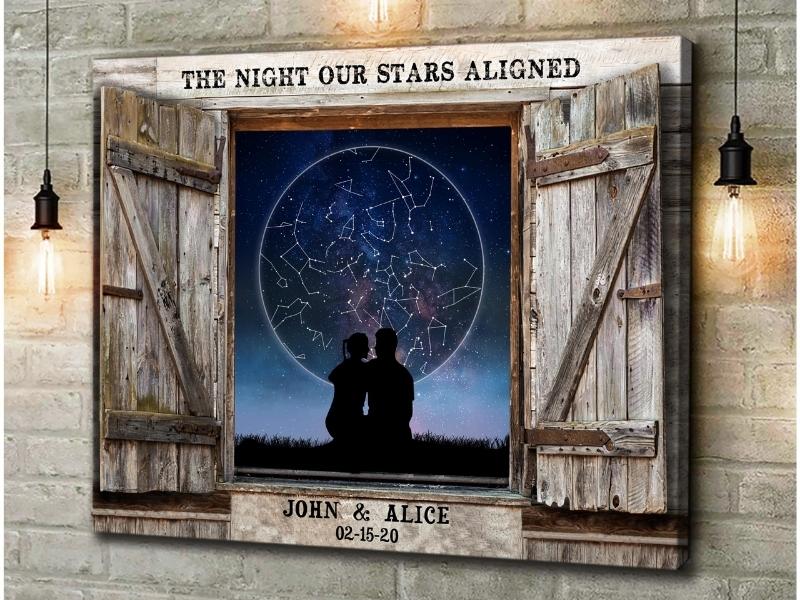 Let's start with this lovely and meaningful item as personalized engagement gifts. It depicts the night sky when they made their decision and their memories to be married at the last minute. We are certain that your gift will be treasured for many years to come.
12. Personalized Keepsake Ring Dish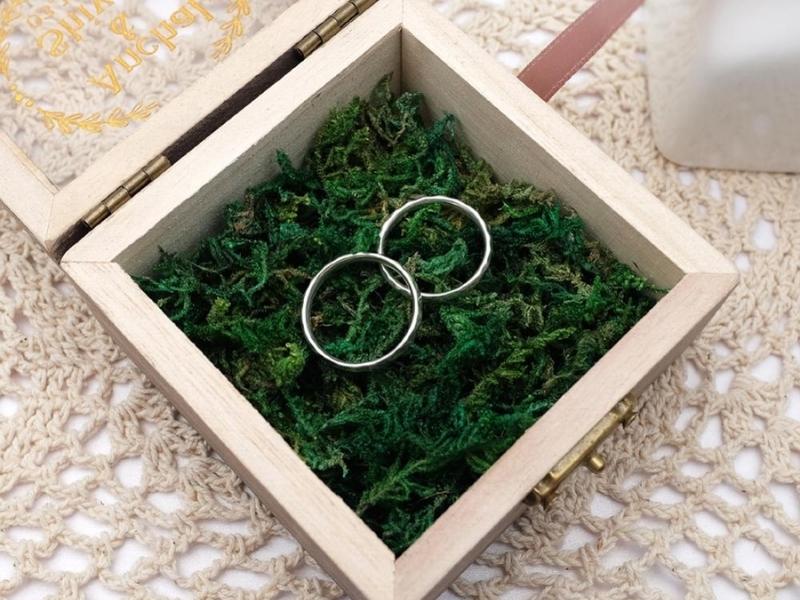 For those who are engaged or have announced their wedding date, this commemorative ring dish serves as a daily reminder of the occasion. However, it's a more convenient option than cutting their initials into a tree trunk.
13. Monogrammed Soaps and Towels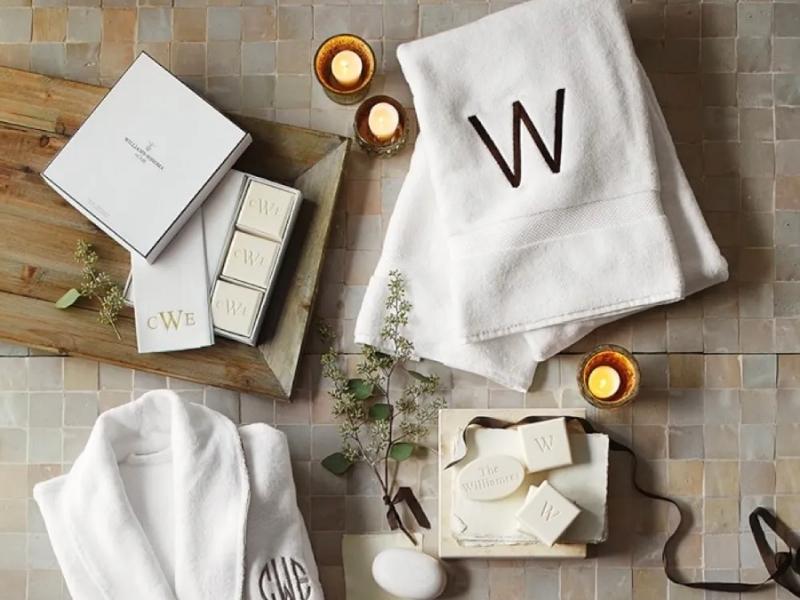 To commemorate a special event without introducing a new piece of décor, soaps are an excellent option. Guest soaps and guest towels are included in this custom engagement gift box.
14. Custom Return Address Stamp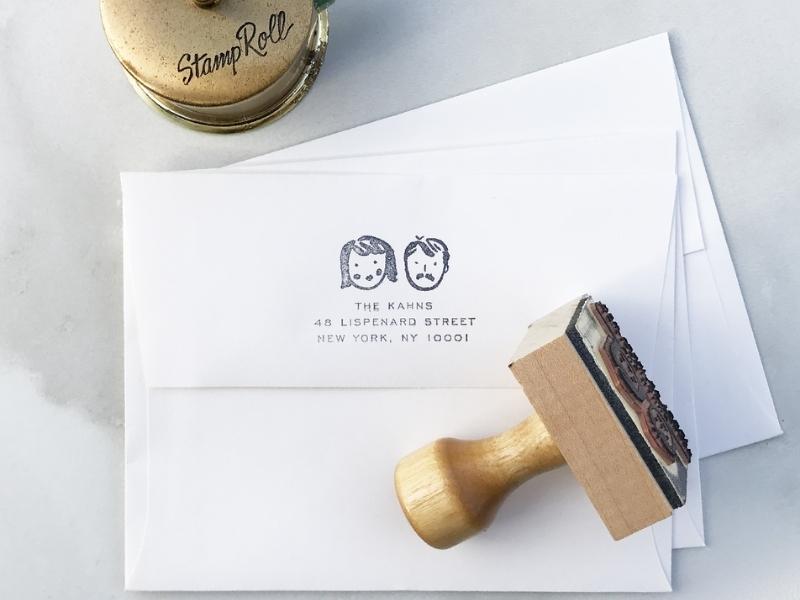 Sending a personalized return address stamp to the soon to be newlyweds is a kind and useful personalized engagement present. Your donation will be acknowledged in a thank you message before you know it!
15. Personalized Scrapbook
You can bet they'll want to document every step of the way as they make their way to marital bliss. If you're looking for a scrapbook or journal that's completely customized, you've come to the right place!
16. Personalized Candle Gift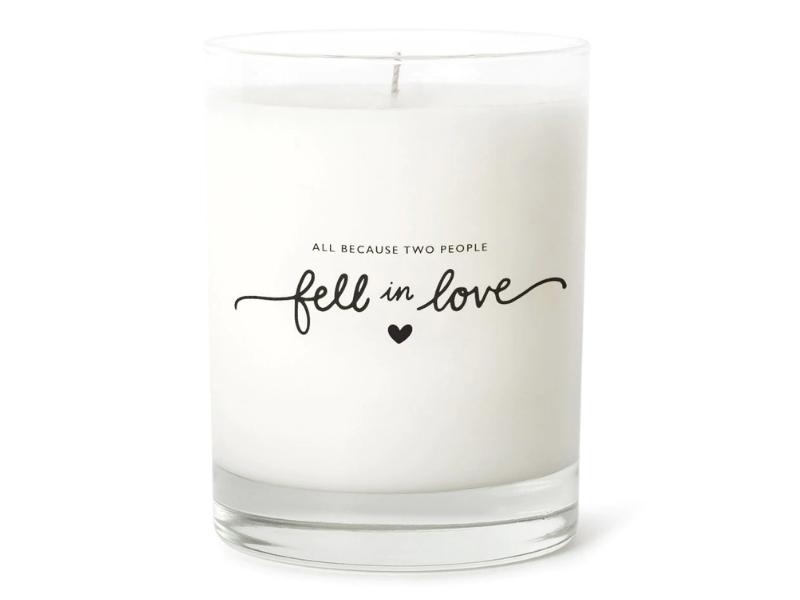 It's a wonderful and unique way to mark an engagement! The newly engaged couple's initials adorn the candle, which casts a romantic light. Who doesn't like the enticing aroma of fresh fruits in their own home?
17. Star Map Gift Hello Will You I Do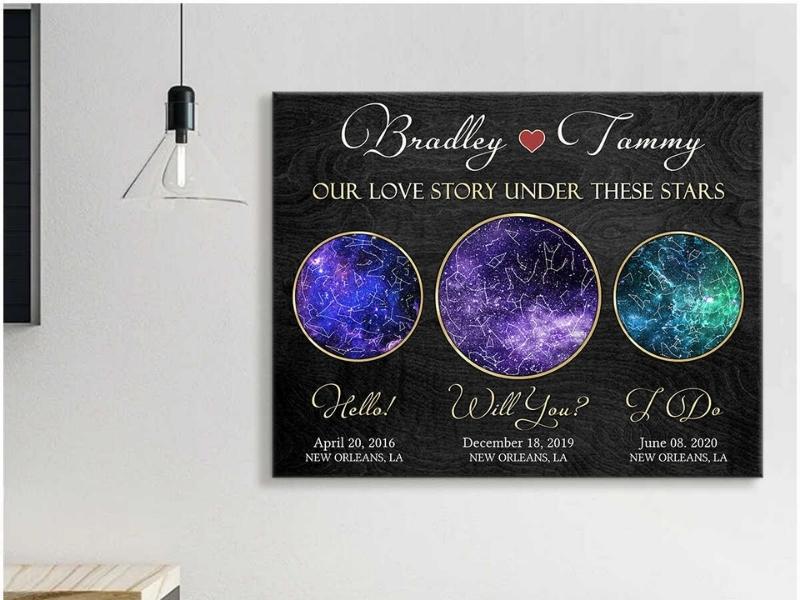 Gifts of the wall art are perfect for soon to be newlyweds. The newly engaged couple's new house will seem more like home if it has a unique feature that they both like. This print commemorates the significant events in their lives to date.
18. Personalized Wine & Cheese Carousel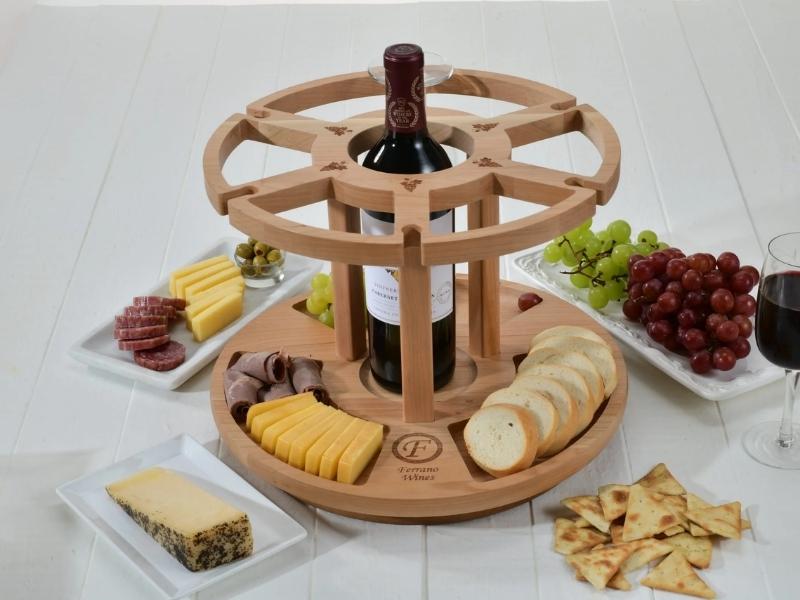 There's always cheese when there's wine! Guests will be clamoring for more of these stylish personalized engagement gift ideas. You don't have to worry about spilling your beverages or meals while you're out and about. It's an ideal engagement present for couple that like amusing each other!
19. The Alphabet Vase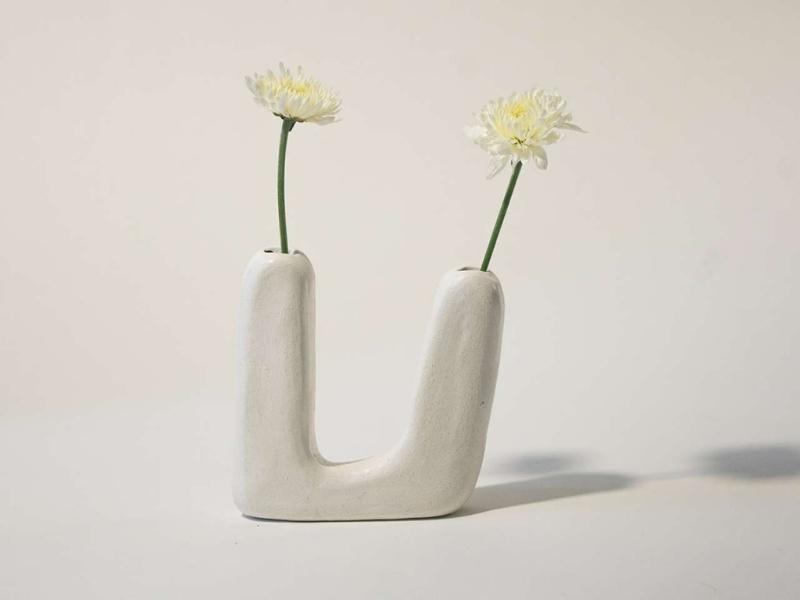 The newly engaged couple's initial vases, for example, are a dream come true and will look fantastic in their new house. They provide a dash of color and functionality to a space. Put them together in a heartfelt greeting for the two of you!
20. Engraved Cutting Board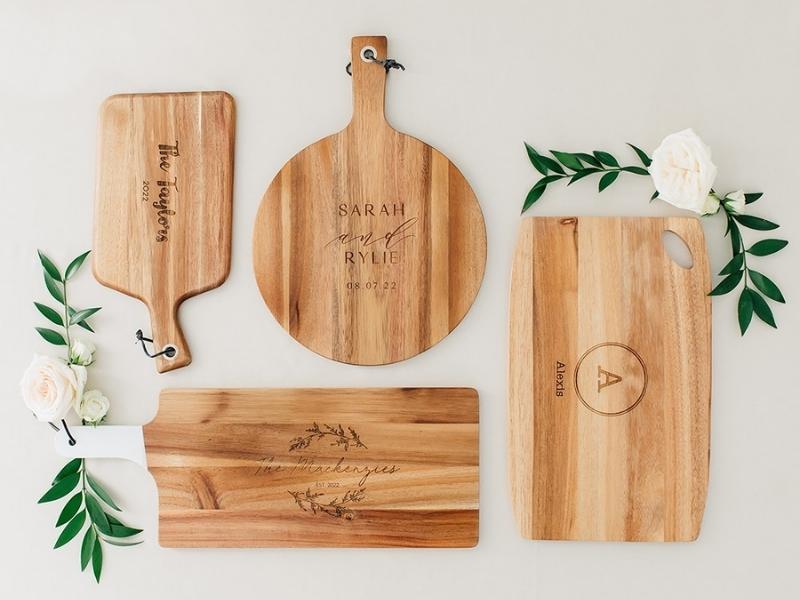 This is a must-have for every couple that enjoys cooking delicious meals together. This is the best personalized engagement gift that will serve as a constant reminder of the importance of sharing romantic meals with your future spouse-to-be. The wood and form options are almost limitless!
21. Mr. And Mrs. Custom Name Suede Pillow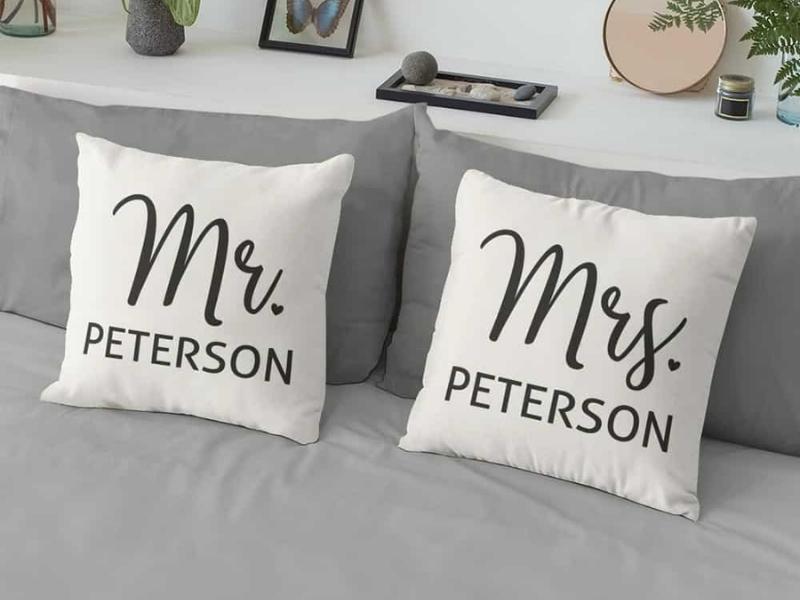 What would be unique personalized engagement gifts? It's impossible to go wrong with a set of matching pillowcases. Comfortable bedding is essential since we spend a large number of our lives in bed. The theme of love is evident in each and every one of these stunning creations!
22. Personalized Metal Infinity Sign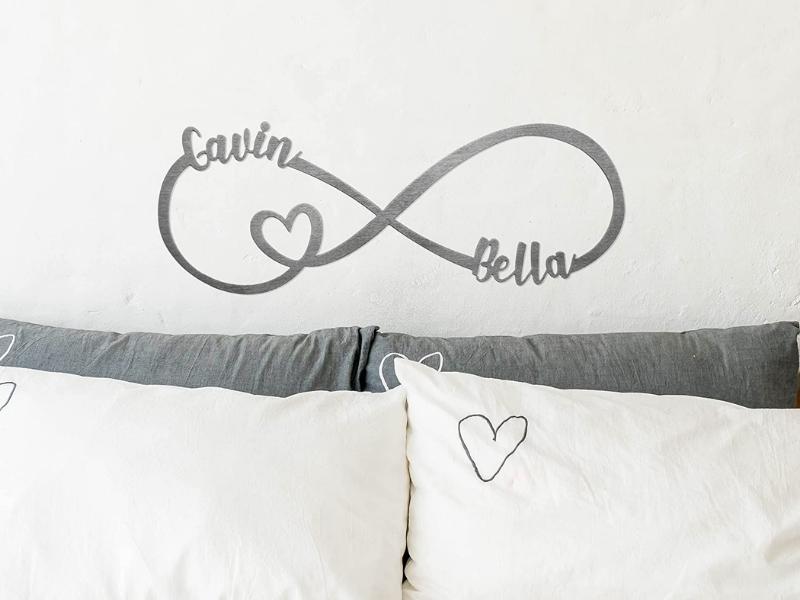 How long will they be together? Infinity and a day. Here's a unique engagement party favor idea for soon to be newlyweds. It's a great picture opportunity, and the newly engaged couple will be able to display it in their house. Isn't it just the cutest thing?
23. Personalized Pajama Set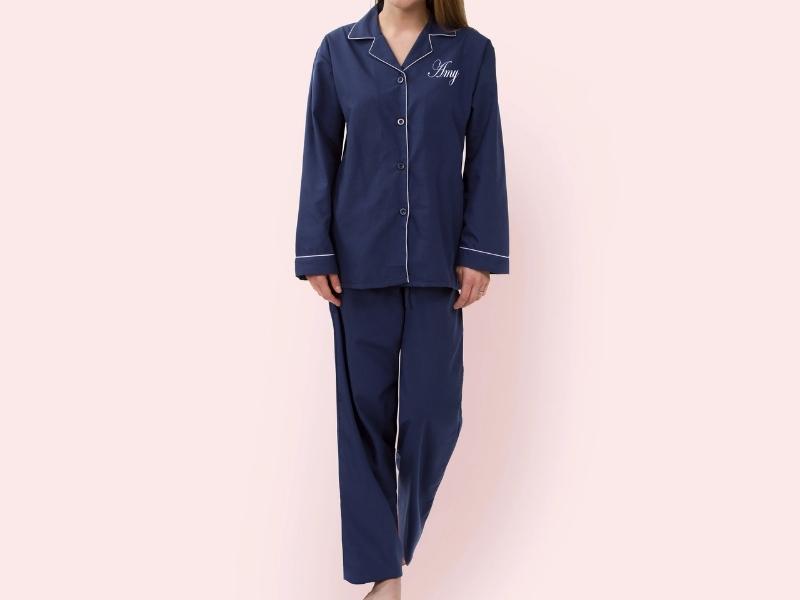 As custom engagement gifts, this monogrammed pajama set is a must. She won't overheat thanks to the fabric's breathable construction. The elastic trouser leg maintains them neat and tidy loungewear either wearing it at home or going out. For a good night's sleep, this two-piece set never shrinks after usage, preserving its body form well after washing.
This cozy pair of pajamas are made of 100 percent cotton and has a round neckline that's great for lounging around the home or heading out for a walk.
24. Favorite Song On Canvas Wall Art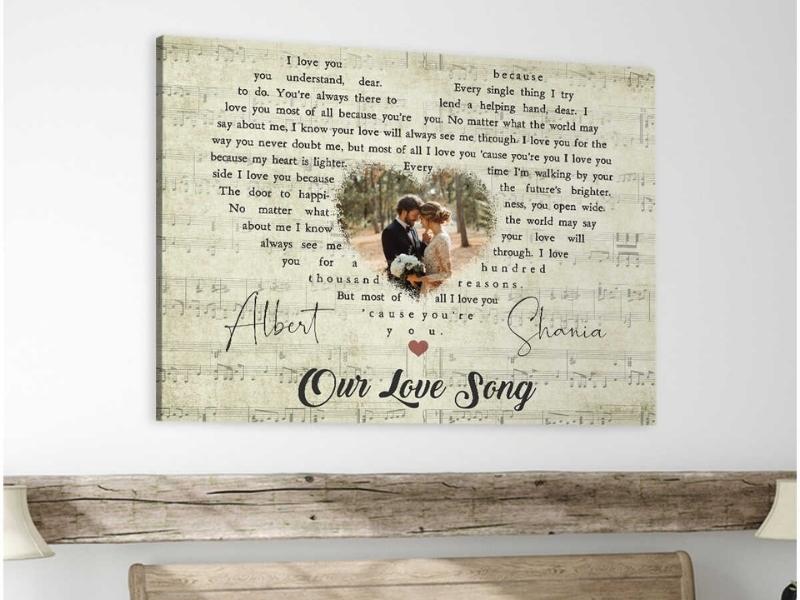 It's a great way to commemorate an anniversary or birthday with unique personalized engagement gifts.
Despite the highs and lows of life, your love is still strong. Congrats! Both of you did a fantastic job! Let the individual who helps you overcome hurdles know how much you appreciate and appreciate him or her right now. You may express your feelings to the person you love most by giving them a canvas print of your favorite anniversary song.
25. Personalized Tote Bag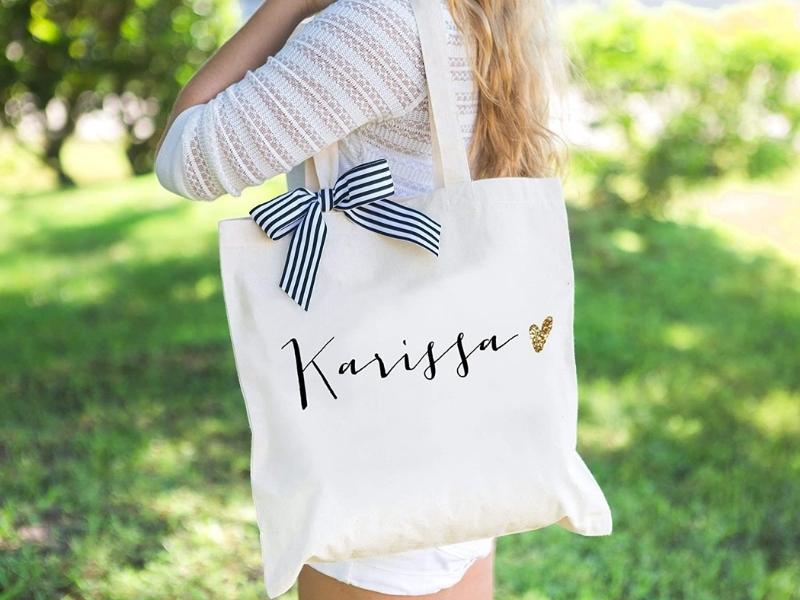 This customized tote bag is an easy way to show her how much you care! It's a one-of-a-kind engagement present for best friend that she'll cherish forever. When it comes to taking care of herself and others, she will utilize a tailored bag.
Bags made from 100 percent cotton glisten and promise to provide their owners the nicest pleasure. With personalized engagement gift ideas, you may let her know how much you value her presence in your life.
26. Letter Neck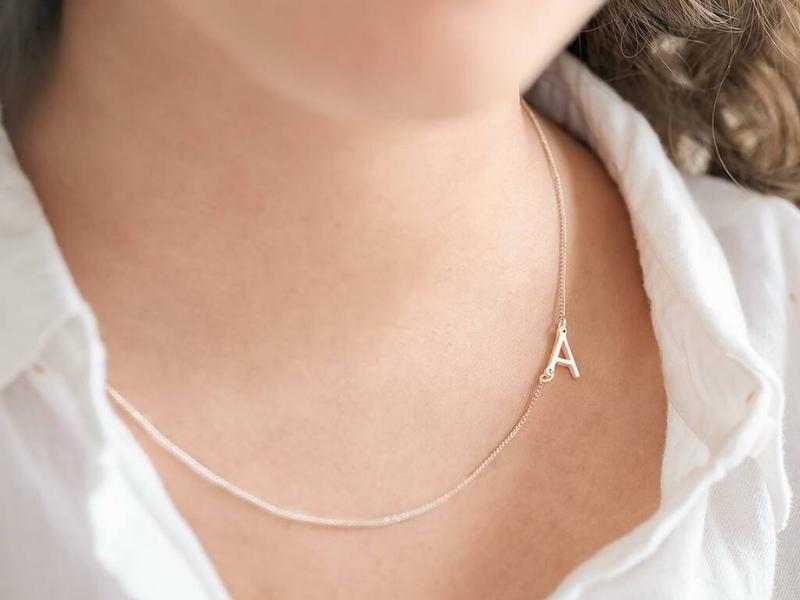 Unique engagement personalized gifts, like a letter neck, are a great way to show your love while still being on-trend. The bride will be ecstatic when she gets jewelry engraved with the initial letter of her name on the day of her engagement. This shows how special she is to you and how much you value her.
Loveable engagement rings have simply become better owing to our creative designers and their enthusiasm for the craft. These customized letter necklaces will express your innermost thoughts and feelings while also adding a touch of class to any outfit.
>>> Recommend reading: The 35+ Best Ideas For An Engagement Gift For Son And Fiancé
Personalized Engagement Gifts for Couples
27. Faux Window Frame Wall Decor You And Me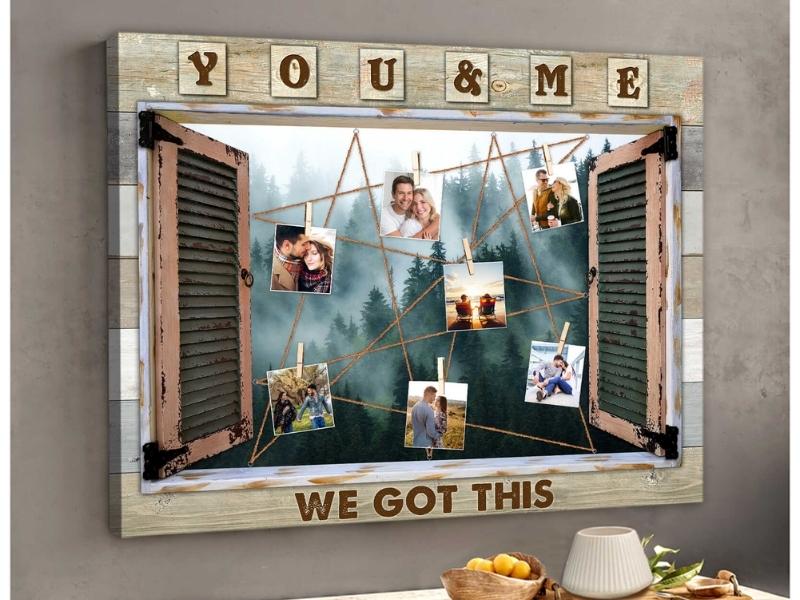 Aren't our personalized gifts for engagement Faux Window Frame Wall Decor You and Me so sweet and adorable? It'll be a huge hit with your significant other! Take a look at their gleeful expressions as they gaze at this work of art.
Add your names and the year it was received to this customized. Submit photos of your finest times together as a pair after you've done that.
28. Stamp it On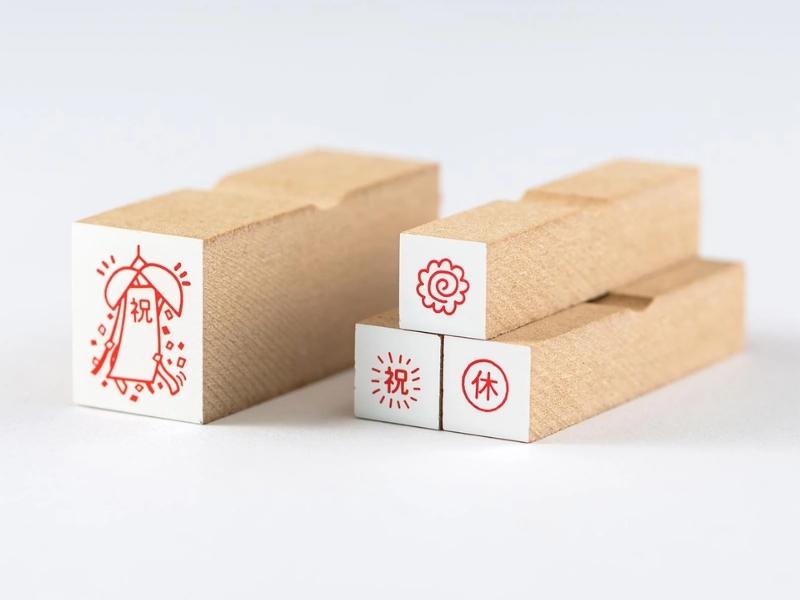 Sending out save-the-dates and invites is one of the responsibilities of any engaged couple. The newly-engaged pair will like this personalized stamp gift set since it takes a lot of effort to get them out the door. Every save-the-date invitation will have your own stamp on it, making it extra memorable for your guests. They will appreciate the uniqueness of these personalized gifts for engagement and how much they help them with wedding planning!
29. Custom Wedding Sign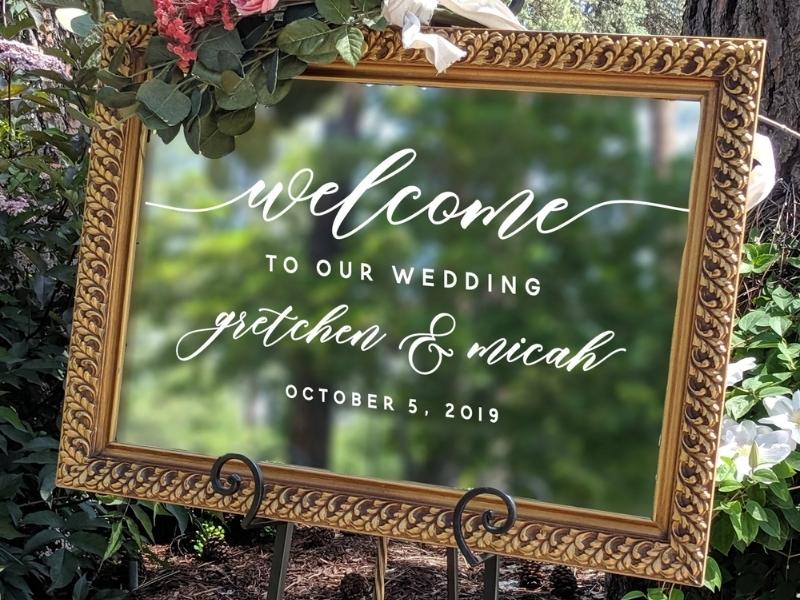 Weddings are meant to be beautiful, and this handmade sign is a great way to get started. Not only will this lovely sign be a lovely addition to their engagement party décor, but it will also be a lovely addition to their house after they've tied the knot.
30. Personalized Wedding Table Numbers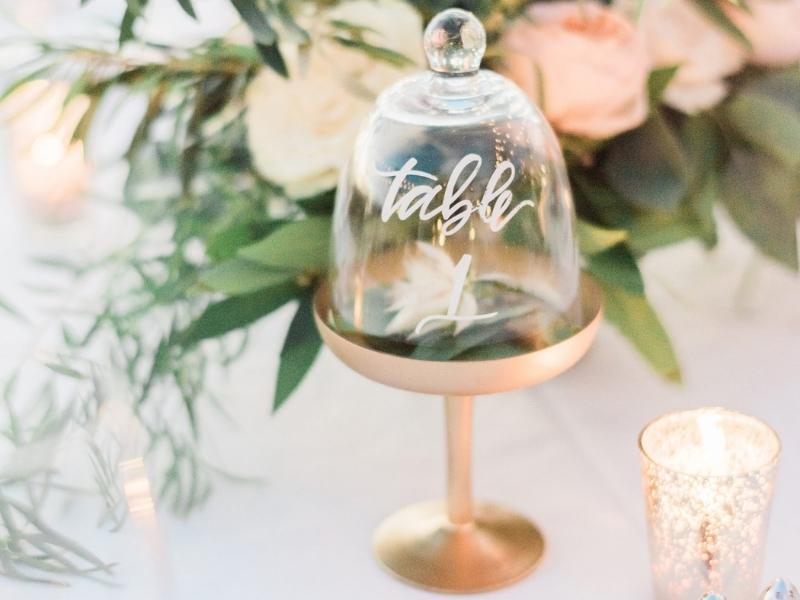 When it comes to arranging a wedding, couples have a lot to purchase. That's why personalized engagement gifts are ideal. Elegant and one-of-a-kind, these wedding table numbers are the perfect way to direct guests to their assigned seats during the reception. They'll be thrilled to have one of the numerous pre-wedding duties completed!
31. Heart-Shaped Lyrics Photo Gift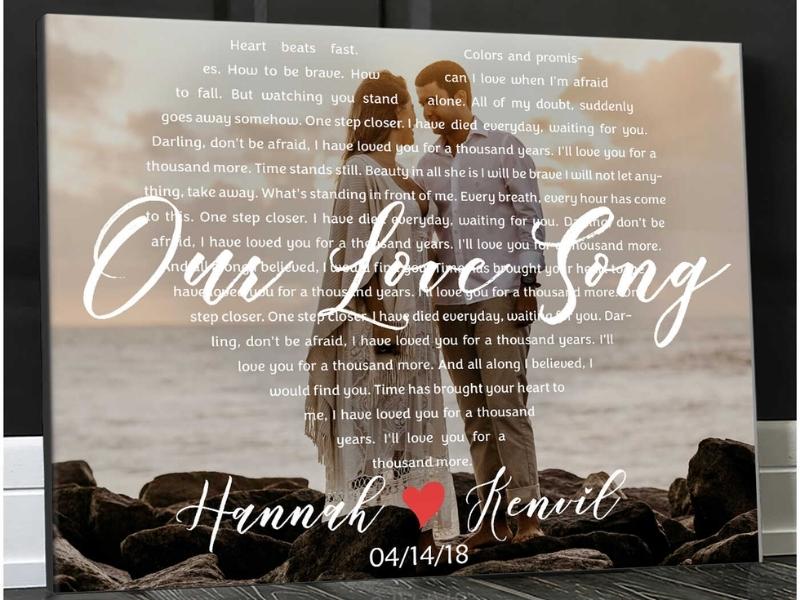 Canvas prints with song lyrics in the shape of hearts will serve as a lasting reminder of your special day. For example, use the lyrics of a song your partner likes or phrases from your first dance song. Add the couple's names and anniversary dates to create a one-of-a-kind present.
You need to search no further for the best engagement personalized gifts. With this custom song lyric on canvas print, you'll never go wrong. You'll make their day a memory they'll cherish for the rest of their lives. It may be used in any part of the house, including the bedroom, hallway, or even an office.
32. Custom Whiskey Gift Box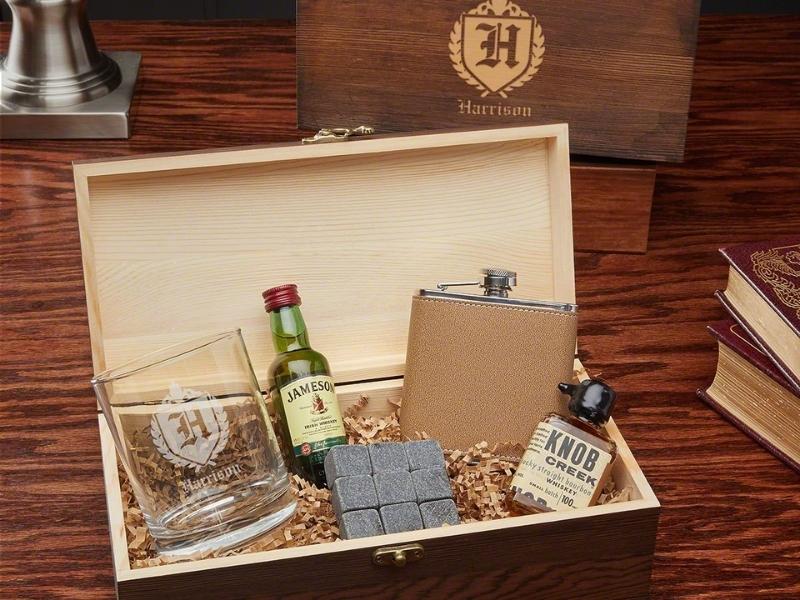 Get them this globe decanter keepsake box set for their upcoming nuptials, and they'll feel like they've gone above and beyond their expectations. You may fill it with your favorite booze and display it in your house as a piece of art and as a means to decant the spirit to perfection as personalized engagement gift ideas.
33. Personalized Wood Coaster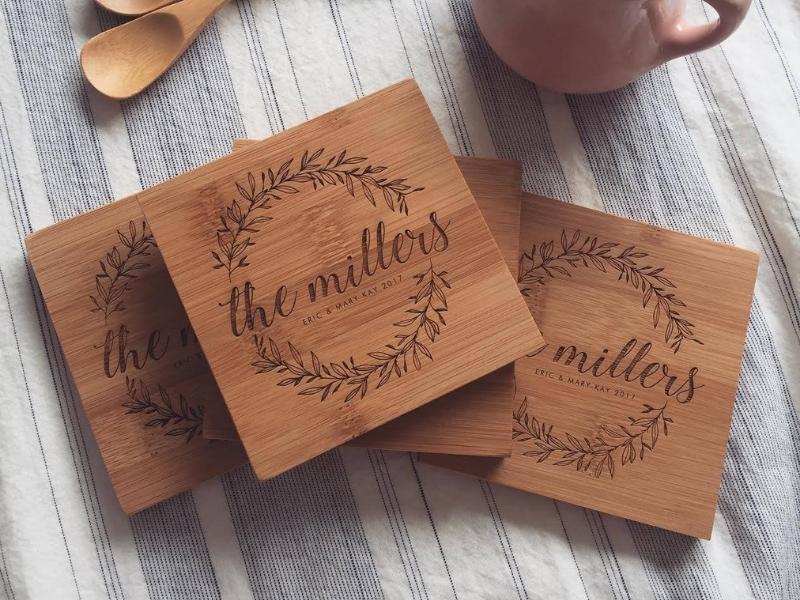 It's a little tribute to the spot where they first met, their hometown, or a place they hold dear. You don't have to worry about your coasters clashing with their décor since they're tiny enough to blend in. With an engraving of your choice, you may make it your own.
34. Personalized Bouquet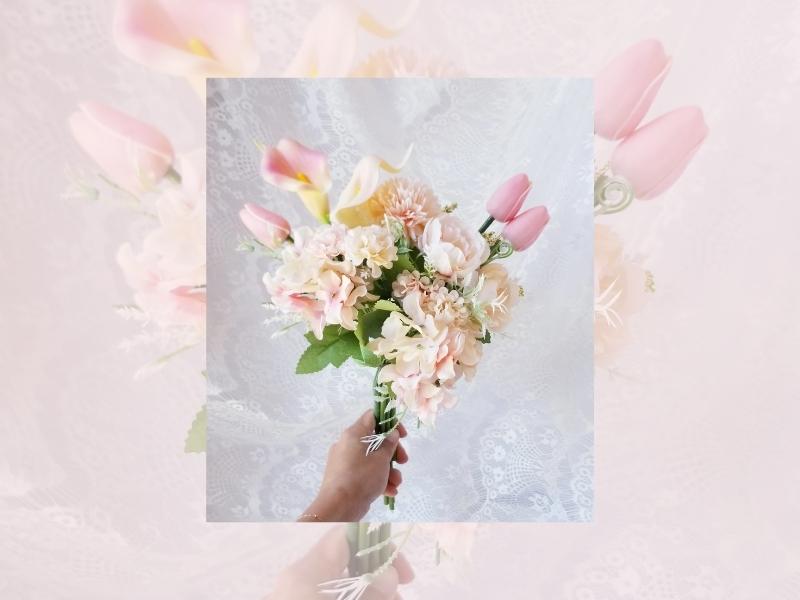 There is a reason bouquets of flowers are always a safe choice for soon to be newlyweds. Even if their friends and family member don't express it, they'll enjoy having a lovely memento of their support.
35. Monogrammed Passport Covers and Luggage Tags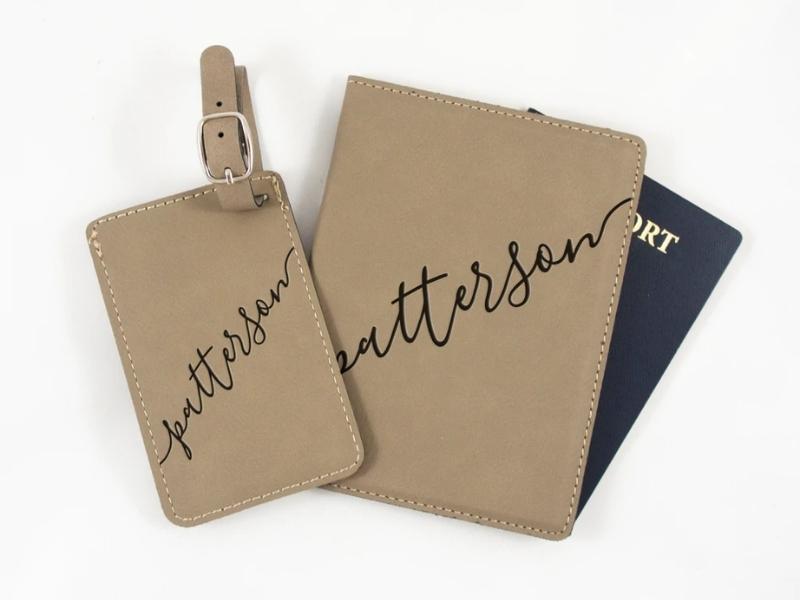 Don't forget to gift them a leather passport cover and luggage tag to commemorate their planned journeys as a married pair or as a newly engaged couple that loves to travel together.
36. Wedding Custom Song Lyrics Gift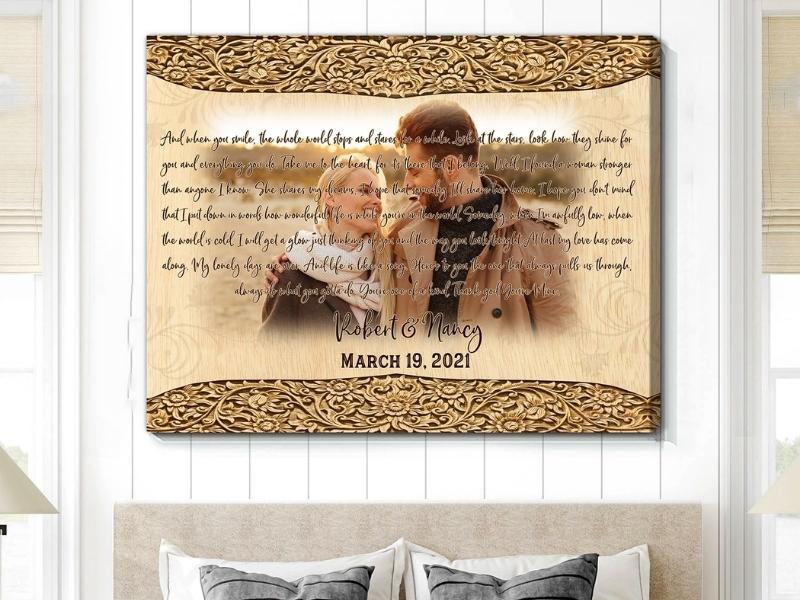 This painting is one of the best personalized engagement gifts for a newly engaged couple who is in a committed relationship. We have a painting that includes song lyrics, an inscription, and a photo! You can't go wrong with this product since it has so many options for personalization. Everybody who sees it will instantly fall in love with it.
This idea is the best for couples celebrating anniversaries or weddings! Make sure to include a picture frame of the happy couple as well as a song that symbolizes their union. Who wouldn't want to have this gem in their home? Personalized Wedding Song Lyrics Gift Custom Printed Canvas Art of the Most Popular First Dance Songs is a thoughtful present that will last for years to come.
37. Customized Mugs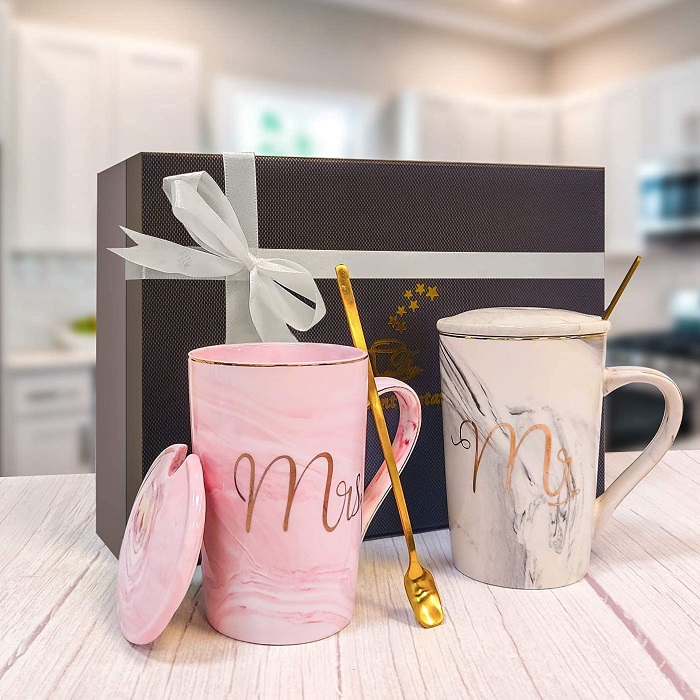 It's not necessary to break the bank in order to give a happy couple a thoughtful engagement present. The simplest things in life are the most romantic. They will hold onto these meaningful coffee mugs with great affection.
38. Gift Certificate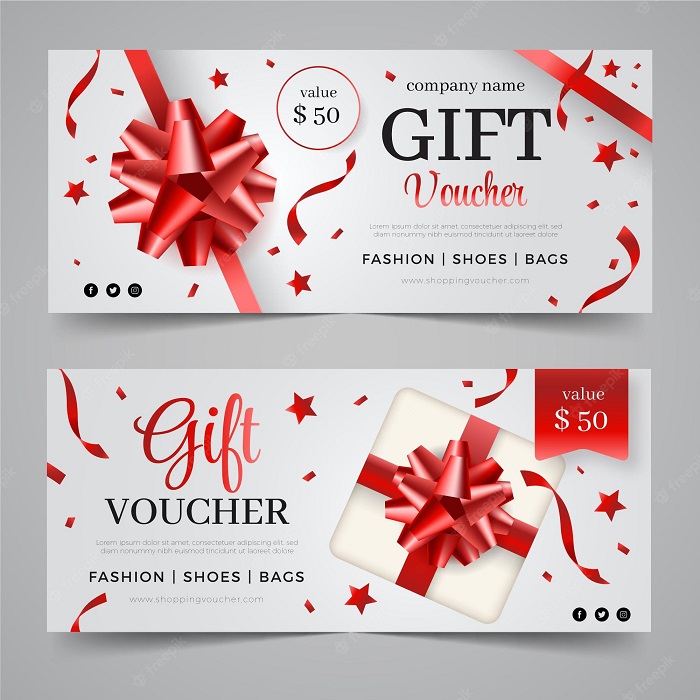 A gift certificate for their preferred spa, restaurant, or shopping center is a great choice if you're still trying to decide what to present your beloved couple. These fantastic presents from you will make their day.
>>> Read more:
38 unique engagement presents for a newlywed couple to enjoy as they embark on their new life together. You can't go wrong with any of these inventive and unique personalized engagement gifts! Follow more suggestions for present ideas by not missing out on any of the Oh Canvas blogs!