It's a great accomplishment to have been married for 38 years. Is it possible to find a good anniversary gift? That's a hard one, to say the least. Fortunately, we've compiled a list of excellent alternatives. If you're looking for a 38th anniversary gift for your significant other or a gift for a couple you like, you'll find it here on Oh Canvas's blog.
What is the Gift for 38th Anniversary?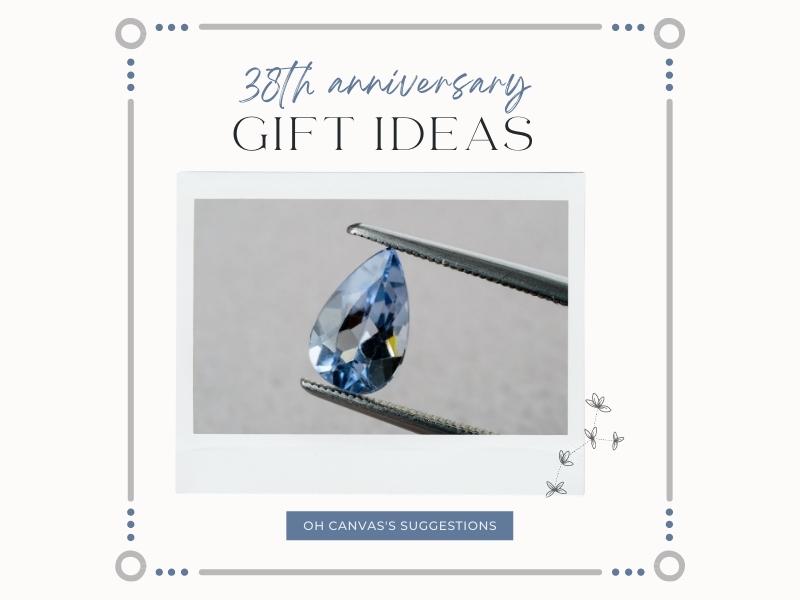 The beryl gemstone is the 38th anniversary gift traditional, while the tourmaline gemstone is the contemporary gift.
However, diamonds aren't the only wonderful gift choice available. Likely to be welcomed are gifts that include the recipient's hobbies or that hark back to an old-time or beloved memory.
45+ Sparkling Gift Ideas for 38th Wedding Anniversary
38th Anniversary Gift for Wife
1. Pink Tourmaline Sterling Silver Ring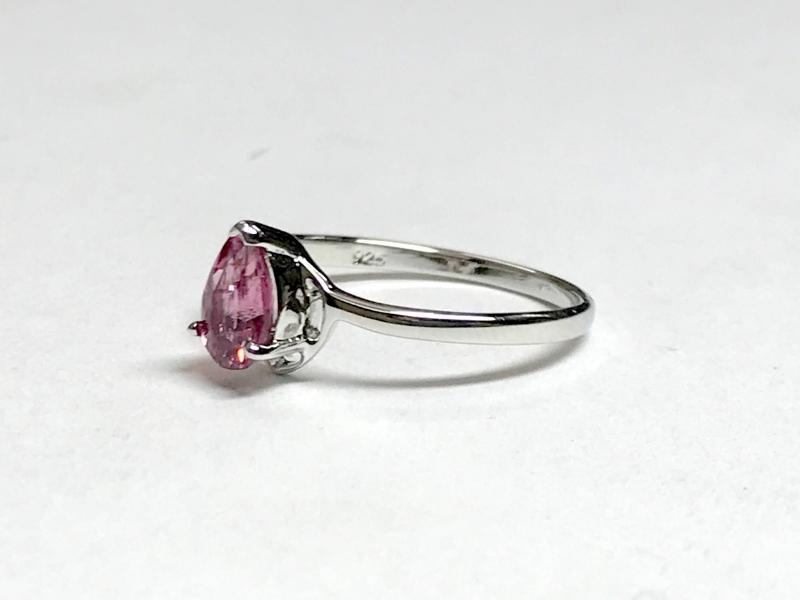 Tourmaline is an ideal gemstone to commemorate the 38th wedding anniversary. To mark the 38th anniversary, the tourmaline has been chosen as the contemporary gemstone, adding a particular pink shimmer to any current jewelry.
2. Oval-Cut Tourmaline Necklace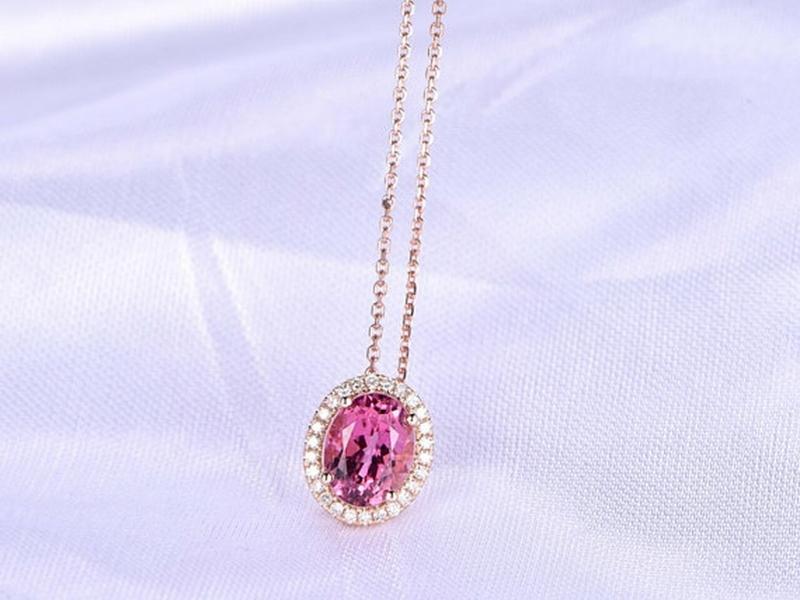 Among the many hues of tourmaline, green is one of the most popular. Consider this oval-cut necklace with a bright green tourmaline stone as a contemporary 38th anniversary gift. It's a magnificent combination of a traditional gemstone and contemporary design.
3. Pink Tourmaline Trinity Stud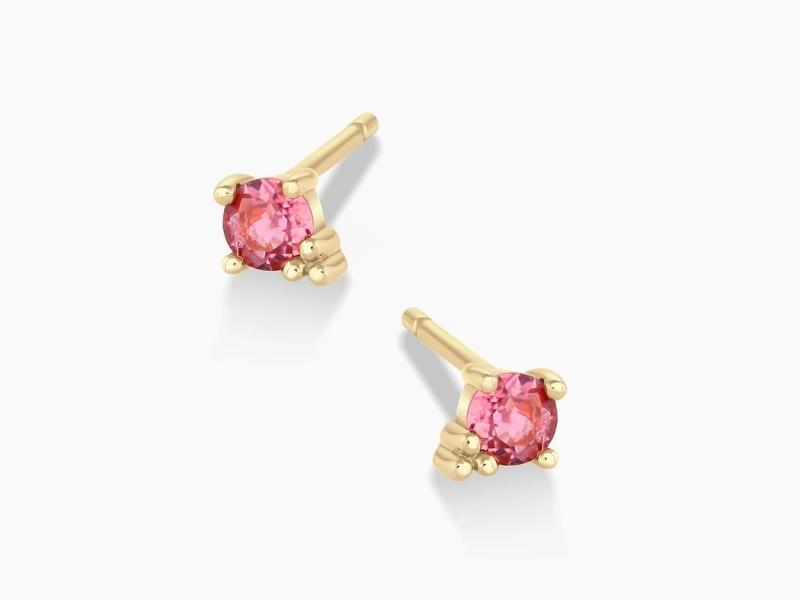 With a tiny tourmaline stud, you may say "I love you" to your significant other. This 14-karat gold-encrusted pink earring adds a dash of color to any outfit. Alternatively, the studs may be purchased as a pair if you want.
4. I thought I loved you then Oh Canvas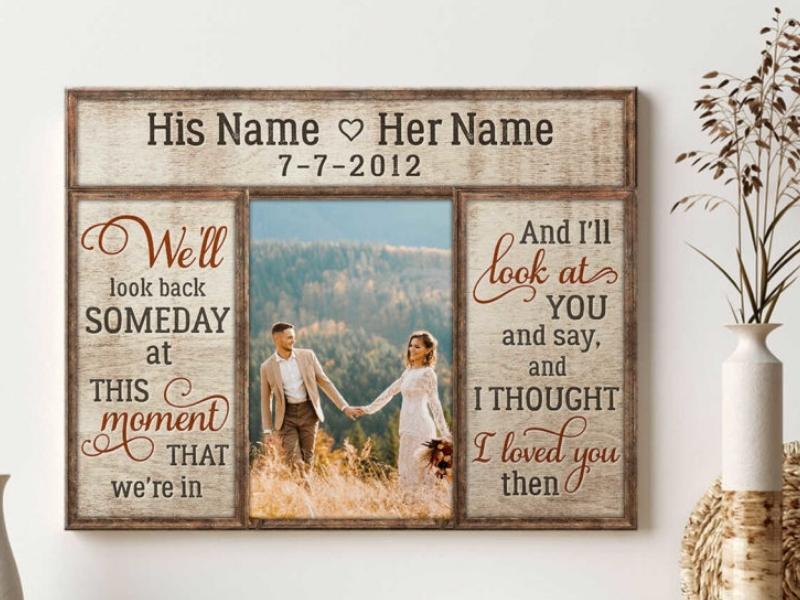 You can tell your sweetheart precisely when you first fell in love with them with the 'And I Thought I Loved You Then' canvas print. If so, how did you know it was love at first sight? With this canvas, you may display a significant date or cherished memory. Moreover, you may always bring up happy memories with your spouse or significant other.
While We Were in the midst of our relationship, I Thought I Loved You.' Uploading a picture of you and your significant other to canvas wall art is an option. Alternately, you may choose a design that features just the quotation. Both of these allow you to personalize the 38th anniversary gift for wife by adding your name and the date.
As a thoughtful anniversary or Valentine's Day present, this will bring tears of delight to the eyes of your beloved. Decorate your living room, bedroom, or hallway with a canvas wall hanging.
5. Yellow Beryl Diamonds Ring
A yellow beryl ring is a classic choice for 38th wedding anniversary gifts for her, and it will brighten up any outfit. The 10 tiny diamonds in the contemporary setting enable the main stone to show through.
6. Tanzanite Earrings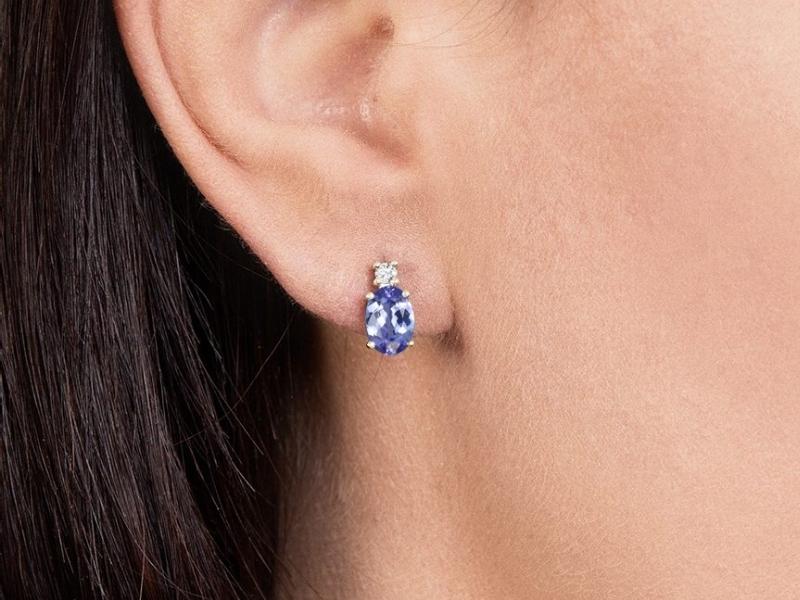 Tanzanite jewelry is the ideal anniversary gift by year for your lovely wife on this momentous occasion. Everyone knows that tanzanite and tourmaline are the most popular 38th wedding anniversary gems. She'll never want to take off these stunning tanzanite earrings if you give them to her. Your lady will be smitten with exquisite details and high-quality construction.
7. Bronze and Tourmaline Necklace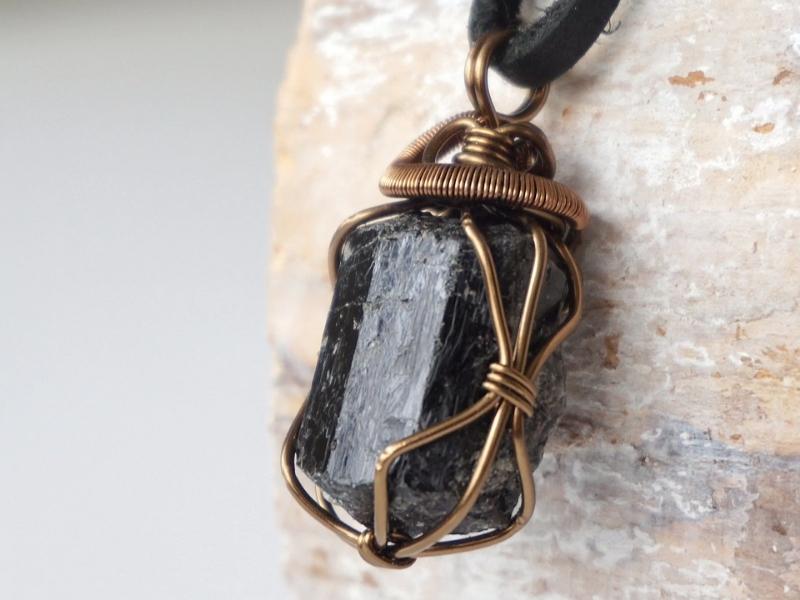 A conventional 38th anniversary gift for wife who likes to hold lavish parties is what you're looking for. Symbolism and elegance are perfectly combined to celebrate the bronze wedding anniversary. This lovely necklace, made of bronze and tourmaline, represents the way you and your partner complete one another in your relationship. Your girlfriend will put it on at every opportunity!
8. Raw Tanzanite Bracelet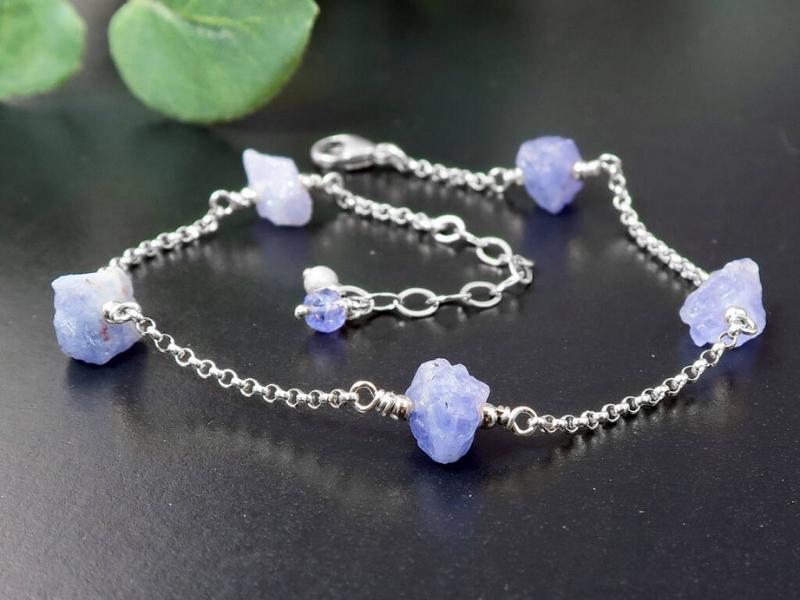 Psychic vision and spiritual healing are two of the many benefits of tanzanite. Your 38-year wedding anniversary is a time to reflect on how far you've come as a pair from your first date. Watch her eyes light up when she receives this beautiful tanzanite bracelet as a surprise from you. You can't go wrong with its simplistic, minimalist style!
9. Green Emerald Necklace
For the 38th emerald wedding anniversary, give your wife this raw green emerald necklace. The heart pendant, crafted by hand, symbolizes compassion, love, and mercy. It will surprise and delight your wife.
10. Oval Emerald Ring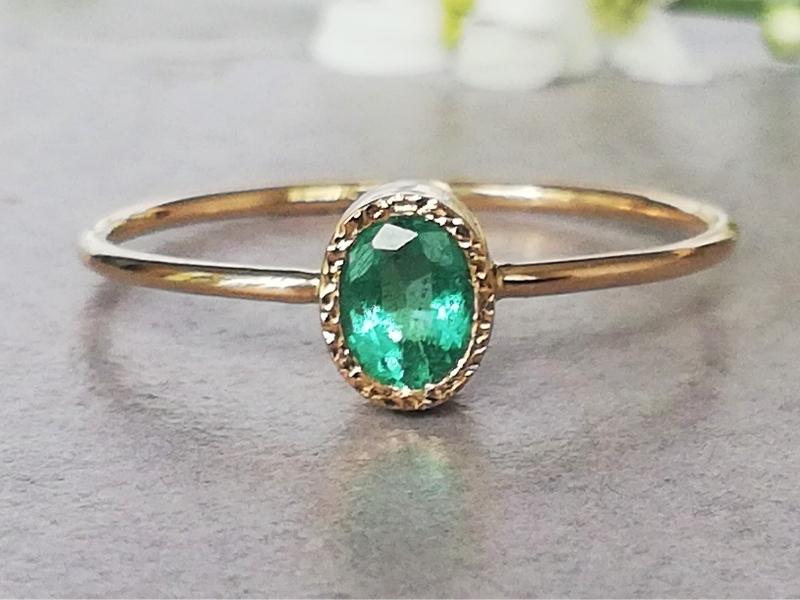 You can never have too many rings on a woman's finger, and look at the color of them! This oval emerald ring would make a wonderful 38th anniversary present for her. It's stunning in every way, with just the perfect amount of glimmer to make it stand out. Make her happy you can!
>>> Recommend reading: Top 37+ Easiest 39th Anniversary Gift for Husband, Wife, & Parents
11. Emerald and Diamond Floral Pendant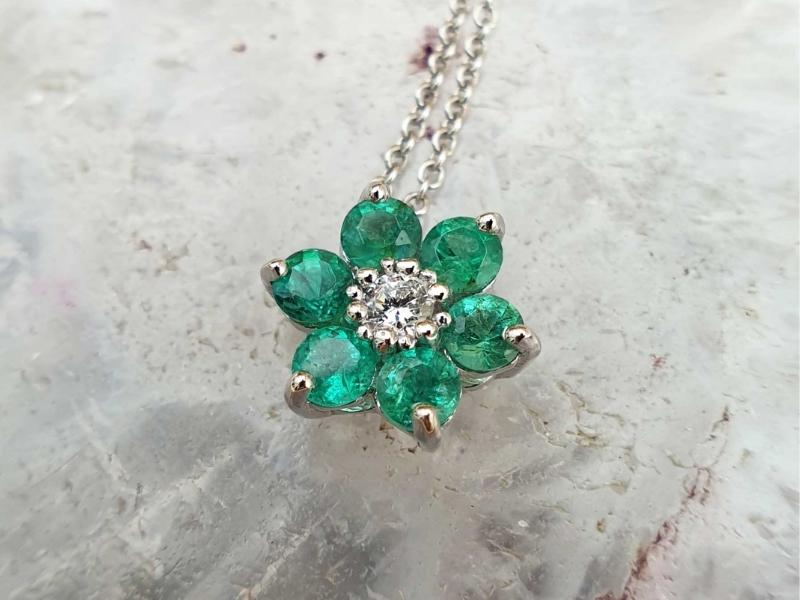 Splurge on this gorgeous necklace to show your wife how much you care about her. Gold, diamond, and emerald combine to form a magnificent necklace, perfect for your wife's special day. The emerald, which is the 38th anniversary gemstone, is highlighted by the flowery design and diamonds.
12. Personalized Song Lyrics Gift Canvas Ideas For Couples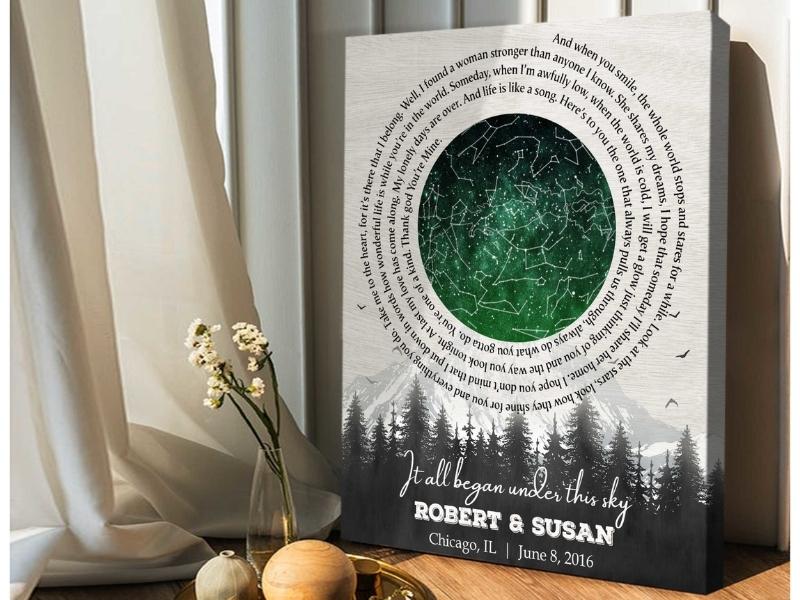 Your love has been with you for 38 years, and you want to show your appreciation with a personalized 38th anniversary gift. Your search ends here with this canvas, which has a star map and spiral song lyrics. Who doesn't like looking at the night sky lit up by the stars?
As a bonus, try adding the words of a beloved song that has a particular significance to this piece of wall art.
Your forthcoming anniversary will be commemorated with a romantic night sky and heartfelt song lyrics written just for you two.
13. Opal 14K Gold Earrings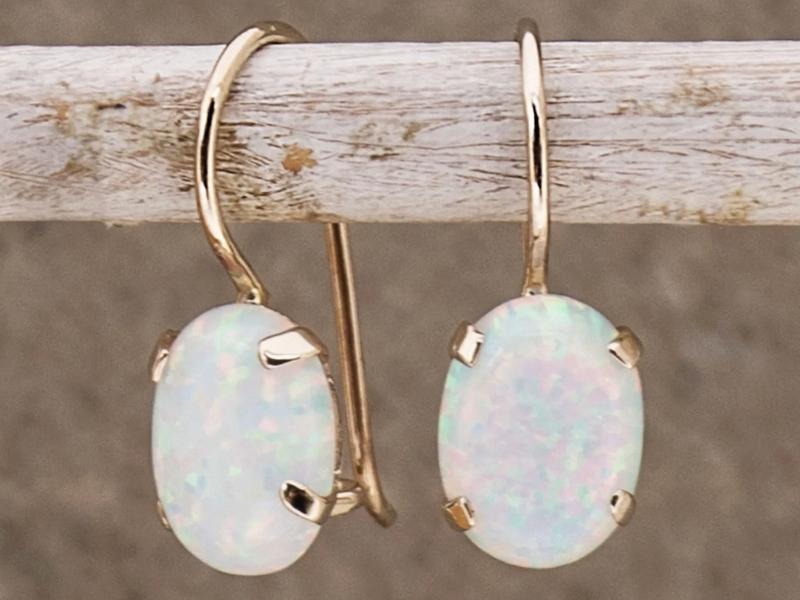 For a 38th wedding anniversary, these beautifully handcrafted opals are the perfect 38th anniversary present. As a gift for your wife's 38th wedding anniversary, these elegant and graceful earrings will be perfect.
14. Opal Bracelet in Gold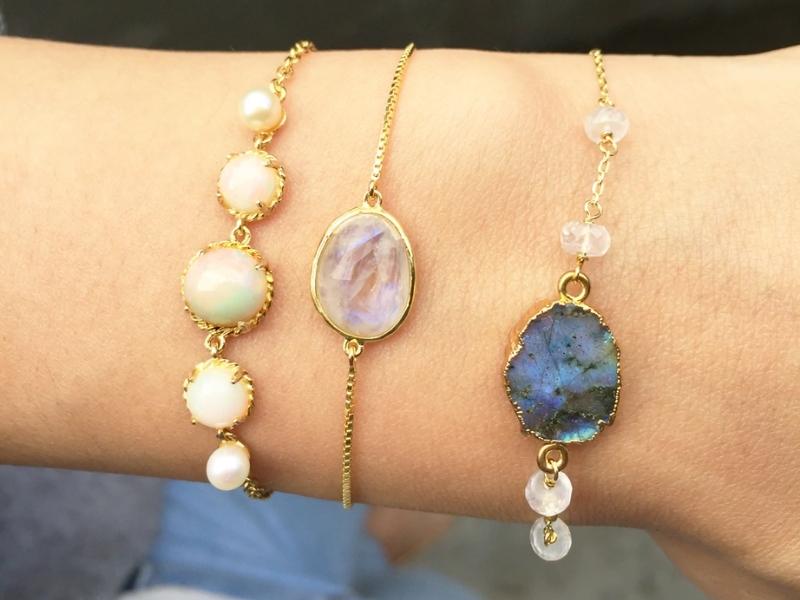 For the woman in your life who loves bracelets, this opal bracelet in gold is the perfect 38th anniversary gift. Elegance and romance are conveyed by their use. Take advantage of the moment to make her feel even more special.
15. Amethyst 14k Rose Gold Statement Ring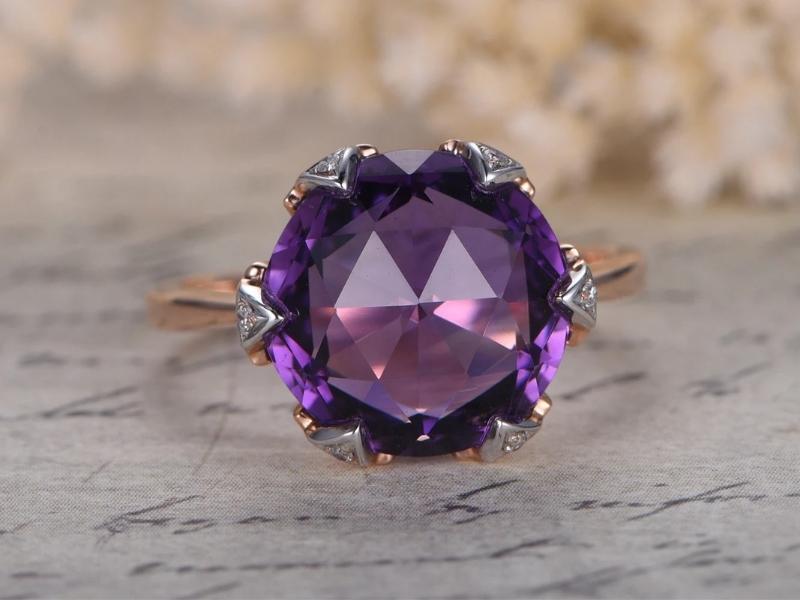 This circular amethyst statement ring is sure to please your lady if she believes that more is better in terms of jewelry. This ring, which is made of 14k rose gold and adorned with round pave diamonds, is really breathtaking. The new gem on her ring finger will make all of her pals envious.
16. Mini Amethyst 14K Gold Earrings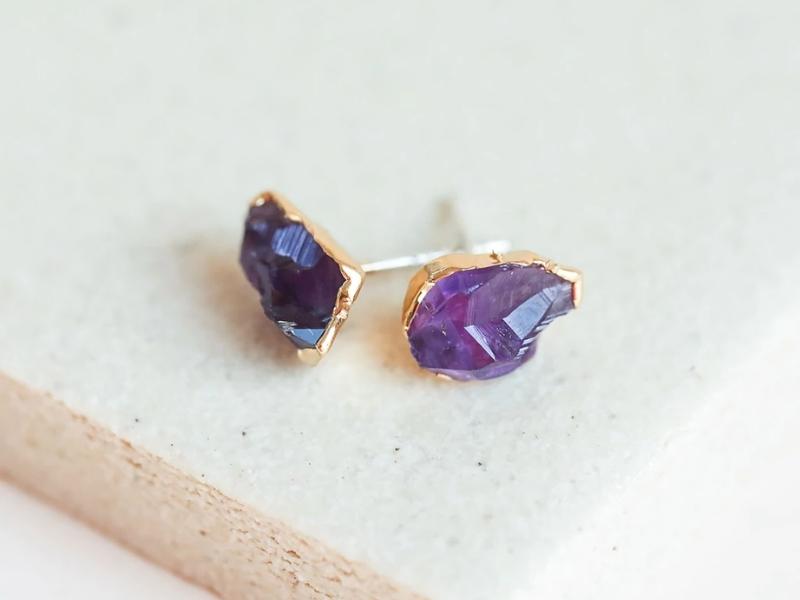 Of course, she's entitled to the greatest treatment possible. This is why for her, only these genuine small amethyst earrings would suffice. With 14k gold petals and a diamond halo, these exquisite earrings are the epitome of elegance. A simple, elegant look that she may wear all day long.
17. Personalized Songs With Names Canvas Print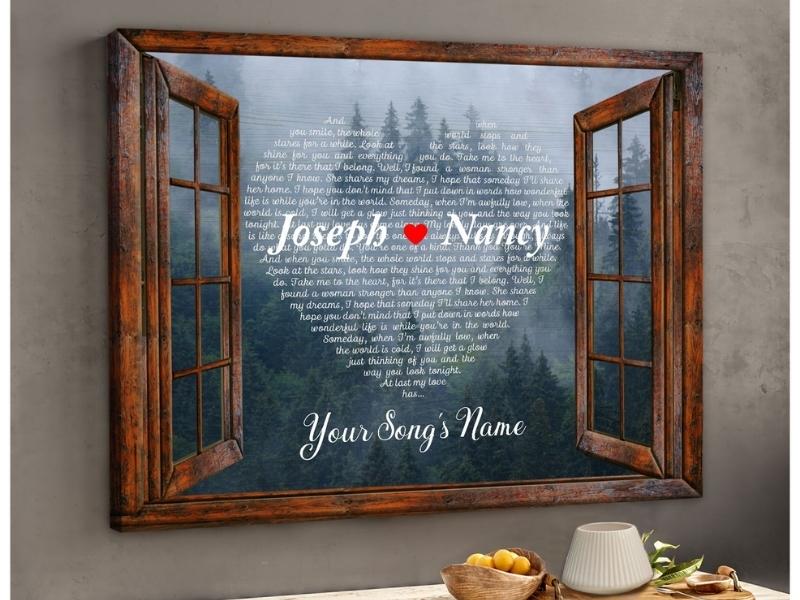 The Heart-Shaped Song Lyrics canvas artwork is the ultimate customized present. For an iron anniversary, this is the fitting song since it's around 38 years since the couple first danced together. Your name and wedding date may be added, as well as lyrics to any song you choose.
The Heart-Shaped Song Lyrics canvas completes any space. Both the husband and wife will always find a reason to dance when you have this piece of furniture around the house. What if it isn't the secret component to a good marriage? What are you still sitting on your hands about? Press the play button to begin.
18. Blue Sapphire Earrings Sterling Silver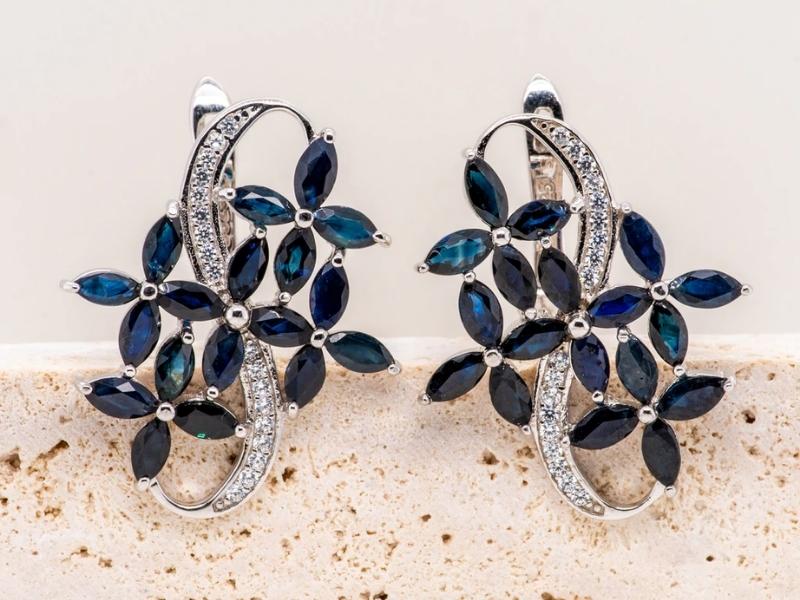 Tear-drop sapphire earrings are the perfect 38th wedding anniversary gifts for her. When offering a real sapphire as an anniversary gift, there is no way to go wrong with the sapphire anniversary gift. Taking her out on the town to show off these dazzling earrings is a must.
19. Blue Sapphire Teardrop Pendant with Diamond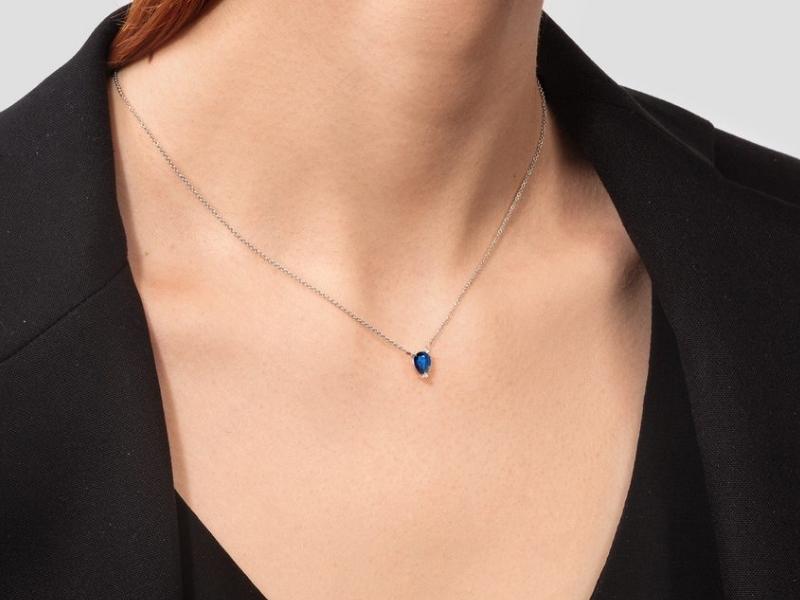 This blue sapphire teardrop with a diamond necklace is a great way to gain some points if you truly want to wow her. These gift ideas for 38th wedding anniversary will be treasured by her for years to come. She'll never want to take it off, it's so gorgeous.
20. Sapphire Ring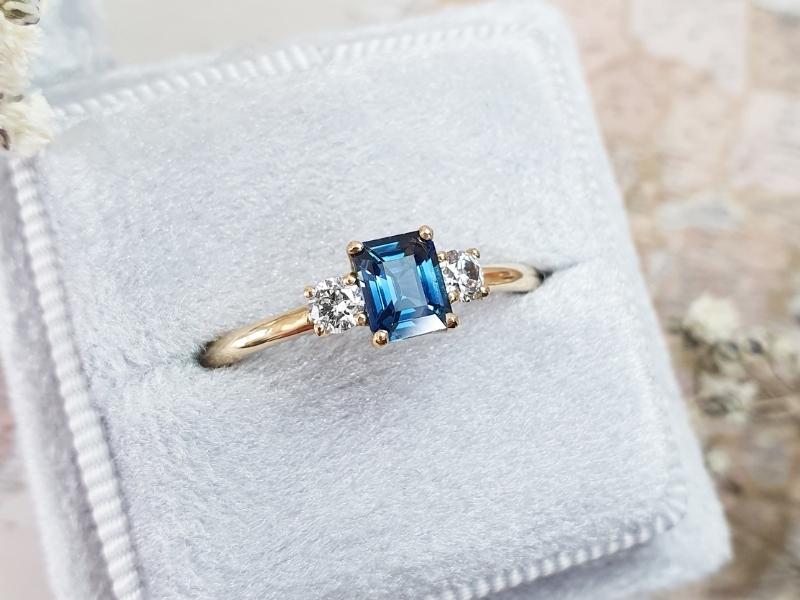 She'll enjoy this sapphire ring as an update if she's looking for something new to wear. The ideal 38th anniversary gift for wife who enjoys adding new pieces to her jewelry box. For her 38th anniversary, this ring will be at the top of her list of present possibilities.
21. Gold Sapphire Bracelet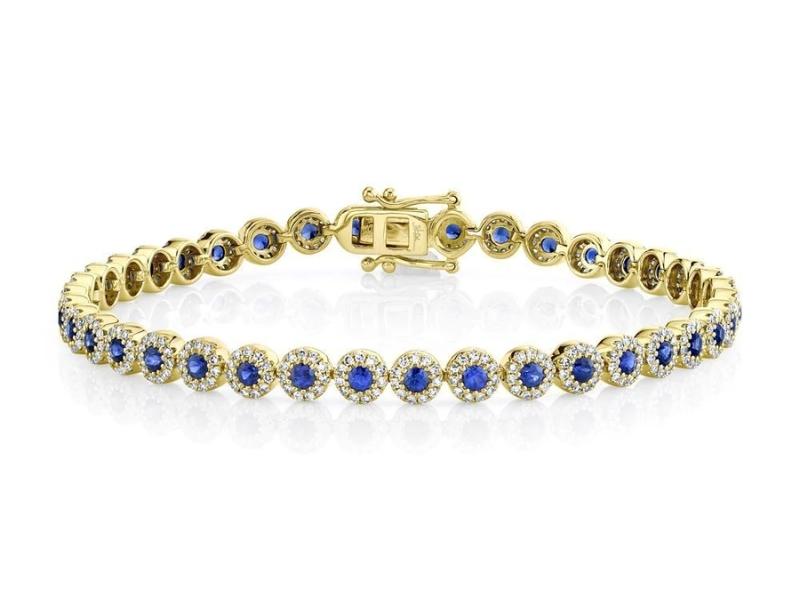 Not every sapphire ring or pendant has to be made from a precious stone of the mineral sapphire family. It's the ideal 38th anniversary gift for the lady who prefers the simplest things in life, like this simple bracelet
She doesn't care about how much money you spend, she cares about how considerate and simple you are.
22. Red Ruby Ring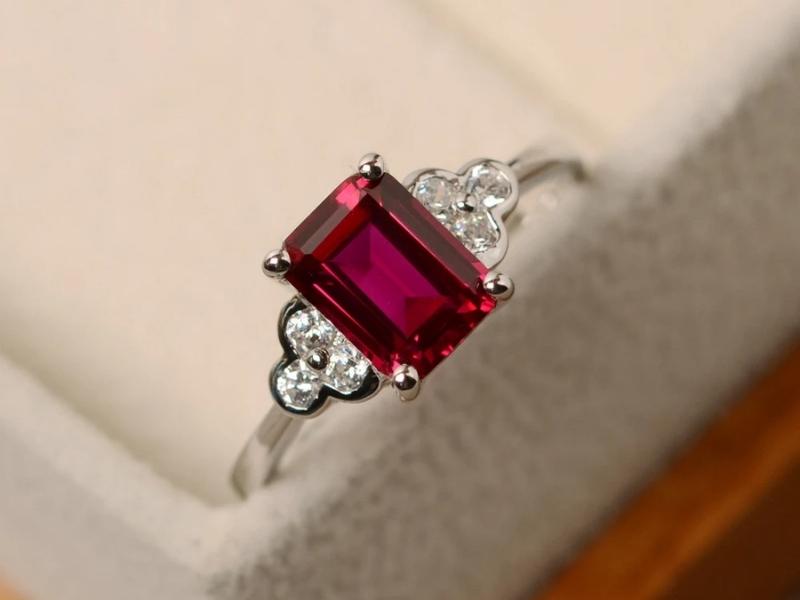 The best way to congratulate your wife on her anniversary is to give her jewelry. Consider ruby-themed gifts, such as a stunning ring, for the 38th wedding anniversary celebration. Make her feel special with this wonderful 38th anniversary gift, which is both reasonable and of high quality.
23. Ruby Stud Earrings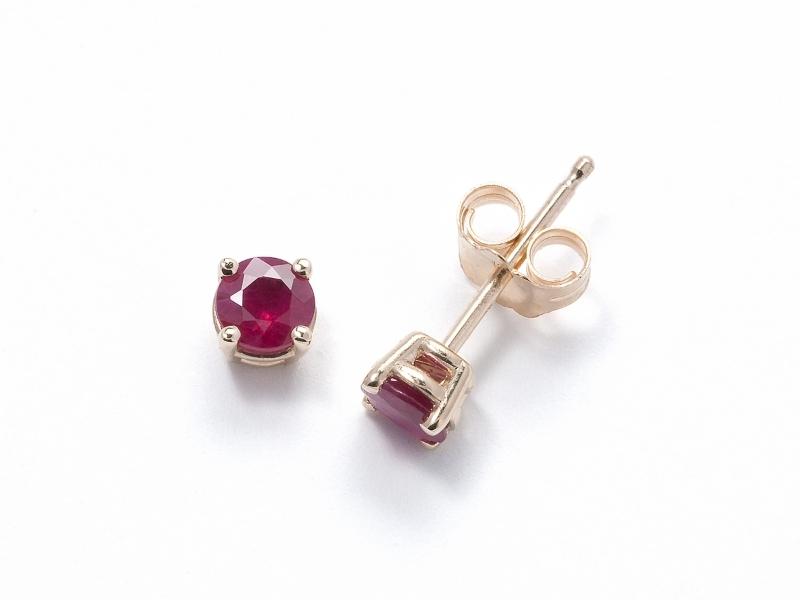 Earrings are a great alternative to a necklace or ring if your wife isn't a fan of wearing jewelry. Beautiful earrings are a thoughtful 38th anniversary gift for wife that shows how much you value the lady in your life.
>>> Recommend reading: Top 35+ Best 40th Anniversary Gift for Couple You Should Know
38th Anniversary Gift for Husband
24. Custom Star Map Gift Song Lyrics Wall Art Custom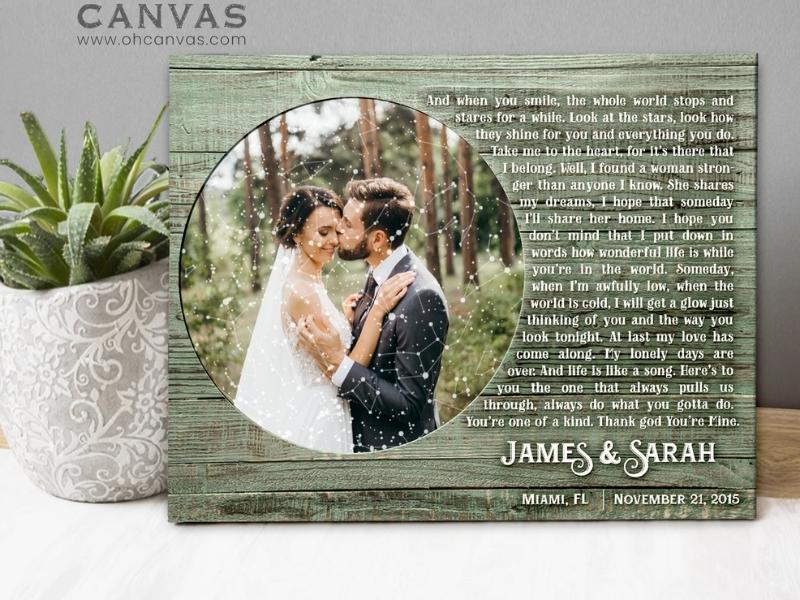 You liken your love to the endlessness of the night sky. Let your everlasting soul shine brightly with this star map picture canvas poster. There is no better way to show your loved ones how much you care about them than with this beautiful chart of their hearts In addition to the picture and name, this constellation decoration also features the place, time, and date of your wedding.
25. Raw Emerald Cufflinks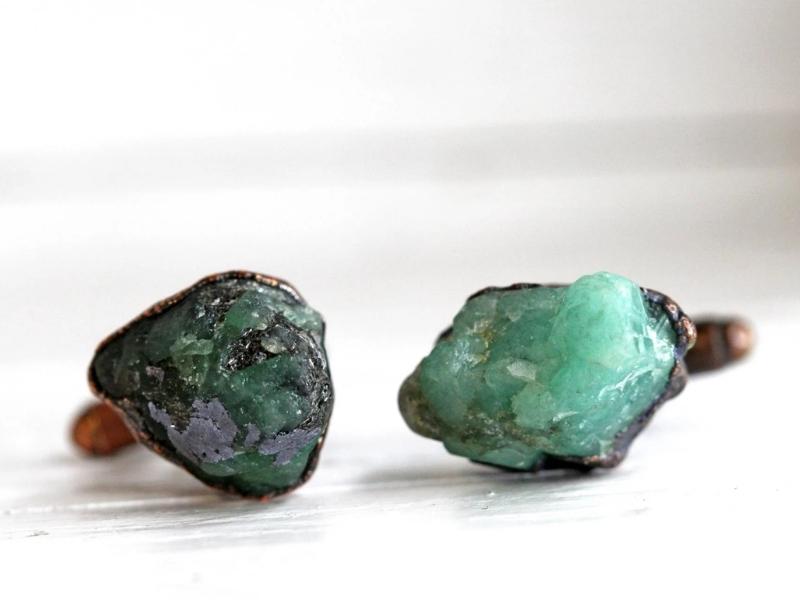 The gift of cufflinks is one of the greatest for a guy to get. They are useful and may be added to an existing collection of items. " All of his shirts and suits will look better with them. The ideal 38th anniversary gift for him, in keeping with the theme.
26. Boulder Opal Free Shape Cufflinks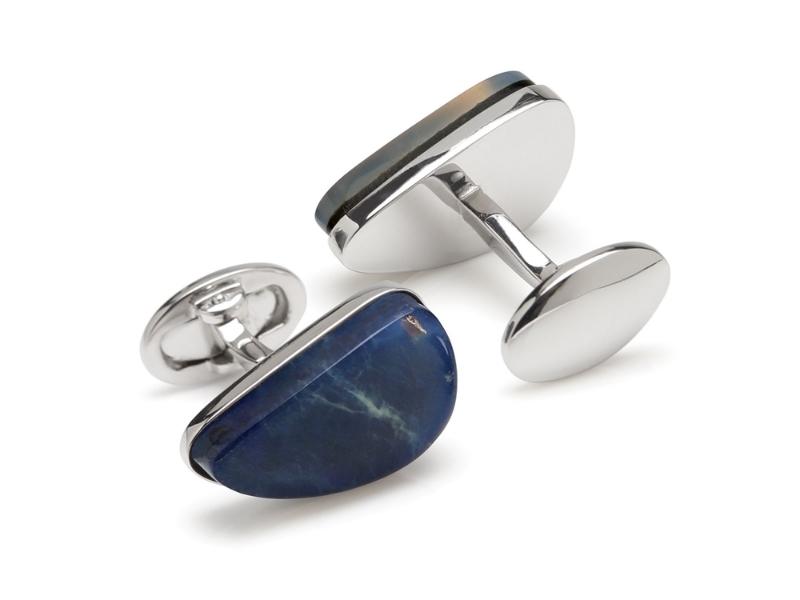 There are no other cufflinks like this one. If your guy already has a distinct collection of cufflinks, this may make a great compliment. So, on your significant day, show him how much you appreciate him with this kind 38th anniversary present.
27. Amethyst Cufflinks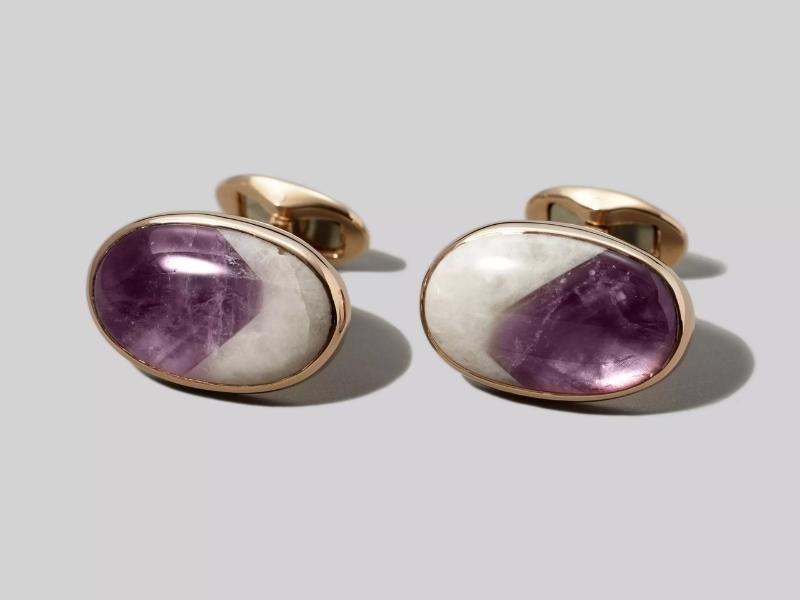 One of the anniversary jewels is amethyst, which has been around for 38 years. This pair of amethyst cufflinks is a far cry from some raw amethyst stones. To make these beautiful, handcrafted earrings, the artisans used sturdy ebony wood inlaid with tiny pieces of amethyst stone. The glow-in-the-dark feature also helps them stand out.
28. Men's Ruby Crystal Cufflinks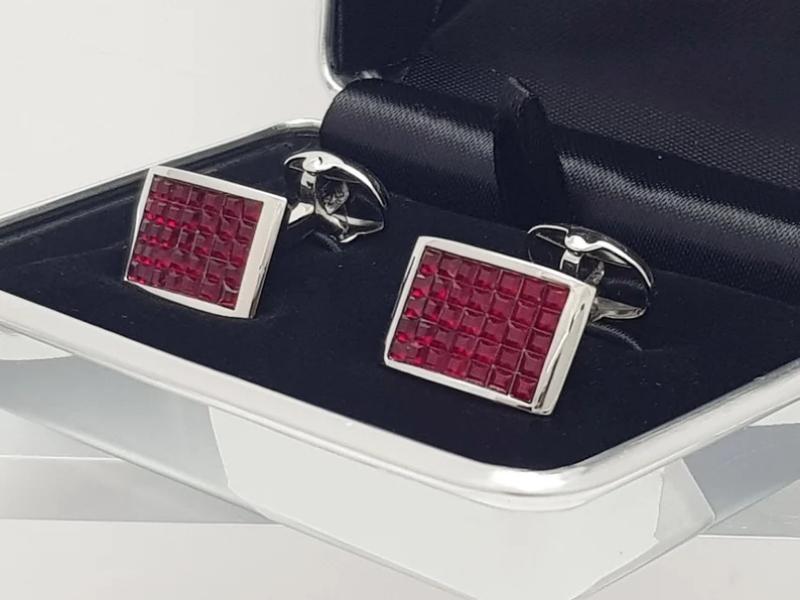 A decent set of cufflinks is a present a guy can always get some use out of. If you need a wonderful 38th anniversary gift for him, then try cufflinks that include the ruby motif of the celebration. When it's time for him to get dressed up again, he'll look wonderful in these one-of-a-kind accessories.
29. Silver Commemorative with Inlaid Gemstone
As an alternative to jewelry, this commemorative coin with gemstone inlay is an excellent gift for the sapphire lover in your life. It's a gorgeous sapphire anniversary present for him that he may wear or show with his other valued things.
30. First Dance Canvas With Lyrics Personalized Anniversary Canvas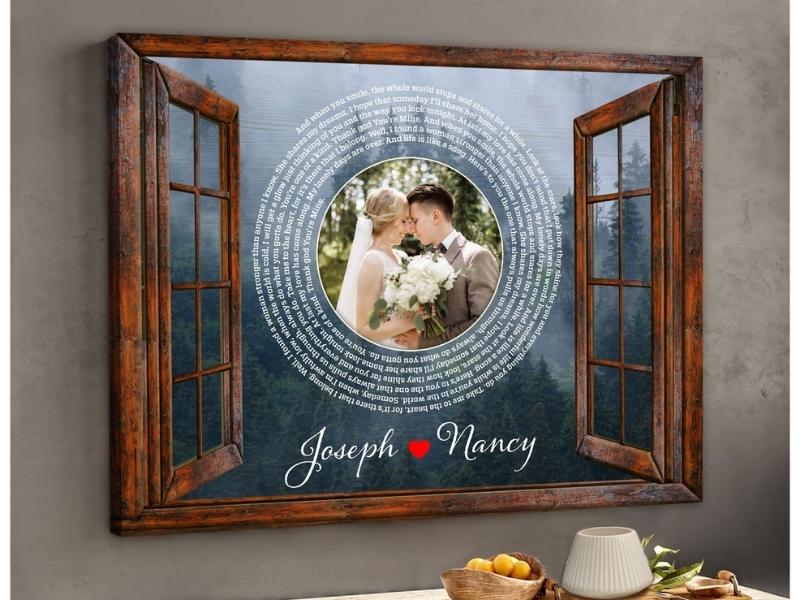 If you want to surprise your spouse on your 38th wedding anniversary with a present that reminds them of your special day, this Canvas Print is the perfect option.
I created this piece to commemorate the moment when you held one other close as you danced the night away. It incorporates song lyrics, your wedding picture, your name, and the wedding date.
Our Canvas Print has a spiral of song lyrics that will help you remember the event. The lyrics of your wedding song are the best way to tell the tale of your relationship. Give your spouse this beautiful lyric art as a 38th anniversary present and relive your wedding day all over again.
31. Ruby Block
It might be difficult to choose a 38th anniversary gift for a guy who already has all he needs. Fortunately, the ruby wedding anniversary theme may assist you in finding something new for him. For those searching for something really unique, this ruby octagon block is your best bet.
23. Sapphire Cufflink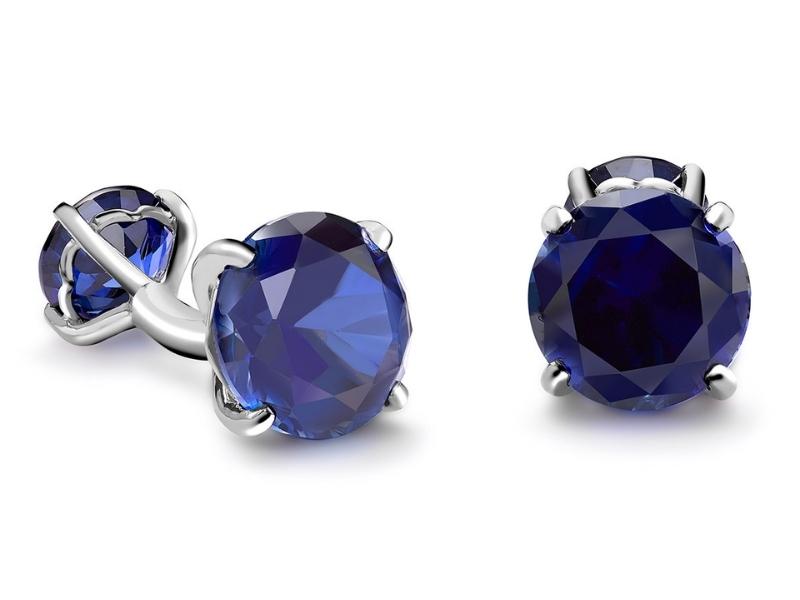 He'll appreciate these blue sapphire cufflinks, whether he wears them every day or just on special occasions. It's a magnificent yet reasonably priced 38th anniversary present that'll make his tuxedo stand out. This is a wonderful present for him to give his daughters on their wedding day.
33. Emerald Tennis Bracelet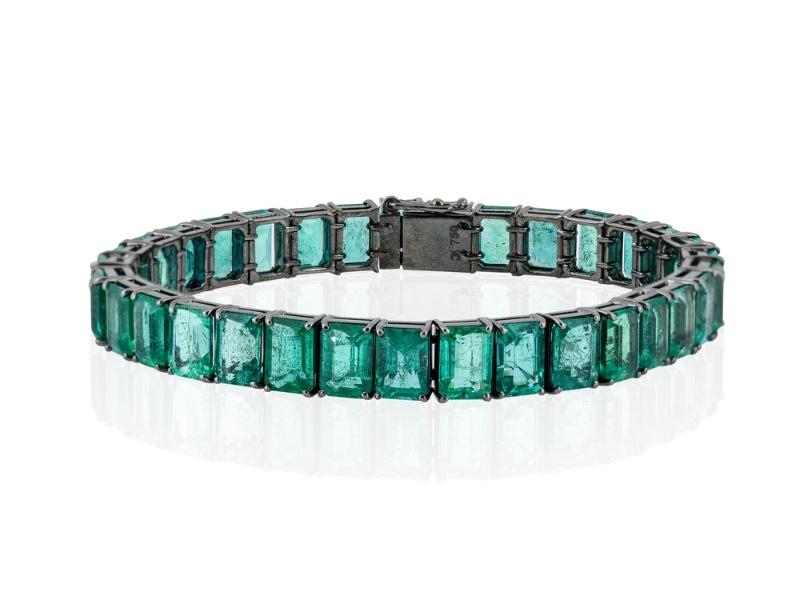 For a man who appreciates better things in life, this gorgeous bracelet is an excellent choice. The emerald stone represents 38 years of marriage, and this stunning 38th anniversary gift for husband, made from lab-created emeralds, is sure to bring a grin to his face.
>>> Recommend reading: Top 42+ Glamorous 41st Anniversary Gift for Wife, Husband
38th Anniversary Gift for Parents
34. White Opal Necklace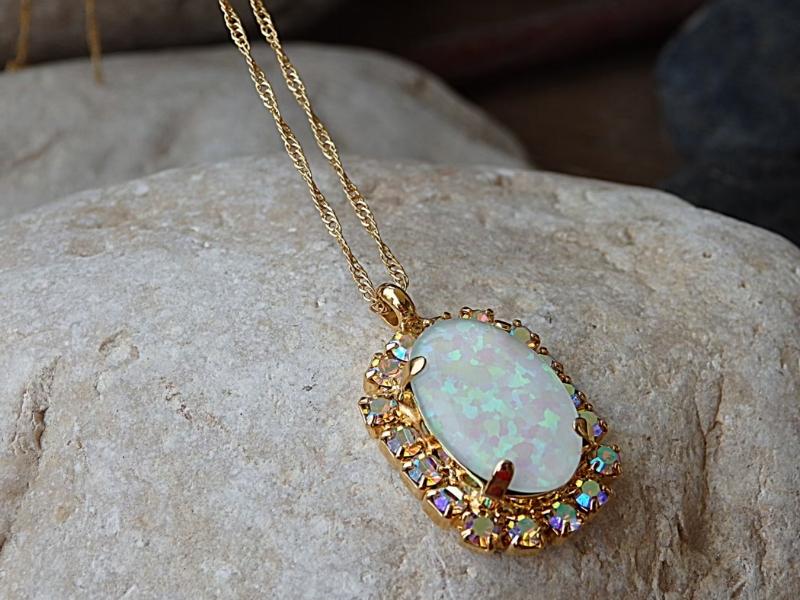 An opal wedding anniversary is a great time to wear an opal since it's a gemstone that communicates a lot. This necklace is a great option if you're seeking something different to give as a 38th anniversary present. It has emotional value and may serve as a memento for years to come.
35. Opal Sterling Silver Earrings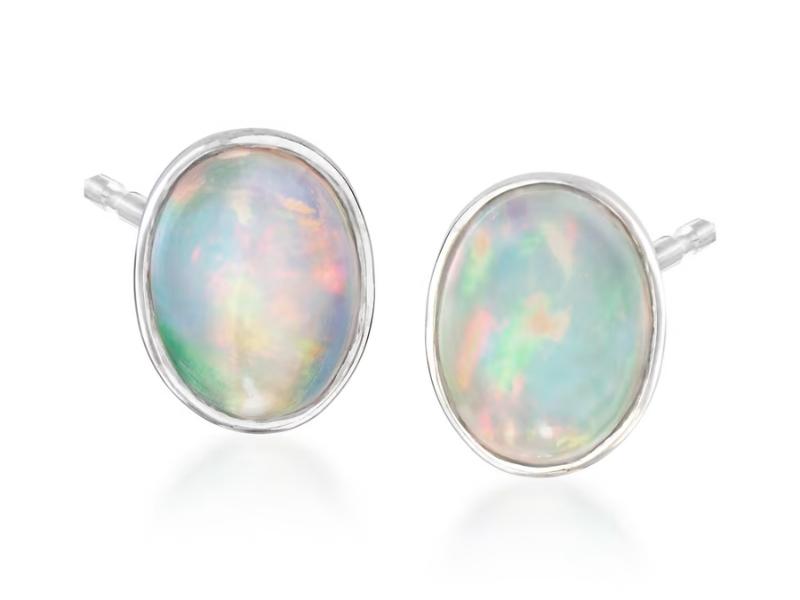 Give her these exquisite opal earrings to commemorate your 38 years of marriage. They feature sterling silver that secures the opal gemstone in its position. Love, happiness, and good fortune may all be celebrated in this beautiful piece of jewelry.
36. Heart-Shaped Lyrics Photo Gift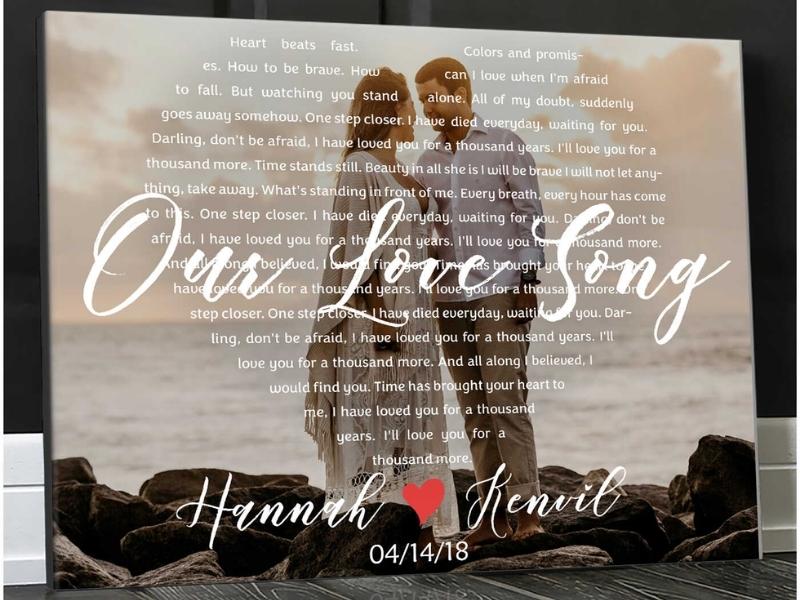 Customize it with your name, the name of your favorite song, and the date of your wedding anniversary, and you've got yourself a stunning piece of canvas art. You can't go wrong with personalized gift ideas for 38th wedding anniversary.
This song lyrics 38th-anniversary handmade canvas print proves that music is a universal language of love. As a result of these thoughtful gifts, your married life will get sweeter and sweeter every day! So, place your purchase right now!
37. Opal Ring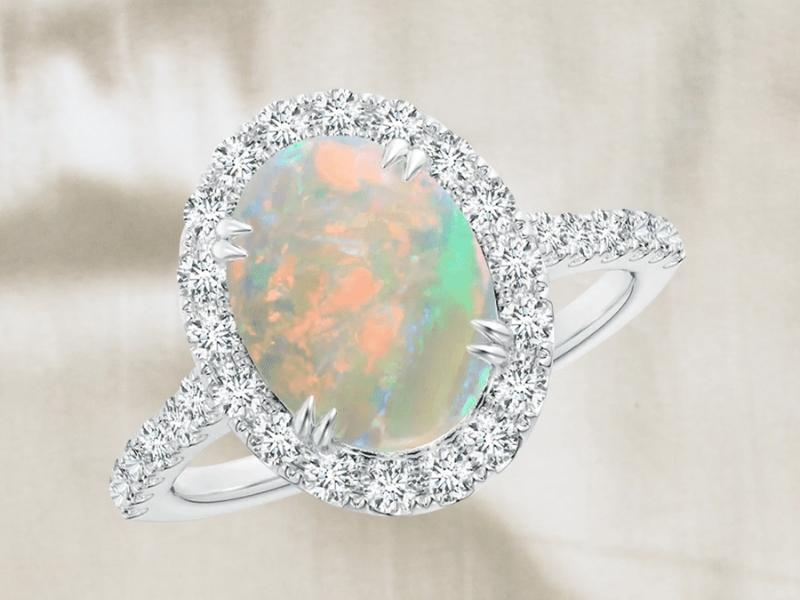 After 38 years of marriage, opal has a lot to say about its wearer. This ring may represent a lifetime of joy, love, and companionship. It's a present that will be talked about for years to come.
38. Diamond Ruby Necklace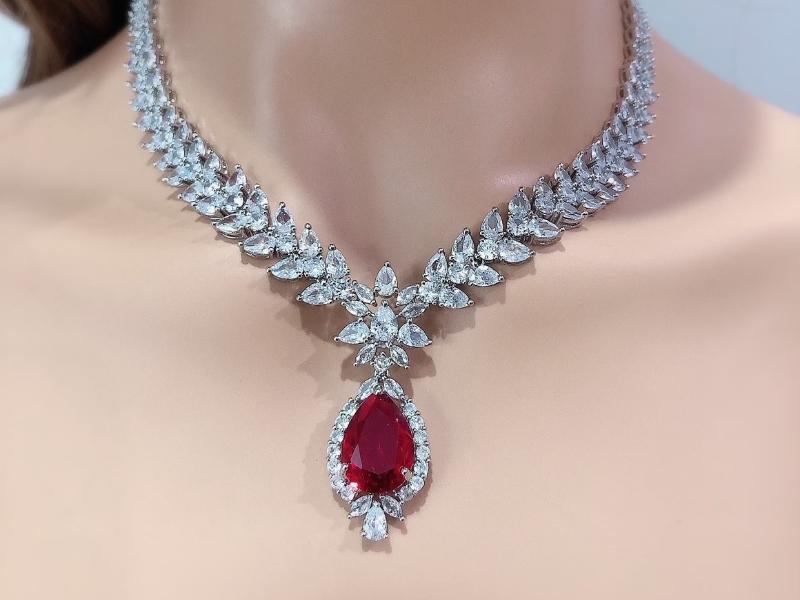 When it comes to the 38th wedding anniversary, rubies are the traditional gift to give, therefore that's what you should get your spouse as a present.
The typical gift for a bride is a diamond necklace. The addition of rubies elevates this 38th anniversary gift for parents to a new level of perfection.
39. Natalie Marie Rose Morganite Ring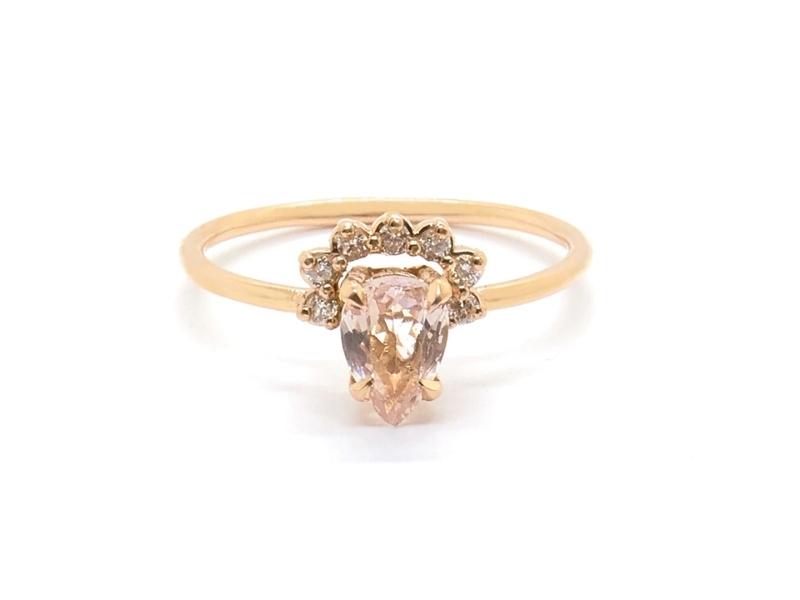 Morganite is the ideal gemstone for this modern, avant-garde look. Diamonds and a pink morganite pear lay under a half-crown of white diamonds in this ring.
40. Morganite and Diamond Ring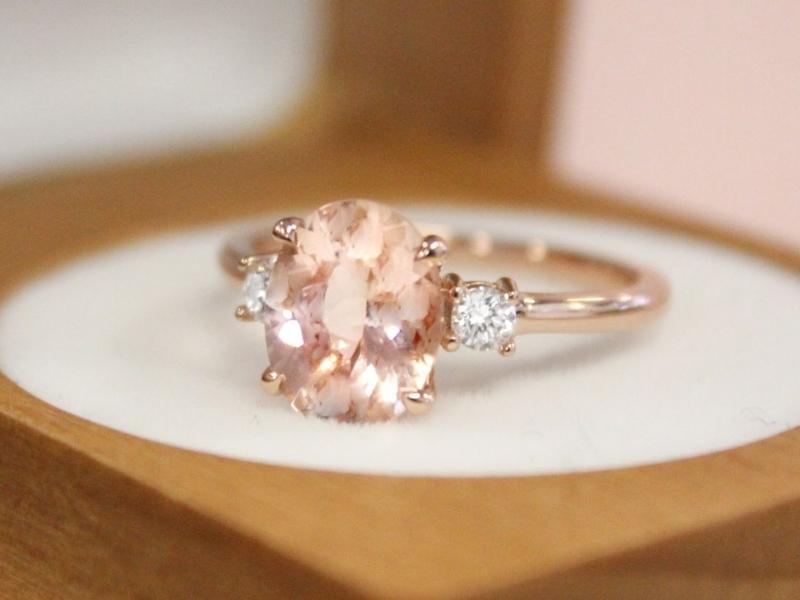 Diamonds aren't necessary for gift ideas for 38th wedding anniversary. The central stone is surrounded by baguette diamonds on each side of an elaborate ring.
41. Rose Gold Morganite Scalloped Halo Ring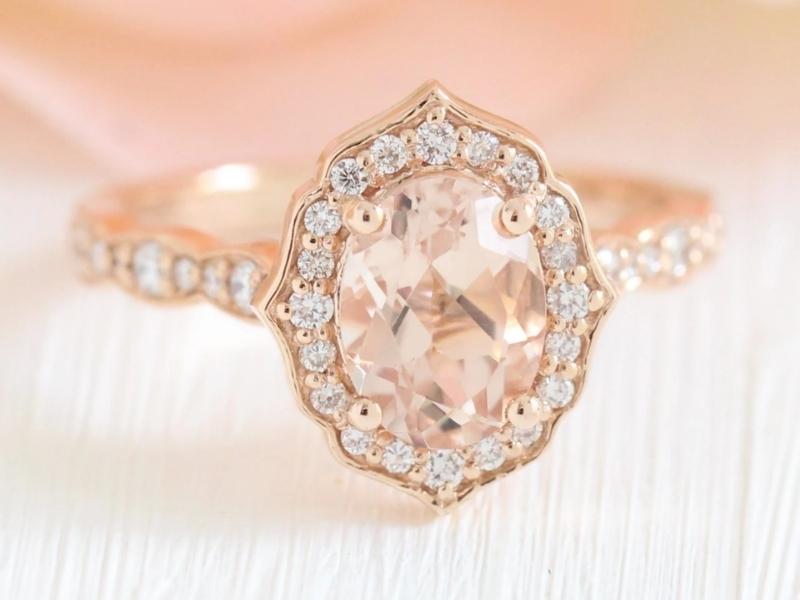 This diamond-encrusted ring in 18K rose gold contains a morganite center stone. The scalloped edge of this item is created by a combination of round diamonds and pavé diamonds.
42. Morganite Reverie Ring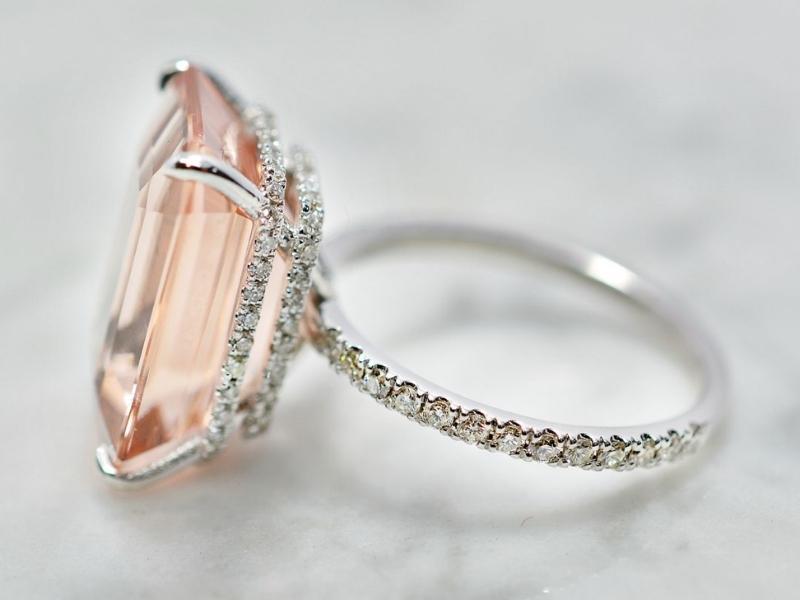 A morganite stone in a blush-colored band is a fantastic match for a clean band. This ring is basic, yet it has a sophisticated look to it.
43. Unique Anniversary Gift Wall Art Canvas Print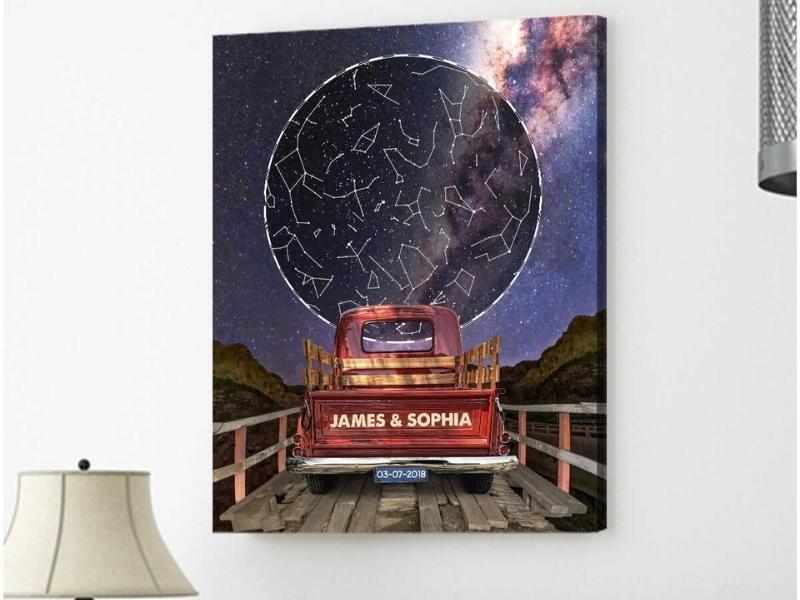 Because it comes in so many different colors, this personalized map star may match any kind of home style. If you offer your significant other the gift of the sky, they will always remember that night.
Keep the memory of your first meeting fresh in their mind with a canvas wall décor personalized with their names as a pair and the dates that were meaningful to them both.  As a continual reminder of your love for one another, the Star Map Wall Art will be an excellent choice.
44. Morganite Ring With Baguette Diamond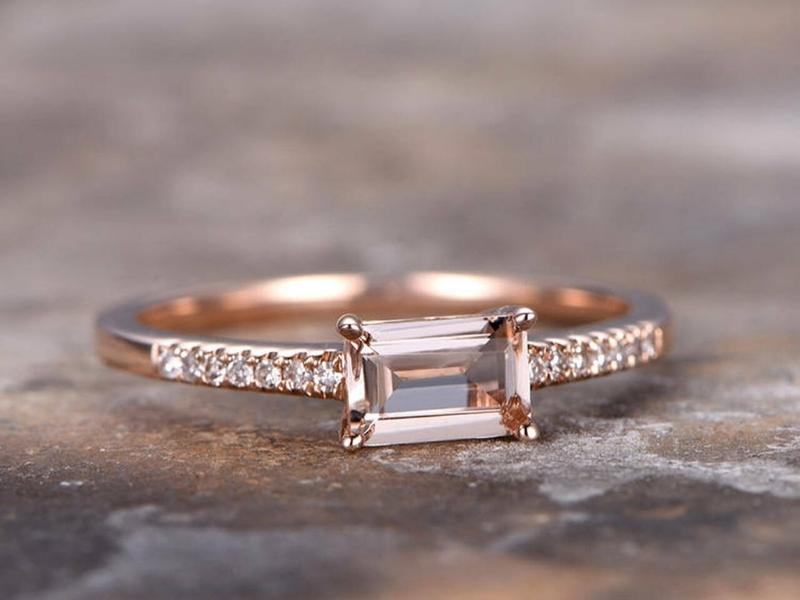 This starburst ring is a great way to break with convention. The rose gold ring encircles the central morganite stone and adds a luxury touch. The diamonds are set in round and baguette shapes.
45. Emerald-Cut Morganite and Baguette Ring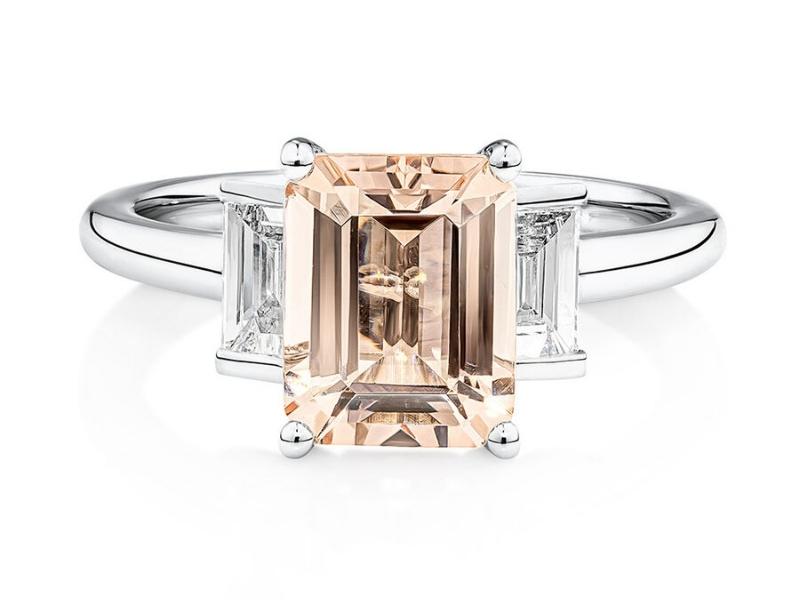 When it comes to 38th anniversary gift ideas, there's nothing better than the emerald cut. Classic and beautiful, this alternative has two baguette-cut diamonds on each side.
Read more: 27+ Most Shining 37th Anniversary Gift for Wife, Husband & Parents
In 38 years, a lot has changed. When you've been through all a marriage can throw at you, it's safe to say you're in a better place than before. With these 38th anniversary gift ideas for him, her, and them from Oh Canvas, you may commemorate each of those special occasions.