It's all about getting the appropriate gift when it comes to celebrating four years of a partnership. It's not your ruby anniversary yet, but now is a good time to take a step back and think about your relationship with your husband. This is where a wonderful 37th anniversary gift comes in. If you're stumped on what to offer your husband or wife for their 37th wedding anniversary, consider one of these interesting suggestions from Oh Canvas.
What is the Anniversary Gift for 37 Years of Marriage?
Did you ever think you'd still be together 37 years after getting married? Most likely not for a lot of different couples… It's a great accomplishment to make it to the 37 years of marriage.
What is the traditional gift for 37 years of marriage? For some reason, the 37th wedding anniversary isn't recognized by the usual lists of presents and symbols. This could be because it wasn't anticipated that anyone would think of 37 as a considerable number that would merit a special celebration.
Although there are no 37th anniversary traditional gifts, the modern gifts for this milestone are alabaster! Alabaster is the term for two minerals (gypsum and calcite), so you can celebrate your 37th wedding anniversary by giving any of them. Different in hardness from calcite, which is significantly stronger, gypsum alabaster is much softer. They represent the two essential qualities of a happy marriage: gentleness and strength.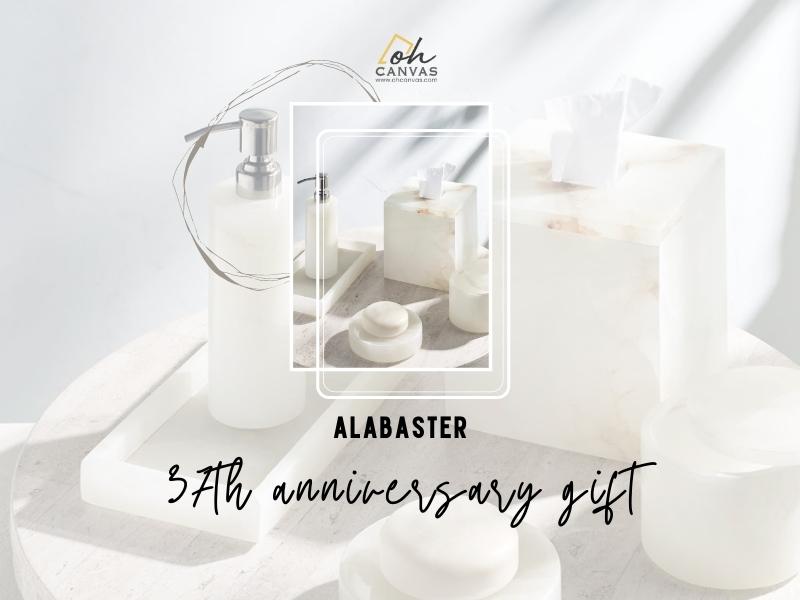 As a noble mineral and a valuable stone, alabaster may be found in two forms: finely ground gypsum or calcite, a harder version. Alabaster is used to carve figures, sculptures, and other ornaments. Alabaster is most often seen in household furnishings, however, it is also infrequently found in jewelry. Other natural materials, such as the mother of pearl, might serve as a reference to the alabaster's hue and characteristics.
Best 27+ Things You Should Buy for the 37th Wedding Anniversary
37 Year Anniversary Gift for Wife
1. A Perfect Marriage Wall Art Decor Oh Canvas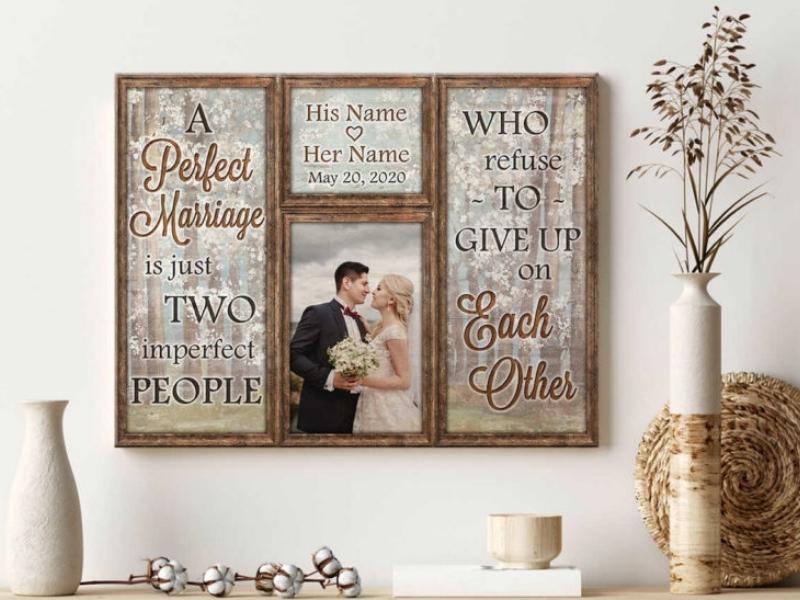 Everyone isn't perfect, but when you have each other, you're better than you could be on your own. There is no such thing as a perfect relationship, but you and your partner may be able to attain it over time. Developing a relationship is a lifelong endeavor, but one that is made all the more rewarding when undertaken in partnership. This wedding canvas is a beautiful way to commemorate the journey you've already taken together as a 37 year anniversary gift for wife.
2. Alabaster Obelisk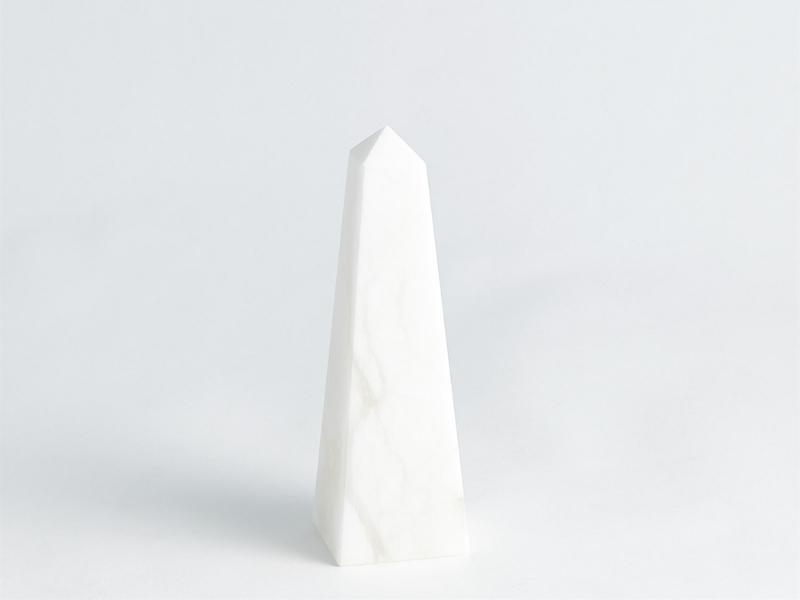 Alabaster obelisk handmade in Italy is a conversation piece as well as an impressive addition to your decor. The polished and smooth surface of the obelisk gives a magnificent visual effect, making it an excellent ornamental element that will stand out in any area. That is an attractive 37th year anniversary gift for your wife that she will cherish for years to come.
3. Sterling Silver White Alabaster Crystal Earrings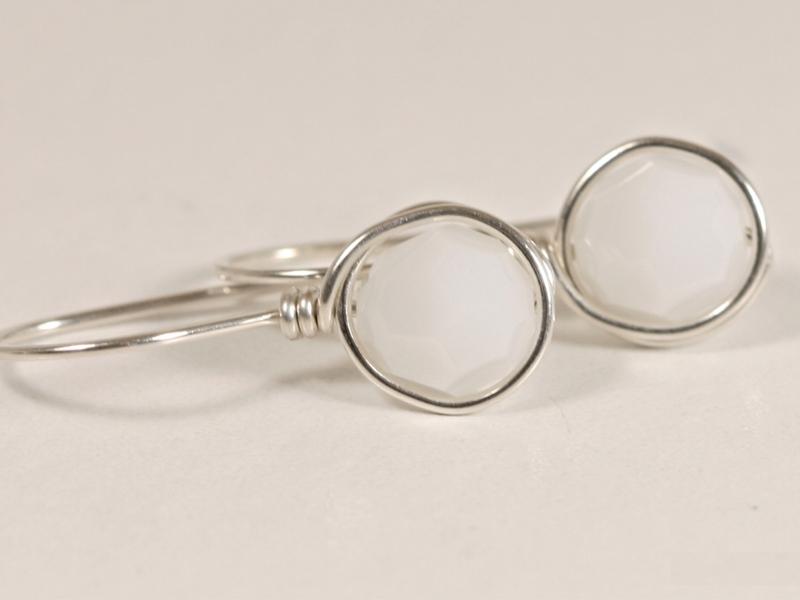 These alabaster gifts for her come in sterling silver, 14-karat gold, or rose gold and are the perfect everyday earring for your special someone. It's available as a necklace or earring set, or you may have it on its own.
4. Alabaster Vima Wall Light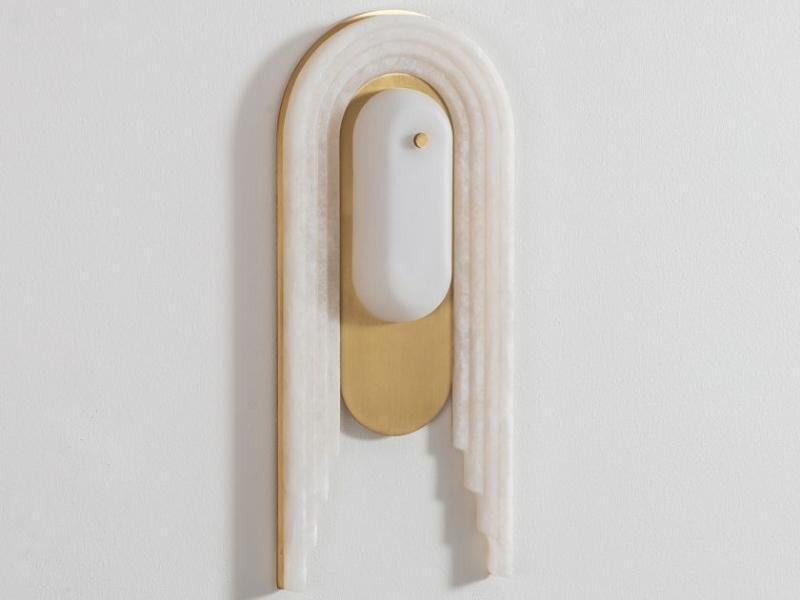 Its graceful arches, powerful lines, and striking geometric forms served as an inspiration for Vima. Elegant silhouettes are created by reinterpreting vintage hues in a way that appeals to today's fashion-conscious lovers.
The VIMA series comprises two pendant lights, a wall lamp, a floor lamp, and a table lamp that are all made in our UK factory.
Vima illustrates Bert Frank's progression of modernism and investigation of light while being true to the company's historic manufacturing practices.
5. Alabaster Tealight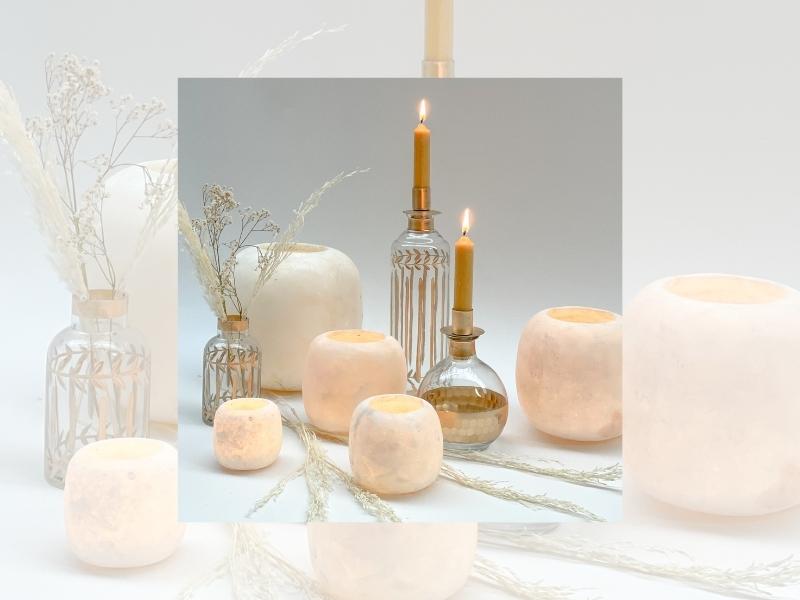 These alabaster tea lights are a great way to add some sculptural simplicity to your home. Make a statement in any environment with their soft-focused light or use them as fun centerpieces. Each piece is made by hand and has its own tale to tell about the stone from which it was carved, complete with its own tiny crystals and naturally occurring hues. The ideal 37th anniversary gift for mixing and matching.
Because each alabaster is individually crafted, some variations in size and color are to be expected. Avoid overheating by sanding the bottom of the tea lights before lighting them. To prevent your furnishings from being overheated, set the alabaster candle holders on a plate or layer.
6. Alabaster White JWDA Portable Lamp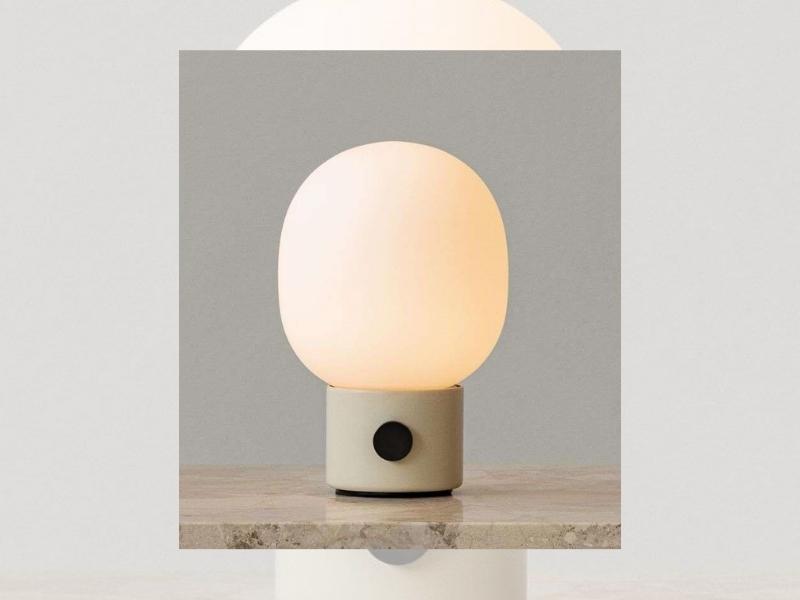 There's a wireless version of the JWDA studio's table lamp series! The JWDA features a dimmer and an alabaster white steel base with a hand-blown opal glass shade. It's perfect for setting the atmosphere with the light it emits. Portable, lightweight, and easy to use, the JWDA Portable has the freedom to travel anywhere you need it.
While the glass may be fragile, it's balanced out by the robust metal base for a fascinating look. This portable light is sleek and simple, and this 37 year anniversary gift modern can be used in any part of the home.
7. Once upon a time Wall Art Decor Oh Canvas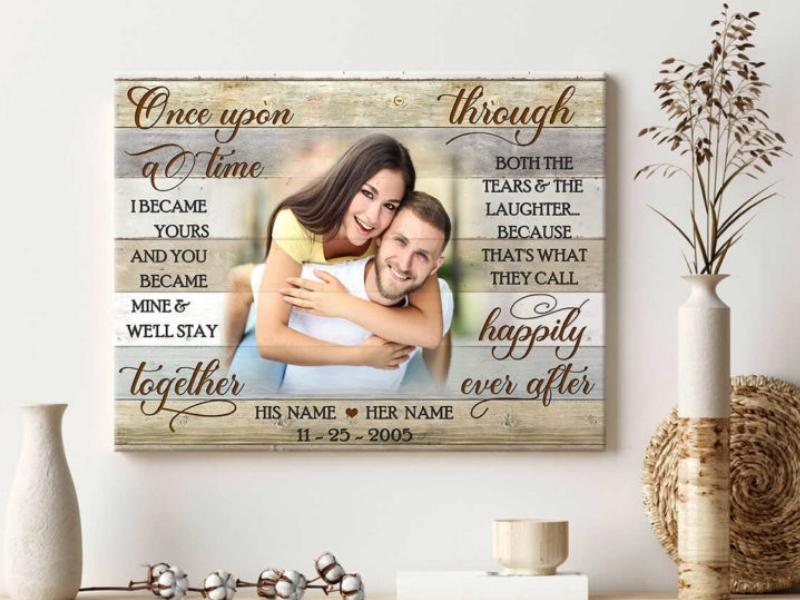 Many tales begin with the phrase "Once upon a time." The two of you have a strong foundation for a joyful love tale. It's possible to customize this canvas by adding photos of you and your significant other. You'll make it the best 37th anniversary gift for wife ever!
8. Alabaster Colette Wall Lamp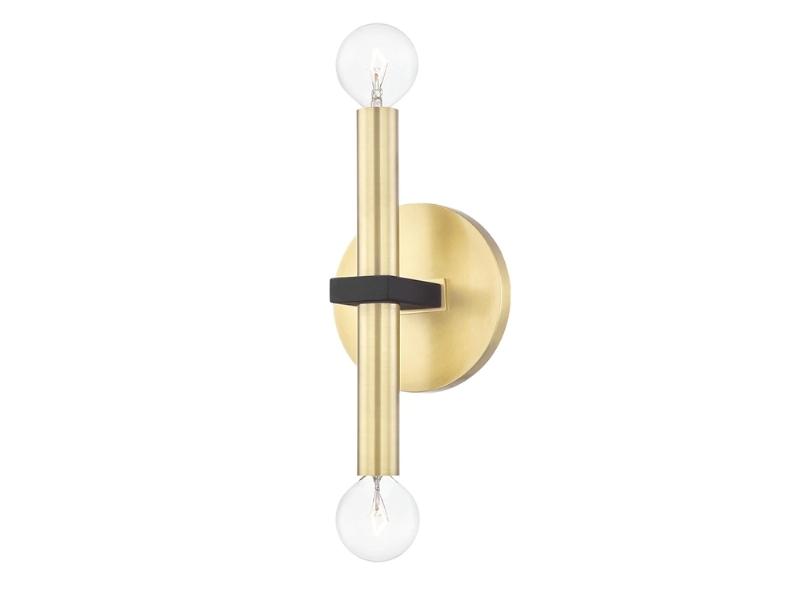 There is an alabaster shade attached to a black base with brass embellishments. Your living room, bedroom, or office will all benefit from its presence. To provide an air of nostalgia and refinement, it was designed in the style of the 1950s.
Because it's adaptable, it's a great device for sending her as a yearly anniversary gift for the 37th year.
9. Alabaster Columbo Table Lamp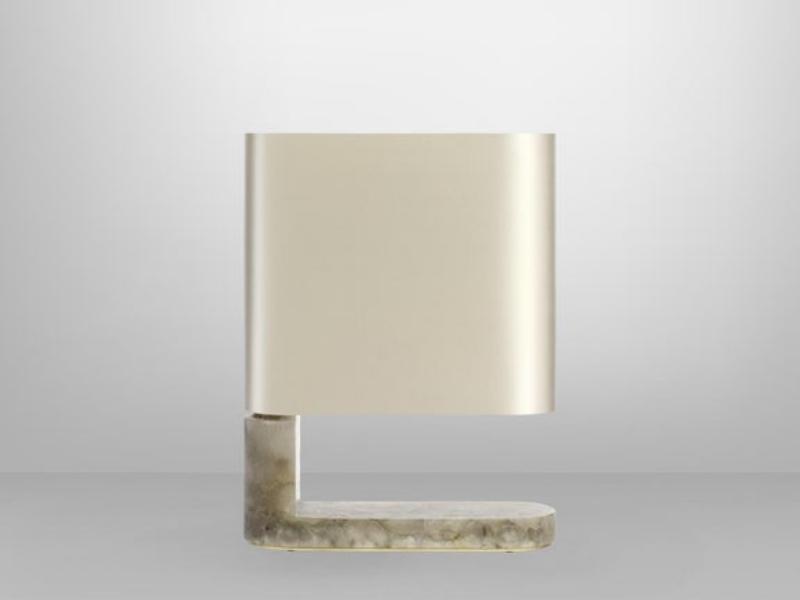 Dove grey silk lampshade adorns the Columbo table lamp, which is composed of alabaster carved and polished by hand.
Despite its evident weight, Columbo seems light because of its curvilinear design and translucent material that allows light to pass through. Every space of an interior may benefit from its elegant and sophisticated design, whether it's the living room or the bedroom.
10. Alabaster English House Beran Wall Light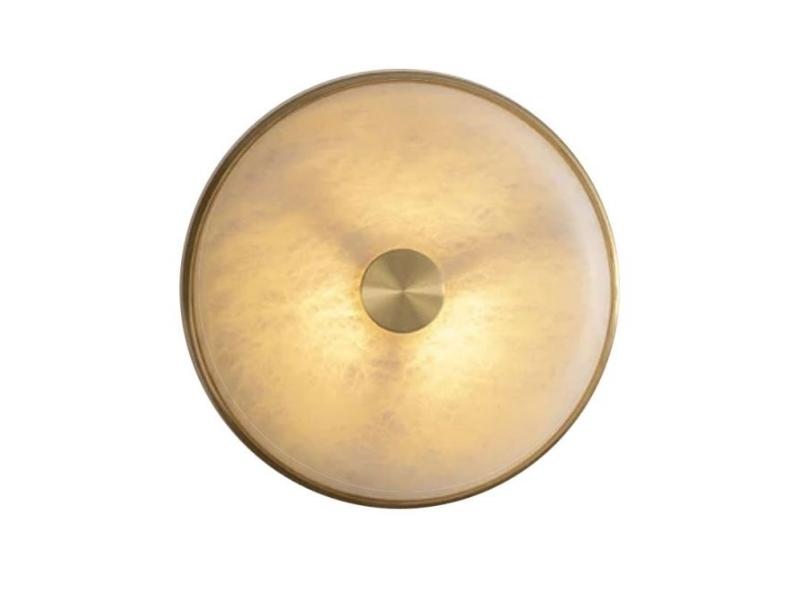 The "oyster shell"-shaped diffuser on this nickel and natural alabaster wall lamp lends a modern and beautiful touch to your space. Spain's Aragon area is home to some of the most durable alabaster in the world. Because of the inherent creamy white marble in this excellent material, it emits a pleasant and welcoming light.
The Beran wall lamp may be used in even the most humid areas of your home, that's how it is considered a useful 37th anniversary gift for wife.
>>> Recommend reading: Top 45+ Sparkling 38th Anniversary Gift for Wife, Husband, & Parents
37th Anniversary Gift for Husband
11. Window Wall Art Decor Oh Canvas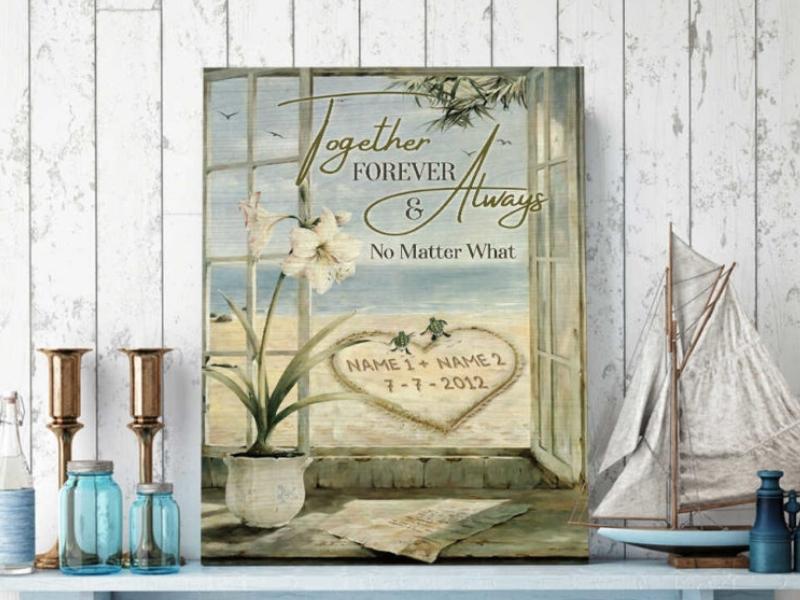 During their wedding anniversary celebrations, the pair will reflect on their whole married adventure and recommit to their old love commitment. In addition, it's a great opportunity to enhance your relationship for the rest of your life. Make a canvas painting with the message "Together Forever And Always No Matter What" and gift it to your spouse this year. This piece of art symbolizes how strong the love between these two people will be no matter what life throws at them.
12. White Alabaster Slanted Bookends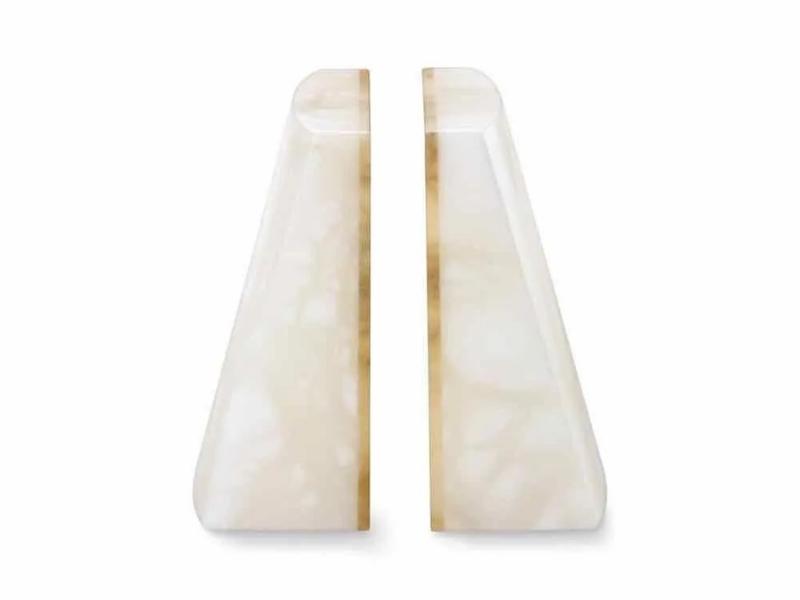 This set of handcrafted white and tan gypsum alabaster bookends is an ideal choice for the 37th anniversary gift for spouse. It is suitable for someone who enjoys superb design as well as someone who has a passion for reading.
13. Classic Touch Black Alabaster Bowl with Base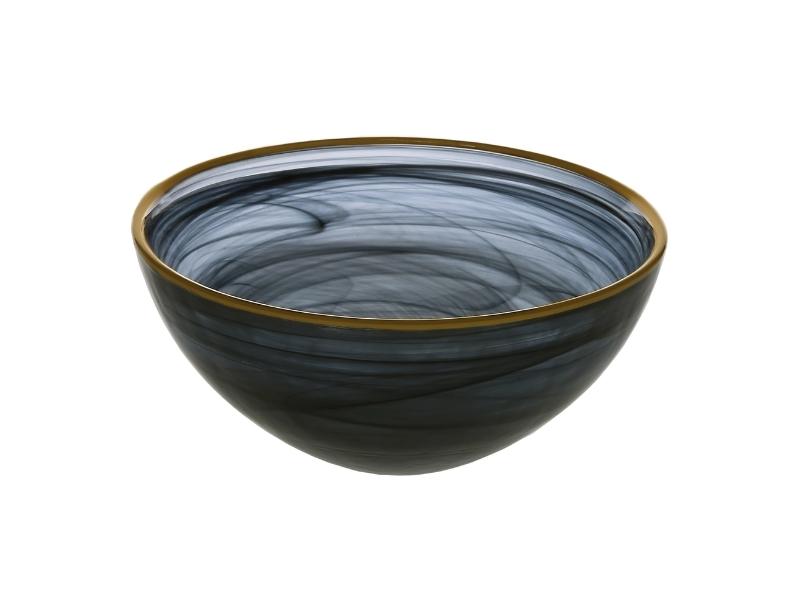 White alabaster transforms into the black in this one-of-a-kind artwork for those who want a more spooky look. The imported bowl has a gold scalloped edge that will give flair and a sense of elegance to any meal. Alternatively, you may display this 37th wedding anniversary gift as a stand-alone item in your house.
14. Red and White Alabaster Chess Set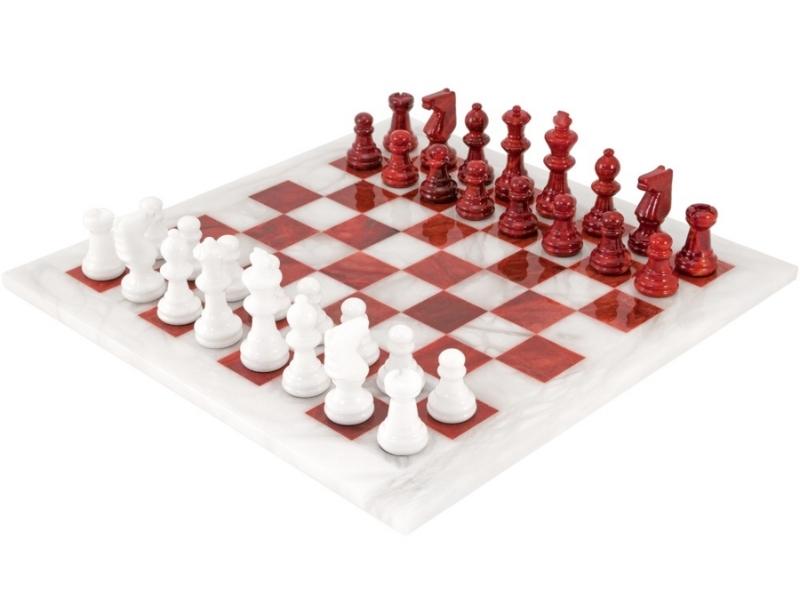 This red and white chess set is carved from alabaster and is a joy to show or play. The inherent texture of alabaster is often seen in contemporary sculptures, however, this is often polished to a high sheen to give the stone a more refined appearance.
15. Alabaster Vima Floor Lamp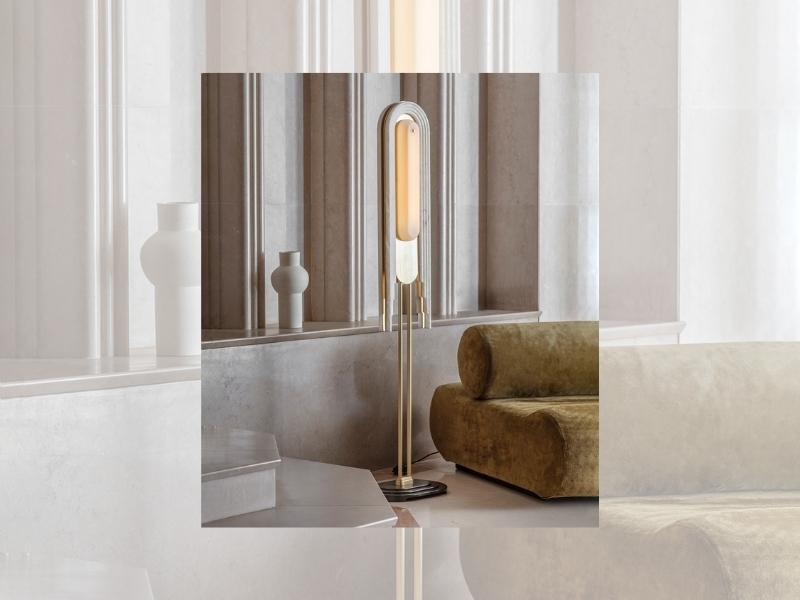 Art Deco architecture, with its graceful arches, powerful lines, and striking geometric forms, served as an inspiration for Vima. A beautifully silhouetted design that radiates visual drama is created via the reimagination of classic colors.
The VIMA series comprises two pendant lights, a wall lamp, a floor lamp, and a table lamp that are all made in our UK factory. This smart product is excellent for the 37th anniversary gift for husband.
Oh Canvas tips

The disadvantage of a higher light source is that the bulb is more likely to reach or surpass your eye line, which may be too intense for some individuals.

To avoid this, make sure the light fixture is between 67 and 69 inches from the ground. This will ensure that no one in the room, whether standing or sitting, will be able to view the bulb. The more focused light from the shorter floor lamp is ideal for reading and other nearby activities.
16. Wedding Anniversary Marriage Recipe Canvas Wall Art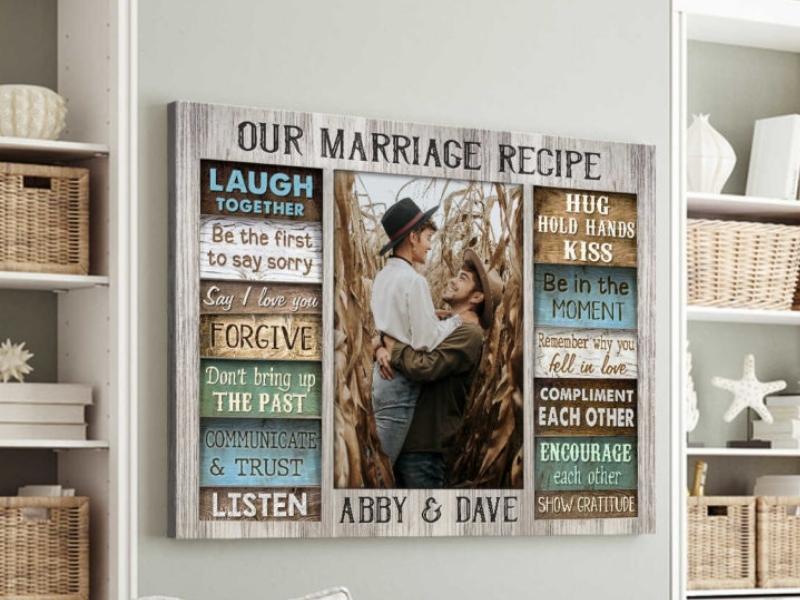 Do you wish to give your walls a fresh look? Our new Farmhouse Wall Art collection may interest you. Regardless of where it is exhibited, each item will look stunning. Even though they don't immediately come to mind as "art," these pieces are genuinely excellent wall art that can be utilized in a number of different ways. Make a wish and shut your eyes before you go to sleep every night by staring at this 37 year anniversary gift idea on the wall.
17. Alabaster Alba Simple Wall Light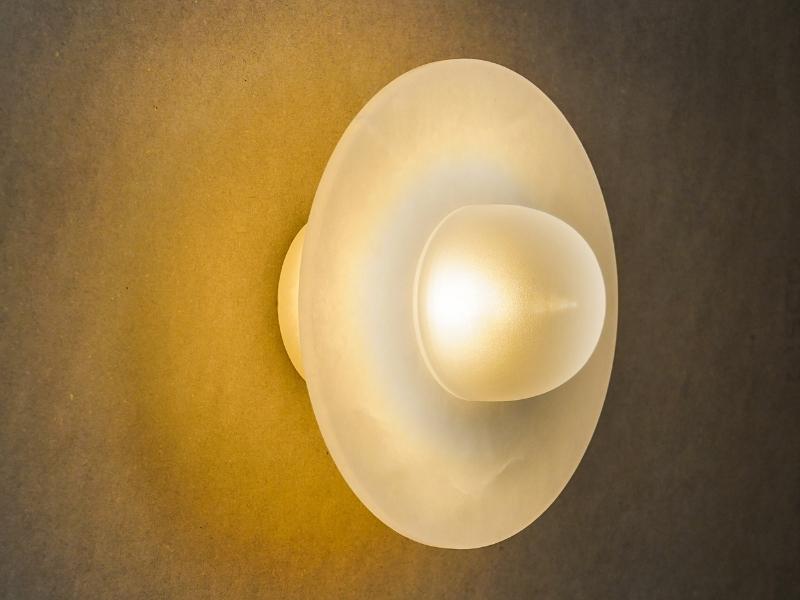 The alabaster construction of this wall lamp provides direct and accurate illumination. As a bonus, the bulb is dimmer-friendly so that you may control the brightness to your heart's content. The lamp's simple and attractive form enthralls. It adds personality to a corridor or an entranceway.
18. Alabaster Tub Wall Light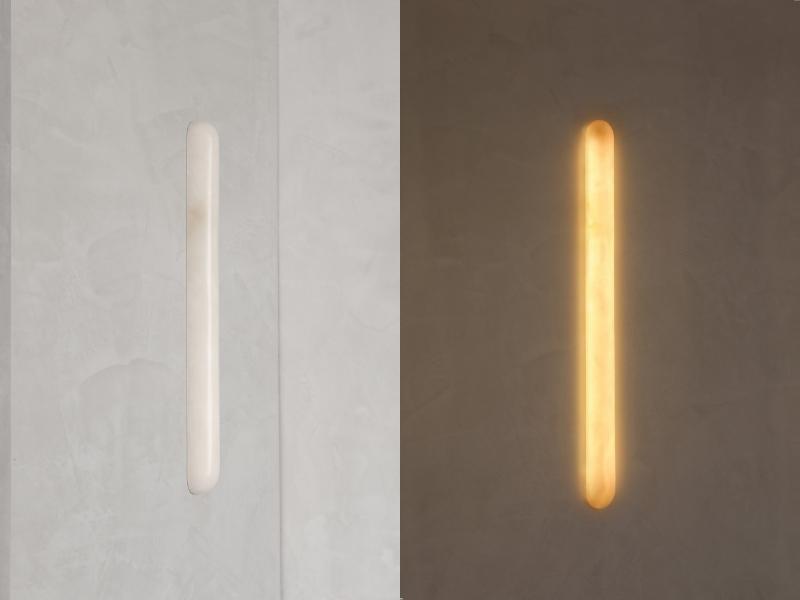 Alabaster is used in the construction of this light fixture from Mallorca, Spain. In addition to its sleek and sophisticated design, it emits a warm and consistent light that instantly makes any room seem more inviting.
Ambient light is diffused via the tub's exquisite design, producing a relaxing ambiance. Because of its cozy, campfire-like glow, it's perfect for lulling you to sleep at night. There are a variety of interior settings where this light might work well. Let's create the most romantic vibe for your house with this 37th anniversary gift for husband.
Oh Canvas tips

Illuminating artwork is a great way to highlight its beauty and to make a bold design statement. It is recommended to install picture lighting directly over each poster or artwork, but it may also be hung higher to wash a soft accent light over a gallery.
19. Mother of Pearl Kaleidoscope Cufflinks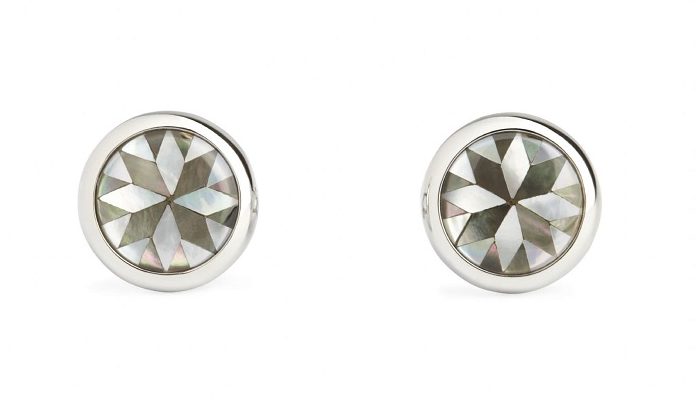 These cuff links are not alabaster but have the same milky white coloration. The kaleidoscopic design is cut into a spherical mother of pearl face set on a bullet-back closure. They are the perfect accessory to complete a formal look or add sophistication to a casual outfit.
20. Natural Alabaster Stone Globe Table Lamp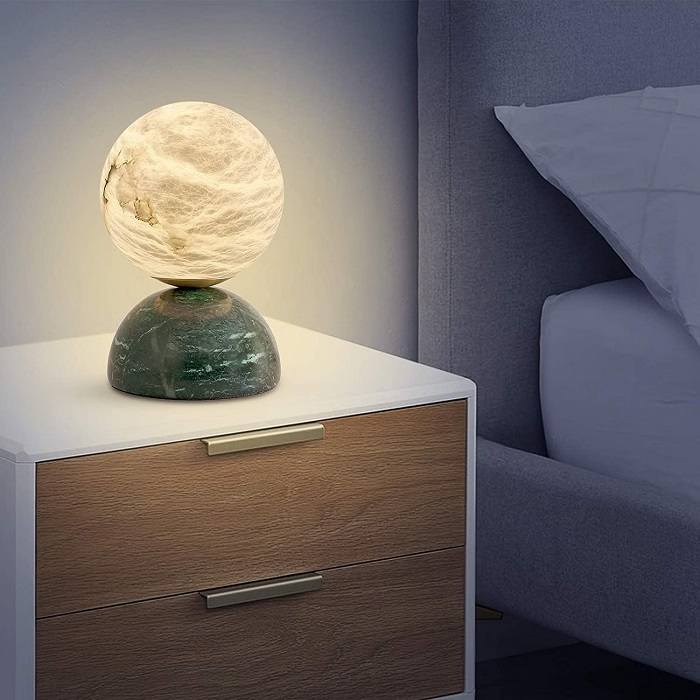 The translucent stone used to make the lamp gives a warm, comforting glow when lit, creating a serene atmosphere. Each lamp is unique since it was crafted from a single piece of alabaster with its own distinct veining and patterns. Perfect for the man cave or workplace, this piece features a base of emerald natural marble with copper accents.
>> Recommend reading: Top 37+ Easiest 39th Anniversary Gift for Husband, Wife, & Parents
37th Anniversary Gift for Parents
21. Every love story is beautiful Farmhouse Oh Canvas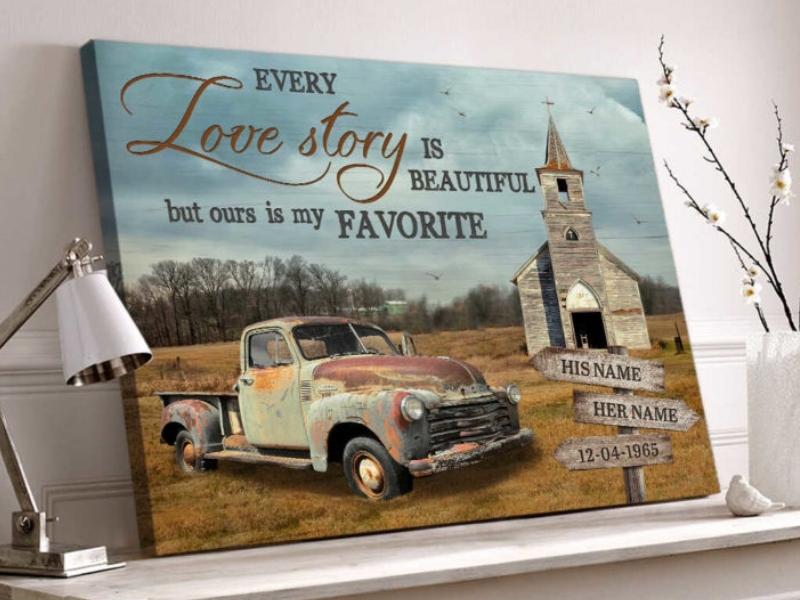 A couple's love story will always be unique, but it will always be the most unforgettable and memorable of all. That's because it's a unique collection of feelings, memories, and ideas. Canvas art is a good option if you're searching for a 37th anniversary gift for parents to offer to your other half on the occasion of the holiday or to show your affection.
22. Alabaster Candle Bowl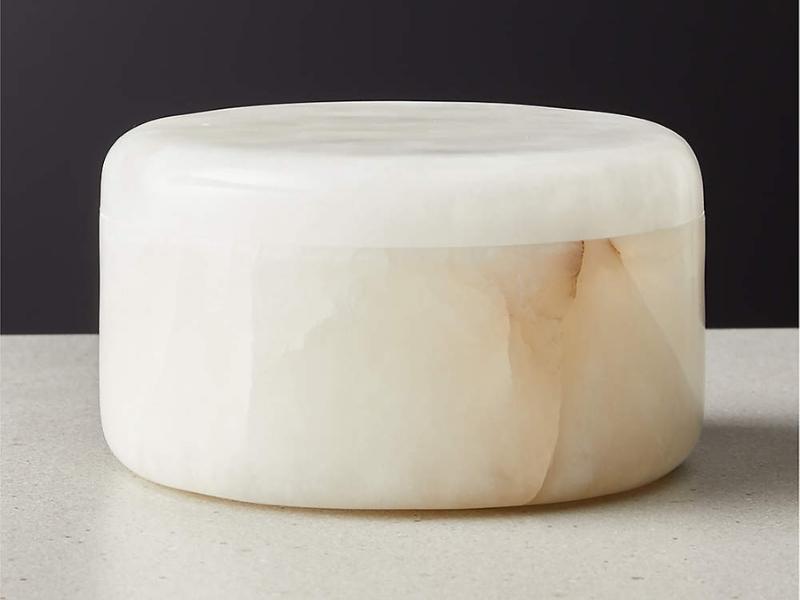 After the wax has been used up, this candle can be used as a beautiful keepsake box or a general storage container. Because of the stone's natural color changes, no two pieces of alabaster are ever exactly the same, which means that every single one is a one-of-a-kind treasure.
23. Alabaster Candle Holder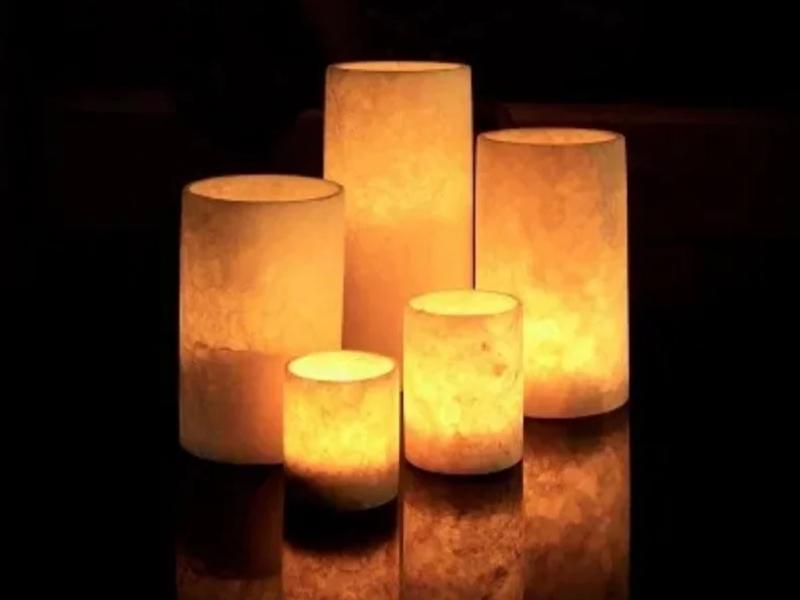 It's time to hand over the reins of your 37th anniversary gift to an expert craftsman. Candlesticks made of Egyptian alabaster provide a soft, diffused light that is ideal for creating an ambiance. Branches or dried flowers may also be placed on top of them to provide visual interest. The candle holder is not waterproof, so be aware of that.
24. Alabaster Table Lamp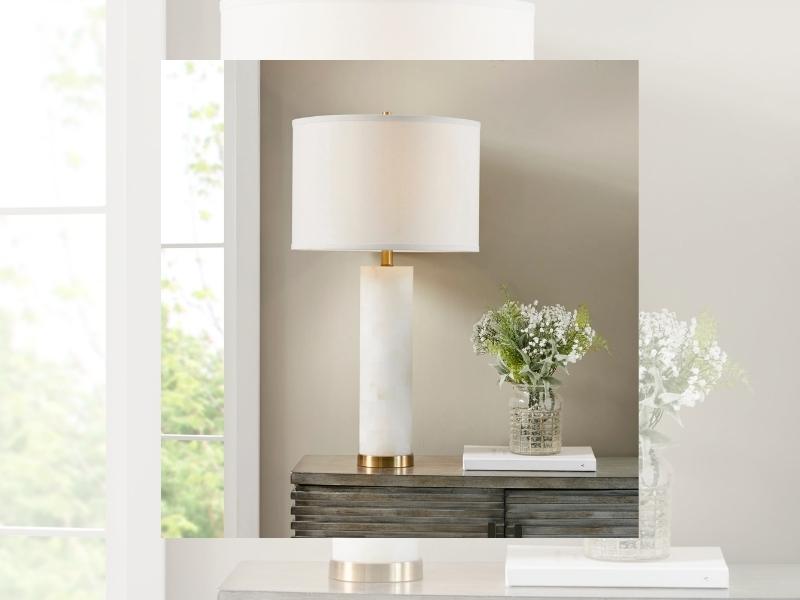 It's a lovely piece of lighting art in its own right. Intricate alabaster craftsmanship lends a luxurious feel to any room. Refined alabaster emits a warm and delicate light. Because of the alabaster finish, you can see the veining more clearly.
Alabaster is yours to carry wherever you go. It's perfect for accompanying you to your nights as you decorate them since it's small and wireless. In addition, its IP66 certification ensures that it is impervious to liquids and solids.
It's great for illuminating your outside area, as well as your home's indoor balcony or patio.
25. Alabaster Pendant Light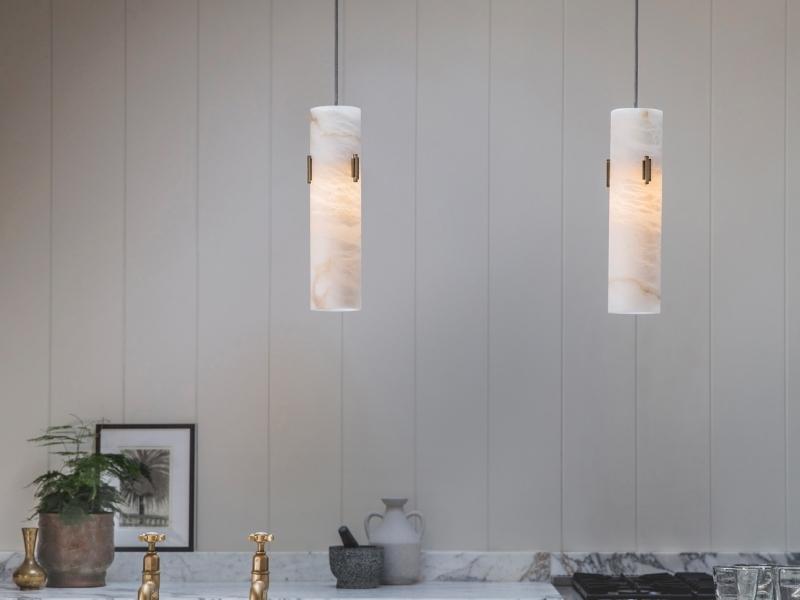 With this design, the designer focuses on the material to achieve a style that is at once modern and classic. The veins that appear when the light is on in the one-piece alabaster design provide individuality to your space.
It has a streamlined, lightweight design that may be deployed in a wide variety of locations. The pendant lamp may be used alone or in a group to transform a living room, dining area, or kitchen. Your parents will be thrilled with this stunning 37th anniversary gift without a doubt!
26. Alabaster Brace Small Wall Light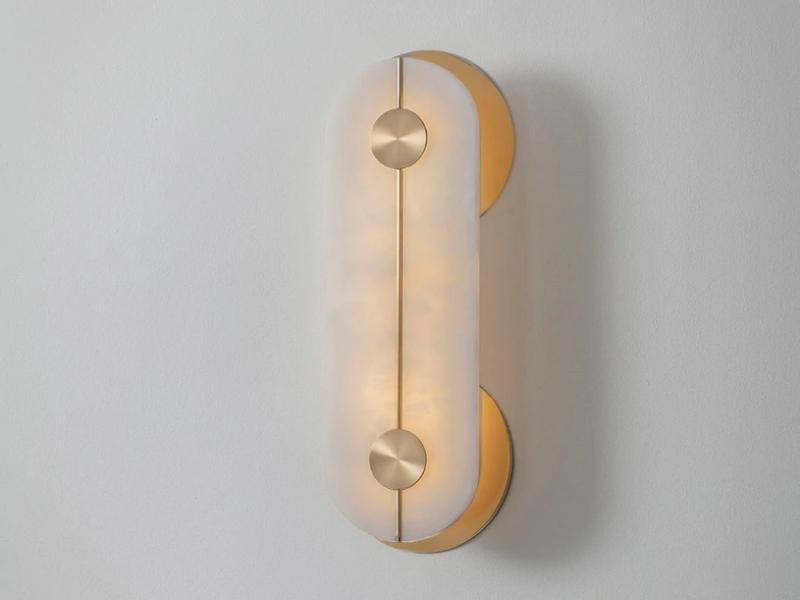 Make a highlight with your walls! With its distinctive veining, alabaster makes each Brace tiny wall light one-of-a-kind. Looking at this 37 year anniversary gift modern is like looking at the clouds, which diffuse the sunshine and make it more tolerable to our eyes. As a result of the use of high-quality materials, its basic lines are able to showcase its full beauty.
27. Black and Alabaster Gaston Rectangle Wall Lamp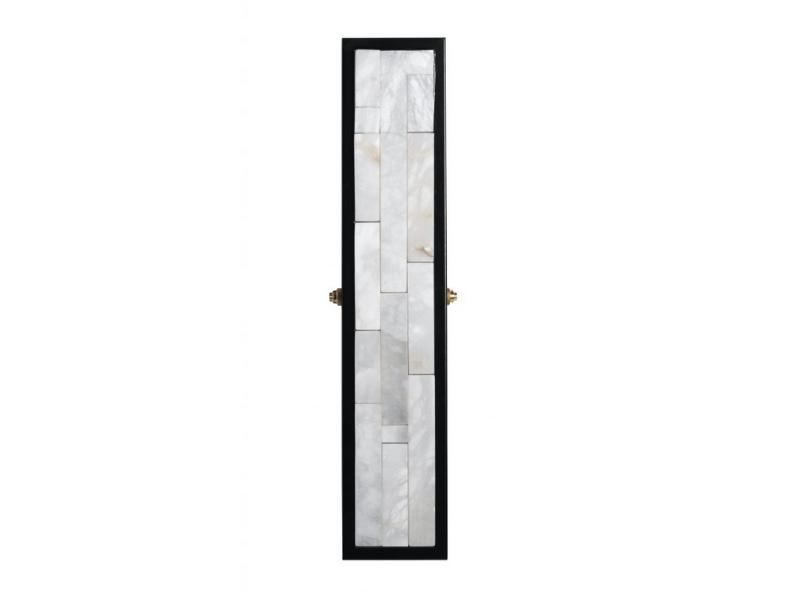 There are alabaster tiles within this brass-finished wall light with black steel edges. Its design is reminiscent of a mosaic panel from the 1950s, giving it a nostalgic vibe! When it comes to decor, this 37th anniversary gift modern is ideal for hallways and bedrooms alike.
28. Faux Window Frame Wall Decor You And Me Oh Canvas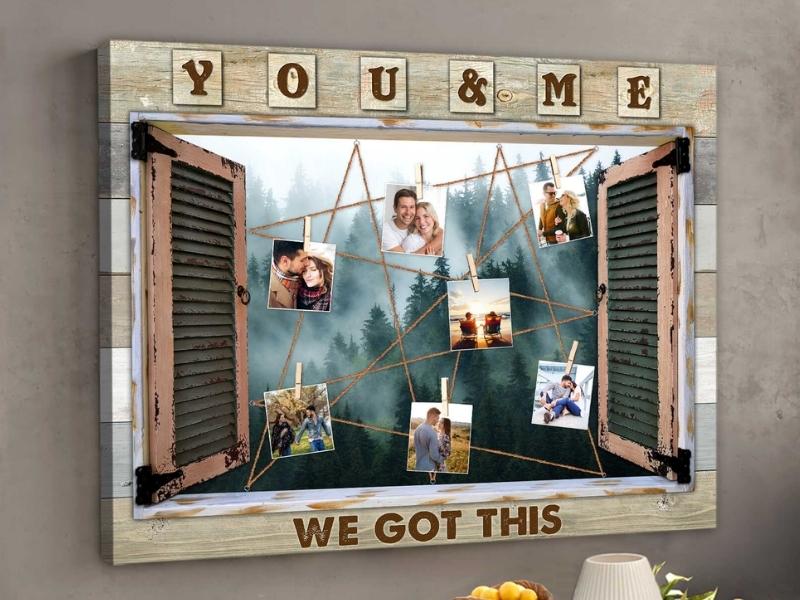 For couples celebrating their wedding anniversary, this is the perfect gift. Even though it's constructed of tough canvas, it has the appearance of a wood sculpture when you look at it. Everything in this composition is at once lavish and rustic. You and me – this canvas painting is a fantastic 37th anniversary gift and also a beautiful addition to your home.
29. Alabaster Catenaria Chandelier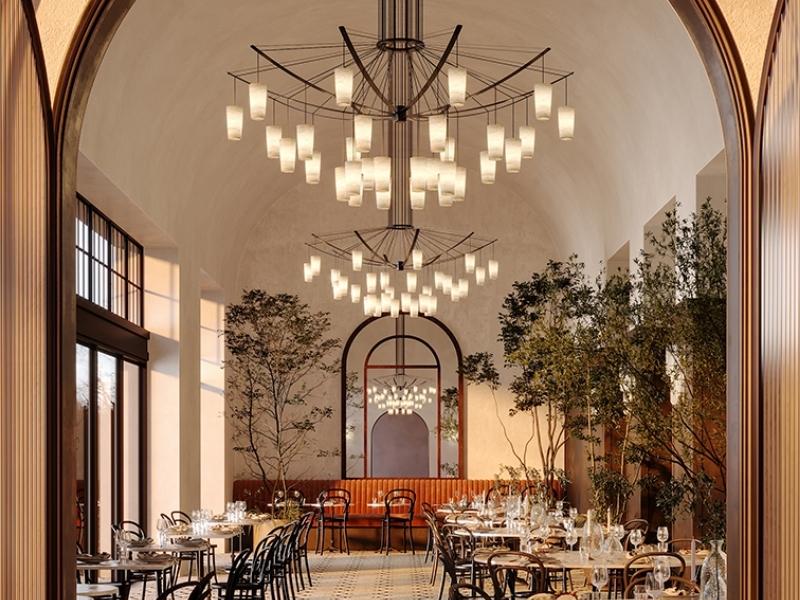 By drawing inspiration from Gaudi's catenary arches, the Catalan designer has created a classic chandelier of modern style with huge proportions that showcases the alabaster's warm, intimate light.
The 1.7-meter-diameter chrome framework of this massive chandelier is complemented with 30 alabaster flowers and a black marble counterweight in the center. What is more charming than this 37th-anniversary gift for parents?
Oh Canvas tips

Whether you choose traditional or nontraditional furnishings might be predicted from a few creative placements. Center your chandelier above the dining table, for instance, if you want a classic aesthetic and the rest of your area is traditional. To get a more surprising look, hang it slightly off-center.
30. The Met Store Rodin The Secret Mini Sculpture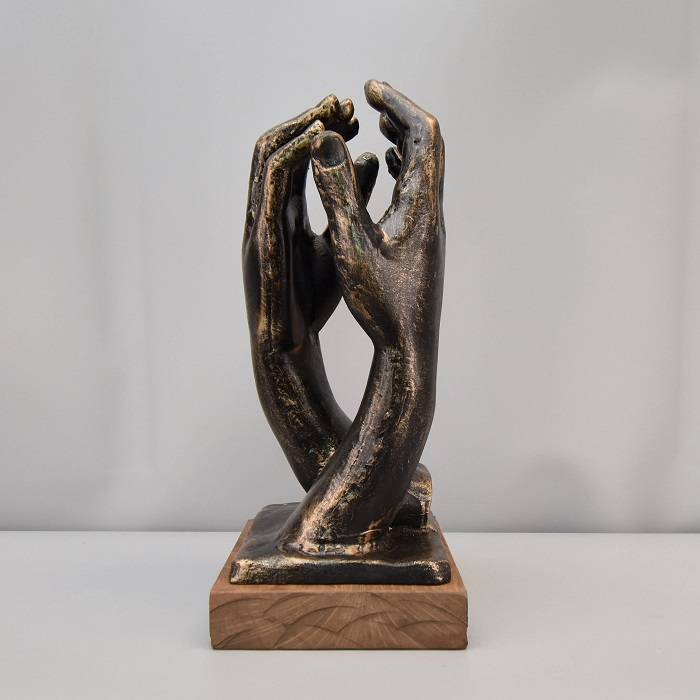 This little sculpture is modeled on Auguste Rodin's Study for the Secret and is completely unexpected but nevertheless appropriate for the anniversary gift. It shows two hands that are almost clenched together, holding "an invisible secret." Everyone who appreciates romance and/or art will adore this.
Read more:
When you know where to search, it's simple to find the perfect 37th anniversary gift for your loved ones. Consider their likes and dislikes before deciding on a gift that would please them the most. Oh Canvas hopes you could find the most suitable item for celebrating your big day!