Losing somebody we love is the greatest grief in life. For anyone who's suffering from this hard time, send them your love, sympathy, and special gifts to help them keep on living happily. This article covers heartfelt, appropriate memorial gifts for loss of wife that show how much you care about them. Revise Oh Canvas's gift guide and you'll find at least one thing that brings a smile to their face.
Personalized sympathy gift ideas for loss of wife
1. Handwriting Keychain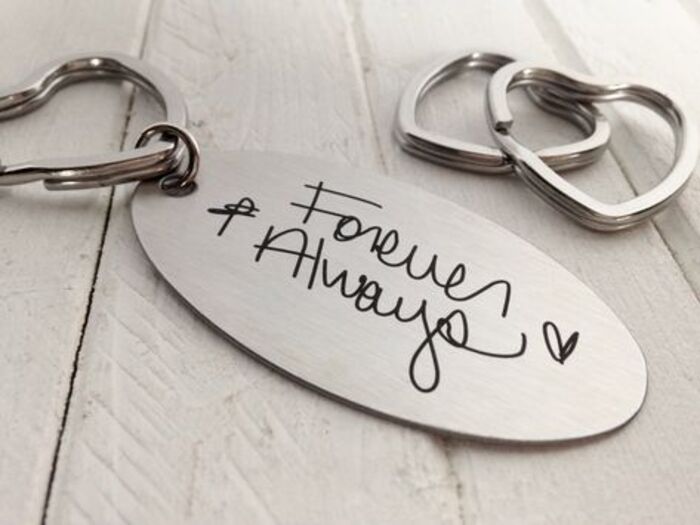 Have a memorial keychain engraved with handwriting or signature. A loved one's handwriting is a wonderful reminder of their presence in your life.
2. Memorial Feather Ornament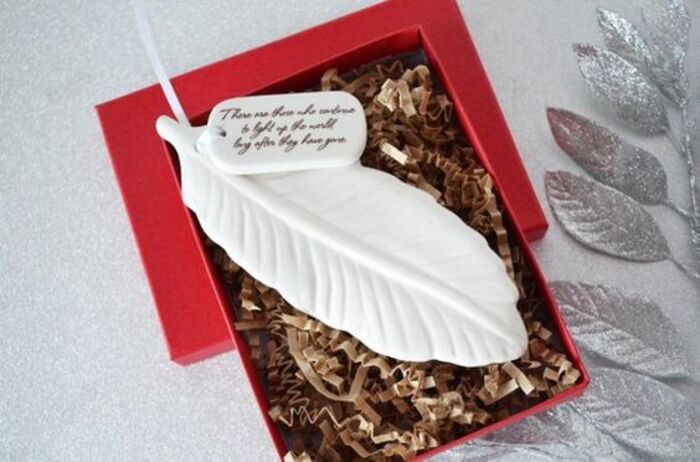 Looking for remembrance gifts for loss of wife to show your sympathy? This lovely porcelain ornament, with the wife's name or a meaningful quote engraved, will be a heartfelt homage that any receiver will probably treasure all year round.
3. Custom Pencil Portrait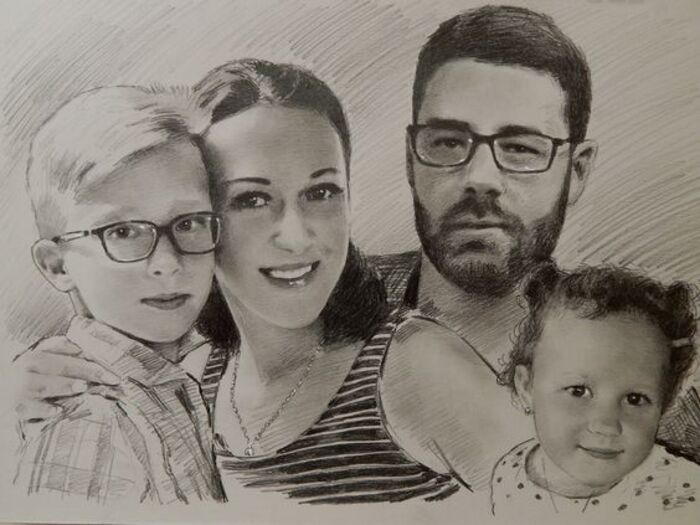 Make a lovely pencil portrait from a photo of their loved one so they can cherish it forever. When they see it again, it will bring a smile to their face. Regardless of whether they frame it or just put it somewhere special, it will bring them delight.
4. Personalized Garden Stone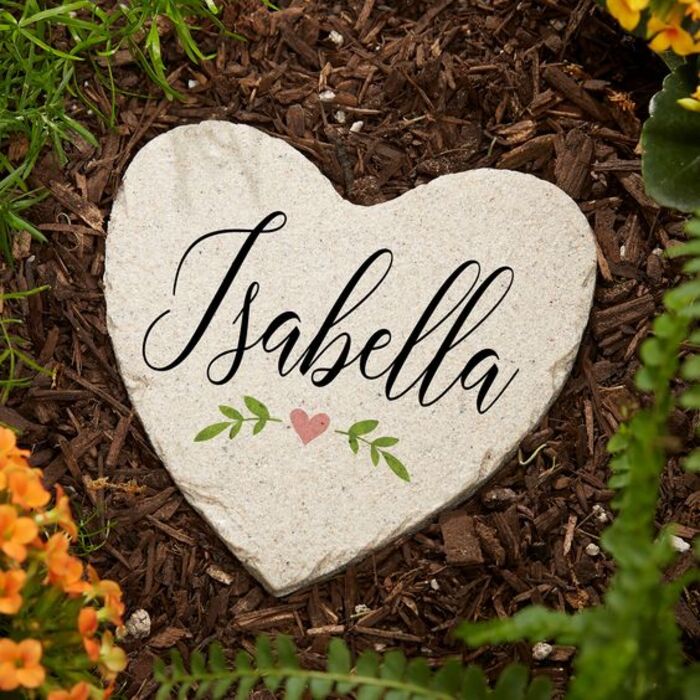 Memorial garden stones are a common choice of sympathy gifts for loss of wife. Your loved one's name can be inscribed in stone, along with a memorial quote or meaningful message, if you so desire. This special personalized present for your wife tends to add the warmest vibe to your home.
5. Personalized Journal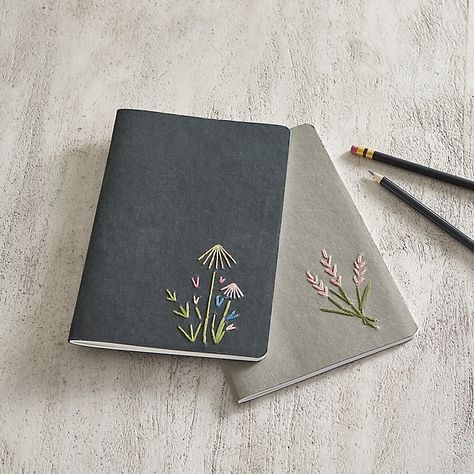 Writing out your sentiments can be helpful when you're dealing with the loss of a loved one. A customized journal is a wonderful gift for a grieving friend or relative to help them work through their emotions.
6. "I never left you" Canvas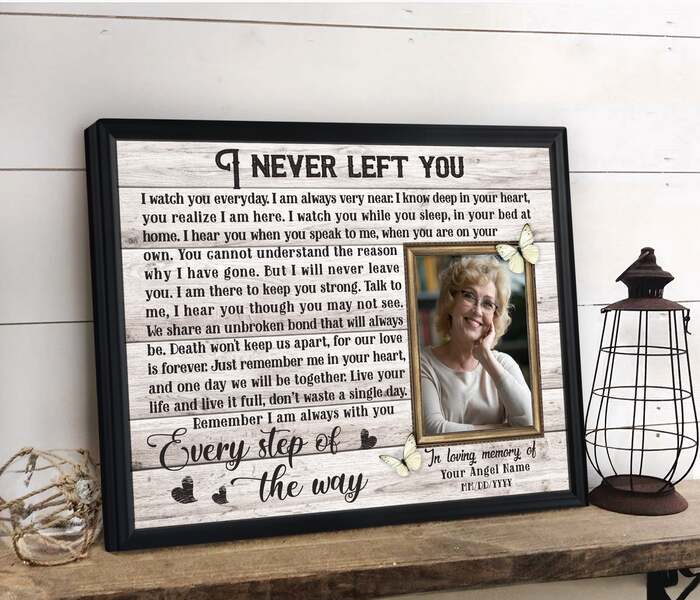 This photo canvas print is one of the best personalized memorial gifts for loss of wife that you can give to anyone. With her friendly image and touching words, this canvas is sure to touch everyone's heart. Having it on their home is a great way to help them less lonely.
7. Custom Wind Chime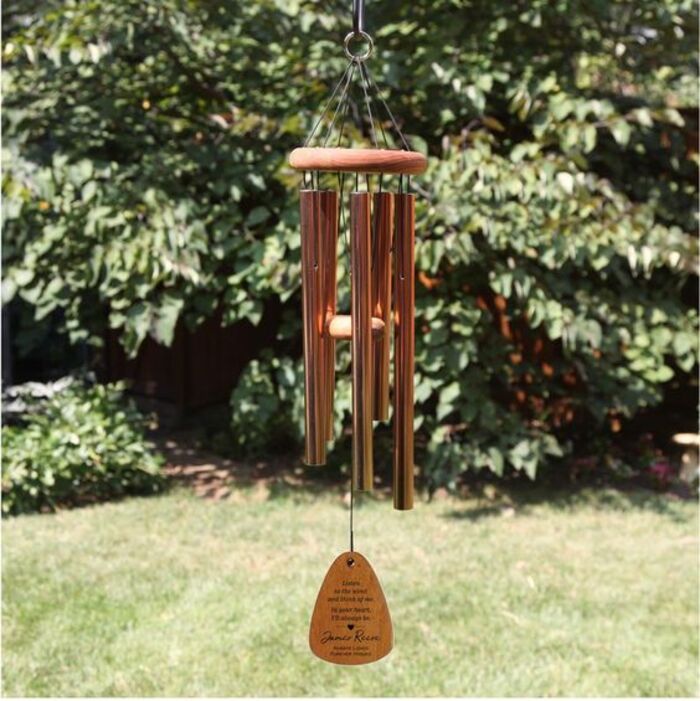 A touching approach to honor the memory of our loved ones is to give a personalized wind chime with their name on it. When it makes a pleasant sound, we know that they'll still stay with us.
8. Nostalgic Candle Holder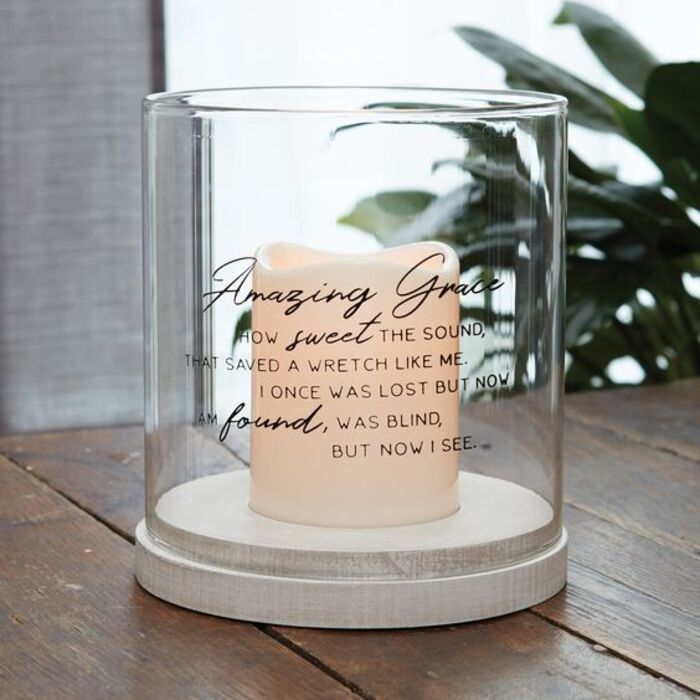 It is possible to buy memorial candles that can be imprinted with your loved one's wife's name (or even her picture). Few men would want to light a candle and remember beautiful memories of their spouses.
9. 3D Memorial Crystal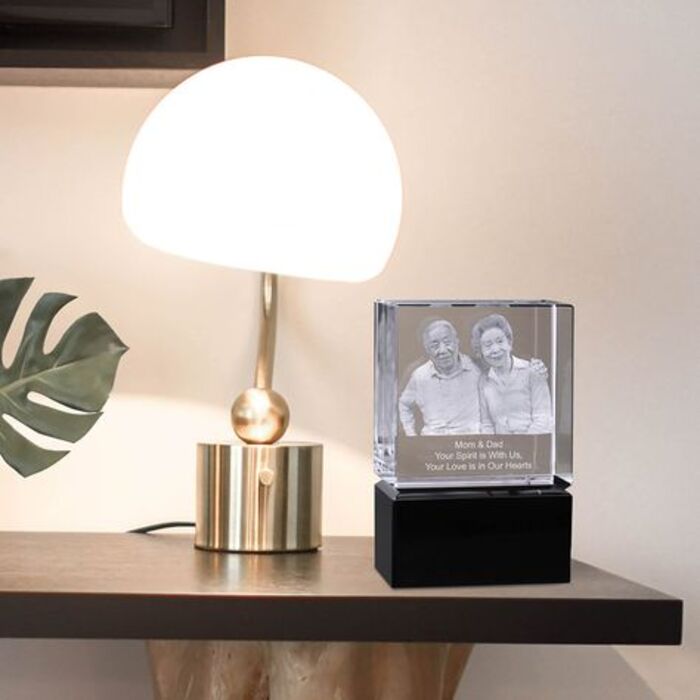 When he looks into this 3D memorial crystal and sees her familiar face, he'll smile. Just a picture of the loved one is all that is needed for creating this stunning piece of art. A LED light might also be included.
10. "In Loving Memory" Canvas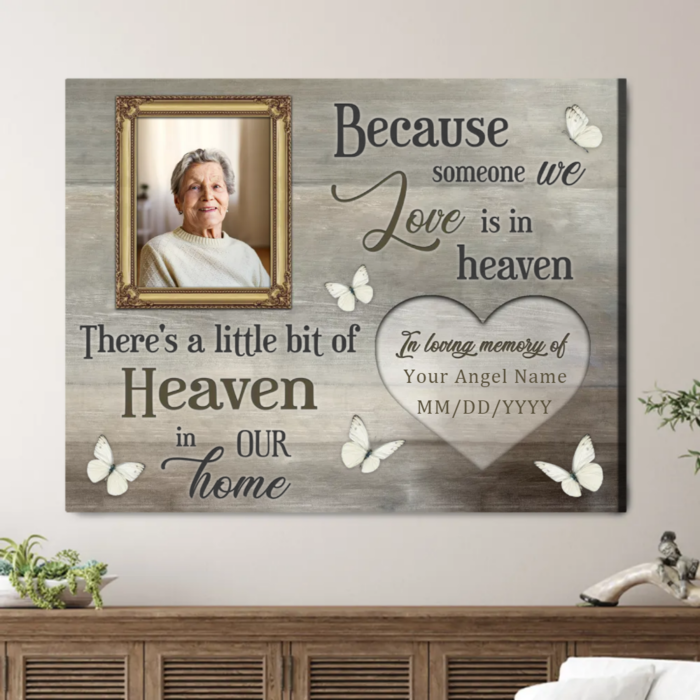 When it comes to remembrance gifts for loss of wife, this memorial photo canvas will stand out. By the time your loved ones receive this print, they'll burst out into tears.
11. Personalized Necklace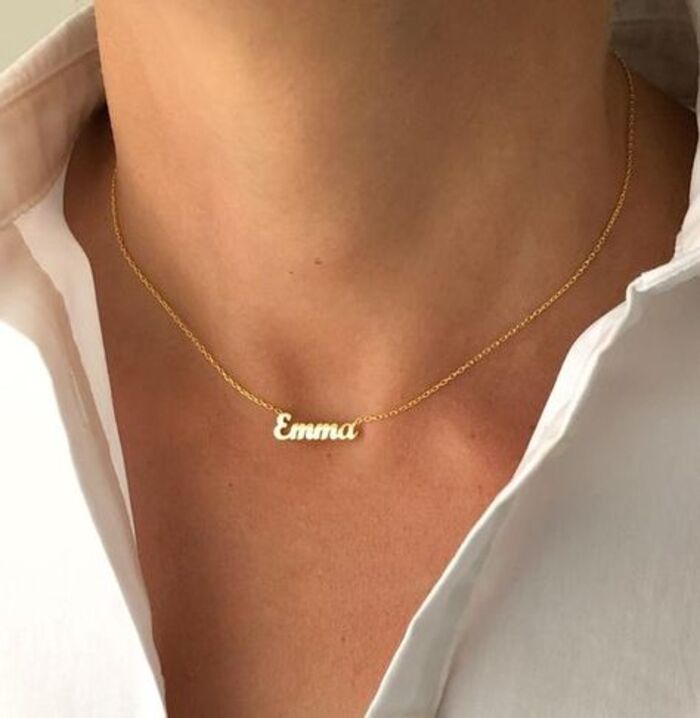 This necklace is a wonderful keepsake that serves as a reminder of how much she means to the family. When you engraved her name on it, you're making a sentimental gift that any husband wants to keep close to his heart.
12. Memorial Bracelet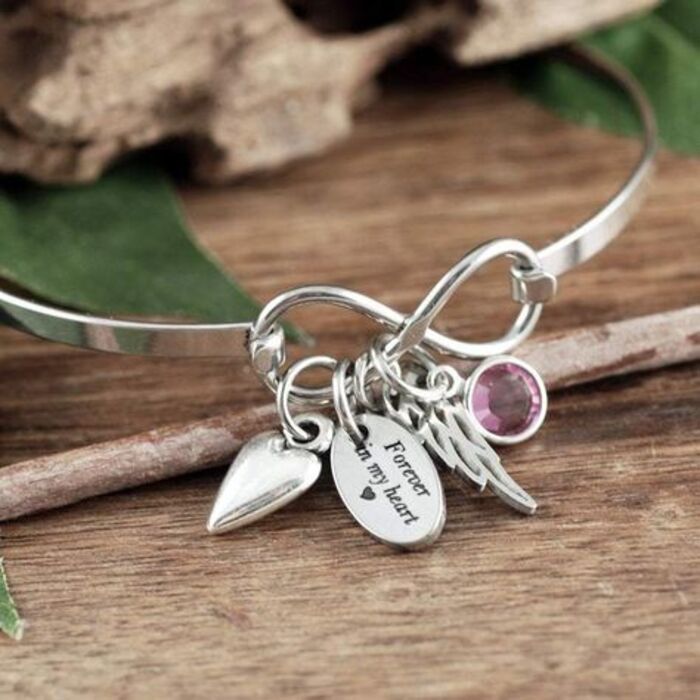 This personalized bracelet is a simple way for someone to carry sweet memories of his lost wife at all times. Include a photo, names, or a sweet quote on the pendant. Additionally, a birthstone gem can also be added to elevate the meaning of this accessory.
>>> Read more: Top 29 Unique Gifts For The Wife Who Has Everything 2022
Best memorial gifts for loss of wife to warm his heart
13. Weighted Blanket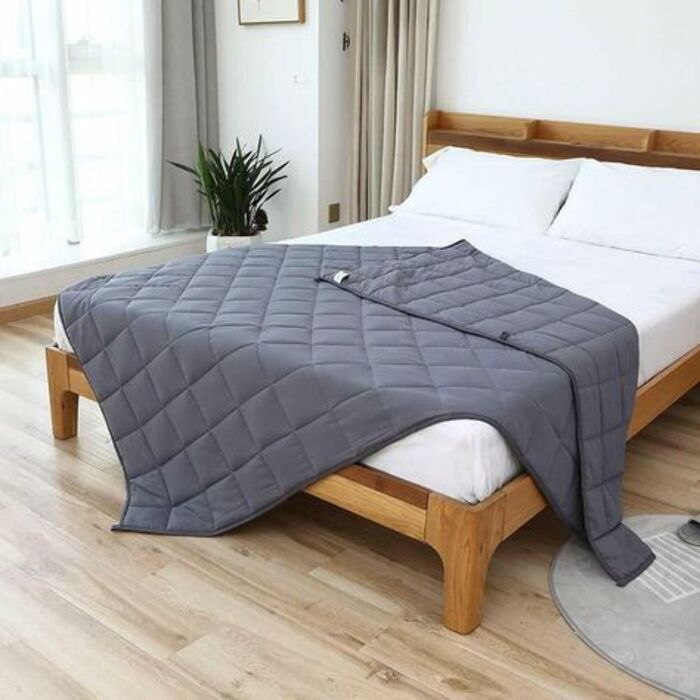 This is an excellent choice as a sympathy gift because it feels like a loving embrace. The bamboo blanket will help you relax and sleep better at night. Men will feel like he's cuddling up with their late wife whenever he uses this blanket.
14. Flower Arrangement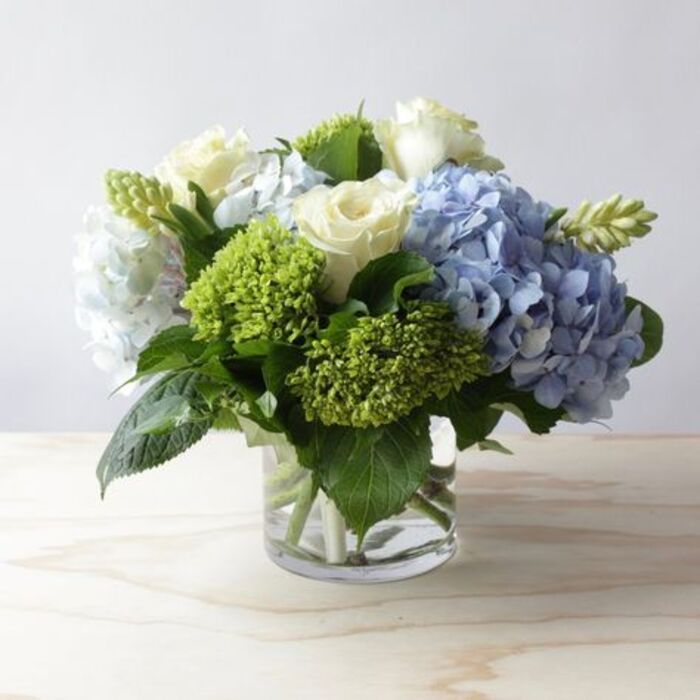 Flowers, which are a universal expression of grief and sympathy, tend to be heartfelt memorial gifts for loss of wife. A simple note that reads "in loving memory of" or "for you" can go a long way toward making a flower arrangement feel more special. It's also possible to select flowers that are special to your loved one or to their spouse.
15. Sympathy Heart Candles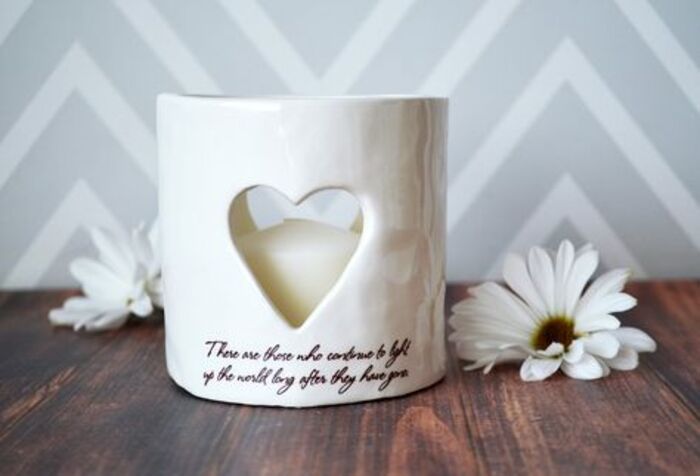 Candles are an essential part of any home's décor, but they are a little more unique. With a familiar scent spread, the receiver will feel loved and less lonely.
16. "Healing After Loss" Book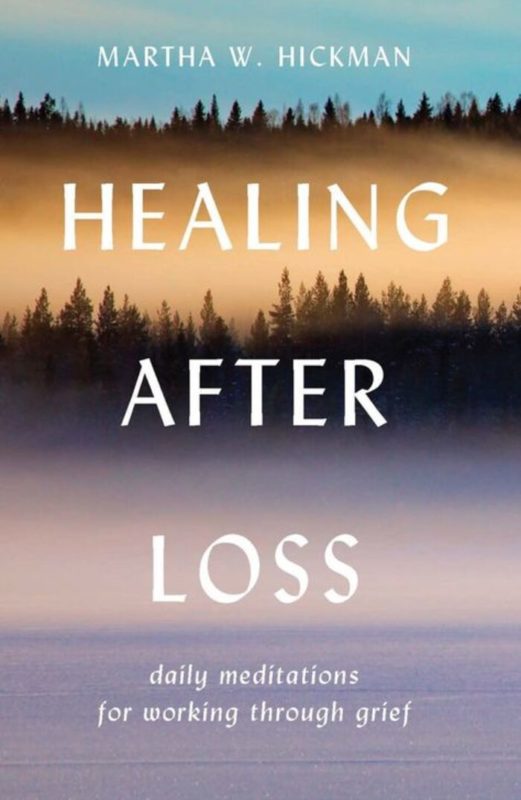 Spiritual remembrance gifts for loss of wife are top options when you want to bring them love and care. This "Healing after loss" book with easy-to-implement daily mantras and meditation ideas, is sure to motivate them.
17. Hand Painted Figure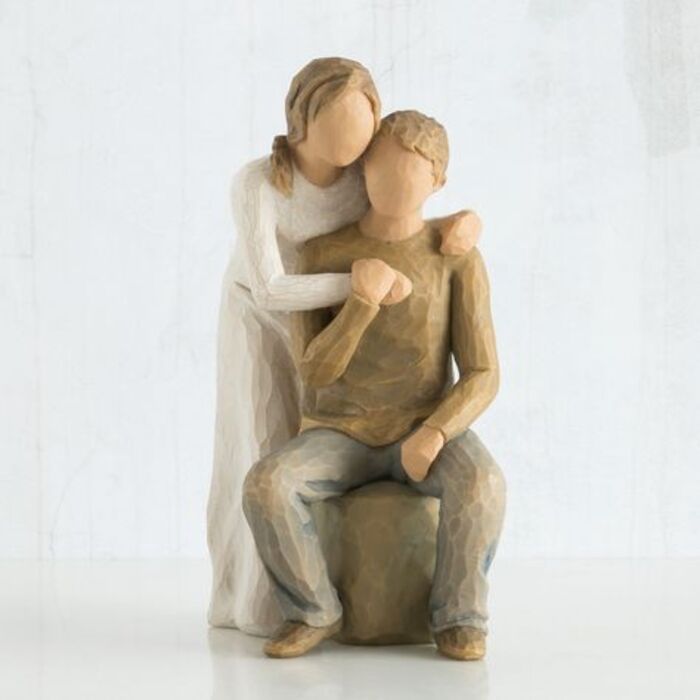 One of the best memorial gift ideas for loss of wife is this couple figure. It depicts everlasting love that your loved ones are so proud of. He can put this item on the nightstand and think that his wife is always very near.
18. Charity Donation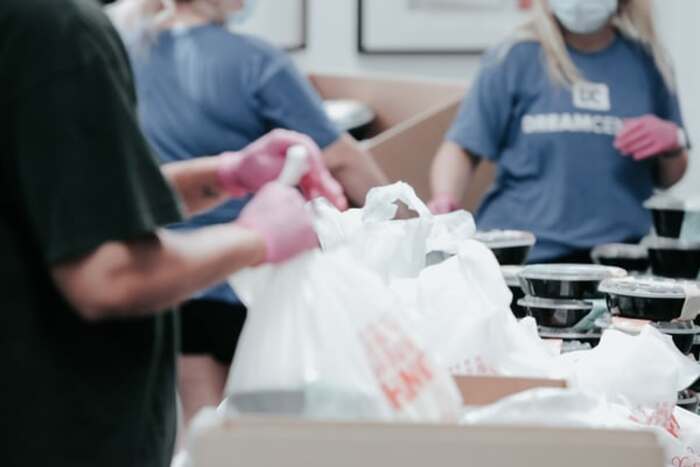 If you're seeking another special bereavement gift for loss of wife, a donation is a brilliant idea. You may, for example, make a donation in memory of your loved one's late wife who had suffered from cancer for a long time. Donate the paperwork to him so he may see that you made a donation in his wife's name.
19. Memorial Name Canvas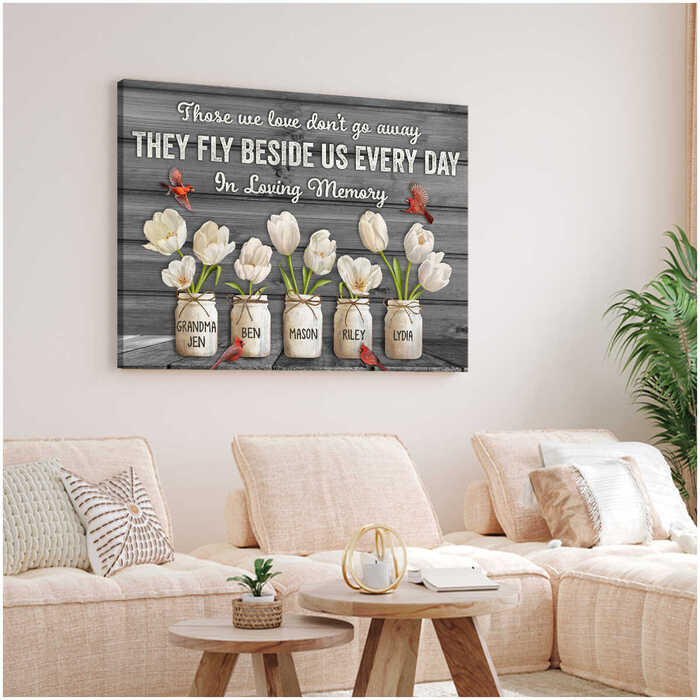 It's not easy at all to overcome the loss of a wife in our life. But this heartfelt name canvas somehow helps us feel less lonely. It's sure to add a friendly and warm ambiance to every corner of our home.
20. Aromatherapy Diffuser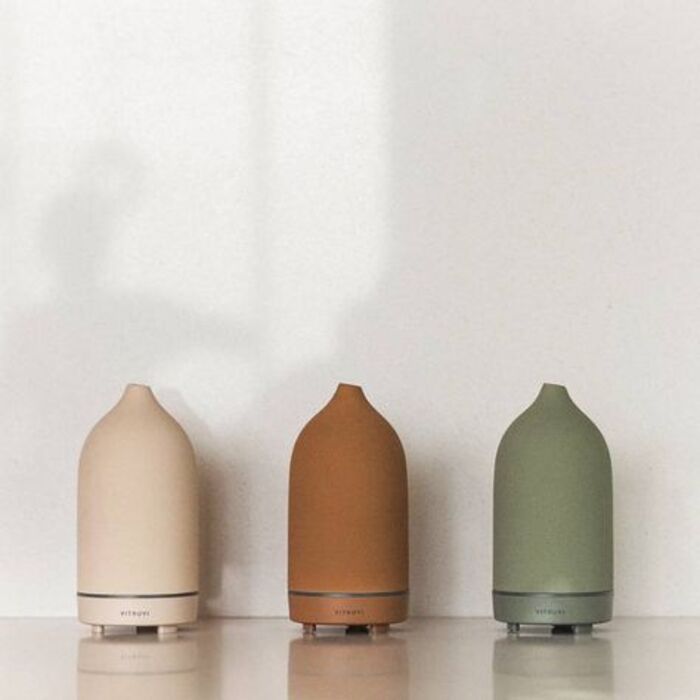 Looking for the most appropriate memorial gifts for loss of wife? With this essential oil diffuser, you can help him relax a little bit. There's nothing more he needs but a few drops of essential oils and some water to create a refreshing mist to fill the air around him with peace and tranquility.
21. Tea Set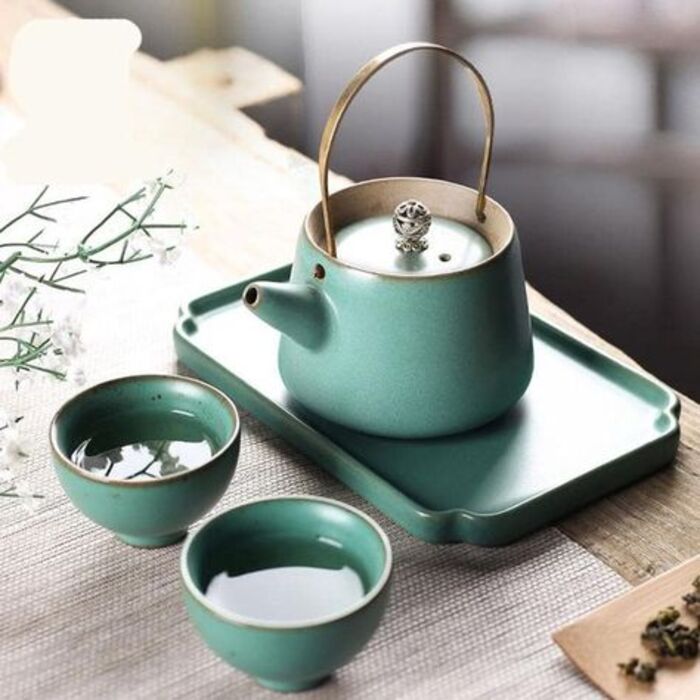 To begin the day or wind down after a warm bath, a cup of tea is the perfect way to relax. A tea set often includes a porcelain teapot, cups, and saucers for the necessities. Additional things, such as a candle, honey, an eye pillow, and more, can be added to the package to suit your preferences.
>>> Recommend reading: Top 42 Romantic Gifts For Wife That Make Her Feel Special
Remembrance gifts for the loss of wife to cheer him up
22. Macarons Gift Box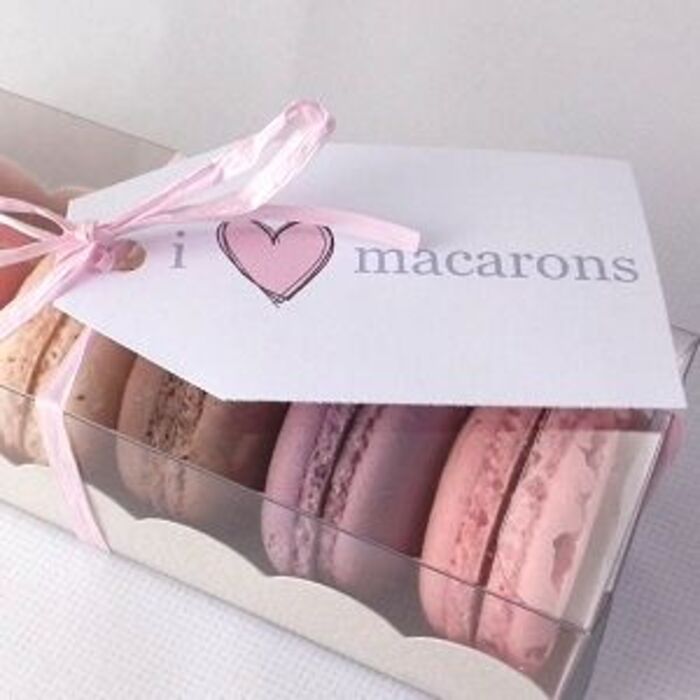 These macarons might be the best memorial gifts for loss of wife that any man will appreciate. A delectable dessert will lift their spirits through trying times.
23. Custom Handwriting Sign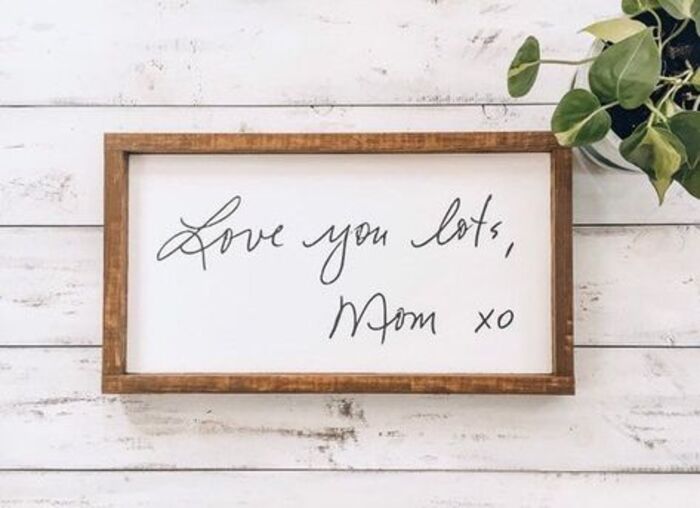 In addition to providing emotional support, this present will be a family heirloom that can be passed down for decades. Giving a custom handwriting sign is such a brilliant way to show how sweet and thoughtful you are.
24. Handmade picture frame
Make DIY photo frames as special sympathy gift ideas for loss of wife for your loved ones. With your thoughtfulness and heartfelt photos, they'll treasure these frames for years to come. A quote can also be crafted as well to keep them motivated and positive.
25. Forget-me-not Seed Packet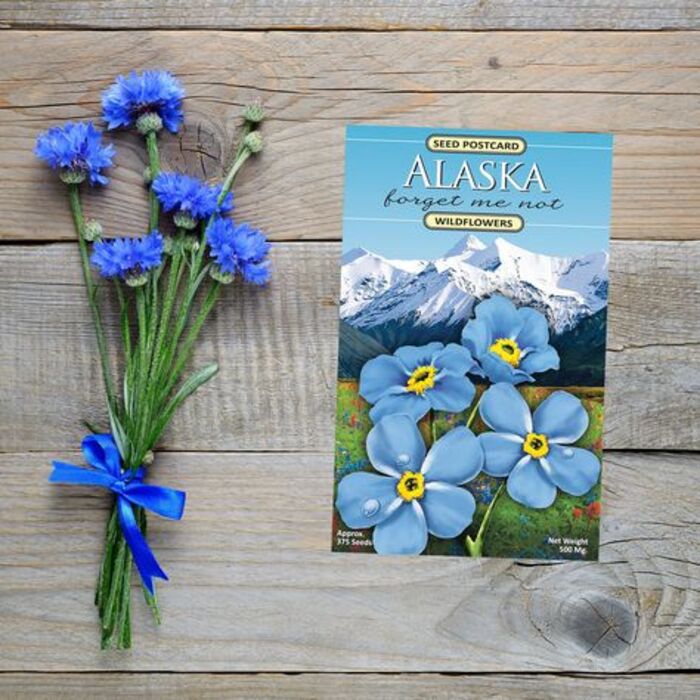 To create a one-of-a-kind gift for a deceased loved one, this forget-me-not gift packet is a great option. You can buy pre-made seed packets or make your own "forget-me-not" personalized seed packet if you wish to offer flowers that stay longer than a few days.
Put the seeds in a pretty envelope and write "Forget Me Not" on the front, along with the deceased's name, birth date, and death date.
26. Custom gift basket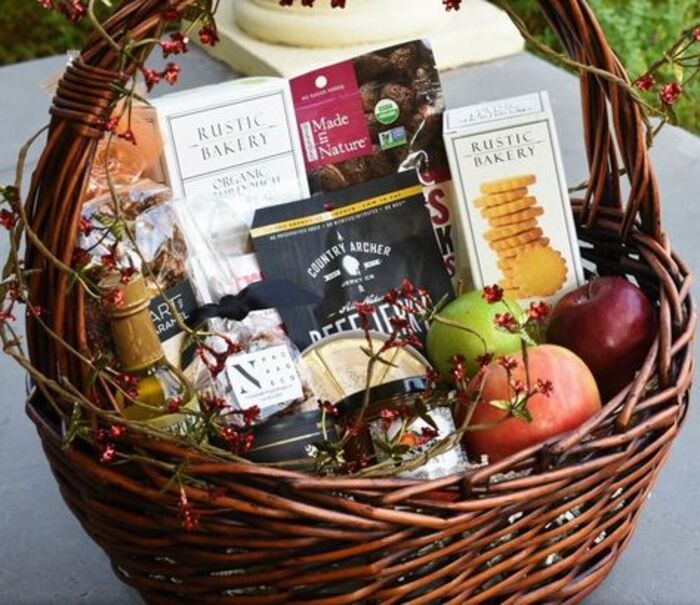 You can't go wrong with a custom gift basket when choosing appropriate memorial gifts for loss of wife. Opt for healthy or favorite items that you think they might love. Coffee beans, tea, soaps, or mugs are lovely choices. Make sure to include items that will help them cope with their loss, such as a throw blanket or a calming candle.
27. Herb Garden Starter Kit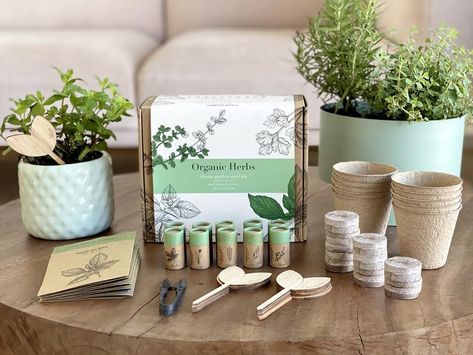 It's a wonderful idea to give them a gift that helps them enjoy this life more, after the loss of their wife. And this indoor herb garden starting kit is a unique way to let them cultivate in their spare time. Includes different seeds of basil, parsley, cilantro, thyme, or more to make sure that their meals are still full of flavors.
28. Cleaning Service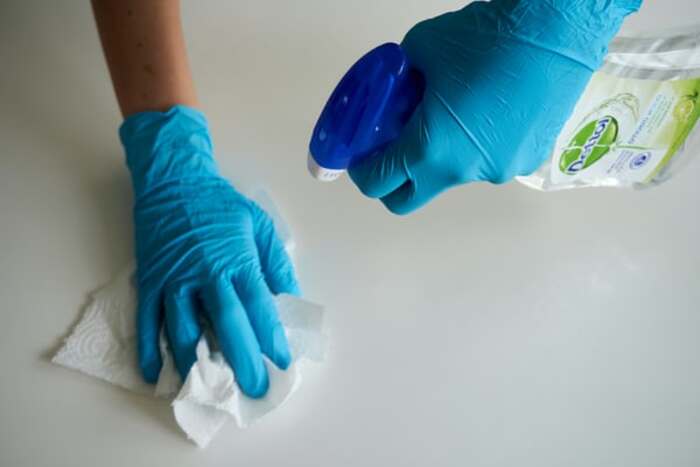 Remembrance gifts for loss of wife that carries all your care and sympathy will always be appreciated. This gift of house cleaning service is a huge help to him. It will ease the strain of maintaining a neat home while grieving the loss of a loved one.
FAQ
What is an appropriate sympathy gift?
Comfort: The best sympathy gift is one that helps the receiver cope with the loss. Desserts, flowers or a gift card that makes their daily lives easier are all examples of gifts that can be given to loved ones.
Personalization: During this difficult time, it is important to show them that you care by giving them a unique or custom gift. Look for a personalized canvas or a piece of jewelry with an inspirational message. This not only demonstrates your thoughtfulness but also your concern for the recipient.
Practicality: It's great to give useful remembrance gifts for loss of wife. For someone who doesn't cook, a meal-delivery service or a homemade dessert is a good choice. Simply put, they may not be able to cope with the demands of the present if it is too unrealistic.
What kind of basket do you send for sympathy?
To make a thoughtful gift basket, think about what the receiver will appreciate and use. If you're delivering a sympathy basket to a new coworker, keep things simple. You may try a fruit tray, a sandwich platter, or even cupcakes. It's always nice to have a variety of teas and coffees on hand.
Personalized memorial gifts for loss of wife to your family or close friend because you already know their preferences. Send a gift basket filled with their favorite items. If you'd like, include a sentimental memento, such as a little plush animal or throw blanket, or even a photo frame or a gift ticket for a massage.
Is wine a good sympathy gift?
Wine is a popular gift that you can see at many events or parties. However, it may not always be the ideal option for memorial gifts for loss of wife. Men might drink it too much to help them cope with the pain. So in my opinion, a bottle of wine would not be an appropriate gift for these cases.
What flowers do you send when someone dies?
Sending sympathy flowers with a particular meaning to the bereaved might be a thoughtful gesture. You can go for lilies that are pure, innocent, and sympathetic. Forget-me-nots, as the name implies, represent eternal remembrance. The chrysanthemums and carnations will also convey feelings of solidarity and loss, while the roses are a wonderful symbol of eternal love.
Read more:
Don't hesitate to show someone your love and care via these memorial gifts for loss of wife. Your thoughtful gesture is sure to be appreciated for years to come. If you want to give personalized presents to anyone else, browse Oh Canvas's site to see the most heartfelt samples. You might also find some other gifts for the loss of grandma, pets, and so on.