It's critical that you choose the best gift for sister-in-law on any occasion. Whether you're on a close bond with her or both of you just meet some times, giving an appropriate present is a lovely gesture to show that you truly think about her. However, finding a stunning gift for in-laws is not an easy task. That's why we've collected the best pieces that help you leave the best impression on your sis-in-law. Browse Oh Canvas's gift list, and you'll find one thing that makes her feel loved.
Unique gift for sister-in-law ideas that never go out of style
1. Spa gift box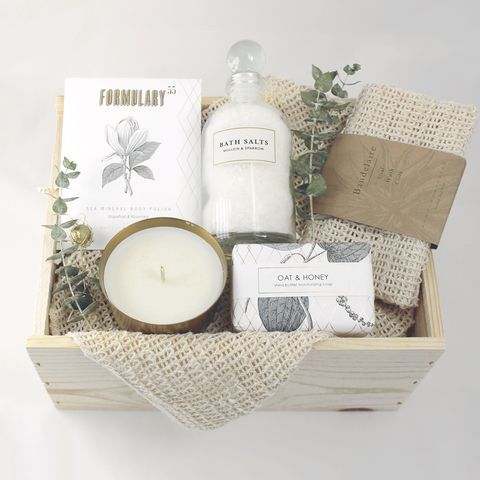 Show your sister-in-law how much you care by gifting her a sweet, comfort-filled spa gift box. You can put a scented candle, lip balm, luxury soaps, or orange bath bombs in that box. Insert a heartfelt message to make the present more complete.
2. Cheeseboard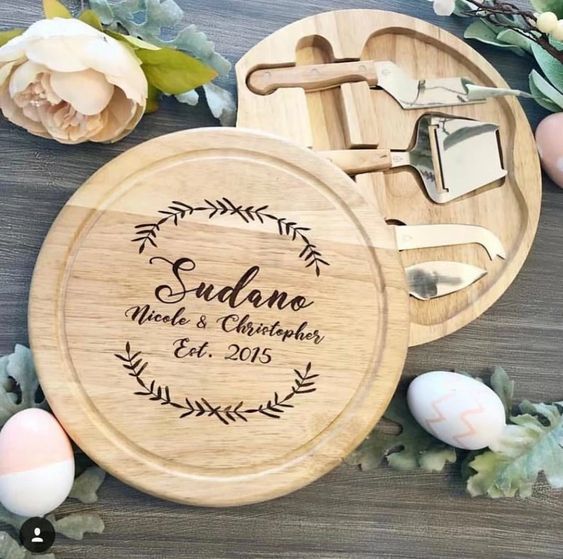 If she is a cheese lover, it's brilliant to give her an elegant cheese board that serves slices of Italian Ricotta or English Cheddar. Choose a bamboo tray with a "moat", which holds nuts and crackers, and a tool compartment to serve all her needs. This board will stand out among other excellent gift ideas for sister-in-law.
3. Luxury bathtub caddy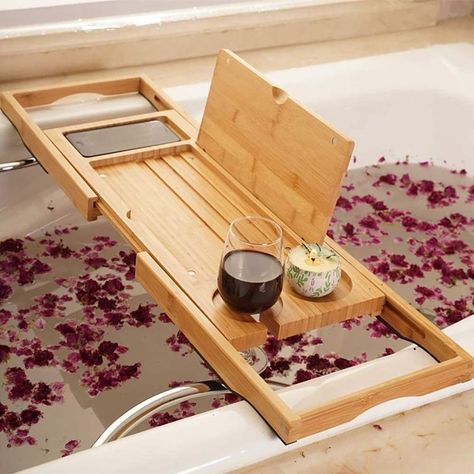 You can't go wrong with a bathtub caddy when choosing the best gift for sister-in-law who loves long baths. The bamboo caddy with a waterproof book slot, a wine glass holder, and trays for other necessities will help her unwind and relax at the utmost comfort.
4. Temperature control mug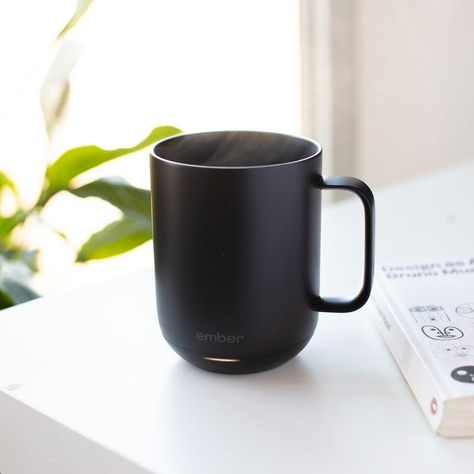 With this smart mug, she'll enjoy hot cups of tea or coffee for hours without worrying about cold sipping. Besides, designed with a press-in lid, the mug will prevent her cat or kids from spilling the drinks over. It deserves to be the most practical gift for sister-in-law that she's ever got.
5. Shower steamers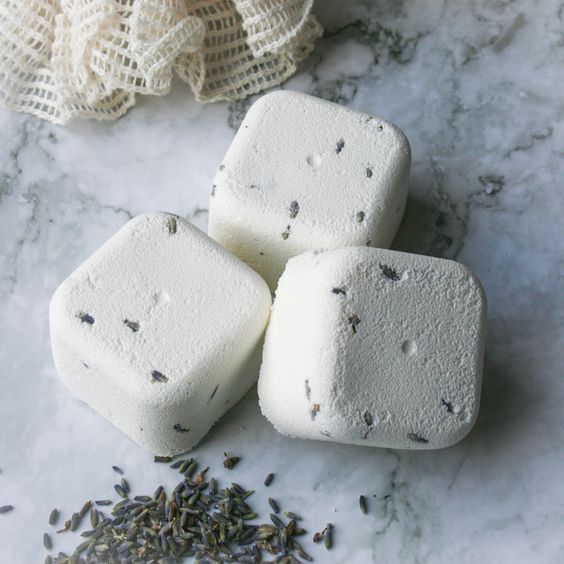 Transform her bathroom into a spa with a set of different shower steamers. It can include natural essential oils from lavender, watermelon, sweet orange, rose, and more. She'll love enjoying the most relaxing moments or spa-like experiences while taking a long shower.
6. Tea infuser set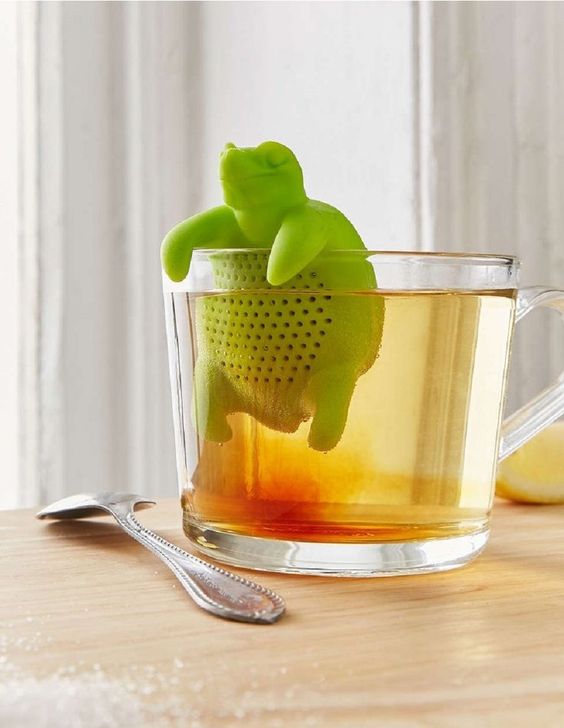 How adorable it is to have these tea infusers as unique gifts for sister-in-law! Her tea enjoyment is now upgraded. By opening the animal's bottom, filling it with tea, and hanging it on the rim, she'll be about to have hot cups of loose-leaf tea for a fresh morning and sweet afternoon.
7. Scented candles set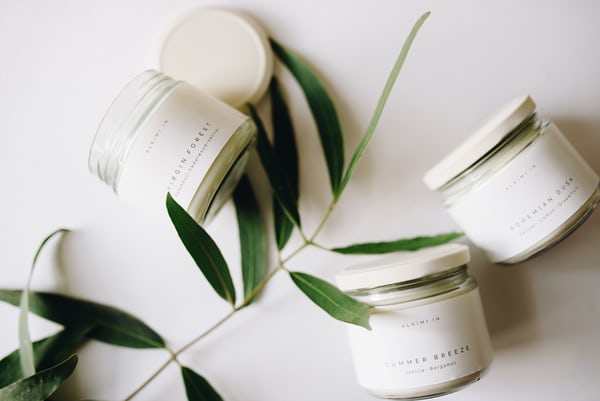 It's time to introduce her to an amazing set of scented candles bound to elevate any living space vibe. You can include some floral, fruity, or jungle scents in the set to make it the best gift for sister-in-law. She'll love how the smells make her home more friendly and welcoming.
8. Juicer machine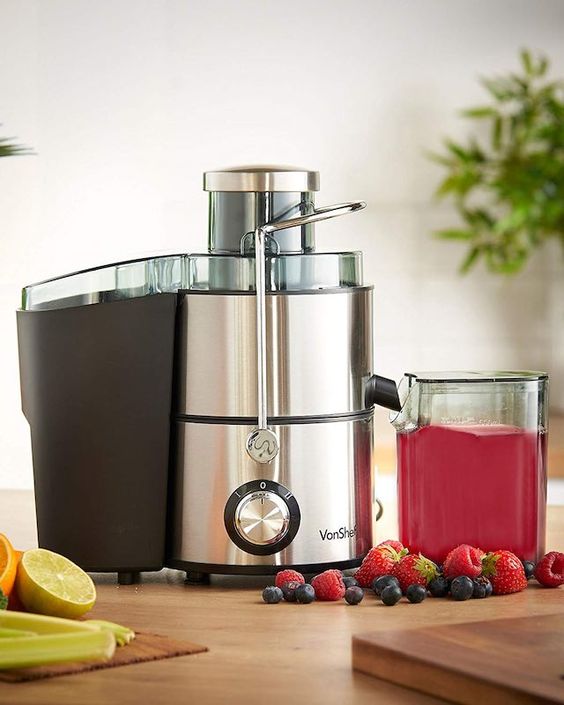 Your sister no longer needs to go out and buy expensive cold-pressed juices. With a convenient juicer machine, she can make yummy drinks right at home within a few minutes. This is one of the unique gifts for sister-in-law that you can shop for to show how much you care about her.
9. Fitness tracker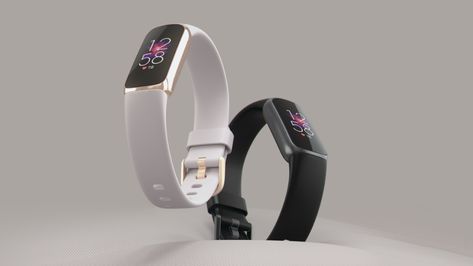 With a Fitbit smartwatch, she'll be able to compete with herself on a daily basis in terms of her steps, bike distance, and calorie expenditure. Giving this present to her is a lovely way to show how sweet and thoughtful you are.
10. Jewelry stand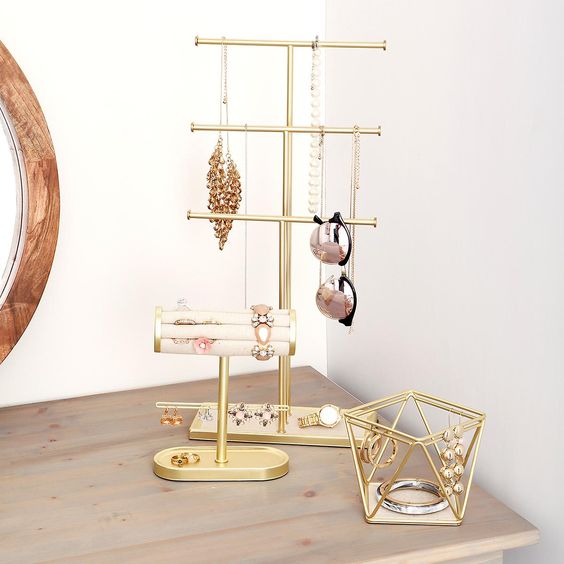 This organizer is a shiny and stylish item, allowing her to display her jewelry professionally. Its unique design can accommodate almost any earrings and necklaces while keeping them tangle-free. It's also a great place to keep her rings and other little accessories.
11. Picnic & outdoor blanket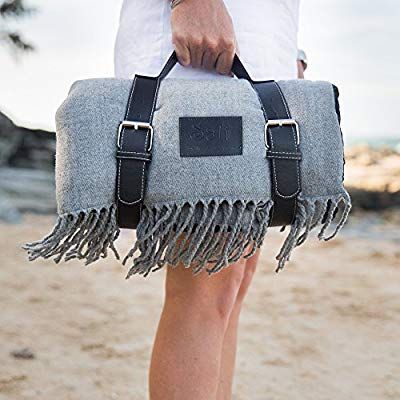 This blanket is a unique gift for sister-in-law who usually goes picnicking with friends or has beach days with family. It has one waterproof side, and the other side is soft and comfy, which supports a lot on grass, sand, or any other surface. Besides, it folds up and comes with a strap which makes the transition much easier.
12. 3-in-1 charging station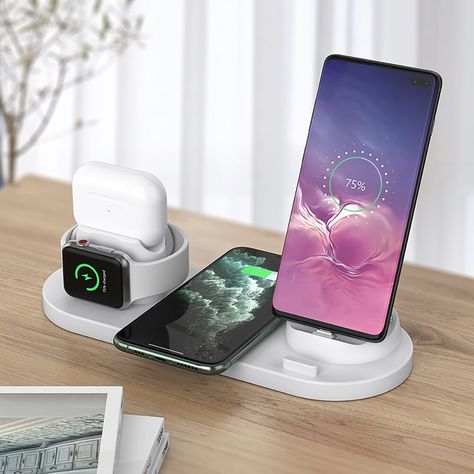 This stand is one of the unique gifts for sister-in-law that's widely appreciated. She can charge up her iPhone, AirPods, and Apple Watch at the same time. It's a real-time saver. If you're a last-minute shopper, you'll love the convenience of this charging stand.
Personalized gifts for sister-in-law that make her feel special
13. Custom photo canvas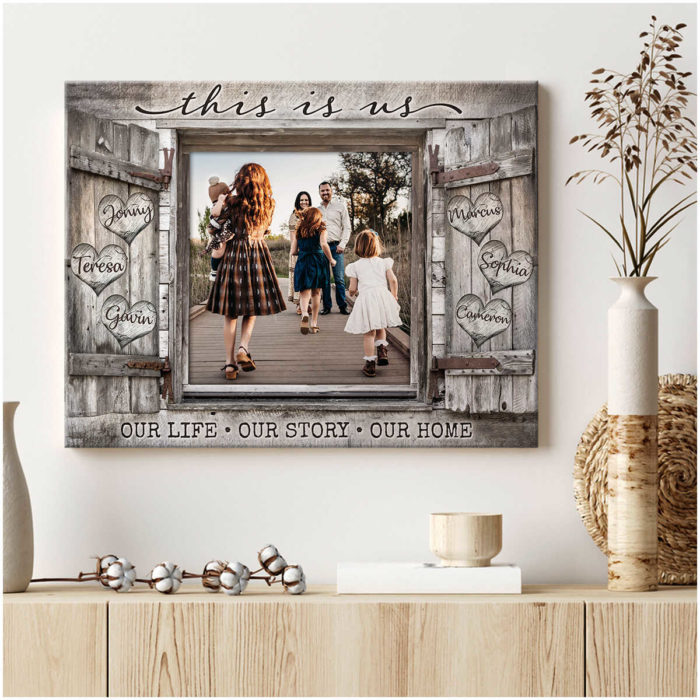 Besides being a gorgeous decorative item, the custom canvas is a meaningful keepsake which help preserve her memories. At Ohcanvas, you'll have a wide choice of custom samples that tend to leave the best impression on her. Take the chance to create a stunning artwork if you want to have the best-personalized gifts for sister-in-law ever.
14. Home coordinates throw pillow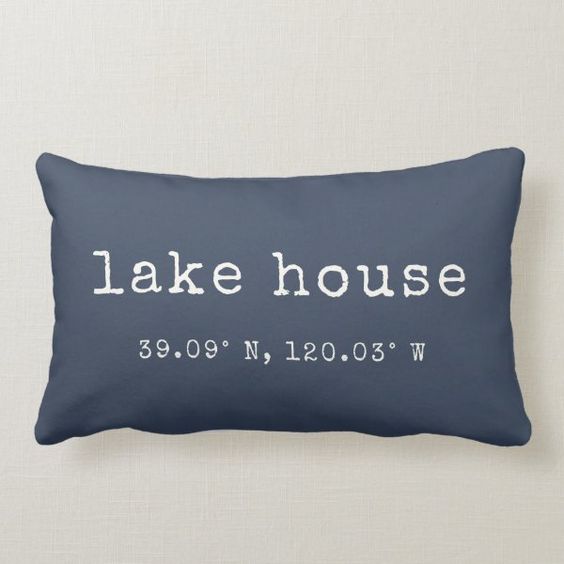 You can't go wrong if you help her decorate the home in a way that touches her heart. By picking the city where she lives and a set of GPS coordinates, you may make her a personalized pillow cover that she'll treasure for years.
15. Personalized jewelry case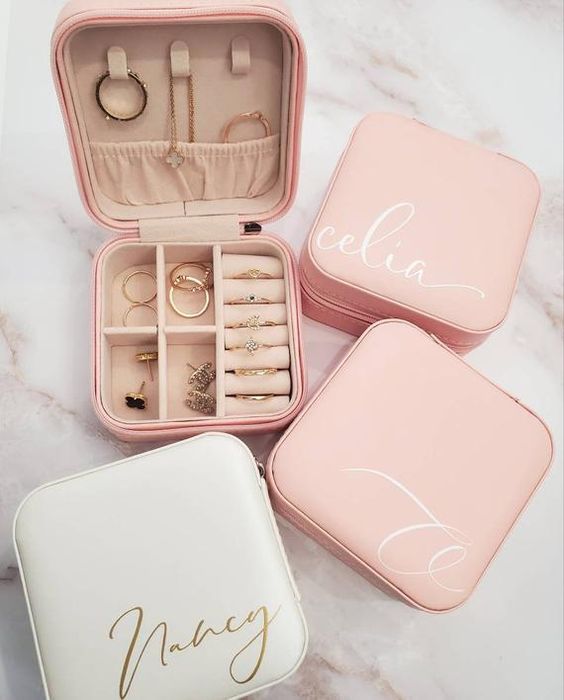 Due to its practicality and delicacy, a personalized travel jewelry case will stand out among other personalized gifts for sister-in-law. It's a perfect gift for her to utilize on her honeymoon or any other exciting vacation she may be planning.
16. Birthstone initial necklace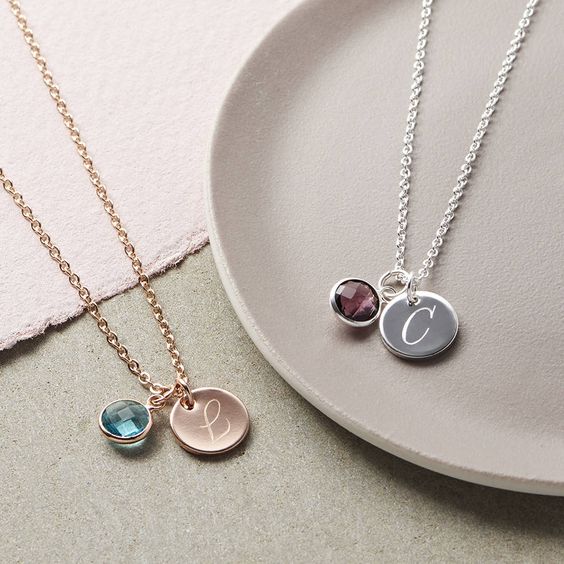 With a gemstone pendant that represents the month of her birth, this beautiful necklace is a heartfelt gift for sister-in-law that she'll love. It also contains her initials and a heartfelt note from you to express your gratitude for having her as a sister and a best friend.
17. Leather bracelet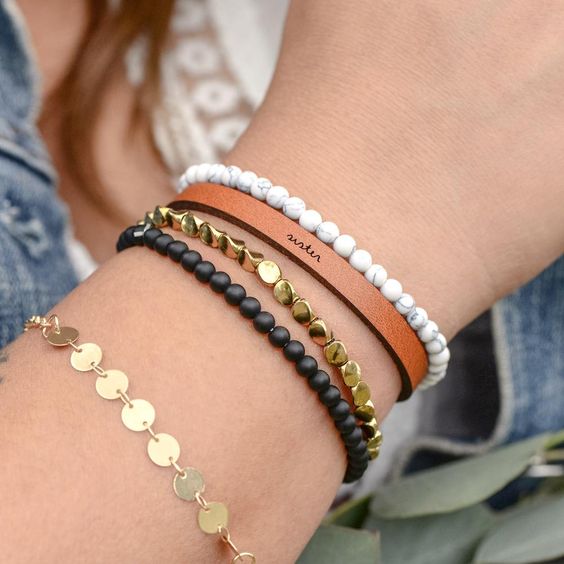 This dainty bracelet exudes a boho ambiance and a feminine touch by the delicate print engraved into it. You can customize it with her name, the word "sister", or a short inspirational message from you. All the details make this bracelet outstanding from other unique personalized gifts for sister-in-law.
18. Custom pet canvas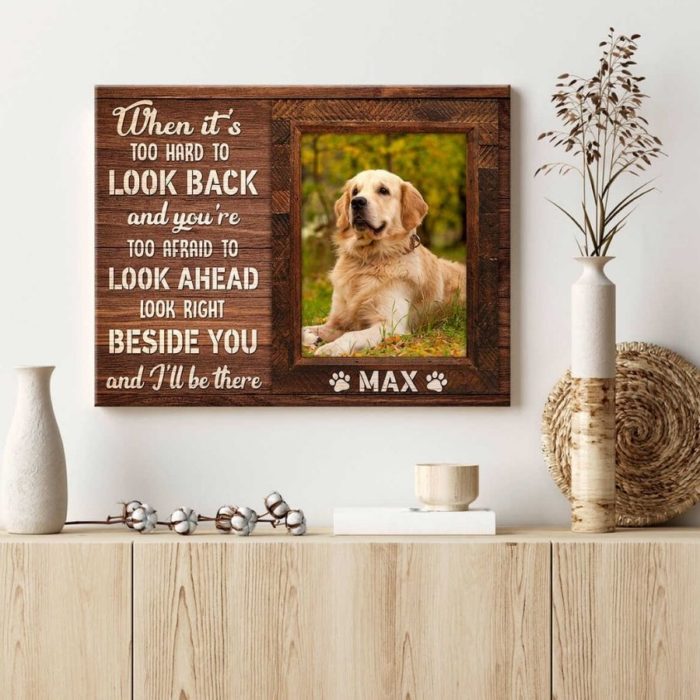 She can't imagine how wonderful it is that a custom canvas of her pet arrives right at the front door. It's a meaningful keepsake that she'll treasure for a lifetime. Giving her this present is a loving gesture to make her feel so special.
Custom coffee mug
Let your sister enjoy cheerful cups of tea and coffee with a lovely mug from you. It can be customized with her initials, photo, or your message, helping the mug earn itself a place of honor on her coffee table. Best personalized gifts for sister-in-law list can't exclude this lovely piece.
19. Compact mirror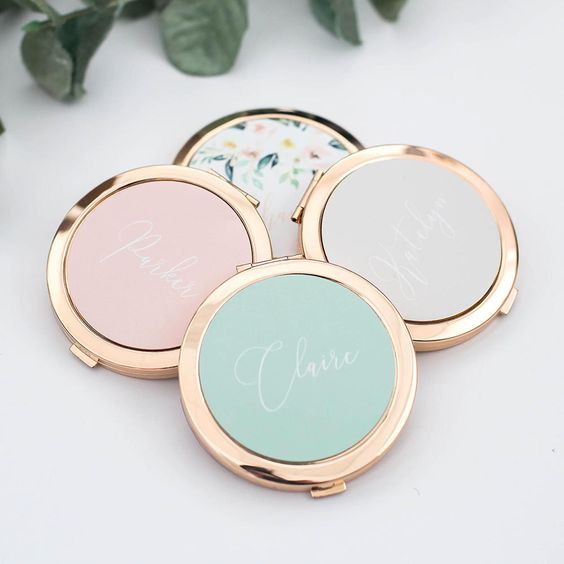 She can take this convenient compact mirror with her everywhere she goes! This mirror is the best gift for sister-in-law if she travels frequently or loves taking outdoor activities.
20. Classic cotton bathrobe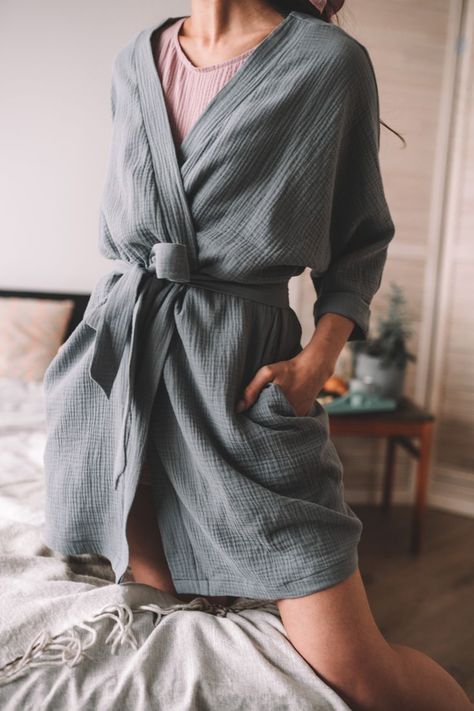 Give your sister the finest moments whenever she touches this soft cotton robe. To make it a unique personalized gift, inscribe her name or a funny message on it. So is there a better sister-in-law in the world? You, of course, are.
21. Wine stoppers set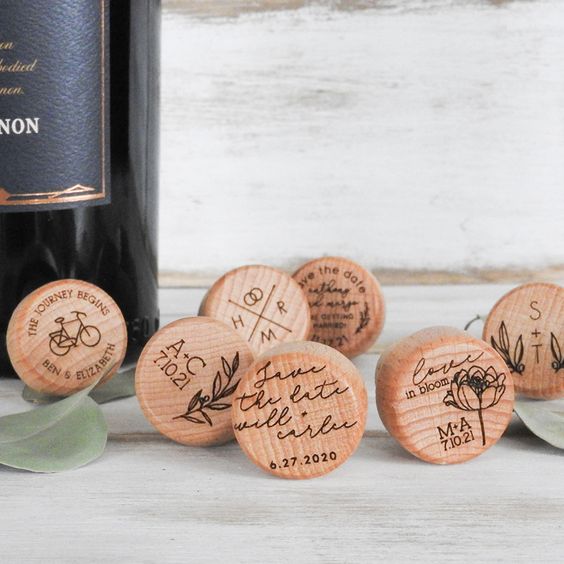 You know she's always accidentally throwing away her corks after she pops open some vino. Get her these fun wine stoppers that'll save her from throwing out that unfinished bottle.
If you're aware that she might throw away the corks when she opens a bottle of wine, this stopper set is her savior. You can choose pieces with funny words to make her collection more charming and eye-grabbing.
22. Macaron gift box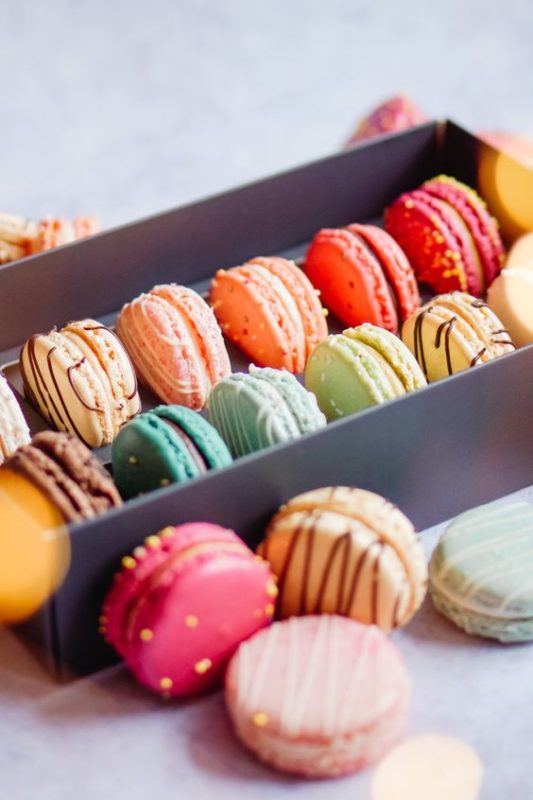 Any sister-in-law would be delighted to receive a box of beautifully arranged macarons. To take this present to the next level, inscribe her name on the box and insert your note with it. These sweet gift ideas for sister-in-law will melt her heart.
Thoughtful gift ideas for sister-in-law to satisfy her taste
23. Weighted blanket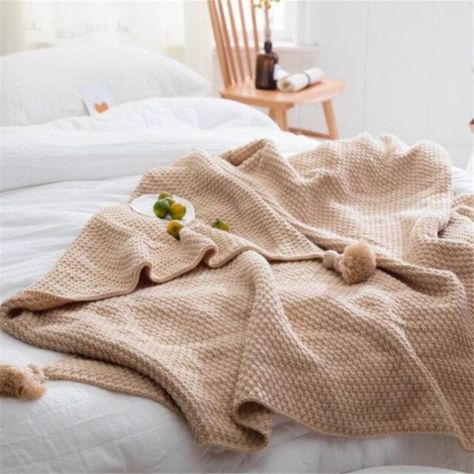 A high-quality throw blanket gives the best experience by stimulating the sensation of being held or embraced. It can help her fall asleep sooner and sleep more soundly throughout the night. This excellent gift for sister-in-law will be used all year round for bedding.
24. Funny oven mitt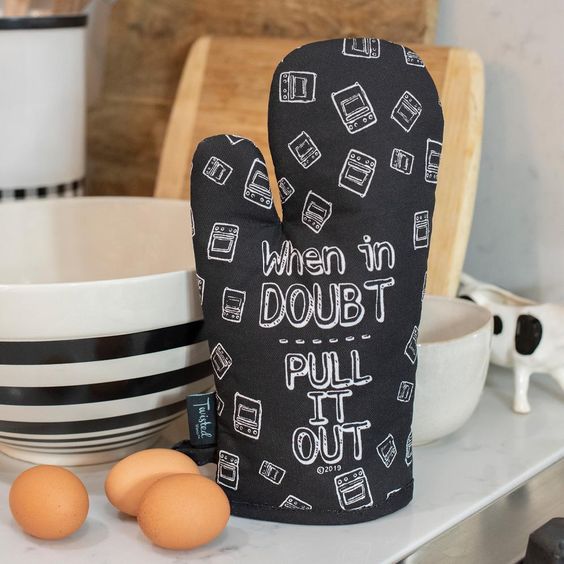 If she cooks a lot, she'll adore these adorable oven mitts. They'll win her over since being so helpful and protective while's she cooking and baking. Giving this amazing present is an excellent way to show how much you care.
25. Travel lunch container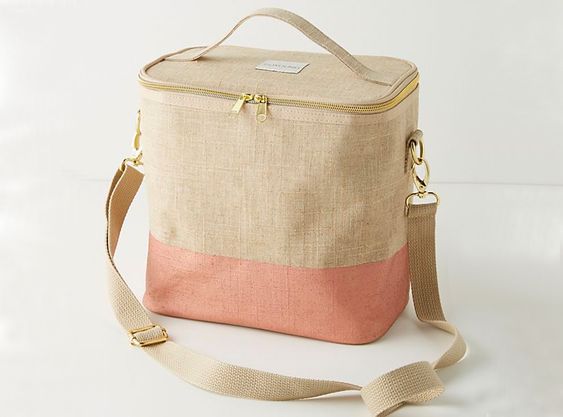 This lovely little lunch container is ready to be her lunchtime companion. It's able to transport her salad, grain bowl, or leftovers with a protected snap-tight silicone strap. Using this container is convenient since it can be put in the microwave or the dishwasher.
26. Set of wine glasses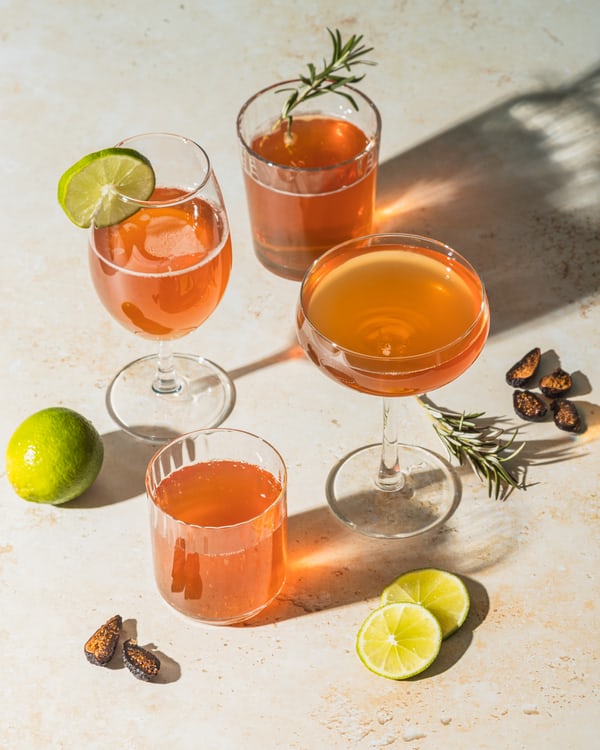 With these elegant crystal wine glasses, your sister's able to serve her wine in a luxurious way. If you make them unique gifts for sister-in-law, you might be invited for a warm dinner, enjoying her classic bottles of champagne.
27. Silk sleeping eye mask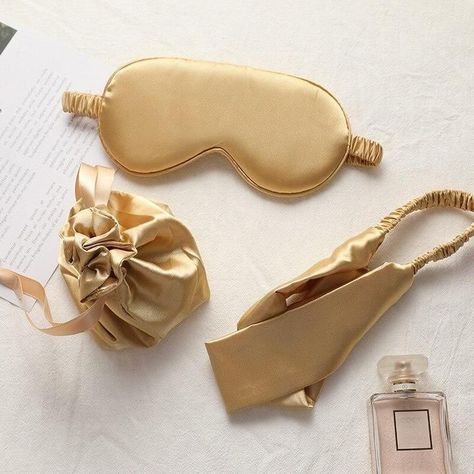 Fill your sister's nights of sleep with comfort and relaxation with a silk eye mask. It can be infused with natural herbs or flowers to give the best experiences. Besides, the ruffled elastic band makes this dreamy mask stay in place all night long. It's one of the most thoughtful gift ideas for sister-in-law that she can get.
28. Hand cream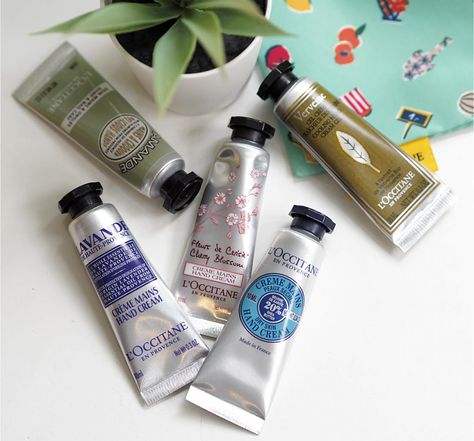 A gift set of high-end hand creams is always a safe bet. The evocative aroma of natural elements like cinnamon, orange, rose, or aloe vera is sure to be a hit with her. It's a unique gift for sister-in-law that never goes unnoticed.
29. Smart indoor garden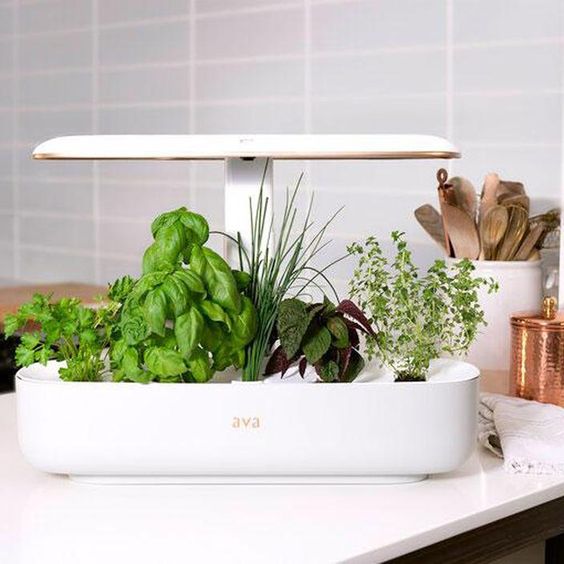 Spruce up her home with this evergreen smart indoor garden. It'll add the freshest touches to her kitchen and fill her meals with clean herbs and vegetables. If your sister's a garden lover, this present will win her over.
30. Silk pillowcase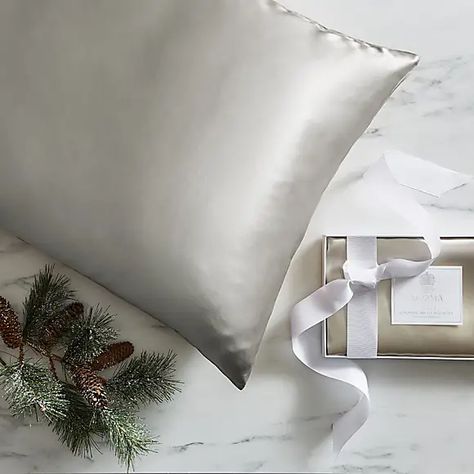 A silk pillowcase is something she's been putting off buying for herself. Being anti-aging and anti-sleep wrinkle, this high-end pillowcase will give her beauty therapy every night. Don't miss out on this stunning piece when finding the best gift for sister-in-law.
31. Cookware pots and pans set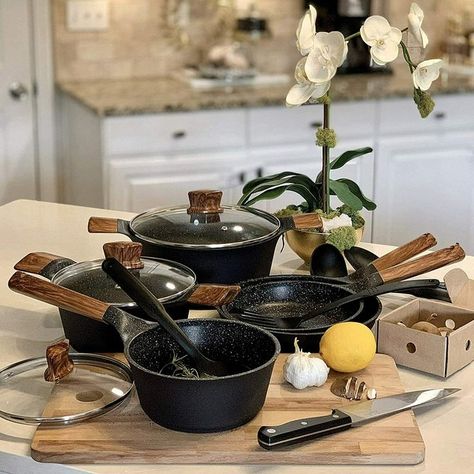 Upgrade her kitchen with brand new pots and pans set. These pieces will be the most supportive part that helps her make tasty dishes for herself and her family. You'll be invited for a warm dinner one day. Then remember to bring some wine.
32. Fashionable sunglasses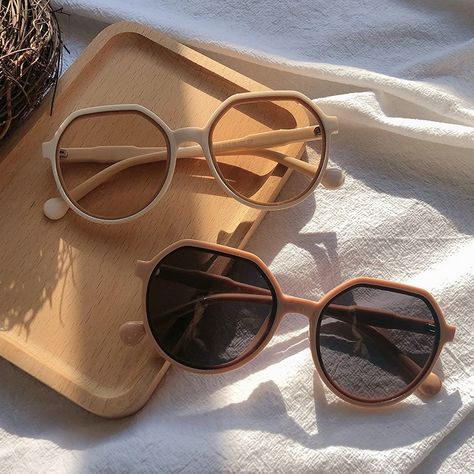 Winning her heart with high-fashion sunglasses is an excellent choice. It's great that you opt for designs and colors that suit her face and interest. You make her day when she opens the gift box and sees them.
33. Brush holder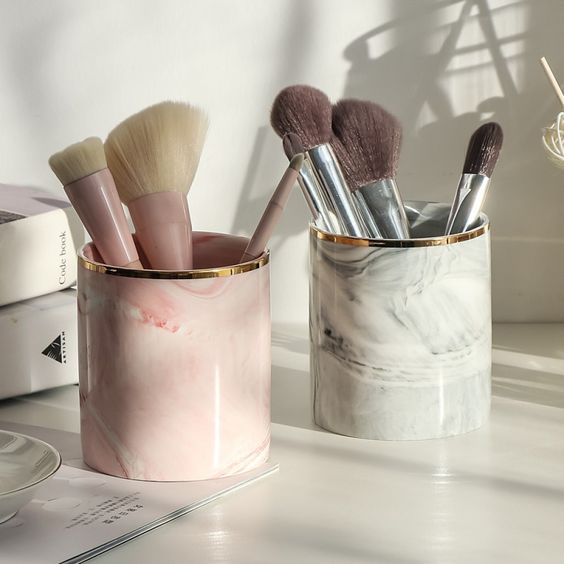 Help her makeup table always tidy and organized with this useful brush holder. It's a lovely, practical gift for sister-in-law that never goes out of style. She'll love how supportive this holder is to keep all her brushes clean and help her save time.
34. Luxury soaps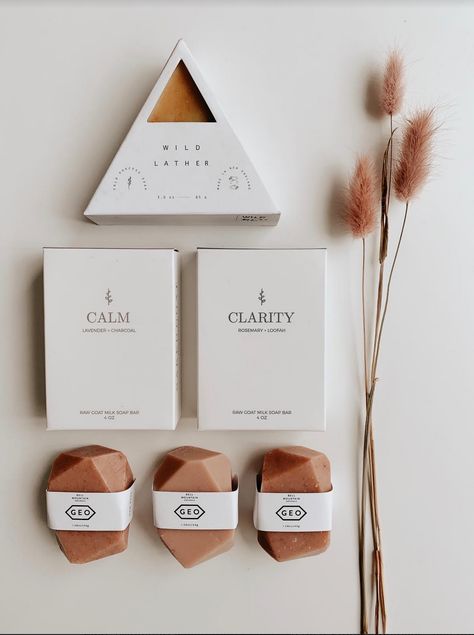 Give her the most comfortable showers after long days at work with these luxury soaps. If you know what her favorite scents are, that's great. Or else, opt for natural or seasonal ingredients to satisfy her taste the most.
35. Cake stand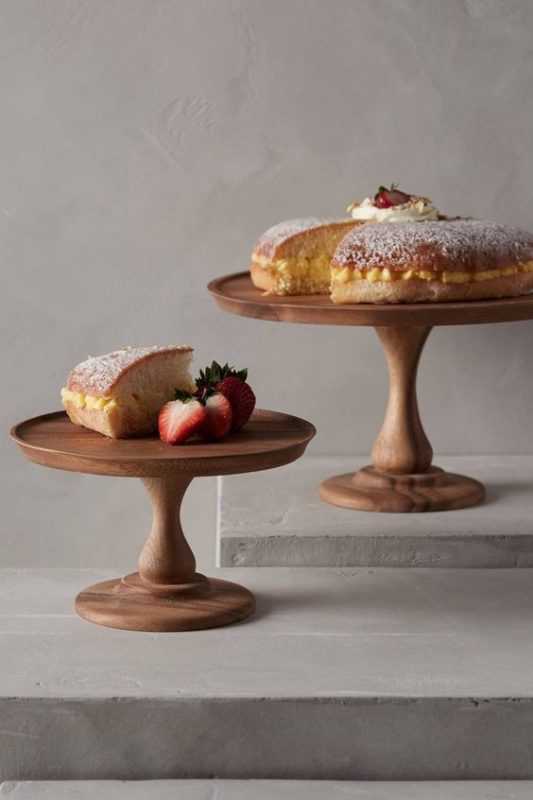 This elegant cake stand is a thoughtful gift for sister-in-law if she hosts many family or friends reunions. It helps her display different desserts in a chic and attractive way. This present is also an adorable decorative piece that's able to elevate the look of her living room.
36. Slide slippers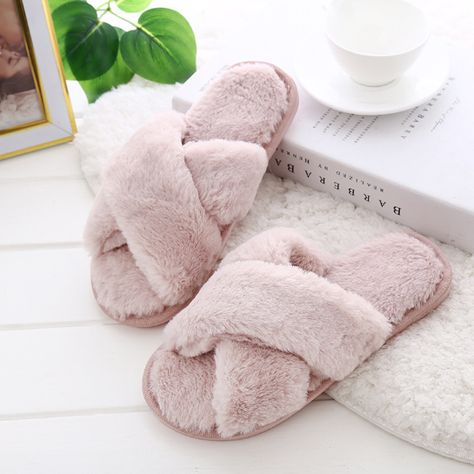 Super-cute slippers are unique gift ideas for sister-in-law. They're warm and lovely enough to make her smile when opening the gift box from you. They also help her realize how much you care and think about her.
37. Plaid scarf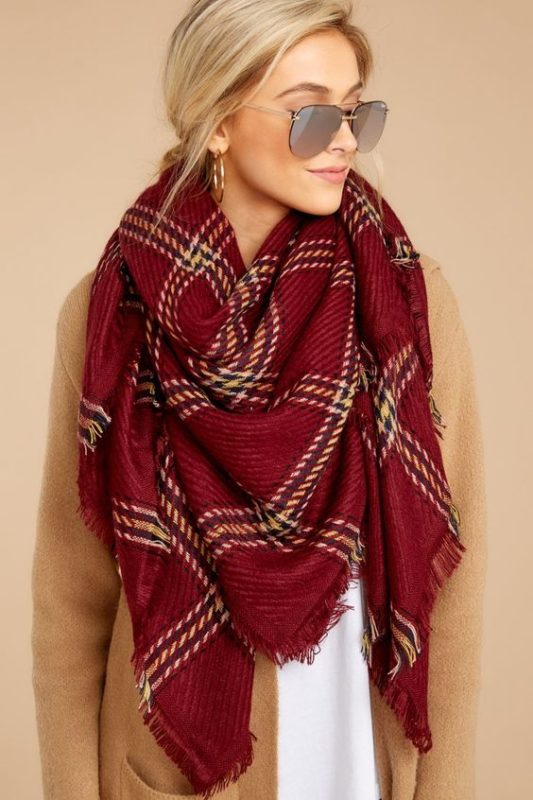 It's a great way to keep your sister-in-law always warm and cozy throughout the cold weather! She'll love how versatile this gift is when she can wear it in various ways, including as a shawl, a scarf, or a blanket. Such a wonderful idea as a gift for sister-in-law.
Related Post:
Nothing can stop you from choosing the best gift for sister-in-law. Our list has the most unique and thoughtful pieces that make her feel special and loved. Think of her favorite lifestyle and personality to help you pick the most appropriate one. If you're enchanted by Oh Canvas's custom prints, browse our site to explore adorable, gorgeous samples that are bound to be excellent presents. You'll love how we turn your photos and names into amazing pieces of art.