It's not an easy task to find a perfect gift for a newly married couple. How about wedding gifts for older couples who are getting married a second or third time? It's so much more difficult. But don't worry much since Oh Canvas has rounded up a list of unique, unforgettable pieces that show how much you care about them. Even when they don't need anything, they need and a house full of facilities, this gift guide is still a good reference.
Personalized wedding gift ideas for older couples
1. Engraved Cutting Board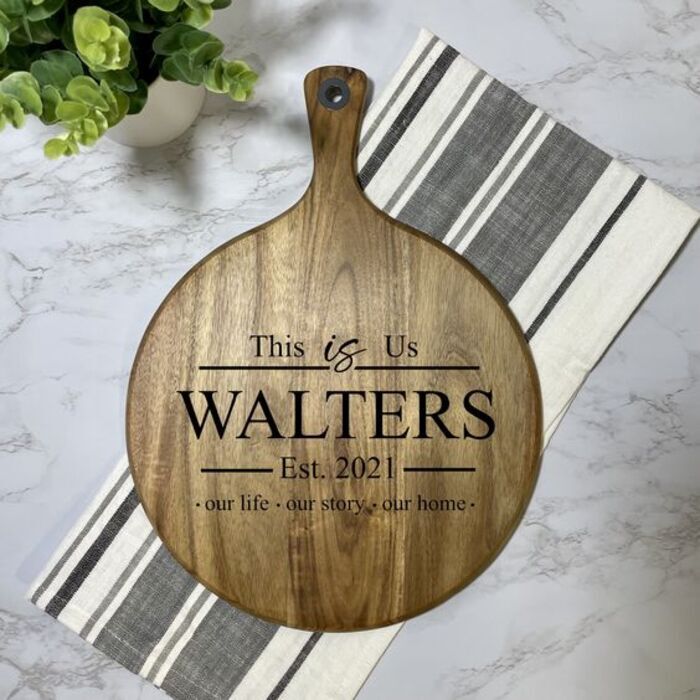 Give a cutting board personalized with a special message to an older couple you care about. The vibe of woods will add a vintage touch to their kitchen. The recipient will love this gift, whether they display it or use it every day!
2. Custom Name Pillow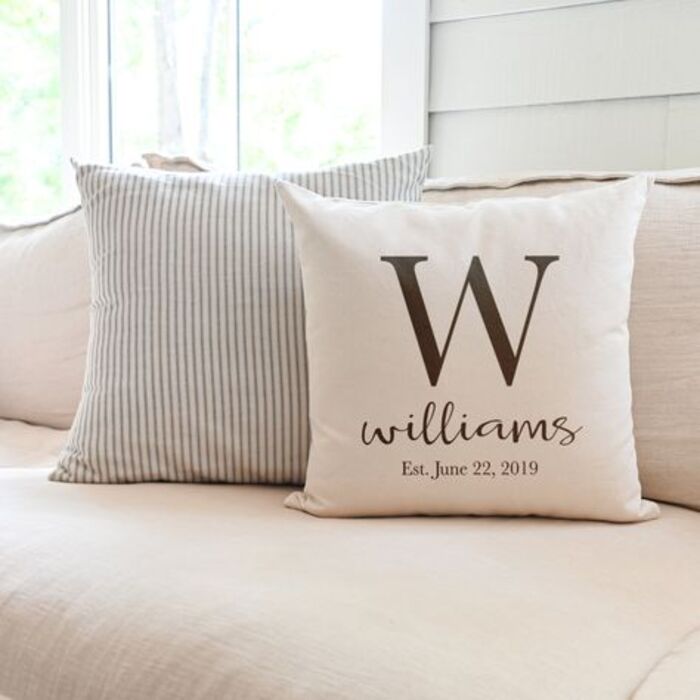 We couldn't say about thoughtful personalized wedding gifts for older couples without mentioning these name pillows. They're charming pieces of decoration that bring a lot of warmth and happiness to their home. Choose a design and color that you think they might love to elevate this special gift.
3. Sweet 'To My Wife' Blanket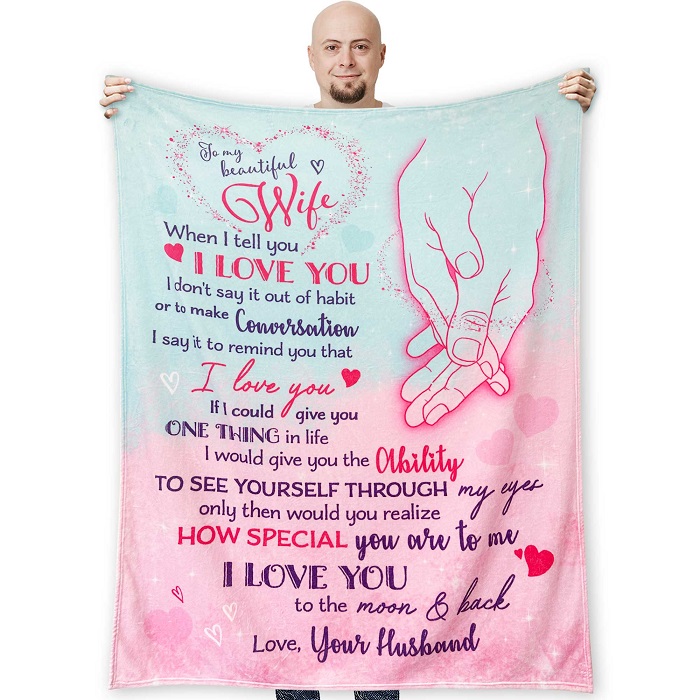 What could be more unique than a special pattern on a blanket customized for a wife? The blanket can be personalized with the most precious memory they shared together.
It adds a personal touch and creates a special gift. How romantic to see your beloved couple holding this blanket as they sleep. Perhaps they are dreaming of those wonderful times they spent together.
4. Custom Couple Mug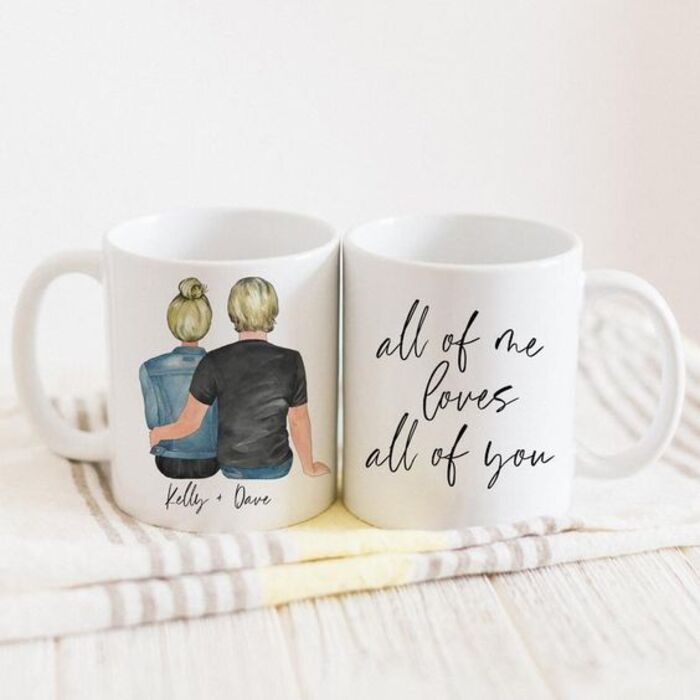 What do you do when there's no registry list to shop for perfect wedding gifts for older couples? Then, treat them to unforgettable pieces with your extra personal touch. This coffee mug set will be something they can't miss out on every morning.
5. Song Lyrics Canvas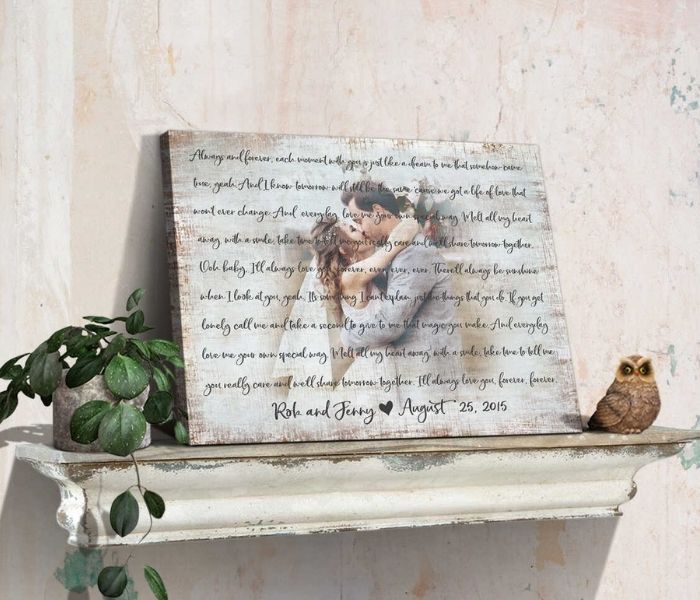 When it comes to finding heartfelt wedding presents for older couples, choose this unique song lyrics photo canvas to overcome the challenge. The rustic vibe of this canvas will enhance the beauty of their wedding photograph. Your favorite duo is sure to treasure this gift for a lifetime.
6. Initials Throw Blanket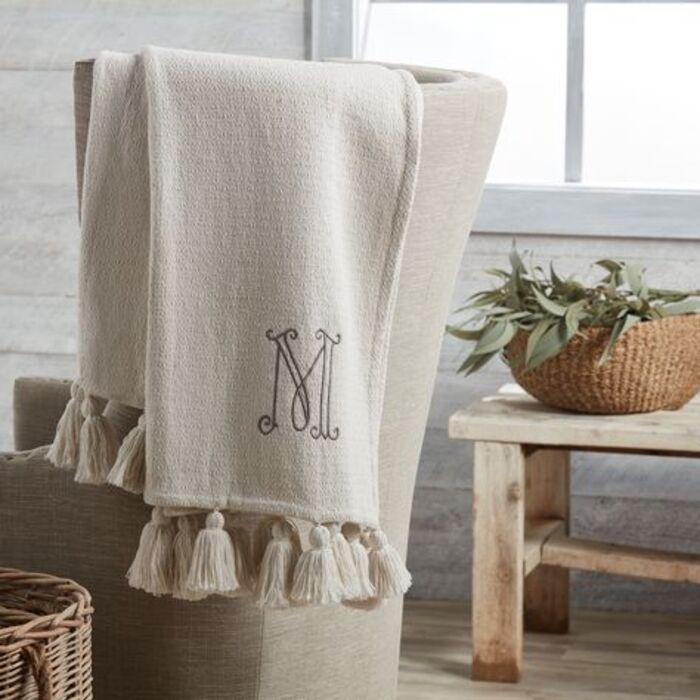 Do you need simple but memorable wedding gift ideas for older couples? Take a look at this one-of-a-kind blanket with the duo's initials beautifully crafted. They'll stay toasty and cozy on the couch for many winter nights to come!
7. Custom Luggage Tag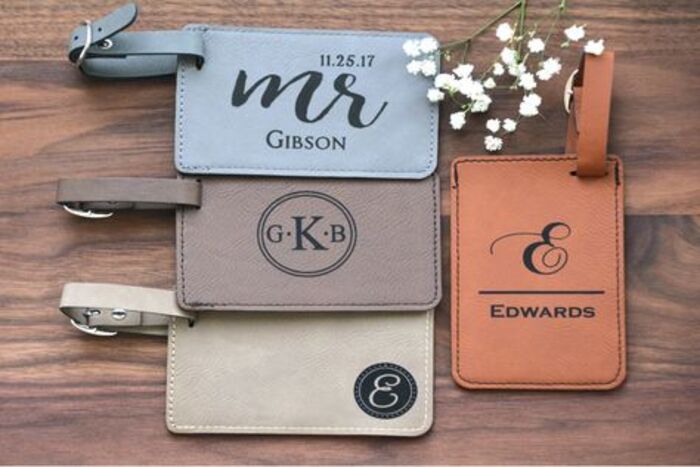 A honeymoon is not uncommon for newlyweds in their fifties and sixties. With a set of leather luggage tags, you may give your loved ones a sense of security and romance at the same time. They can be personalized with the couple's names, the date of their wedding, and a good-luck phrase.
8. Whiskey Decanter Set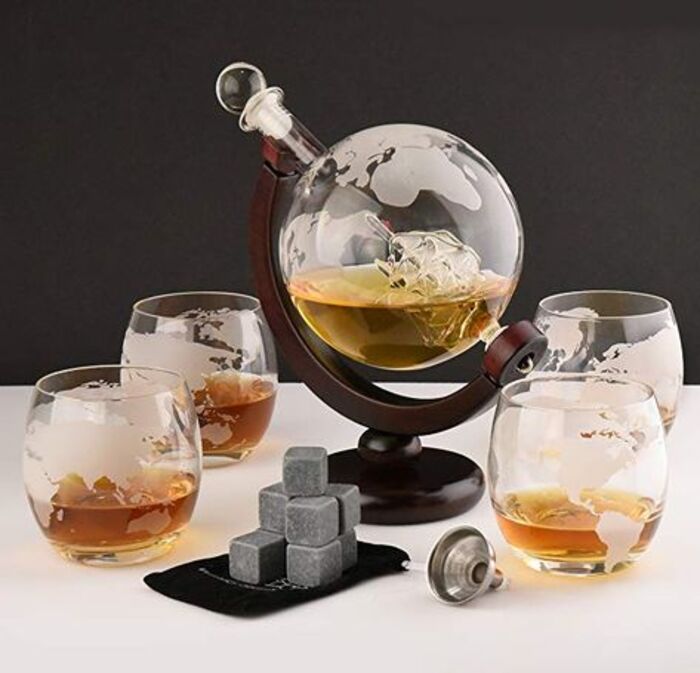 When the bride and groom are getting older, they'll treasure every moment together more. Having some shots of whiskey or talking about what they've done in a day is all they need to save memories. This decanter set is one of the best wedding gifts for older couples they'll use.
9. Engraved Wine Box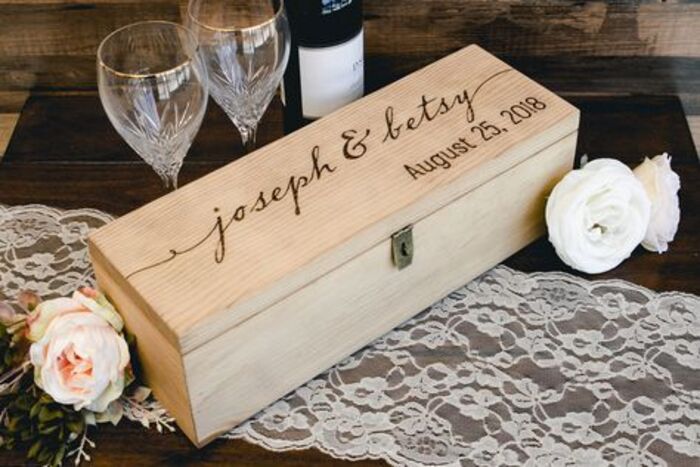 A wine box makes thoughtful and useful wedding presents for older couples. Besides having romantic glasses of wine in their dinner, they can keep them to commemorate the upcoming anniversaries to come.
10. Champagne Flutes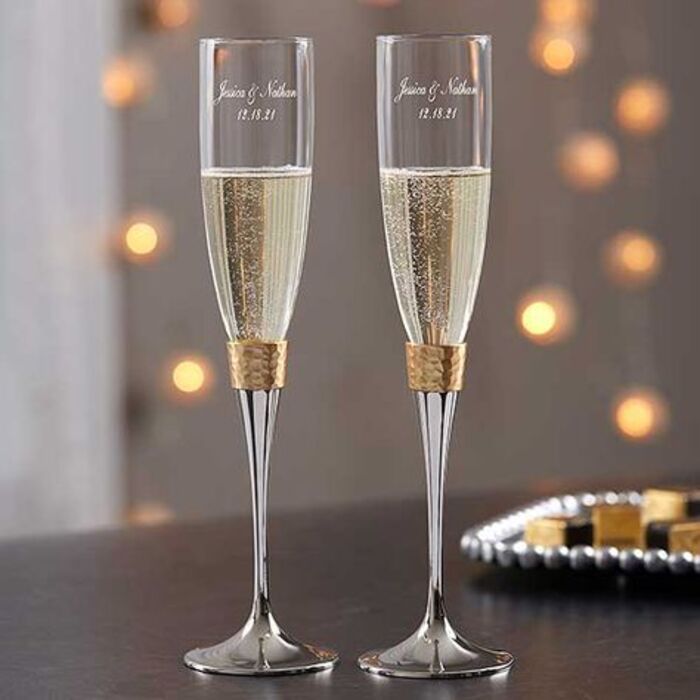 Engraved champagne flutes will provide a special touch to their big day. They are ideal for toasting, not only at their wedding but also the further anniversaries. The bride and groom will proudly display these sentimental pieces in their living room.
11. Custom Recipe Book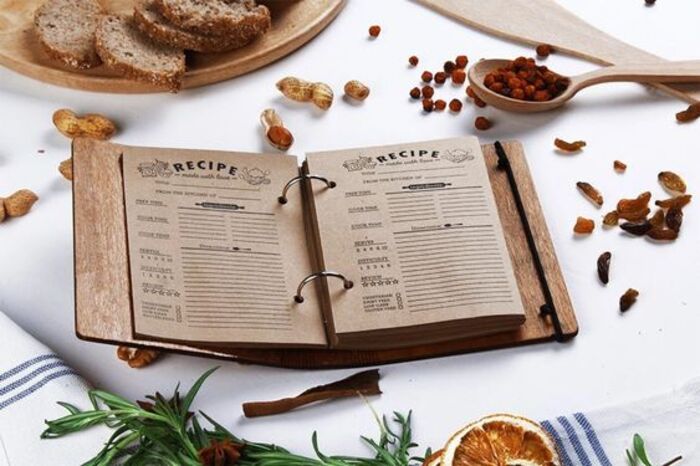 What better way to congratulate a newlywed couple than to present them with a customized recipe book? Write down all of your favorite recipes for them to try. They can also add some of their proud ones for the later generation. Charming wedding presents for the older bride and groom like this book will never go over the top.
12. Wedding Memory Box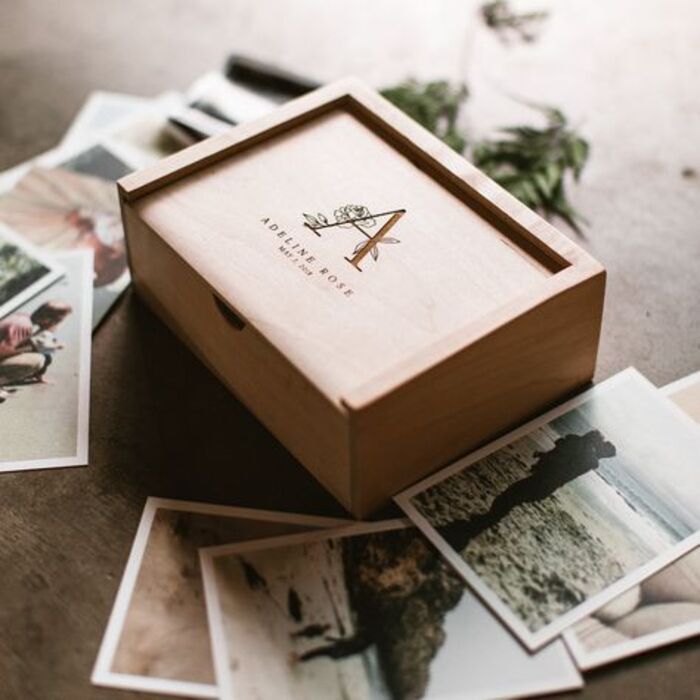 It doesn't matter how old they are, their wedding day is the most important event in life that they'll love to save forever. Give them a keepsake box to put in all the photos, cards, or memorable gifts they've given to each other over the years.
13. Custom Doormat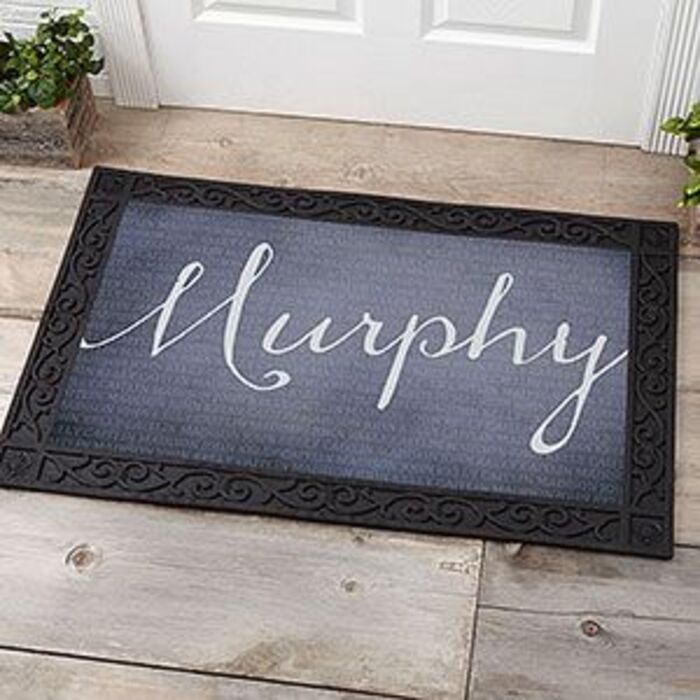 Are you looking for last-minute wedding gift ideas for older couples? Here's a doormat that you can customize with names, anniversary dates, or anything else. It'll look perfect at their front door.
14. Home sign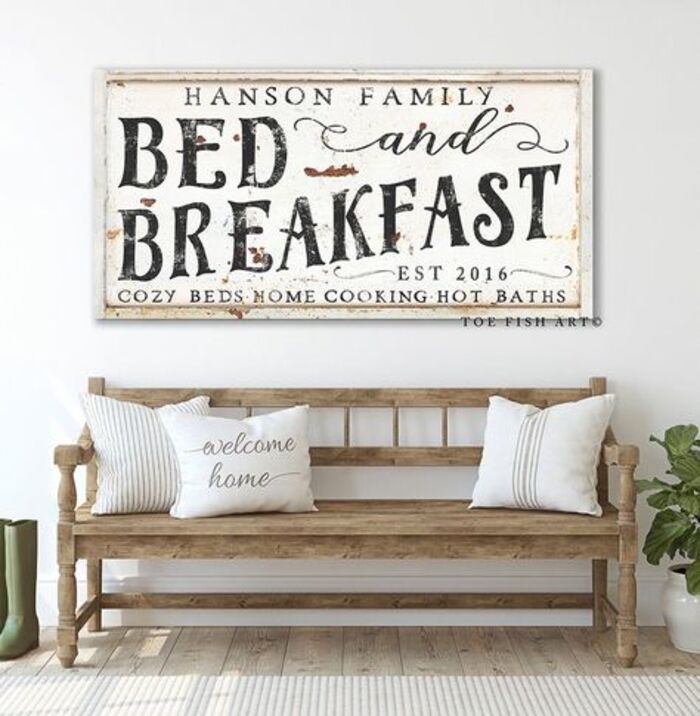 It's such a remarkable event that the new couple moves to live together. With this personalized wedding present for older couples, they'll be overjoyed when they see their names and wedding date displayed on it!
15. Family Photo Canvas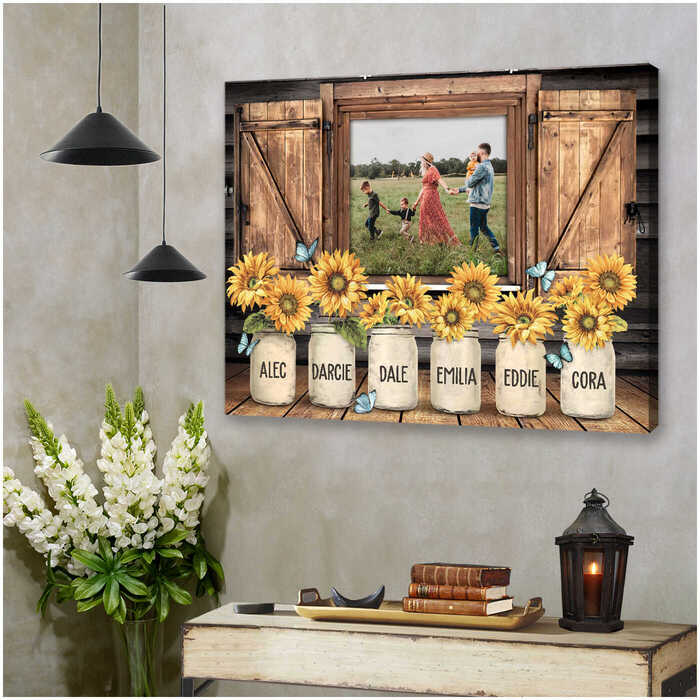 If you're finding a heartfelt wedding present for your parents, a family photo canvas is an excellent option. It's an important mark of your family that will be treasured for years to come.
16. Beautiful Bar Sign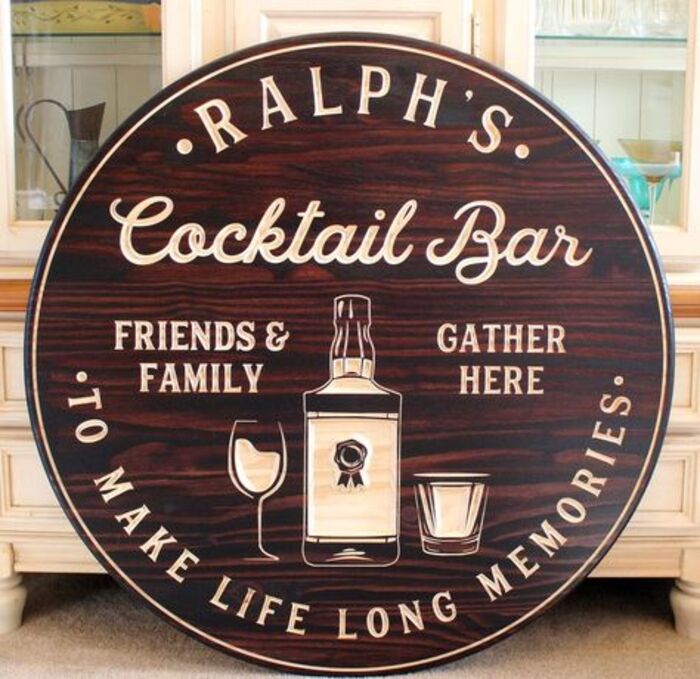 Looking for the best wedding gifts for older couples who love drinking? What better gift for them than this custom-made bar sign that makes the area even more awesome? With their last name (or a lovely quote) displayed, this piece of art is sure to be a hit in their favorite room.
17. Personalized Champagne Vase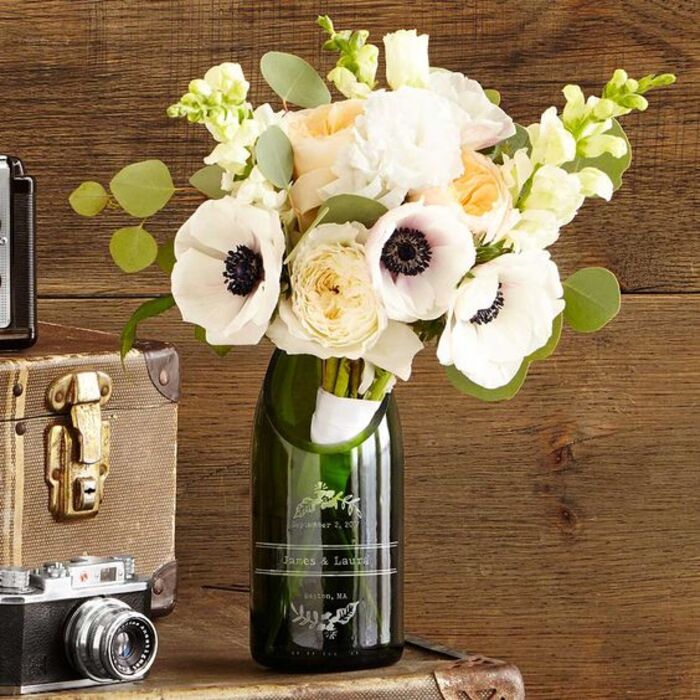 Give the newlyweds a unique gift that they might have never seen before. This repurposed champagne bottle, with the couple's engraved names and wedding, will be a focal point of their living room. It's a beautiful memento of their special day every time they use it to hold their bouquets of flowers!
18. Wedding Photo Plaque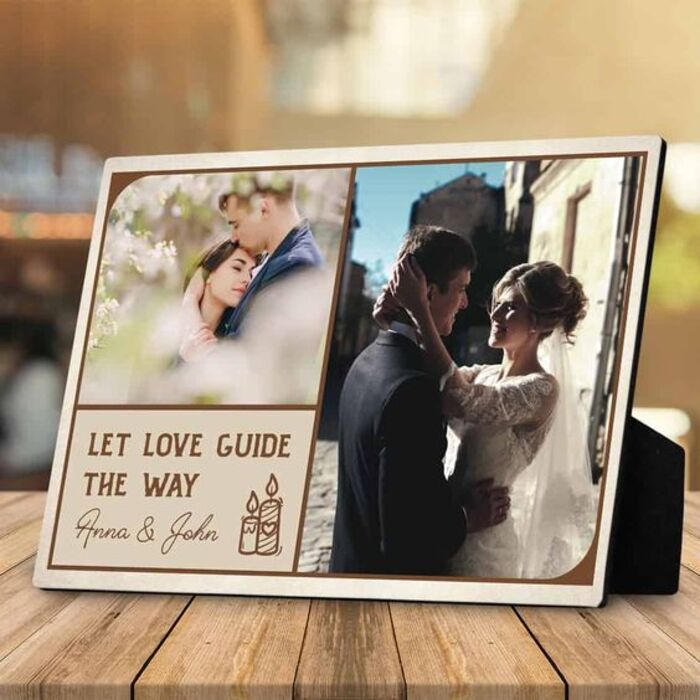 This lovely photo plaque is a wonderful way to commemorate a senior wedding. Every time they look at it, memories are recalled. This lasting present will still be a delight when their upcoming anniversaries come.
Wedding presents for older couples to elevate their home
19. Dinnerware Sets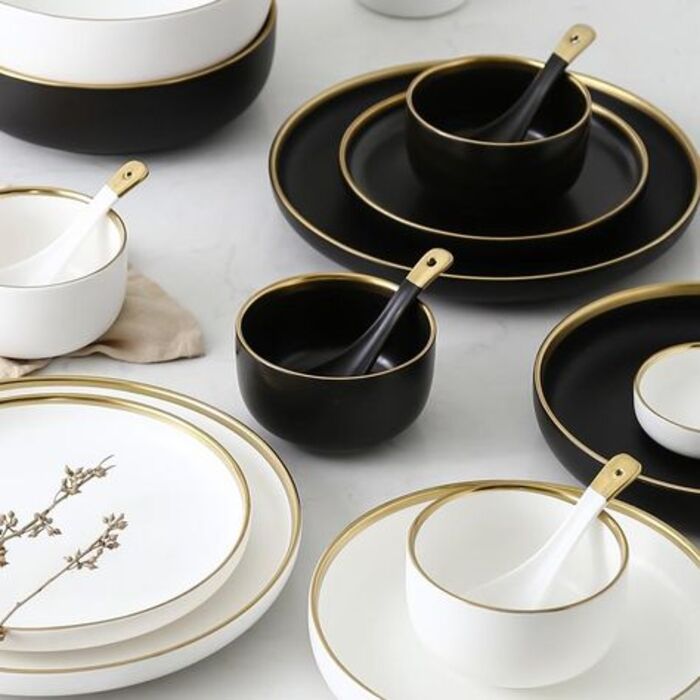 Surprise the bride and groom with a luxury dinner set that they're hard to find. Bright, high-quality plates and bowls wouldn't be out of place in their new home. Consider the neutral or colorful hues if you know what their kitchen design looks like.
20. Marble Bookends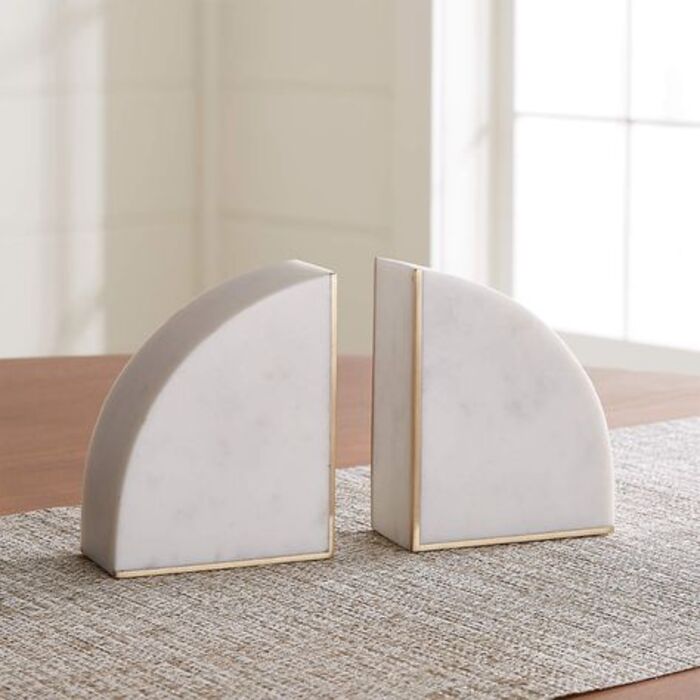 Do you have any wedding gift ideas for older couples who have a lot of books? Take advantage of the opportunity to use the marble bookends to surprise them. These bookshelf accents will look excellent on any bookcase.
21. Tealight Box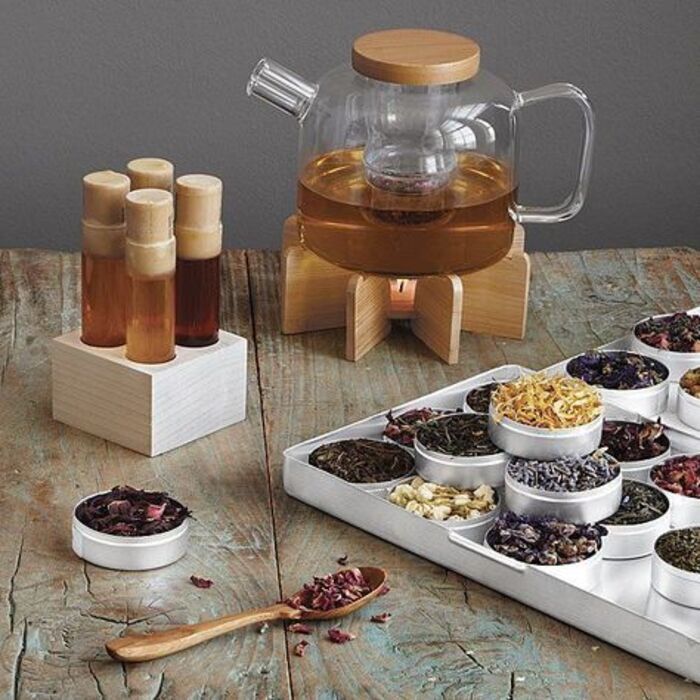 With a unique tealight box, you can transform any room into a place of serenity and comfort. There is no better way to unwind after a hard day than relaxing in your own home with this fantastic portable box.
22. Rustic Canvas Wall Art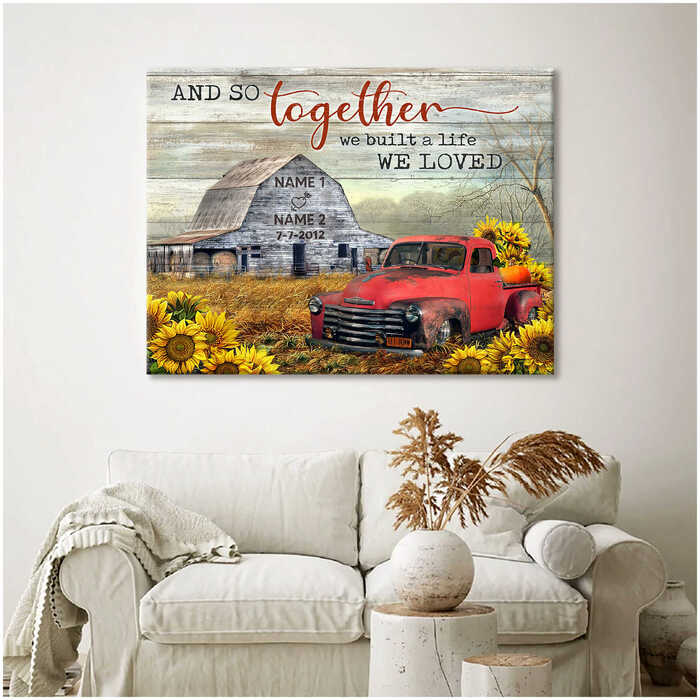 You can't go wrong with this canvas while finding the best wedding gifts for older couples to brighten up their days. The adorable print "And so together they built a life they love" is a great way to celebrate their upcoming wedding.
23. Ice Cream and Sorbet Maker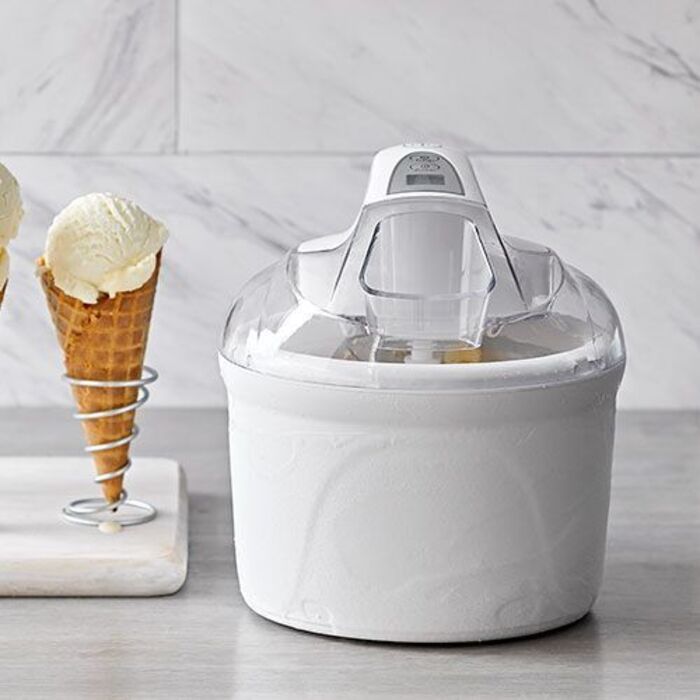 Give an ice cream maker as a wedding gift to reinforce the closeness among family members. Tasty homemade ice cream will add a fun vibe to any party or family reunion.
24. Instant Pot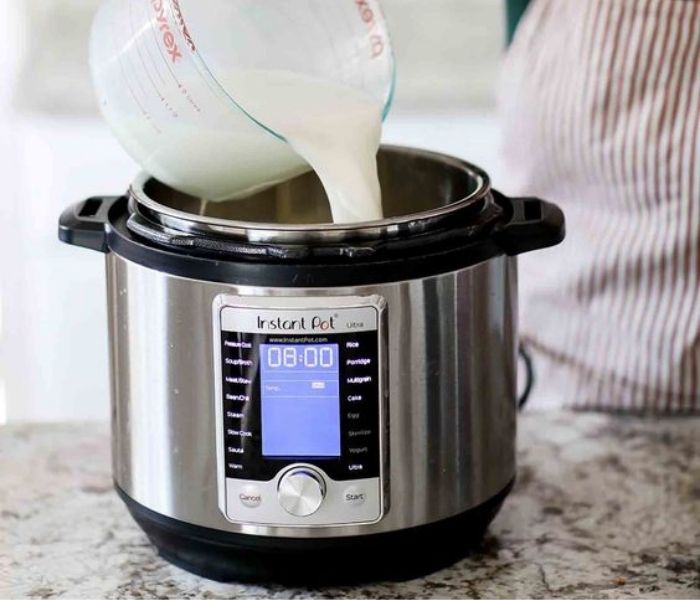 It's a must-have modern appliance for any new home. These are among the best gifts for weddings of older couples! There is no need for the newlyweds to be culinary experts in order to serve delicious, nutritious food at their wedding reception.
25. Terrarium Kit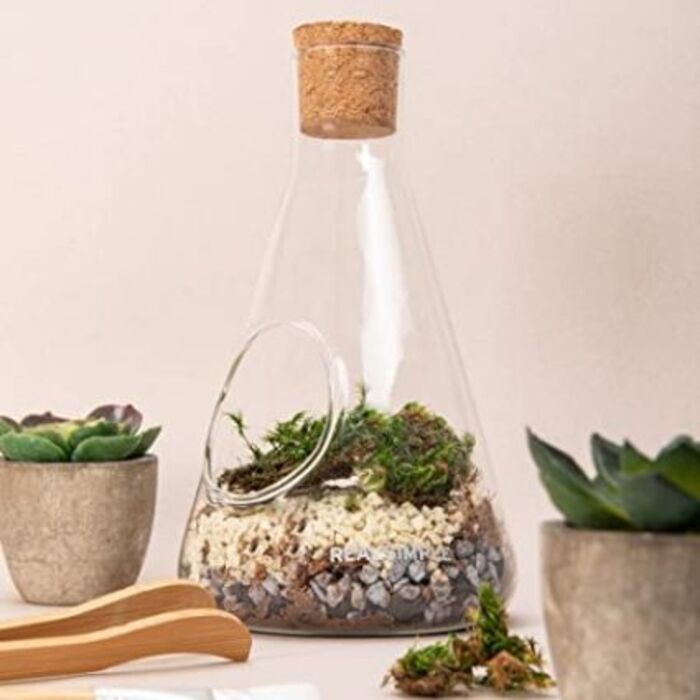 Maintaining a terrarium is a great way for a couple to spend quality time together. They'll have a lot of fun, thanks to these unique wedding gifts for older couples from you. It's also a lovely way to fill their home with a little charm and freshness.
26. Sentimental Name Canvas Art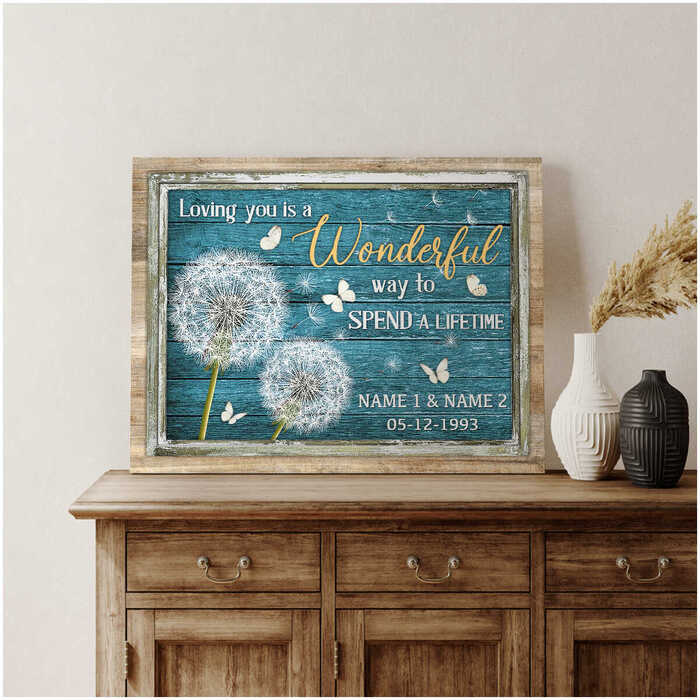 Running out of wedding gift ideas for older couples? Tell your favorite newlyweds how much you commemorate their wedding via this amazing canvas art. Lovely and lasting, this gift is sure to be treasured for years to come.
27. Home Decor Gift Card
When it comes to wedding gifts for older couples, a home decor voucher is a great option. For example, they'll be able to choose their own blankets, artwork, or kitchen appliances. The bride and groom can go wild with any item they like.
28. Vintage Brass Candlesticks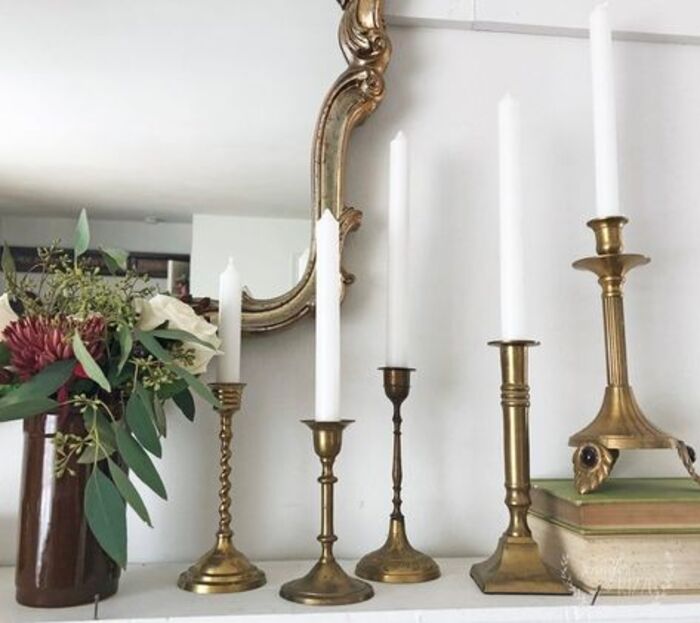 If you're seeking romantic wedding gift ideas who older couples to brighten up their home, go no further than these vintage candlesticks. They're ideal decorative pieces for any room in their house. Light them all, and a warm ambiance will be brought to their cozy nest.
29. Bamboo Cheese Board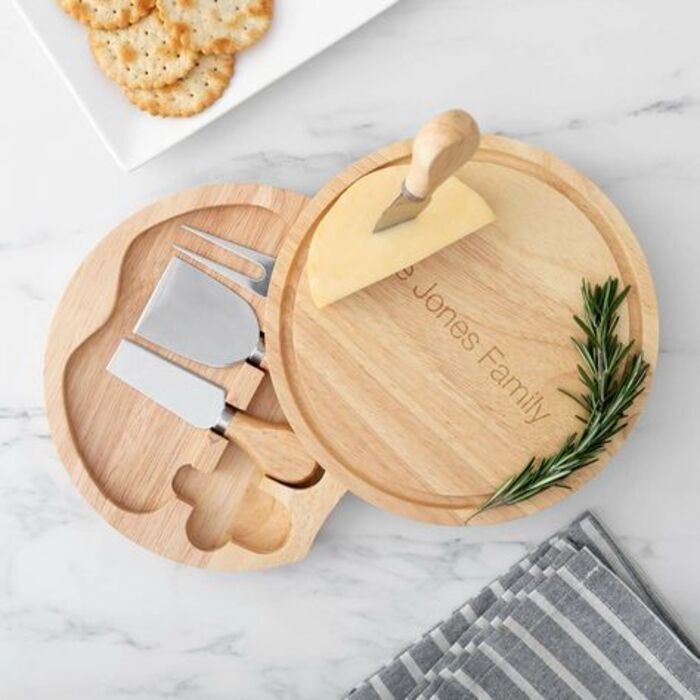 Elevate their beloved kitchen with this cheeseboard along with cutlery and server set. Besides using it in their daily meals, they can proudly display it to the guests. This board might be a delight in your list of the best wedding gifts for older couples.
30. Home Subscription Boxes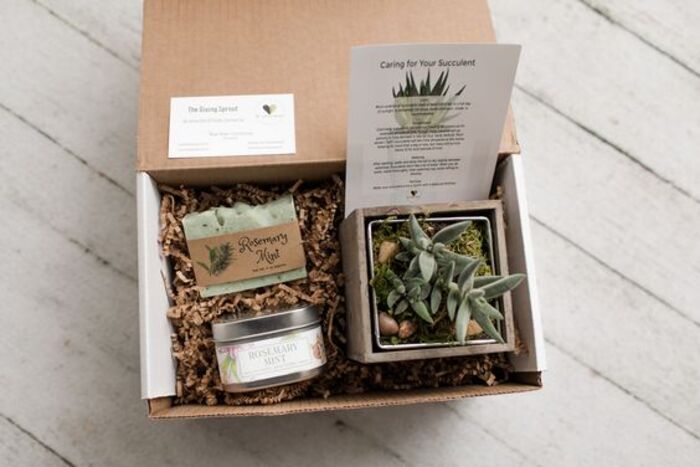 Are you stumped on what to get the elder newlyweds? It doesn't matter how many marriages they've had; a plant subscription box is ideal. Each month, your pals will get different plants that will spruce up their warm home. They're perfect for those with or without a green thumb.
>>> Recommend reading: Top 42 Unforgettable Wedding Gifts For Outdoorsy Couples In 2023
Best wedding gifts for older couples to save memories
31. Spa Gift Basket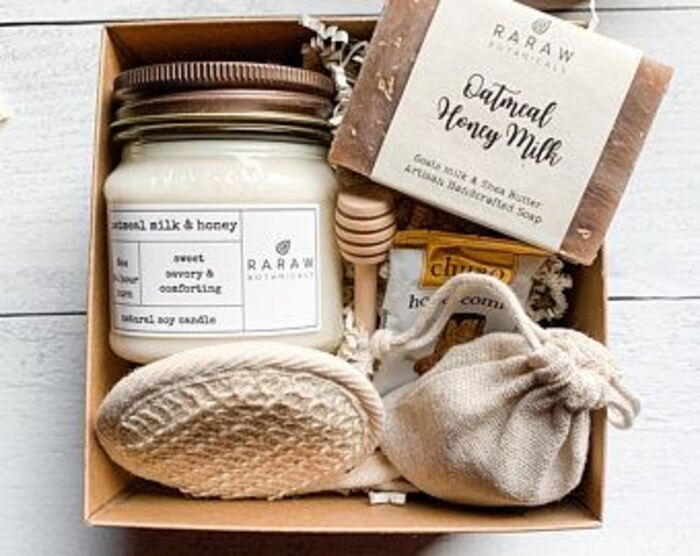 For many couples, the ceremony and reception aren't worth the effort. Most of the time, it's difficult to come up with unique wedding gifts for elderly couples. So why not give them a gift basket they can enjoy together? Soaps, towels, and their favorite candles should be included.
32. Cotton Bathrobes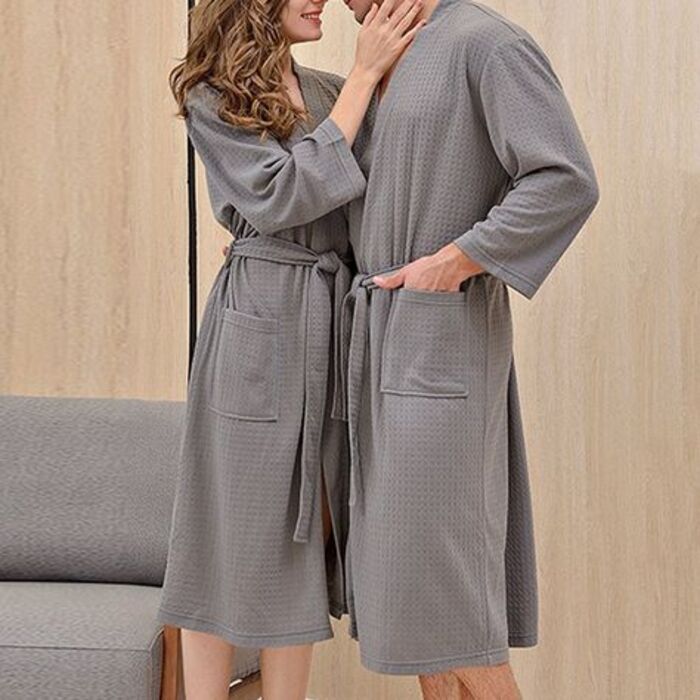 Any considerate present will be treasured for a long time. These luxurious bathrobes are ideal wedding gifts for older couples who love being warmed after cold baths. Even better, personalize the robes with their nicknames for an extra dose of playfulness!
33. Coffee Maker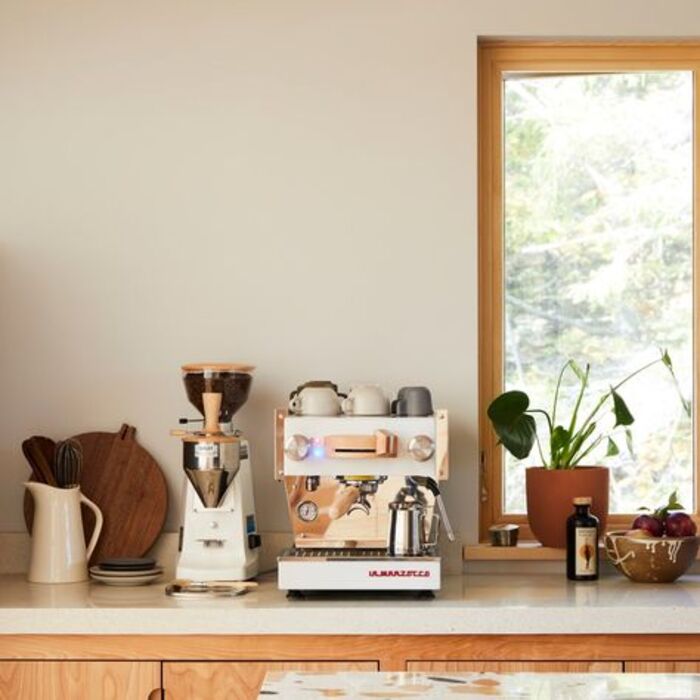 Make their mornings easier with a programmed coffee maker that is simple to use. They can choose the time of day, the strength of the coffee, and other options. It's a great last-minute wedding present for the night owls!
34. Journal For Two
Consider this anniversary diary as a unique wedding gift idea for elderly couples. There are prompts, photo pages, envelopes, and space for noting every memory that they've spent together. It's a great date night activity for a couple. Afterward, they will be able to look back on their sharing time with great fondness for many generations to come.
35. Wine Caddies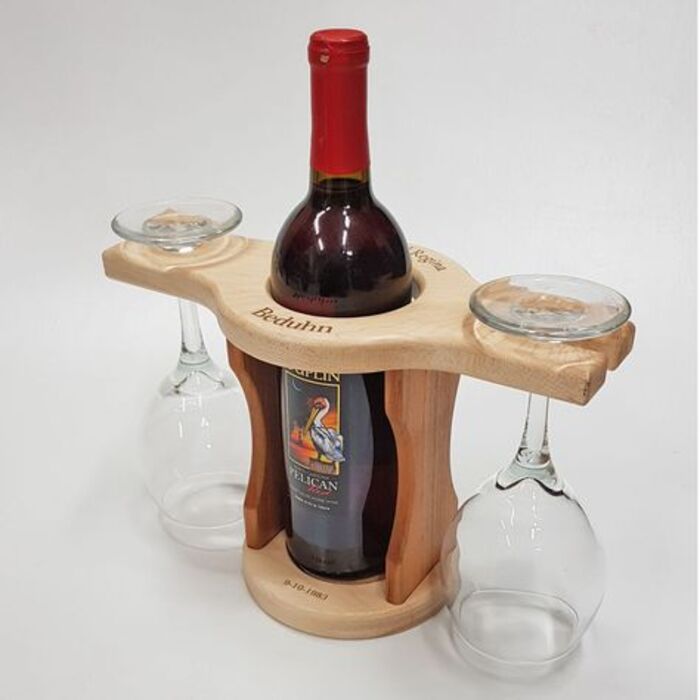 If the newlyweds are a pair who enjoys hosting parties, these elegant wine caddies are ideal for them! Different sizes and designs of glasses are available. Some even have space for charcuterie and nuts. This gift for old-couple marriages can also be customized to your touch. That's priceless!
36. Wellness Subscription Boxes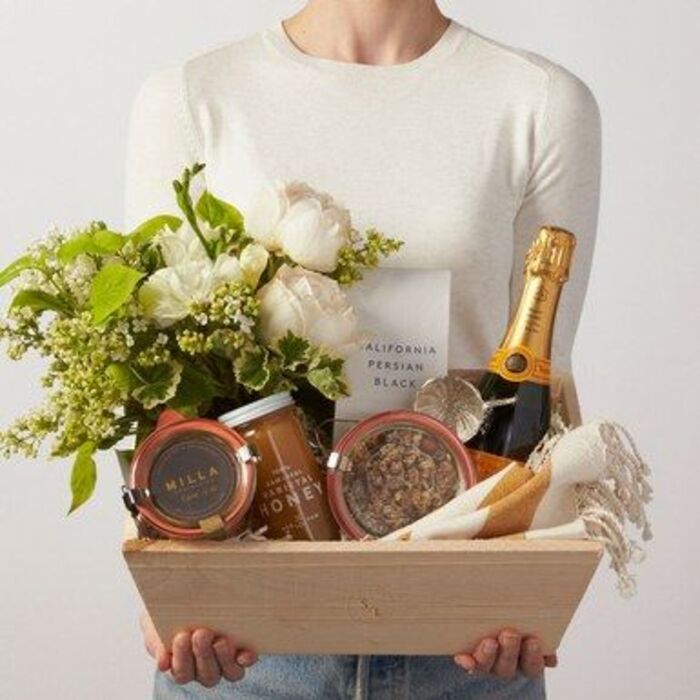 A health and wellness gift for second or third marriages is one of the greatest wedding gift ideas for older couples. Different items like wine, honey, and tea can all be included in the box. Using this option, your favorite couple can taste high-end goods every week or month.
37. BBQ Grill Set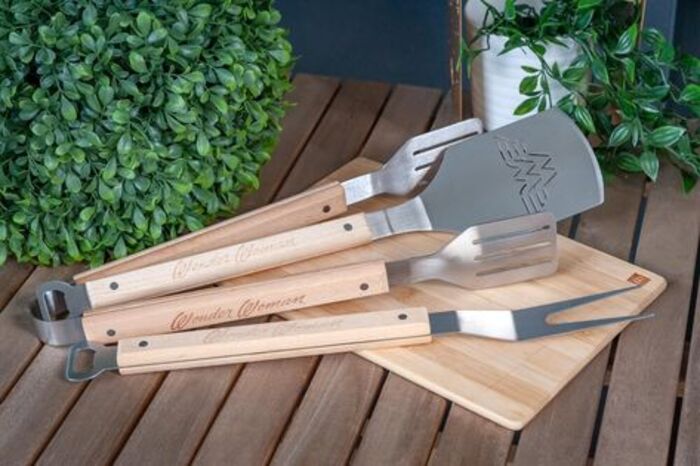 The BBQ toolset is a unique present for a grilling-obsessed husband or wife. They'll be proud to use them when holding an outdoor party with their family. It's a thoughtful option that you shouldn't skip when hunting for practical wedding gifts for older couples.
38. Virtual Classes
If it's too hard to find a physical gift for your parents' wedding, an online class will be a great substitute. Gifts of new skills like cooking, photographing, or writing are sure to be interesting to them.
FAQs about wedding gifts for older couples
1. What do you get an older bride for a bridal shower?
In most cases, the bridal shower gifts for older brides should come from the registry. It's quite OK to give a small, highly customized present to the bride or groom if you are particularly close to them, such as a gift card to their favorite restaurant or a family recipe book you put together.
2. Is it customary to give a gift for a second marriage?
Giving a present to a newlywed couple isn't required according to traditional etiquette, which states that individuals who provided a gift to the couple at their first wedding need not do so again. Those who are close to a remarried couple are often moved to make second marriage wedding gifts for the couples.
3. Is it OK to have a wedding registry for a second marriage?
Having a gift registry for a second wedding is totally okay, according to experts, if you and your partner decide to do so as a pair. It's also a convenient way for the guests to pick appropriate wedding gifts for old-couple marriages that they attend.
4. How much do you give for a 2nd wedding?
Giving the couple money to cover the cost of your wedding supper and drinks (usually $50-$100) is a better option than purchasing a tangible gift. If you want to show your support for the couple's reunion, make sure to pick out distinctive cards as practical wedding gifts for second marriages.
Read more:
Tell your favorite elderly couple how much you love them by preparing the best presents when it comes to their wedding. From personalized items to heartfelt memory keepsakes, they'll be a delight that makes the bride and groom happy and proud. Oh Canvas's archive of unique wedding gifts for older couples is all you need to bring a smile to their face.