No matter how many times you've demonstrated that delivering gifts is your preferred method of expressing your affection, Valentine's day gifts for him will always be difficult. Your number one guy, who brings so much love into your life, deserves everything you've got this Valentine's Day. Oh Canvas understands that you're under pressure to find the best valentines gift for him – something thoughtful, romantic, and completely unpretentious. So this post was born to give you a perfect list of Valentine's day gift ideas for him.
Personalized Valentine's day gifts for him
A wonderful approach to creating a memorable occasion and a one-of-a-kind thing that he will cherish. Just keep in mind that the retailer may require more time to modify your item, so plan ahead of time!
1. Street Signs Canvas Print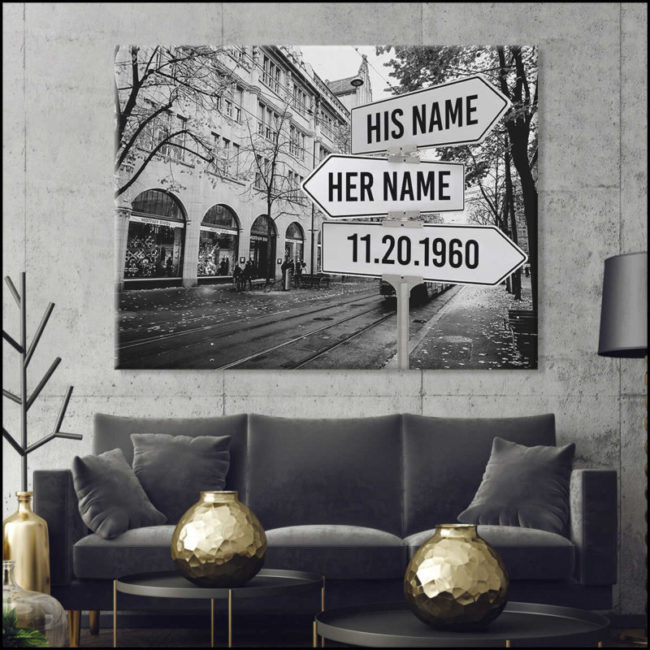 "On the Street" canvas print is the best valentine's day gift for him. The customizable canvas artwork features a chart and a city map of a significant event in your life. It may be the first time you met, the place of your first kiss, or the day you decided to marry.
What we love:
You can share your inspiring story with the world using this wall decor. This street sign canvas artwork is personalized with your name and the special date.
Conveys the message that your routes intersected at the intersection of two hearts when they came together.
2. Custom Valentine's Day Pillow for Boyfriend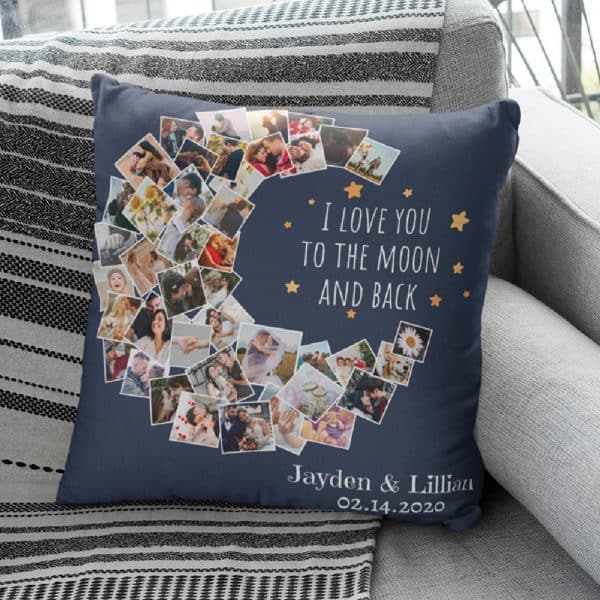 This photo collage pillow is excellent for a wedding anniversary, Valentine's Day, or another special occasion.
This photo collage pillow with the sentiment 'I Love You To The Moon And Back' is a lovely gift that your significant other will adore. The pillow's lovely design also makes it an ideal choice for Valentine's day surprise for him.
What we love:
A quick and simple way to spruce up the decor of your living room, office, sofa, or car.
It can be used as an accent piece on a chair or as part of a collection of pillows on a bed, sofa, or hall bench.
3. Portraits in Wood
This personalized wooden pallet is sweet and rustic and will look fantastic on the wall of his newly renovated man cave. With this valentine's day gift for him, upload your favorite photograph to this Etsy seller and choose a pallet form that complements his home.
What we love:
Photographs printed on solid wood add a touch of rustic elegance to any room.
Your treasured moments will last for years in this wood print.
4. Wallet with Handwriting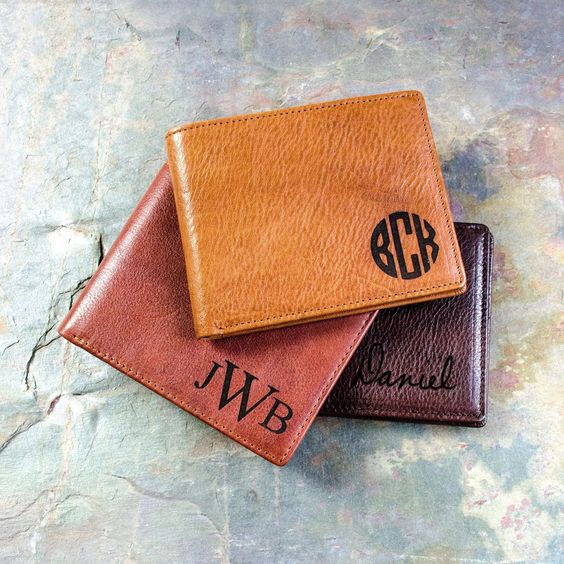 Men adore receiving leather wallets as romantic gifts, for a good reason. They endure the test of time and have a calming, rich, earthy aroma.
This valentine's day gifts for him is a step up from a standard leather wallet. You can personalize it by adding his initials and a handwritten note. What an incredible gift for your sweetheart on Valentine's Day!
What we love:
Can add a touching message to the wallet.
It's a keepsake he'll take with him wherever he goes.
5. Guitar Pick Made of Engraved Wood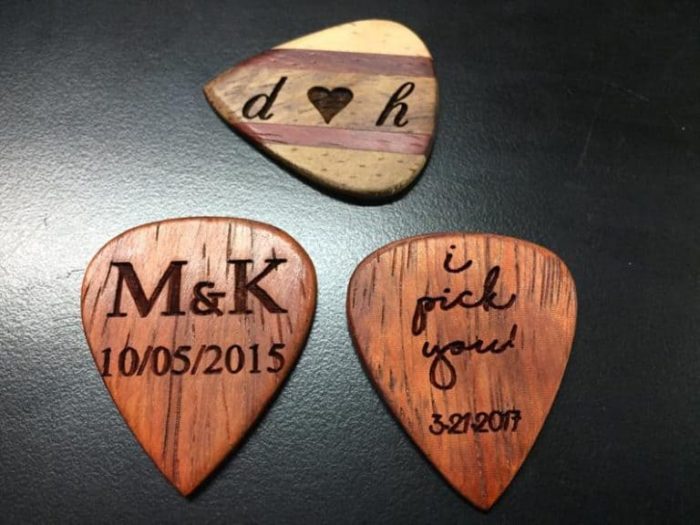 Say hello to your amazing husband's daily performances. If he is a guitarist, he will undoubtedly love this custom guitar pick. Make each song he plays a tribute to you.
What a unique Valentine's day surprise for him! Personalize it with your initials or a little remark. Purchase one guitar pick for him that he will never lose!
What we love:
When they hit the strings, they make a lovely smooth sound.
These picks are made of solid wood, have etching for a firmer grip, and have a thumb groove on both sides.
Can engrave these picks with names, dates, or messages.
6. Personalized Photo Canvas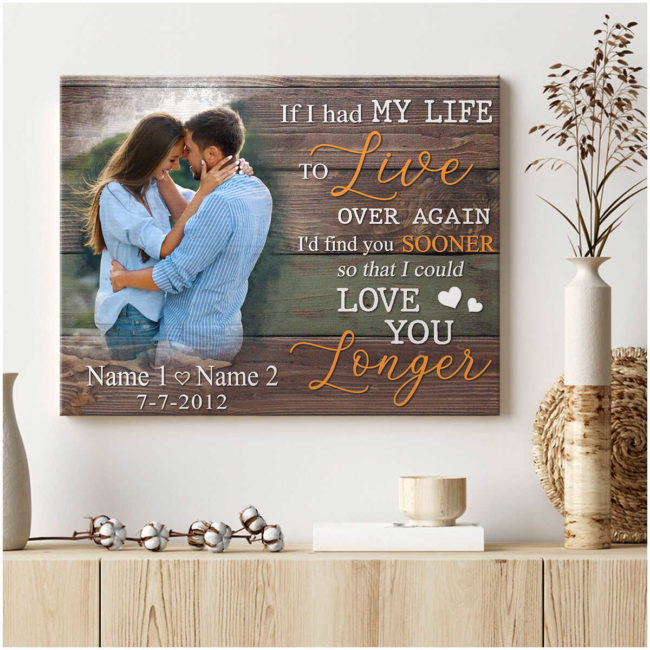 With this unique photo canvas, relive your favorite memory with your hubby. He will treasure the photograph, even more so because of the lovely quote that accompanies it! Finally, you'll have the best Valentine gift for boyfriend or your husband.
What we love:
If you've found your destiny, you wish you have more time with him. Give your partner this nostalgic gift if you feel that way.
Can make this gift unique by adding a favorite photo, name, date, and note.
7. Desktop Valentine's Day Plaque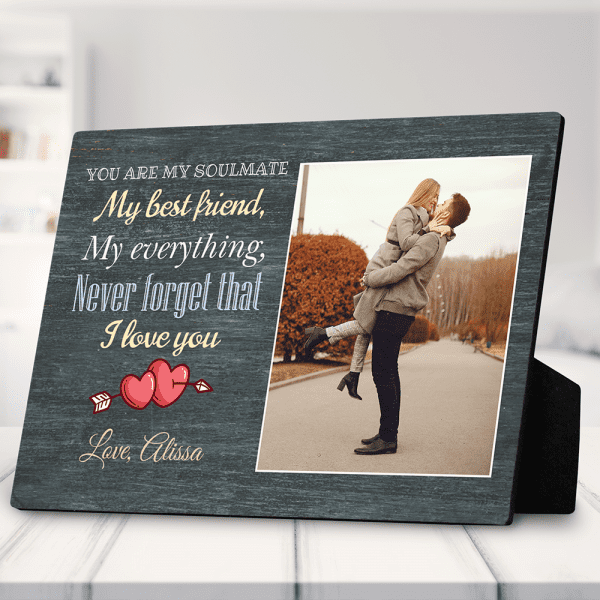 You Are My Divine Companion A Photo Desktop Plaque will brighten your workstation. It's one of the excellent valentine's day gifts for him for a range of occasions focused on love.
This is a perfect present they will cherish regardless of the occasion: Valentine's Day, their anniversary, or their birthday.
8. Stunning Social Media Desktop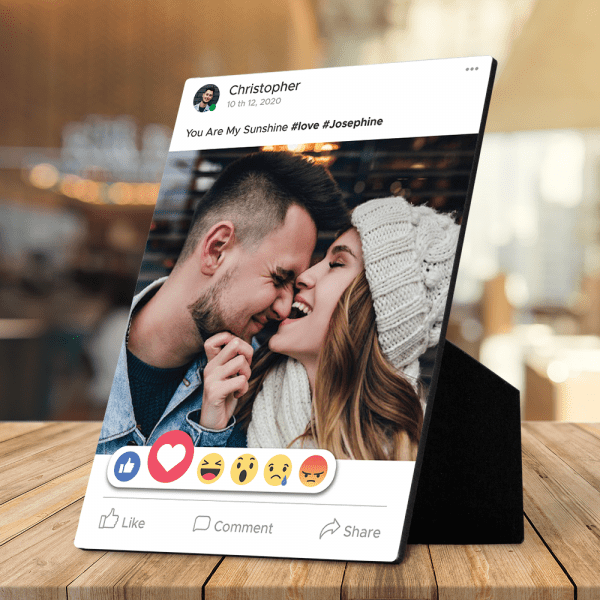 The plaque is styled after a social media post and features a photo of you and your companion. Additionally, it features a similar button pop-up bar, which adds aesthetic interest to the plaque.
The Social Media Style Frame Desktop Plaque is ideal for any blogger or social media enthusiast. This is one of the best valentine's day presents for him on our list.
9. Customized Money Clip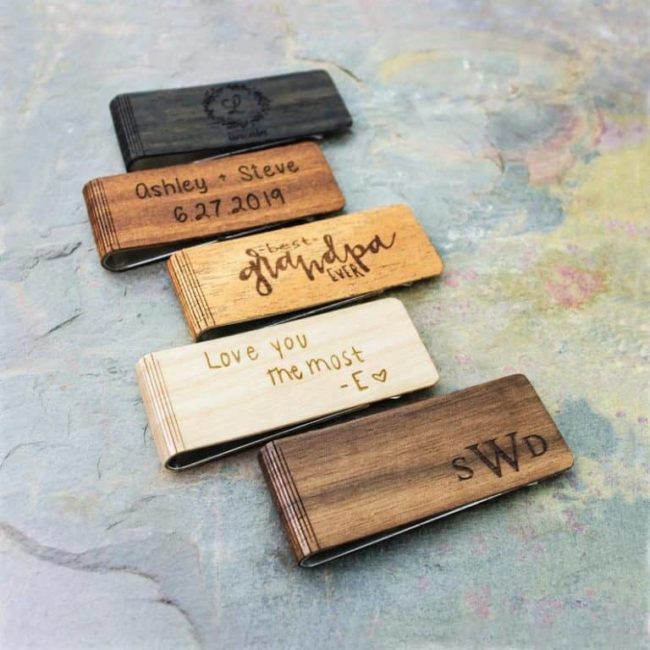 Enhance his look with a spectacular money clip that is expertly crafted and personalized with a thoughtful remark. You can even personalize a note by engraving it in your own handwriting!
He'll adore the craftsmanship and functionality. Keeping your boyfriend's cash and cards properly organized is the ideal Valentine's day surprise for him. How amazing is that?
10. Keychain with Photograph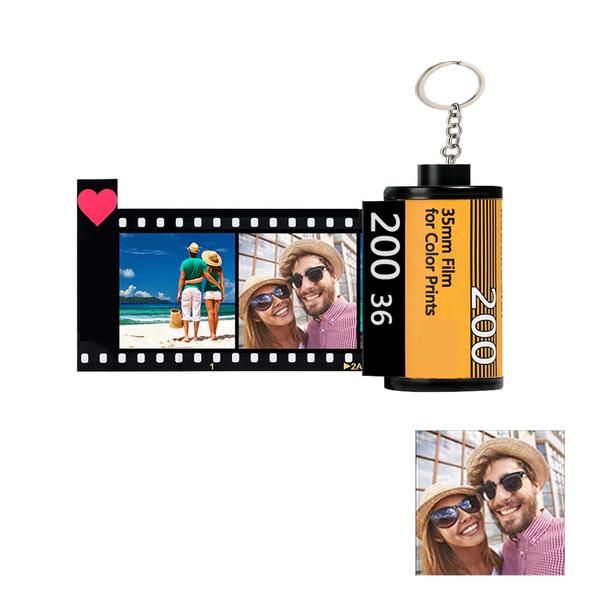 "What should I get my love for Valentine's Day?" you may be wondering. That is until you see this adorable keychain! Nothing beats a personalized item with a photo of you and your partner.
Additionally, if the photograph is from a particular occasion, all the better! Make this one of the first valentine's day gifts for him, and you'll have him hooked!
11. Glass with a City Map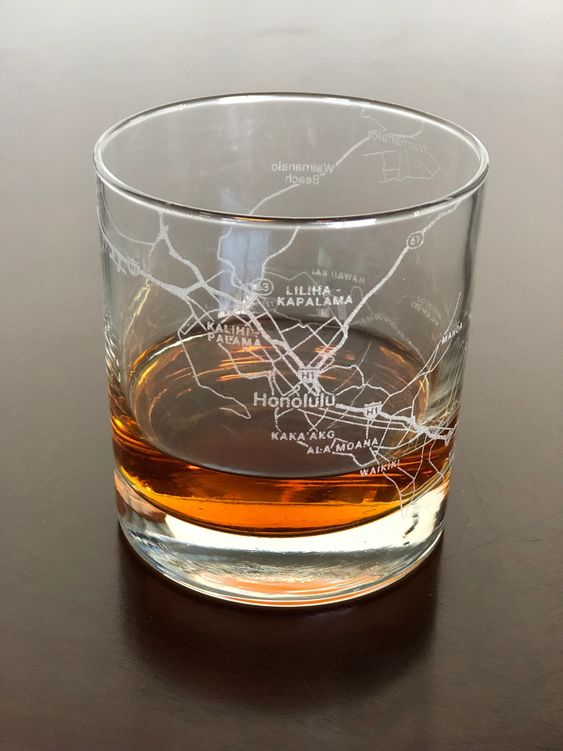 Regardless of how far away he is from his hometown, this present will inspire him to raise a glass to the city that shaped him into the man he is today. Choose a glass etched with a city from one of 32 in the United States and match it with his favorite whiskey.
12. Folded Catchall Tray with Personalization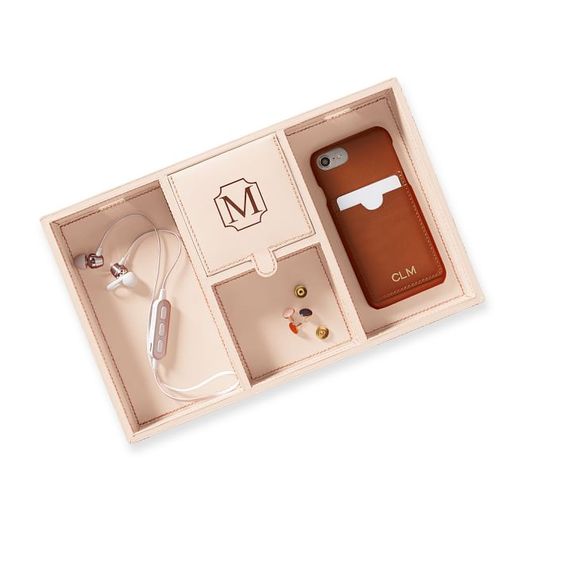 This full-grain leather tray may be used for almost anything, whether he's searching for a place to store his sunglasses or a specific space for his keys… so he stops missing them on a weekly basis.
Choose from seven leather hues ranging from black to red maple and personalize it with his first name or initials using the embossing technique. Now you can get the best valentine's day present for him that he will fall in love with.
13. Canvas with Initials Personalized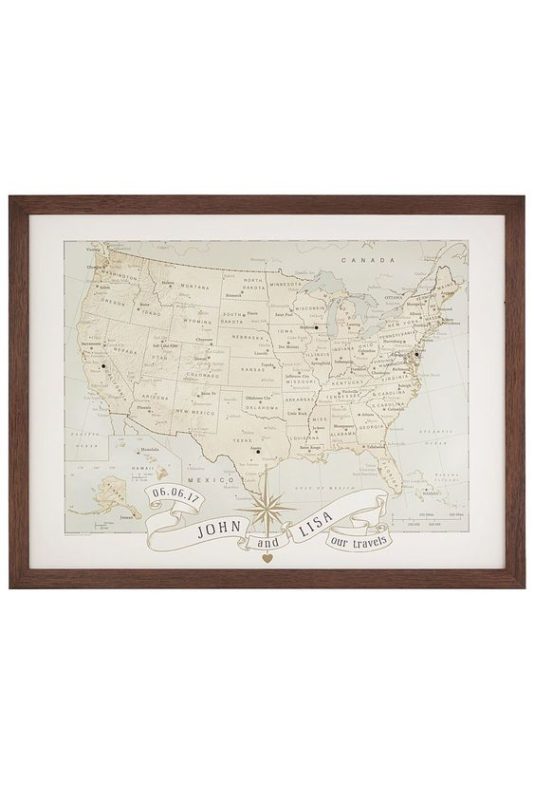 After you've completed your honeymoon, it's time to begin planning your next adventure. Utilize this map as a starting point and then add up to 100 new destinations to show him where your love has brought him.
14. Valentine's Day's Best Song Lyrics Canvas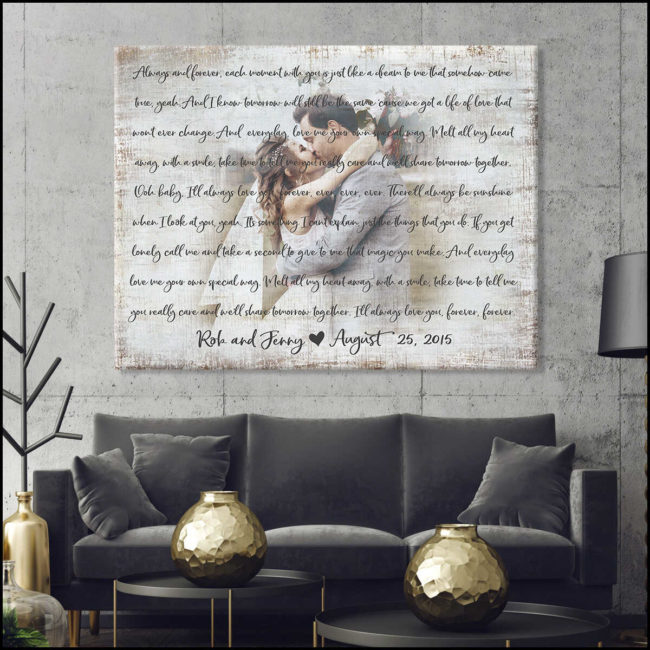 A lovely canvas artwork featuring song lyrics certain to make your spouse tear! The customized gift is the best Valentines gift for him.
Moreover, it is suitable for any occasion, including wedding anniversaries, special dates, and birthdays. Each time they see it on the wall, they will be reminded of your beautiful gesture.
>>> Read more: 31 Best Romantic Valentine Couple Gifts & Ideas in 2022
Experience Valentines Gift For Him
Whether it's tickets to a concert, a movie, a sporting event, a spa, or a vacation, both of you will remember the gift of a special experience for the rest of your lives. You can also consider giving him a few items that he can utilize in future adventures.
15. Keep a Record of Your Ticket Stubs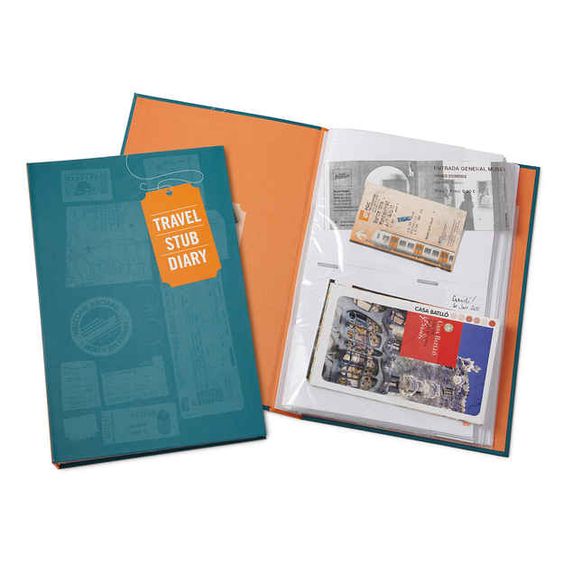 It's time to search through your shoebox for those ticket stubs and organize them into a proper little journal. This way, you and your trip companions can relive your shared vacation adventures and concert experiences.
Preserve your memories and pass them on to your children for future generations to enjoy. This is the ideal valentine's day gifts for him!
16. Customized Weekender Bag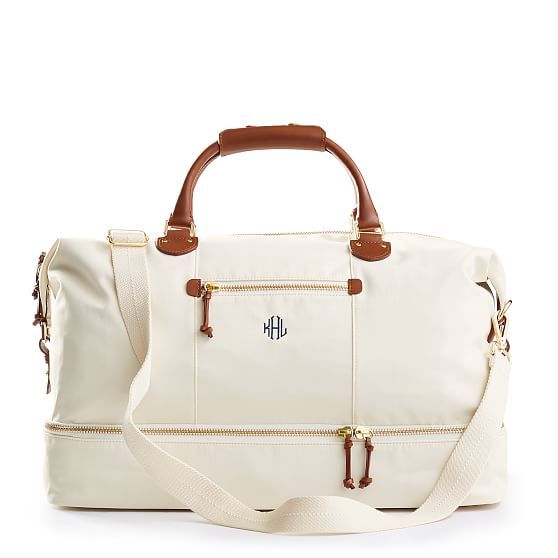 Your spouse will adore this monogram duffel bag whether he's heading to the gym or planning a weekend getaway. Its expanding sides let it accommodate a wide variety of objects.
For added convenience, this fashionable item features side pockets. Get him a useful and practical Valentine's day surprise for him. There will be no bag mix-ups in the future. Wherever he goes, he'll always be able to locate his bags.
17. Leather Dopp Kit Bag with Customization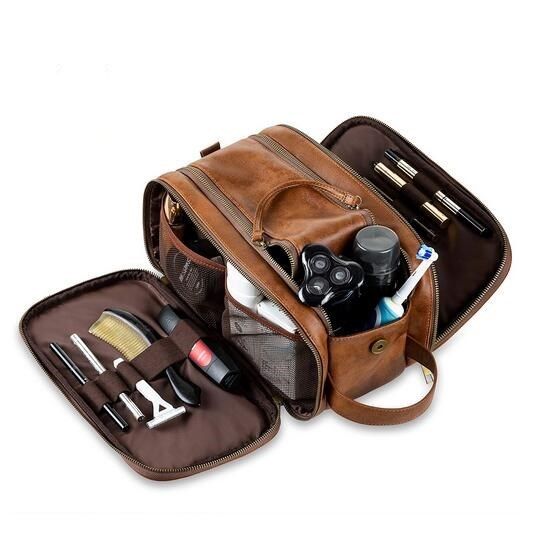 Present your man with an eagerly anticipated Dopp kit. It will serve as the ideal justification for immediately booking a romantic vacation. His initials are imprinted on the leather of this toiletry bag.
With these wonderful valentine's day gifts for him, business travels will never be the same again. His grooming materials and tools deserve a good home, and there is no better place for them than this purse!
18. Docking Station with a Personalized Design
You'll be ecstatic to have a tastefully engraved catch-all for your husband's trinkets. This docking station belongs next to his bed or on a console in the corridor near the front door.
Put an end to his frantic search for his spectacles or watch! It is a wonderful Valentine gift for the husband that allows him to store his daily essentials neatly and conveniently.
19. Wooden Charger Personalized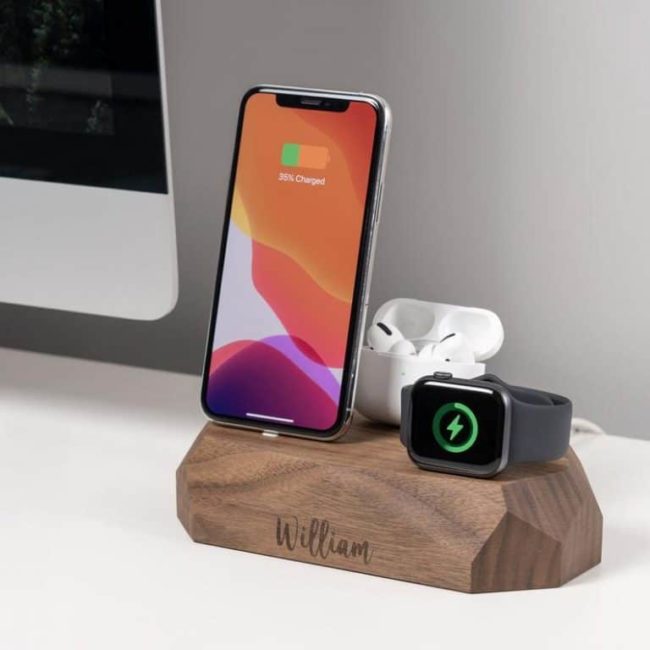 This triple charger is minimalist in form, utilitarian, and technologically advanced. Simply dock and charge your man's devices on a wonderfully carved handcrafted station neatly and concurrently.
It is compatible with the majority of Apple devices and has two lightning cords and an adjustable back. This tech-savvy Valentine's day surprise for him will knock it out of the park!
20. Franklin Barbecue: The Manifesto of Meat Smoking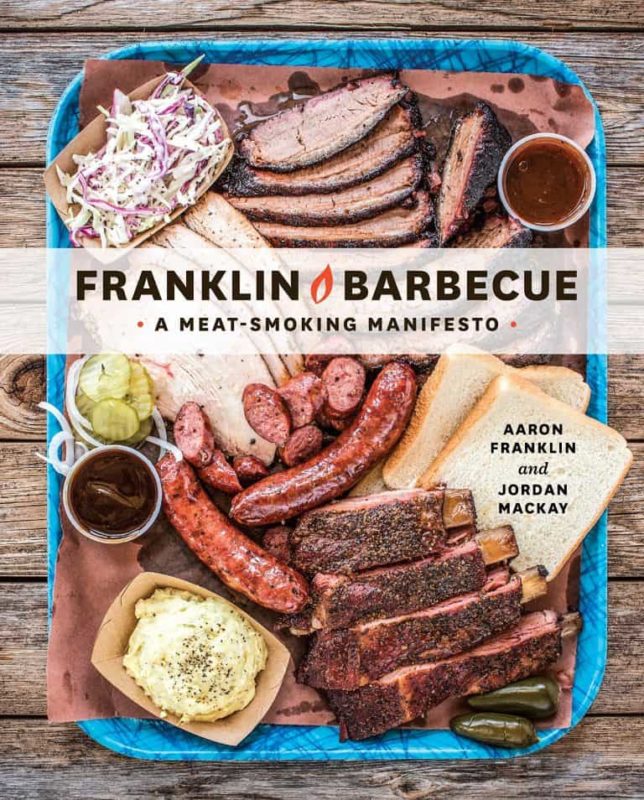 The man who appreciates cooking would appreciate reading this credo for meat smoking. He'll pick up grilling techniques and recipes that will consistently dazzle his guests.
This gourmet food valentine's day gifts for him will pave the way for several delectable meals to come. It is time to take a lesson from the experts. This cookbook covers everything from how to construct his own smoker to how to select the best wood.
21. Travel Pillow Twist Memory Foam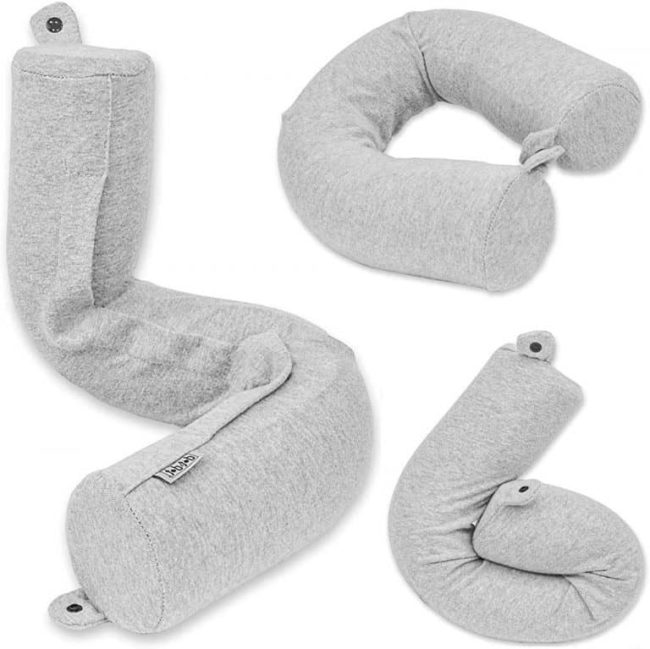 With a travel pillow that actually knows what it's doing, long-distance journeys will become more enjoyable. Twist and bend it to fit your stance perfectly.
Take it with you wherever you go to ensure a pleasant night's sleep, even on a 12-hour journey. If you're stumped for the best valentine's day presents for him, take a break!
22. Beer Subscription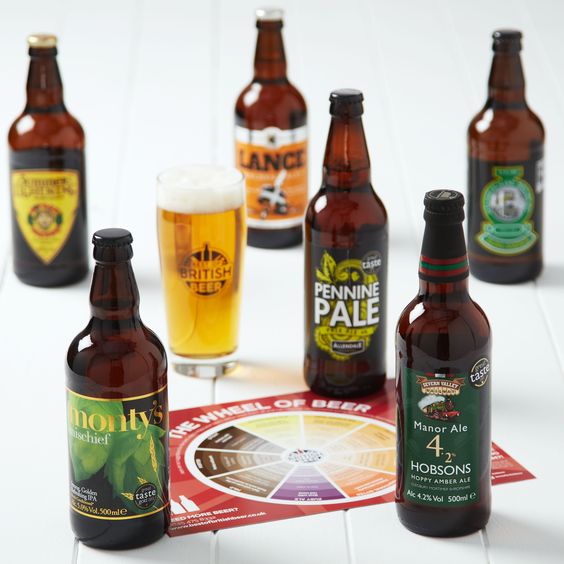 Subscribing to a monthly, bimonthly, or quarterly craft beer subscription takes the guesswork out of valentine's day gifts for him.
And if he's the sort to enjoy a cool one or two with his buddies, go for the 24-beer choice. This is one of the great Valentine's day gift ideas for him that we have on our list.
23. Coffee Subscription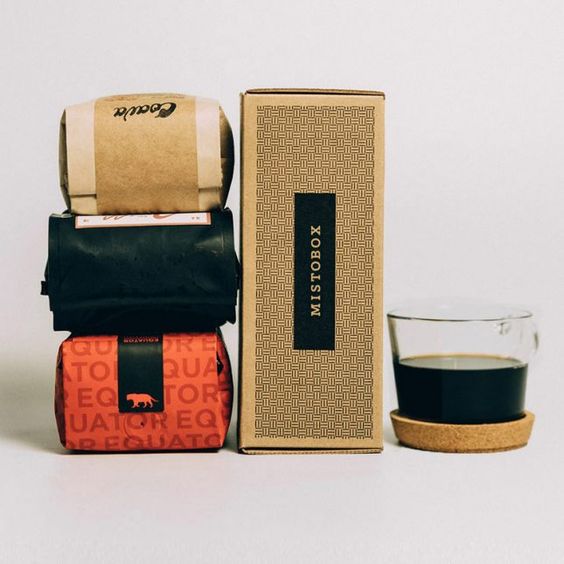 Enroll him in a Mistobox subscription to ensure he begins each day with a cup of coffee of the highest quality.
Each month, they'll ship him a 12 oz. bag from one of more than 60 roasters, all of which are customized to his machine and flavor preferences. With these lovely valentine's day gifts for him, he will be more alert and active in the mornings.
24. A Box-Size Escape Room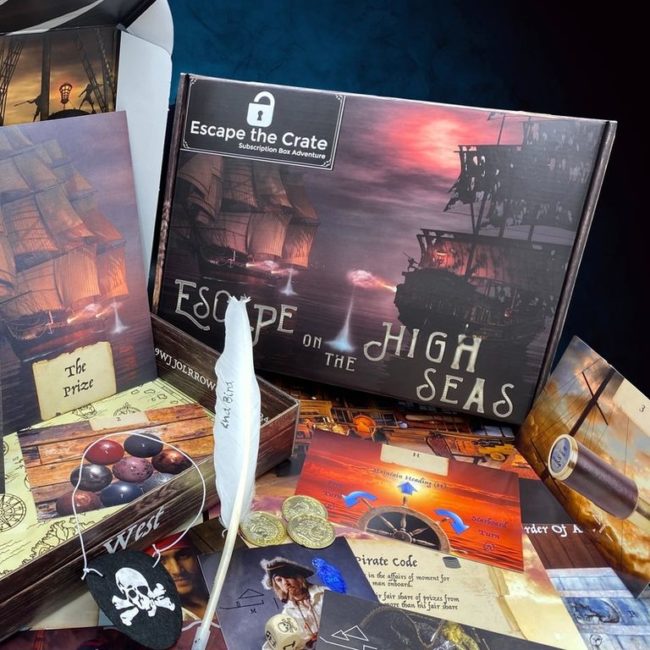 Put on your detective hats and sift through the riddles, clues, and games until you discover the solution to the mystery. Purchase a single box or enroll him in a bimonthly subscription to ensure future date nights are taken care of.
25. Keep a Record of Your Ticket Stubs
Collect all the concert tickets, movie stubs, and plane tickets you've accumulated throughout the course of your relationship and place them in this souvenir book.
For extra points, add an IOU on the inner flap, stating that you're going to take him to see his favorite band the next time they visit the town. This is the perfect valentine's day gift for him.
26. Scratch Poster for 100 Films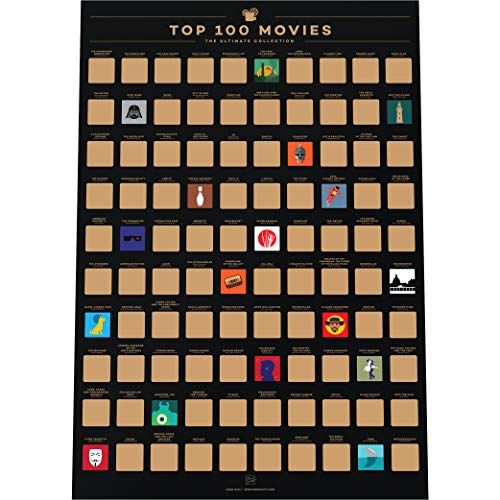 You've probably heard him say he hates the idea of a Valentine's day surprise for him. And sometimes, he's stumped for a date night idea, he may scratch a box on this poster to reveal the film the two of you should see together.
While you may be familiar with some of the classics included on this poster (Jaws and Star Wars, for example), you're certain to uncover a new favorite.
27. Instax Mini 90 Neo Classic Camera from Fujifilm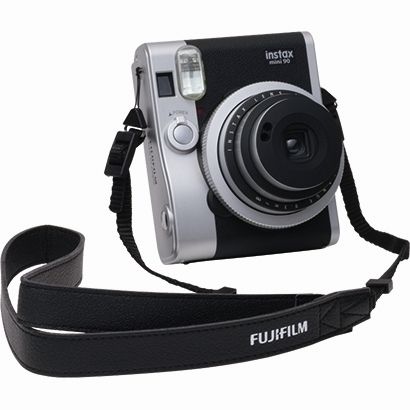 Throughout the year, keep track of all your enjoyable memories with this retro-style Instax camera. In the course of your relationship, he can utilize the valentine's day gifts for him to capture all of the unforgettable experiences that the two of you have shared.
28. Drink Cooler Foosball Table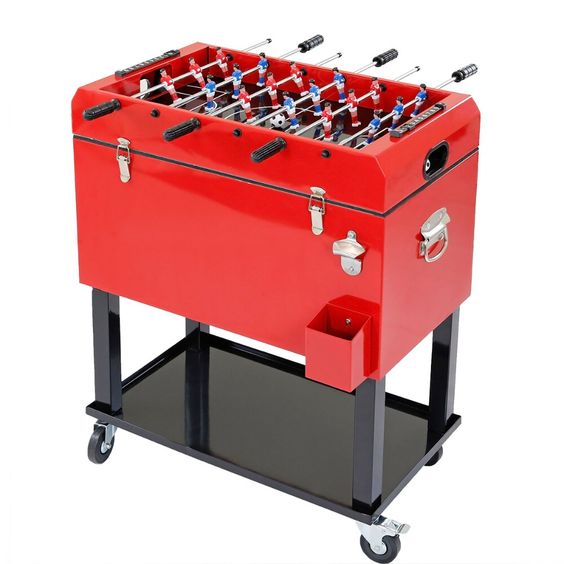 This beverage cooler shaped like a foosball table is like a mobile party! It holds up to 60 cans and includes a built-in bottle opener, which means he won't have to leave the game to make a beer run.
When he and his pals attend one of your exclusive parties, they will have a wonderful time. What is the best valentine's day present for him, right?
29. Travel Pillow with Scrumptiousness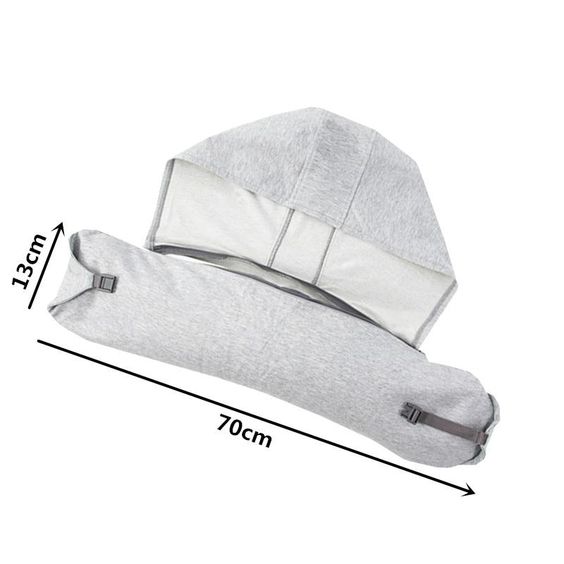 If you are looking for Valentine's day gift ideas for him, do not miss this. They can unwind on this cooling gel memory foam pillow if they are a frequent traveler. Not only is it hypoallergenic, but it is also quite ergonomic! They are easily able to complete work while on their travel.
30. Indoor Golf Putting Green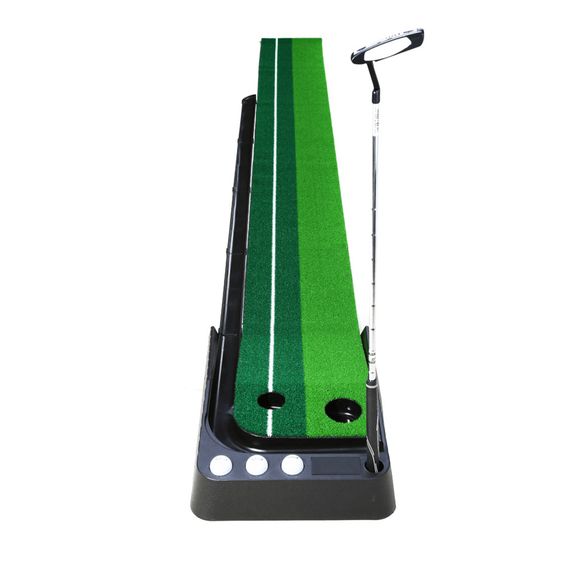 Provide him with a game of indoor golf putting green to practice his putting abilities during the winter months. A Valentines gift for him couldn't be more appropriate for husbands on this particular day.
This sport not only improves his strength and endurance but also serves as a terrific source of relaxation for him.
31. Foosball table-top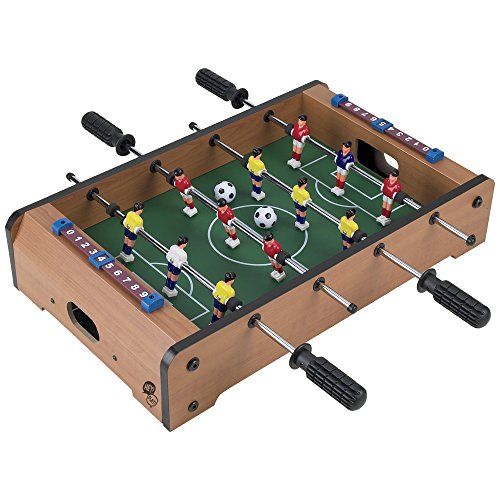 Who needs a colossal foosball table when this compact, portable version can be used anywhere? Make his games more exciting and appealing to the player with the best Valentine gift for boyfriend.
Romantic Valentine's Day Gifts For Him in 2022
Give him a coupon book with ideas for things you could do with him (wink wink). Or thoughtful gifts that may lead him to cry since your genuineness and love for him move him.
32. "Mr. and Mrs. Always Correct" Couple Mugs Customizable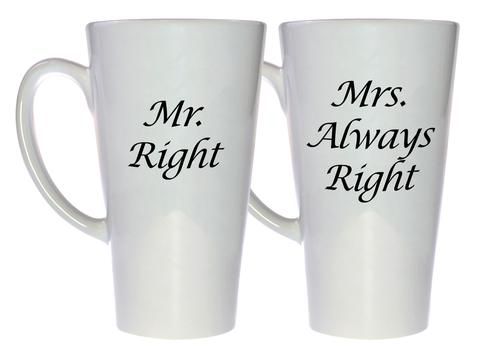 Make St. Valentine's Day a daily celebration. Nothing beats a daily reminder that you are in control of the relationship. Add a dash of levity to your favorite beverage.
This collection of humorous coffee mugs is the best valentine's day gifts for him and you! Customize them with your favorite colors and even your names!
33. Cufflinks with Customized Love Letters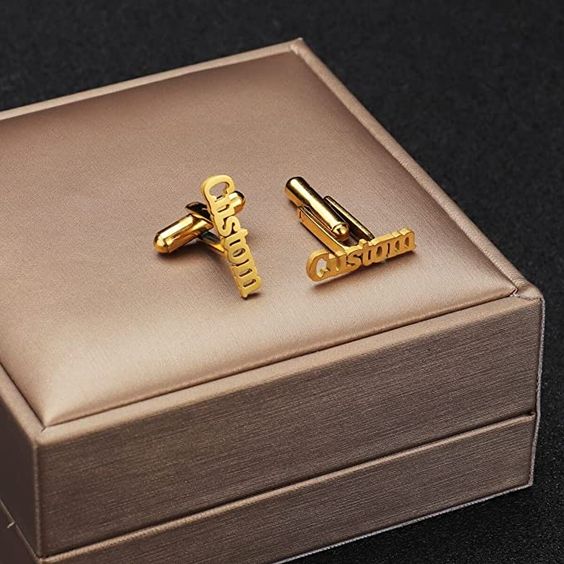 What better way for your husband to show his heart than with custom cufflinks? They're fashioned as little functional envelopes and include a letter written just for him.
Remind him what a fortunate man he is! These cufflinks are ideal Valentine's day surprise for him who are well-adjusted in life.
34. What I Admire About You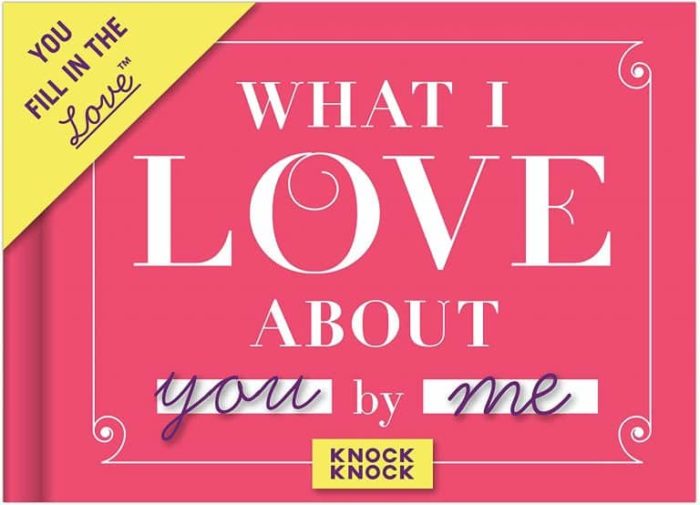 You are not required to be Shakespeare to create a love story. Expressing yourself has never been easier than with this fill-in book! As far as the best valentine's day gifts for him to go, this one is a no-brainer.
Create an emotional roller coaster for him by including tales and humorous descriptions of him. This will be one book he will not be able to put down!
35. Rub for Muscles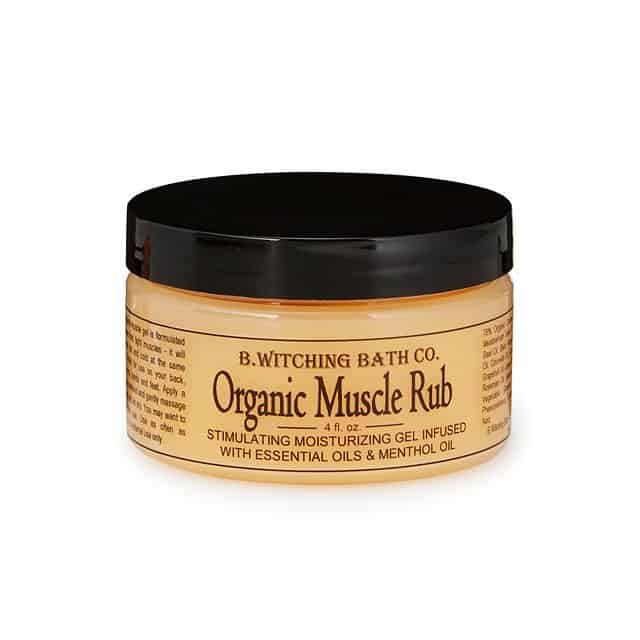 Is your husband a reasonably active person who frequently complains about physical aches and pains? This relaxing touch will alleviate his discomfort.
As a bonus, include a short massage performed by you! As far as thoughtful Valentines gift for him go, you can't go wrong with this one.
36. Active Jacket by Carhartt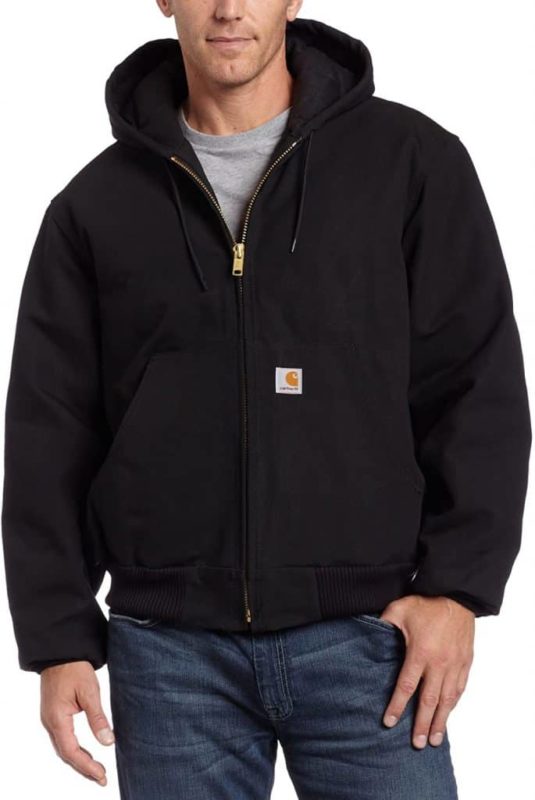 Provide him comfort and warmth, even when he is out enjoying nature. Your significant other requires nothing more than durable clothing that is made to last.
This hooded piece protects him from the weather while spending time outdoors. It features sufficient pockets for storing his items and keeping his hands warm. This jacket is the ideal Valentine's day gift surprise for him who has everything.
37. Subscription to Jerky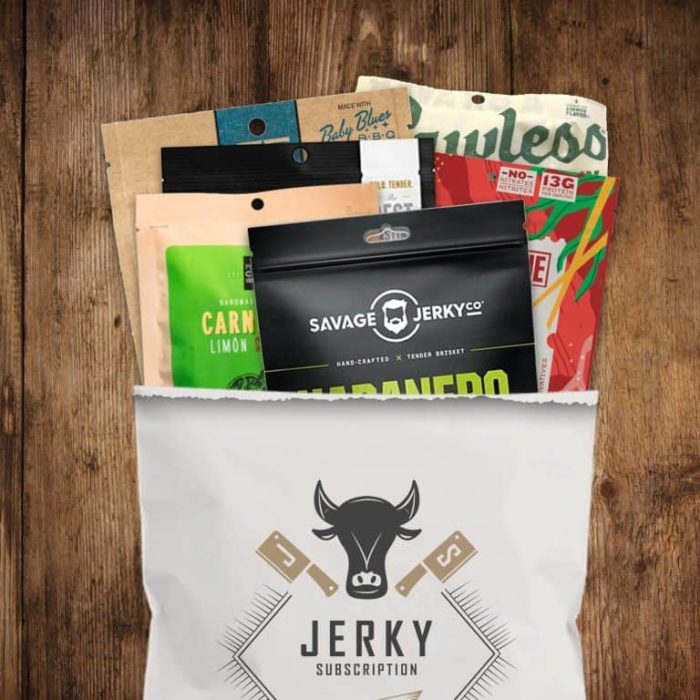 This great gift combines the best of subscription boxes with the foods that men enjoy. Assist him in discovering uniquely prepared jerky with robust and exciting flavors.
Each month, a fresh surprise awaits him at his door that will tickle his taste buds like never before. Are you currently involved in a long-distance relationship? You can order valentine's day gifts for him to be mailed to him. It's an excellent approach to keep the flame of love alive!
38. Kit for Beard Grooming and Trimming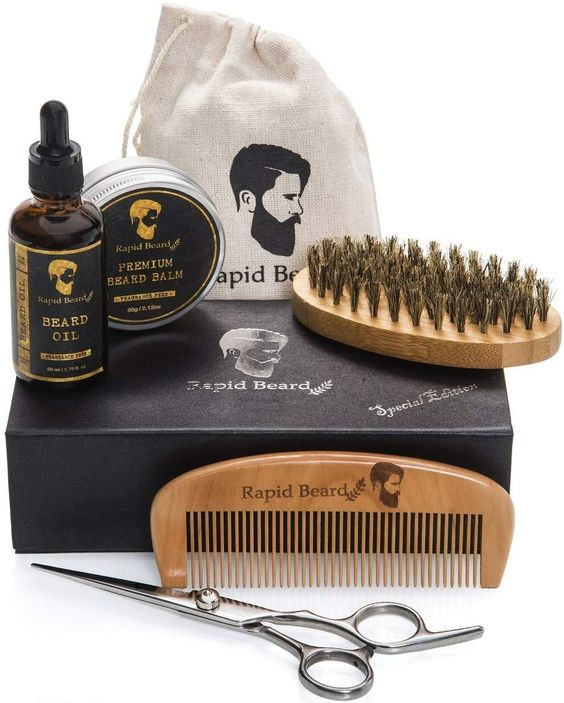 Maintain your boyfriend's sexiness and grooming with a package curated by men for men. A well-groomed and nurtured beard will let your man channel his inner lumberjack.
This beard care package has everything he needs to style, shape, and grow a full beard or goatee. It's a luxurious set that makes the ideal valentine's day gift for him!
39. Scented Candle Inspired by Cocktails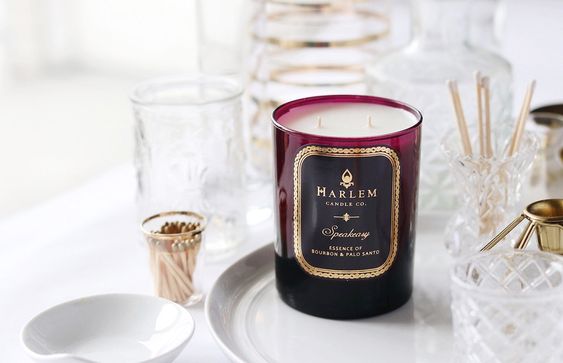 Cocktails and candles are a match made in heaven. Consuming a favorite beverage alongside a candle inspired by the same is a surefire way to have fun.
That is not all. When the candle goes completely out, you'll receive an additional present! The container will transform into a personalized whiskey tumbler. What amazing Valentine's day gift ideas for him who appreciates a good hard drink to unwind!
40. Back and Neck Shiatsu Massager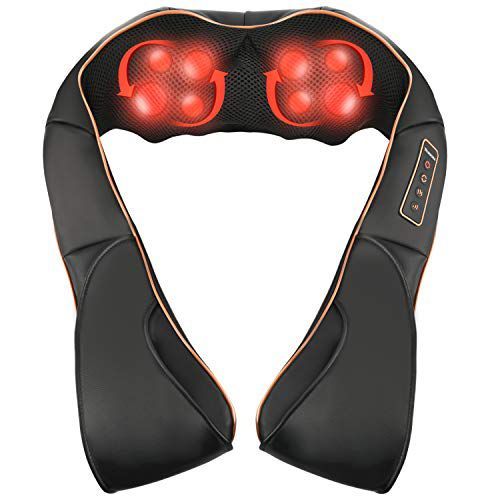 With a shiatsu massager, alleviate the ache he's been complaining about. He'll feel as if he's a new man after his tense muscles and knots vanish miraculously.
It's lightweight and portable, operates on several body areas, and replicates various massage treatments. This item is easily rated as one of the most thoughtful valentine's day gifts for him. He can now say goodbye to his aches!
41. Electric Groomer and Trimmer for the Body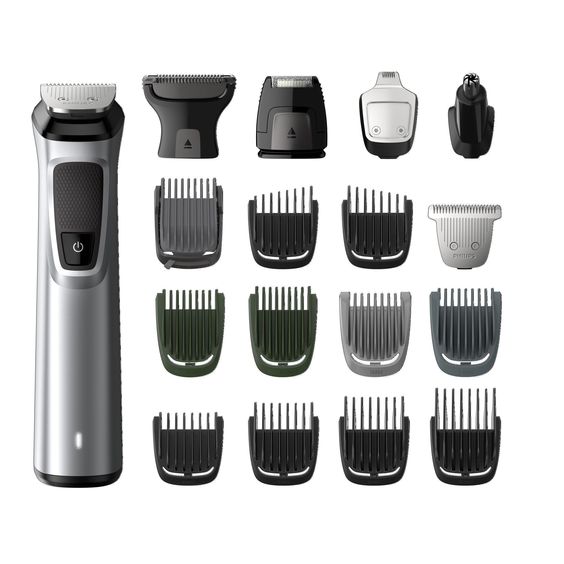 How ferocious is your mate? Is his body hair in desperate need of grooming? Utilize the best valentine's day gift for him to send a subtle message with this Panasonic trimmer.
It's machine washable, easy to maneuver, works well wet or dry, and makes excellent Valentine's day gift ideas for him. Its design facilitates access to difficult-to-reach regions. Best of all, he can take it on his travels because it is rechargeable.
42. Bracelets for Long-Distance Touch
If you're looking for valentine's day gifts for him who is far away from you, look no further. This remarkable device allows your spouse to sense your touch even when he is physically separated from you.
With this unique Valentine's present for men, missing each other becomes slightly more tolerable. It illuminates and vibrates whenever you think of him. Gotta love how technology connects us!
43. Engraved Decanter Set Yours, Mine, and Ours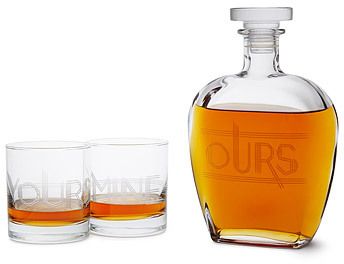 Whiskey tastes better when it is served in a decanter. Drink it in elegantly etched glasses that read 'Yours' and 'Mine.' This set boosts your style and looks great on your tabletop or bar.
It's an excellent Valentine's Day gift for your partner. It's ideal for date nights at home following a delectable home-cooked meal! Sharing a beverage with your lover elevates romance to new heights!
44. Cross-Training Shoe Circuit II
All athletes are invited! These sneakers are ideal for any guy who dabbles in cross-training or other forms of exercise. They are ideal for aerobics, weight lifting, and so many more due to their interchangeable soles. Not to mention that they are fashionable enough to wear out and about town!
45. Gift Set with Tie, Pocket Square, and Socks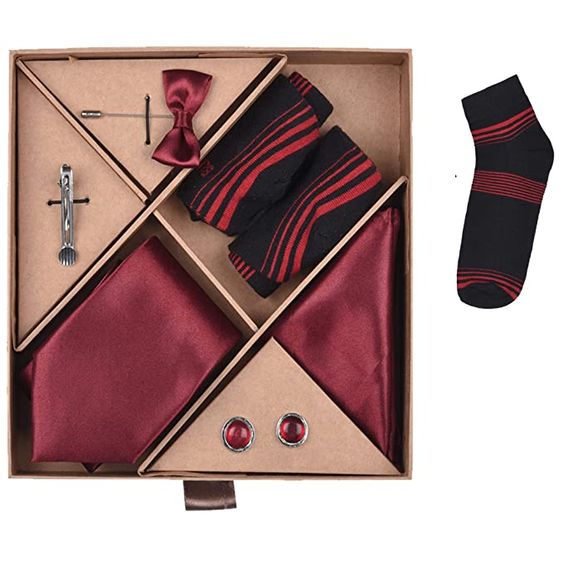 Everything he needs to dress impeccably for Valentine's Day supper. With these gifts, he will look great and elegant at all formal occasions.
There will be business trips, meetings, birthday celebrations, and, of course, a romantic Valentine's Eve evening. Now, grab a valentine's day gift for him right now and assist your boyfriend to seem better.
46. Suitcase Record Player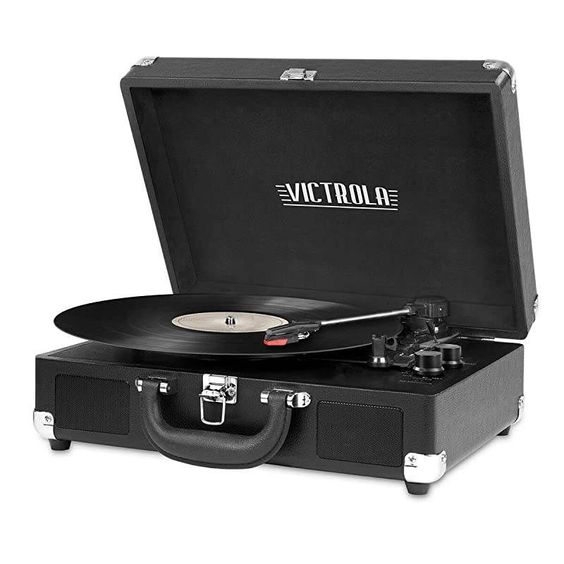 If he's always expressed an interest in vinyl collecting, introduce him  to a sleek record player, such as this vintage-inspired suitcase-type selection. Additionally, it is available in a variety of hues.
Savings Valentine's Day Gifts For Him
If you're watching your wallet, a romantic night out with cooked dinners or delectable snacks could be in order. It can also be a funny, modest but elegant gift.
47. Valentine's Day Gift Basket for Him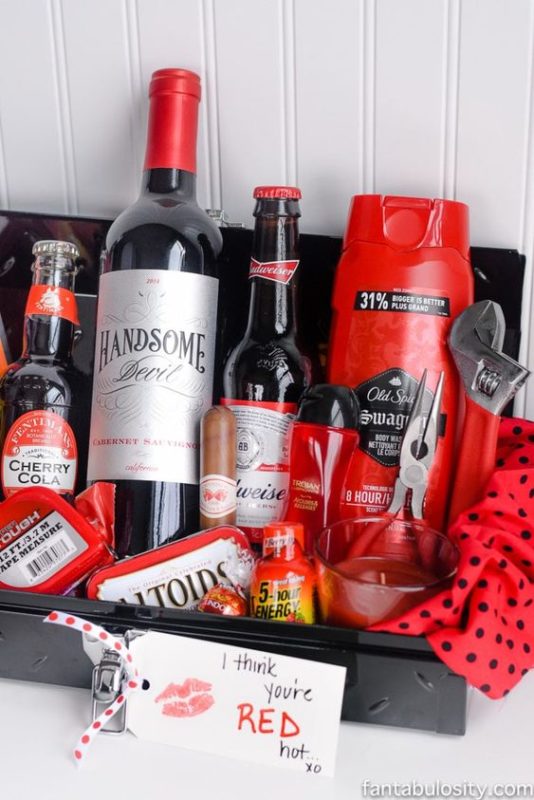 Prepare the best valentine's day gifts for him. Maybe a basket filled with his favorite gifts. No man will be disappointed when he receives a customized basket stocked with his favorite goods. He'll be pleasantly delighted by everything from snacks to spirits to healthier cuisine.
48. Chocolate Box for Valentine's Day for Him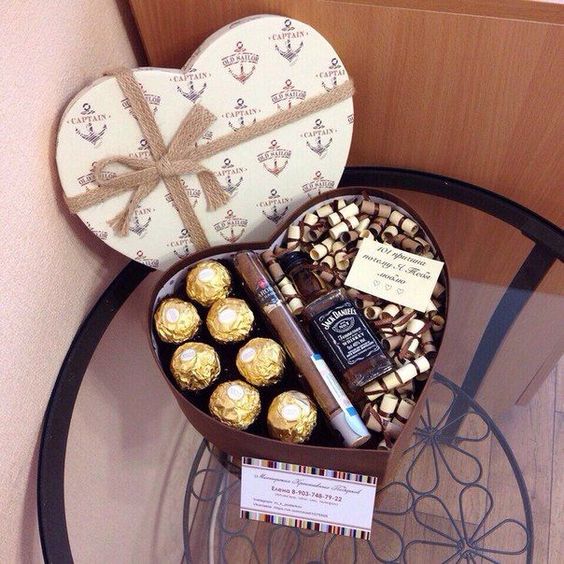 Is he a sweet tooth who loves to experiment with new foods? Purchase these delectable candies to ensure a lovely Valentine's day gift surprise for him and to elevate his snacking game to new heights!
49. Bands de surveillance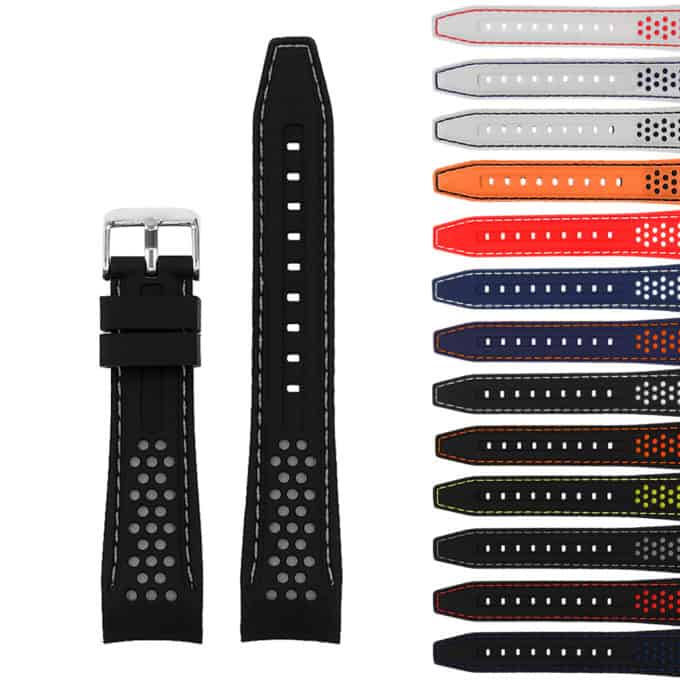 Is he a watch aficionado? Or does he have a favorite watch that he wears constantly? Refresh the appearance of the item with these stylish watch bands. He'll undoubtedly appreciate this valentine's day gift for him!
50. How Do I Love Thee From A to Z?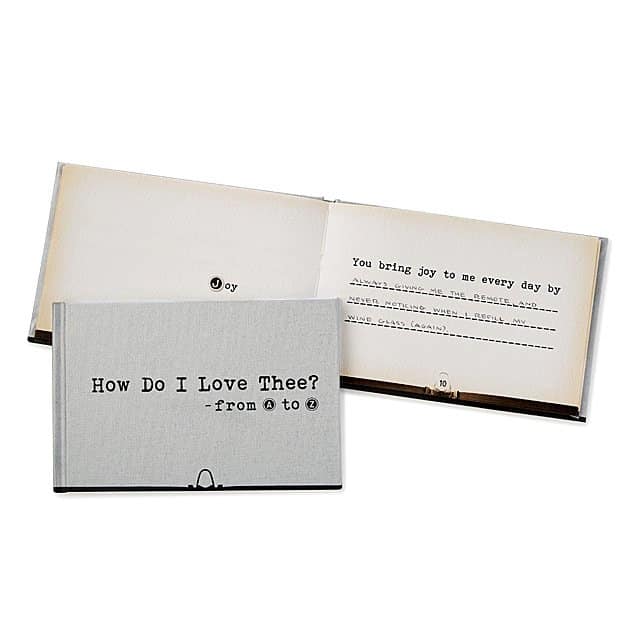 Make the most of your writing abilities and create a book filled with reasons why you adore your man. Utilize the 26 creative writing prompts and compose your thoughts for the ultimate love letter.
Make sure to incorporate inside jokes and revel in his eccentricities. This is one of the sweet valentine's day gifts for him and a keepsake he will cherish for the rest of his life.
51. Awkward Heart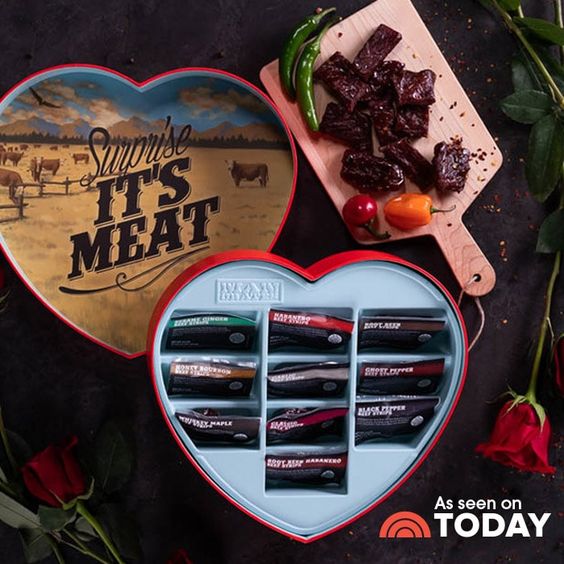 You've probably heard him express how much he despises Valentine's Day. He will, however, soon have to eat his words. Consider his astonishment when he opens the mushy heart-shaped box you've given him.
He will no longer turn down romance if it entails thoughtfully prepared and elegantly packaged jerky. Meat is one of the ideal valentine's day gifts for him!
52. To Go Barbecue Rubs: Gift Set with Grill Edition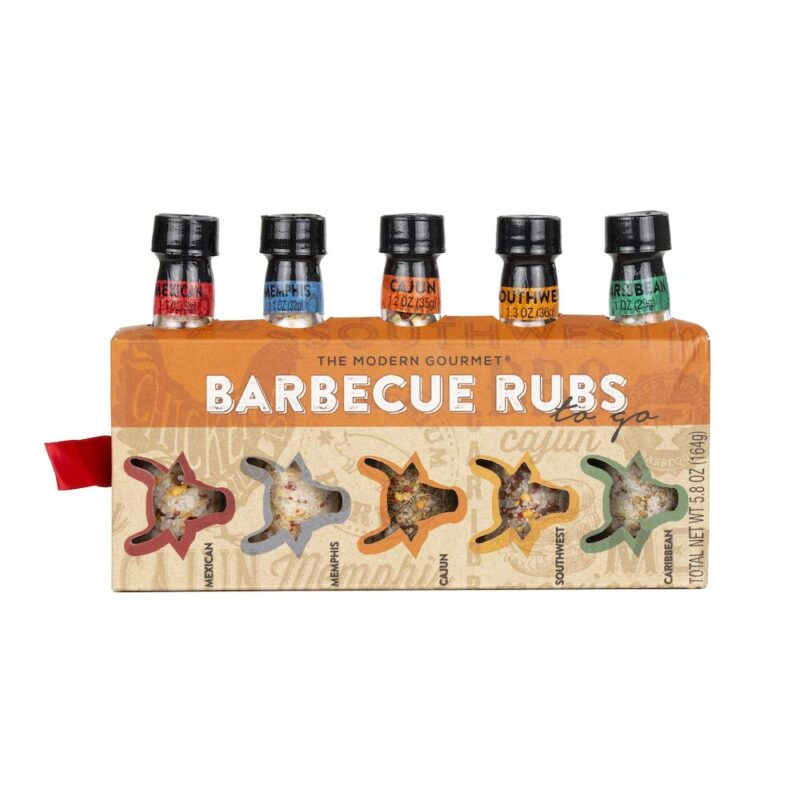 It's time to preheat the grill and throw some meat on it. These BBQ rubs impart an unparalleled flavor to meat and vegetables. Each rub in this package imparts a distinct flavor from the Caribbean to Memphis.
When cooking, keep in mind that herbs and spices enhance the flavor of everything. If your partner enjoys cooking with fire, this will make the best valentine's day gift for him.
53. Kit for Making Hot Sauce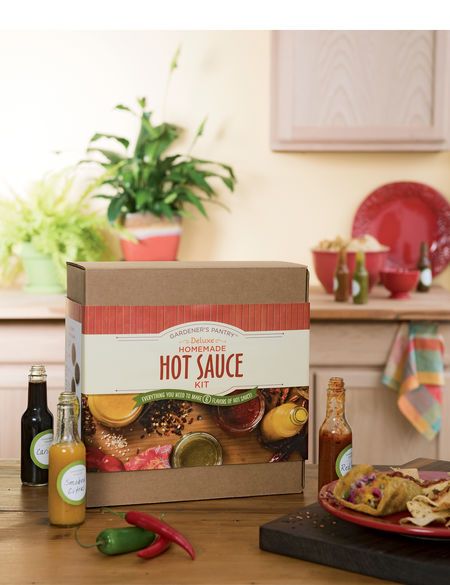 Your man has developed a taste for spicy cuisine and has no idea why. All he knows is that he has encountered the light and desires more. This hot sauce-making kit is the ideal Valentine's day gift ideas for him.
The kit includes everything your companion could need. He'll quickly discover the pleasure of experimenting with hot sauce recipes to add tongue-tingling spice to his meals.
54. The Sexiest Truth or Dare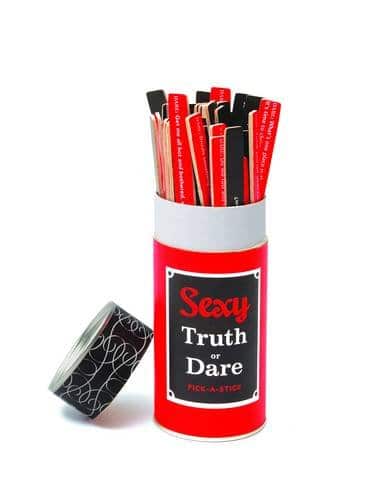 The night of the games cannot come soon enough! This truth or dare game is one of the excellent valentine's day gifts for him and you. Seduce one another with tales of bedroom bravado and engage in some dirty behavior.
Prepare yourself for some naughty secrets and enjoyable evenings at home. It's time to test some boundaries and turn up the heat!
55. Chiller Sticks for Beer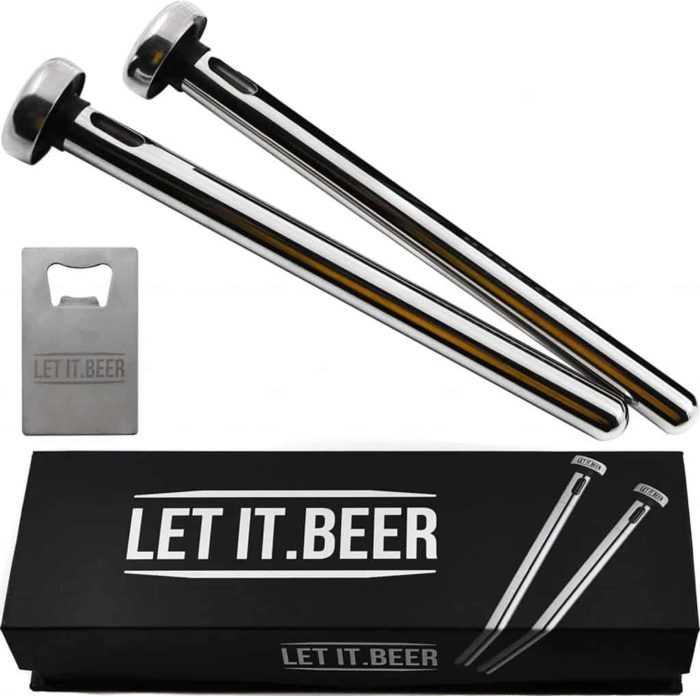 Men, like Goldilocks and the three bears with their porridge, require the ideal temperature for their beer. These stainless steel sticks change unappealing warm beer into a refreshing cooled beverage that is ready to drink.
They're a budget-friendly Valentines gift for him and guarantee some fun drinking sessions with friends and family. What an incredible invention! Consider this, don't you believe?
56. How to Survive in the Forest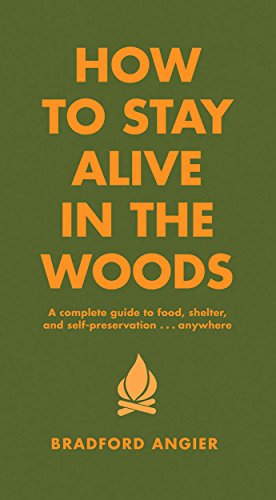 This handbook will assist you in educating your man about the fundamentals of outdoor self-preservation. It's a practical Valentine's day gift ideas for him, covering immersive topics such as food, shelter, and navigation.
Get him this indispensable guide on surviving and living off the land. It is unquestionably a book that the powerful Christopher McCandless would have carried on his expeditions.
57. Bucket List for Date Nights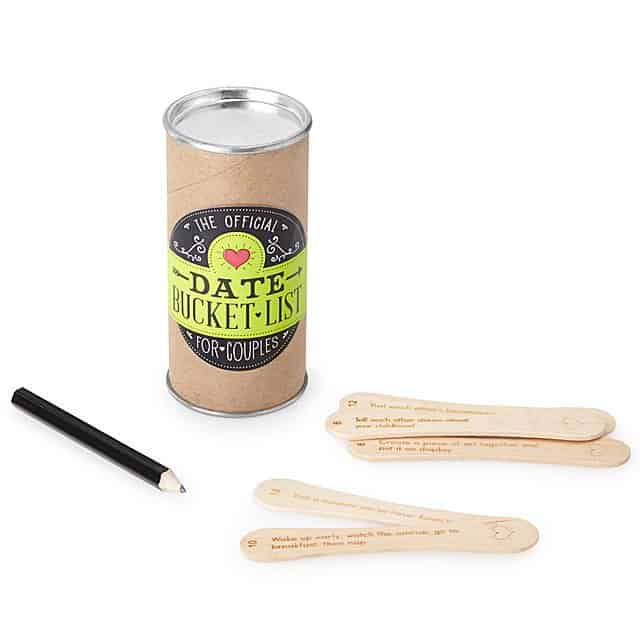 Are you tired of simple dates consisting solely of food and a movie? Allow the unique date ideas on this dating bucket list to start the party.
Evenings out will now include stargazing in a peaceful location and engaging museum talks. Rekindle your romance with the best valentine's day gifts for him. I'm sure you're looking forward to your next date night.
58. Lovebox Spinning Heart Messenger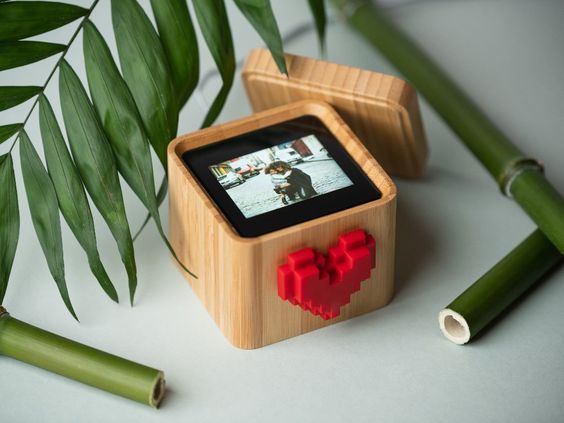 Space will not get in the way of your love as long as he has this small wooden box nearby. When you begin to miss him, type a sincere message on the compatible app and he will see it flash on the screen.
59. Spark Romance: 50 Ways to Strengthen Your Bond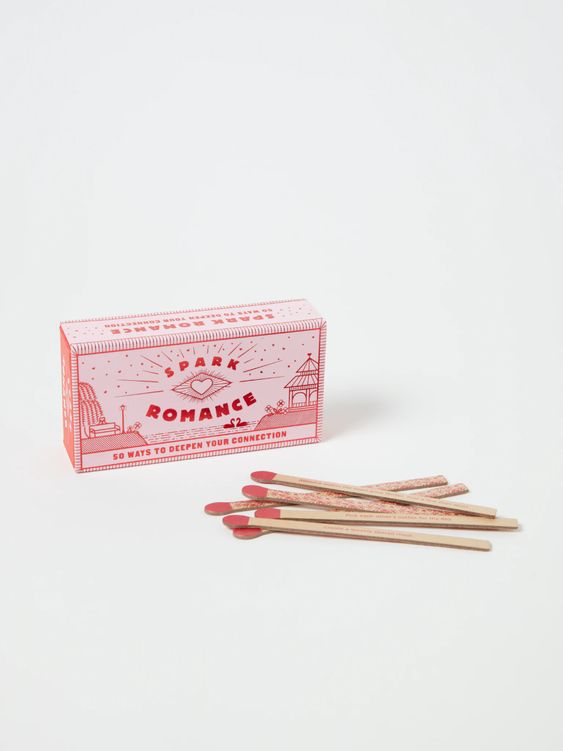 While your love is already ablaze, adding a few additional sparks can keep it burning. When he begins to sense a slump approaching, he can study the backs of these paper matches for date night ideas. Get one of the gorgeous Valentine's day gift ideas for him right now.
Read more:
Regardless of how you've decided to celebrate Valentine's Day, Oh Canvas is always on board with a great gift. It does not have to be material—it may be as simple as a steak dinner at home with a nice bottle of wine and some of your favorite movies. If he wasn't expecting anything, you may give him a tiny treat that will brighten his day. Even a useful gift that he'll use on a daily basis is appropriate! Now is the ideal opportunity to acquire the best valentine's day gifts for him.