Organizing a wedding shower is a lot of fun, but it's a challenge for her to find the best bridal shower gifts for guests. Choose a favor that not only complements your theme but also makes your guests want to take it home with them once the party is over. It is important that these favors are attractive and tiny enough to fit in a purse, as well as cost-effective. To be fair, that's quite a lot of constraints, but Oh Canvas has a lot of fantastic gift ideas out there, so get enthusiastic.
43 Trendy and Creative Bridal Shower Gifts For Guests
Unique Bridal Shower Gifts For Guests
1. Mini Crystals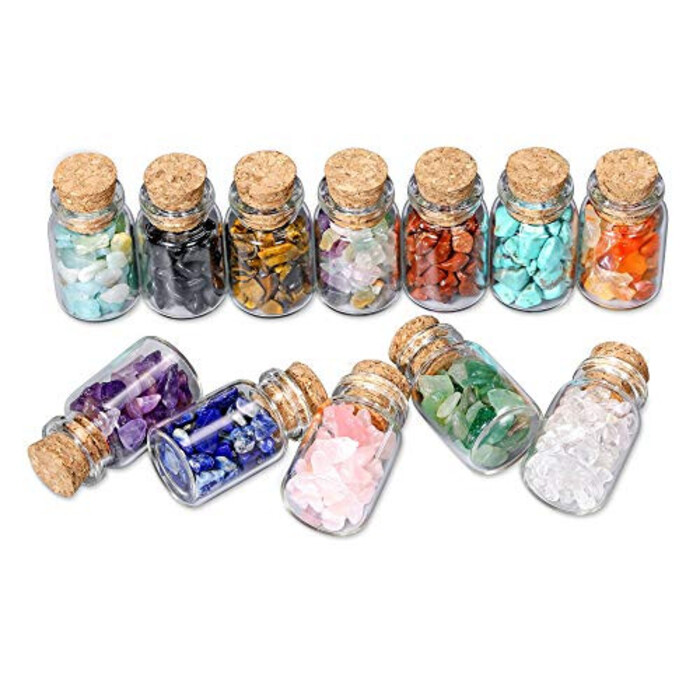 A mini zodiac crystal is a must if you're organizing a cosmic-themed event—aside from being lovely, they're a wonderfully unforgettable memory for your guests.
Oh Canvas Tips

A significant impact can also be made by how you display the crystals. These might be put in tiny organza bags, adorable boxes, or even on a tray for show. Don't forget to add a short message about the characteristics and significance of each crystal.
2. Tropical Luggage Tags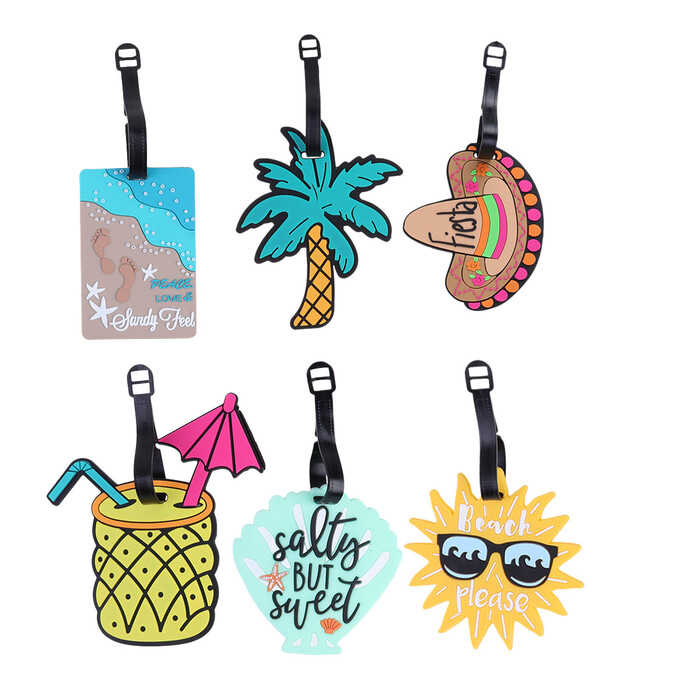 Invite your friends and family to join you on your new journey by gifting them this useful travel gear. Featuring a tropical motif, your visitors will immerse in your "holiday".
3. Bridal Shower Hand Sanitizer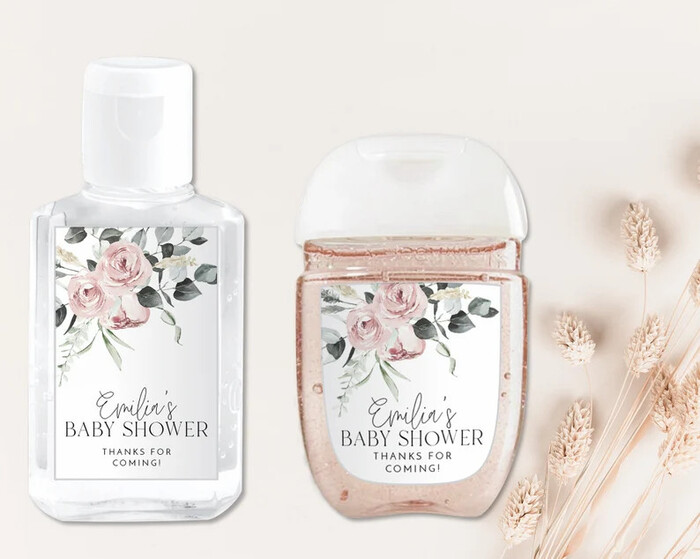 These adorable stick-on labels for pocket-sized hand sanitizers combine aesthetics with functionality. Because of the elegant lettering and understated eucalyptus design, these hand sanitizers go well with a variety of hand sanitizer colors and themes.
4. Champagne for the Bridal Shower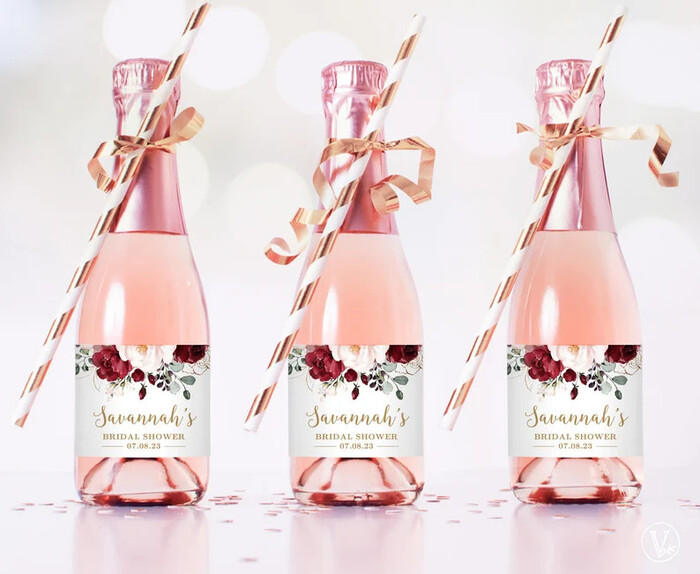 An elegant bottle of champagne is a necessity for any bridal shower party, and this simple label template makes it easy to personalize the bride's favorite bottle of bubbly. You can download the template and alter the wording, then print out the labels and put them in small bottles.
5. Lovely Matches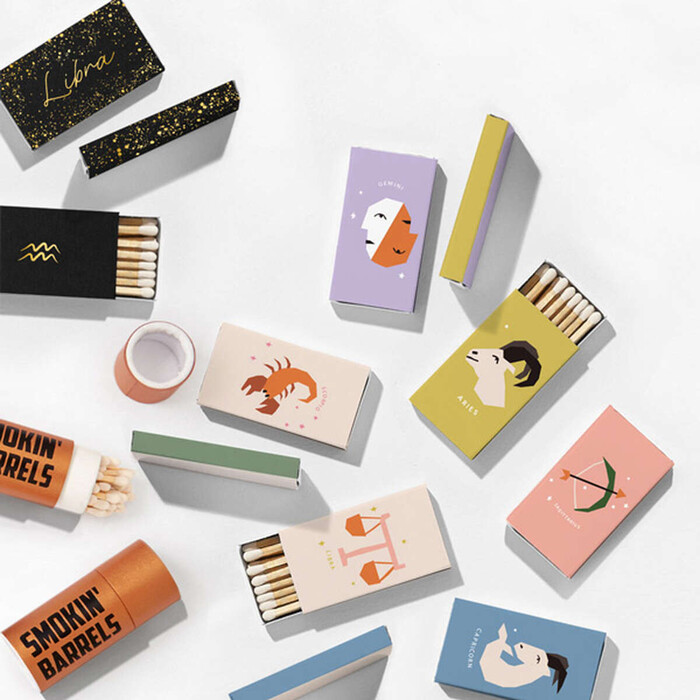 Matches have been popular bridal shower gifts for guests for a long time, and it's easy to understand why: the package is beautiful and the filler is really helpful. Impress your visitors by printing them with eye-catching images.
6. Wine Glasses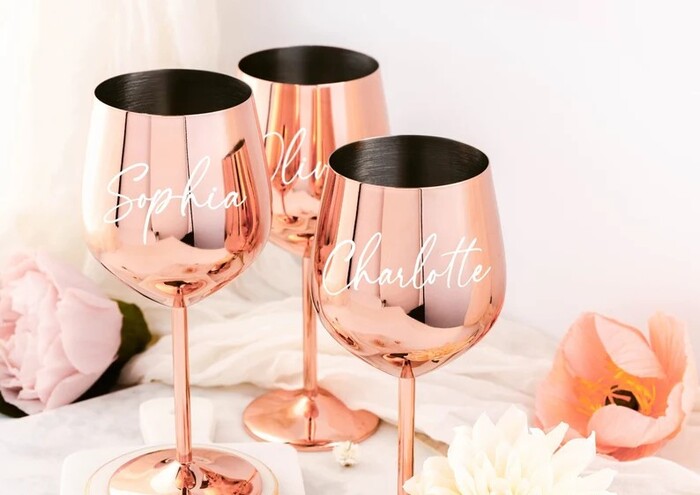 Wine glasses are an exquisite way to say thank you. Personalized or left blank, these re-usable bridal shower gifts for guests will be appreciated by them.
Oh Canvas Tips

Select from stemmed or stemless glasses. The stemmed glasses are more classic and sophisticated, while the stemless glasses are more practical in terms of portability and storage. Stemmed glasses can be used for both red and white wines, making them more flexible.
7. Skincare Must-Haves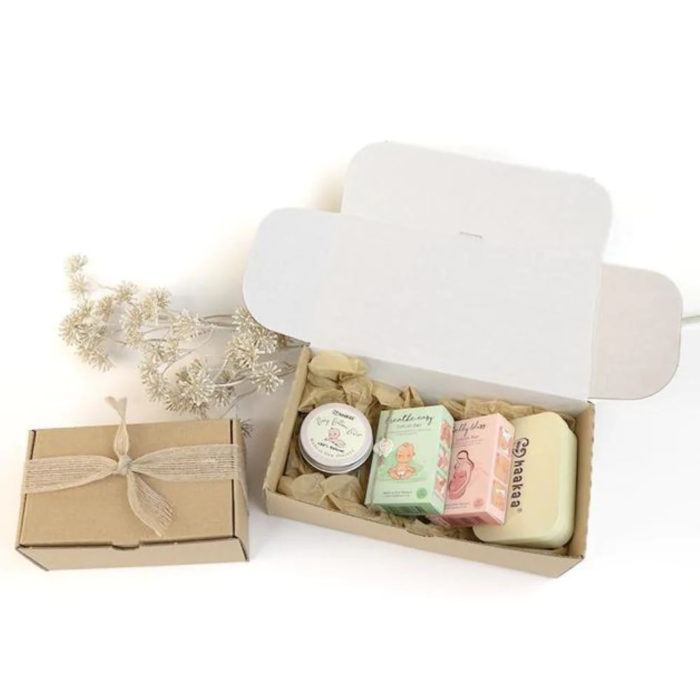 The best way to make your bridal shower attendees feel extra special is to provide them with specific skincare necessities, such as rejuvenating face masks, serums, and eye creams. Using them the night before the wedding will ensure that they look and feel their best on the big day.
8. Magnet Favors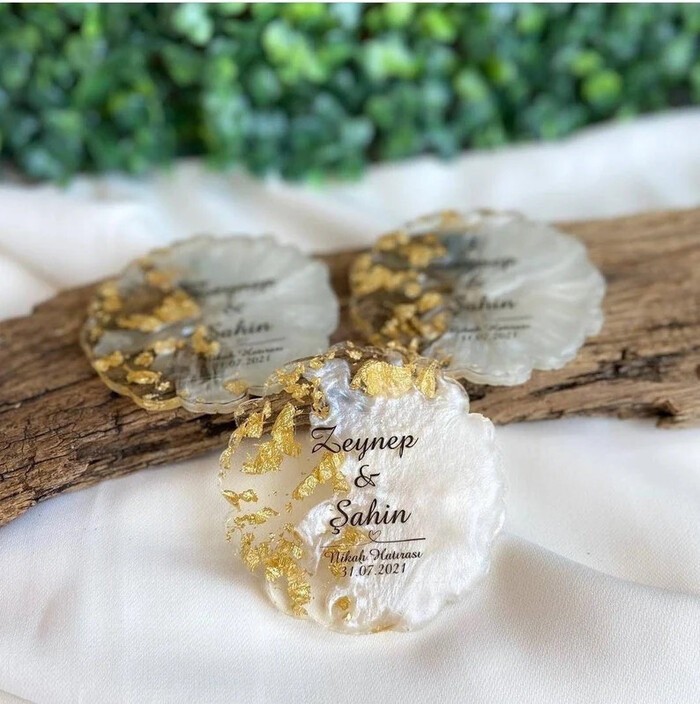 These customized magnets are an excellent option to consider if you are looking for creative bridal shower favors that won't break the bank but will yet amaze your guests.
9. Wedding Wine Bottle Stoppers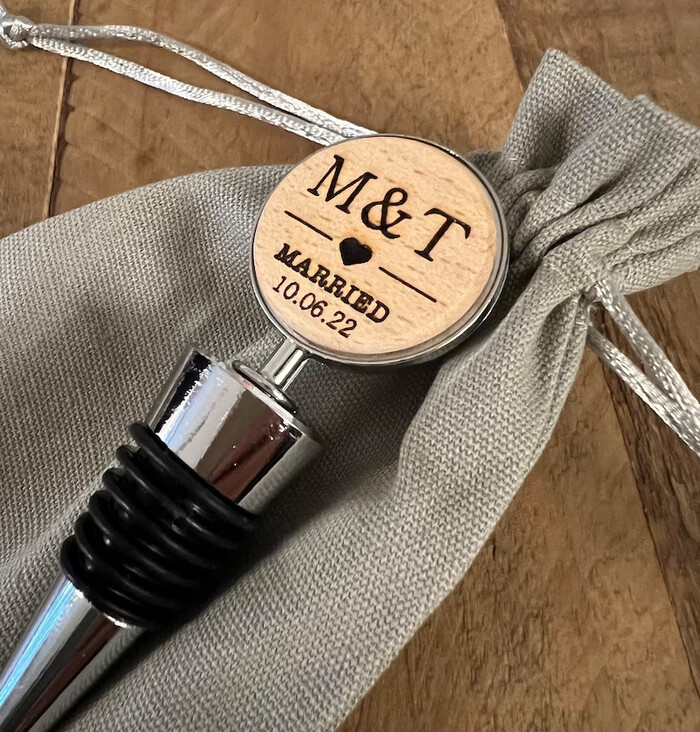 These stoppers are perfect for a vineyard or garden-themed wedding because of their floral applique. There are a variety of colors available, and free organza favor bags are included to make the process of gift-wrapping them a snap.
10. Personalized Honey Jars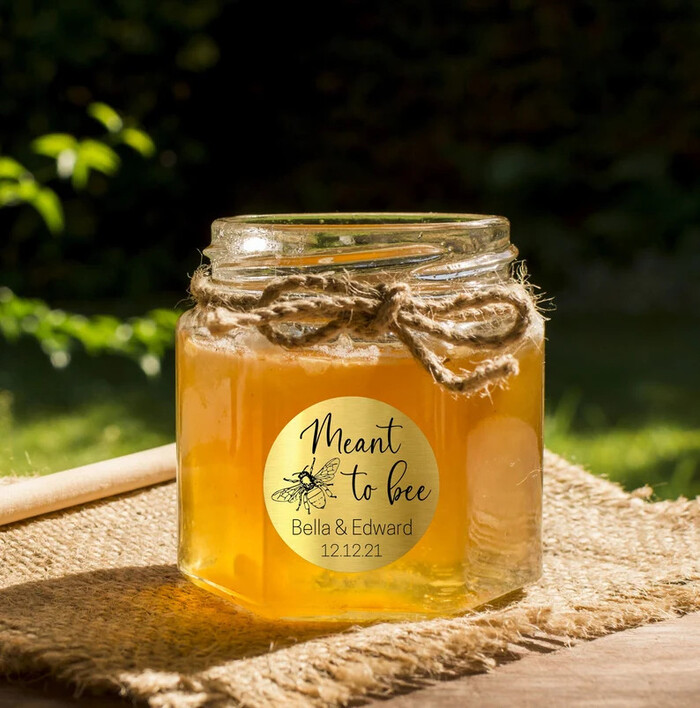 These honey pots for bridal showers are a sweet way to show loved ones that the couple was "made to bee" together. It comes in little glass jars that may be personalized with labels and ribbons or strings.
For an extra fee, wooden dippers can be added. "Love is lovely," "bride to bee," and similar phrases are just a few of the endearing labels available.
11. Heart Bath Bombs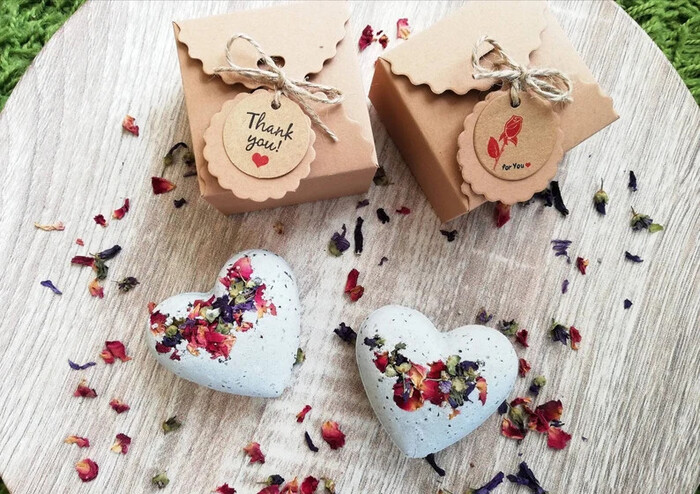 Indulge your guests with these rose-scented bath bombs, which are made from all-natural ingredients and smell as amazing as they look. All you have to do to personalize these handcrafted minis in the shape of a heart is change the text on the container to say anything you want.
12. Canvas Print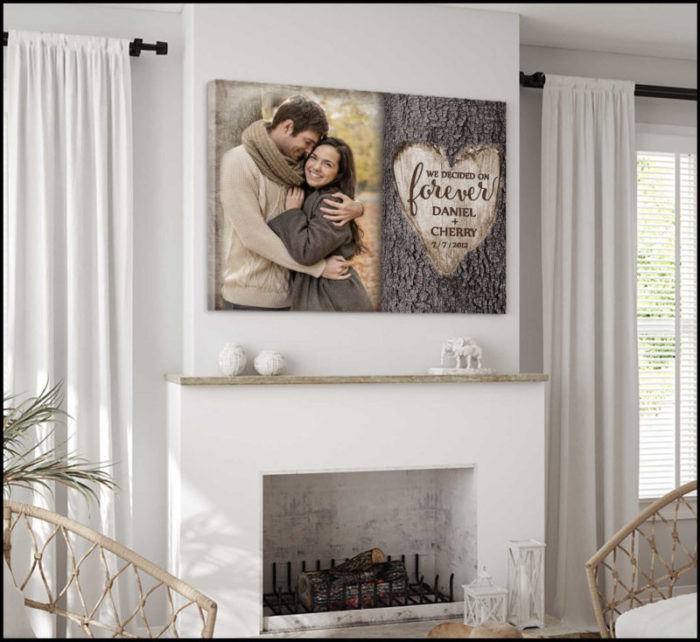 You can't go wrong with these personalized canvas art items as great wedding shower gifts. You can create one of the nicest gifts for guests by simply uploading your favorite photos and selecting meaningful words.
13. Customized Candles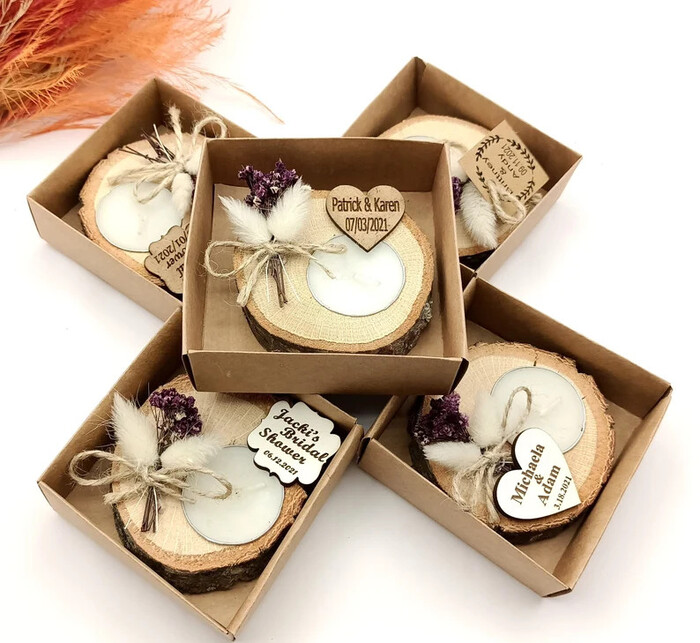 This cute bridal shower candle favor pays homage to the forthcoming nuptials with a crowd-pleasing gift. Your guests will be mesmerized from the moment they set eyes on these stunning candles.
Oh Canvas Tips

There are three types of wax available: paraffin, soy, and beeswax. Beeswax has a lovely, natural aroma, whilst soy wax is environmentally beneficial. The price of paraffin wax is cheaper.
14. Customized Tote Bag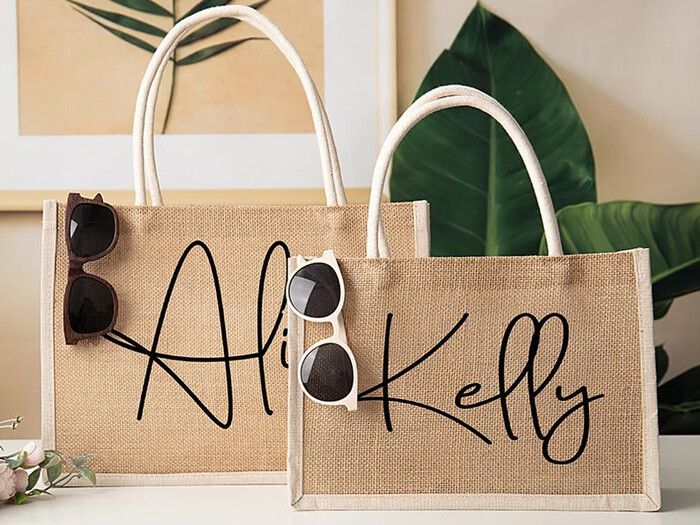 Thank you in style with these gorgeous tote bags! You may also personalize them to match your bridal shower's color and theme if you want!
15. Compact Mirror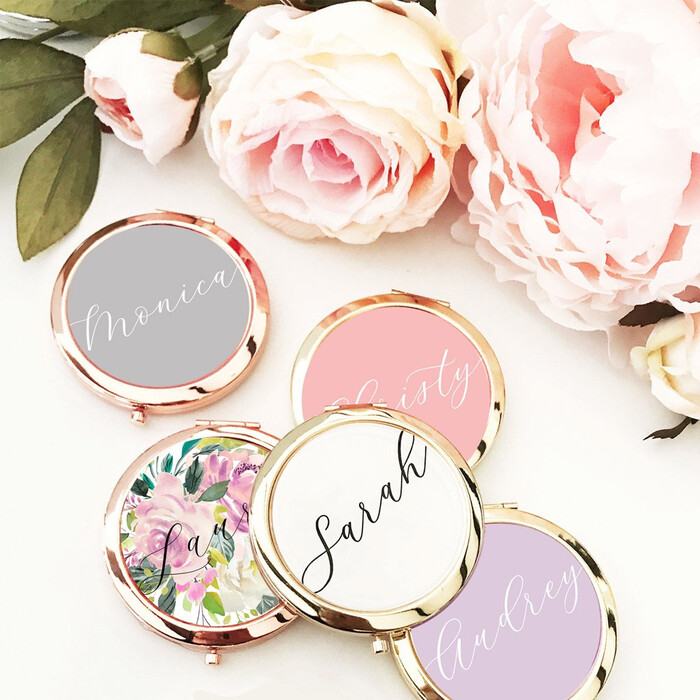 These personalized mirrored compacts have shiny exteriors and a beautiful calligraphy font, yet they won't break the budget. They will be delighted by these cool personalized bridal shower gifts for guests from you.
16. Face Roller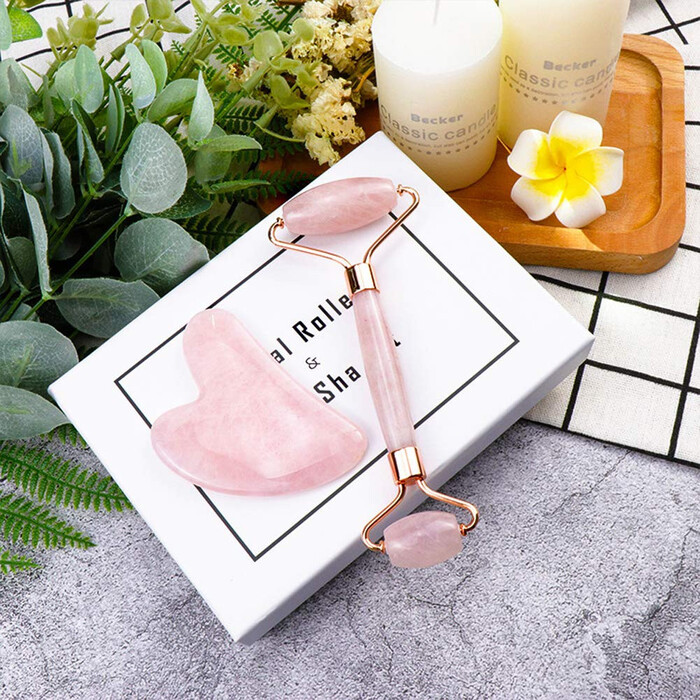 These face rollers are great bridal shower gifts for guests because they are so popular right now. The rose quartz crystal is not only beautiful but it is also said to enhance sentiments of love. What a fantastic crystal for a wedding! In addition, a small carrying case is included for portability.
17. Heart-Shaped Measuring Spoons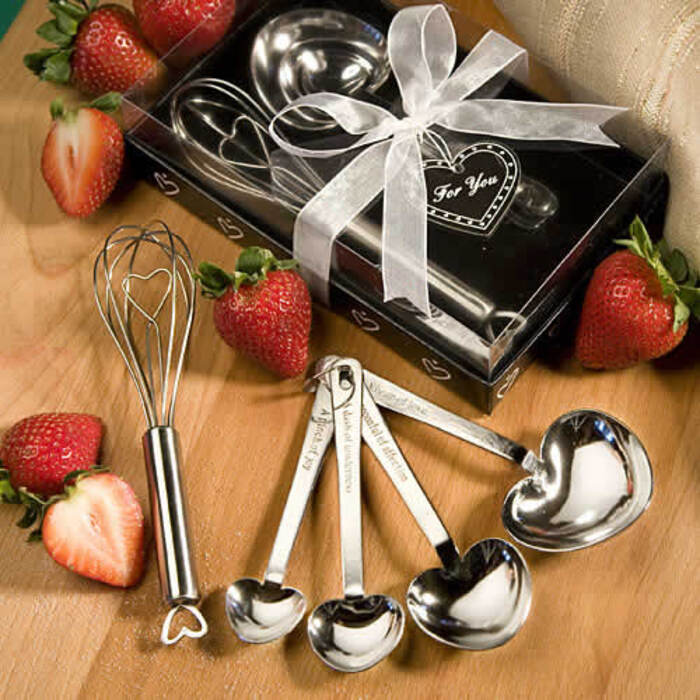 Use these heart-shaped measuring spoons as a unique bridal shower favor to help spread the love. The stainless steel cutlery has "measures of love" on one side and "conventional measurements" on the other side. You can personalize the gift boxes with optional favor tags if you purchase at least six pairs.
18. Makeup Case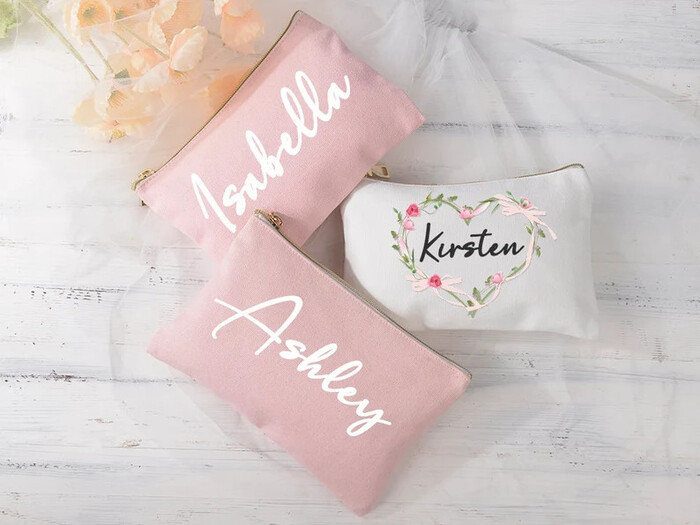 Give them bridal shower gifts for guests that will help them keep organized throughout trips and significant events. Because it's made of linen, you could easily pass it off as a clutch if you wanted to.
19. Personalized Canvas Art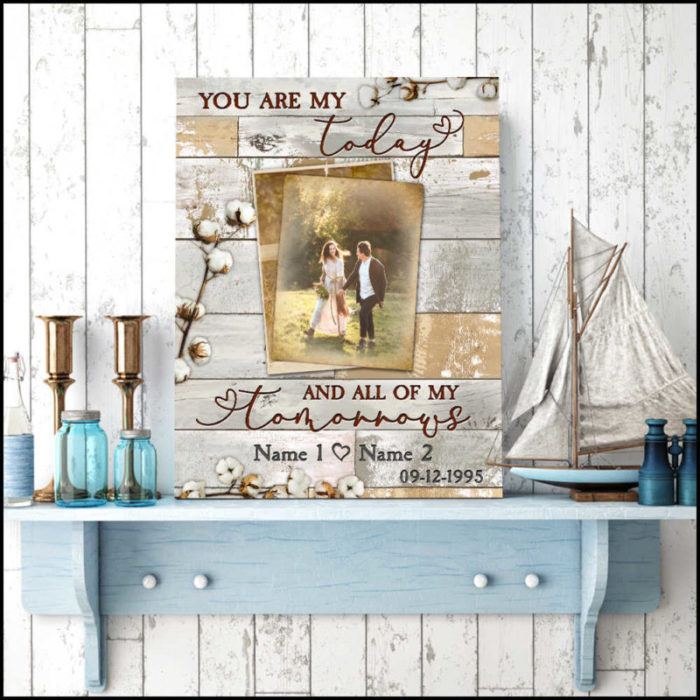 Why not offer them a customized canvas print as a wonderful bridal shower gift idea for guests? At your party, they will be in awe of this lovely and meaningful gift!
20. Personalized Bamboo Chopsticks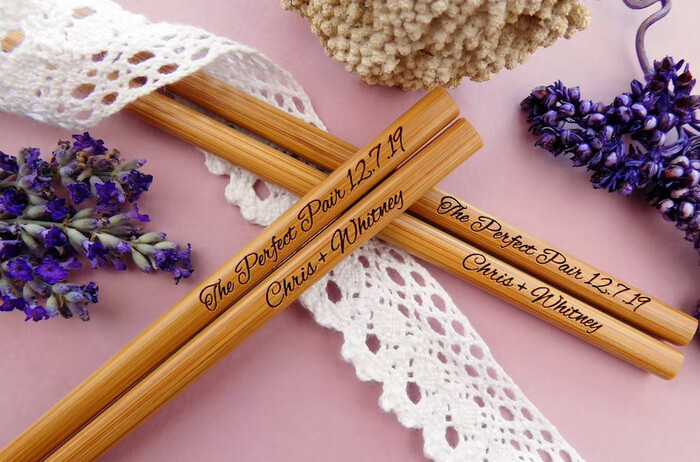 Look no further if you want to give them something they'll cherish for years. These chopsticks with guests' initials are a beautiful and effective way to remember this special day.
21. Fragrance Rollerballs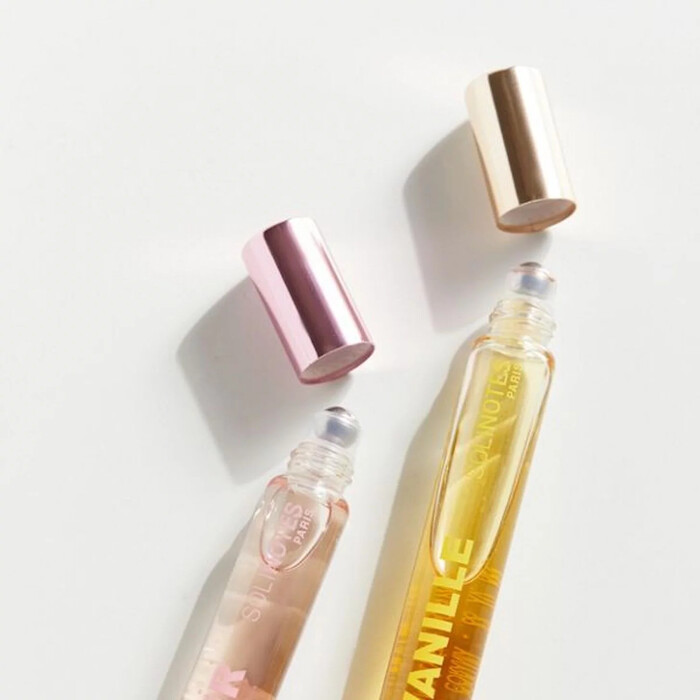 There is nothing more enticing than the blend of sweet scents in perfume rollerballs, and they're ideal for traveling.
>>> You can also read: 32+ Best DIY Bridal Shower Gifts The Bride Will Cherish
Cheap Bridal Shower Gifts For Guests
22. Hair Ties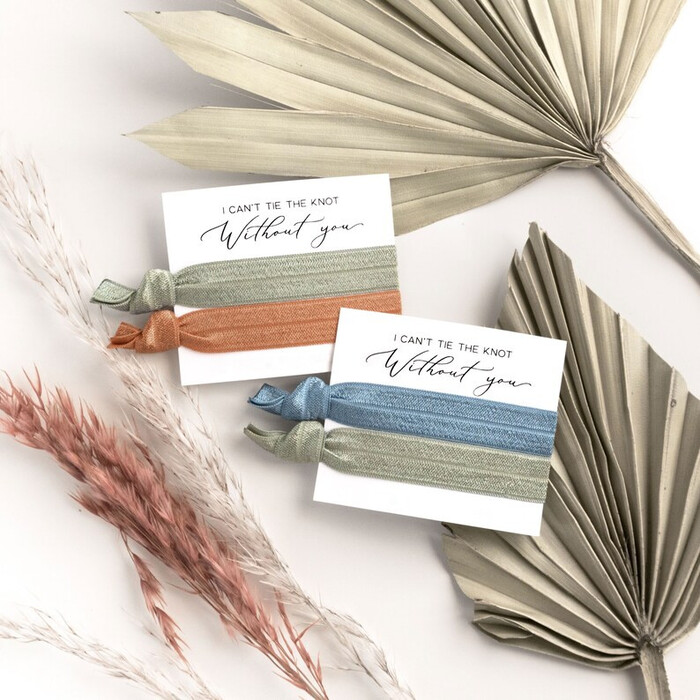 With these lovely hair clips, your celebration will be even more spectacular. As a set of three with fun designs and colors and a funny card, these are still cute enough to be great gifts for guests at a bridal shower.
23. Sheet Masks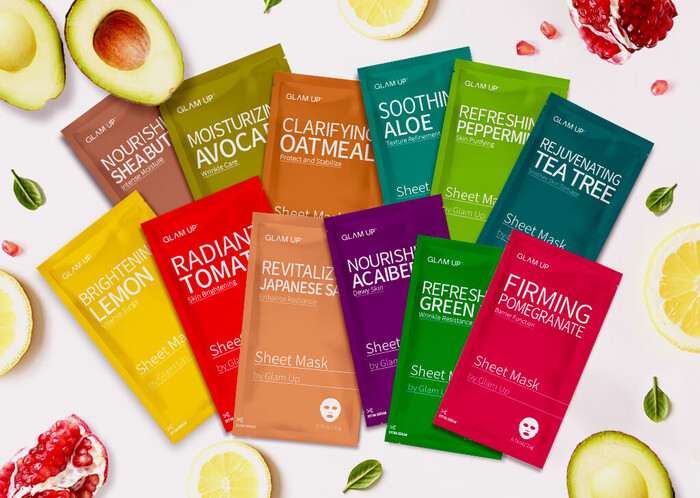 Cheap bridal shower favors like sheet masks are some of our favorites. Let your guests choose their masks before they leave the house by putting them on display on a table in your favorite room.
24. Gold Leaf Lollipops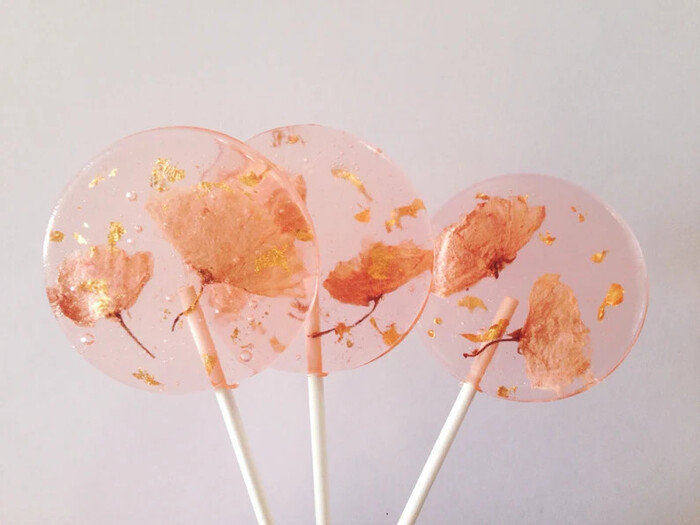 Not simply for children's parties, lollipops are wonderful bridal shower gifts for guests. This more mature and refined version makes a lovely favor for a bridal shower or baby shower. It's a terrific way to add a little glitter to the big day, and each is handcrafted and packed with edible 24K gold leaf.
25. Jars of Tea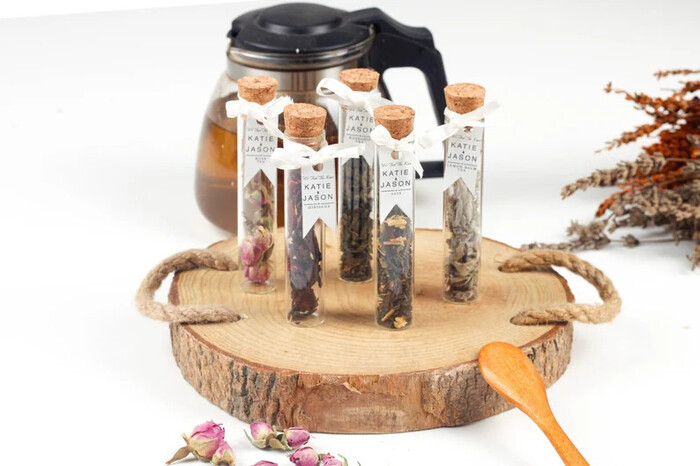 These tea-themed bridal shower favors are a nice way to round off the festivities. Whether you prefer olive or lemon balm, you can tailor the contents of each jar to your preferences. The couple's name and event date can be printed on kraft or white paper tags.
26. Macrame Keychains Favors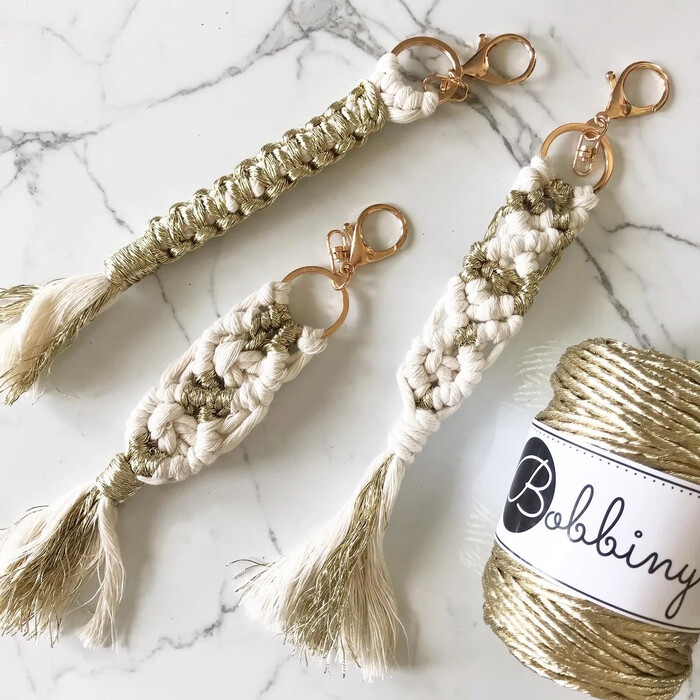 These distinctive and fascinating macrame keychains make creative bridal shower gifts for guests' favors. They're also the right size to sit next to or on your plate. It adds a nice touch to the rustic and bohemian design.
27. Flower Seed Collections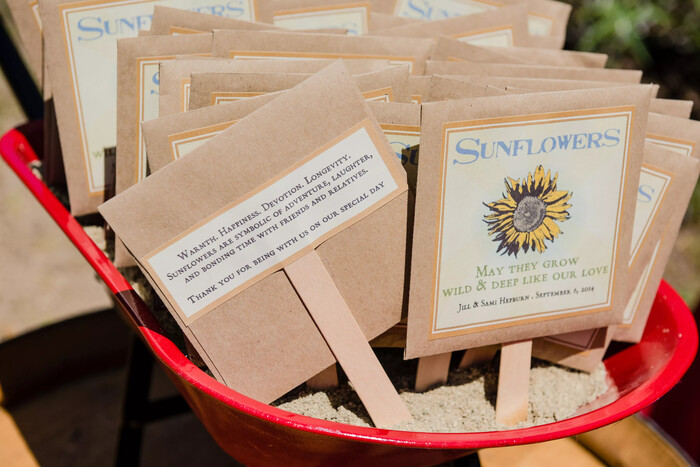 A flower seed collection makes a sentimental and inexpensive wedding shower party favor for those who have green thumbs. You can give your guests little vials of wildflower seeds to take home as favors. The wedding shower invitation should include instructions on how to properly grow the flowers, and perhaps even ask for updates if they do plant them after the event.
28. Bridal Shower Soap Favors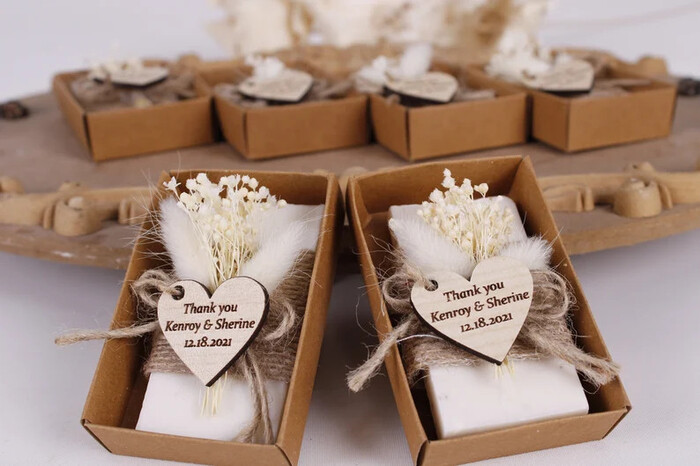 These eucalyptus greenery-themed soap favors are the ideal thank you gifts for your bridal shower guests. They are small, all-natural, and fragrant soap favors that are manufactured by hand.
29. Body Scrubs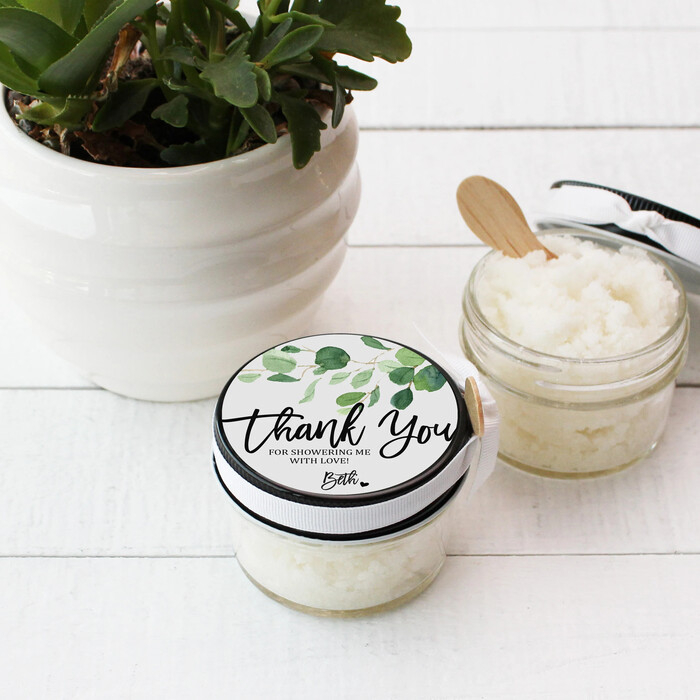 Indulge your guests by giving them a sugar or salt scrub to use in their own self-care regimen. Each favor is unique and is handmade and presented in a sugary jar. To make these favors truly one-of-a-kind bridal shower gifts for guests, select the color of the lid and ribbon and then add a custom label.
30. Olive Oil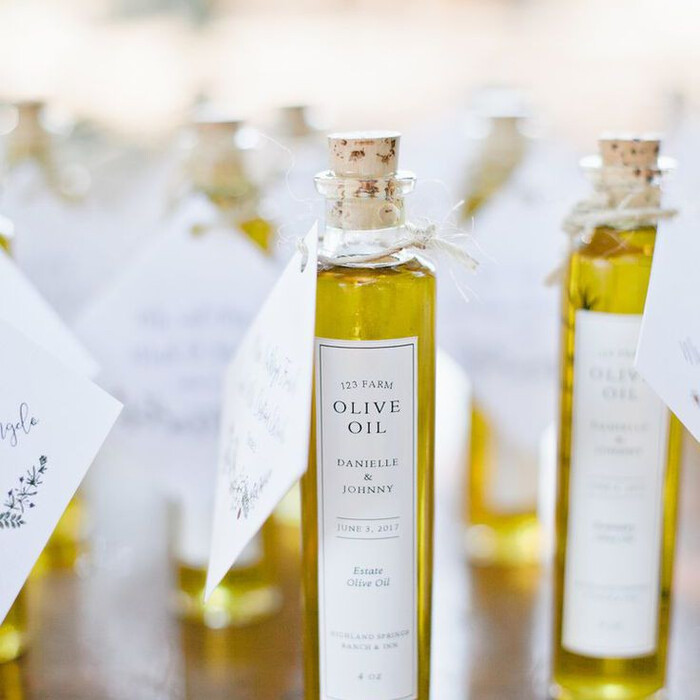 It's a good idea to give your guests something they can use in the kitchen as a present. Your bridal shower guests will be delighted to receive these personalized olive oil and vinegar favors!
31. Coffee Favor Bag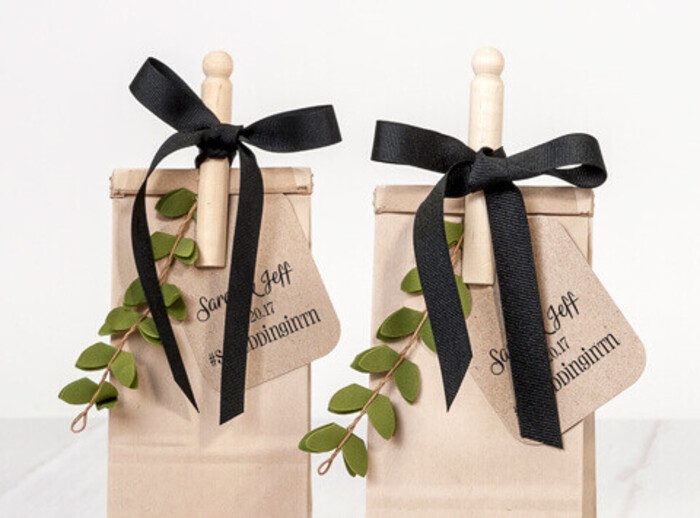 Perfect for bridal showers or wedding favors, these personalized coffee gift bags are sure to be a hit! Sending your favorite coffee blends back home has never been easier thanks to these adorable tiny packets. This type of bag may be resealed and is airtight and grease-proof.
32. Cotton Lavender Sachets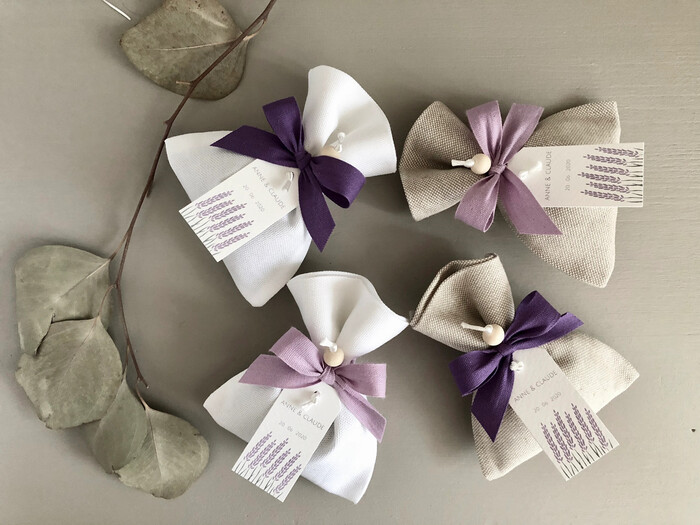 Your guests will be touched by the time and work you put into making these heartfelt and fragrant bags. Use old handkerchiefs or any other fabric that works for you.
33. Personalized Playing Cards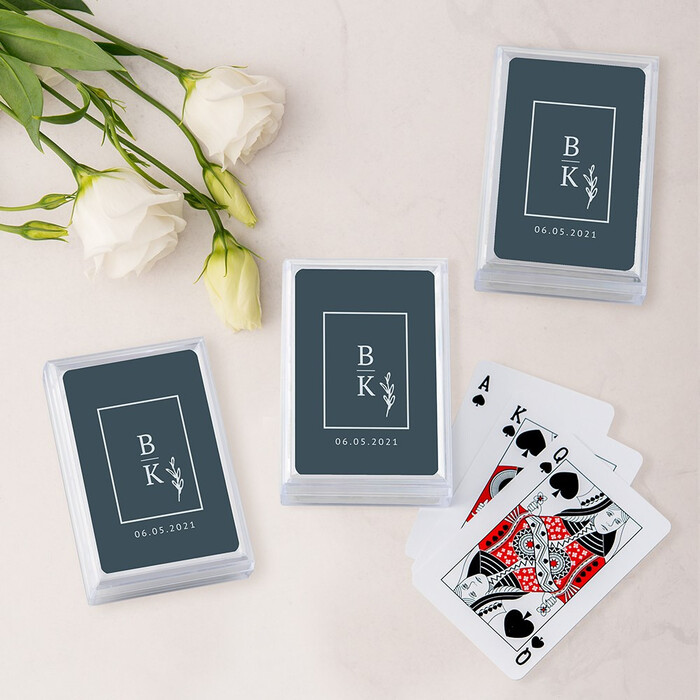 A one-of-a-kind deck of cards is the perfect way to commemorate your upcoming wedding to your prince or princess. These are sure to be put to good use.
34. Heart Cork Coasters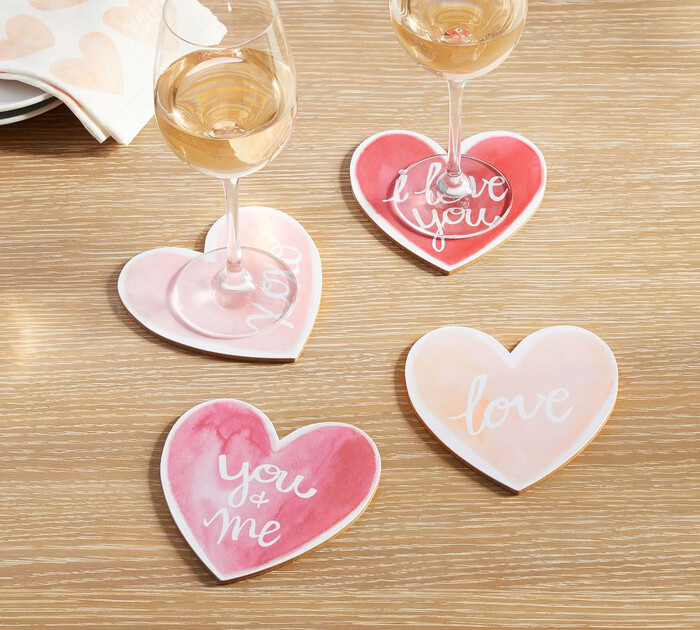 A favor that doesn't mention the recipient by name is more likely to be re-used. These coasters are a great way to show your affection without having to go overboard.
35. Hot Chocolate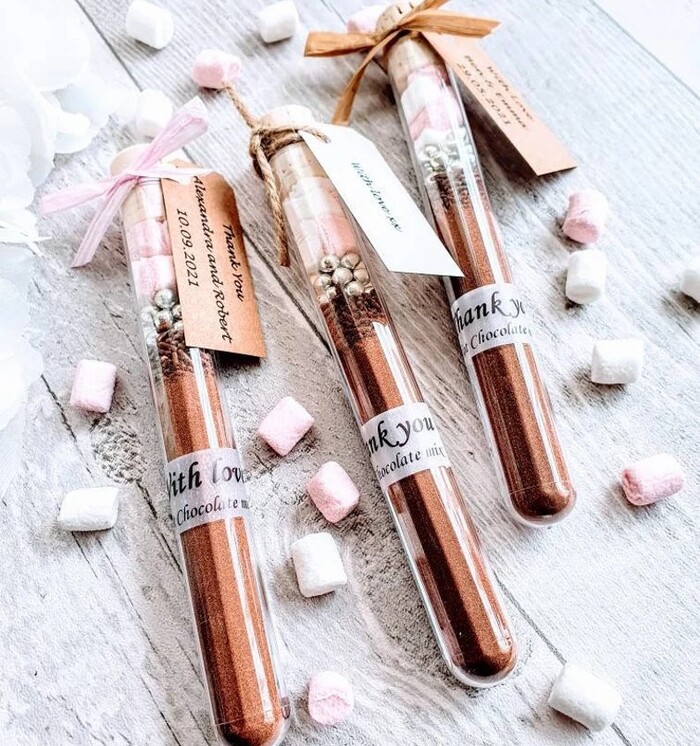 Have a bridal shower in the autumn or winter? This is such a sweet way to express your gratitude! When your guests are sipping hot cocoa on a chilly day, they'll think of you and your bridal shower!
36. Wine Charms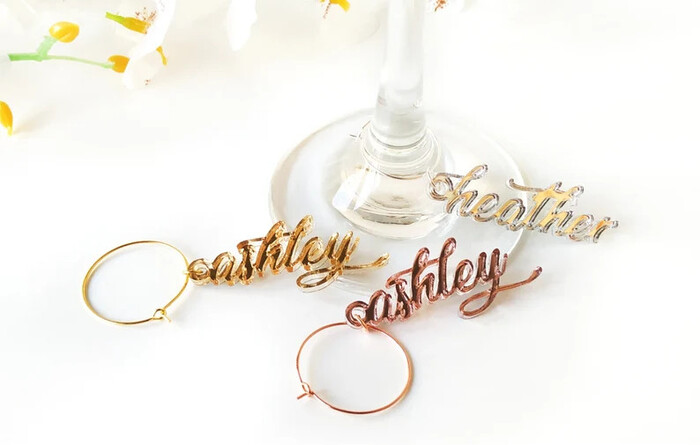 They are the perfect accessory for bridal shower gifts for guests that include a wine tasting. Make a point of reminding guests to take them out of their glasses before leaving.
37. Chocolate and Candy Bags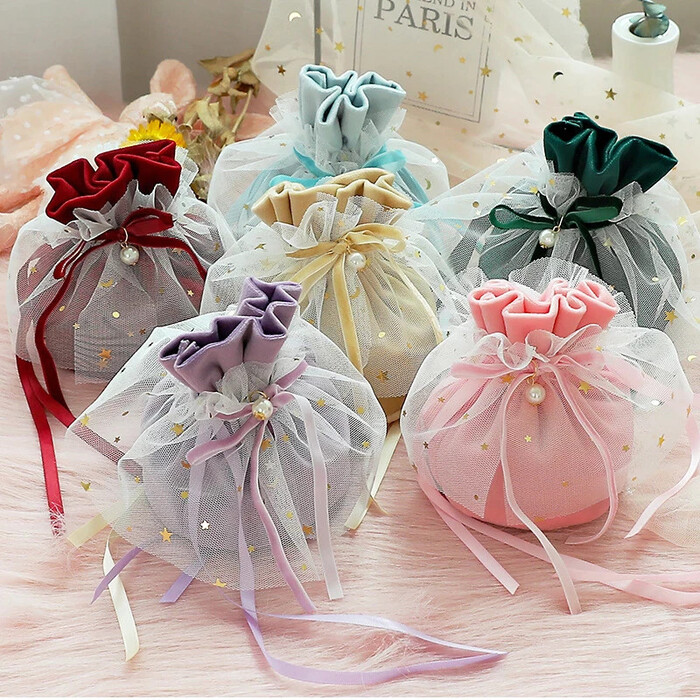 Sweet chocolate and candy bags are a great way to say goodbye to your bridal shower guests. A variety of little chocolates and candies can be packed into small pouches or boxes. For a more sentimental touch, consider using old-fashioned candies from your youth.
38. Succulents Wedding Favors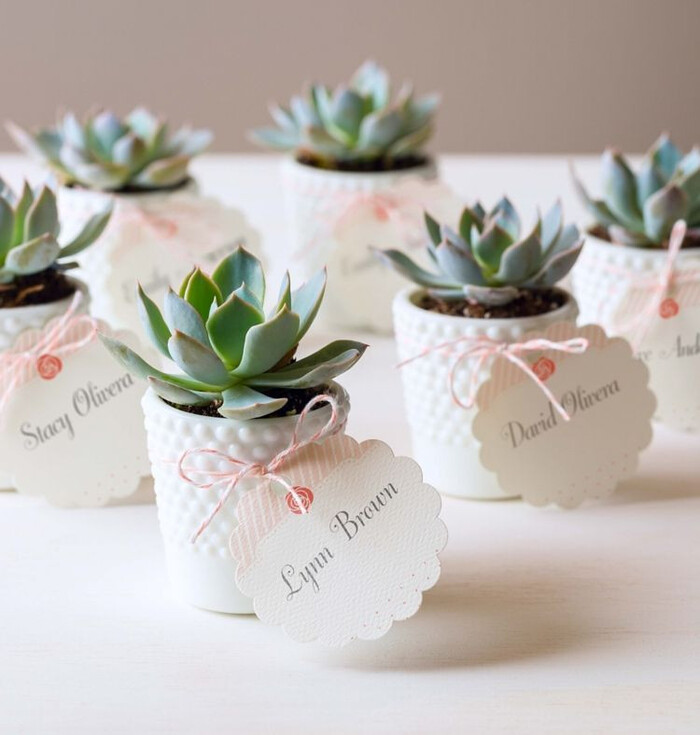 Mini succulents are terrific bridal shower gifts for guests for those who love plants or those who want to bring a bit of nature into their bridal shower decor. You're not only giving your pals something lovely, but you're also giving them something they may cherish for the rest of their lives.
39. Macaron Packaging Box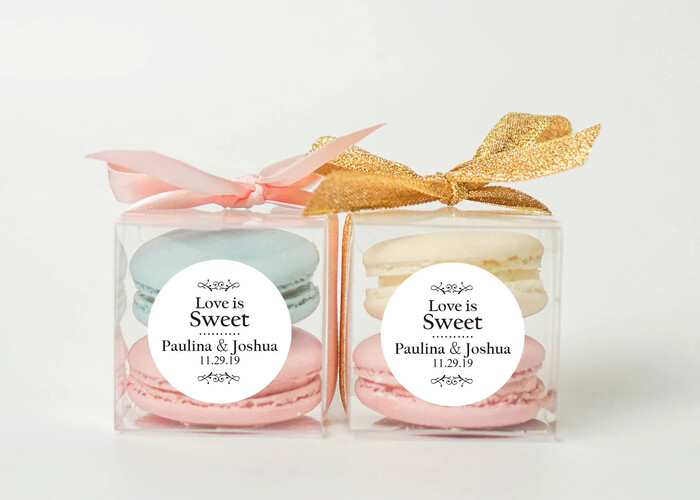 For a French Elegance-themed bridal shower, macarons are an excellent choice. The perfect French experience doesn't have to end when your guests leave! They may still enjoy a taste of France when they return home.
40. Nail Polish Bridal Favor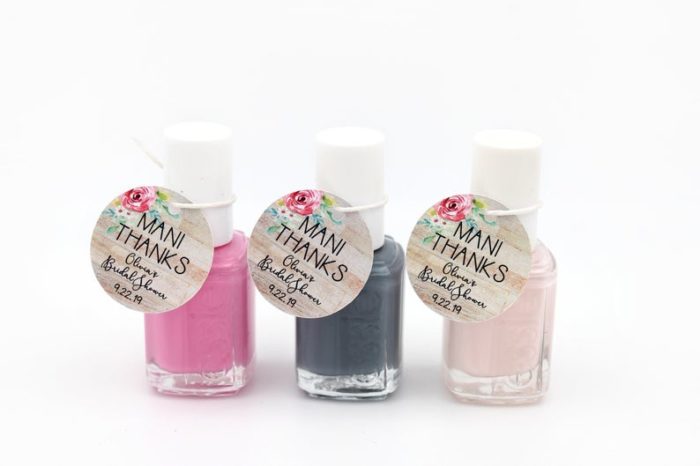 As stylish bridal shower gifts for guests, you can't go wrong with nail paint. In addition, you may want to include an amusing play on words.
41. Wine Gummies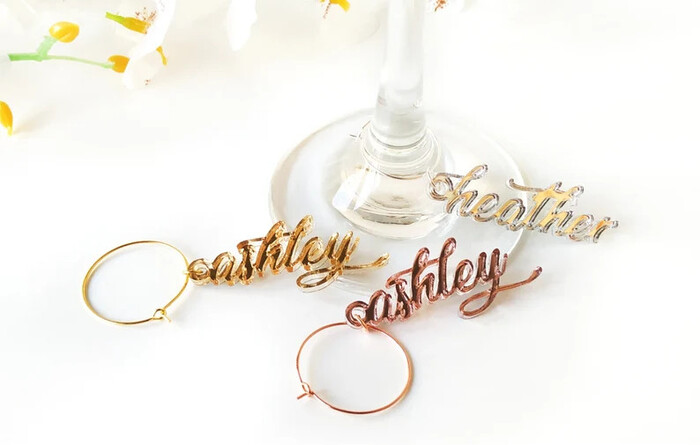 Gummies based on your favorite grape varietals are a must-have for sweet connoisseurs. It's possible to find kid-friendly versions that are both alcoholic and nonalcoholic.
42. Bundles of Floral Smudge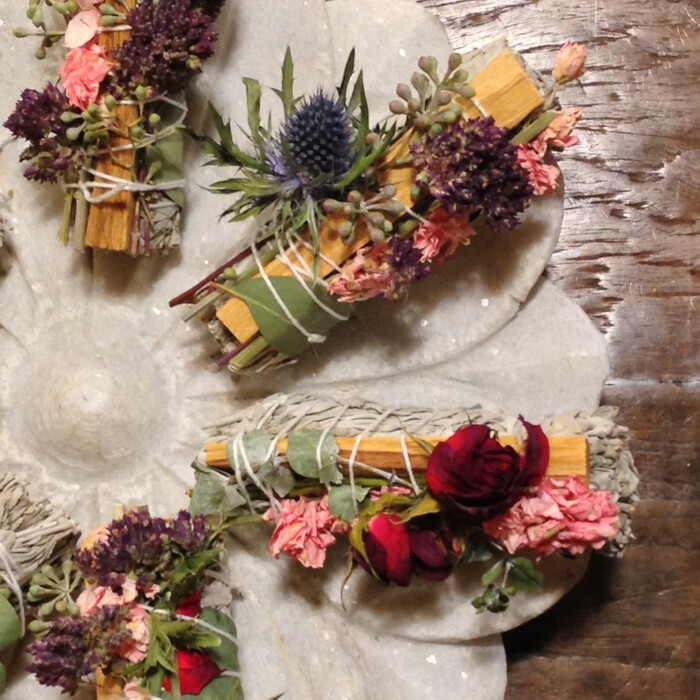 Smudge bundles are traditionally used to purify the air and remove negative energy. Smudge bundles are a great way to show your guests that you care about their well-being and the environment. Also, it's very stunning!
43. Lip Balm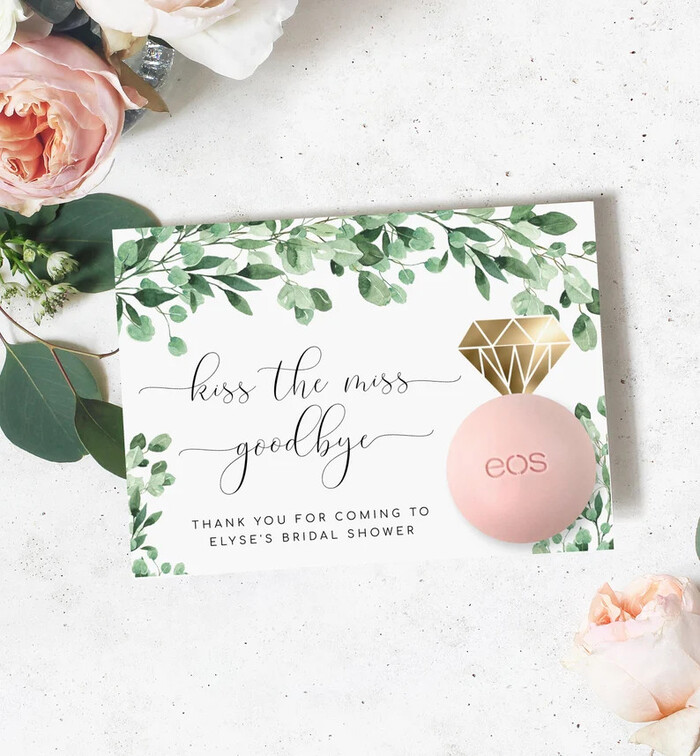 Adding a handwritten card to a lip balm is a great way to add a personal touch to the bridal shower gifts for guests. Place an EOS lip balm in an envelope and add a note with the bride's name and the date of the bridal shower. For a more cohesive look, stick with one color of lip balm instead of mixing and matching.
>>> Maybe you're interested in: 
A bridal shower party requires a lot of time and care to organize everything from the bridal shower program to the party games. By giving you a few of the top selections for your bridal shower gifts for guests in this post, we hope to have somewhat lessened the preparation burden. All that's left to do is further whittle down our selection and begin reaching out to the top vendors available. We wish you luck and a great time at your bridal shower!