Just because these are cheap bridal shower favors doesn't mean you don't care about the attendees. The price of a gift does not indicate its value; rather, the profound love that you express through the gift is more significant. Show your gratitude to your friends and family with a unique thank you gift before your wedding day. So, Oh Canvas hopes that these inexpensive wedding shower favors help you save money and time.
Creative Yet Inexpensive Bridal Shower Favors In Bulk
1. Hand Sanitizer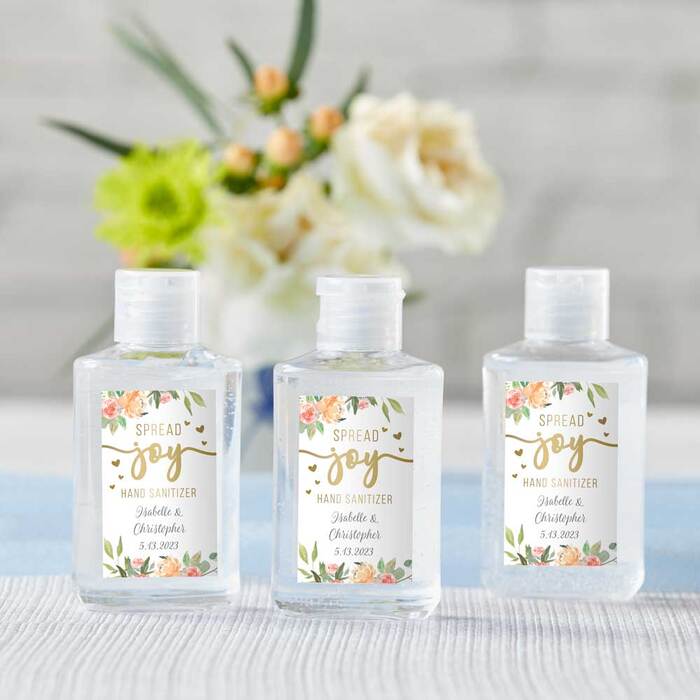 Hand sanitizers are modern cheap bridal shower favors nowadays. Those in the form of personalized hand sanitizer bottles are quickly becoming an essential item for forthcoming weddings. Give as personalized party favors to guests, utilize them in guest rooms, or keep them on hand to give out at small gatherings, and make sure they coordinate with the theme of your wedding or party.
2. Heart-Shaped Measuring Spoons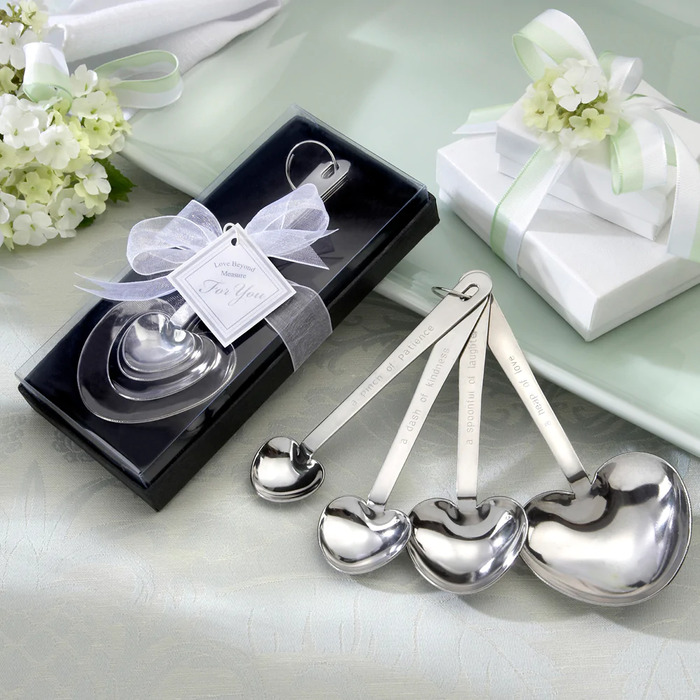 You may use these heart-shaped spoons for romantic wedding shower themes! They come in a lovely form and are useful in the kitchen. This is an elegant keepsake of your special day.
3. Pashmina Shawl Favor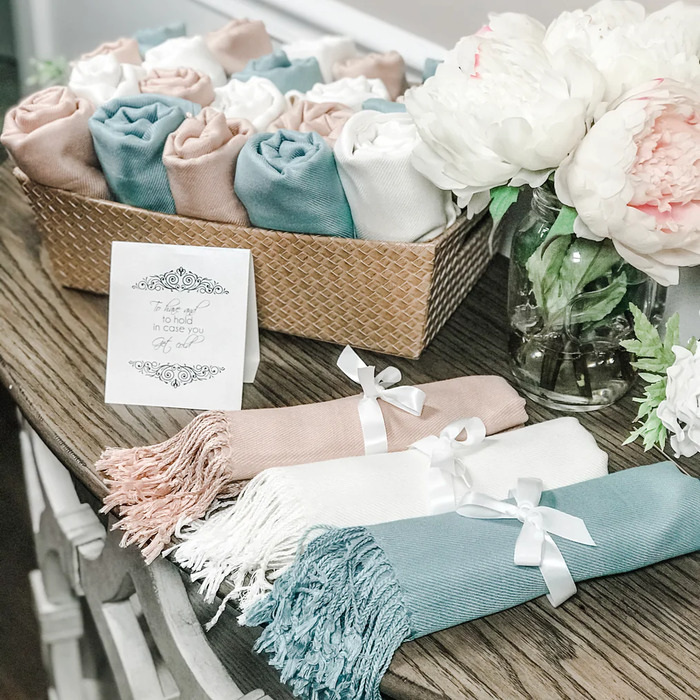 A few pashmina shawls can go a long way during your winter wedding shower. You may purchase these items for your bridesmaids individually or as a group. For many years to come, they will be able to enjoy it.
4. Personalized Whisk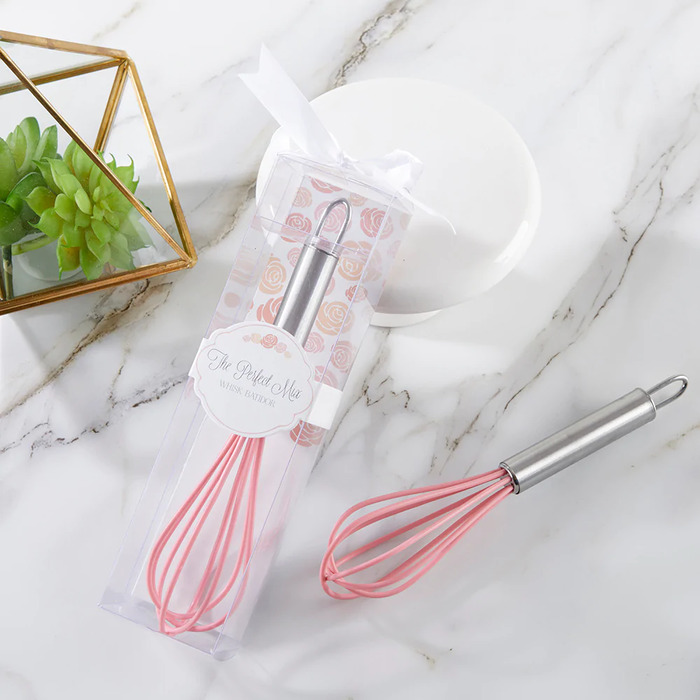 Beautiful and inexpensive bridal shower favors for a traditional-themed wedding shower are personalized whisks. It's a kind present from a cook-obsessed bride. Put your stamp on them by adding amusing phrases or images. You may have the guests' names engraved on their whisks if your guest list is limited.
5. Heart Cork Coasters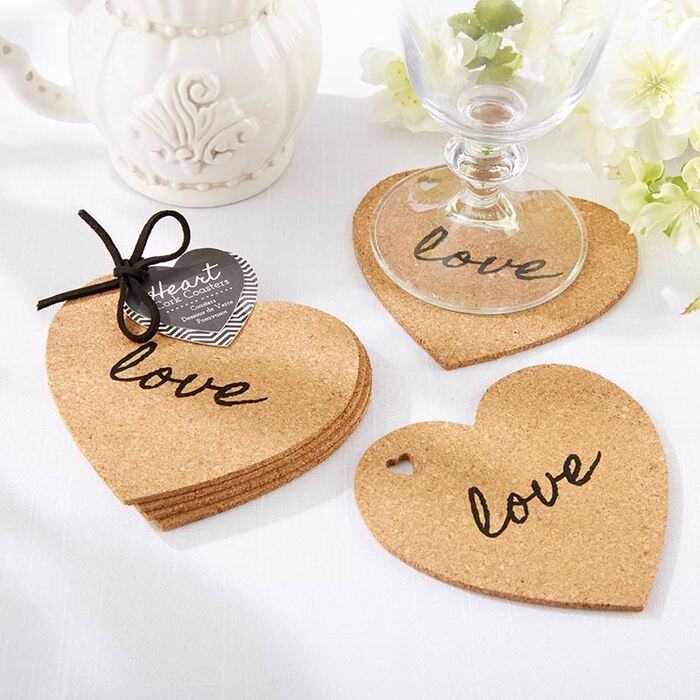 When celebrating a bridal shower or wedding reception, love is the key topic, and this heart-shaped cork coaster favors help to keep the focus on this theme. They are lightweight, practical, and completely giftable, making them ideal for your gorgeous celebration or as party favors. Each pair of four is accompanied by a ribbon and a heart-shaped gift tag. It is ideal for any bridal shower favors.
6. Heart Bottle Opener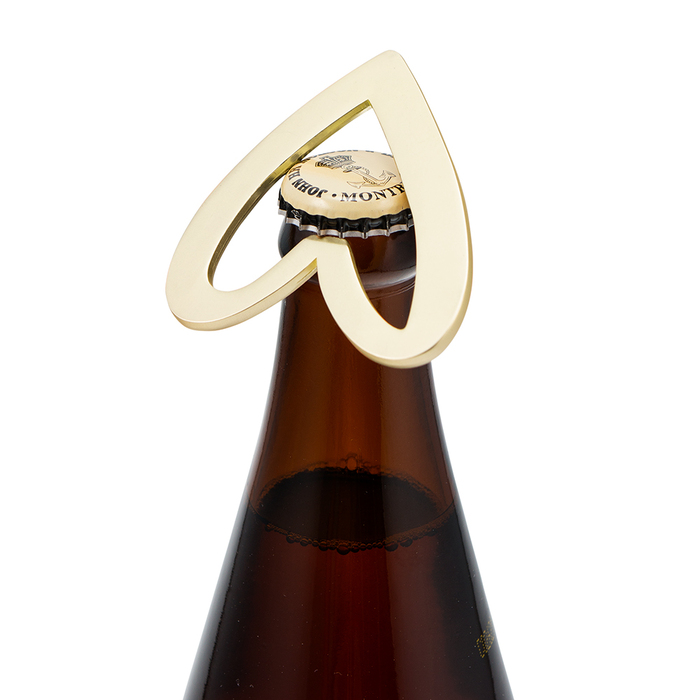 With heart-shaped bottle openers, you can make your guests' celebrations even more memorable. These cheap bridal shower favor ideas are perfect for a wedding shower themed on romanticism. Besides being adorable, these bottle openers also serve a practical purpose.
7. Lip Balm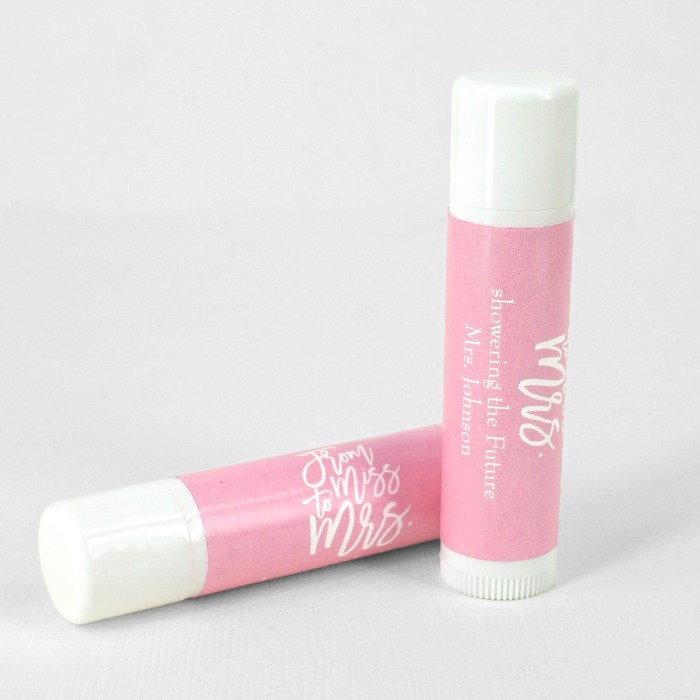 Cheap favors for bridal shower with a glam theme should include sweet scent lip balms. When it's cold outside, give your girl gang something to keep their lips juicy. They're also great for touching up on the go, whether it's for work, a date, or a good time.
8. Succulent Planter Favor
Succulent planter favors are lovely, simple to care for, and ideal for an environmentally-themed bridal shower. As a result of all of these advantages, they are a popular choice. Planting succulents in these pots will be convenient for visitors with a green thumb. Guests will appreciate having this as a keepsake from your event.
9. Luggage Tags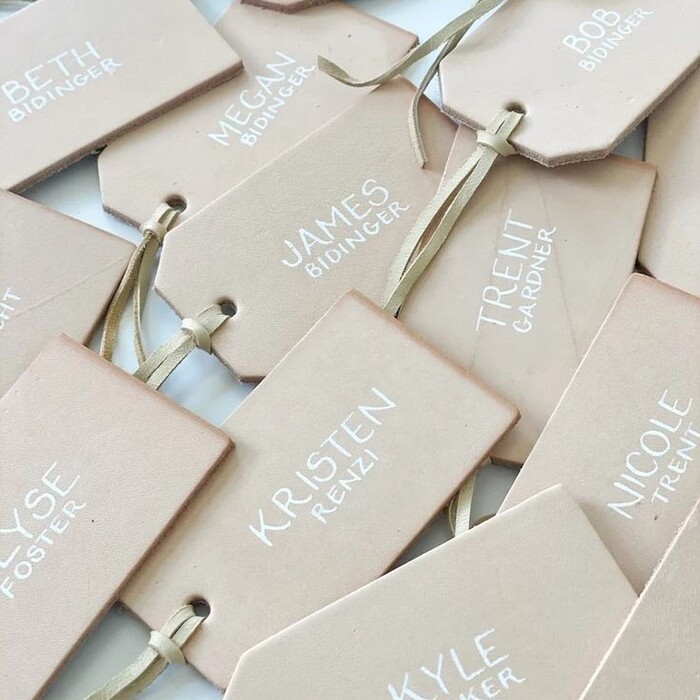 Using travel tags for luggage is a budget-friendly choice for a getaway-themed bridal shower. They'll be able to quickly recognize their bags thanks to these attractive travel tags. You have the option of selecting baggage tags in the form or color of your preferred country. You may even include your wedding hashtag or the date of your bridal shower in the engraving.
10. Nail Lacquer Favor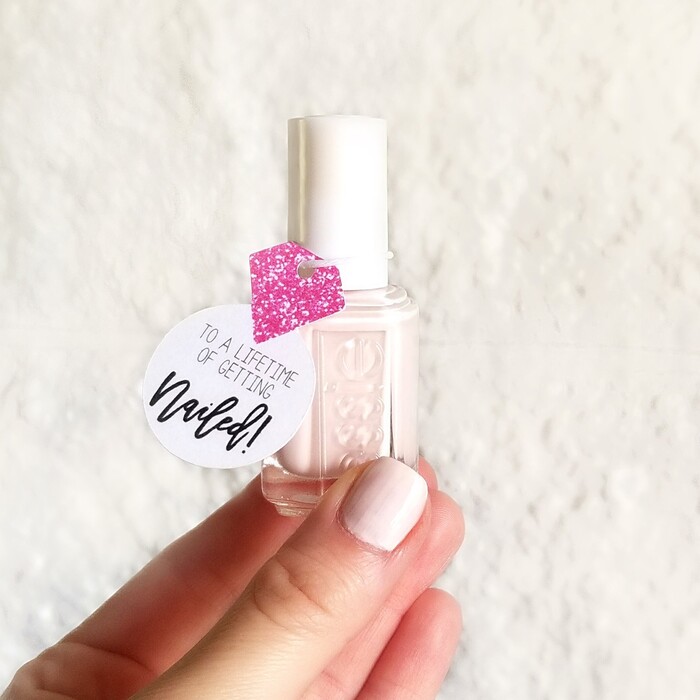 Cheap bridal shower favors such as nail lacquers are thoughtful and industrial-chic. The fashionable and exquisite guests will give their daughters a variety of colors to play with. You may customize these presents by attaching tags that read "Thank you for showering [Bride] with love" and "From [Bride's] shower to yours."
11. Personalized Bamboo Chopsticks
Enjoy your ethnic or traditional wedding theme with customized bamboo chopsticks. Trying to bring the Asian culture to you makes it more exciting. Choose a motivating or personal message to engrave on these chopsticks. They have the potential to serve a practical purpose while also being aesthetically pleasing.
12. Heart-Shaped Sunglasses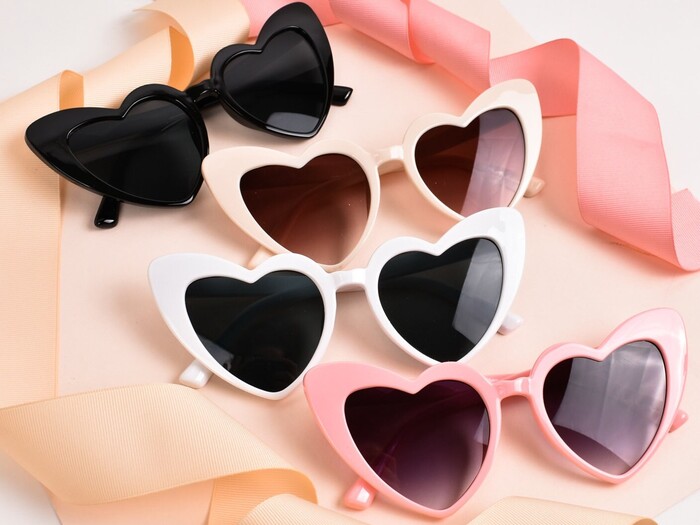 Heart-shaped glasses are adorable and funny wedding shower gifts and wedding shower photography props. These sunglasses have a trendy cat-eye shape with iridescent lenses which include white, baby pink, and black—for any party color scheme.
Cheap Bridal Shower Favors Make Your Guests Feel Special
13. Engagement Ring Pens
What a great way to add some sparkle to your wedding shower! It is possible to have them packed in transparent boxes for an extra fee. They come in a variety of colors including rose gold, silver, white and pink. Putting flowers out on the table is all you need to do to give your loved ones a nice souvenir.
14. Stemless Wine Glasses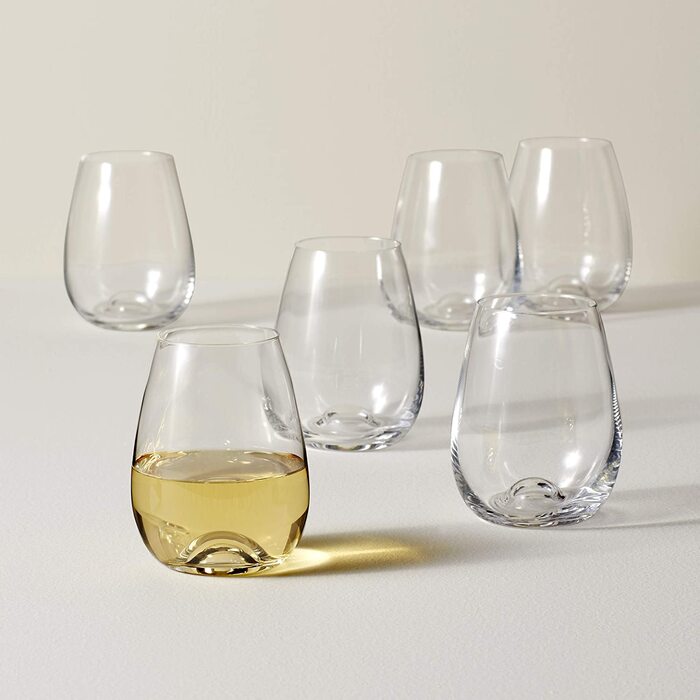 Wine glasses are a beautiful way to say "thank you." These re-usable and cheap bridal shower favors may be personalized or left blank for your guests' enjoyment.
15. Sugar Body Scrubs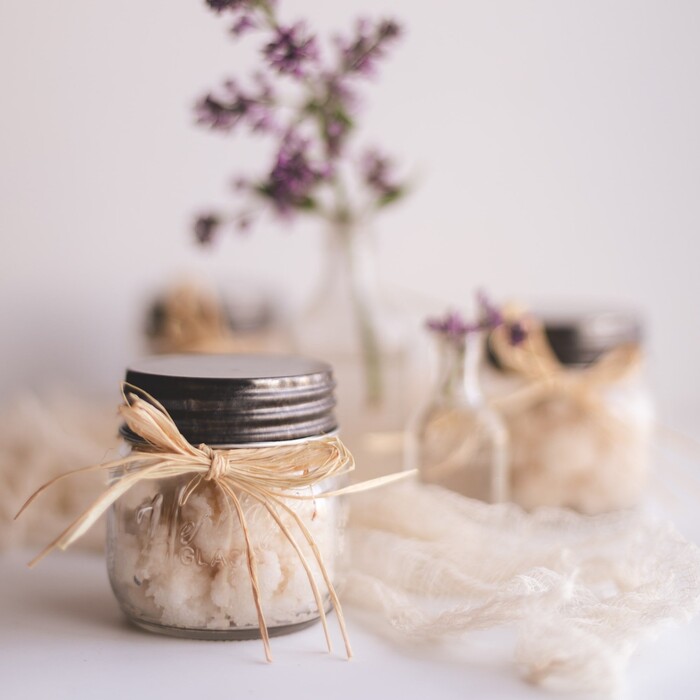 Make a sugar scrub for your visitors so they may use it on themselves. All of the gifts are created by hand using natural ingredients (such as cane sugar, coconut oil, and cold-pressed olive oil). To make a unique bridal party gift, customize the label with the name or initials of the bride-to-be.
16. Heart-Shaped Bamboo Cheese Boards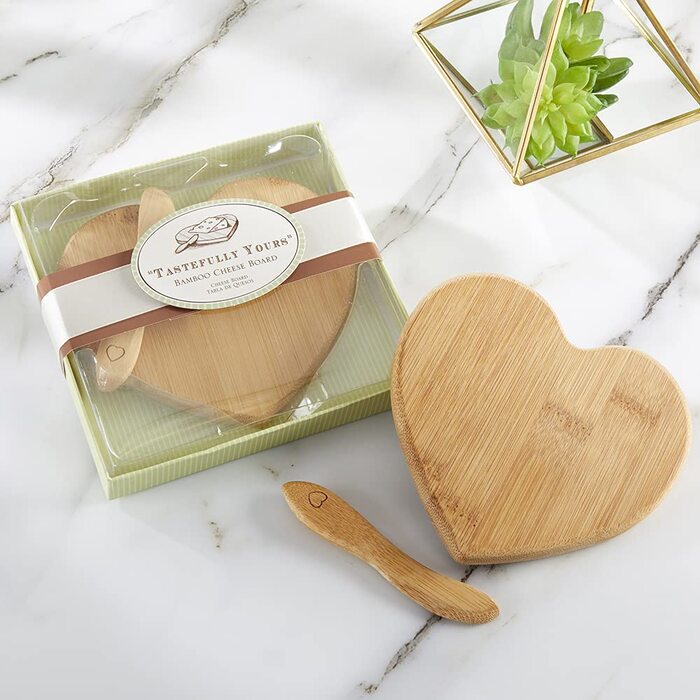 These cheese boards in the form of hearts are both useful and eye-catching. It comes with a bamboo spreader and a nice striped box for each gift. These little cheese boards will have your guests dishing out their favorite snacks in no time.
17. White Pine Seedling Favor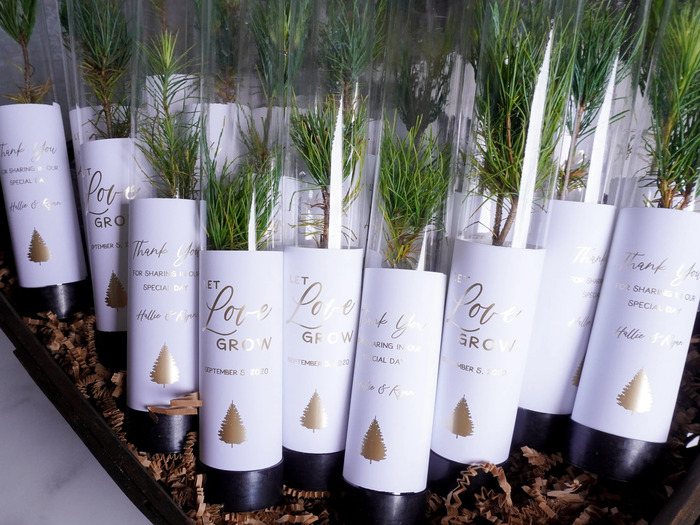 Gifting white pine seedlings for a beach-themed bridal shower is one of the most terrific cheap bridal shower favor ideas. If guests have a garden, they may plant them and watch them grow. This unusual gift is sure to be appreciated by any guests who have a green thumb. When you look at it, you'll always remember the great day you had together.
18. Customized Canvas Print
That she'll be happy to be a part of your special day, whether or not she's physically there, comes as no surprise. A simple photo of the two of you customized with your special message will serve as a nice reminder of how much she means to you. She will treasure this photo artwork as a great personalized bridal shower gift.
19. Wildflower Seeds Favors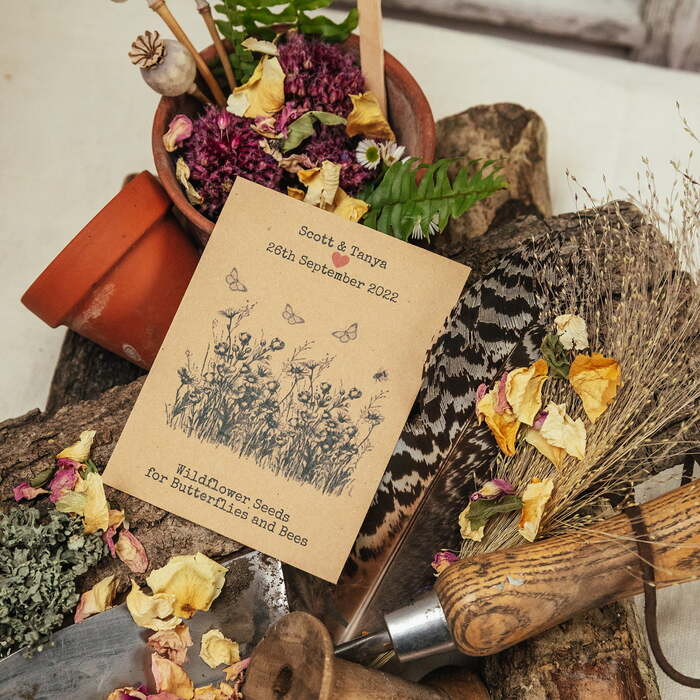 Consider distributing wildflower seeds as cheap favors for bridal shower with a green theme. Because they are so gorgeous, guests will want to have these flowers in their waiting rooms, halls, and even bedrooms. You'd be delivering a service if you helped your guests unwind.
20. Zodiac Jewelry Dishes
An individual present for each visitor is an excellent idea if you're throwing a small celebration. Each zodiac sign has its unique pattern on this jewelry holder. These star sign catchall dishes are sure to delight your astrology-obsessed visitors.
21. Rose Bath Bomb Favors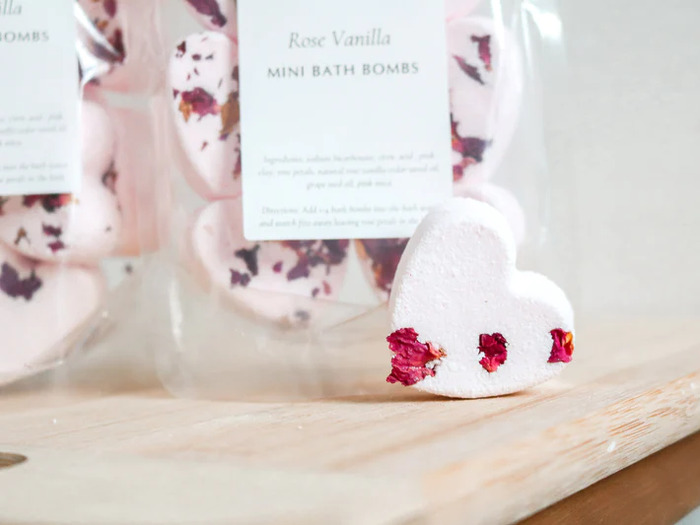 Indulge your visitors with these rose-scented bath bombs, which are made from all-natural ingredients and smell as amazing as they look. Each heart-shaped, handcrafted small comes with genuine rose petals over it; all you have to do is personalize the package!
22. Farmhouse Wall Art \Canvas Print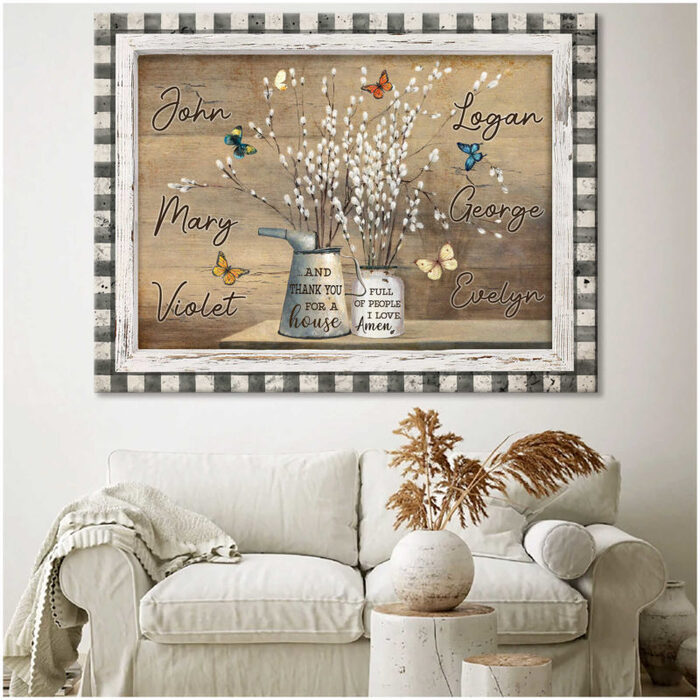 A canvas print is one of our go-to options for inexpensive bridal shower favors. To show your affection, give her a piece of art that she may display in her home.
>>> Recommend Reading: 32+ Best DIY Bridal Shower Gifts The Bride Will Cherish
Tasty And Cheap Bridal Shower Gifts For Your Guest
23. Hot Cocoa Tube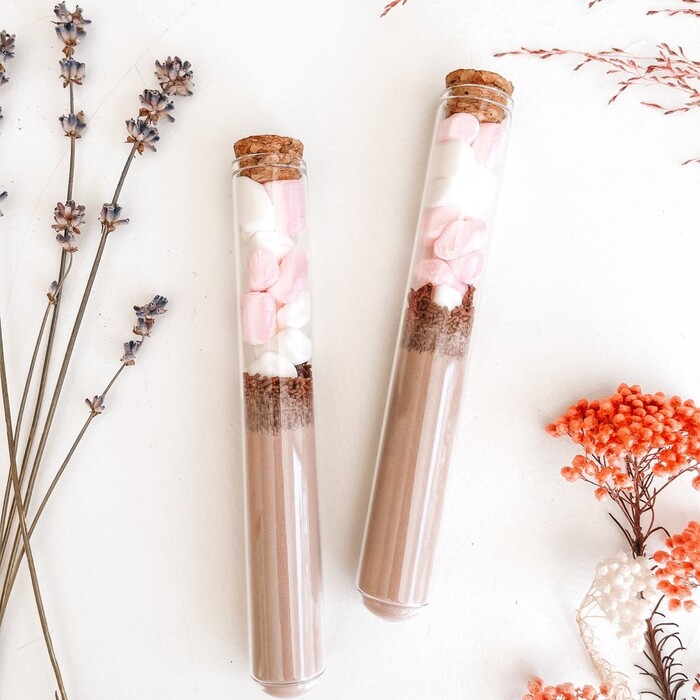 Hot cacao tubes may be used to provide a sweet treat for wedding showers that are themed around the winter season. Everything from marshmallows to chocolate sprinkles is adored by everyone. At your function, treat everyone to some of your homemade confections.
24. Custom Honey Jars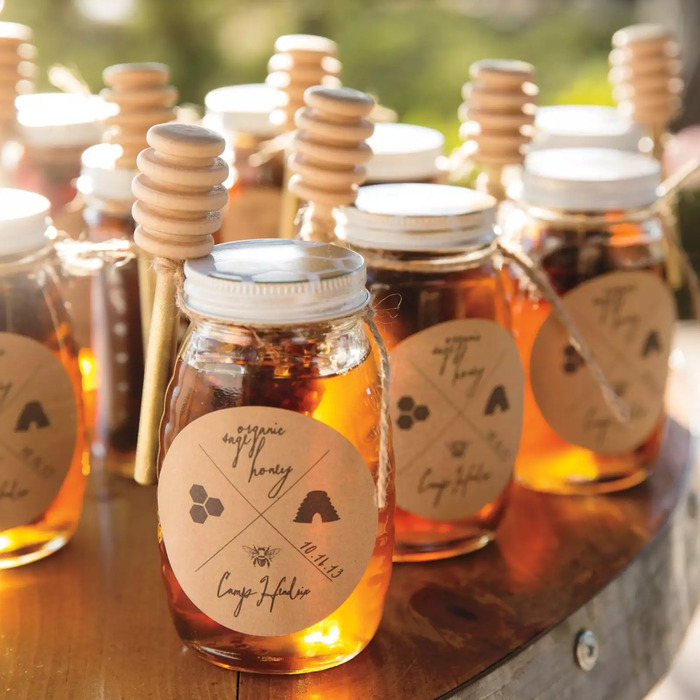 Using these adorable wedding shower honey pots, you can show guests that the pair was "meant to be" from the start. In little glass jars with labels and ribbon or string, the wildflower honey is packaged. For an extra fee, wooden dippers may be added. Labels may say anything from "bride to bee" to "discovered my honey" or even just "love is lovely."
25. Personalized Lollipop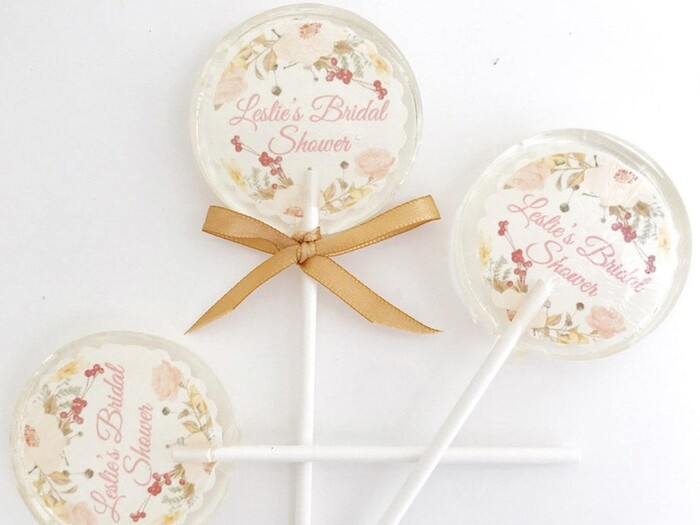 Offer lollipops as innovative edible favors with a flirtatious theme. Choose from a variety of lollipop flavors, including transparent toy candy, dum-dum pops, tootsie pops, whistle pops, and more. It's also possible to go with unique tastes that will leave your visitors speechless.
26. Sweet Mini Meringues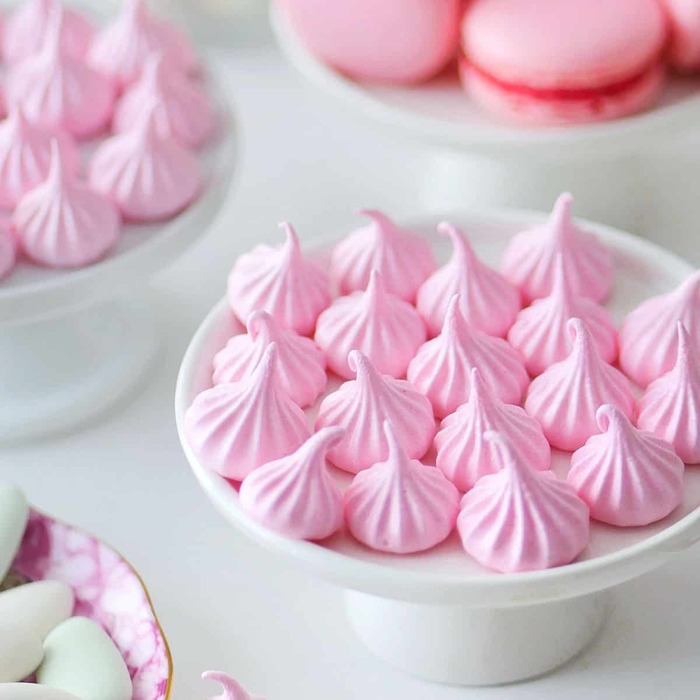 Mini meringues are a must-have for any traditional themed bridal party. They're also inexpensive and popular with everyone. To serve as a roadside snack, this is a great choice.
27. Champagne and Prosecco Gummy Candy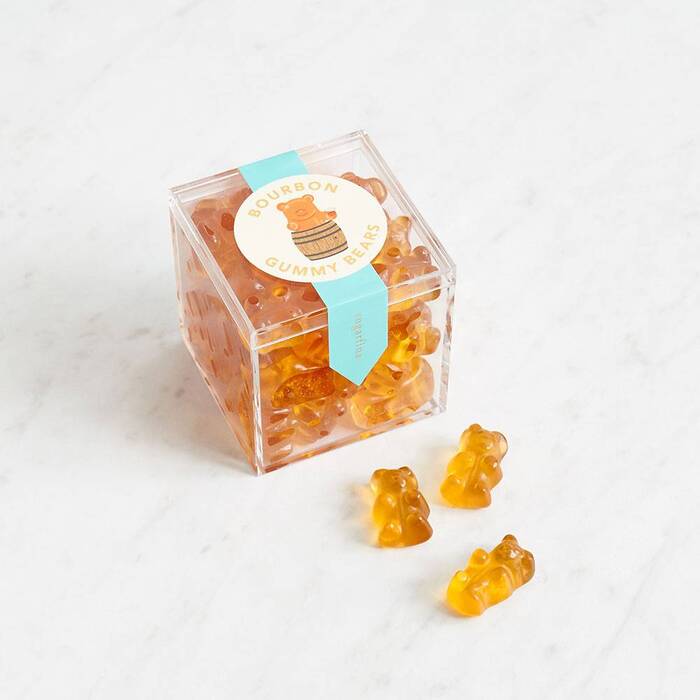 Your bridal party should be a luxurious experience for the bridesmaids to remember for a lifetime.
28. Mini Nutella Jars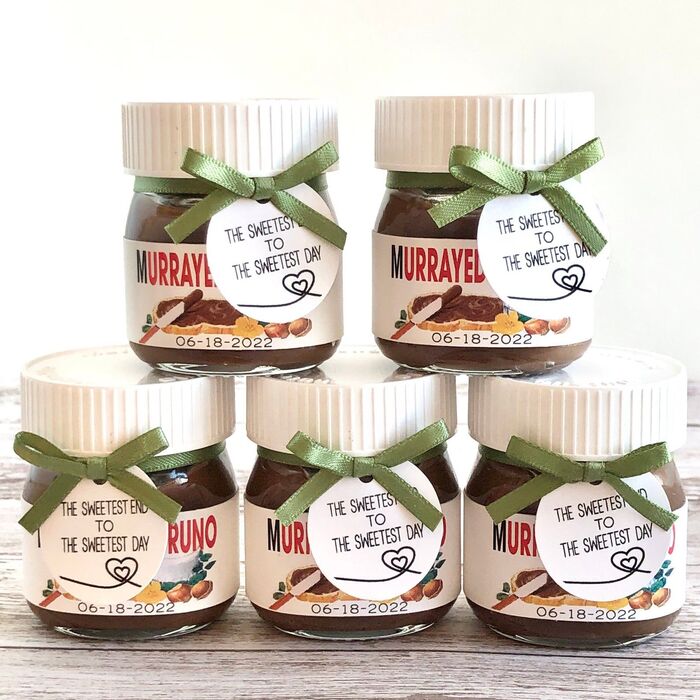 We know how much your guests love Nutella, and we're certain that they'll gobble up these little customized Nutella jars. Although the glass containers are gorgeous on their own, you can spend a few cents more to dress them up with a ribbon. These lovely and cheap bridal shower favors will have your guests coming back for more!
29. Decadent Dessert Bars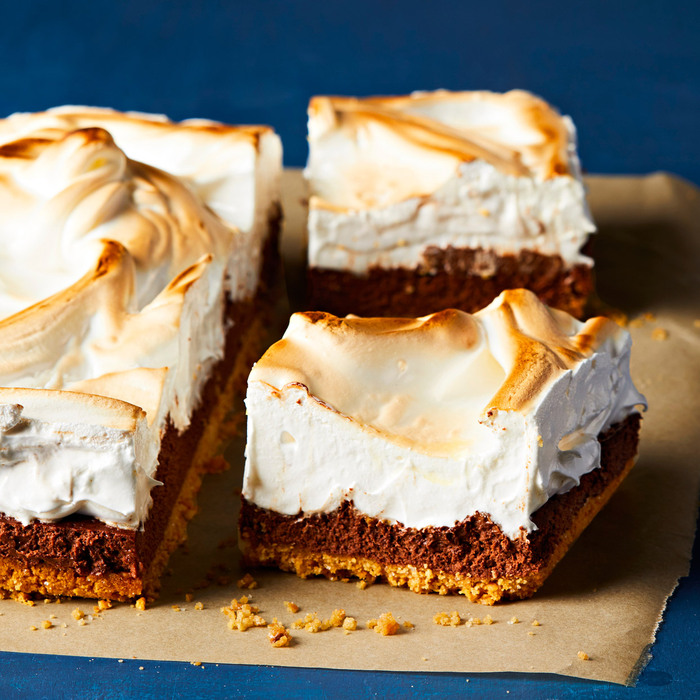 Assorted dessert bars with homemade pastries will delight your visitors. It comes with lemon squares, chocolate oatmeal bars, fudge brownies, blueberry crumble bars, and oatmeal cookies in a multi-pack—yum!
30. Doughnut Favor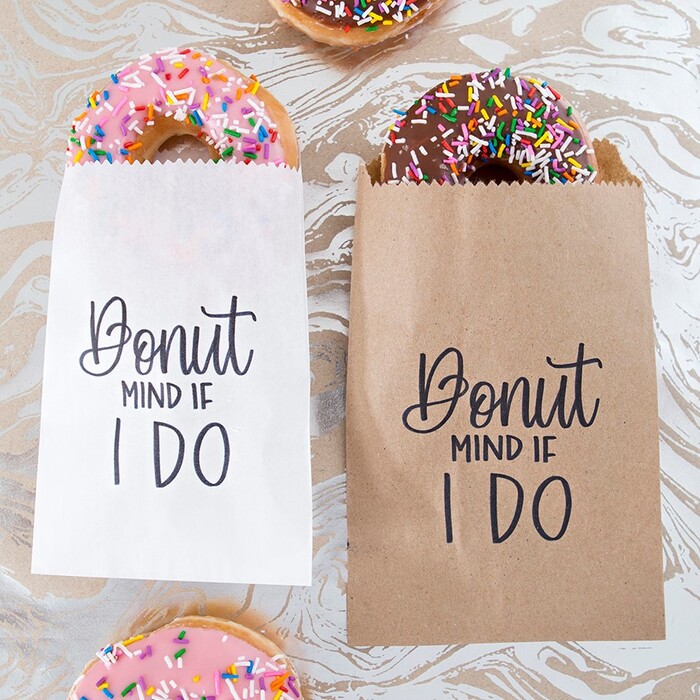 When it comes to these low-cost bridal shower gifts for your guests, "Punn-y" is the name of the game. These "Donut Mind if I Do" paper bags are sure to please a crowd. You may either pre-fill them or allow visitors to use them to take home a few doughnuts from the dessert table during the shower.
31. Macaron Favor Box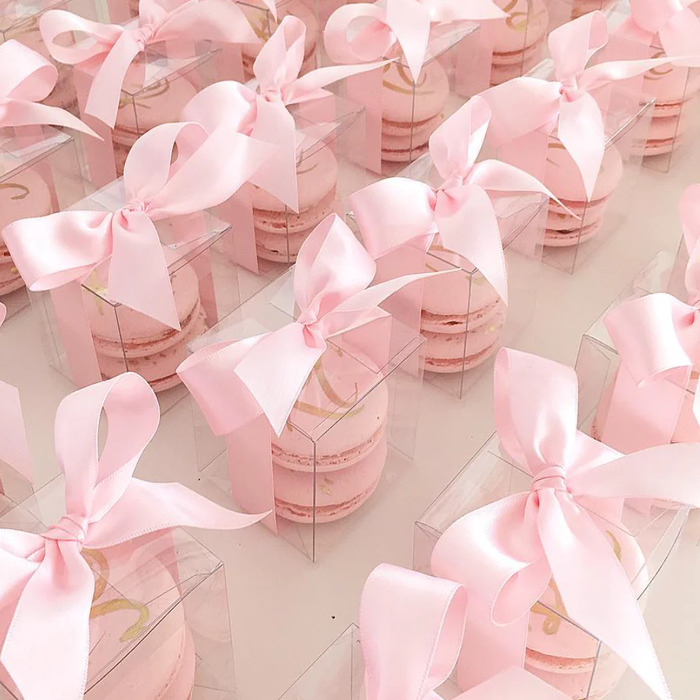 Does the macaron have any rival in terms of decadence and femininity? No, we don't believe so. Use these lovely boxes to package the bride's favorite macarons. They come with customized labels for the bridal shower date or couple's initials and a variety of colorful ribbons.
32. TicTac Labels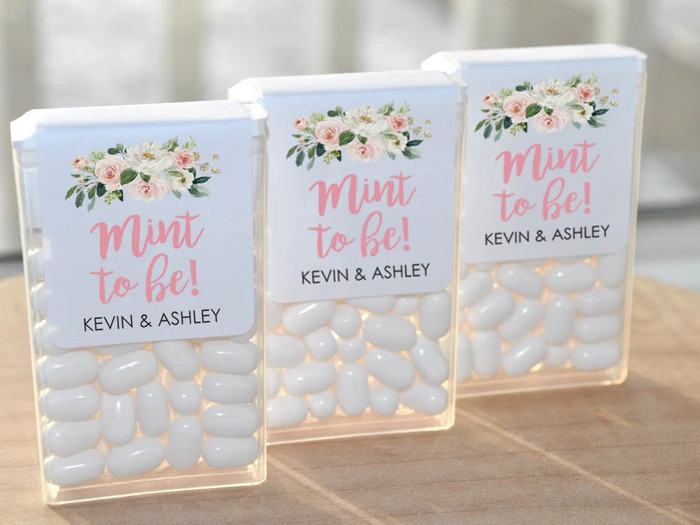 TicTac labels are a simple way to transform cheap favors for bridal shower into a memorable one. The white mints, with their crisp, unique appearance, are our favorite part of this dessert.
Bridal Shower Favors FAQs
Are Bridal Shower Favors Necessary?
Wedding shower gifts for guests aren't required, but they're a great gesture. As a thank-you gift and memento of the event, party favors are ideal. You should give visitors something they can use and enjoy after the event is over. Favors that go in with the bridal shower theme are a plus.
How Much Should Pre-Wedding Favors Cost?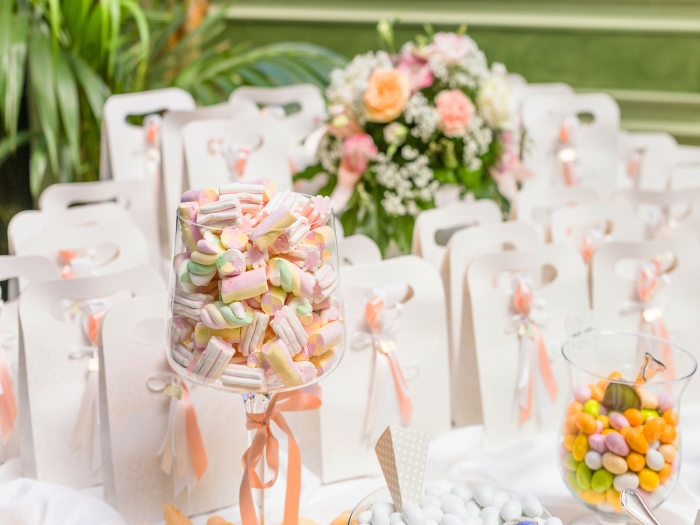 When selecting how much to spend on wedding favors, consider your budget and the number of guests. Small and intimate parties may cost more than larger ones. Ultimately, however, the decision is yours!! You don't need to spend more than $10 on a gift for your guest, and there are many fantastic possibilities between $1 and $5. Buying in bulk might save you money.
>>> Maybe you're interested in:
Who Pays For Wedding Shower Favors?
Party goodies are often purchased by the person who throws the shower. Many times, it's a joint effort between friends and family members who are taking on the planning responsibilities. Occasionally, someone offers to cover the whole cost of a favor. If a group of individuals agrees to divide the cost, that's one way to go. The maid of honor or mother of the bride, for example, is generally the first to begin the dialogue. As usual, it's crucial to keep everyone's financial situation in mind.
You may pay your respects to your visitors by giving them a little token of appreciation. Among the greatest bridal shower gifts are edible delicacies, mementos, and succulents. With a variety of themes, budgets, and personalities in mind, Oh Canvas has put up a list of cheap bridal shower favors. While you're looking forward to your big day, enjoy today and spread the love around.