On the wedding day, couples get hundreds of gifts and come up with something unique and memorable as wedding gifts for couples India might be challenging. Some of us want our gifts to be one-of-a-kind, while others want them to be practical and memorable. To help you relax and enjoy the wedding season, Oh Canvas has collected a selection of unique and interesting presents for wedding couples in India.
Traditional Wedding Gifts For Couples India
1. Ram-Darbar Statue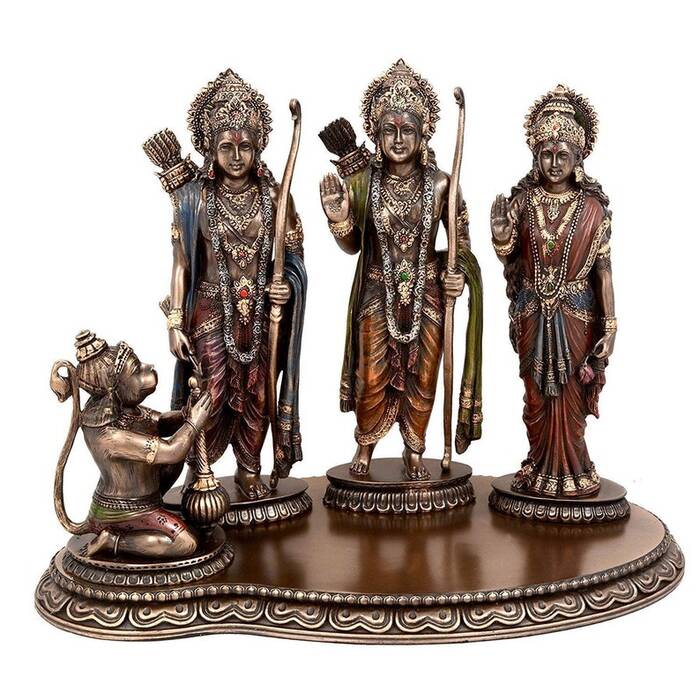 We all know that Indians believe in the existence of deities. To them, prayer is an essential part of their daily lives because of the wonderful impact it has on our well-being. Giving Ram-Darbar statues at weddings is a wonderful gesture, especially because they view marriage as a sacred union of two souls.
2. Ayurvedic Oil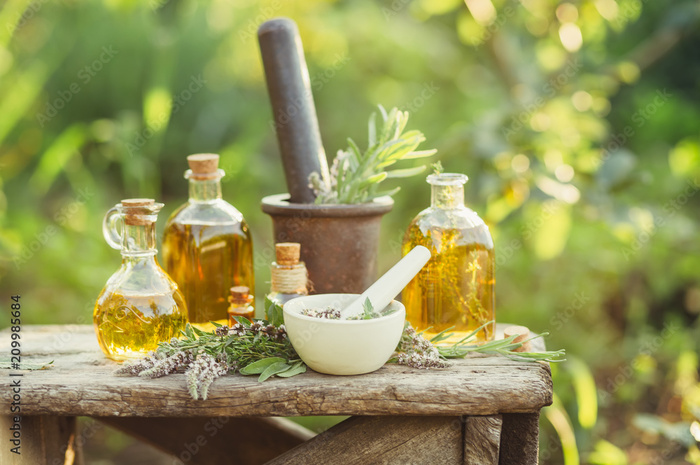 Ayurveda is an Indian medical practice that emphasizes a holistic approach to health and wellness. Preventing disease rather than treating it is the goal of this holistic approach to health and wellness. Give the Indian couple you care about some ayurvedic items! Ayurvedic oil will remind them of their special day, as well as how much you cared for them.
3. Colorful Throw Blanket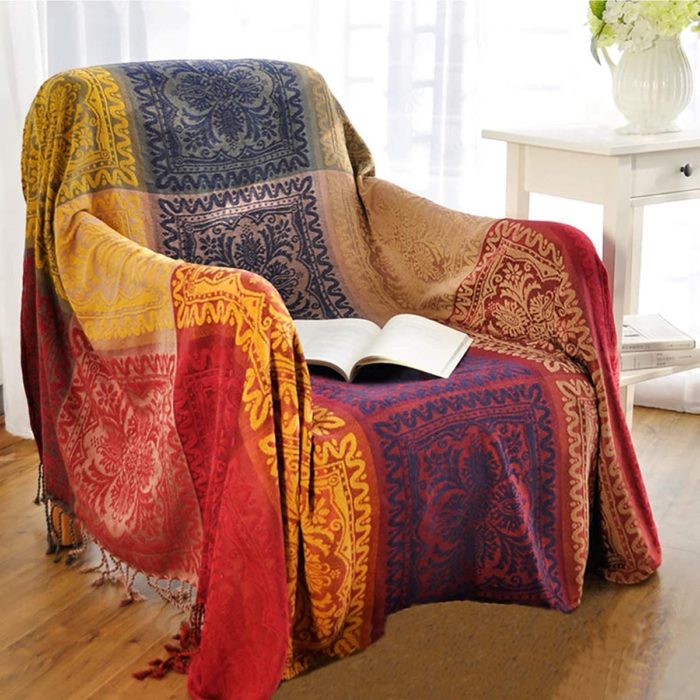 A wedding is the beginning of a new life, a new family, and even a new home! As a result, wedding gifts for couples India in terms of home decor and accessories will help the newlyweds create a house filled with love and perfection. There are a variety of options for couples to choose from, including throw blankets, rugs, curtains, and so on.
4. Charming Wind Chime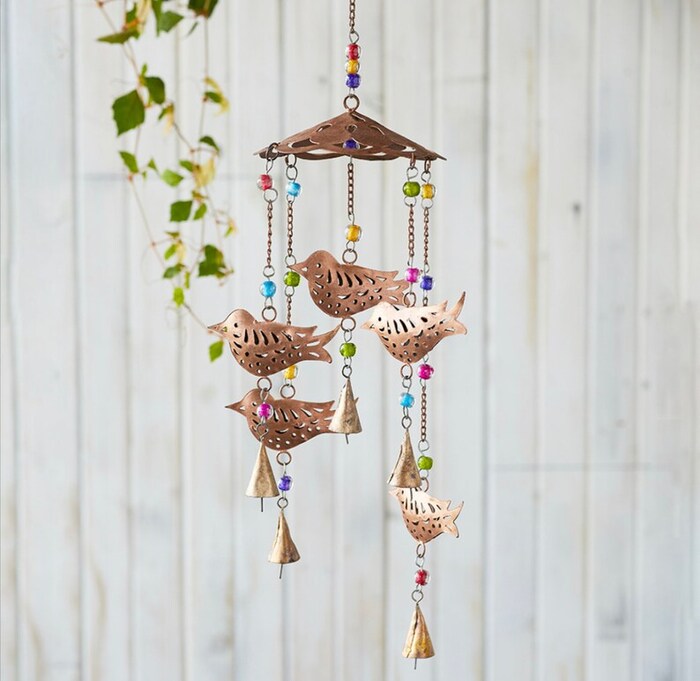 Wind chimes are a popular item in India, and it's no surprise. This item instantly improves the ambiance of their house. The wide array of styles and brilliant colors will help you find the appropriate wind chime for your loved one's home decor.
5. Jewelry Tree Stand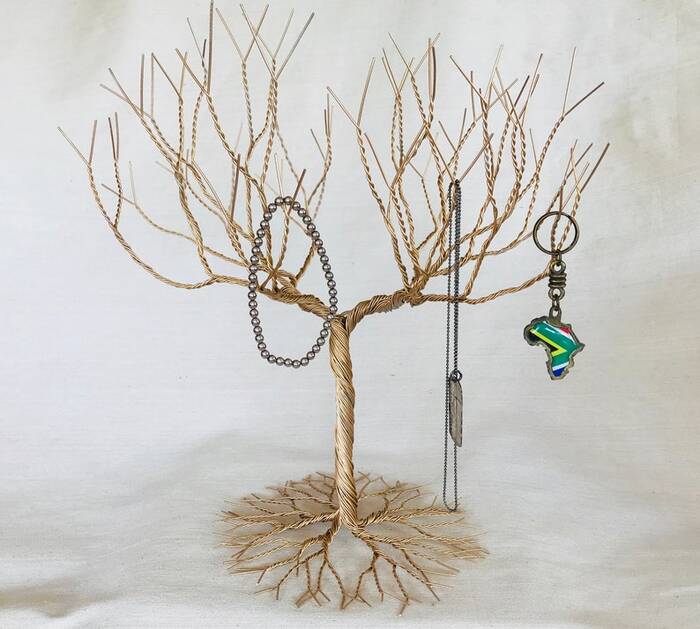 To keep their jewelry organized, give them a gorgeous pedestal holder. Wedding jewelry isn't just beautiful; it's also a treasured reminder of the special day. Because of this, they would like to place their jewelry on a pedestal.
6. Sarees And Kurtas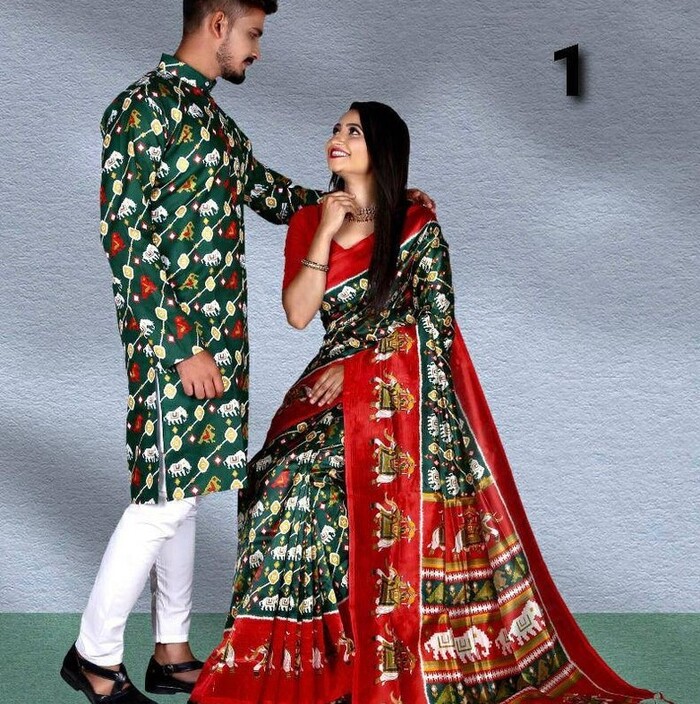 Among wedding gifts for couples India, apparel is the second most popular. In terms of wedding attire, there are a variety of options available for purchase. Kurtas and sarees, on the other hand, are the most popular wedding gift attire.
Kurtas and saris are widely accessible online and in the local market. As a wedding present for the perfect couple, they are the ideal option. There are several reasons why you should consider a gift of kurtas or traditional Indian wedding clothes for your beloved couple.
7. Lyrics Song Canvas Painting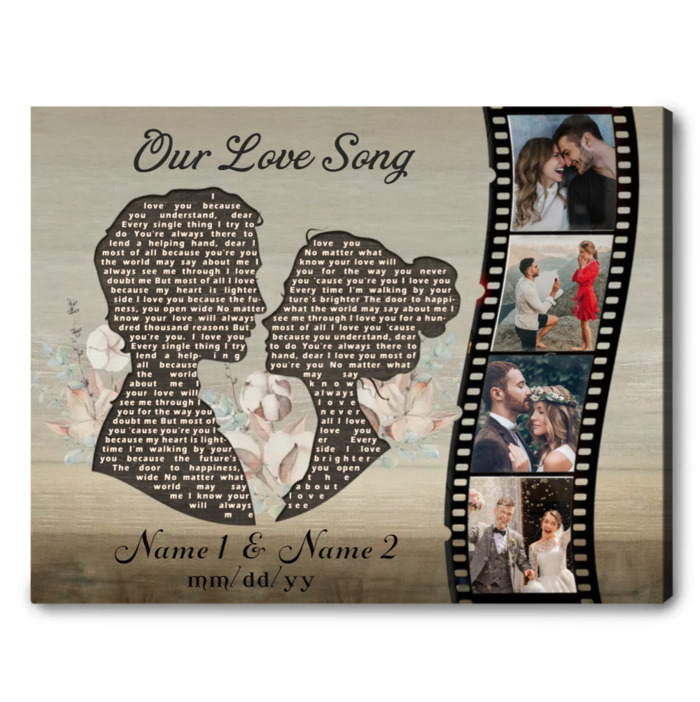 If you're seeking creative gifts for wedding in India, look no further than our collection. In addition to being lovely and functional, this personalized photo gift can be purchased. Customize your invitation by including four photos, a song's lyrics, your wedding date, and the names of both of your beloved couples.
8. Customized Bobbleheads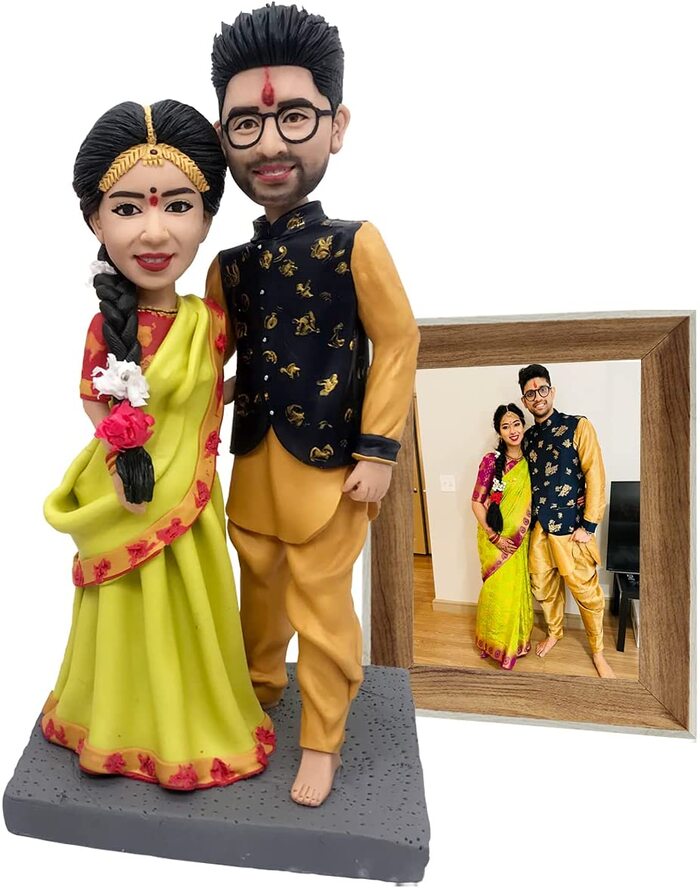 As long as you give your bride and groom a bobblehead that looks just like them, you'll have a gift that will be talked about for a long time after the big day. These can be made to look like the bride and groom, but in a toy version. These handcrafted dolls look fantastic and are a perfect addition to any newlywed couple's decor.
9. Embroidered Pillow Covers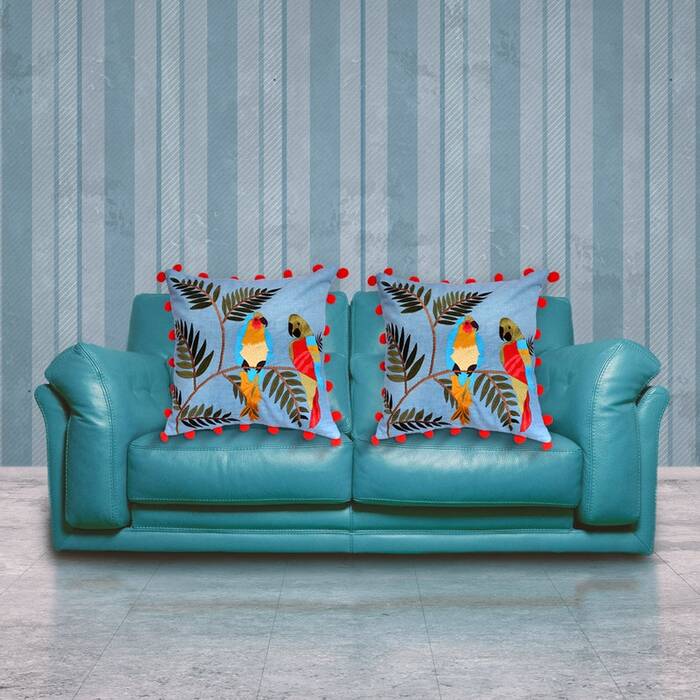 Another fantastic choice for a couple is to give them hand-embroidered or custom-made pillow covers. Newlyweds are embarking on a whole new journey. And, of course, this new lifestyle needs some swanky furniture. As a result, we'd like to recommend these hand-embroidered pillow coverings.
10. India Tray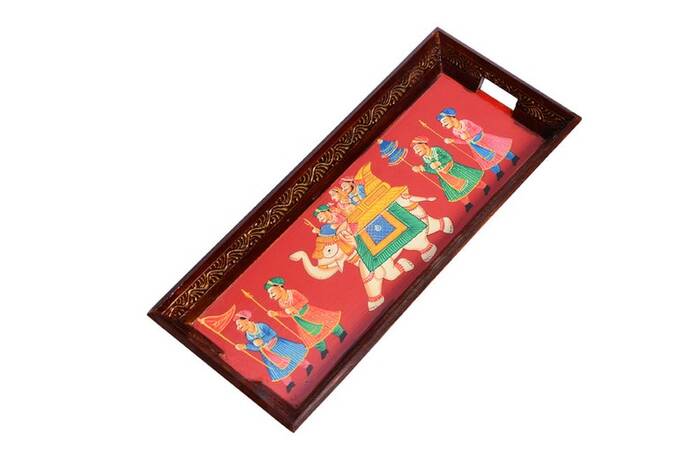 Rather than a standard personalized tray, give your Indian newlyweds a tray that is decorated with an Indian cultural symbol. This tray is a great way to show your loved ones how much you appreciate them. Gifts for newlyweds are always appreciated, and this one is no exception.
11. Jewelry Set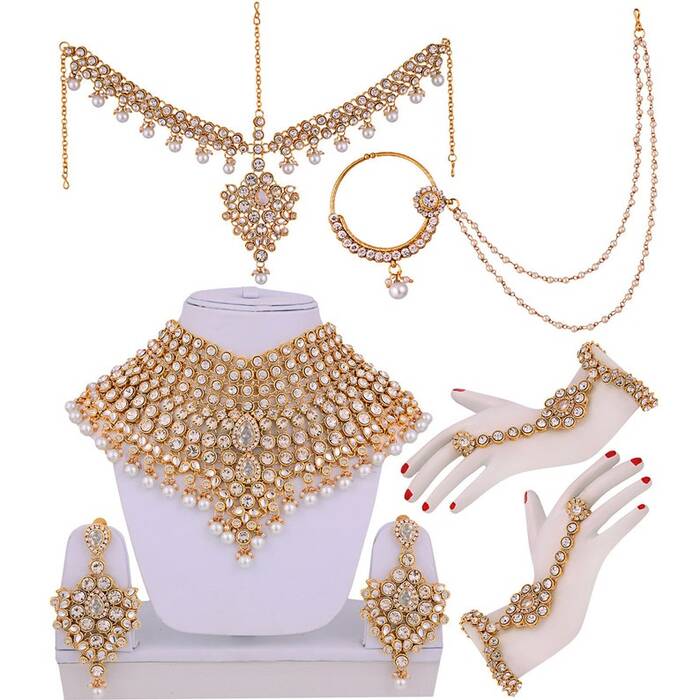 The wedding jewelry set is a must-have for any bride and groom. And we can't imagine wedding gifts for Indian couple without them. But even though gold is the most popular material used in Indian wedding jewelry, if money is an issue, we can still give the bride faux gold jewelry as a substitute.
12. India Tea Gift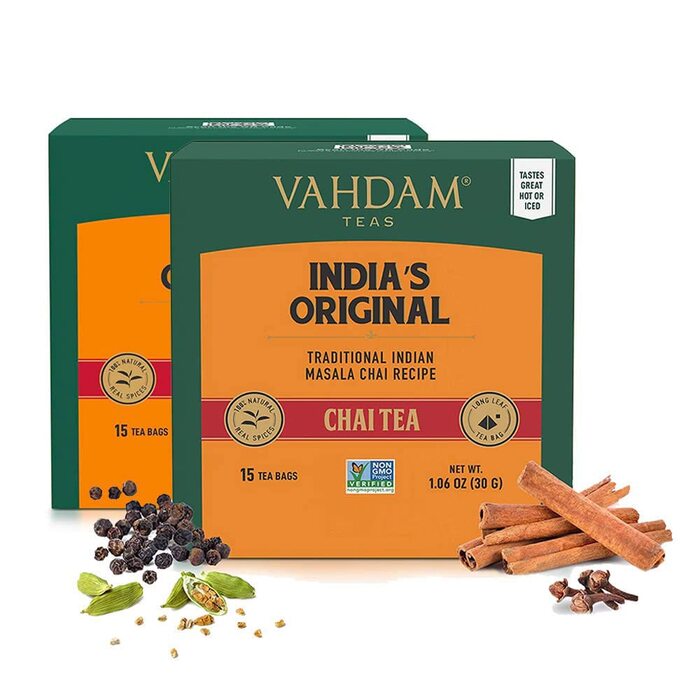 Giving tea packages as wedding gifts for couples India is always a good idea. Almost universally, a gift of tea is seen as a gift of health. Tea has been used in India for a long time to improve health and well-being.
13. India Wedding Keepsake
They'll have a lot of little mementos to gather along their journey, in addition to hundreds of images. Of course, they don't want to lose any of their treasures as time passes, so we're confident they'll store them safely in one of the best wedding keepsake boxes.
15. Wedding Hamper Gift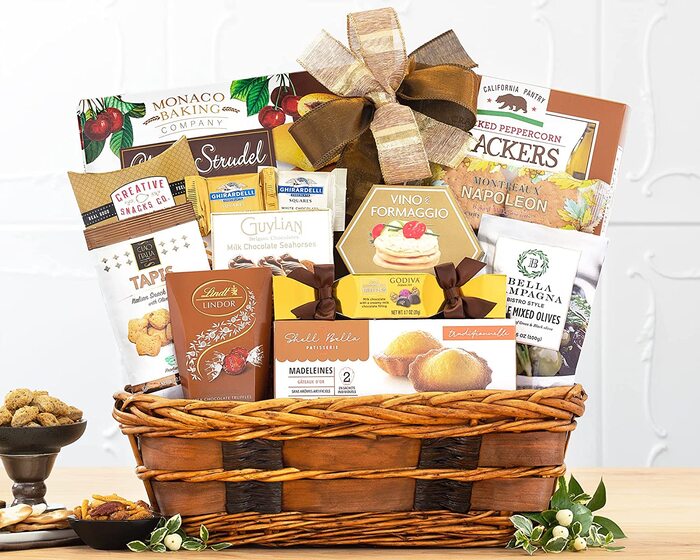 Gifts for wedding in India are all about originality. Gifting a basket is an ideal idea for Indian wedding gifts. A gift basket is perfect for every wedding, whether it's a Punjabi or a Maharashtrian one. Many different kinds of products might be included in a hamper, from food to cosmetics to food.
16. Customized Couple Canvas Print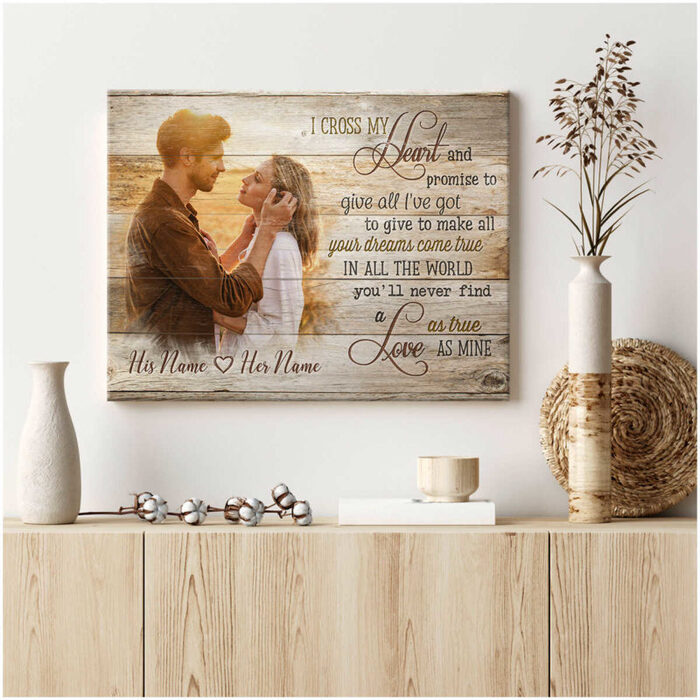 Many people are still unsure of what to buy or how to give meaningful wedding gifts for couples India. Because of this, we believe this heart wall image canvas is an appropriate recommendation for your consideration. You can customize the wall art so that your beloved couple feels valued and overjoyed on the occasion of their wedding when they receive it. Get it now!
Sentimental Wedding Gifts For Couples India
17. Scent Candles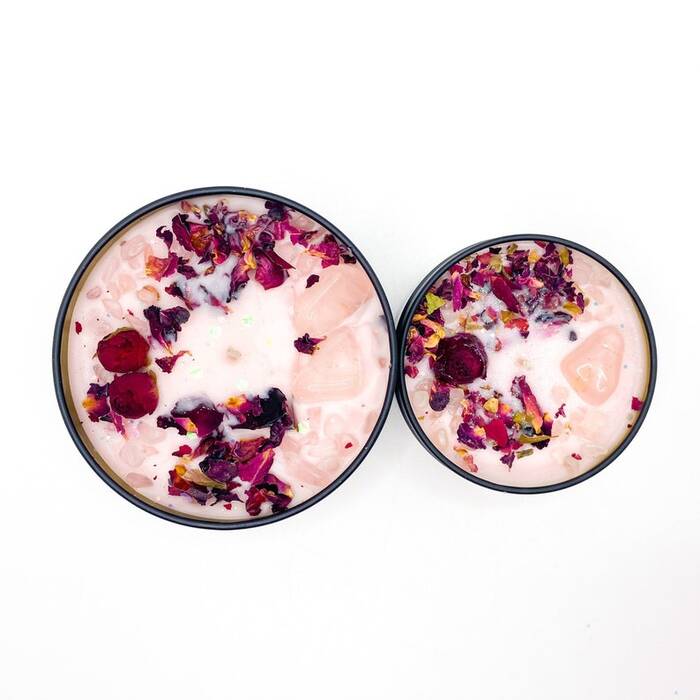 Candles are common wedding gifts for couples in India, even if the couple isn't big on incense. For Diwali, fresh candles are always needed, and candlelight sets the tone for dinner parties well. For those who don't know the couple well or can't afford to spend a lot on a wedding present, candles are the safest and most economical option.
18. Copper Plant Pots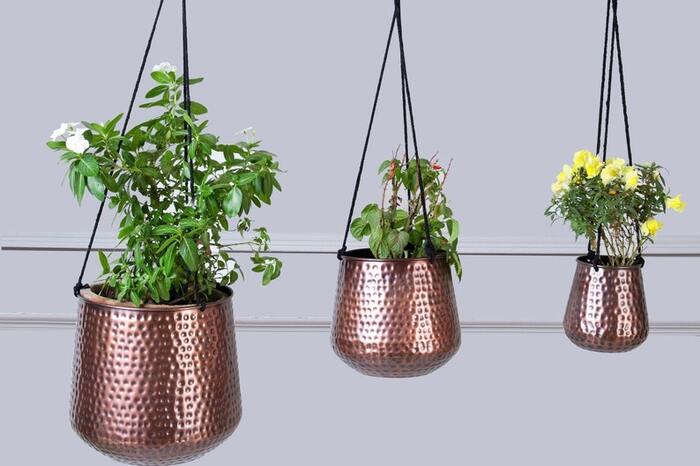 Nature has long been a source of fascination for India. So, you may be sure that your Indian couple would treasure these copper planters. This copper container allows them to grow any type of plant they like.
19. Silver Tea Set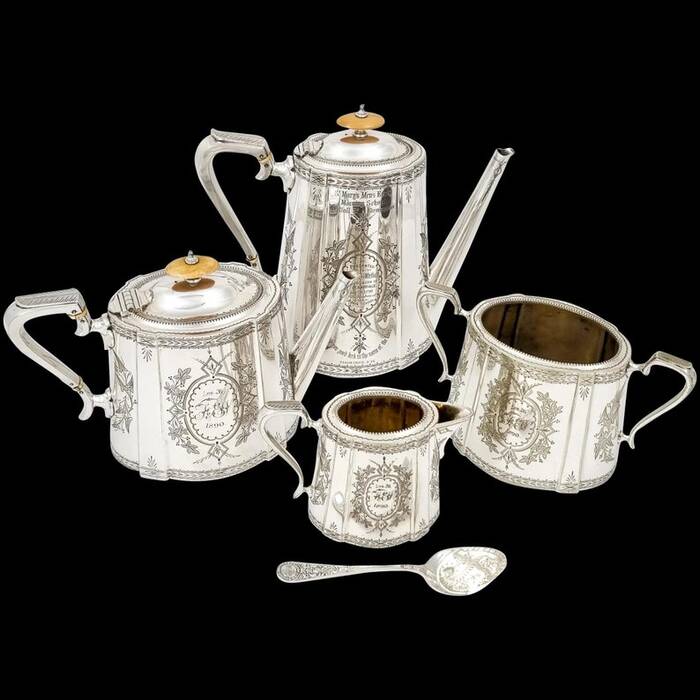 If you're at a loss, a set of silverware makes amazing wedding gifts for couples India! In Indian culture, silver gifts are regarded as one of the most auspicious wedding gifts. One of the most practical wedding gift suggestions for couples is a set of silverware. This Indian wedding gift idea can make a wonderful addition to the newlyweds' new home in any part of the country.
20. Sweet Mithai Box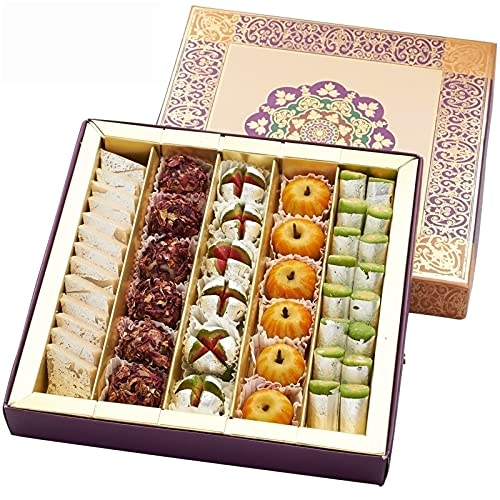 Regardless of how well-versed they are in Indian cuisine, a delicious mithai box makes a lovely present for their wedding. We are confident that your bride and groom will appreciate this sweet present.
21. Yoga Set Gift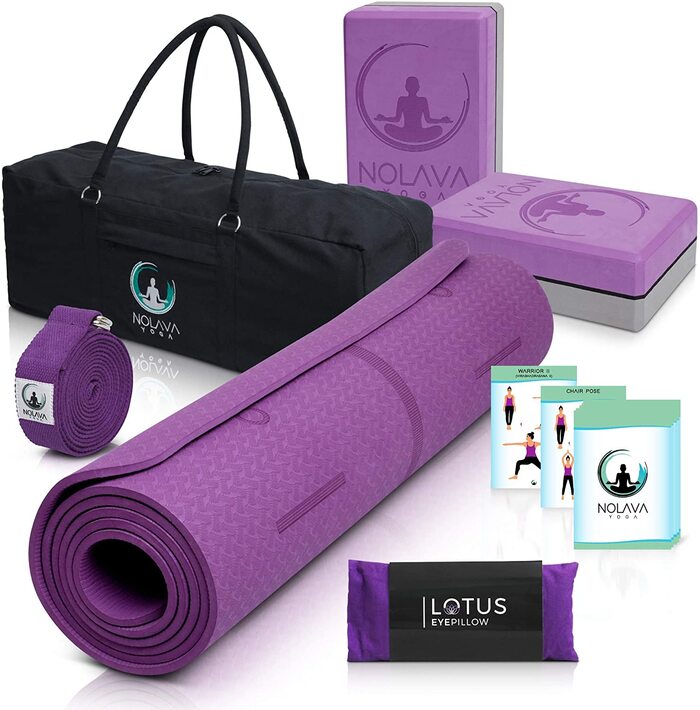 If your Indian bride and groom are Yoga enthusiasts, this Yoga gift set is a top choice for their wedding ceremony. This set also encourages them to do yoga more intensely, which shows that you care about their health.
22. Customized Whiskey Glass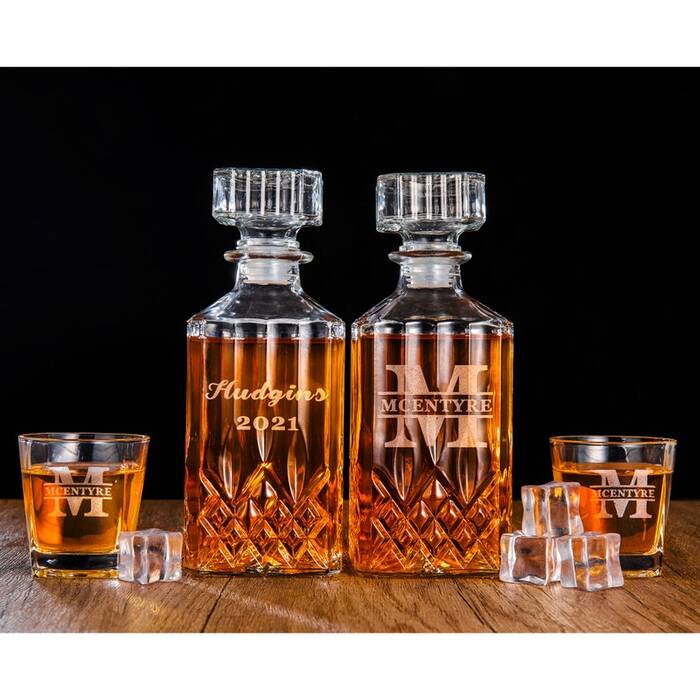 Adding the newlyweds' initials to a bottle of whiskey or engraving the wedding date on glass is a kind gesture that demonstrates that the couple put a lot of thought into their present choice.
23. Comfy Bedsheet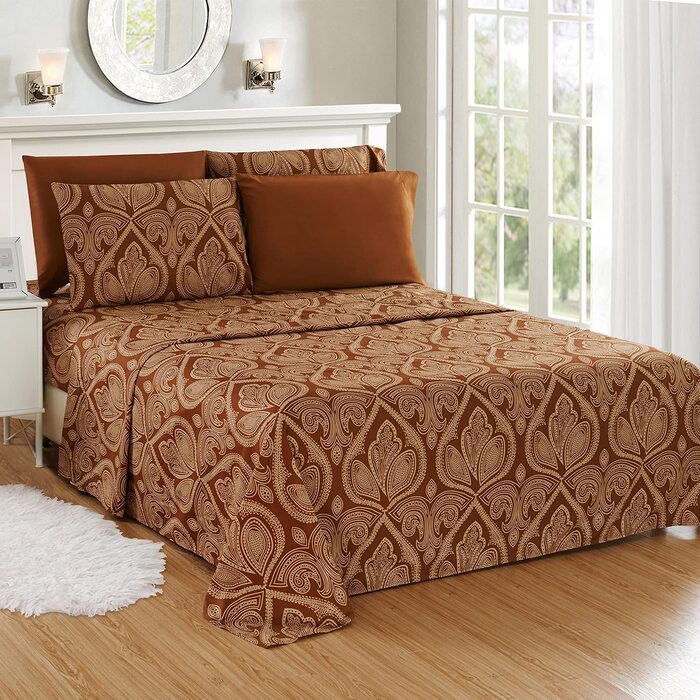 The truth is after that lavish day of the wedding, everyone goes home and things get normal. So, why don't you gift the couple a personalized bedsheet that they can spread on their bed and feel special? You can get the couple's pictures printed on the bedsheets and pillow covers, which will add that special touch to the wedding gifts for Indian couple.
24. Candle Holder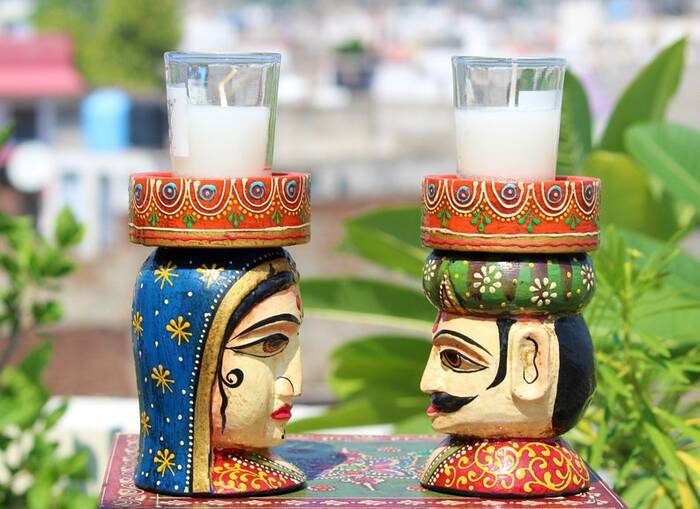 It's nearly impossible to find better gifts for wedding in India than an Indian-themed candle holder. Surprise and happiness will be the reactions of the recipient to this present. It's a candle holder, but it's also a decorative item that any Indian would be proud to display in their home.
25. Wine Bottle Box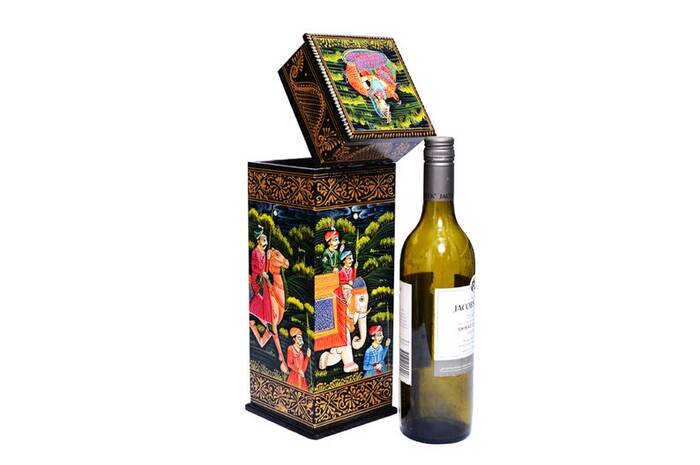 There's no greater wedding gift than a vintage wooden wine box filled with wine and stemware. For an additional fee, you can even personalize this box by adding a message and the couple's name to the outside of it.
26. The Best Things Canvas Art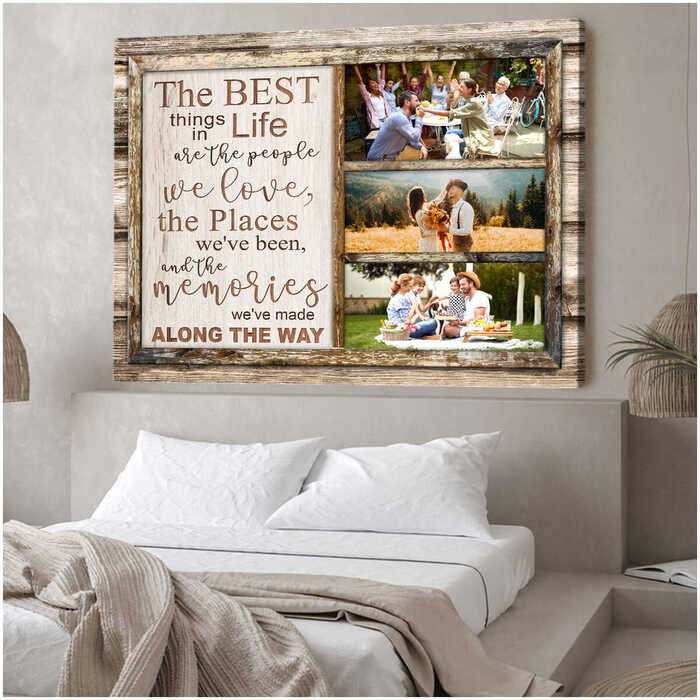 The Best Things Canvas Print is beautiful decorative wall decor. It's also a great gift for any couple or long-term relationship. It is possible to make wedding gifts for couples India that are truly unique by having their names and the names of their partner engraved on a custom piece of art.
27. Elephant Head Wall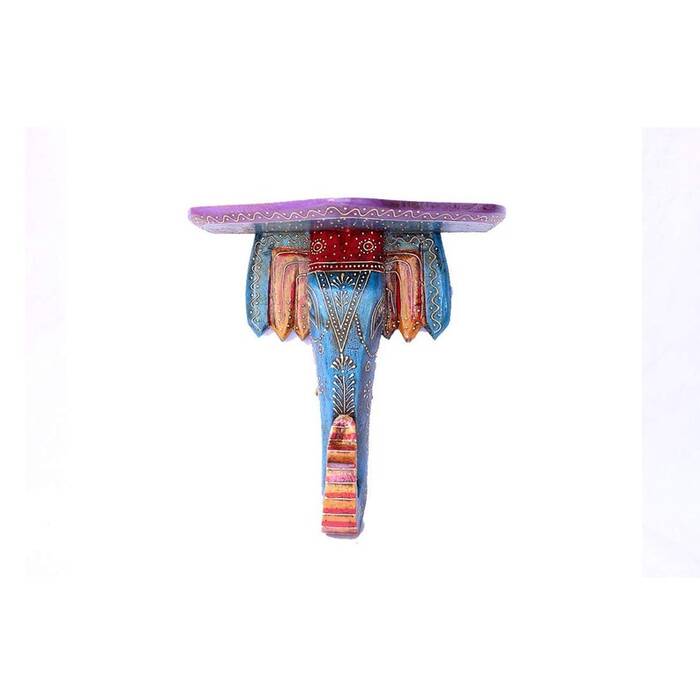 Are you sick of all the popular gifts on the market? An elephant headwall is a fun and unique wedding gift for couples India. When a visitor comes to their house, they will gladly reveal that this is your wedding gift.
28. Copper Drinkware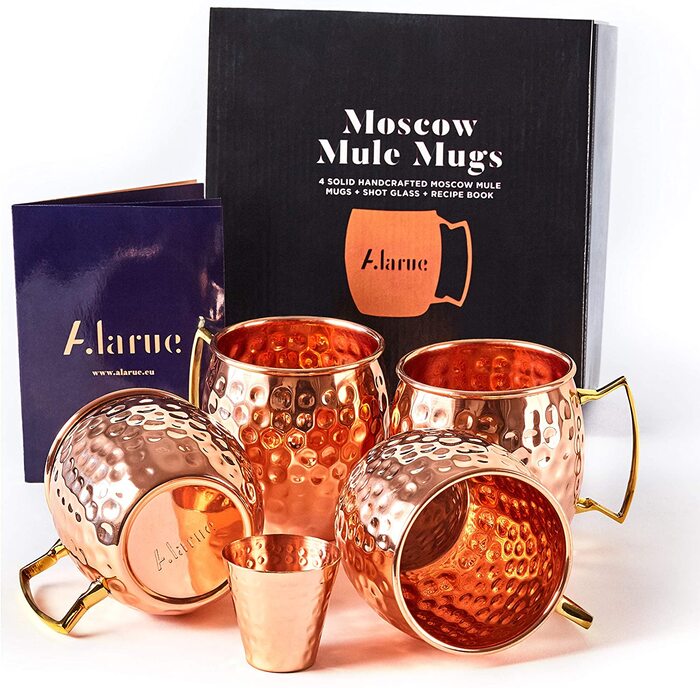 On the wedding day of Indian marriage, copper objects are traditionally given as a wedding present. It's not just plates and kitchenware that can benefit from the copper trend; you can also offer copper drinkware to your loved ones. Consider giving drinkware as awesome wedding gifts for couples India.
29. Ceiling Lighting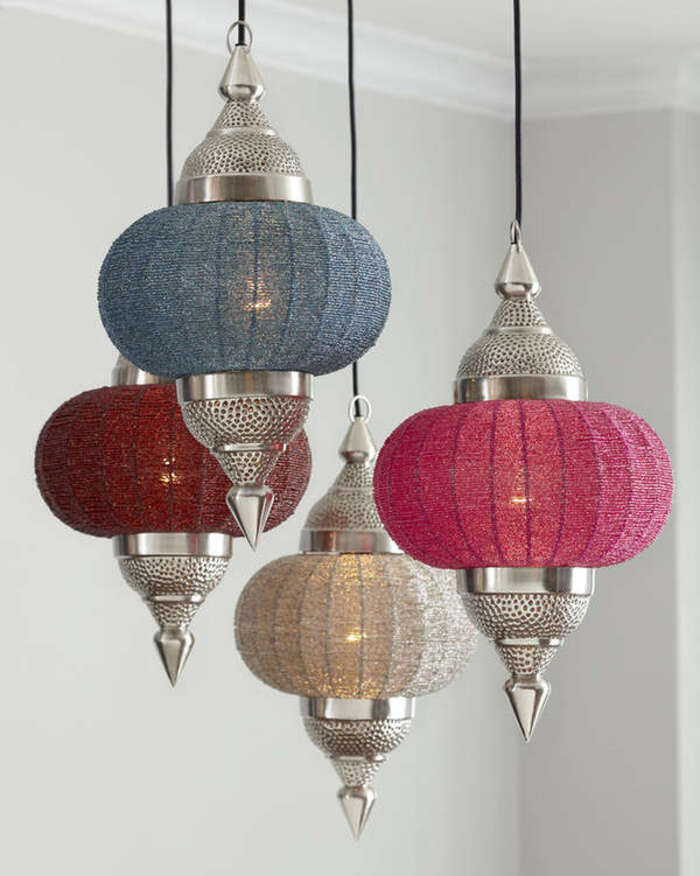 Are you looking for luxury Indian wedding gift ideas? You should go with a classic chandelier. Their house will feel cozier and more romantic with this lamp on. This great present can't go unnoticed.
30. Ceramic Dinnerware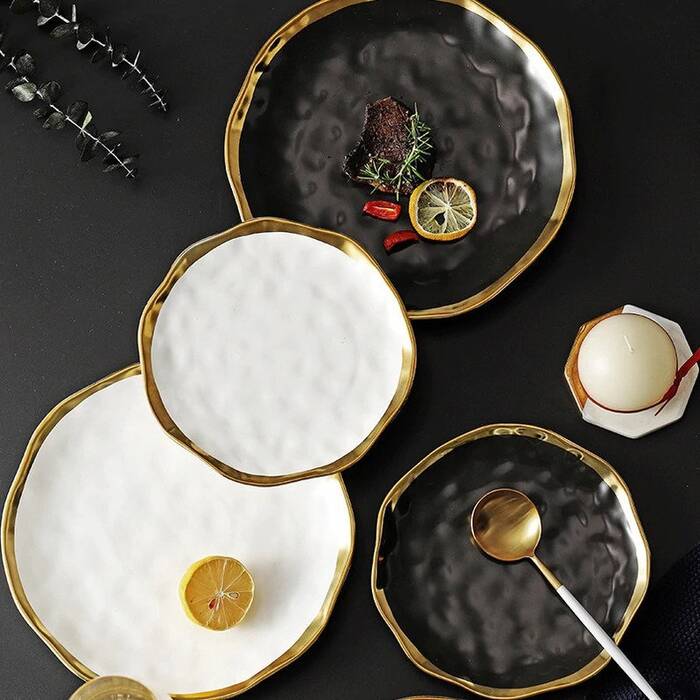 Dinner is the perfect moment to show love. Loving feelings are sparked after a long workday thanks to the comforting aroma of food. In addition, a gorgeous dinnerware set will enhance the meal experience.
Read more:
We hope the recipients will cherish these one-of-a-kind wedding gifts for couples India. The most important thing to remember is to offer them something they will treasure for a long time. These gifts for married couples will offer them a reason to celebrate their marriage, and they will be able to share their happiness with their friends and family.
Every time they make use of your gifts, they'll remember how thoughtful and considerate you are. Let's check out the Oh Canvas website to discover the most original and sincere canvas print for them to cherish. Gifts with a special personal touch always capture the hearts of the recipients. Trust us!