It's not always easy to shop for the best wedding gifts for young couples. Especially when you want to buy something off the registry list, it will cost you a lot of time thinking and searching. But with Oh Canvas gift guide below, you don't have to worry about surprising the newlyweds on their wedding day. No matter what present you pick for them, they'll appreciate and treasure it for years to come. Now, it's time to browse our lít and get inspired!
Practical wedding gifts for young couples: Home decor and appliances
1. Marble Wine Rack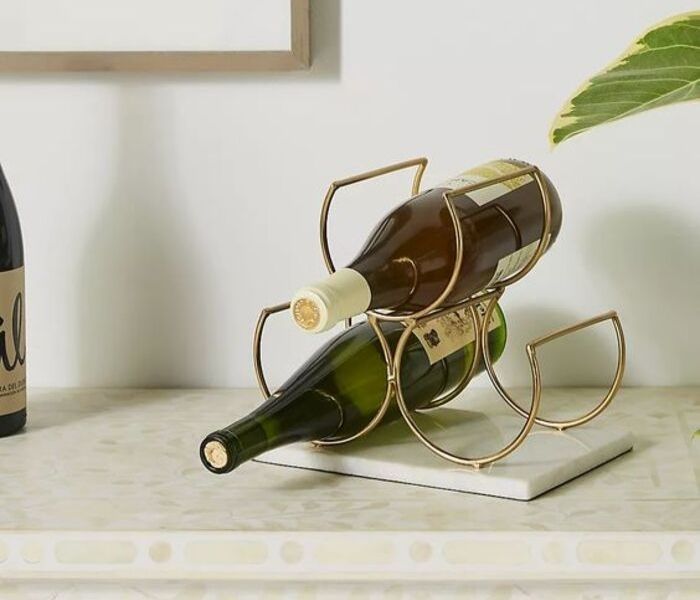 Wine is a popular gift for weddings or anniversaries. But this time, give your favorite duo a beautiful wine rack instead. It's a wonderful way for the newlyweds to store all of the bottles of wine they've been given. A stunning piece of home decoration as well!
2. Cute Air Purifier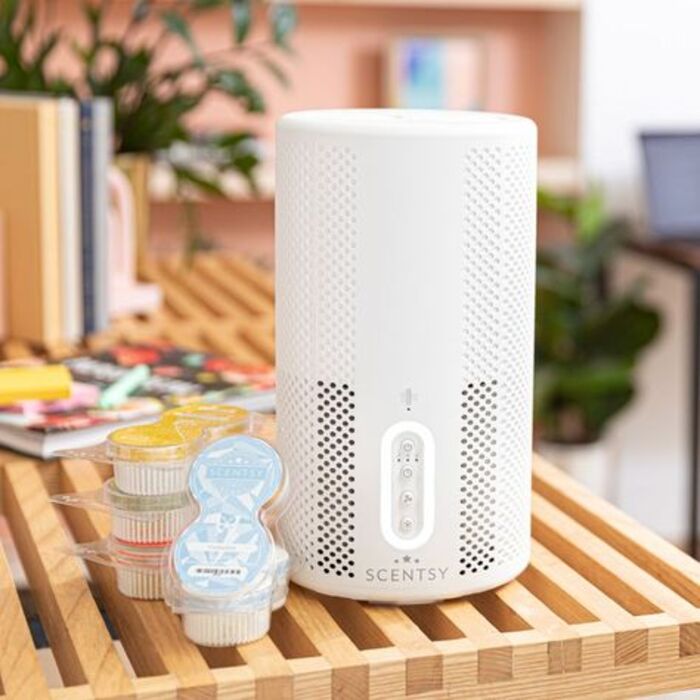 Looking for a useful gift for young married couples? An air purifier is a brilliant choice. Everything from pollen and dust to the scent of fish in the oven may be removed from the air by this adorable air purifier. Plus, it's working with no noise at all.
3. Electric Oil Diffusers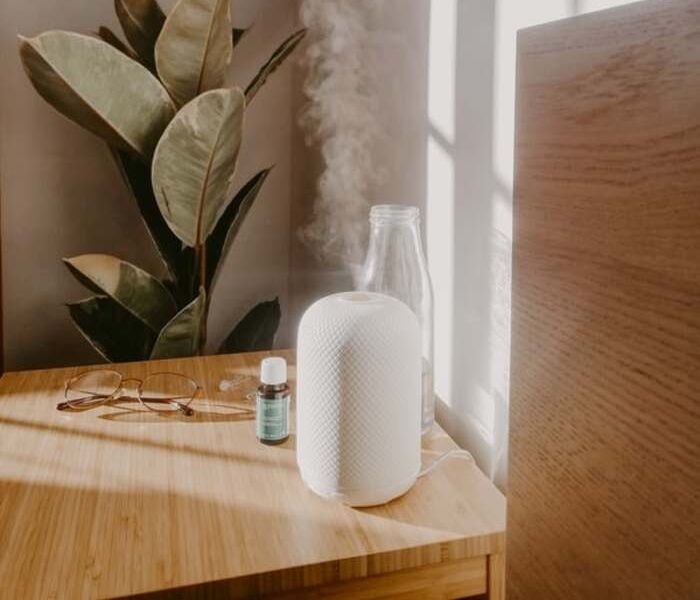 How amazing it is to buy these oil diffusers as the best wedding gifts for young couple! They could use them to have a little break from all the wedding preparations. The elegant aromatherapy diffusers will transform their house into a five-star resort where they can enjoy the most relaxing moments together.
4. Le Creuset Dutch Oven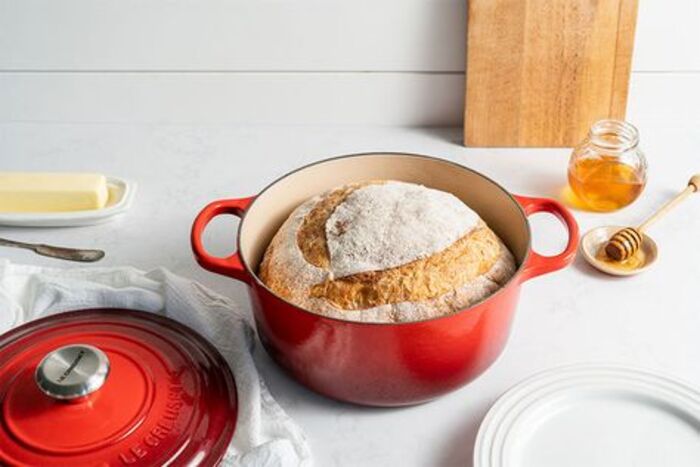 Spruce their cozy nest with a gorgeous dutch oven that they've never had before. Durable and practical as it is, this item is sure to earn itself a place of honor in their kitchen. The young married couples will find it interesting to create new dishes, thanks to your gift.
5. Marble Coasters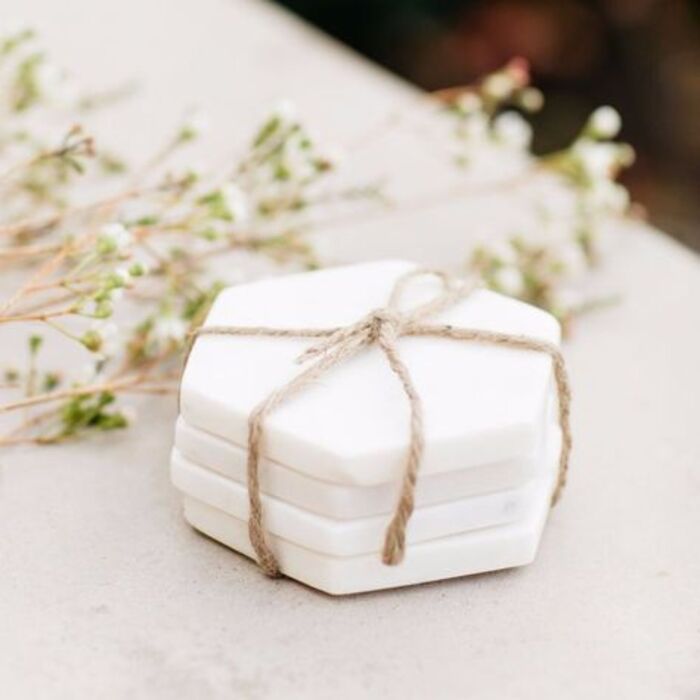 The cool marble coaster set will add an elegant charm to any newlyweds' home. Besides avoiding water rings on tables, these coasters are effective at elevating the vibrant design scheme. Don't miss out on this set when finding adorable wedding gift ideas for young couple.
6. Knife Block Set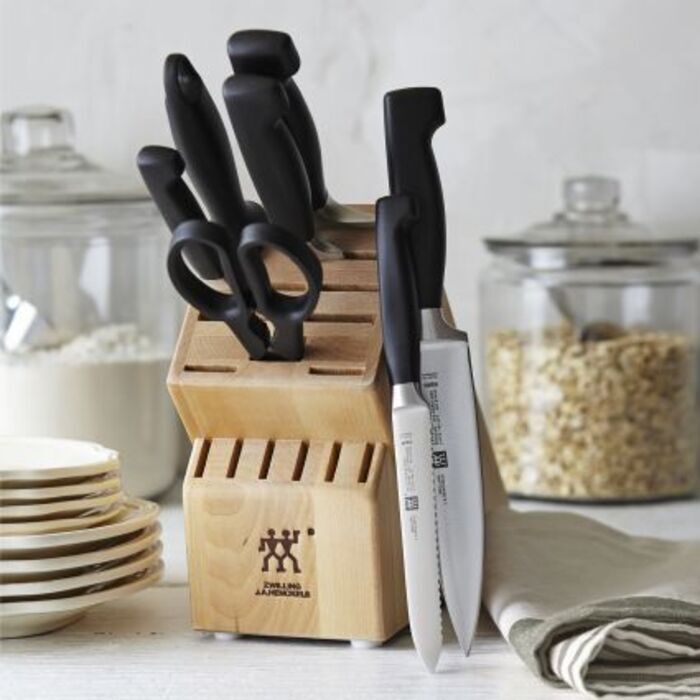 Let the bride and groom know how much you care by giving them a knife block set to commemorate their wedding day. Having a sleek and modern look, this set will brighten up any kitchen counter. It's a striking point in the list of impressive wedding gifts for young couples that they'll actually use.
7. Wine Refrigerator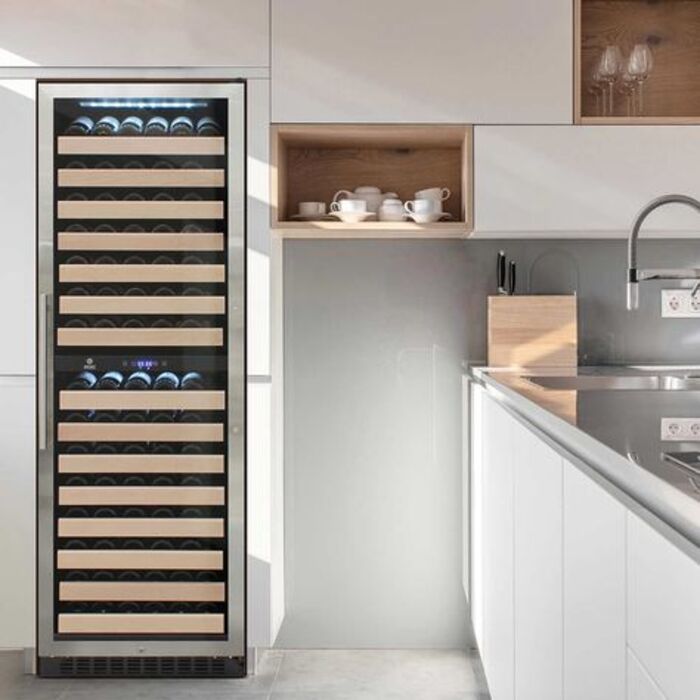 The couples might receive a lot of bottles of wine on their wedding day. Hence, choosing the wine fridge is a thoughtful decision that they'll appreciate. With this modern device, you can adjust the temperature, turn on the light, and lock the cooler to preserve the flavor of your drinks for a lengthy period of time. Sounds interesting?
8. Cocktail Gift Set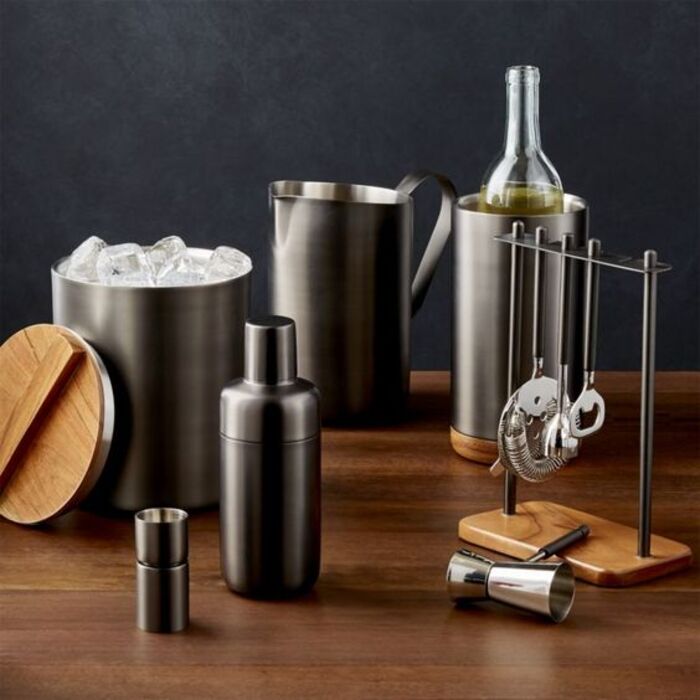 It's excellent to give a wedding gift to the newlyweds they didn't know they wanted or required! Incredibly, the bride and groom will be thrilled to use this bar equipment set to make bar-quality beverages anytime they want. A variety of cocktails, from Mojitos to Margarita, might be served at their wedding.
9. Coffee Maker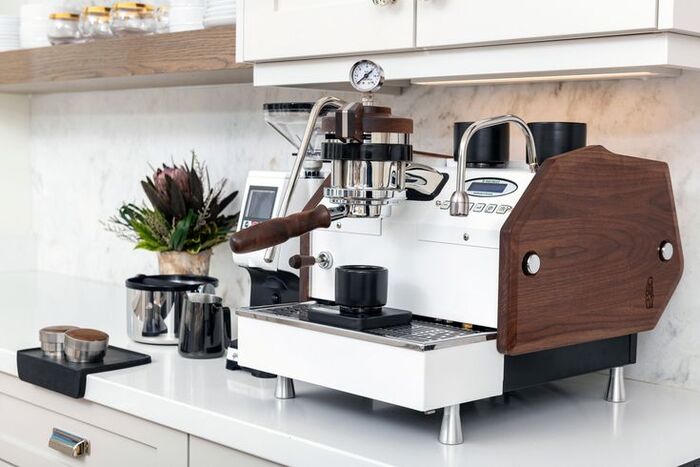 If your favorite couple is a fan of homemade coffee, this coffee maker is a delight. From now on, they can make fast, tasty cups of coffee right at their home. This device is one of the best wedding gifts for couples that they've ever received.
10. Indoor Smart Garden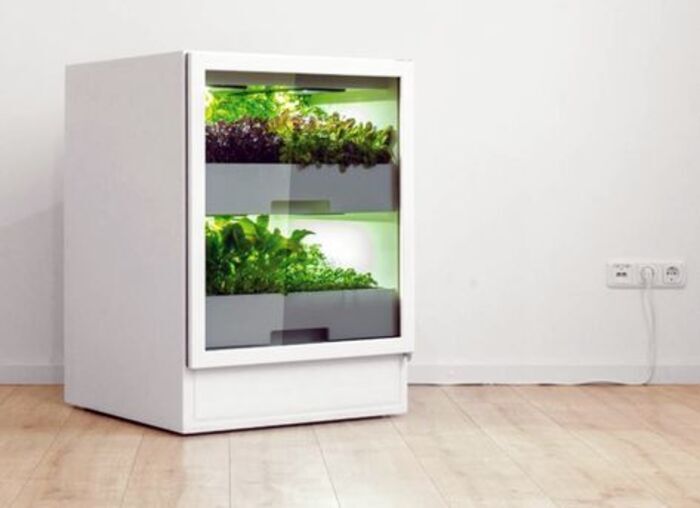 You will never use all the herbs at the grocery store once you've owned this indoor garden. Everything in this smart machine is automated, from the watering and feeding of plants to the distribution of light. Fruits, herbs, vegetables, and flowers can all be grown in it. As a result, the newlyweds' garnishing skills are going to be significantly boosted.
11. Robotic Vacuum Cleaner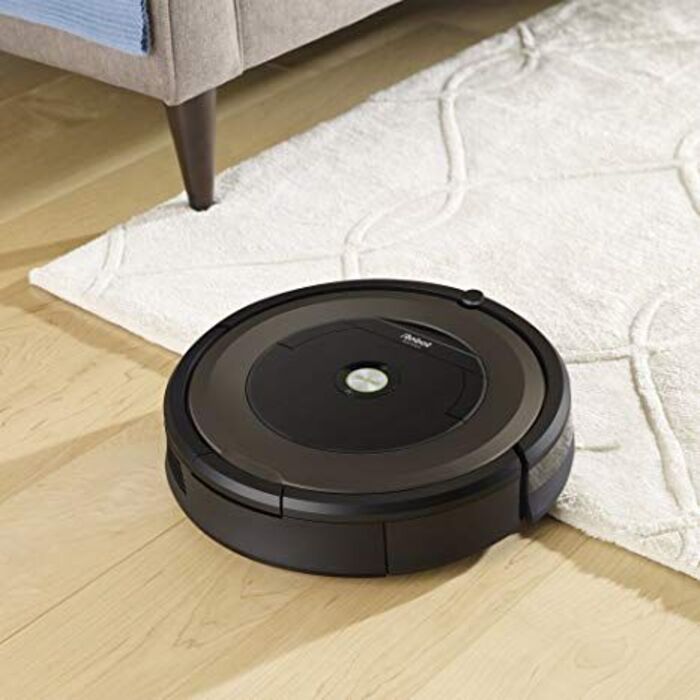 Want to buy a truly practical gift for young married couples? They'll be surprised to receive a high-tech vacuum that helps them a lot in house cleaning. From pet hair to dander, carpet to hardwood floors, they'll all be cleaned with ease. Regardless of whether the newlyweds suffer from allergies or have a particularly unkempt cat, this wedding gift could transform their lives for the better.
12. Grilling Tool Set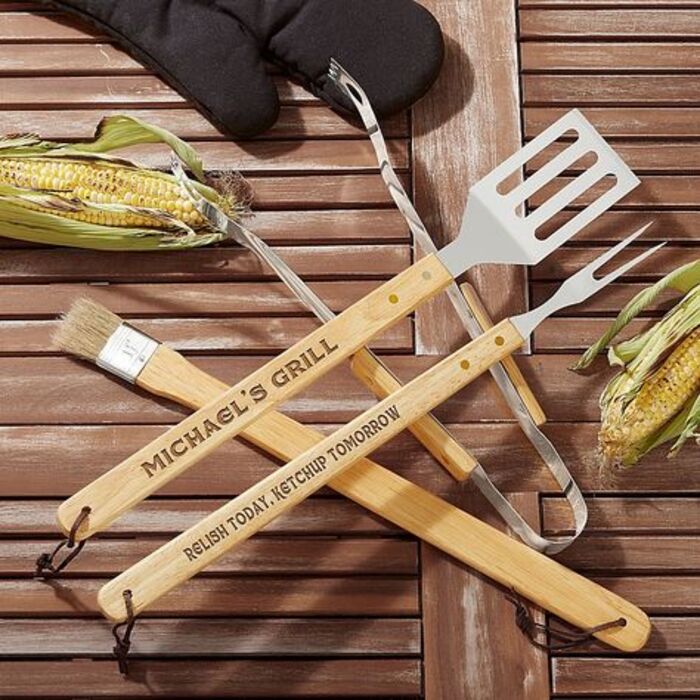 When seeking useful wedding gifts for young couples, a cool grilling toolset is a bright choice. Given how popular outside eating has become in recent years, the newlyweds are sure to use this set. From corn holders to a digital temperature fork, this kit has all the grilling equipment they don't even realize they need.
>>> Read more: 35+ Best Wedding Gifts For Couples Who Already Live Together
Personalized wedding gift ideas for young couple
13. Lovely Personalized Doormat
A custom outdoor doormat, with the couple's last name and the year they were married, is an adorable welcome gesture for the guests to their new home. Being cool and unique, this item will win the best place among wedding gifts for young couples that they've expected to receive.
14. Monogram Champagne Flutes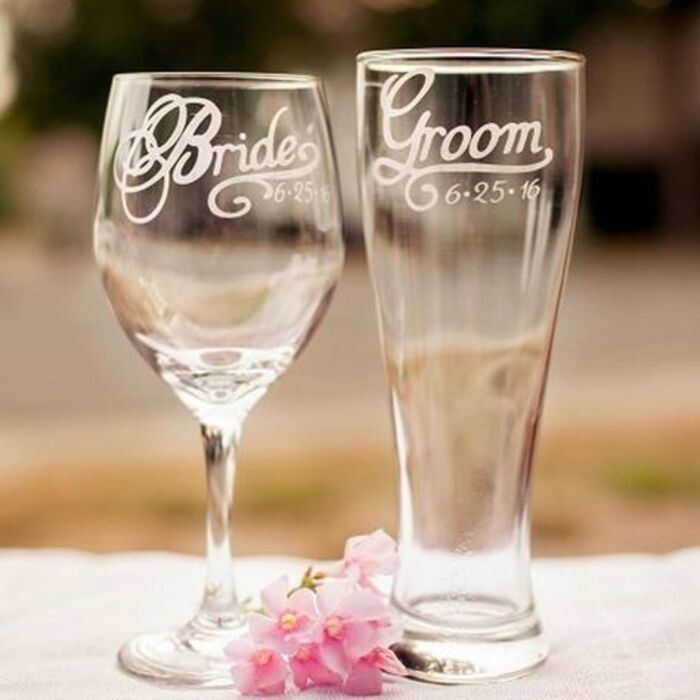 Modern champagne flutes may let any newlyweds celebrate their wedding in a stylish manner. However, hand-blown glasses and a custom monogram make these favors long-lasting keepsakes that can be brought out for every wedding anniversary. Opt for these flutes and you can be sure that they'll never be outdated.
15. Custom Photo Canvas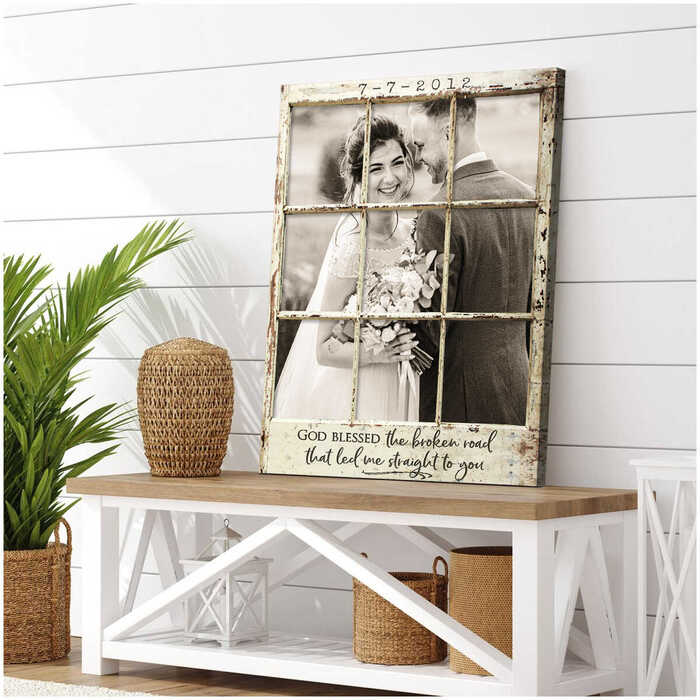 Let the bride and groom preserve their remarkable milestone by personalizing a canvas print with their wedding photo and date. We're sure that it's one of the best wedding gifts for young couple that they're surprised to receive. When you choose to give this one-of-a-kind present for them, it's a sweet way to show how much you want to commemorate their wedding.
16. Marble Wine Chiller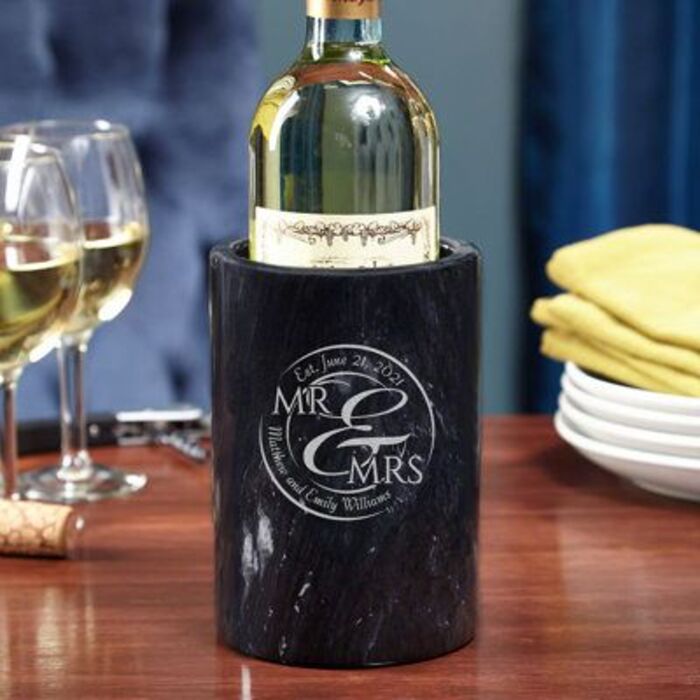 Among the best wedding gift ideas for young couple who already live together, this gorgeous marble wine chiller is a smart option. It will keep their favorite wine cool for hours as they spend time together or with friends sipping wine and having meals. When their names or initials are engraved on it, you've taken this gift to the next level. This sweet personal touch is sure to be appreciated.
17. Wood and Marble Serving Platter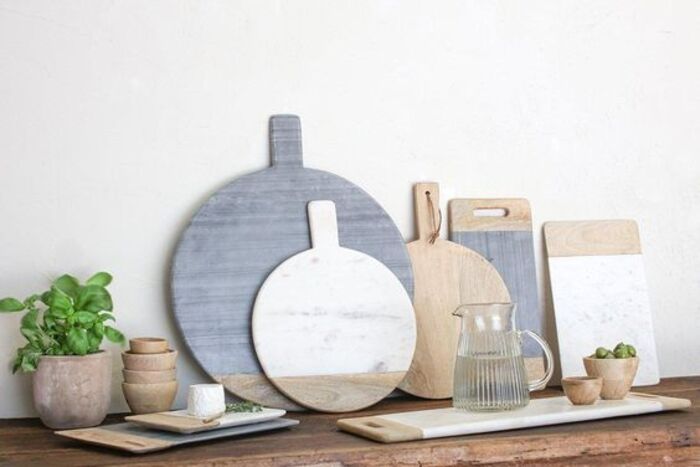 On this platter, any appetizer will seem appetizing, from chips and guacamole to cheese and jam. When you personalize it with the couple's first or last name, it'll become a unique board that they're proud to serve their foods or showcase in their kitchen cupboard.
18. Unique Bar Sign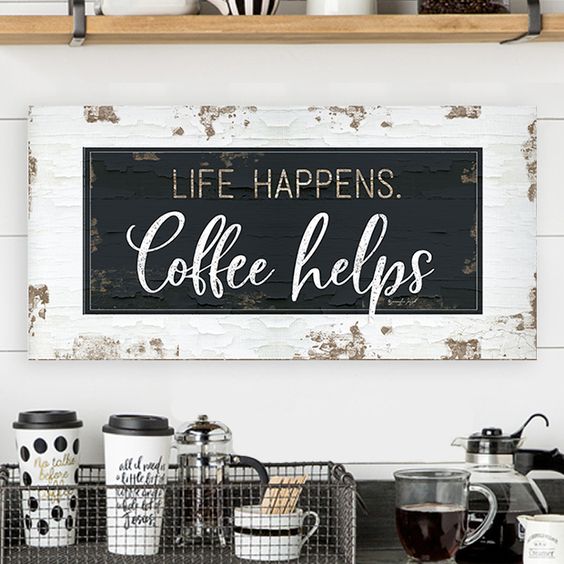 This handcrafted idea is for any bride and groom who loves to own a bar corner in their home. In addition to being a wonderful wedding gift for young couple, this custom wall sign can also serve as a great piece of memory! They'll have a good laugh at this cute and funny sign. And they'll love to treasure this keepsake for years to come.
19. Personalized Wine Cork Holder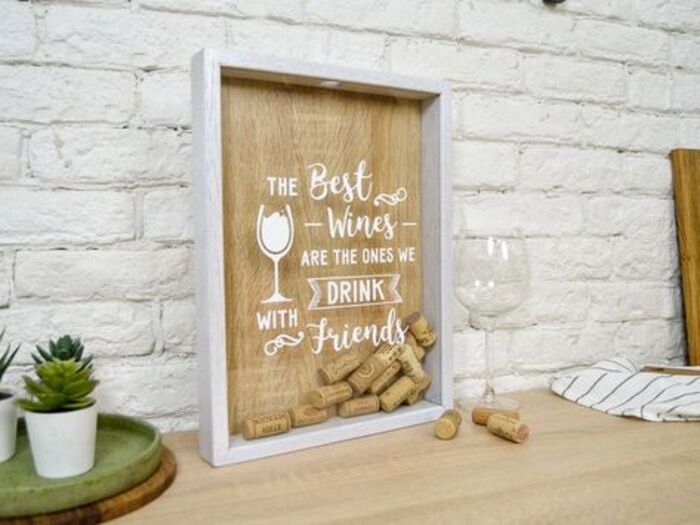 It's a sweet way to let newly married couples preserve all the milestones in their life. Every time they pop open a champagne bottle (like their engagement, wedding, or wedding anniversary), they can keep all the wine corks in this unique box. It doesn't matter what they put inside it, bottle caps, flowers, pictures, and so on, this holder will look fantastic.
20. Custom Wine Labels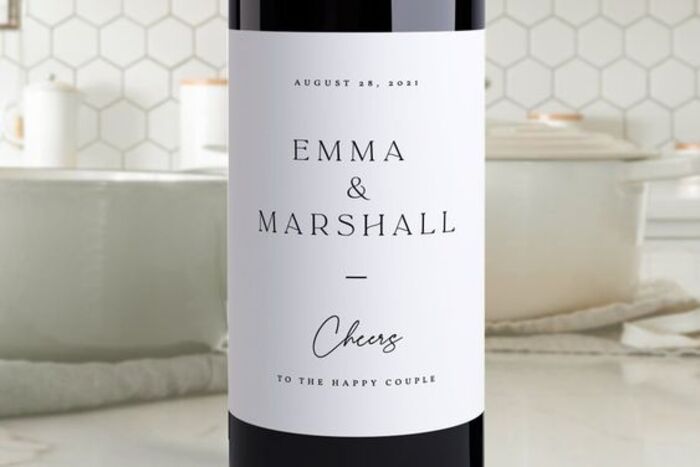 A general bottle of wine is nothing special. This time, celebrate their wedding day with these custom-labeled wines that they're excited to receive. After being used, these wine bottles can become lasting pieces of memories that they'll treasure for years to come. They're clearly the best wedding gifts for young couples that you shouldn't miss out on.
21. Personalized Name Canvas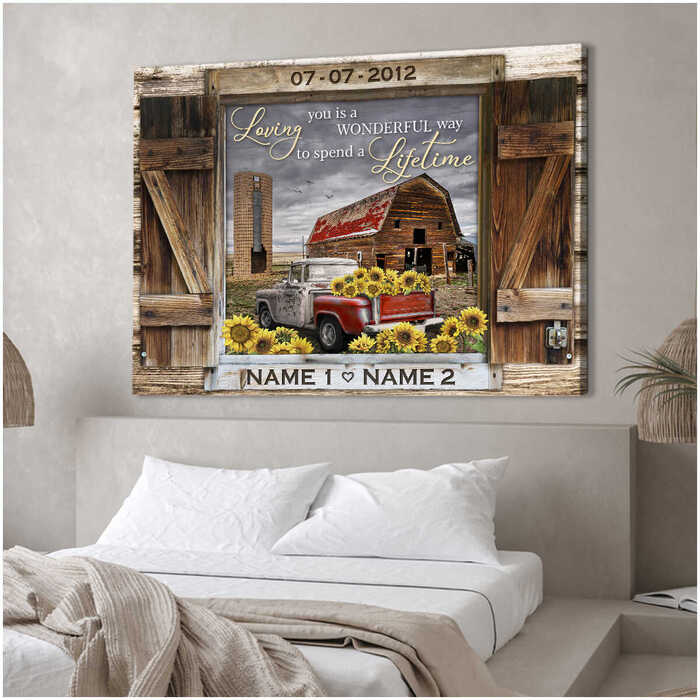 If you want to give a heartfelt wedding gift to your favorite couple, a custom name canvas is a good option. Besides elevating the cozy look of their home decor, it's a sweet keepsake that they'd love to present to everyone.
Romantic gifts for young married couple
22. Lovely Journal for Two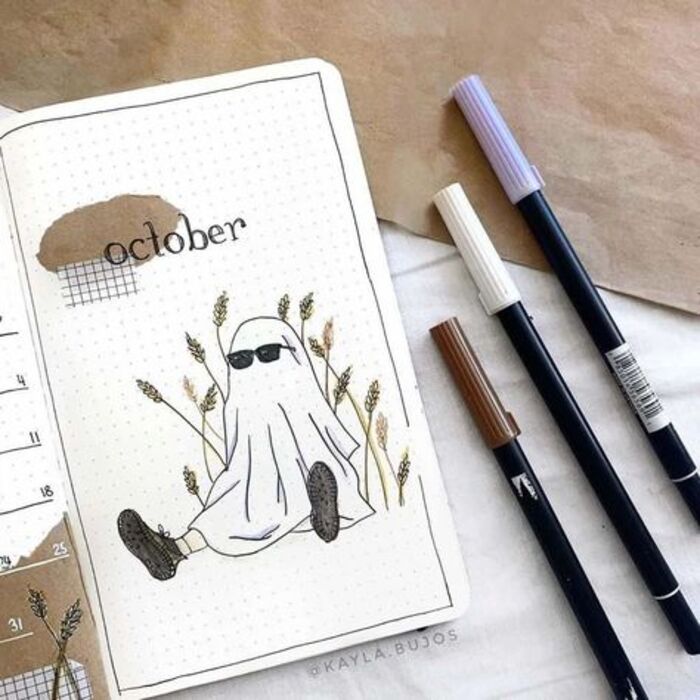 With this journal, newly married couples can continue to create and save memories. It's a creative wedding gift that helps them stay connected and come up with new ways to spend time together. It's also a great way to keep the conversation continuing, which is crucial in any relationship.
23. Woven Picnic Basket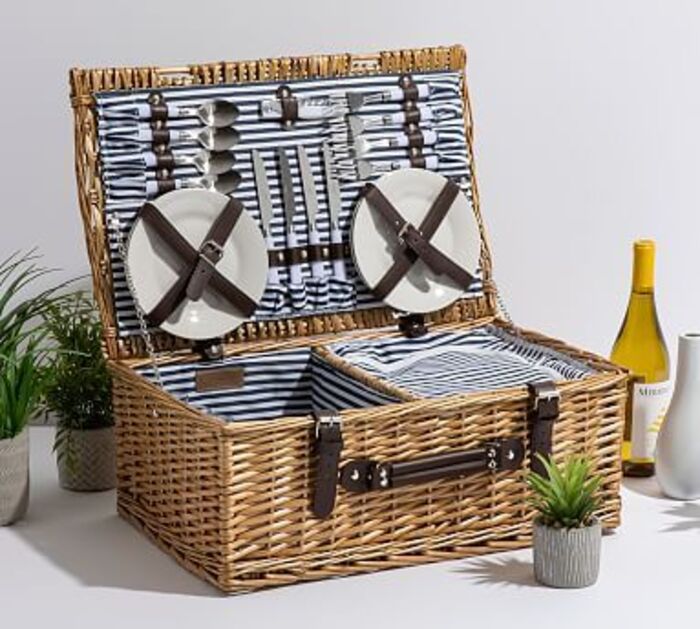 For a picnic at the park, this woven basket is a must-have. There's something cool about the navy-and-white striped canvas interior, the woven willow, and faux leather handles. Plates, wine glasses, silverware, and a corkscrew are all included in this picnic set. Any newlywed can use it for a short vacation together or with their friends and family.
24. Whiskey Decanter Set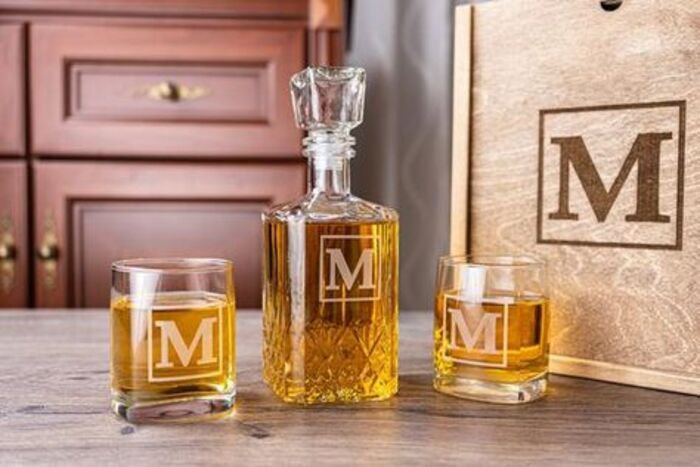 On the hunt for other practical wedding gifts for young couples? A whisky decanter set will make any bride and groom smile. Delicate and luxurious, this set will add a modern charm to their counter. Any time they use it themselves or with their guests, there'll come pride and excitement.
25. Wedding Day Candles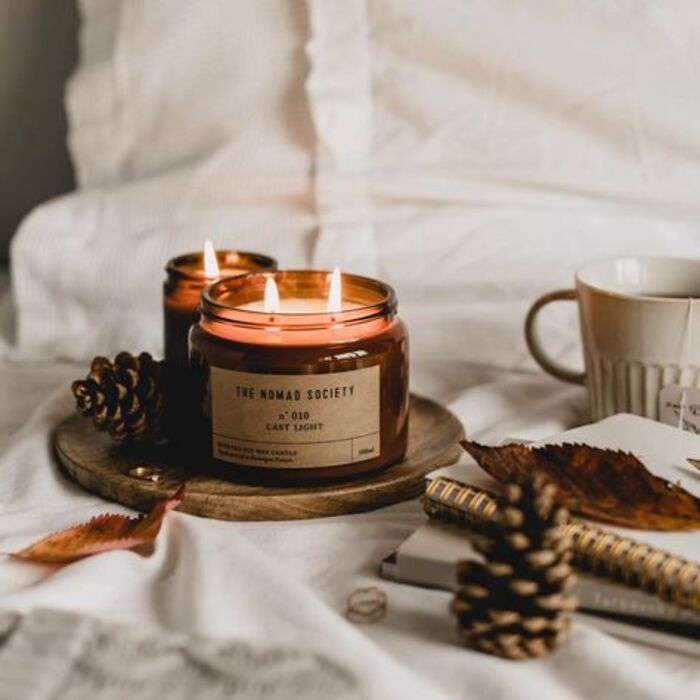 For newlyweds, a candle scented with the aroma of their wedding day can bring back fond memories. Sea salt, jasmine, wood, or vanilla is an adorable scent that guarantees they'll love it. In addition, candles with basic designs imply that they will effortlessly fit into any home's decor.
26. Tumblers For Two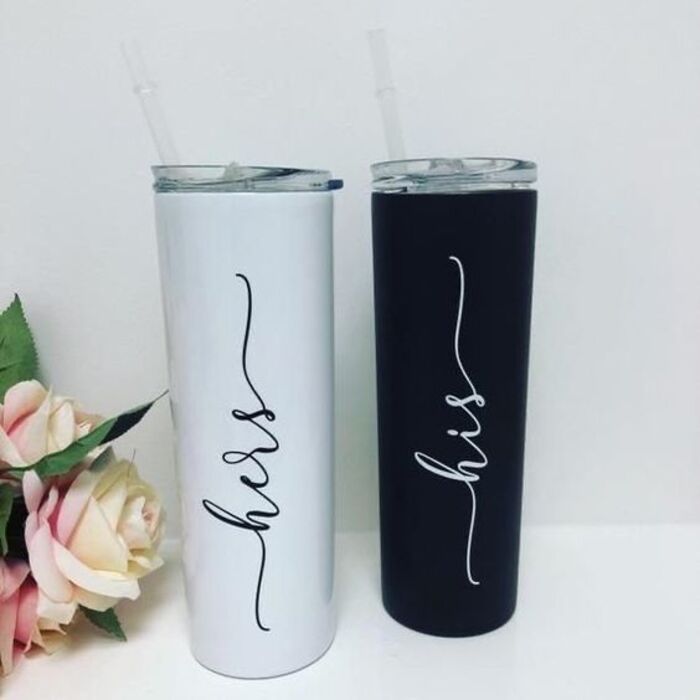 A sturdy, insulated tumbler is a need for nearly everyone. This tumbler set for two is an excellent gift for any favorite newly married couple who is hard to shop for. It's not an expensive present after all, but they'll love it.
27. Wireless Turntable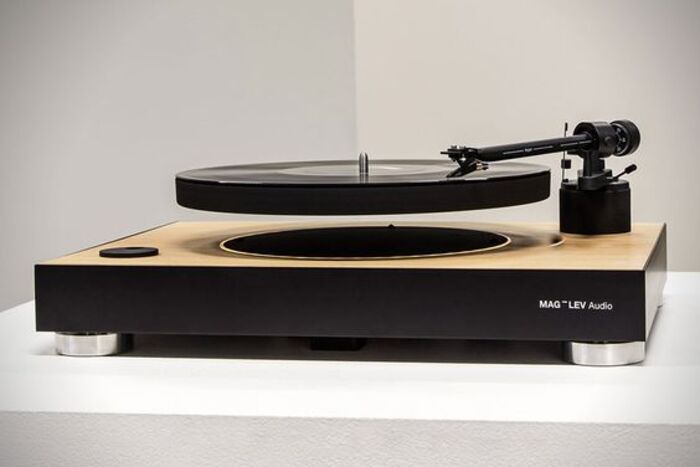 If they enjoy listening to music, this eco-friendly turntable is a good fit. This classic wedding gift for young couple will add a romantic vibe to their home. They'll love having a sweet dinner and recall their wedding via their "First dance".
28. Camera Gift Set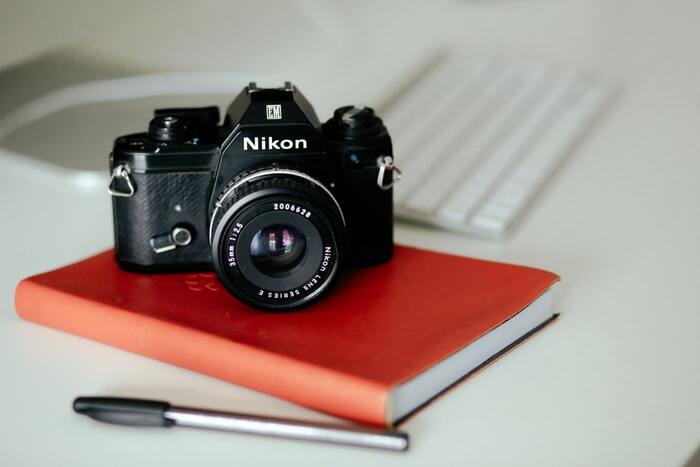 You can't go wrong with this camera set when looking for the best wedding gifts for young couples who have everything. Adventure lovers can look forward to a new and exciting experience every time they scratch a date off the calendar. A photo album can be included in this set to let them preseve every memorable moment together.
29. Organic Towel Set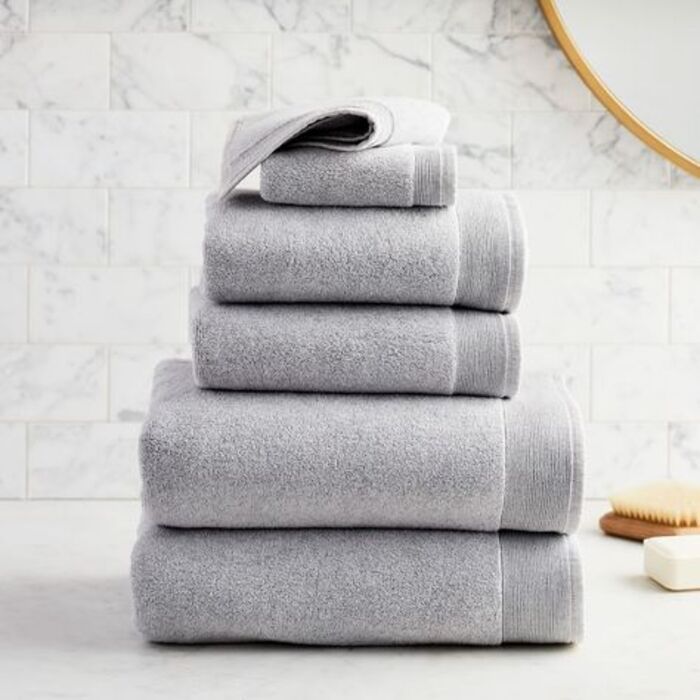 After long days preparing for the wedding, the couple might need a spa-like experience at home with these organic bath towels. Being incredibly soft and comfortable, this set will help them stray away from all the stress and tiredness. Such a good gift for young married couple that you should consider!
30. Smart Photo Frame
Using this digital image frame, the newlyweds can display all the favorite photos that they have. It's sure to fill their nightstand with love and cuteness. Any couple will appreciate how thoughtful you are to celebrate their wedding day with this special gift.
31. Handwoven Throw Blanket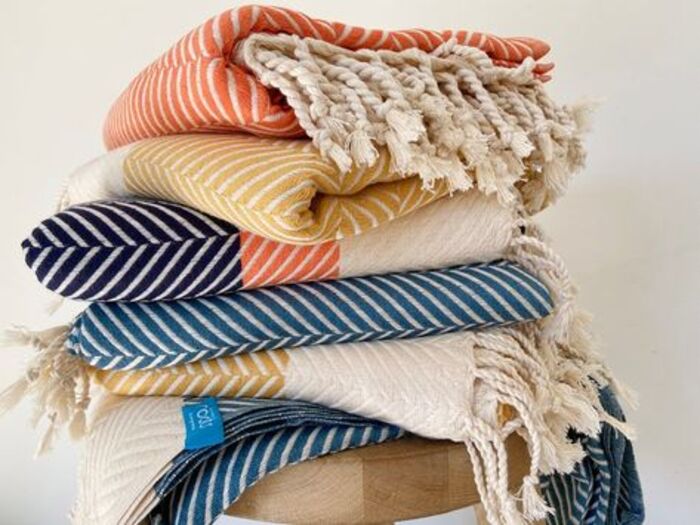 We can't round up the list of romantic wedding gift ideas for young couples without a warm throw blanket. Couples will find it cozy cuddling up together in this blanket. They can also drape this throw over their chair as a decorative accent. It's a great method to make their house appear more charming.\
>>> Read more: 30 Perfect Wedding Gifts For Couples India To Make Them Overjoyed
It's a meaningful gesture to give practical, thoughtful wedding gifts for young couples to celebrate their milestone. Every time they use your presents, they're sure to love how sweet you are. If you find it a stunning idea to give the newlyweds a personalized gift, browse Oh Canvas site to get the most unique, heartfelt canvas print for them. Gifts with an extra personal touch always win their hearts. Trust us!