It is fortunate that you are treasured by the person you love. The time you spend together is the most precious thing you have in this world. Time, on the other hand, flies. Every interaction you have with him has now become a memory. It happens to everyone. But, once again, time may be the finest healer; it can help you cope with the death of someone you care about. Just remember that your love is eternal, no matter where or when he is. Let him hear your thoughts while also warming your heart in loving memory gifts for him. Here are the top 15 memorial gift ideas from Oh Canvas to help you convey your sentiments to him in heaven.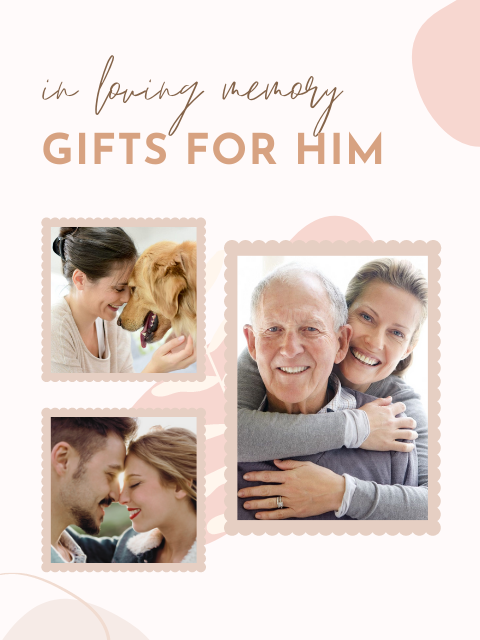 5 Best Memorial Gift Ideas for Your Dad
1. Silver locket keychain – Save moments with a father memorial gift
Having something inseparable together with his personalized details might give you the sensation that he is always around you. These types of in loving memory gifts for him are like a reminder of when you and your father were together.
A locket keychain may hold memories, a picture, quotations, or just about anything else you chose to attach to it. In a more meaningful sense, you may also write things down to tell the man who was with you for the first time in your life that you always think about him. So that, you may combine your cares, or everything you want to say, or even just a simple thanks for being in your life.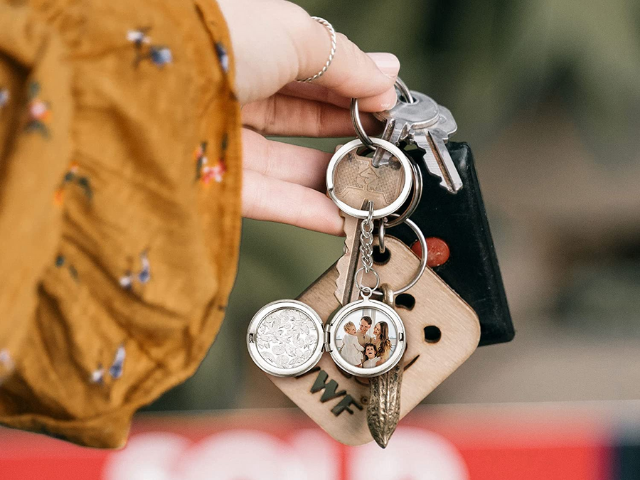 2. Canvas prints for a thoughtful dad memorial gift
There may be moments when you believe you are getting paranoid since your father can no longer hear you confide. He is the one that you believe the most and always makes you feel comfortable whenever talking to him. We all know that losing a loved one is an extremely difficult and challenging period to get through.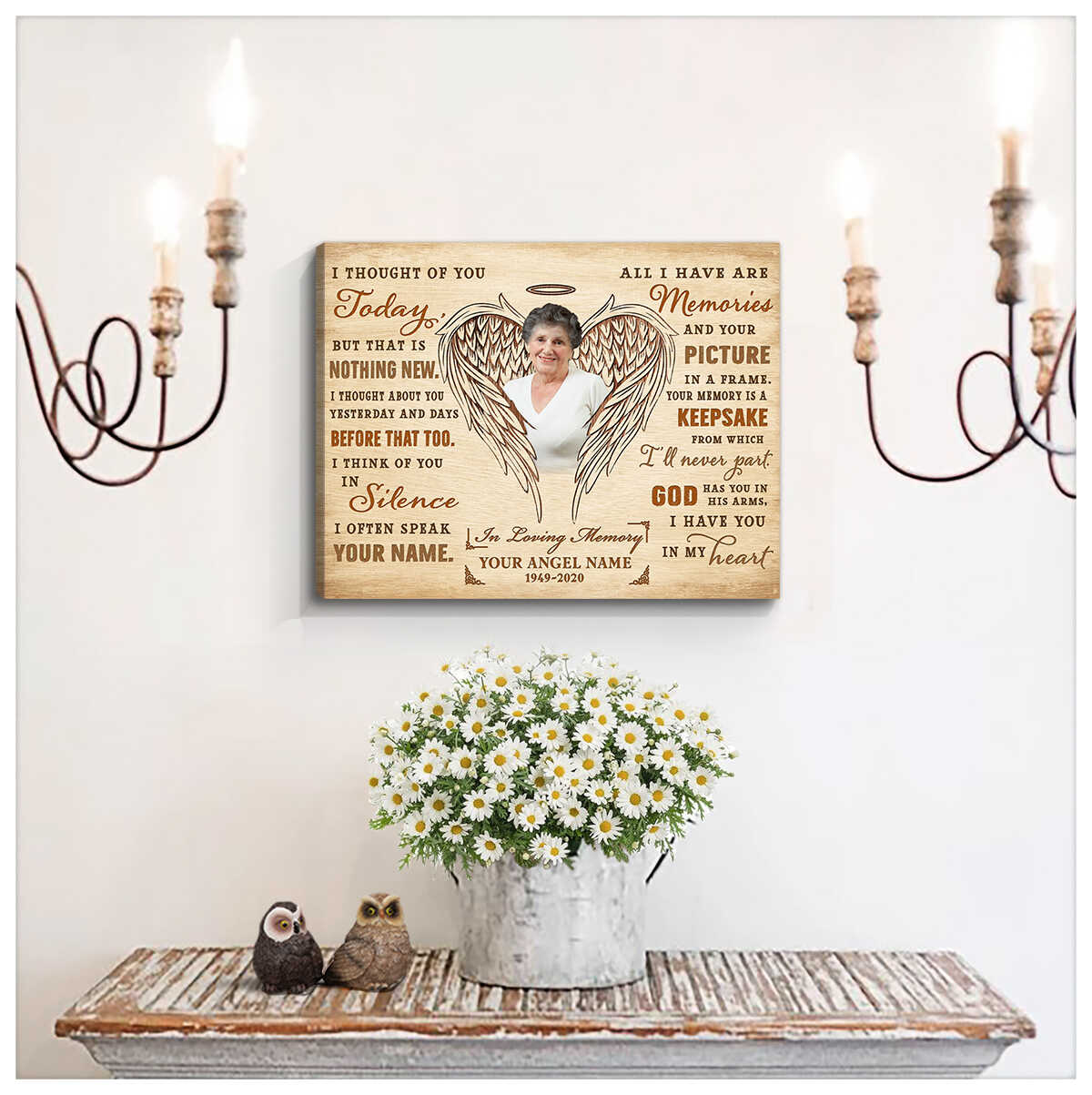 Recognizing that OhCanvas have the means to assist you in conveying your thoughts to him. That means even after your father is now in heaven, it is possible to speak with or about them. With these memorial canvas prints, you may insert your message, stories about them, and the hope for him in heaven. Furthermore, memorial canvas prints can be the ideal in loving memory gifts for him for people who have lost someone they love the most.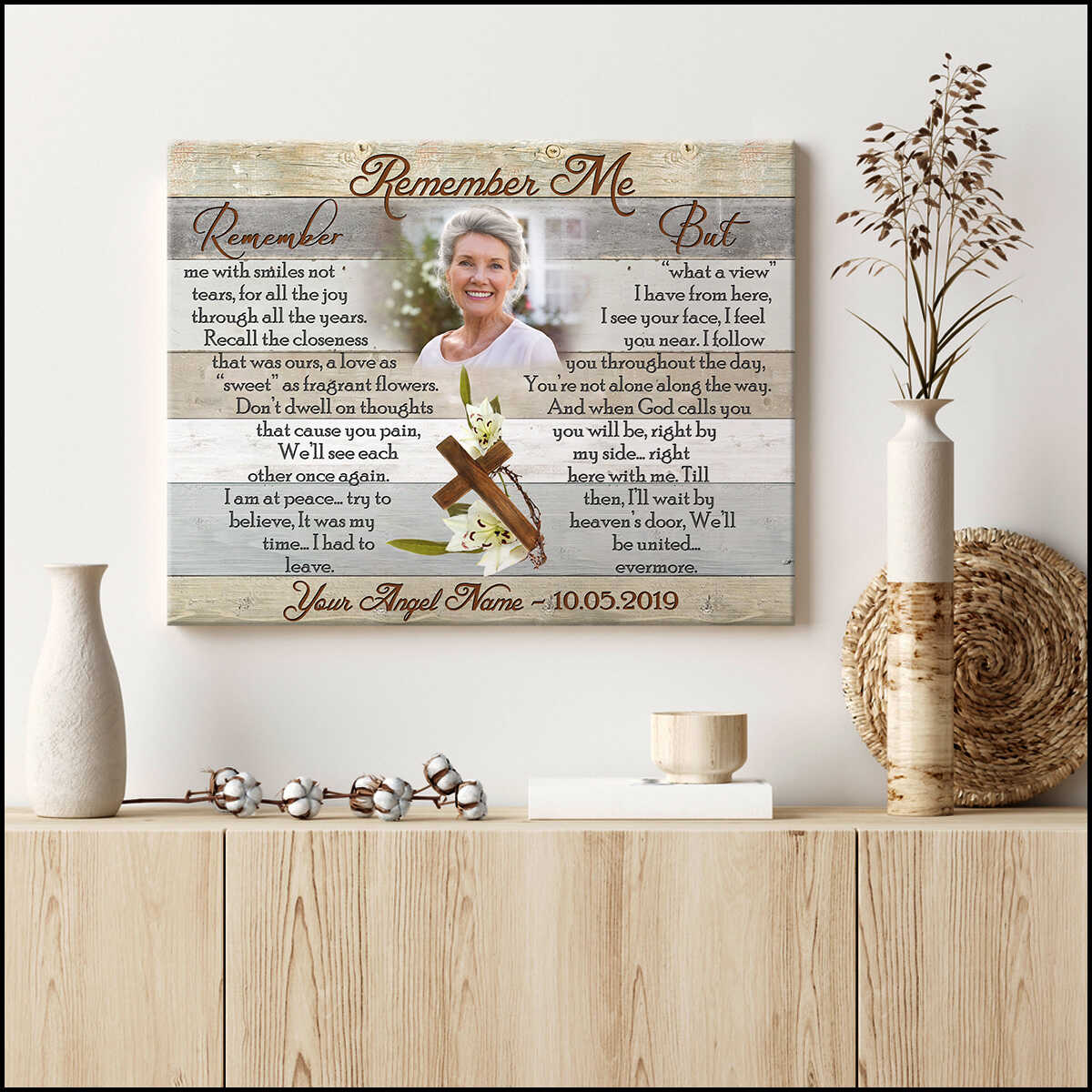 A lack of texture and color on the walls of your house may make them look lifeless, so it's crucial to add some interest to the room by decorating them. Art is a wonderful way to bring your home to life. In addition to adding color and making the space more visually appealing, art can also contribute a lot of significance.
3. Message engraved on pendant for in loving memory gifts for him
You may feel you are doing okay at times, but you may also think you are emotional suddenly. Grief is an experience that will most likely touch most, if not all, aspects of your life. You may sometimes feel disconnected from those you have always been close to, including your best friends, your relatives, etc. In that situation, wearing a necklace with your father's message might lift your spirits and warm your heart anytime you are feeling lonely.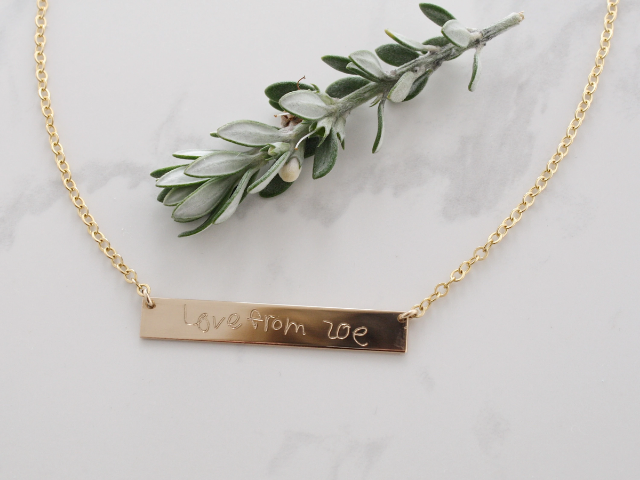 4. Memory dish for in loving memory gifts for him
When combined with your father's message, the exquisite porcelain dish makes a great sympathy souvenir. It is made with a lovely quotation written on top so that you can view it every time you complete your meal. As a result, it's great for in loving memory gifts for him.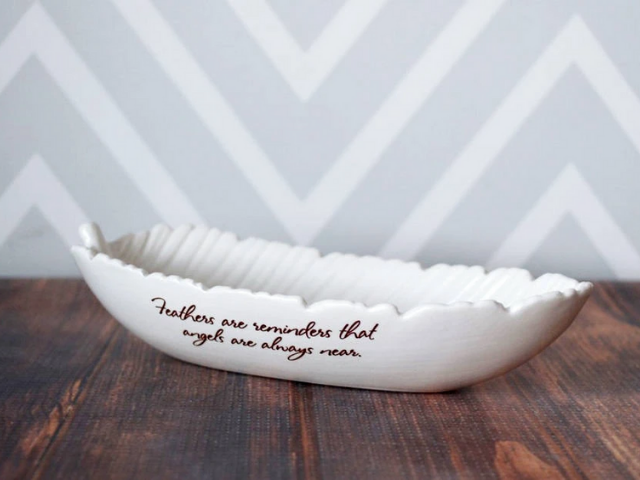 5. Personalized mug for a memorial gift for loss of father
The mug, like the dish, is an object that is used on a daily basis. When I take up the memorial mug, it feels as though your father is still present, and I hope you are well. You can use a memorable mug to drink hot water or place it in the house as a decoration item. 
5 Best Memorial Gift Ideas for Your Husband
6. Personalized canvas paintings to hang in the bedroom
Heaven is a realm of tranquility, tolerance, community, and worship, with a celestial court and other heavenly creatures around God. However, OhCanvas knows that the gone of your husband is not easy to accept. He was still in the room yesterday, smiling with you, but now he has moved on to a new place. As you are thinking, your husband is now resting in that glorious paradise, surrounded by joy and your care.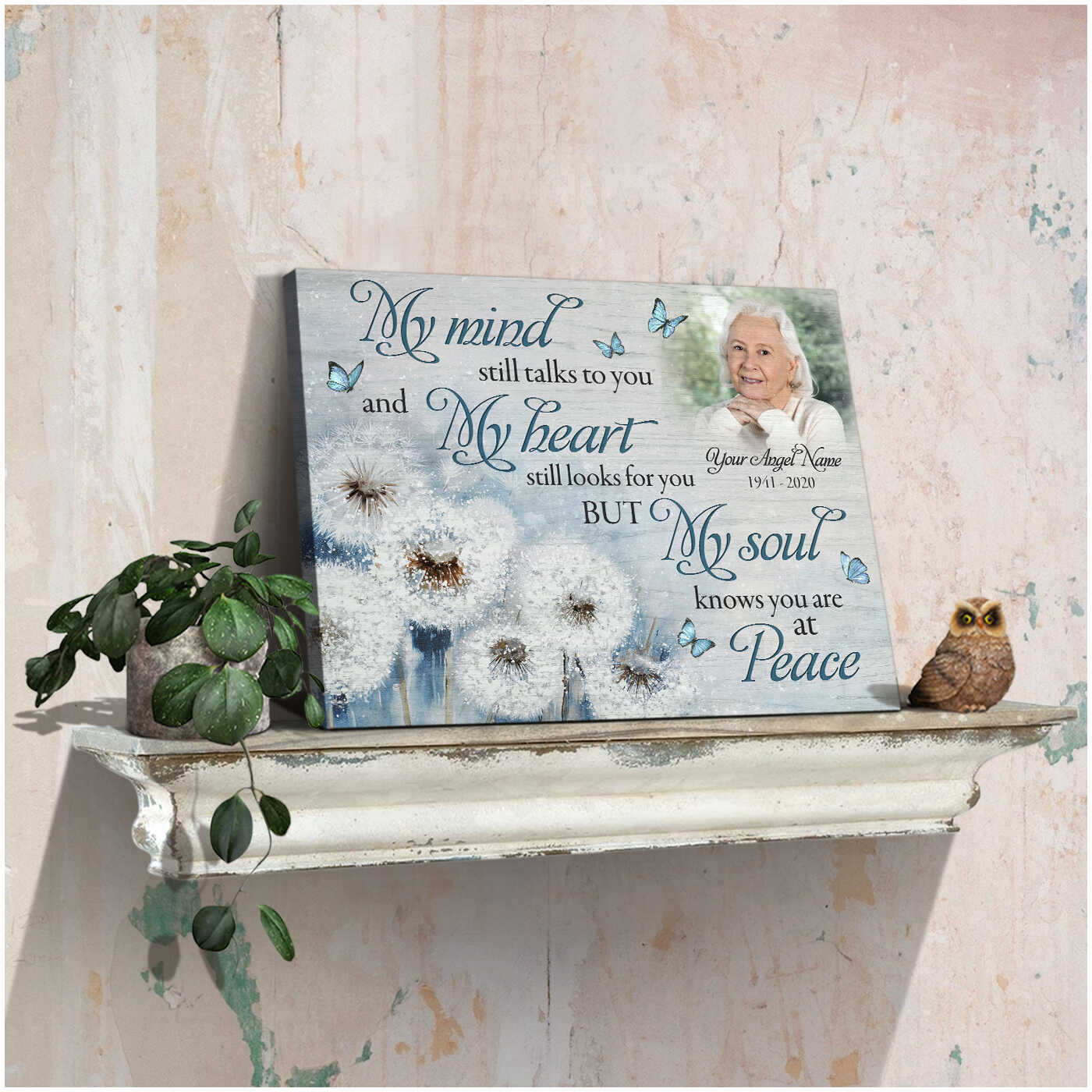 A canvas painting can cure your heart with the profound message that you always want to tell him and the beautiful moment that you had together. As a result, you can always share your day with him and let your keen eye on him every day.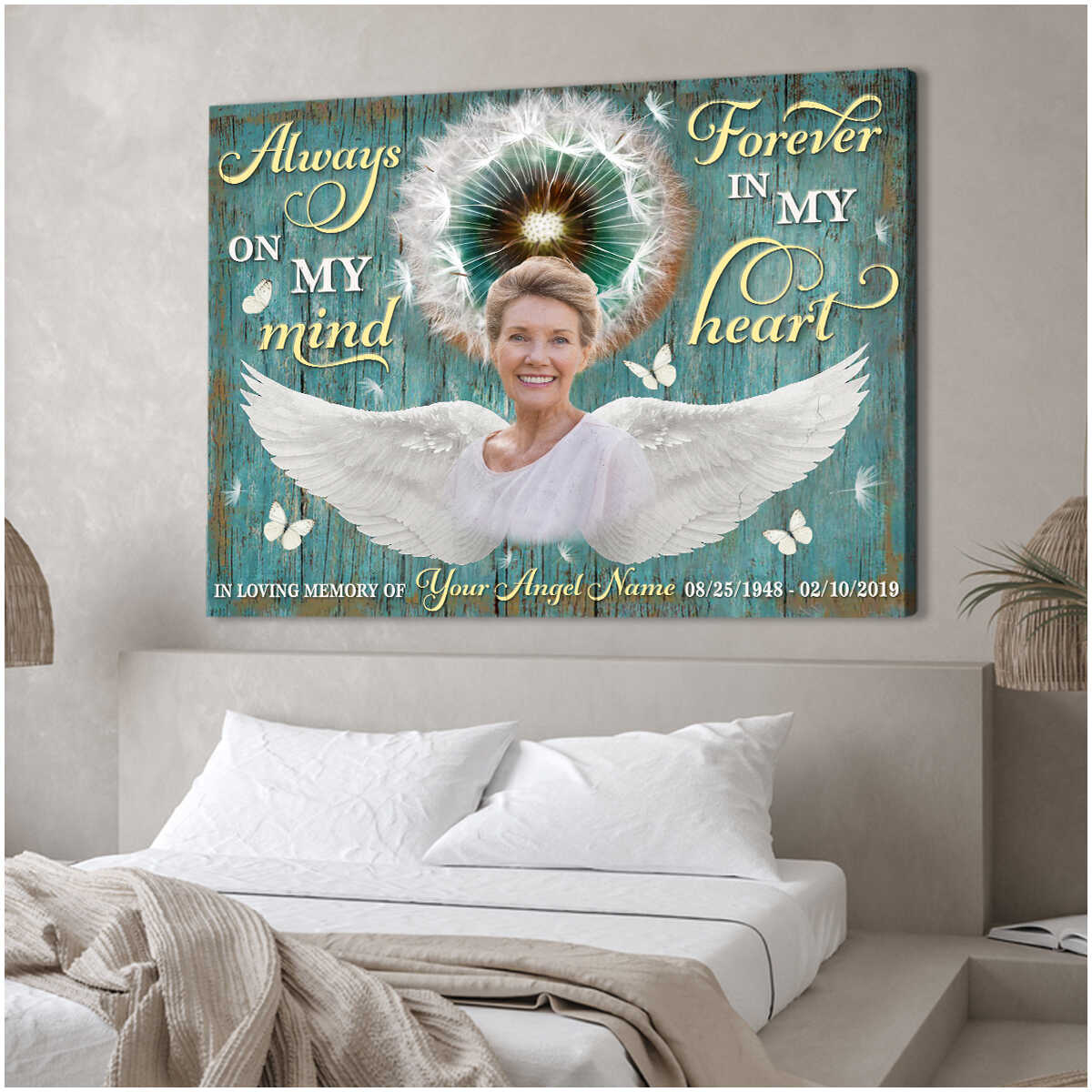 7. Scented candles as a significant memorial gift
Dying was considered what happens to us all, though not crucial, it is an aspect of life. It was intended to happen at a certain moment set by God or fate. However, it was a transformation: the soul would live on in another form or space. It can also be said that there is an eternal living after this life. Therefore, when they pass away, their spirit goes to another realm, but their love never leaves you.
The smell of scented candles stimulates the brain area that is responsible for memory and emotions. His smell can be emitted by the scented candle. These kinds of in loving memory gifts for him will tastefully warm the space as well as your heart.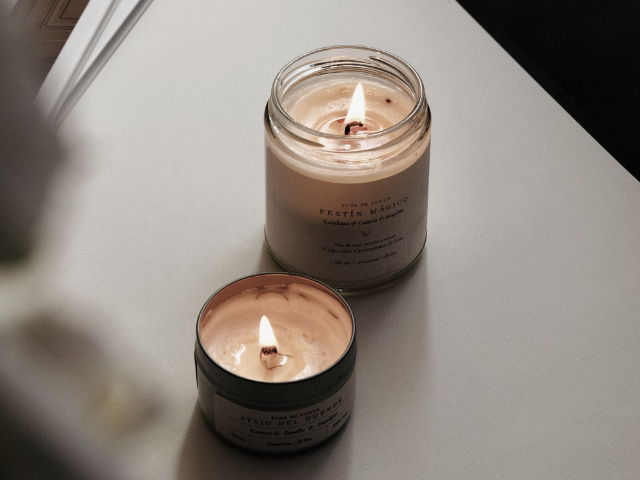 8. Car hangers as unique memorial gift ideas
You may feel bewildered and stunned, especially in the early aftermath of your husband's death. Recognizing the full gravity of the loss, whether unexpected or expected, may take weeks or months. You may alternate between resisting and accepting the truth of the death. You may relive the events surrounding the death and encounter both happy and terrible recollections.
So, it'd better have something that can motivate you every single day to heal your soul sympathetically. A thing that can catch your eyes daily such as a car hanger is appreciated. 
Beautiful rearview mirror hangers make beautiful loving remembrance gifts for him. The memorial hanger has angel wings and can be personalized by putting images and words on both sides, which will attract your attention most of the time. When you're feeling lost, keep an eye on it and balance yourself with a thoughtful object.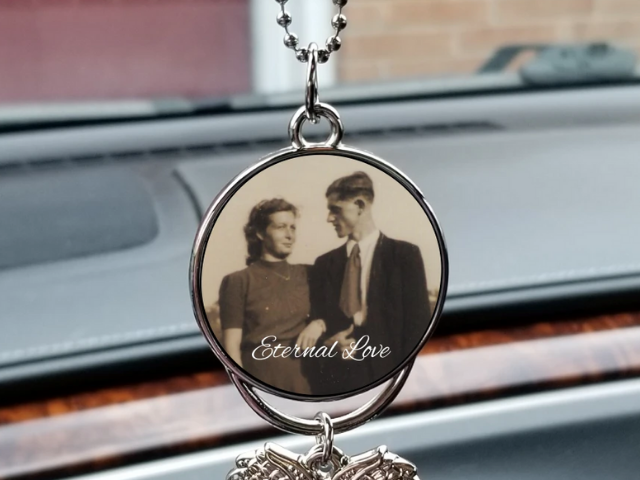 9. Morse code bracelet for in loving memory gifts for him
Morse code is a communications method for representing printed letters in predefined sequences. However, it was not intended to be a spoken coding system at first, but rather a way of communicating the alphabet one letter at a time via electric sound waves. It may be conveyed in a variety of ways, including using dots that have different colors, such as on a morse code bracelet.
This item is full of love because of the basic style of the morse code bracelet and the loving message of you and your husband. This bracelet, just like a highly secret code, is the ideal way to communicate with him, the man you love the most in this life.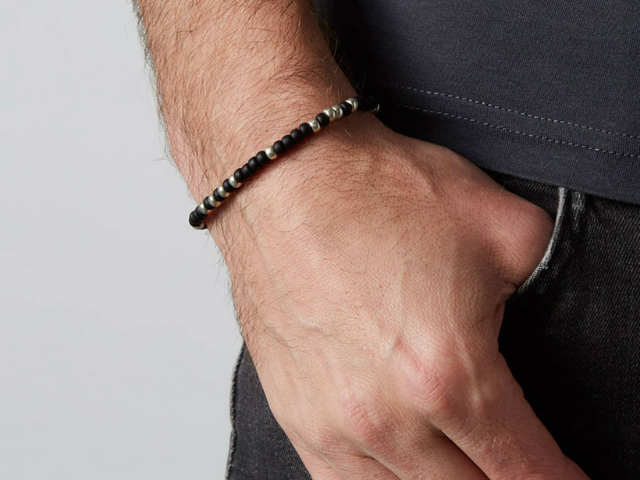 10. A custom diary for the personalized memorial gift
When you're feeling bad, writing about your feelings might help you get your melancholy and negative thoughts out on paper. It is a method for you to examine your insight and determine where you are stuck. As a consequence, a private diary may assist you in balancing your mood and cheering yourself up on your own.
For his tough moment, an appealing gift might be a wonderful healing item. So, if your bereaved friend or loved one enjoys writing, consider presenting him a personalized diary with key aspects of the one who has passed away.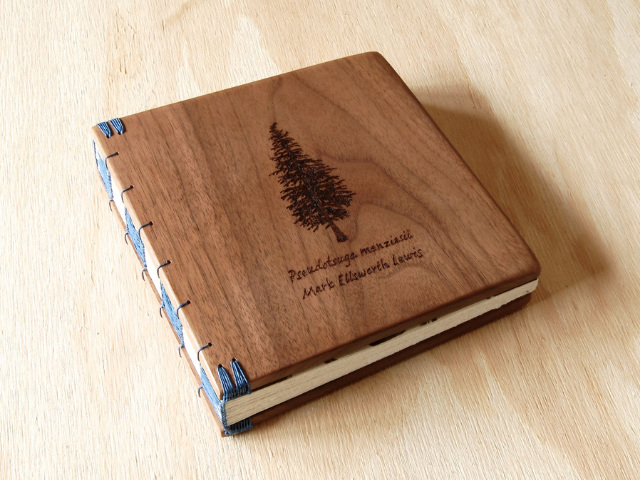 5 Best Unique Memorial Gift Ideas for Your Pet
11. Puppy memorial keyring as a memorial gift for loss of son
For more than a century, people have relied on keychains to keep track of the keys to their homes, cars, and places of business. Sending the small photo locket that may be used as a keychain is really personal. It is common for keychains to be constructed of plastic or metal. Fabric, paper, wood, and rubber are all possibilities as well.
The locket comes with picture slots and is pretty small. Receiving these in loving memory gifts for him will undoubtedly make him weep, but it will also make him joyful.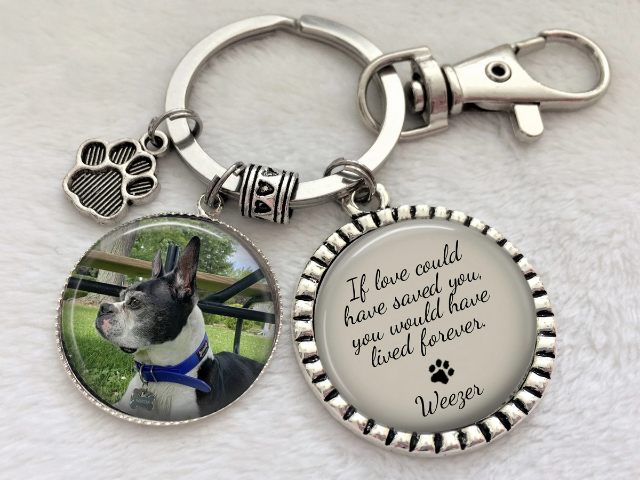 12. Waiting at the door canvas art for dog memorial gift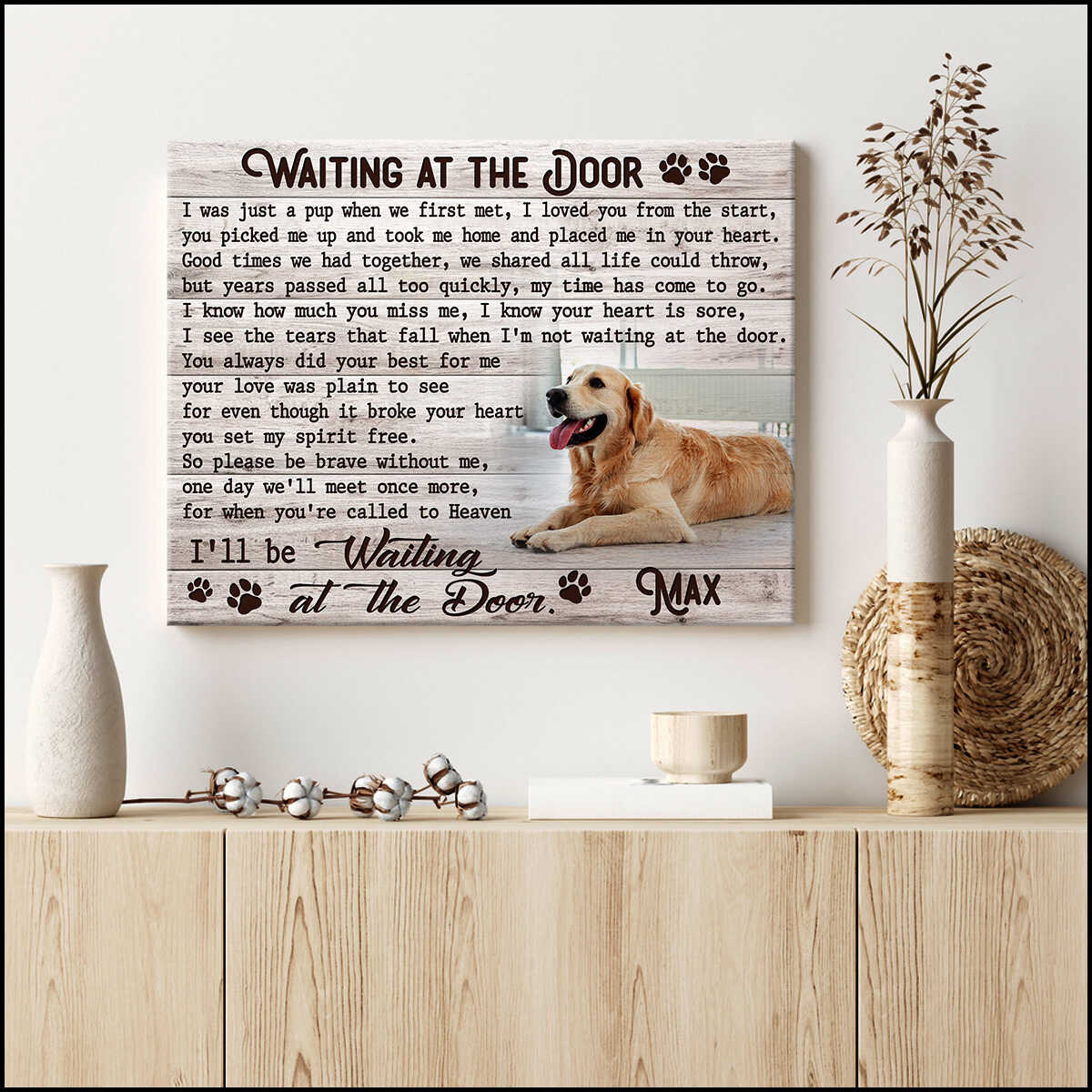 Your dog may kiss your face, jump on you, and wag its tail at you. It is the way to tell he/ she misses you and he/ she is overjoyed to see you as well. Because they missed you, they heard you coming in, and they want to be the first one to meet you. That's why dogs like to wait outside the entrance for you to arrive. In order to convey his sentiments to you, he's most likely acting out.
The image of him waiting at the door every time you get home is truly lovely. Accepting your emotions, both pleasant and unpleasant, may be a difficult and often painful experience. But remembering the past allows us to hope for the future. Waiting at the door canvas painting is a sensitive item since it has a heartwarming message and your dog's photo on it. You can feel his affection and loyalty cozily as if he were a promise that was always waiting for you at the door.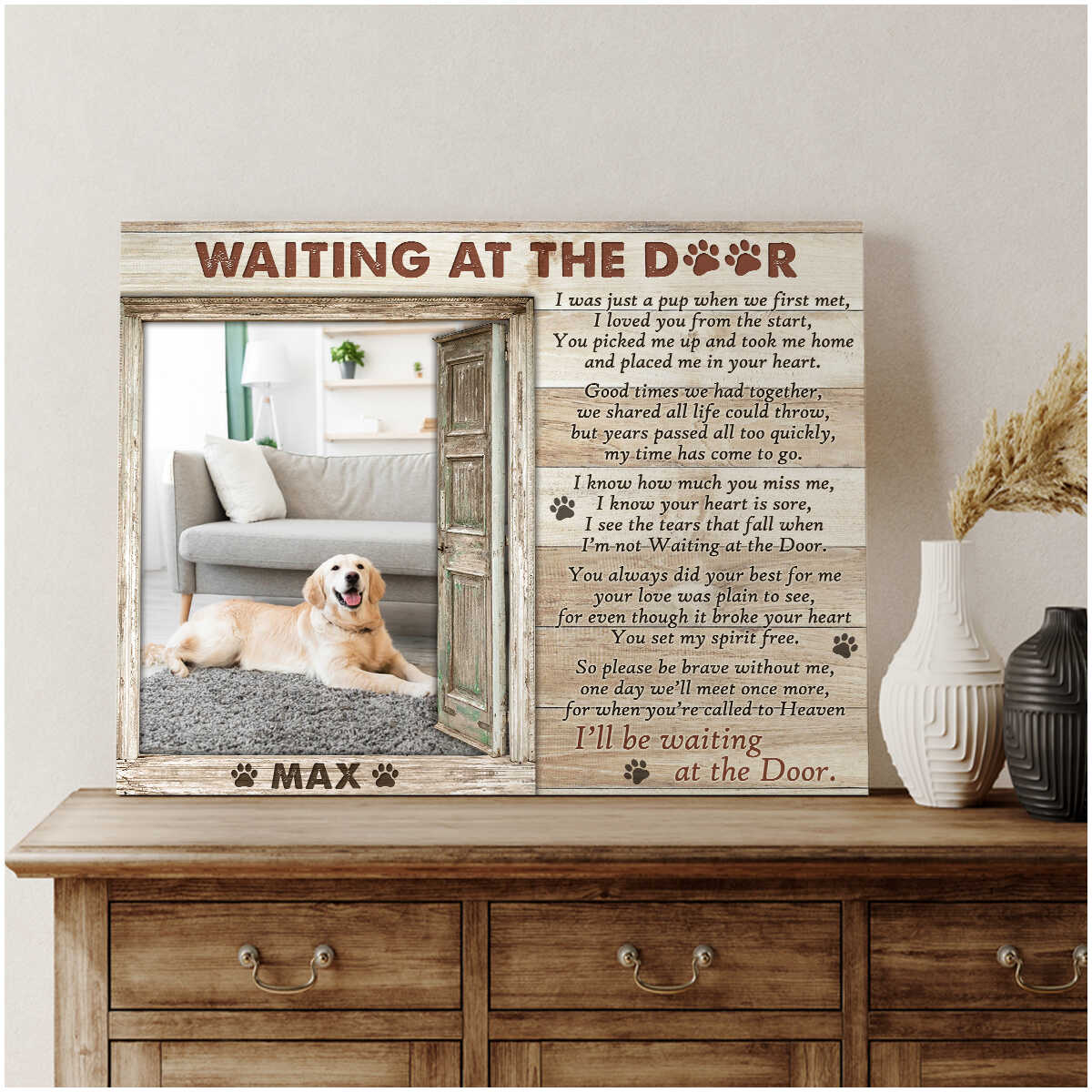 13. Pet's photo print T-shirt for in loving memory gifts for him
A photograph of your dog may make you feel treasured for your entire life. As a result, wearing a T-shirt with his picture on it may motivate you to get through this difficult moment.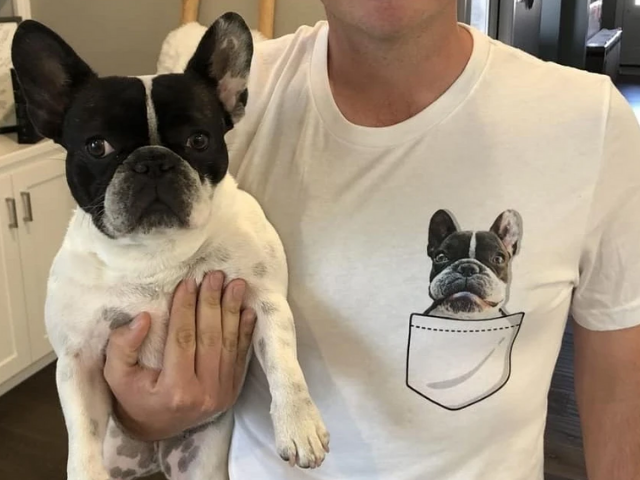 14. Memorial blankets for a pet memorial gift
You and your dog receive the majority of your personality, as well as a considerable deal of physiology and behavior. However, your and his time together has come to an end. A perfect ending has three elements: thankfulness, the sharing of beloved things, and goodbyes. Tell your dog how much you love him and how much you've loved spending your life with him. Let's be grateful to him for being there for you and tell him what you appreciate about him.
We understand how difficult it is to tell him all you are thinking. Just tell him with the memorial blanket every day. You may convey to him a profound thought by the message on the blanket. Furthermore, because you can put his image on the customized blanket, he can now keep you warm even if he is not around you anymore.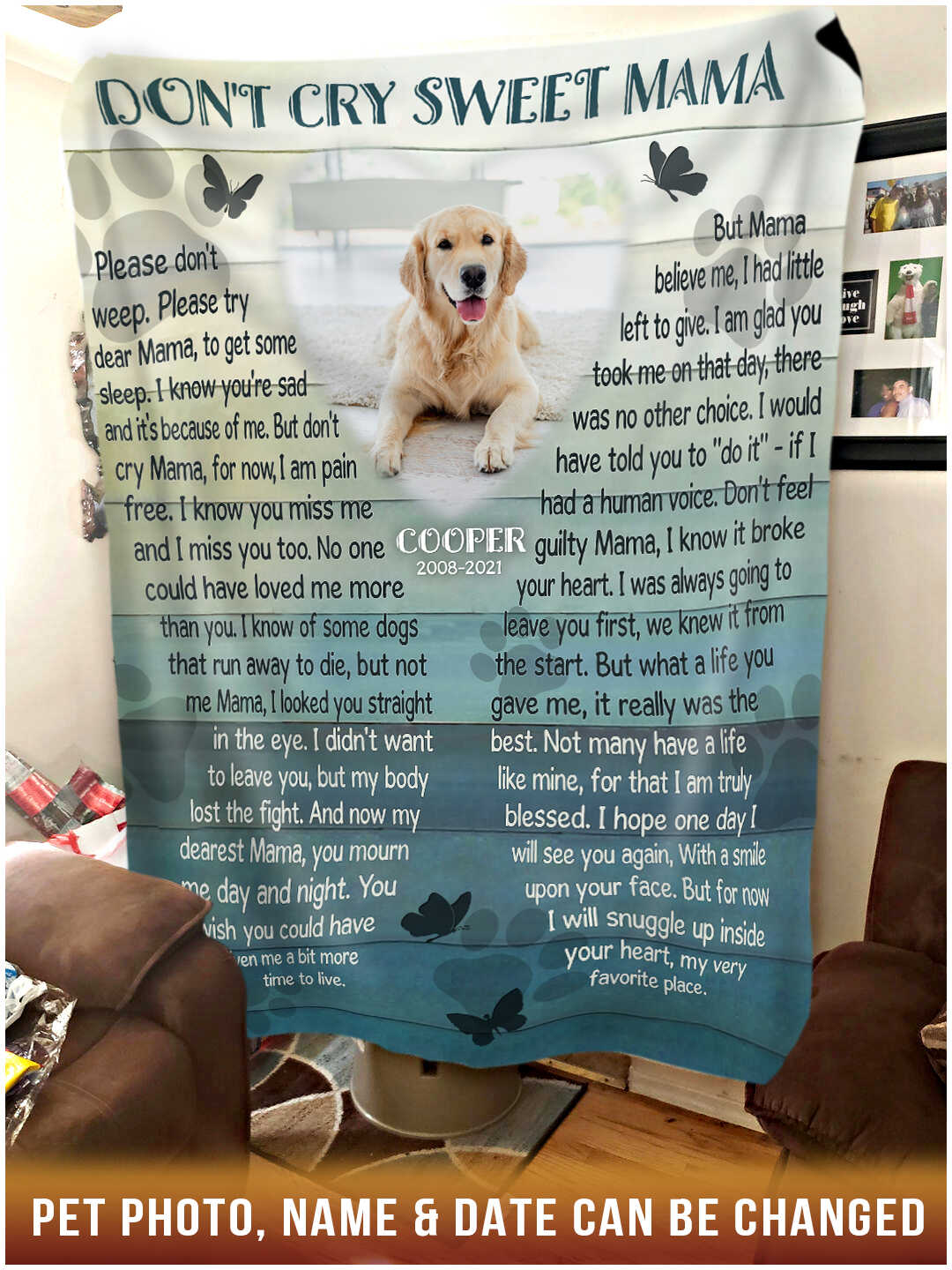 15. Personalized pillows as the true brother memorial gift
You may also love hugging him forever. With the personalized pillow, the picture and the shape of your dog are now created the same. In that way, you can once again pet and touch your bestie every time. With just some simple methods and uploading his photo, you will be provided a personalized photo gift to warm up your heart.  
You would never be ready to stop having the kindness and understanding of others because you are not alone. You will regularly have the listening and support of your friends and others as you continue your journey. However, as you learn to reconcile your grief, you will require less serious and less frequent assistance. Oh Canvas hopes that these suggestions for in loving memory gifts for him may be helpful in recovering from this loss.