As we embrace the upcoming festive season, Oh Canvas welcomes you to explore a world of cheer and creativity with our curated outdoor Christmas decorations ideas. Are you yearning to craft a cozy place for your loved ones or radiate joy to every soul that crosses your path? Fear not, for we stand ready to ignite the spark of inspiration within you, guiding you toward a blissful spirit this holiday season. Prepare to be captivated by the enchanting ways in which we shall illuminate your outdoors and infuse the very air with the essence of the season.
Eye-Catching Christmas Yard Decoration Ideas
1. Glowing Pathway Lights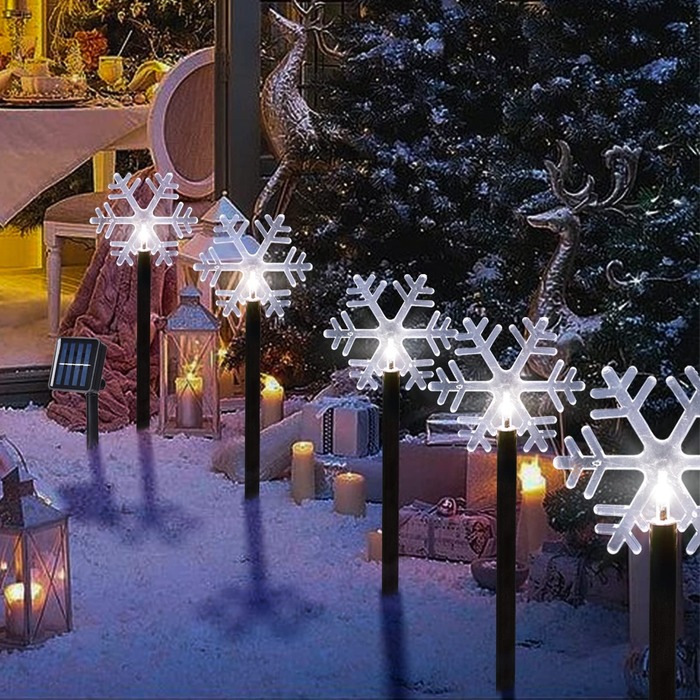 Illuminate your outdoor Xmas decoration ideas with the enchanting allure of Glowing Pathway Lights. Their gentle, cozy radiance adds a sprinkle of elegance and brings a feeling of merriment and coziness to the frosty winter evenings. Magical and effortless to install, these enchanting lights provide a jolly way to enhance your outdoor holiday decorations. Adorn them along your merry walkway, snowy driveway, or festive garden, and let the twinkling lights weave their enchanting spell.
2. Joyful Yard Signs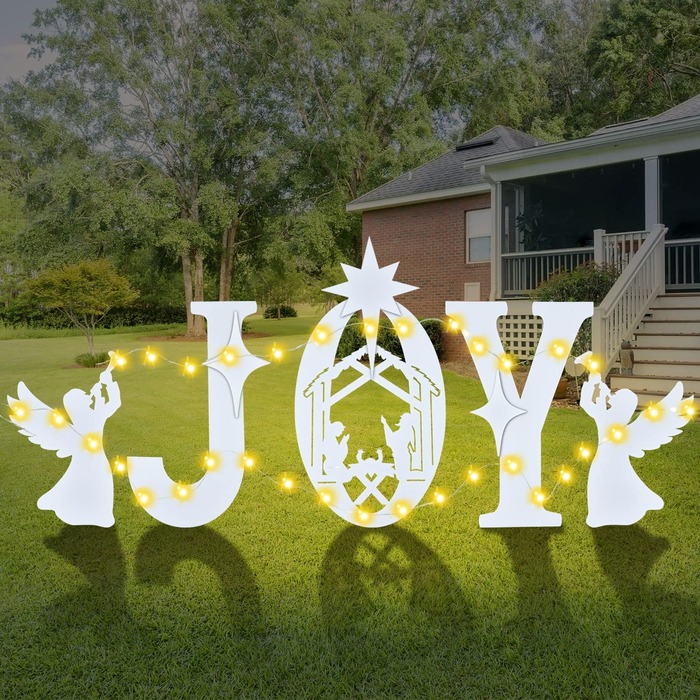 With entrancing designs and festive colors, even the simple outdoor Christmas decorations ideas may become the holiday's focal point, setting the tone for the season for the entire neighborhood. These Yard Signs offer lovely messages like "Joy," "Peace," or "Merry Christmas" to spread holiday cheer and good tidings to all who stop by. From timeless yuletide patterns to modern and jolly designs, there's a sign to match every preference and enhance any existing outdoor embellishments. Amid their enchanting charm, these signs radiate a heartwarming reminder of the merriment and unity that fill the air during the jolly holiday season.
3. Candy Cane Lane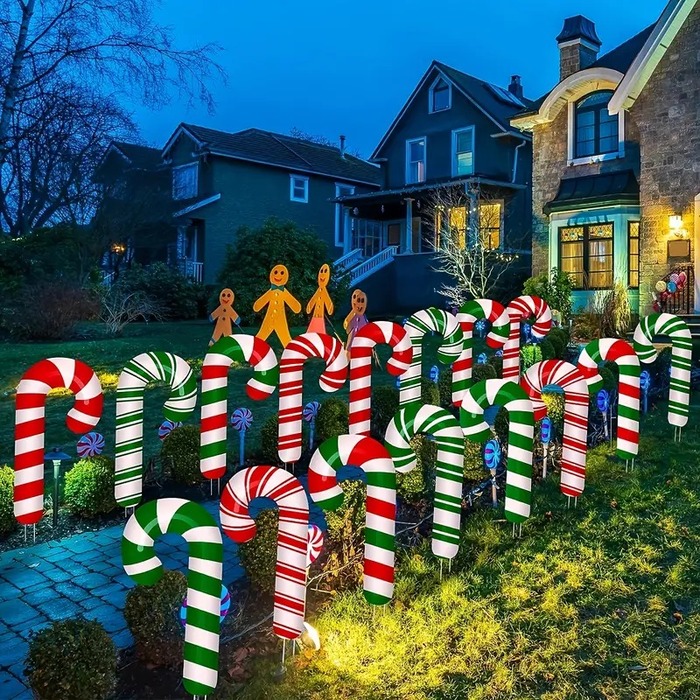 The enchantment of Candy Cane Lane invites you to embrace the spirit of Christmas, where your imagination can dance with festive delight. Whether you yearn for a timeless and nostalgic ambiance or seek to add a touch of modern magic to your holiday adornments, this candy lane offers endless possibilities for your creative expression. The merry colors and shapes sprinkle a dash of sugariness into your outdoor space, instantly elevating the yuletide atmosphere. It evokes nostalgia and whimsical wonder, captivating hearts young and old alike.
4. Dine in a Winter Wonderland
Perhaps we wouldn't recommend feasting amidst the snowflakes, but an al fresco table adorned with a merry centerpiece is a darling arrangement for a chic Christmas soiree. These festive Christmas decorating ideas outside are as merry and bright as Santa's workshop! It's versatile and adaptable, allowing you to showcase your jolly style and creative spirit. Choose ornaments that twinkle like Rudolph's nose, candles that glow like the North Star, and seasonal greenery that brings the magic of the holiday season to life. This idea serves as a jingle bell conversation starter, bringing guests together around a beautifully adorned table, twinkling with holiday cheer.
5. Don't Forget the Backyard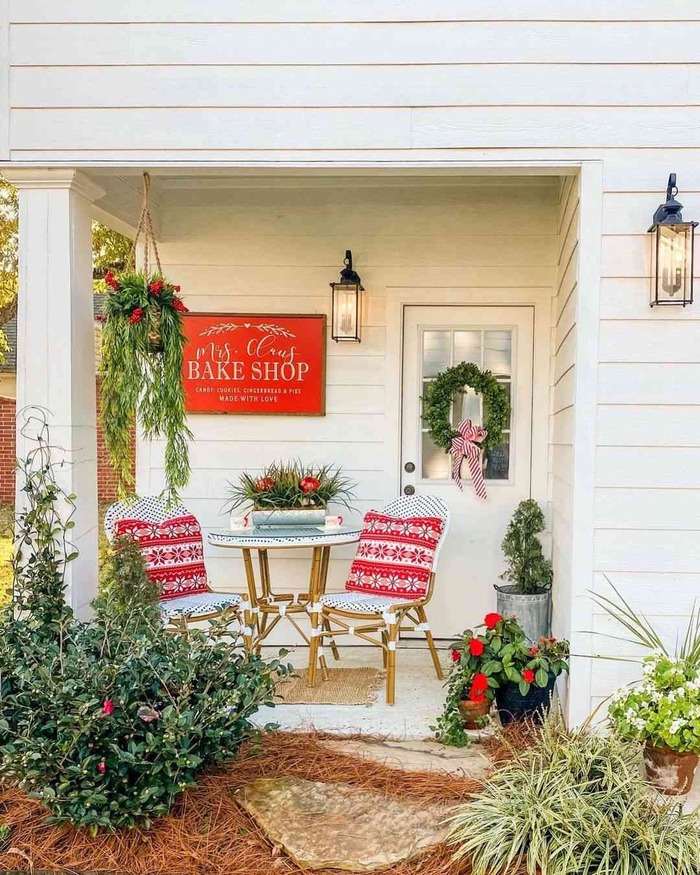 As we transition into the cooler months, you might be tempted to bid farewell to your beloved outdoor furniture. Let's give it some distant thought before you hurry to put it away. You may turn your garden into a peaceful, inviting retreat by decorating a few trees with lights and ornaments. Create a warm and welcoming atmosphere by scattering soft pillows and blankets on your outdoor sofa. Start a fire in the fire pit and watch the dancing flames add even more magic to the evening. Gather your loved ones for a wonderfully intimate evening, enjoying the joy of togetherness among these outdoor Xmas decoration ideas.
6. Decorate the Outdoor Fireplace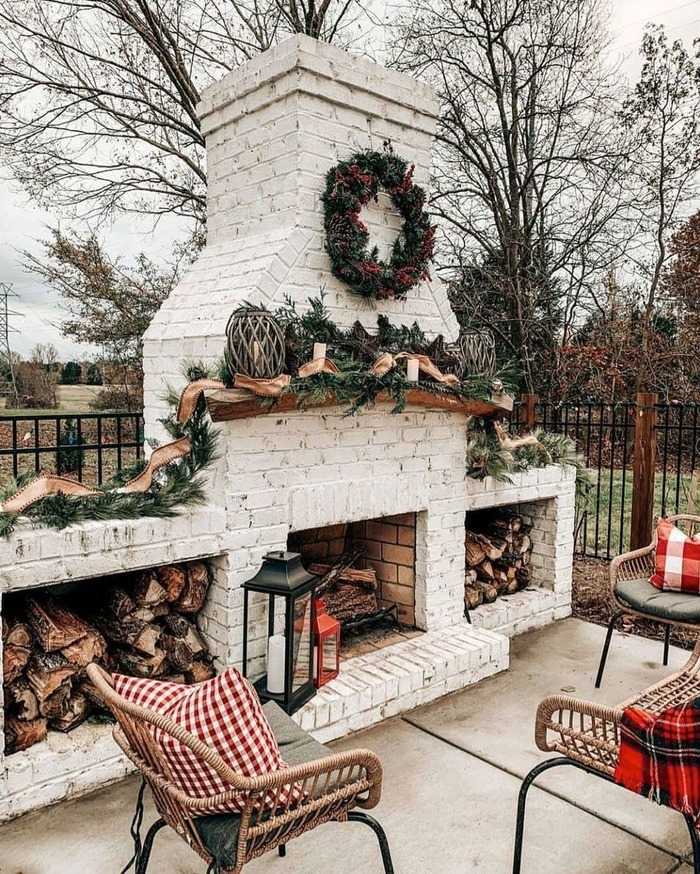 Looking for a fabulous way to spruce up your outdoor space this holiday season? Look no further than these incredibly chic and effortlessly easy outdoor Christmas decorations ideas. It's time to bestow upon your outdoor fireplace the love and attention it deserves. If you want to fill your outdoor space with the classic hues of the Christmas season, hang a garland above the fireplace and then put a bowl of bright red fruits next to it. This simple yet captivating addition effortlessly harmonizes with the lush greenery of the garland, infusing your surroundings with the timeless and enchanting colors that define the holiday season.
7. Burlap It Up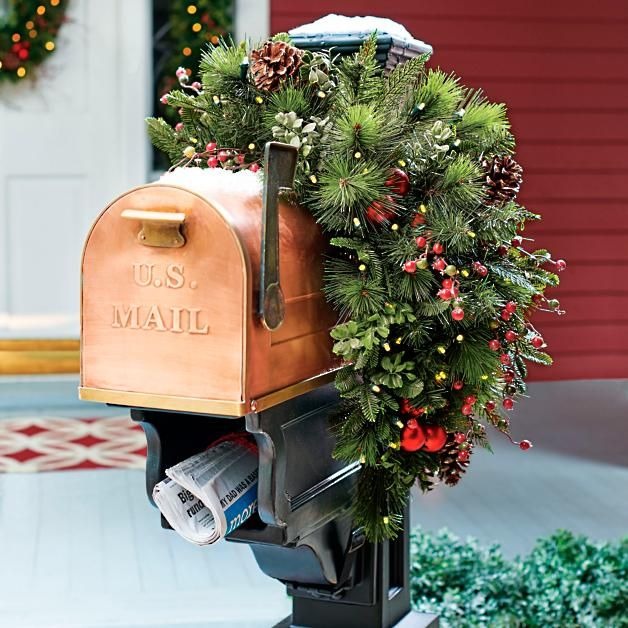 The jolly makeover of outdoor holiday decorating ideas for your mailbox not only adds a touch to it but also serves as a cozy greeting to neighbors and guests. It's budget-friendly and a breeze to bring to life, using just a few simple materials. With just evergreen branches, pine cones, and a delightful burlap bow, they come together to create a merry masterpiece that radiates the joy of the holiday season. It's a great way to spread the holiday spirit and won't cost you a lot of time or money.
8. Supersize Your Decor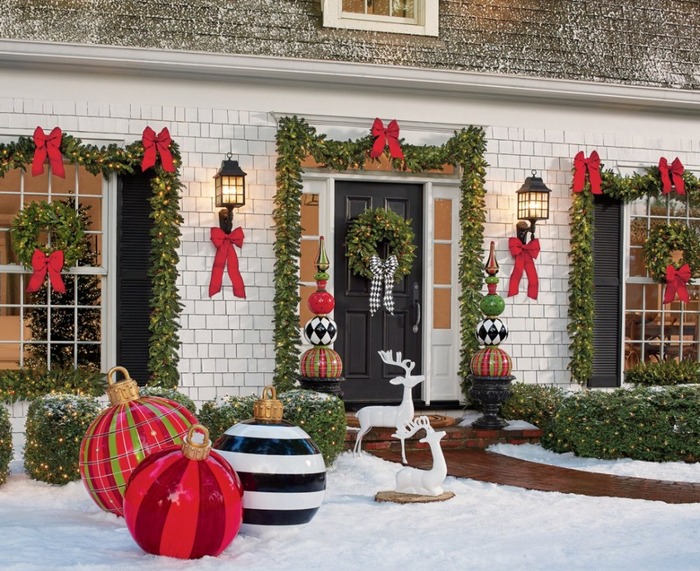 The extra large outdoor Christmas decorations take your holiday to a new level. The luminous radiance emitted by these details serves as a captivating presence, filling the surrounding space with a delightful aura. Moreover, their vibrant hues create a remarkable visual impact, infusing the environment with a vivid burst of color.
9. Keep It Cozy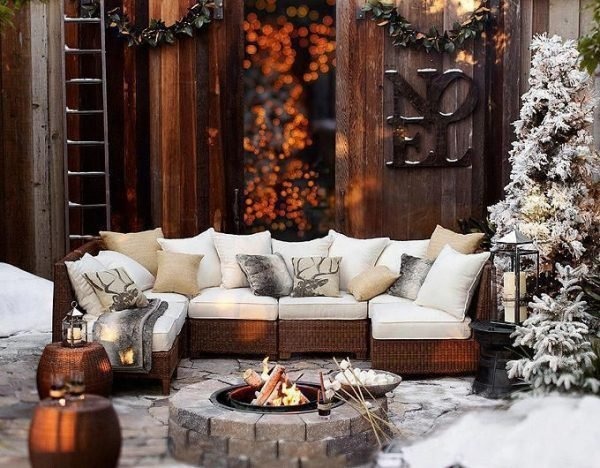 These outdoor holiday decorating ideas have a picturesque scene with a beautifully set table where each chair is adorned with cozy sheepskins, providing the ultimate comfort. And to add a touch of warmth and style, a delightful plaid wool throw is gracefully draped over every seat. But that's not all – the ambiance is further enhanced by an abundance of festive garlands, creating a festive atmosphere that is simply enchanting. And as the soft glow of candlelight dances across the room, even the chilliest December day is magically transformed into a joyous and radiant celebration.
10. Find A Family Of Reindeer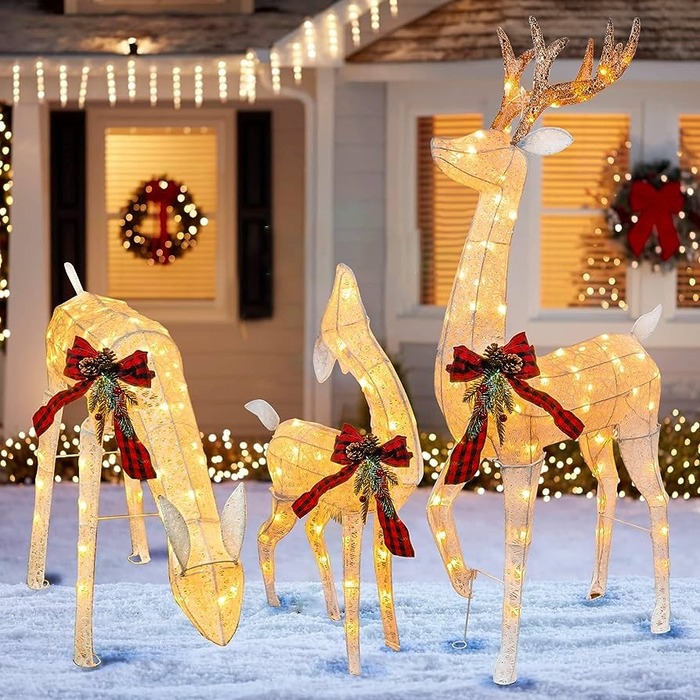 If your front yard is feeling a bit lackluster amidst the twinkling Christmas lights, perhaps consider adorning it with some merry reindeer that are all aglow. Like a shimmering star atop a Christmas tree, the family of reindeer lights radiates a magical aura of unity and togetherness. It serves as a splendid embodiment of the holiday season, gently reminding us of the cherished family bonds and the blissful merriment that fills our hearts during this joyous time of year. Whether your exterior is bedecked with shimmering lights or merry wreaths, these illuminated reindeer harmonize with current embellishments, transforming into beloved Christmas decorating ideas outside.
11. Go Classic
Step onto this breathtaking front porch, where the magic of the holiday season has woven its spell. A true testament to the magic of the holiday season, this magnificent space invites you to immerse yourself in its captivating allure. The sight of your classy outdoor Christmas decorations is simply enchanting! Every window exudes a magical aura, from the sparkling garland that gracefully drapes along the edges to the festive wreaths adorned with glistening berries. The attention to detail and the sheer beauty of it all is truly breathtaking!
Mesmerizing Outdoor Christmas Light Ideas
12. Cranberry Luminarias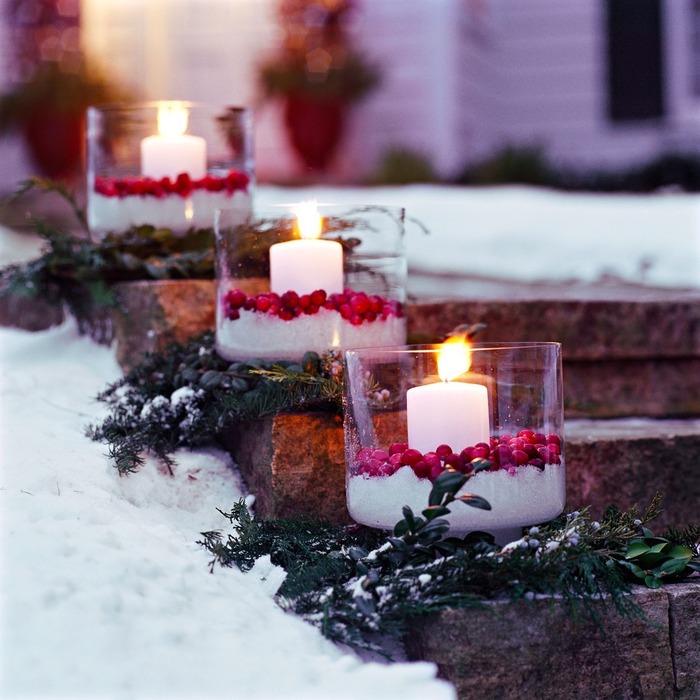 These lively outdoor Xmas decoration ideas are a breeze to execute. Adorn your glass vases with a delightful layer of glistening faux snow, accompanied by the vibrant presence of real cranberries (or their faux counterparts, if you wish to avoid attracting our furry friends). Gently nestle a majestic pillar candle into each vase, harmonizing the warm glow with the wintry elements. Create a picturesque pathway to your front door by artfully arranging bundles of vibrant holiday greenery.
13. Christmas Light Orbs
Glistening orbs of grapevines adorned with twinkling outdoor holiday lights transform into radiant spheres resting upon a pristine blanket of freshly fallen snow. To create a wintry scene, use these lovely globes to decorate outdoor features like birdbaths, urns, and stairways. Behold how their ethereal light fills the room with the wonder of the holiday season. Check the label to ensure the cord is safe for outdoor use before you decorate your home.
14. Glowing Frosted Globes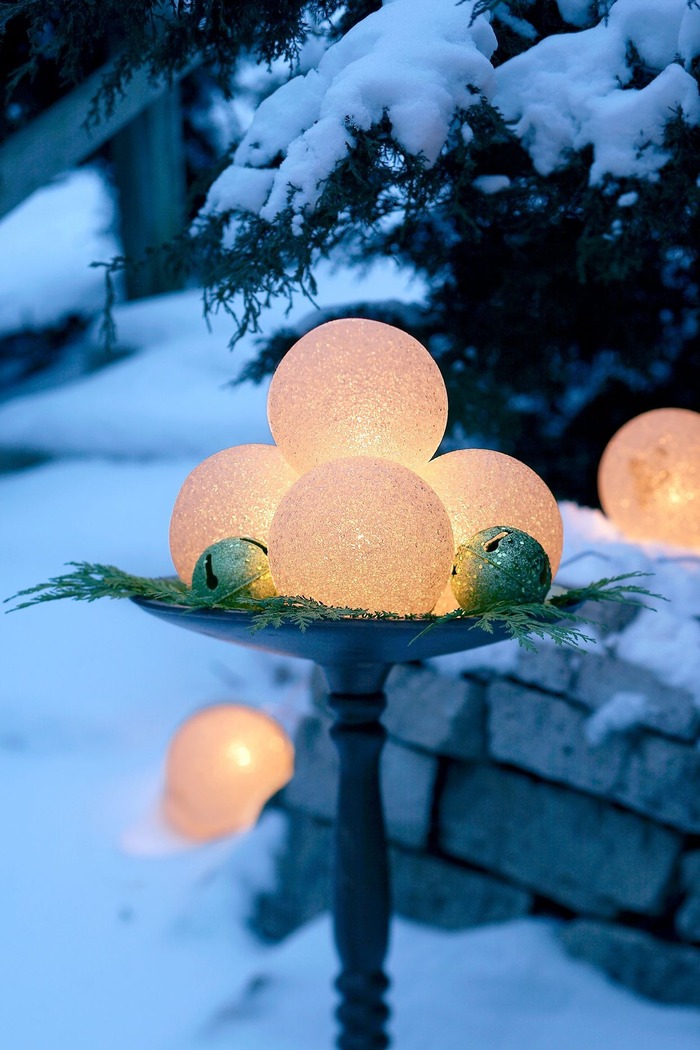 Glowing frosted globes have the ethereal attraction to alleviate the harshness of a cold nightfall. Each orb, a fragile manifestation of ethereal beauty, will convert the environment into a winter wonderland, enchanting everyone who gazes upon it. Watch these spheres gently dance amidst the glittering snow, creating bewitching Christmas decorations for outdoors. Allow this winter landscape's quirky mood to transport you to a place of absolute serenity and awe-inspiring magnificence.
15. Light Up the Town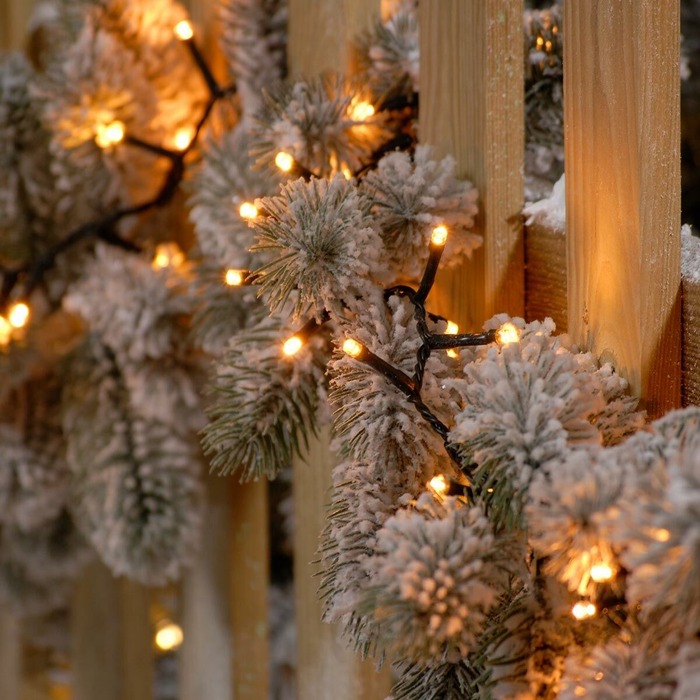 Don't fret about the concerns of your electric bill, for this is a time to indulge in the ethereal beauty that these lights bestow upon your surroundings. Choosing the right lighting is key when creating cozy and inviting outdoor Christmas decorations ideas. That's why it's important to opt for warm LEDs that emit a soothing glow and ensure your bulbs stay cool.
16. Ethereal Branches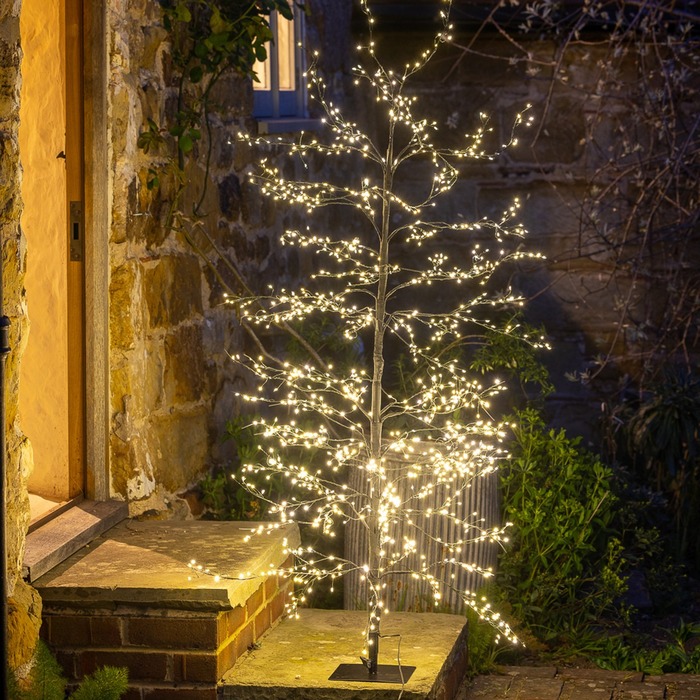 If you don't want to go all out on holiday decor, you can choose a cozier, more festive Christmas look. Decorate your humble abode with dainty twinkling lights, lovingly placed to create a spellbinding halo around your entrance. This will infuse your dwelling with a magical atmosphere that will last throughout the entire winter wonderland. These outdoor holiday decorating ideas will ease through the cold season, and its inviting light will envy all who see it.
17. DIY Christmas Light Garland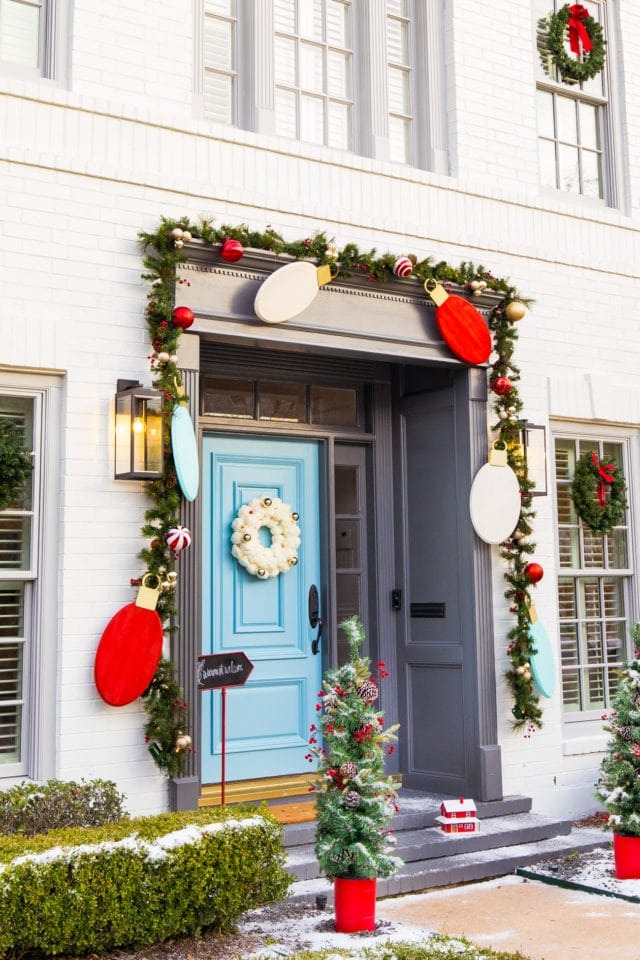 The handmade touch adds a warm, personal feel and ensures that your decor stands out from the rest. Incorporating oversized DIY outdoor Christmas decorations with lights imparts a rustic and sentimental allure to your outdoor environment, evoking a profound sense of timeless holiday coziness. This handmade touch adds a delightful and personalized flair to your door decorations, making it a must-try idea for a festive and unique holiday look.
Christmas Porch Decorating Ideas
Christmas Front Door Wreath
18. Gorgeous Greens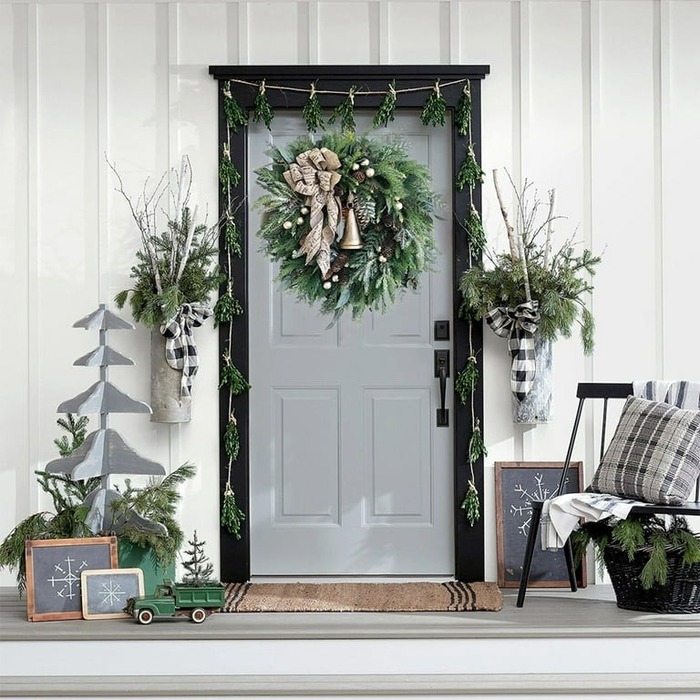 Make a magnificent Christmas swag to adorn the outside of your home. Begin with a lovely collection of brilliant emerald greenery, such as beautiful eucalyptus and evergreen branches. Then, carefully nestled among the lovely pinecones, a touch of visual enchantment to invoke the Christmas spirit. Sprinkle the swag with imitation berries and a gorgeous red ribbon to decorate your front porch with unique outdoor Christmas decorations.
19. Reindeer Wreath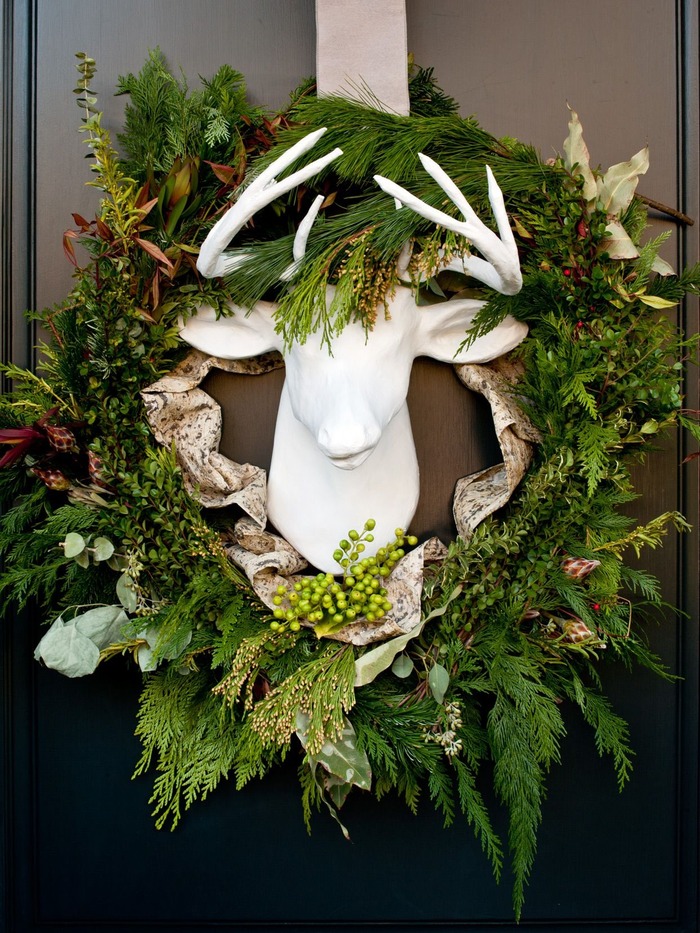 At the heart of these festive Christmas decorating ideas outside lie a remarkably realistic reindeer head, exuding an air of enchantment and holiday spirit. The pristine white paint imbues it with a sense of contemporaneity, setting it apart from its more conventional counterparts. Wrap the wreath with a jolly bow and fasten it with a knot to spread holiday cheer. Add Christmas enchantment and a splash of color with clusters of bright green berries.
20. Sporty Wreath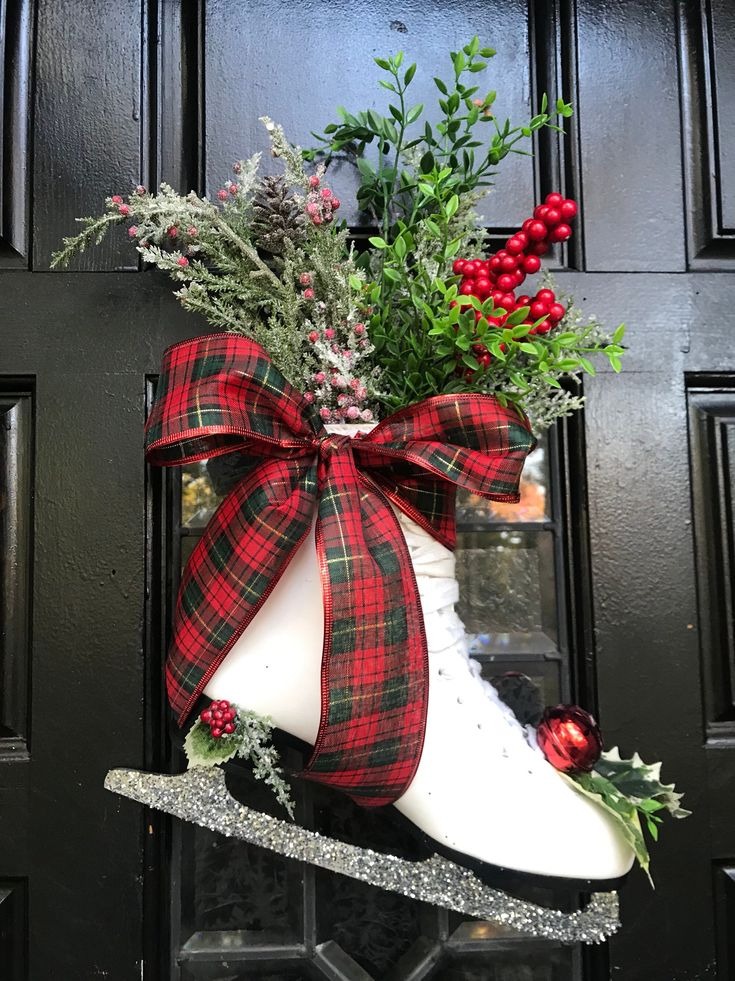 The festive bow and delicate snowflakes adorning this beautifully handcrafted wreath are perfect for spreading Christmas cheer during this joyous holiday season. Behold the enchanting vision of this one-of-a-kind frosted wreath adorned with a dazzling duo of glistening snow-white ice skates. A sprinkle of cozy Christmas magic is infused into this stunning design with upcycled sweater sleeves. These marvelous DIY outdoor Christmas decorations ideas will take your holiday to a new level.
21. Jingle Bells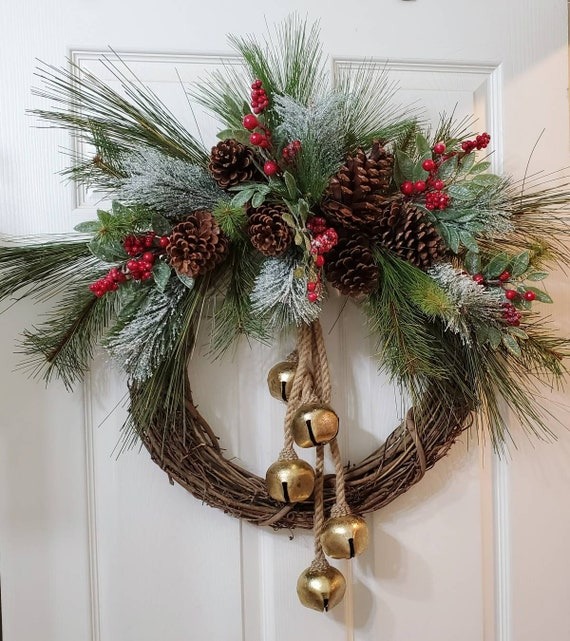 The creation of outdoor Christmas decorations ideas is such an elegant simplicity that it can be effortlessly fashioned by even the most tender of hands. To complete your project, we shall require nothing but a selection of verdant foliage, preferably of the spruce variety, along with a tastefully striped ribbon and a collection of melodious bells. You may elegantly attach it to the grand entrance, the quaint mailbox, or any other location.
22. Christmas Garland Wreath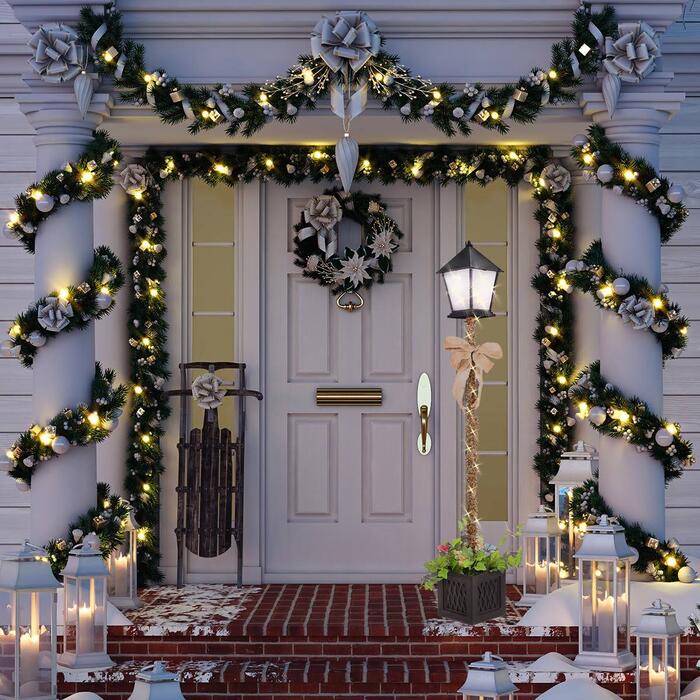 Silver and gold, like shimmering snowflakes and twinkling stars, are two precious metals that have enchanted the hearts and minds of humanity since time immemorial. Like a glistening snowflake on a cozy winter's day, they have always been intertwined with the essence of purity and grace, just like the magic of Christmas. Craft magnificent outdoor Xmas decoration ideas with the melodious fusion of lush evergreens, lavish ornaments, and glistening snowflakes adorning your majestic entrance display. The dazzling embellishment of this enchanting decor truly sets a festive atmosphere that ignites the holiday spirit for your cherished guests.
23. Fragrance Wreath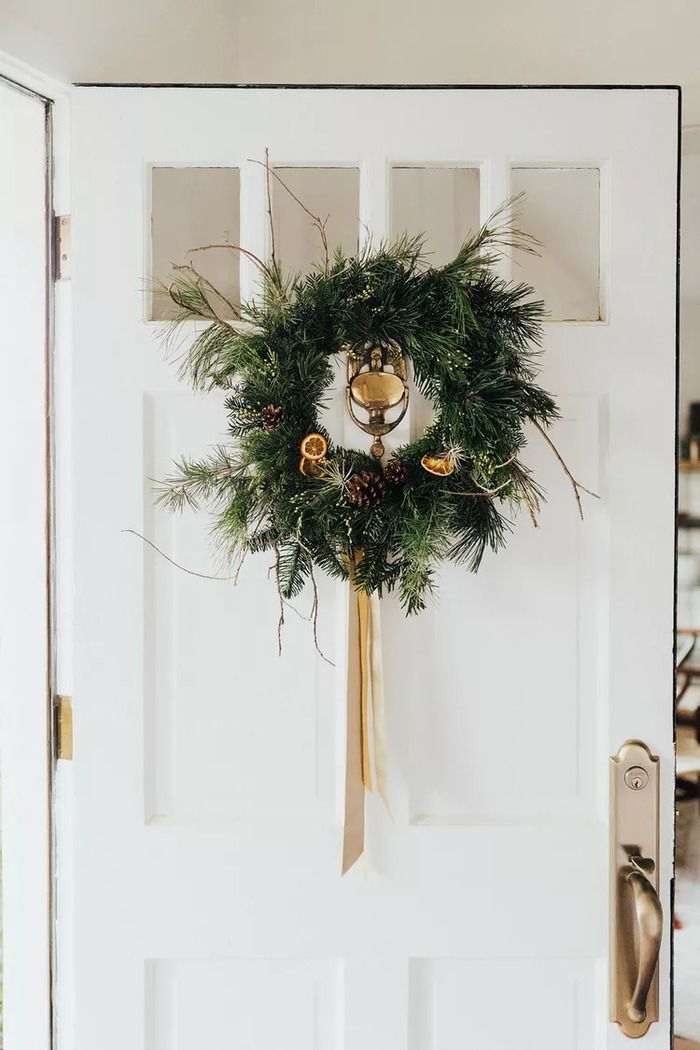 Fill the air with a magical fragrance that transports you to joyful excitement. Even before stepping in, a magical atmosphere is skillfully crafted, enchanting the senses and preparing the scene for a truly merry adventure. Within this enchanting blend lie succulent slices of sugary orange, their vibrant hues dancing with festive cheer. Should you wish to elevate this symphony of flavors, consider including aromatic cinnamon sticks, fragrant cloves, or perhaps even the enchanting essence of sugarplums.
24. Mimic a Candy Cane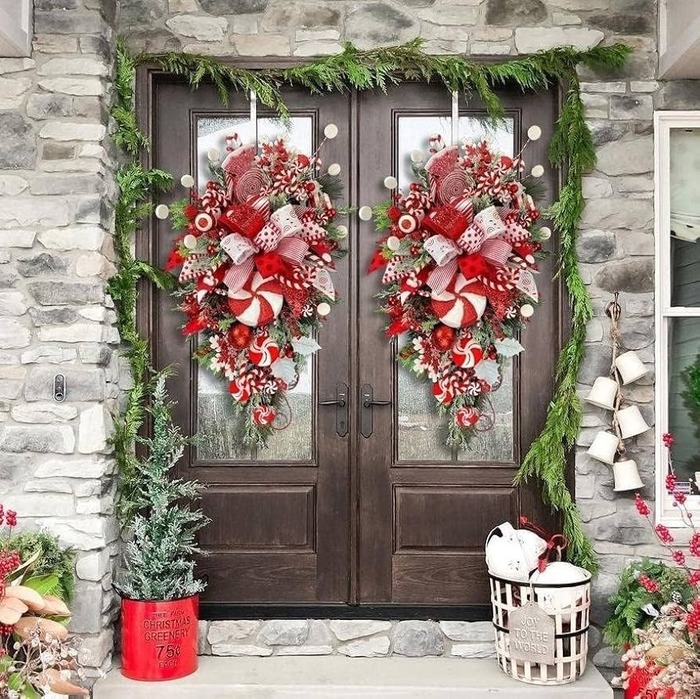 With a huge, amazing confectionery work of art, you can turn your home into a fascinating show. Adorned with real peppermints, it's a feast for the eyes and a treat for the soul. Nestled against a backdrop of pure, ethereal white, this stunning gem exudes an undeniable brilliance that captivates the senses.
25. Spread the Cheer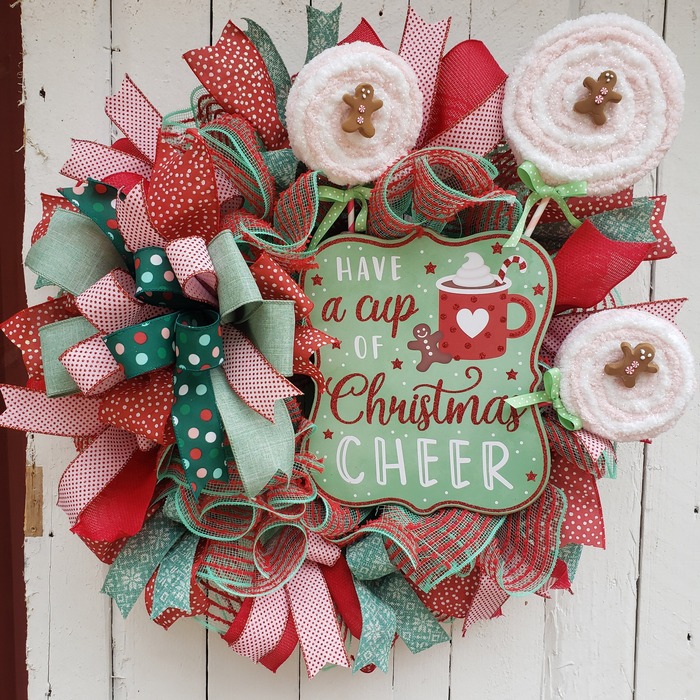 A wreath comprised of pastel shades of green, red, and other pastel hues exudes Christmas melancholy. Looking through it, the bright ribbon and gingers, colorful yarn, and glittery suckers are sure to make you smile. The mesh, which is decorated in cheerful mint green and red, twinkles through the sign and moves with the ribbon, spreading Christmas cheer. Wrapping the chocolate, gingham, and snacks in a ribbon with a nice sweater design in mint green makes them look more like outdoor Christmas decorations ideas.
26. Double Up On Wreaths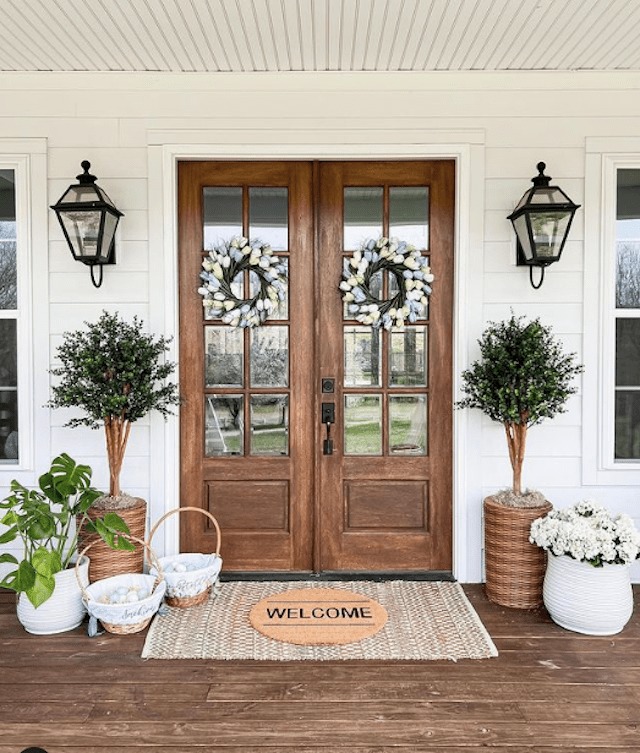 Embrace the enchanting holiday spirit by exploring outdoor Xmas decoration ideas, especially if you have charming double doors. Designer Young Huh effortlessly weaves Christmas magic on the front porch, transforming it into a winter wonderland with ethereal garlands cascading like shimmering waterfalls. This festive ambiance captures the spirit of the season, dancing in harmony with the natural world, providing a perfect opportunity to immerse yourself in the holiday essence.
27. Tropical Colors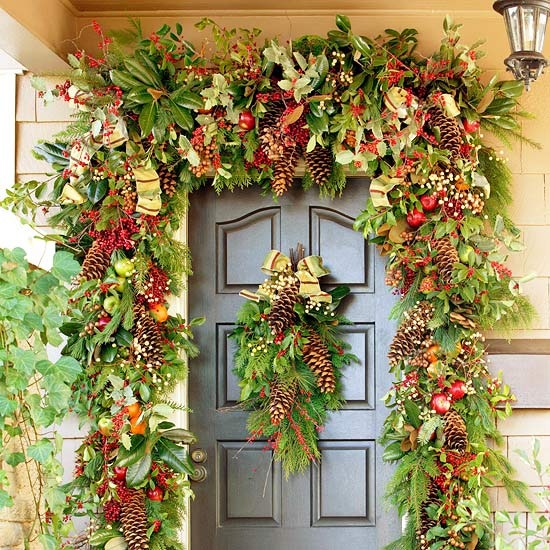 Escape the traditional red and green scheme with decoration ideas inspired by Sugar & Cloth's vibrant salmon-hued entrances. Adorning the entrance door with fanciful sisal trees and vivid bulbs of unusual hues, reminiscent of a unique Christmas tree. These components joyfully ring the entryway, creating a visually attractive frame with a subtle hint of outdoor holiday decorating ideas, offering a cheerful departure from the ordinary during the season.
-> Have you ever wondered when it's perfect to put up Christmas decorations? Stop by our post, Holiday 2023 Timeline, for all the details. We also offer the best holiday decoration ideas -> Subscribe to our channel for more content.
Front Porch Christmas Decorations
28. Classic Black and White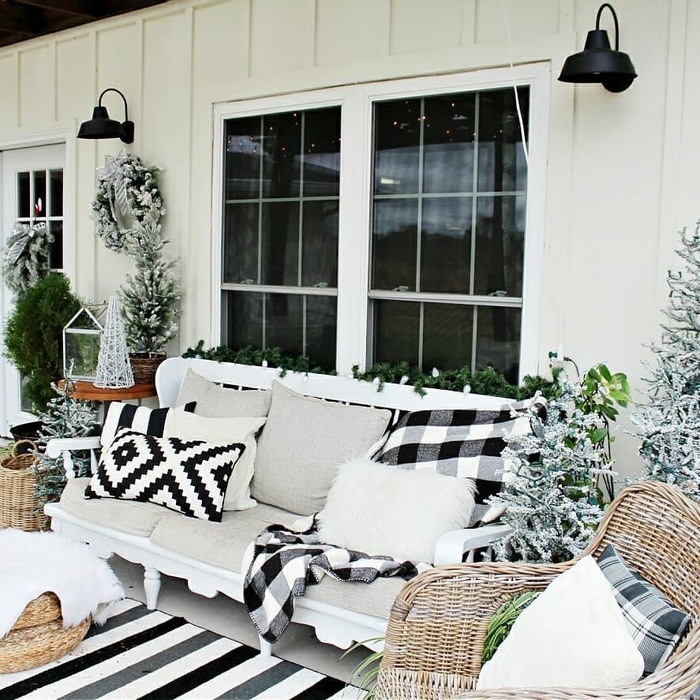 Elevate your outdoor space with creative outdoor Xmas decoration ideas by prettifying your patio furniture. Transform your daybed into a refined holiday haven with timeless black and white buffalo check cushions, adorned with delicate reindeer motifs for a touch of whimsy. Chairbacks embellished with exquisite sprigs of flora infuse natural beauty into the picture. Complete the festive atmosphere with a wreath elegantly crafted from ancient ice skates, proudly hanging on the wall, offering a vivid burst of color.
29. Pretty Porch Décor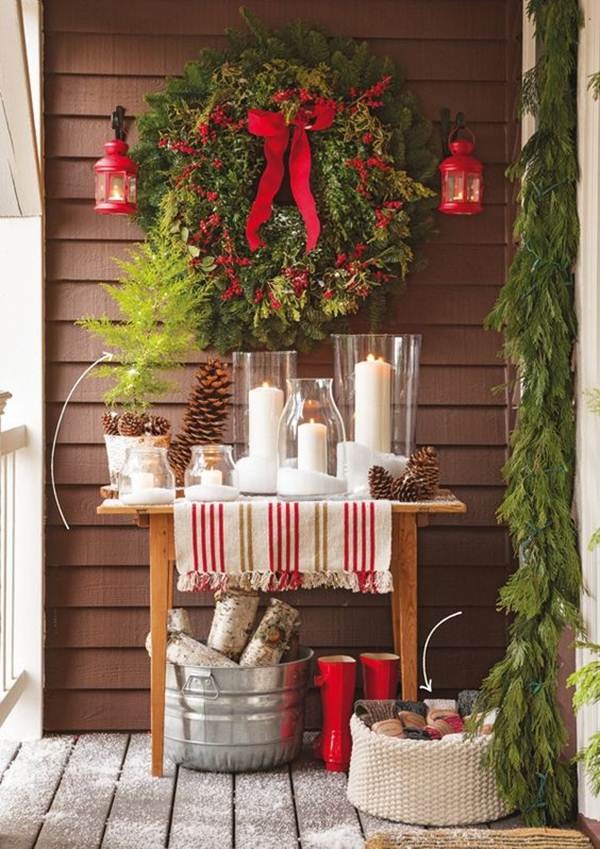 Create stunningly gorgeous outdoor Christmas decorations ideas by illuminating your shaded porch nooks with the warm glow of sparkling candles and adorning them with seasonal plants. Decorate your festive small table with dazzling candles and scented pinecones, all snuggled on a comfy surface covered in bright seasonal fabric. A vivid Christmas wreath and a bucket loaded with lovely birch branches are included in the design.
30. Seasonal Railing Planter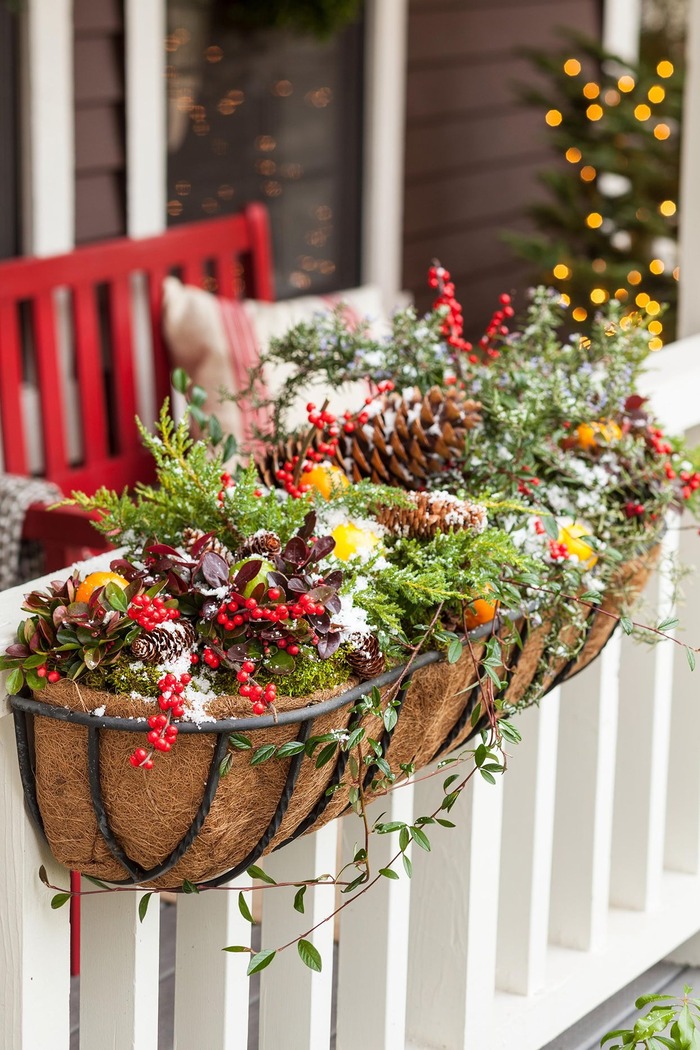 Put some seasonal flowers in your outside planters to make your patio more welcoming. Add a few fruit clusters, some evergreen twigs, and a few pinecones of varied sizes to the mix. Tuck in some clementines for a splash of vibrant color without overwhelming the arrangement. These alterations make for lively and endearing classy outdoor Christmas decorations that offer a touch of festivity to any outdoor area.
31. Bring Your Tree Outside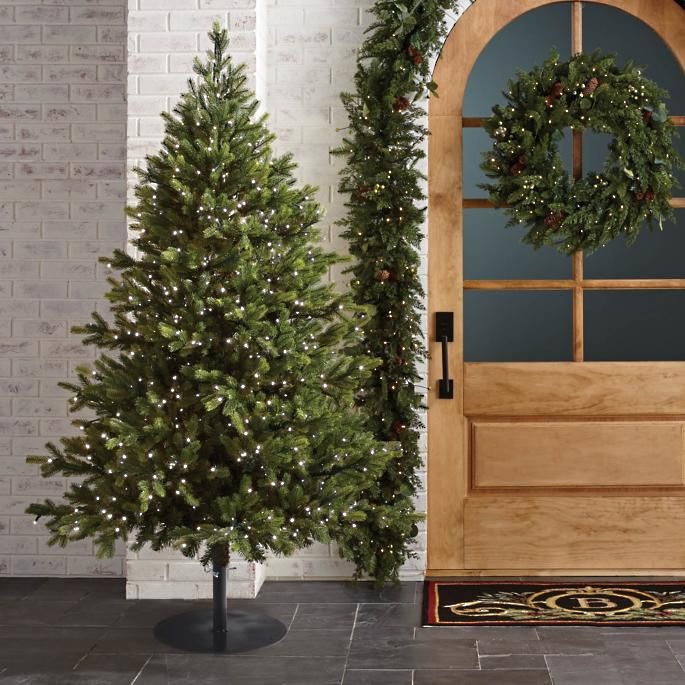 Bringing the Christmas tree outside is a refreshingly novel idea for holiday decorating. This idea includes placing a magnificently ornamented Christmas tree in an outdoor area, such as a garden, porch, or patio, to extend the festive feeling beyond the conventional inside space. Bringing the Christmas tree outside creates a focal point where loved ones may congregate and celebrate the season. In the midst of nature's splendor, it serves as the focal point of meetings that endure a lifetime.
32. Update Summer Staples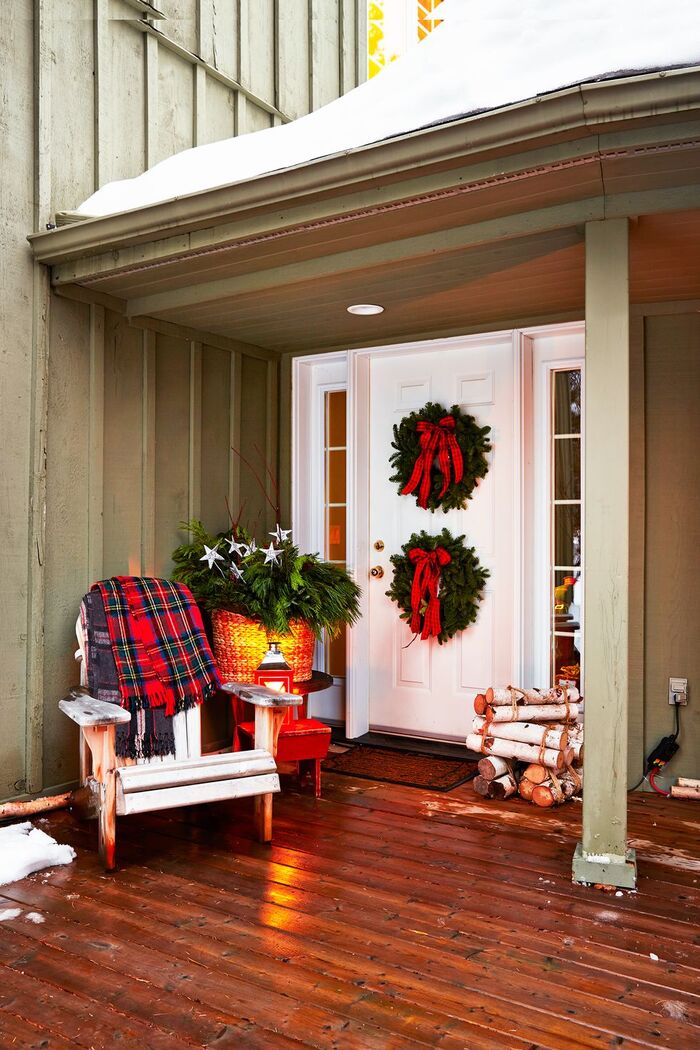 A double wreath on the door is a stylish and eye-catching way to enhance your outdoor holiday decorating ideas. Instead of a single wreath, this concept involves layering two wreaths on the front door, creating a dynamic and visually appealing focal point. Each wreath is different in size, form, and materials, such as evergreen branches, pinecones, and embellishments. The double wreath exudes exquisite elegance and makes a strong first impression on guests.
33. Display a Sled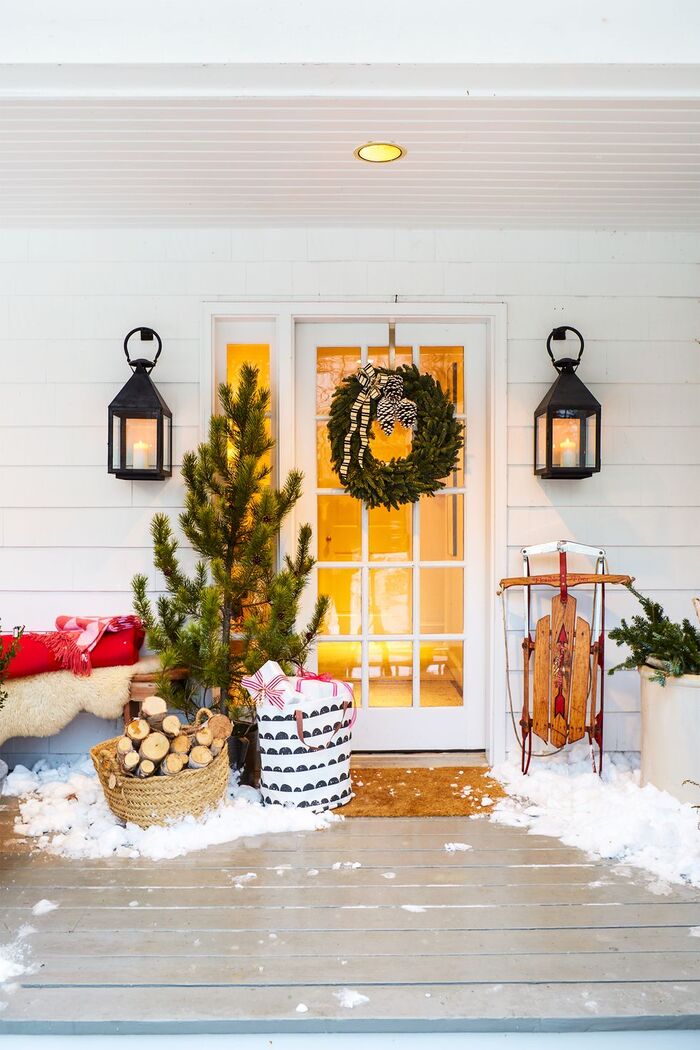 Showcasing a sleigh as a component of your outdoor embellishments is a sentimental and enchanting approach to summoning the soul of winter. Placing a charming vintage or ornamental sled, embellished with festive touches like fragrant evergreen branches, rustic pinecones, and sparkling lights that twinkle like stars on a winter night. The sled serves as a jolly backdrop, providing a cozy and festive atmosphere to your outdoor setting.
34. Bring Presents Outside
Gifts? Beneath the twinkling Christmas tree? There is just no need for jingle bells! This year, why not bring some of the holiday spirit out into Christmas porch decorating ideas? Simply wrap up enchanted shoeboxes for that festive appearance and utilize them again next year if you don't want the magical snow to melt through your lovely presents. This will prevent the snow from melting through your presents and ruining their surprise.
35. Front Porch Forest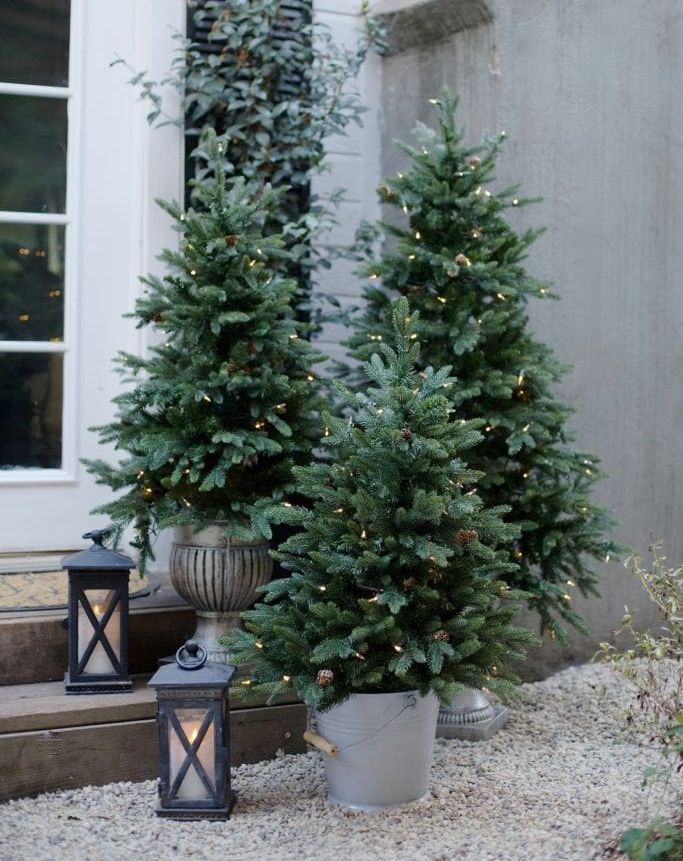 By arranging potted evergreen trees of different heights, this outdoor area with Christmas decorating ideas outside creates the illusion of an enchanting forest. Scatter wooden or metal deer figurines among the trees to enhance the woodland atmosphere. This seasonal decor not only captures the spirit of the holidays but also provides a unique and inviting way to welcome guests to your winter retreat. Embrace the enchanting concept of the "Front Porch Forest" for a haven of warmth and comfort at your doorstep.
36. Cozy Front Porch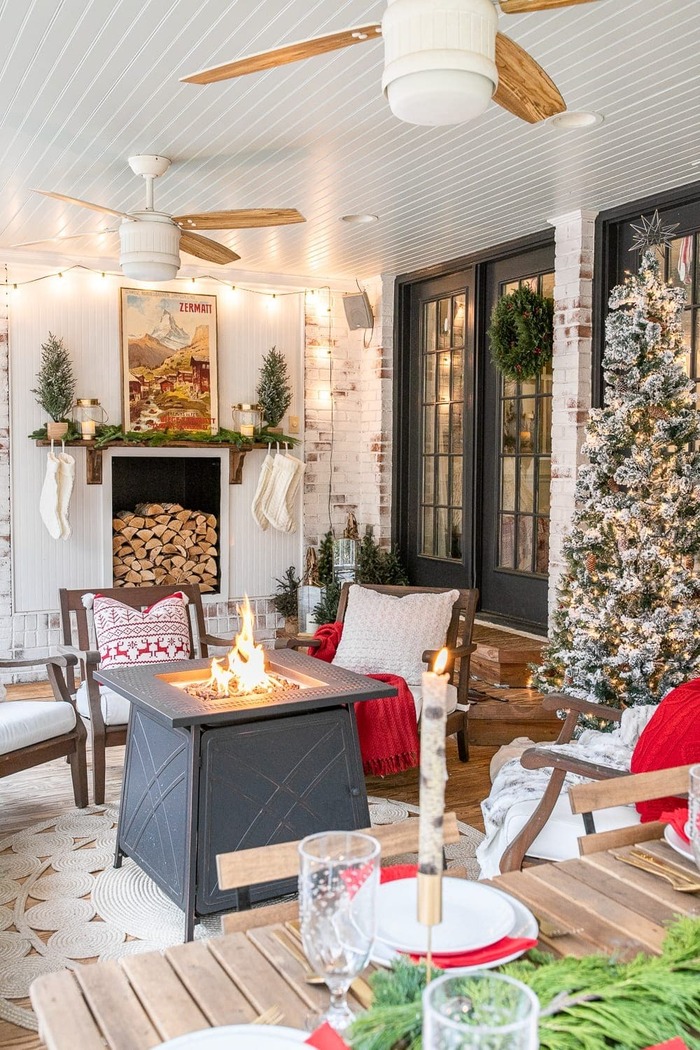 Decorate the front porch in vivid reds and greens to make a warm welcome for visitors. To make the patio more welcoming, drape a throw blanket and cushions over the patio furniture and add a brightly illuminated evergreen tree. If you want to put a tree on your porch without worrying about it blowing over, you should use a basket instead of a skirt.
DIY Outdoor Christmas Decorations Ideas
37. DIY Painted Sled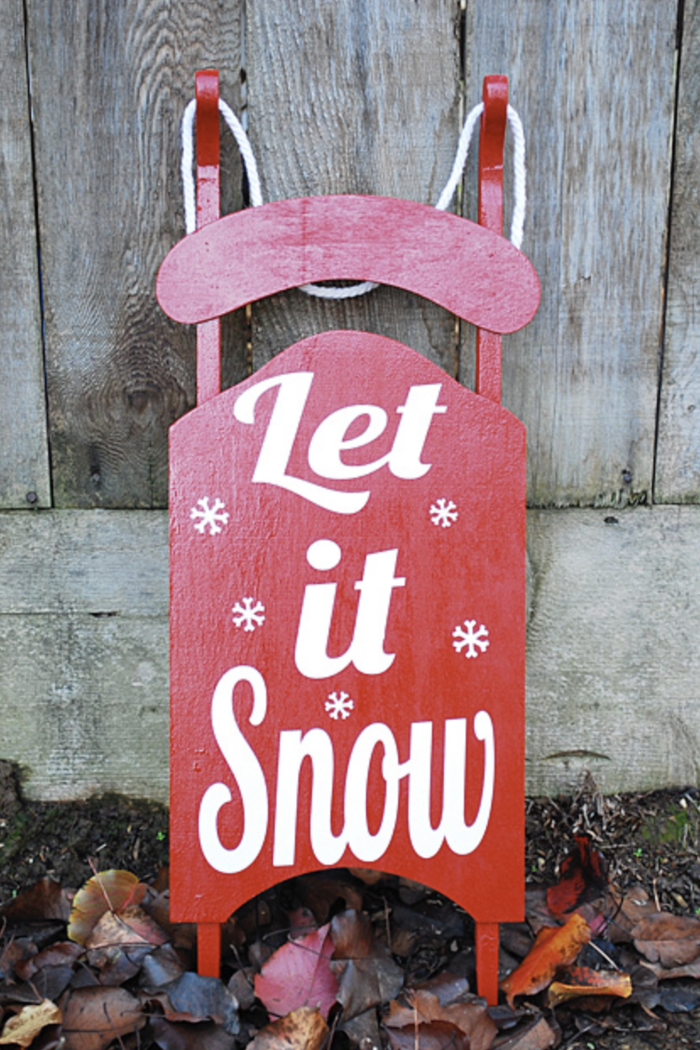 Step into a whimsical journey through the glistening snow with this delightful wooden sled, a perfect canvas for outdoor Christmas decorations ideas. Feel free to embellish it as you wish, but your heart will be captivated by the vibrant crimson hue that exudes a festive aura, adorned with the whimsical phrase "Let it Snow."
38. DIY Red Stars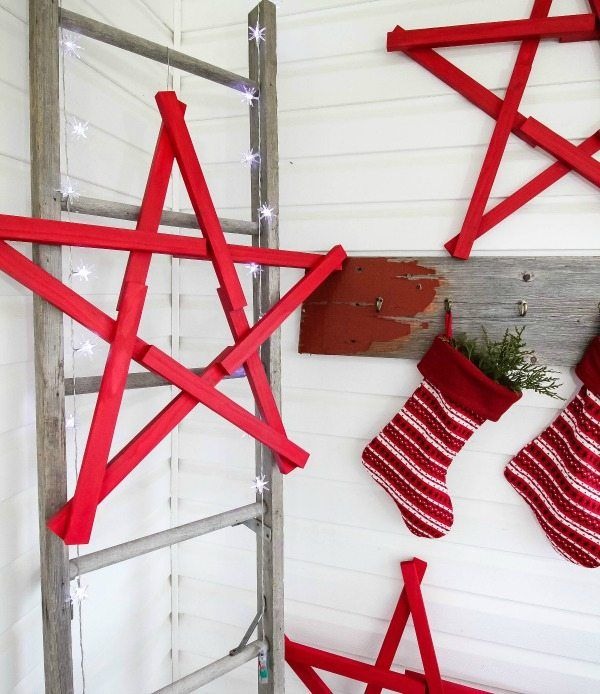 A perennial Christmas motif, one can never really have too much of it because it never goes out of style. Consider fashioning these magnificent stars out of the scrap wood you have lying about your house. Paint them a brilliant shade of red so that they stand out prominently on your front porch. This will allow you to repurpose the wood you no longer need into very entrancing outdoor holiday decorating ideas.
39. DIY Pom-Pom Wreath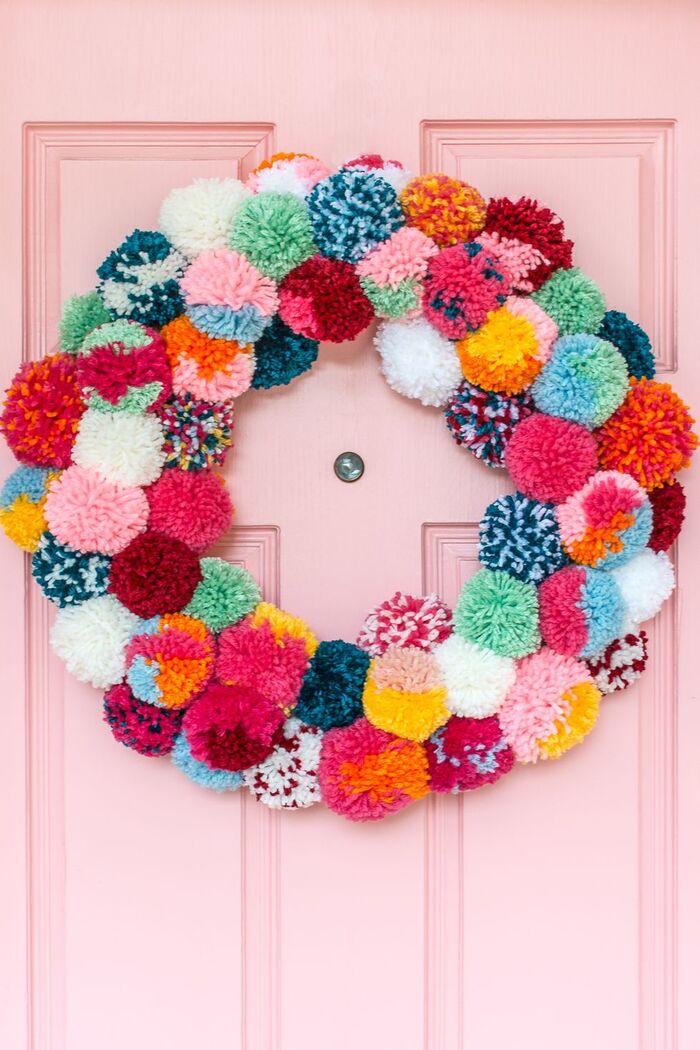 When it comes to adornments, you might not underestimate the grandeur of the Christmas season. Who, pray tell, is to insinuate that one is bound by an obligation to select hues that are deemed customary? With the introduction of this exuberant pom-pom wreath, you can effortlessly elevate the grandeur of your front yard Christmas decorations, ensuring a captivating entrance into the room, particularly when entertaining esteemed guests.
40. Plaid Front Porch Display
Using a classic and elegant color scheme, you may bring your front porch to the next level with some simple outdoor Christmas decorations ideas. Pillows, ribbons, garlands, and lanterns may all add a touch of coziness to a space. These beautiful accents have the uncanny ability to transform any area into a serene retreat. Soft cushions with pretty ribbons draped over them provide a warm and welcoming setting, perfect for taking it easy during the hectic holiday season.
41. DIY Vintage Toy Car Wreath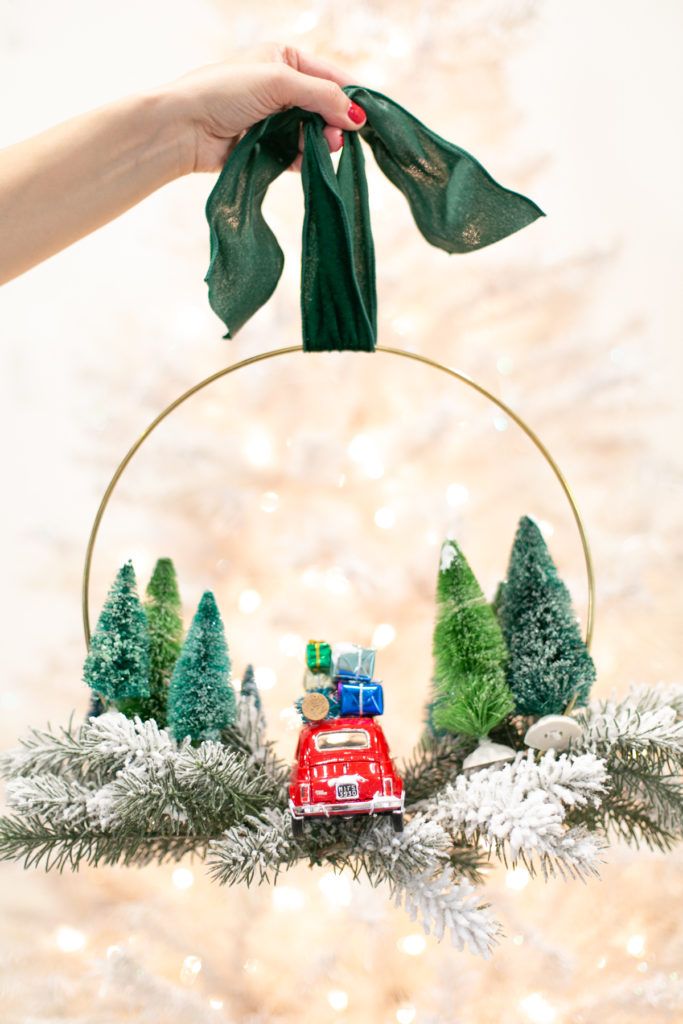 First, gather a collection of miniature, vintage-style automobiles, ideally in festive hues or metallic finishes. Use hot glue or wire to attach the tiny cars to a wreath form in a circular arrangement. Boost the Christmas spirit by decorating with ornaments like little wreaths, bows, and even fake snow. When finished, this one-of-a-kind wreath will look great hanging on your front door, transforming your home's curb appeal into a charming and special holiday display.
42. DIY Noel Plaid Sign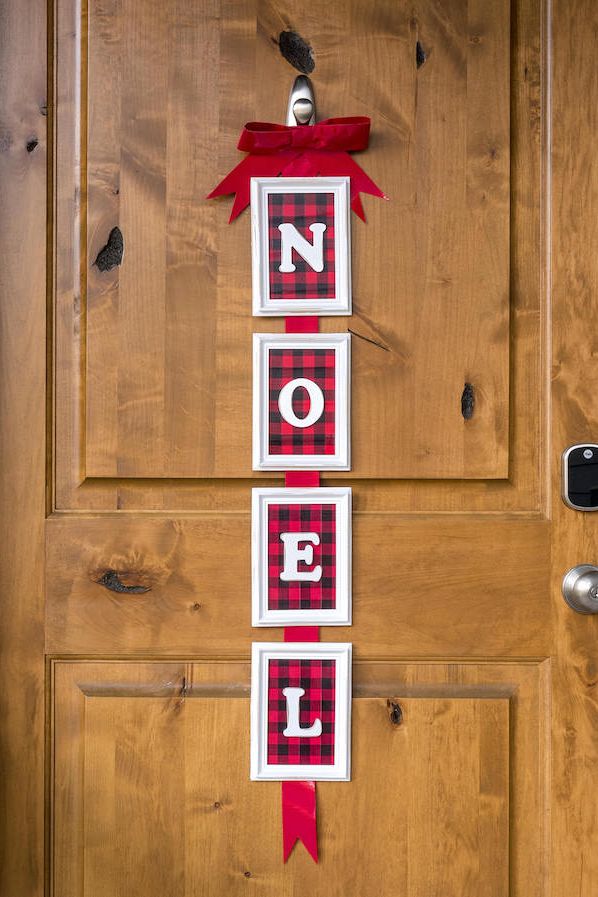 Making a sign in the season's spirit is a fun and creative way to make front yard Christmas decorations. To get started, find a wooden board you like and paint a traditional plaid design using red, green, and white colors for the holidays. Position and secure "Noel" on the plaid backdrop using wooden or cardboard letters and glue or nails. Enhance the sign with extra embellishments like pinecones, imitation foliage, or a festive ribbon. Display your finished "DIY Noel Plaid Sign" with pride on your porch or front yard to provide a warm and friendly touch to your Christmas decorations for outdoors.
43. DIY Stair Spindle Snowflakes
Turning discarded stair spindles or balusters into wintry ornaments is a clever upcycling concept. To make the snowflake arms, first collect numerous spindles and cut them to different lengths. To give them a wintry feel, paint or spray them a bright white. Make snowflake patterns with the spindle components arranged in a radial fashion. Use wood glue or nails to keep everything in place, and think about adding some shimmer with glitter or metallic paint. They'll be the perfect addition to your classy outdoor Christmas decorations.
44. DIY Christmas Chandelier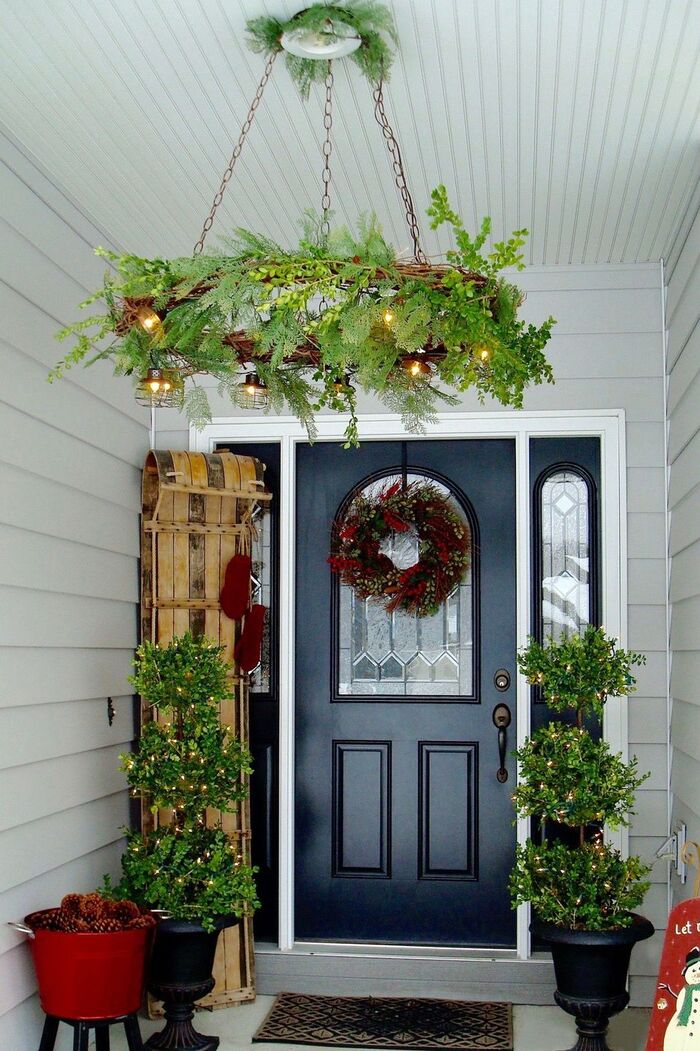 What an absolutely magnificent outdoor chandelier this is! Create a DIY Christmas chandelier to add a bit of class to your outdoor setting. Using the framework of a chandelier or another reused light fixture, suspend holiday decorations such as ornaments, string lights, and garlands. You may hang it from a porch ceiling or a tree limb for a touch of whimsy and enchantment to your outdoor space. Even in the warmer months of spring and summer, you'll want to utilize it.
45. DIY Christmas Countdown Marquee Sign
When does Christmas Day arrive? Take a peek at the timer marquee you have up! Make your Christmas countdown marquee sign to get people in the holiday spirit. Create a massive countdown sign with seasonal colors and images. Use battery-operated LED lights or marquee-style bulbs to illuminate the countdown numbers, creating a warm, inviting glow to complement your outdoor holiday decor. Display it in your yard or next to your front door to get the whole neighborhood in the Christmas spirit.
46. DIY Pallet Tree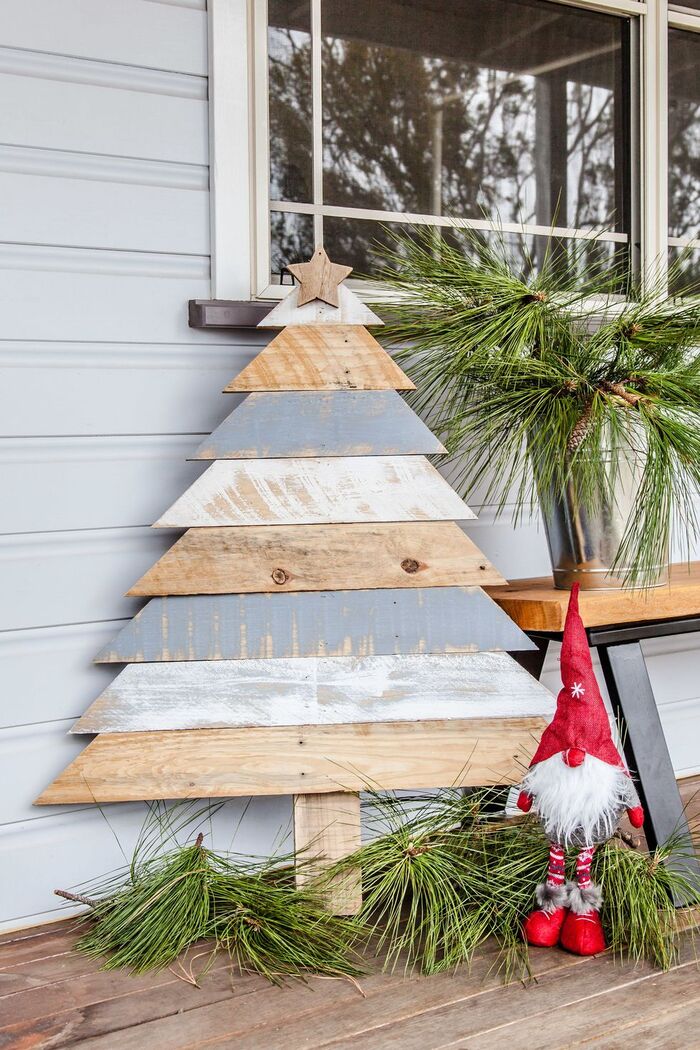 Nowadays, it seems like everyone, and their mother has a DIY pallet project, but this one really stands out. Put together some wooden pallets and secure them into a tree form; next, paint them in holiday colors and decorate them. In order to create unique and eye-catching outdoor Xmas decoration ideas, adorn the pallet tree with lights and ornaments. You can make a beautiful Christmas tree out of pallets to display on your front porch.
47. DIY Christmas Playhouse Decorations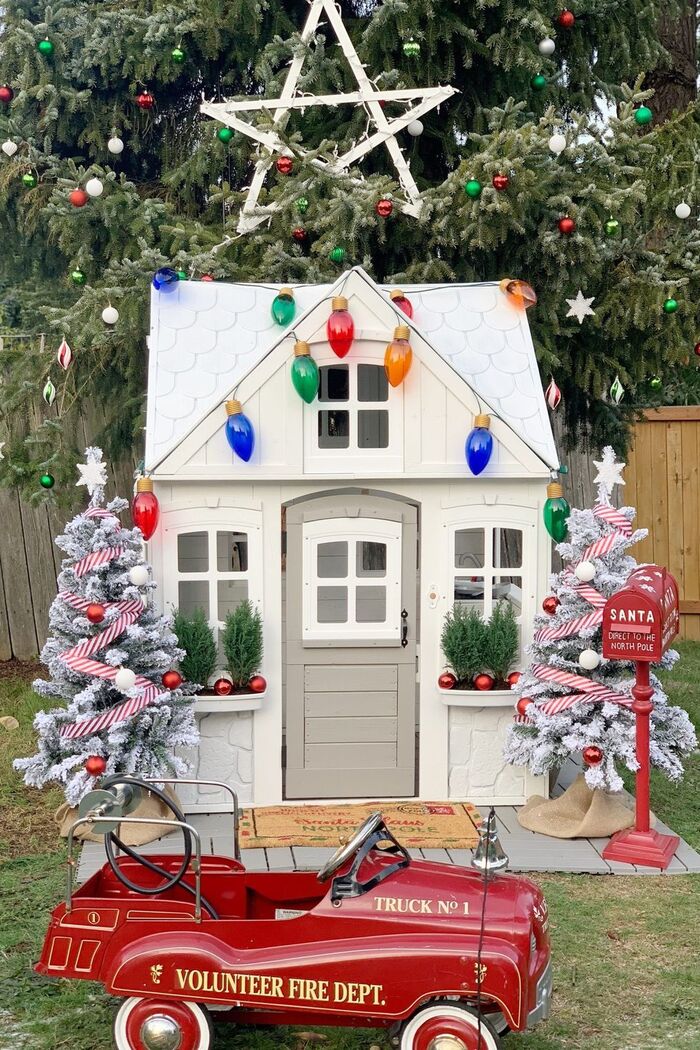 Do something special for your kid this holiday season and transform their playhouse into a Christmas palace by adding a giant star on the roof. Make your backyard playhouse seem like a winter wonderland with these easy-to-make decorations. Decorate the playhouse's entrance with a small wreath, lights, and garland. Make some modest, weather-proof ornaments to decorate the playhouse windows and transform it into a mystical winter wonderland for the youngsters.
48. DIY A Snowman Wreath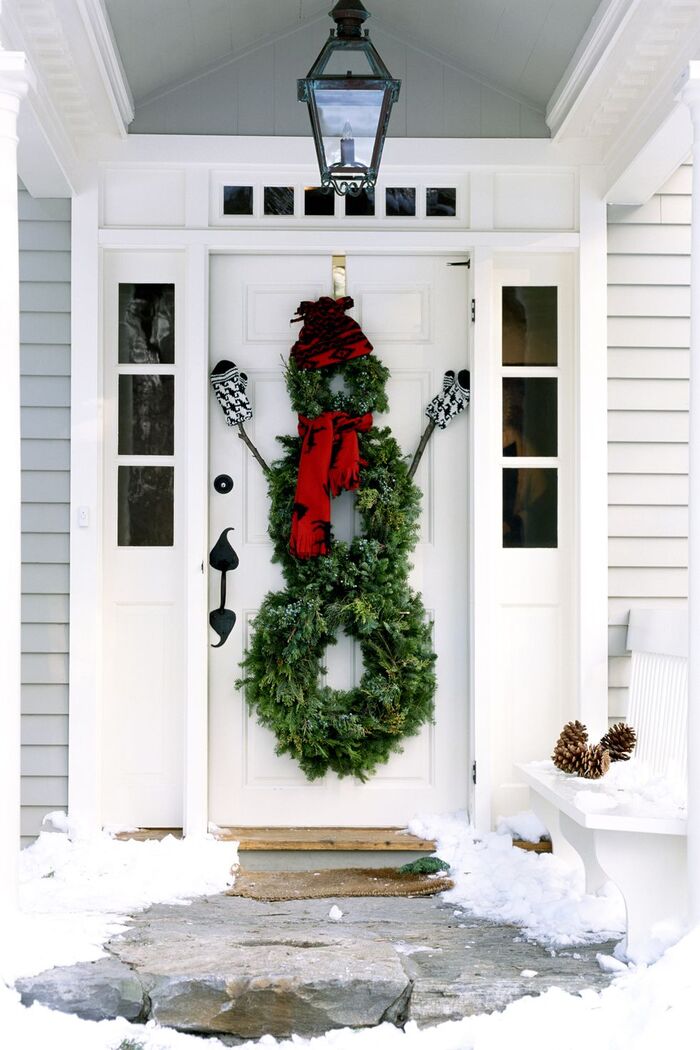 Like snowmen in pictures, do you detest the thought of handling the white stuff? Instead, consider making a wreath. Create a wreath foundation in a circle using foam or grapevine. Wrap the wreath with white fabric or deco mesh to give the snowman a wintry appearance. Personalize your snowman by adding a top hat built from felt or other weather-resistant materials and a carrot-shaped nose made of orange fabric or foam. Dress up the wreath for the holiday with a colorful scarf and some buttons.
49. DIY a Christmas Tree Farm Truck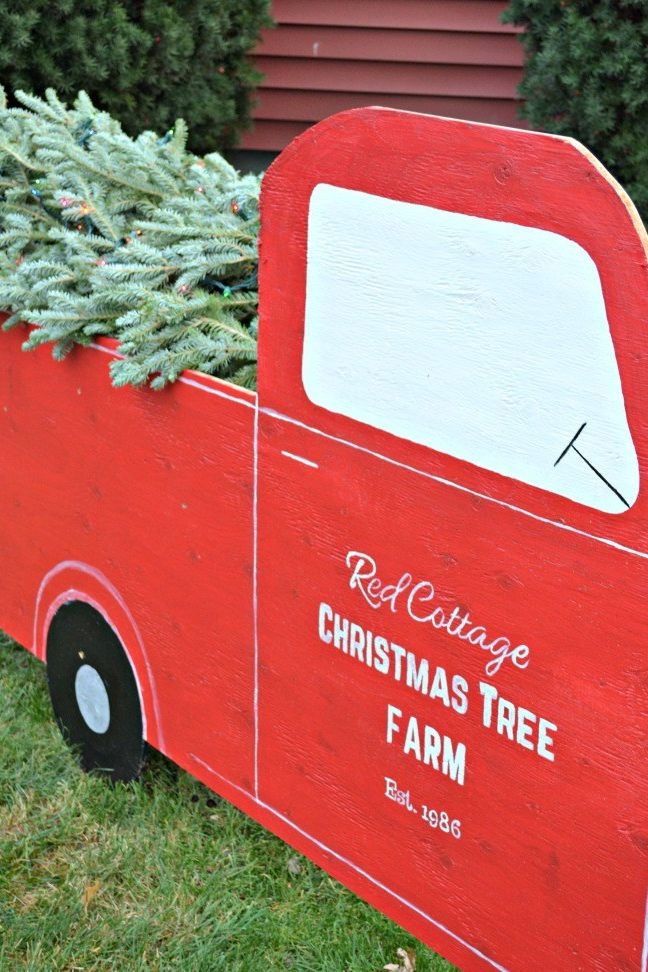 Don't blow up the yard this year. The yard will be the talk of the neighborhood when you implement these extremely original outdoor Christmas decorations ideas. Make or find an old truck cutout or wooden silhouette to get started. Color it red or green as a traditional Christmas delivery truck would. Fill the back of the truck with small Christmas trees and tie them down with twine or burlap for a more rustic look. The truck's holiday spirit may be amplified with touches like giant wooden gifts, a wreath on the grill, and blinking string lights.
In conclusion, at Oh Canvas, we believe that outdoor Christmas decorations ideas are more than mere embellishments—they are opportunities to create lasting memories with family and share the joyous spirit of the season. Whether you opt for classic ornaments or innovative DIY projects, the key is to infuse your outdoor spaces with cheer. As we embrace the happy holiday season, let your creativity shine, transforming your surroundings into a festive wonderland that brings joy to all who gather.