Retirement is a significant step forward. It doesn't matter whether you say farewell or good riddance to your beloved retiree, getting them a special gift along with their pension is a thoughtful gesture. This list by Oh Canvas includes the most impressive DIY retirement gifts to commemorate their next chapter of life. They're creative, easy to do, and bound to make any receiver beam with joy. No matter what present you choose to conquer, it's something that will be appreciated for years to come. It's time to browse the list and get inspired!
Thoughtful DIY retirement gift ideas from wood
1. Wall-mounted Bottle Opener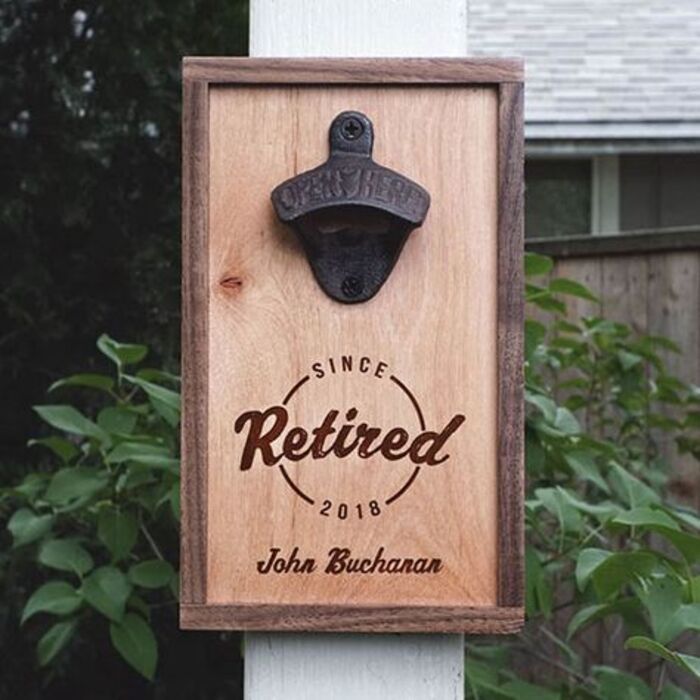 You can't go wrong with a handmade bottle opener for the retiring person in your life! Custom-engraved with the recipient's name and the date of their retirement, this gift will leave the best impression on him. No matter where he puts it, in his home bar or the dining room, it's going to look great.
2. Wooden Bookmark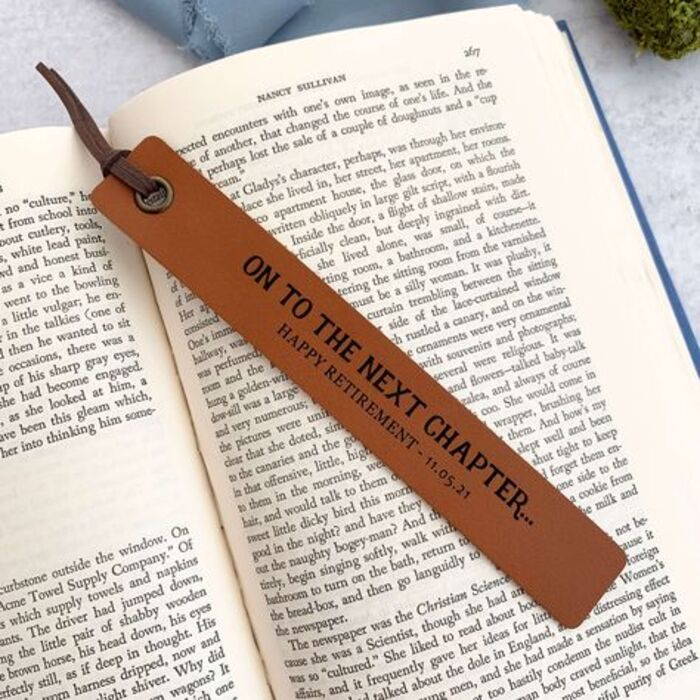 A smart and punny bookmark is perfect for the bookworm in your life. With this leather place-holder, there will be no more dog-eared pages. If you'd like, you could even engrave it with his name or a meaningful quote that shows how much you care.
3. Hand-crafted Flower Pot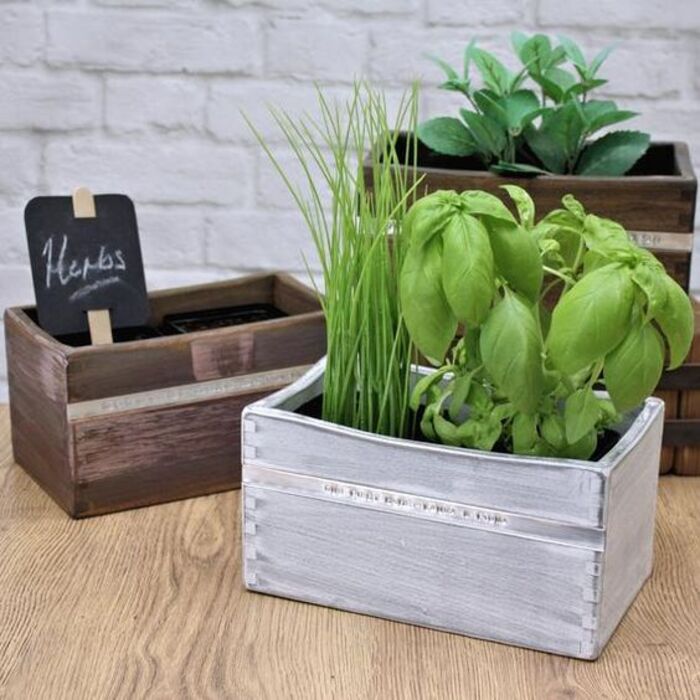 They'll be able to enjoy it for years to come thanks to this strong but attractive flower box. Having a timeless beauty and a farmhouse-chic vibe, this pot is one of the most creative homemade retirement gifts to spruce up their home. For the retirement party, a bouquet of fresh-cut flowers in your handmade wooden box will be a delight.
4. Personalized Cutting Board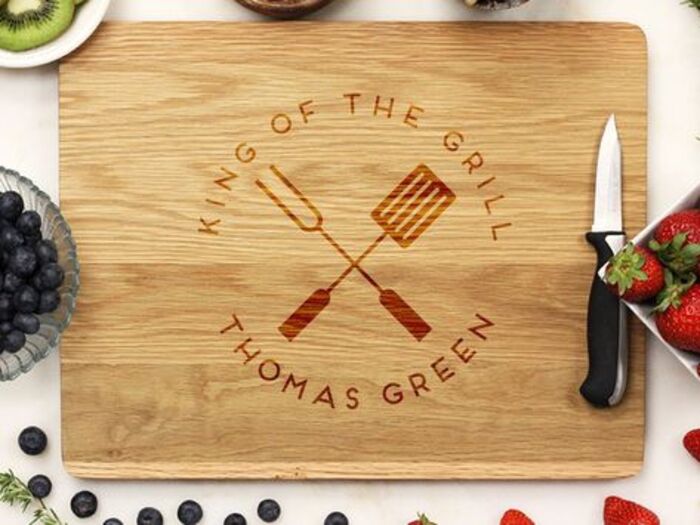 There is a chance that they will be able to fulfill their dream of opening a food truck on the beach. Even if they don't want a cutting board, everyone needs one at some point, thus this is a retirement gift that will be put to good use anyway! This board is a great way to remind them that they have so much to look forward to. It's a sweet and practical present that hits all the right notes.
5. Custom Bourbon Flight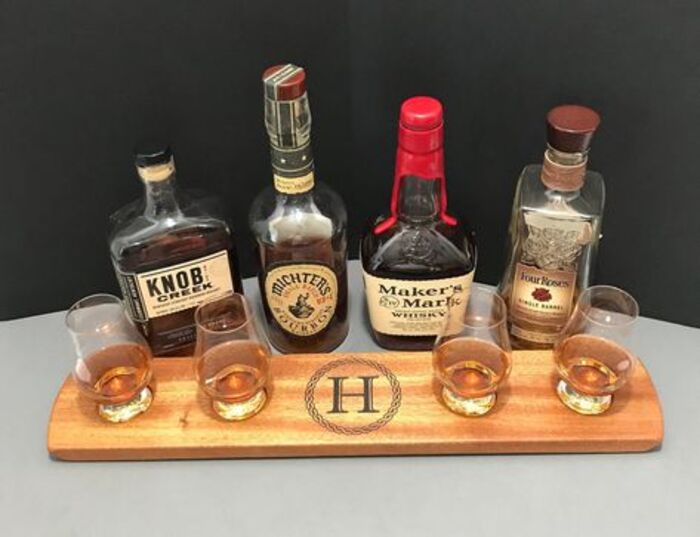 In search of DIY retirement gift ideas that they'll actually love? For retirees, the personalized bourbon flight is the earthy, subtly sweet present that they didn't know they needed. The caramel, smoke, vanilla, and oak flavors in this rum are just right, thanks to the use of a repurposed barrel.
6. Wooden Grandkids Sign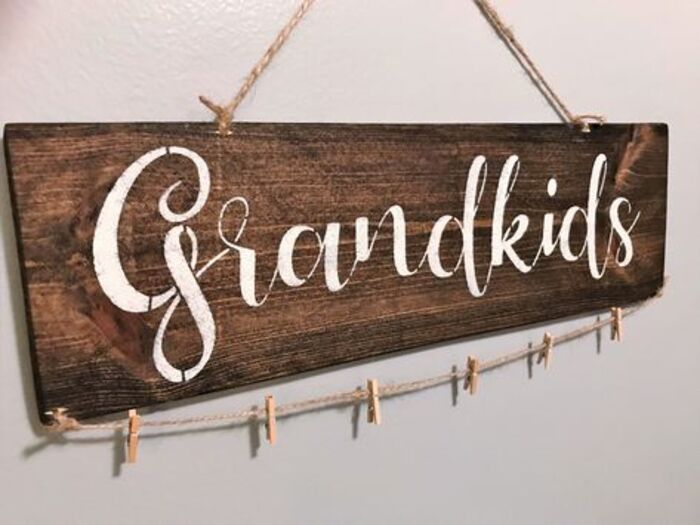 Whenever she receives new images, she can simply swap them out on this lovely sign! When we say "a new batch of pictures", we don't mean new grandkids. This will look fantastic in her living area, and it will match any and all of her other decor.
7. Personalized "Gone Fishing" Plaque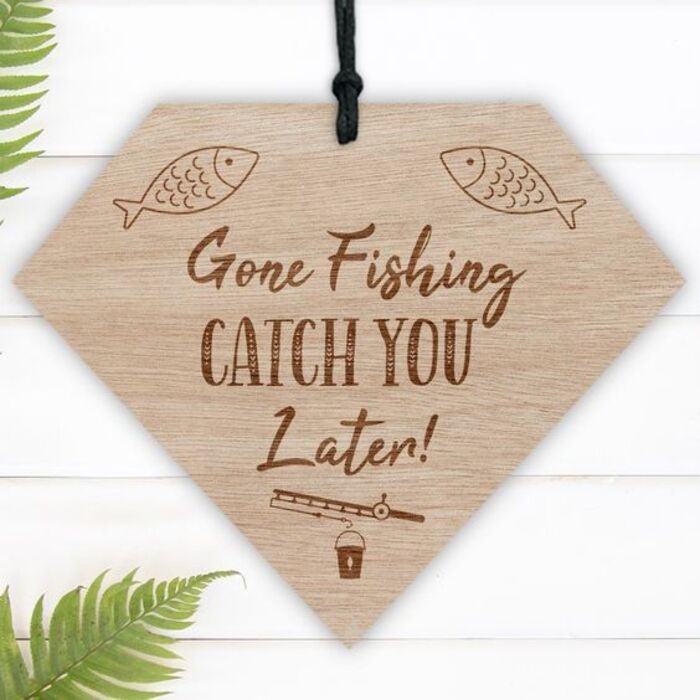 His dream of putting up the sign that wasn't misleading has finally come after 50 years! Customization elevates an already-fun plaque to a new level. He'll love this custom retirement present from the moment he opens the gift box, and he'll remember it fondly for years to come!
8. Custom Bar Sign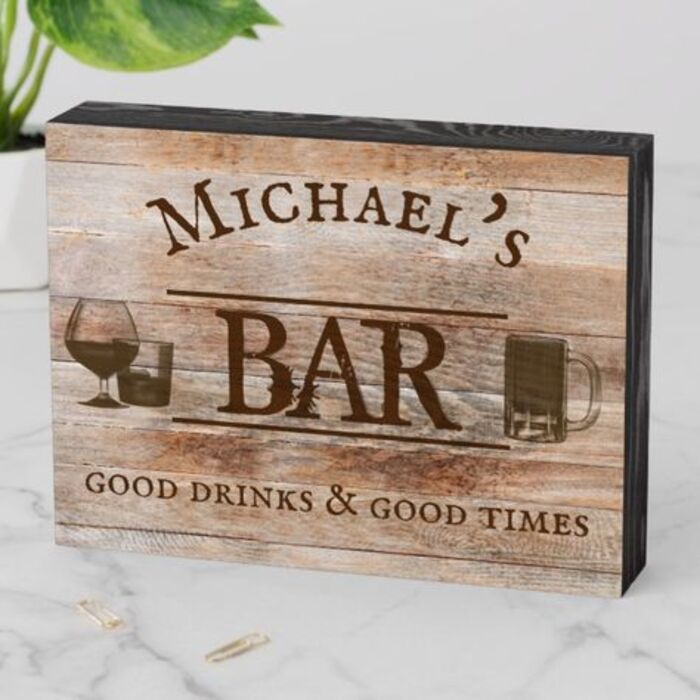 When it comes to unique DIY retirement gag gifts, a personalized bar sign is an excellent option. This plaque exists just serves to reinforce the fact that they have owned a stunning bar after retirement. They may hang it above the wine bar or liquor cabinet with confidence, knowing that it's fresh new.
9. Wooden Beer Caddy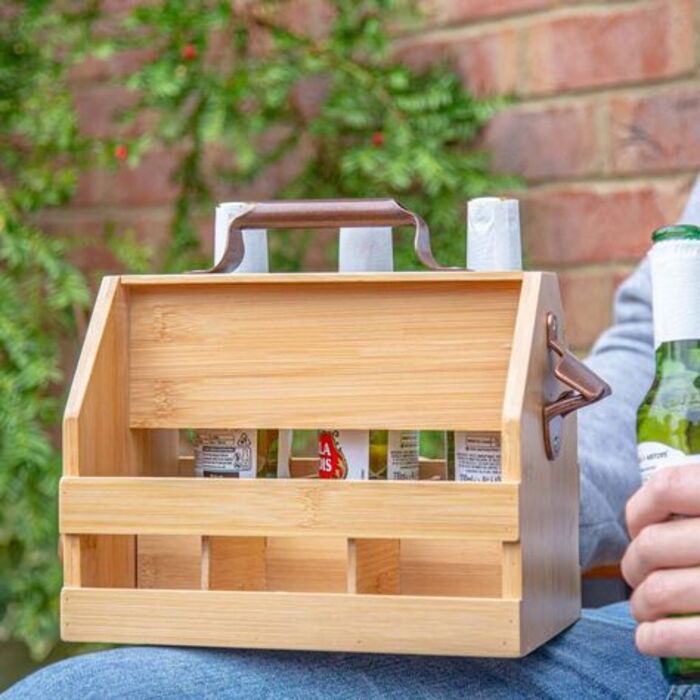 This handcrafted wooden and cast iron object is a wonderful addition to your retirement collection. With a bottle opener included, this caddy is the perfect way to transport your favorite alcoholic beverages. To ensure that each beer caddy is unique, give a particular treatment to the wood, such as polishing it or personalizing it with someone's name and year of retirement.
Adorable homemade retirement gift baskets and boxes
10. Spa Gift Set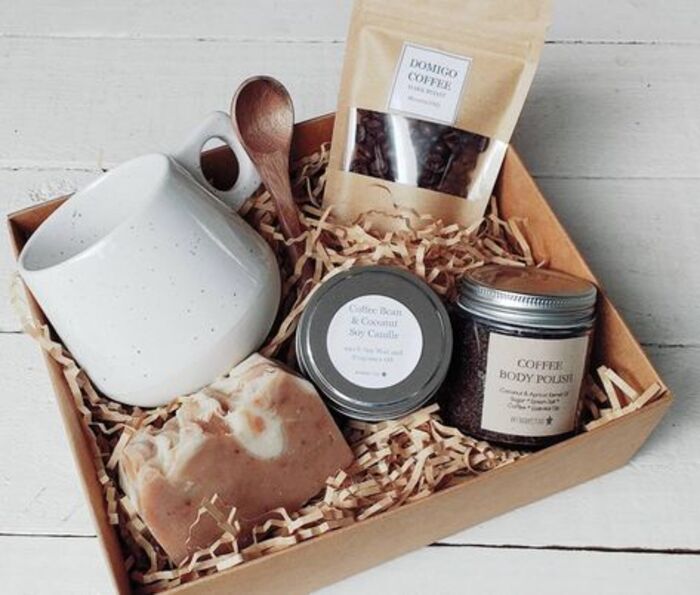 With this care package, she will be able to enjoy some much-needed downtime after a long workday! As long as it's not just one night of relaxation, she'll discover her perfect match for longer than just one bath or a cup of tea. It is really a wonderful retirement gift for mom which you should try.
11. Mixing Wine Basket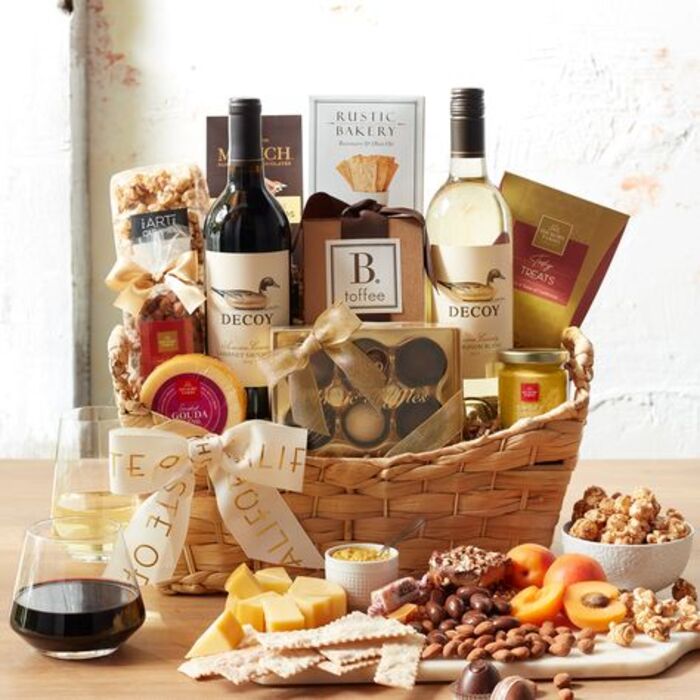 Raising a glass in celebration of retirement is an unforgettable experience. If you know a retiree who enjoys wine, consider giving them a wine gift basket filled with top-notch bottles and additional goodies like candies and snacks, balloons, and other items. They all combine to make gorgeous homemade retirement gift baskets that they're sure to treasure.
12. Mystery Books Box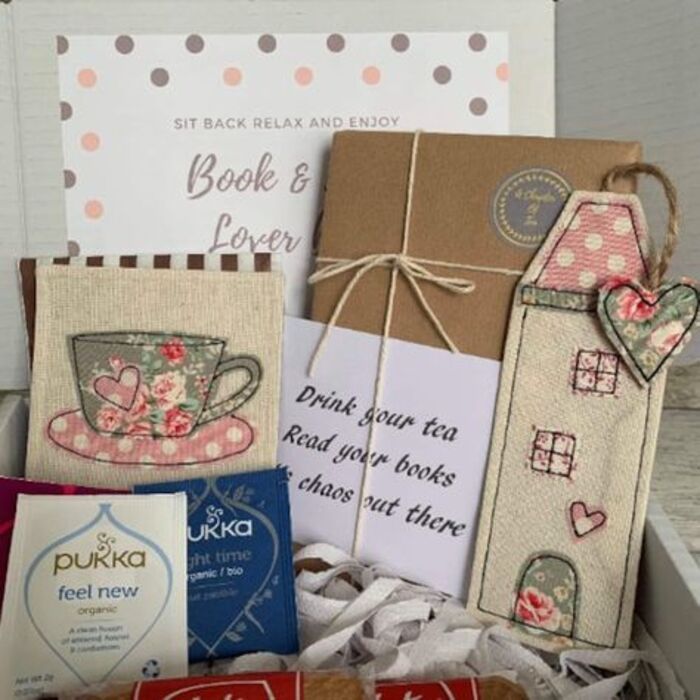 In order to ensure that his retirement is full of fun and memories, gift him this mysterious box of books and journals. For an extra personal touch, include a collection of custom-designed stickers as well as a matchbox and several bookmarks. He'll love how this package makes his time more memorable and special.
13. BBQ Gift Basket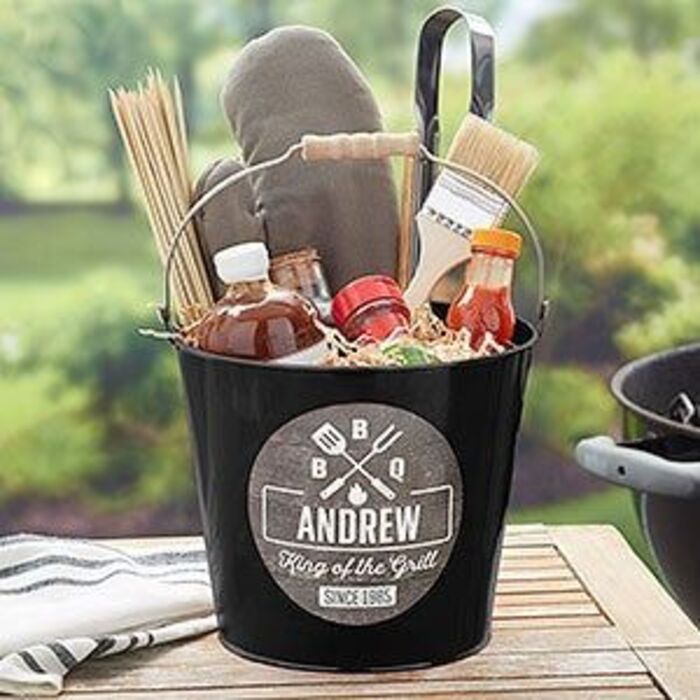 Ideal DIY retirement gifts for someone who can't wait to start grilling and chilling are BBQ gift baskets. With all the necessary tools, mittens, and some kinds of sauce, you're bound to make an adorable basket that he'll be proud to receive and use in the upcoming years.
14. Gardening Gift Set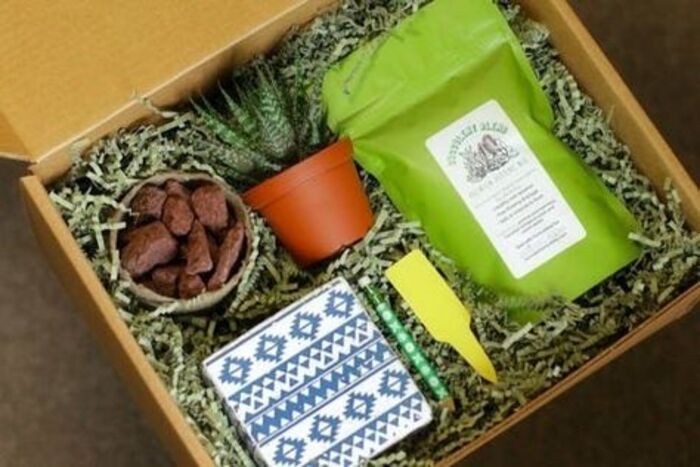 The gardening gift box contains everything they need to get started digging in the dirt. Besides including garden cultivators and veggie seed packets, add some more planting instructions and advice on how to cultivate the plants in their location. Retirees who don't have a green thumb will appreciate this practical present even if they've never tended to build a garden before.
15. Basket of Holiday Beers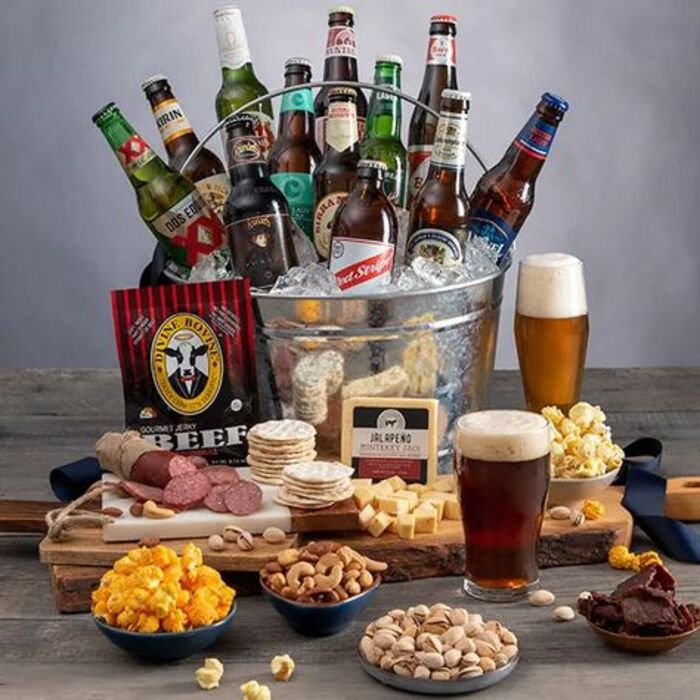 What type of brew is the retiree into? If he loves beer, give him this holiday beer gift basket to celebrate his retirement. Beverages and snacks can be stored in an attractive container such as a crate, bucket, or tub. You can additionally include a few of these additional items.
16. Picnic Baskets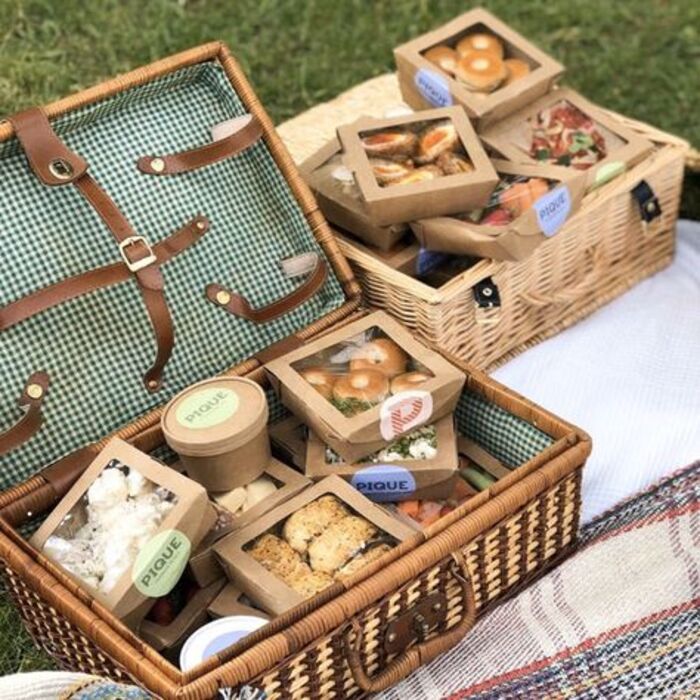 With extra time on their hands, retirees may enjoy a picnic as one of their favorite pastimes or items that are on their bucket list. Picnic baskets are excellent homemade retirement gifts for someone who enjoys a good trip. You can include goods for a romantic picnic with their spouse in the park, a beach picnic with friends, or a fun picnic with their grandchildren. It's entirely up to you.
17. Gift Box of Chocolates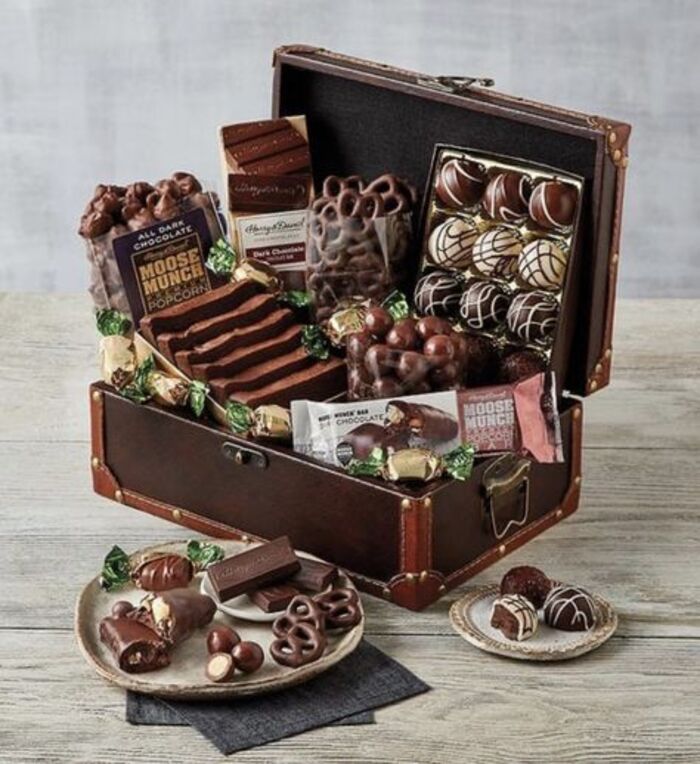 Everything is better with chocolate! A chocolate gift basket would be a wonderful retirement present for your loved ones. Everything from cookies, candy bars, and hot cocoa to the retiree's personal favorites can be included in this basket. It sounds simple, doesn't it?
18. Basket of Teas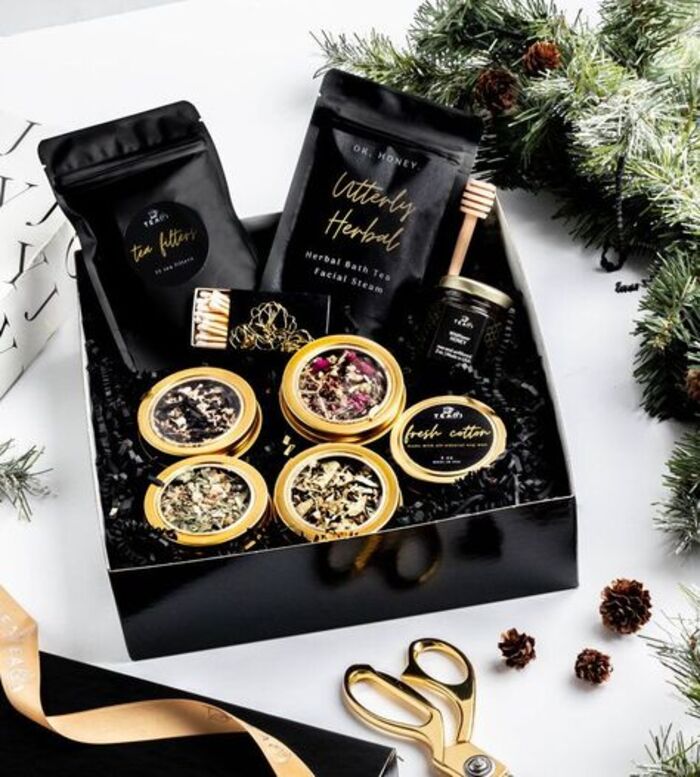 There is always time for a cup of tea in retirement. They can sip their morning or afternoon tea without having to hustle to get to work or other obligations. Tea and cookie gift baskets (which include a wide variety of delectable teas and healthful cookies, and which you can customize to your desire by adding other products) are thoughtful DIY retirement gifts for principals that will brighten their day.
19. Coffee-themed Gift Set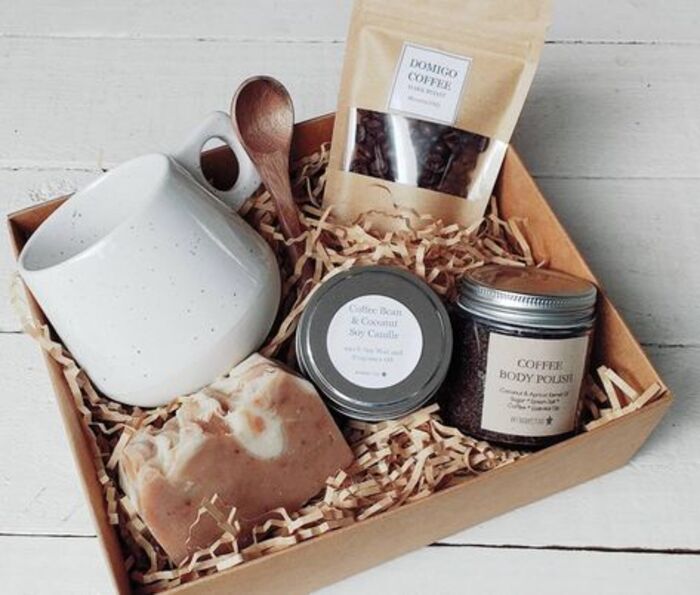 When a retiree is able to thoroughly enjoy their morning cup of coffee, they truly feel the freedom of retirement. Gift baskets with tasty coffees, candies, and chocolates to sample will enhance their enjoyment of the occasion even further. The goal is to make their retirement mornings even more fun. That's a special gift that always shows how thoughtful you are.
>>> Recommend Reading: 70+ Best Retirement Gifts For Women They Will Fall In Love
Creative DIY retirement gifts that'll leave the best impression
20. Wine Bottle Labels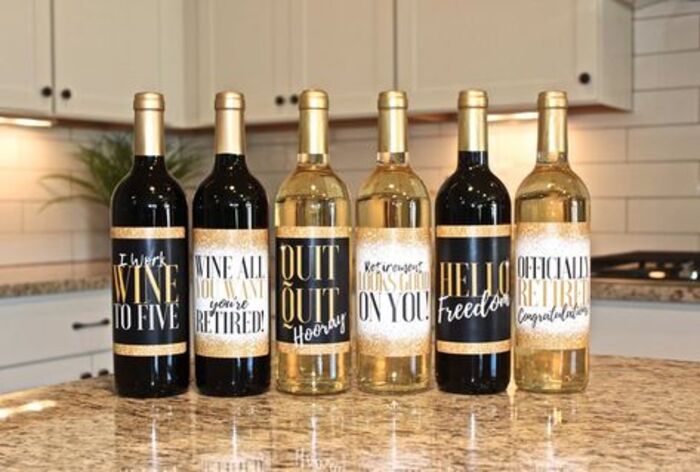 Using these labels will make any bottle of wine even more memorable. These glitter-printed accessories are waterproof and robust enough to endure the coolness of a chilled bottle of wine. If your acquaintance is a wine connoisseur, these are perfect DIY retirement gag gifts for them.
21. Leather Catching Tray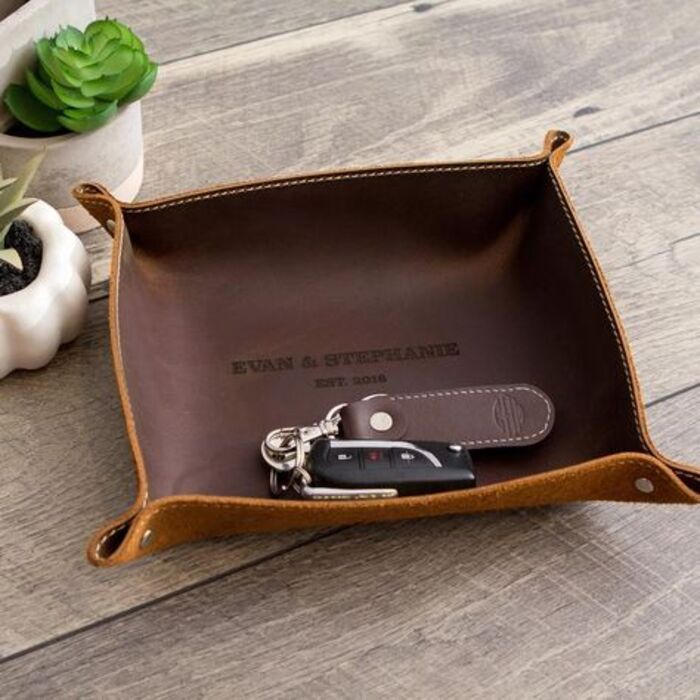 CEOs, managers, and board members will appreciate the leather catchall tray as a parting gift or for their final boss' day. You can engrave a company logo and the recipient's name on this quality, real leather present idea. With this stunning present, you're proud to show them how talented you are.
22. Beer Cozy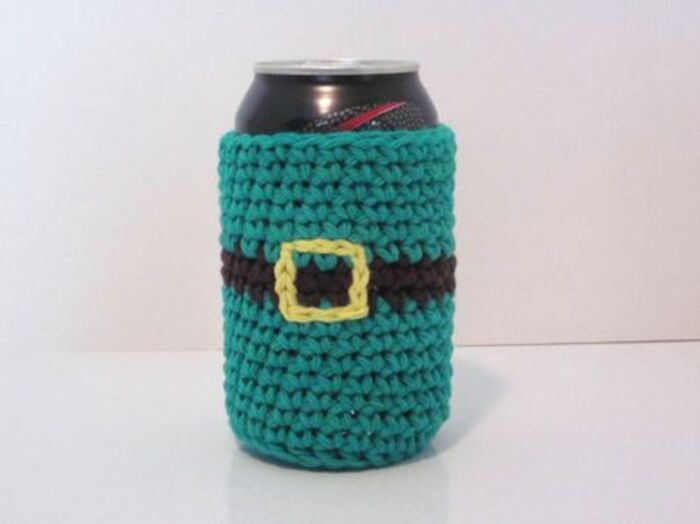 The newly retired person in your life will be thrilled to get one of these drink cozies. To keep his beer cool as ice as he enjoys his newfound free time, you can make a set of these adorable items.
23. Retirement Business Cards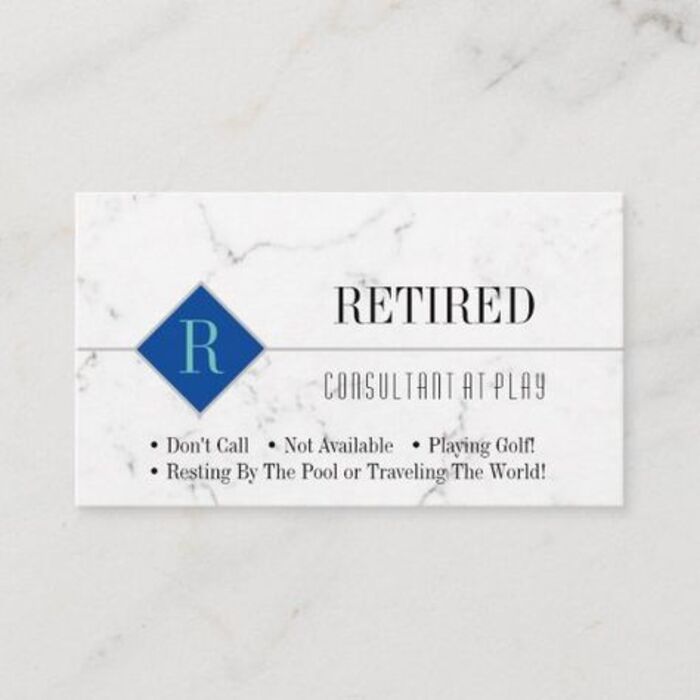 Looking for funny DIY retirement gifts for your dad or co-worker? These retirement business cards won't let you down. We bet they're going to be handing these out for the rest of the day! And their pals will want a piece of it as well.
24. Candy Retiring Poster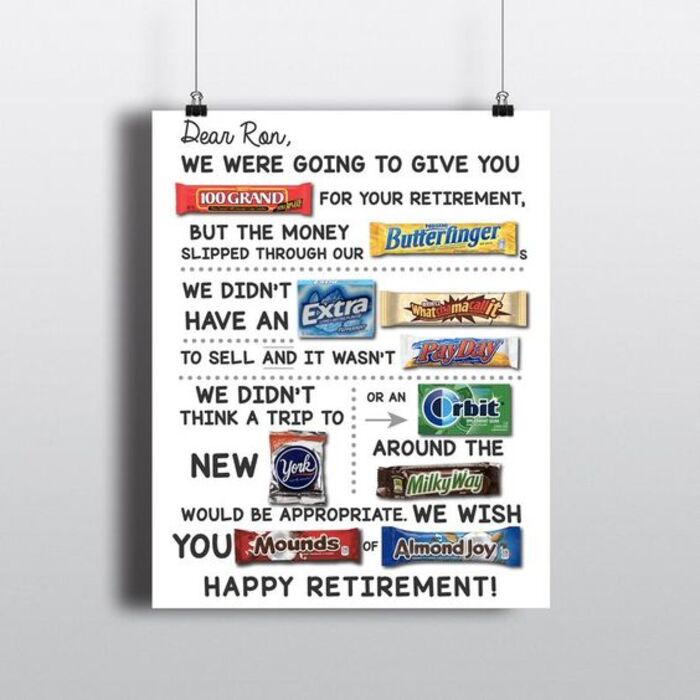 Posters filled with candy are a creative way to share a present. Make one for a retiree in your life and see how much they appreciate and cherish the effort you put into making it for them. With a clever message and plenty of sweets, funny DIY retirement gifts like this will never go unnoticed.
25. Selection Cubes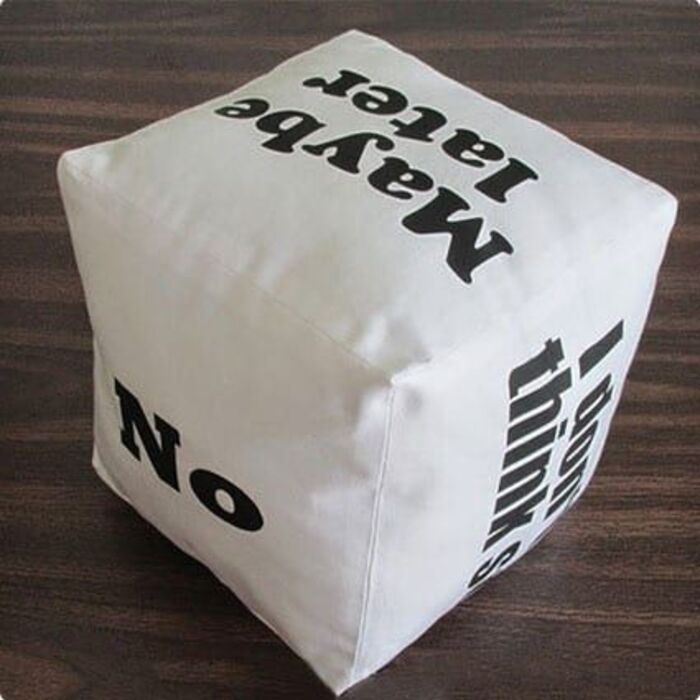 It's difficult to retire. When you have no idea what to do for the rest of the day, it can be more challenging. But when you have this choice cube, you don't have to worry about making a decision. With white fabric, heat transfer material, and stuffing, you're close to an easy-to-do handmade project that'll impress your endearing retiree.
26. Chalkboard Wine Tray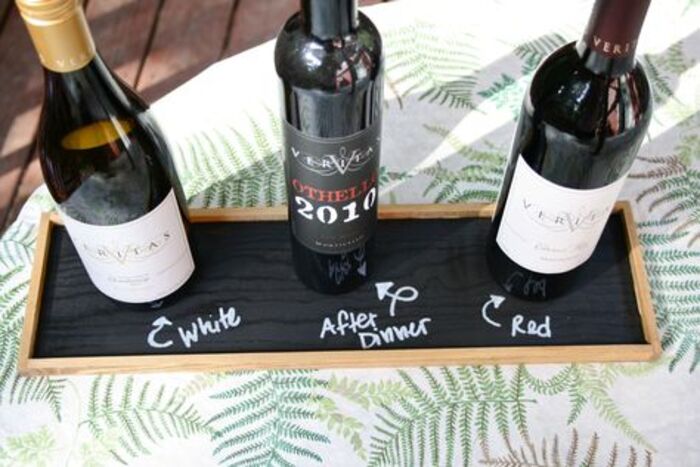 On the hunt for cool handmade retirement gifts that last long? This wine tray comes in handy when he's in his retiring years because he's likely to have more time to hang out with friends and families. Chalk can be used to identify distinct types of wine or alcoholic beverages. When you've finished creating this unique tray for your father, don't forget to include some more wine bottles in your gift basket.
27. Little Zen Garden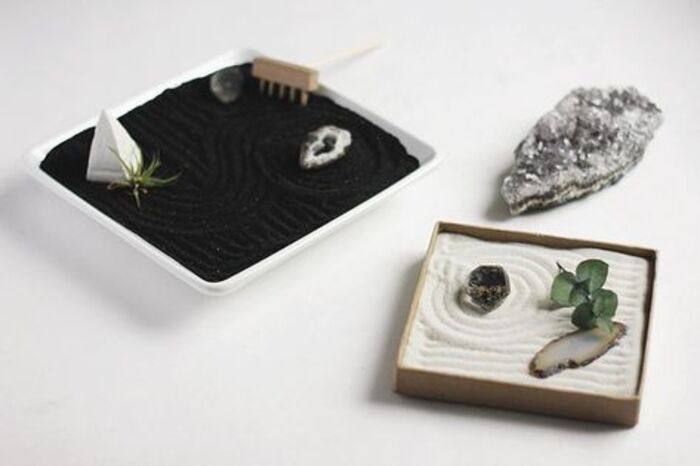 The whole point of retiring is to take it easy and unwind. Make a small zen garden for your loved ones to enjoy when they are feeling worried or bored. It's compact and simple to keep clean. Just get a little dish, some sand, and a few air plants and design it to your heart's content.
Read more:
A new chapter in their lives can begin with one of these DIY retirement gifts suggestions. Reading your relationship with the retiree is the most important piece of advice. Are hilarious retirement gifts appropriate? Or is it better to be more sincere? That should help you make a decision. Oh Canvas's gift guide above is all you need to make their big day become more special. Just spend a little of your time and you're bound to create a fantastic gift that they've ever received.