Cows are one of the closest friends to humans, especially the farmers who care for the animal and feed them every day. This is why the cow is one of the most popular decoration themes in any farmhouse-style home. If you are not sure what to put on your wall, just go back to the basics and get one of these beautiful creatures for your home.
Why Cow Canvas Print Should Be Your Choice as Your Next Farmhouse Decor
In Lunar Calendar, 2021 is the year of the cow. The history between cows and humans run long and deep and that is why this animal has a big spiritual influence on many cultures and religions in the world. They have always been close friends with humans. They help us with farming and they nurture us through their milk and meat. Meanwhile, we help to feed them and care for them every day.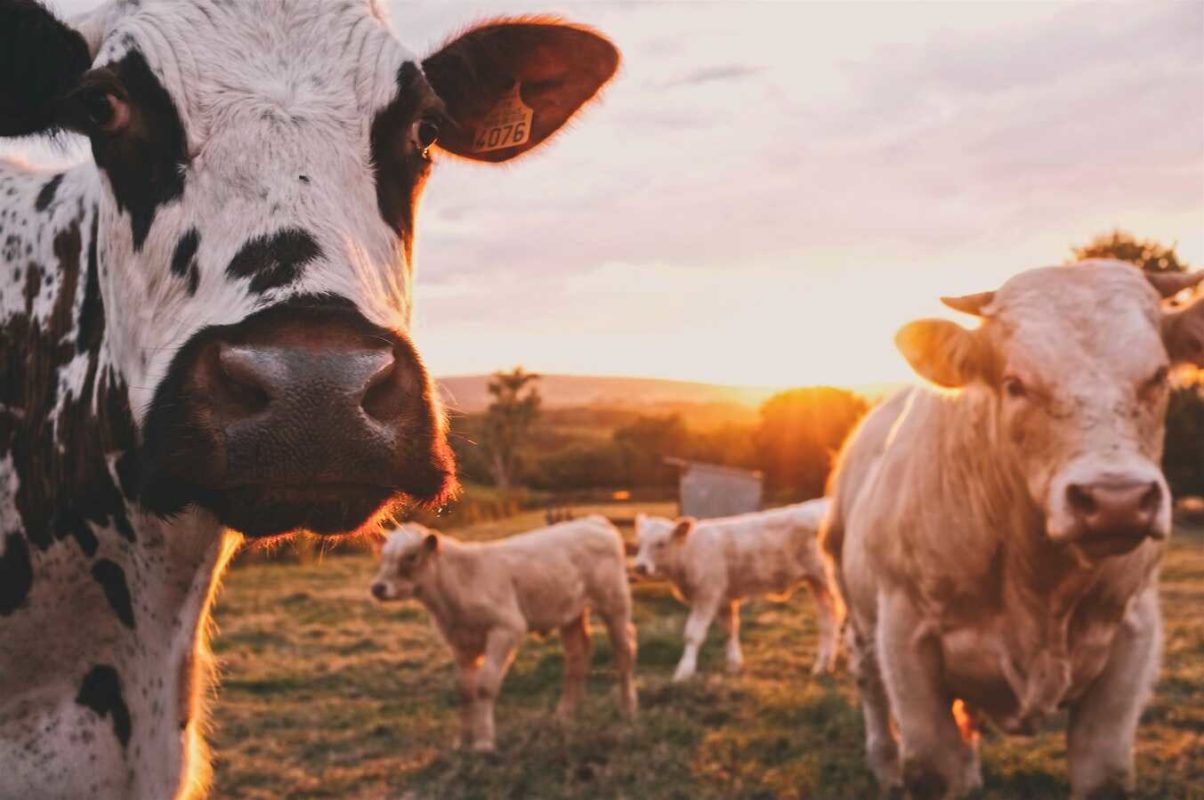 Source: Unsplash
This beautiful animal is a symbol of fertility and motherhood for the way they care for their younglings. They never abandon their calves even in rough situations. This is why cows are the animal of motherhood, even in bad times they always fight for their children.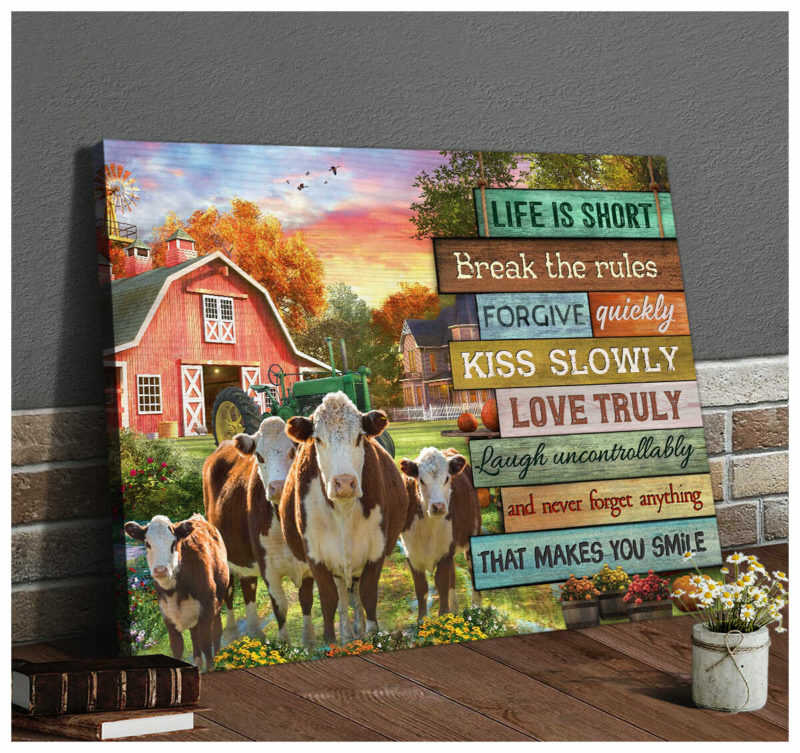 Cows also carry the meaning of taking on life with a positive attitude and never back down from a challenge. You will stand by your truth and never waver to any unwanted influences.
The bonds and the symbol of the cow are why we think you should add this animal to your decoration collection in your home. Because of its connection, cows would also the best choice to have as an animal for farmhouse-style decor. 
---
Here are some of our recommendation from our best of the best cow canvas print
It is no secret that farmers are the caretaker of nature. They tend to all the plants on their field, they tend to each animal in their barn and they tend to their loving family. This is why we decided to choose this message for all the farmers out there, be proud, and keep up the good work.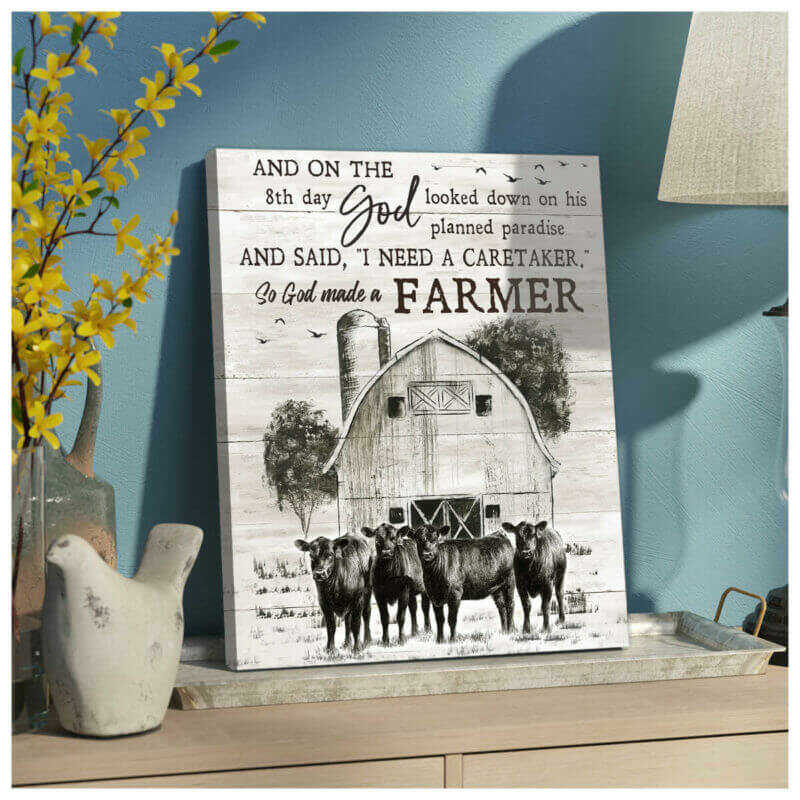 And of course, when we talk about farmhouse style, we cannot forget the neutral palette with the use of white and grays. This canvas print takes inspiration from the symbolism of the cow and put a traditional farmhouse style to it to create this canvas. Beautiful but still keep the authenticity of farmhouse style, this canvas print is a perfect artwork to have in your home and remind yourself to energize and be proud of what you are doing.
Get Cow Canvas Print God Made a Farmer for your home.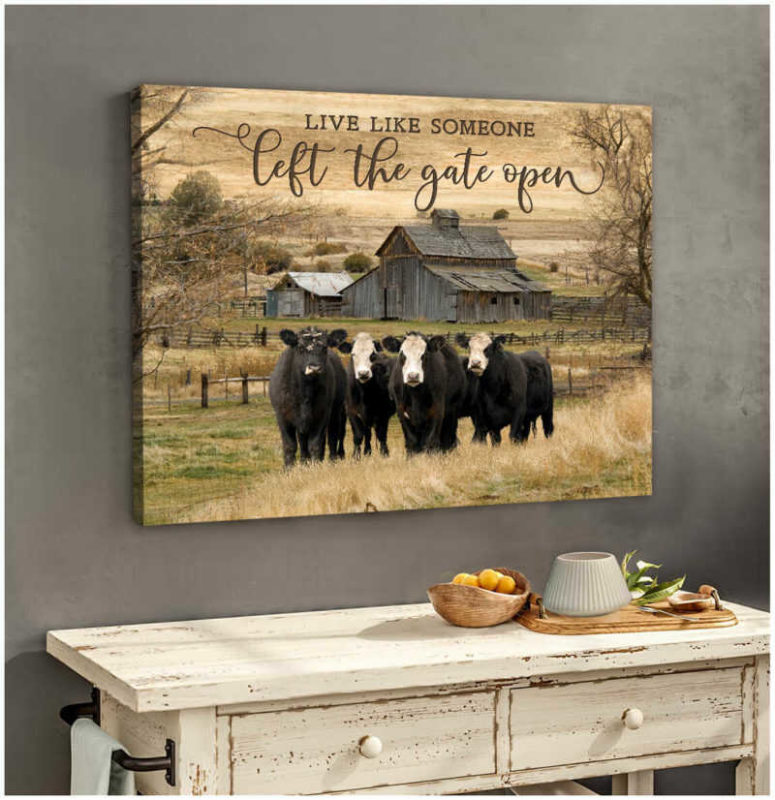 Life can get hard and it can feel like suffocating sometimes. But we just want to remind everyone with this canvas print that when one door is closed, another one opens. You should look on the bright side of things and live your life every day to your fullest and enjoy all the little things.
Authentic and nostalgic with the neutral wood accent as the main color, this cow canvas print is the perfect addition to any farmhouse-style home. This print will look perfect for your living room or your bedroom as a wall decoration, and the message will remind you to enjoy your life to the fullest every day. 
Get Cow Canvas Print Left the gate open for your home.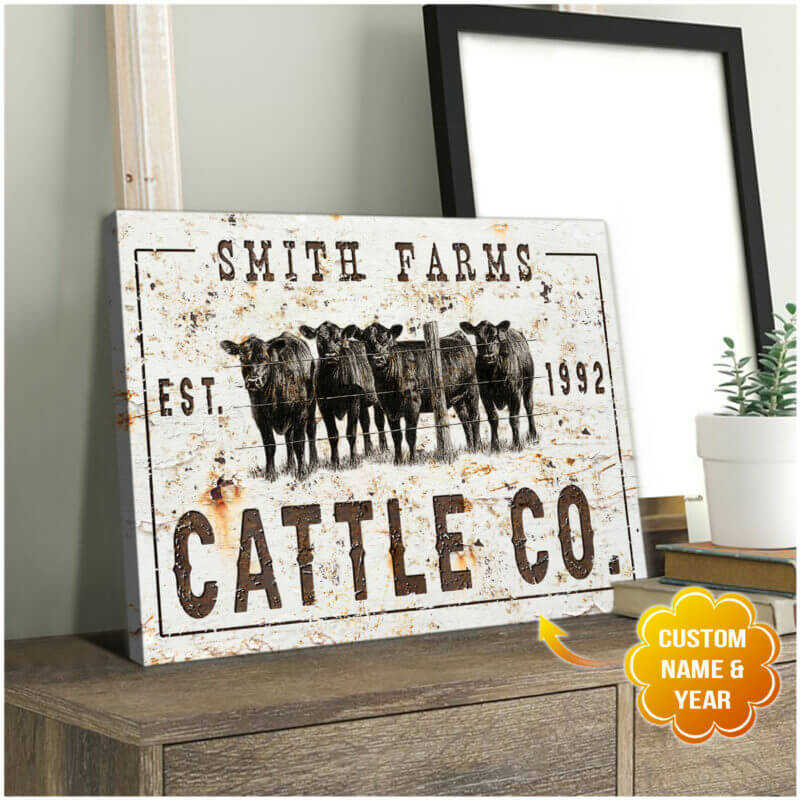 What a more perfect way to welcome guests to your loving home with a cow family. Cows are family animals as the mother cows always protect their calves and the bulls always hard at work on the field. That we choose cows for this family sign. Perfect to greet your guests in the entryway or you can hang this canvas print beside your family photo collection for a loving depiction of your family. 
Get Cow Canvas Print Cattle Co. Custom Canvas for your home.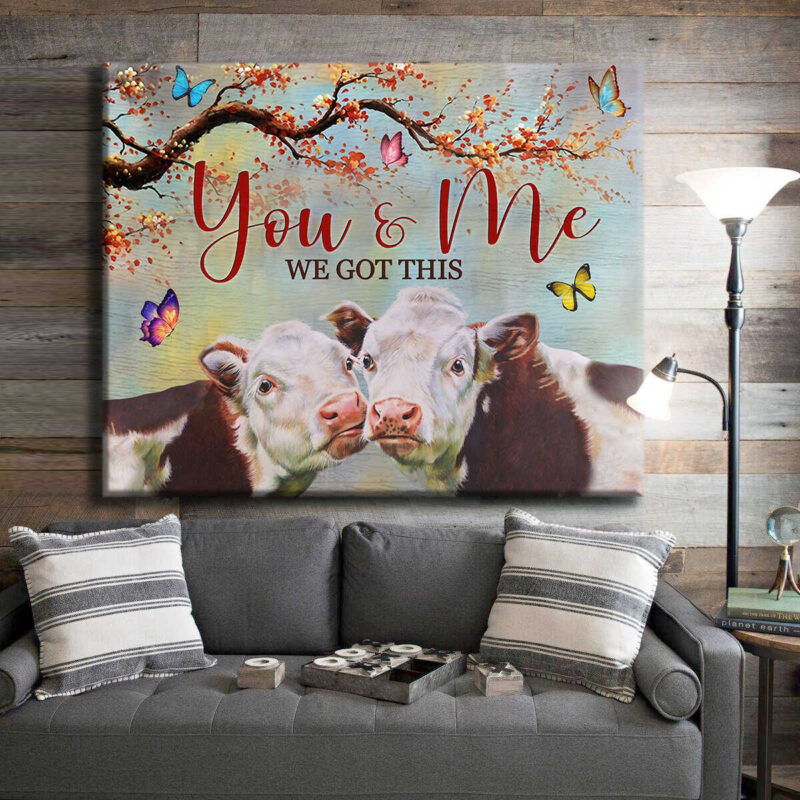 The combination of the adorable cows and the pastel color really create an intimate feel to this canvas print. It is colorful but still a great addition to any farmhouse-style home. A perfect gift to your loved ones to remind them that whatever might happen in the future they will always get your support. 
Get Cow Canvas Print You And Me We Got This for your home.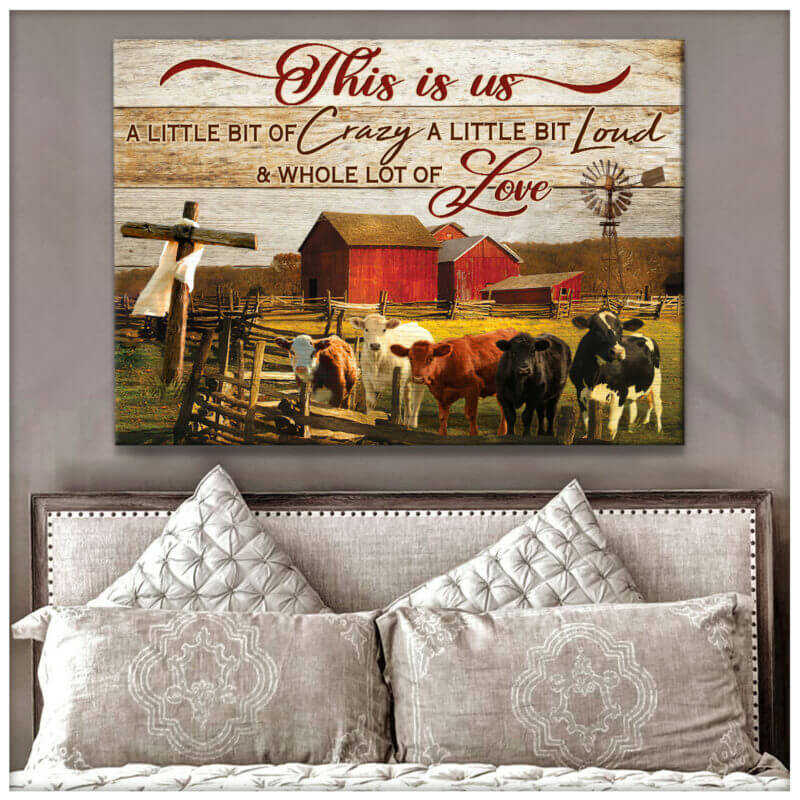 Go for a more nostalgic feeling for your home, this farmhouse-style canvas print with the red barn will add a warm fuzzy feeling to your home. A great fit for your living room or your bedroom, bring a little warmth and a new inspiration for your everyday life. 
Get Cow Canvas Print This Is Us for your home.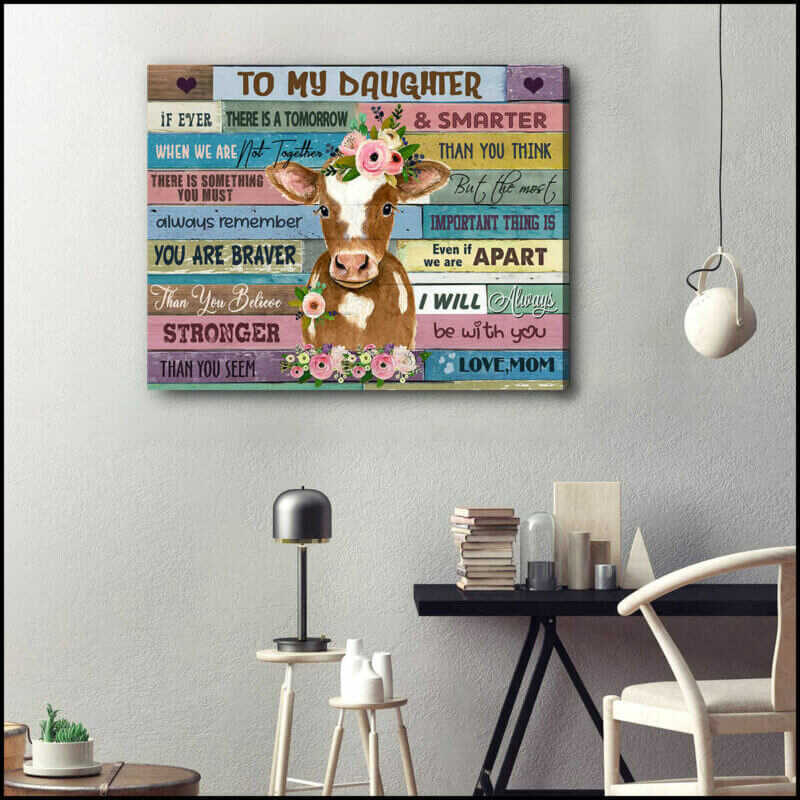 The perfect gift for your amazing daughter, remind her how much you love her with this calf canvas print. The meaningful message is paired with a colorful but still a great fit for any farmhouse-style home. This cow canvas print is a perfect art to have in any home or a great housewarming gift to your dear coming of age daughter.
Get Cow Canvas Print To My Daughter for your home.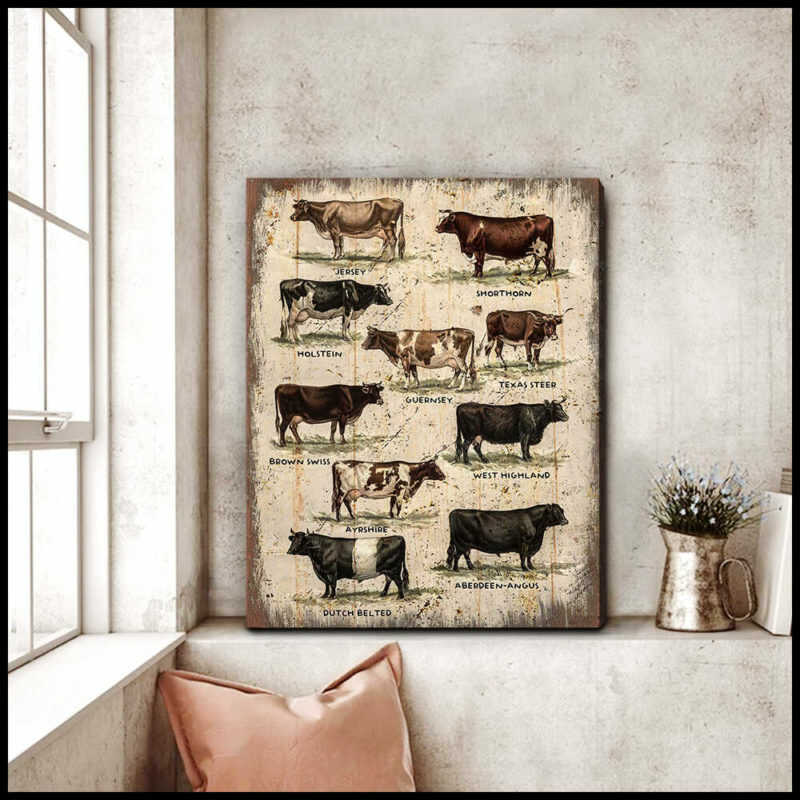 If you are a cow lover, do not miss out on this canvas print. An art collection of all types of cows right on your wall will make sure to leave a good impression on any guests or family members that come to your home.  Invite the cow spirits to your home in 2021 for a blessed and happy new year. 
Get Cow Canvas Print All Type of Cow Art for your home.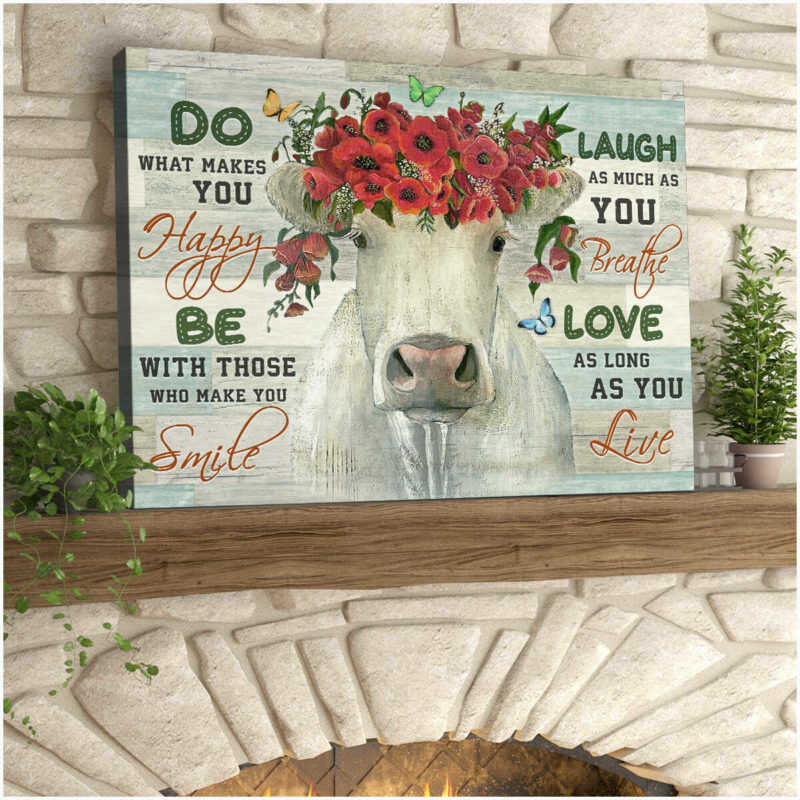 Green is the color of nature and it is one of the colors that fit the best for farmhouse style, this is why we think this cow canvas print is a good choice for wall decor in your home. Pair with the light green is the uplifting and motivating message that you can feel inspired every day. Perfect for the bedroom or living room. Grab one for your home or gift it to a friend or a family member to help them feel inspired every day. 
Get Cow Canvas Print Do What Makes You Happy for your home.
---
At OhCanvas, we always put quality first. This is why all our canvas designs are printed with high-quality and fade-resistant ink. The durable cotton canvases are stretched and wrapped on a sturdy pinewood frame that will make sure the colors stand the test of time on your wall.
With a new and unique design for your home every day, we guarantee you can find something that will fit perfectly for your home. You can visit some of our best HERE
Thinking of adding a new color to your home? Check out our Color Guide for farmhouse style home HERE.