Mother's Day is a moment to honor your first and most trusted confidante, the one to whom you always go for guidance and support. To honor all of the beautiful ladies in your life, Mother's Day is also a perfect opportunity to express your gratitude. Here are some best Mother's day quotes that you may use to express your gratitude and admiration for your mother, grandmothers, or any other mother figure in your life. Personalize a Mother's Day present from our gift guide with one of these inspirational quotations.
Best Mother's Day Quotes In 2023
Sweet and Short Mother's Day Quotes
Mother's Day is a special occasion to recognize and respect the unconditional love, support, and sacrifices moms have made. Short Mother's Day quotes are a simple and emotional way to convey your appreciation and affection for your mother. These quotes for happy mother's day can be included into greeting cards, social media postings, or even a personal note. On this special day, whether you choose a humorous, sad, or inspirational remark, it is certain to make your mother feel loved and appreciated.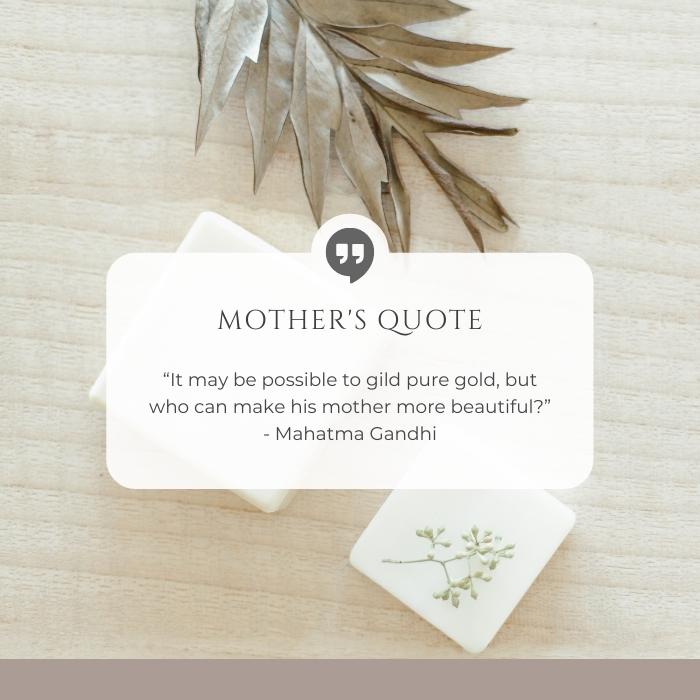 "My mother is a walking miracle." —Leonardo DiCaprio
"To describe my mother would be to write about a hurricane in its perfect power." – Maya Angelou
"An ounce of mother is worth a ton of priest." – Maya Angelou
"A mother understands what a child does not say." —Jewish proverb
"Motherhood: All love begins and ends there." – Robert Browning
"There is nothing as sincere as a mother's kiss." —Saleem Sharma
"Mother's love is peace." – Eric Fromm
"A mother's love is more beautiful than any fresh flower." —Debasish Mridha
"A mother's arms are more comforting than anyone else's." – Princess Diana
"I felt the wash of her love every day, pouring over me." – Aimee Bender
"A mother is one to whom you hurry when you are troubled." – Emily Dickinson
"Life began with waking up and loving my mother's face." —George Eliot
"We are born of love; love is our mother." – Rumi
"The world needs our mothers." – Liya Kebede
Cute Mother's Day Quotes
Sometimes it's hard to put those feelings into words, but that's where cute Mother's Day quotes come in handy. Whether you're looking for a heartfelt message or a funny quip, there's a quote out there that can help you convey your feelings. With a happy Mother's Day message and a cute quote, you can make your mom feel extra special on her special day. So take a few minutes to find the perfect quote that sums up how you feel, and let your mom know just how much she means to you.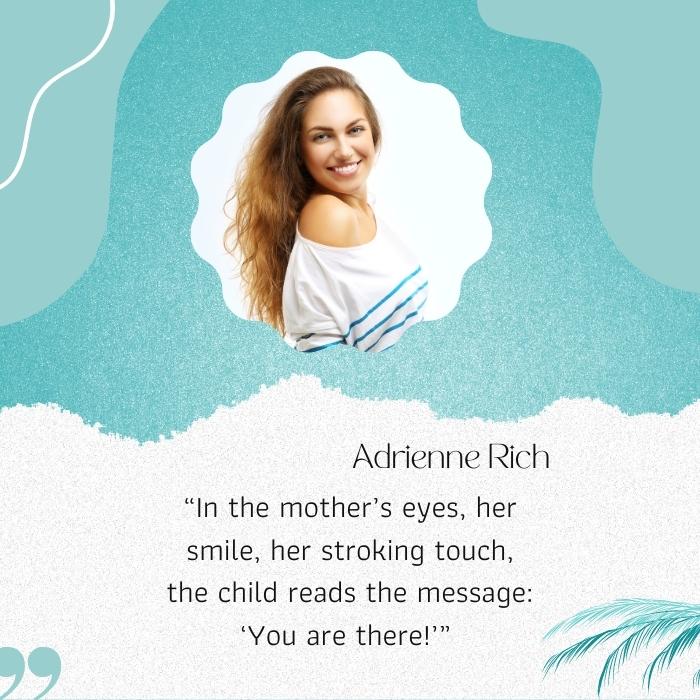 "I believe in the strength and intelligence and sensitivity of women. My mother, my sisters [they] are strong. My mum is a strong woman and I love her for it." —Tom Hiddleston
"In the mother's eyes, her smile, her stroking touch, the child reads the message: 'You are there!'" —Adrienne Rich
"My mother was the most beautiful woman I ever saw. All I am I owe to my mother. I attribute my success in life to the moral, intellectual and physical education received from her." —George Washington
"I got to grow up with a mother who taught me to believe in me." – Antonio Villaraigosa
"Mother's love is bliss, is peace, it need not be acquired, it need not be deserved. If it is there, it is like a blessing; if it is not there it is as if all the beauty had gone out of life." —Erich Fromm
"I realized when you look at your mother, you are looking at the purest love you will ever know." —Mitch Albom
"Being a full-time mother is one of the highest salaried jobs since the payment is pure love." —Mildred B. Vermont
"Love as powerful as your mother's for you leaves its own mark … to have been loved so deeply .. will give us some protection forever." —J.K. Rowling
"When you are a mother, you are never really alone in your thoughts. A mother always has to think twice, once for herself and once for her child." —Sophia Loren
"Being a full-time mother is one of the highest salaried jobs since the payment is pure love." —Mildred B. Vermont
>>> Read more: 66 Best Mother's Day Gifts That She Will Be Moving In 2023
Funny Quotes On Mother's Day
Consider using these funny quotes if you want to add a touch of levity to your Mother's Day messages. There are many of things to pick from, ranging from humorous one-liners to smart sayings. The best Mother's Day quotes that make mom chuckle and encourage her not to take herself too seriously are some of the best. A hilarious remark is usually a good choice for writing in a card or just sharing a happy Mother's Day message.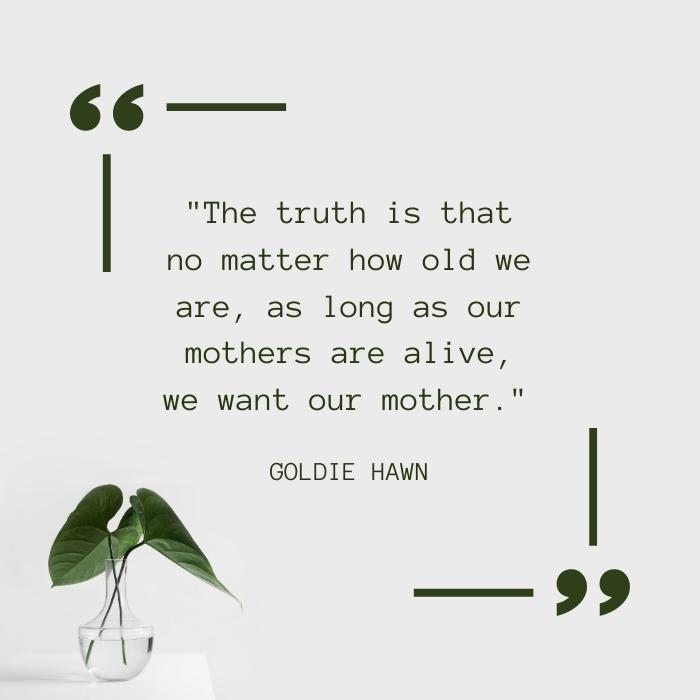 "In the end, mothers are always right. No one else tells the truth." —Randy Susan Meyers
"Sometimes I open my mouth and my mother comes out." – Unknown
"If evolution really works, how come Mother only have two hands?" – Milton Berle
"Any mother could perform the jobs of several air-traffic controllers with ease." —Lisa Alther
"Setting a good example for your children takes all the fun out of middle age." – William Feather
"When my kids become wild and unruly, I use a nice, safe playpen. When they're finished, I climb out." – Erma Bombeck
"A mom forgives us all our faults, not to mention one or two we don't even have." —Robert Brault
"Working mothers are guinea pigs in a scientific experiment to show that sleep is not necessary to human life." – Unknown
"The one thing children wear out faster than shoes is parents." – John J. Plomp
"God could not be everywhere, and therefore he made mothers." —Rudyard Kipling
"Mirror, mirror, on the wall, I am my mother after all!" – Unknown
>>> Recommend reading: 35+ Best Mother's Day Gifts For Aunts Who Have Everything
Inspirational Mother's Day Quotes
A little motivation is sometimes all it takes for a mom to keep going. Give her a heartwarming message to let her know how much you value her presence in your life. Using these Mother's day inspirational quotes on home decor can help remind her of the most important things in life. On this special day, we've rounded together some of the best Mother's day quotes to inspire and motivate you and your family.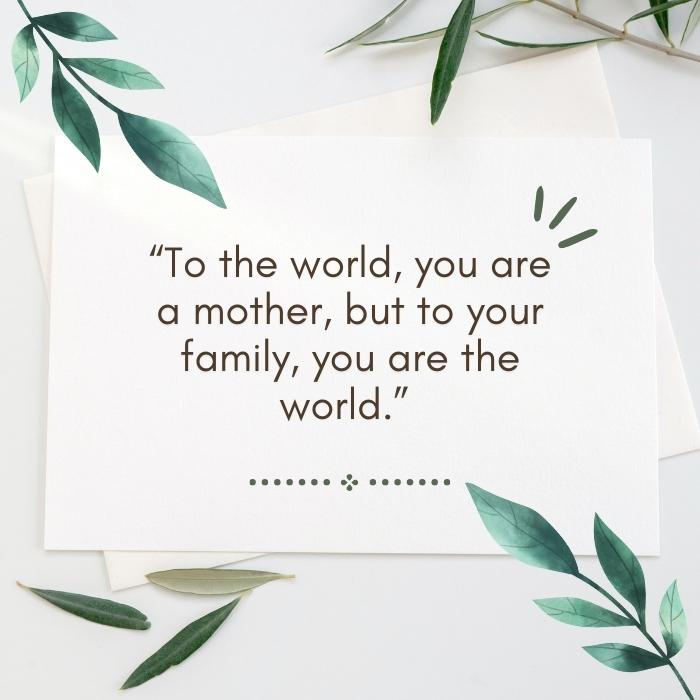 "Successful mothers are not the ones that have never struggled, they are the ones that never give up, despite the struggles." – Sharon Jaynes
"Mother—that was the bank where we deposited all our hurts and worries." —T. Dewitt Talmage
"Motherhood is the biggest gamble in the world. It is the glorious life force. It's huge and scary — it's an act of infinite optimism." – Gilda Radner
"A mother is the one who fills your heart in the first place." – Amy Tan
"A mother is the truest friend we have when trials heavy and sudden fall upon us; when adversity takes the place of prosperity; when friends desert us; when trouble thickens around us, still will she cling to us, and endeavor by her kind precepts and counsels to dissipate the clouds of darkness, and cause peace to return to our hearts." – Washington Irving
"A mother is she who can take the place of all others but whose place no one else can take." – Cardinal Meymillod
"To the world, you are a mother, but to your family, you are the world." —Unknown
"Youth fades; love droops; the leaves of friendship fall; A mother's secret hope outlives them all." – Oliver Wendell Holmes
"My mother is my root, my foundation. She planted the seed that I base my life on, and that is the belief that the ability to achieve starts in your mind." – Michael Jordan
"As moms, we have a unique opportunity to keep changing this attitude that ambition is an ugly quality in women." – Reese Witherspoon
>>> Recommend reading: 38 Best Mother's Day Gifts For Girlfriend In 2023 (Updating)
Heart Touching Mothers Day Quotes
Mother's Day Inspirational Quotes For Grandma
We will always cherish the memories we have of our grandmothers. Remember to honor your grandmother in the same way you honor your mother this year. After all, as a mother, she's been able to pass on her knowledge to several generations. See how a quotation will look on one of Oh Canvas's personalized presents for grandma by selecting a quote from our library. She'll know how much she's appreciated when she reads these best mother's day quotes from her grandchildren, children, or in-laws.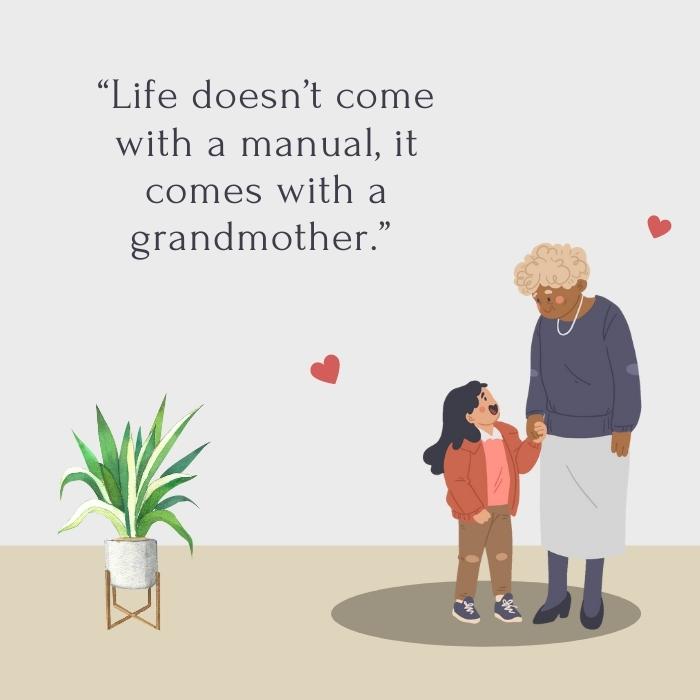 "A grandmother is a little bit parent, a little bit teacher, and a little bit best friend." – Anonymous
"It's such a grand thing to be a mother of a mother—that's why the world calls her grandmother." —Unknown
"A grandma is warm hugs and sweet memories. She remembers all of your accomplishments and forgets all of your mistakes." – Barbara Cage
"Life doesn't come with a manual, it comes with a grandmother." —Unknown
"Grandmothers always have time to talk and make you feel special." – Catherine Pulsifer
"Grandmas hold our tiny hands for just a little while…but our hearts forever. " —Unknown
"Grandmothers are voices of the past and role models of the present. Grandmothers open the doors to the future." – Helen Ketchum
"Grandmothers and roses are much the same. Each is God's masterpiece with different names." – Unknown
"Grandma always made you feel she had been waiting to see just you all day and now the day was complete." —Marcy Demaree
"Nobody can do for little children what grandparents do. Grandparents sort of sprinkle stardust over the lives of little children." – Alex Haley
"As mothers and daughters, we are connected with one another. My mother is the bones of my spine, keeping me straight and true. She is my blood, making sure it runs rich and strong. She is the beating of my heart. I cannot now imagine life without her." —Kristin Hannah
"Grandmother: A wonderful mother with lots of practice." – Unknown
"Grandmas never run out of hugs or cookies." – Unknown
"If nothing is going well, call your grandmother." —Italian Proverb
"I know what it is like to be brought up with unconditional love. In my life that came from my grandmother." —Andre Leon Talley
"Grandmothers and roses are much the same. Each is a God's masterpiece with different names." – Unknown
"There's no place like home—except Grandma's." – Unknown
"As I learned from growing up, you don't mess with your grandmother." – Prince Willia
"A grandmother is a remarkable woman. She's a wonderful combination of warmth and kindness, laughter and love." – Unknown
"There are grandmothers out there who would move heaven and earth for their grandchildren." – Janice Elliott-Howard.
Best Mother's Day Quotes For Mom
One of the most effective ways to express gratitude is through sending emotional notes and quotations with a perfect gift for mom. Happy Mother's Day quotes for mom are a wonderful way to convey our love, admiration, and gratitude for all the sacrifices and hard work she has performed for us. There are countless phrases to select from, ranging from humorous and inspirational to uplifting and sentimental, to make her feel unique on this day. Hence, let's take the time to honor our mothers and express our gratitude for all they've done with a heartfelt letter.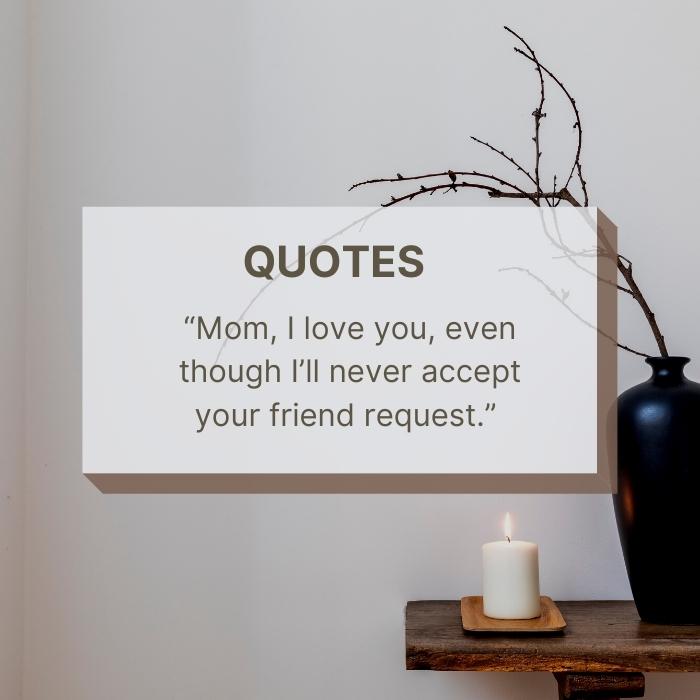 It may be possible to gild pure gold, but who can make his mother more beautiful?" – Mahatma Gandhi
"All that I am, or ever hope to be, I owe to my angel mother." —Abraham Lincoln
"Being a mother is an attitude, not a biological relation." —Robert A. Heinlein
"Most mothers are instinctive philosophers." —Harriet Beecher Stowe
"Biology is the least of what makes someone a mother." —Oprah Winfrey
Sometimes the strength of motherhood is greater than natural laws. – Barbara Kingsolver
"Mama was my greatest teacher, a teacher of compassion, love, and fearlessness. If love is sweet as a flower, then my mother is that sweet flower of love." —Stevie Wonder
"A mother is clothed with strength and dignity, laughs without fear of the future. When she speaks her words are wise and she gives instructions with kindness." —Proverbs
"A mother's happiness is like a beacon, lighting up the future but reflected also on the past in the guise of fond memories." —Honore de Balzac
"My mom is my hero. [She] inspired me to dream when I was a kid, so anytime anyone inspires you to dream, that's gotta be your hero." —Tim McGraw
"My mom is a hard worker. She puts her head down and she gets it done. And she finds a way to have fun. She always says, 'Happiness is your own responsibility.' That's probably what I quote from her and live by the most." —Jennifer Garner
"Mothers and their children are in a category all their own. There's no bond so strong in the entire world. No love so instantaneous and forgiving." —Gail Tsukiyama
"My mother has always been my emotional barometer and my guidance. I was lucky enough to get to have one woman who truly helped me through everything." —Emma Stone
Sweet Mother's Day Quotes For Wife
This is the perfect time for husbands to express their gratitude and affection to their spouses and mothers. An easy way to show her some extra love and appreciation this Mother's Day is with a few well-chosen quotes with the most sweetest gifts for your wife. On Mother's Day, it's wonderful to express your love and gratitude to your wife through a message, a card, or even a small gesture.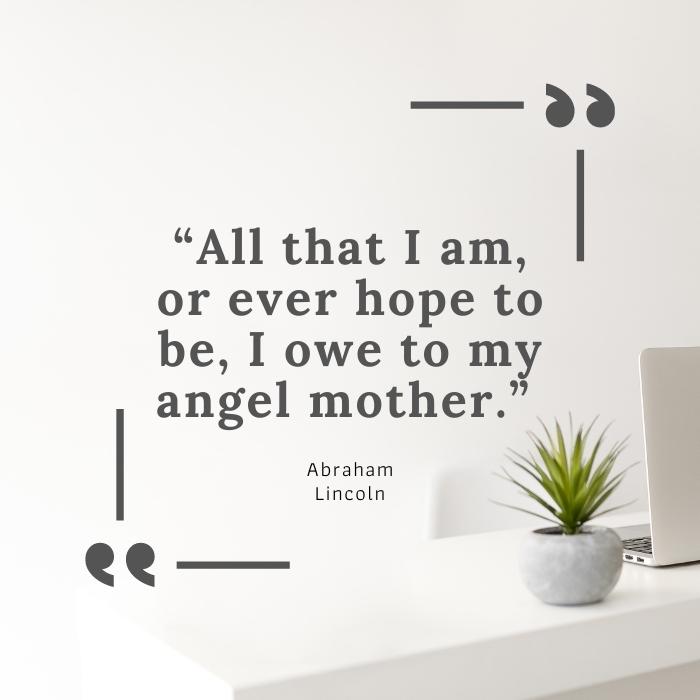 "A mother's love is everything. It is what brings a child into this world. It is what molds their entire being. When a mother sees her child in danger, she is literally capable of anything. Mothers have lifted cars off of their children and destroyed entire dynasties. A mother's love is the strongest energy known to man." —Jamie McGuire
"No language can express the power and beauty and heroism of a mother's love." – Edwin Chapin
"Behind all your stories is always your mother's story, because hers is where yours begins." – Mitch Albom
"The truth is that no matter how old we are, as long as our mothers are alive, we want our mother." – Goldie Hawn
"Being a mother meant sacrificing everything. Her words had the ring of truth." – Milan Kundera
"Mom had the kind of love for her that you could feel like it was part of the atmosphere." – Peter Abrahams
"The one constant, faithful, inviolable, holy love of loves—the love of your life—is not your wife or lover, it is your mother." – Sandra Cisneros.
"Ma-ma does everything for the baby, who responds by saying Da-da first." – Mignon McLaughlin
"Any mother could do the jobs of several air traffic controllers with ease" —Lisa Alther
"A suburban mother's role is to deliver children obstetrically once, and by car forever after." – Peter De Vries
"Children are natural mimics who act like their parents despite every effort to teach them good manners." – Unknown
"Mom, I love you, even though I'll never accept your friend request." —Unknown
Best Mother's Day Quotes For Friends
Mother's Day is not just a time to celebrate our own mothers, but also to cherish the motherly figures in our life, including our friends. Delivering a kind note or remark to a mother friend might brighten her day and show her how much you value her contribution. We'd like to some of the best Mother's Day quotes that you may send to your mother-friends to convey your gratitude and affection. Remember to add with a lovely gift for your friend to make her big day more special.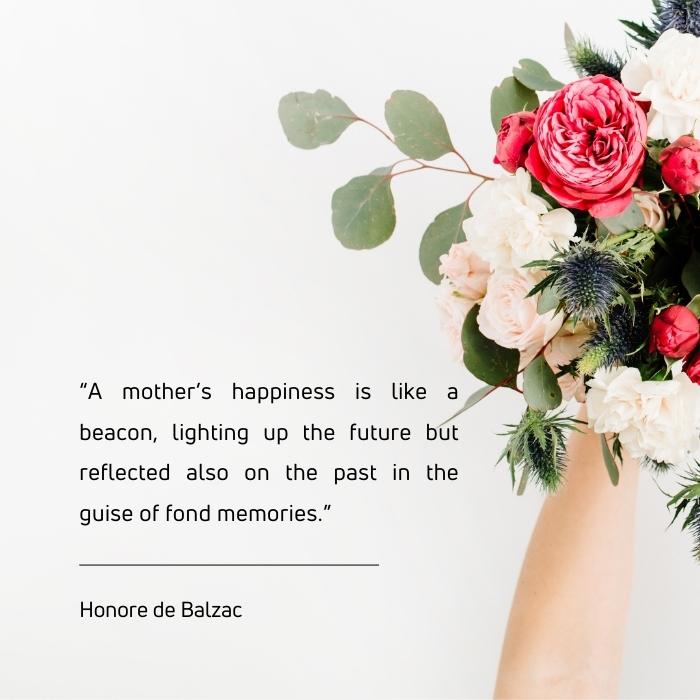 "Life doesn't come with a manual. It comes with a mother." – Unknown
"It is never easy being a mother. If it were easy, fathers would do it." – Unknown
An ounce of mother is worth a ton of priests. – Spanish Proverb
"There is only one pretty child in the world, and every mother has it." – Chinese Proverb
The loveliest masterpiece of the heart of God is the heart of a mother." — St. Therese of Lisieux
"The most precious jewels you'll ever have around your neck are the arms of your children." – unknown
"There is no way to be a perfect mother and a million ways to be a good one." – Jill Churchill
"Motherhood is a choice you make every day, to put someone else's happiness and well-being ahead of your own, to teach the hard lessons, to do the right thing even when you're not sure what the right thing is… and to forgive yourself, over and over again, for doing everything wrong." – Donna Ball
"When you look into your mother's eyes, you know that is the purest love you can find." – Mitch Albom​​
"The influence of a mother in the lives of her children is beyond calculation." – James E. Faust
Read more:
Having discovered the best Mother's day quotes you adore, browse our assortment of personalized presents for moms to locate the perfect present for all of the wonderful mothers in your life. We have gifts and announcements for every major milestone in the lives of the women and moms-to-be who are close to your heart and soul. Beginning with the announcement of her pregnancy and continuing through the nine months she spends with a bun in the oven, she may keep track of her baby's progress as well as her expanding tummy.