As far as florals are concerned, sunflowers are a joy to look at and touch. Because of their sunny yellow color, large shape, and capacity to brighten any space, it's easy to see why they're so beloved. For its positive connotations, sunflowers are a popular emblem of good fortune. Why not think about getting sunflower gifts for her? She deserves the best, after all. This is a collection of gift ideas that Oh Canvas has put up for you to choose from.
Personalized Gifts For Her
1. Mug With A Custom Sunflower Design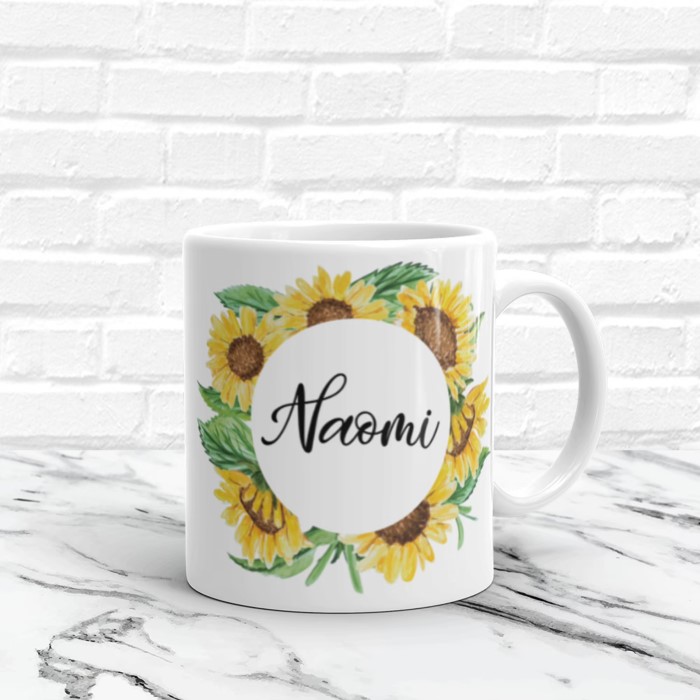 Add some floral flavor to your morning cup of joe with a mug personalized with your own name. Your favorite person's name in the script encircled by a floral halo is shown on the inside, while the outside is gold.
2. Customized Kitchen Towels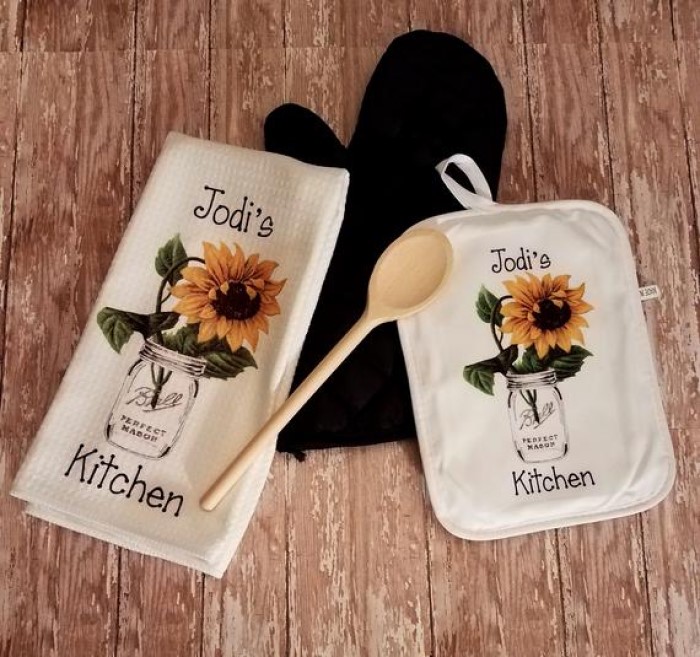 Create a set of dishtowels and a potholder specifically for your woman's kitchen to give it some floral power. You may personalize this set with one"s friend's name for an extra unique touch. These lovely sunflower-themed gifts will make your loved one happy every in the kitchen.
3. A Sunflower Tote Bag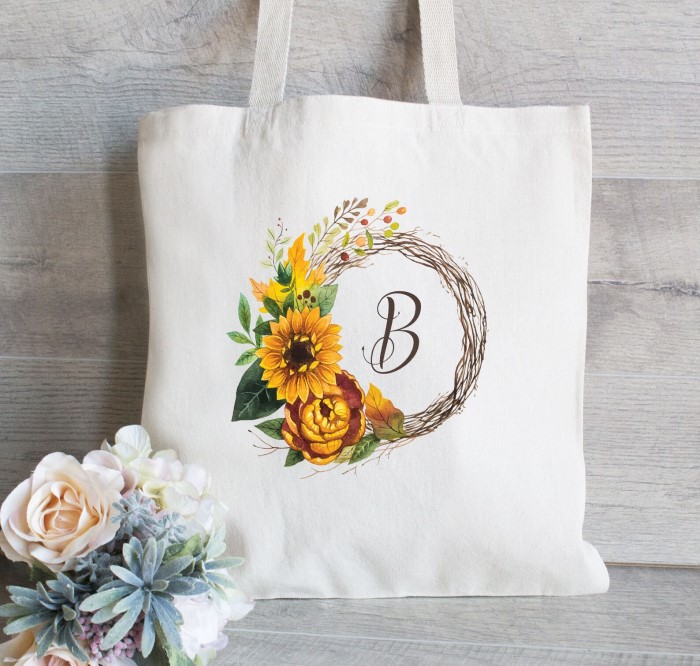 A flower-lover on the go needs a spot to keep track of the ever-expanding shopping list. It displays their first initial in beautiful cursive writing surrounded by an even more beautiful circular bouquet on this personalized tote.
4. Custom Sunflower Necklaces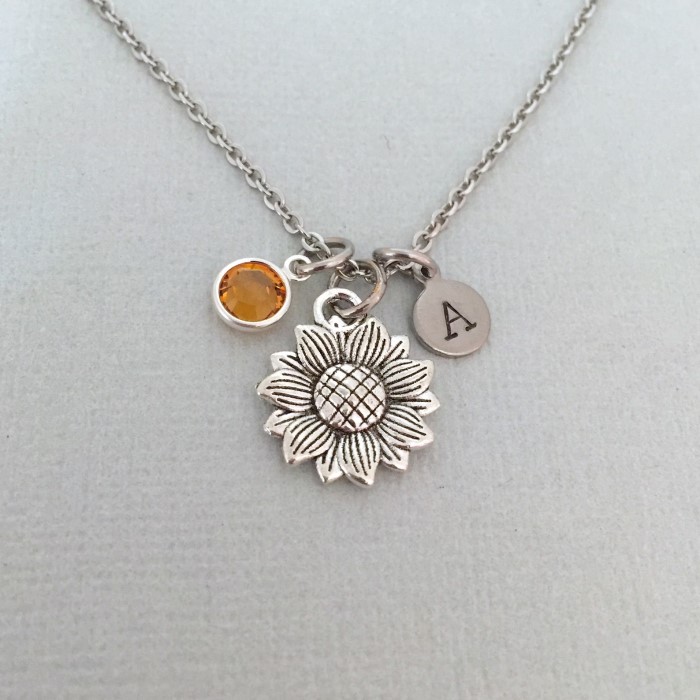 This necklace can brighten up the day of a person who wears it. The necklace comes in a variety of chain lengths, as well as silver or stainless steel, and can be personalized. To make it extra special, include the recipient's initials and their birthstone in the design. Add the necklace to your list when it comes to sunflower gifts for her to show your subtle affection.
5. Engraved Wooden Cutting Board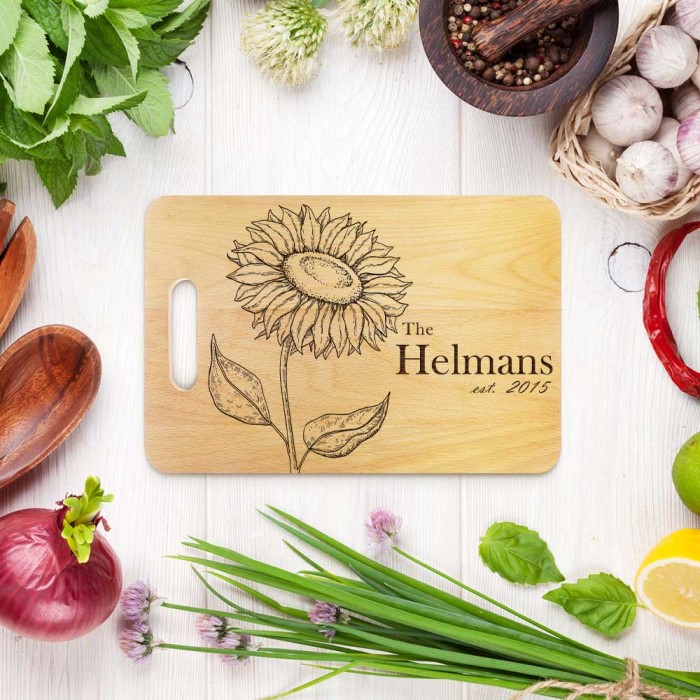 The kitchen with this wooden board in it should only be used for pleasant thoughts, not sarcastic remarking on others. It is possible to add sunflower and any other text to the bamboo to make it uniquely hers.
6. Beautiful Sunflower Mason Jars Canvas Print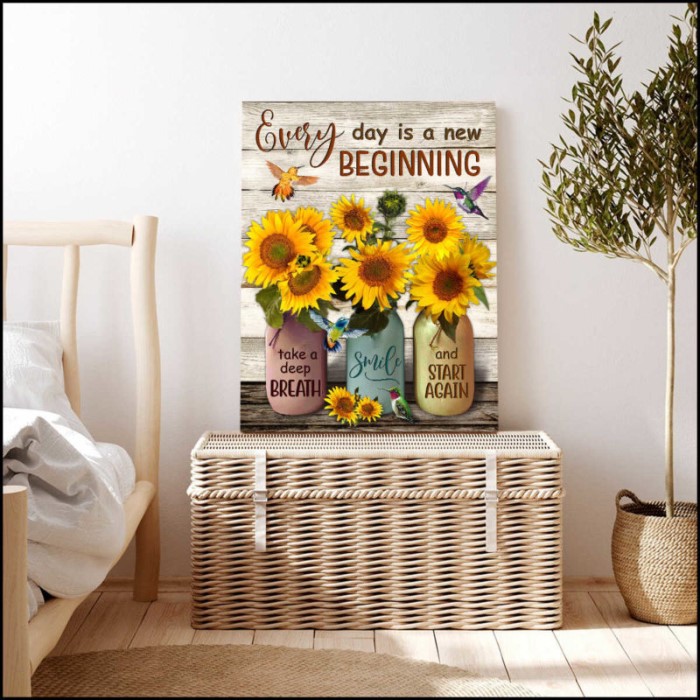 With this canvas print, you'll be able to motivate your lady. A terrific addition to any room, this print features a heartfelt phrase and a lovely sunflower design. Give her the print as sunflower presents for her, which she will cherish for a long time, from Oh Canvas, which has a plethora of canvas print options.
7. Custom Water Bottle
It's not just flowers that need water; so do flower children. Get some flower power from this custom bottle of water. In addition to 400mL, 500mL, and 600mL options for volume, you can personalize your gift with the recipient's name. She will feel more self-assured if she brings a special bottle to work or the gym.
8. Customized Photo Wall Art Decor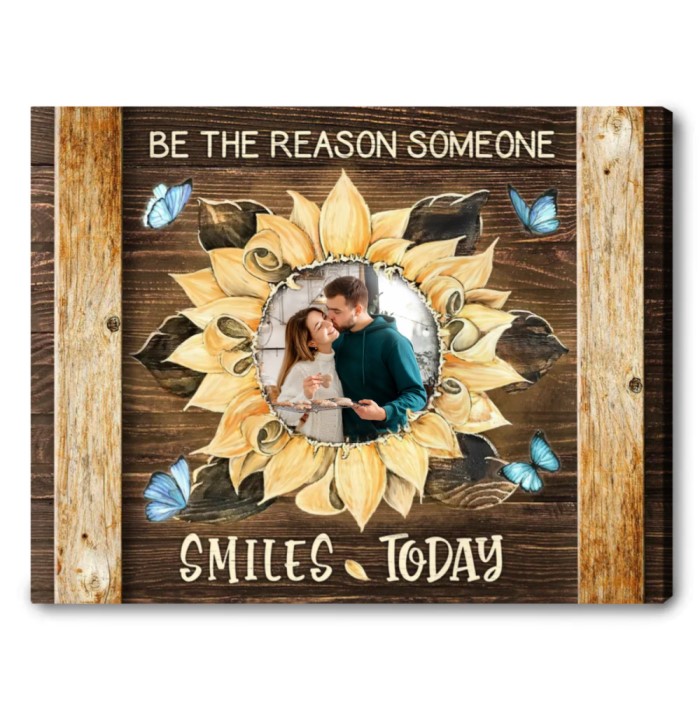 Personalize a photo print for your wife and give her something to smile about every day. Choosing the ideal time of your relationship will give your loved one a one-of-a-kind present. The frame of sunflowers adds a unique flair to any photograph. If you don't take this into consideration, you'll miss out on unique gifts for her.
9. Wine Tumbler With Sunflowers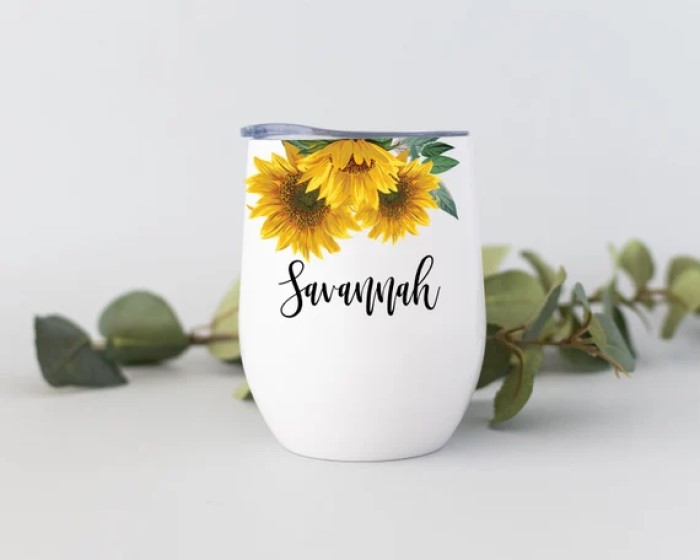 The recipient will be delighted to get a personalized sunflowers wine tumbler with their name on it. As an added bonus, the vacuum-sealed installation keeps liquids cool for up to nine hours in this tumbler. With the lovely design and great function, it is one of the ideal sunflower gifts for her that you can't ignore.
10. Personalized Sunflower Sign For Kitchen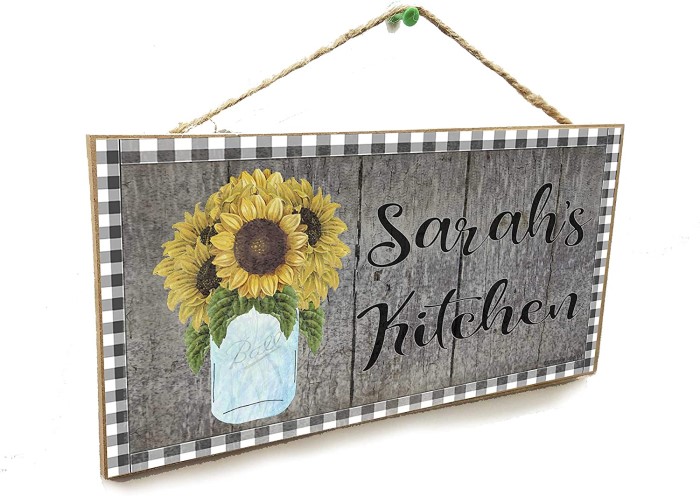 Sunflowers are one of the excellent sunflower gift ideas for her to create a welcoming sign in a warm kitchen. You can personalize this rustic sign with the identity of the chef in the kitchen. This custom sign can help your woman have inspiration every time she is cooking.
Accessories Gifts For Her
11. Love Heart Pendant With A Sunflower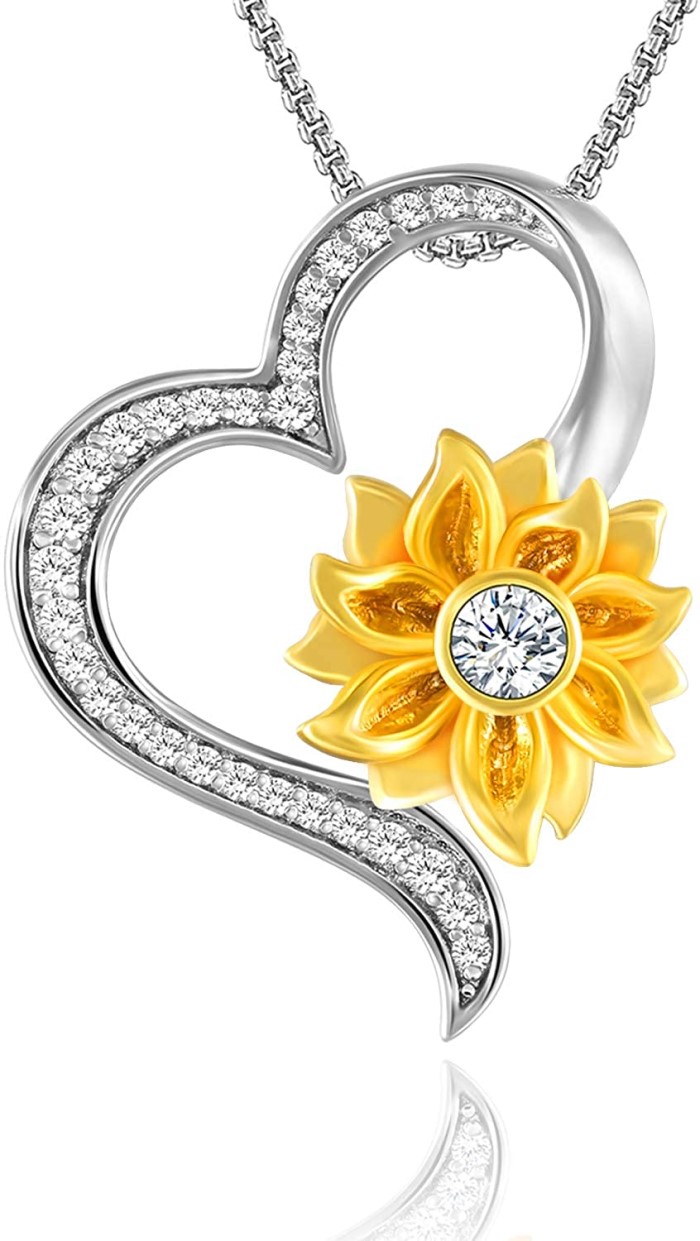 A silvery necklace adorned with vivid yellow and vivid orange stones is the perfect accessory for a darling who spreads affection like a sunflower does seeds. When others saw the symbol of hope, they will also feel a warm light.
12. Sunflower Ankle Cuffs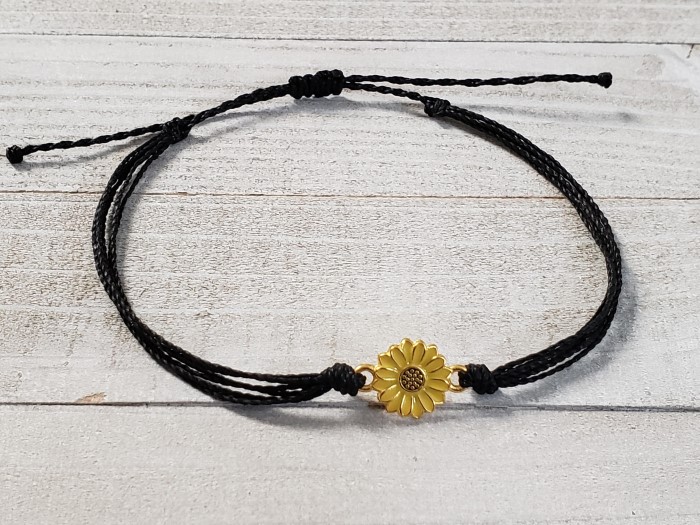 Having a beautiful piece of jewelry on her ankle makes dance on the beach or on her lawn even more exciting. This anklet features a flower bead as a focal point and is adjustable to match any foot shape, creating a great gift for your lady on holiday.
13. Locket Adorned With A Sunflower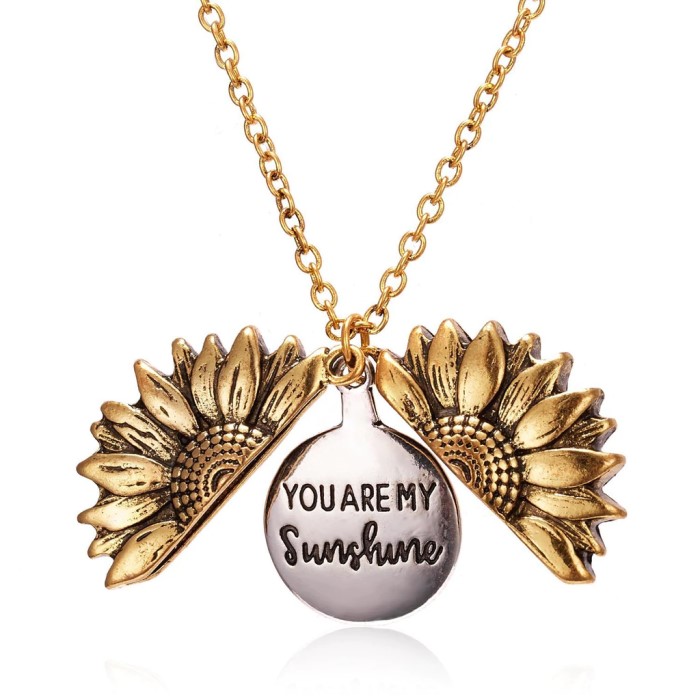 Don't settle with anything less than a locket as radiant as your one true sunlight. You can't help but fall in love with this necklace, which has a sunflower with a heartfelt inscription inside. Choose between a golden hue reminiscent of a sunflower or a rose or silver hue. This present is one of the best sunflower gift ideas for her that every woman all love.
14. Apple Watch Band With Sunflower Design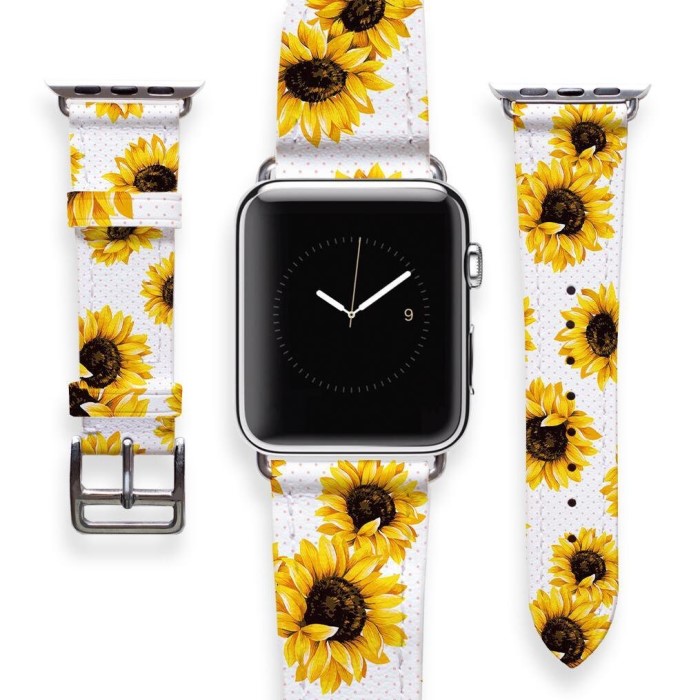 A flower wristband for the smartwatch means that flower jewelry doesn't have to be confined to shower crowns. As soon as the weather becomes a little warmer, swap out her wristband for something a little more dazzling.
15. A Sunflower Wristlet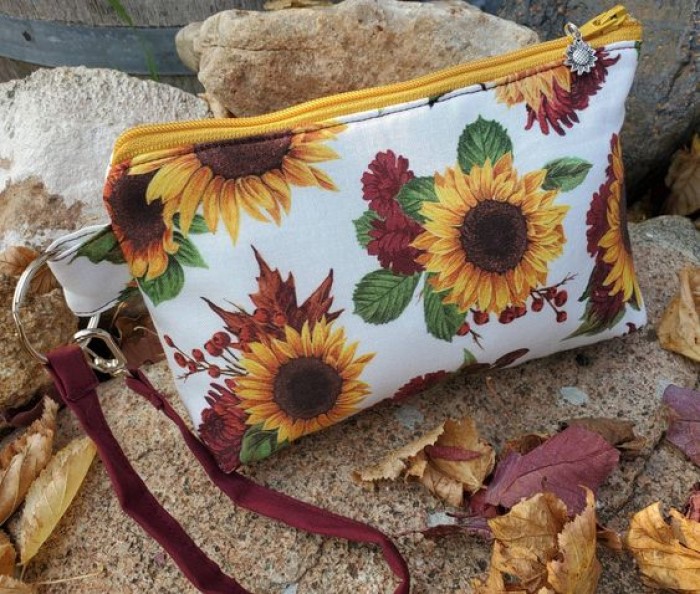 There are times when a handbag is too big, yet it's just not nice to keep cash in your bra. These are the occasions when a sunflower wristlet will be most useful to her. She can wear it with any outfit for its neutral hues that are easy to match.
16. Sunflower Airpod Case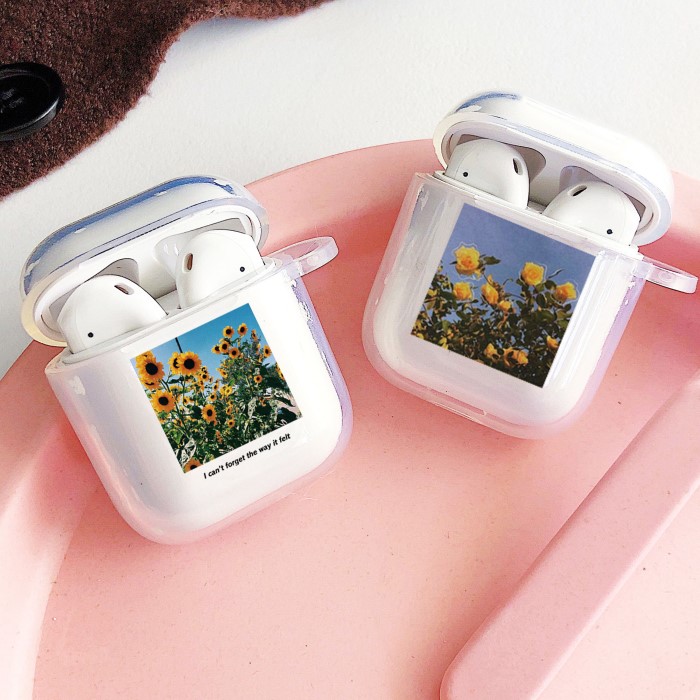 The case that stores your Airpod earbuds will look gorgeous with this cover, unlike sunflower buds. It's possible that the cheerful flower on the case's exterior will make it easier for you to remember where you put it. These adorable sunflower gifts for her will make her Airpod more protective and special.
17.  Earrings With A Single Hoop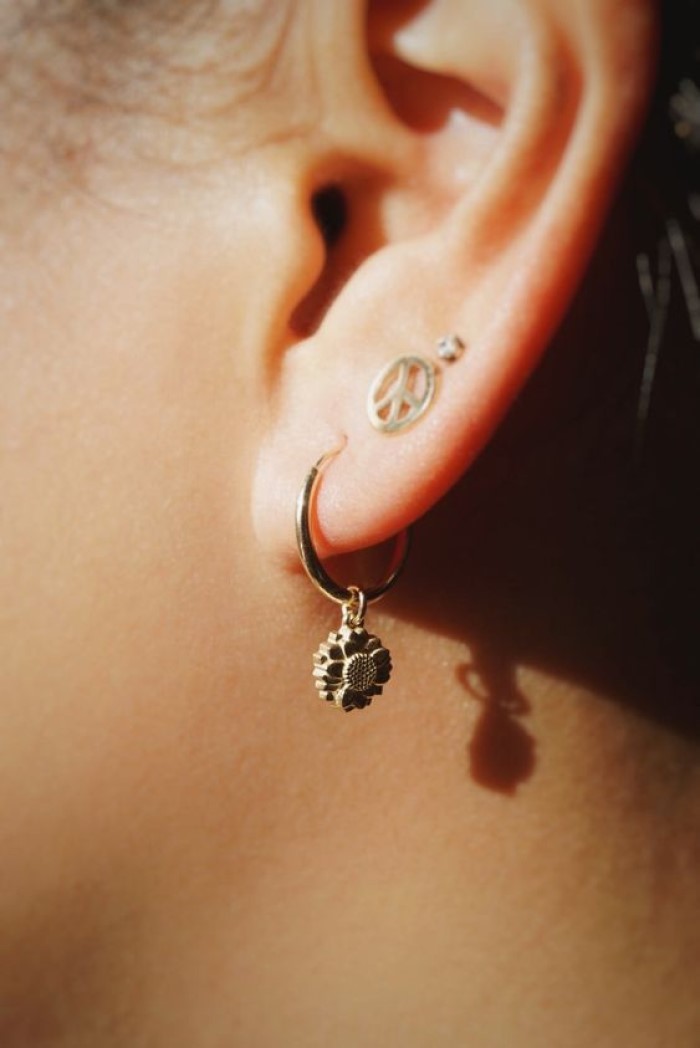 This gold sunflower charmed huggie earring is a more understated choice for her. Make your woman stand out with a special accessory like this. To ensure that they have a complete set, get one or two of them right now.
18. Bracelet With A Charm Of Sunflower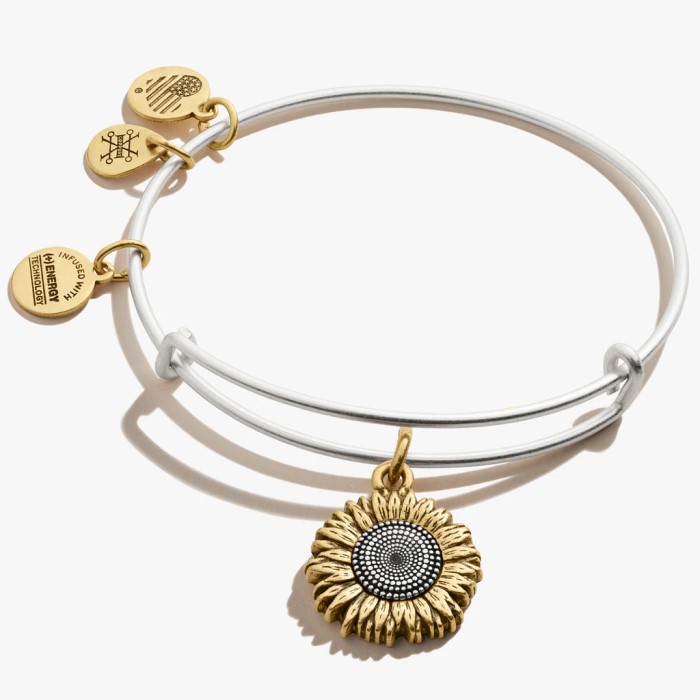 A charm bangle is a great alternative to earrings if you're not sure your recipient will wear them. It's also possible to add more charms at a later date if you so desire! This bracelet will be an indispensable accessory every time she goes down the street.
19. Minimalist Sunflower Cap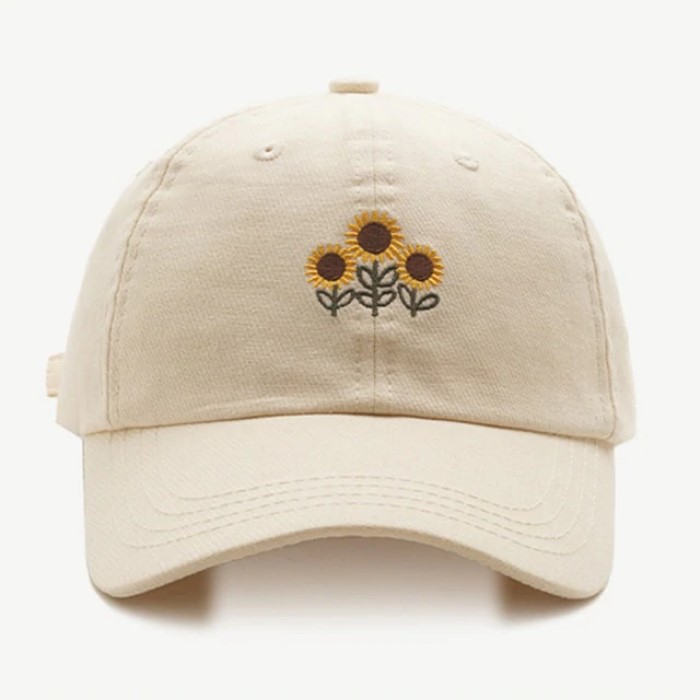 An excellent choice for the minimalist or for a hipster hat fan, this one is also functional on the hottest day. Those sunflowers and the beige color are too lovely that you should consider them for your loved one.
20. The Ring Of Sunflowers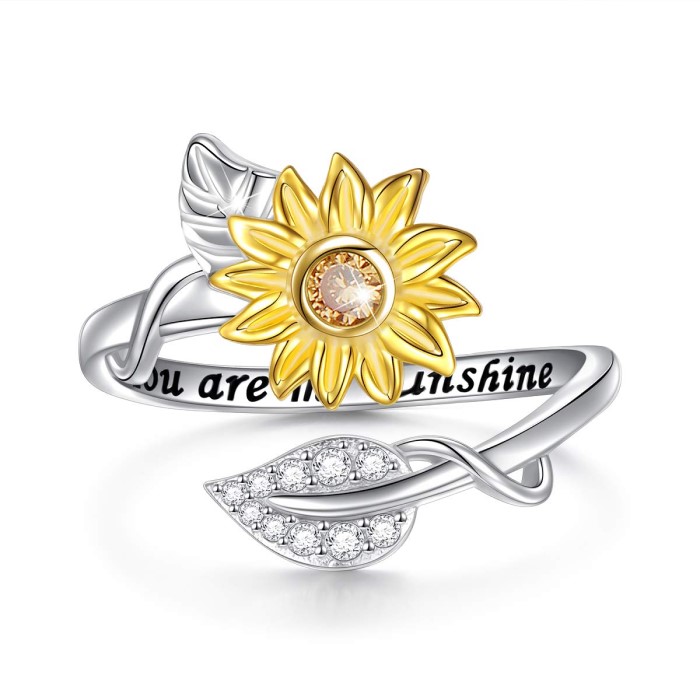 It's a gorgeous and unusual ring with a golden sunflower, a CZ-encrusted leaf, and a song lyric inscription if she brings sunshine into your life. It will be a piece of jewelry that she cherishes for a long time because of its sentimental value.
21. A Sunflower Ring Catch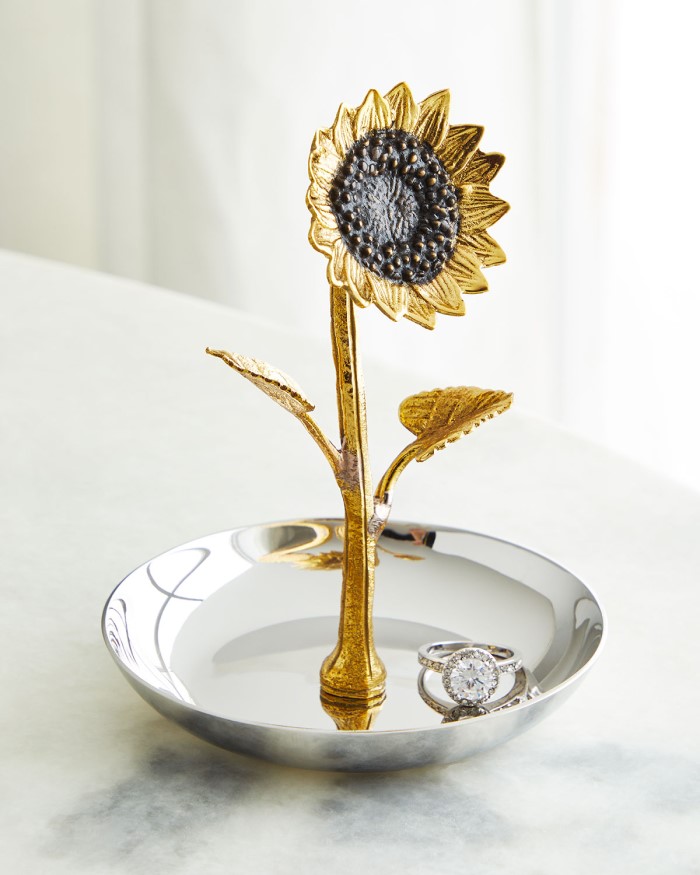 To keep rings out of the way while washing hands and dishes, a ring catch is a useful addition to any kitchen or bathroom sink. When we saw this one, we were instantly smitten with the small sunflower. Stainless steel and brass are used to create a stunning contrast in color and texture.
>>> Recommend reading: 30+ Gorgeous Long Distance Relationship Gifts For Her In 2022
DIY Sunflower Gifts For Her
22. The Crown Of The Rising Sun
This step-by-step video will show you how to make a stunning fresh sunflower crown that's excellent for festival season or adding a touch of bohemian charm to any outfit. Let's make her holiday more special with this crown made by you.
23. A Simple Sunflower Wreath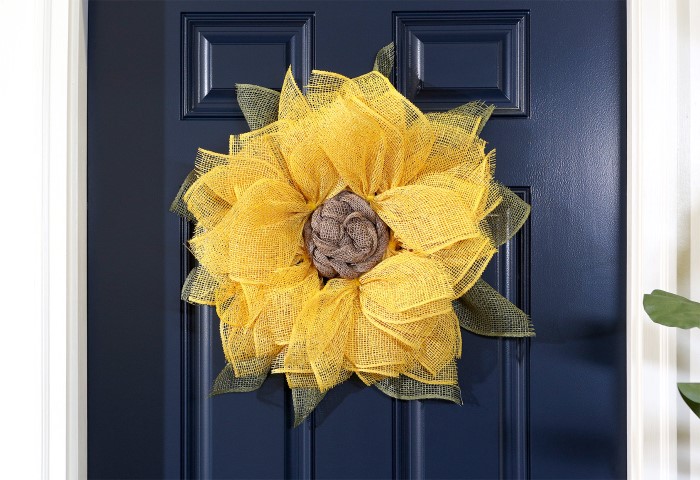 As a result, this lovely burlap wreath would make an ideal sunflower present for anyone who enjoys having the cheerful bloom in their house throughout the year. Although it looks quite complicated you can do it by yourself based on instructional videos on the Internet.
24. A Painted Jar Of Sunflowers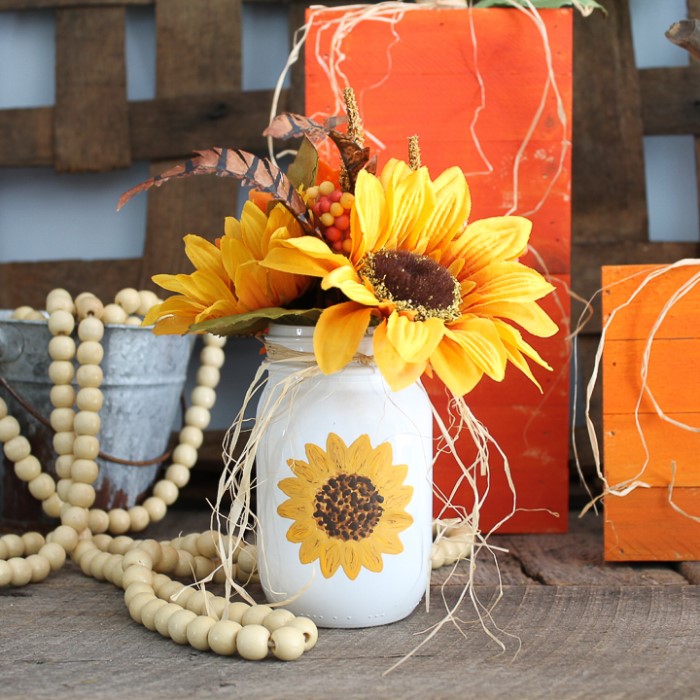 This DIY jar can be used as a vase or a pen holder, and it features a beautiful sunflower painted on the front with watercolor paints and the right-sized brushes. Creating a focal point in her space with this jar of sunflowers.
25. DIY Sunflower Pendants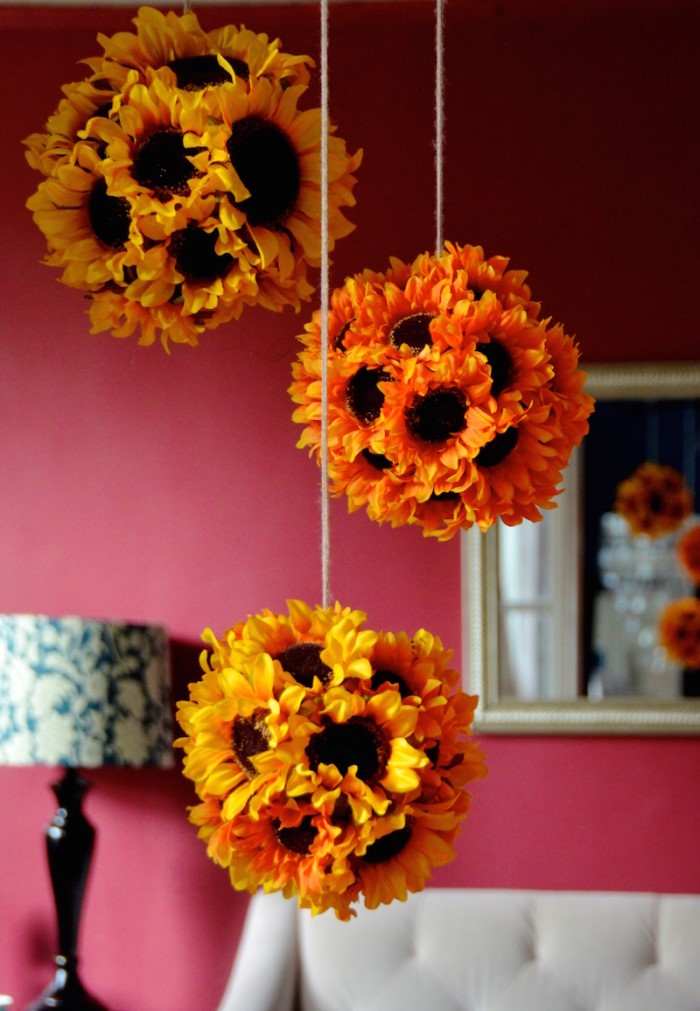 If mistletoe isn't your thing, these kissing balls are the next best thing. You may want to consider using silk flowers and adhesive bonding them together to extend the life of the decoration. Hang them all about the house to spread some sunshine and cheer things up.
26. Lemon Cupcakes Decorated With Sunflower
Look at these adorable little cupcakes! They're very cheerful! The flower on top is constructed from small Oreos, which is an added bonus for cheering up a pal who's feeling blue. Show your affection to your loved one with these sweet sunflower gifts for female friends.
27. Sunflower Cookies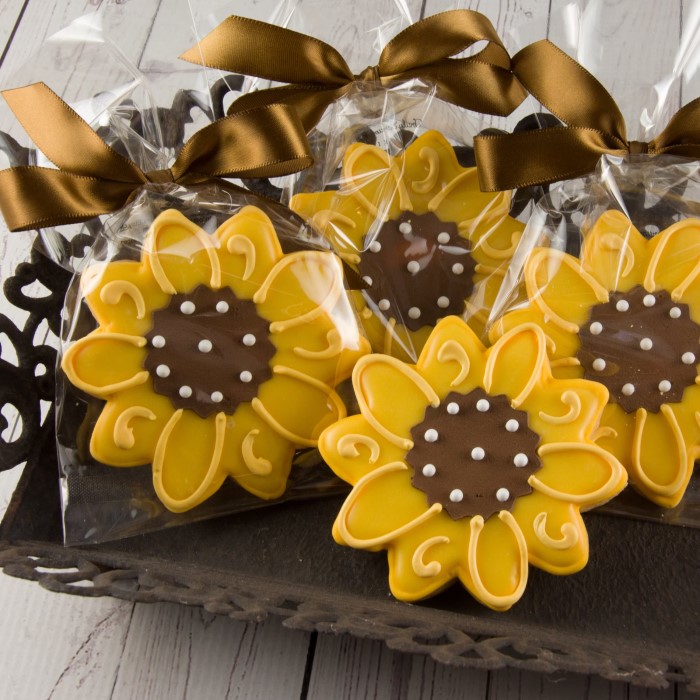 If you have a sweetheart like a sunflower, and you embrace its generous nature, then you deserve a reward. These cookies, which are both delicious and beautifully adorned, are a wonderful way to show gratitude for their generosity.
Unique Gifts For Her
28. Candles In The Shape Of Sunflowers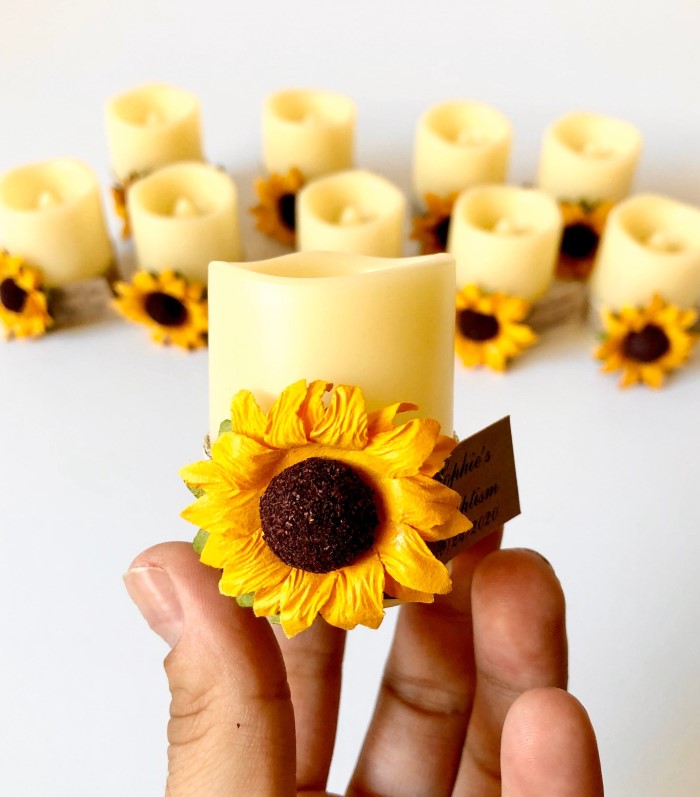 As with a riddle, these flowers don't actually require water to develop, but instead must be "placed" in the soil. If you put these lovely sunflower-themed gifts in a bowl and light the wick, the glowing candles will fill your house with the light of a sunny flickering fire.
29. Sunflower Pillow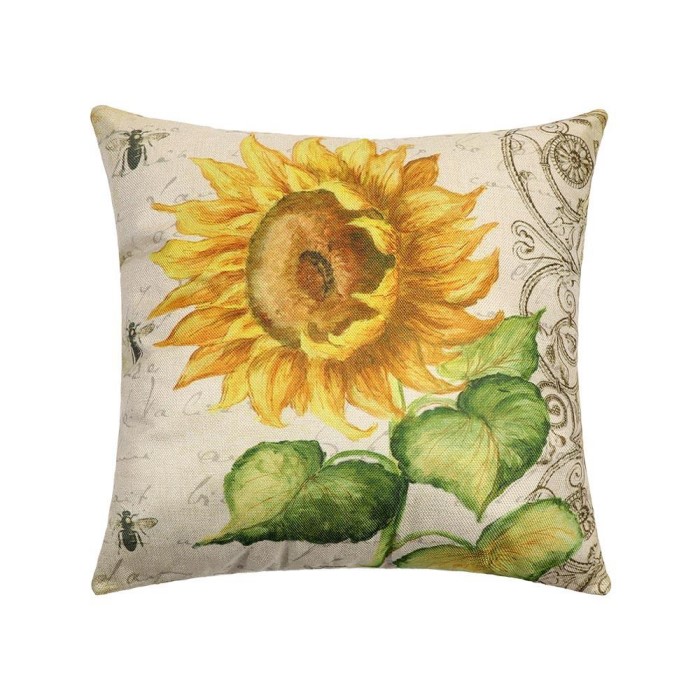 This cushion is so comfortable and has such a wonderful message that her dream will be nice when you put your head down to sleep. You may wash the pillowcase over and over again without fear of it losing any of its vibrant colors.
30. Rustic Sunflower Wooden Panel Art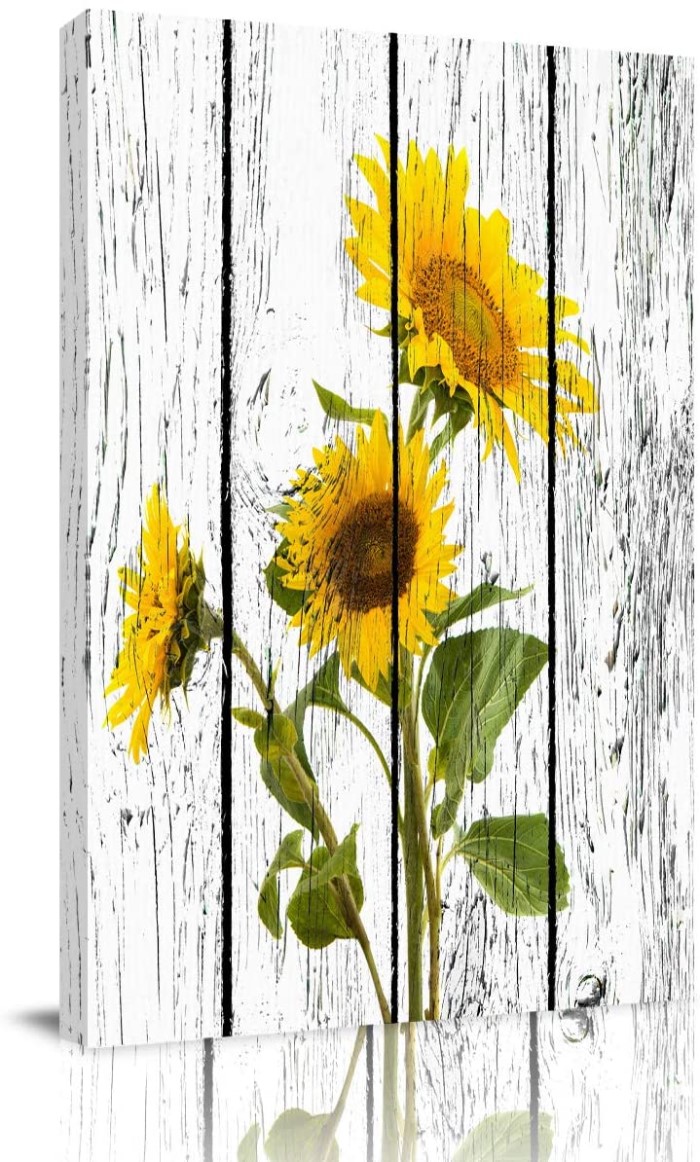 Wood panel art can transform a room from boring to awe-inspiring. Although it looks like wood because of its texture, this piece of art has been printed on canvas and will add a modern twist to any area. Consider these sunflower gifts for her, you will never be disappointed.
31. Sunflower Bath Bombs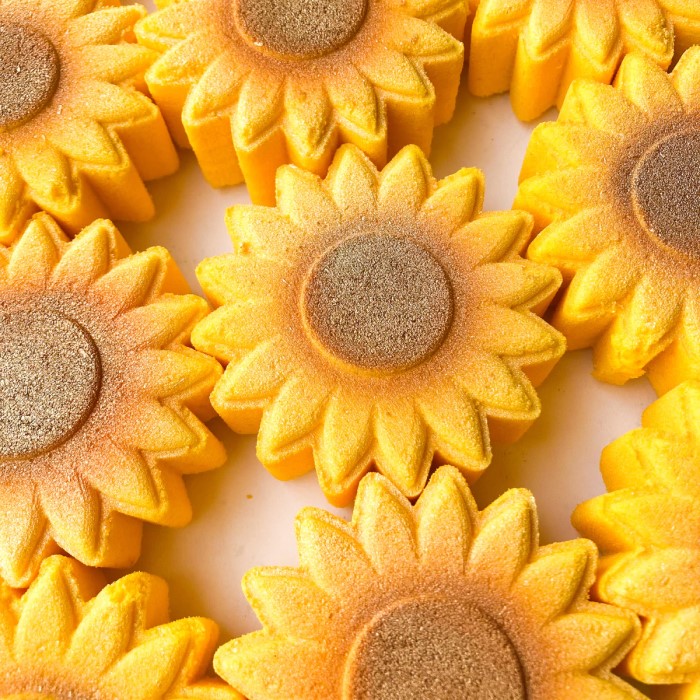 You'll feel like you're hopping through a beautiful garden as these bath bombs begin to bloom in the tub. Floating on top of the sunflower-scented water are marigold petals that add a delicate touch to each bomb.
32. A Set Of Numbers Oil Paints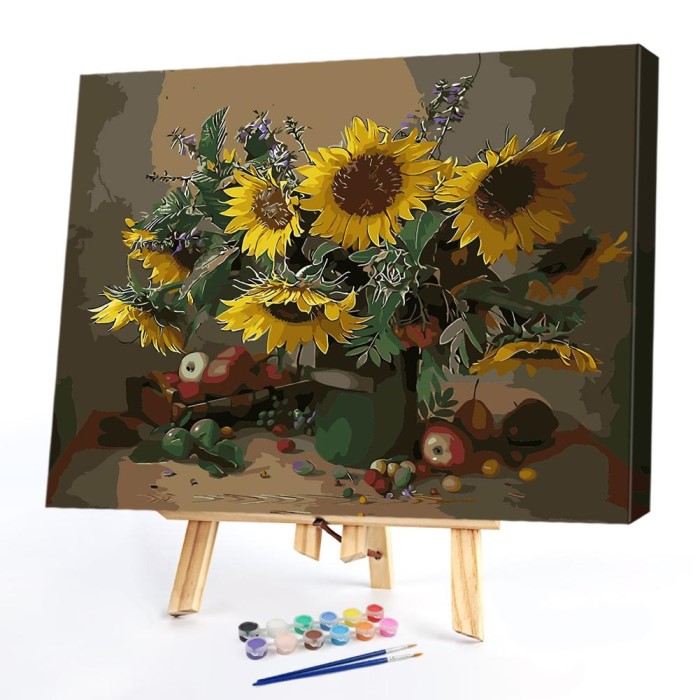 Try your hand at a beautiful floral still life with the green light from your instructor. Make your own masterpiece with this paint-by-numbers oil painting set or gift her this special painting to make her feel she is a real painter.
33. A Box Of Spa Products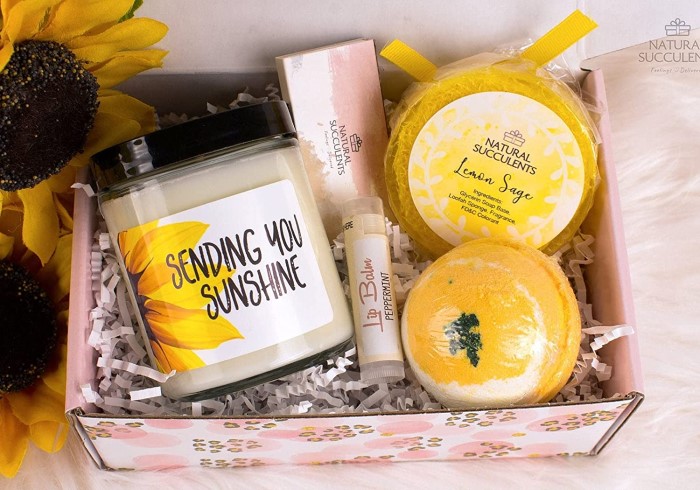 One of your friends may be in need of some sunshine to lift their spirits. If you want to make someone feel better, give them this spa in a box. As soon as they know you're thinking of them, the clouds will lift and the sun will shine brightly again.
34. Sunflower Coasters Made Of Stone
Decorate the coffee table as an oasis of safety by placing stone coasters with a bright flower there. Natural bottoming marble is used to make these one-of-a-kind coasters. A cork pad on the bottom prevents furnishings from being scratched or skewed by the treadmill. Add these coasters into sunflower gifts for her list to present to your woman on a special occasion.
35. Set Of Transparent Curtains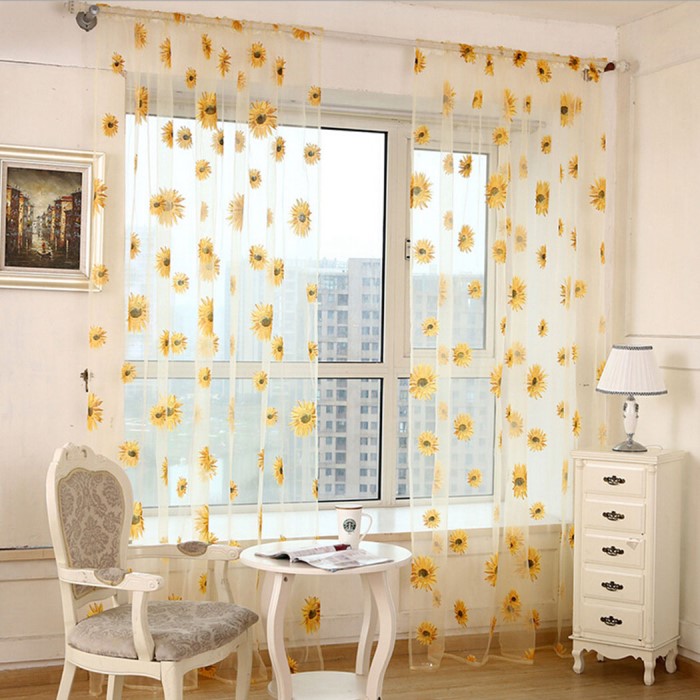 Sheer window curtains patterned to resemble a garden can provide a bit of the warmth of summer to any room. Because the curtains are unusually long and exceptionally light, your home will be filled with the warm rays of the sun from the outside world. A nursery or a room with huge open walls would benefit greatly from their use as well.
36. Puzzle Of The Sunflower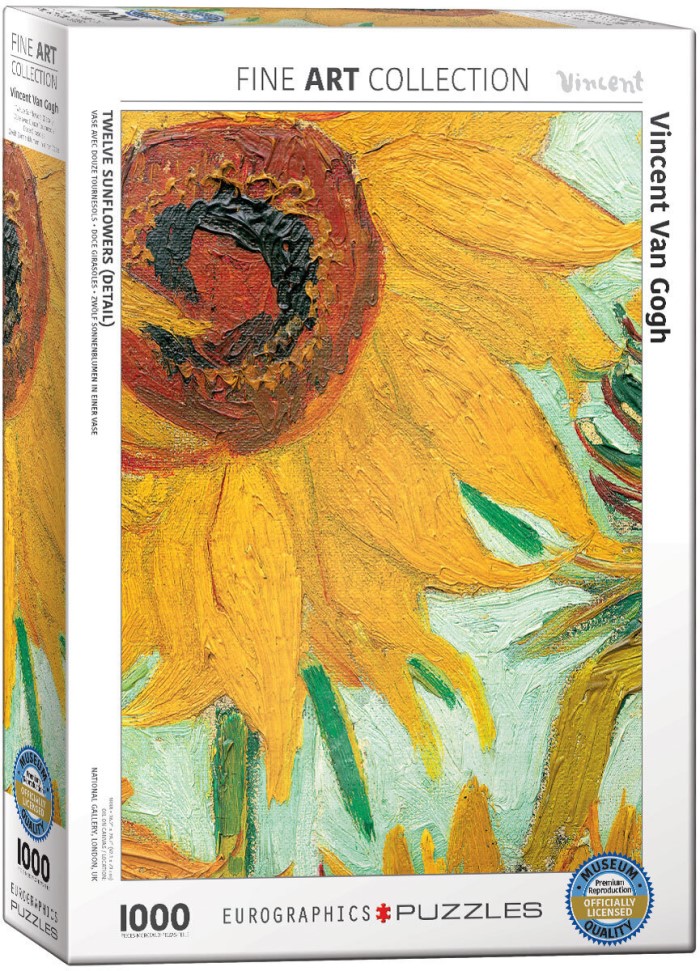 This is an iconic Van Gogh sunflower painting in the shape of a crossword puzzle! A 1000-piece puzzle can be framed as a piece of art once all the pieces have been placed together. The puzzle is really a special gift that she can't imagine, so why not give her this gift to help her relax every time she is stressed?
37. The Sunflower Journal Of Creative Writing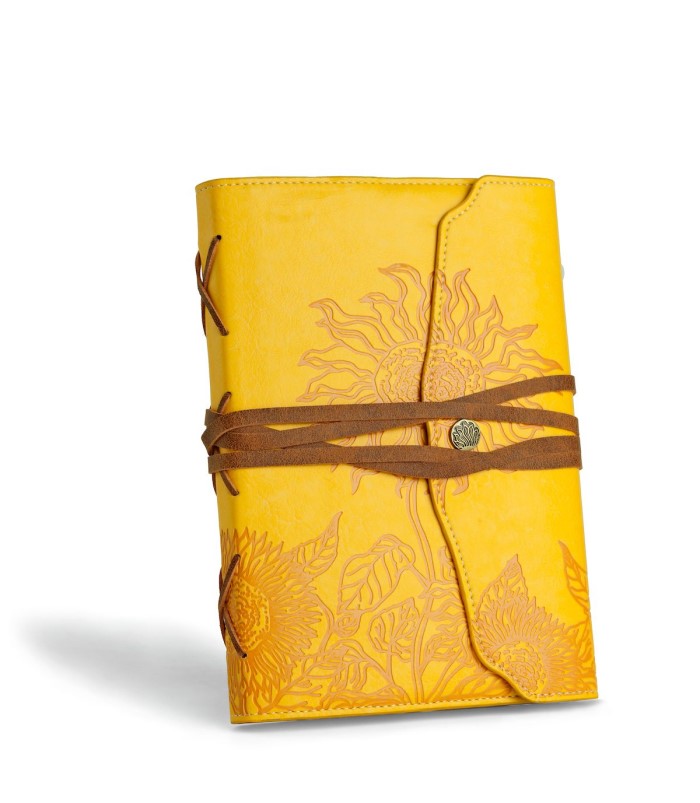 You can jot down your gardening ideas or a birding list in this sunflower-themed fake leather journal with lined pages. Just gazing at the cover of this book transports us to a hot, sunny day in the mountains. It's one of the ideal sunflower gift ideas for her that you can't ignore.
38. Grow Kit For A Sunflower Garden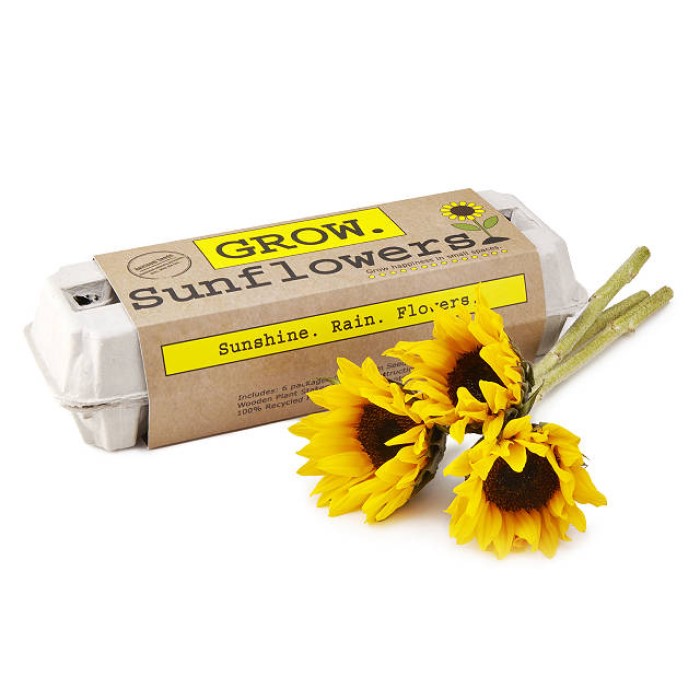 This growing kit includes seeds, peat, and a box for starting sunflowers indoors, as well as everything else needed to get a sunflower patch started and flourishing. To brighten up her garden every day, give her a chance to make her own sunflower.
39.  3D Greeting Card Of A Sunflower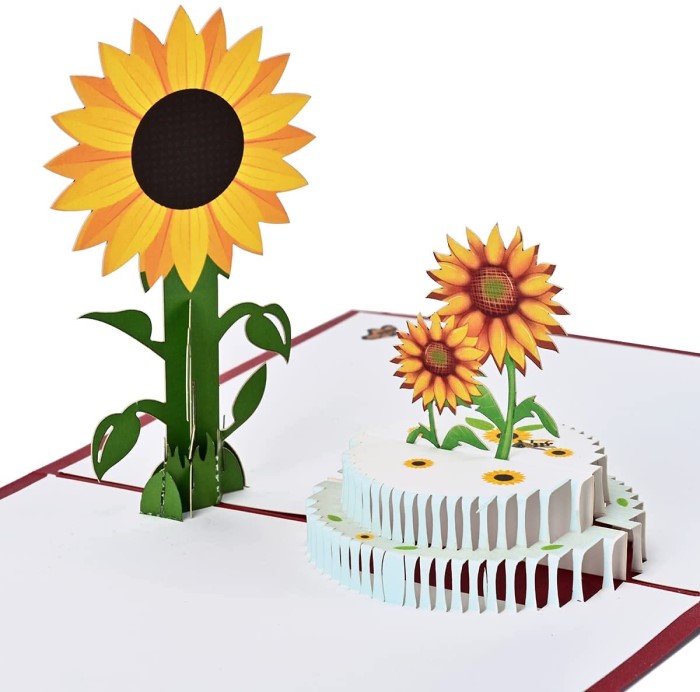 Immediately upon opening this card, a vibrant sunflower emerges from the earthy front and back covers, as well as a sweet surprise hidden inside them both. Besides the main gift, you can consider attaching this 3D card to make her feel happy and surprised because of your care.
40. Figurine In A Beautiful Shape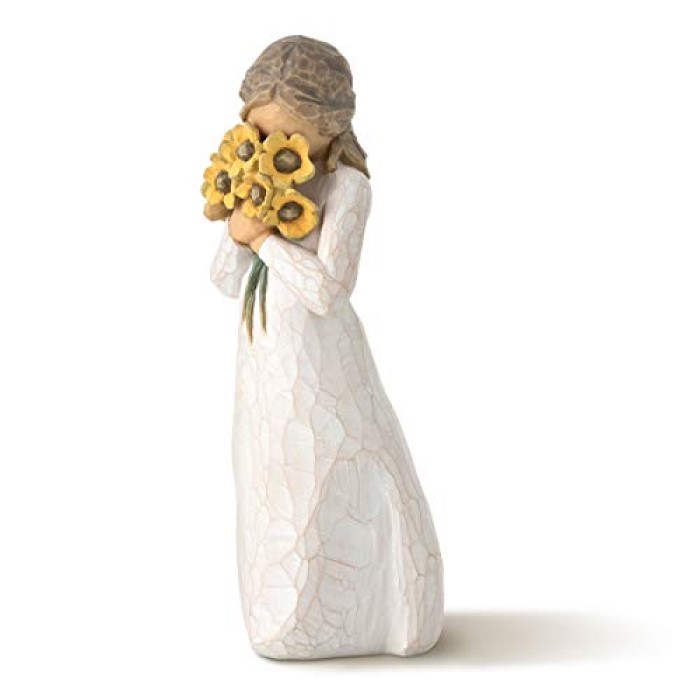 With a lovely figurine, you can bask in the warmth of an embrace as pleasant as a summer day. Those who look at the hand-painted hardwood figure holding a beautiful bunch of flowers of beautiful sunflowers will feel a ray of sunshine.
Read more:
Sunflower gifts for her ideas from Oh Canvas will help you find the perfect present for your lady, no matter what the occasion may be. With these thoughtful presents, you can make her feel close to home, loved, and appreciated no matter where she is. Make sure to visit our website if you're interested in canvas print products so that you can find the perfect gift for the woman in your life. I was confident that whatever you give her, she will treasure it for a long time.