It's cool to surprise your wife on her birthday or Mother's Day with a creative DIY gift for wife. If you're wondering what to get for her, Oh Canvas's gift guide below is an inspirational source for you. We've included the most practical, easy-to-done presents that any man can do. Once your beloved woman has received the stunning gift from you, she'll treasure your effort and thoughtfulness a lot.
Creative handmade gifts for wife: Fashion and Wellness care
1. Spa Gift Box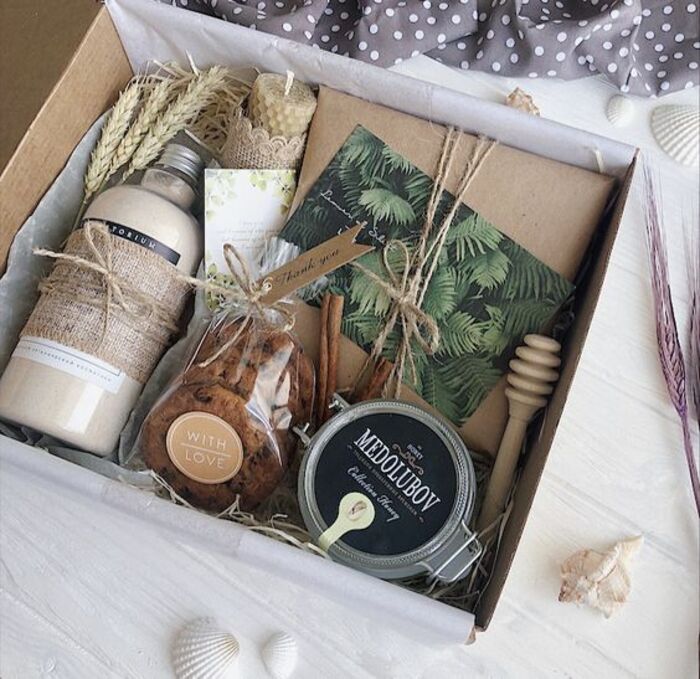 If your lady needs some "me time", make her a spa gift box that gives her a little pampering after long days at work. This gift is simple to prepare (just a few minutes needed!). Fill it with the spa items and add some of her favorite snacks and chocolates. Your gift is ready to make her smile.
2. Natural Salt Scrub Kit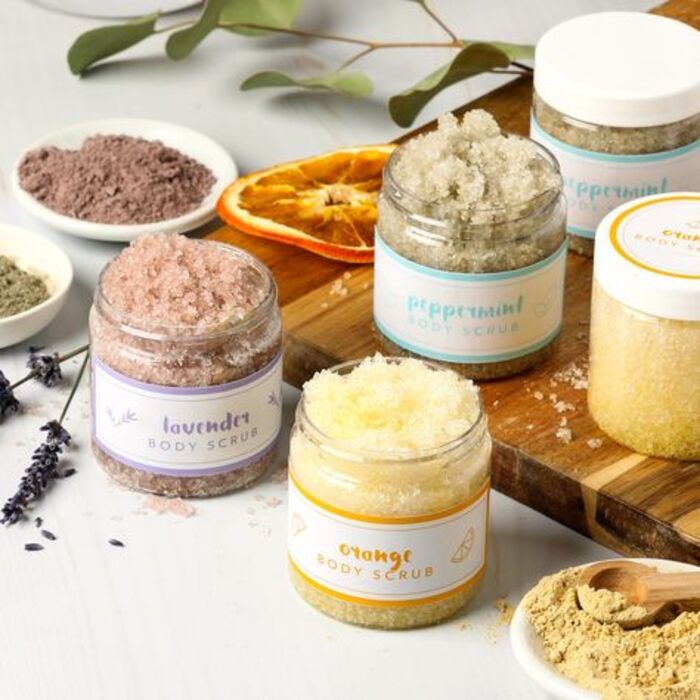 This charming DIY gift for wife will give her the most relaxing baths right at her home. Use ingredients that you already have in your pantry or refrigerator. Lime, strawberry, orange, or peppermint is a good choice. It's not too complicated to make these salt scrubs. Try it!
3. Wooden Ring Holder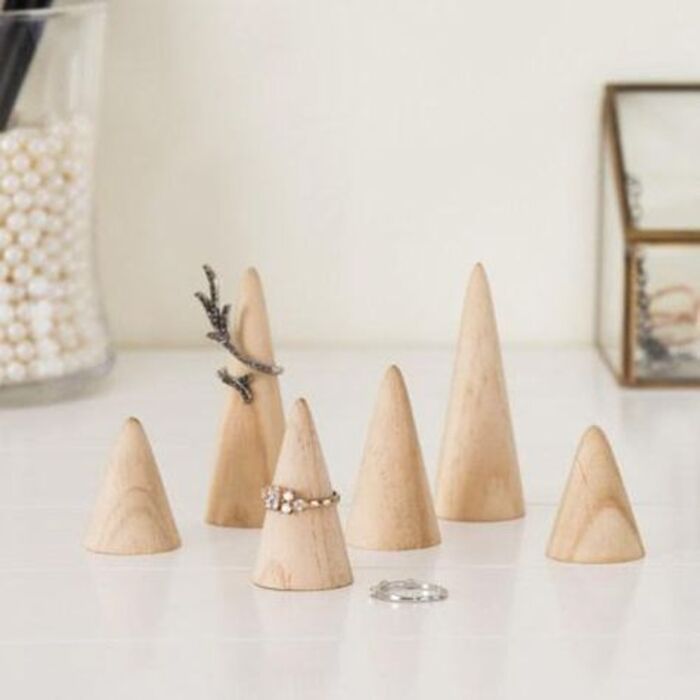 Inexpensive handmade gift for wife ideas call this wooden ring holder. It's super easy to make using wood and some tools that you've already had. Your creative present will add a rustic charm to her nightstand.
4. Fruit-Scented Bath Bombs
These scented bath bombs are sure to please your wife if she enjoys having a spa-like experience. They not only smell good but also leave her skin feeling silky and smooth.
There is no need for anything more than baking soda, citric acid, Epsom salts, cornstarch, and heated coconut oil. Orange, grapefruit, or lime essential oils will provide a refreshing perfume that leaves your bathroom a wonderful scent.
5. Polymer Clay Triangle Necklace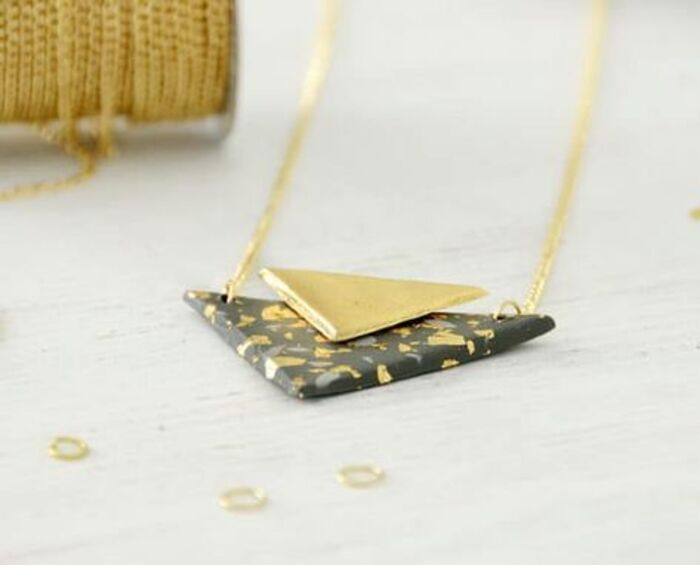 This golden polymer clay triangle necklace is an excellent DIY gift for wife if you're seeking something different. It's a little more difficult than some of the other projects on our list, but it can still be done by novices. Take your time and pay attention to making this accessory. Your lady will be surprised by how talented you are.
6. Raffia Tassel Earrings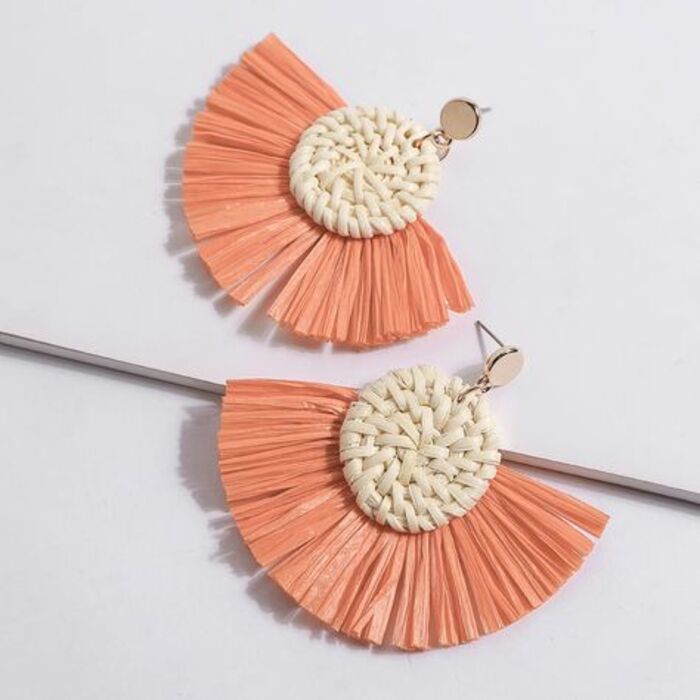 Raffia earrings are perfect homemade gifts for wife if you want to give her something fashionable and stylish without breaking the bank. Your lady will adore these stunning earrings since they will brighten up any ensemble. Make this fun and easy DIY project a success, and we hope you enjoy it!
7. Jewelry Holder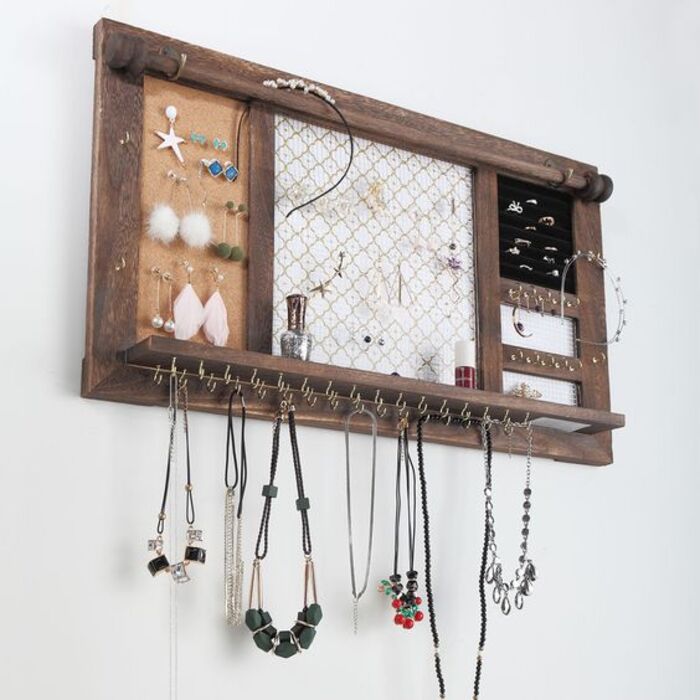 We're pretty sure your wife would enjoy this adorable jewelry holder to arrange her enormous accessories collection. This cool handmade gift for wife is also a rustic decorative item that tends to elevate her room. You can match the colors and patterns to the bedroom's overall motif to create the best look.
8. White Beads Bracelet
Look no further than this handmade white beads bracelet if you want to give one-of-a-kind homemade gifts for wife this holiday season. This simple, elegant present is sure to be a hit with her! Get the basic ingredients at the grocery and complete it in less than an hour. If you wish to use a ribbon, we suggest pastel-colored ribbons because they aren't as garish as some other colors.
Stunning DIY gift for wife ideas: Kitchen and Home Furnishings
9. Faux Agate Coasters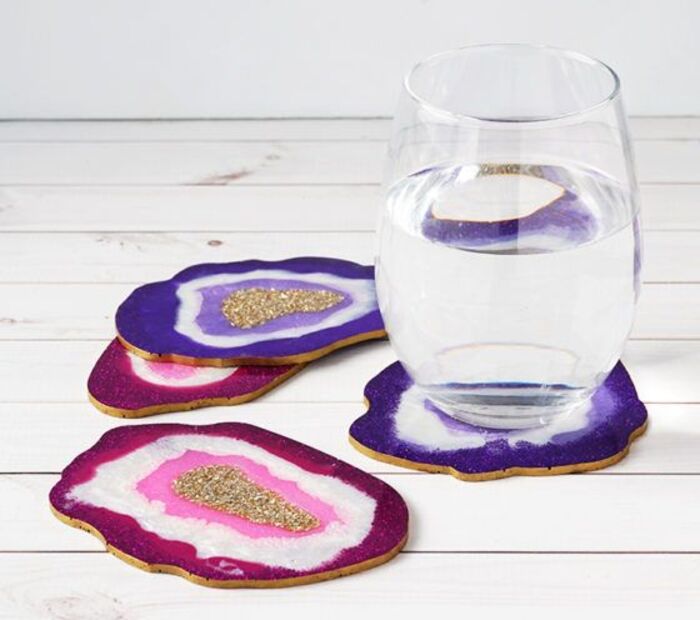 Agates are beautiful stones with varying shades of color, making them ideal inspiration for a wide range of creative endeavors. This collection of faux agate coasters will be an excellent DIY gift for wife that she didn't know she wanted. Make these coasters in a variety of colors using the agate mold, colors, mica powder, or glitter. Besides being used to avoid water rings, they're elegant decorative pieces that she'll adore.
10. Etched Wooden Utensils
On the hunt for woodworking gifts for wife that make her feel special? If your wife enjoys cooking, consider making her a set of these engraved wooden utensils. You may use the wood-burning tools to create beautiful patterns and craft her name on the wooden spoons, Package them as the perfect gift for any of her special occasions.
11. Cutting Board Tablet Holder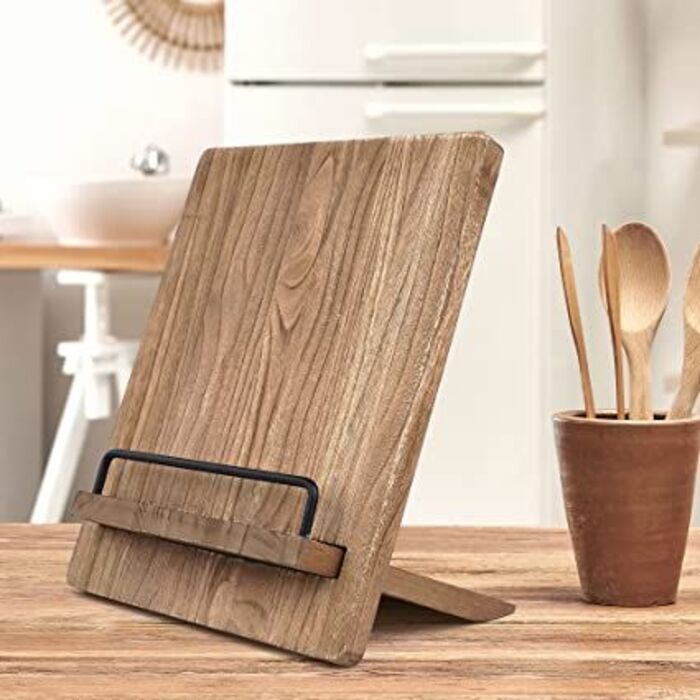 What a great gift for your wife if she enjoys trying out new recipes from your laptop and cooking up delicious meals for you. A cutting board has been transformed into a tablet holder with only a little time and effort. You can make a tablet holder out of a cutting board by simply attaching a piece of wood to the bottom.
12. Twine-Wrapped Wine Bottles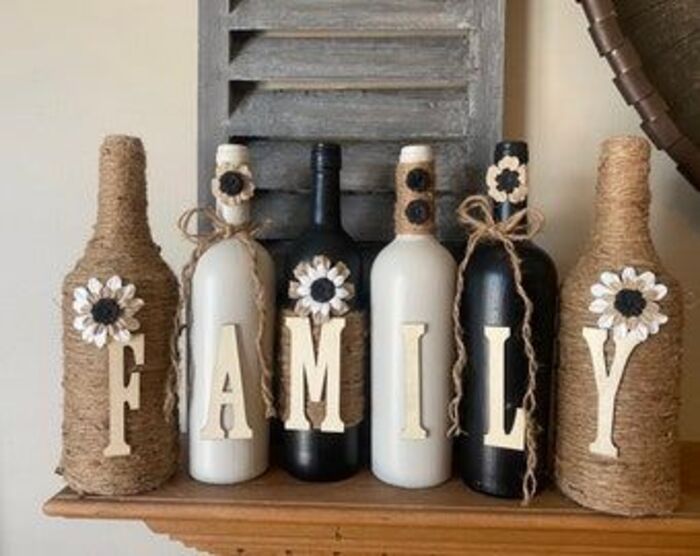 Personalized wine bottles are unforgettable handmade gifts for wife that help you show your love to her. Spirale the twine around the wine bottle, tie a knot at the top, and you're done! It's as simple as writing your wife's name on the tag. Using different colors of string, paint, or even fabric, you may add some flair to this project.
13. Etched Cutting Boards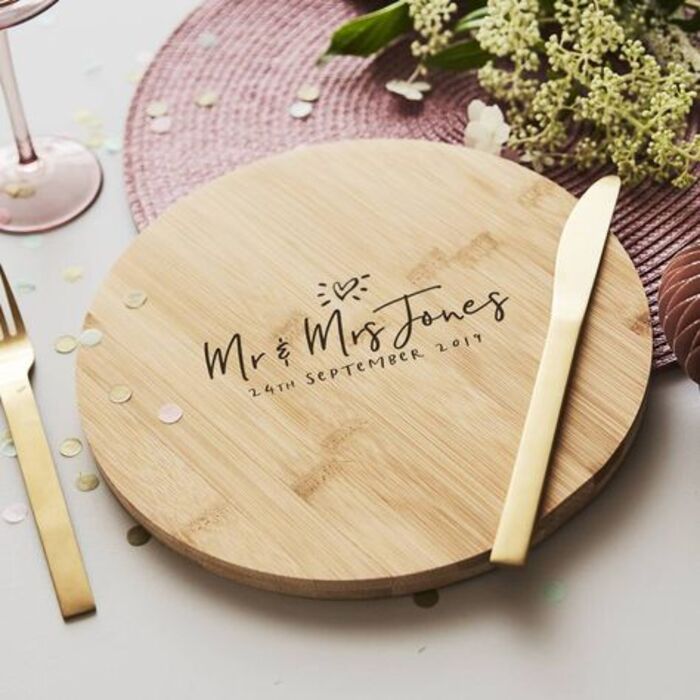 It's possible to present your lady with a unique kitchen utensil if you have your own etching tool. She'll find it a practical piece and also a stunning decorative item for her kitchen. If you want to impress her on this Mother's Day, try this idea out!
14. Photo Coasters
Looking for homemade gifts for wife that leave the best impression on her? These simple-to-make photo coasters are a lovely way to commemorate significant times in your relationship. She'll happy to have them brighten up her living space.
15. Seashell Wind Chime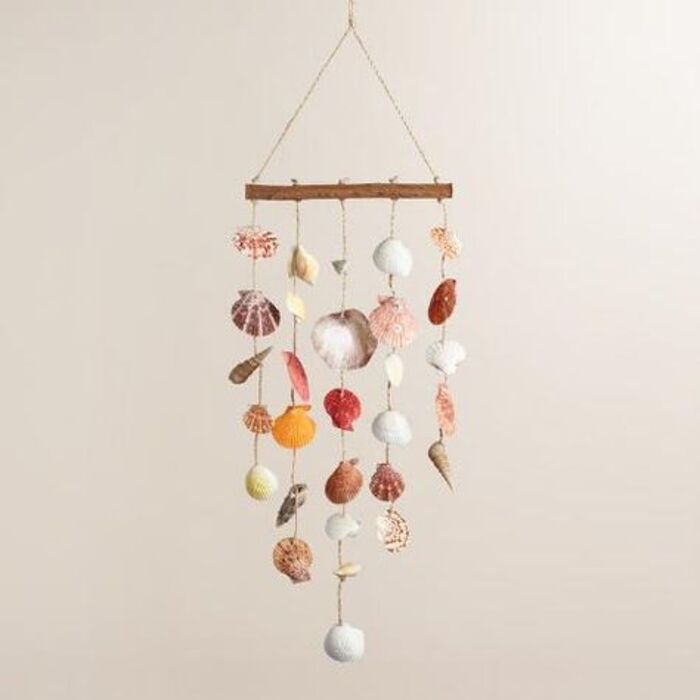 Maybe you and your partner have some seashells from a trip you took? Make a wind chime out of them so she may hang it on her patio. This DIY gift for wife is creative in showing how you treasure every memory with her. She's sure to know your considerate gesture.
16. Rustic Wall Shelf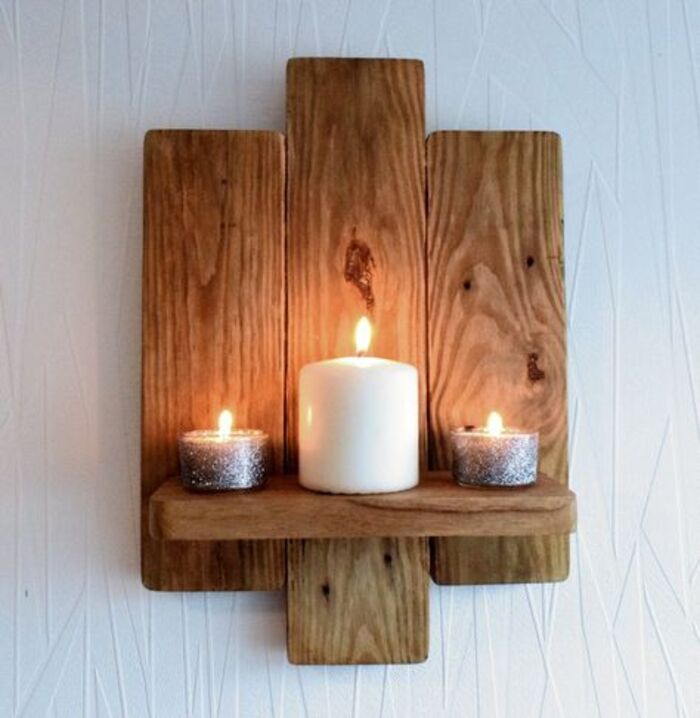 What better way to show off your construction abilities than with this rusty wall shelf in your wife's living room or kitchen? Pallets can be found at any lumberyard or home improvement store. The shelf can be stained or painted in any color, or you can keep it a natural wood finish.
17. Recipe Box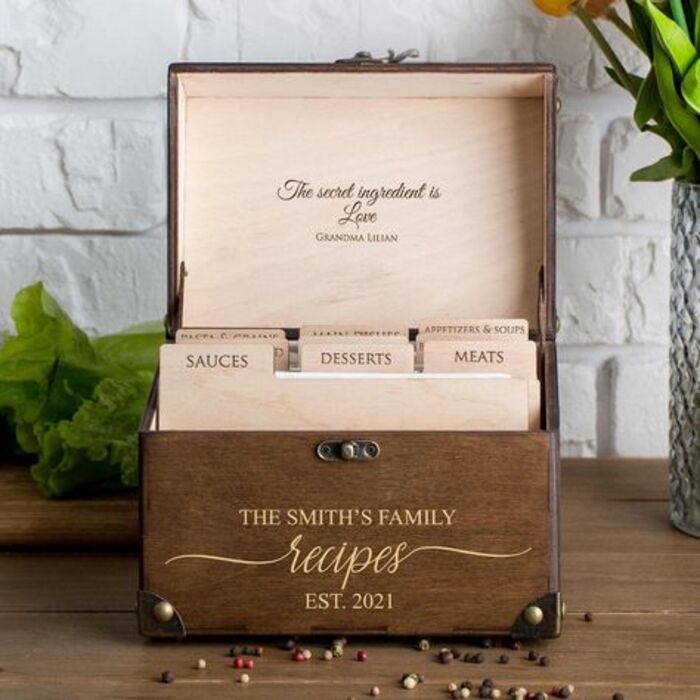 When it comes to meaningful woodworking gifts for wife, a recipe box is a cool idea. Make a box with her name or family name etched on the front. She'll find it unique and interesting to store her favorite recipes through generations.
18. Copper Hanging Planter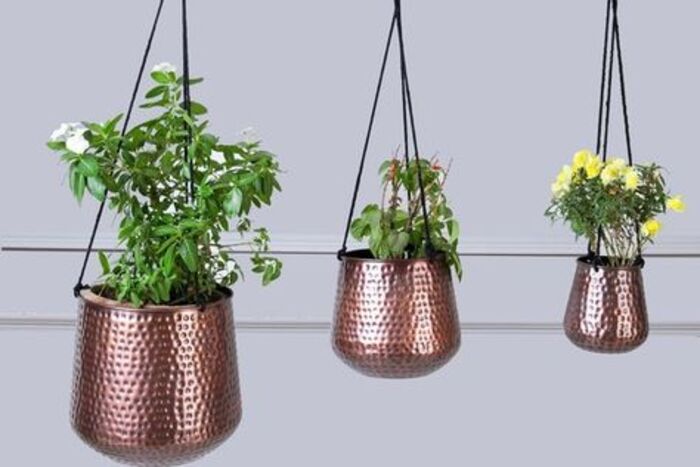 If your wife has a green thumb, this could be the perfect DIY gift for you to take on. Make some copper plants so that she can use them for her home decoration. You can also grow some herbs and hang them in her kitchen. She'll love how clean and convenient it is to pick up some herbs for her cooking.
>>> Read more: 30 Romantic And Thoughtful Personalized Gift For Wife Ideas
Gorgeous homemade gifts for wife: Keepsakes and Others
19. Nightstand Docking Station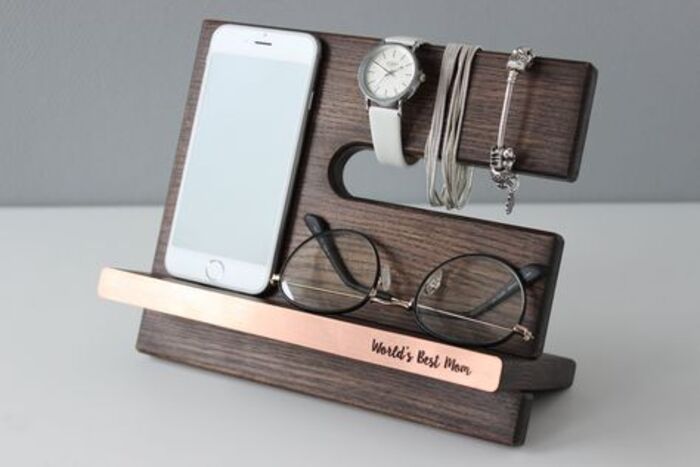 With this hardwood nightstand valet docking station, you can make the night a little more bearable for your exhausted wife. It's a simple and effective way to keep her phone, watch, and charging wires all in one place. It's also really aesthetically pleasing.
20. Picnic Basket Gift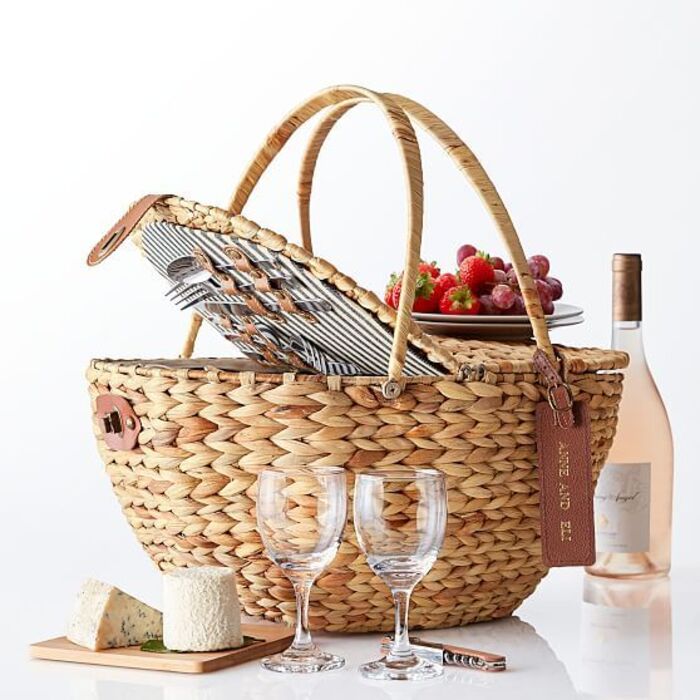 It's time for wives to take a break and enjoy themselves. As a DIY gift for wife's birthday, you might build her a romantic picnic basket so that she can spend some time resting ns chilling. Champagne, fruits, glasses, snacks, chocolates, and whatever she likes are included in the gift basket. She'll enjoy her day to the fullest.
21. Wooden Thanksgiving Pie Box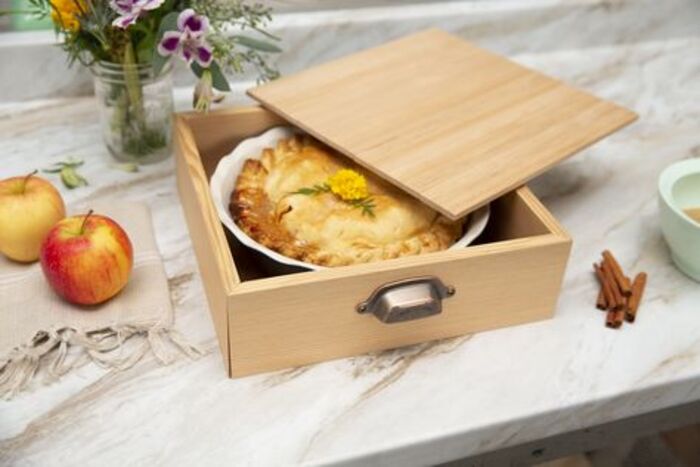 Seeking adorable woodworking gifts for wife? With this wooden Thanksgiving idea, a pie can be transformed into a lovely and amusing gift. Your wife would be delighted to get a delicious pie in a beautiful wooden box as a birthday present from you. Get ready to bake a pie and use your wooden scraps to construct this wooden box.
22. DIY Tea Bags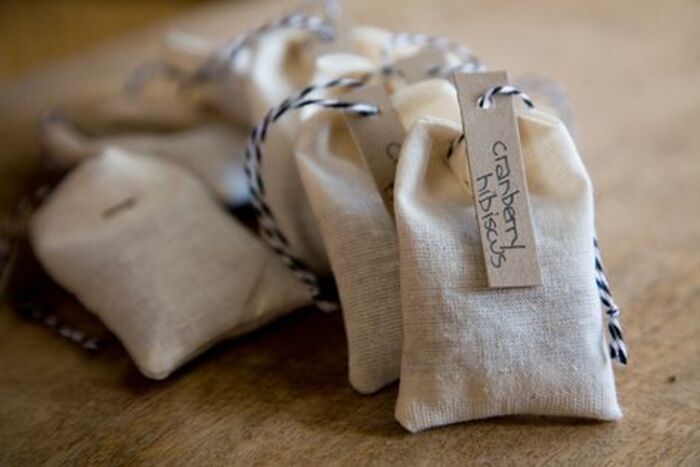 These tea bags are a great gift for tea-loving wives. Make different bags with her favorite types of tea. Tie them all with threads and write down your sweet messages on the tags if you want to make your gift more memorable.
23. Lavender Candles
Lavender candles in mason jars are beautiful homemade gifts for wife that she'll actually use. With dried lavender scents, the candles will add a sweet vibe to your home. They can also be used for home decoration to gain an extra vintage ambiance.
24. Watermelon Margarita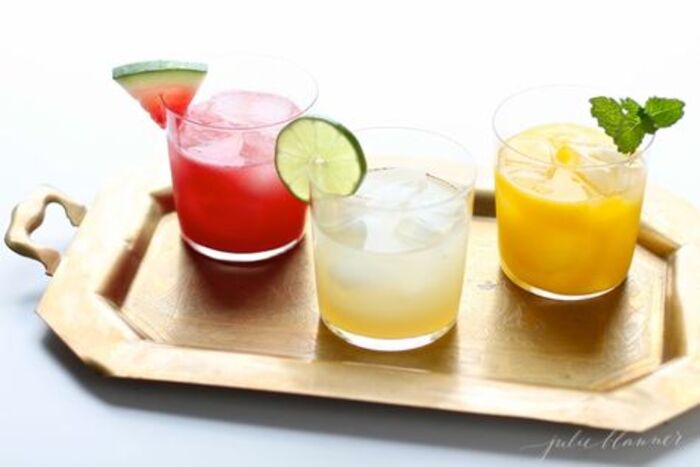 The nicest gifts are sometimes the simplest, like making your sweetheart a delicious cocktail at home. This delightful watermelon margarita is easy to make and bursting with flavor. If your want to expand her birthday, make some other fruit margarita for the next few days. She'll enjoy this treat happily.
25. Felt Laptop Case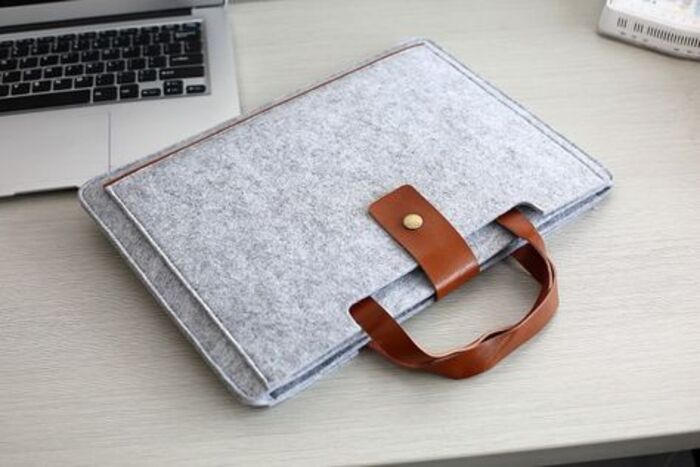 Having a laptop cover that looks good and does the job is a must if your wife is constantly on the run. This easy-to-make DIY gift is great for all kinds of occasions. Simply gather some felt (in the color of your choice), a ruler, a pencil, and some Velcro before getting to work. At your local craft store, you'll find everything you need.
26. Faux Flower Monogram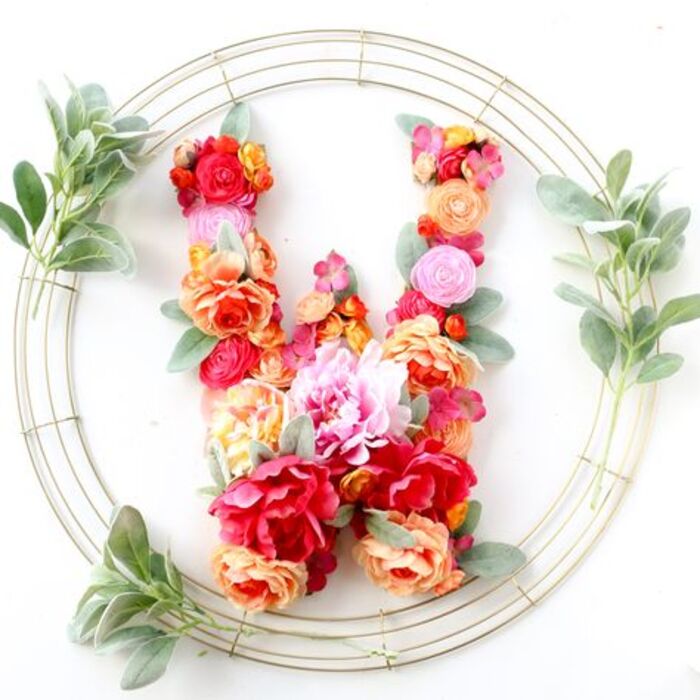 To show your wife just how much you care this holiday season, why not make her a gorgeous faux floral monogram? It's a stylish and timeless DIY gift for wife that she'll treasure for years to come. Whenever she sees it, we guarantee she won't be able to keep her eyes off of it for long!
27. Homemade Hand Soap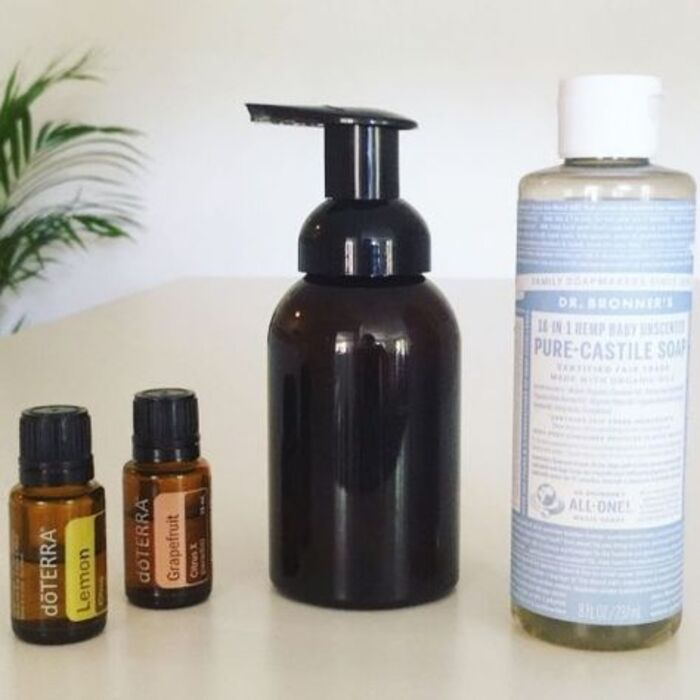 If your wife has an allergy to traditional soaps, why not make her a homemade hand soap as a considerate anniversary gift this year? This is a great way to demonstrate how much you care for her! If you'd like, you can write on the container, "Best wife ever" with a lovely present tag.
28. Mason Jar Snow Globes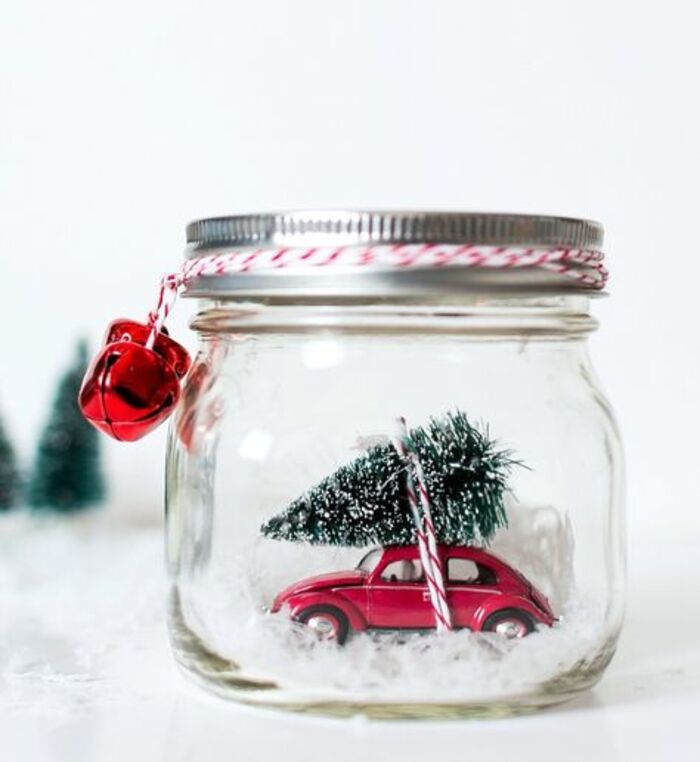 Mason jar snow globes are cool handmade gifts for wife that show how much she means to you this holiday season. Just buy the components for the "snow", hot glue them in place, put in a few Christmas tree decorations, and then screw on the lid of the jar. It's that simple!
29. Leather Passport Holder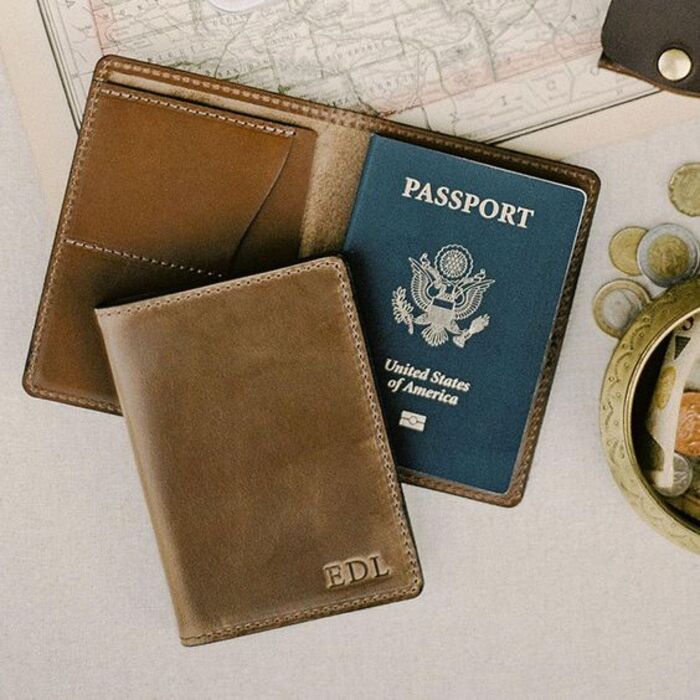 Take some leather and make something special for your wife that she can use on her next vacation. A custom passport holder is a lovely DIY gift for wife that makes her feel proud and special. She'll treasure this small but mighty gift a lot.
30. Homemade Button Bookmarks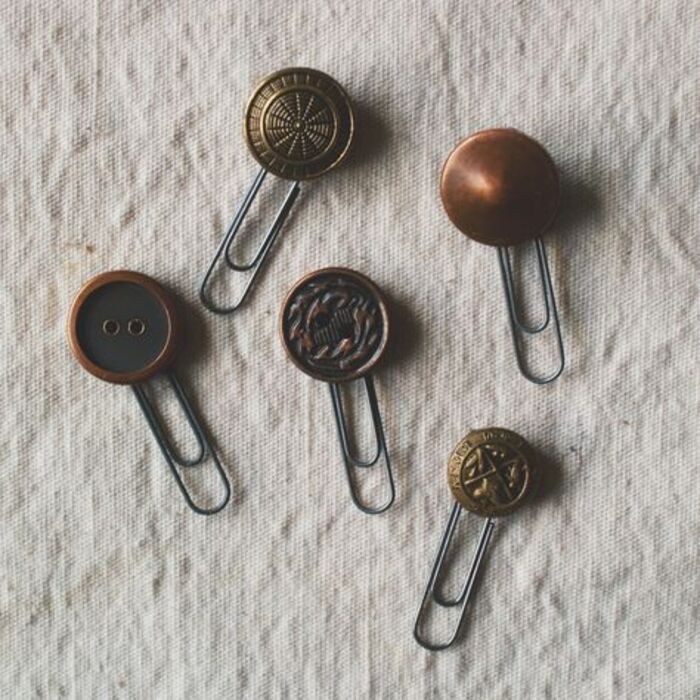 It's amazing to make some button bookmarks from the button collection that you have at home. Just some extra paperclips are needed to create these simple and adorable bookmarks that your wife finds exciting whenever she uses them.
31. Lap Desk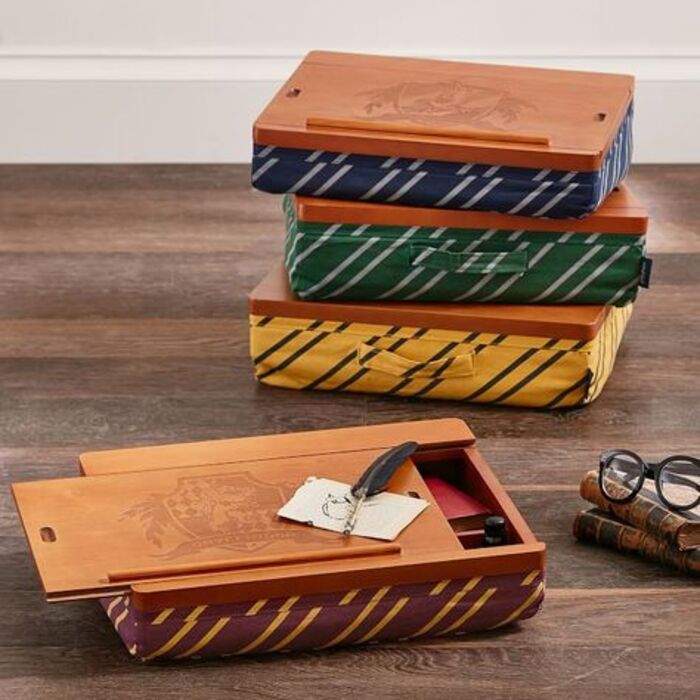 A handmade wooden craft board is a stunning gift to give on any occasion. It's a great place to work with clay, playdough, modeling wax, and other mediums. Make extra room for brushes, pencils, and markers in the groove along the outside edge. She'll find it one of the most practical gifts that she's received so far.
Read more:
A DIY gift for wife is something that tends to make her day. No matter which presents above that you pick, it'll bring a happy smile to your wife's face. Oh Canvas believes that your homemade gift will be one of the best things that she's received so far. Get ready to surprise her and we wish you good luck!