Cheers to your five years of marriage! Such a long journey that you and your spouse have been together. Now, leave all obstacles behind and take time to commemorate this momentous occasion. Besides a sweet party or words of love, don't forget to prepare a special 5-year anniversary gift for your husband or wife. It's a delicate gesture that shows how much you love your pal and how badly this marriage means to you. However, finding a great present is not always easy. But don't worry much. This article is a list of the most wonderful gifts that are waiting for you to take your pick. Before starting your search, grasp a better knowledge of standard presents for this 5th wedding anniversary, also known as the wood anniversary.
Read also:
The Best 50th Anniversary Gifts In 2021
Anniversary Gift Ideas: Expressing Your Eternal Love
What is the 5-year anniversary gift?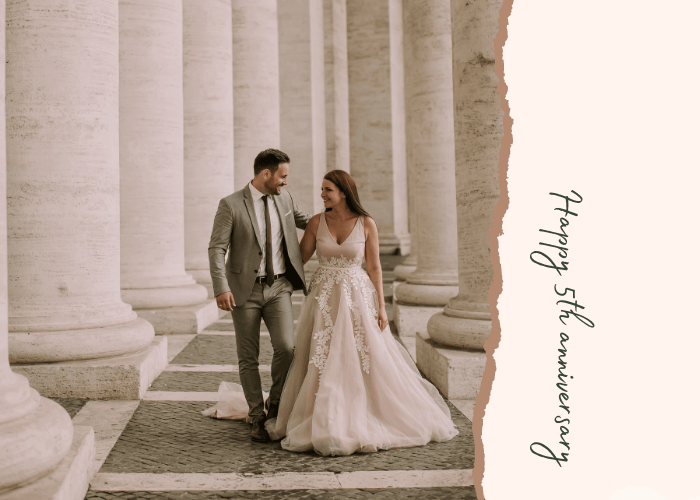 The traditional 5-year anniversary gift is wood. It's a symbol of an enduring relationship that's stronger than ever before. If you choose a wood gift, it will be imbued with a poignant and powerful meaning to mark the 5-year milestone. It's lucky for you that there are a variety of cool presents out there that are made from natural wood. From kitchen appliances to accessories, you just think of picking one.
Though wood is a popular gift for this moment, it might not suit every couple. Then silverware – a modern theme of the 5th-anniversary gift will be the second choice. It's not just simple forks or knives that people usually think of. There are stunning silverware presents that will appreciate everyone's taste.
If you're not fond of either of those 5-year anniversary gift ideas above, feel free to choose presents that have the gemstone (sapphire) or colors (blue, pink, and turquoise) associated with the 5th-anniversary theme. Or else, opt for any special unusual piece that your spouse would love to have for a long time. It's a great occasion to fulfill their wish.   
Now, read on for our archive of the best 5-year anniversary gifts to get inspired!
See also: Gifts for Mom and Dad – Presents to Show Your Gratefulness
The best 5-year anniversary gift ideas for your spouse or favorite couple
5-year anniversary gift for her
Custom song lyric on wood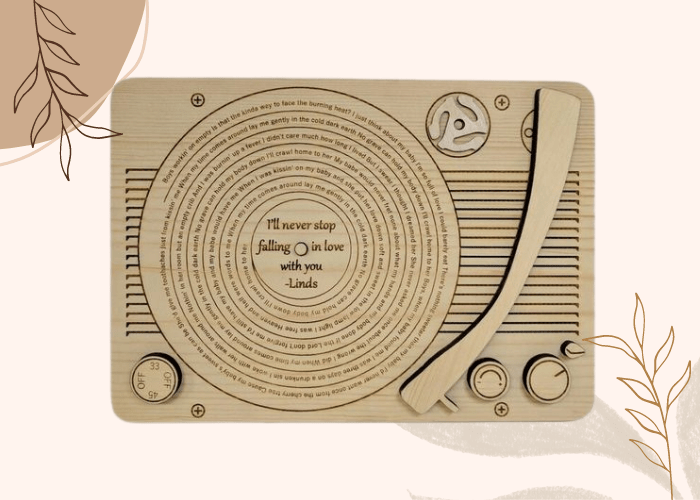 This is a unique and great on-theme gift that you can give to her on this occasion. By being personalized with the names of you two and the anniversary date, this piece becomes much more meaningful and special. You can choose to include any of your favorite songs (the song from your "First Dance" would be the best) to make it a favorite keepsake that your spouse can get so far.   
Wooden heart pendant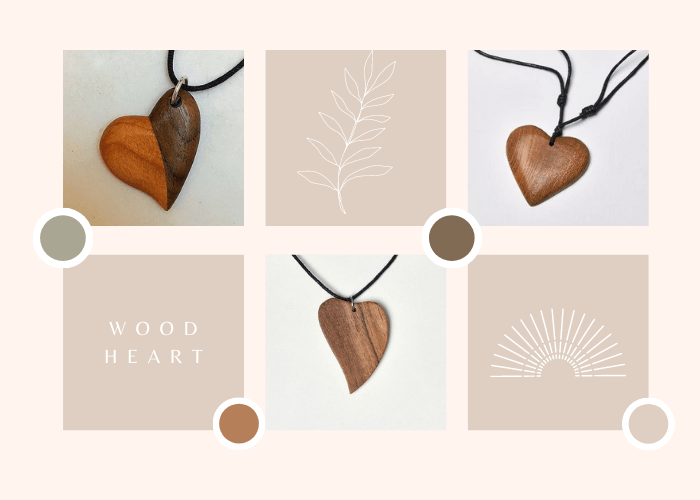 Another stunning 5-year anniversary gift for her goes to this wooden heart pendant. It's a small but mighty piece that can result in a happy tear on your wife's face. It's also a sweet symbol of love and care that you want to send her every day. If you're enchanted with this 5th-anniversary gift idea, order a custom pendant right now. Or else, a plain heart one is still a great choice. Your wife will love it. 
Custom canvas print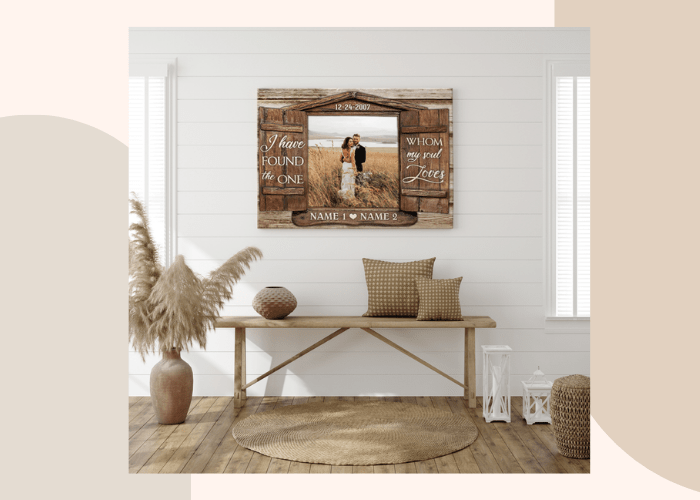 If your spouse is a person who loves decorating her home, don't omit the chance to have a custom canvas print as the best 5-year anniversary gift for her. It will be a striking piece that makes your living space much more charming. 
Not only that, canvas print with personalized names, your anniversary date, and a photo of you two will be the best choice. By being able to stand the test of time, it will help you showcase your love and preserve beautiful memories. 
Symbolic bracelet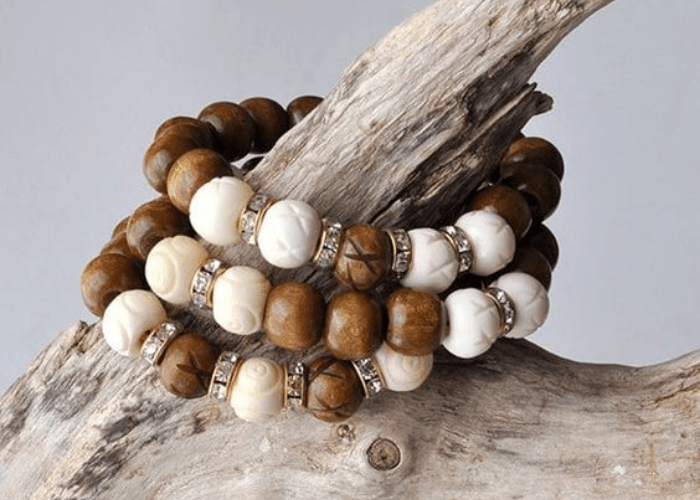 A symbolic wood bracelet will earn itself an honor on your wife's accessories collection. It's a chic and elegant piece that you could prepare as a traditional 5-year anniversary gift for her. The wood bracelet represents a strong and stable love. Once your wife realizes this, she'll appreciate how thoughtful and sincere you are. And we bet she'll treasure this sweet gift for a lifetime.
Wood world map wall art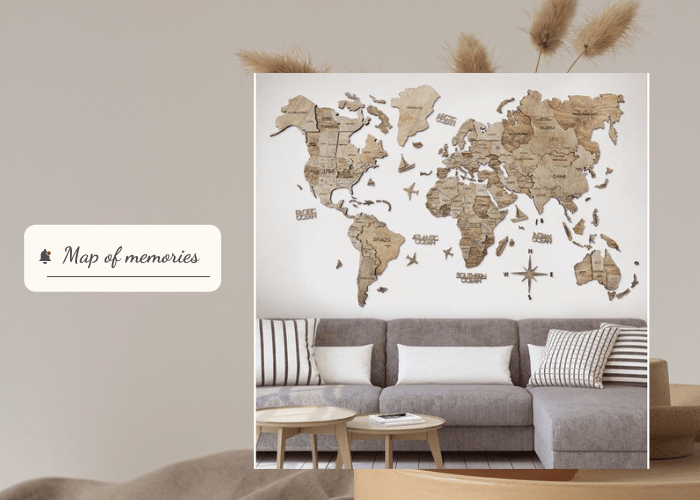 If you and your wife are an adventure-loving couple, this wood world map wall art would be a wonderful 5-year anniversary gift for her. It's handcrafted and cut into different countries so that you can mark all the places that you've explored with her so far. This wood wall art has a rustic and vintage charm so it will bring your room to an elevated look. Moreover, both of you will get romantic moments while looking at the map and recall warm memories that you've built together. 
Engraved cutting board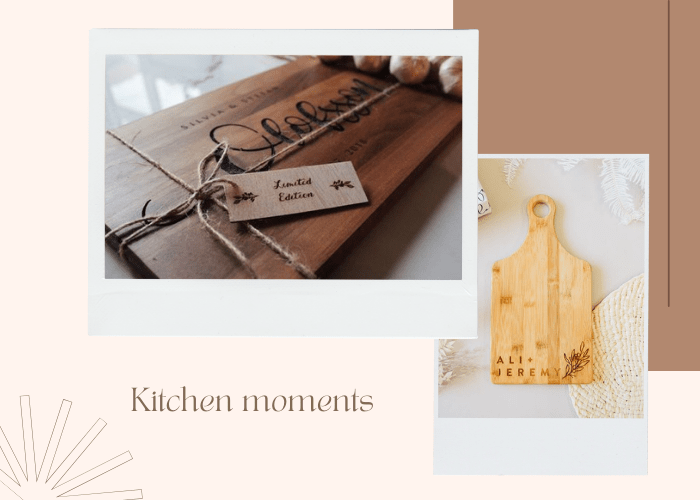 The kitchen appliance is a great 5-year anniversary gift for her. If you want to stay on theme in this field, go with a custom cutting board. It's a beautiful and practical piece that will appreciate your wife's taste. Being engraved with names and the wedding date, the cutting board would be a sweet symbol of love that presents creatively in your kitchen. It marks the milestone and it also creates warm experiences for you and her. 
Silverware-inspired jewelry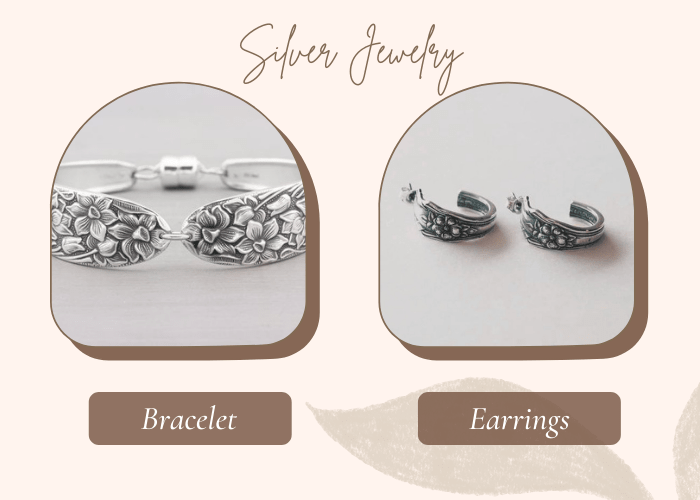 The only silverware-themed present in our list comes to these pieces of silver jewelry. They might become the most unique accessories that your wife has got so far. Though silverware is not a luxury material, it's an incredible 5-year anniversary gift for her. Its endurance somewhat represents a long-lasting relationship. That's enough for the woman to treasure it like her engagement ring.  
Blue sapphire necklace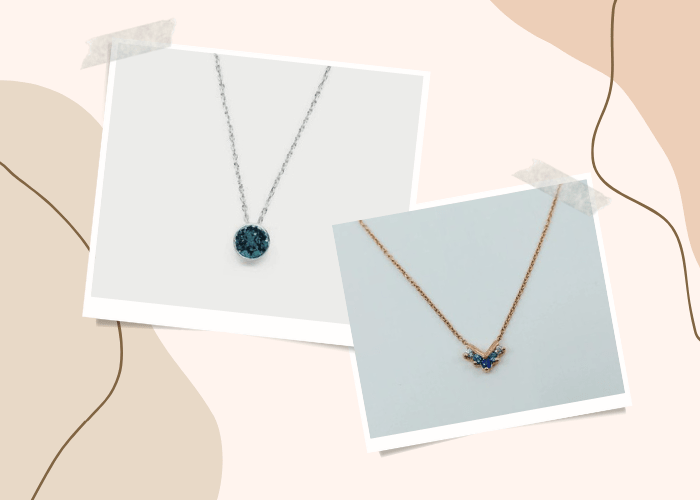 Surprise your spouse on this momentous occasion with a blue sapphire necklace. Having a stunning and charming look, this accessory will enchant your wife at her very first look. The sapphire necklace not only goes with the anniversary theme but also goes perfectly with most of your wife's costumes, from fancy dresses at parties to cotton sweaters that she wears at home. Such a fabulous 5th-anniversary gift for her that you should consider!
Related: 
7 Traditional Anniversary Gifts for Lasting Beautiful Love
The Best Wedding Gift Ideas For 2021
5-year anniversary gift for him
Unique Wooden Watch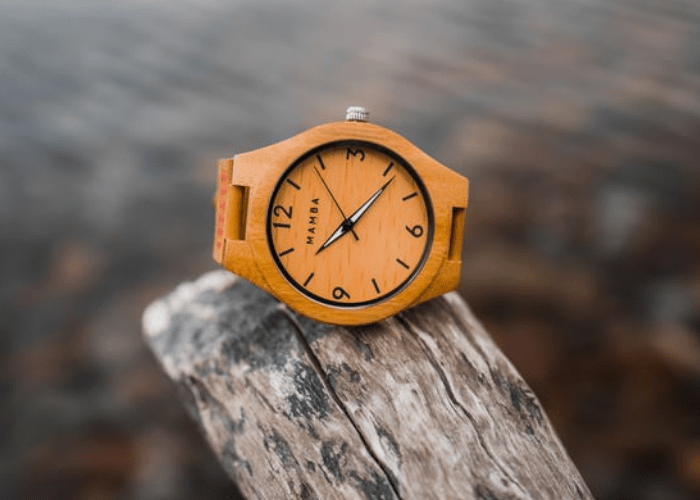 The wooden watch stands on the top of this list since it's a wonderful 5-year wedding anniversary gift for him. We've come across this saying on the internet stating that "Watches mark the passage of time and remind us that time is precious, just like our lives and relationships". That indicates how great it is to give your husband this special gift at this special time. The watch could be engraved with names and the anniversary date on its back to become much more meaningful. Your husband will love counting every moment he stays with you till the end of his life. 
Engraved cufflinks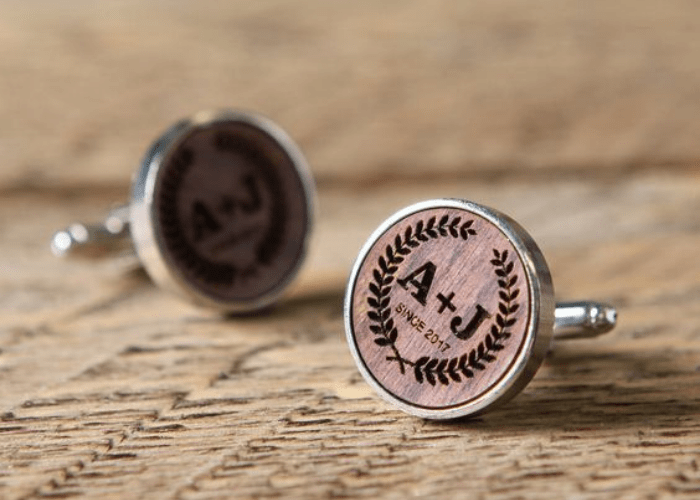 It's important that your husband gets dressed up perfectly on special occasions, either at home or outside. To make a complete finishing touch to his suit, going with a pair of wooden engraved cufflinks as a traditional 5-year anniversary gift for him. These elegant pieces with the year you tied the knot will remind him of you wherever he goes.  
Wooden collar stays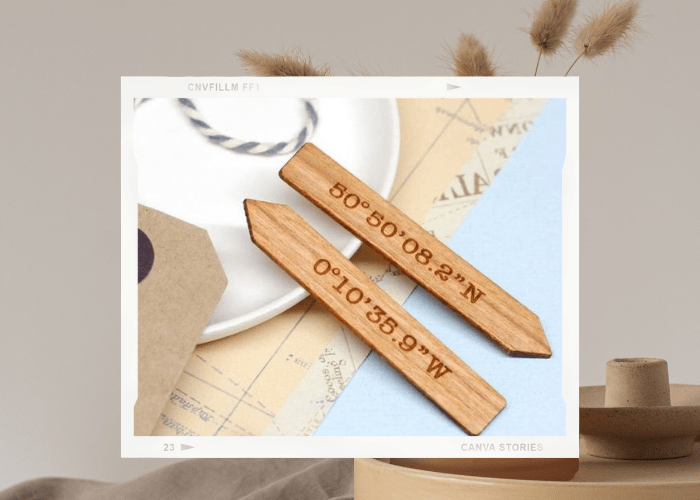 Another traditional 5-year anniversary gift for him that won't go unnoticed is the wooden collar stays. They are small pieces but have mighty impacts on your husband's dressing and feelings. He will look more elegant in his proper shirt and he will smile when thinking of the adorable pieces hidden in it. By being personalized with your wedding date or a meaningful message, the collar stays will carry a sweet reminder of you around all his days. 
Wood belt buckle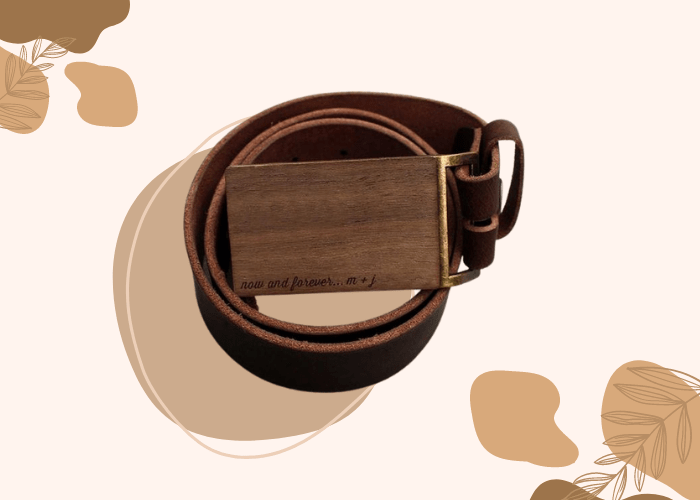 The wood belt buckle will play its best in being an elegant traditional 5-year wedding anniversary gift for him. It comes hand-graved with your initials, anniversary date, or even the coordinates of the first place you met him. Make it delicate and meaningful then your spouse will love putting it on with him to any special events he's in. 
Custom photo album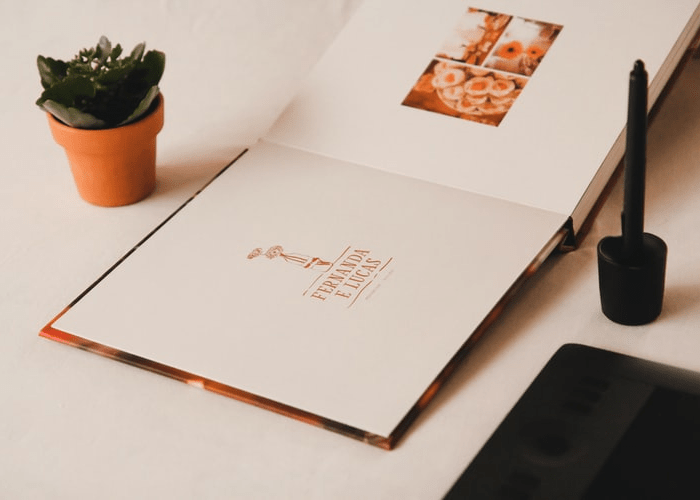 If you wish to have something that helps you flashback to all the old days with your husband (especially the day you said the vow), go no further than a photo album. Every photo in there is a beautiful piece of memory. You can choose to personalize its cover so that the color, text, and quality fit the remarkable milestone. Give him this special 5th-anniversary gift and he will love spending his time seeing the album with you. 
Meaningful keepsake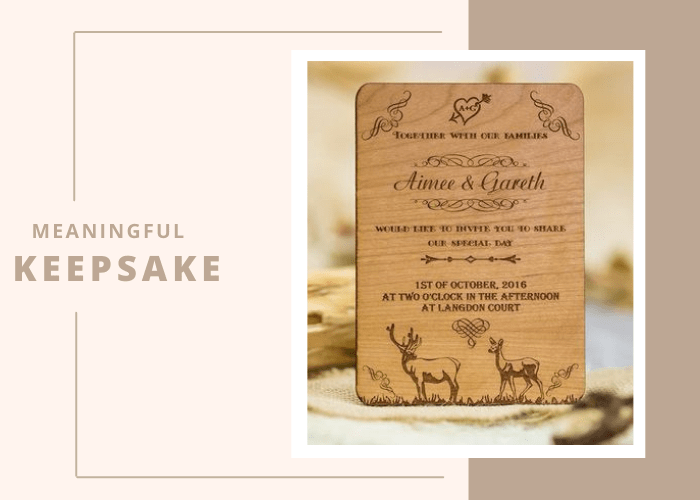 The meaningful keepsake might be the most sentimental traditional 5-year anniversary gift for him. It helps both of you take a trip down memory lane since the day you said the vow. Being crafted from oak or walnut, the wooden keepsake of the wedding invitation will last as long as your marriage does. It's evidence of five years together and a long journey ahead to go.  
Sweet photo frame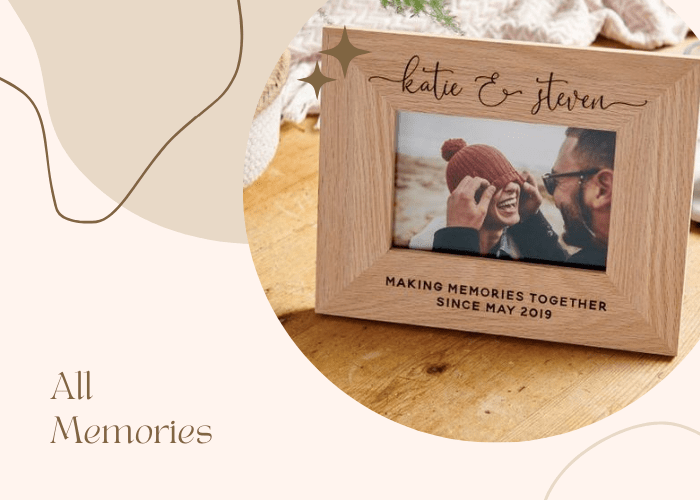 A wood frame with a favorite photo of both of you will brighten up every place you put it in. The wood material will make it more of a traditional 5-year anniversary gift for him and you could elevate its look by personalizing your names, a date, or a sweet message. This gift will make you and your husband smile every morning and love this marriage more.
See more:
Top 7 Sentimental Wedding Gifts For Parents Ideas You'll Absolutely Love
21 Best Housewarming Gift Ideas To Celebrate The New Home
5-year wedding anniversary gift for any couple
Wine serving tray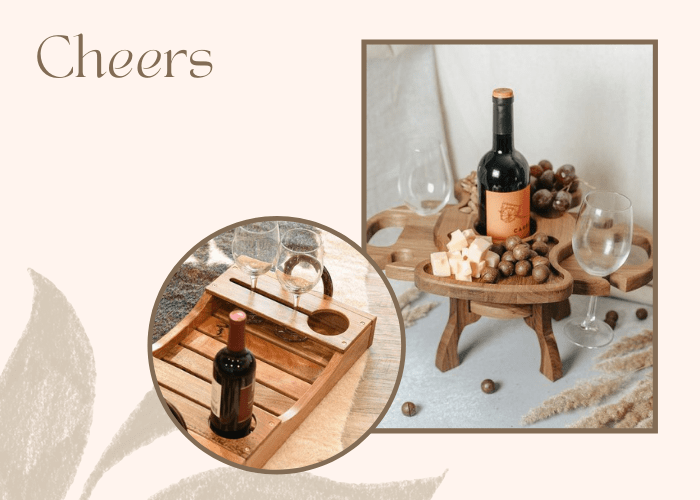 It's interesting to come and celebrate the wood anniversary with a customizable wine serving tray as a gift. The couple will love how thoughtful you are to give them this traditional 5-year anniversary gift with their names and the anniversary date on it. They will definitely use it for home parties or any upcoming anniversary. To make it much more cheerful, you can include a bottle of wine as well. It's a great chance to toast and drink together.
Flatware set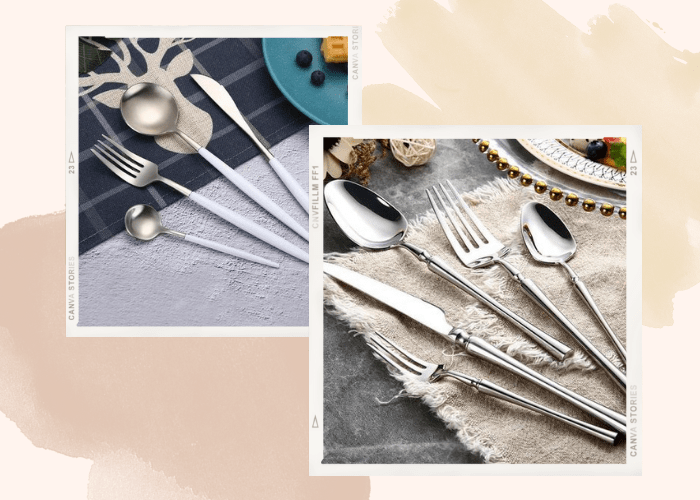 We couldn't round up this list of 5-year anniversary gifts without including the flatware set. It will be a supplement for the couple's warm kitchen. The set might include different pieces of salad forks, dinner forks, teaspoons, soup spoons, and knives. Being made of stainless steel, the flatware set is endurable enough to be used on every anniversary in the future.
Wooden coasters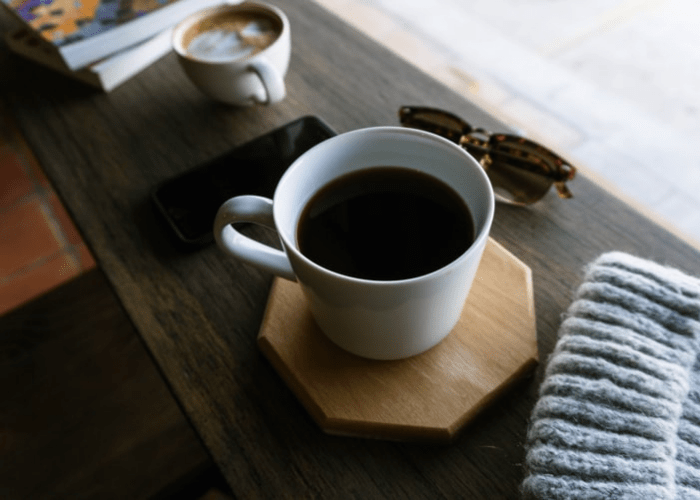 You can't ignore lovely wooden coasters while preparing 5-year wedding anniversary gifts for your beloved couple. They are practical home appliances that will satisfy the couple's drinking experiences. If you give them these pretty pieces, you'll get a higher chance of being invited back for a coffee or tea enjoyment with them.
Engraved chopsticks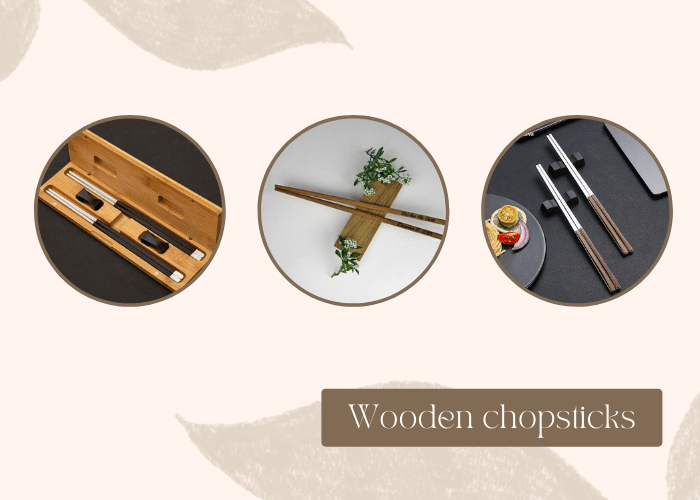 Is your couple a fan of Asian cuisine? If yes, giving them engraved chopsticks as 5-year anniversary gifts is a very wise decision. It's a lovely gesture that shows how thoughtful and delicate you are. The chopsticks are engraved with their initials or the wedding date, making them more unique and meaningful. To stay on theme, you can choose chopsticks which are made from wood with a silver cover on top. That's an excellent honor of both the traditional and modern theme of the 5th-anniversary gifts.  
BBQ tools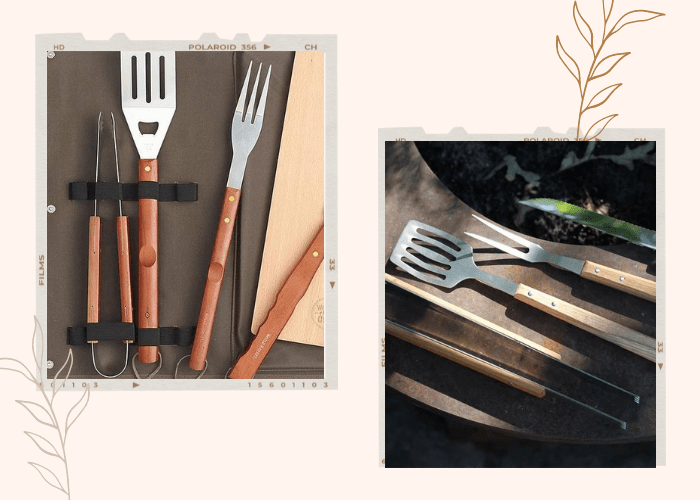 Cooking outdoors is an exciting way to celebrate the milestone. Help the couple fulfill this one-of-a-kind party by giving them the BBQ toolset. There will be useful and convenient pieces included that make the party more complete. We're sure that this set will be one of the most creative 5-year wedding anniversary gift ideas that go beyond the couple's expectations.
Decorative cork holder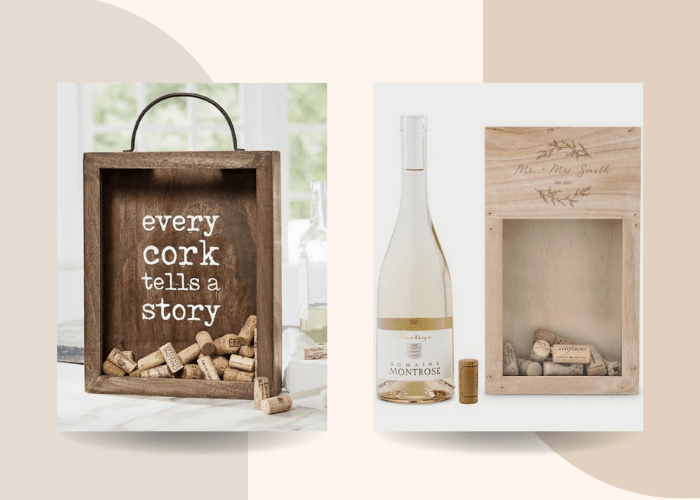 If you're thinking that giving a bottle of wine is too popular, a decorative cork holder will help you leave a strong impression. The couple can use it to hold corks from different wine bottles on specific occasions. So whenever they pop open a bottle of champagne to celebrate, they have a place to keep its holder as well as save their memories. If you want to make it more of a 5th-anniversary gift, engrave the cork holder with the couple's names and their wedding day. They will love it!
Fancy cheese knives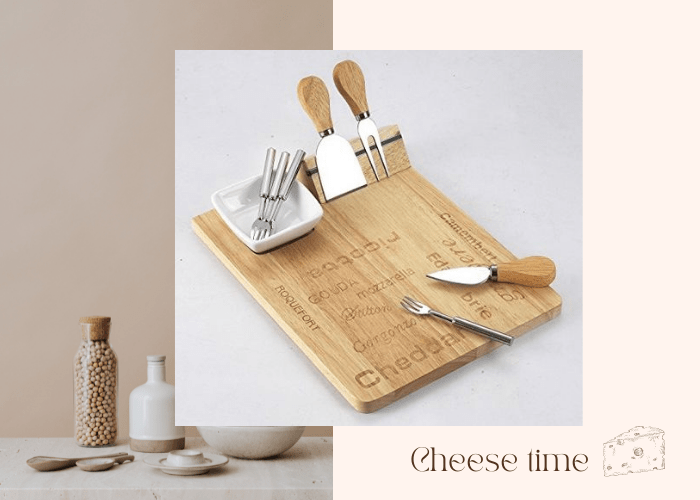 This list ends with the stunning modern 5-year anniversary gifts – fancy cheese knives. They are great kitchen appliances for any couple who's in love with cheese. The knives also play their best in warming up the couple's marriage by creating more sweet moments that they can spend together in their kitchen.  
Further reading:
Housewarming Gifts For Men – Best Choices For 2021
Retirement Gifts For Women – You Can Do More Than A Party!
It's a once-in-a-lifetime occasion for you to renew your vow. Let's make it the most meaningful time so far by giving your spouse the best 5-year anniversary gift. Our list above won't go unnoticed. Stick to it and there will be no disappointment.