Is there a seventh wedding anniversary coming up? Sending the 7th anniversary gift as this is a significant milestone on the road to a decade of marriage. You're one of the lucky ones! In addition, it's a song rich in religious, mythological, superstitious, and philosophical symbolism. Most significantly, it's a stroke of good fortune! Along with Oh Canvas make the ideal moment to reflect on your journey together as a pair! Let's check out 40+ seventh year anniversary gift ideas for some inspiration.
What to send as a 7th Anniversary Gifts Traditional and Modern?
7 year anniversary gift traditional and modern is traditionally made of copper and wool. While copper is a symbol of love, good fortune, and protection since it is long-lasting. Wool is a symbol of the stability, comfort, and warmth that long-term partners provide for one another.
The 7th anniversary has two contemporary motifs: desk sets and brass. Desk sets are a symbol of the practical everyday commitment of a happy pair, for example, a wall calendar desk set or a leather desk set. While brass symbolizes the durability of a healthy partnership.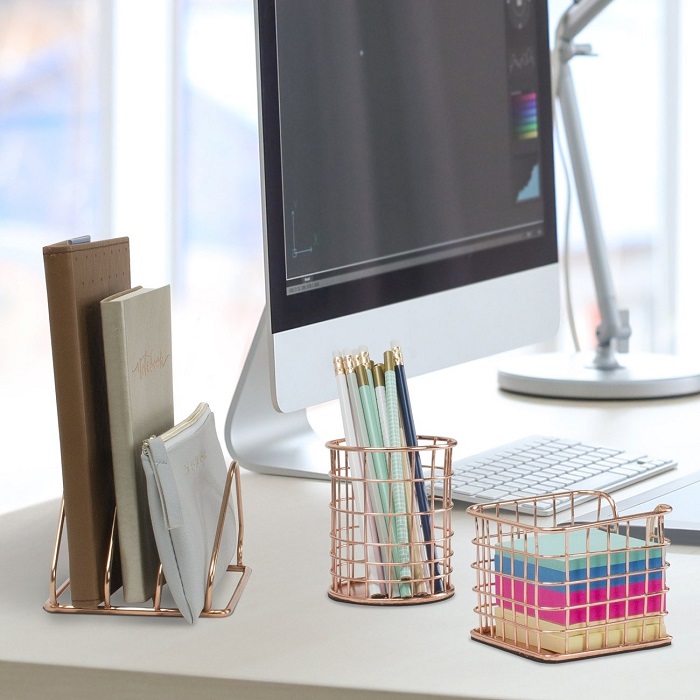 The seven year mark is a momentous anniversary, and the predominant colors are off-white and copper color. Our traditional and modern presents are the right on theme but if you'd prefer breaking from tradition, that's fine too. As an alternative to an off white flower for the seventh anniversary, consider a gift of jewelry set with yellow sapphire, lapis lazuli, or copper.
Copper Seventh Wedding Anniversary Gifts
Copper Anniversary Gifts For Him
1. Meaningful Sheet Music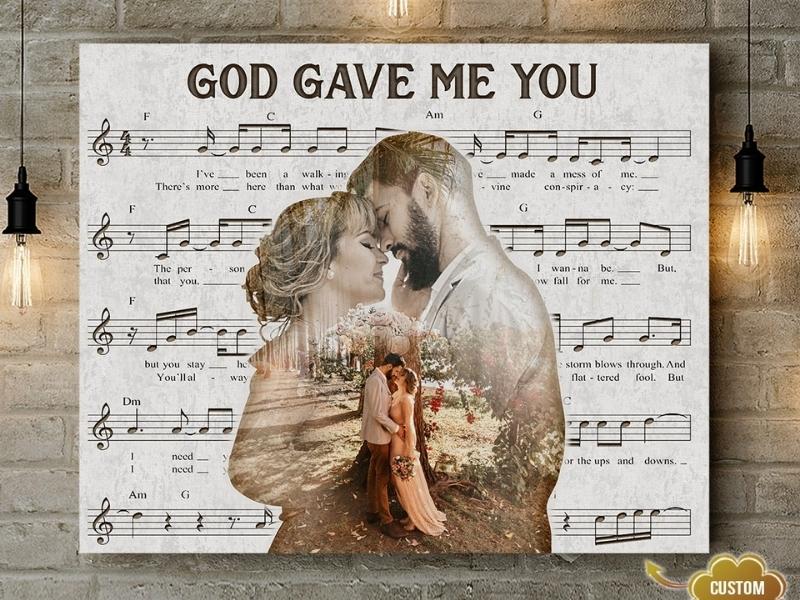 If you have a specific song that means a lot to both of you, let's have the sheet music printed on canvas in a lovely copper and wool color, it's a great choice. This unique personalization piece of home décor is a sentimental 7 year anniversary gift for him that your other half will appreciate because of its meaning and durability. 
2. Copper Anniversary Keychain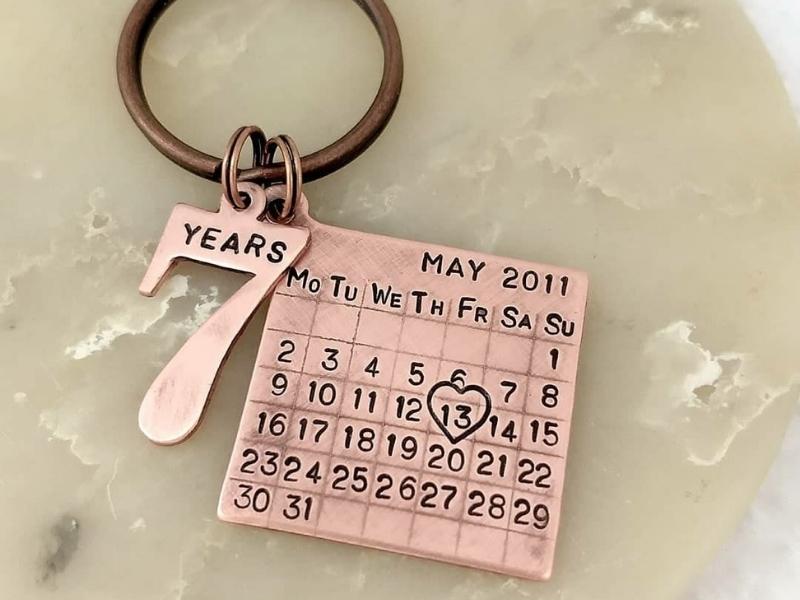 This keychain is simple yet heartfelt. With a copper tag that can be hand-stamped with the initials and date of your choosing, it will be the perfect 7th wedding anniversary gift idea for your other half.
What we love:
The price is quite reasonable considering the high quality. The lines are clean, and the material appears to be of high quality because of the weight it has.
The keychains have intricate engravings that look really nice and are of excellent quality.
In addition, the packaging was exquisite, and the quality of service was superb.
3. Copper Mugs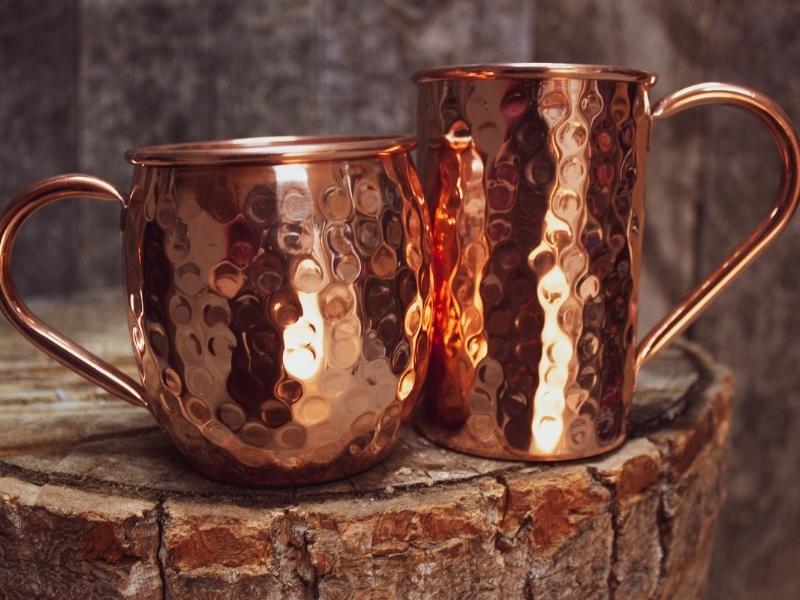 How stunning does this cup look in its gleaming metallic hue? It's one of my favorite 7th anniversary gifts for him who spends most of their day sitting at a desk. It's designed to keep some tea, coffee, or anything at the right temperature.
The copper mugs also link to an app, so your spouse will be notified when their coffee reaches the perfect stability point. Why not buy them as a happy couple of mugs to enhance your relationship bond? You and your partner will always remember each other every time using this great seventh anniversary gift.
4. Copper Desk Set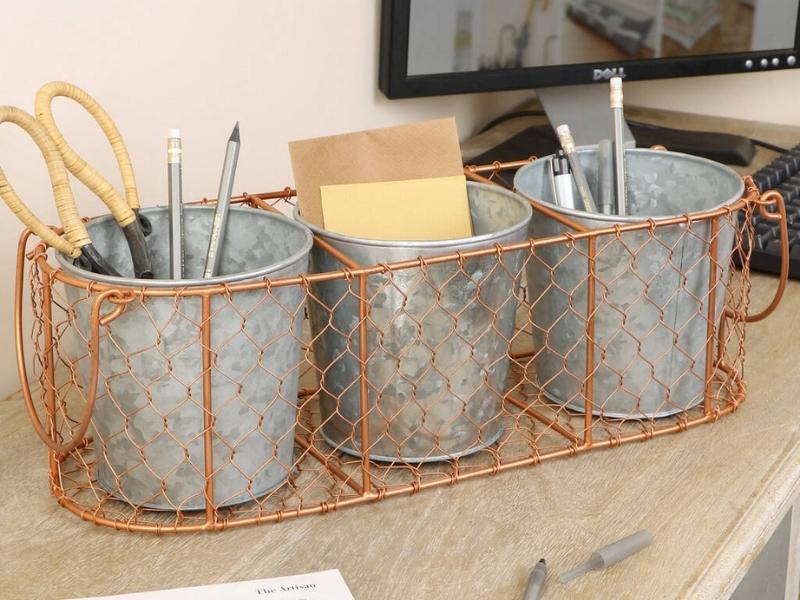 Cover all of your bases with this desk set fashioned of copper – the seventh wedding anniversary traditional material. This combination contains a pen holder and a business card holder that will improve the look and usefulness of your partner's workplace. This desk set is also a replacement for an acrylic desk set to help your other haft have more inspiration in working.
What we love:
They are strong, glossy, and just the right size for holding pens and cosmetic brushes in their respective places.
The one and only drawback are that the pens can occasionally protrude out of the side, but it is inevitable given the design of the product.
5. Custom Lucky Seventh Year Anniversary Horseshoe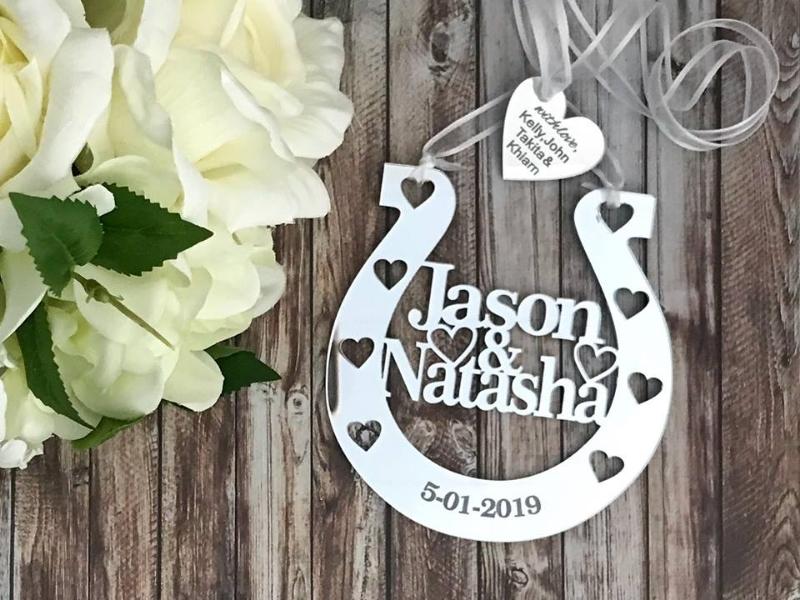 Seven is believed to be a fortunate number, and this horseshoe proves it. Add names of your happy couple, a date, or a note to personalize it. These copper wedding anniversary gifts will be a reminder of how much we have to be thankful for.
What we love:
Personalization options let you select the color of your liking, as well as a name and the date of your anniversary.
It comes in its own small organza bag along with a piece of excellent quality ribbon that you can thread and bow to your own specifications, and the delivery wrapping was quite secure.
6. Thoughtful Messages on Guitar Wall Art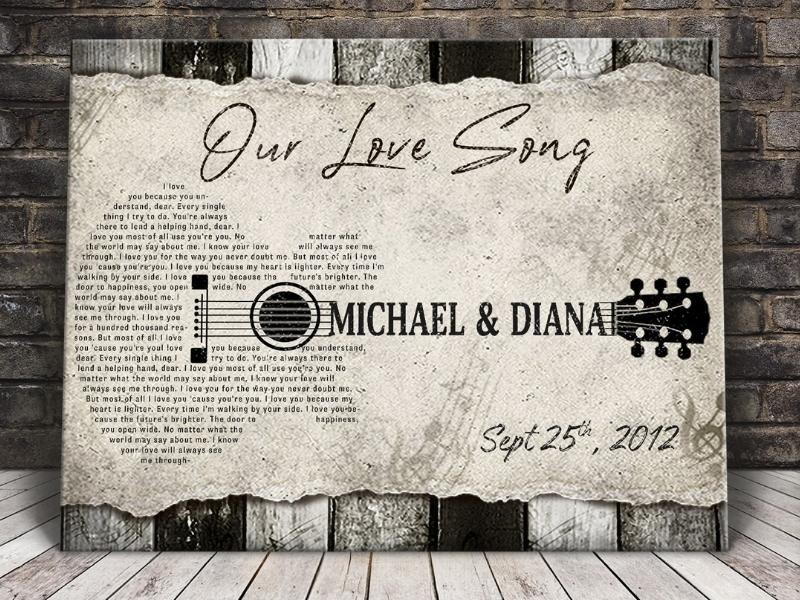 A bit of vacancy on your desk set? Have you ever thought about putting something you love to say on a guitar? Along with the romantic and delicate paintings, the customized canvas gift ideas will undoubtedly strengthen your romantic relationship step by step. This is also a great option for special traditional gifts on a wedding day that many real couples choose to warm up their love.
Get your desk set more stunning with this traditional seventh wedding anniversary gift now!
7. Cocktail Shaker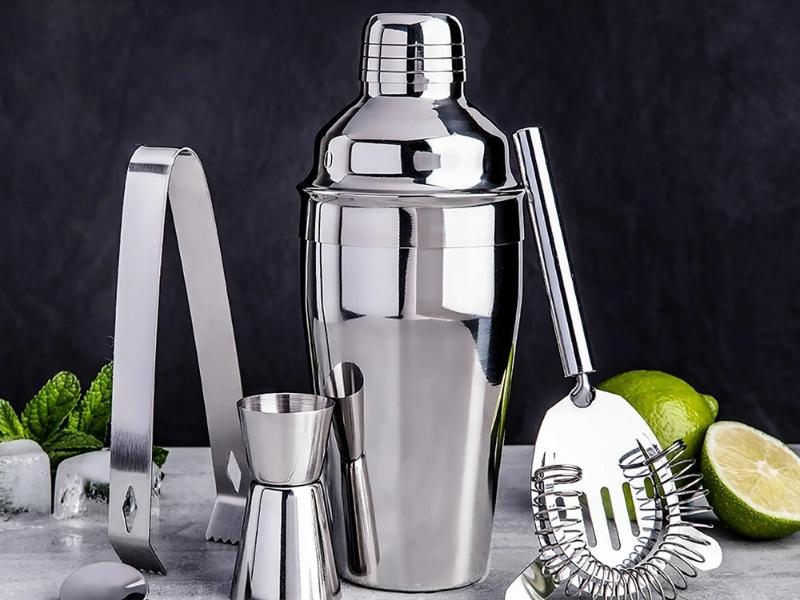 This copper cocktail shaker has a distinctive feature to send as one of the copper gifts for men: all the recipes for your favorite cocktails! It's a durable gift for the cocktail expert. Twist the sleeve to discover some ingredients for a variety of delectable drinks. It's almost too simple for a special occasion.
8. Copper Cufflinks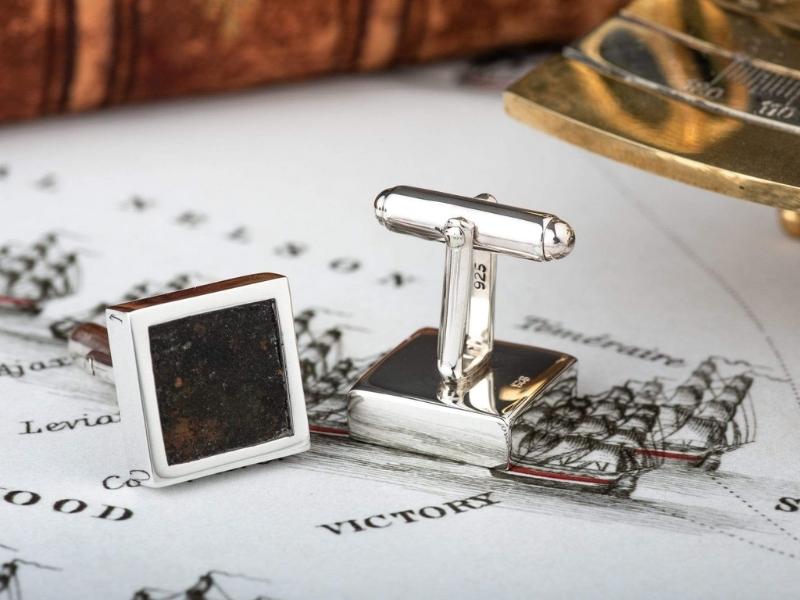 These copper cufflinks are a one-of-a-kind and heartfelt seven years wedding anniversary present for your partner. Each cufflink is handcrafted with precision by some engineers in the aerospace sector, who are inspired by and influenced by aerospace technology. Who knew a set of cufflinks could look so good? You can also buy this as a happy couple to show the strong relationship between both of you.
9. Copper Gardening Tools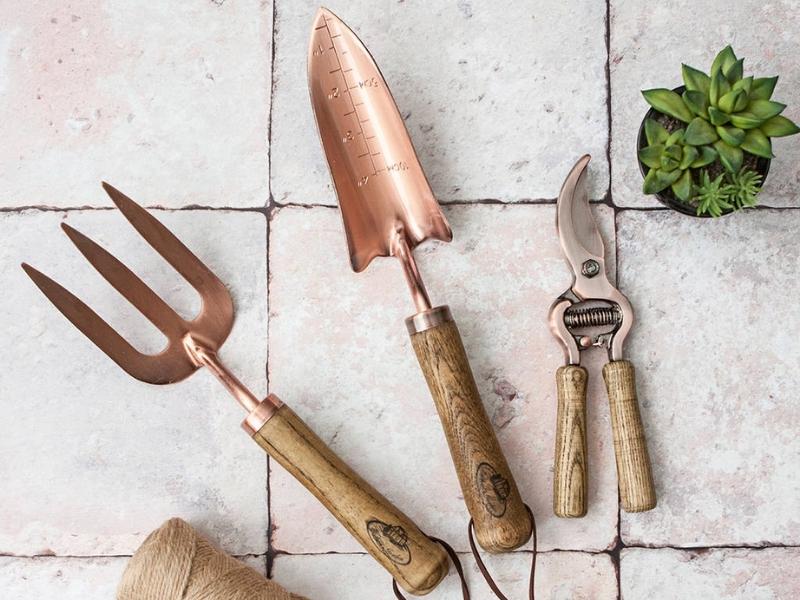 This set includes some handmade garden equipment that is a special copper anniversary gift for the gardener! The tools are labeled in inches and centimeters, so you won't have to guess how deep to plant. This anniversary idea for him will last a long time and will be used again.
What we love:
These copper garden tools are an attractive addition to any garden, and not just because of their good aesthetics; they also have a positive impact on the soil.
These copper tools are ideal for a variety of gardening chores, including digging, planting, trimming, and weeding, and would be a good purchase for an experienced gardener as well as someone just beginning out in the hobby.
10. Copper Clock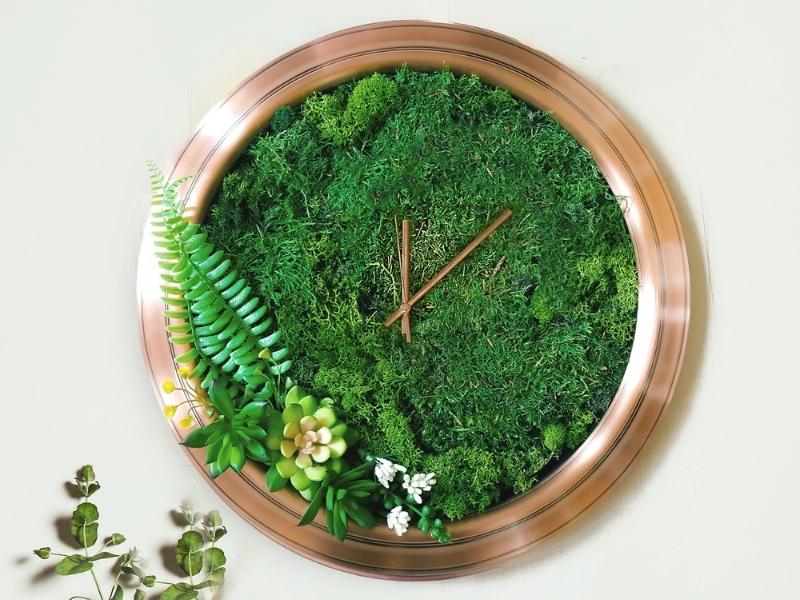 The unique design of these clocks is what makes them so appealing. The patina finish gives it a worn and weathered appearance, combined with some plants and small flowers, the watch has a very different and wild beauty. A magnificent copper clock that will enhance the attractiveness of any area, making it a brilliant wedding inspiration or the ideal modern 7 year anniversary gift for him.
What we love:
These copper clocks have designs that are absolutely gorgeous and reminiscent of antique works of art. It transforms the appearance of a plain wall in any room of the house into something more attractive.
This gift is so special and charming that it will certainly bring joy to any favorite couple who appreciates the natural wonders that the world has to offer.
11. Copper Champagne Stopper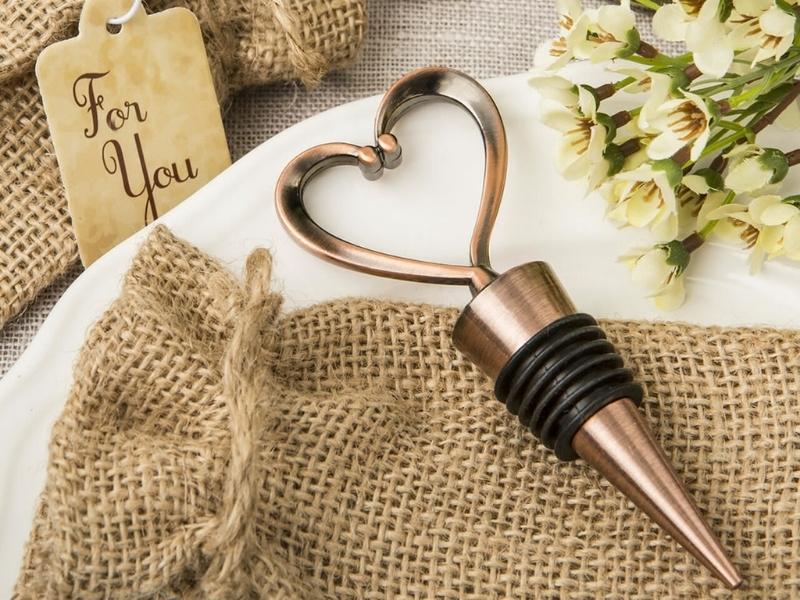 The key to making 7th wedding anniversary gifts for him successful is to accompany it with a unique bottle. Maybe you can even find the Champagne when you enjoy life's biggest moments. You may not need to use the stopper before it empties while you're celebrating, but it'll come in useful later.
What we love:
This Champagne Stopper is just the right size to fit in a standard wine bottle, and it has a very charming appearance.
They appear to have been created with some degree of care and do not give the impression that they will break apart quickly.
They also come hand chosen in small boxes, which makes it easy to give them out as party favors to guests.
12. Custom Song Lyrics Canvas Painting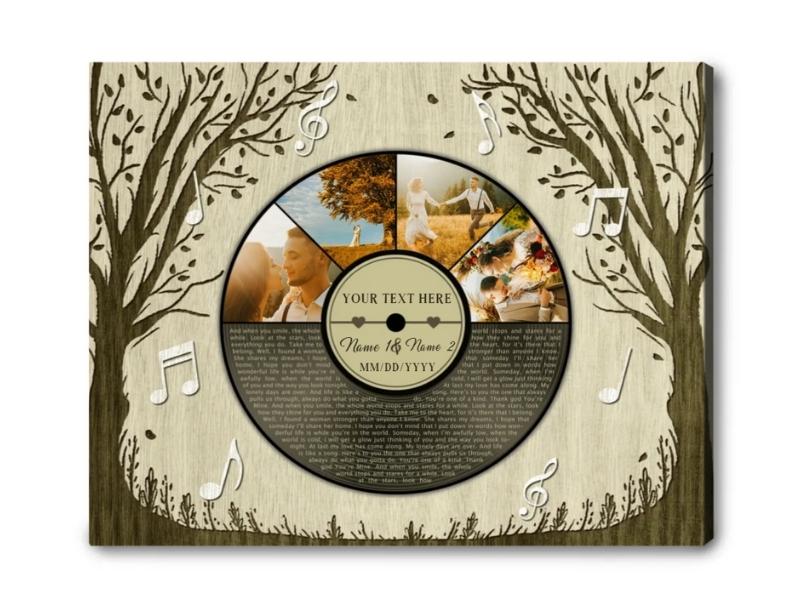 Do you have a song that whenever you see its lyric, all the happiness appear in front of your eyes? Put it on wall art so that your couple can see it every day together with your unforgettable pictures. This unique home decor will be the most ideal seventh year anniversary present for your partner or a special present for wedding day that contains all your beautiful memories in the relationship from the first day you and your darling met to now.
13. Copper Table Centerpiece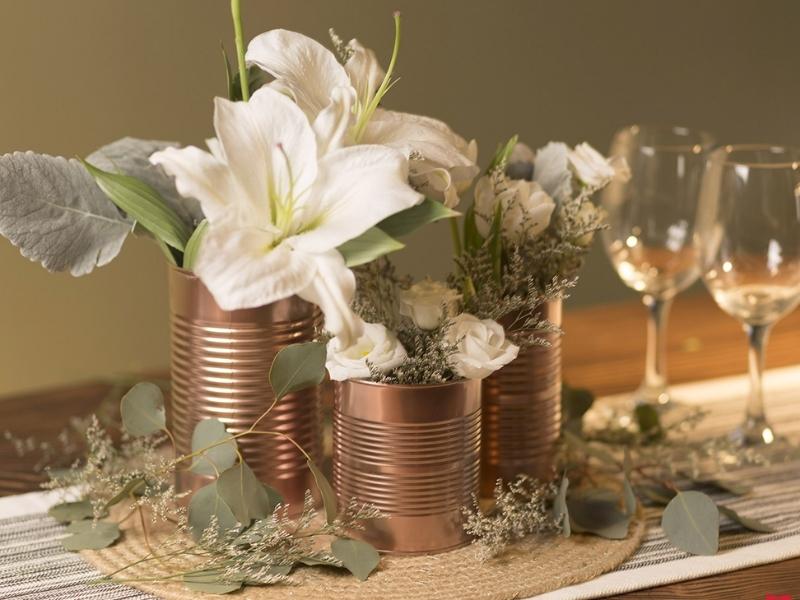 This stunning vase-style table centerpiece will give a classic floral an industrial update. Bonus points if you fill it with some flowers that were used on your big day when you give it to your beloved partner.
What we love:
Because of its small size, it may be used to decorate a variety of tables, including banquet tables, dining tables, and even cupboards that are placed next to beds.
Copper as a color is quite on-trend right now, and it makes for a comfortable atmosphere; this makes it an ideal choice for folks who prefer retro style.
14. Hand-Painted Copper Dinosaur Planter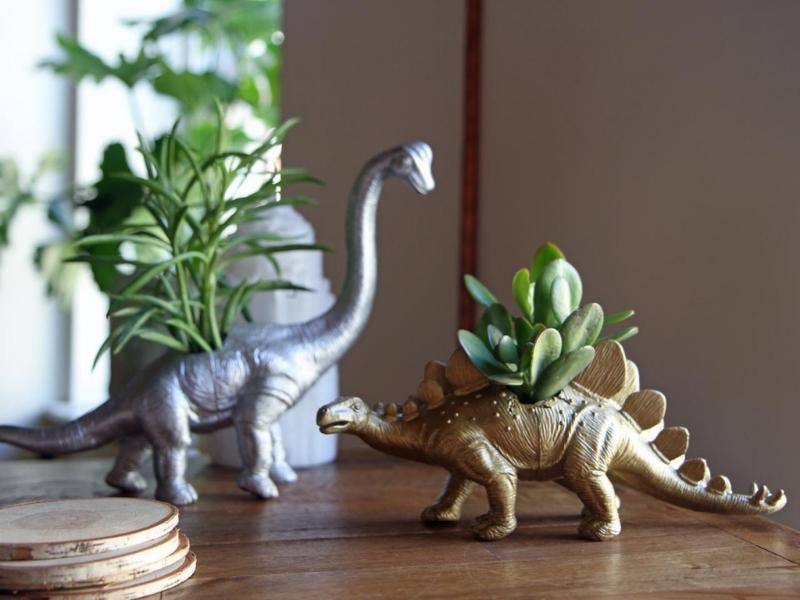 What do you gift to the person who has everything? Of course, copper dinosaur planters! These adorable copper planters will be a totally unexpected 7th anniversary gift for your spouse and a terrific conversation starter in your house.
Copper Anniversary Gifts for Her
15. Customized Wall Art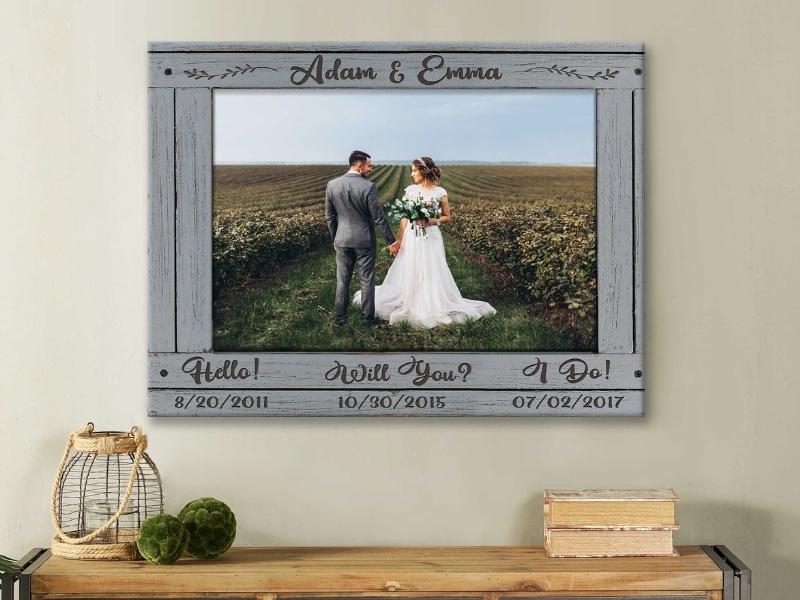 I've said it before, and I'll say it again: giving canvas paintings as a special gift, particularly personalized photo gift ideas. From the living room to the bedroom, this rustic pallet sign can lend a romantic touch to any place. For a nice memento, use a photo from a former milestone, a significant day, or another meaningful event in the relationship between you and your spouse.
16. Salt and Pepper Grinder Set
This salt and pepper mill set is constructed of transparent acrylic with a copper impression stainless steel body and would look great in any kitchen, rustic, or modern. Make it one of the most sentimental gifts for wife on a romantic date night that you've planned!
17. Quartz Stud Earrings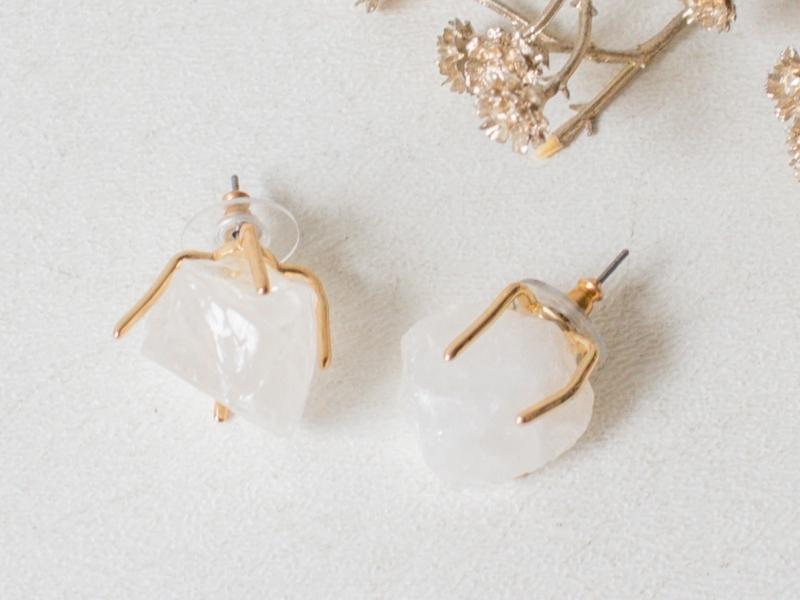 Copper jewelry may seem to be an uncommon option when it comes to jewelry, but that is what makes it such a distinctive seventh wedding anniversary gift for her. These adorable tiny yellow sapphire earrings are perfect gifts for daily use to shine her beauty. The rose quartz's delicate pink contrasts well with the shiny copper wire.
18. Cuff Bracelet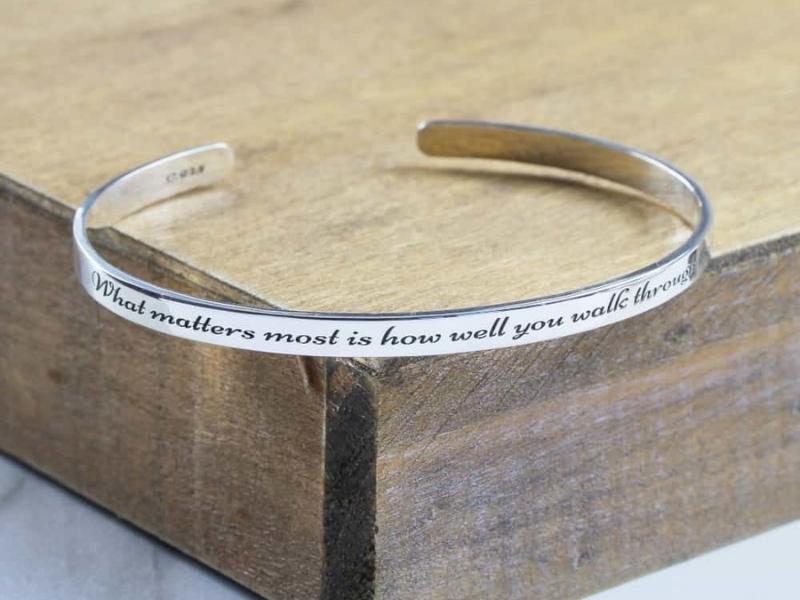 Here's another great option for you to add to your spouse's jewelry collection. This striking cuff bracelet may be personalized with your initials, wedding date, or a touching phrase such as "I love you". This item is one of the most sentimental traditional gifts for happy couples when it comes to milestone anniversaries, so remember to add this cute cuff bracelet to your list.
19. Best-Selling Canvas Painting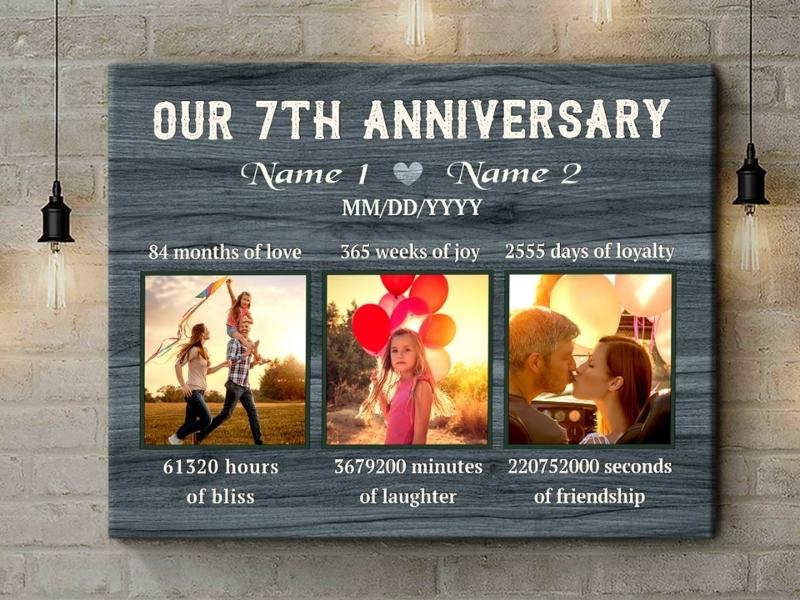 Make a romantic evening with an outstanding seventh anniversary gift for wife. Each second together in your relationship is treasured and it should be saved on something beautiful that seem like this product. The wall art is a popular choice that most real couples choose for their anniversary or wedding day, so try it now!
20. Commemorative Money Clip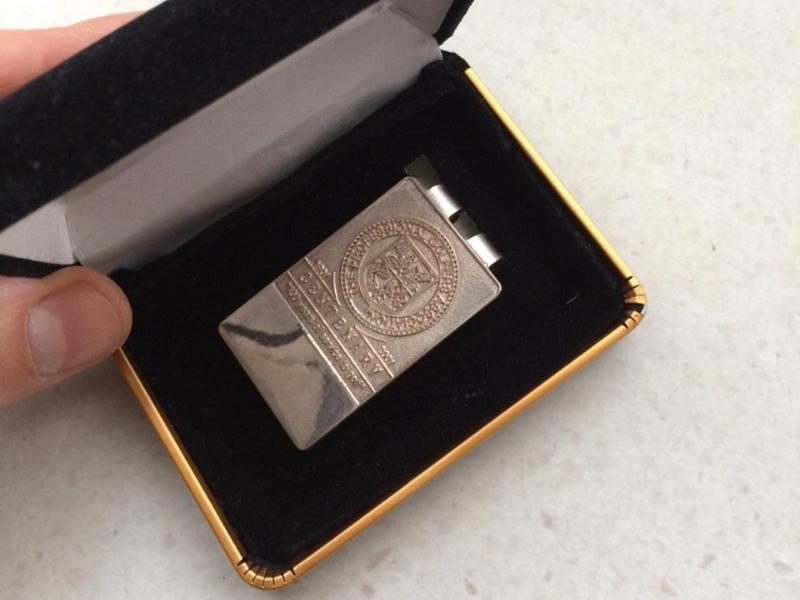 Handmade things are excellent 7 year anniversary presents for her. This sturdy money clip is a perfect addition for being constructed of 18-gauge copper. Money clips are less bulkier than wallets, making them very handy. Add your significant partner's initials as a personal touch, or just have the number seven in Roman numerals imprinted on it.
21. Love Knot Earrings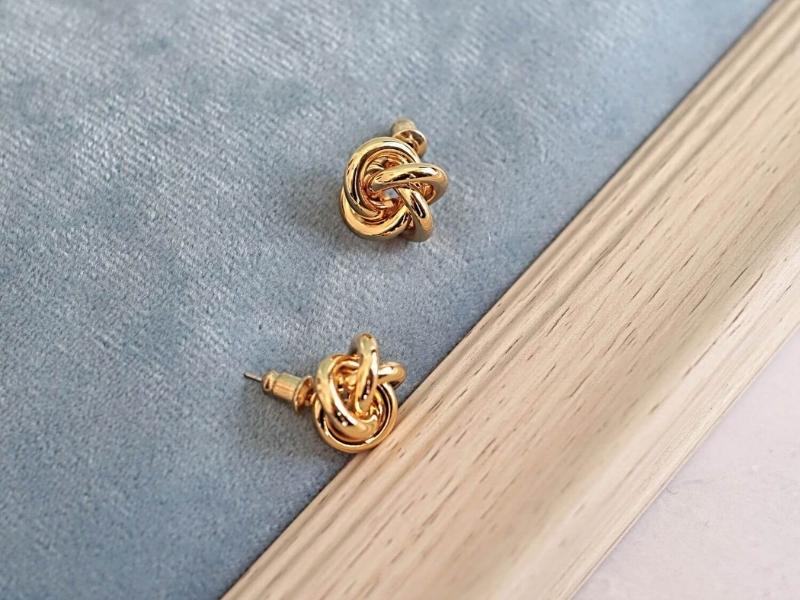 A beauty knot necklace is a timeless present for her that represents a strong, unbreakable tie. These yellow sapphire beauties will be a perfect gift addition to your spouse's jewelry collection. The studs may be dressed up or down, allowing them to be worn at any time and in any setting.
22. Copper Cookware Set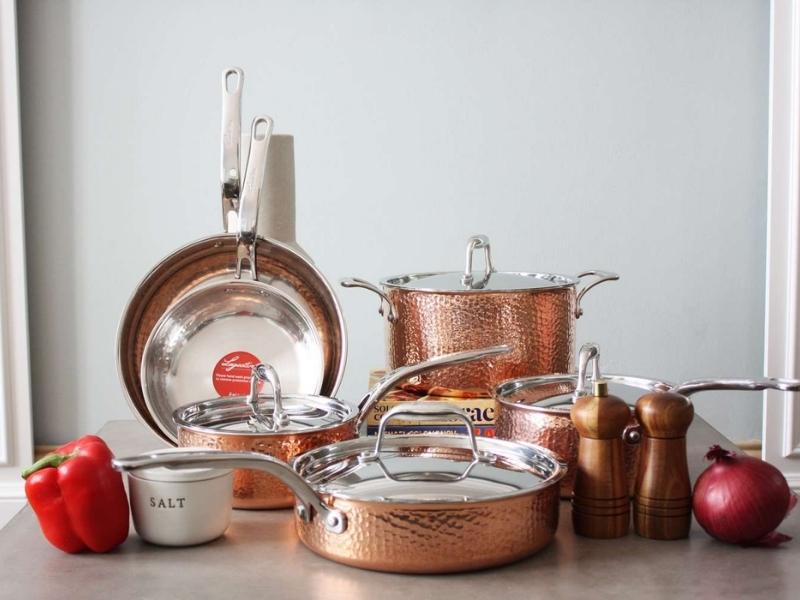 After seven years of marriage, it's time to replace the cookware you got this time with luxurious copper. Copper cookware is a statement piece and a special gift for her who is a culinary expert in your life. Your couple can also cook together with this great cookware to warm up the love every day.
What we love:
The many different sizes and types of pans provide a wealth of cooking options. They are simple to clean, and nothing will adhere to them because they are smooth.
The new copper set is gorgeous, and it's not overly heavy, although you might find that food slides off the top occasionally.
23. Copper Rose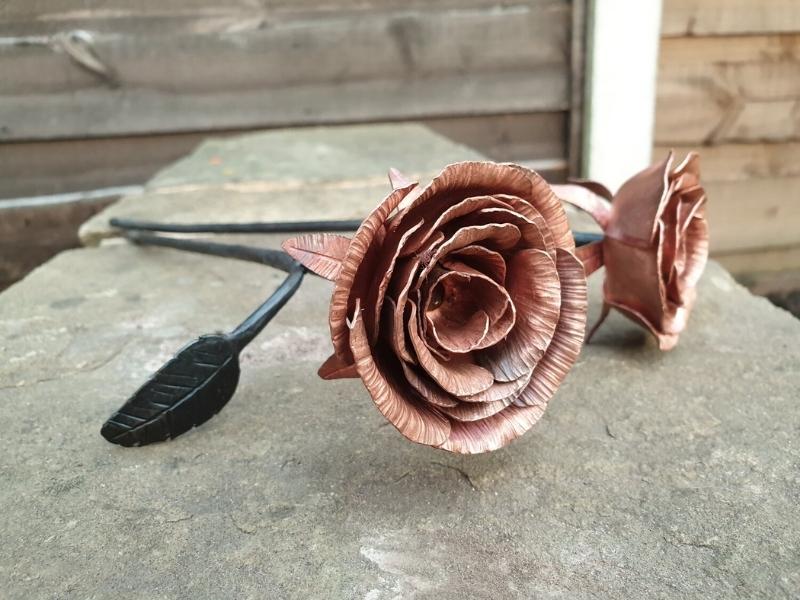 The handmade rose represents seven years of marriage. Because each rose is handcrafted, each one is unique, which symbolizes that your love also blooms like this item. No two are ever the same – just like the love you two have! The sculpture will durability a lifetime and will be appreciated for the same amount of time.
24. Copper & Gemstone Good Luck Tree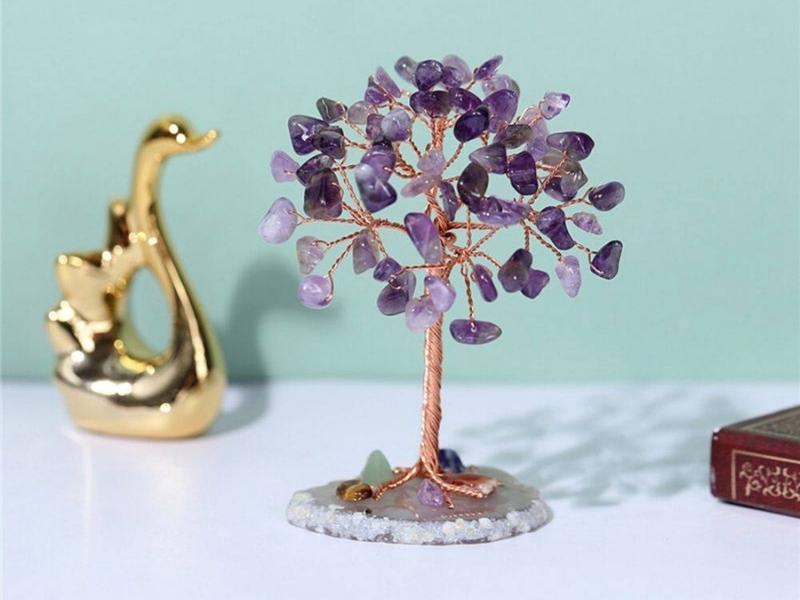 This wonderful copper-wrapped tree may be whatever you want it to be the top pick of the traditional gifts for anniversary by year. It can be a wishing tree, a healing crystal energy tree, something to fidget with, or even something to make their house or workplace extra pretty. Aside from the copper symbolism, the tree, and its branches represent family and its power. Because of its meaning, don't ignore this item when thinking about creating an impression for your lady.
25. Haws Mist Sprayer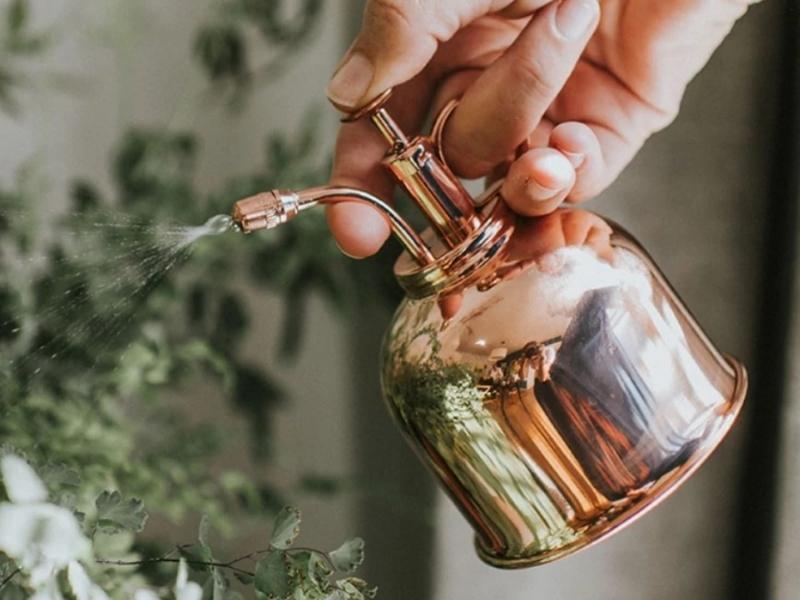 This mister, designed to feed thirsty succulents, orchids, and houseplants with a burst of moisture without overwhelming them, will thrill proud plant parents. You may also include a new plant or an off white flower for the recipient's collection as a true, thoughtful translation of seeing the relationship of your couple bloom together.
What we love:
The copper that has been hand-polished makes up this exquisitely packaged item, which is ideal for giving as a seven year anniversary gift.
Because of its compact size, lightweight, and ease of use, this tool is great for maintaining terrariums, orchids, and succulents.
26. Copper Flower Vase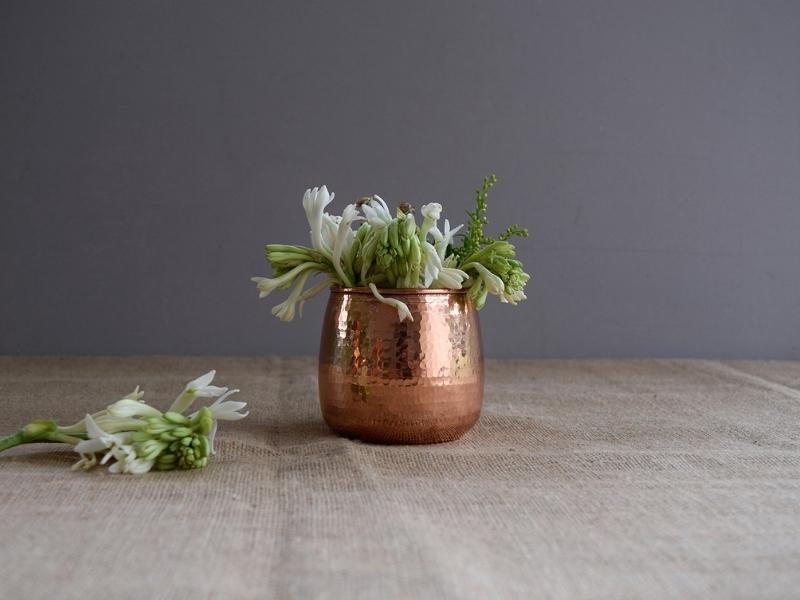 This copper vase is the perfect 7th anniversary gift for wife since it can be used to hold some flowers or as a planter for a favorite house plant and will look lovely in any environment. For this meaning, this vase is a great gift for your wife to spruce up her space every day when seeing flower blooms.
27. Copper Wine Bottle Cooler Chiller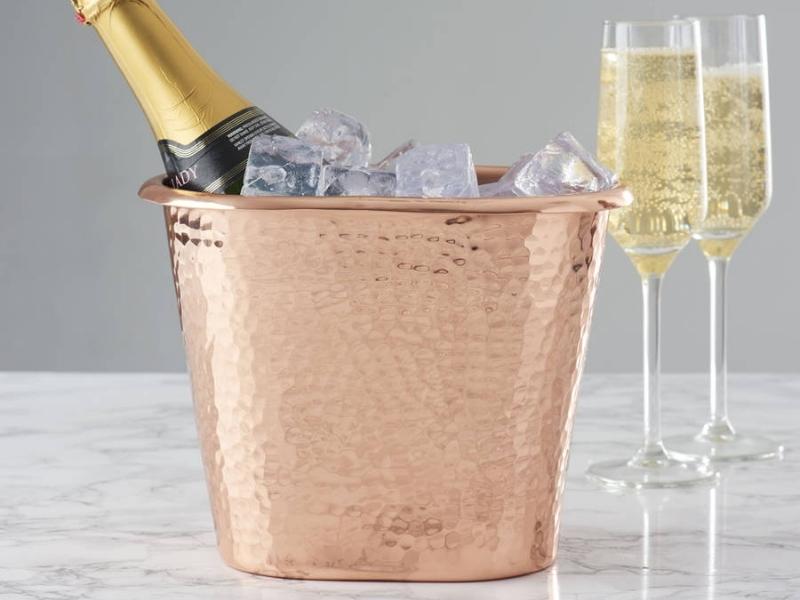 This stainless steel wine bottle cooler, which comes in a presentation box, ensures that the wine is cooled to the optimum temperature after 7 years. With this meaning, this bottle is really a perfect gift for your happy couple to celebrate the good fortune years they have been together.
>>> Read more: Top 41+ Quick Last Minute Anniversary Gifts for Wife, Husband & Couple
Wool Anniversary Gifts
seven year anniversary gift for Him
27. Stylish Merino Wool Jacket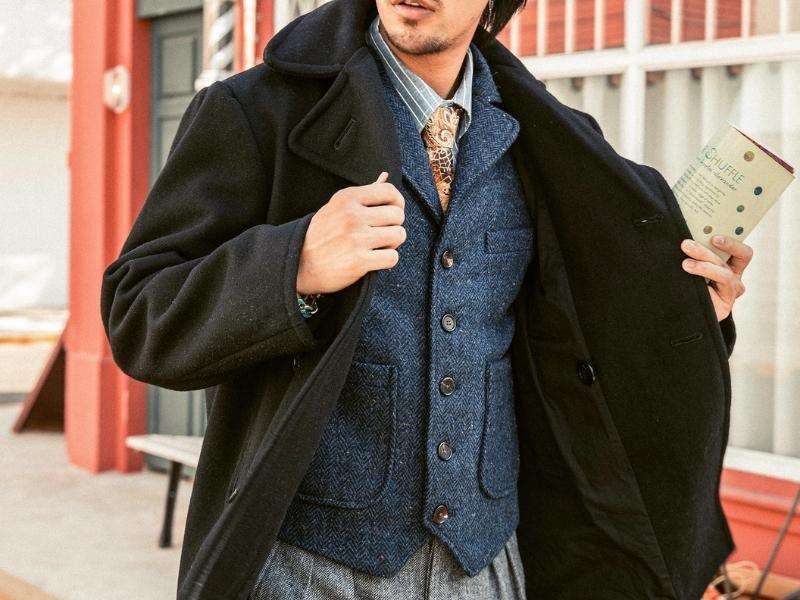 Shopping for a wool traditional 7 year anniversary gift for him is a great and cute way to update your significant partner's wardrobe. This merino wool hoodie is one of our favorite statement pieces since it seamlessly mixes comfort and elegance. The cherry on top? This eco-friendly knitwear is 100% carbon neutral.
28. Wool Slippers for Men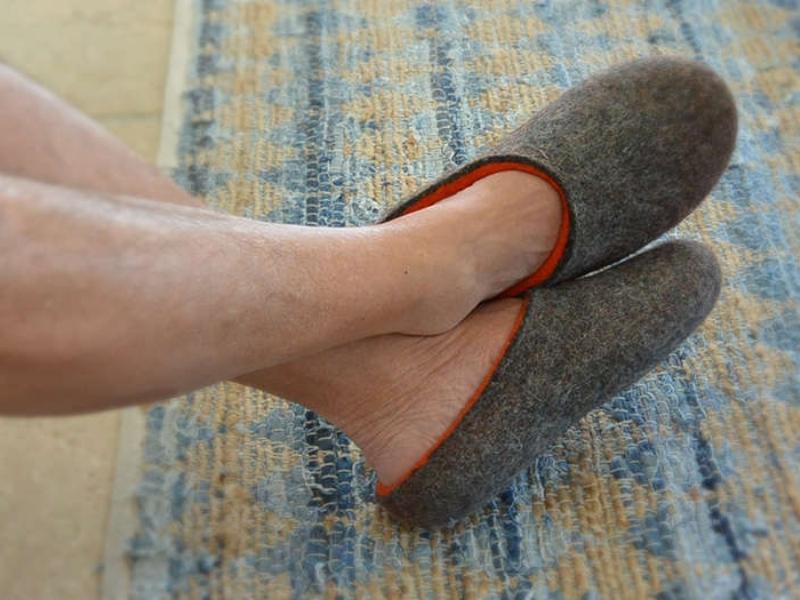 Who said copper and wool perfect gift ideas couldn't be useful for 7th wedding anniversary? Your spouse will enjoy a comfortable pair of UGG moccasins for sure as wedding inspiration or seventh anniversary celebration.
29. Personalized Tray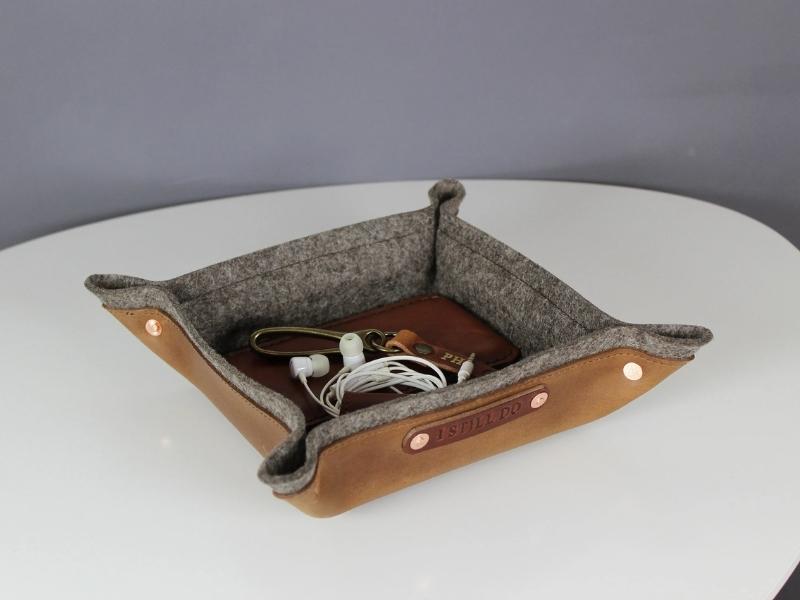 If searching for misplaced keys consumes a considerable portion of your spouse's time, this wool and leather catchall is a stylish and practical addition he will appreciate. This thoughtful gift for other half is ideal for keeping everything from vehicle keys and stray cash to some essential notes and receipts in one place. Add a leather plate personalized with your partner's name, initials, or a memorable date.
What we love:
The leather was sewn to perfection, and the felt is of an exceptionally high density. Extremely solid and dependable.
The size and shape are just right, and the customization is excellent. Both hues are quite pretty, and the materials are of such high quality.
30. Our Love Song artwork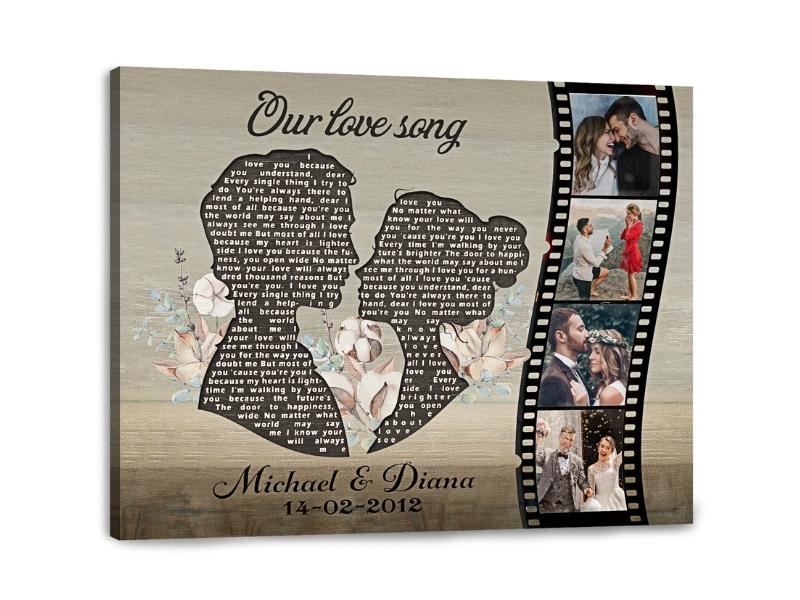 Is your loved one beautiful like a movie? With this creative product, you can keep every scene of the journey of you and your partner on it and watch them every day. From the living room to the bedroom, or kitchen, wherever this wall art is hung, this seven year anniversary gift for him will bring a meaningful love wind to warm up your couple's soul! Your love blooms from time to time as demonstrated in this print.
31. Wool Socks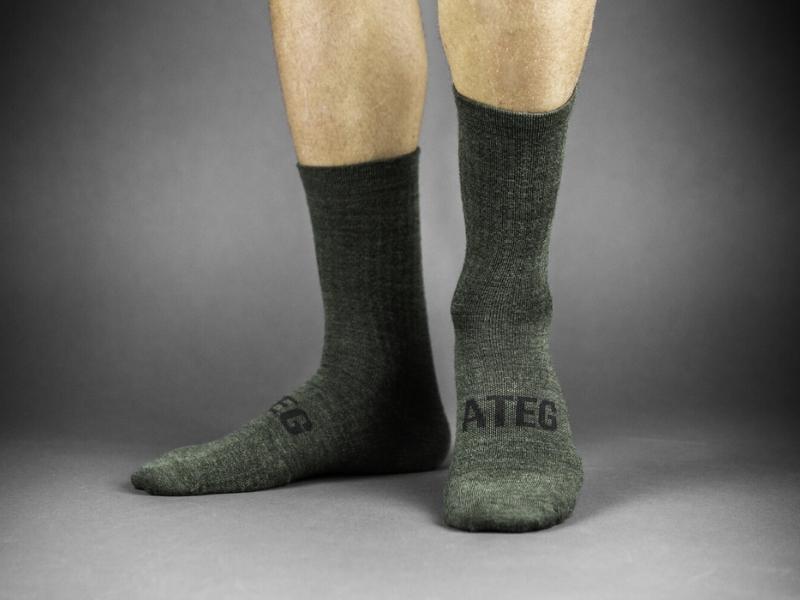 Wool socks are popular among skiers and snowboarders for similar reasons as they are among hikers. They're smooth and silky, but they also create strong compression, which is helpful for your spouse's muscles. Whichever path you take, the most important thing is to show your loved one how much they mean to you by selecting a thoughtful gift that shows just how much consideration you put into it.
32. Useful Circle Scarf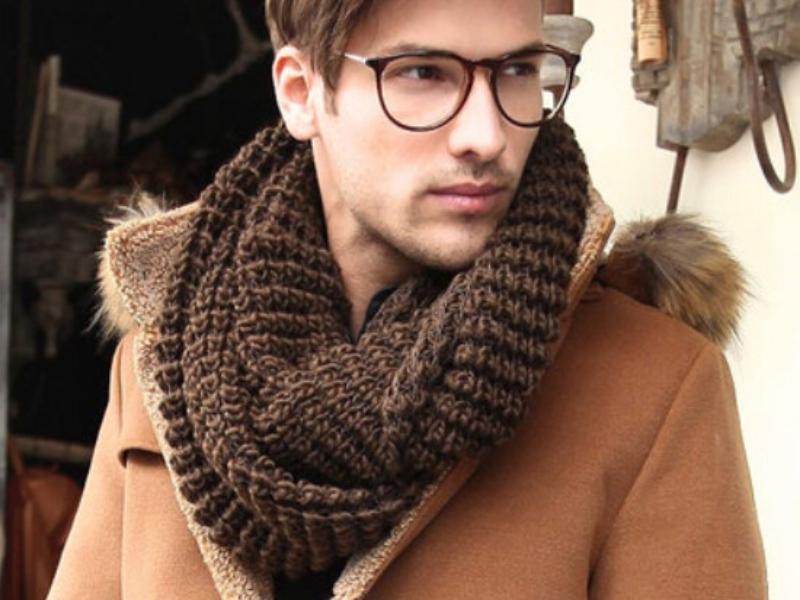 A decent wool scarf will get them through romantic rural walks, rainy commutes, and crisp fall days. These seven year anniversary gifts for him are also light enough to cozy up in as the seasons change.
33. Easy Knitting Kit for Underground Hats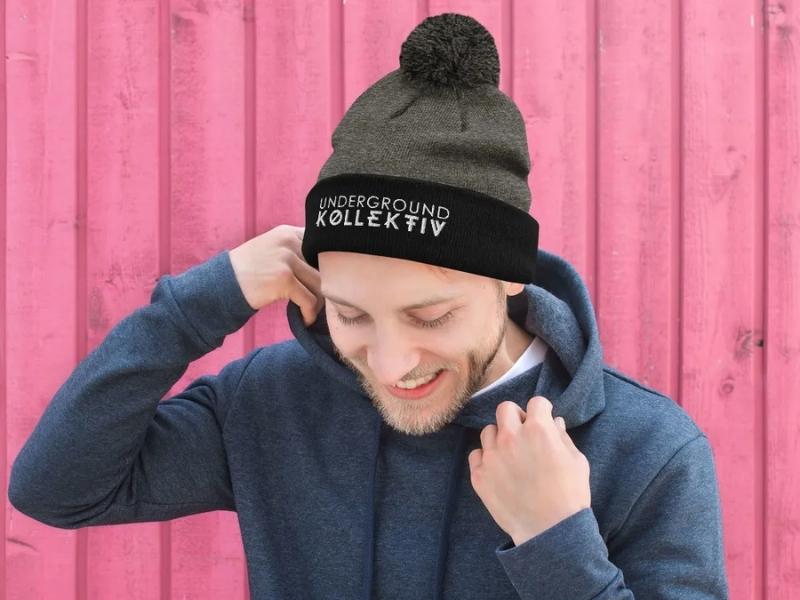 No need to worry about temperature control in the wintertime. You have two options here: purchase and knit this in secret yourself or present it to your craftier another half as a 7th anniversary present for him.
34. Throw Blanket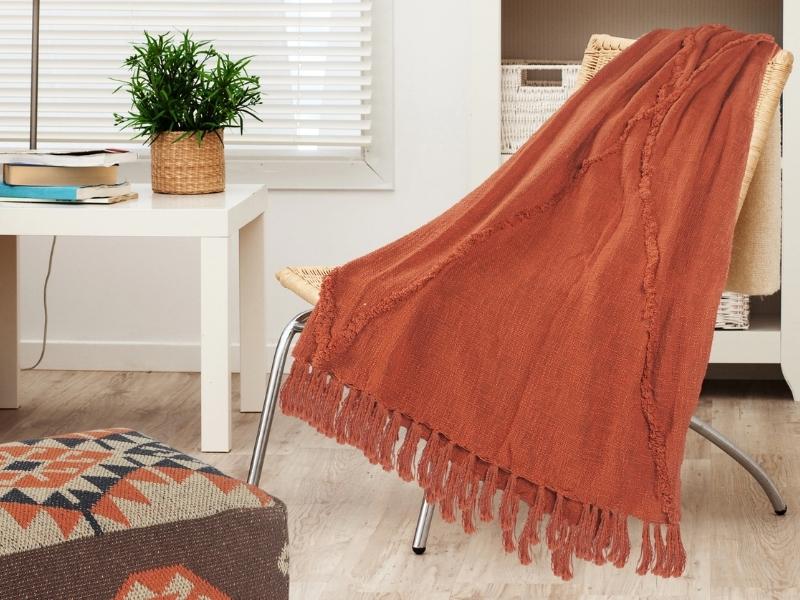 With this ethically sourced throw wool blanket, you can commemorate the past seven years of warm and fuzzy sentiments. Silky soft, hypoallergenic, and five times warmer than wool, alpaca is a natural fiber. This wonderful seven year anniversary gift for him, like your love for your partner, is timeless and long-lasting.
Wool Anniversary Gifts for Her
35. Wool Anniversary Bowls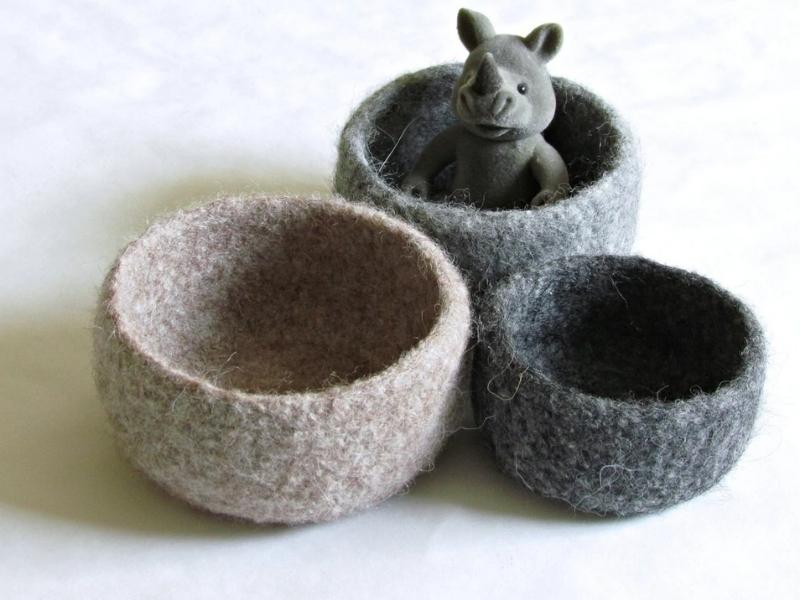 This set of three nesting bowls is made of wool and comes in a variety of lovely hues to suit any color scheme. Your sweet partner will love those 7th anniversary presents for the first time seeing them on a romantic evening with you.
36. Boho Diffuser Keychain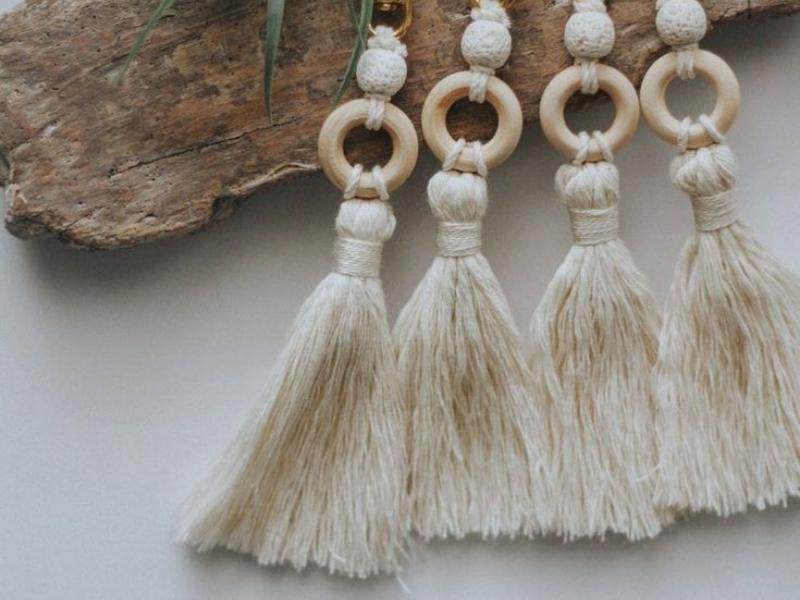 This adorable tiny keychain is a one-of-a-kind take on the 7 year wedding anniversary present for her. First, your significant other apply some drops of their favorite essential oil to the wool pom-pom. The item is then clipped to a backpack or vehicle keys for elegant aromatherapy on the move.
37. Linen Sheet Set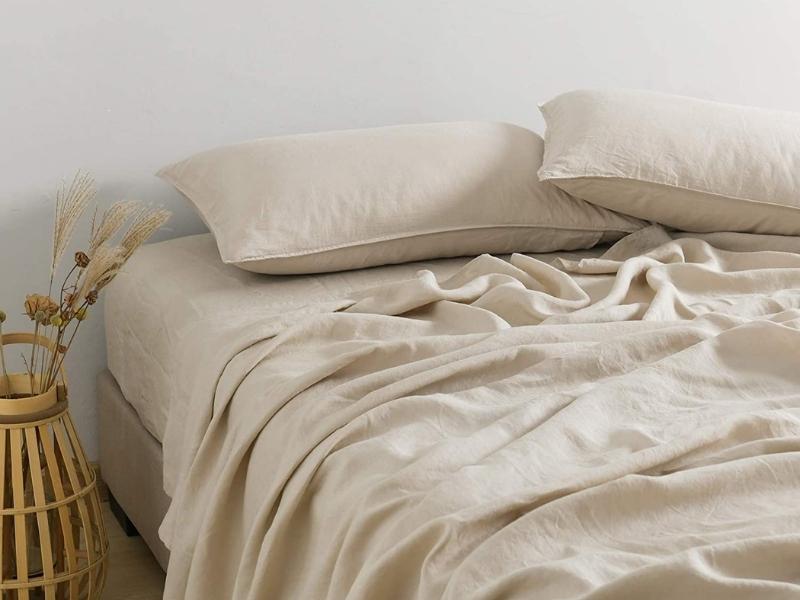 This deluxe linen set is the ideal seventh anniversary gift for wife celebrating seven years of snuggling between the covers. It's a dream come true to snuggle up in this heirloom-quality, ethically-produced sheet set!
38. Luxury Pajama Set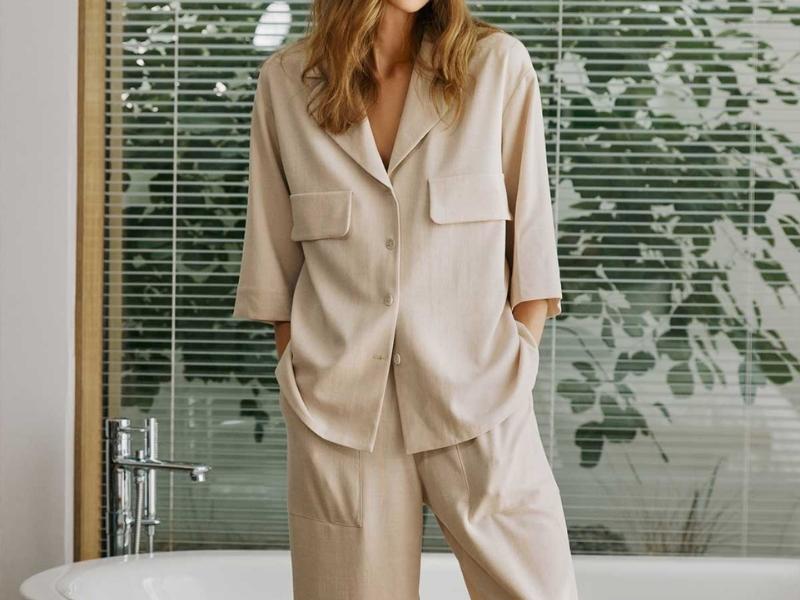 Most of us take loungewear much more seriously these days, and if your companion has been looking for the right set for a long time, consider it found. This opulent washable silk set has a novel low-back shape with a tiny silk band to keep the straps in place.
39. Gloves for Women
Okay, so if your seventh wedding anniversary idea occurs in the thick of a scorching August, gloves may not be the most practical 7 year wedding anniversary gift for her. But for some chillier occasions, this pair is a charming little investment.
40. Wool Rug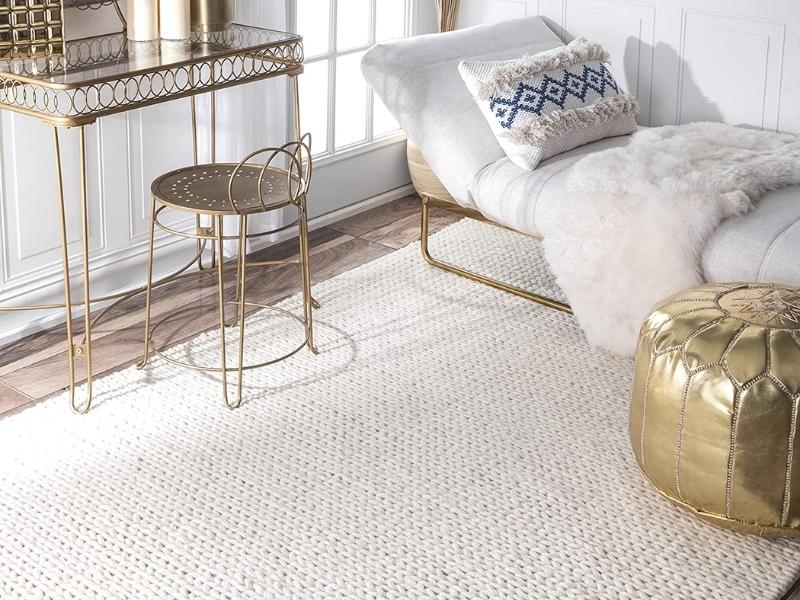 If you are unsure about your home design taste, a rug is a gamble. This seven year anniversary gift will be the highlight of their year. Whether you put it in your bedroom, guest room, or any other area in your shared house, it will remind each other of your anniversary every time you feel the fringing beneath your feet.
41. Wonder Wool Blanket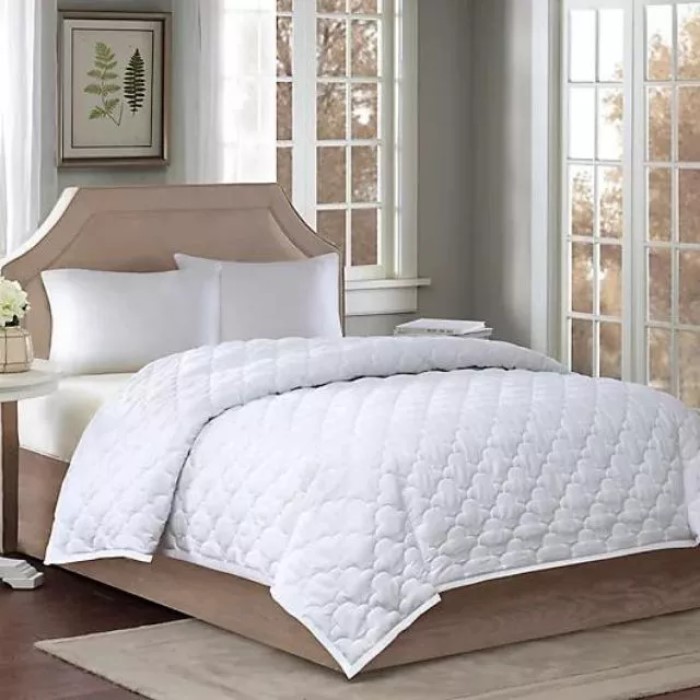 Instead of buying something for yourself, why not get something for your partner? This luxurious wool blanket will keep you and your loved one warm and cozy all night. It has a 300-thread count and a pretty trellis pattern and is made of breathable, moisture-wicking (and hypoallergenic) durable material. Choose from twin, full/queen, or king-sized blankets, and get ready for some serious snuggling.
>>> Read more blogs about anniversary ideas:
Seventh wedding anniversary presents do not necessarily have to be wrapped in a box. There are several inventive ways to celebrate that do not entail purchasing anything from a shop. Plan a romantic evening together that you've both been wanting to have for the past seven years, but haven't gotten around to. And surprise your sweetheart with an unusual 7th anniversary gift that is quite romantic. Oh Canvas hopes this blog is informative and would create inspiration for you to choose the best choice! And if you find it interesting, do not forget to read more ideas about what to get on your significant day of the year!