To have been married for 45 years is a remarkable achievement! It's only right that you give your spouse or favorite pair a magnificent 45th anniversary gift after decades of love and joy. If you're unsure of where to begin, look no further. For your convenience, Oh Canvas has created a selection of 45th wedding anniversary presents that are guaranteed to please your spouse or parents.
What is the Traditional Gift for the 45th Wedding Anniversary?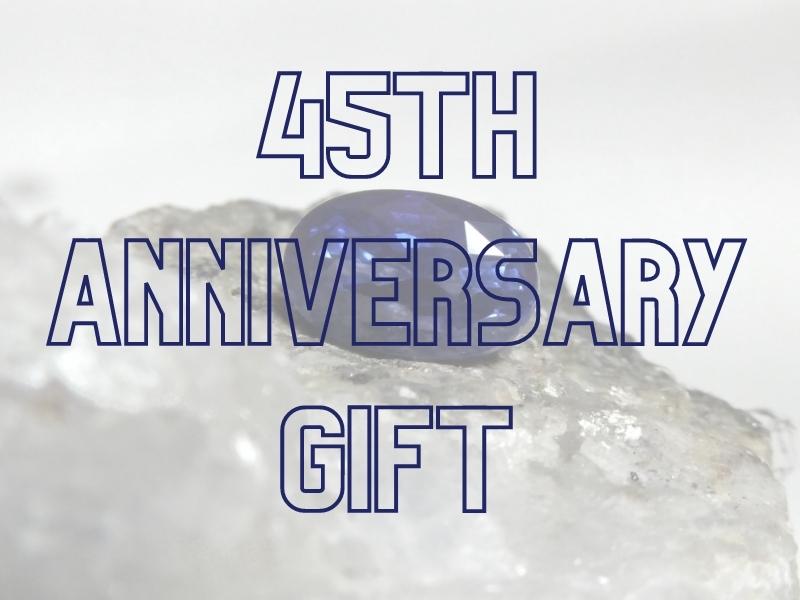 As a 45th anniversary gift, sapphire is a popular choice. Why? This stunning gemstone's deep blue hue symbolizes a couple's undying devotion to one another. Celebrating almost half decades of marriage with a present that seems just as meaningful is the right thing to do.
If you're looking for a meaningful present, don't restrict yourself to classic sapphire jewelry and accessories or a bouquet of blue iris. We've come up with many inventive ideas to celebrate your loved one's 45th anniversary.
While some of the ideas are more traditional, some are more modern and will be appreciated by your loved ones just as much.
What to Give for 45th Wedding Anniversary?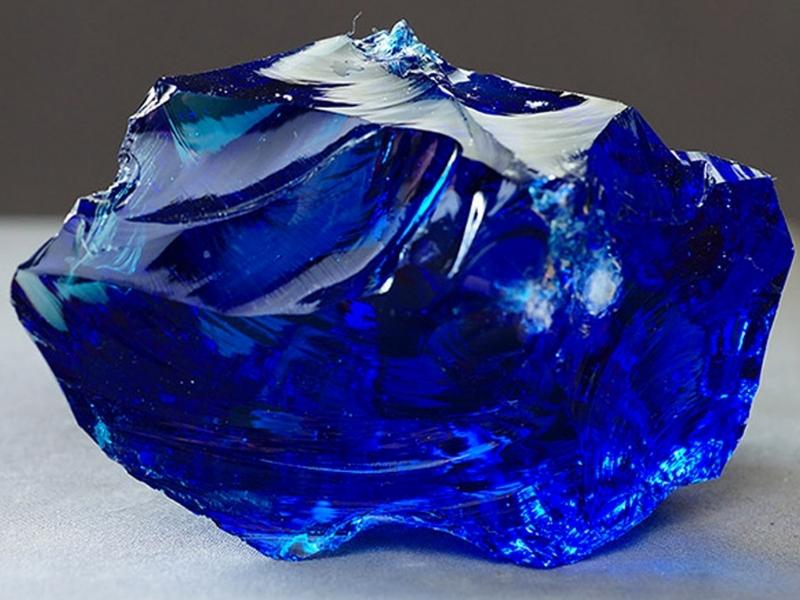 As mentioned above, sapphires are an excellent choice if you want to give a 45th wedding anniversary gift that is especially appropriate for this particular occasion (or something else with a deep blue hue or finish).
However, don't worry if your present doesn't suit the theme but is ideal for the receiver. Personalization is the key to successful anniversary gifts by year.
Give your companion something they will treasure for a long time by remembering their favorite items. Don't forget to add a handwritten card or note as part of your creative gift exchange.
45th Anniversary Gift for Wife
Are you looking for a unique 45th wedding anniversary gift for wife? When you've been together for 45 years, it's understandable if you need a little assistance finding the right partner. The best way to find out what she really wants is to think about the items on this list.
1. Comfy Bathrobe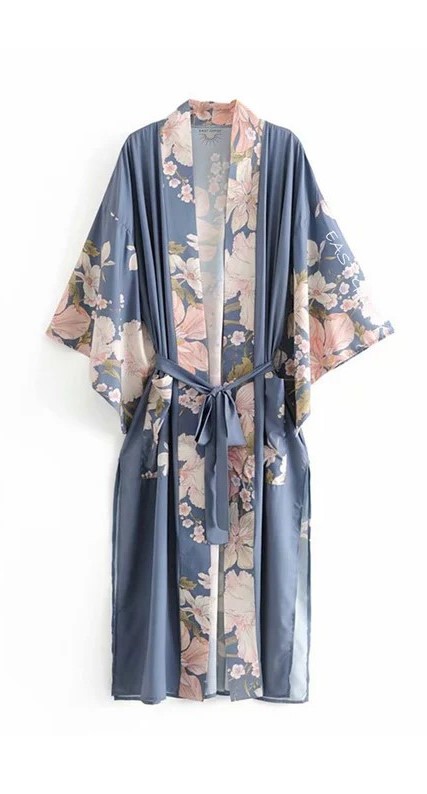 As we become older, the value of comfort grows for a good night's sleep. This silky cotton bathrobe, which naturally comes in the 45th anniversary hue of blue, will make your spouse feel like they are wrapped in a cloud whenever they wear it.
Oh Canvas tips

Pick a fun matching outfit that your wife may wear to the spa, the pool, or the main event.

If you're planning a family-friendly get-together, terrycloth robes are the way to go. Or think about the daring lace robes if the celebration is likely to be risquéa little naughty.
2. Heirloom-Inspired Sapphire Ring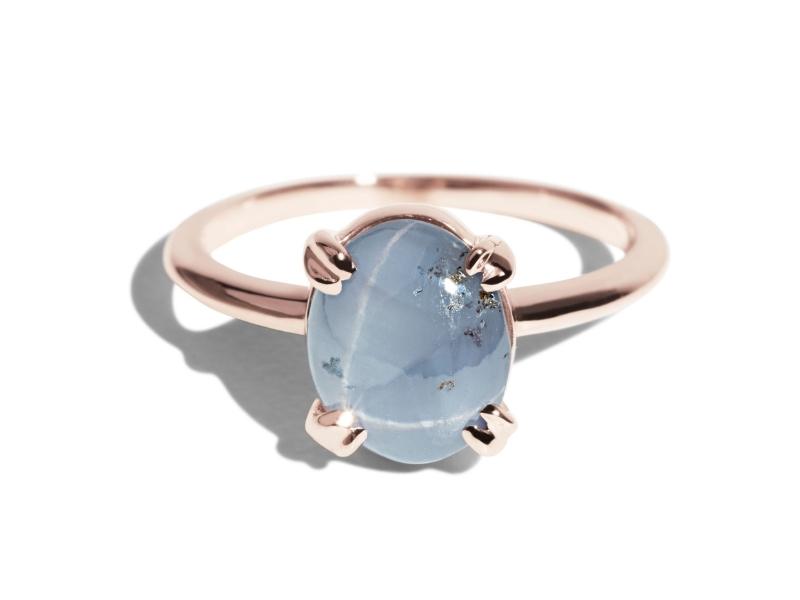 What better way to celebrate the 45th anniversary of your marriage than with a sapphire-encrusted piece of sapphire jewelry? To complement any engagement or wedding band, this gorgeous emerald-cut sapphire stone is an excellent choice of stone.
3. Song Lyric Home Decor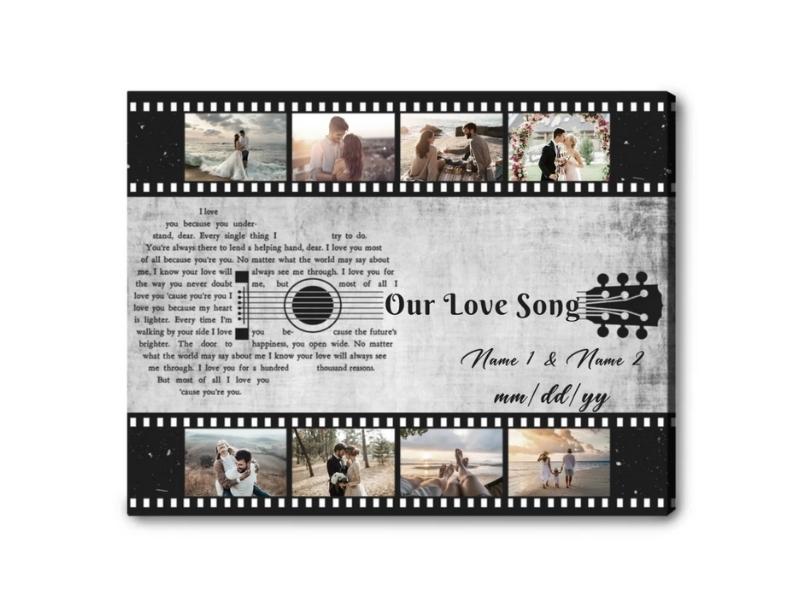 As 45th wedding anniversary gifts for your wife, show your loved one how much she means to you by giving her a bouquet of flowers as a traditional theme. When she gets this adorable wall art poster, she'll be overjoyed to see it every time they look at it.
4. Sapphire Necklace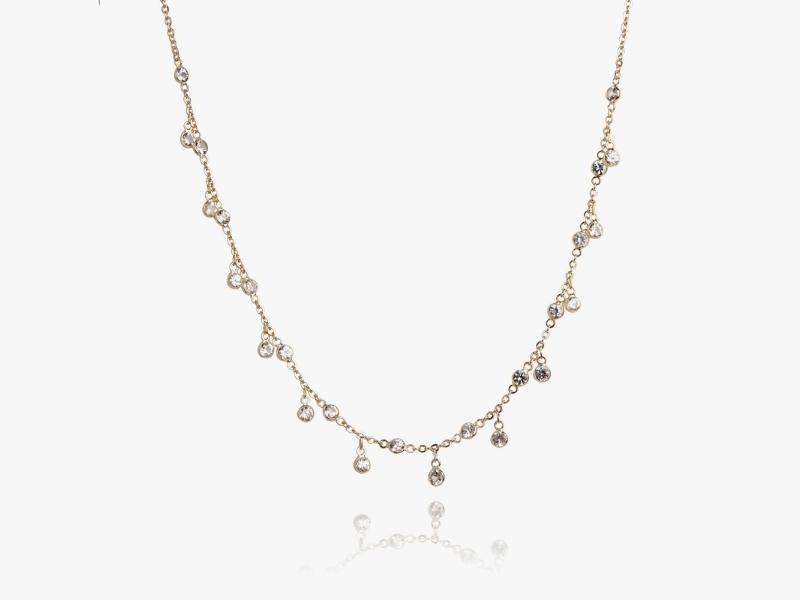 Not all sapphires are blue. Despite their lack of hue and rarity, white sapphires are just as beautiful. White sapphire studs adorn a tiny cable chain that can be adjusted from 16 to 18 inches in length. They really stand out against the gold vermeil, but the sterling silver chain shows them out just as well.
5. Blue Dutch Oven
For couples who like cooking together, there are many 45th wedding anniversary gift ideas, and this one happens to be in a deep blue sapphire color. After four and a half decades of marriage, the couple's kitchenware could need a little TLC. This oven is ideal for making their favorite stews, soups, and casseroles on the momentous occasion like celebrating a marriage milestone.
6. Simple Sapphire and Gold Bracelet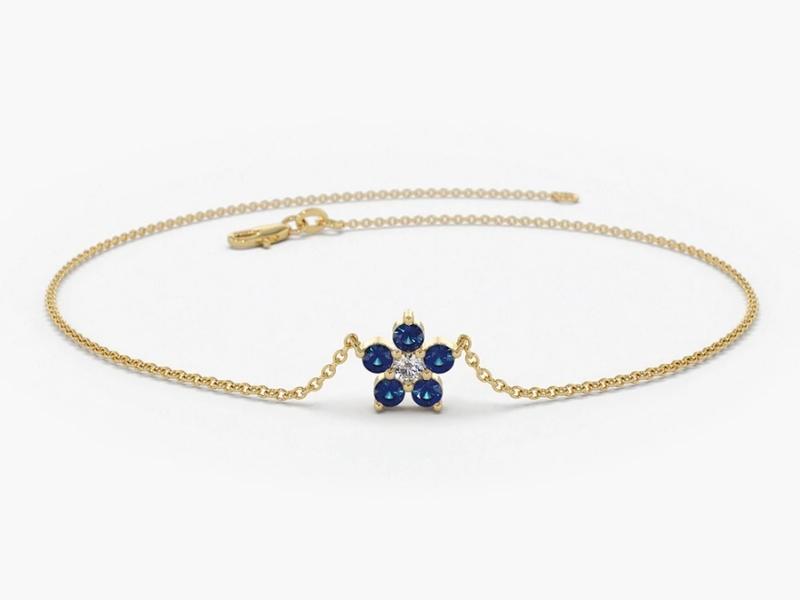 Nothing says I love you more than spending time and money on the person I love. Using a variety of tones of the 45th anniversary gemstone, this elegant bracelet is crafted by hand and is suitable for everyday use.
Oh Canvas tips

You need to give some consideration to the packing. For the simple reason that you wouldn't want to spoil the surprise before the recipient even had a chance to open the package if you sent it to them.

Thus, it is essential to check with the jeweler as to the way by which orders are sent and whether or not the outside packing has the jeweler's logo.
7. Sapphire Stud Earrings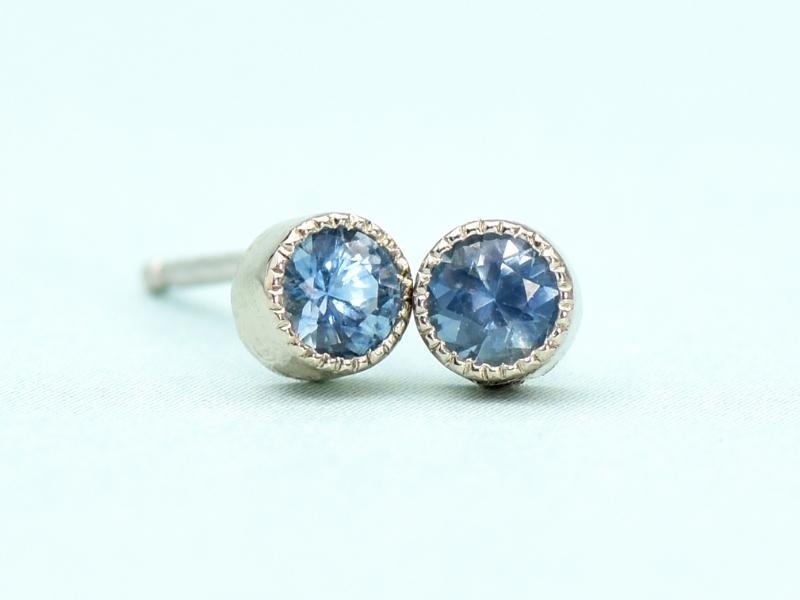 Make your partner's sapphire anniversary more special by gifting them a set of sparkling earrings. Elegant sapphire and pearl earrings are the perfect way to celebrate your anniversary while still including the traditional anniversary motif.
8. Blue Throw Blanket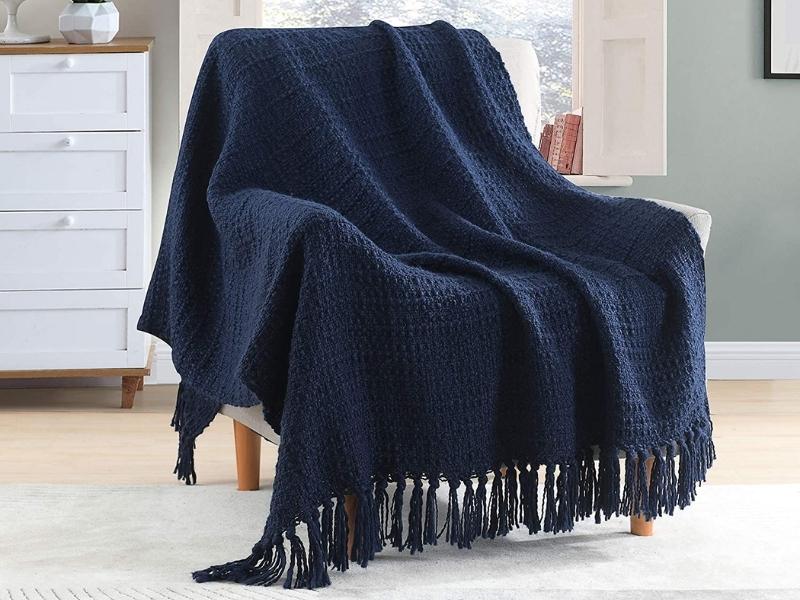 After all the time they've spent together, it's essential to keep the romance alive. Having this herringbone throw blanket on hand will make their next night even more delightful.
Oh Canvas tips

Even while a basic blanket may not seem like a very thoughtful present, putting some extra effort into folding it up and presenting it in a lovely box can make all the difference. Putting in the additional heartwarming message shows that you care about the other person and want to make them happy.
9. Personalized Crystal Ornament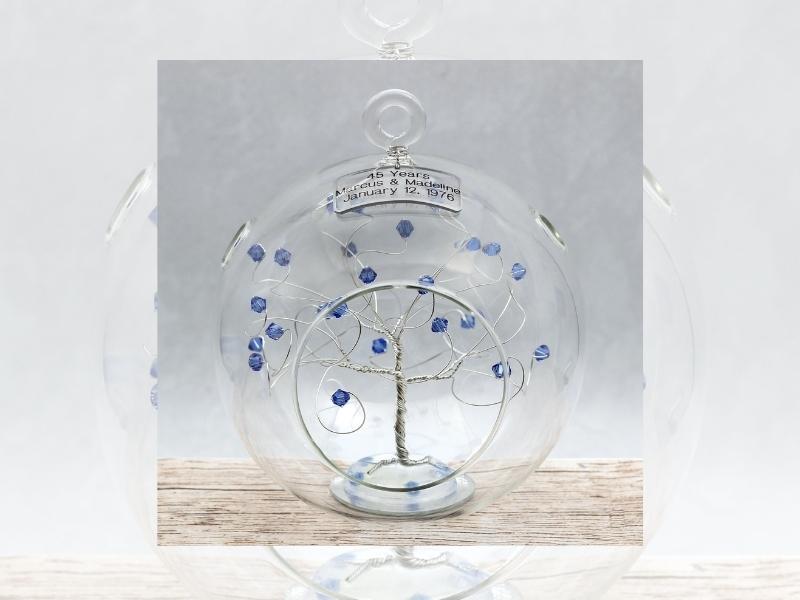 Christmas isn't the only time to use ornaments. In honor of your 45th wedding anniversary, this sapphire memento is a lovely souvenir that may be exhibited year-round.
10. Sapphire Glasses for a Bombay Sapphire gin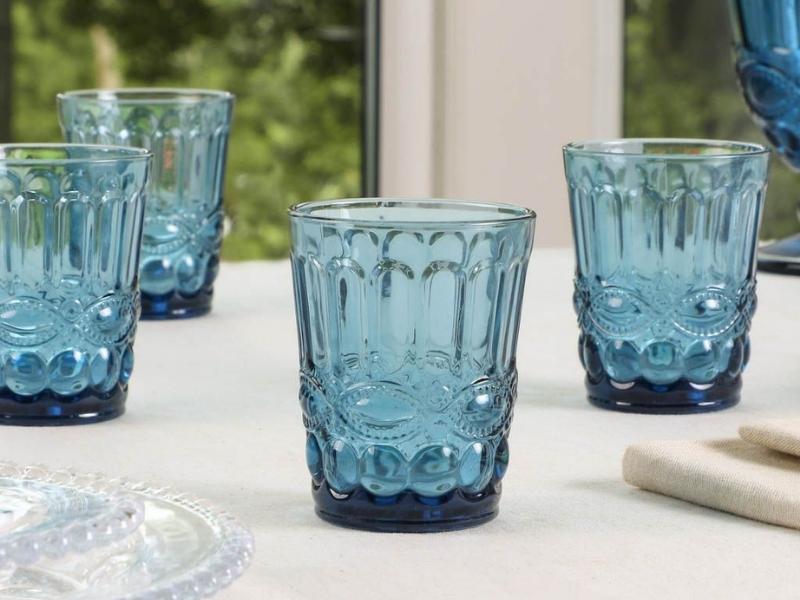 These sapphire blue shot glasses are traditional and modern gifts to celebrate 45 years of marriage. Bombay Sapphire gin on the rocks goes well with these.
11. Sapphire Blue Rose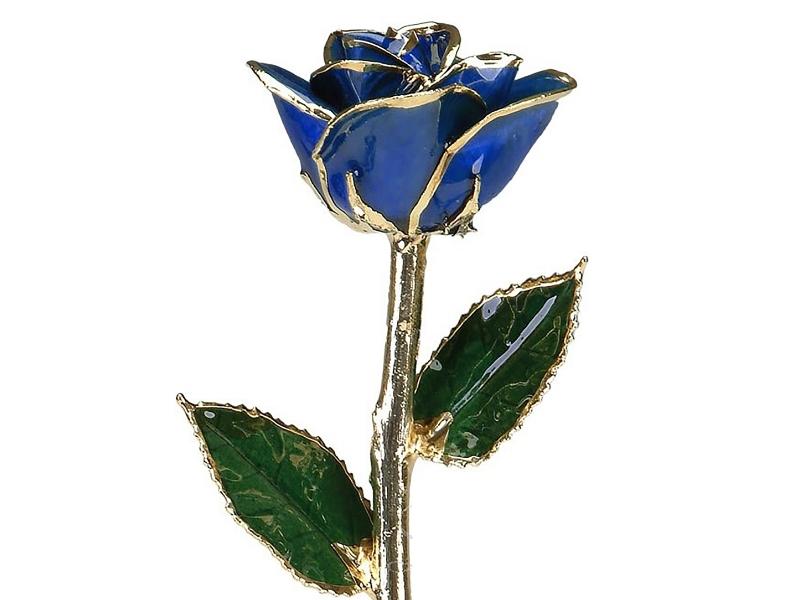 The sapphire is a traditional 45th wedding anniversary gift for the wife. However, the 45th anniversary hue is also a good option if you'd like a different color scheme. If you don't want to take the usual path, this sapphire blue rose is an excellent choice.
12. Sapphire Ring Dish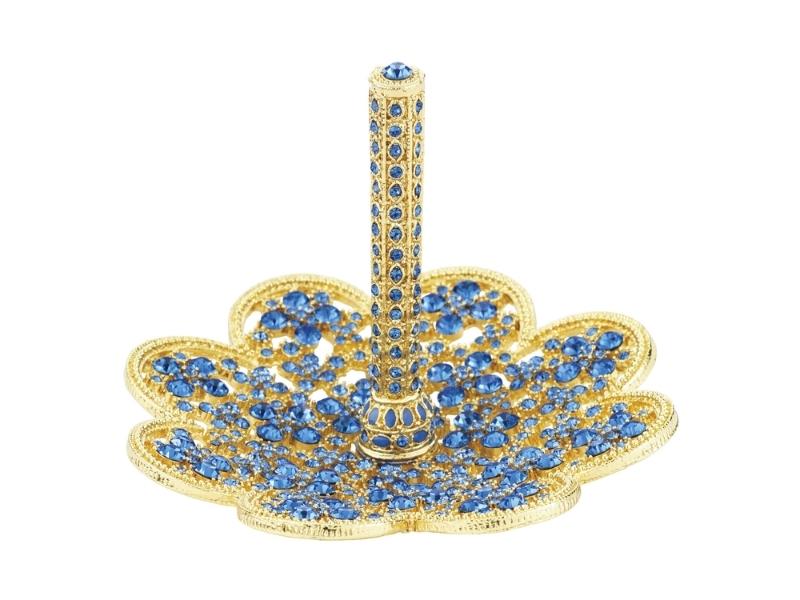 You can't go wrong with this 45 year anniversary gift for your spouse: it's tasty as well as functional. Stained glass, crystals, beads, and copper wire are all used to decorate the piece, which is ideal for storing engagement rings and other valuables while they're not in use.
13. Pretty Sapphire Pendant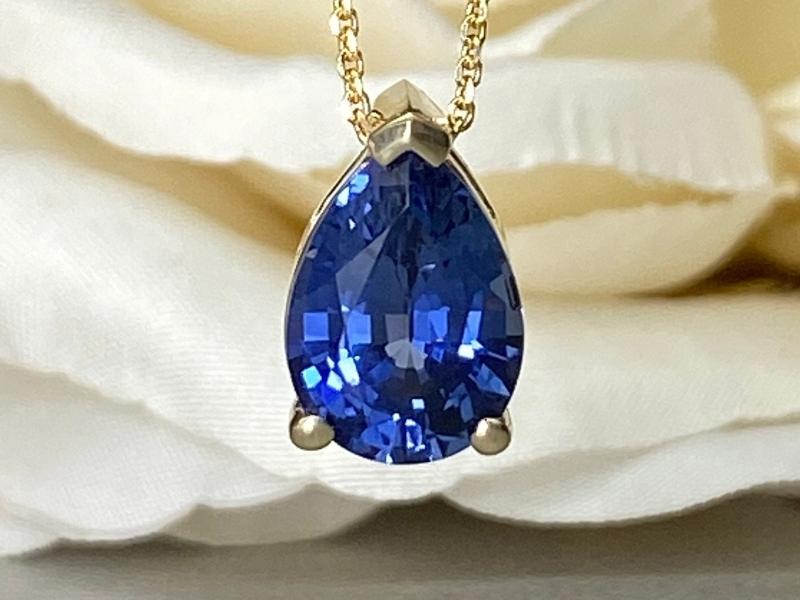 A beautiful pendant necklace like this one is usually a good idea for a romantic 45th anniversary gift. The blue oval sapphire is set in sterling silver, creating a magnificent piece that will be passed down through the years.
14. All Of Me Loves All Of You Beach House Wall Art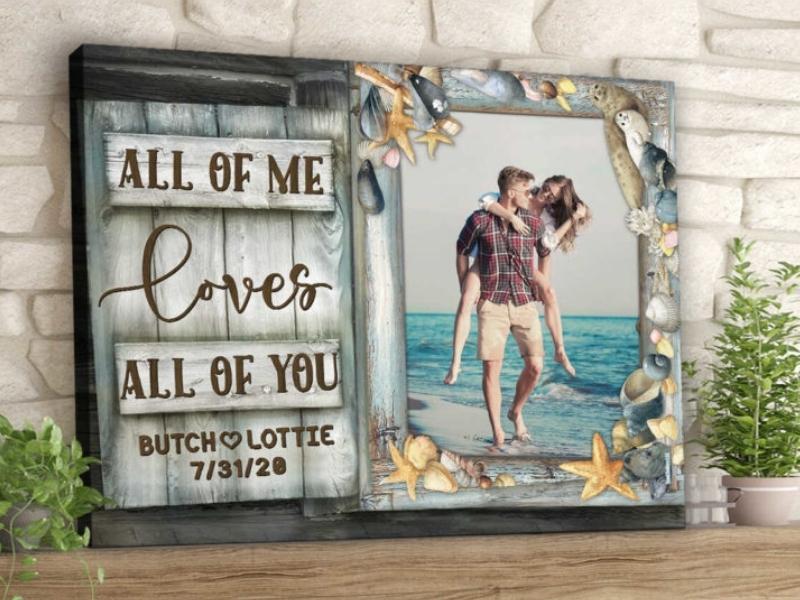 Your house will seem even more gorgeous with this magnificent canvas print on display. It's an incredible piece of art, from the brushstrokes to the color combination. If you're considering getting something special for your spouse on your wedding anniversary celebration, this is it. This canvas will capture your precious memories and help you enjoy life's biggest moments. Don't just take it for granted.
15. Blue Sapphire Earrings Sterling Silver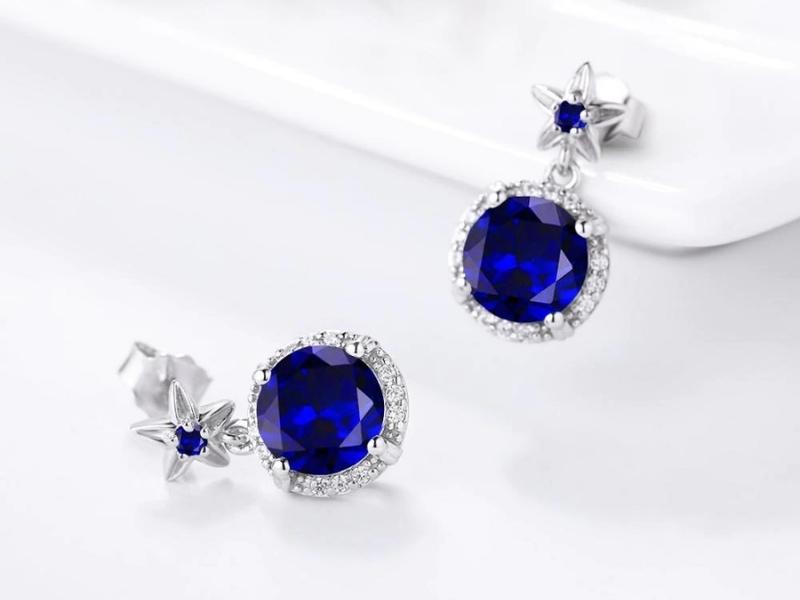 Invest in a pair of teardrop sapphire earrings for the traditional and modern 45th wedding anniversary gift for your wife. When you get a genuine sapphire as a present, you can't go wrong. Show off these stunning earrings by taking her out for a night on the town. She'll love this gorgeous sapphire gemstone from you.
16. Blue Sapphire Teardrop Pendant with Diamond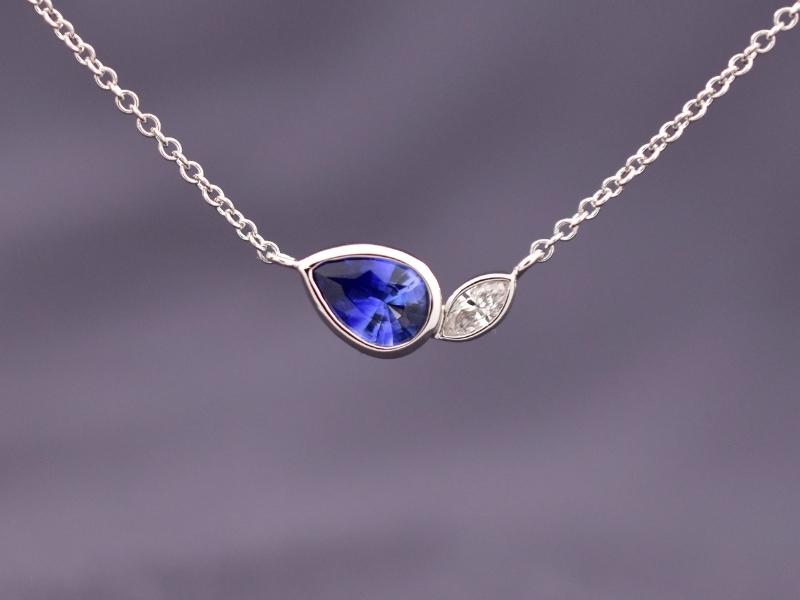 This blue sapphire teardrop with a diamond necklace would be a great way to attract her attention. She will treasure these 45th wedding anniversary gifts for years to come. Piece diamonds of jewelry that she'll never want to remove from her wrist.
17. Sapphire Wedding Pop-Up Anniversary Card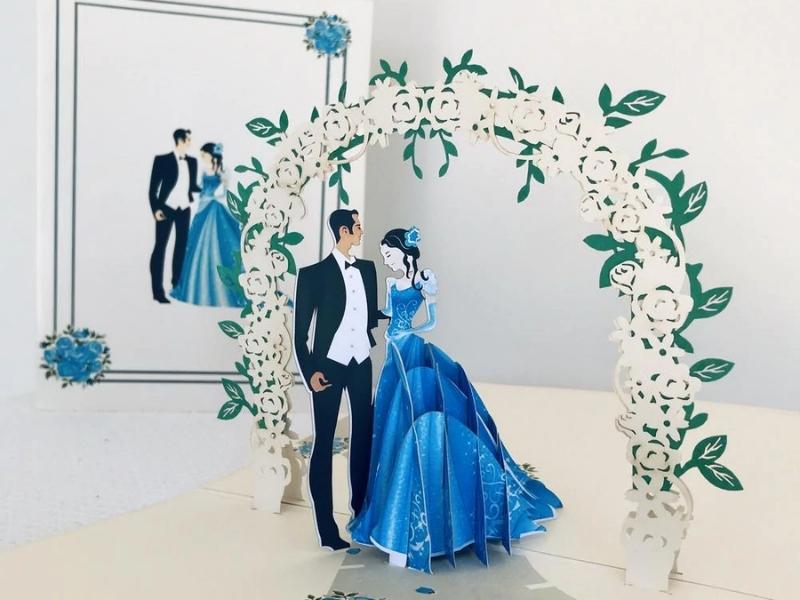 We recommend this pop-up card if you're seeking a really memorable gift. The 45th wedding anniversary is recognized for its brilliant sapphire hues, and this cake is no exception!
18. Personalized Constellation of Love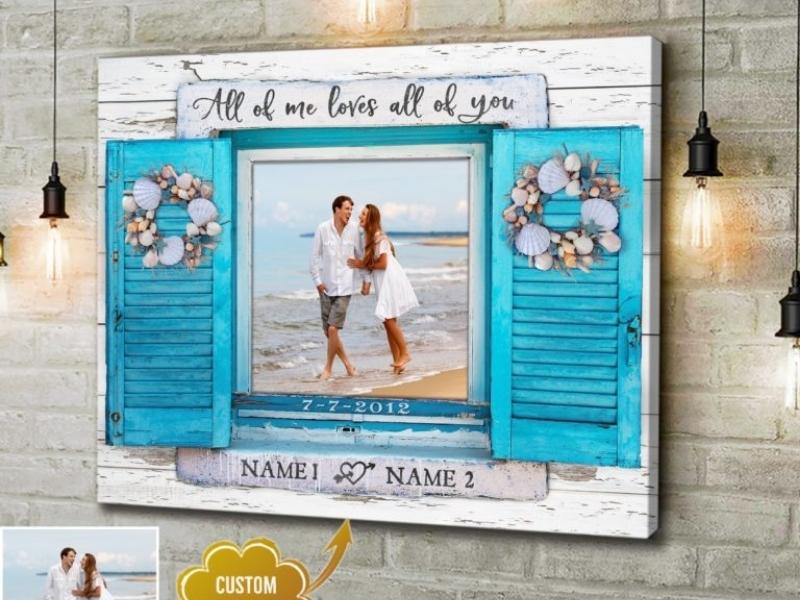 It's the perfect way to remember your special day. High technology is used to build star charts based on your date of birth, which she then transforms into a constellation picture in the night sky.
You may make it even more customized by adding the recipients' names and the wedding date to this modern gift.
19. Sparkly Pink Sapphire Necklace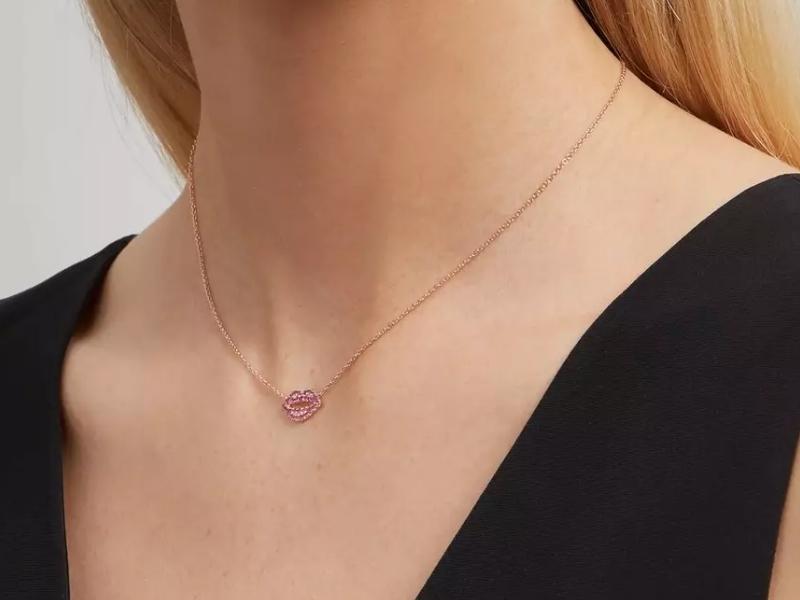 While blue sapphires are stunning, we also love pink ones. To add some sparkle, this one is made of gold and has a little diamond on the chain.
20. Sapphire Scattered Row Bracelet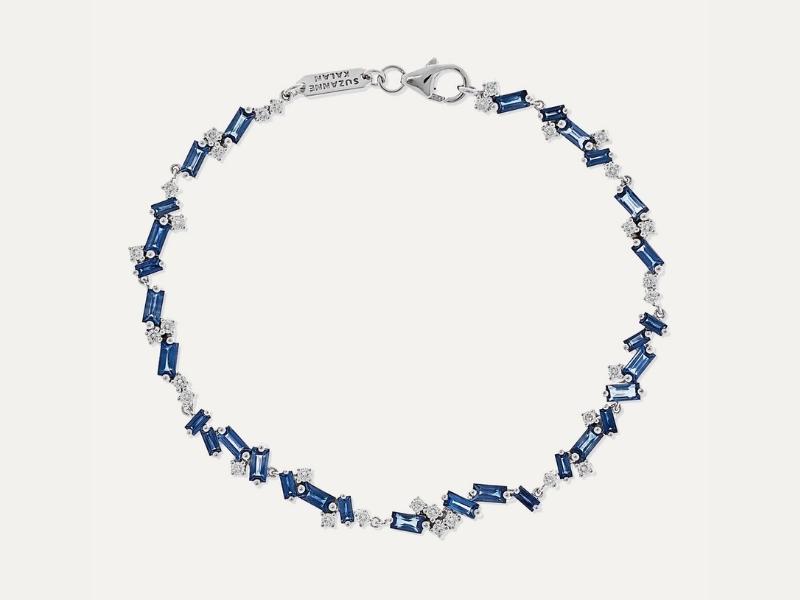 It's easy to wear this lovely bracelet every day since it's so unobtrusive. It's the matching accessory if you've got a sapphire engagement ring from your partner.
>>> Read more: Top 42+ Funny Wedding Anniversary Gifts for Couples in 2023
45th Anniversary Gift for Husband
Trying to find the perfect gift for the guy in your life? These gift ideas for 45th wedding anniversary are ideal. Check through all of your possibilities and be inspired to discover the right match for your hubby.
21. Wonderful Wall Art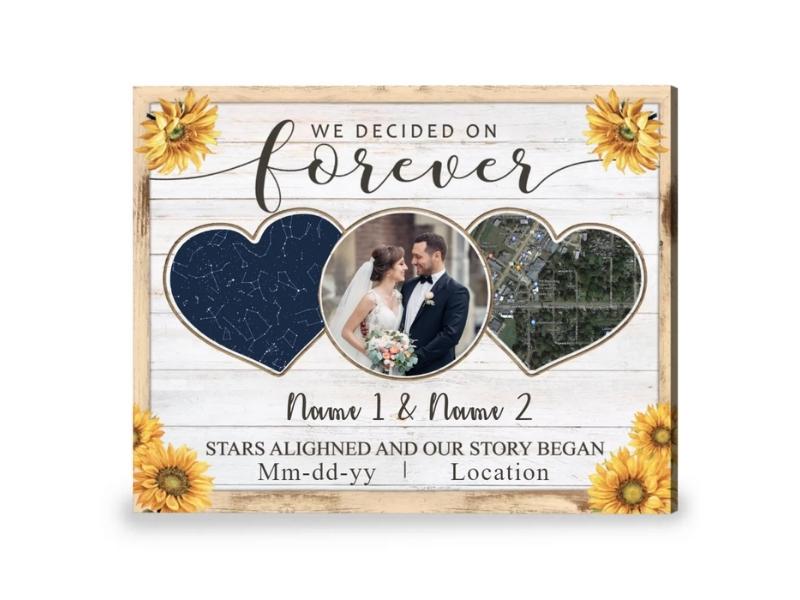 For years to come, this beautiful piece of art will remind you of your sapphire anniversary. Even if it's a 45-year wedding anniversary or a 10-year or 15-year anniversary, it'll be an appropriate 45th wedding anniversary gift for husband!
22. Luxe Watch with Sapphire Blue Face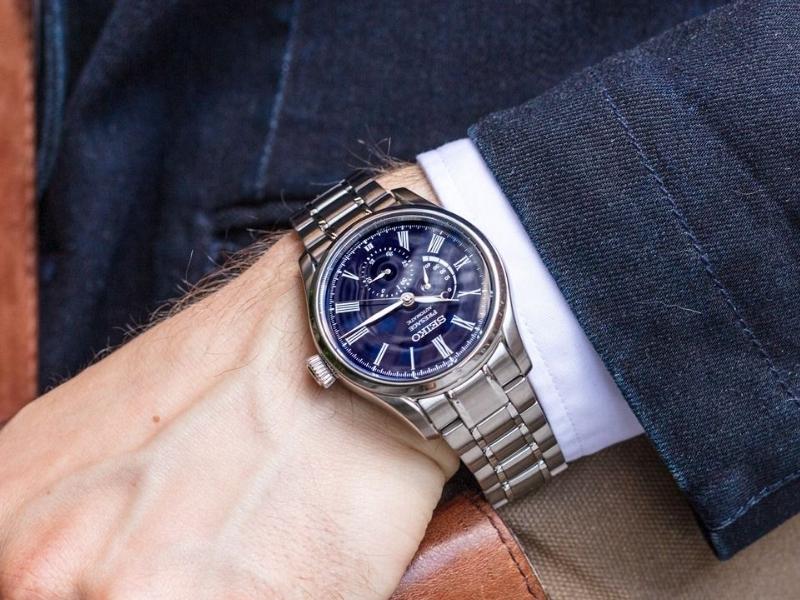 Treat your loved one to a timepiece that will last a lifetime with a premium watch. Elegantly referencing the 45th anniversary theme, this timepiece has a sapphire face.
23. Elegant Ballpoint Pen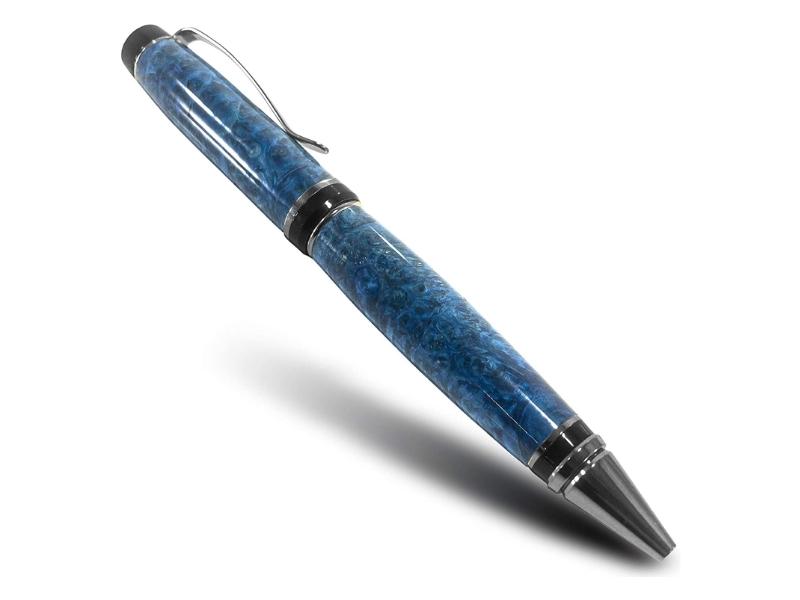 One of the best modern gifts for him, who's often writing down vital ideas, is a high-end pen. Your significant other will be unable to put down their pen once they or start using this high-tech tool. Perhaps they'll start writing you love letters as well.
24. Upgraded Sapphire Wedding Band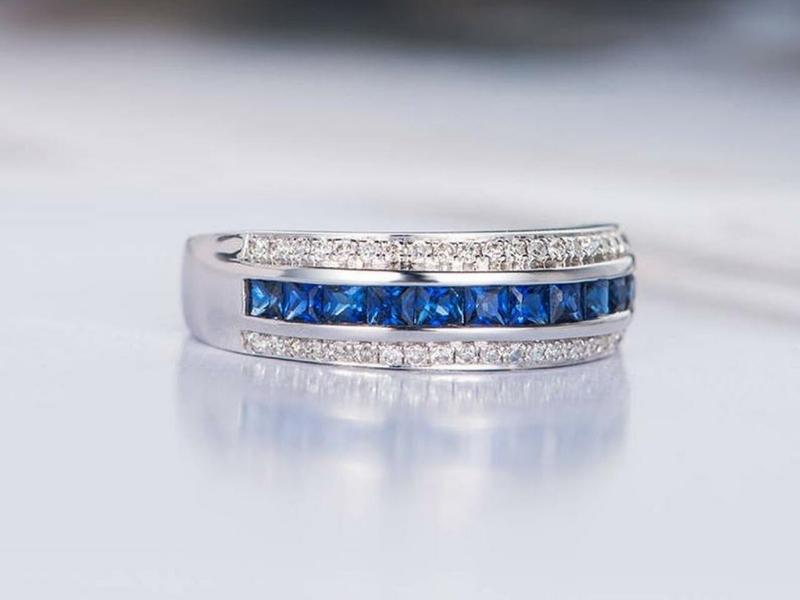 After 45 years of marriage, it's possible that your wedding ring has to be replaced. The sapphire blue inlay on this tungsten ring serves as a subtle tribute to the 45 year anniversary color.
Oh Canvas tips

Your husband's preferred jewelry style is based on his occupation and the tasks he does with his hands. Understanding his work, as well as his interests and hobbies, will help him design a layout that suits him well. If he spends a lot of time using his hands at work, for instance, a thin band would be more practical.
25. Sapphire-Encrusted Money Clip
Having a money clip in your spouse's pocket is a sensible 45th anniversary gift that he'll use every day. This sapphire-encrusted pick is a timeless piece that may be passed down for generations.
26. Sapphire Cufflinks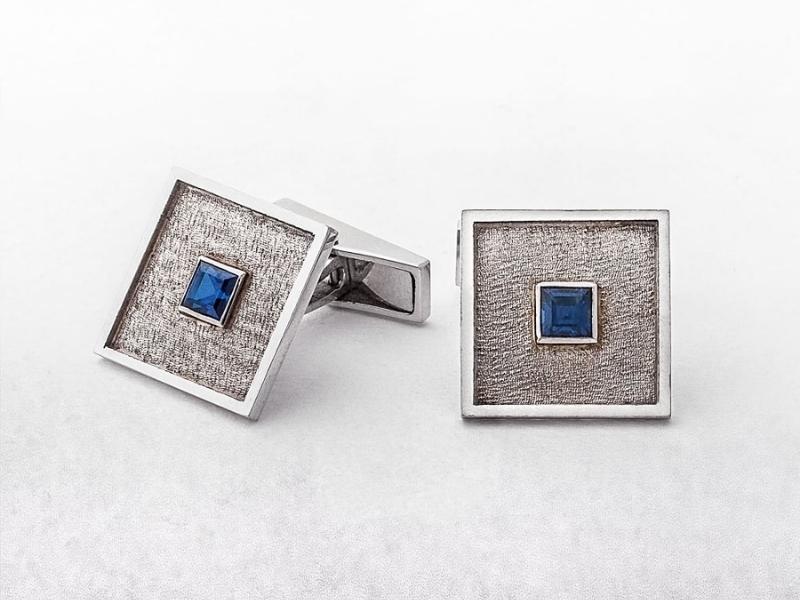 Celebrating your 45th wedding anniversary with a party? Make your spouse's wedding day even more memorable by gifting him a set of sapphire cufflinks with distinctive rose gold plating as a 45th wedding anniversary gift for your husband to wear on the big day.
27. Sapphire Rubber Strap Watch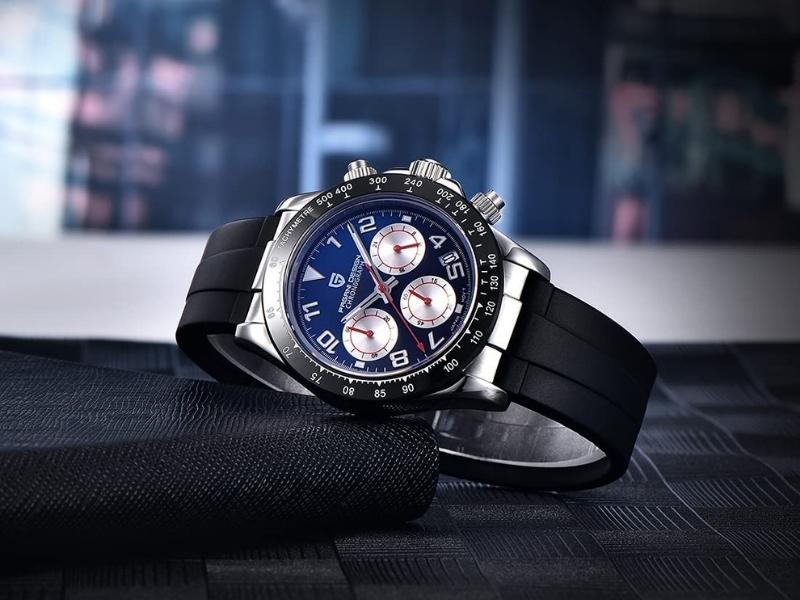 Your man will look dapper with this slick timepiece. Elegantly designed with a sapphire crystal dial, matching rubber band, and stainless steel embellishments, this timepiece has it all. Slender stick indexes mark the time on this vintage timepiece.
28. Family Custom Canvas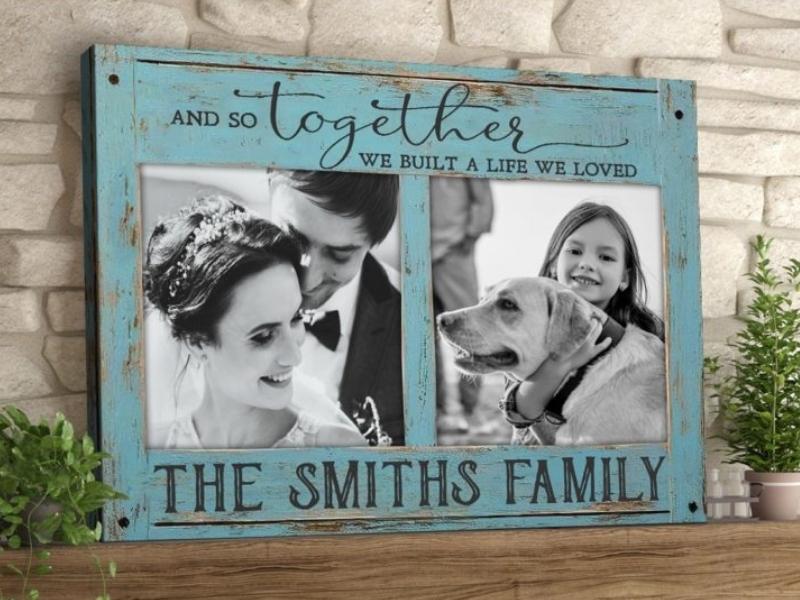 Family comes first for your guy. Family is everything to him. Every day, it's what motivates him to get out of bed in the morning and what keeps him going. When he thinks of 45 years together, it's more than simply a milestone; it's the reason he lives.
29. Rugged Cooler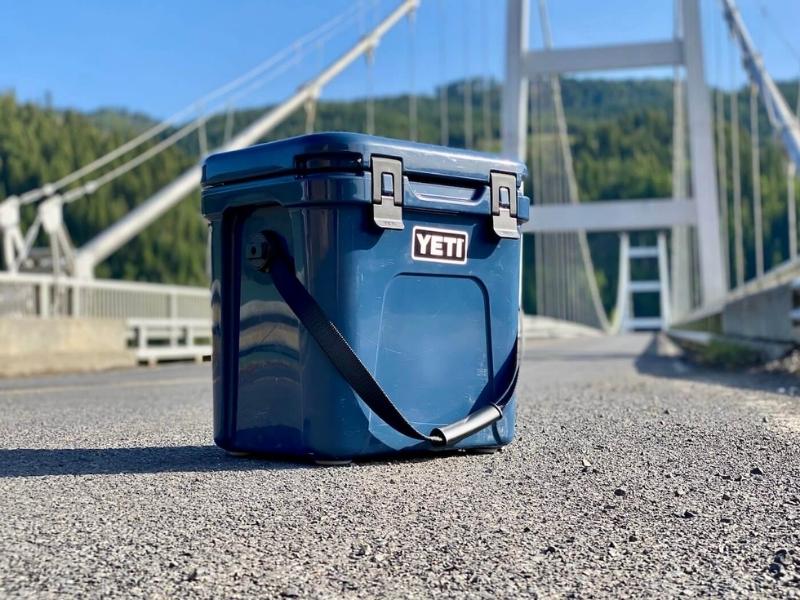 If you know someone who is always on the run, get them a robust cooler. Its rich sapphire blue hue makes it a very suitable 45th wedding anniversary gift for your husband's choice.
Oh Canvas tips

Methods for Preventing Ice Melt in a YETI Cooler with Rock Salt:

It's crucial to pack your cooler with lots of ice and plenty of canned and bottled beverages.

Be generous with the rock salt as you sprinkle it over the ice.

Don't forget to secure the lid or zipper on your cooler.

Don't open that cold one for another half an hour.
>>> Read more: Top 35+ Best 40th Anniversary Gift for Couple You Should Know
45th Anniversary Gift Ideas for Couples
30. Custom Star Map Canvas Print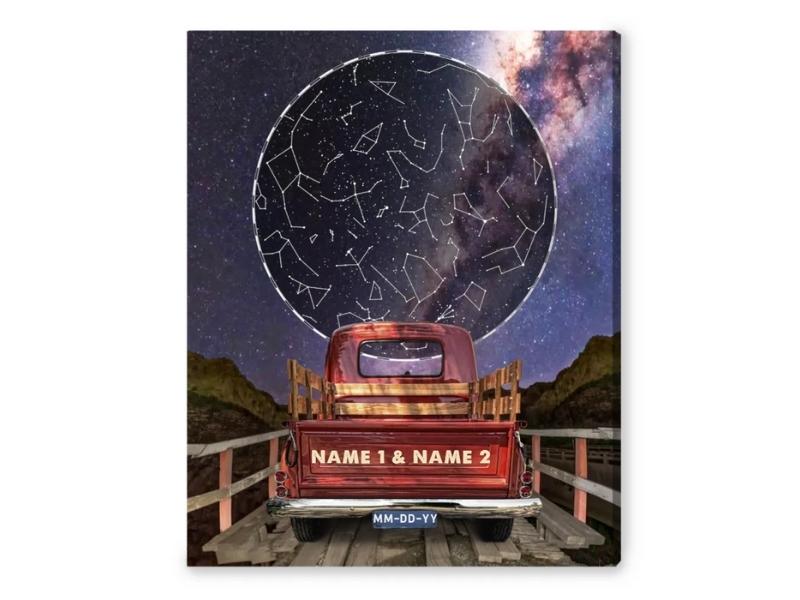 As one of traditional 45th anniversary ideas for parents, a personalized map canvas art print is a good option. The anniversary gemstone, sapphire, isn't included in this design, but there are representations of stars that sparkle precisely like sapphire.
31. Sapphire Blue Wine Glasses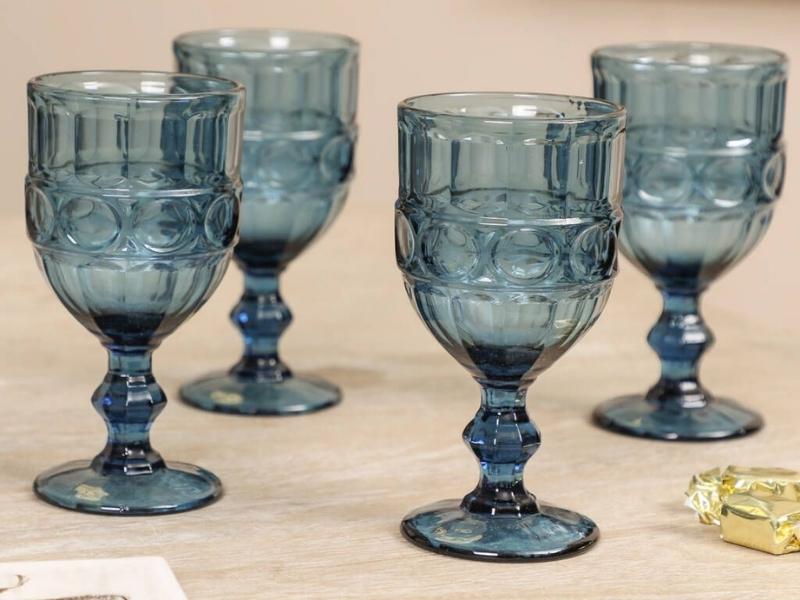 A perfect gift is a set of sapphire blue wine glasses for your favorite pair to celebrate 45 years of marriage. The rich color is a perfect tribute to the sapphire anniversary, and the glasses would look beautiful on display at the dinner table.
32. Fresh Flowers in a Sapphire Vase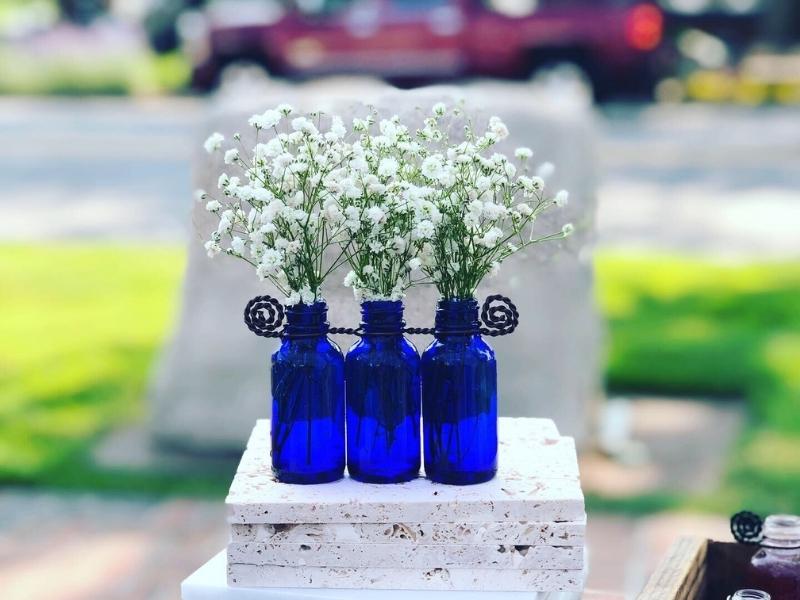 If you're looking for a 45 year anniversary gift for your parents, look no further. An anniversary card with fresh-cut traditional flower can never go wrong. Present their choice blossoms in this elegant blue vase as a nod to the sapphire couple's wedding anniversary.
33. Rich Blue Photo Album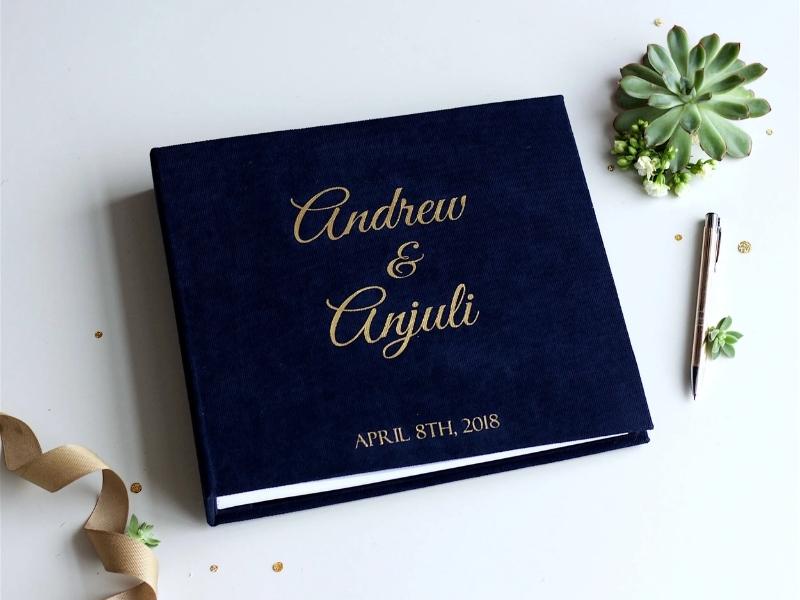 Jewelry isn't the only option for a sapphire anniversary present. Make a picture book for your spouse (or your parents), including their greatest memories from the last 45 years. This 45th anniversary gift is sure to bring a smile to their face as they flip through the pages.
34. Ceramic Sapphire Keepsake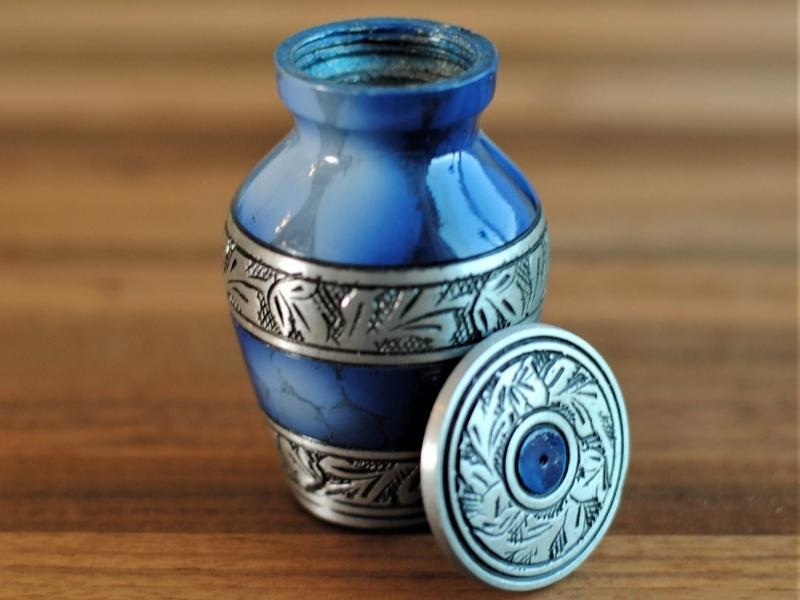 Are you looking for a thoughtful anniversary present for your parents? This heart-shaped souvenir is a sweet way to commemorate their 45 years together without going over budget. If so, has it been customized with the couple's name and wedding date?
35. Sapphire Plaque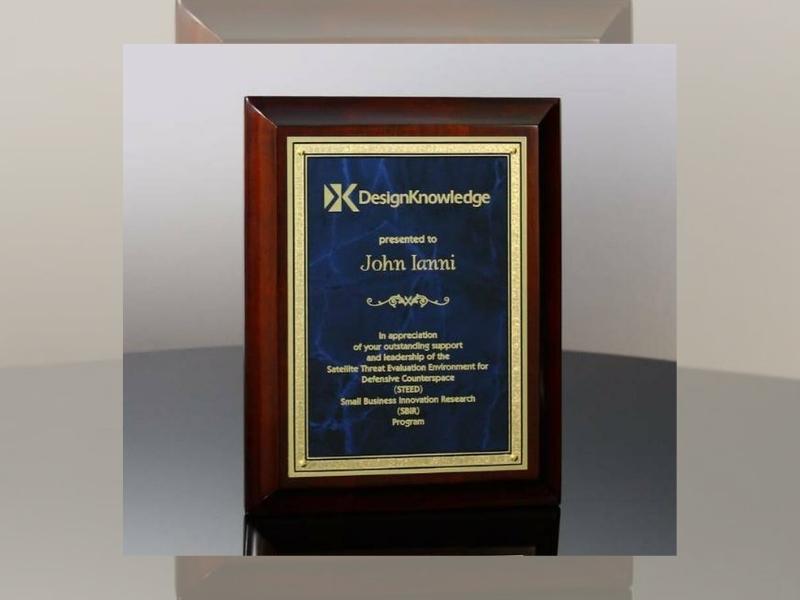 Make sure you get this sapphire plaque if you're seeking traditional and modern gifts that will definitely blow their mind. A wonderful piece of art that they may display with pride in their house.
These unique 45th wedding anniversary gifts may be customized with the recipient's name, the day of their anniversary, and the month and year.
36. Sapphire Wedding Anniversary Card
For your 45th milestone anniversary, don't settle for any old card. Make a sentimental gift for them that they can also use as decor in their house.
If you're looking for something more than simply a standard gift card, this one is for you. A meaningful gift for people on a tight budget who nevertheless want to treat themselves.
37. Sapphire Themed Candle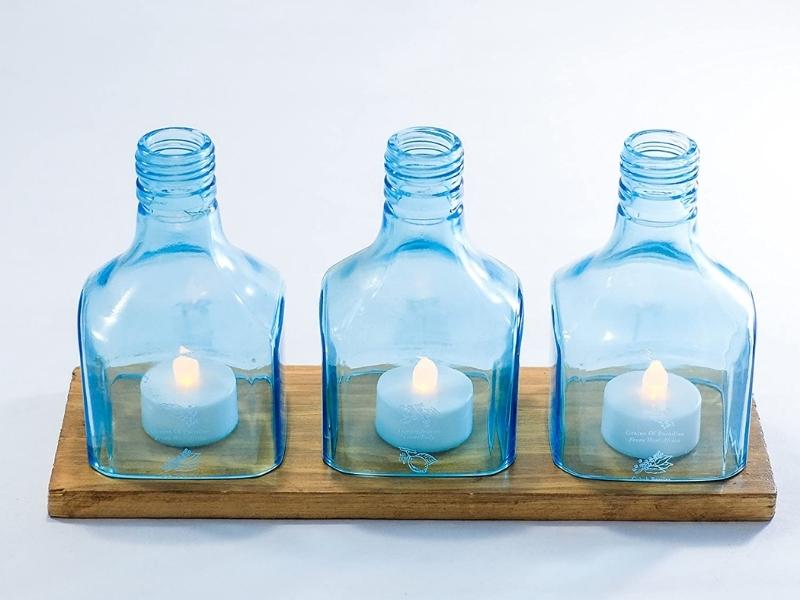 When it comes to gifting your loved ones a simple and straightforward 45th wedding anniversary gift for parents, we've got you covered. They'll be delighted to get this beautiful package of candles and diffusers as a perfect 45th anniversary gift. It's a sweet little present that any couple will enjoy.
38. Unique Anniversary Gift Canvas Print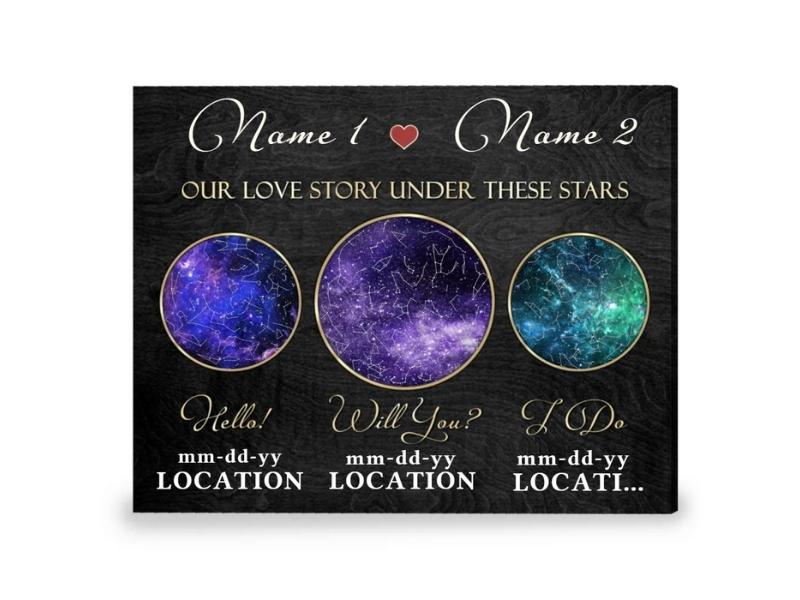 Sometimes it seems as though the stars have aligned to offer you what you've always desired. You'll know they did with our framed print of a personalized star map.
An accurate depiction of celestial events is provided by this customizable night sky map. Whether it was your first kiss, your first date, or the day you found your soul mate, this star map may serve as a reminder of that moment.
Your names, dates, and particular places are all that is needed for this constellation painting wall décor. This is a one-of-a-kind 45th wedding anniversary gift.
Read more:
In 45 years, a lot has changed. All of the highs and lows a marriage might experience have been experienced by you and your spouse. To commemorate this milestone, we've compiled a list of traditional and modern 45th anniversary gift ideas for him, her, and them all. Oh Canvas hopes you have the happiest moment ever this year with our suggestions above!