It might be more difficult than you think to choose the ideal 43rd anniversary gift. How can you sum up a lifetime of marriage into a single gift? Impossible. A thoughtful and heartfelt gift for your spouse (or a pair you care about) will be treasured for many years to come. To make things easier, Oh Canvas has gathered a slew of gift suggestions (each tailored to a particular partner's personality and hobbies) that we know will make their day! Scroll down to read!
What is the Traditional Gift for the 43rd Wedding Anniversary?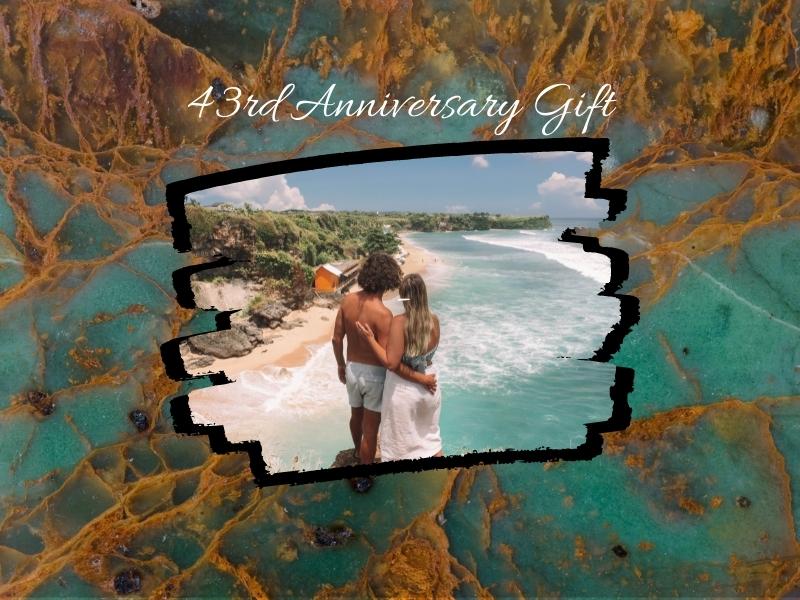 There are various options for a 43rd anniversary gift, though it doesn't have any traditional theme for this year. The official gemstone is the opal, and the contemporary present theme is travel, despite the lack of a customary gift for the couple's 43rd wedding anniversary.
Gifting a lavish vacation isn't always an option for everyone, but there are lots of other enjoyable travel-themed presents you can get instead. Yes, I'd want to try something new. That's OK, too. There are a few non-traditional, one-of-a-kind, and even unusual presents on this list.
Top 40+ Ideas for the 43rd Anniversary Gift
43rd Wedding Anniversary Gift Ideas for Wife
1. Venus et Fleur The Classic Bundle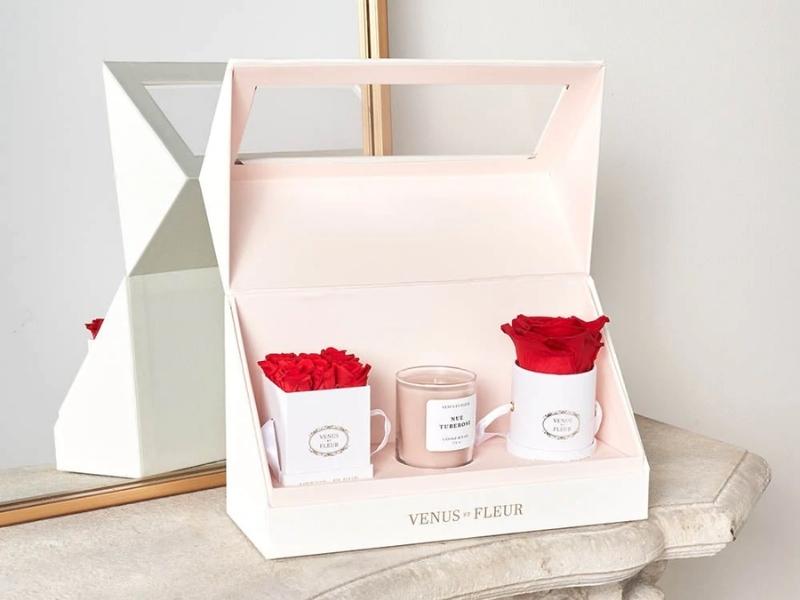 Not sure whether to choose flowers or a candle as a 43rd anniversary gift for wife? Well, why not gift both of them? Natural roses kept lasting at least a year are included in this package, as well as a beautiful candle in your choice of tuberose, white rose, or rose oud.
2. Classic Bathrobe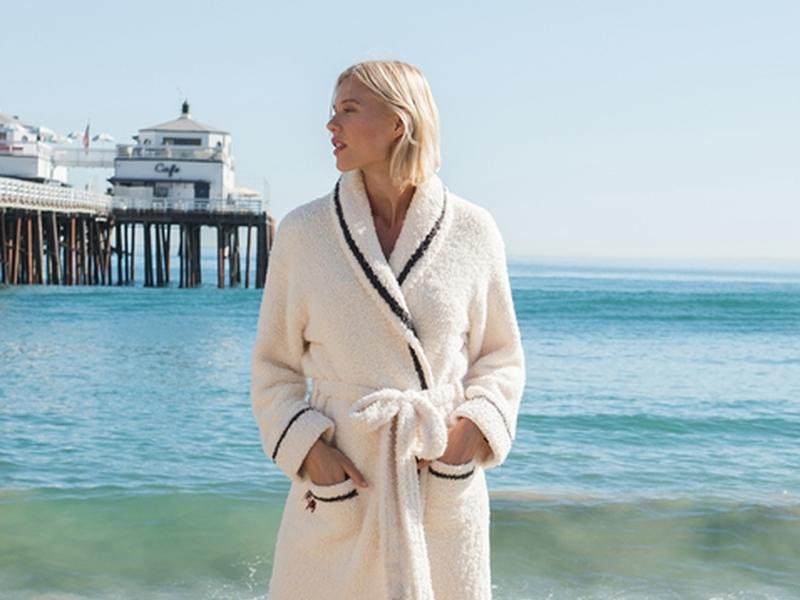 One of the nicest things about traveling, at least for us, is getting to wear fluffy robes (and staying in a hotel). With this luxurious bathrobe, any house may feel like a five-star resort. As soon as they put it on, they'll be in paradise.
3. Diamond and Opal Teardrop Studs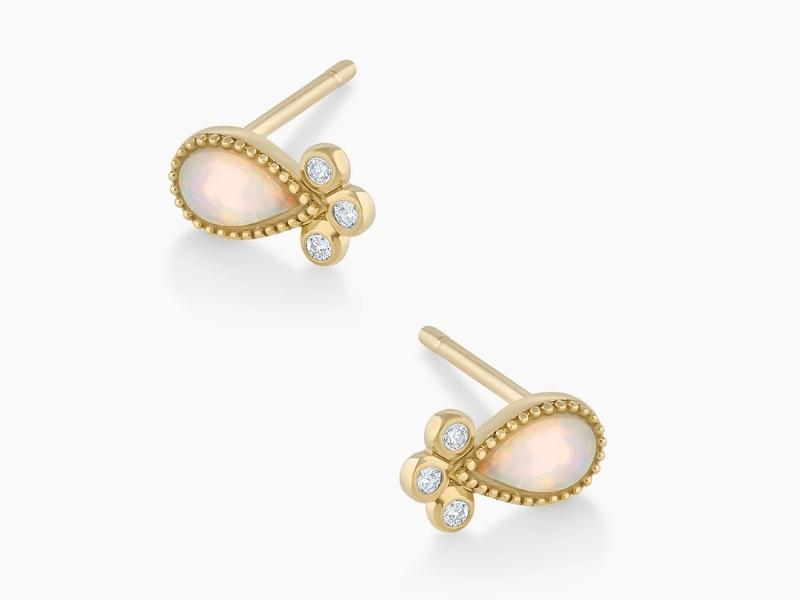 The milky, iridescent opal is the traditional anniversary gemstone for couples celebrating their 43rd wedding anniversary. Diamond and opal teardrop earrings are a charming and delicate take on the jewel, and a lovely way to celebrate your anniversary.
4. National Parks Hand Embroidered Pillows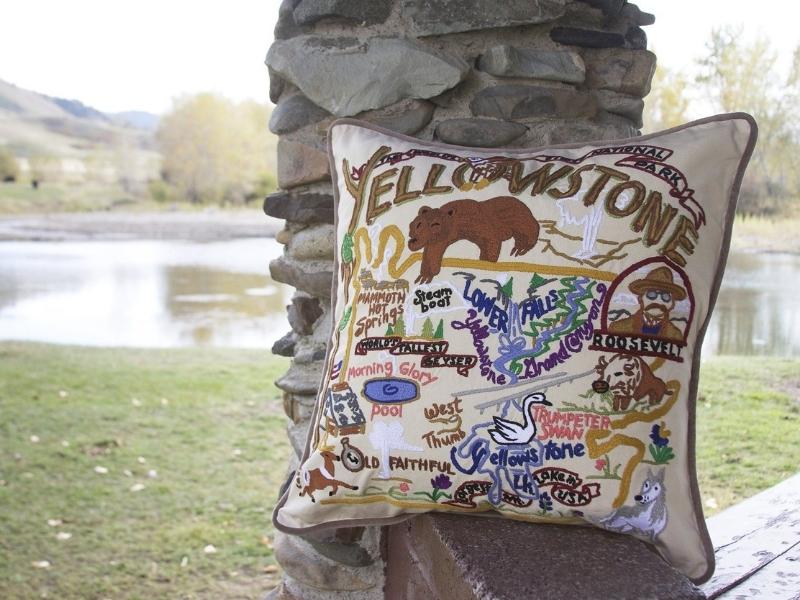 These lovely embroidered pillows would make the wonderful anniversary gifts by year for a hiking partner who has always wanted to visit a national park (or currently has one that they like). Having found the right position for their new cushion, they'll be motivated to go for a walk or hike.
5. Personalized Song Lyrics On Canvas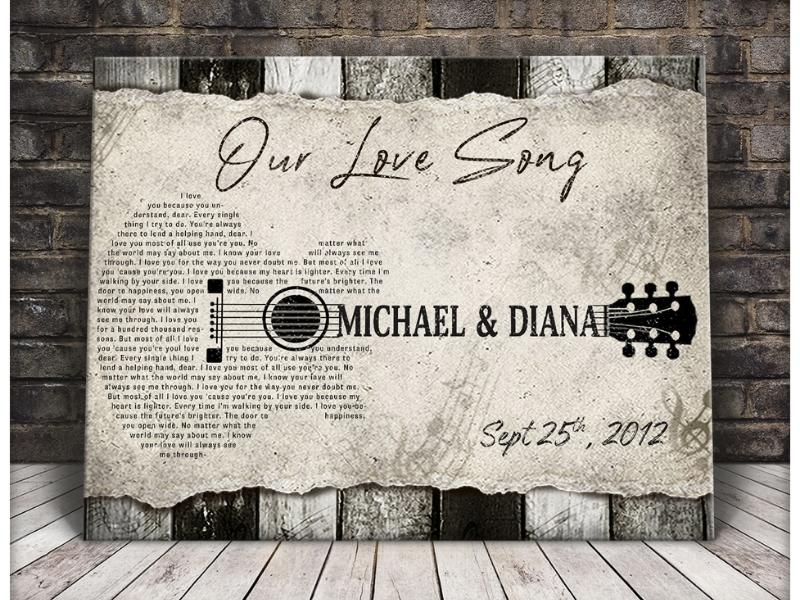 You may commemorate your anniversary with personalized song lyrics on canvas music wall art. It's okay, Canvas, to write down the lyrics to your favorite music. It doesn't matter whether you're in your first year or your fiftieth year of marriage; life is about singing like there's no tomorrow. This personalized guitar-shaped gift, which includes lyrics to some of your favorite songs, is guaranteed to wow.
To honor your relationship, hang the handmade canvas artwork in a spot where you can dance with your partner. For a long time, your home lacked this one piece of decor. Your names and wedding date should be included in its design. Congratulations on your anniversaries!
6. Scratch the World Travel Map
If you're celebrating your 43rd anniversary, it only seems sensible to give a 43rd wedding anniversary gift that reflects your love of travel. This visual map makes it easy to keep track of all the places you've visited as a group. Using a coin (as you would a lottery ticket), you may scratch off each nation on the map to keep track of all the fun things you've done together.
7. Recycled Wool Blanket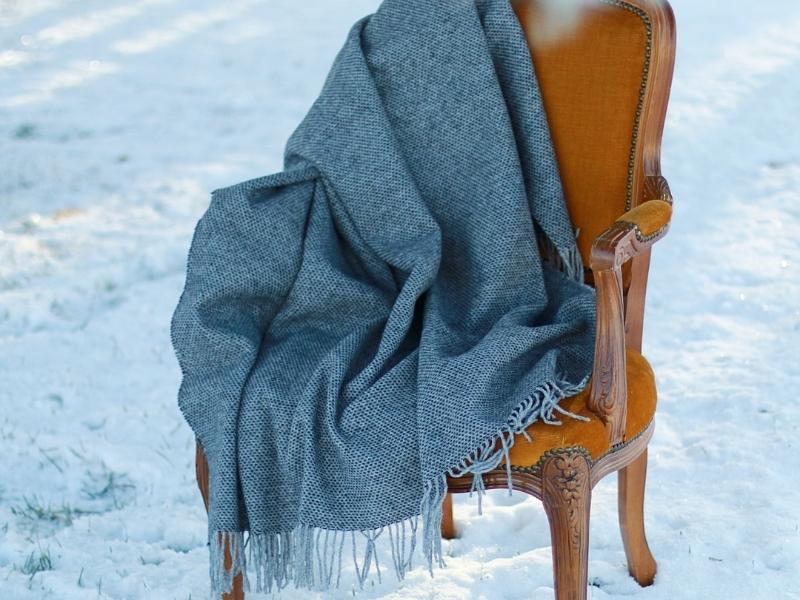 This blanket is ideal if you're looking for a cozy night in with a bottle of wine and a good book. Because it's made from recycled wool, it'll keep your favorite snuggling buddy warm and toasty for years to come. To make it more special, you may add a name or initials during the checkout process.
8. Opal Diamon Cascade Necklace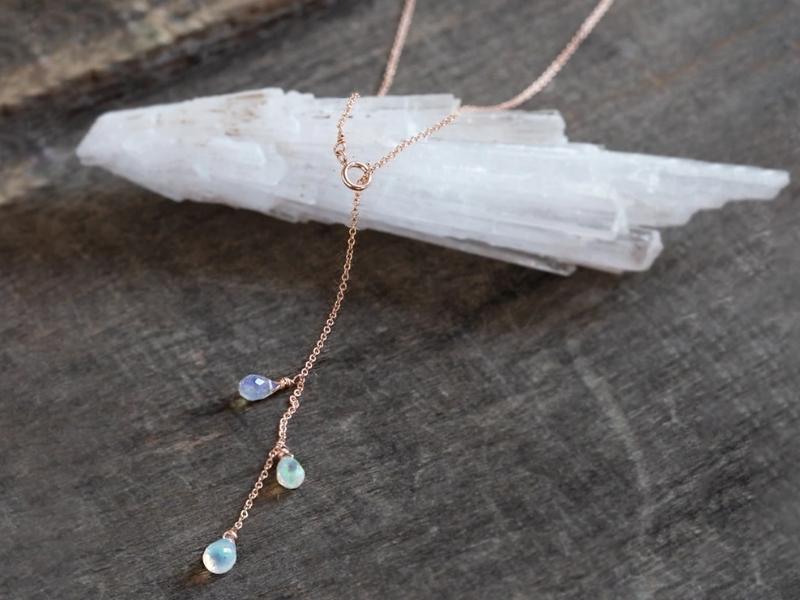 Opal, the anniversary stone, may often seem dated and rudimentary, but not in this rendition. This exquisite design is guaranteed to become a family treasure thanks to the use of beautiful diamonds and 14-carat yellow gold.
9. Personalized Vegan Travel Pouch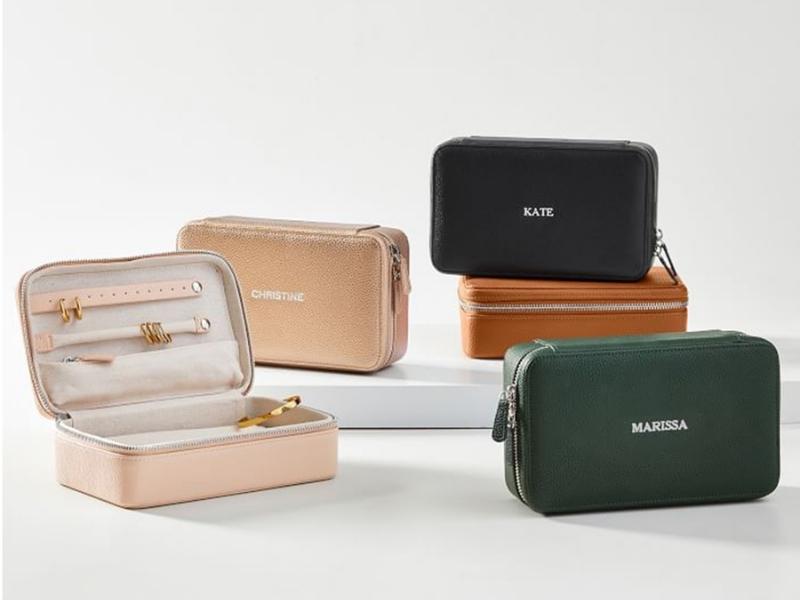 Despite its practicality, it yet has a sumptuous air about it, making it a timeless gift choice.
10. Bath Salts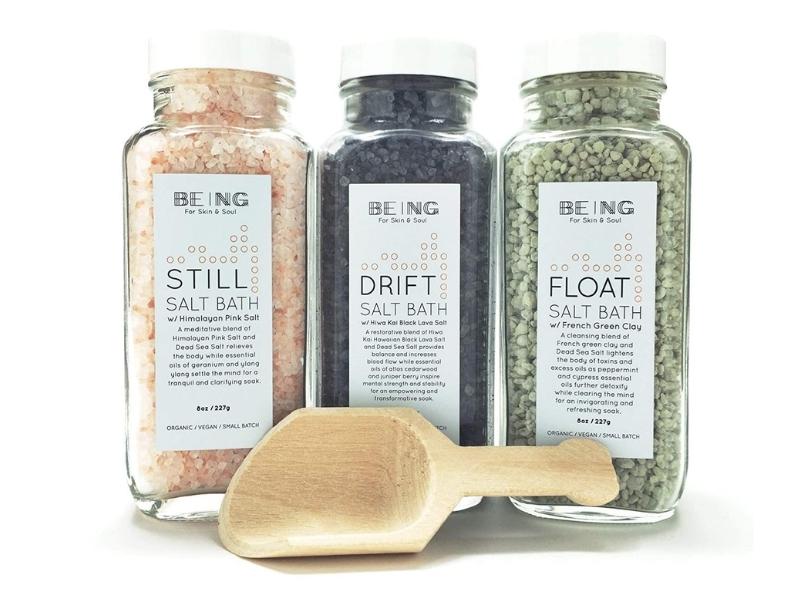 It's a close second to a spa day if the 43rd wedding anniversary gift for wife isn't in the cards. This bath salt tin is beautiful, but the botanical-scented bath salts in aromas like rose, geranium, and grapefruit are the true star of the show.
11. Best Wedding Anniversary Gifts With Bible Verse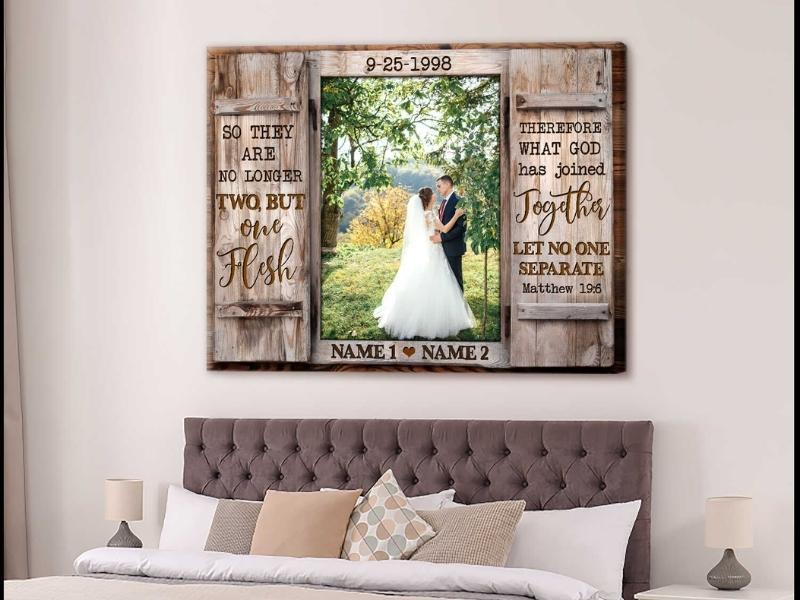 As a wedding decoration, wedding gift, or anniversary present for the happy pair, this picture canvas print is really one-of-a-kind. The couple's love for one another and for God is shown in this painting via the use of an encouraging Bible quote. Upload a favorite wedding picture and the names of the happy couple to make this photo present really unique.
Gifting a picture canvas poster is a wonderful way to decorate a bedroom or dresser. The wall art may be displayed in the hallway or living room as a reminder of their love and commitment to one another.
12. Fujifilm Instax Mini 70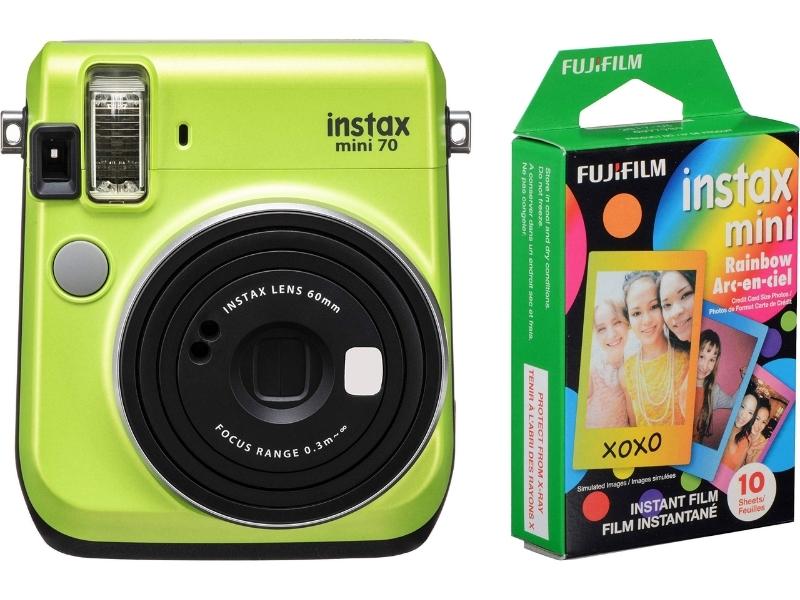 Let her know how much you love her by giving her the 43rd anniversary gift of this trendy polaroid camera.
13. Weighted Blanket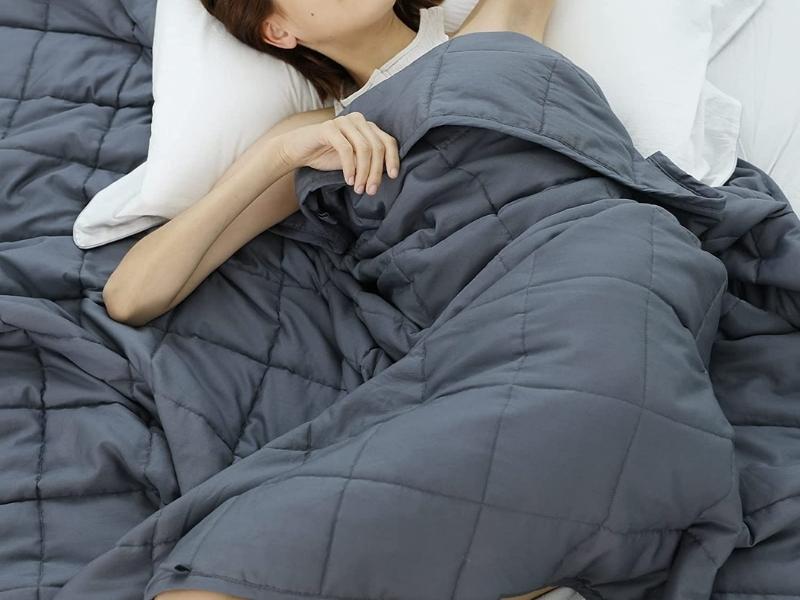 A weighted blanket for those evenings when you can't be there for your partner.
14. 14K Gold Opal Earrings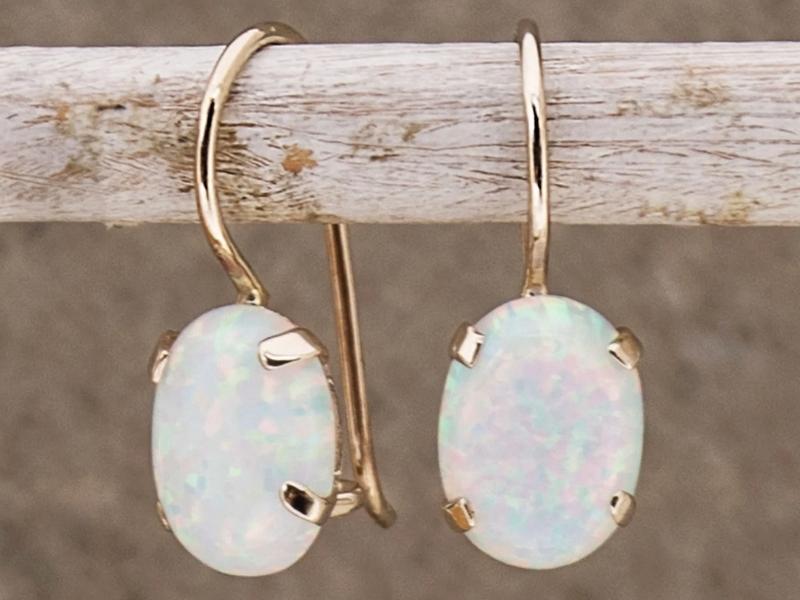 This magnificent pair of opals is so excellent. For your 43rd anniversary gift ideas, you can't go wrong with a pair of these earrings.
15. Opal Bracelet in Gold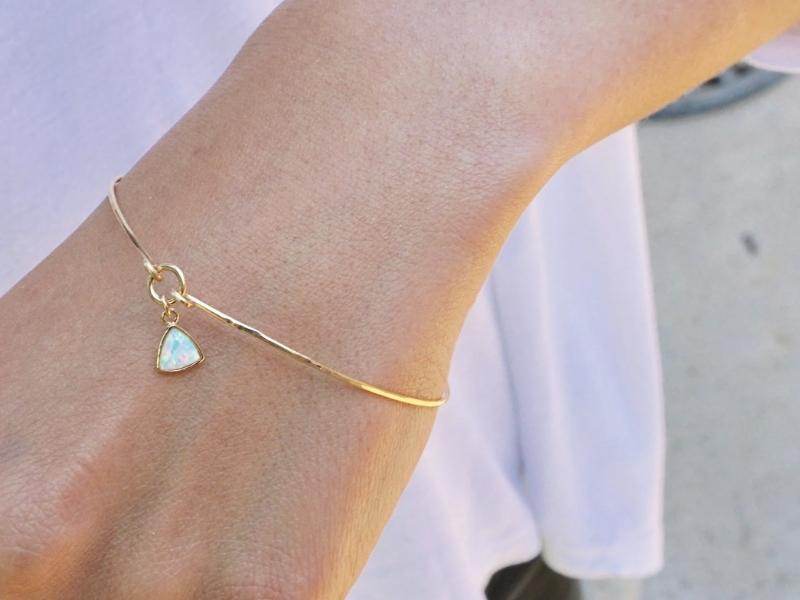 This gold opal bracelet is the perfect 43rd wedding anniversary gift if she loves bracelets. Symbolizes sophistication and affluence. Take advantage of the opportunity to show her how much you care on this joyous occasion.
43rd Wedding Anniversary Gift Ideas for Husband
16. Embark Compact Duffel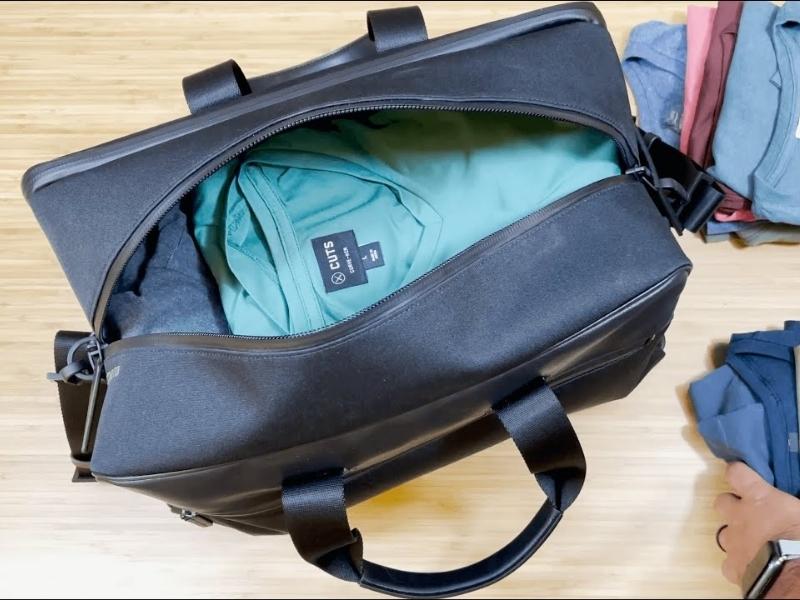 This overnight duffel bag is a new way to celebrate the 43rd anniversary. The waterproof shell and fake leather accents elevate this simple duffel to a stylish level, making it ideal for weekend travels.
17. Cocktail Syrup 3-Pack Set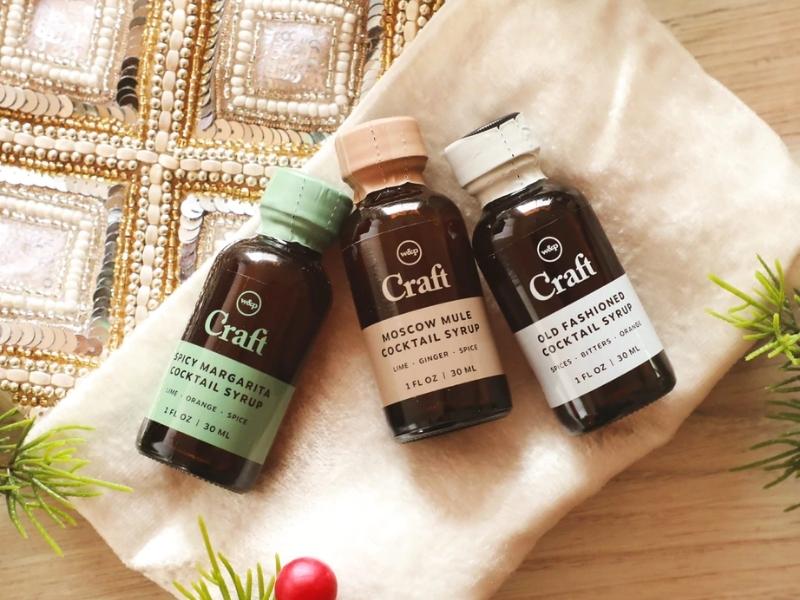 If you're looking for a cocktail expert, look no further. Whether they're a novice or a seasoned bartender, they'll appreciate these exquisite handmade cocktail syrups. If you're looking for a unique way to celebrate your anniversary, consider a virtual cocktail-making lesson.
18. Best Gift For Couple Personalized Couple Canvas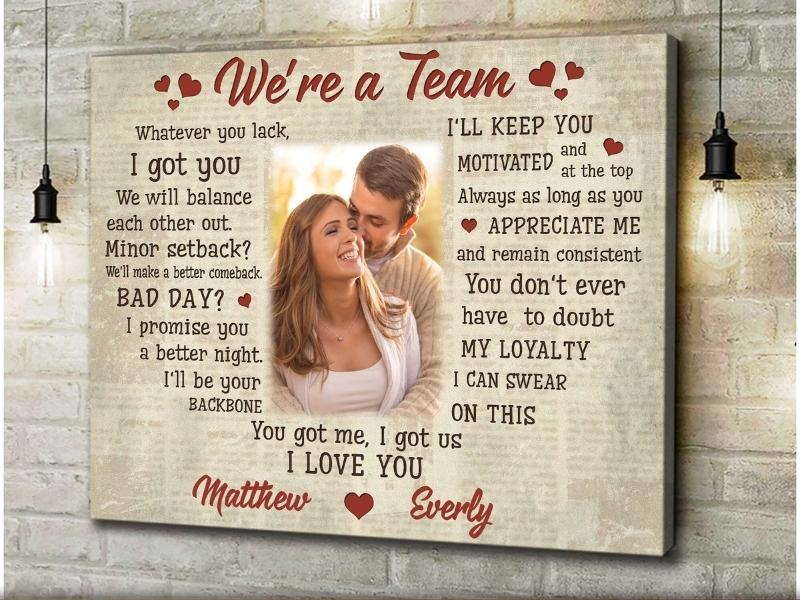 On your mysterious journey through life, you and your partner walk hand in hand. You're better off as a team than you are on your own. Display your love for one another with the "We Are A Team" customized couple canvas. On canvas, you've created rustic poetry that captures the depth of your love for one another.
This would be an ideal present for a newlywed couple: a moving work of art. For a birthday, anniversary, Valentine's Day, or even your wedding day, you may give it as a 43rd anniversary gift! You may add a personal touch to this piece of art by using an image that is particularly meaningful to you. You and your partner have a great working relationship and make an exceptional team. "We Are A Team" is a great way to show the power of this relationship.
19. Hanging Garden Sign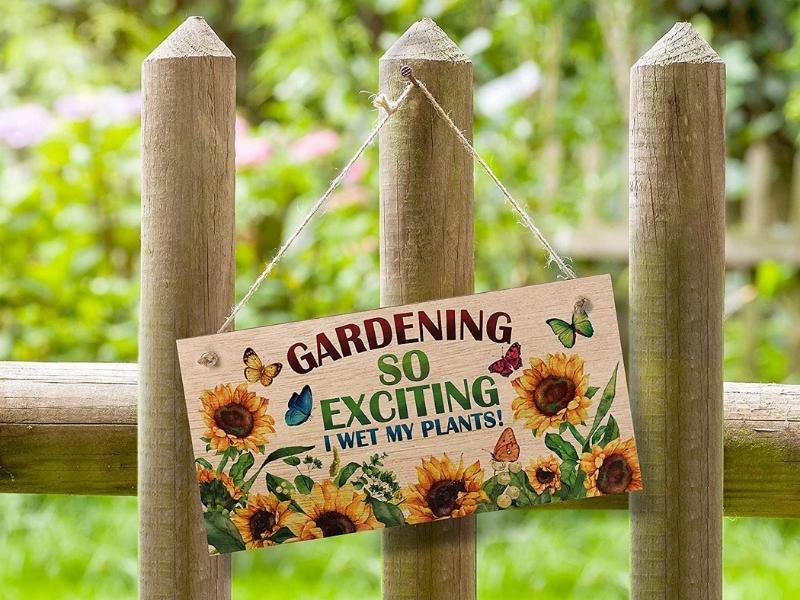 Do you need to buy a 43rd wedding anniversary gift for a gardener? With this handmade tin sign, you can give them a spectacular way to customize their patch. When it comes to celebrating 43 years of marriage, is there anything more fitting than a flowering plant? Not according to us.
20. Photo Album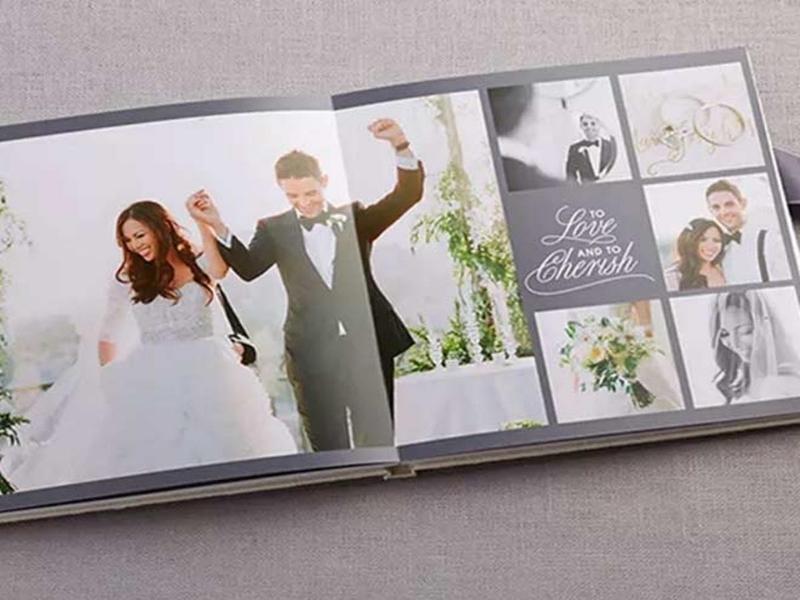 Give the gift of a lifetime of memories with this beautiful album. If you and your spouse have been married for 43 years, this leather picture book is a wonderful opportunity to look back on all the wonderful times you've had together. Additionally, you have the option of customizing the album's foil writing (or theme).
21. Tech Kit Compact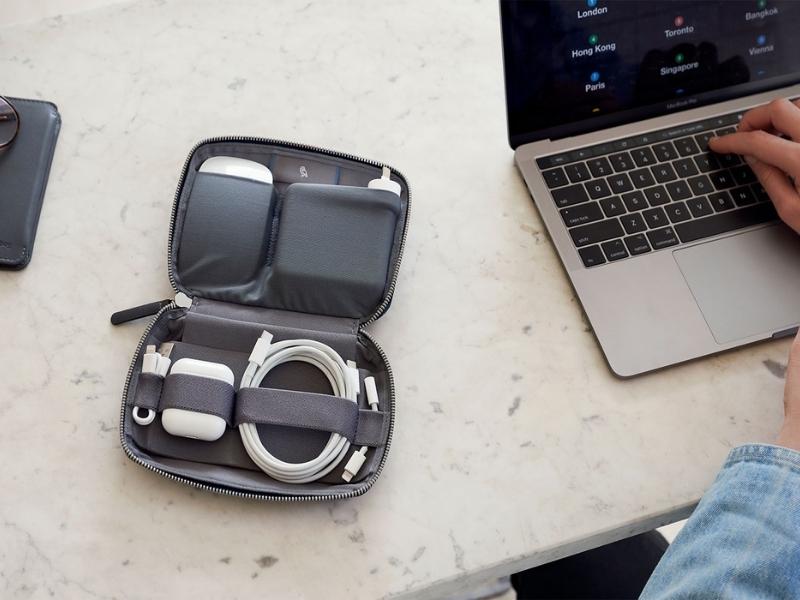 For a tech-obsessed spouse or loved one, give the 43rd anniversary gift to husband of quick organization with this tiny carrying case. From USB drives to portable wifi, this bag has a wide range of storage options.
22. Bedside Caddy
This nightstand caddy will let him keep his glasses, keys, watches, and, of course, his cell phone all in one place at all times.
23. Personalized Mens' Wallet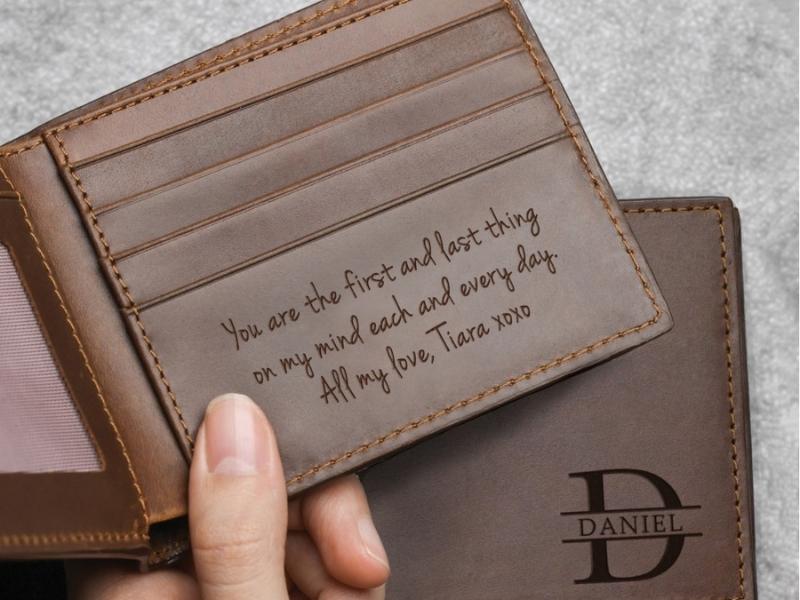 A wallet with a customized inscription imprinted inside is a step above the others. It's the perfect 43rd anniversary gift for husband.
24. Wallet Insert Card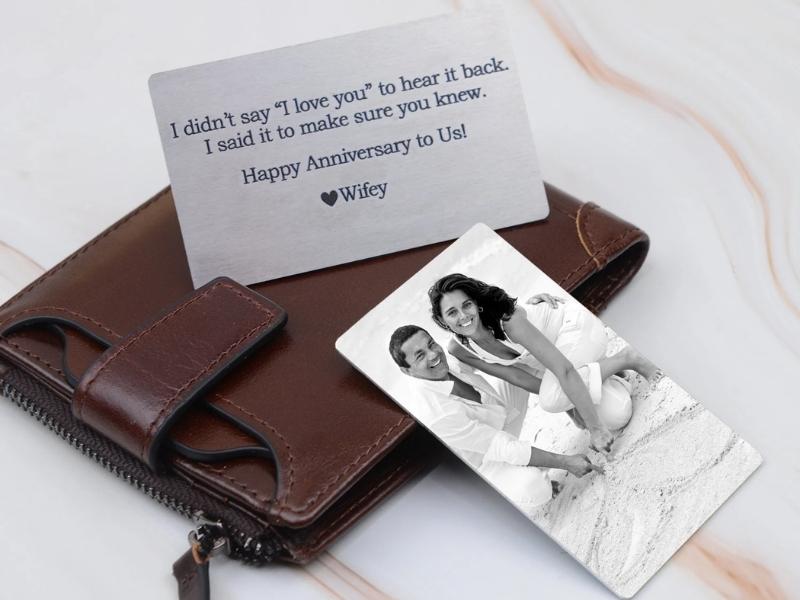 Adding a metal inlay to your boyfriend's or husband's favorite wallet will have the same impact.
25. Personal Teapot & Cup Set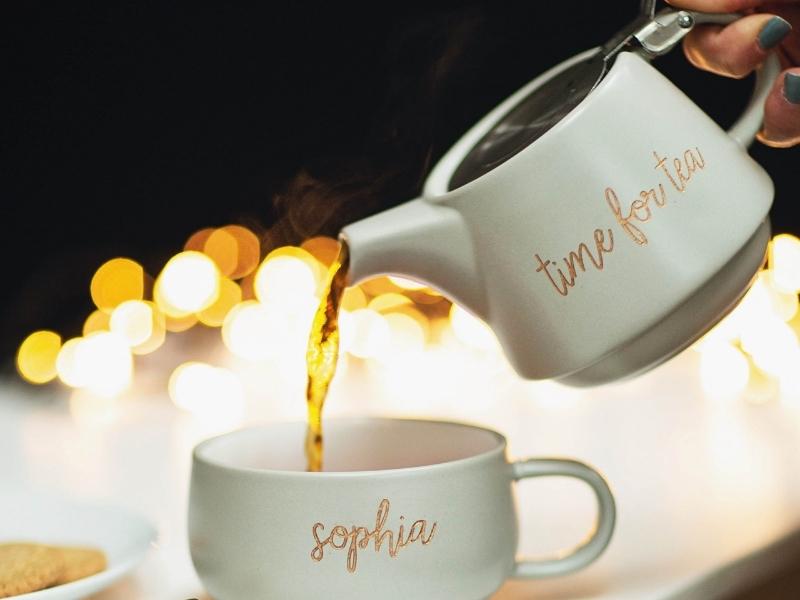 While drinking tea in the tranquility of his own home, a guy understands how to live. There is a personal touch to this 43rd anniversary gift. Plus, it's small enough for him to take it with him when he travels.
26. Weekend Bag
If you know a guy who is always on the go, a weekend bag can be the ideal present. In place of repeatedly repacking and hauling a suitcase, he can just grab his weekend bag anytime he has to travel for work. Designed for the guy on the go.
27. You and me Always and forever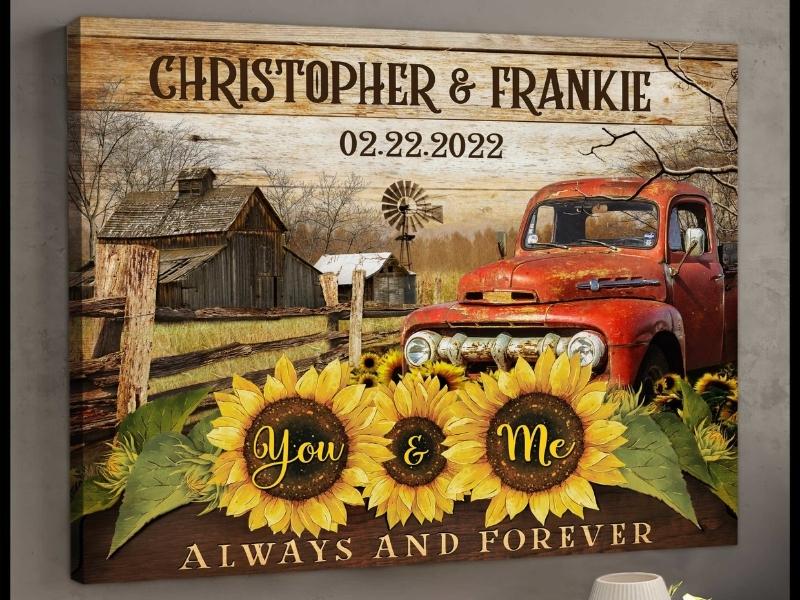 "You and me, always and forever" is a beautiful way to show your love for your partner. It's a special time of year, so use this unique canvas print to show how much you care for your spouse. You may use it as a method to show your love for a particular someone in your life by purchasing this canvas print. As a newlywed couple, you'll cherish this gift for the rest of your life.
28. Travel Map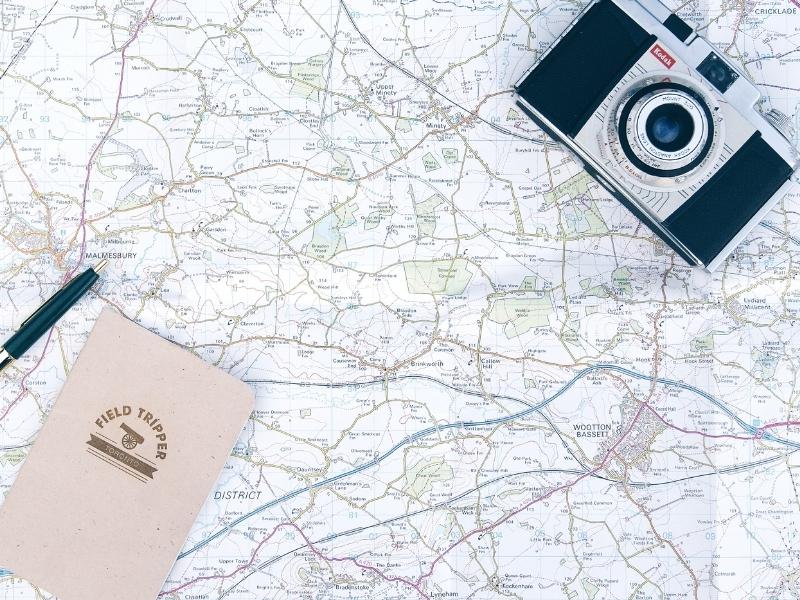 It's a slam dunk that this stunning travel guide is the winner! It's a terrific way to show off all the locations you and your partner have visited together over the years. 43rd anniversary gifts for him like these will be treasured for generations to come.
29. Boulder Opal Free Shape Cufflinks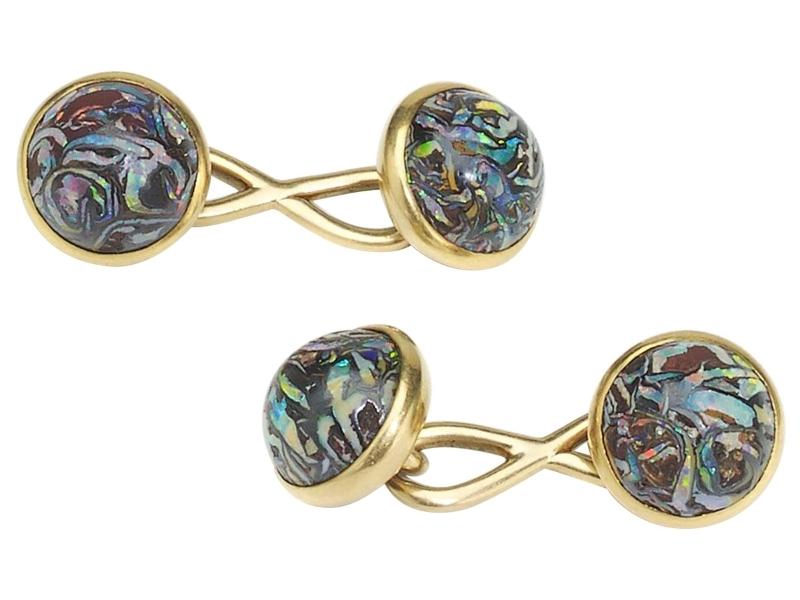 One-of-a-kind, opal-free cufflinks are available here. To give a distinctive twist to your husband's collection, these cufflinks may be the right choice. Take advantage of this opportunity to spoil your husband on your 43rd wedding anniversary.
43rd Wedding Anniversary Gift for Parents
30. French Dinner Party Gift Set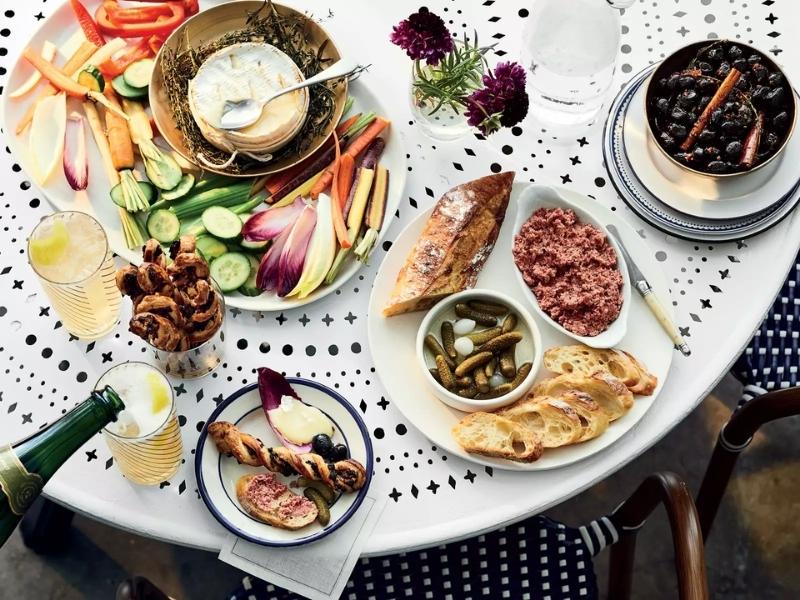 In lieu of a real vacation to Paris, this lovely gift package may transport them to the City of Lights for your wedding anniversary. The cheese knives are Laguiole, the board is oak, and the herbs de Provence are all included.
31. Opal White Vase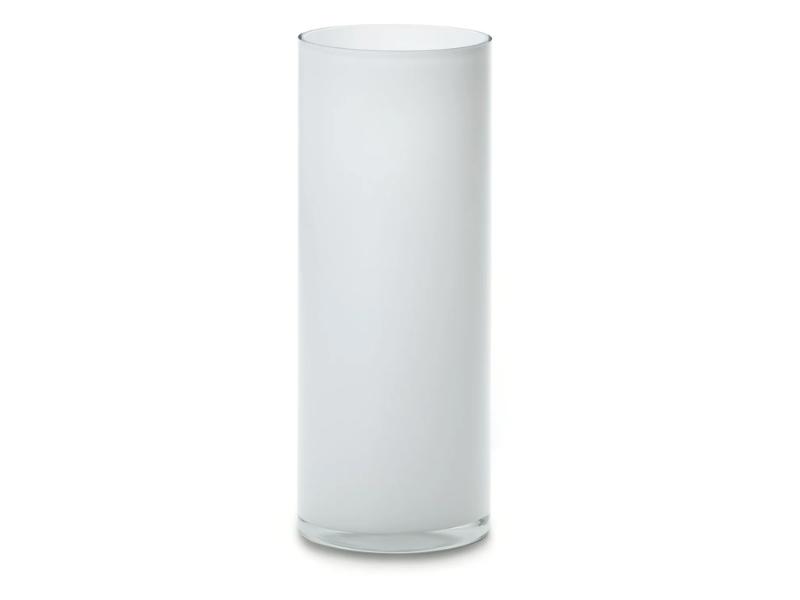 This opalescent vase is a modern take on the opal anniversary present. You can transform even the most ordinary flowers into works of beauty thanks to the contemporary exterior and graphic design.
32. Lyrics Gift For Anniversary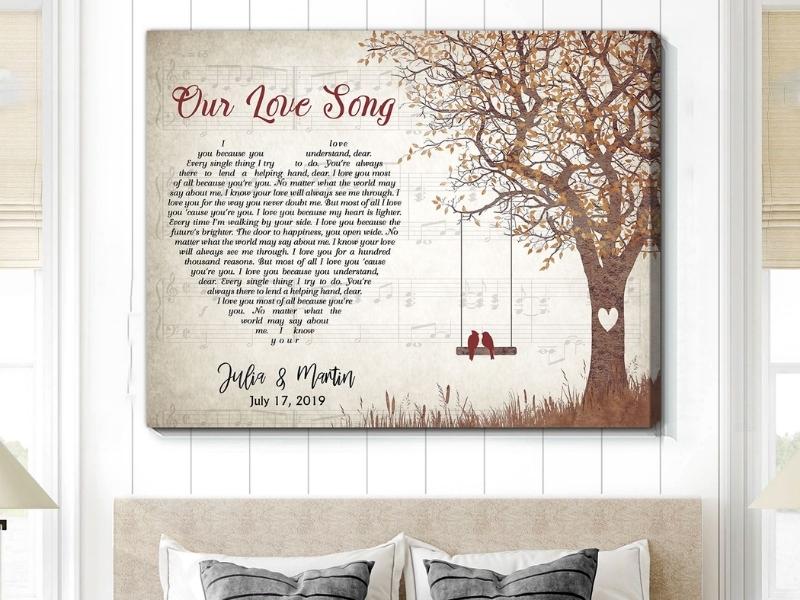 When it comes to expressing love, the Lyrics Gift For Anniversary Customized Gift For Couple Canvas Print is an excellent choice. Give your husband, whom you admire and who deserves it, this 43rd anniversary gift.
Personalization is possible with the names, dates, and song lyrics of your choosing on this canvas printed print. In addition, the canvas's background has a rustic feel, which is a lovely addition. This color combination is stunning when paired with white hearts.
The recipient may put this artwork up anywhere they choose in their house. They will be reminded of your affection for one another every time they see it. When it comes to true love, it's a rare commodity. You may keep your love near to your heart with the Lyrics Gift For Anniversary Customized Gift For Couple Canvas Print.
33. Push Pin Map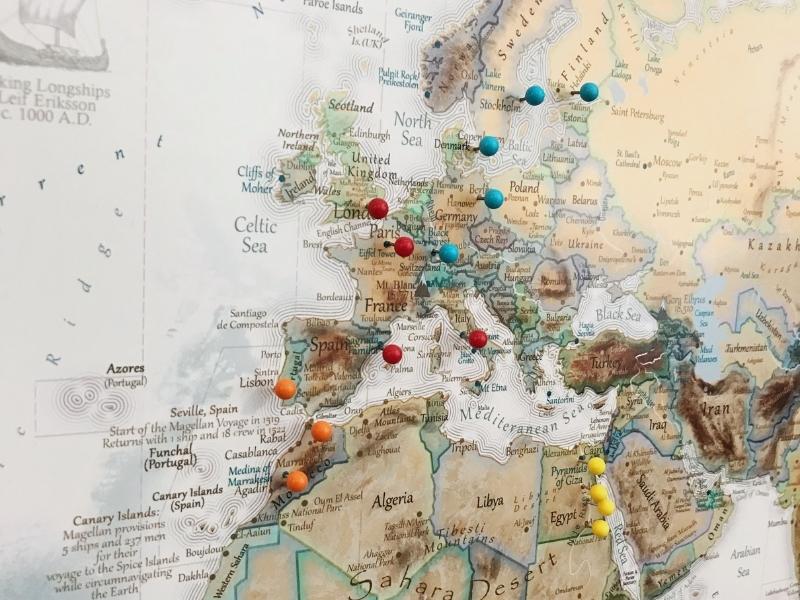 Travel bucket list for couples (particularly those commemorating five years or the wood anniversary) with a strong desire to see the world together.
34. Personalized Anniversary Pushpin World Map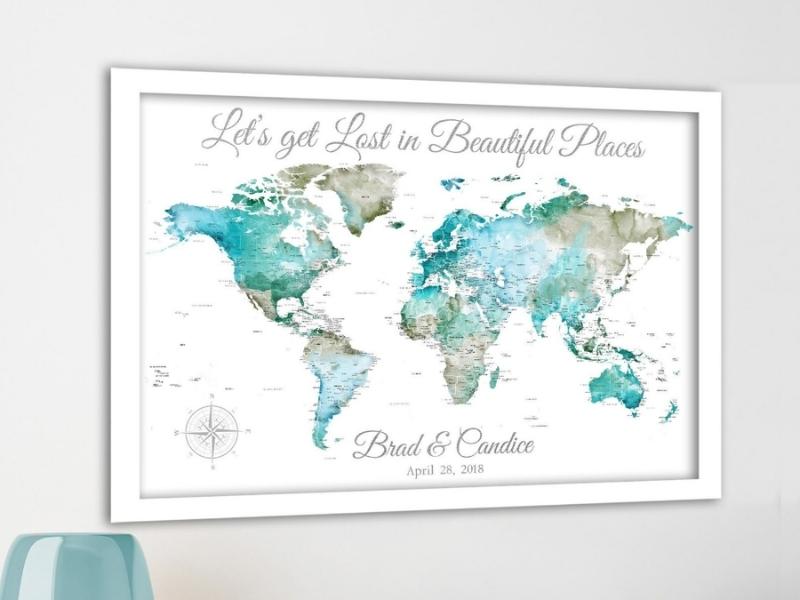 A push pin map is a great 43rd wedding anniversary gift for couples who like traveling together. Together, they may plot their future travels from Toledo to Taiwan on this global map during the following two decades. In addition, they might make it a mission to add a new pin each year on their anniversary.
35. White Opal Necklace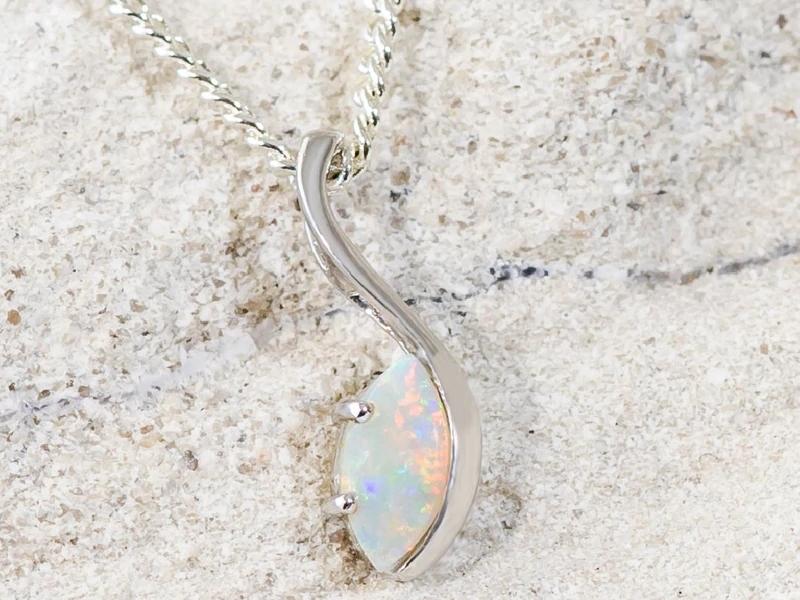 The opal wedding anniversary is a perfect time to celebrate with an expressive gemstone-like opal. This necklace is a great option if you're seeking something different to give as an opal gift. It has emotional value and may serve as a memento for years to come.
36. Opal Ring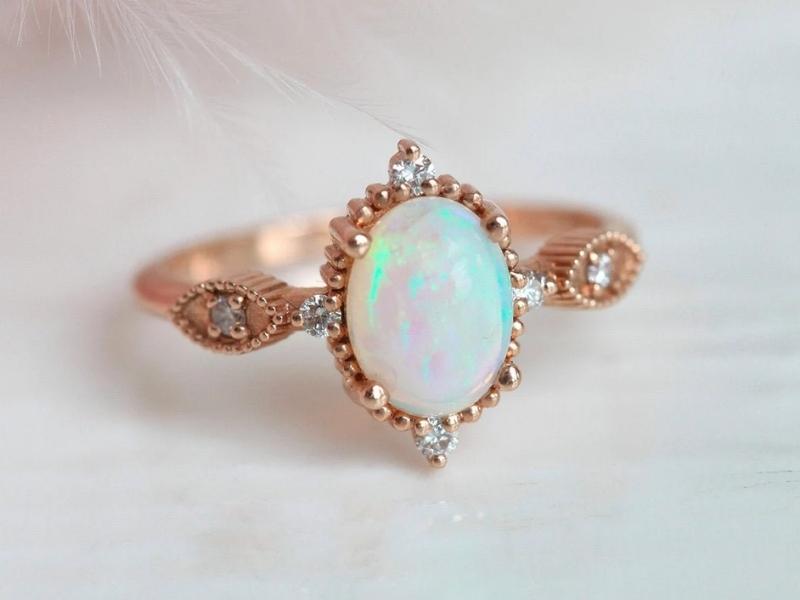 After 43 years of marriage, the opal and I have a lot to say about each other. Having this ring on your finger may represent a lifetime of love, happiness, and more. It's a thoughtful and memorable way to commemorate the occasion.
37. Pebble Opal Art Picture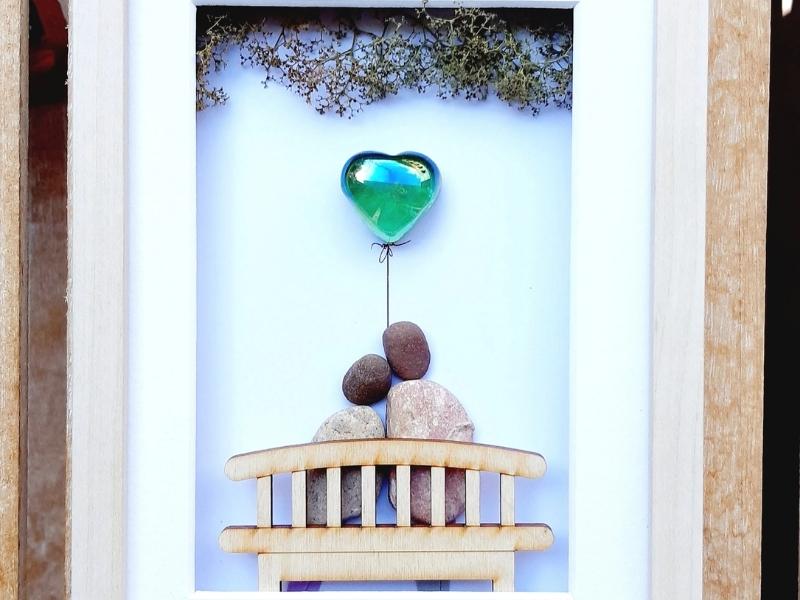 This artwork is a great way to show off the opal gemstone in a new manner than just as jewelry. You may want to consider this as one of your 43rd anniversary gift ideas. It may be personalized and used for a variety of purposes, such as a piece of home décor.
38. Graphic Image World Travel Journal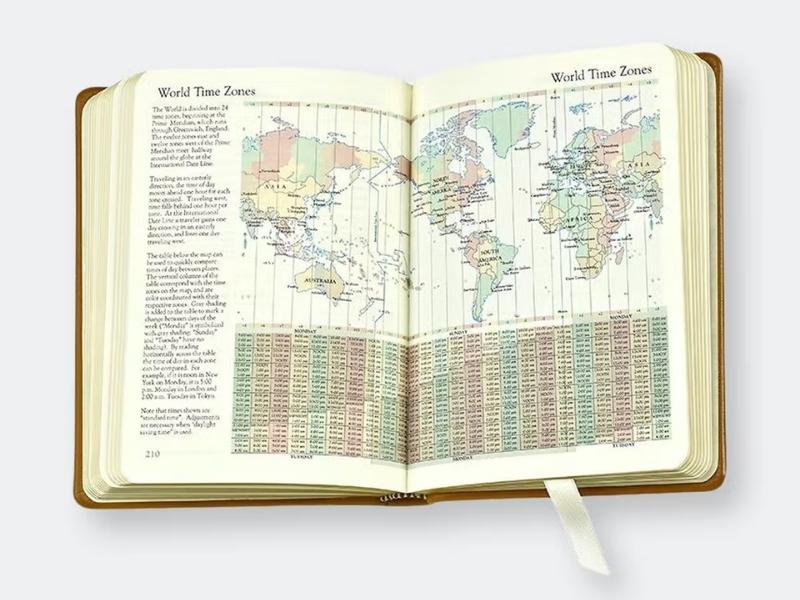 This leather-bound treasure is a luxurious present for a globe traveler (or an aspiring one) who needs both a notebook and a guide. Additionally, it features full-color maps of the world's most popular cities, weather forecasts, and international calling codes, making it an essential travel accessory.
39. Leather Charger Roll Up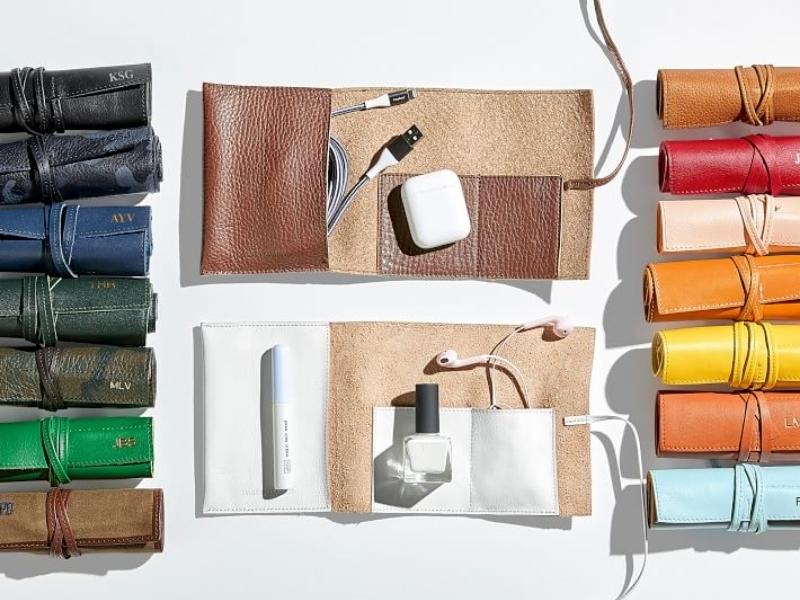 You may give it to someone who hates having their headphones, chargers, and wires tangled in their luggage. This life-changing leather roll-up may be customized with a monogram in color foil or blind debossing in a range of colors.
40. Everything Changes But My Love For You Never Will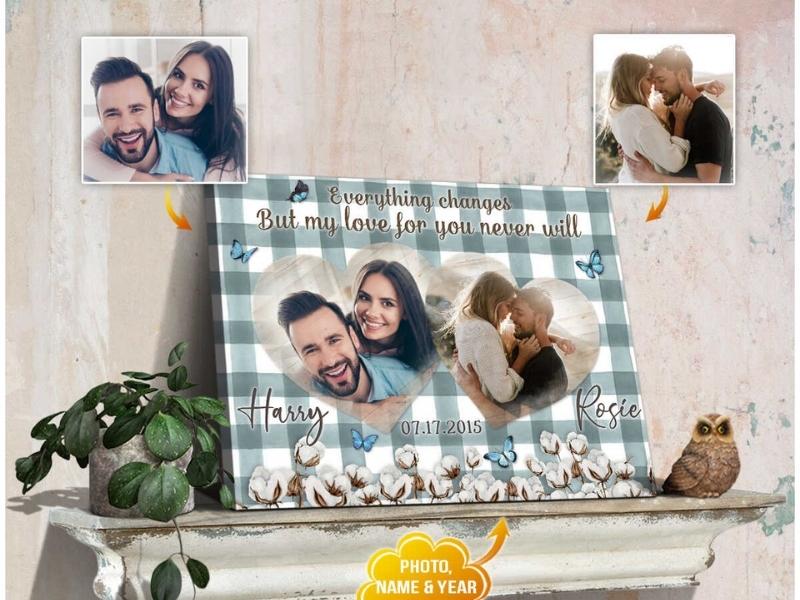 The two of them have quite different lives. Nothing except their deep affection for one another, their warm winter evenings spent together, and the most beautiful music can bring them together. Just as the planet rotates, so does life; nevertheless, there is one thing that will never change: your love for one another. Even in the face of the greatest challenges, I know you have an unwavering devotion to your partner.
It doesn't have to be difficult to select the right 43rd anniversary gift for the one you love. A personalized anniversary quote may also be a great addition to the present. Regardless of the significance of your 43rd anniversary, consider any of the gift ideas from Oh Canvas to give to that special someone.