Even if you can't be there in person, a thoughtful gift is a wonderful way to show Dad how much you care about him. It's never too early to start looking for the ideal gift, one that's both considerate and unique, even if the big day is still a few weeks away. If you want to make your dad smile this Father's Day or birthday, Oh Canvas has compiled a list of the greatest personalized gifts for dad that'll leave the best impression on him. It doesn't matter what kind of customized gift you choose, he'll cherish it for many years to come.
Meaningful Personalized Photo Gifts For Dad
1. Photo Gallery Cube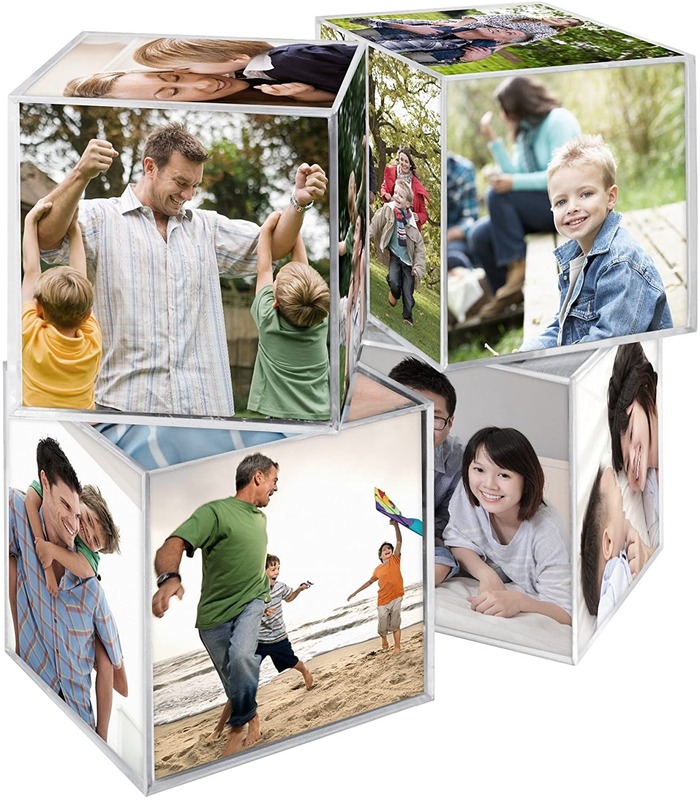 Are you in search of some interesting dad personalized gifts? This Rubik's cube is both a paperweight and a puzzle. If you're looking for the ultimate desk item, this is it. Seeing six family photos of his favorite memories will be his new hobby every day. Adding a gallery photo cube to your father's home can be a kind gesture that serves as a conversation piece and a constant reminder of your affection for him.
Oh Canvas Tip

You should look for a cube that is constructed of a material that is both long-lasting and of a high quality, such as stainless steel or wood. Your photographs will be safeguarded and preserved for a significant amount of time if you do this.
2. Personalized Pet Photo Mug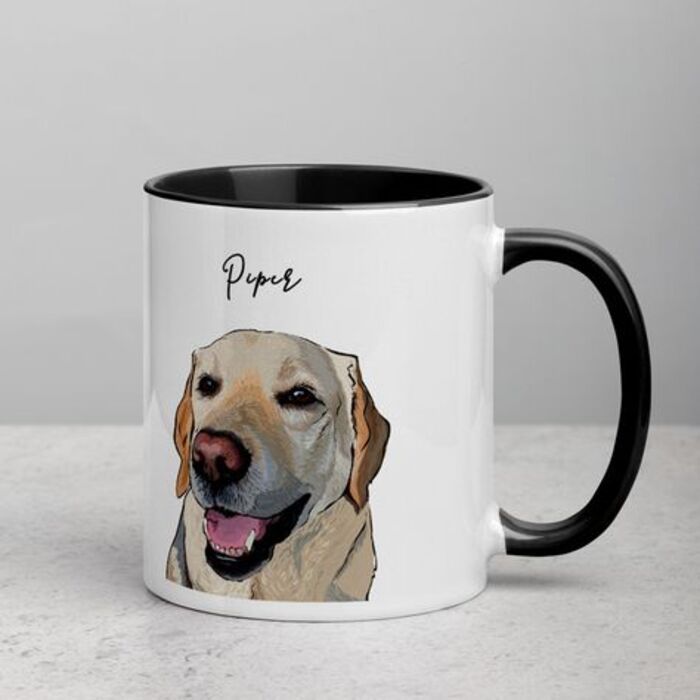 A porcelain mug with a hand-drawn digital photo of Dad's beloved dog will bring a smile to his face every morning. Upload a favorite photo of your pet and customize the backside with your own writing and backdrop color. It's dishwasher and microwave safe, making it one of the most useful and charming best photo gifts for dad who is a dog lover.
3. Photo Puzzles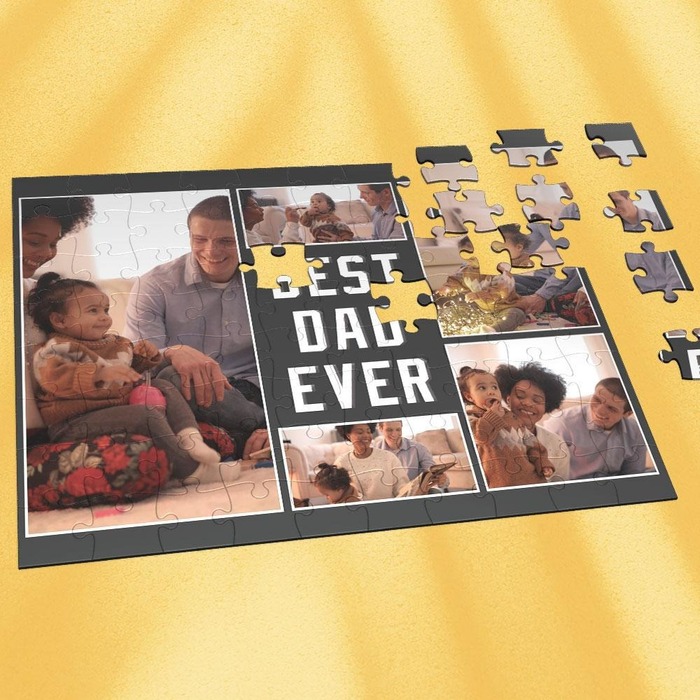 Your dad will be occupied for a long time with this personalized photo puzzle. He may even let you help him put it together! Don't forget to include some puzzle glue in the package so that he can frame the finished work. It is so meaningful that a dad and his son can spend time together with these dad personalized gifts.
4. Custom Camera Roll Keychain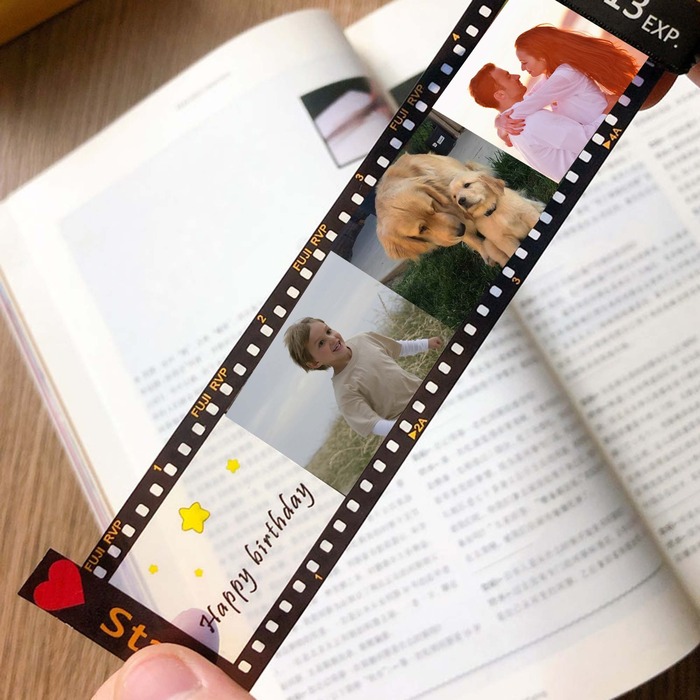 Dad will cherish this sentimental key chain since it reminds him of all the wonderful times you shared as a family. Between ten and twenty images can be inserted into the key chain, which can then be rolled back and forth like film. These personalized gifts for dad will make Dad grin anytime he glances.
5. Personalized Photo iPhone Case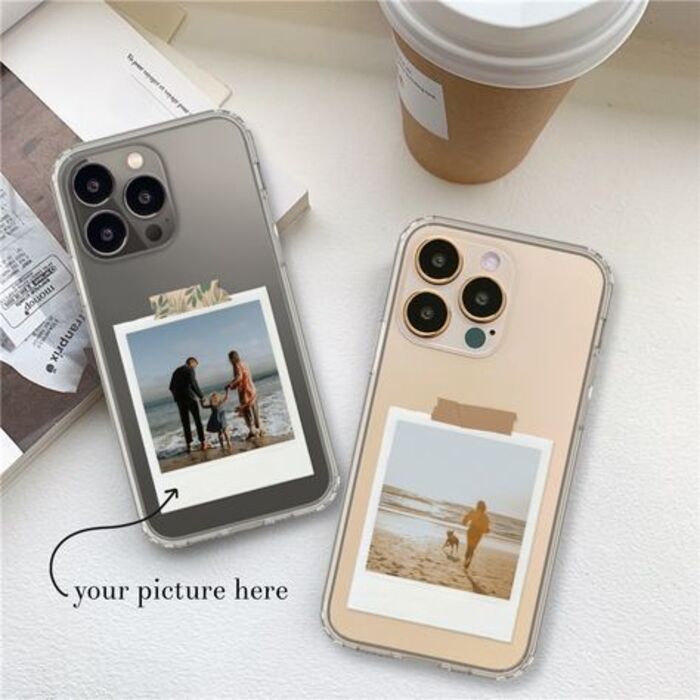 Even after your dad's iPhone dies, he'll be able to retain this personalized cover. Print your favorite family photo onto a durable polycarbonate plastic box with a matte finish after you upload it. Additionally, a monogram or name can be added. You're bound to create the most charming custom gifts for dad that he'll treasure.
6. Photo Wine Label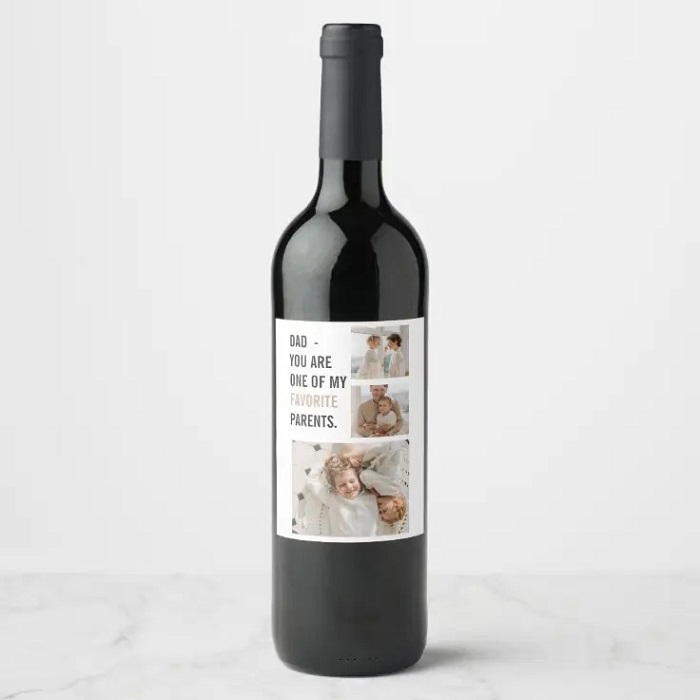 Which a few dollars you might own lovely best photo gifts for dad like this photo wine lable. The next time he takes it out in front of his friends, he'll feel so loved and proud. Also, imagine how great this would look in a basket of wine-themed gift ideas for dad from son.
7. Record Display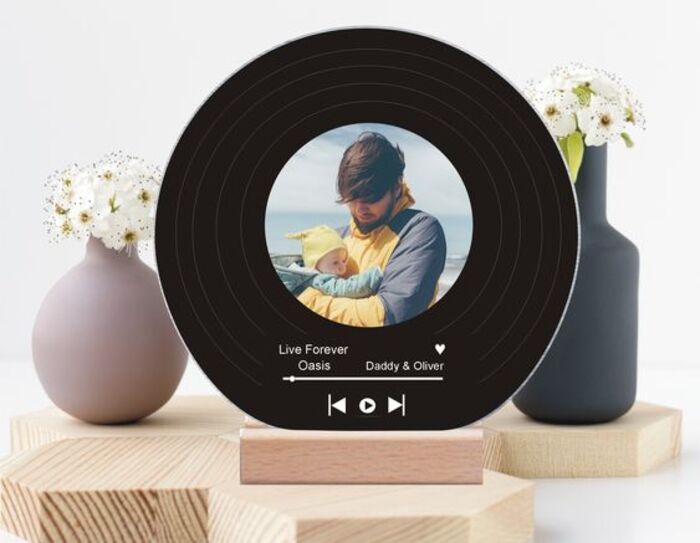 You can help Dad listen to music in style, that is, your own distinctive style, by this idea. Use music that you associate with your father to inspire a new piece of art. This one will look great in Dad's office or man cave as a memento of your relationship. This is one of the loveliness personalized gifts for dad from son in our gift guide.
8. "You're The World" Canvas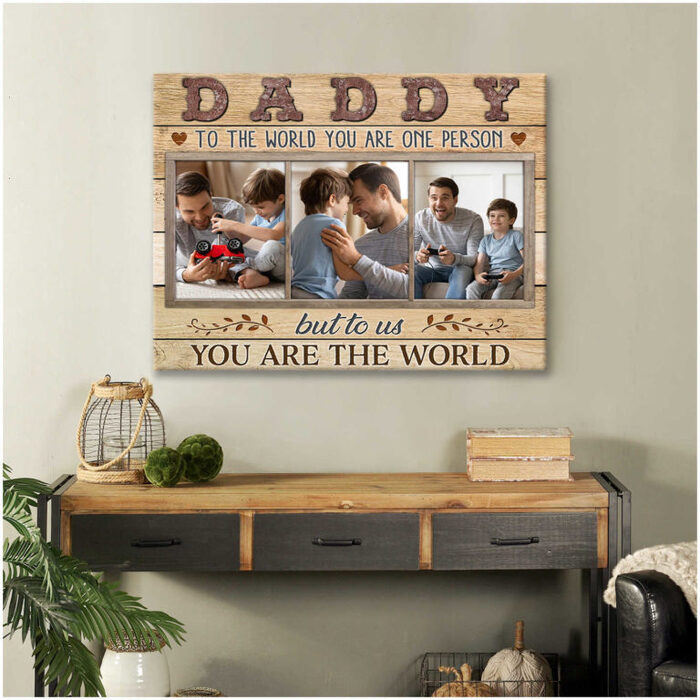 All families need fathers, and without them, no family can be whole. Make this upgoing occasion one to remember by gifting your best dad this wonderful canvas print. Let him know that you appreciate all he has done for you by saying what's on your mind with the special message.
9. Picture Calendar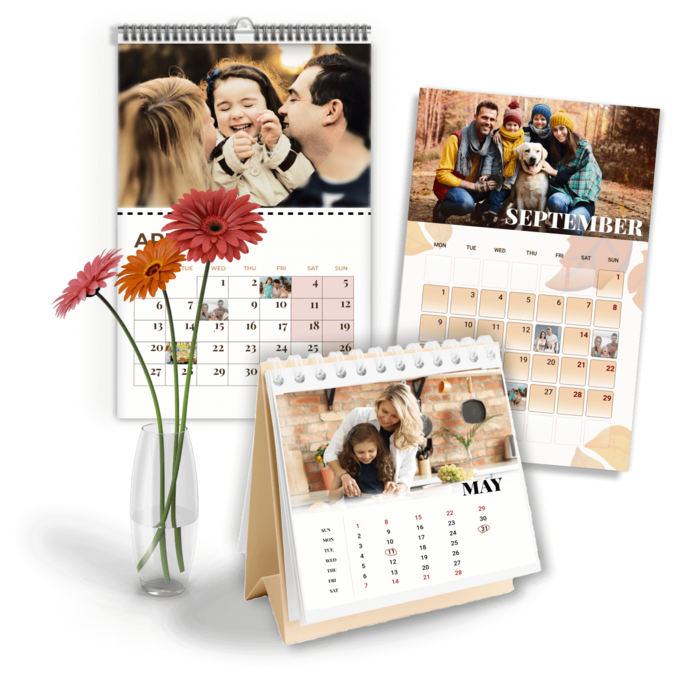 It's amazing how this great gift can elevate even the most basic photo presence to a level of elegance. A calendar design of your choice is displayed on a premium-quality paper easel in a solid metal frame. For the best photo gifts for dad, this is an ideal option.
Oh Canvas Tip

Notice the calendar's layout and the arrangement of the photos. There are calendars with one picture for each month and those with several photos per page. Pick a layout that's ideal for you in terms of space requirements and aesthetic choices.
10. Father's Day Photo Canvas Art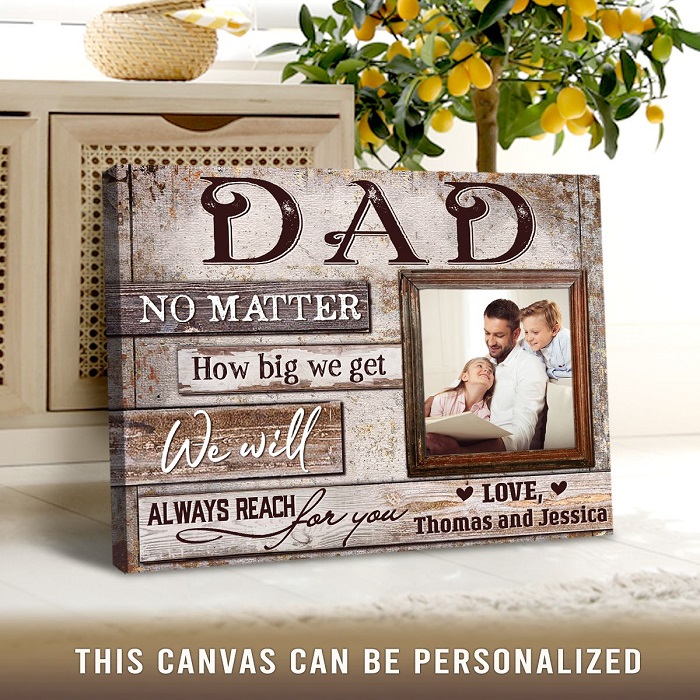 Say "We love dad" in a new style on speical occasions. A picture is worth a thousand words, so many photographs can tell a thousand stories! One your best images of you and your father are transformed into a thoughtful gift that shows him how much you cherish him. It is a great Father's day gift for him to celebrate his big day in year.
11. Photo Mug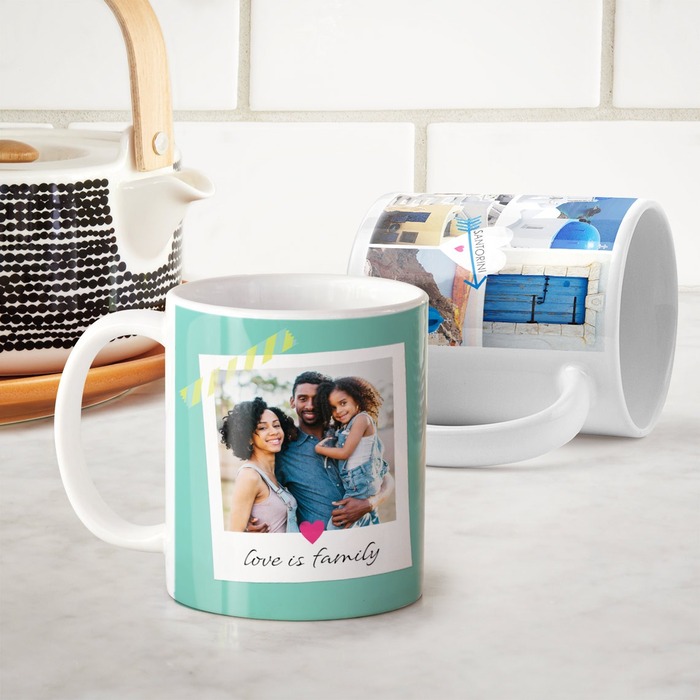 Let him know he always be supported by his family with this special coffee mug. We guarantee this special coffee mug will bring a grin to someone's face. For truly unique best photo gifts for dad, customize them with your favorite picture and the names of your family members.
12. Sentimental Canvas For Dad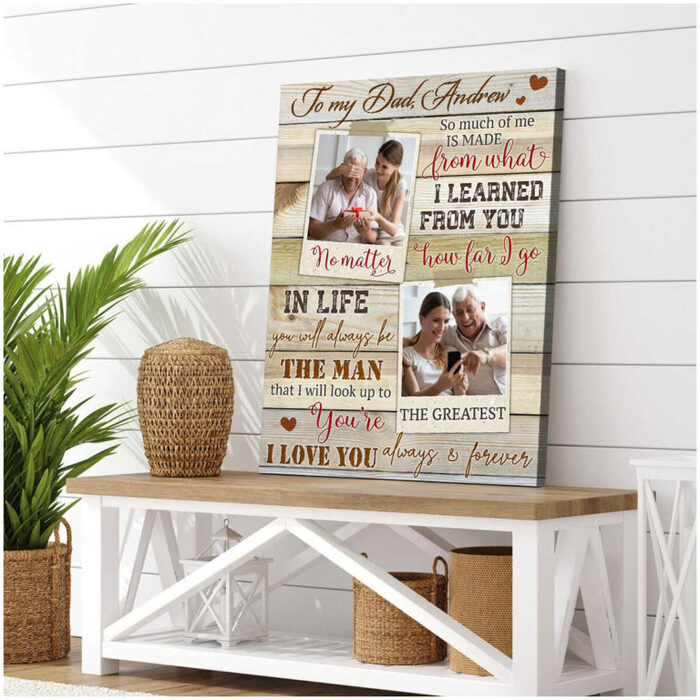 Small birthday gifts can be just as meaningful as big-ticket items – it really is the thought that counts. Make the occasion even more special by framing a picture of him and his children. He'll be proud to have this canvas display in his home. Besides choosing it for dad's birthday, it is also a lovely Father's day gift you might love.
13. Photo Blanket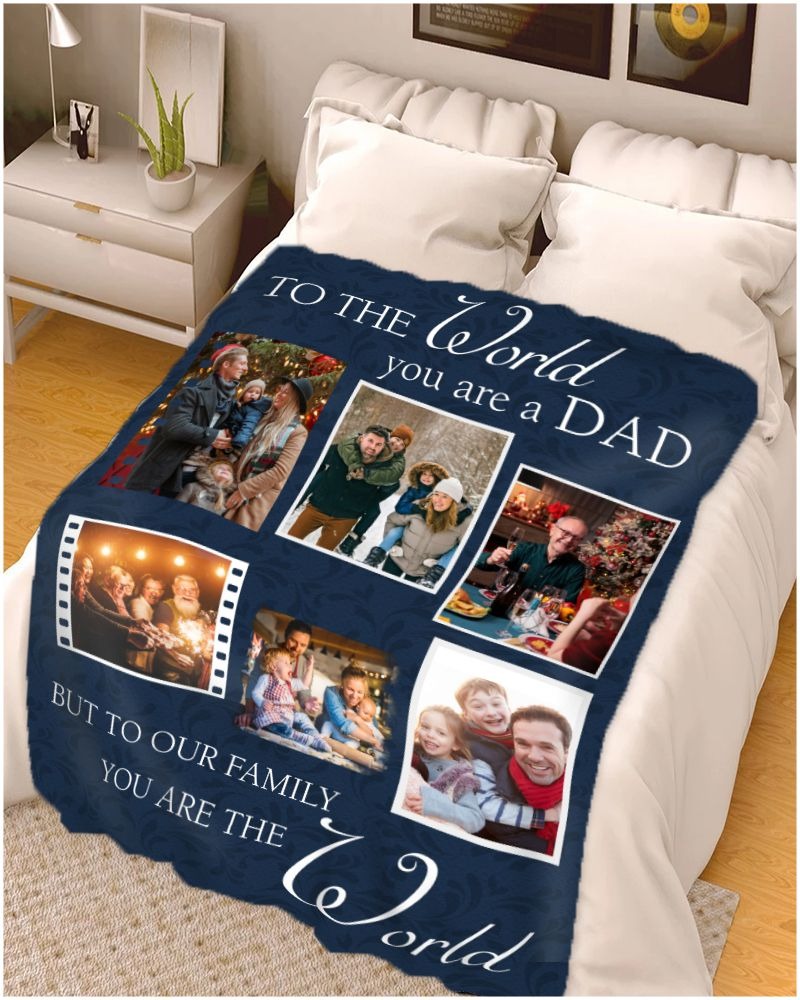 Are you looking for a best personalized Father's Day gift? He will know he has it made when he touches this silky blanket and sees the heartfelt photo collage. It's something he can use on a regular basis, whether it's to keep warm on a chilly night or to cuddle up with while watching television.
14. Wooden Photo Holder
Picture frames have long been regarded as classic, great personalized gifts for dad, and it's easy to see why. As an added bonus, it allows you to include a picture of your choice in the frame as part of the present. A personalized photo holder for your father is a perfect gift that he'll love .
Personalized Dad Gifts From Daughter
15. Personalized Engraved Pen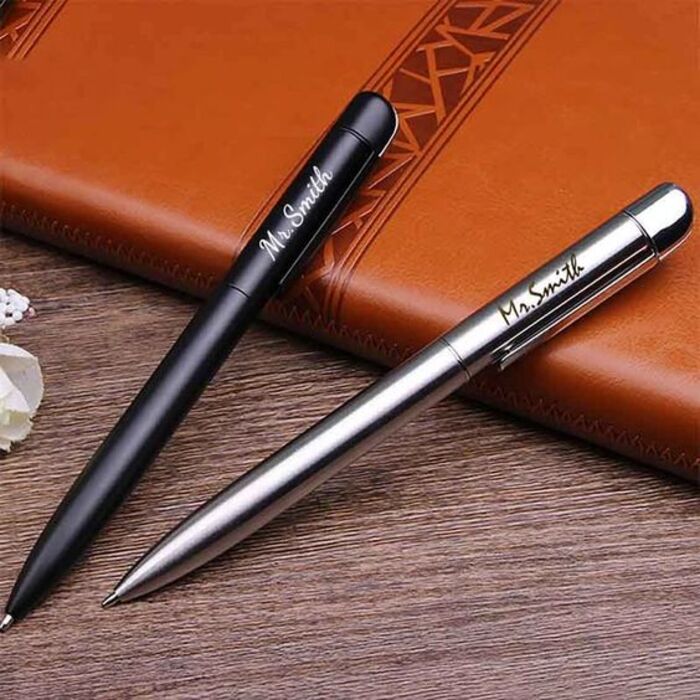 Here's a one of a kind gift idea that your dad will appreciate and use on a daily basis. He'll love the appearance and feel of this engraved silver pen with a chrome finish. It's possible to engrave his name or a special brief message in up to 25 characters. This is also a unique gift for your boyfriend or friend you can refer to.
16. Leather Valet Trays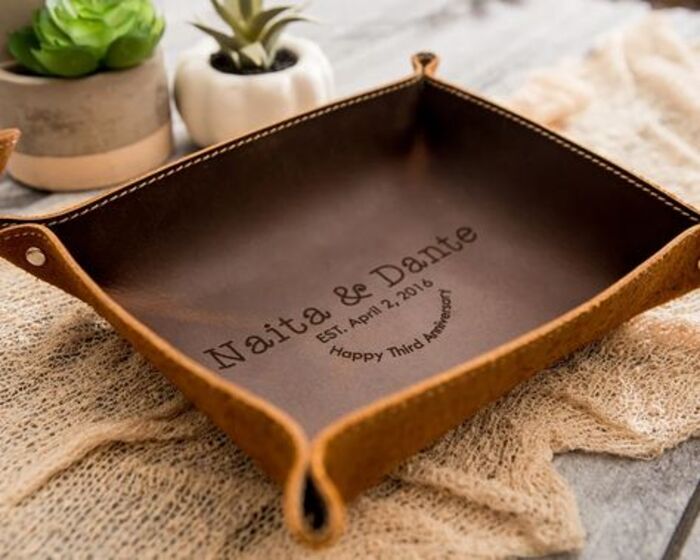 In order to make Dad's nightstand a little more functional, an eye-catching personalized tray is a great idea. Rings, cufflinks, and spare change are all easily stored in this leather valet. It's also available in six colors in textured leather, which gives it a retro feel. With these unique leather valet trays, you're sure to give him the most impressive personalized gifts for dad from daughter.
17. Personal Gardening Tools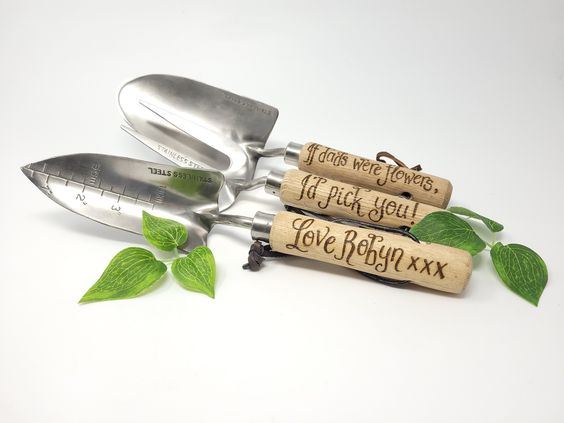 Any father figure may have some plant offspring in addition to his real-life children. You can get him this personalized garden toolset if that's what he always wants. An engraved trowel, transplanter, hand rake, pocket knives and might be included in the set, as well as a variety of other gardening tools, such as a shovel and weeder.
18. Personalized Recipe Cutting Board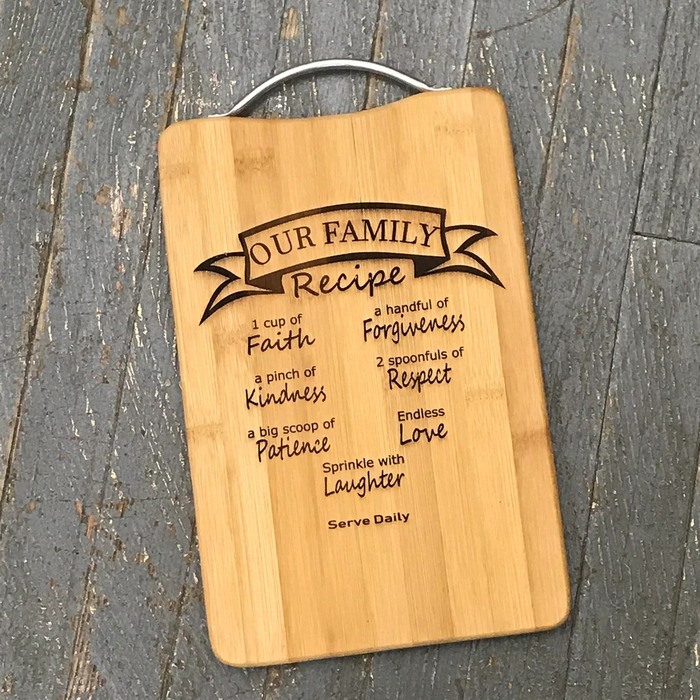 What better way to create a treasured family heirloom than to etch a wooden chopping board with a long-forgotten family recipe that has been handed down for generations? Sentimental personalized gifts for Father's Day like this one will never go unnoticed.
19. Custom Whiskey Barrel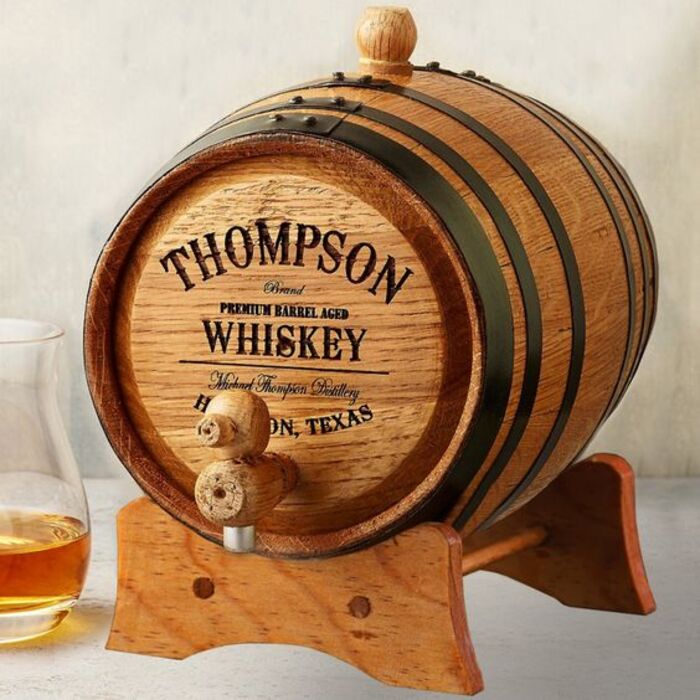 Imagine what his face would look like when he gets to open this incredible Father's day gift! It's better than socks, for sure! You and your siblings are going to have to think outside the box this year to catch up with this Personalized Whiskey Barrel. It gives dad the opportunity to enjoy his favorite beverages and is an essential item that should be included in the gift arsenal of any father figure who loves beer or wine.
20. Engraved Dopp Kit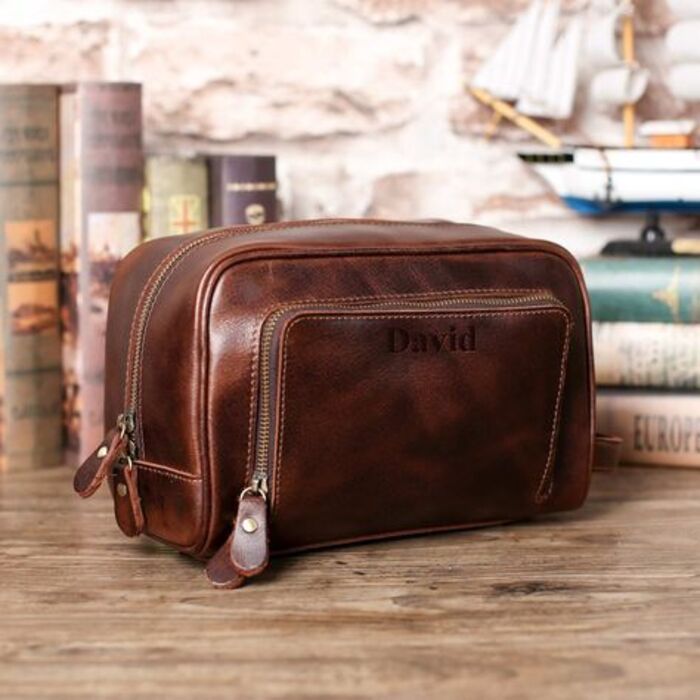 In search of the best gifts for dad that he'll actually use? This distressed leather toiletry bag comes with the recipient's monogram engraved on the front, so he can keep all of his products in one place. With this present, it will help dad carry all of his personal belongings when traveling for work or pleasure.
21. Customized Docking Station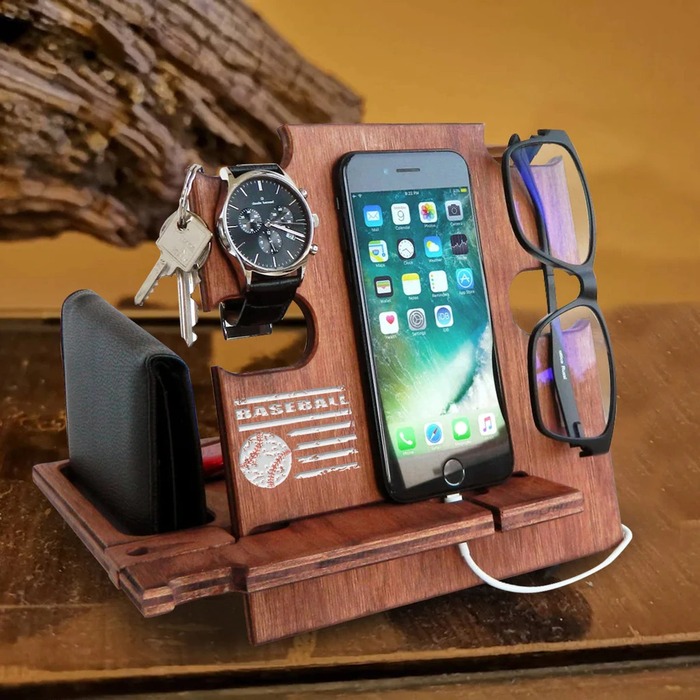 This docking station is smart and useful for dads who need a little help getting organized. His phone, wallet, watch, keys, and other stuff can all be stored in one convenient compartment. A personalized docking station is a thoughtful and useful addition to Dad's office or living space.
22. Custom Classic Cufflinks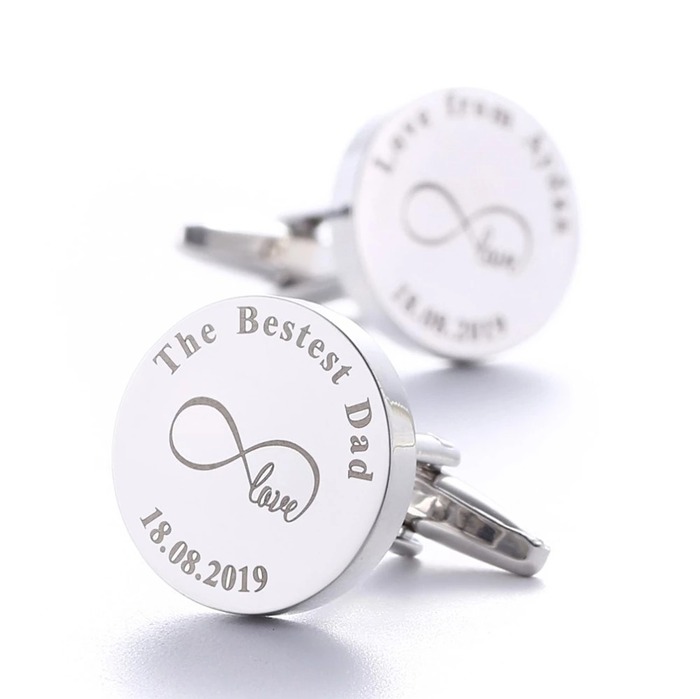 Consider these initial cufflinks as unforgettable personalized gifts for new dad on a special occasion. They're reasonably priced and can be worn with any collared shirt you own. Your father will be able to put these dad personalized gifts to good use at any formal event, including weddings, business meetings, and the office. They provide a special touch of class and individuality to your father figure's formal clothing.
23. Personalized Can Cooler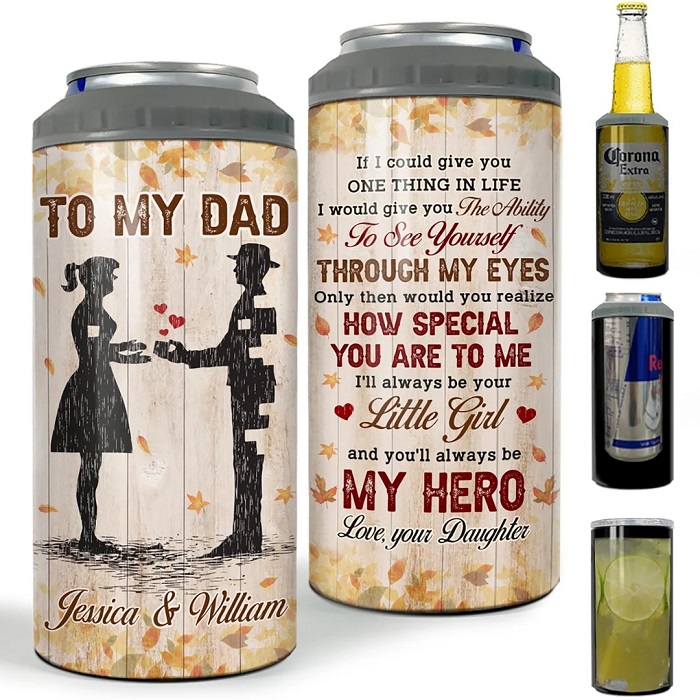 Remind dad that you are always be his little girl forever with this meaningful Father's day gift. It's a good idea to give your dad this can holder, which is specifically designed for dads. These coolers will maintain an ideal temperature for his soda or beer the entire day, whether he is lounging around the house, participating in outdoor activities, working from home, or attending a party.
24. Personalized Coasters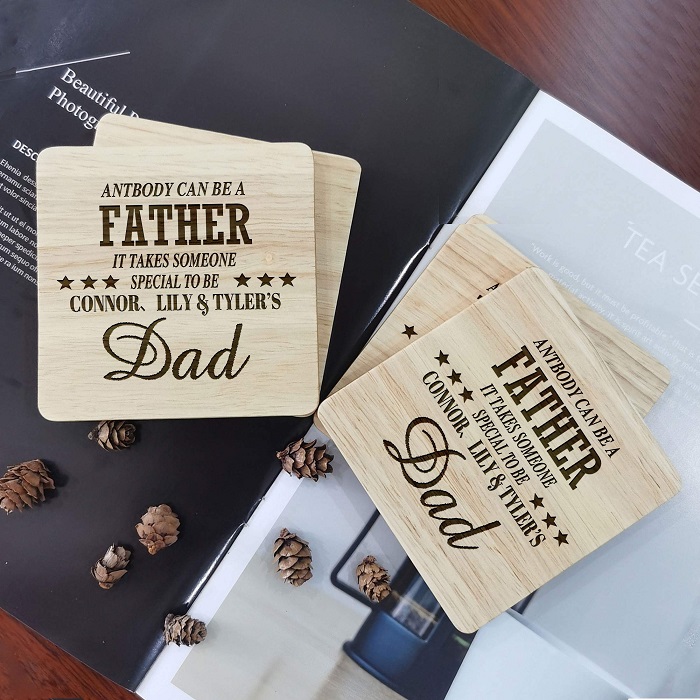 Looking for custom gifts for dad to show him how much you care. Create a personalized set of coasters for your father to display his favorite phrase, team, or business. The next time the family gets together, he'll be especially excited to show them out.
25. Leather Travel Document Holder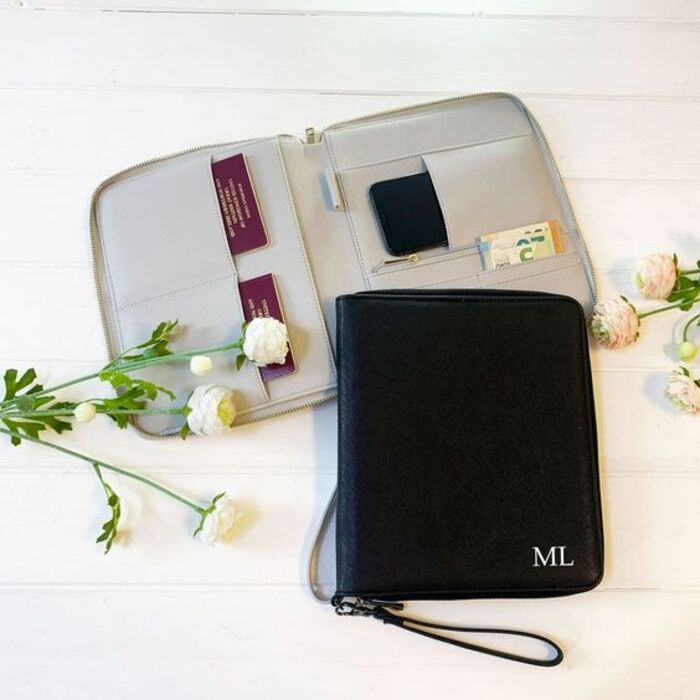 He can easily navigate the airport with the help of this stylish leather document holder. On the outside, there is a boarding pass pocket and three receipt pockets, as well as nine credit card slots with a thumb-slide ID window.
26. Wireless Charger Pad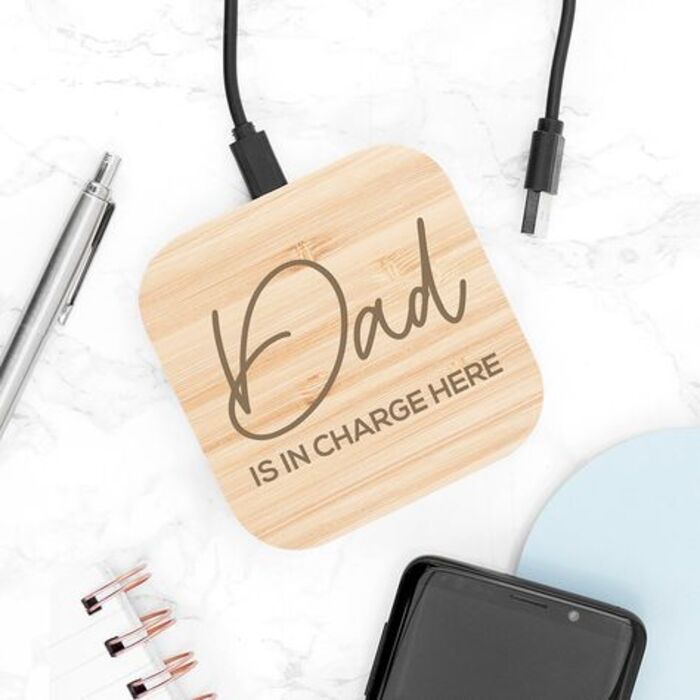 There are certain dads who have an uncanny ability to play with technology. If your father falls into this category, you should think about getting him something that will make his life a little easier. A wireless charger pad is a great gift because it allows him to easy access all of his gadgets charged and ready at all times.
Oh Canvas Tip

Examine the device for safeguards such overcharging protection, temperature regulation, and foreign object identification. These safeguards will ensure that your gadgets are charged safely and without incident.
Personalized Dad Gifts From Son
27. Canvas and Leather Weekender Bag
If your best dad is always on the go, get him this stylish monogrammed duffel bag for his next business trip or weekend getaway. Go anywhere, do anything kind of accessory that he'll reach for time and time again thanks to its robust canvas and brown leather construction.
28. Whiskey Decanter Glasses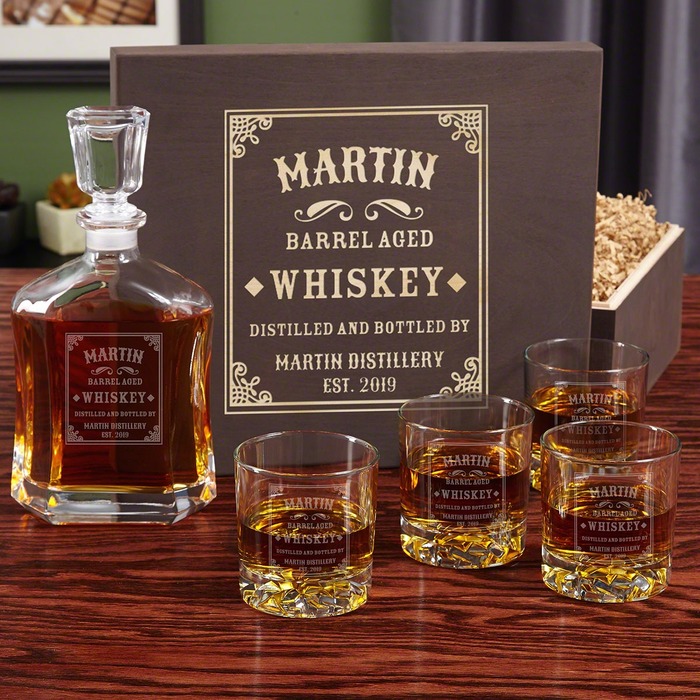 A personalized decanter will look fantastic on his home bar cart. For the discerning whiskey drinker, this set of crystal glasses is ideal. This also doubles as an expensive-looking wall decor item if you're buying them as personalized gifts for dad from son on special occasions.
29. Personalized Poker Chips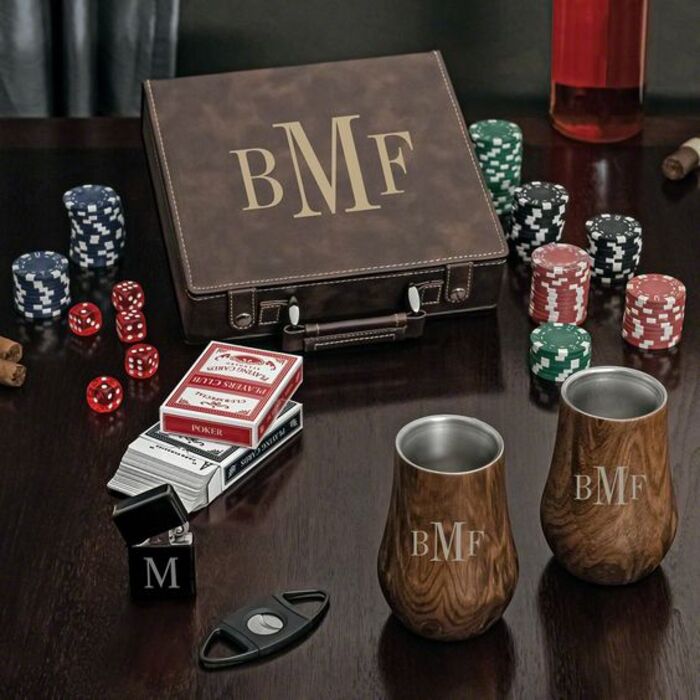 Dad shouldn't be playing poker using the same poker set he purchased up at a second-hand store. This alternative is a special gift for dads who want to improve their game nights. On one side of each 500 poker chips, you can hot-stamp a name, initials, or other unique text of your choice. His poker pals will be envious of his newfound wealth!
30. Personalized Name Airpods Case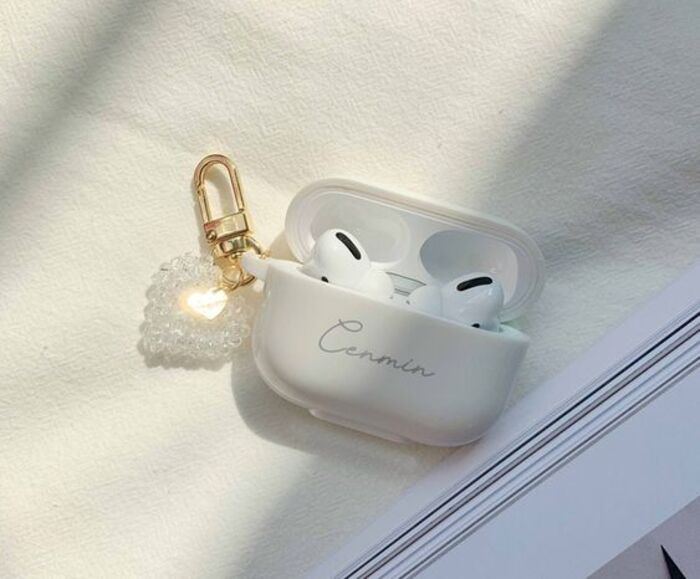 When it comes to technology, nothing is more important than making sure your gadgets are safe and secure. The AirPods case, which comes in different colors, may be attached to his wallet or backpack for added security. A little hole on the bottom of the case allows him to charge his AirPods while they're in the case. If you're feeling generous, consider including a cutting-edge tech gadget in your unique gifts.
31. Monogrammed Luggage Tags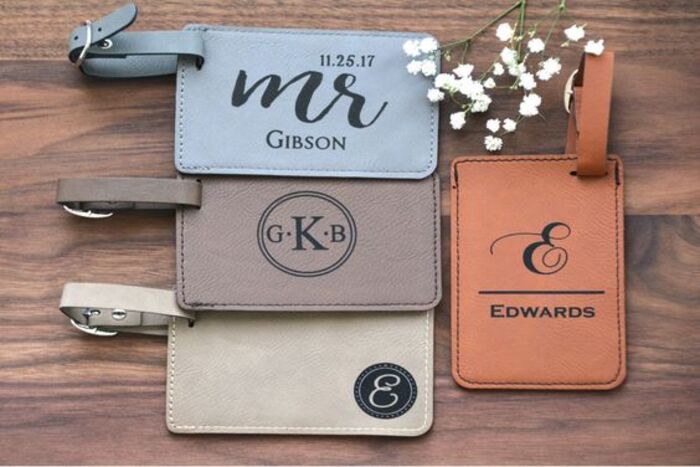 When Dad travels, he understands the necessity of labeling his suitcase correctly. You may help him out with this cool luggage tag. He can simply attach it to his suitcase before embarking on a family holiday to the slopes or Disney World. These tags are thoughtful best photo gifts for dad that'll bring a smile to his face.
32. Custom Tumblers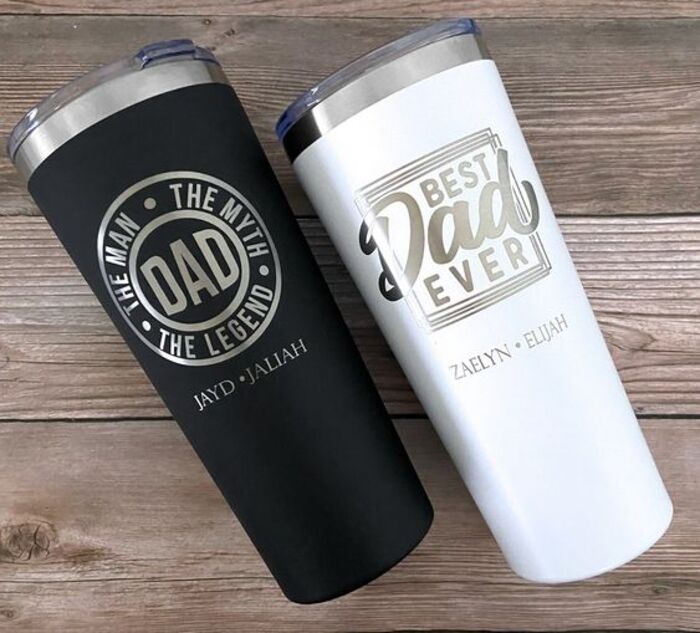 Why not surprise your dad with this personalized stainless steel Father's day gift? These tumblers can be personalized with laser engraving, allowing you to add his name, favorite sports team, or any other design that reflects dad's interests. Whether your dad is an avid outdoorsman, a coffee connoisseur, or simply enjoys hot drinks on a cold day, a custom tumbler is a practical gift that he can use for years to come.
33. Dad's Spot Throw Pillow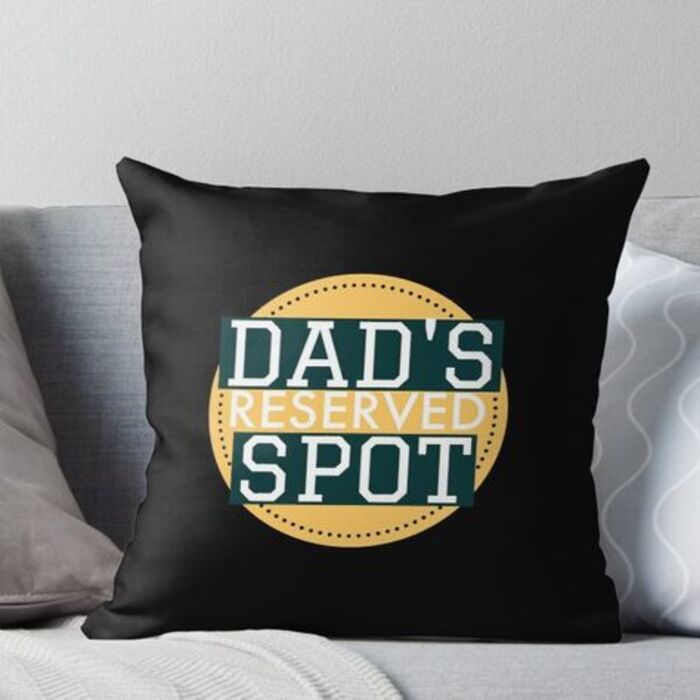 Every dad has to have a certain location on the couch where he sits every time. If he doesn't already have one, this pillow will help him get started. Dad may even keep his remote control or game controller in the handy pocket. It's also a perfect way to bring a smile to the faces of your guests. Funny personalized gifts for dad like this pillow is sure to be a hit with him.
34. Grilling Apron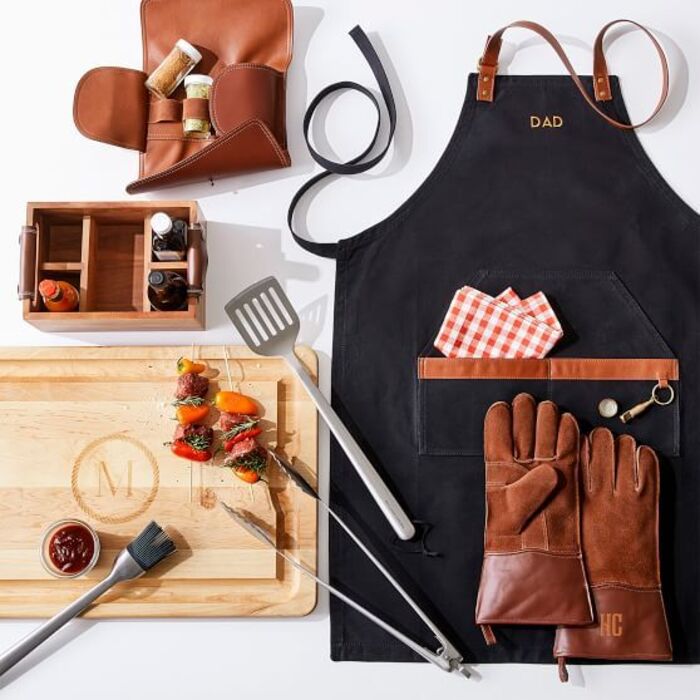 At every family BBQ, you can count on your amazing Dad to be a grill master. With this personalized gift for him,  you can help him show off his culinary prowess. There are two deep pockets on the front of his body for spatulas, condiments, and other culinary utensils to keep them out of the way. As a bonus, he can open someone's beer with the bottle opener attached to it.
35. Leather Watch Box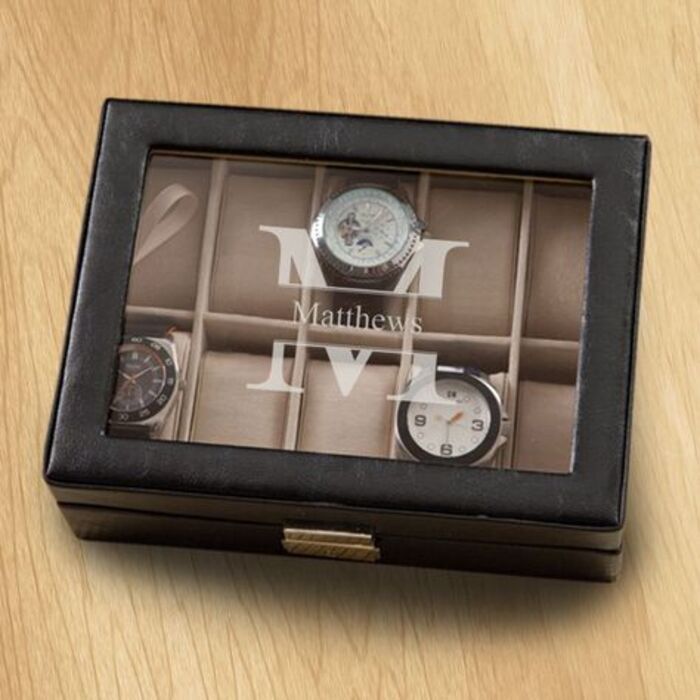 On the hunt for practical personalized gifts for dad from daughter? He'll never misplace a valuable watch or cufflink again with this leather and glass storage box, which features separate spaces for watches, rings, and cufflinks.
36. Personalized Beer Glasses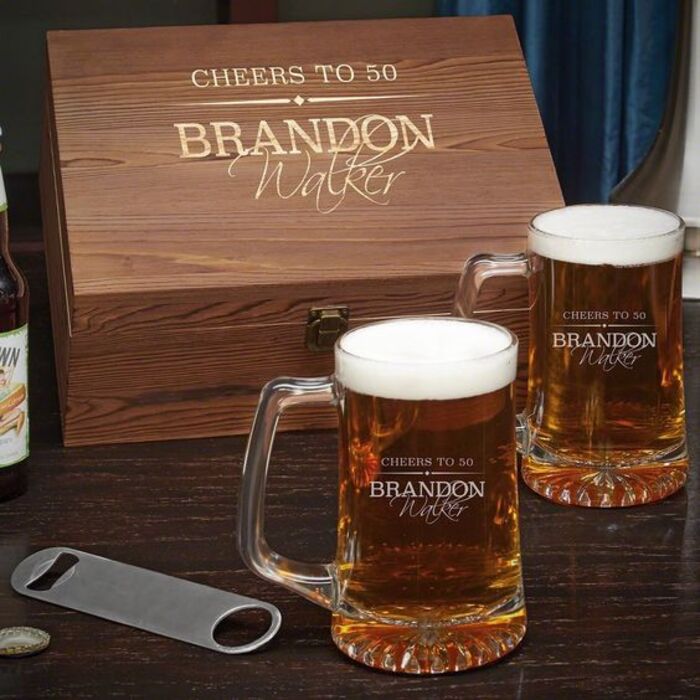 Make Dad's favorite beverage more special by personalizing an etched pint glass with the names and birthdays of each of your siblings. He'll have a quality time drinking beer using these sentimental glasses. This is one of the best gifts for a brother-in-law you should consider.
37. Luxury Fleece Robe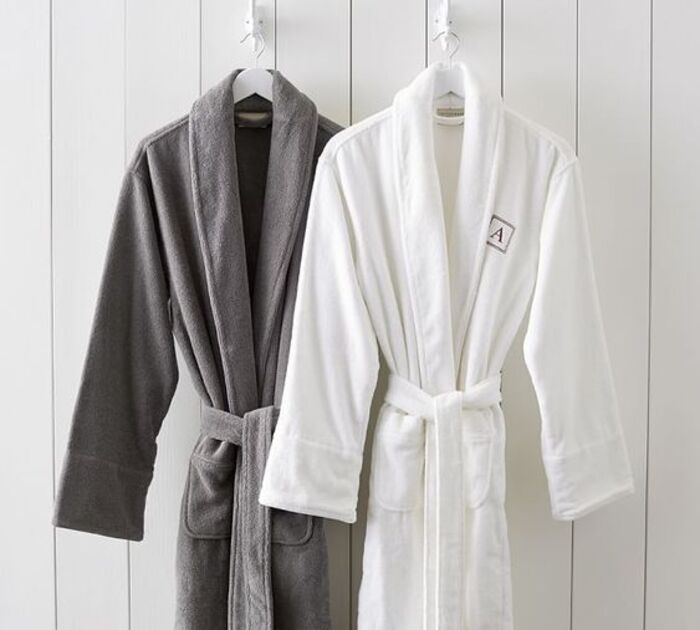 Dad's name is on this elegant robe, making it one of the most unique custom gifts for dad. Made of luxurious fleece and featuring two enormous pockets, this garment is perfect for relaxing around the house or getting ready for bed.
38. Engraved Hammer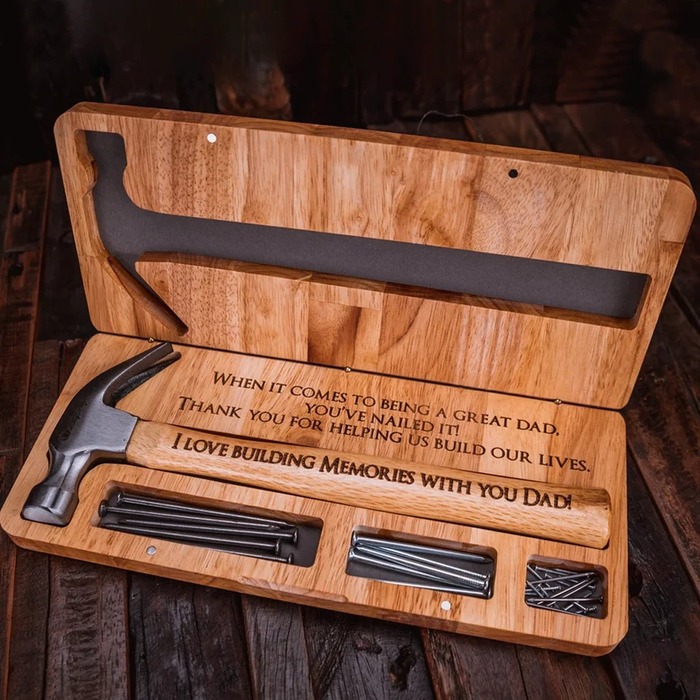 This hammer is for the dads who spend their weekends fixing things around the house without asking anything in return. "Daddy, thank you for helping me construct my life!" is a heartfelt greeting that can be engraved on a variety of our custom gifts for dad.
39. Father's Day Doormat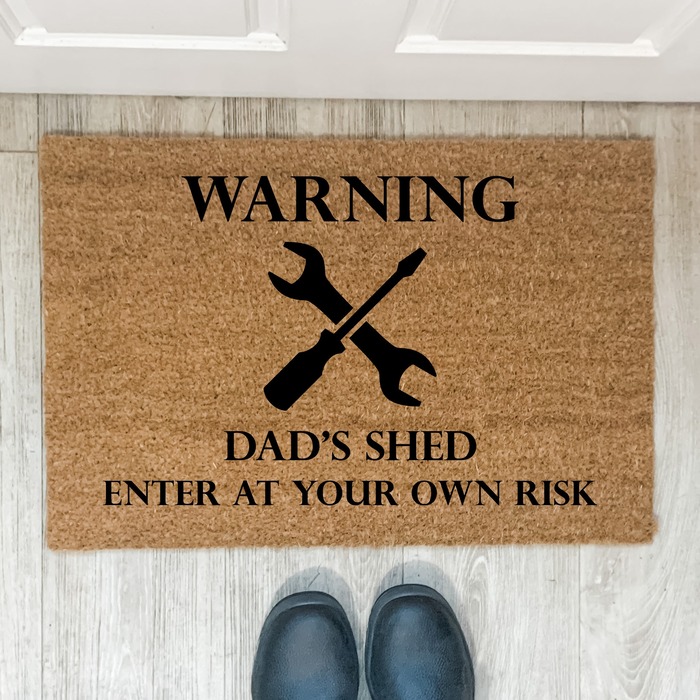 The best personalized gifts for dad from daughter are often those that you wouldn't have thought of on your own since they are so useful. A fresh doormat is always a welcome addition to any home. Make him smile with this great gift, and you'll know you made the right choice.
40. Personalized golf balls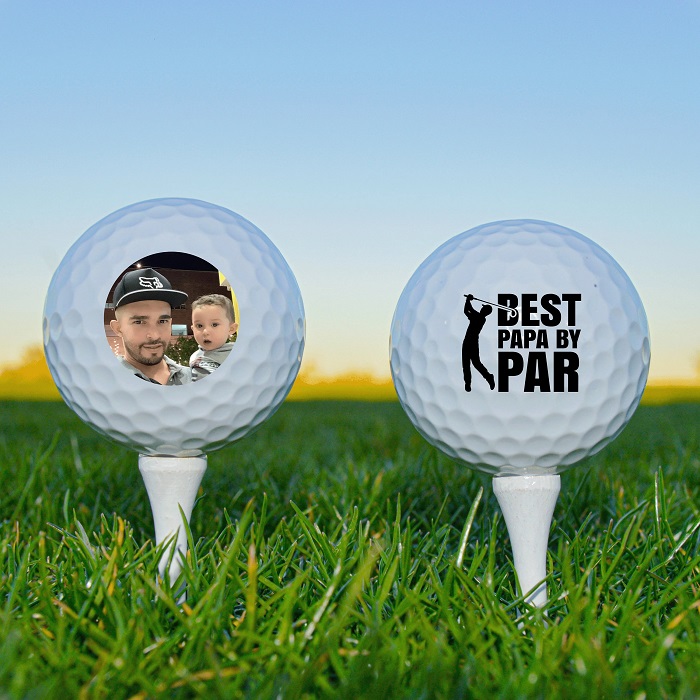 Consider these best photo gifts for dad if you are searching for a thoughtful Father's Day gift for your golf-loving dad. You could have his name or a special message on the balls, such as "Best Dad on the Course" or "Thanks for teaching me to golf." Pair these unique gifts with a round at his favorite golf course to make the gift even more special. This would allow your father figure to use his new custom golf balls while enjoying a day out on the green.
>> Further amazing ideas about gifts for the important men in your life:
Think outside the box when it comes to impressive personalized gifts for dad. It's a gift that will help him stand out at the office or at a special event when he needs a new accessory. To make your dad feel special on Father's Day or Christmas, look for gift ideas that truly reflect your feelings for him. When you're wanting to show your dad how much he means to you, there are a plethora of wonderful options for you to choose from. Oh Canvas is sure that this list will help you make him feel loved and special all the time.