Wondering what is the best time to send thank you gifts for police officers who sacrifice their lives daily to protect us? As for how often, the answer is every day. Show your appreciation with thoughtful gifts such as those that will ease their burdens at work, remind them of the sacrifices they've made for our safety, make them laugh or make them feel special, and many others.
Oh Canvas offers everything you need and more to find the right thin blue line gifts, whether it's for academy graduation, promotion, birthday, retirement, or any other special occasion.
Personalized Appreciation Gifts For Police Officers That'll Honor Their Service
1. Personalized Whiskey Stones Gift Set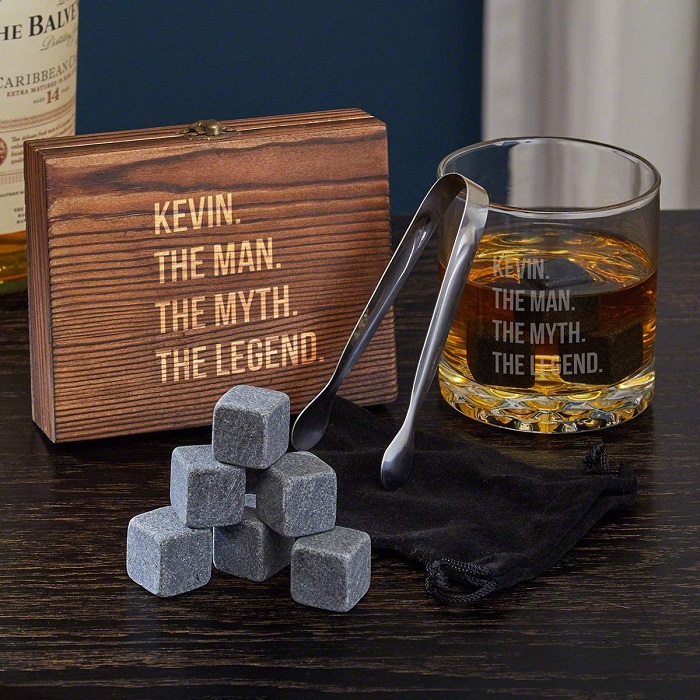 When looking for presents for your favorite police officer, what could be better than a set developed just for them? There will be no better way for them to relax and unwind after a hard day on the job than with an ice-cold drink from their new police gift set!
They'll enjoy knowing you got the right unique gifts for police officers, with customization on the whiskey stone box, whiskey glass, and bottle opener. With a badge, whiskey stones shaped like bullets, and a genuine. 50 bullet bottle opener, it'll be their most useful and tactical present yet!
2. Personalized Gifts For Police Officers Decanters Set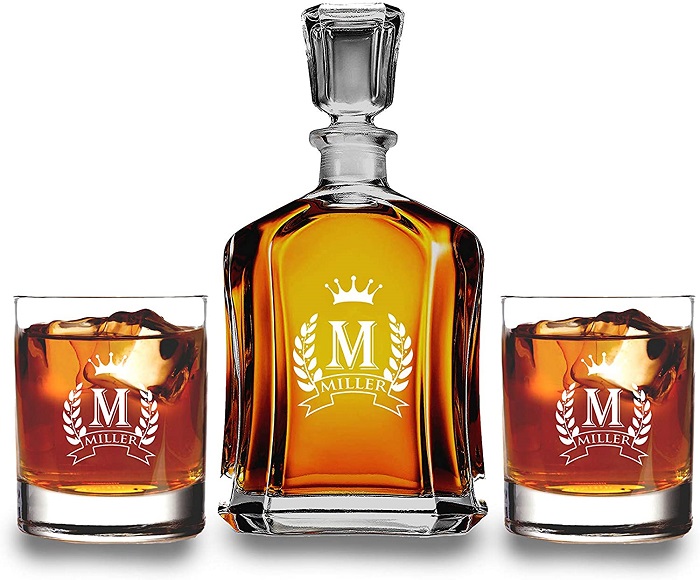 Fill the cop in your life with pleasure with these appreciation gifts for police officers. They'll want to fill it just as quickly when you buy them a customized decanter set with their name and badge number engraved directly! This is the product to spend a relaxing night or commemorate a professional milestone.
A drink or a neat glass of whiskey from this police gift set is a terrific way to celebrate arresting a baddie, unwind, and put his feet up after a long work day. They'll adore it so much that they'll demand you stop in the name of the law to say the greatest "Thank you" ever!
3. Personalized Thin Blue Line Wooden Sign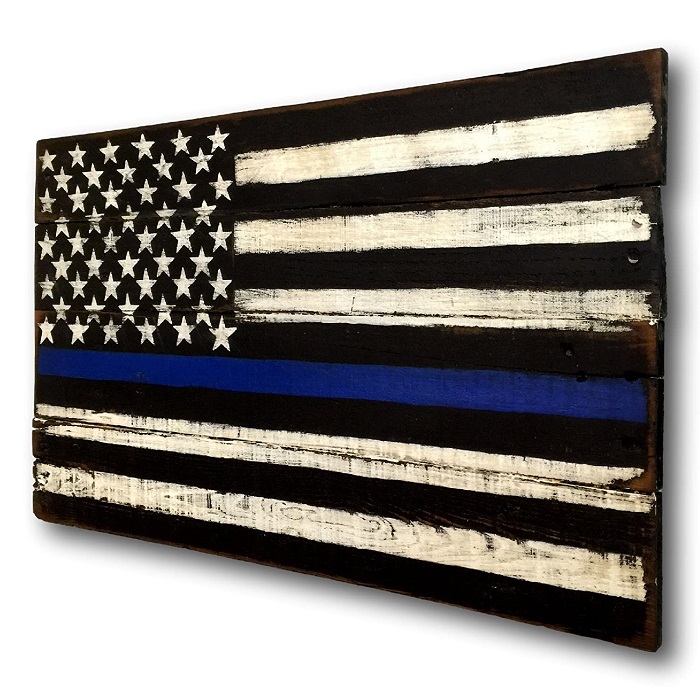 You're looking for thank you gifts for police officers that are one-of-a-kind and express your gratitude for their service. This lovely, customized wooden sign is just what you've been looking for! This customized sign is handcrafted from birchwood and has a vintage-looking black and white American flag with the trademark thin blue line over two lines of text of your choice.
This handmade sign would be perfect for a lieutenant or captain's office or make an excellent birthday or gratitude present for the officer in your life.
4. Travel Mug With Personalized Insulation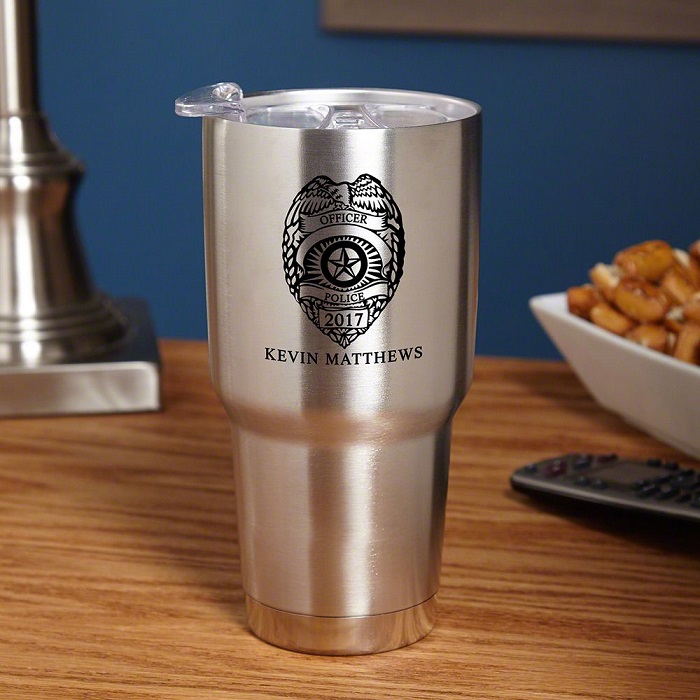 Police officers rely on coffee to stay awake and energetic for the duration of their job. This vacuum-insulated mug is double-walled and manufactured from stainless steel for optimal temperature stability. This cup will keep his coffee hot for 6 hours and his iced water cold for 24!
With the engraved police badge symbol with his name and badge number, your cop and his companion will never mix their drinks again. A travel mug is one of the greatest police officers gifts for him that you can give to any policeman.
5. Farmhouse Wall Decor Personalized Canvas Print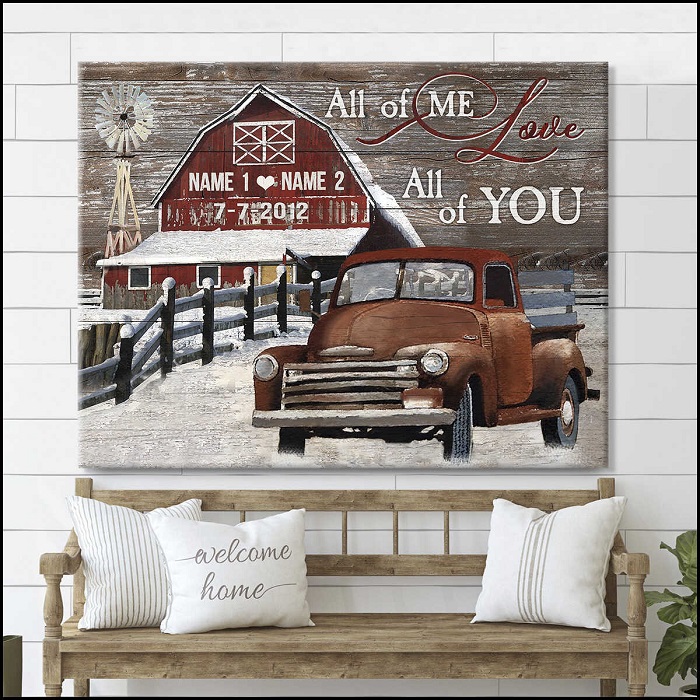 Looking for good gifts for cops that their families may display on your comfortable home's love wall? This truck art custom canvas print may be a great way to produce customized presents for him since it comes with a variety of phrases and background colors to pick from.
6. Police Officer's Gift That Is Thoughtful
What is a thoughtful gesture for a police officer? Give them this customized police officer's prayer sign to show them you're always thinking of them! Every time they see this great sign hung in their house, they'll be reminded of you and your appreciation for such a nice present.
They could read the prayer on the sign to themselves every time they left for work. As a thoughtful gift, this great sign will be a big hit with any police officer who has already worked or just graduated from the police academy.
7. Police Officer Personalized Beer Gift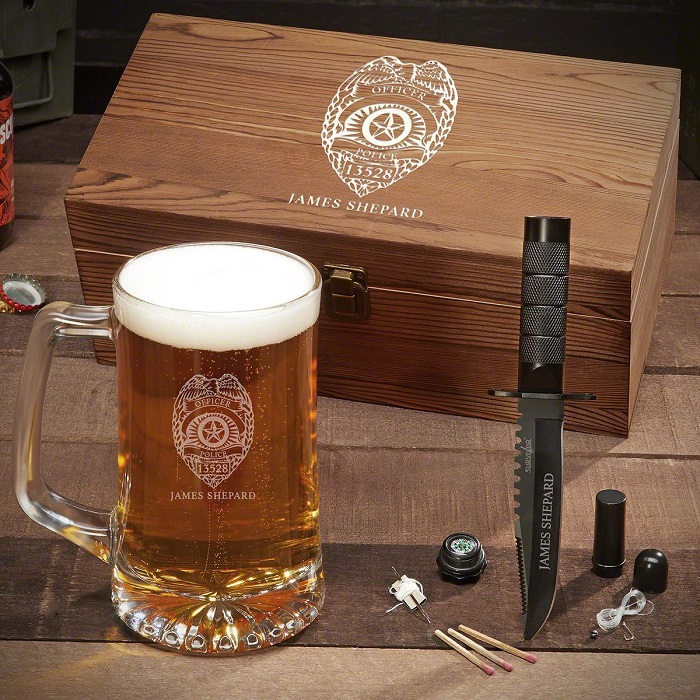 As the best gifts for police officers, customized beer mugs are always a good choice. It's a traditional present that anybody may use, even if they don't drink beer. If your cop likes soda, these mugs are great, big cups for any drink.
This beer mug is customized with a police badge engraving that includes his choice of badge number and name. Any policeman who enjoys a large mug of beer after a long day on the job will appreciate this perfect police gift for cops.
8. Personalized Gifts For Police Officer's Graduation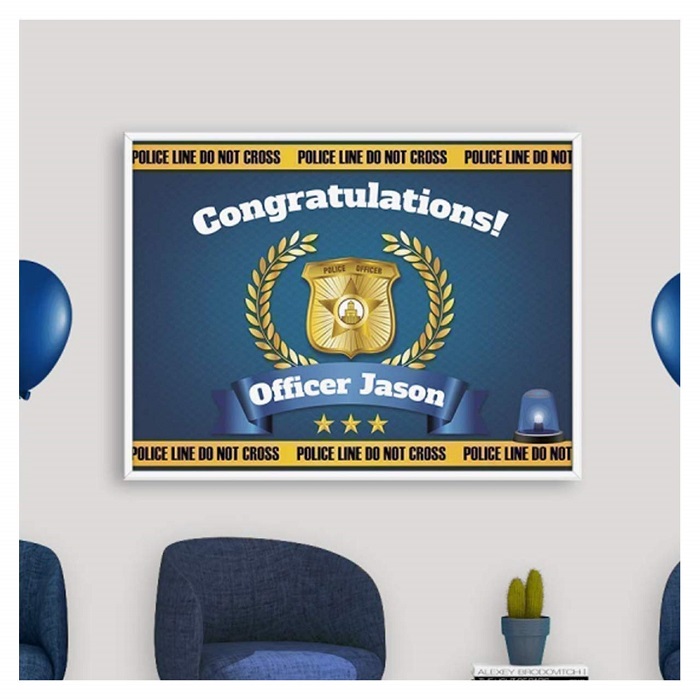 These beautiful wall art posters are excellent gifts for female police officers! The print, which includes words and phrases that are relevant to recent graduates, will inspire them to serve and defend their communities, as well as remind them on a daily basis of the greatest attributes of individuals in public service.
9. Personalized Wedding Gifts For Police Officers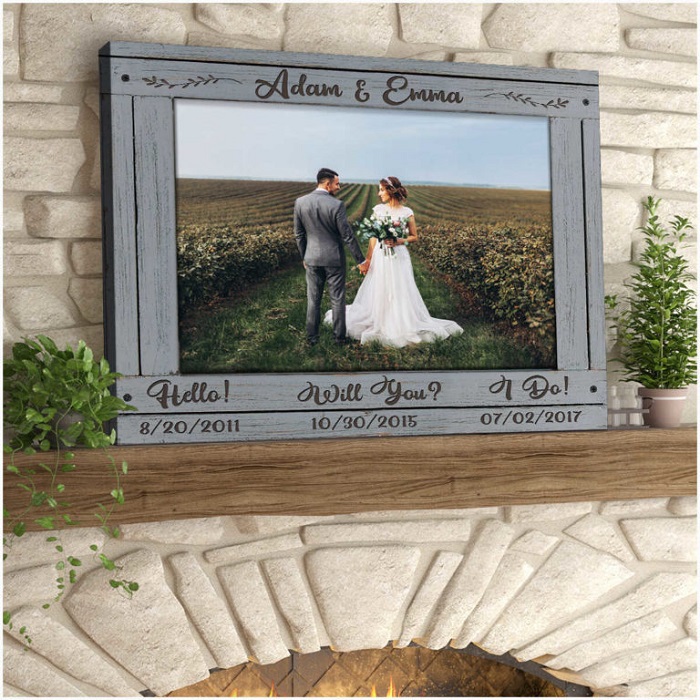 What could be more stunning than a work that can remind your cop of three significant events at the same time? This artwork, "Hello Will You I Do," is sure to delight him. Your love story, names, and a photo of the two of you are now immortalized on a one-of-a-kind customized anniversary wall art.
Marriage is a great experience, and you want to offer him something that will remind him to spend each day cheerfully and meaningfully with your spouse officers. If this "Hello Will You I Do" wall art piques your attention, be sure to add it to your cart right now!
10. Cufflinks With Custom Shoulders/Badges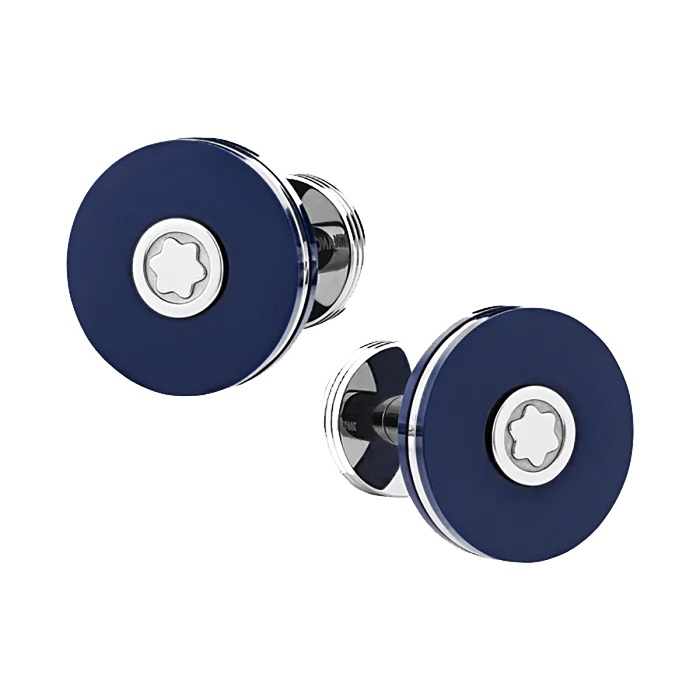 These Thin Blue Line cufflinks are one of the most considerate presents for cops. People may wear them every day because they are both practical and fashionable. They also provide a chance to remember and honor fellow officers who have died in the line of duty. You may add a badge or a shoulder number to the customization option to make it even more unique.
11. Personalized Gifts For Police Officers Bobblehead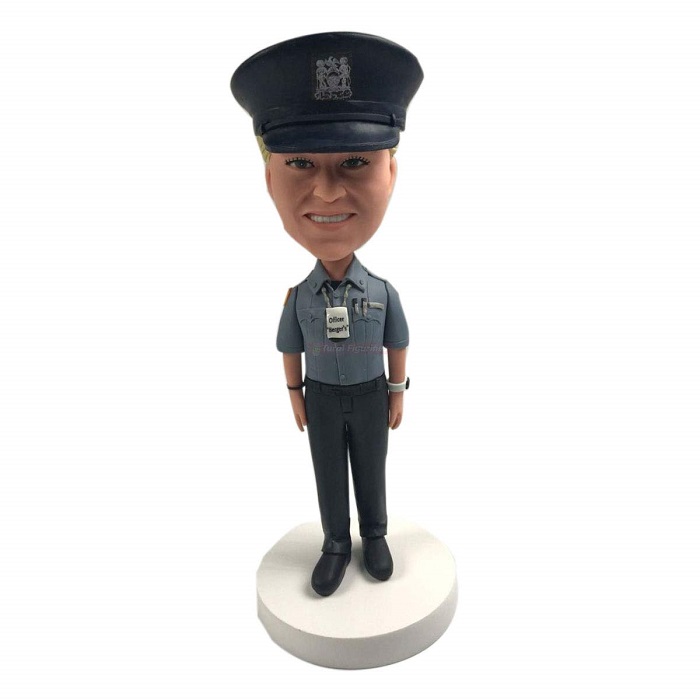 When you send your favorite cop a miniature replica of himself, he won't need a nameplate for his desk. You can make a figure that looks just like him from only one photo.
Oh Canvas tips

Choose a bobblehead that shows the officer in a respectable and honorable position, such as standing at attention or saluting, as opposed to a funny or cartoonish one.
>>> Maybe you like: Top 20+ Great Gifts for Male Friends That He Will Appreciate
Best Useful Gifts For Police Officers
12. Mug Of A Police Officer's Father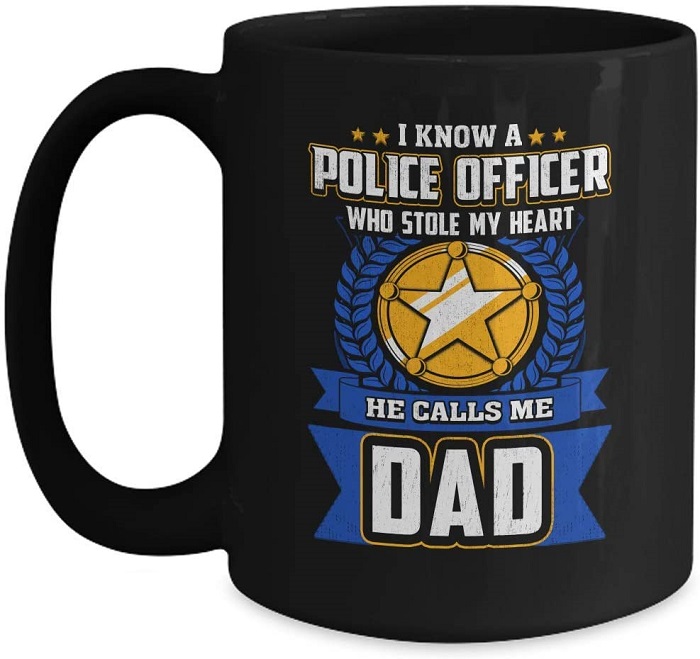 Are you looking for thank-you gifts for police officers, and he is your dad? Take a look at this Thin Blue Line cup. It's a basic yet thoughtful present with a faded finish that adds a lot of aesthetic appeal. It will give them a great start in the morning. It's also a wonderful technique to make sure they don't forget their morning coffee.
13. Police Socks For Off-Duty Use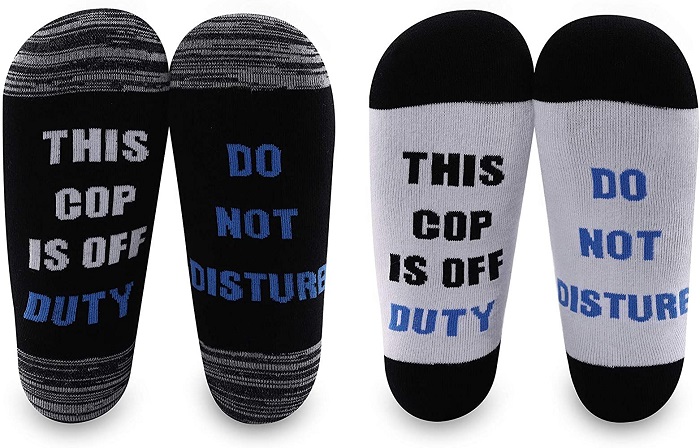 Police officers are seldom given the opportunity to rest and unwind. With these amusing police officer gifts for him, they'll have the ideal reason to do so every now and then. They're a good-looking pair of thin blue line socks with a plush inner. They have a classic look that will never go out of style. And the comedic element is spot on, making everyone around them grin.
14. Cotton Throw Pillows With A Police Theme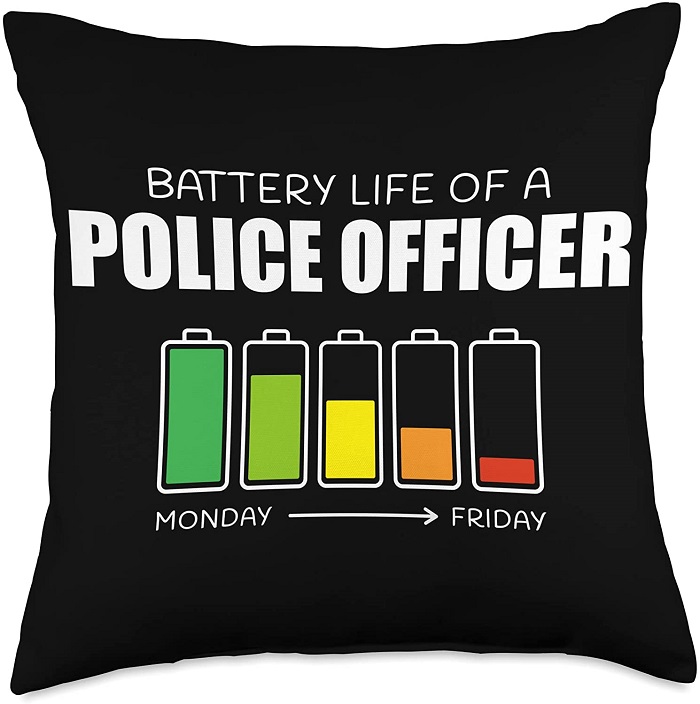 This great gift will go a long way toward demonstrating your gratitude. They'll see these words first thing in the morning and last thing at night. Officers in the police force have one of the most difficult professions in the world, and they need all the confidence they can get. Your support will be immortalized on one of these, and they will adore you for it.
15. Koozie With A Police Vest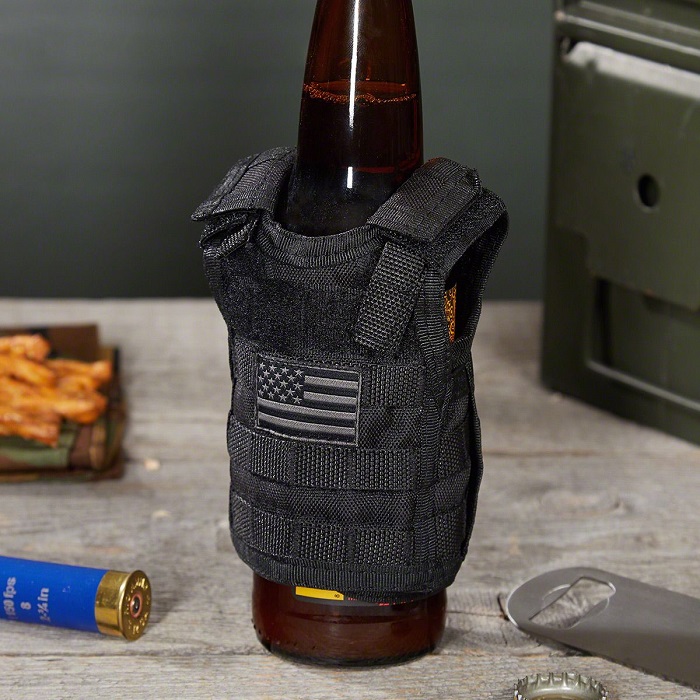 One of the most unique gifts for police officers is this one. It's a drink koozie shaped like a tactical vest with the word "POLICE" emblazoned on the front. On duty, it's a terrific drink holder, particularly if they're all dressed in the same uniform. Off-duty, it's a great decision that'll make everyone laugh. The American flag of the Thin Blue Line is displayed on the reverse, lending a solemn tone to the appreciation police gifts for him.
16. Mug With A Pistol Grip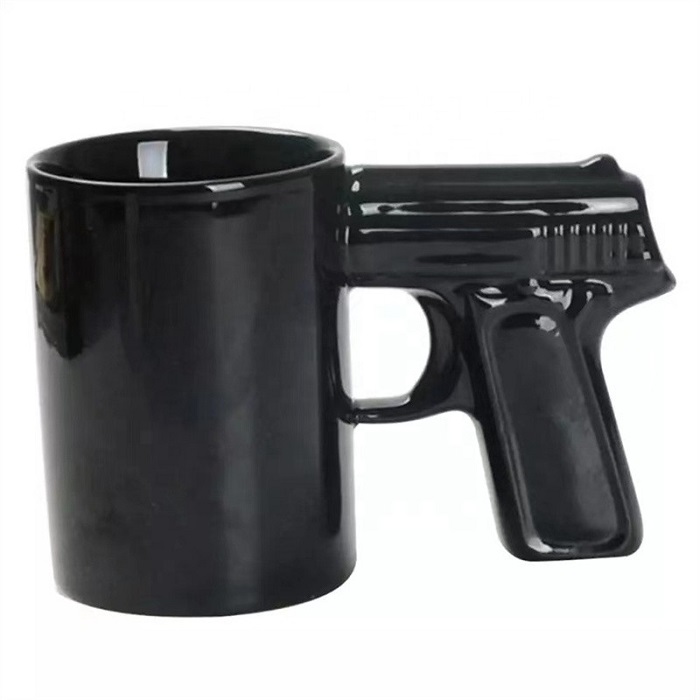 With one of these amusing gifts for officers, you can take your gift-giving to the next level. The handle is shaped like a rifle, which makes it easy to hold and also makes your cop laugh. This is the ideal mug to help them begin their day on the right foot. It's also a lovely addition to the kitchen display shelf, making it the perfect focal point for a cop's house.
17. A Police T-Shirt In A Minimalist Style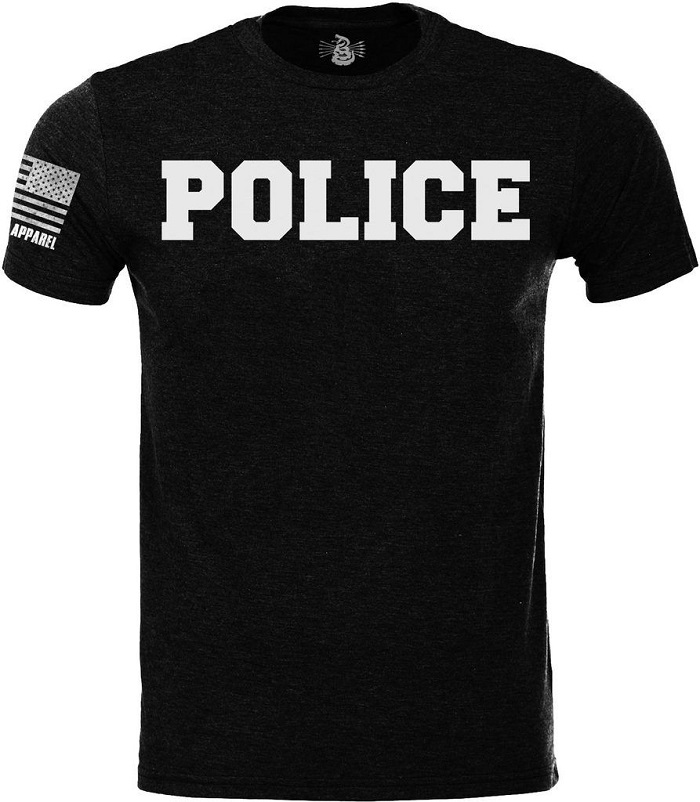 Choosing novelty gifts for a minimalist police officer is a difficult challenge. This simple t-shirt, on the other hand, ensures that you will not go wrong. It's available in black or navy blue, with the word "POLICE" emblazoned across the breast. The fabric is thick yet soft, and the sleeves and collar have double stitching for further durability.
Oh Canvas tips

Always follow the rules and regulations set out by the police department in which the officer works. It's a good idea to double-check the gift-giving policies of the recipient before offering anything.
18. A Set Of Wood Dart Cabinets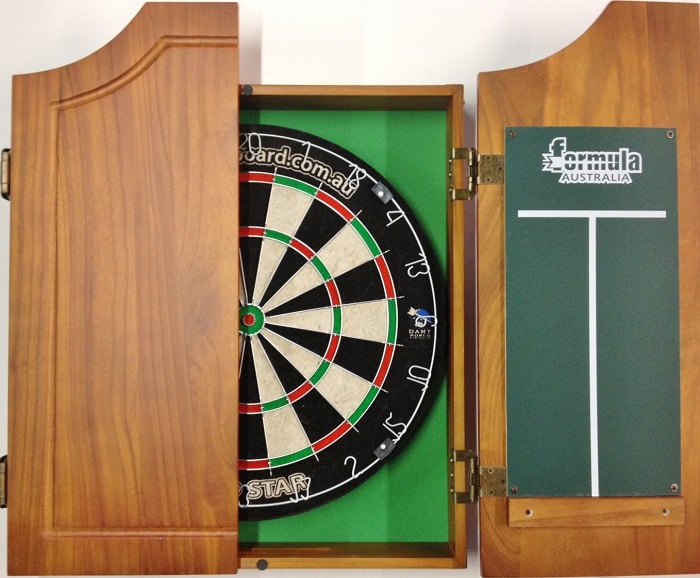 One of these police academy gifts would be cherished by officers who like a game of darts. For genuine dart fans, it's a wood dart cabinet with a legitimate license. It includes everything you'll need for a fun gaming night with your pals. The items included include a self-healing sisal fiberboard, six darts with steel tips, a scoreboard (dry erase), a marker, an out chart, and mounting tools.
19. Gifts For Cops With Wallet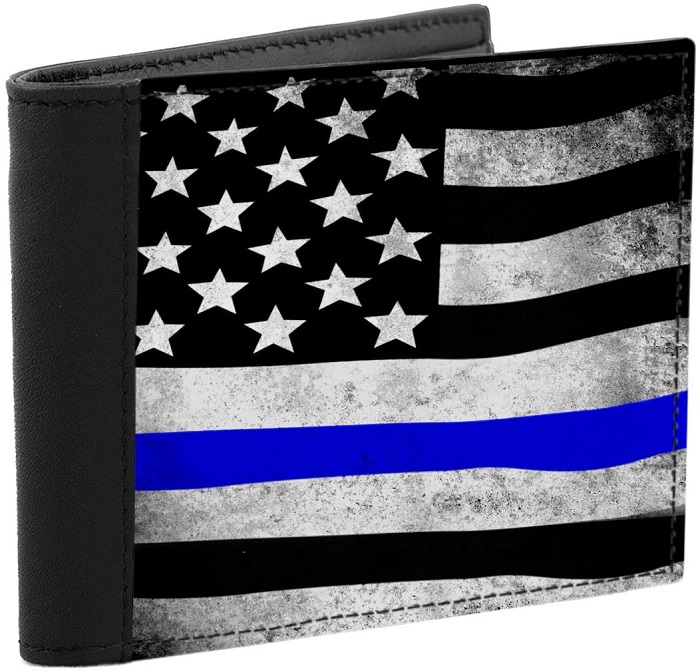 Every guy needs a wallet, and this is the perfect one for the cop in your life. It has real leather embellishments and a rendition of the American flag's Thin Blue Line. The worn treatment on the flag gives the artwork an antique feel. This policy gift is small, functional, and attractive. It's a great way to demonstrate your patriotism.
Thank You Gifts For Female Police Officers
20. Stainless steel keychain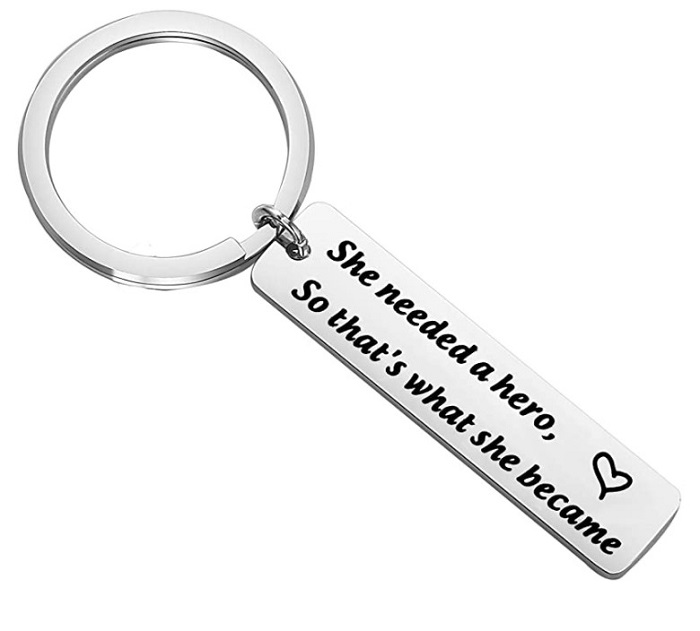 This inspirational keychain made of long-lasting stainless steel is the ideal present for a female officer of the law. Who would have thought that something as mundane as a keychain could have the potential to leave such a profound impression when stamped with the words "She needed a hero, so that's what she became"?
21. Wine glass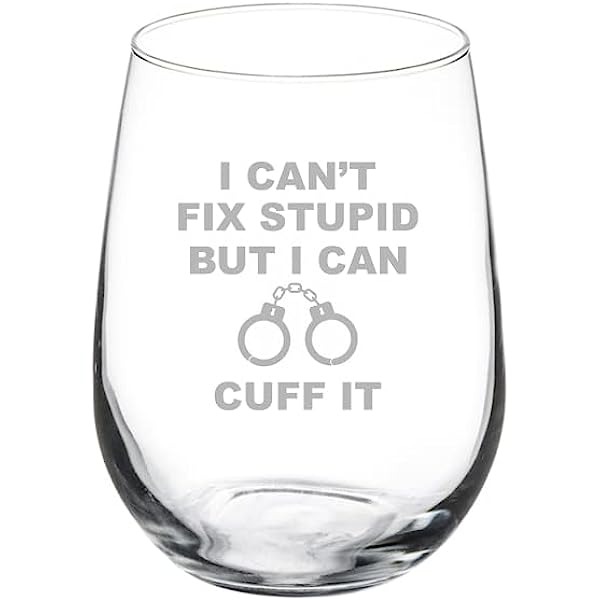 It's not a holiday or anything, but she's been working too hard and needs a break. One of the nicest gifts for female police officers you love is something like this. The laser engraving is both detailed and long-lasting, so the design will remain legible even after many uses. You should get her a pair of tall glasses so she can toast with her pal.
22. Female police officer bobblehead
A personalized bobblehead will make the perfect thank you gifts for police officers who work for the police force. Your female officer's precise skin tone, eye color, hair color (and length if it's above the shoulders), and haircut are all chosen by hand. Extras like glasses and caps, often sold separately, can be added to your order at no cost.
23. "Thankful Grateful Blessed" Wall Art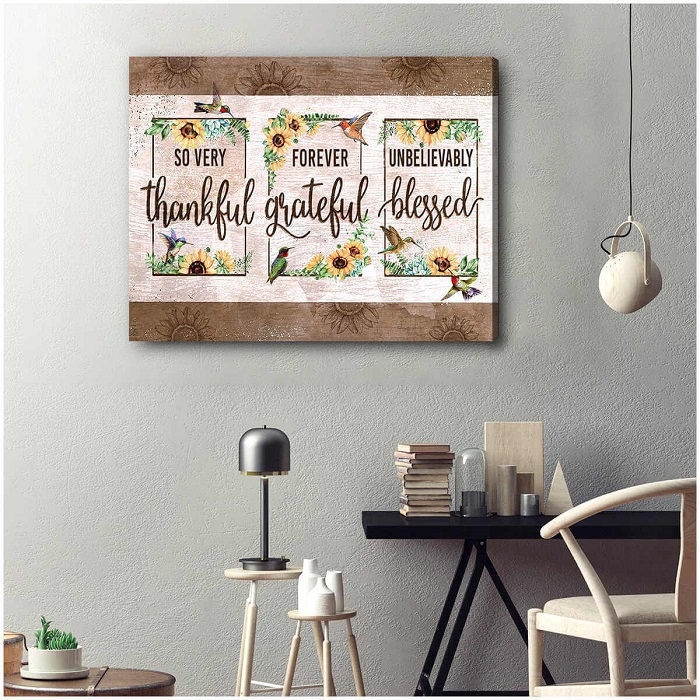 This beautiful canvas print features a striking image of a hummingbird and sunflower, capturing the beauty and fortitude of a female police officer. The strength, bravery, and commitment depicted in this piece of art are inspirational symbols. The unwavering dedication of female police officers to serving and protecting their communities is deeply appreciated, and the words "Thankful Grateful Blessed" effectively represent our thanks in this regard. Inspiring the officer and those who respect and adore them, this canvas prints are touching gifts for female police officers.
How to Choose the Best Gifts for Police Officers?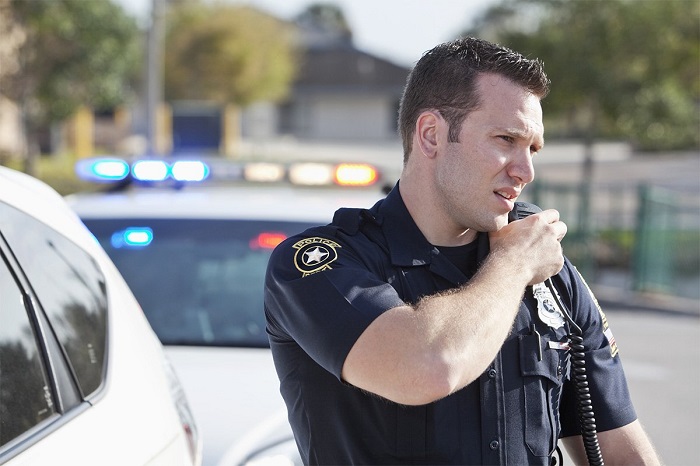 The law enforcement community is filled with committed, hardworking men and women who give of themselves generously. It's crucial to express gratitude for all they do whenever feasible. The options listed below are simply a starting point! To get the most out of our nice suggestions, use them as inspiration for your unique policeman gifts. After all, no one knows the person you're shopping for better than you! Here are some more ideas to help you choose a great gift:
Look At Their Social Media
If they're on social media, chances are they've followed or connected with businesses, sites, or other people and things that might make wonderful gifts for police officers. Knowing their hobbies and interests outside of work might be quite beneficial if you don't know the officer well.
Consult With Their Partner Or Other Close Friends
Cops, like any other profession, spend the bulk of their time on any given day with the individuals they work with. Whether it's a spouse or other coworkers, these folks may provide insight into topics they're passionate about that you're unaware of.
Consider Providing An Experience-Based Program
Not all presents must be purchased at a shop! Some of the most memorable presents aren't tangible objects but rather the experiences we have with the people we care about. There are a lot of great things to do, from concerts to wine or beer tasting, camping and hiking, and even a romantic vacation in a different country.
Read More: 
The best gifts for police officers will contain lots of ways for them to relax and unwind after a long day on the job, as well as ways to honor their sacrifice and make them chuckle. Oh Canvas hopes you'll find the perfect gift to give to a great police officer.