Real love stories never have endings, and the four-year mark is just the beginning of a new chapter of life. And the journey becomes the best part of each other's life is not easy. So why not mark this milestone with the sweetest 4 year anniversary gifts to melt your spouse's heart? With each recipient's tastes, we need to comprehend and select suitable gifts thoroughly. Therefore, in this post, Oh Canvas included the best traditional and modern anniversary gift themes for 4 year anniversary for you.
What to get for four year wedding anniversary?
All the anniversary years have their own gift themes and are always associated with both traditional and modern symbols. For the four year mark of wedded bliss, the gift for 4th year anniversary is beautiful blooms and fruits. They represent a sweet and scented relationship that's just passed and wishes for a blooming time of marriage to go. But that's applicable in the United States. If you live in the UK, follow the traditional gift theme is silk and linen, which indicates a strong and enduring love.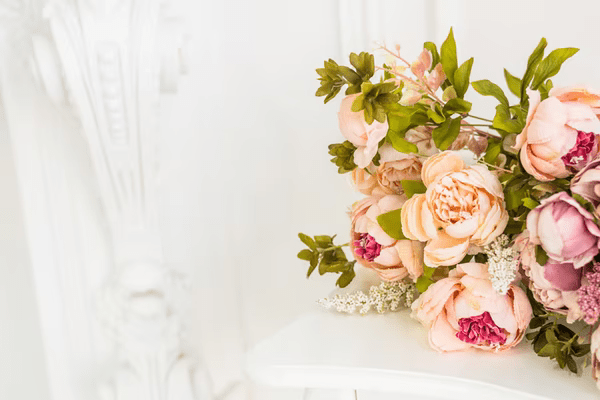 On the other hand, some of your kitchen devices may need an update after four years. Electronic appliances are modern anniversary gifts by year for anyone pursuing contemporary and practical pieces. They are for replacing all the items that are worn out and heading to a much more convenient life further.
Giving a four year wedding anniversary present is not limited. The four-year mark of a couple's relationship that may continue forever is an image of valuable stones being refined, such as crystal, gold, or diamond. Besides traditional and modern ones, there are plenty of cool alternatives that can become gorgeous gifts for your partner. Feel free to choose the most appropriate piece and celebrate the momentous occasion.
Traditional 4th Anniversary Gift Ideas Leave The Best Impression
1. Fresh flower delivery
Because of their enduring grace and beauty, flowers are the gift theme that symbolizes the growth and blossoming of the relationship and eventual ripening as portrayed by fruit. Flowers feed the spirit, and fruit nourishes the body, consequently, the developing commitment and nurturing love of the pair is indicated.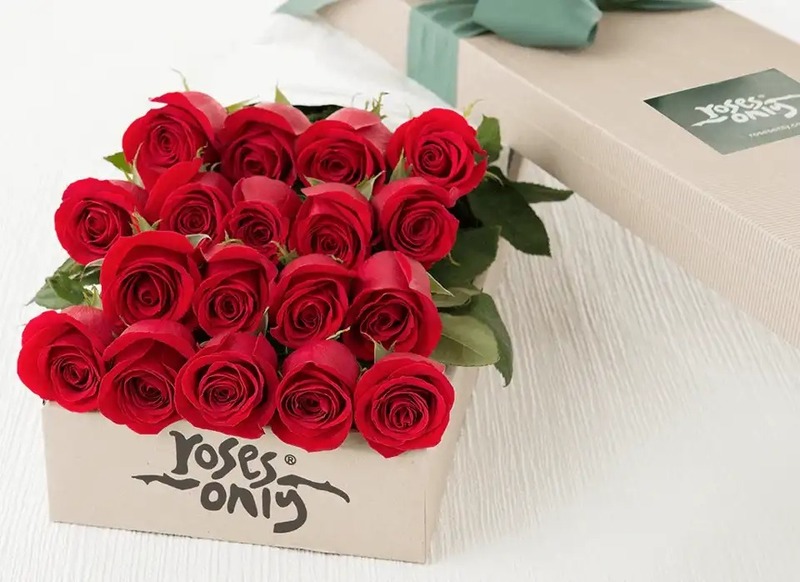 Fresh flowers are excellent choices for romantic four-year wedding anniversary gifts. They will bring more colors and scents to help enjoy life's most significant moments in your cozy nest. Gemstones can often be added to traditional fruit and flower designs to make your work of art more splendid. You may want to go with a weekly or monthly subscription service so that you and your spouse can enjoy specific types and make them gorgeous items for home decor.
Why we love this product:
They collaborate with only the finest growers from across the globe to provide us with the finest roses. Dedicated florists shower, trim, and arrange each flower with tender loving care until the result is perfect.
2. Floral bouquet diffusers
This time, cover your house with sweet and comfortable fragrances by giving the floral diffuser as a unique 4 year anniversary gift. A warm and scented living space helps boost the well-being of the two of you.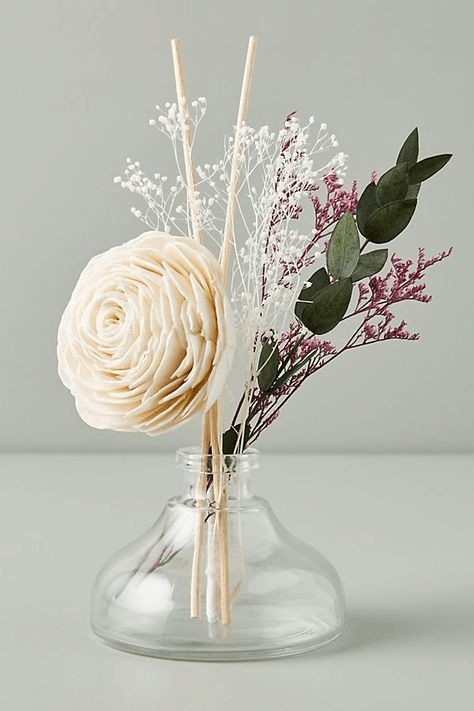 To use diffuser flowers, carefully unwind the wick, folding or clipping it if necessary. Just place the wick in your filled container and wait for the smell to be taken up the wick and into your flower theme head. Then, it will spread around your room in approximately 24 to 48 hours.
3. Stunning dried blooms
People who follow tradition will appreciate dried flowers as a unique gift for the 4th year anniversary. It is possible to dye them in any color to match the occasion. If you are afraid that fresh flowers do not last long, dried blooms will do the trick. Dried flowers may endure an average of a year if cared for properly.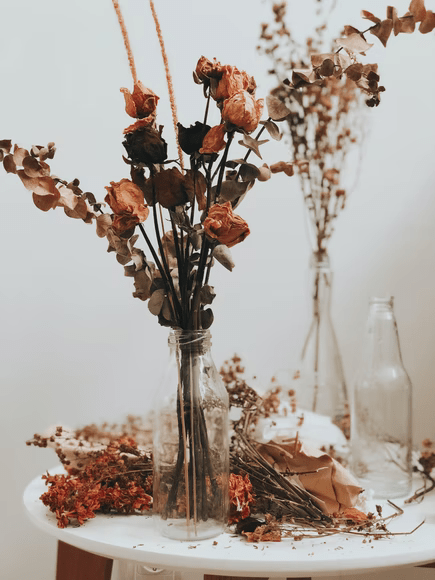 However, the flowers may endure longer if they have been bleached and colored. Thus, grab this occasion, choose your partner's favorite types of flowers and place them in a vase, which will look gorgeous by a bedside or on a coffee table and is sure to be a conversation piece because of how beautiful it is.
Why we love this product:
Flowers with longer stems, bigger flowers, or those you've arranged into bouquets before drying all benefit from being air-dried.
Cost-effective.
Requires minimal supplies.
Easy to do.
4. A bouquet of real red roses
Your wedding anniversary years are a moment to commemorate the continuation of your love for your partner. Show your sweetheart how precious they are, whether it's your 4th anniversary or your 50th! Send a bouquet of real red roses and let it speak for itself about your unending love.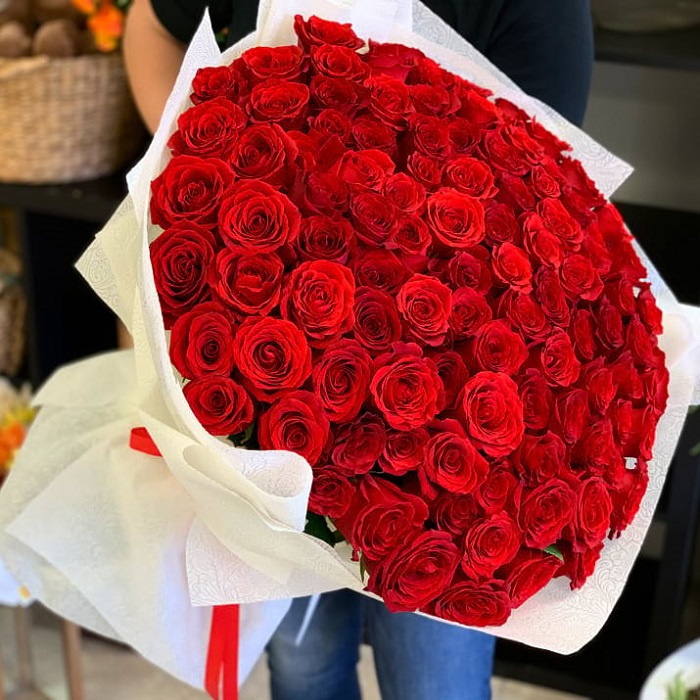 Flowers for a wedding anniversary are ideal for that particular someone in your life. A romantic red eternity rose will wow your beloved during the romantic dinner. Flowers are a lovely way to commemorate your wedding anniversary with your family and friends.
5. "4th Wedding Anniversary Gift" Canvas
Four years mark a period of time that is neither very long nor particularly short. It is awesome that may the gift can bring two people to the special moments from the dating time, preparing for a wedding planner, and building a whole family.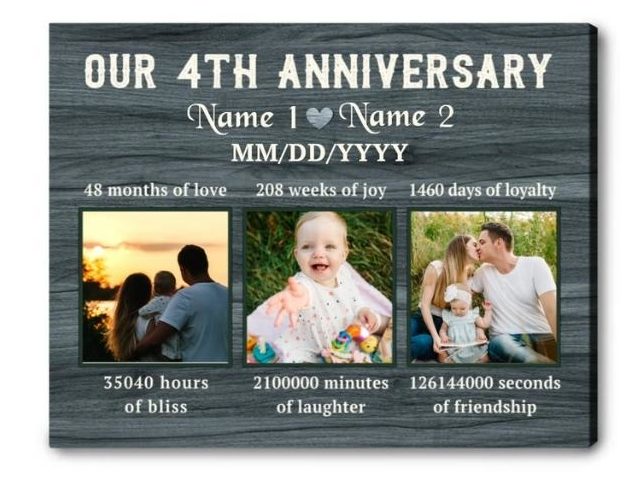 For a meaningful celebration, how about gifting your husband this 4th year anniversary gift that he felt was treasured? Because it can be customized, it makes a perfect gift. Afterward, you may provide us with a family photo of your two favorite people, and we'll make a custom photo present just for you.
Why we love this product:
The canvas print we provide will stand out in your space and faithfully replicate every line without fading over time, all thanks to todays modern cutting-edge printing technology.
6. Dried flower frame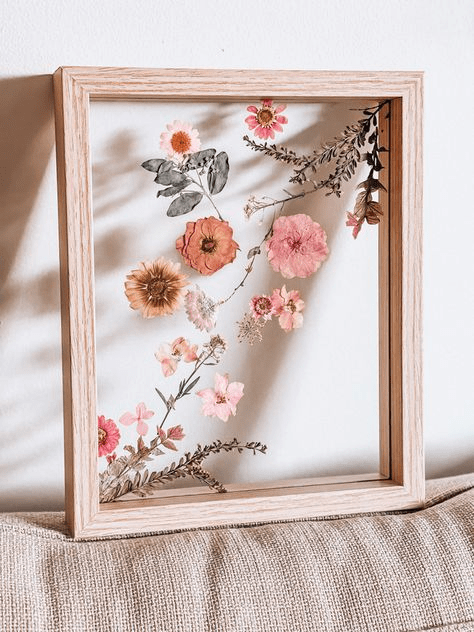 Another creative way to have an enduring traditional gift for him is ordering a dried flower frame. This is a meaningful keepsake that marks the milestone and preserves the sweet memories of a happy couple. Personalize the frame with your words and it'll take this perfect gift to the next level. It also has affordable costs that you can consider.
Why we love this product:
The frame may be exhibited either standing or on the wall.
They spend a great deal of time and effort pressing your flowers to maintain as much of the original color and detail as possible.
7. Flower-embroidered napkin
A flower-embroidered napkin tends to be a big hit in all the traditional fourth anniversary gift ideas. Do you still keep your wedding bouquet? If so, make it just the thing that appears beautifully on the napkin. It turns the gift into a more meaningful and charming one. You can DIY one with just some simple methods.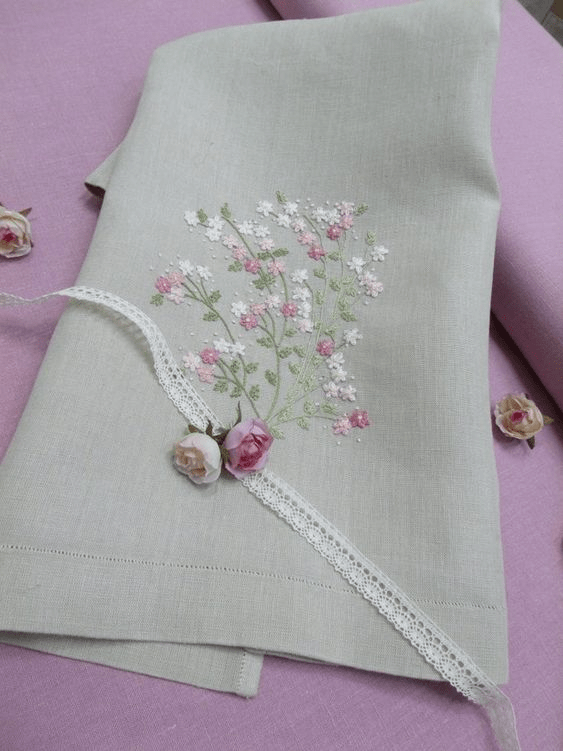 A traditional option for DIY cloth napkins is woven cotton because of its durability, absorbency, and softness to the skin. It may be washed in the washing machine and still look fantastic. If you seek to add double-sided napkins, quilted cotton is a great option.
8. Fresh fruit basket subscription
Fruits are abundant in fiber and are a good source of vitamins and minerals. In addition to flavonoids, the fruit has a broad spectrum of antioxidants that are beneficial to health. The risk of heart disease, cancer, inflammation, and diabetes may be reduced by eating a diet rich in fruits and vegetables.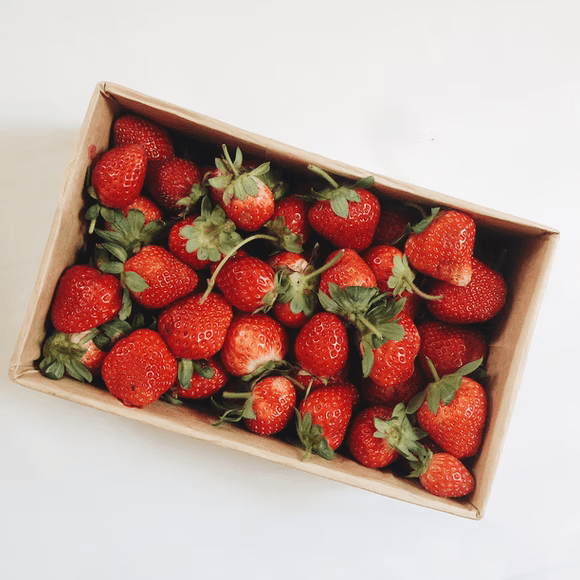 As a result, besides flower subscriptions, people celebrate anniversary years together with the traditional fruit basket as the perfect fourth-anniversary gift. Leave all the tiredness behind and enjoy a fresh bite of your favorite fruits with your loved one.
9. Fruit balsamic vinegar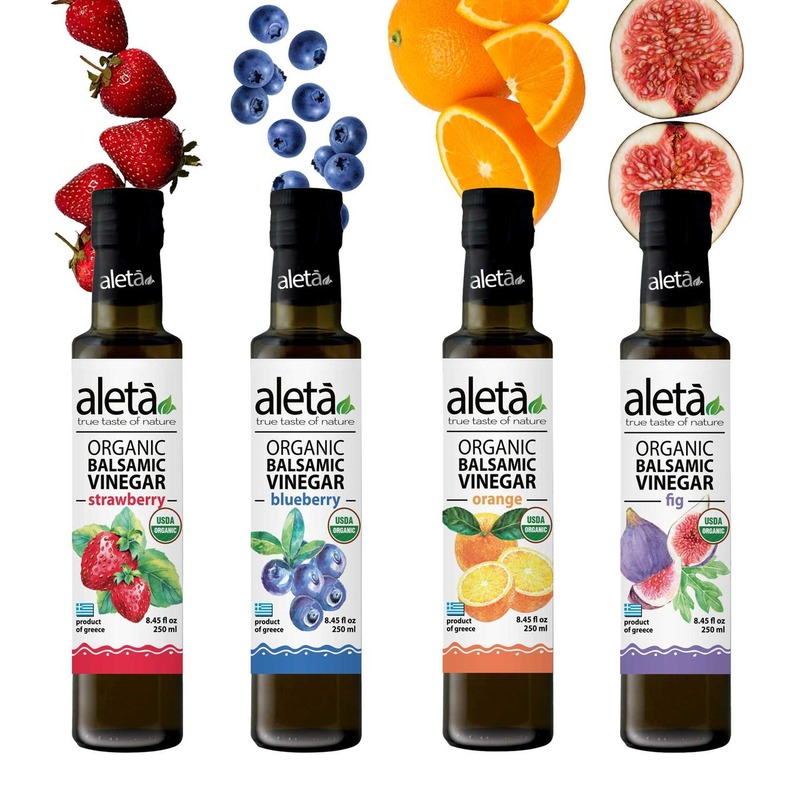 If your recipient's tastes are something sweet and romantic, do not miss out on this one. If fresh fruits are not your option, tasty balsamic vinegar might meet your expectations. Strawberry, watermelon, blueberry, nectarines, kiwifruit, pears, and grapes are some of the fresh fruits that combine well with balsamic vinegar. Does your lover adore cooking? If so, this 4-year anniversary gift for him will earn itself a place of honor in her endearing kitchen.
Why we love this product:
These goods are not just the result of organic agricultural practices but are also certified as being from a single estate. No chemical fertilizers, pesticides, herbicides, caramel coloring, or preservatives were used. The groves use only physical and natural materials, making organically-based agricultural practices viable.
10. Delicious fruit jams
Another way to stick with fruits as a traditional 4 year anniversary gift idea is by opting for delicious fruit jams. This sweet treat is also a good source of both calories and fiber. All the nutritional advantages of fruit, including heart-healthy antioxidant potency, may be found in a jam.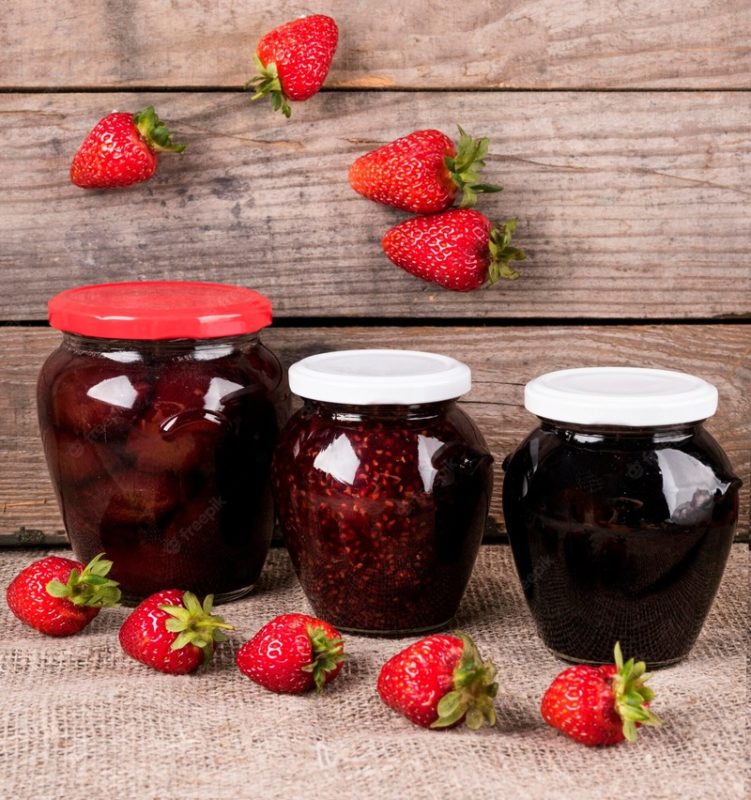 Understand your mate's favorite taste and go for tempting jars of jams that she'll actually use for her breakfast or cooking. This is a useful anniversary prsent for her which you should try.
11. Chocolate-Covered Strawberries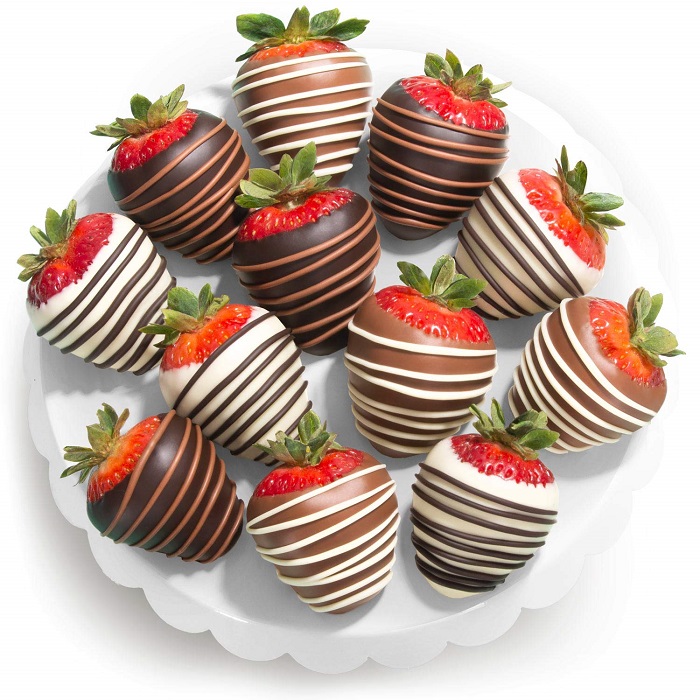 What could be more delicious than chocolate-covered strawberries? These chocolate strawberry pops are much simpler to create and utilize the red color of the strawberries to appear like hearts. They have the same flavor as chocolate-covered strawberries and are a terrific way to start a lovely Valentine's night.
12. Linen sheets and pillowcases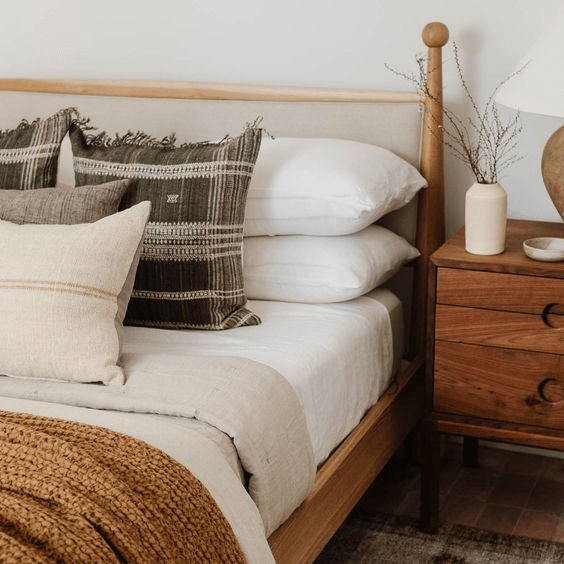 Items made of linen or silk are traditionally sent as the best 4th wedding anniversary ideas. Update your bed with a luxurious set of linen sheets and pillowcases. You and your husband will have the most comfortable experiences and the nicest sleep on the bed after long days of working. Do not forget this event to make your bedroom the best that it can be.
Why we love this product:
The piece's easy-to-wear cotton feature makes it a pleasure to use.
We love how this fine fiber looks elegantly crumpled and how its colors are right on trend.
Linen is a wonderful fabric that becomes softer with each wash and stays cool in the summer and cozy in the winter.
13. Personalized Canvas
The picture collage canvas print "4 Year Wedding Anniversary Gift Personalized Love Canvas" is a requirement for celebrating a happy four year anniversary. Reminiscing with your partner about the times that have made you both happy will light up their faces. What a romantic way to mark your beloved's fourth anniversary year. Four-year wedding date calls for special mementos, and this sweet and modern gift is a classic choice.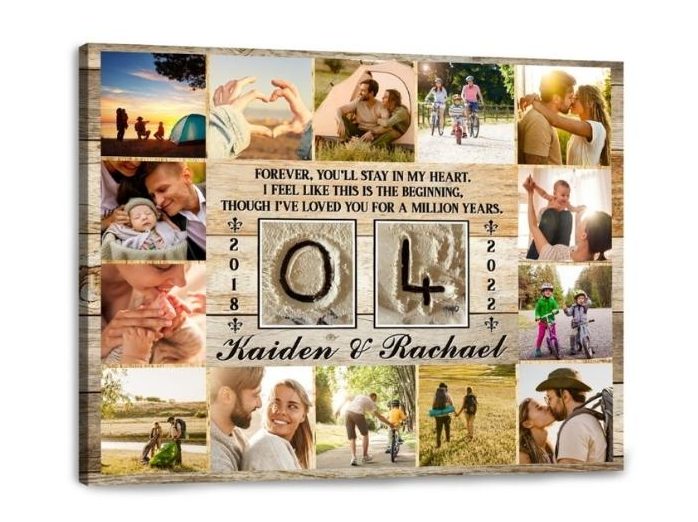 In order to make your wedding date anniversary even more memorable, we've included a family photo that you and your spouse may personalize. This is a wonderful idea for a 4-anniversary gift for him and useful gift suggestions for each meaningful celebration.
Why we love this product:
The alternate anniversary version of this Photo Collage Canvas is also available.
Professional-grade printing equipment that faithfully replicates colors and provides a clean image.
14. Linen Aromatic Bags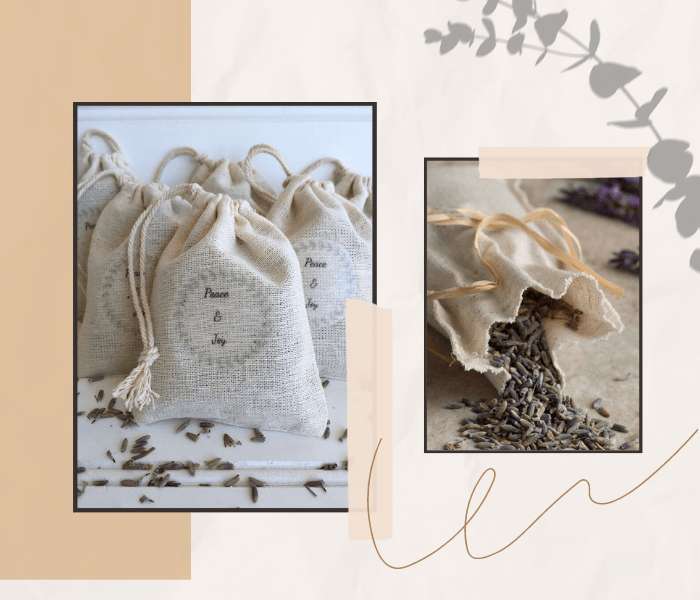 A passionate natural rose aroma, a pure lightness of lavender, or the warm scent of cinnamon will instantly remind them of you – the scented bag's owner. Using scented bags to keep your home perfumed with flowers is manual. So, as this traditional fourth-anniversary gift, why not offer him/her a wonderful present?
Why we love this product:
Creating these sachets will help you relax as you inhale the calming aroma of lavender.
15. Linen Pillows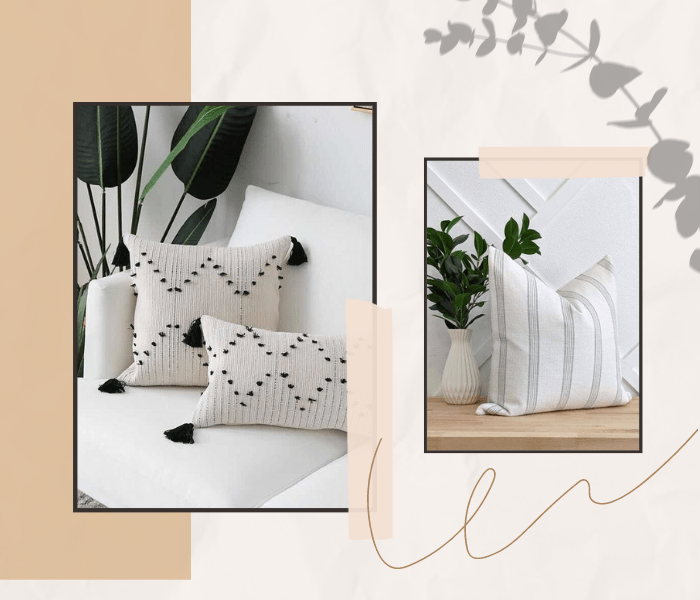 Pillows are also decorative items that can give your home a new look. Providing Pillows are given as well wishes for a warm and happy marriage as a 4 year anniversary gift. Fashion changes with the passage of time; certain items become dated, whereas a pillow is ageless.
Why we love this product:
Plush and long-lasting.
A hidden zipper allows you to quickly and conveniently change out pillow coverings.
16. Linen Outfit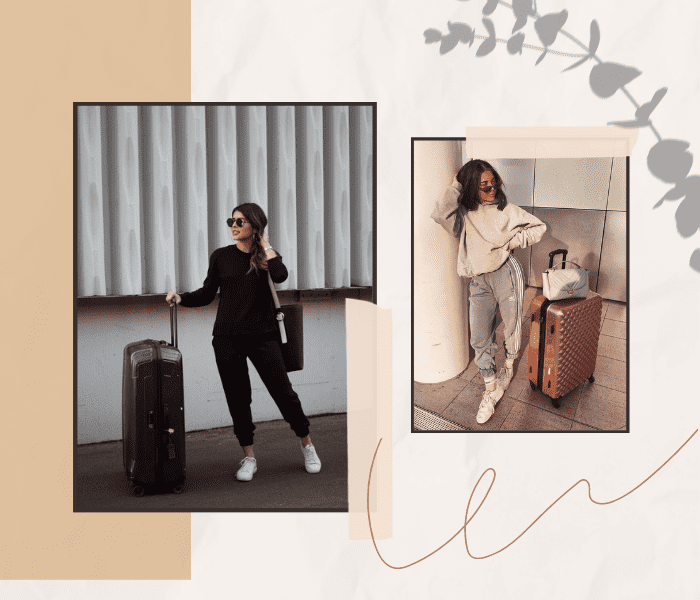 The linen clothing reflects the timeless charm of the countryside while also adding a sense of the coastal. This traditional fourth anniversary gift is a fabric that every woman should have in her wardrobe. Linen apparel is a versatile outfit that can be worn with various accessories and is appropriate for people of all ages.
17. Lace Curtain
What do you think of a stunning window framed with lace curtains? Such a romantic space, right? On your fourth anniversary, present your beloved with a lovely lace curtain.
Why we love this product:
The covers come off without any effort, making cleaning and upkeep a breeze.
You may throw it in the washing machine with cold water on a mild cycle, and then dry it in the dryer.
18. Linen Bags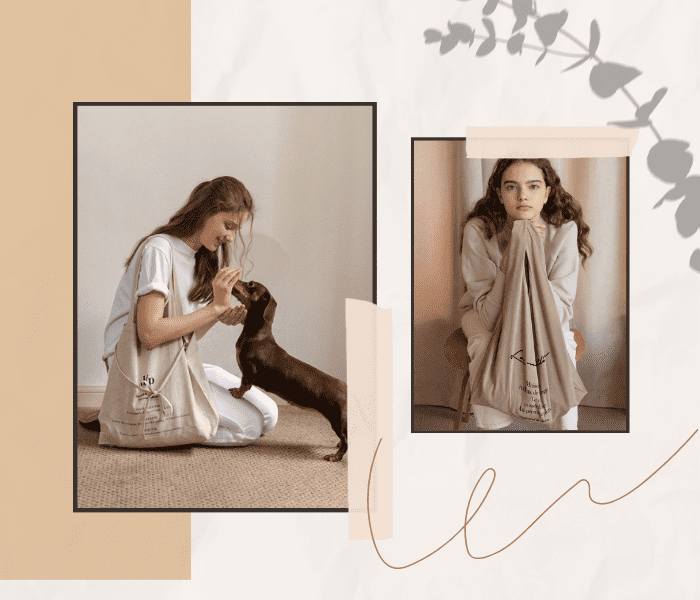 Natural textiles are currently the most popular fashion trend, and linen is undoubtedly one of them. Not only clothing but also accessories made of natural textiles, such as linen bags, are becoming increasingly fashionable. Linen fabric bags have two distinct characteristics: they are lightweight and usually have an intriguing pattern. If you are finding a gift for your 4th year anniversary, Linen bags are an indispensable gift.
19. Floral jewelry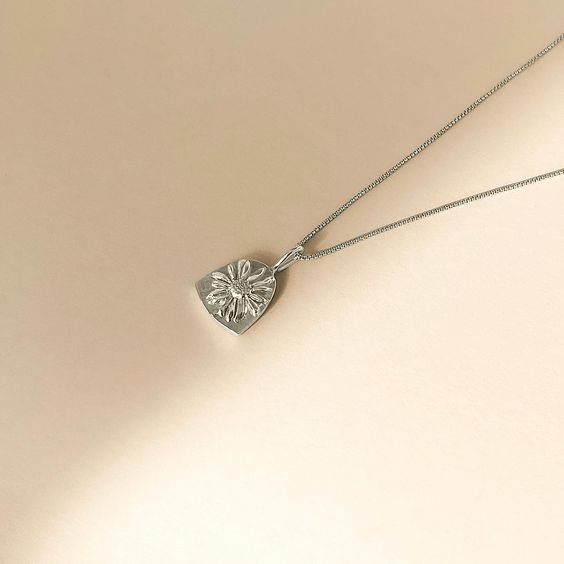 Add a vintage touch to the 4th wedding anniversary ideas by giving your love a floral necklace or bracelet. Coming in rose gold, crystal, or diamond, this gift will satisfy your wife's taste while remaining the traditional gift for the 4th year anniversary.
Why we love this product:
This necklace, made of stainless steel, looks great layered or worn alone for its elegance.
The 925 sterling silver used in this piece of jewelry is of the highest quality.
>>> Read more: Which are Perfect 10th Anniversary Gifts Traditional and Modern?
Modern 4 Year Anniversary Gifts For Him and Her
20. Happy Fourth Wedding Anniversary
Sifting through couples' gift options might be difficult. "Happy four year wedding anniversary" will never be the same once you own this unique picture canvas poster! It will be a wonderful 4 year anniversary gift that can be treasured. Furthermore, this will go in well with any space in their home, and they'll be pleased with its trendy look.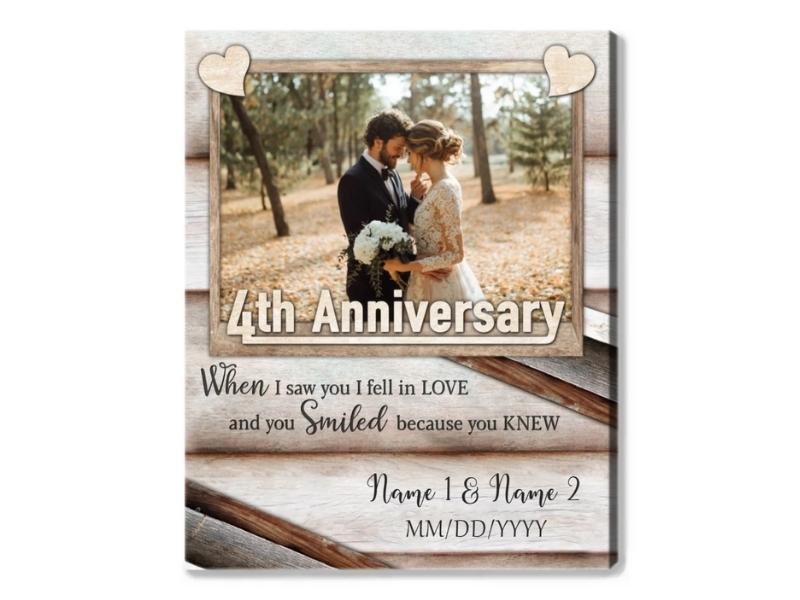 You may add a family picture, a quote from a favorite book, a name, and your wedding day to this colorful framed artwork! You may show your pals how much you care by gifting them this beautiful wood painting. Now is the time to send these customized gift ideas for 4 year anniversary to your lover!
Why we love this product:
Printing with UV ink is transparent, non-toxic, water-based, and fade- and peel-resistant.
It's perfect for sprucing up your living room or office because of its rustic charm and natural attractiveness.
21. Robotic vacuum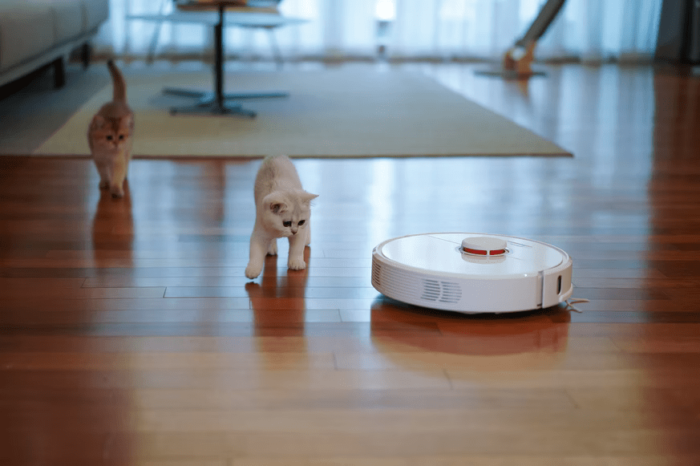 Bring the housework to a much easier level by getting self-cleaning vacuums as a modern 4th-anniversary gift for him. Less time and effort would be spent on cleaning the house. Now, you and your wife have more spare time cooking, talking, or going out together.
Why we love this product:
The S5 follows a Z-shaped path as it cleans, changing its cleaning strategy as it goes and always knowing its exact location.
The robot will switch to the highest vacuum setting when going from hard floor to carpet.
22. Coffee and espresso machine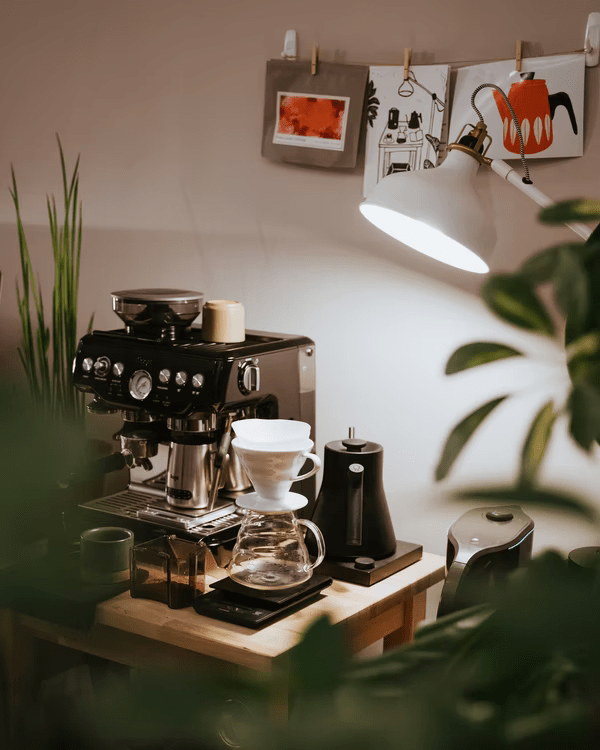 Is your spouse a coffee lover? If so, this coffee machine will be one of the best 4th wedding anniversary gifts for him that he has ever received. With this new family member, making coffee at home would give both of you comfy and romantic experiences. Enjoy cups of hot coffee together and sweet memories are created.
Why we love this product:
You may adjust the duration of the shot to be extracted by the machine, or it can do it for you automatically.
This reliable machine will transform your home into a cafe if you're an espresso enthusiast.
23. Fancy wine refrigerator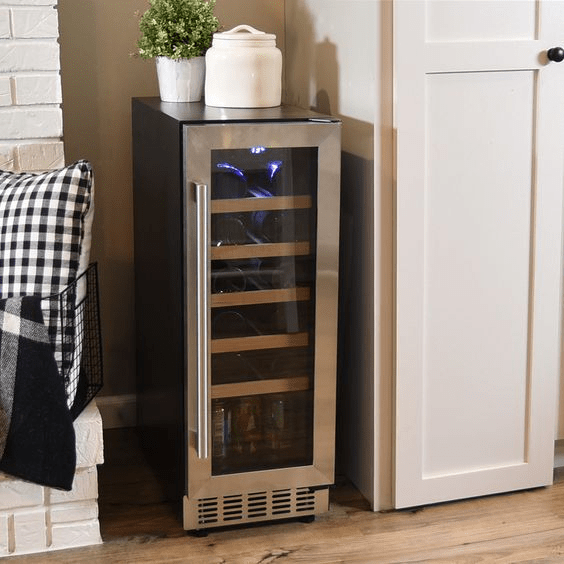 This is a luxurious piece of appliance that you should get for your home. It is great to store fancy wine in the fridge for romantic dinners and cheery parties. This modern 4th anniversary gift for him best fits any husband who is wine-savvy. He/ She would love to add this machine to his favorite corner of kitchen decor.
Why we love this product:
This beverage refrigerator has a stainless steel door frame, a bar handle, grill ventilation, a layered glass door window, and a touchpad controller with an LED display, making it long-lasting and trendy.
As an added convenience, the 5 sliding shelves of beech wood may be removed for cleaning.
24. Smart indoor garden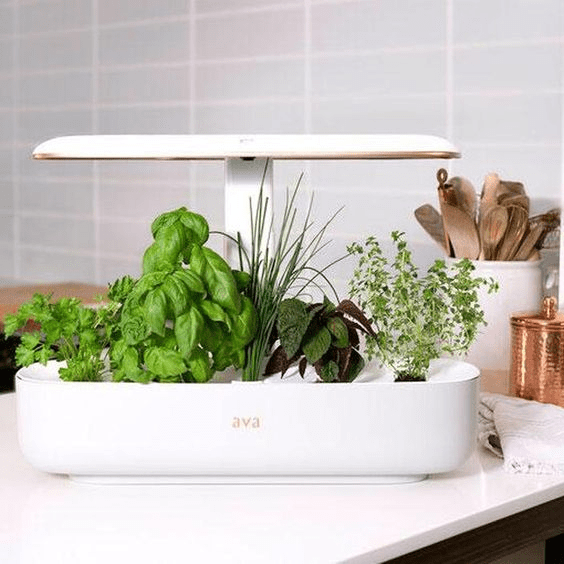 Another excellent 4th-anniversary gift for your husband comes from the smart indoor garden. It's extremely supportive in refreshing your home and facilitating the healthy growth of any herb, vegetable, or indoor fruit tree. This high-tech appliance is also a stunning piece of home decor that can be placed in your kitchen or living room. Don't hesitate to make them useful and modern gift ideas for 4 year anniversary.
Why we love this product:
Create the first hydroponic smart garden using AI to forecast and set optimum lighting and watering schedules based on plant kind, location, and environmental sensors. Make it work well with smart home systems that use Google Home or Amazon Alexa.
25. Bluetooth speaker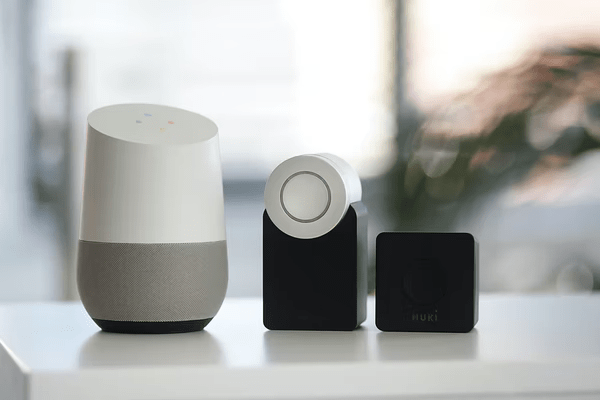 Living in a house with your favorite music is fantastic. The Bluetooth speaker plays its best in transferring clear sound and amazing user experiences. This modern gift helps provoke romantic moments between you and your husband. On this unique fourth anniversary, nothing is better than a sweet dinner and rewinding your first dance using this speaker. Let's celebrate the 4th wedding anniversary for your husband by giving him this modern gift.
26. 2-slice toaster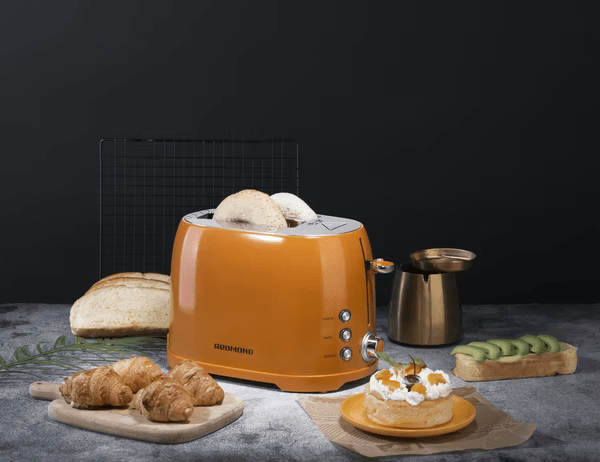 No more hurry for breakfast when having a toaster at home. There is just something special about this functional kitchen appliance. It gives you more chances to enjoy nutritious toast and drink hot coffee together. From 10 to 10.5 inches long, only the lengthier slots were large enough to fit two pieces of sandwich bread without feeling constrained.
Why we love this product:
When added to any kitchen, the iSiler 2-Slice Toaster's vibrant hues provide as a welcome splash of color.
Two pieces of bread may be toasted to perfection with each usage, making this a very handy toaster.
The toaster has 750W of power, which shortens the toasting time and makes the toast crisp on the outside without drying out the bread too much.
27. 702A Ten-Function Electric Air Fryer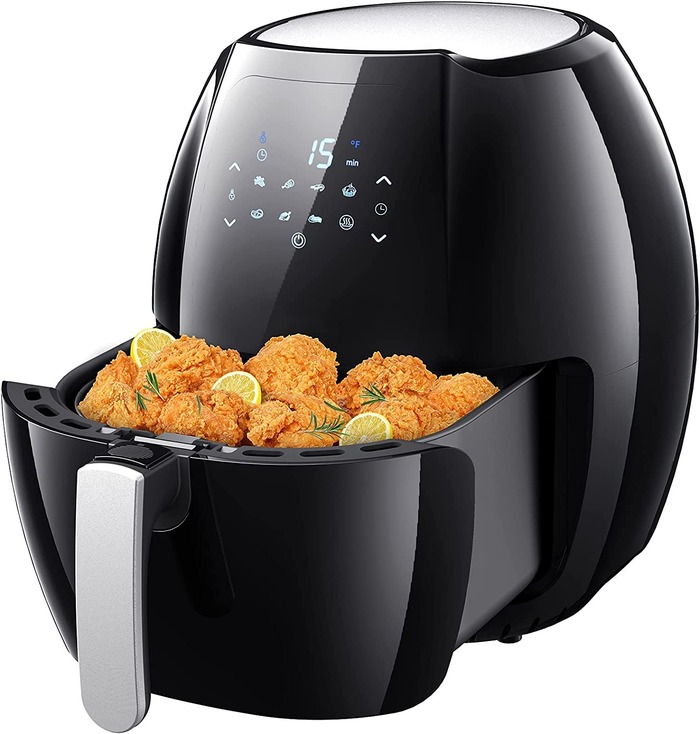 Despite all the hype, air fryers are the kitchen appliance you've both been missing. When it comes to getting started, this one is simple to set up and utilize. And you can make a lot of meals out of it. It's time for a romantic meal for two for a treasured four-year anniversary!
Why we love this product:
With this multifunctional air fryer, you can safely prepare a diverse range of low-fat, delicious meals and snacks that won't harm your family, kids, or guests' health thanks to the use of only food-grade ingredients. Also, it operates at a quiet 40-45dB, so it won't bother people.
28. Specialist Milk Frother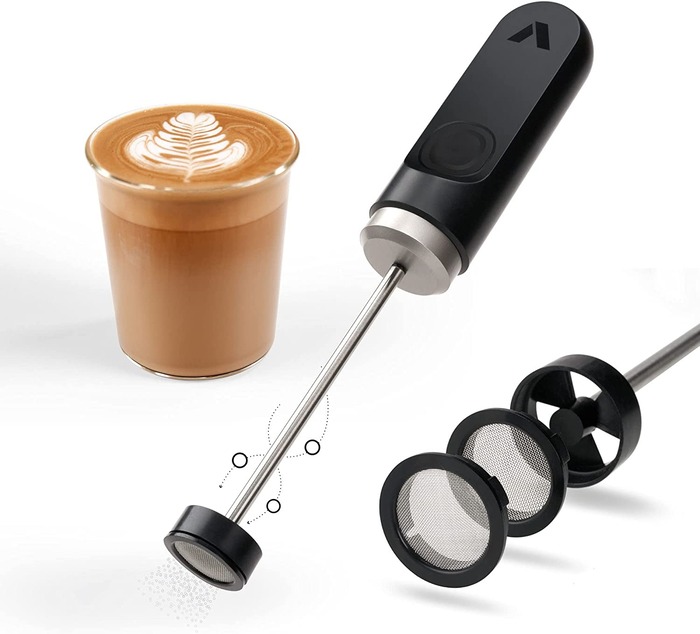 This small gadget will help you make foamy milk for your morning cup of coffee. If your significant other is a dunce and wants to save money by creating their signature drink at home, this is a must. And it's also great for tea and smoothies!!
Why we love this product:
Each NanoFoamer comes with two nano-screens. Milk produced using these methods has a somewhat unique consistency.
29. Antique Coffee Grinder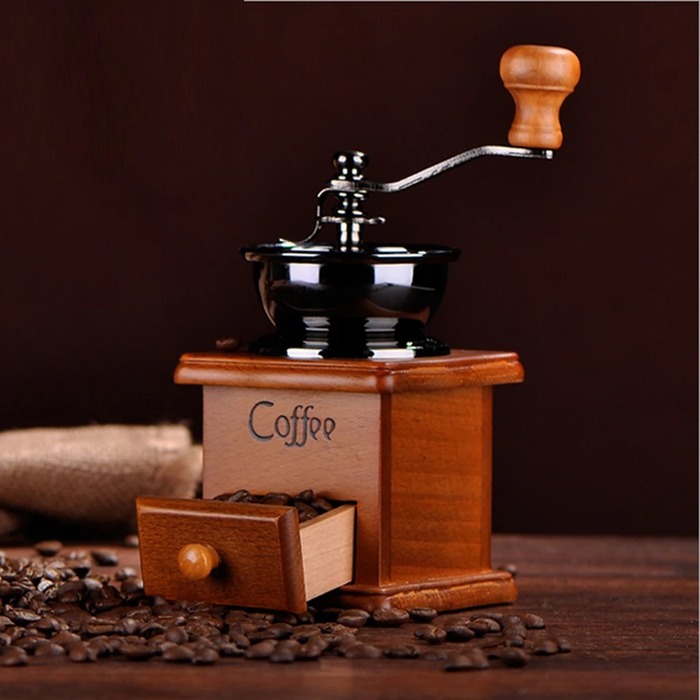 This antique coffee grinder is equipped with all the bells and whistles! If you're looking for a way to add a retro vibe to your kitchen, this is the perfect gift for your 4th year anniversary. The aroma of freshly ground beans fills the air, and you can practically taste it.
Why we love this product:
Manual burr-type mills are very efficient in cracking and grinding coffee beans to the right consistency, releasing the full flavor of the beans for brewing, and are fully adaptable to suit specific preferences.
Useful and aesthetically pleasing, the chestnut hue of this item is a fine addition to any kitchen counter.
30. Homemade Limoncello Kit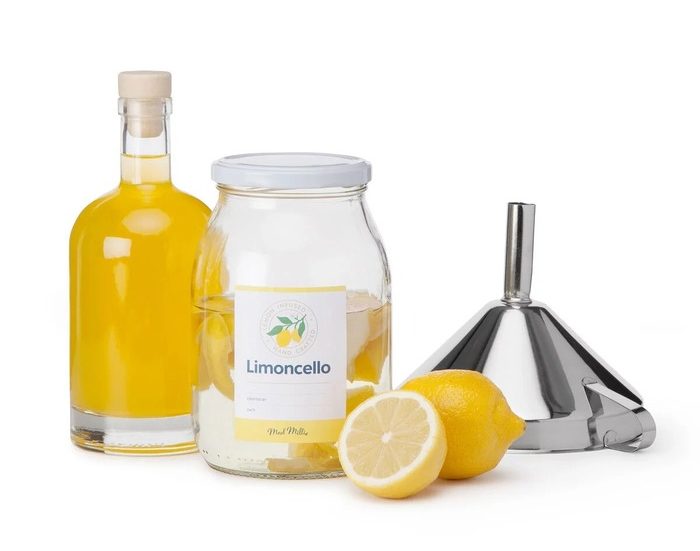 Be it craft beer or kombucha, homemade specialized beverages are currently quite trendy. If your spouse is always willing to try something new in the kitchen, this DIY limoncello kit is the perfect gift; you can even enjoy the results together!
31. Imperia Pasta Machine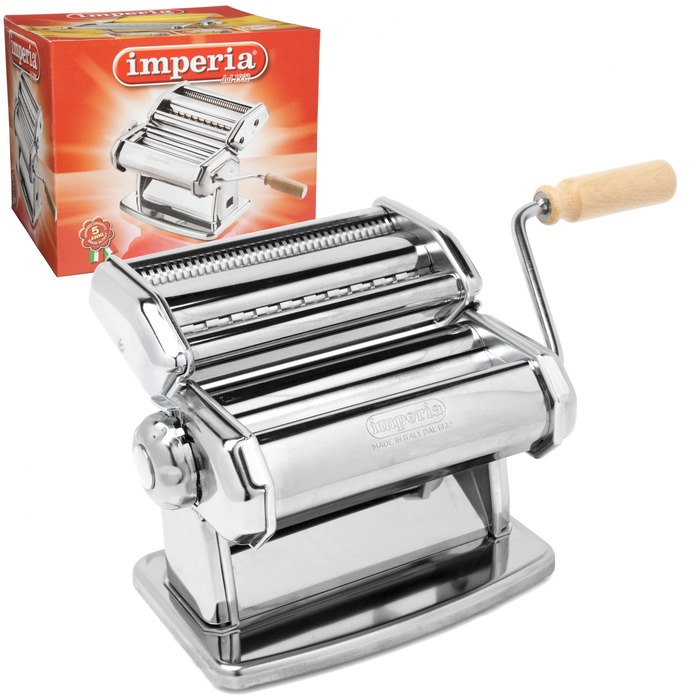 Aside from the fact that it's delicious, making pasta at home is also a great date night activity. For producing ravioli and fresh fettuccine, this pasta machine includes two attachments: one for rolling the dough and the other for making the noodles.
Why we love this product:
Imperia is handcrafted in Italy by master craftsmen so that you and your family may enjoy delicious, authentic, freshly cooked pasta.
32. Breville Crispy Crust Pizza Maker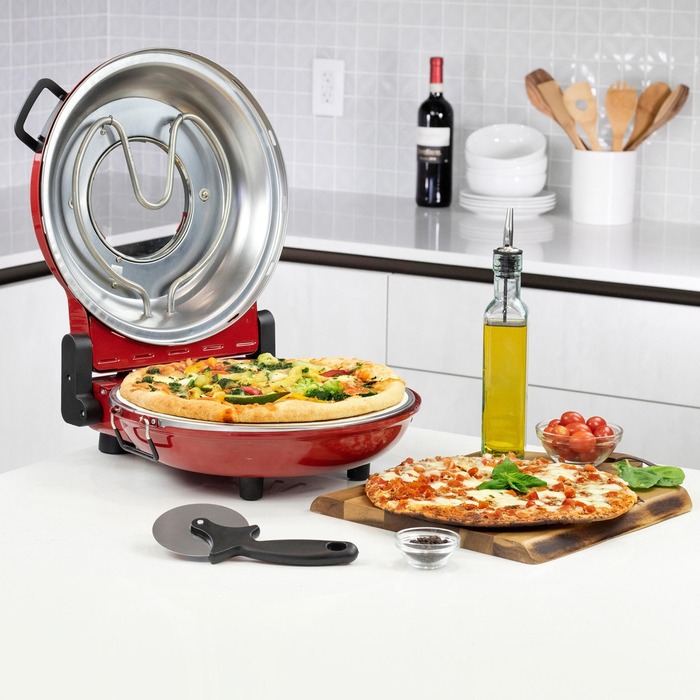 Everyone enjoys pizza, but it can be difficult to achieve the desired fresh, crispy crust in a conventional oven. This Breville countertop pizza oven resolves the issue. By heating your dough on a pizza stone at extremely high temperatures, your homemade crust will have the flavor of one baked in a wood-burning oven.
>>> Read more: Top 42+ Funny Wedding Anniversary Gifts for Couples in 2023
Other Unique Gift Ideas For 4 Year Anniversary
33. Personalized Floral canvas art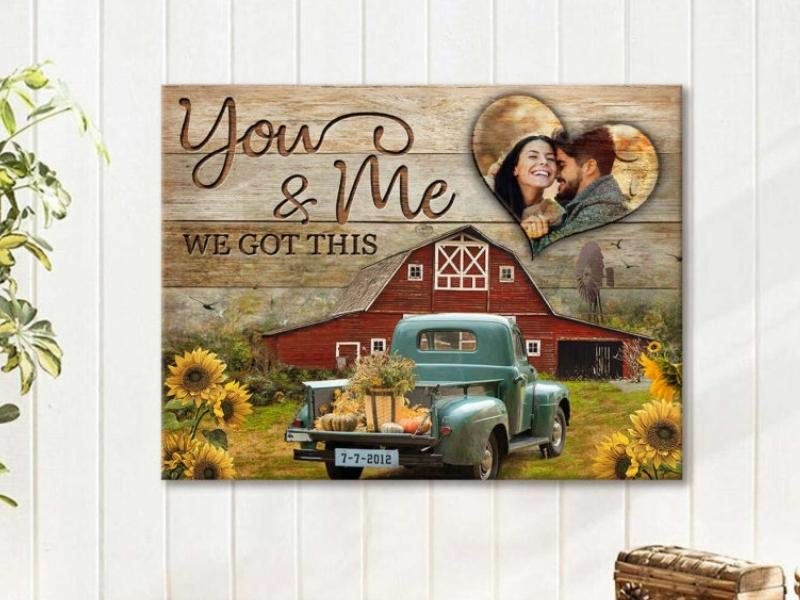 Celebrating the fourth year of marriage with Oh Canvas floral canvas prints is a fantastic idea. It's not only a gift of the 4th wedding anniversary for your husband that shows your love and passion, but it's also a stunning decorative item that can brighten up your home. Choose a custom print for a more unique present. It is a sweet keepsake that goes to your other anniversaries of yours.
Why we love this product:
All products are built to last with UV-resistant ink printing.
34. Personalized wine tray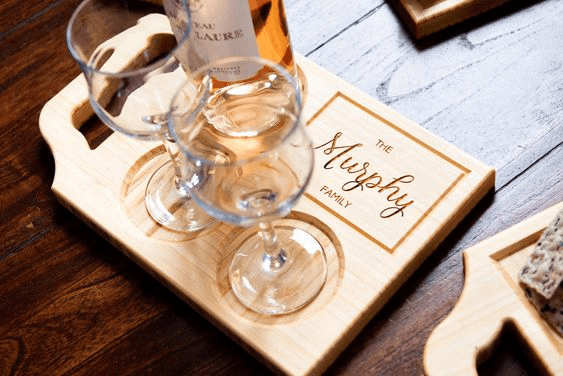 Are you looking for a unique and enduring 4 year anniversary gift for him? This personalized wine tray is an inspirational idea for you. Customize it with your names and the anniversary date to make this present more special. It will remind you of the day you tied the knot and all the anniversaries that you've celebrated.
35. Custom cheese board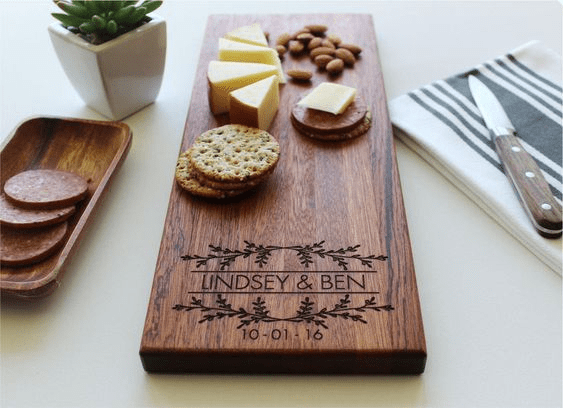 Another heartfelt anniversary present for this milestone that combines both traditional and modern is the custom cheese board. It marks the most important occasions in your life and stays with you to commemorate the next anniversaries to come. Get this cheese board and enjoy happy moments with the love of your life.
36. Homemade cocktail kit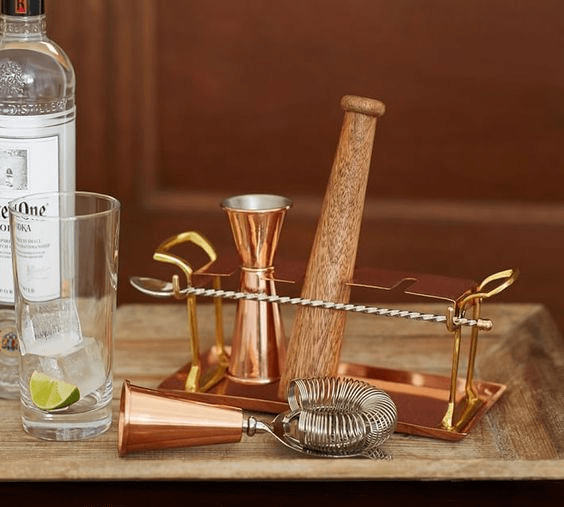 This 4-year anniversary gift for him has a special meaning and will help him make tasty and healthy drinks for you and him. You can use it to make amazing homemade cocktails to welcome your friends and colleagues.
37. Wine and cheese gift set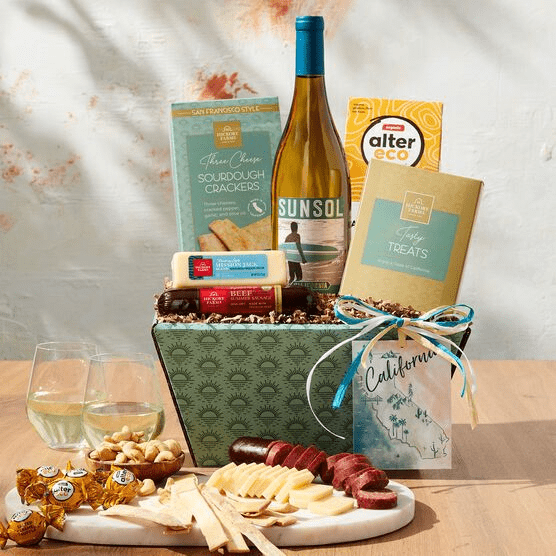 Party is the best part of any special occasion, how is it go well without a bottle of wine? These presents for four year wedding anniversary set are for any happy couple enjoying a private and romantic picnic together. The combination of wine and cheese makes the time worth it. Memories will be created and more hanging out time is ready to set.
38. Shortbread floral cookies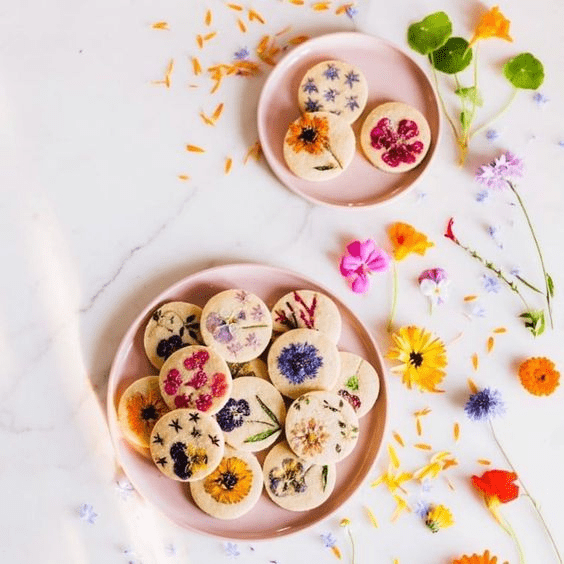 The cookies are so sweet and great. On the anniversary years, show your husband how much you love him and give him a box of shortbread cookies (that you bought or made by yourself). Elegant gifts like this one will never go out of the top.
39. Personalized Photo Canvas Print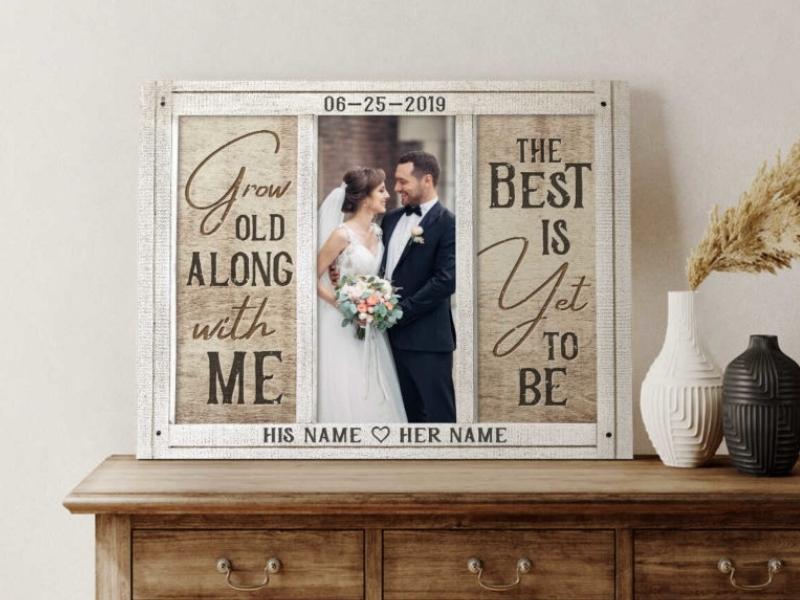 Wedding anniversary years are a great time to show your spouse how much you care by giving them unique family picture gifts. If you want to have a more personal touch, choose a picture that you both like or one from your wedding date to serve as a constant reminder of the day you tied the knot. The artwork with the statement "Grow old with me, the best is yet to come" will make your significant other smile and appreciate how thoughtful you are.
If you're searching for a romantic anniversary present for your wife, this is a sure bet. Bring this sweet print into your house as a reminder of your everlasting devotion.
40. Blue Topaz Necklace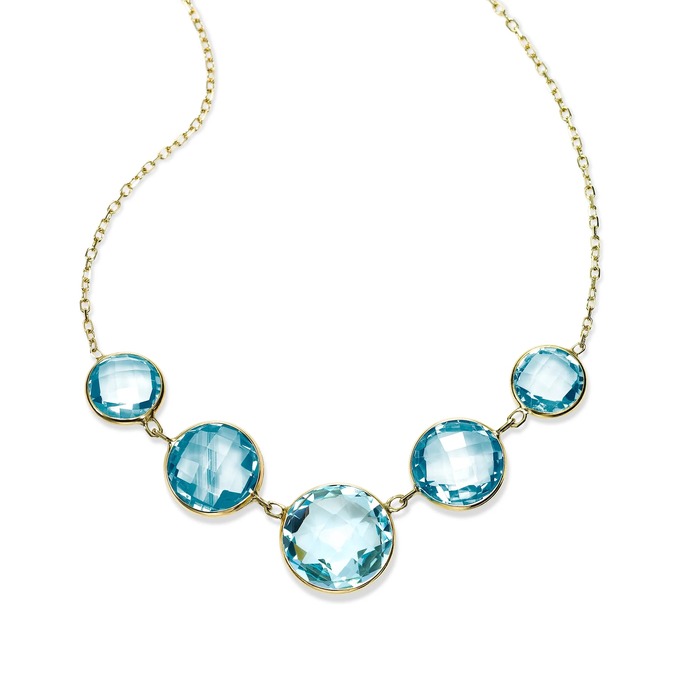 Not is the item represent the traditional and modern of four year wedding anniversary, but this rose gold and blue zircon necklace will quickly become her favorite. She'll feel like a million bucks every time she puts it on—which is likely to be virtually every day.
Why we love this product:
The front of this necklace is adorned with a row of graduated blue topaz gemstones set in bezels. Everything is made of 14-karat yellow gold. 
41. Fruity Macarons & Champagne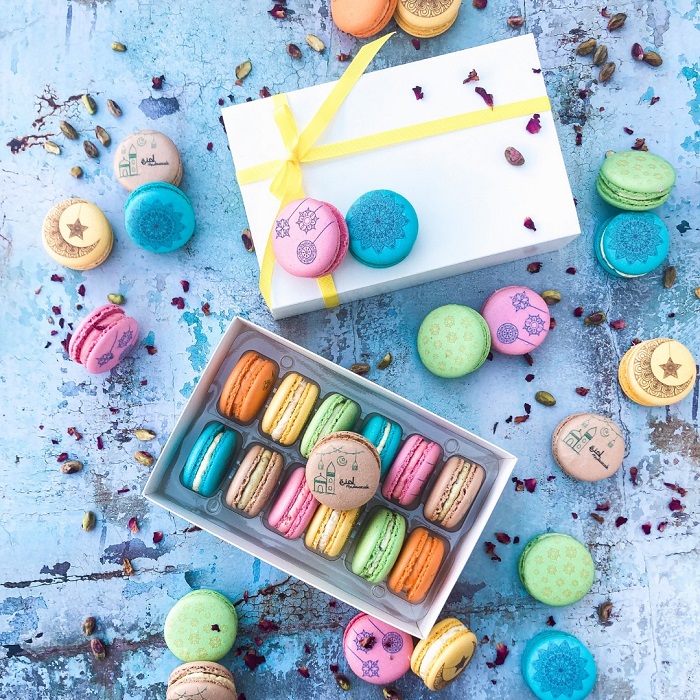 The sweet tooth lovers will swoon over these colorful meringue-based confections, which are sure to brighten anyone's day. If your spouse enjoys the finest things in life, macarons and champagne are the perfect way to spend an afternoon together. There isn't a greater way to celebrate four years of marriage than this.
42. Stationery Tiny Box of Date Nights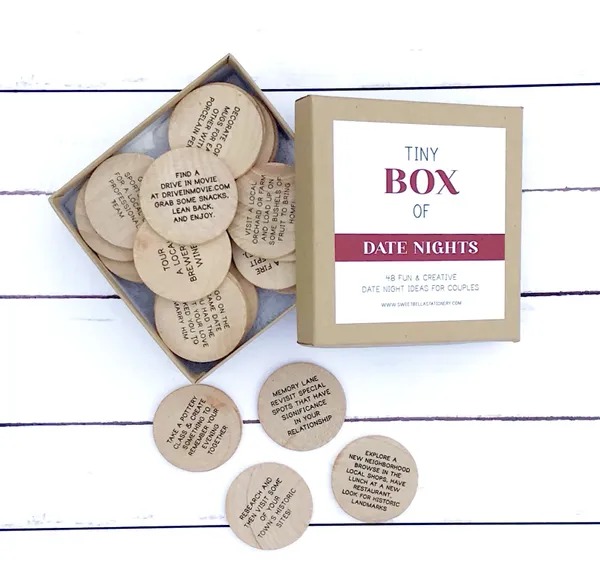 Even the most creative couples can run out of awesome date night ideas. Well, that is until they receive these gift ideas for 4 year anniversary. The Tiny Box of Date Nights works just as the name implies. The recycled box contains 24 wood tokens with 48 fun date ideas, including options to find a drive-in movie, take a pottery class, or revisit a place that holds special meaning.
43. Glazed Eternity Roses Gold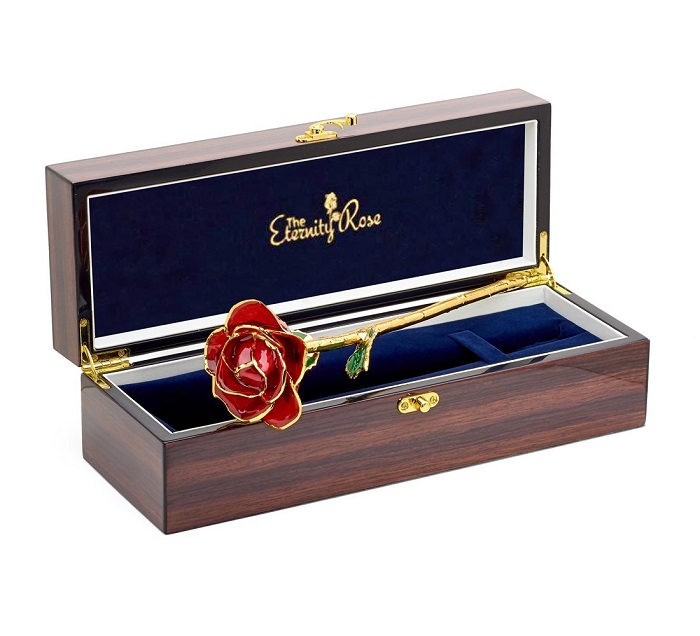 Through the anniversary years, red roses have maintained their place as the most popular and romantic flower among lovers. Consequently, no anniversary gift list could exclude it. Whether you deliver them as a bouquet or glazed roses in a box, you must ensure that they are present to lend their instant romantic allure.
Why we love this product:
Each rose has a shiny, real look, and an authenticity certificate is included.
The Eternity Rose, a hand-made ceramic flower with a red glaze, is the ultimate sign of undying love and beauty.
44. Pink Tourmaline Earrings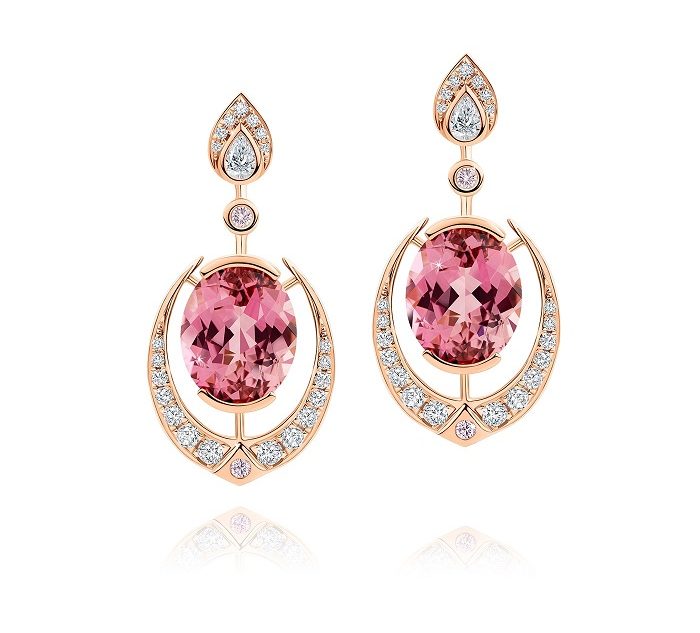 Pink tourmaline, which was utilized to create these eye-catching earrings for you, will challenge both traditional and modern gift standards. The tourmaline is faceted and cut to resemble a teardrop in its setting — an excellent choice for a present for a person who is very precious to your essential woman. It is also ideal for people who appreciate trendy and contemporary jewelry with a strong visual presence.
Why we love this product:
Appealing and bright, these statement earrings made of tourmaline, argyle pink diamonds, and white diamonds are sure to win the hearts of anybody who sees them. The brilliance of their design is a reflection of Calleija's artistic talent.
45. Desk Sets and Stationery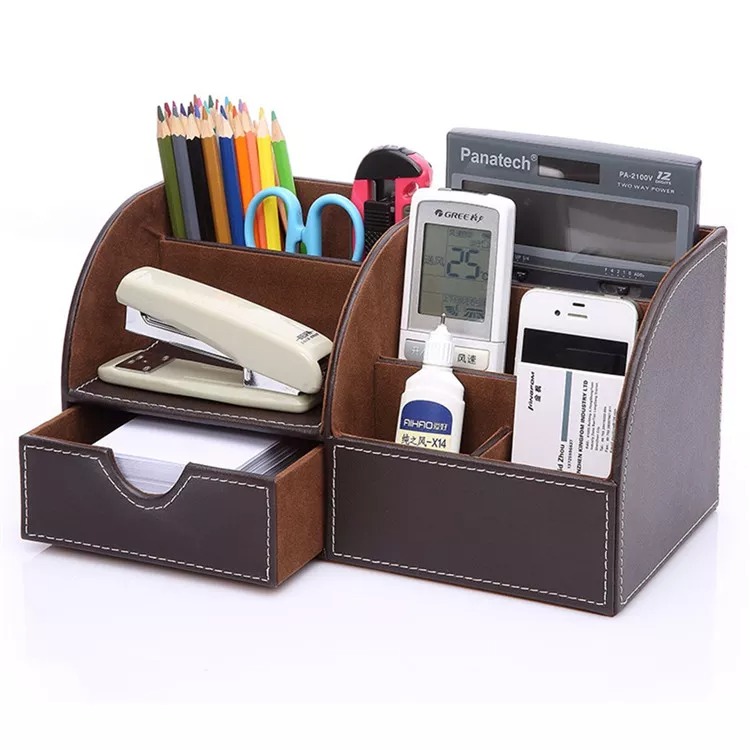 Desk sets and stationery have replaced modern four-year wedding anniversary gifts in recent years. They symbolize a couple's appreciation and satisfaction with one another's achievements. If your spouse is in need of a new WFH system, they can be wonderful presents (or they need a little motivation to get back to the office).
Why we love this product:
Superb in every way Waterproof and moisture-proof flannel is used for the inside and bottom, while the outside is manufactured to seem like high-quality PU faux leather.
The finest option for a home office, this desk organizer will keep your belongings neat and help you make better use of your work space.
46. Blossom Dried Fruit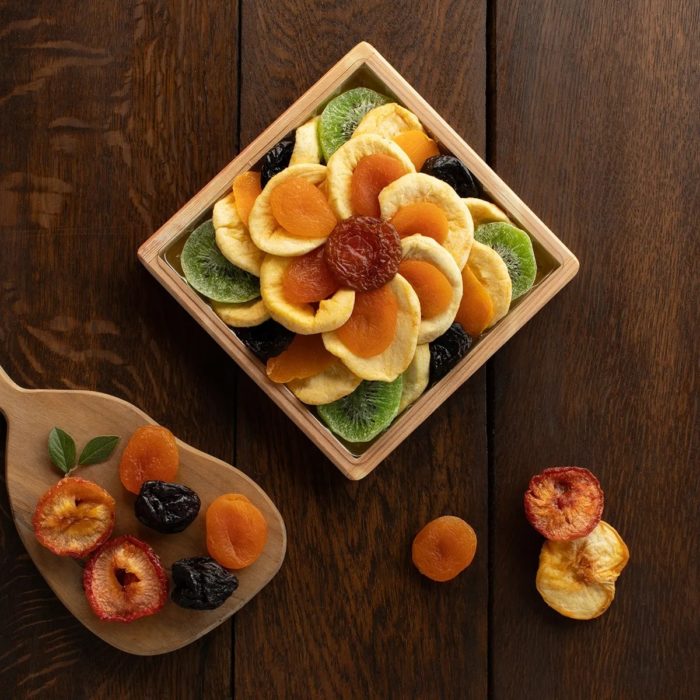 Perhaps you and your partner both love apples or maybe the two of you have different fruit preferences. Regardless, a box of dehydrated fruit crisps gift box is a fantastic present. Consequently, why not try a box from the Fruit Company, which includes a variety of crunchy dehydrated strawberries, apples, and mandarins, all of which are suitable for snacking?
Q&A for the fourth wedding anniversary gift:
1. What is the traditional fourth-anniversary gift?
For the extraordinary four years, the 4 year anniversary gift is flowers and fruits. They indicate a past sweet and perfumed romance and desire for a future blossoming marriage.
2. What do I Get My Husband for Our 4th Anniversary?
For those who like tradition, the four-year wedding anniversary present for him is fruit and flowers, which symbolize the growth of your love and the beauty of remaining together through good and bad. Appliances are a modern alternative if you want to provide something more up-to-date.
3. What are 4 Years of Marriage Called?
1st Anniversary – Paper
2nd Anniversary – Cotton
3rd Anniversary – Leather
4th Anniversary – Fruit or Flowers
5th Anniversary – Wooden
6th Anniversary – Sugar or Candy
7th Anniversary – Copper
8th Anniversary – Bronze or Pottery
9th Anniversary – Willow Pattern or Pottery
10th Anniversary – Tin
4. What is the fourth wedding anniversary Theme?
Fruit and flowers are traditionally associated with unique 4th wedding anniversary ideas in the United States since they symbolize the couple's desire for biological children. These little trinkets are a symbol of how a relationship grows and develops over time.
5. What Color is the 4th Anniversary?
1st Anniversary: Yellow
2nd Anniversary: Linen White
3rd Anniversary: Jade Green
4th Anniversary: Blue
5th Anniversary: Pink
6th Anniversary: Turquoise
7th Anniversary: Onyx
8th Anniversary: Bronze
9th Anniversary: Purple
10th Anniversary: Silver
>>> More inspirations for anniversary gift ideas by year can be found on these blogs:
No matter whatever 4 year anniversary gifts you choose, it will help warm feelings and solidify love. Give presents with all your sincere attitude. It is the perfect way in order to see a happy tear on your spouse's face. Visit Oh Canvas for more gift suggestions for 4 year anniversary to make your sweetheart smile. We have custom prints you can create with names, dates, images, and more for all of your anniversary years.