If you're looking for an ideal giraffe gift, you have come to the right place. Your key to selecting the best, most considerate, and cutest giraffe gift on the entire savannah and the Internet is this Oh Canvas's list of gifts for giraffe lovers. You can be sure to discover something for your loved one, from accessories to home decor. There are interesting giraffe facts scattered throughout the list, so you can impress your giraffe-loving friend with your newfound knowledge! What are you waiting for? You won't find a better-curated list for giraffe fans anywhere else.
Decoration Gifts For Giraffe Lovers
1. Giraffe Stud Earrings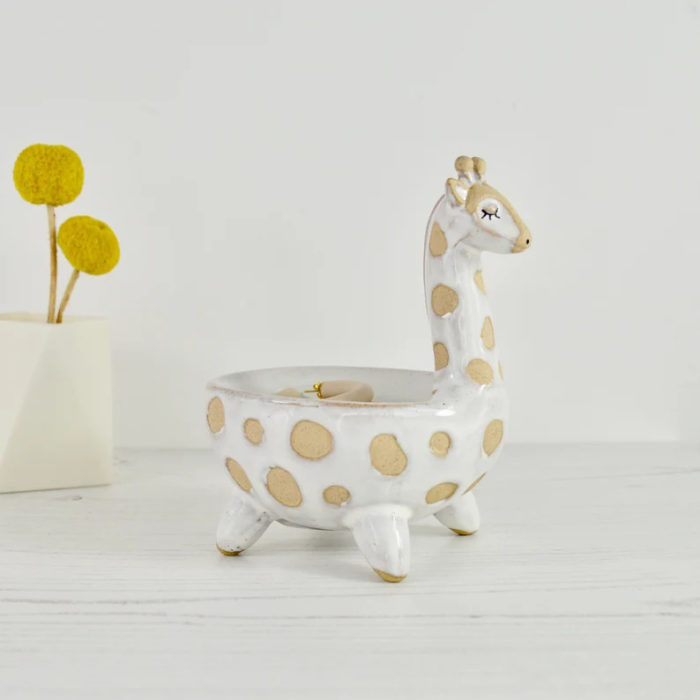 Fans of giraffes will adore this gift. They may store all of their favorite accessories in this jewelry dish. Additionally, it makes a beautiful house decoration and enlivens the room.
2. Giraffe Candles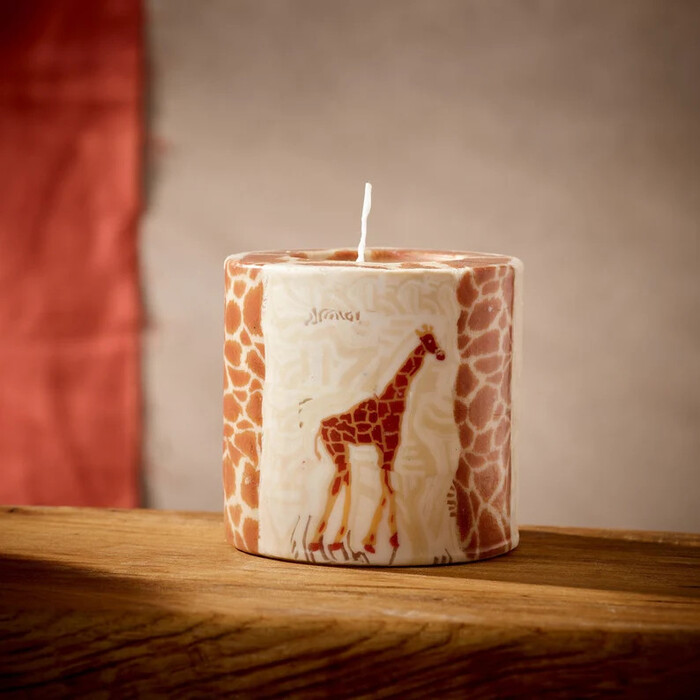 Are the giraffe lovers in your life romantics? These unique candles are a must-have for heartfelt presents for giraffe enthusiasts. The funny words on the candle's body also show how you feel about your friends and family.
3. Giraffe 3D Light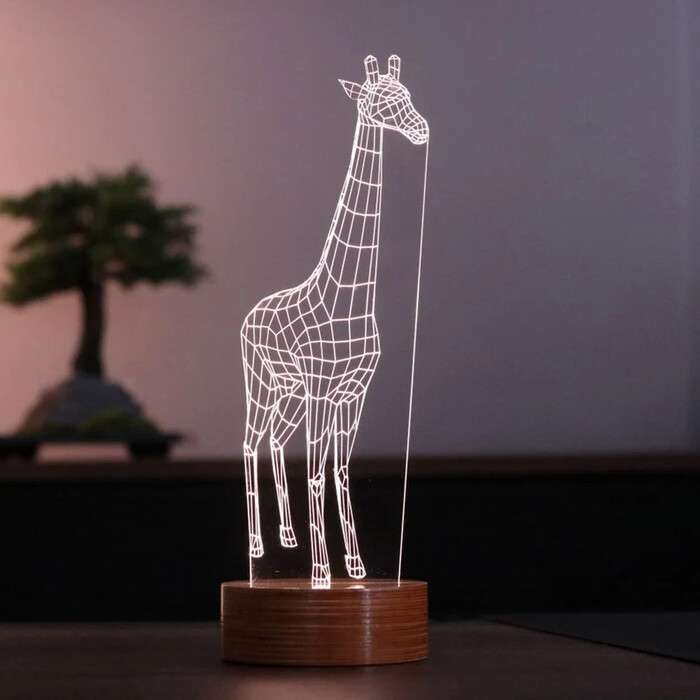 When lighted, the giraffe light, which has a silhouette of a giraffe on the savannah, casts a faint shadow on the walls of the space. It's a fantastic nightlight or mood lighting because of the soft glow.
4. Wine Bottle Giraffe Holder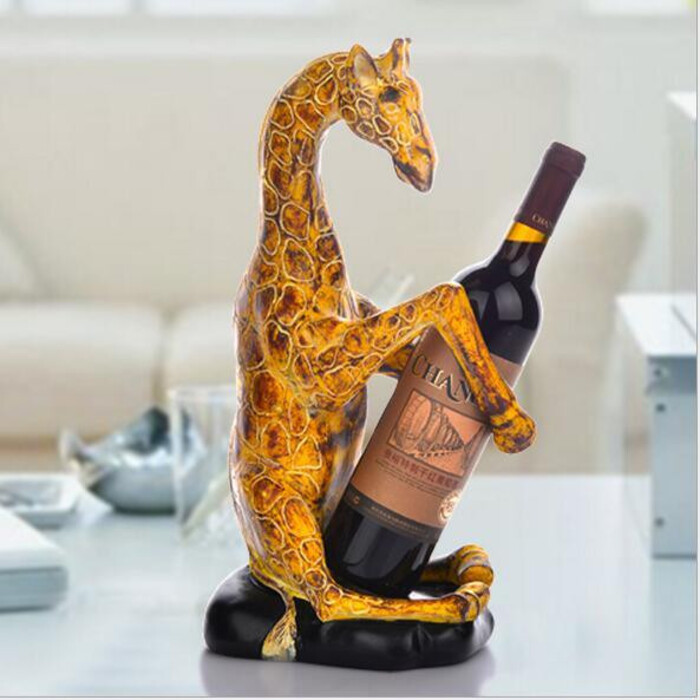 Give her to your giraffe lover along with a bottle of wine. For storing all of the wine gifts they have received, lovely wine holders make fantastic gifts for giraffe lovers.
5. Wind Chime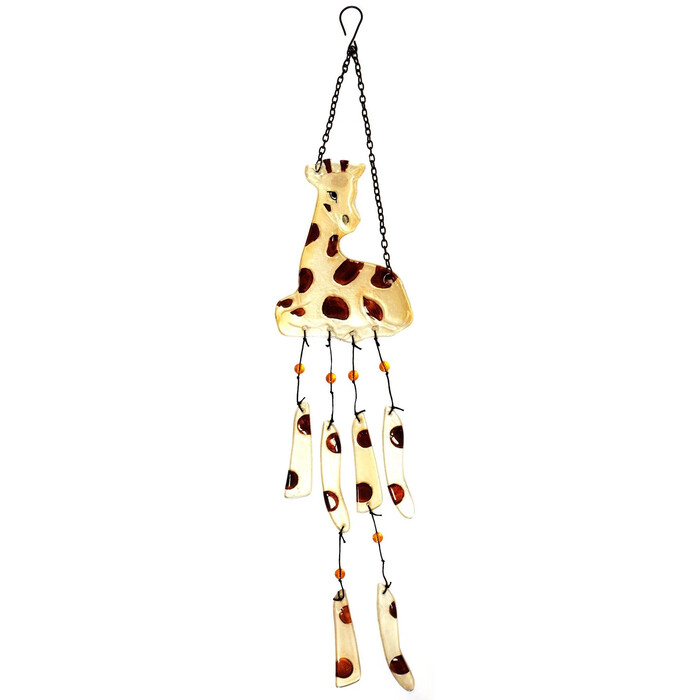 This wind chime, which features two cuddling giraffes, can bring beauty to their porch or yard. These hand-painted and polished giraffes have long necks and faces that form a heart, making them a very thoughtful and one-of-a-kind gift. Below the crown of the chime are a combination of aluminum rods and small giraffes.
6. Giraffe Wall Art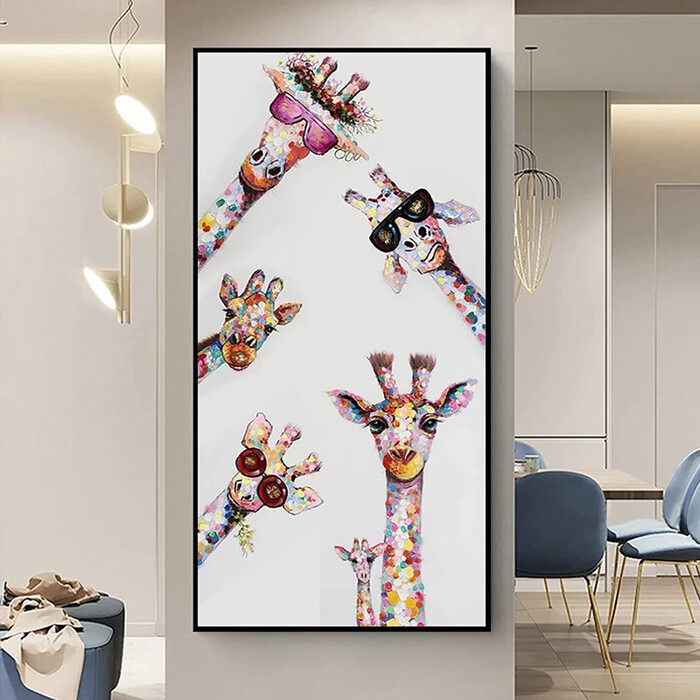 With this stunning customized home decor, you can celebrate their love of giraffes. With these personalized couple canvas prints as the perfect gift, you can show them how much you care.
7. Giraffe Wineglass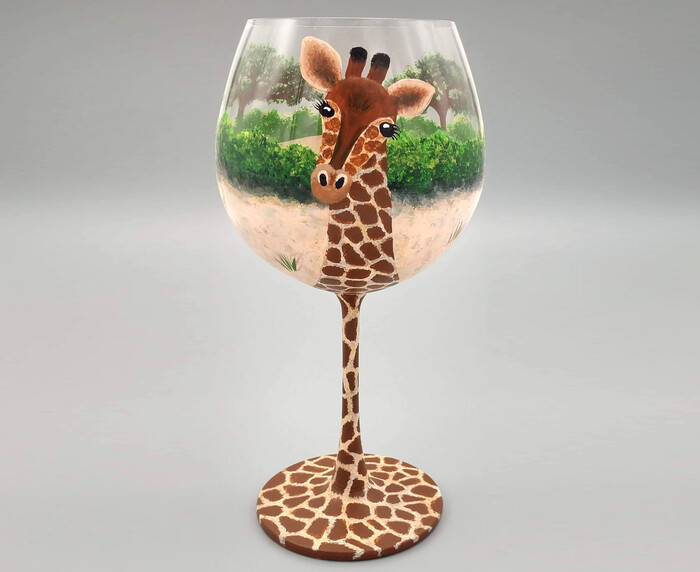 When you view this glass up close, you'll see why giraffes just make sense for wine glasses. This cute mug will win the hearts of anyone who loves giraffes. There's nothing better than enjoying your favorite drink in your favorite glass.
8. Bookend Giraffes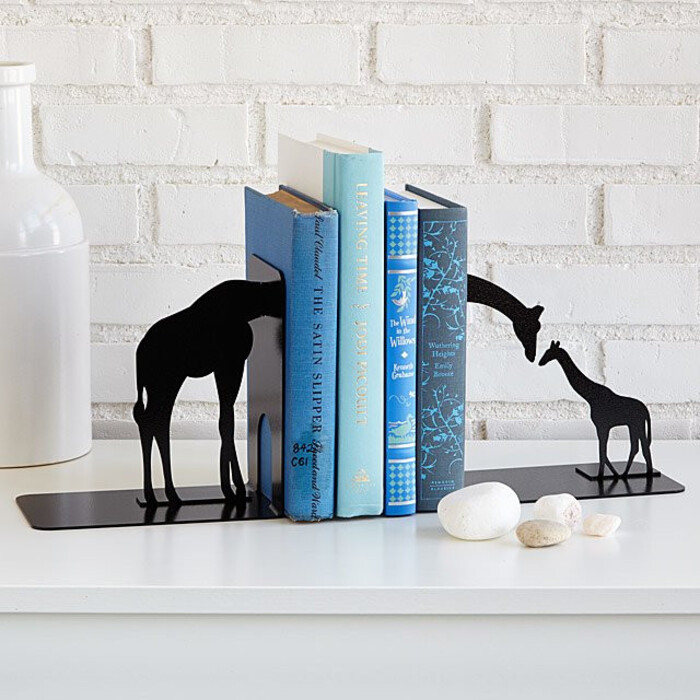 Do you have any gifts for book-loving giraffe fans? Make use of the chance to surprise them with the marble bookends. Any bookcase will look great with these bookshelf decorations.
9. Giraffe Glasses Holder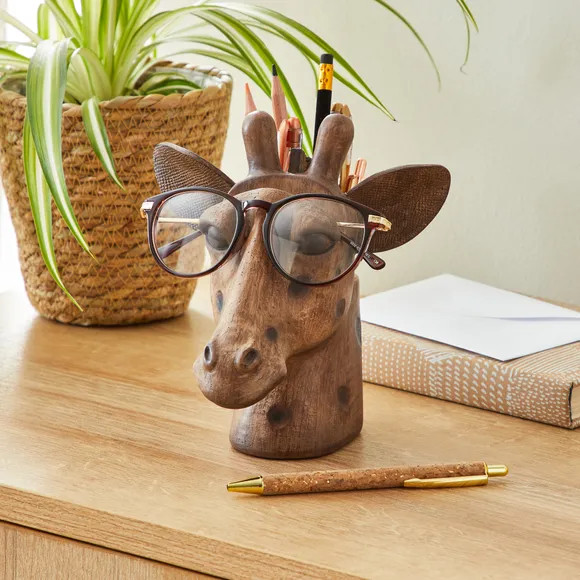 Anyone who frequently wears glasses needs a wooden eyeglass holder, and this one is specially crafted for animal lovers. They will be delighted by these charming gifts for giraffe lovers from you.
10. Giraffe Mini Planter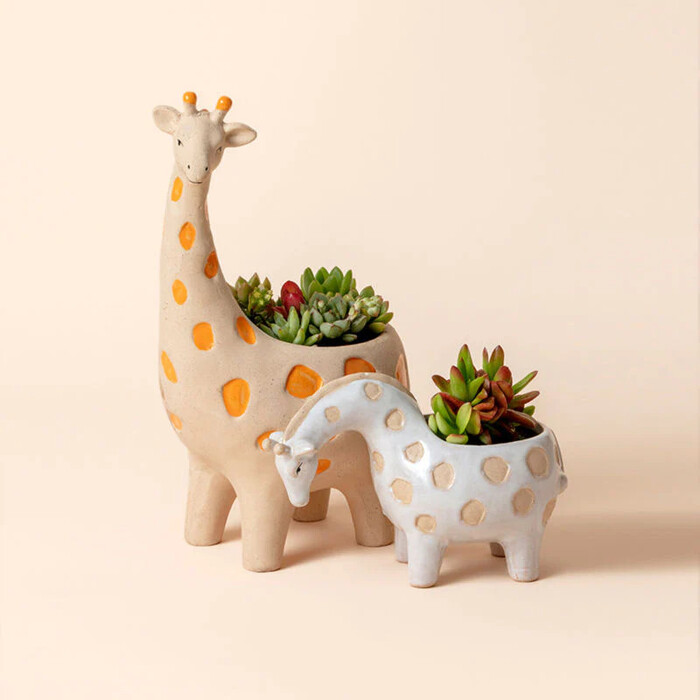 It would be remiss if the 'gifts for giraffe lovers' list omitted this lovely giraffe-shaped flower pot. Both indoor and outdoor use are wonderful for this giraffe planter. Animal and plant lovers will like it.
11. Watercolor Comforter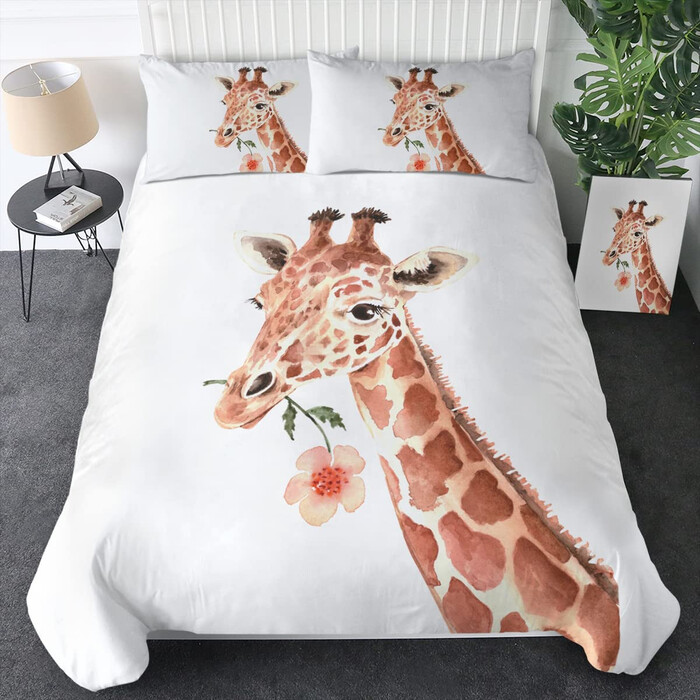 Giraffes only need 5 to 30 minutes of sleep per day, compared to humans. For a friend who enjoys unwinding and getting the best sleep possible, you could pick up this giraffe bedding set. There are three different designs, and there are also different sizes. This is a wonderful present for a giraffe enthusiast who also enjoys art!
12. Toilet Paper Holder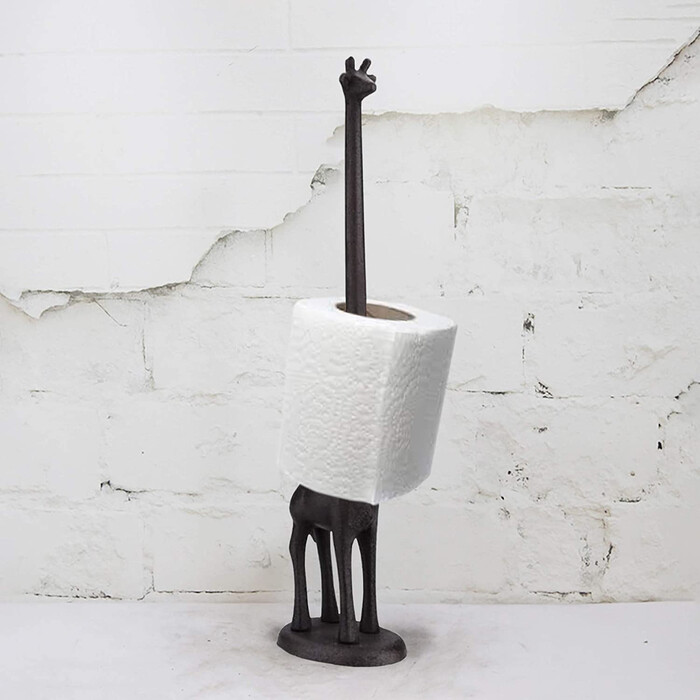 It's always a good idea to have giraffes as decorations in your home, but why not have one assist you when you need it most? Not only will this adorable giraffe-shaped toilet paper holder give your beloved what they need when they're alone, but it also makes a fun conversation starter at any house reunion.
13. Xmas Ornament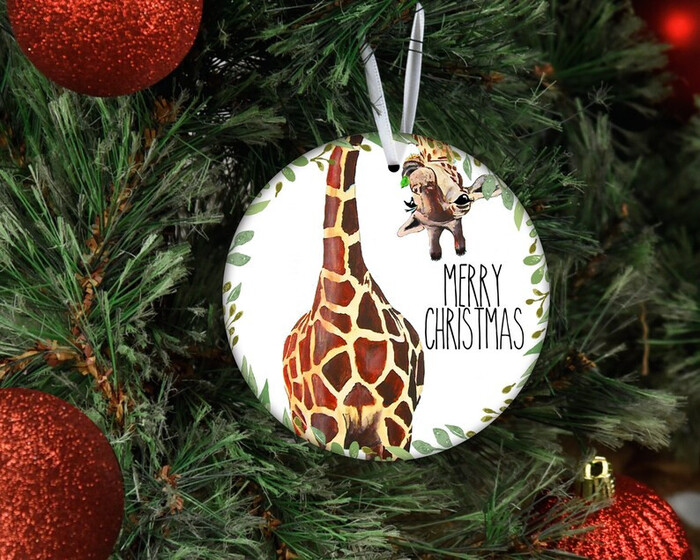 Ornaments are awesome gifts for giraffe lovers on Christmas, their birthdays, and other special occasions in addition to Christmas. Two giraffes are hugging on this lovely porcelain keepsake ornament, which may be personalized with your loved one's name.
14. Throw Pillow
What do you get when you put a giraffe in a pink pair of horn-rimmed glasses? You can get an extremely adorable and unique giraffe throw pillow. Your giraffe-loving buddy will laugh aloud upon seeing this cotton linen pillowcase.
15. Salt and Pepper Shakers
When these charming giraffes are guarding the salt and pepper shakers on the table, there is no need for a centerpiece. They are magnetic and constructed of hand-painted earthenware, so they can stay curled up together.
16. Dinner Set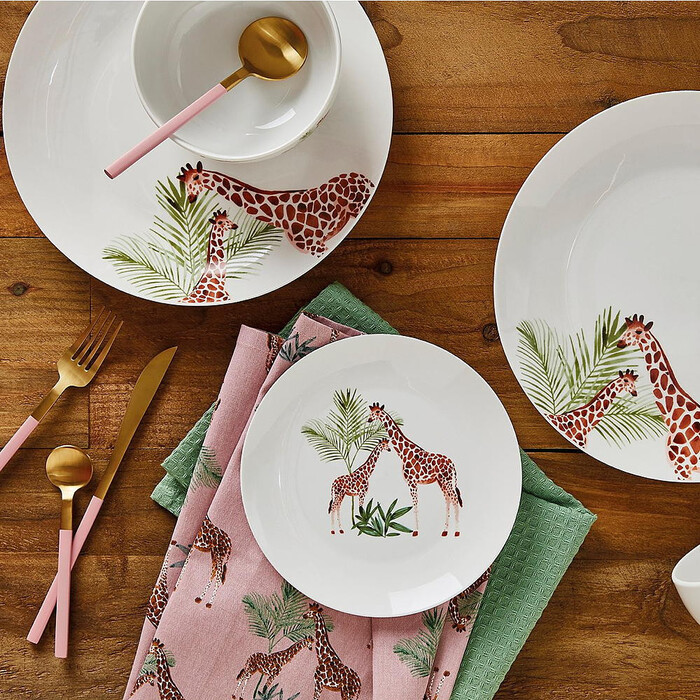 We thought a giraffe gift list wouldn't be complete without a plate until we discovered that giraffe feet are the size of dinner plates. There is a plate, bowl, cup, spoon, and fork included in this set for kids. You may give each child their favorite because there are several animal designs available and they are dishwasher safe for simple cleaning.
17. Coaster Set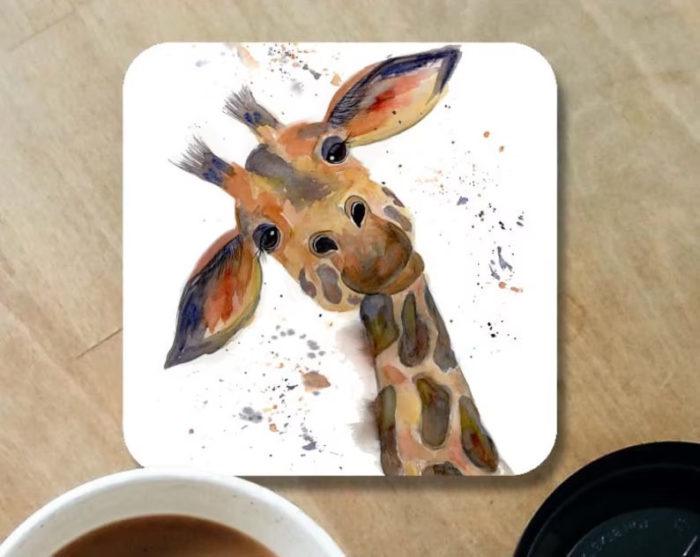 These cork-baking hardwood coasters will not only keep the table secure but also add elegance to the space. This four-piece kit will protect against scuffs and water stains. These make the perfect gifts for lovers of wine, whiskey, and coffee because they can hold both hot and cold drinks.
18. Wine Bottle Topper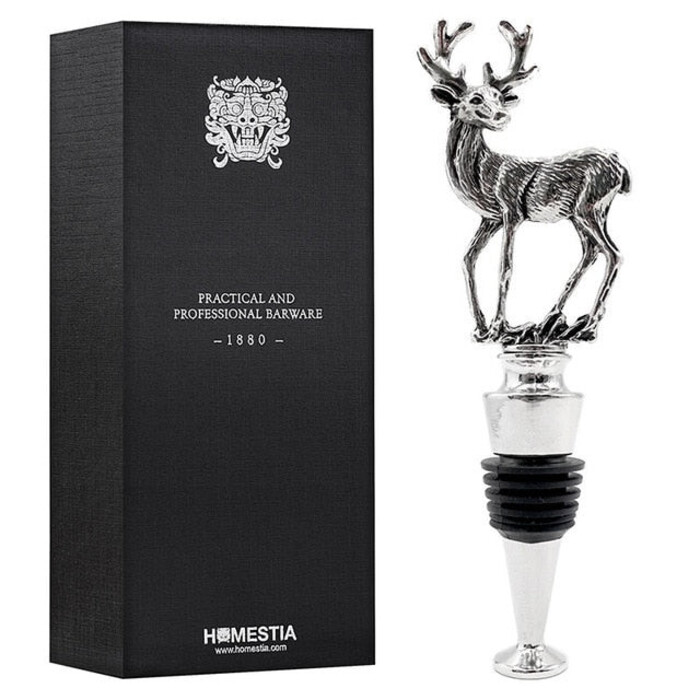 For giraffes interested, a wine bottle cap is a wonderful present. An amusing African safari ornament that will amuse any wine enthusiast! Even if you tell someone who is well-versed in facts that giraffes spend the majority of their time standing up, including sleeping, they will appreciate this thoughtful gift.
>>> You can also read: 41 Wonderful Gifts For Turtle Lovers They Will Actually Want
Accessories Gifts For Giraffe Lovers
19. Personalized Giraffe Necklace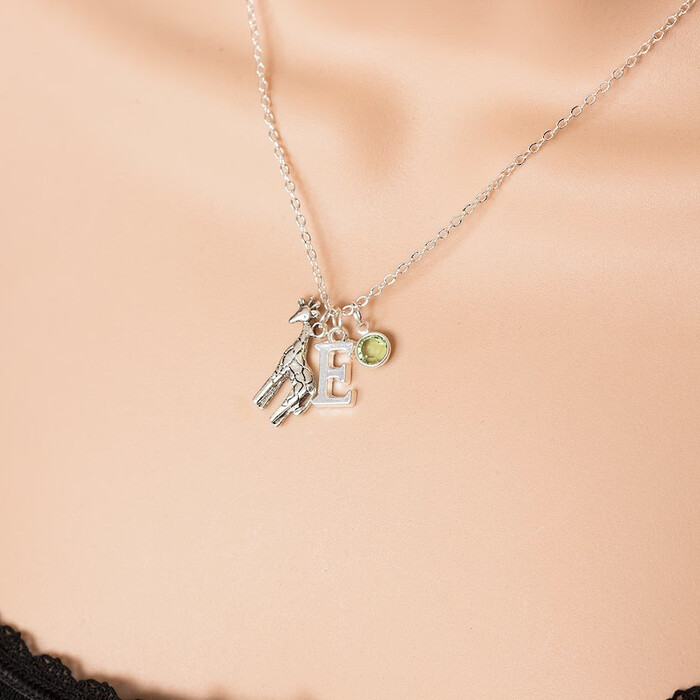 Wearing this spotted giraffe necklace will make your beloved the focus of attention right away. In the light, the pendant's silver and gold gleam. Add a tag with an engraving on it to give it a personalized touch.
20. Giraffe Bracelet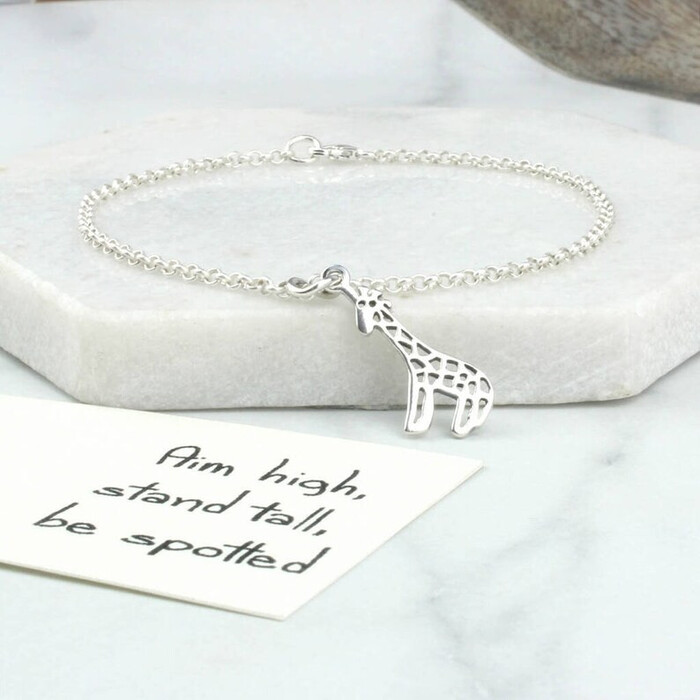 Looking for a cute way to flaunt your love for one of the tallest creatures on the planet? Simply look at this giraffe bracelet. The boho-chic accessory includes a smooth hemp band that comes in more than 50 different hues and color combinations, along with your option of a bronze or silver giraffe charm.
21. Giraffe Earrings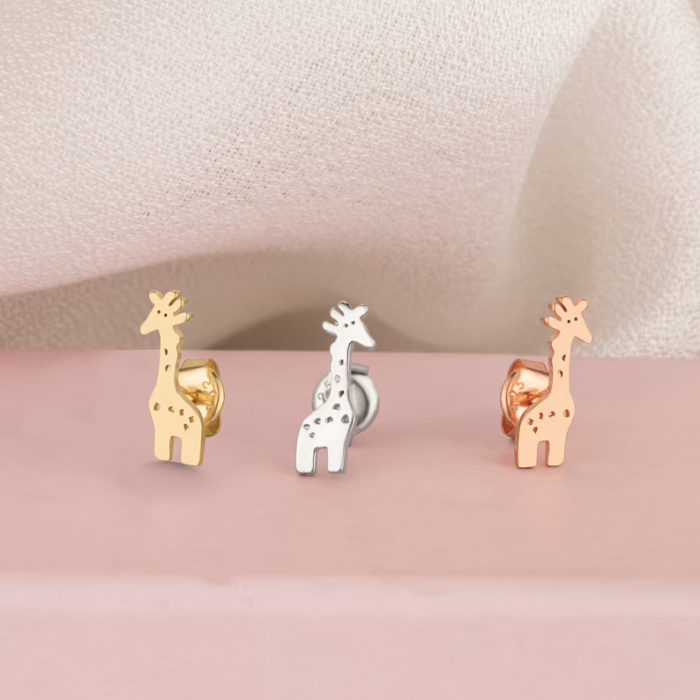 These stunning earrings must be mentioned while discussing accessories-related presents. Let's add these distinctive items to their collection.
22. Cute Phone Case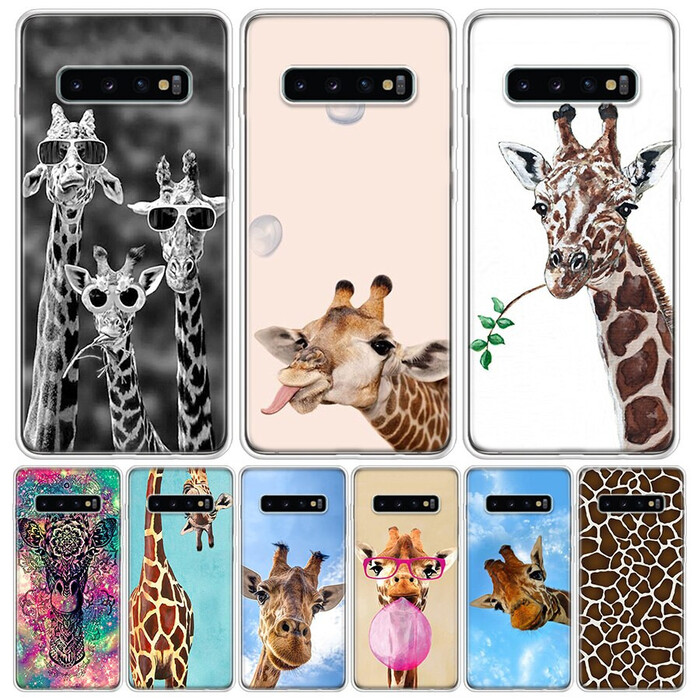 You can give their phone a stylish look with this stylish phone case. Take good care of your phone, your appearance, and your sense of style, or give them to someone who needs fashion sense as great gifts for giraffe lovers!
>>> Read more: 46 Greatest Gifts For Cat Lovers That They Will Treasure
Fashion Gifts for Giraffe Lovers
23. Giraffe Print Socks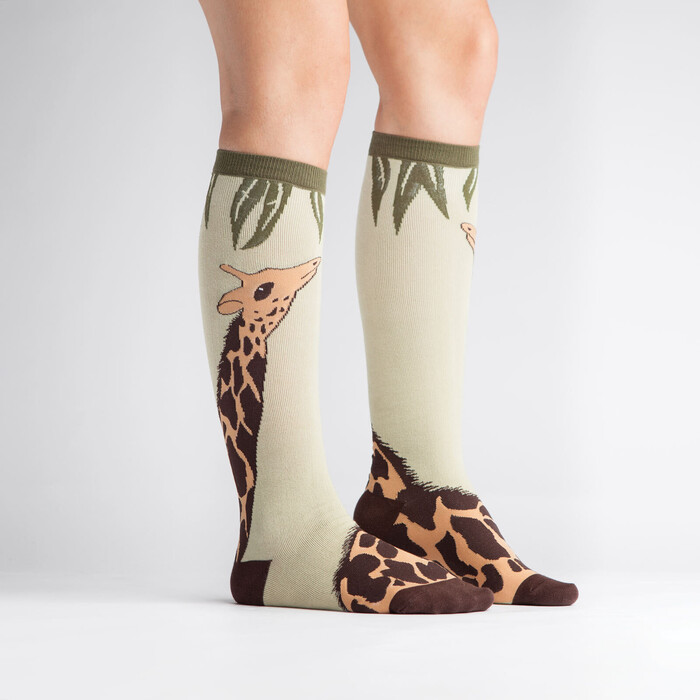 Fuzzy socks are usually a fantastic addition to gift baskets for others. These feature a giraffe face and spots on them, in addition to being incredibly soft. They would also make a wonderful addition to a gift basket with a giraffe theme.
24. Giraffe Beach Towels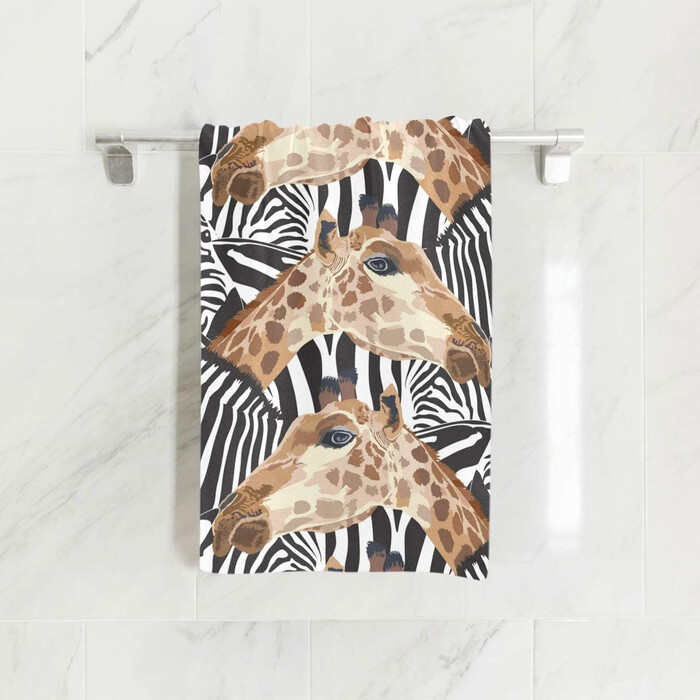 Like human fingerprints, no two giraffes have exactly the same spots. They adhere to a familiar pattern while differing from one another, which may be part of the reason why people adore them so much. Any giraffe enthusiast will go to sleep with this microfleece blanket.
25. Trendy Tank Top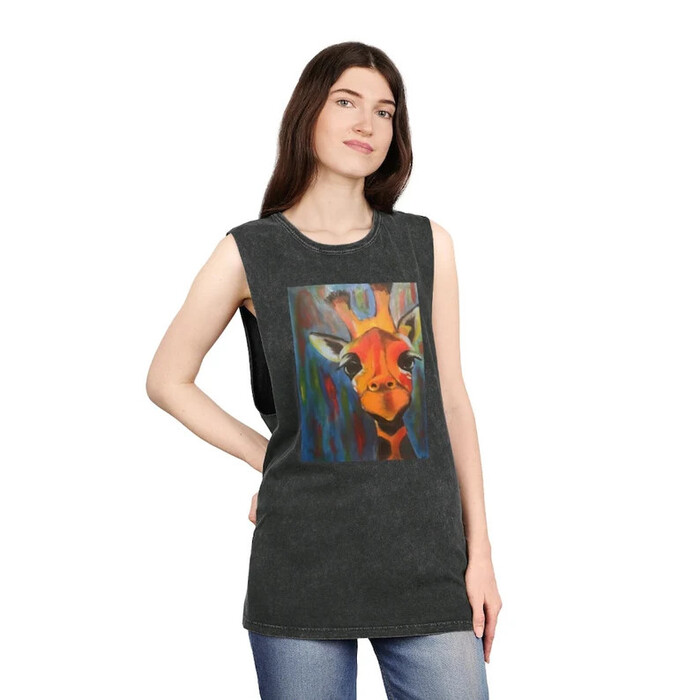 These are creative gifts for giraffe lovers on a summer vacation. For any animal-loving lady, this racerback makes a summer safari casual and simple.
26. Giraffe Onesie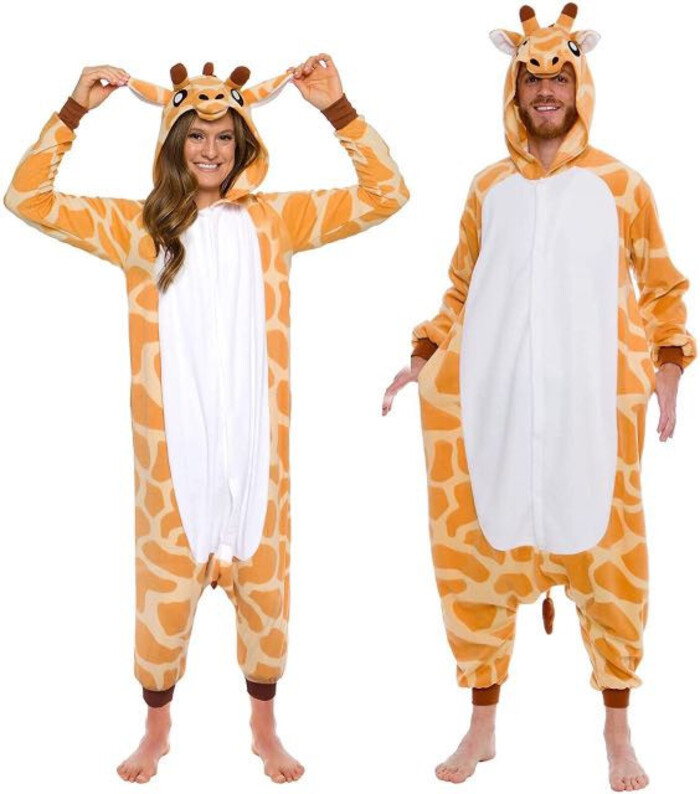 These adorable onesie pajamas will make any giraffe fan go bonkers. This is even better than a plush giraffe if you're searching for something for a kid because they have smaller sizes here. They are not only incredibly soft, but they also have a hood and can be washed in the machine for simple maintenance. The giraffe's horns, which are covered with hair, were even inserted.
27. Giraffe Apron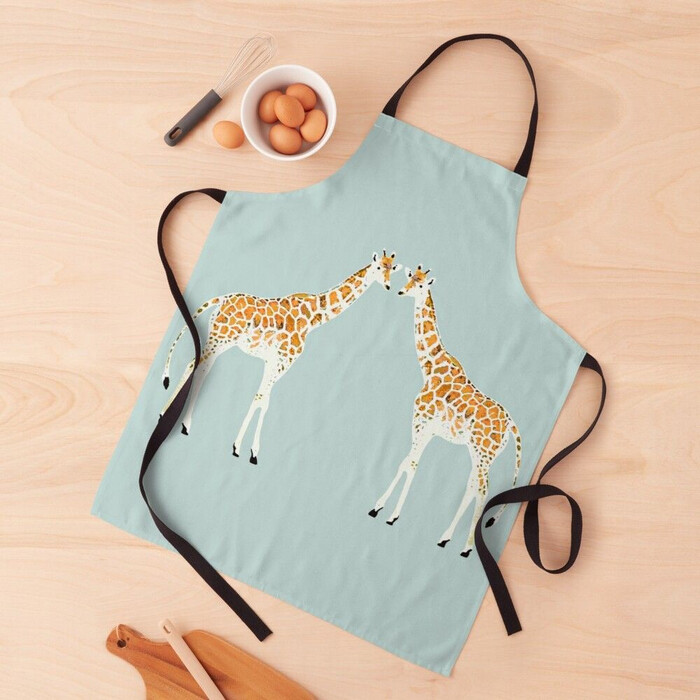 Let giraffe affection spread across all households! You can offer any giraffe-loving family a reason to cook and look adorable together by providing them with these parent and kid-matching aprons!
These cotton linen aprons have a smooth fabric that makes them soft and comfortable, which is a great combo for cooking. They also came in a variety of colors and patterns.
28. Necktie Animal Tie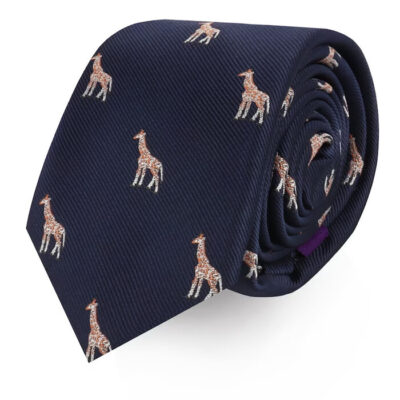 For the giraffe-loving guy in your life, this is a stylish and enjoyable gift. This understated black tie has a yellow giraffe motif stitched on it. Excellent for wearing to work or formal events. It also works well as a present for Father's Day or any other occasion.
29. Giraffe Scarf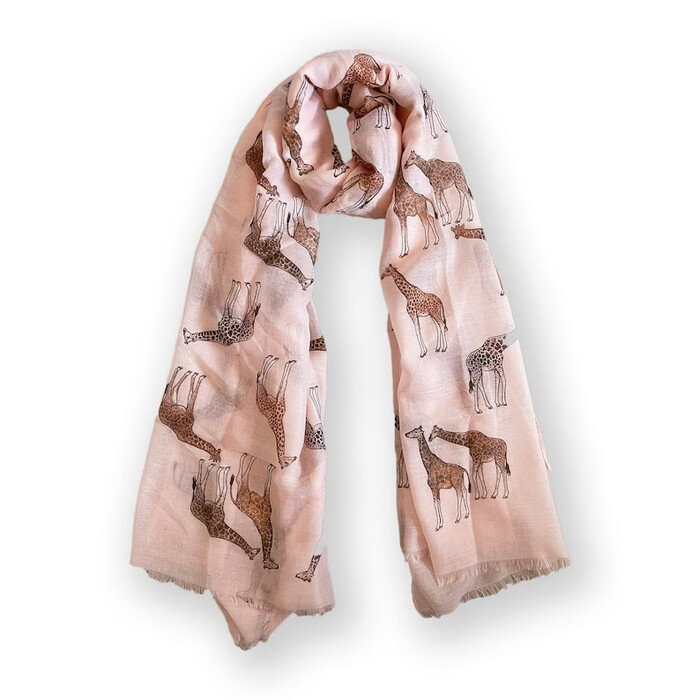 This chic scarf will make the chilly fall and winter weather more comfortable. This oversized giraffe scarf can be worn as a shawl or wrap for casual or formal occasions. This neutral color is great since it can be worn with any outfit.
30. Giraffe Tote Bag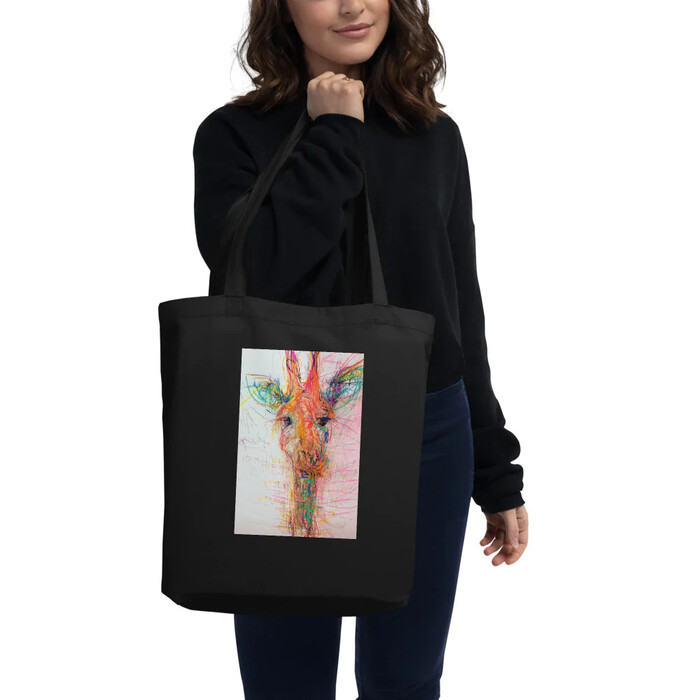 Everyone needs a few of them, and it's not too difficult to combine that with a passion for giraffes. So why not choose this tote bag featuring a giraffe? Its straightforward yet attractive design makes it a simple choice for everyday wear, going shopping, and more!
31. Giraffe Paw Pouch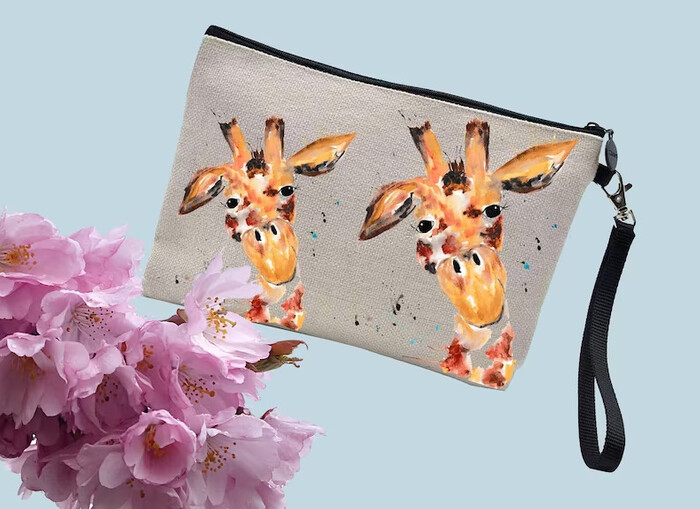 You should always carry a zip pouch since it makes it easy to organize your small items, such as keys, lipsticks, and earbuds. Have one with a giraffe theme, too? Just a double win there! These great giraffe trio zip pouches come in different colors and would make a stylish gift to give.
32. Giraffe Print Sandals
We can all agree that wearing comfortable shoes is ideal. These adorable giraffe print sandals have a yoga mat sole that is great for their feet. Also, the fabric is so soft that they won't want to take them off at all. These sandals are one of the best gifts for giraffe lovers that you should consider.
33. Lunch Tote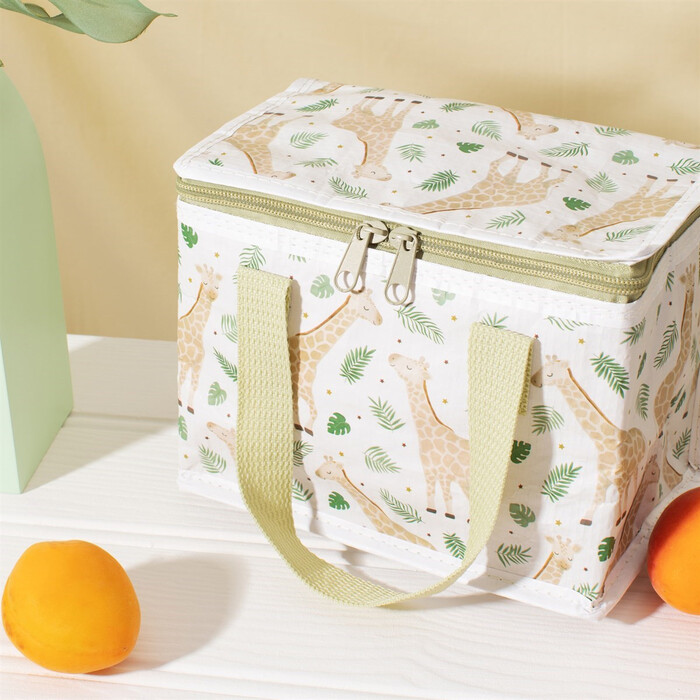 With its adorable giraffe pattern, this tote bag is the perfect size for snacks or lunch. It can be washed and dried fast because it is constructed of polyester and aluminum foil material. Also, this bag will keep their lunch at work or school warm or cold!
34. Giraffe Backpack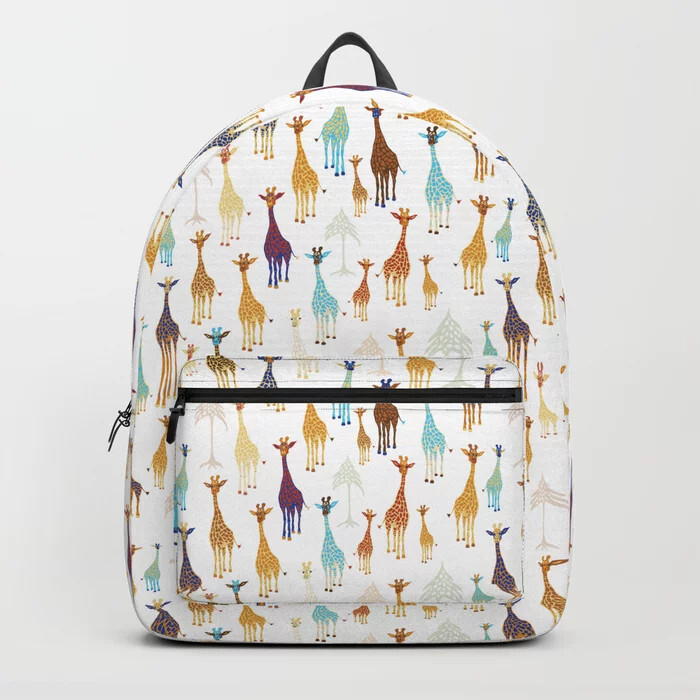 For older children or adults, a backpack option was a must! The main compartment features a second small zipped pocket, two side mesh pockets that are perfect for water bottles, and adjustable shoulder straps. Anyone who sees this bag will want to order one for themselves due to the watercolor giraffe artwork on the front.
35. Funny T-shirt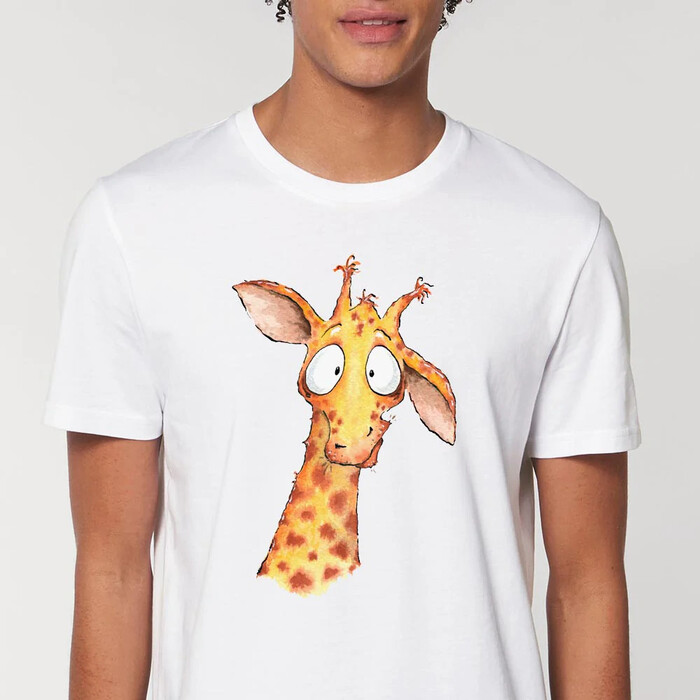 Anyone who enjoys tees with funny images will enjoy receiving this as a present. Every time they wear this shirt, they will definitely think of you
>>> Maybe you're interested in the following:
There are many ways we might inspire our giraffe-loving friends to emulate their favorite animal's noble grandeur whether it's a custom necklace, an uplifting t-shirt, or a donation to conservation made in their honor. We hope this list will help you find the ideal gifts for giraffe lovers.