A memorial canvas for our beloved pets is one of the most poignant presents we can give them. Nothing compares to sharing life's triumphs and tragedies with their shadow. And we are all aware that separation is an inescapable fact of life. Because they will not be able to coexist permanently with us. They will, however, endure in our hearts and memories for the remainder of our lives. On Ohcanvas.com you can get a large collection of personalized pet memorial canvas. Hopefully, these presents can alleviate some of the grief associated with this tragic loss.
How to Make a Fantastic Pet Canvas Art
Before we introduce to you a beautiful pet memorial canvas, we'll give you some pointers on how to make your own pet canvas. We recognize that because these buddies are one-of-a-kind, their presents must be one too. As a result, every pet canvas art will be entirely dedicated to you and you're beloved.
Take a lovely photograph of your pet
The first step in making a stunning pet canvas is to locate or snap a good photo of them. Photos will be a place for them to save your memories together, as well as a place where you may freely create.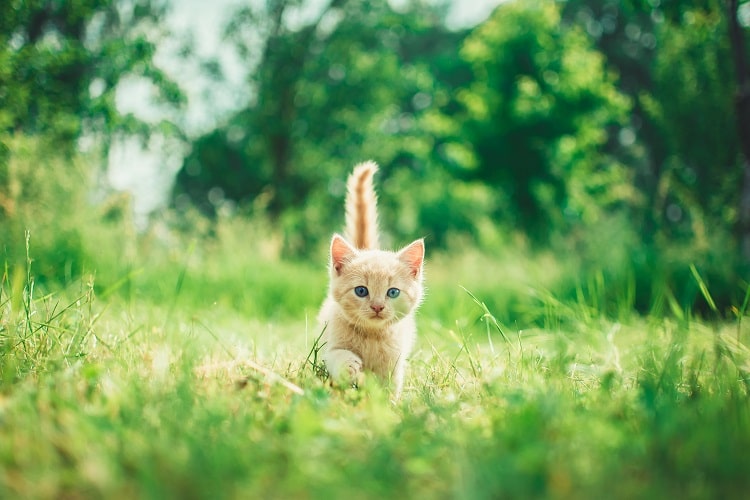 Each photograph holds its own set of joys and memories. It may be a picture of the first time you picked them up, the first time you held a darling tiny dog/cat/horse in your arms. For the first time, you understand how happiness works. During particular festive occasions such as Christmas, you may also select from a gallery of amusing photographs. When they're worn with reindeer antlers or a red scarf with a Christmas theme. Alternatively, you might select a photograph of them having fun with your family on outdoor picnics. The beams of sunlight will make a pleasant and amusing family photo frame.
Every moment is special, so select a photo that is meaningful to you to make a pet portrait on canvas.
Edit and improve the photo's quality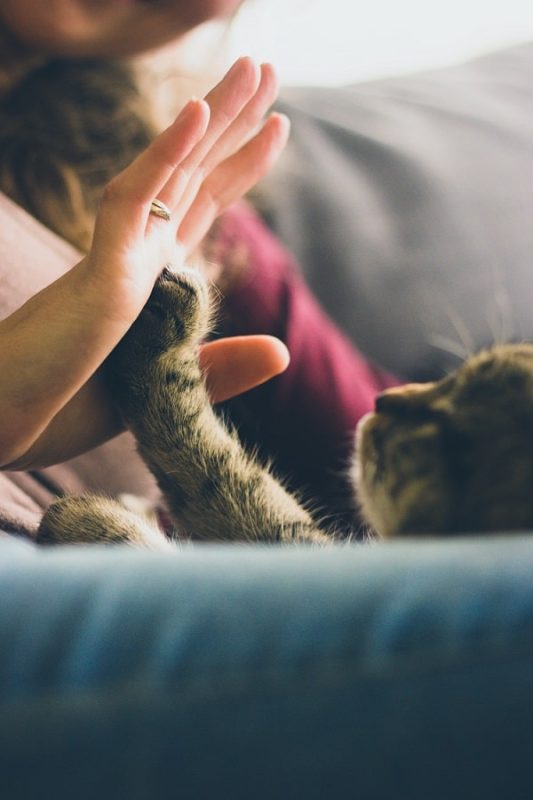 Next, make certain that you've modified and improved it to the best of your ability. There is now extremely good and simple picture editing software available on most phones, laptops, and iPads. Colors can be edited to be more harmonious, sharper, and clearer, or reduced to the appropriate size. If you like, you may also include a few gorgeous icons. If your editing tool has numerous save options, use the highest quality option to assure decent photographs in the following stage!
Select from the various designs for pet canvas art
The third step is to navigate to the canvas print pages, where you will find a plethora of pre-designed layouts to select from. From delightful patterns to pet memorial canvas, there is a wide range of options to pick from. Choose the canvas size that suits your wall and the canvas element that you like. It might be a letter, a message, or just a simple thank you for having pets in our life. You may construct your own pet canvas art by adding their names and ages to the significant details offered.
Print it out
The following step is straightforward. Send us your images, as well as any special requests. You will receive a lovely, unique, and sentimental pet picture fabric. Hang it where you think it will be most useful in your home. Don't be scared to put it in a prominent location. This is especially heartfelt if you have framed a photo of a recently dead pet.
The great present for our little friends from pet memorial canvas
Our fast-paced modern world may have lost how to love. But if you have a dog or a little cat, I believe you will learn a lot about love and compassion from it. They will tell you that there is such a thing as unconditional love, that will make you smile even on the most difficult days, that will never leave you feeling lonely or abandoned since they always want to be a part of your life!
We'd like to present you with a meaningful pet memorial canvas from which you may prefer.
The Heavenly Letter for our pets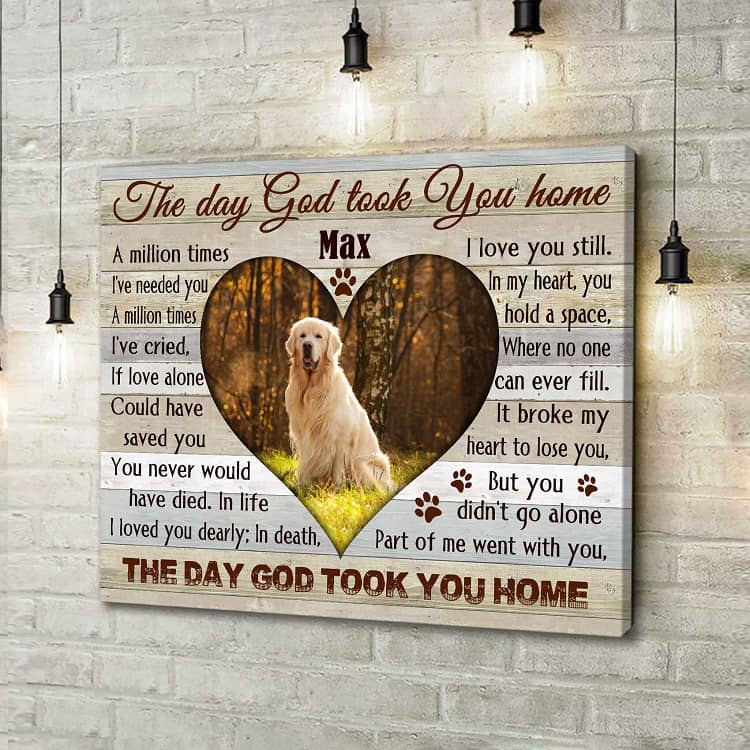 Perhaps the most heartbreaking is the death of a significant figure in our life. Recognize that time flies swiftly and that things might alter on a daily basis. The separation is unavoidable, yet the agony is as sharp as a needle in the heart. One of the saddest days is certainly the day God carries his buddy forever. We realize how difficult it is to embrace this fact. You are in excruciating anguish because you have lost a dear friend, a soulmate.
You may give this personalized pet memorial canvas to your beloved pet as a present. The message is basic, yet it carries a lot of love, a heart you have for it. This heart may be destroyed by the death of a small companion, and the emptiness in the house caused by the loss of laughing and jokes is excruciatingly painful. But we realize, and you understand, that it doesn't go far, but constantly takes a step next to your foot, one step ahead of you. Allow this personalized pet memorial canvas to be your soulmate's present.
Maybe your favor:
Custom Pet Portrait Canvas – Way To Bond Forever With Your 4-paws Bestie
A loving message from heaven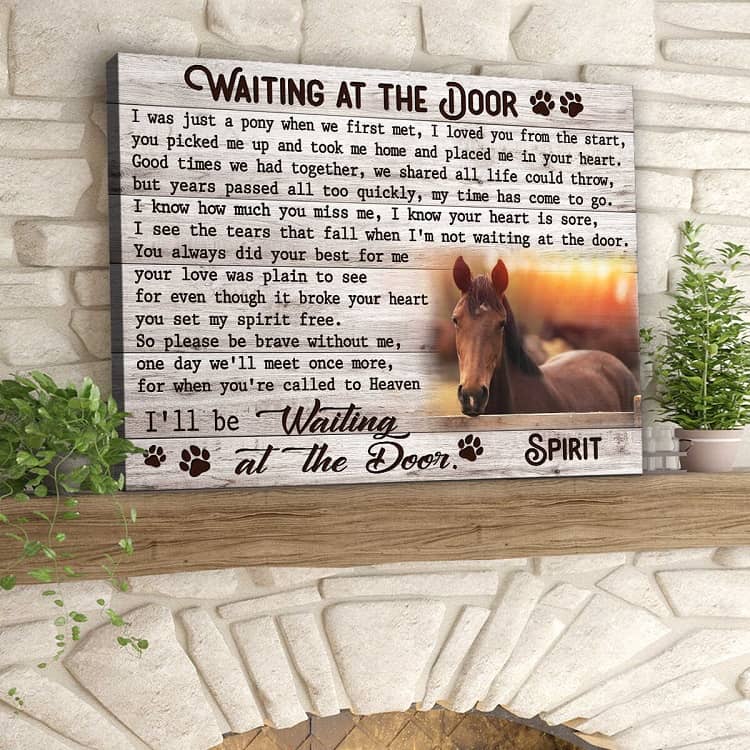 This is a letter from heaven, as opposed to the pet memorial canvas above.  A message on behalf of your adorable and lovely pet. We, like them, are living creatures on this planet. We all have hearts, sentiments, and understand what love and sorrow are. Perhaps they, our dear dogs/cats, do not have the heart to depart this world in such a manner. Because they know that if they go, the person who loves them with all their heart would grieve and suffer. Nonetheless, we are powerless to overthrow the inherent rules of creation.
We present this pet memorial canvas to replace our cherished owners' lovely pets. It is not true that death is the conclusion of a journey. It may separate them and you yet their hearts and shadows will always remain at your side. When one trip comes to an end, another begins. We shall continue to live our lives, and they will be content to be with God in that wonderful paradise with this pet memorial photo canvas.
Memories that last a lifetime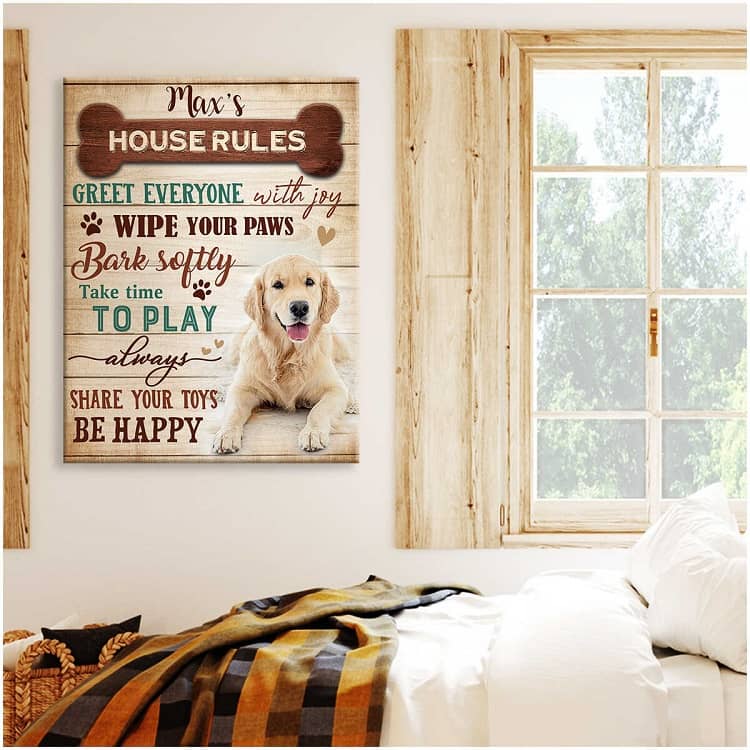 Allow your dog or cat to travel to the afterlife in peace if they have left you. Of course, this grief is difficult to bear, but let the memories calm your heart. Do you recall the first time your pet was in your arms? Do you recall the daily adventure of maturing from a little kitten or dog to an adult? Do you recall how they greeted you at the end of a long day's work?
The dog memorial canvas is imprinted in the memory of all pet owners. This pet memorial canvas is more than simply a way to remember your time with them. It's also a unique present you're giving them. The pet's rule is to constantly provide its owner laughter, joy, and a warm welcome. They exist to share their owners' grief and to assist their owners in healing their wounds. It is the rule of pets – they do not require anything other than a desire to deliver the greatest wonderful things into the lives of those they love.
A little wish for our bestie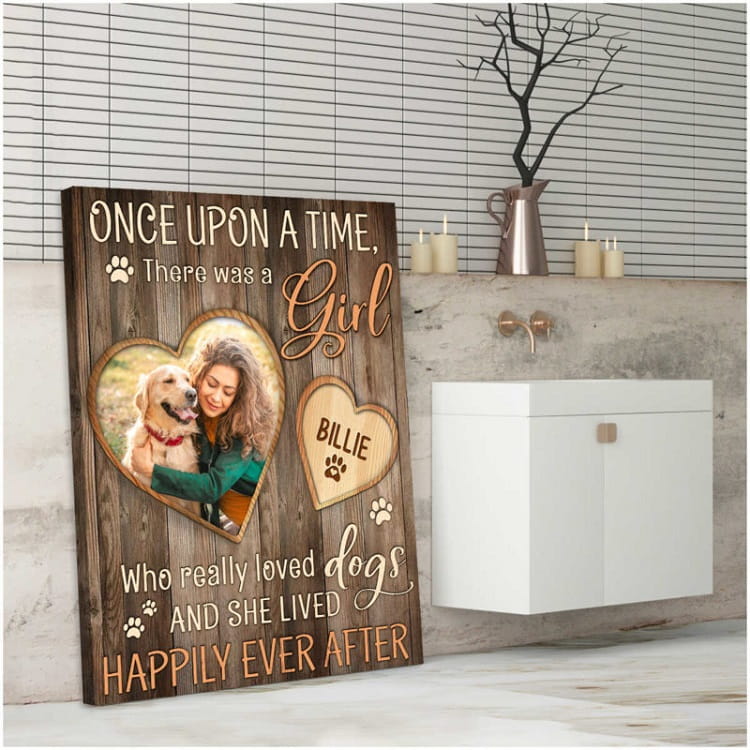 There is always a strong spiritual and emotional bond between people and animals. This is also the most genuine friendship a person may have in their life. Animals never judge you by your appearance or your actions. You can discover pure, uncalculated love in them. Even if you are too busy to play with them, these creatures are constantly pleased and want to play with people.
A small four-legged girl/boy enters our life one day. Knock on this door to reveal a page filled with laughter and joy. This personalized pet memorial canvas is both a wish and a thank you to our small pals. That, despite the fact that life has separated them and they cannot continue to join you while you enjoy the wonderful things ahead. But they will live happily ever after, whether in this world or in heaven. Because that tender heart will always be treasured and guarded.
Canvas paintings of family and pets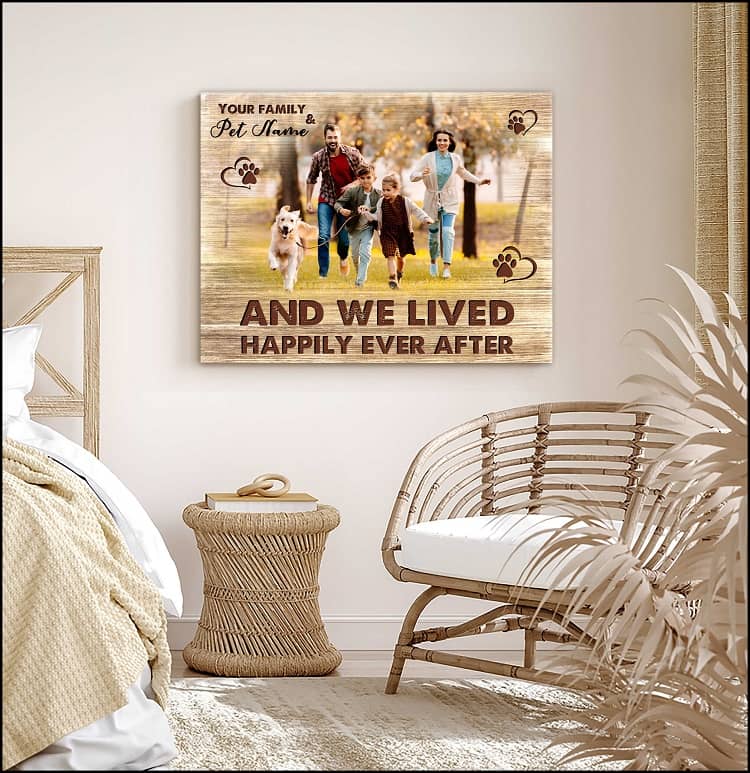 Click here for more detail about the product
A household pet is more than simply a little animal. They are a parent's child, a brother or sister in the family. We can witness their progress. Just as they noticed a shift in family dynamics throughout time. In this pet memorial canvas art, save the nicest photo of your family and your pet.
See more articles:
As I Sit In Heaven Canvas Meaning – Touching Poem For Your Love 2021!
National Pet Day – Time To Celebrate With Your Pets
Turning pet photos into personalized pet memorial canvas allows you to save the funniest moments of your family and a little friend. It's also a personalized pet canvas art since you may write your family name and the name of your dog or cat on it. Let them know that they will always be part of the family, no matter where they are.