Trying to choose personalized gifts for boyfriends that they'll love? This list is chock-full of thoughtful suggestions that can be used for a variety of events. You might be able to find something for his birthday, Valentine's Day, your anniversary, Christmas, and a little something extra just because. We've included unique pieces for him whether he is a man who dresses well, has a sense of humor, has a gentler side, or for couples who want to get to know each other better. You may celebrate the man you love at any time, so peruse Oh Canvas's collection and see what you can find.
Gorgeous photo gift ideas for boyfriend
1. Desk Photo Plaque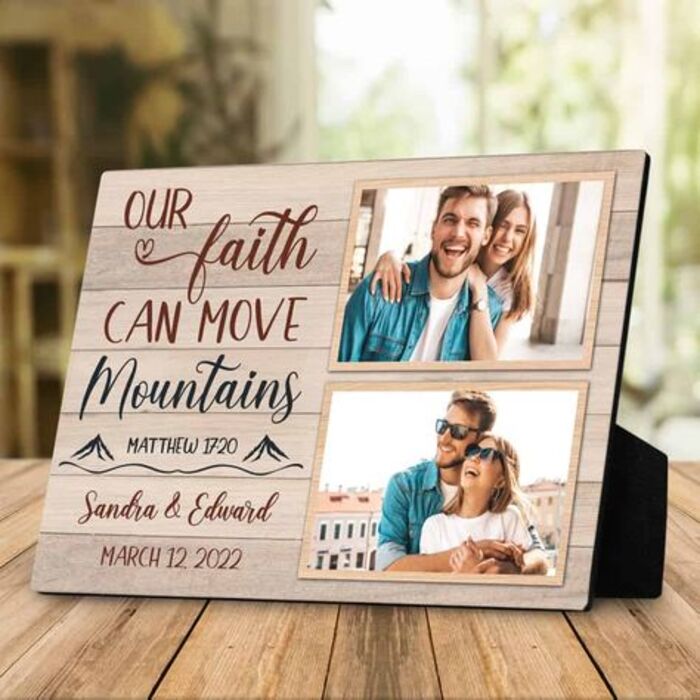 It's easy to make your lover feel special by giving a unique present to your boyfriend. If you're looking for a romantic way to commemorate your anniversary, this desktop plaque is for you. Lastly, and maybe most importantly, It's a great gesture to preserve the memories close to him at home or work!
2. Holidays Ornaments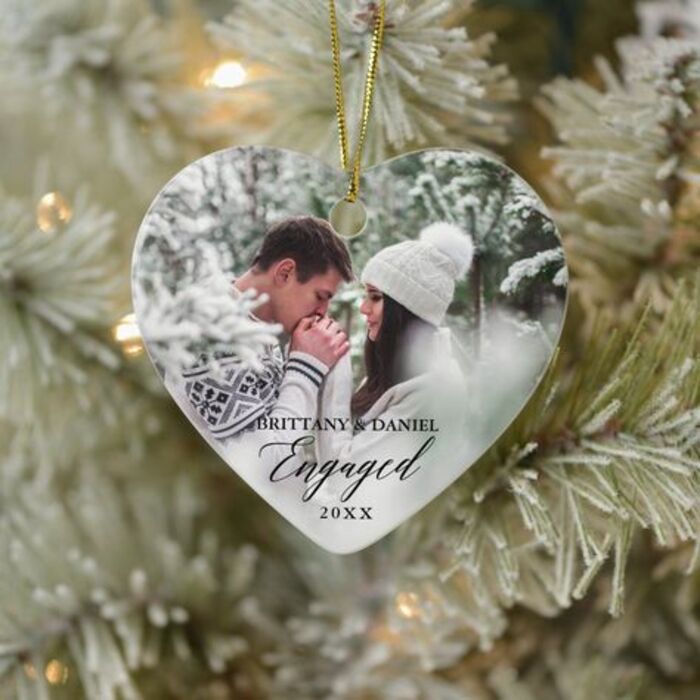 Your first Christmas together as lovers? Sweet! You can be sure he'll like this one-of-a-kind gift. Add your name, a particular date, and a picture of yourself. Your present will make him feel extra special.
3. Photo Pillows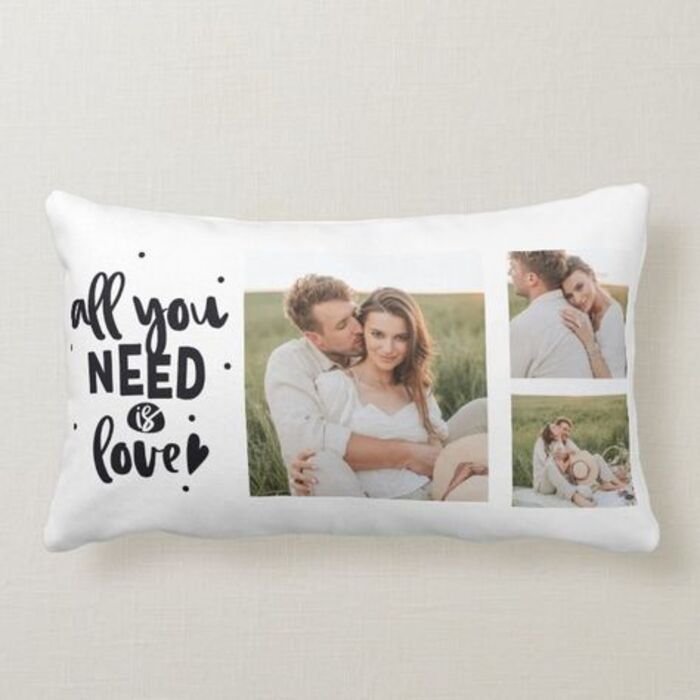 A lover's embrace is like nothing else in the world. However, we've discovered an even better alternative! Long-distance couples will appreciate these nostalgic throw pillows. Upload your best photos to make them uniquely yours. For those times when your lover is away, they're perfect customized gifts for boyfriend that he'll love
4. Customized Photo Keychains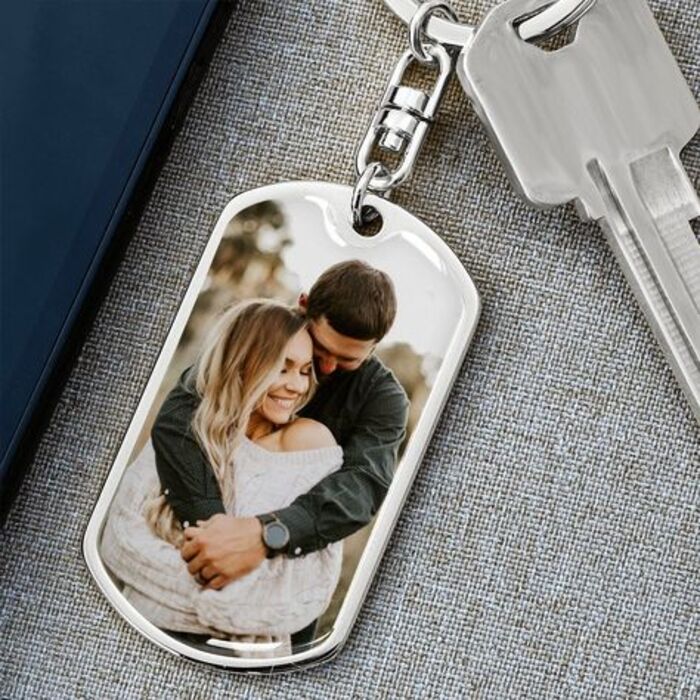 When it comes to unique Valentine's Day presents for him, this keychain is a great example. Make it even more sentimental by adding a picture of you and your significant other to it.
5. Photo Card for Wallet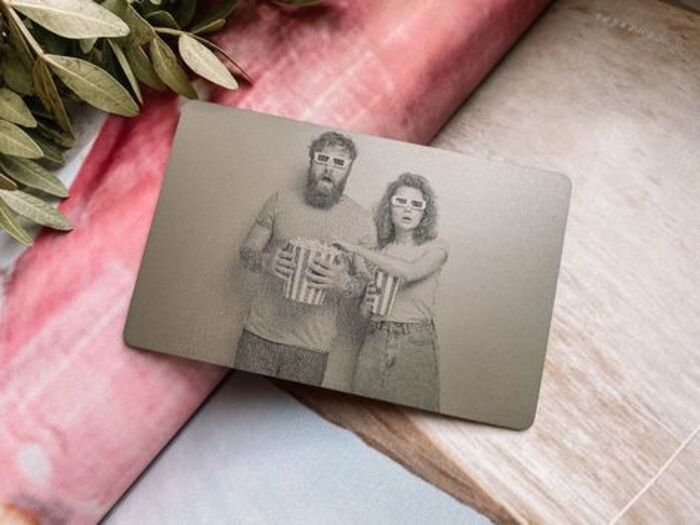 You are, without a doubt, his most prized possession. Aren't you jealous that he doesn't have to take you around with him everywhere? That's not going to happen if you give him a wallet photo card. It'll make him feel better whenever he misses you.
6. Personalized Song Lyrics Canvas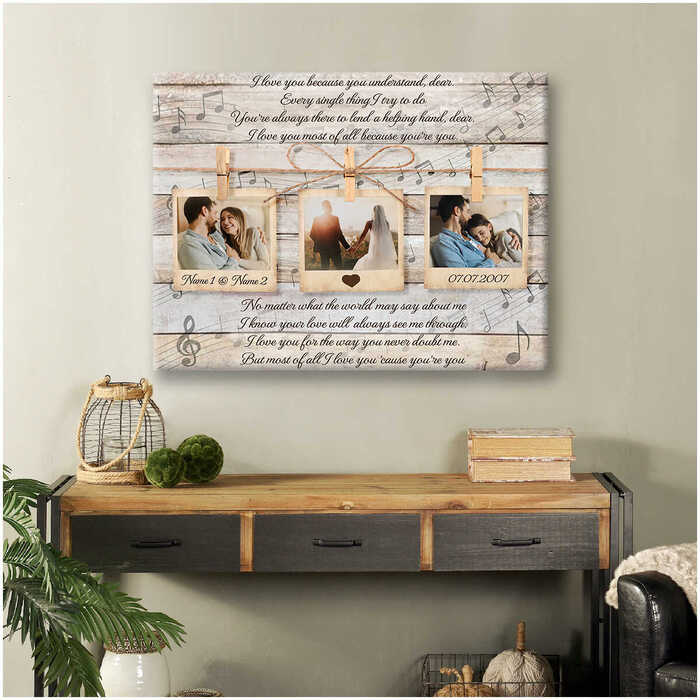 In search of photo gift ideas for boyfriend that'll leave the best impression on him? With this song lyrics canvas, your favorite tunes are supposed to last a lifetime. Your guy will always remember the first time he met you. Make a big deal out of your love!
7. Personalized Photo Mugs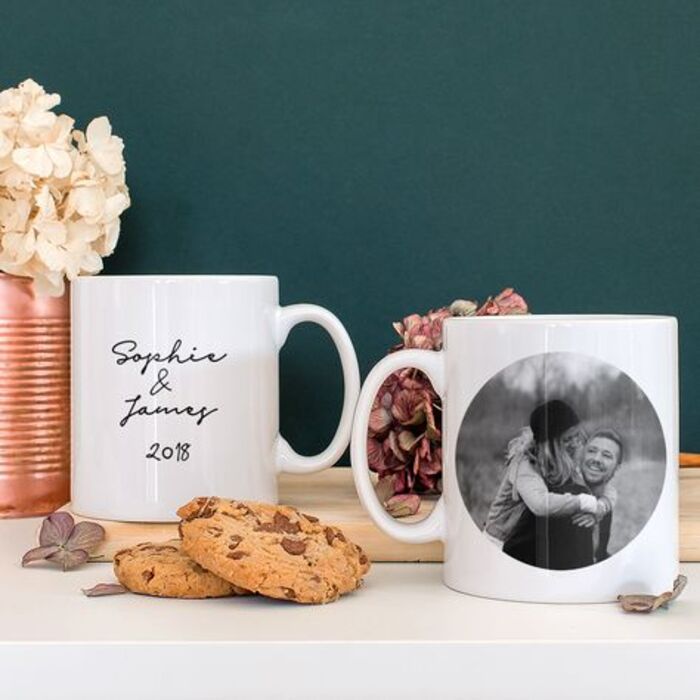 This personalized photo mug is a lovely gift for your partner, and he'll think of you every time he has a cup of coffee. Create a unique present for your partner using your favorite photos with him and he'll treasure it for years to come.
8. Bottle Opener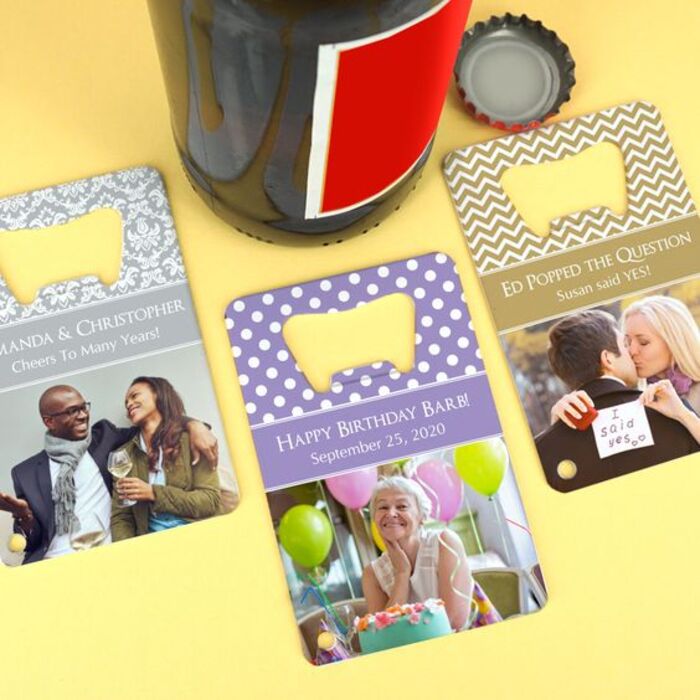 Raise a glass to all of the wonderful times you've had together in the past. We're looking forward to many more! You can't go wrong with a photo bottle opener when finding one-of-a-kind personalized gifts for boyfriends. Practical and sentimental, this little piece is sure to make him smile.
9. Customized Film Roll
If you haven't found anything special for him yet, here's a very magical and one-of-a-kind item. For those who wish to be with him at all times, this is the right one for them. Is there anything more significant than that?
10. Custom Collage Blanket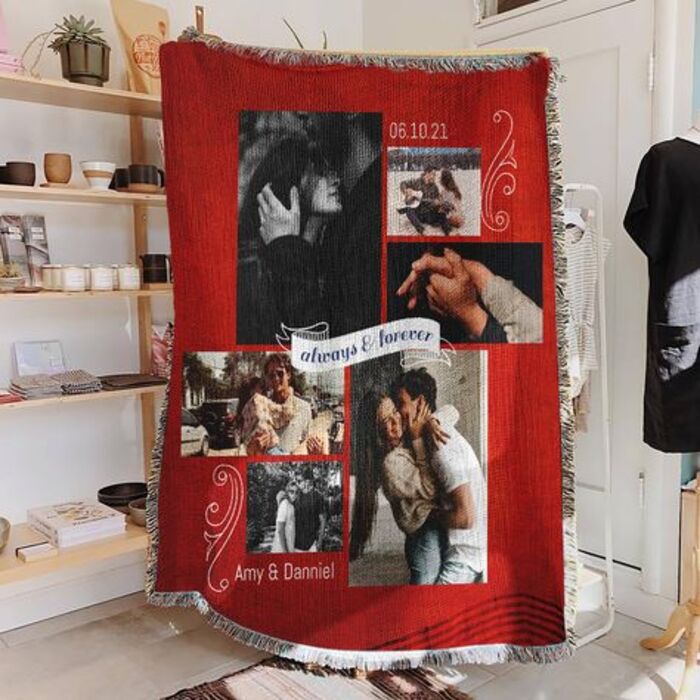 Is your boyfriend's birthday approaching and you're still looking for the ideal custom photo gifts for him? We've got your back! Gifts that can be personalized are always the best. Thank the man who made you fall in love with this stunning personalized collage blanket! He'll find warmth, love, and care whenever he cuddles in it (with you or alone).
11. 3D Photo Crystal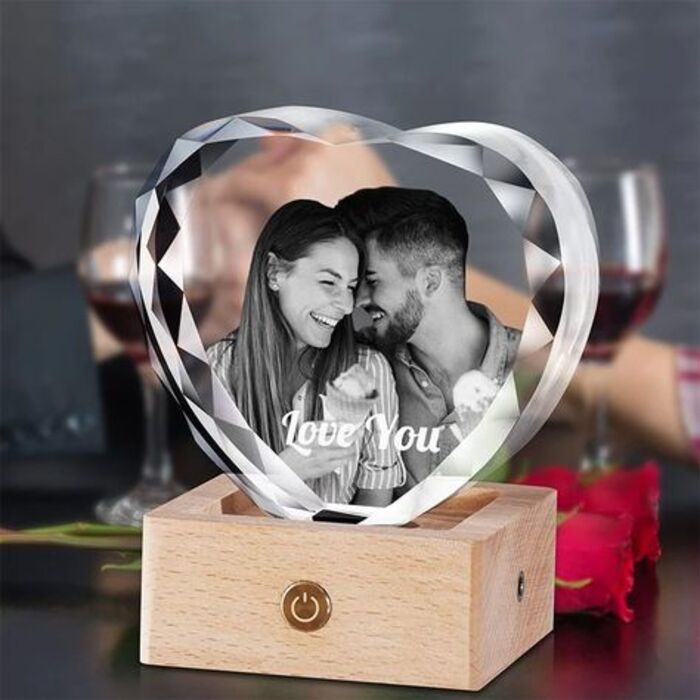 Another beautiful heirloom that's been expertly crafted to last a lifetime! This is a tried-and-true way to get people talking. Everyone who sees it on a mantle, desktop, or bookshelf will be mesmerized. Because it's obvious! It's also a wonderful surprise for your lover!
12. Personalized Fishing Lures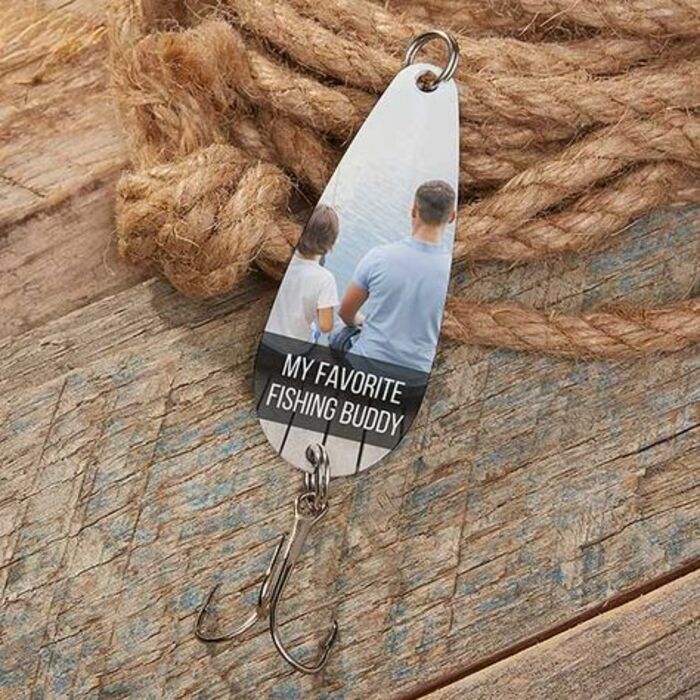 He'll adore this package of three gorgeous fishing lures if he likes fishing. Personalize them with your favorite photo and a romantic saying to make them charming photo gift ideas for boyfriend that he'll never forget.
13. Romantic Photo Canvas Prints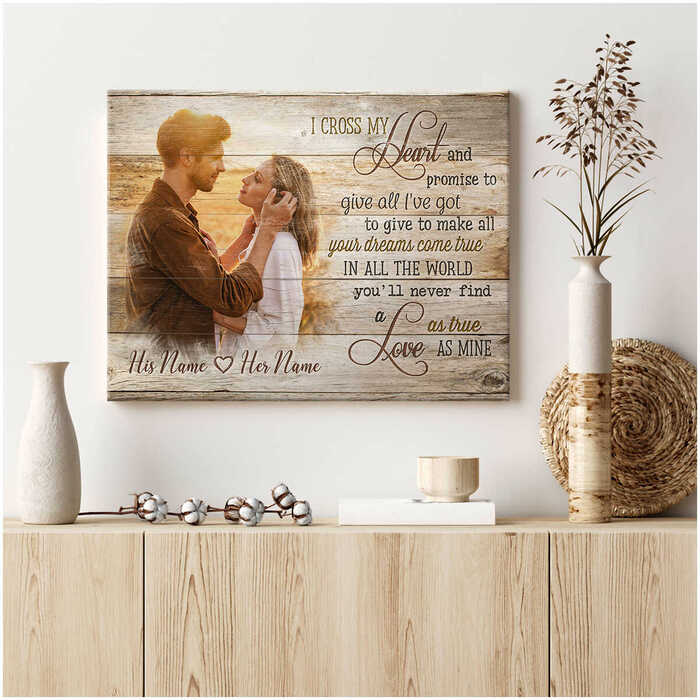 Looking for a unique way to show your lover how much he means to you? This is really swoon-inducing! It's the perfect way to remember and celebrate all the beautiful times that both of you have shared together! He'll love displaying it in her bedroom or living room so that he can see you at any time.
>>> Read more: Top 35 Unbeatable Gifts For Boyfriend's Dad That He'll Adore
Engraved gifts for boyfriend that'll impress him
14. Customized Pocket Knives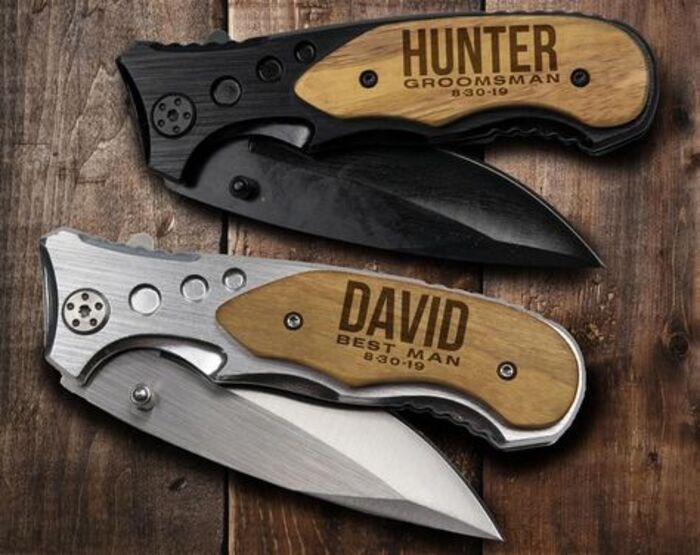 Here's a one-of-a-kind memento that's sure to get people talking. This is going to be such a pleasant surprise! The features of this unique pocket knife are very cool. It's worth awaiting for his friends' reactions when he presents them.
15. Custom Handwriting Wallet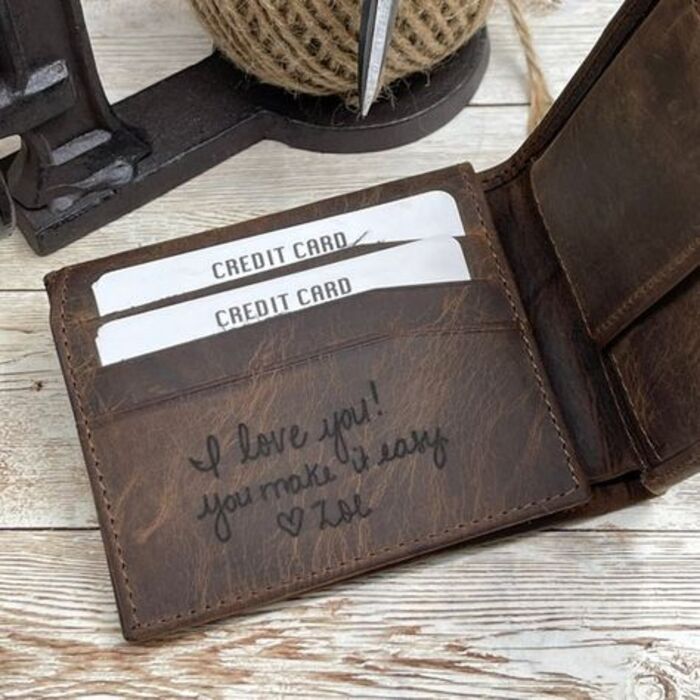 Consider the consequences if you failed to inform him that the wallet includes an engraving detail. During a morning coffee run, he'll see your message and respond. Wouldn't that be incredible? We can't think of better customized gifts for boyfriend!
16. Engraved Toiletry Bag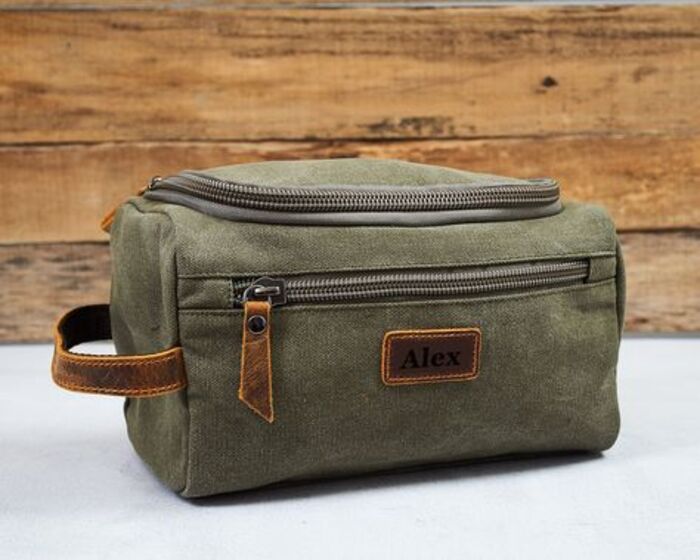 Make a statement with a one-of-a-kind toiletry bag. It's a basic gift, but it's also one of the most meaningful things that he happens to receive this year. Get this bag and he'll find it super useful when traveling.
17. Customized Cufflinks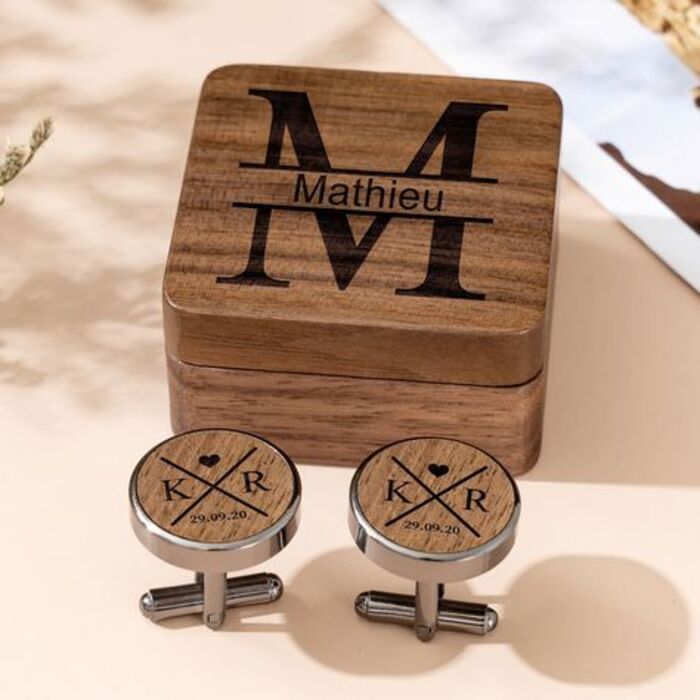 A man's self-esteem can be greatly boosted by wearing a well-tailored suit and matching handcrafted cufflinks. You'll never fail to make him satisfied with any of these unique presents for your guy. Trust us!
18. Engraved Bracelet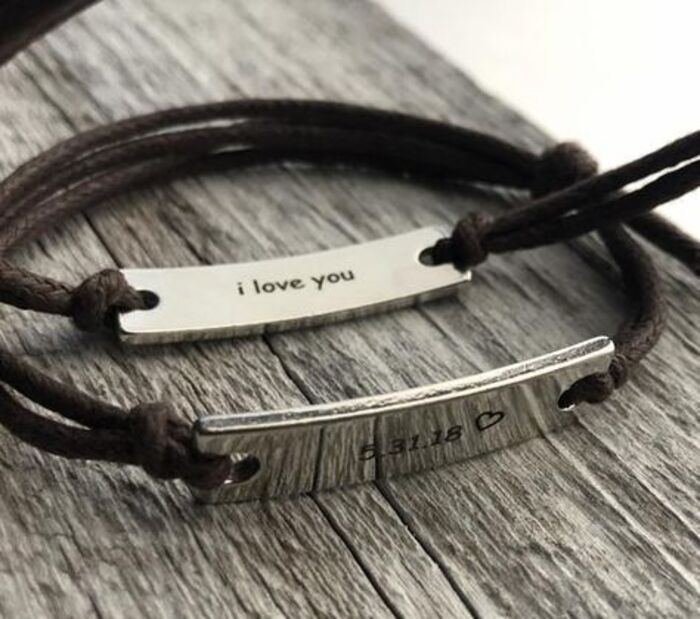 When it comes to engraved gifts for boyfriend, you might want something special and sentimental. Because of their reputation as last-minute gifts, This engraved bracelet is a last-minute present that successfully show your love and loyalty to him.
19. Customized Wooden Watch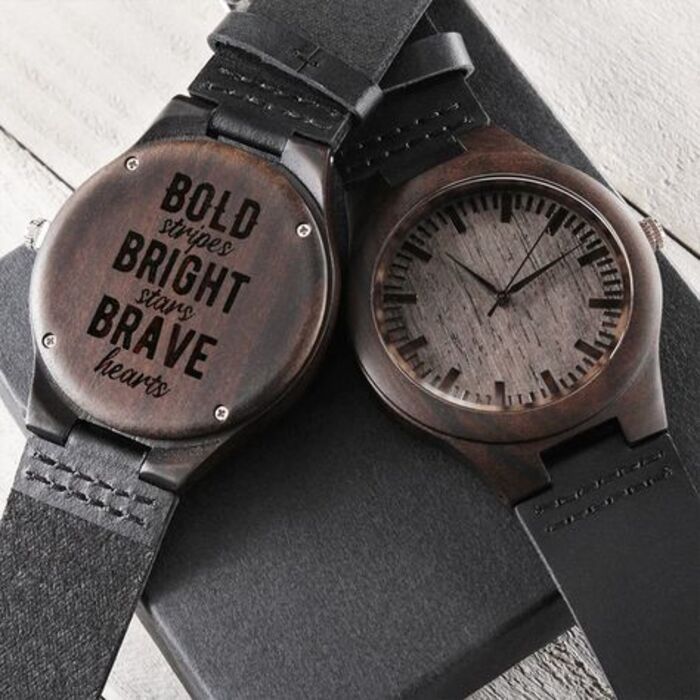 If you're looking for a gift for your partner that is out of the ordinary, consider getting him a wooden watch. Engraving on the back of the watch is an adorable verse that will remind him of how much you love him every time he looks at it.
20. Personalized Flask Set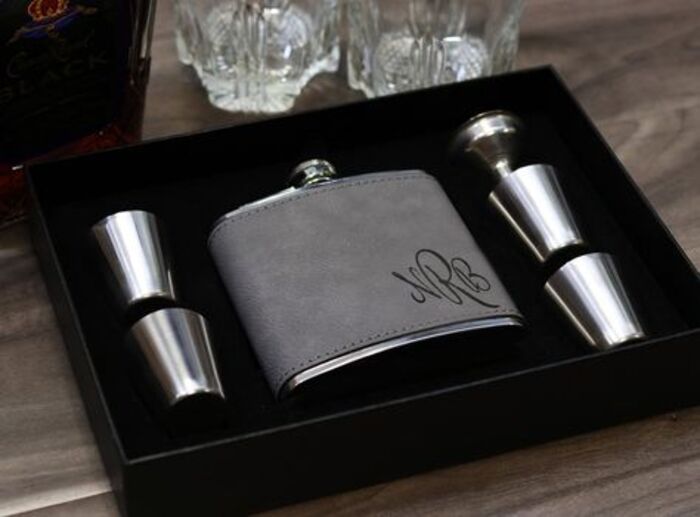 An excellent customized gift for the guy who enjoys sleek and fashionable products is this hip flask. In addition to being made of food-grade stainless steel, this flask features a charming personalized detail that showcases your long-lasting love.
21. Whiskey Barrel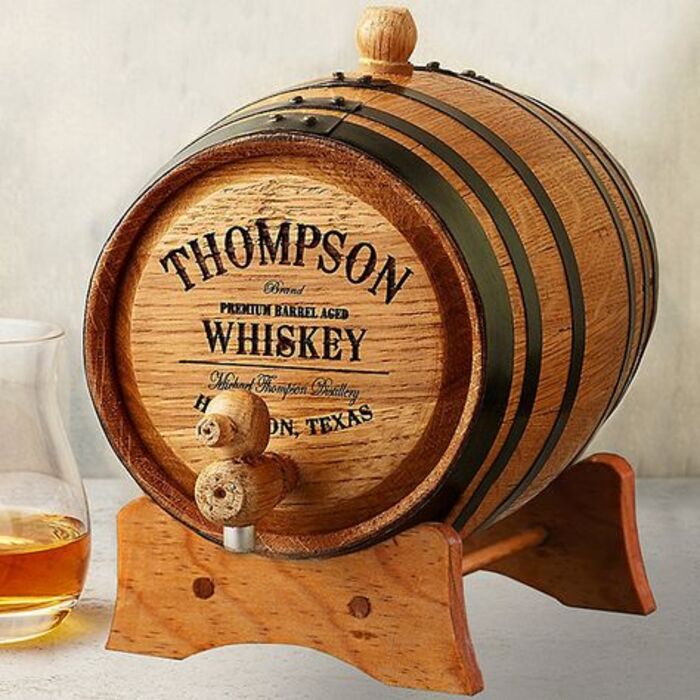 A small wood whiskey barrel is a must-have on any list of cute personalized gifts for boyfriends. If you know a man who appreciates a well-aged spirit, this is a gift for him. It's a lovely conversation starter with a name, place, and date engraved into it.
22. Customized Poker Cards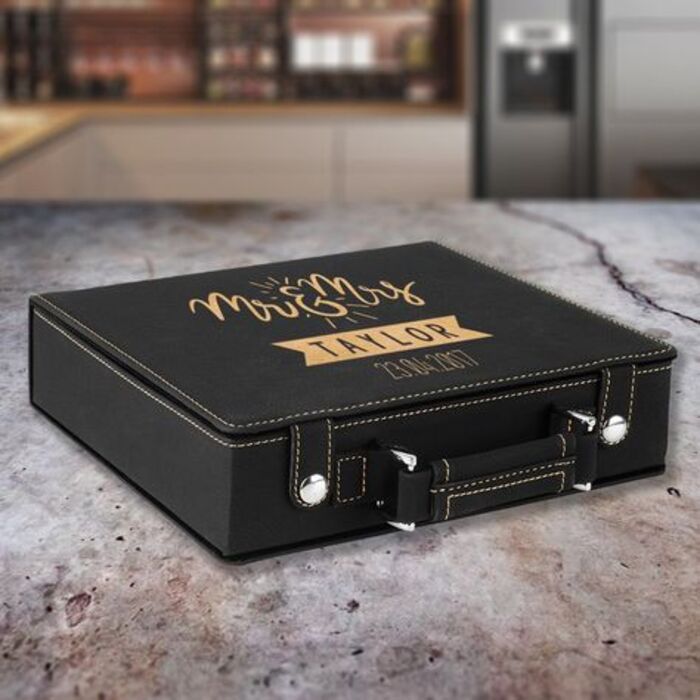 We need a newer, better version now! Customize this gorgeous poker set for your partner with his name and a special message. He'll love having a new poker set to show off to his pals when it's his turn to host the poker night.
23. Wooden Beer Caddy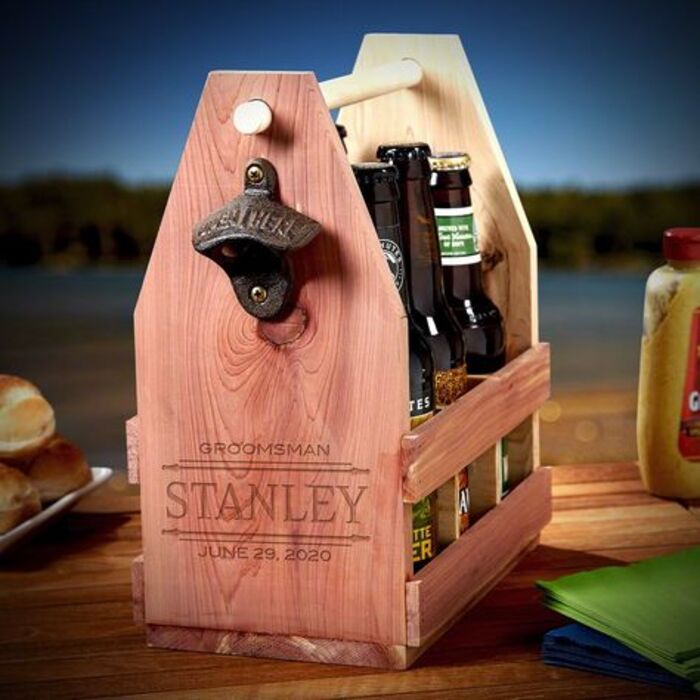 Going fishing or hunting with the boys, going to the lake, and even attending a family barbecue are all places he takes a six-pack along. In addition to making it easy for him to take beer about, this personalized caddy includes a built-in bottle opener so he doesn't have to bring one with him. He will appreciate the thoughtfulness of your gift, especially because it has his name and initials inscribed on it.
24. Custom Docking Station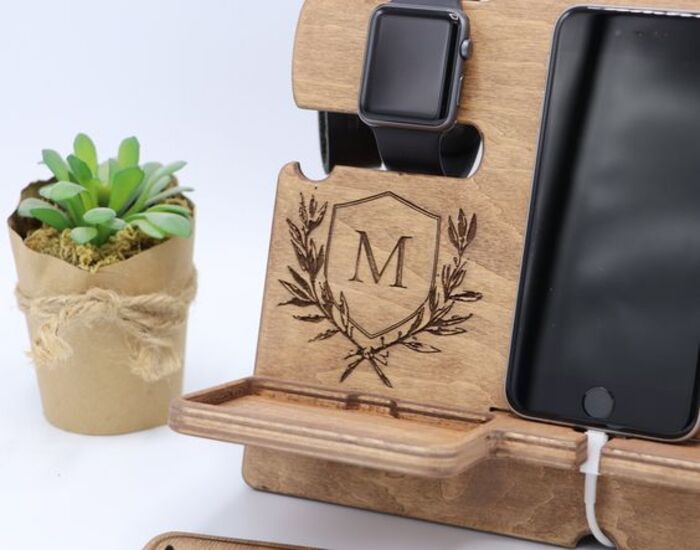 This is yet another chance to give your boyfriend a one-of-a-kind accessory. For the minimalist, this bespoke phone stand is a dream come true. It's portable, so he can use it both at home and at work. Is it at the top of your list of cool engraved gifts for boyfriend?
25. Etched Champagne Flutes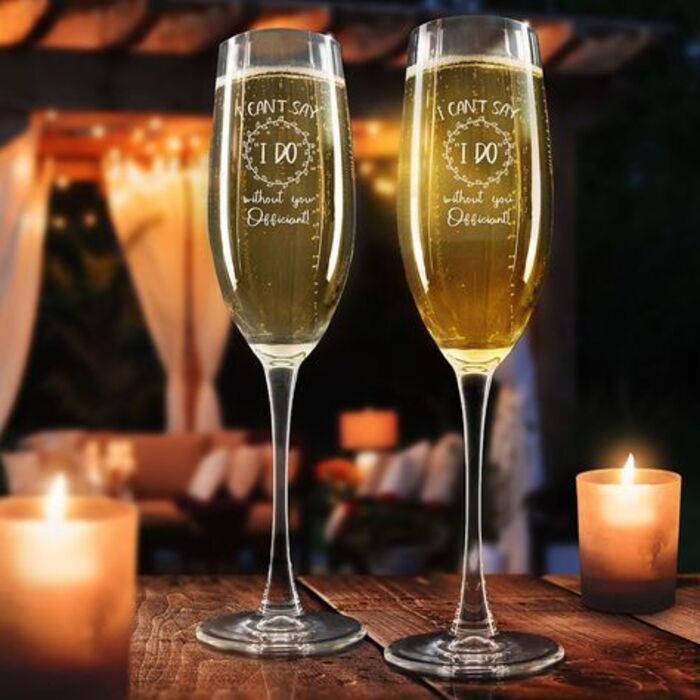 Custom champagne flutes carved with initials and a particular date are the perfect way to toast your love. These glasses are a wonderful way to celebrate the new year and look forward to the future.
>>> Recommend reading: 43 Best Graduation Gift For Boyfriend Ideas (2022 Gift Guide)
Romantic personalized gifts for boyfriends
26. Personalized Map Mugs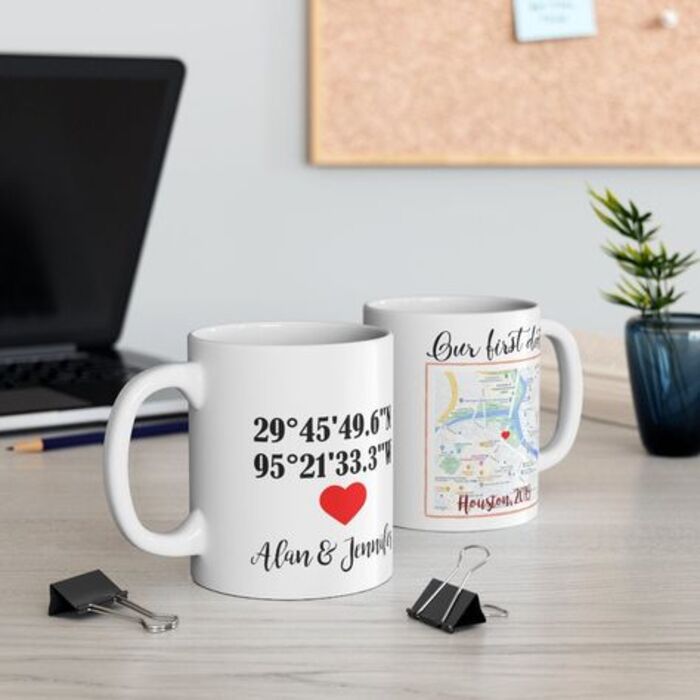 It's a good idea to cherish your sweet and innocent times as a pair right now, given the current state of the globe. This gorgeous mug is sure to be a conversation starter. It is guaranteed to bring a smile to his face. One of the most popular choices for unusual customized gifts for boyfriends. What a treat!
27. Custom Message Pillowcases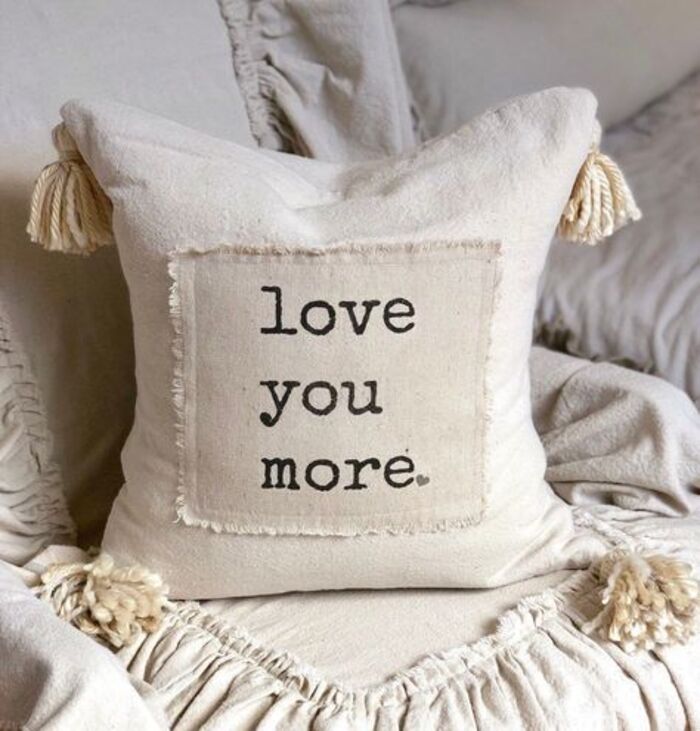 This personalized pillow is the perfect way to make his day. It's one of the cutest personalized gifts for boyfriend that he'll cherish for a long time! If you'd like to express your admiration and affection towards someone, it's everything here in this adorable handmade pillow!
28. Personalized Money Clip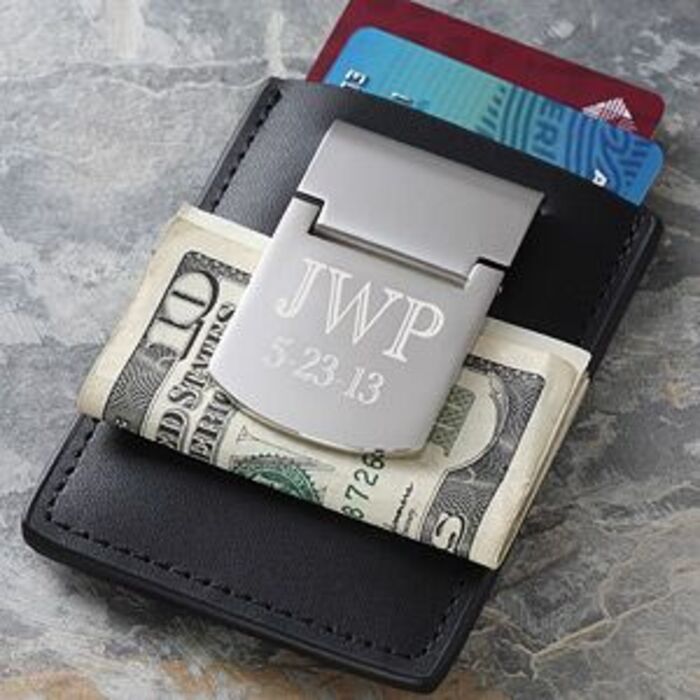 This money clip is fastened to a leather case to keep your driver's license and credit cards safe. If you want to provide a truly unique gift, engrave the recipient's initials and a meaningful date on the item. It's the perfect present for being both charming and functional!
29. Romantic Name Canvas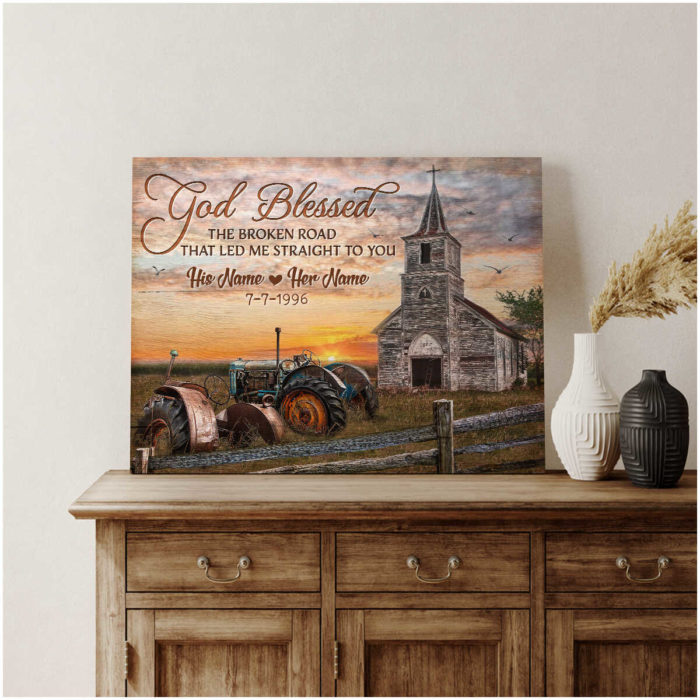 Tell your boyfriend how much he means to you with a custom name canvas that he'll proud to receive. With a warm and vintage design, this print is sure to add the most romantic vibe to his living space. What a wonderful personalized gift for lovers that's worth your consideration.
30. Our Adventure Book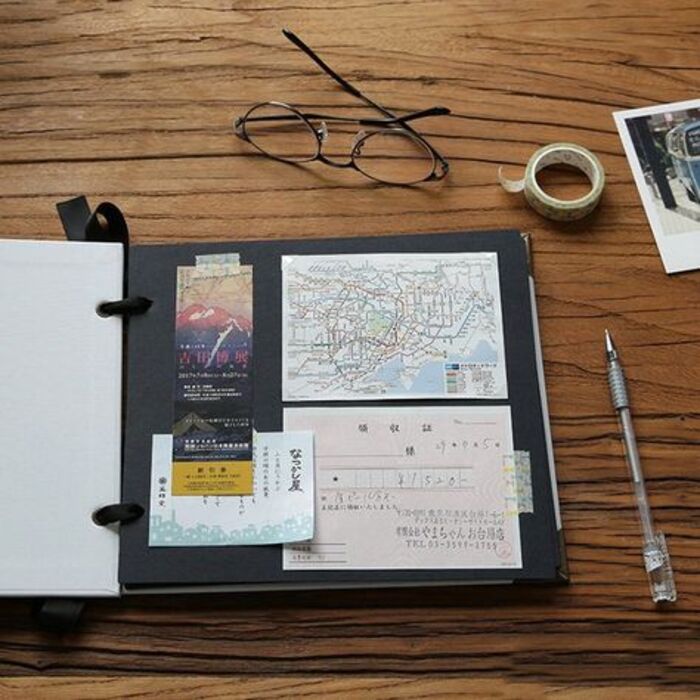 Don't let the good times you'll have together go away without anything remaining. This "Our Adventure Book" is for any couple who wants to save every moment you spend with him.
31. Hands Casting Kit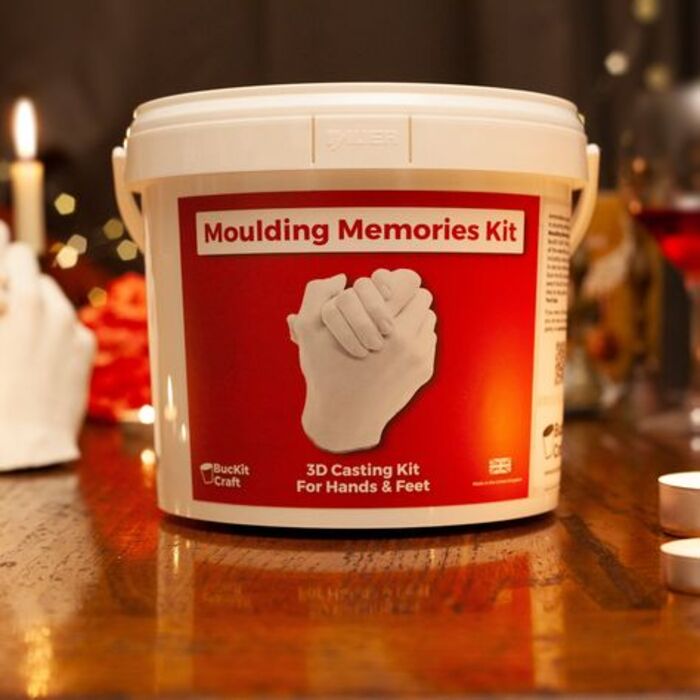 It can be carved in plaster or stone, as you promise to hold his hand forever. If you'd like to include a youngster, this kit has enough room and resources to accommodate two adults and a child.
32. Watches Box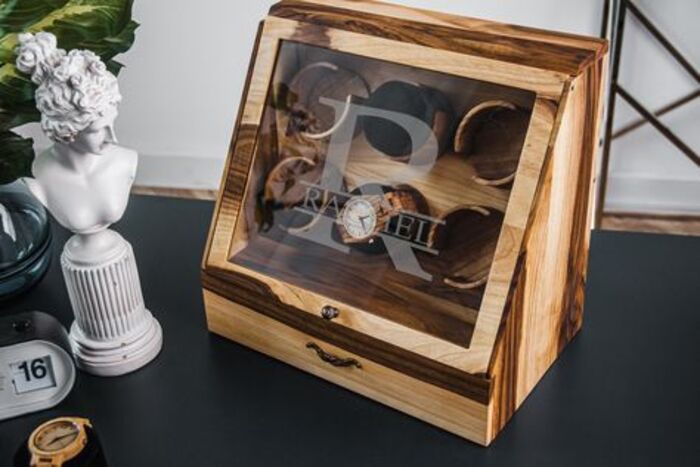 There is nothing more attractive than a well-groomed man. For the man who likes to stand out from the crowd, this watch storage box is ideal. A monogram is even included! It's hard to think of a better gift for your boyfriend than personalized romantic gifts for him.
33. The Gift of Explosion
Explosion boxes look like typical gifts when they're given, but open them up and a universe of memories will spring to life. This keepsake has a small gift box hidden inside, which can be used to store a small token or memento.
34. Personalized USB Mix Tape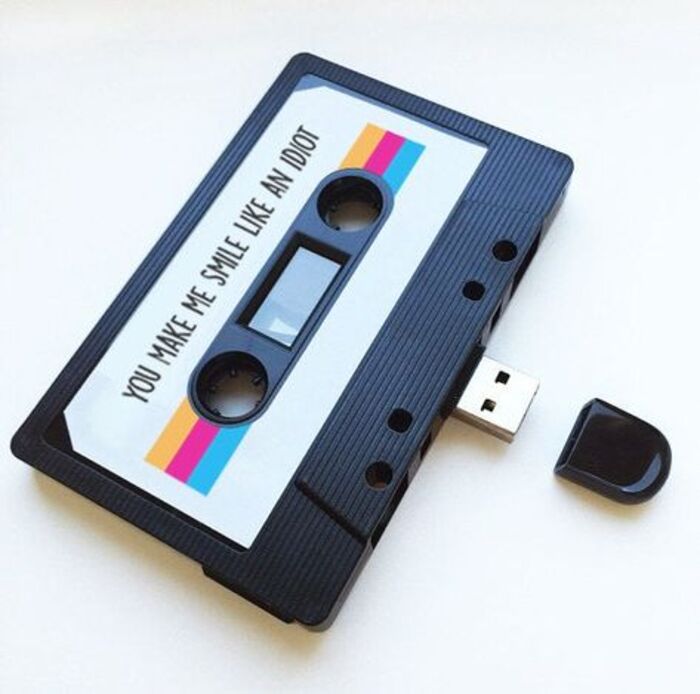 This 'Mix Tape' has a unique twist on the traditional "Mix Tape" as a romantic present. Photos, movies and more can be added to create a wonderful surprise. He'll love how it becomes a memorable custom present on your boyfriend's birthday or Valentine's Day.
35. Map Serving Tray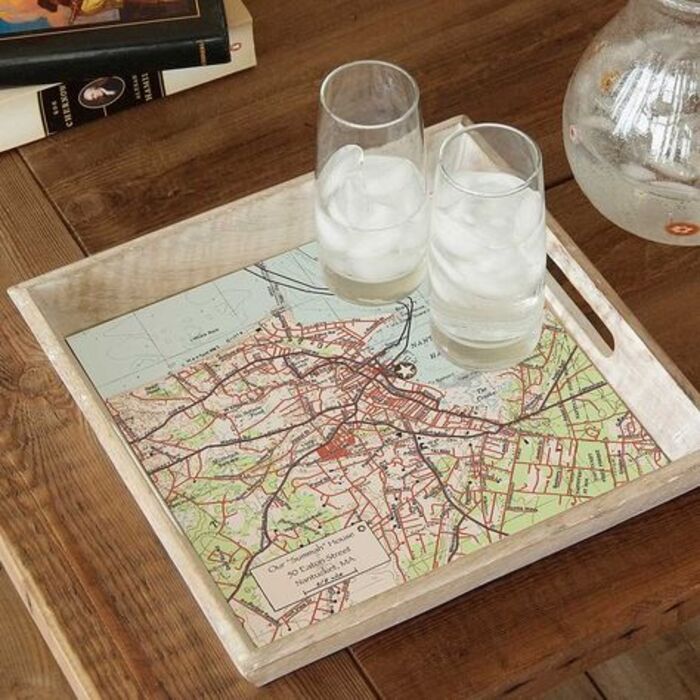 Every time your partner uses this personalized map serving tray, he will be reminded of that memorable place. It can be a place where you first met, a neighborhood you're living, or a dream location? It doesn't matter what you choose, it will be unique.
36. Soundwave Art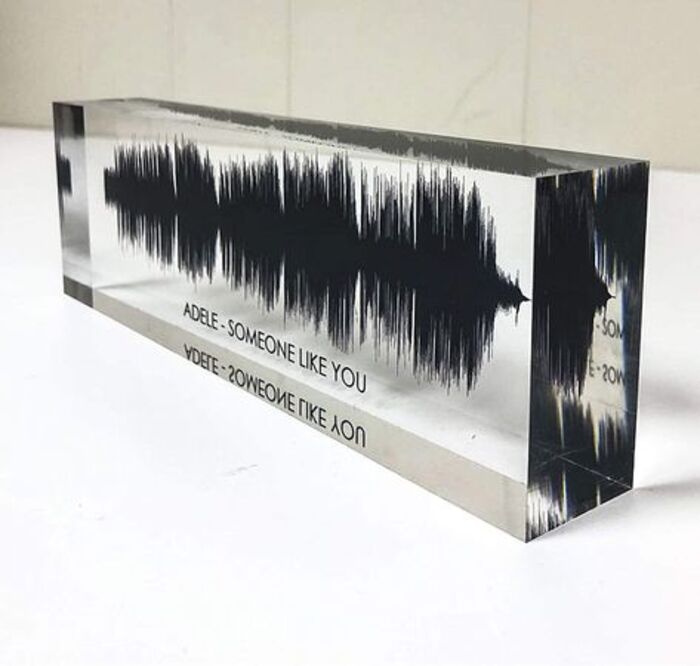 He'll be in awe of this one-of-a-kind soundwave artwork. Play it right away by scanning the QR code. This sentimental present for a couple, mounted on a piece of polished transparent acrylic, is one of the coolest personalized gifts for boyfriends that they're sure to treasure!
37. Vinyl Record Song Lyrics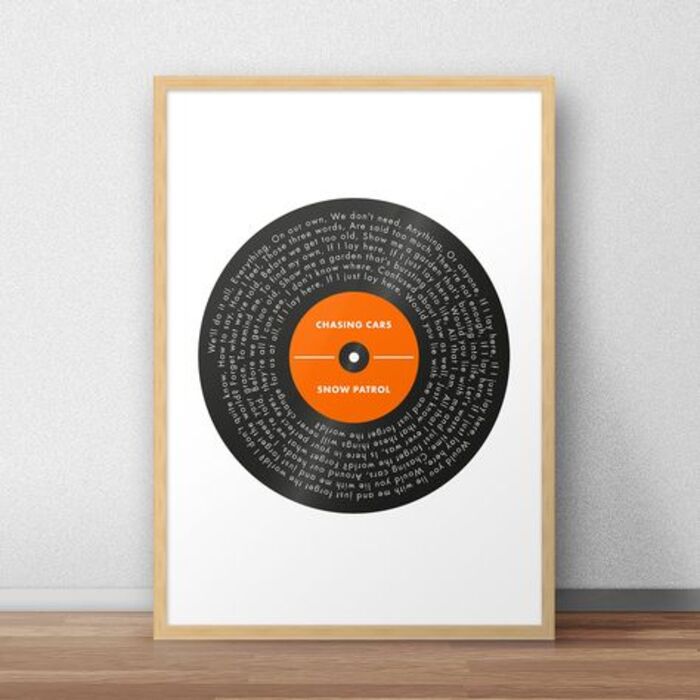 Your boyfriend's heart will sing with joy if you present him with something that captures the essence of a song that has special meaning to you both. The phrase in the form of a vinyl record is printed on a piece of canvas for this stunning framed piece.
38. Message Pills In A Bottle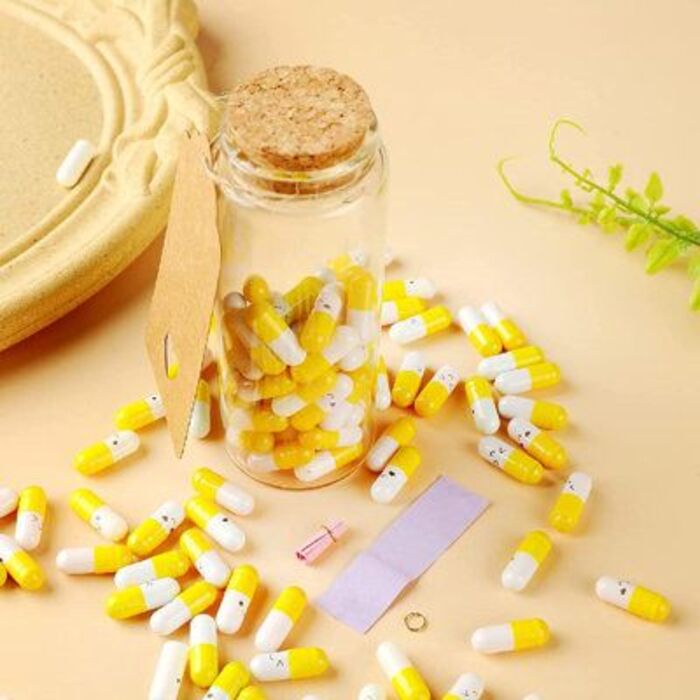 On the hunt for cool customized gifts for boyfriend? Take some happy pills for your partner when he has a fever and all he needs is more of your affection. Small pieces of paper are tucked within each pill that you can use to express your love and gratitude for your loved one.
39. Whiskey Decanter Set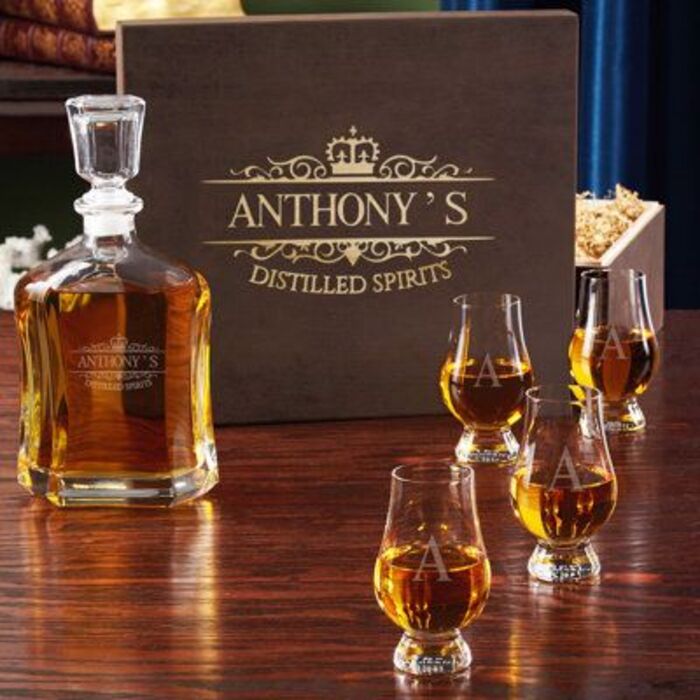 Is he a newbie to whiskey or has he been a connoisseur for a while? You've heard him talk about obtaining a set of sampling glasses, which he uses for sipping liquor. Get him a custom whiskey decanter set as a present! He will be pleased to have his own glasses designed to enhance the flavors and fragrances.
40. Personalized Cooler Chair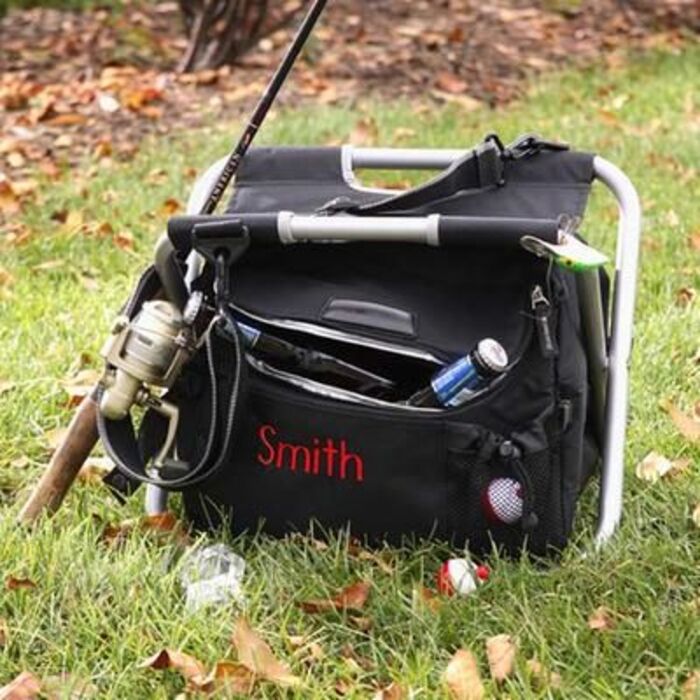 If your lover enjoys spending time in nature, you might want to think about getting him something special. This cooler and camp chair set is perfect for any outdoor enthusiast, whether they prefer hiking, camping, or fishing. What more can a man want than a cozy spot to relax with a couple of cool beverages nearby?
Read more:
We've listed the top that is perfect to give no matter the occasion. Whatever you choose, keep in mind that he will appreciate it even more if you put some thought into it. As you make your decision, think about your man's likes and dislikes, as well as the special connections you share. Oh Canvas hopes that you'll make his birthday or Valentine's Day the best moment ever with a custom gift.