We spend more time these days due to this tough situation. Our lives have changed significantly over the last two years, prompting us to pay closer attention to the insights. Our living space is worth highlighting. It's time for us to make your home the greatest place to stay in the world. A pleasant and comfortable environment offers several advantages for our quality of life. Then, we advise establishing an elegant yet contemporary atmosphere that can make us feel relaxed and cool. When it comes to this mood, modern farmhouse decor is suggested. To discover how to easily turn your home into this magnificent setting, let's scroll down and read this blog till the end.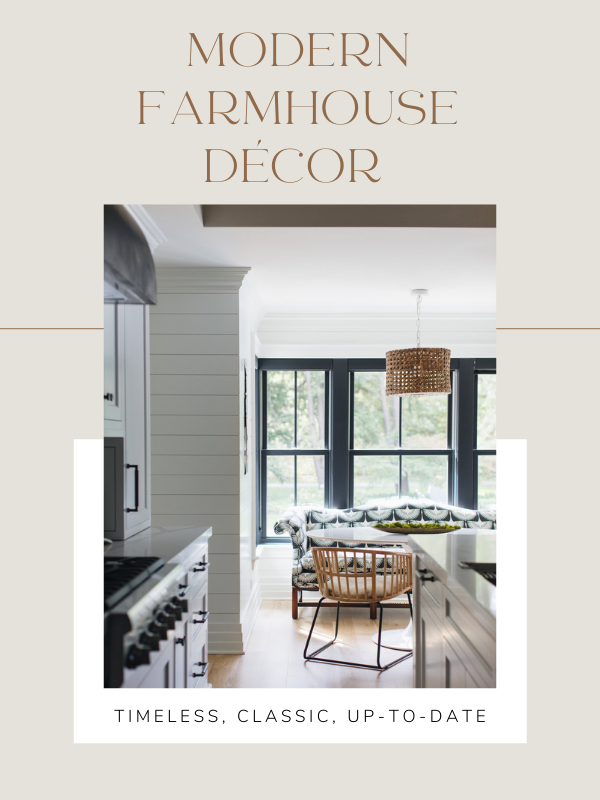 Maybe you also love reading these:
What are the points to do modern farmhouse decor?
Simplicity leads to the timeless for decades. That means the farmhouse design is not getting weaker in 2021, and innovative concepts are growing from this décor. Rather than the standard appearance of wood components, you can choose a plain smooth wood finish or an accent element design.
What makes farmhouse modern decor?
Farmhouse style does not imply that you should live on a farm. However, it means that you are designing and adorning your house with a basic and practical approach, which is typically associated with rural living. Modern farmhouse decor ideas incorporate contemporary elements with the cozy, peaceful country aesthetic. They also suggest that you are searching for calming color schemes, natural components, and texture for this environment. They are less rustic, more elegant, and incorporates trendy design features.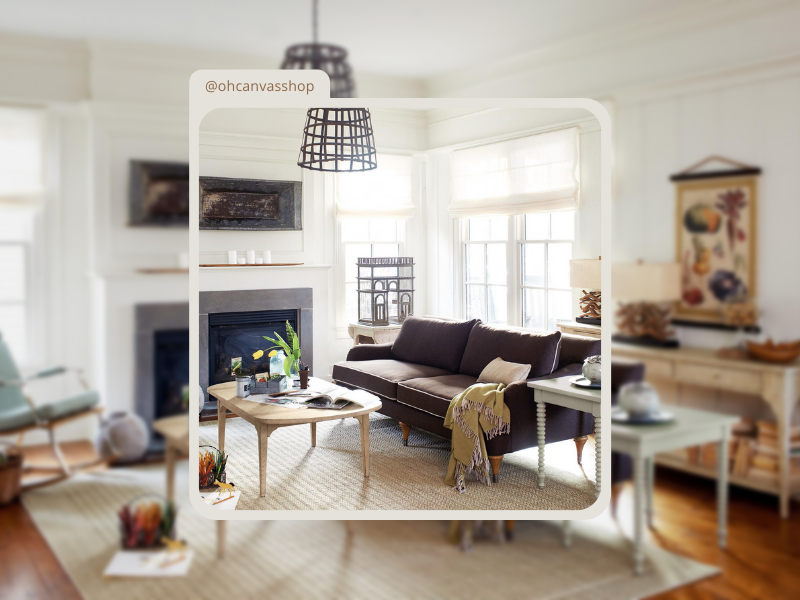 Pay attention to the colors combination
Your choice of colors for your room may reveal a lot about your personality. The trendy one, like the origin, uses neutral colors to achieve the same effect. For a brighter aesthetic, farmhouse modern decor tends to inspire white, pastel, and off-white. But there is one remarkable thing: contemporary decorating includes more eye-catching elements such as an accent wall, a vibrant rug, colorful wall art, and so on. Furthermore, black is commonly utilized in this atmosphere since it is the right blend of simplicity and modernity.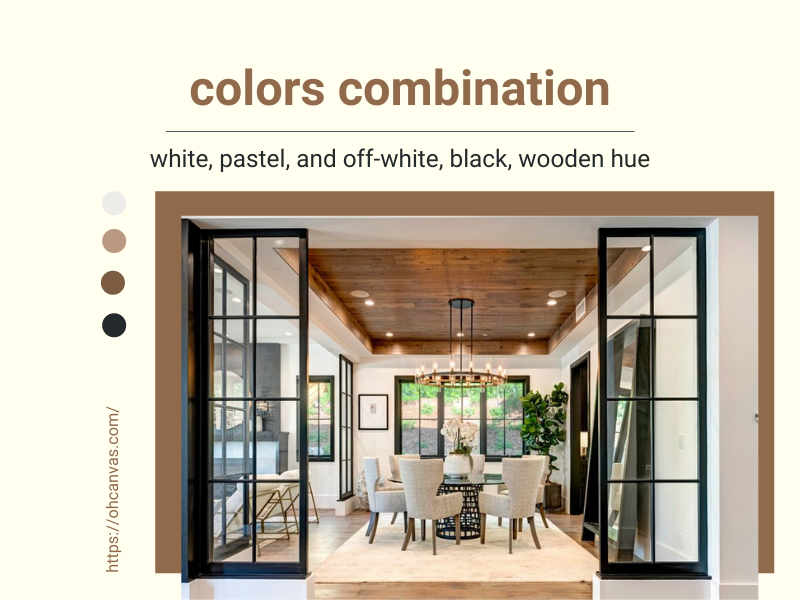 >>> Read more about American Farmhouse Style
Set up the pop area in your modern farmhouse decor space
With the accent corner, we can wipe away all of the monotony. We recommend incorporating black into your decor. Black paint is excellent for emphasizing architectural details. Black interior furniture provides drama and depth to a room while also making a powerful visual statement. However, this is not compulsory. Color, on the other hand, may convey your intellect and spirit. Then, as the focal point of your home, you can use another bold color scheme based on your interest.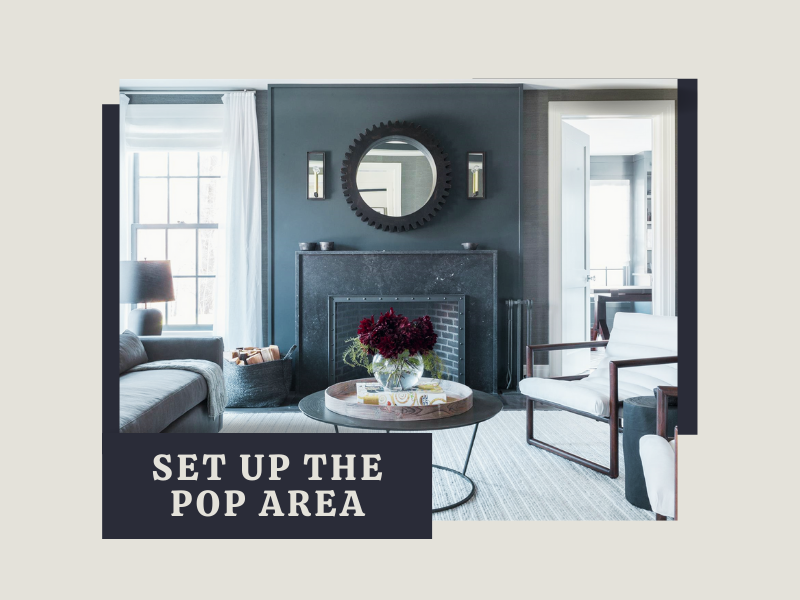 Do not forget to add wooden elements to modern farmhouse decor
Farmhouse interior design uses wood a lot since this is the most solid and traditional material when building a house. Wood can add to your house the rustic inherently has in this style. When moving to other innovations, this original factor is still kept to highlight modernity. Keeping the light colors on the bare wood like oak work best when you love the pleasant and pure space.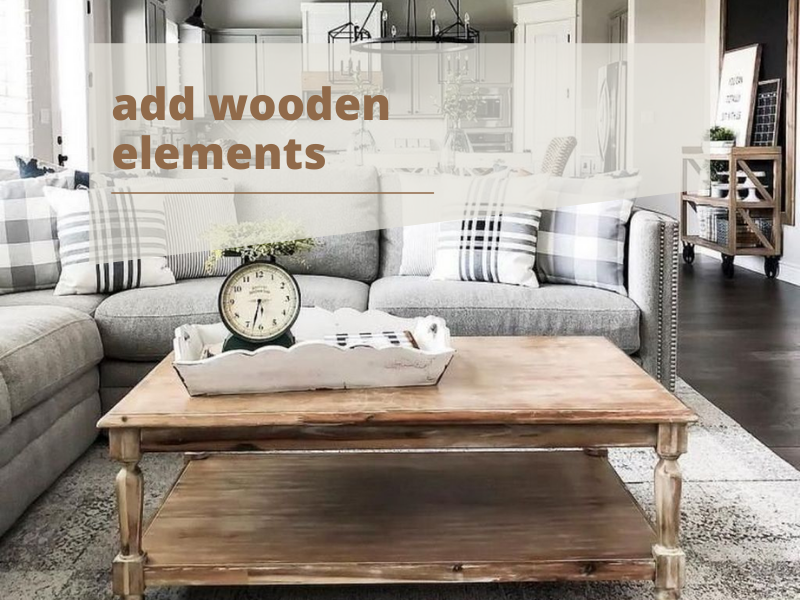 >>> Understand more about farmhouse style 
Taking a quick look at modern farmhouse decor ideas
Watch some of the images of farmhouse modern decor we have gathered to better understand what we are talking about. Moreover, with these charming images, you will better understand the following discussion on this blog. More details on furnishing every room below will be your best advice to set up this style. 

Modern farmhouse decor living room
Let's take a deeper look at each room in your home. We will start with the modern farmhouse living room decor, which is usually where your guests get their first impression of your home. Pay attention to the sunshine and the sofa set to create a welcome and comfortable experience for everyone.
Farmhouse canvas art – Modern farmhouse wall decor
In a living space, artwork should not be missed. If you have high ceilings but like modern, limited furniture, a piece of artwork may help draw the eye upward and make the space feel more balanced. The texture of a work of art may be used to create a more dynamic design. The artwork connects the patterns, textures, and colors of this space.
Farmhouse canvas wall art may provide a thoughtful message that will encourage us whenever it captures our attention. On the other hand, the painting's realism might inspire the precise country atmosphere you are going for in your home.
>>> Maybe you love watching this cow canvas print article
Utilize the natural light to get the inviting look
Take advantage of reflecting items
Natural light is one of the most effective methods to remove moisture from a room. It's the most brilliant light you can bring into your house since it is a healthy and natural approach to appreciate your surroundings. Making effective use of mirrors or other highly reflecting objects is another simple method for boosting the impact of natural light in a space. These items reflect light across the area, making the entire surroundings appear brighter.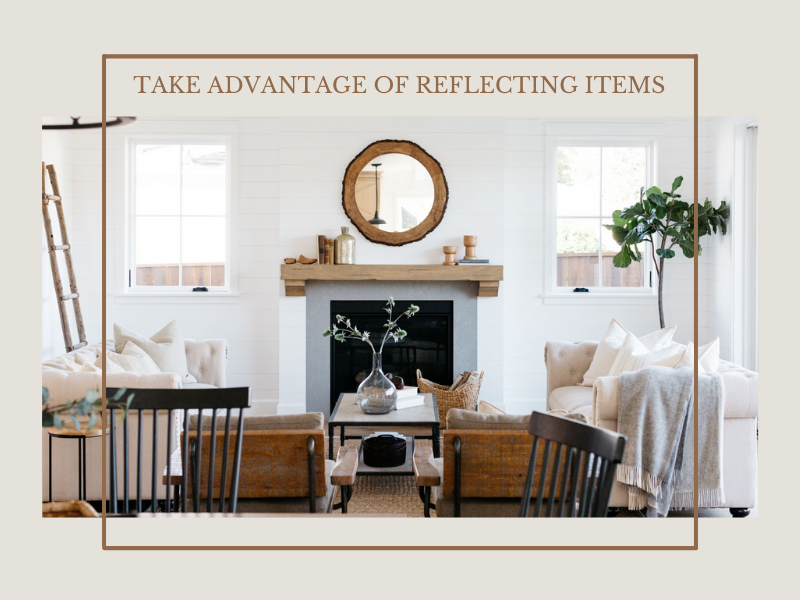 Try using white on the guest room
The majority of the furniture and walls should be painted white to create an airy, open feeling for the modern farmhouse decor living room. The natural light of the sun, much as in nature, will bring these hues out so that they seem slightly wild and organic, creating an environment in which people prefer to be comfortable and calm. Furthermore, when put in this wide area, white keeps its primary hue better than other colors.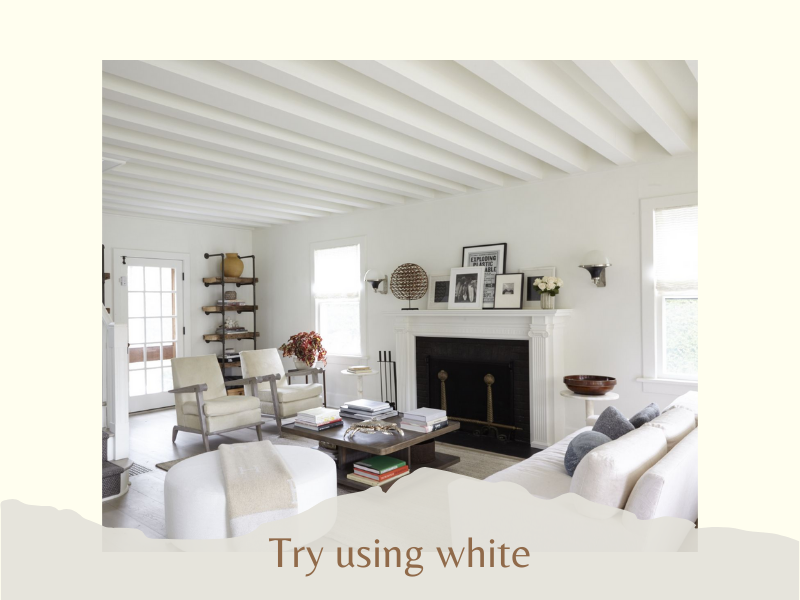 Highlight the modern farmhouse sofa set 
Every living room's main point is the sofa set. Use beige, tan, brown, and white colors. There are two methods to make the sofa stand out without making the house look out of place. When it comes to vivid and soft hues on the sofa, adorn it with colorful pillows and blankets.
This type of furniture is easily paired with any farmhouse mat and curtain. On the other hand, keep the plan simple with classic pillows and the rug when it comes to dark or vibrant sofas. We recommend hanging modern farmhouse wall decor in this spotlight area.
Modern farmhouse kitchen decor
The kitchen is usually built next to the living room. Then a piece of advice is to try using the same hues on these two spaces. 
Let the clean white hue be the main color 
The kitchen, regardless of its form or style, is unquestionably the heart of the home. Then, this setting should be gracious and cozy. Modern farmhouse kitchen decor combines the imagery of rustic materials with antiquated equipment, blending a relaxed, rural vibe with a modern sensibility. The kitchen should be covered with wood, white, and a little black mood. Besides, let's placing pots of flowers to warm up the vibe.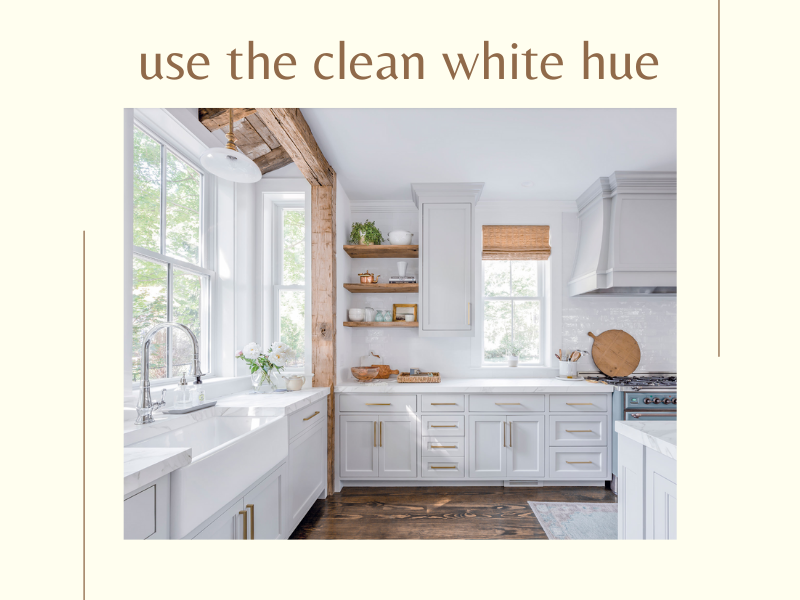 >>> Find out more details about Farmhouse Color Palettes
Add a wooden floating shelf to place utensils
A floating shelf is an essential component in any kitchen. This shelf is excellent for any setting because it is cost-effective and easy to install. Because they require less material to produce, they are a more inexpensive choice than upper cabinets. In terms of decoration, a floating shelf may hold things of any size, such as plants, canvas, mirrors, and so on. Because of its basic design, it is also simple to clean regularly.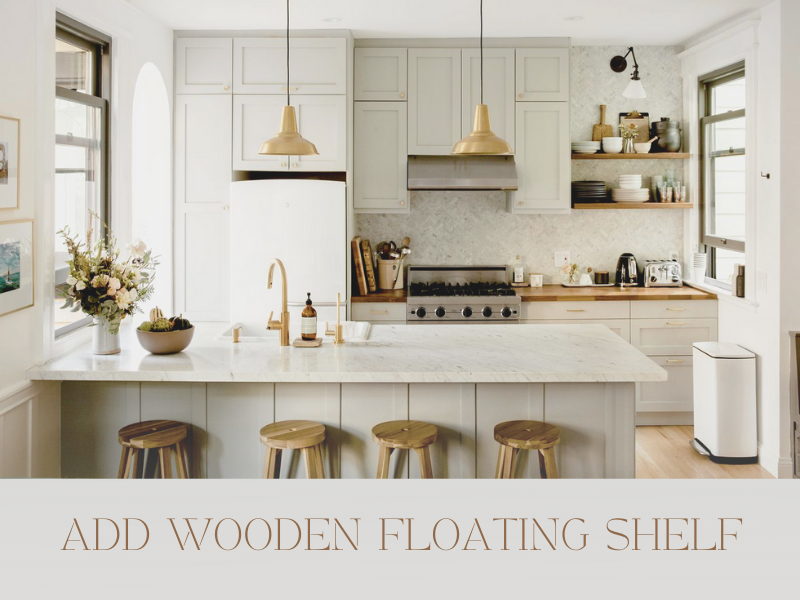 Modern farmhouse bathroom decor
The bathroom is where you relax after a long day. Then, a homey atmosphere can play the best role in reducing stress and recharge your energy.
Rustic basket to store the dirty clothes
Rustic basket emphasizes natural textures, basic and earthy hues, and, overall, an uncomplicated, genuine charm. They are ideal for displaying a variety of items such as hand towels, toilet paper, soap, and other necessities. Even your small plant may be placed in a rustic basket. The bigger one is ideal for storing dirty laundry in the bathroom. You can put a note on each basket to find out the stuff within at a glance.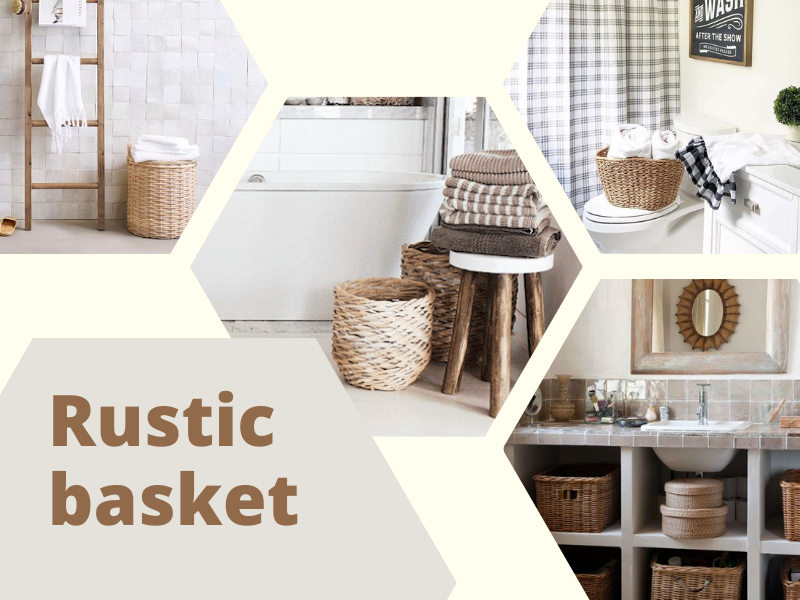 Get the touch of industrial farmhouse style
The farmhouse style is combined with a powerful, strong, urban appearance in industrial farmhouse design. The combination of industrial and modern farmhouse bathroom decor elements results in a well-balanced space with moderate furniture that provides the perfect blend of comfort and durability. We advise avoiding using shower curtains to get the styling of an industrially designed bathroom and instead go for an open-air shower or sleek glass and steel frame shower doors.
>>> Read more about farmhouse decor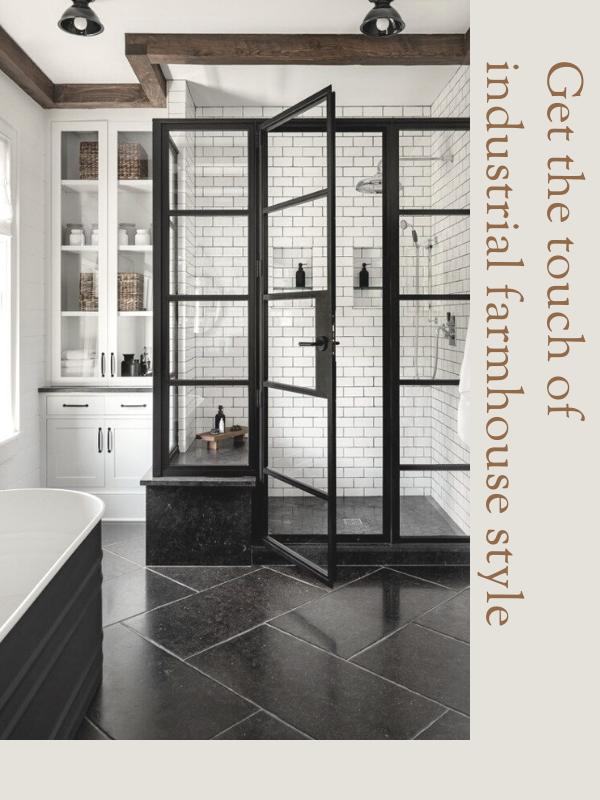 Above are OhCanvas tips for you to get the farmhouse modern decor in your house. The three areas discussed in this article to assist you to have a thorough look at this style are the living room, kitchen, and bathroom. We hope this information is helpful to those of you who are thinking of remodeling your home or constructing a new living space. If you have any thoughts on this topic, please share them with us in the comment section below!