As the holiday season approaches, it's time to bring some seasonal cheer to your workspace. The holiday season is a great time to decorate your workplace to promote morale, encourage innovation, and add cheer to your workdays. Oh Canvas will go through Christmas office decorations ideas in this best guide for every area of your company, from cubicles to doors. Let's make your workplace so festive that everyone will hum "Jingle Bells" in no time!
Creative Ideas For Christmas Desk Decorations
Most of your day is spent at a desk or in a cubicle. For this reason, try to make it as enjoyable an experience as possible. This holds all year round, especially during joyful times like Christmas. Here are some funny and cheery ideas for your office cubicle.
1. Balloons for Desk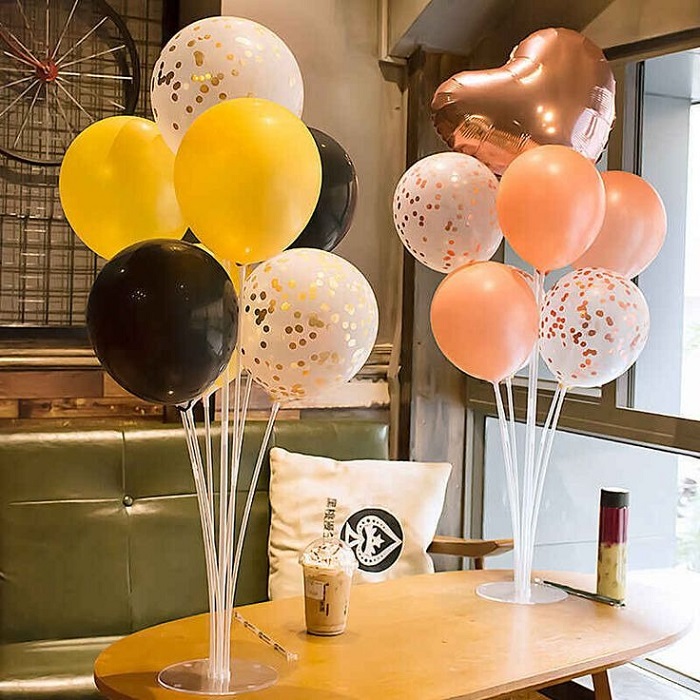 Do you have plans for a company holiday party? Balloons aren't just for birthday parties; they're great decorations for any celebration. If you want to make your workplace more festive for the holidays, hanging balloons from the desk will do the trick. White and red balloons are the most popular, but any color balloon can create a one-of-a-kind centerpiece.
2. Baby Christmas Trees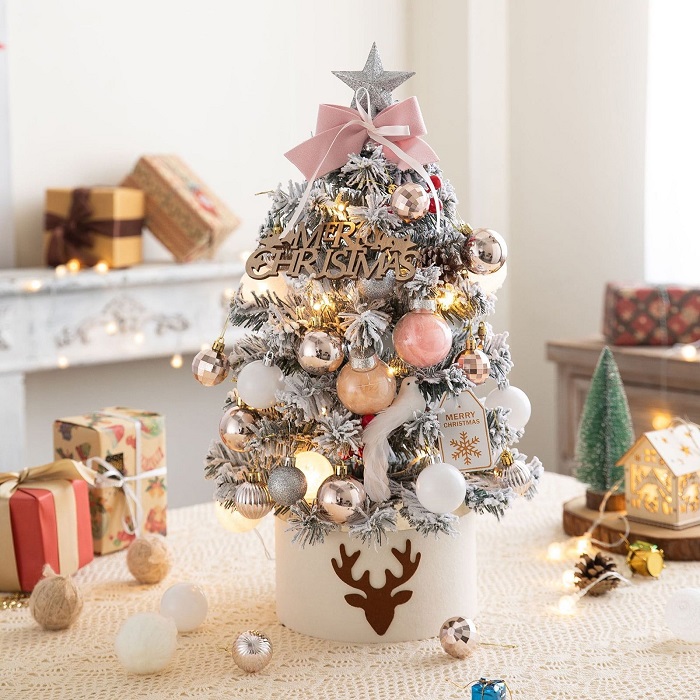 A miniature Christmas tree decorated with bows makes a stunning centerpiece that is both space-saving and full of festive cheer. This small masterpiece brings the joy and festivity of a regular Christmas tree to any location in the office. These cute little pine trees are perfect for perking up your office space.
3. Mini-House Advent Calendar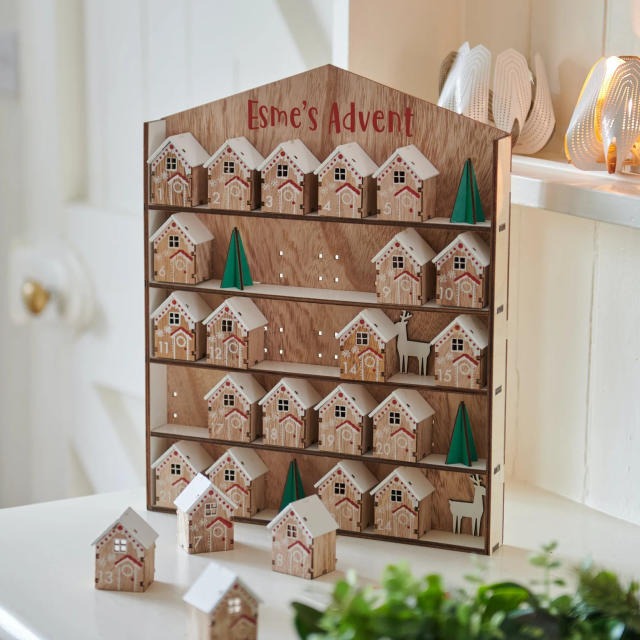 Your workstation will look more cozy and inviting with the addition of the advent calendar's tiny house. It is also a playful piece to help reduce stress while working. You can customize one that blends in with the decor of your office or even one that showcases the ideals or values of your business.
4. Snowman Made From Pom-Poms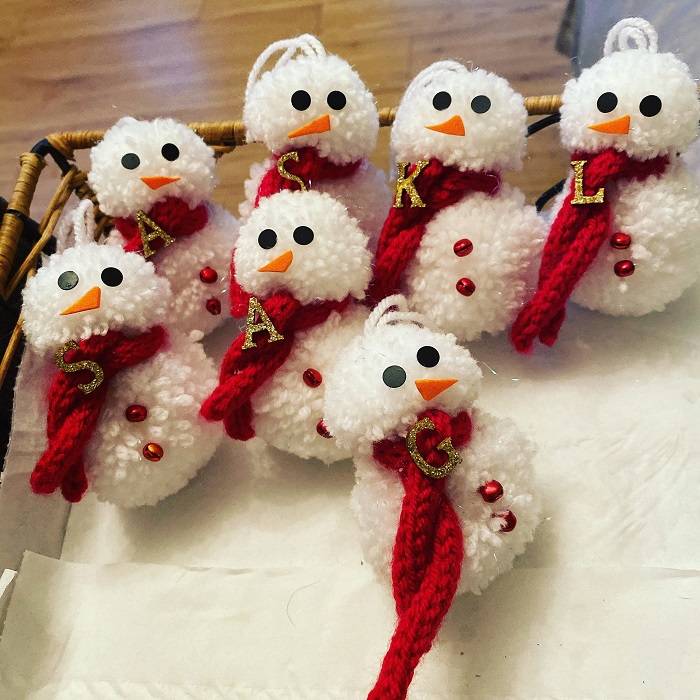 Why don't you and your co-worker make handmade snowmen from poms to decorate the office? This is a cool way to decorate your workplace for Christmas. Construct a pom-pom snowman from pom-poms, buttons, fabric, and glue to add holiday cheer to your workspace without breaking the bank.
5. Personalized Christmas Desk Ornaments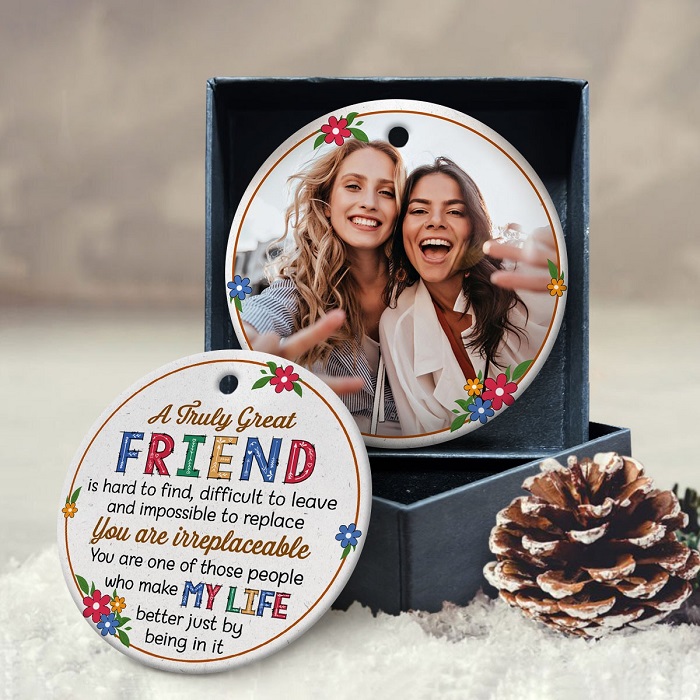 These lovely pieces are the focus of Christmas office decorations for your desk. It's simple to match them to the aesthetic of your business because there are many different kinds and patterns available. Because of its small size, it can be placed almost anywhere, adding cheery decoration wherever it is placed.
6. Plush Luminous Gnome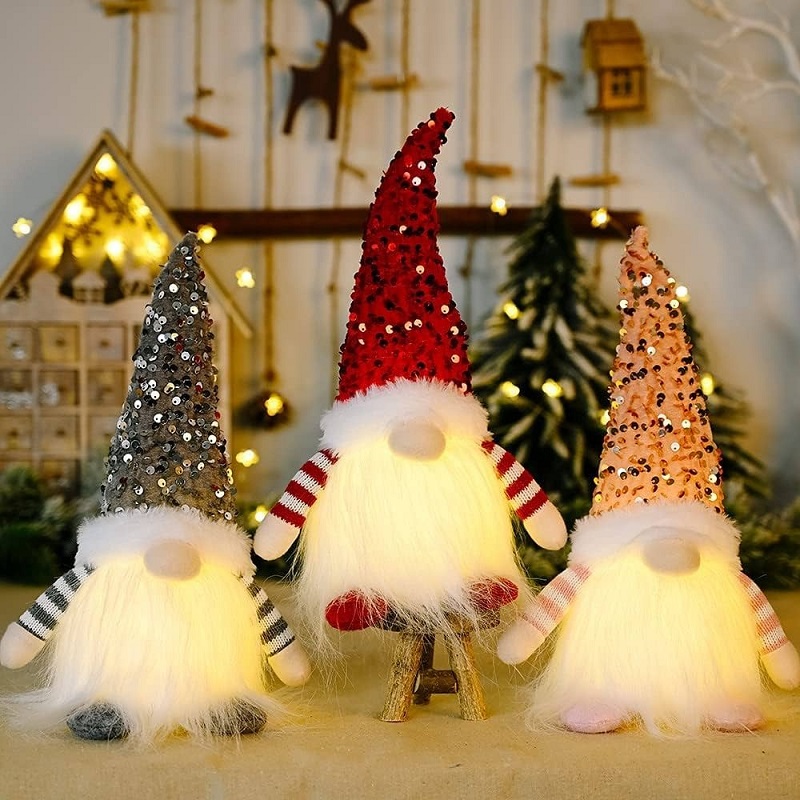 A holiday vibe wouldn't be complete without these lighting gnome plush as Christmas office decorations. These Lighted Gnome Plushes are more than just a cute seasonal accent—they represent everything great about the season. Let these gnomes spread the holiday atmosphere around your work surroundings.
Funny Christmas Decorations for the Office Cubicle
7. Grinch Cubicle Decorations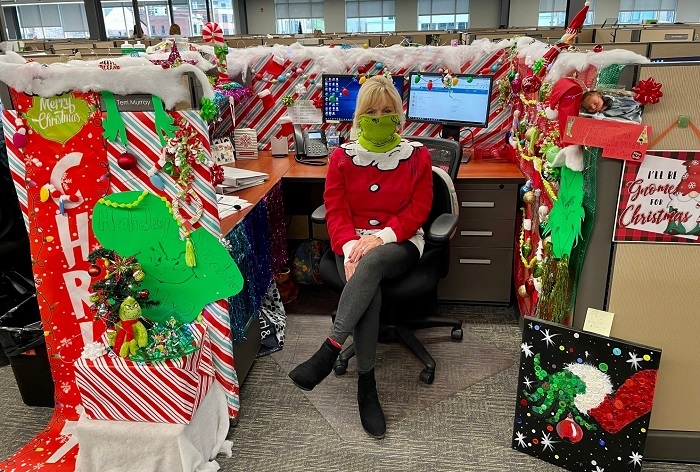 Why not make this Christmas more magical by turning your office into a grinch house? The office cubicles can be decorated to look like a gingerbread home using some cardboard, cotton, and red and brown wrapping paper. To create a celebratory atmosphere, you can also add Christmas lights.
8. Cubicle Office with Brick Walls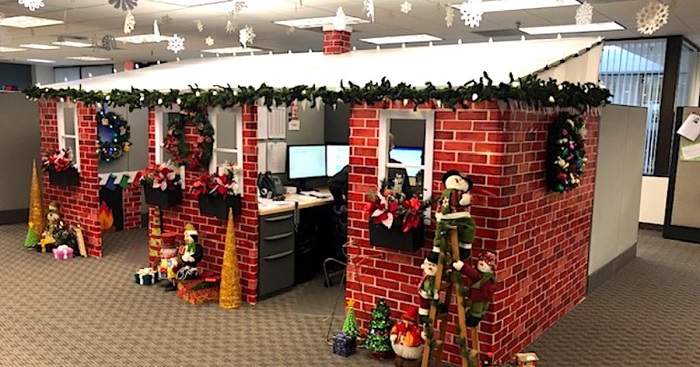 Covering the walls with brick wall stickers is a simple way to spruce up your office cubicle for the holidays. Then, decorate the room with Christmas stockings and garlands to set the mood. Making each cubicle look built out of bricks will give the impression that you're in a chimney. Additionally, you can also hang Christmas stockings and various trinkets. Every coworker will be delighted by this fresh and original concept for Christmas office decorations.
9. Cubicle with Lights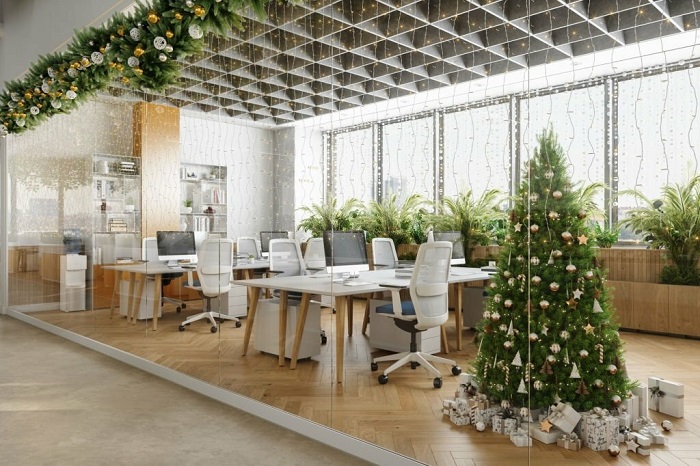 Adding decorative lights to your desk or cubicle will instantly enhance the atmosphere. If you're decorating your office cube for the holidays with lights, pick ones that won't strain your eyes. Subtle yellow undertones will do the trick. Decorating the office cubicles with fairy lights will make a huge difference. You can use several strategies to position the lights. Lights can also be used to create a festive Christmas tree. The holiday spirit will quickly spread if you implement this plan.
10. Winter Wonderland Office Cubicle Decorations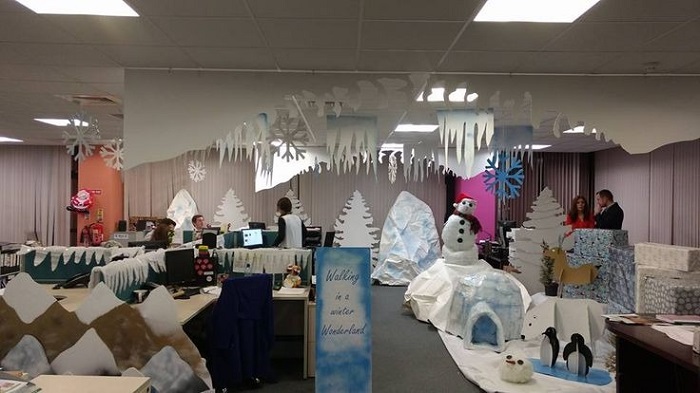 You can't go wrong with turning your cubicle into a magical winter land for Christmas office decorations. This beautiful sight brings your coworkers on a magical journey to a winter wonderland. The lit reindeer and train set inject energy into the room while also evoking a sense of nostalgia.
11. Winter-themed Office from Cotton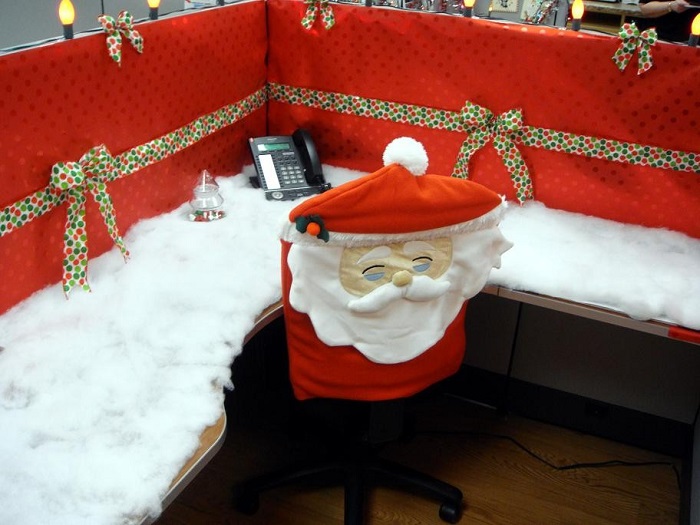 You will need a lot of cotton to execute this Christmas office decoration plan. To create a snowy impression, all you have to do is grab some cotton and place it on the floor or office desks. Snowflakes made from paper can also be used as wall and table decorations.
12. Fireplace Cubicles For Christmas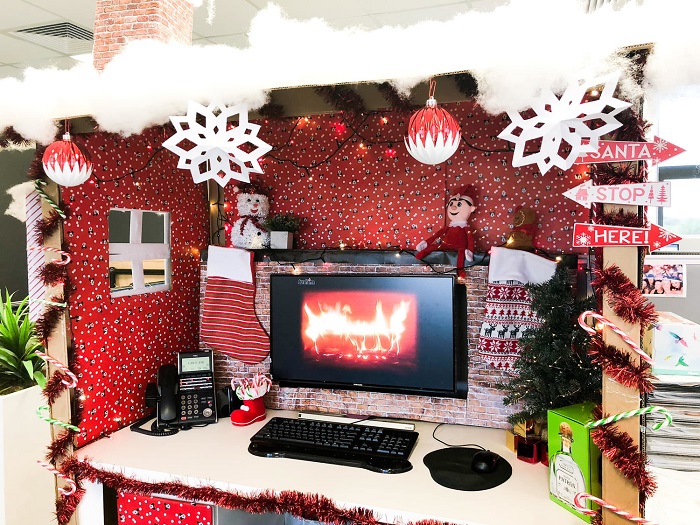 Another simple decoration tip to add beauty to your office is streamers. You can grab some green and red and style the business cubicles. To bring some holiday cheer to the workplace, you may tape them to the walls or hang them from the ceiling.
Awesome Christmas Decoration Ideas For Office Walls
13. Personalized Holiday Banner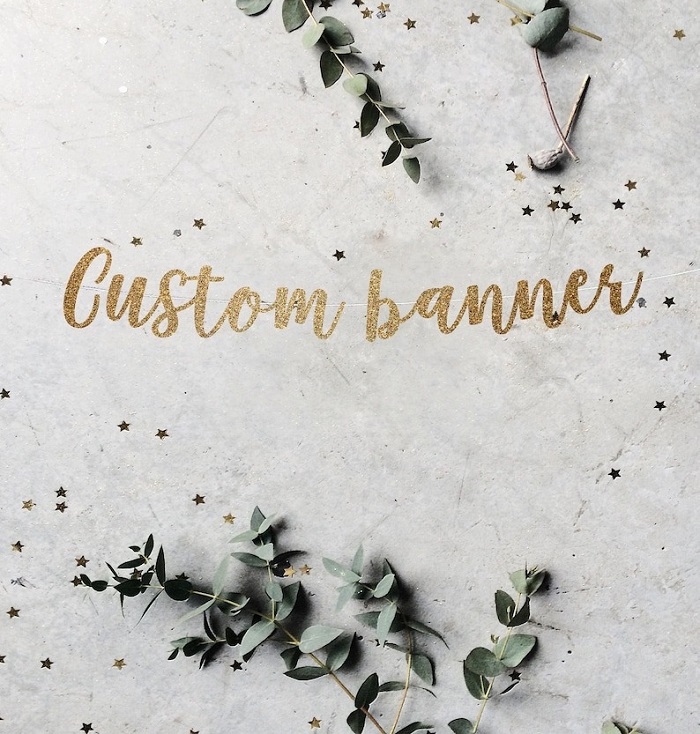 These banners are so well made that they will last through the holiday season and beyond. Display them in the waiting area, put them on the boardroom walls, or use them as a conversation starter at company events.
14. Colorful Banners for the Holidays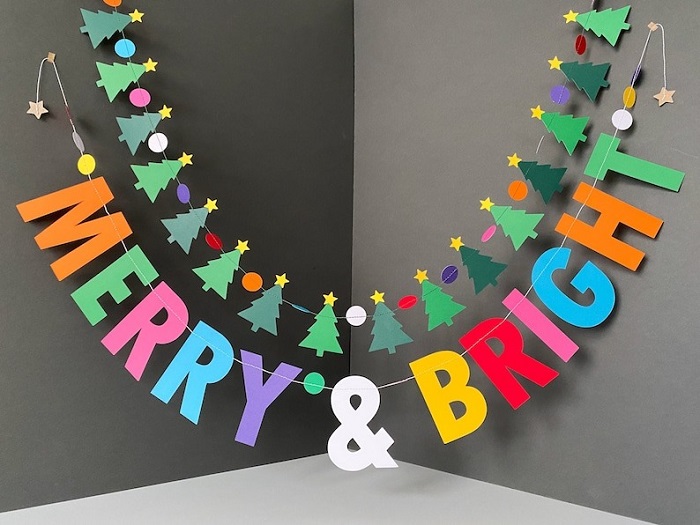 This banner has a vibrating feel because it is printed on thick cardstock paper. The edges have been modulated and inked for an aged, attractive look. This banner's design will bring some much-needed youthful energy and creativity into the workplace.
15. Ribbon-tied Burlap Banners and Garlands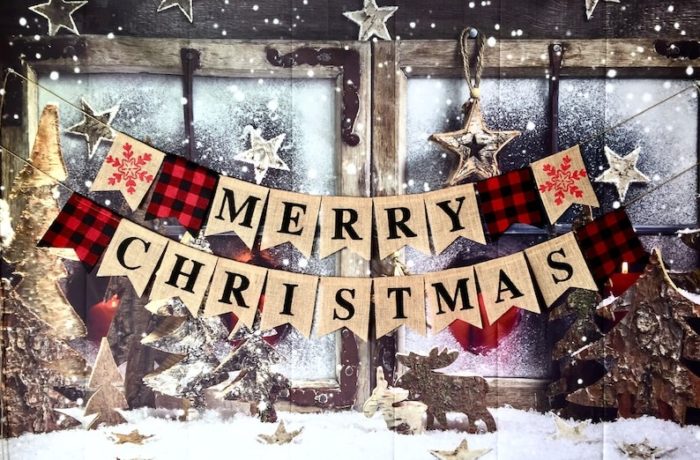 You can hang these burlap banner garlands with ribbon bows anywhere your imagination takes you, from walls to mantles to tables. They serve as eye-catching decor for workplace spaces, birthdays, and other memorable events, adding retro personality to every corner.
16. Banner Made of Clothespins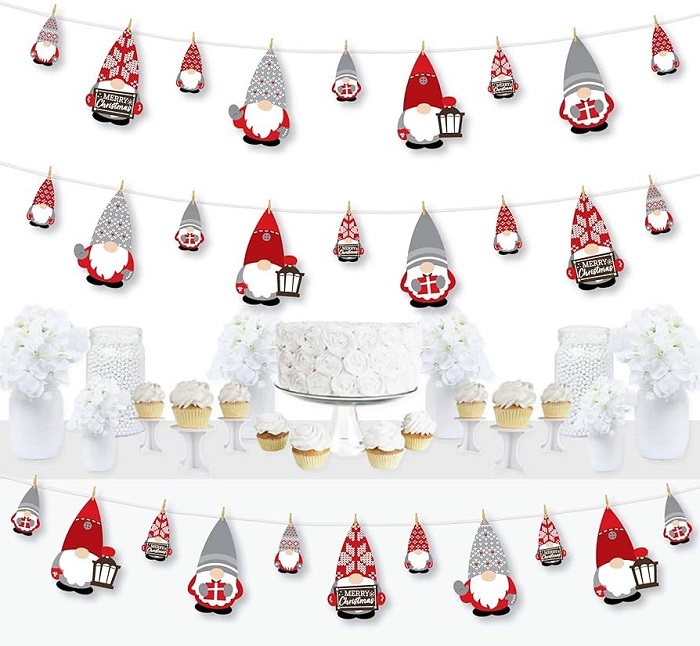 The charming Clothespin Garland Banner can add a dash of personality and energy to any room. This one-of-a-kind banner puts a modern spin on office decoration by making it fun and engaging for viewers.
19. Christmas Decoration in the Shape of a Banner Sock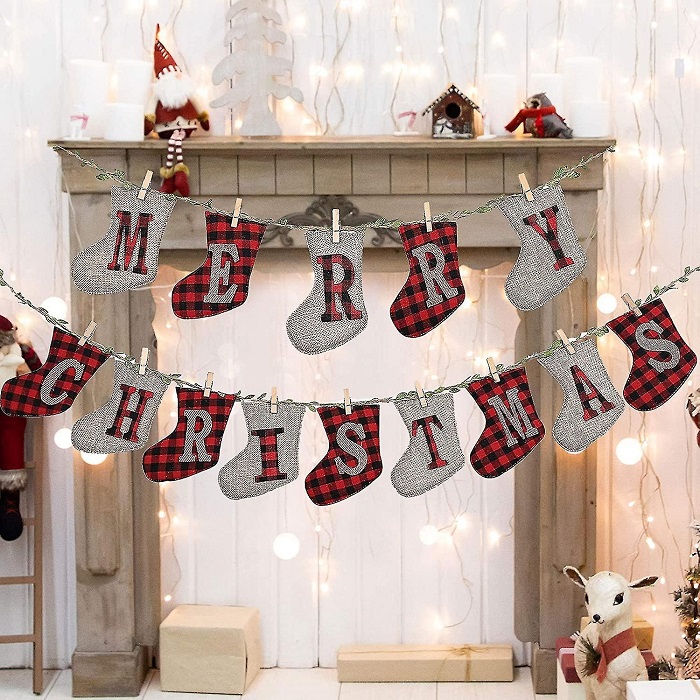 The socks are strung on a thick ribbon to make a beautiful banner that can be hung on any flat surface that needs a festive cheer. Perfect for office decor or simply as a distinctive focal piece, this banner brings a touch of lighter elegance to your environment.
20. Toys in the Stocking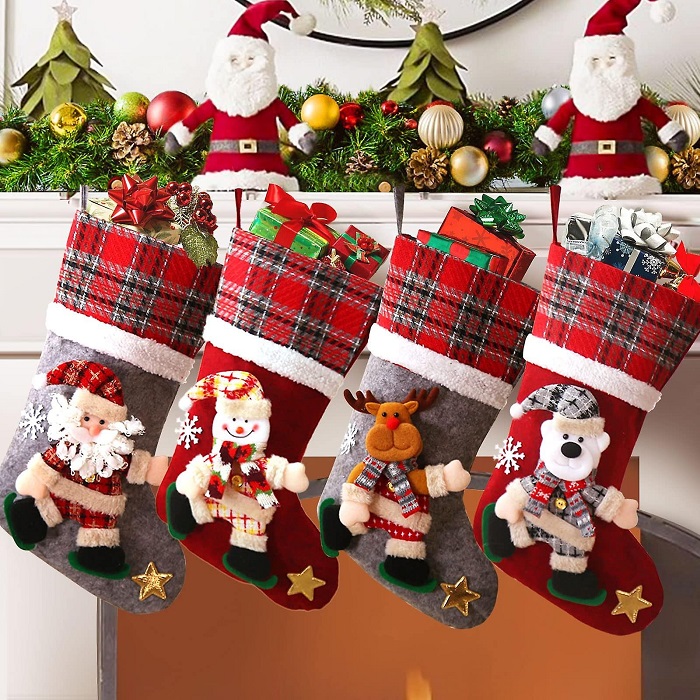 When it comes to Christmas, it's impossible not to mention colorful stockings. Making beautiful Christmas stockings on a budget is a breeze. Display these on the wall, and perhaps add names to the stockings for a more personal touch.
21. Personalized Friendship Canvas Art
Creating an atmosphere that encourages friendship and a sense of belonging is essential in a hectic business office. This one-of-a-kind piece of art will serve as a continual visual reminder of the teamwork that motivates your staff, elevating the office environment to a higher level of professionalism. Let's turn your office into a museum of shared memories by hanging up photos and mementos from your team's journey.
Amazing Wreaths Door Decoration Ideas
What's the first thing you see as you walk into work? Of course, it's the door! Give your office a holly-jolly look right at the entryway. You can decorate it like a winter wonderland or keep it simple with evergreen wreaths.
22. Photos Wreath for Office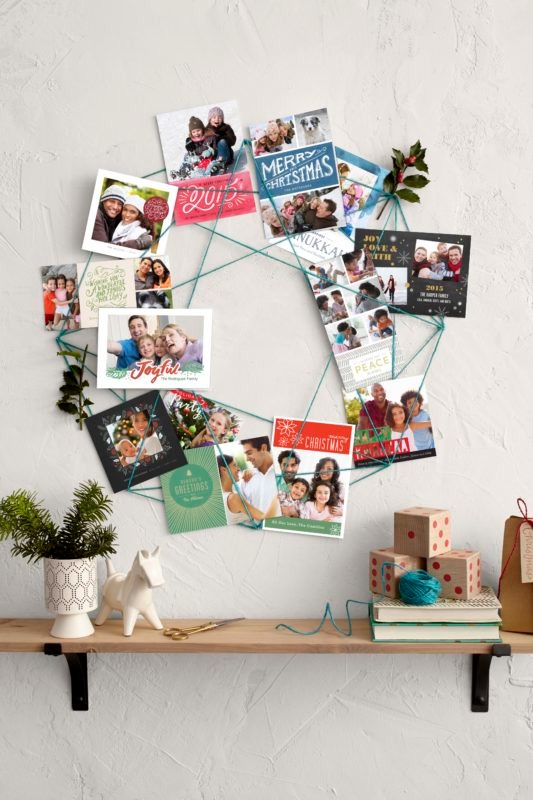 Photographs of your coworkers can be used to make creative photo wreaths for Christmas. You can use copies if you are concerned about damaging the original images. These brilliant Christmas office decorations will amaze all of the workers.
23. Wrapped Up Wreath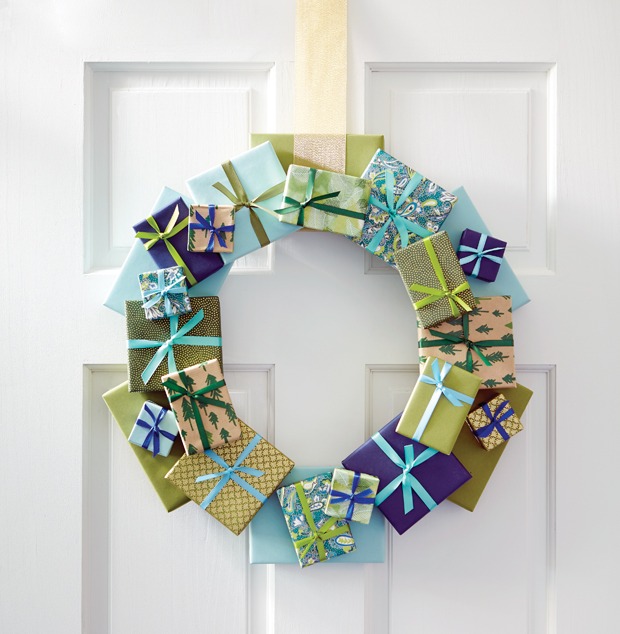 Gifts for the office should be displayed somewhere else than under the tree. Let the Christmas spirit knock on your office door with this brilliant wreath. This charming wreath is fashioned with little present boxes wrapped in tissue paper and tied with pretty ribbons.
24. Wreath of Christmas Balloons Ornaments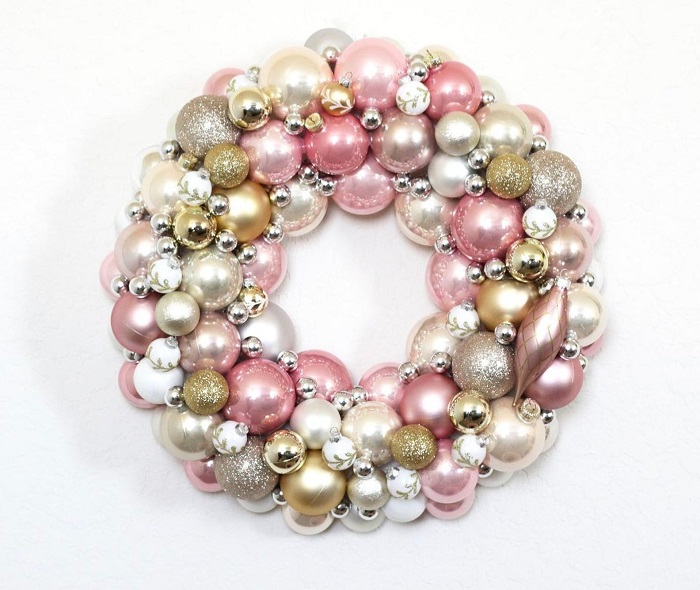 A wreath made from ornaments is one of the easiest Christmas office decorations you should try to make. The holiday spirit can be amplified by hanging a wire wreath with pink and gold ornaments above the mantel. The best part is that the item can be made for an affordable price, yet it has an impressive visual impact!
25. Wreath with Retro Toy Cars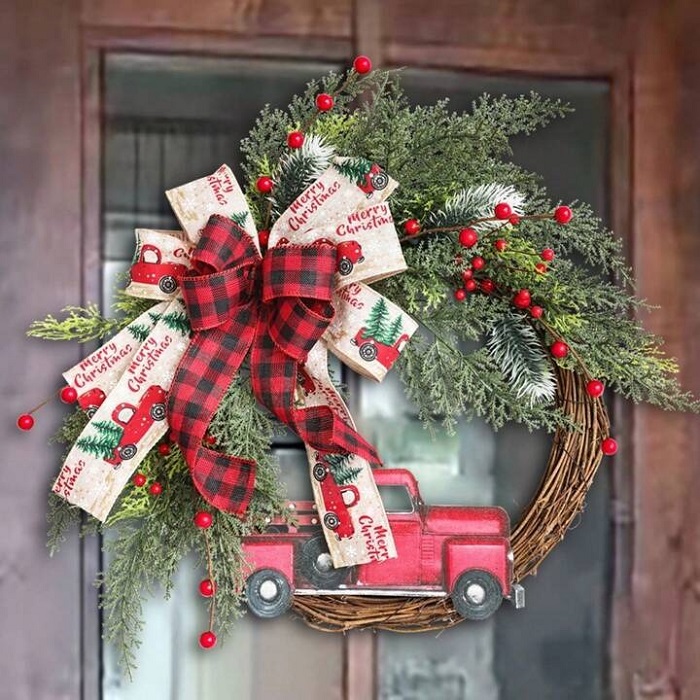 This adaptable framework is ideal for housing a lovely ensemble. Miniature sisal trees, found at craft stores, are a good place to begin creating a wintry wonderland atmosphere. These miniature tree sculptures bring a touch of the outdoors inside, creating an atmosphere reminiscent of a log cabin.
26. Snowman Wreath with Lights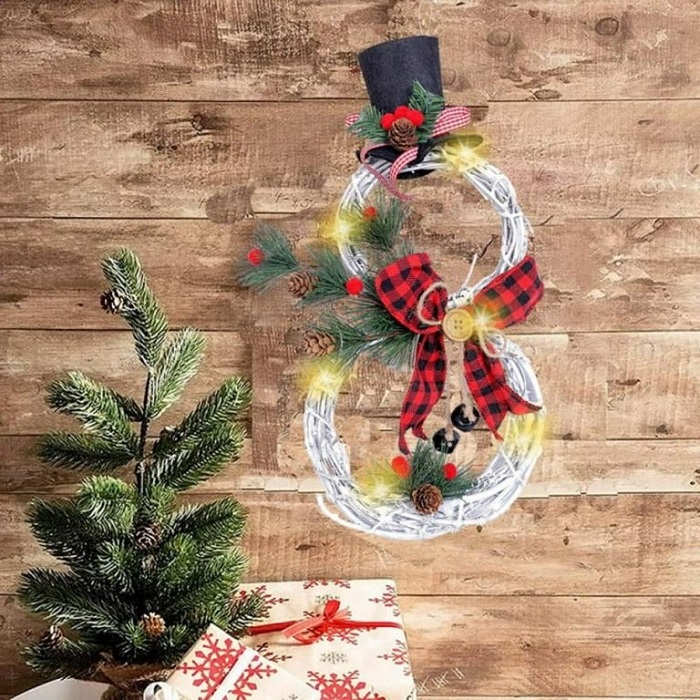 This snowman vine wreath is a great example of versatile ornamentation. If your office already has too many red Christmas office decorations, this white snowman wreath will be an impressive highlight for the door. At work, this wreath lends an air of sophistication and artistic flair; at night, it has the potential to amaze and captivate.
27. Flower Wreaths for the Holiday Season
Adding a beautiful Christmas wreath to your office entrance is one way to make the workplace more festive. Lift everyone's spirits and spread some holiday cheer by decorating the office. This embellishment will make your workplace feel more welcoming, just in time for the holidays.
28. Upcycled Plaid Door Hanger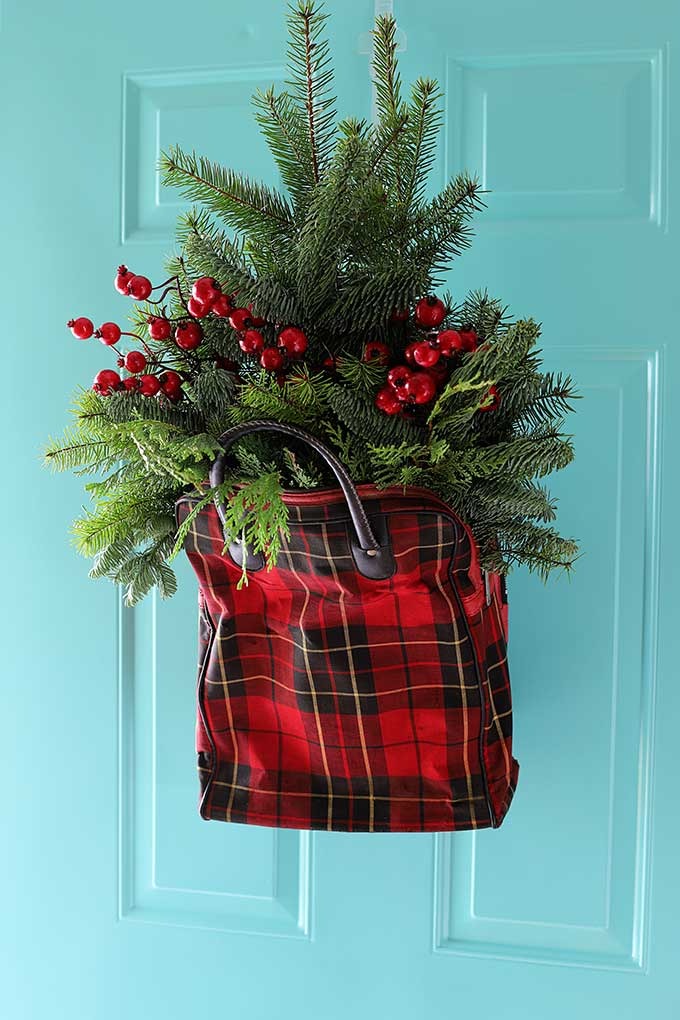 Why don't you bring in some natural greenery to the office space? Artificial pine trees take the door hanger to a new level. Thanks to the lush greenery you've brought, your office will feel more like a winter wonderland.
29. Laser-cut file for Holiday Door Hanger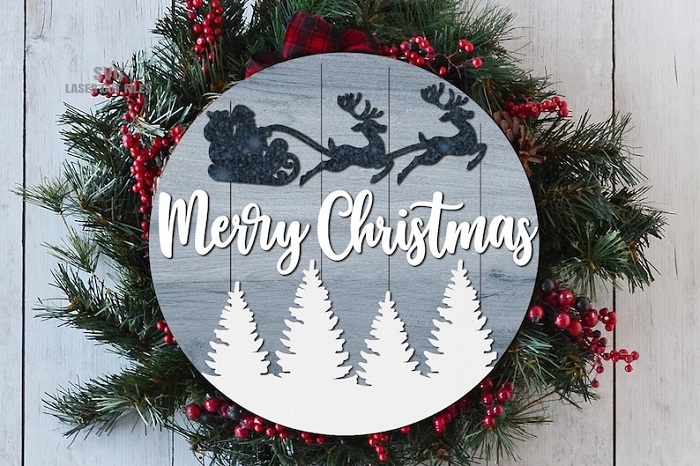 Carefully crafted, this template facilitates the production of elaborate door hangers that reflect the season. Add a personal touch to your decor and demonstrate your talent with magnificent patterns that welcome the holidays in style!
30. DIY Sticky Notes Wreath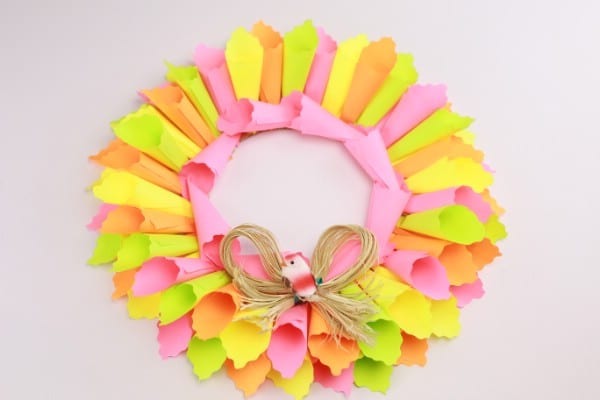 Almost no one knows about this amazing approach to holiday decoration. A simple Christmas wreath can be made from Post-it notes. You can stick it to a glass, wooden door, or window. Employees can add their touches by writing notes on the wall
Ceilings Office Decoration Ideas For Holiday
31. Display Candy Canes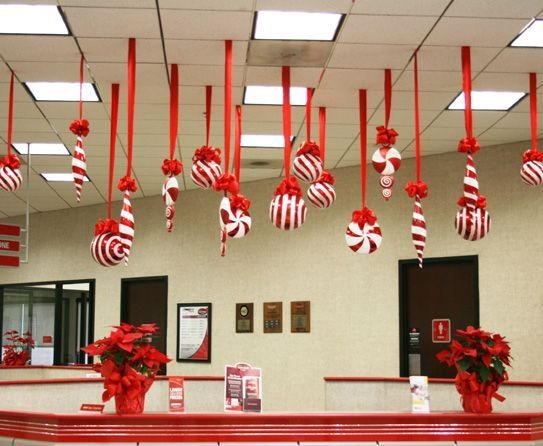 Red and white candy canes are the perfect Christmas office decorations since they are simple and gorgeous. You can hang the whole office from the ceiling if you want to get the whole office in the party spirit.
32. Hang Vibrant Jingle Bells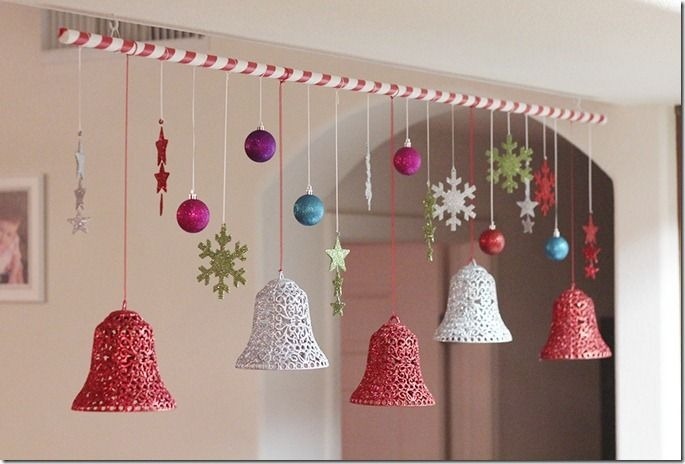 The jingle bells add a bit of charm to the Christmas lantern. Jingle bells hanging from the ceiling bring an ambient vibe to the office. Painting them the colors you choose is an easy way to create colorful Christmas bells. These affordable Christmas office decorations can give your office a bright and sparkly impression.
33. Decorate with Holiday Ornaments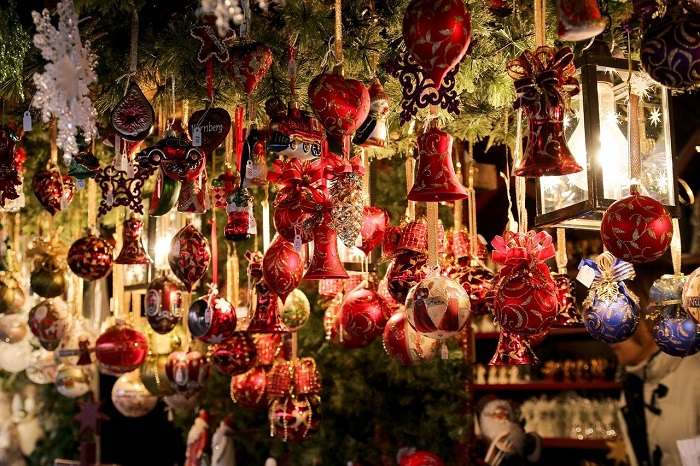 Simple decorations for the ceiling include hanging Christmas garlands, bulbs, bells, and other items from the market. All you have to do is go out and get a bunch of traditional ceiling decorations you like, and then hang them up. Anyone can apply this simple design principle for Christmas office decorations.
34. Display Group Photos of Co-workers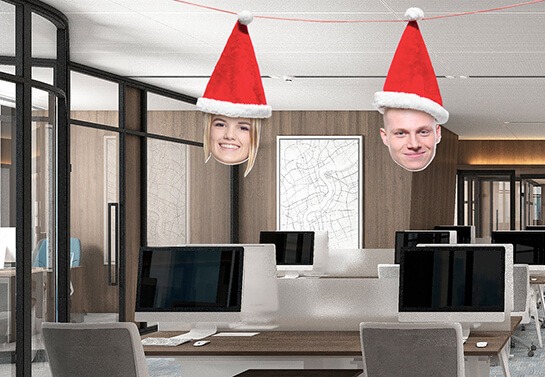 It's a funny and awesome concept for the holiday. To do this, you can hang Christmas hats from the ceiling of the workplace and cover them with cut-outs of employees' faces. Everyone in the office will surely chuckle at these Christmas office decorations.
35. Exhibit 3D Snowflakes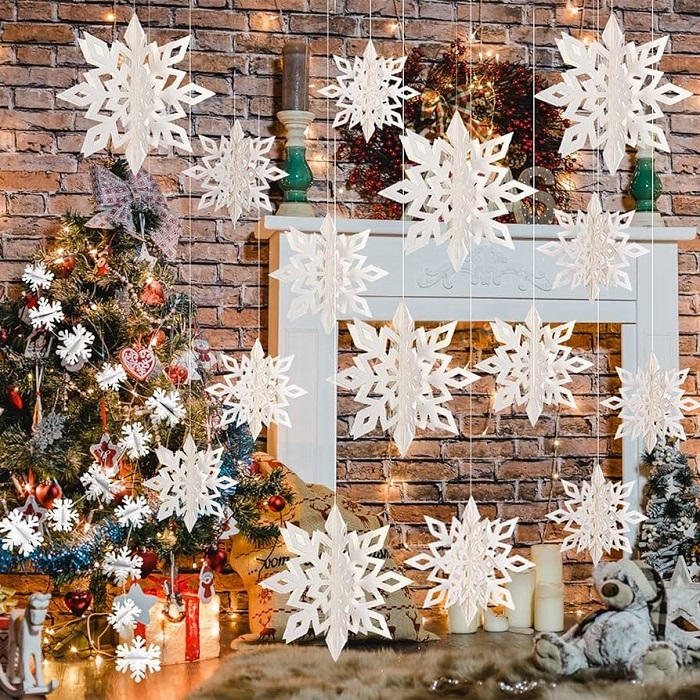 Stunning the staff at the holiday party with homemade holiday decor is easy, and 3D paper snowflakes are a great option. You may have the feeling of being in a winter wonderland without breaking the bank with these.
Floor Christmas Office Decoration Ideas
36. Get Creative with Pillows to Decorate Office Lobby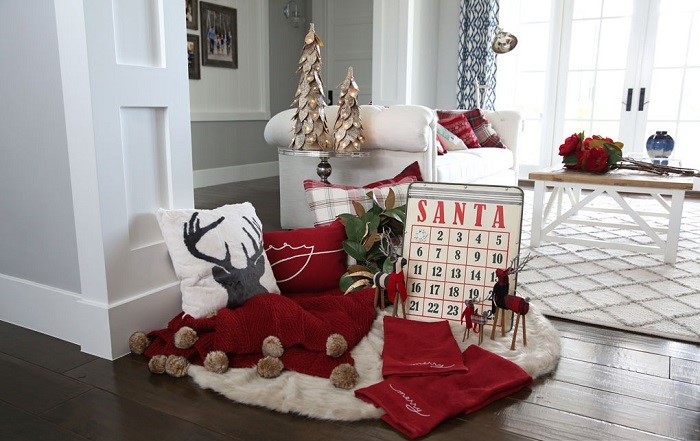 Ground decorations like pillows may seem small, but they will add a touch of individuality to the overall decor of your company. Add some cozy and festive cushions to liven up the office floor this Christmas! These bright pillows instantly transform the office into a festive area everyone can enjoy. Imagine the office floor covered in soft pillows in seasonal patterns and colors.
37. Embellish with Stickers of Snowy White Footsteps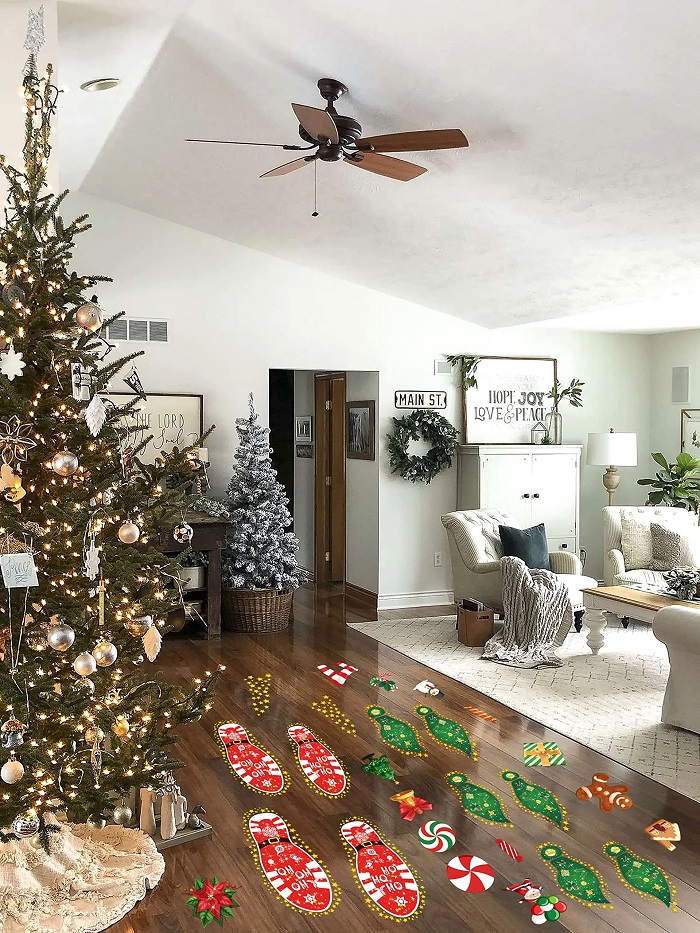 If you are looking for funny Christmas office decorations, these snow-white footsteps are the best option. Sticking snowy white footprints throughout the office can make a big difference. Animal tracks, such as those of reindeer, are another option. It all depends on your taste!
38. Prepare the Holiday Hamper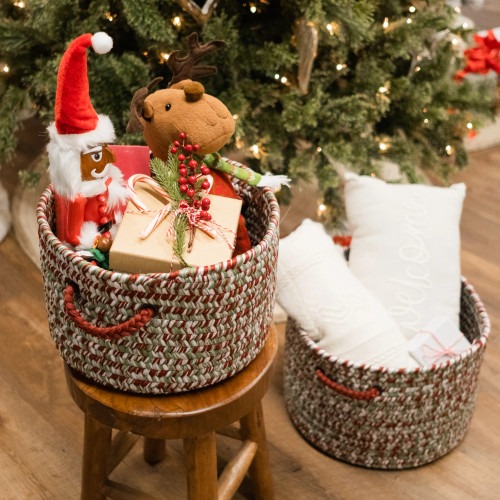 Add some decorative baskets on the ground to round off the Christmas scene for your office. A basket of Christmas decorations, including lights, candles, fir branches, or everything you want. Put the baskets where they won't get in the way of people as they go around the office.
39. Stick 3D Christmas Santa Stair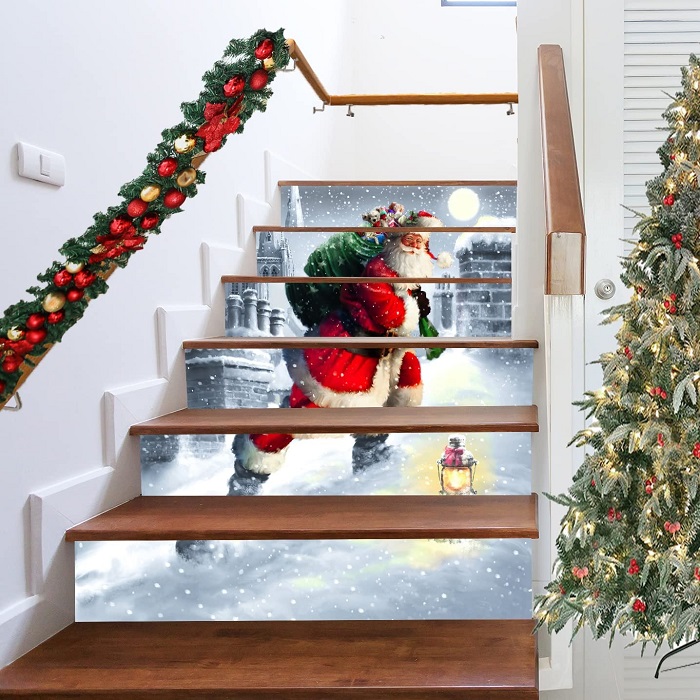 Make good use of any space that stairs in your workplace provide. Recreate a wonderfully festive scene on your risers using adhesive prints, just like in the picture below. This staircase's amazing design will delight everyone who walks on it.
40. Add Track for A Toy Train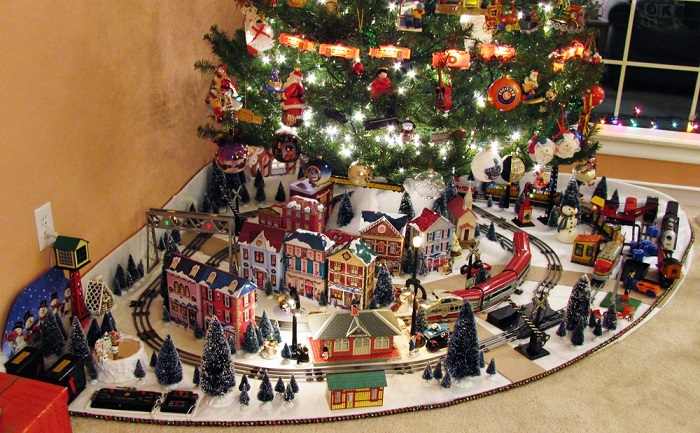 Using toy train lines as a backdrop for Christmas office decorations is a great way to take your office's holiday decor to the next level. In a spare cubicle, go ahead and build yourself a little piece of Christmas vibe. A bustling town during the Christmas season is scaled right into your own office.
41. Cover the Ground with Train Track Decals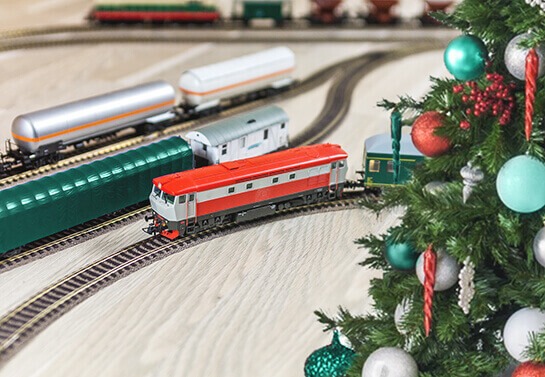 If you like the idea above but think it'll be an issue with your team members' movement, you can always use railway print stickers instead. You may trample all over them without fear of damaging them, and they look just as fantastic.
Affordable Windows Decorations For Christmas Office
42. Display Holiday Ornaments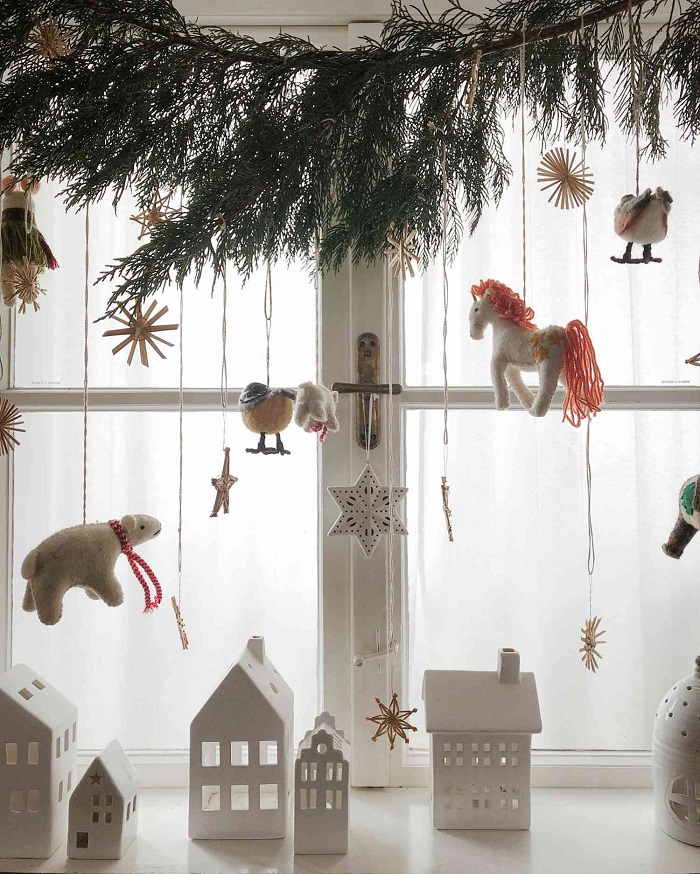 Displaying Christmas office decorations in your store's windows is a great way to get visitors in the spirit. Getting the windows to look good from inside and out can be challenging when decorating. You can ignore the outside world if you have an office higher than the 25th level. Windows in the workplace can be decorated for Christmas with a wide variety of Christmas ornaments. Take a look at these original ideas that are sure to impress your coworkers.
42. Have some fun with Custom Window Stickers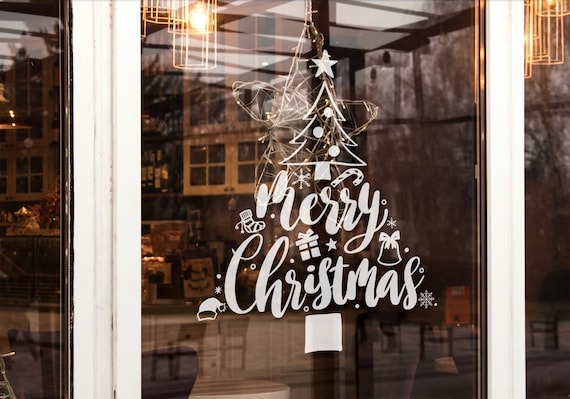 Holiday window decals are an easy way to spruce up the office space. Made from either opaque or transparent vinyl with personalized prints, they can be designed in any way you want. They're simple to use and come down without leaving any sticky residue.
43. Display Holiday Wood Messages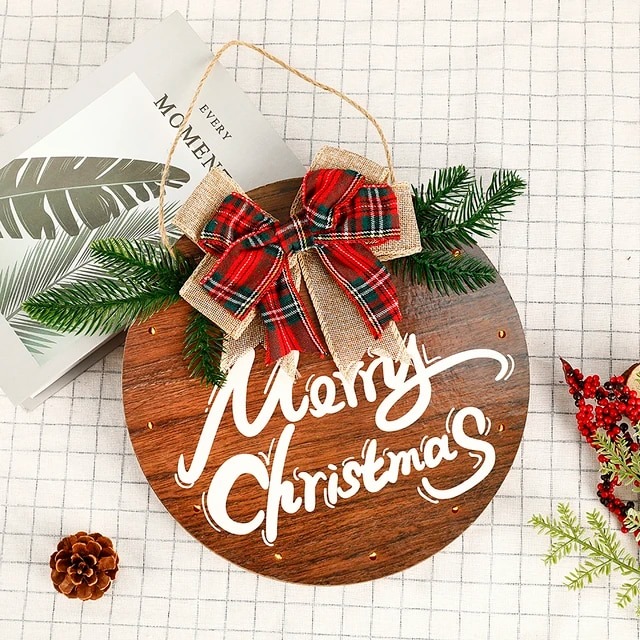 Wood massages are one of the most common window decorations in offices during the holiday season. Hang a word from the ceiling using wooden letters to spell "Christmas" or whatever you like. For a one-of-a-kind twist on office Christmas decor, have the letters trimmed to size and painted any color you like.
44. Embellish with a cityscape of Christmas Eve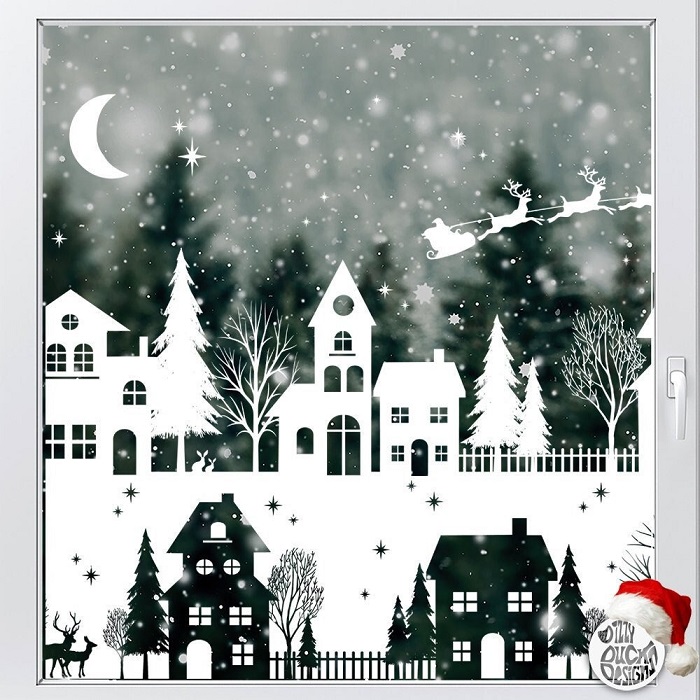 Do you enjoy the picturesque city lights on Christmas Eve? All of us are. Use adhesive city and snowflake silhouettes to incorporate them into your holiday decor. Get in the holiday spirit and cross off another beautiful window display for the office this year. The final product will resemble this.
45. Stick on Windows some Stars and Plants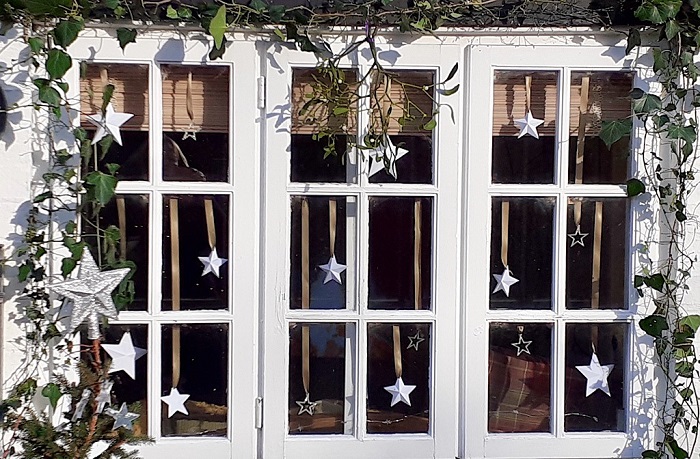 Create a heavenly ambiance by decorating your workplace windows with plants and stars. Cutouts of stars and trees will look lovely in your windows. DIY holiday decorations like these are perfect for businesses on a tight budget. Put some candles or lights on the windowsill to make it festive.
46. Put Some White paint on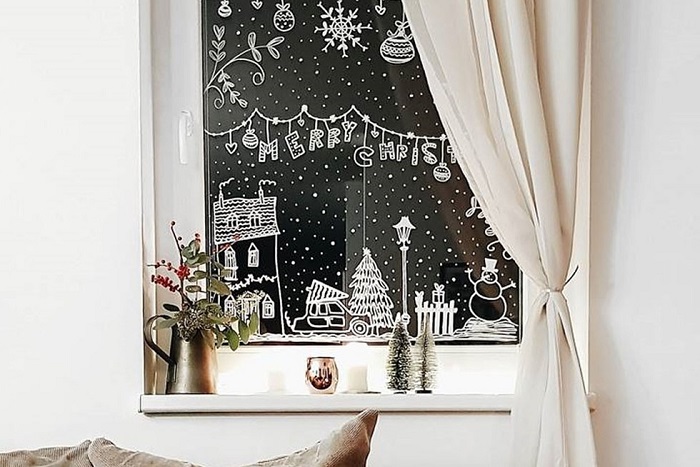 Grab a brush and white paint to add Christmas shine to your Christmas office decorations. We should choose watercolor paint because it can be readily removed by washing the windows. Paper templates will be useful if you lack confidence in your drawing abilities.
47. Install LED lighting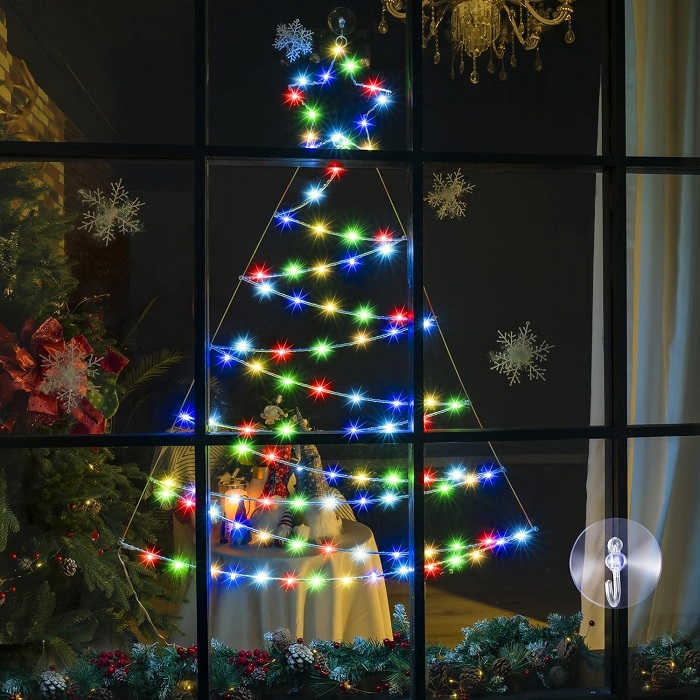 Create dazzling spirals of light with LED light strings to adorn your workplace windows. They will brighten the bleak winter evenings and lift everyone's spirits. When designing for the holidays, use your imagination. Add your company's name while you're doing it to increase exposure to potential customers.
Stunning DIY Office Christmas Tree Ideas
48. Ladder of Rope Tree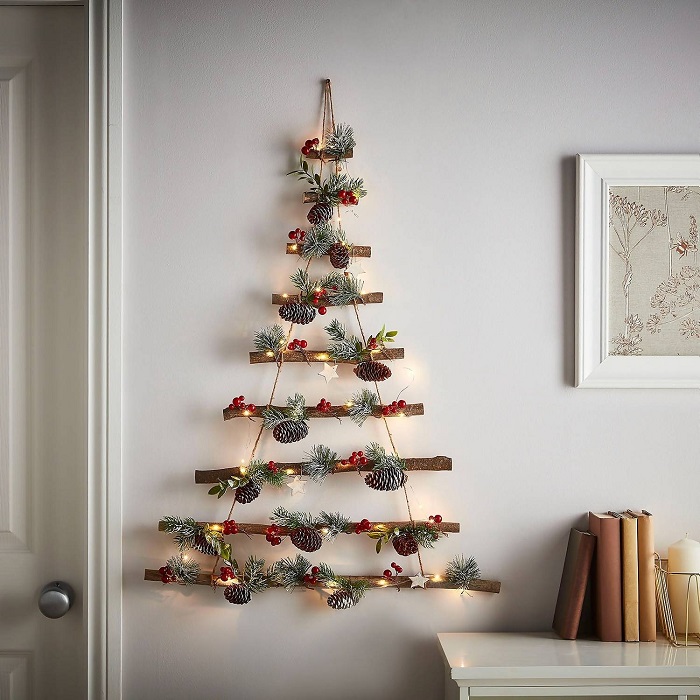 To spice up your workplace this holiday season, try something new with a rope ladder tree. This artistically crafted tree stands as a symbol of originality and inspiration. Because of its adaptability, it can be set up in almost any nook or cranny, instantly turning your workplace into a wintry wonderland.
49. DIY Tomato-cage Trees for the Holidays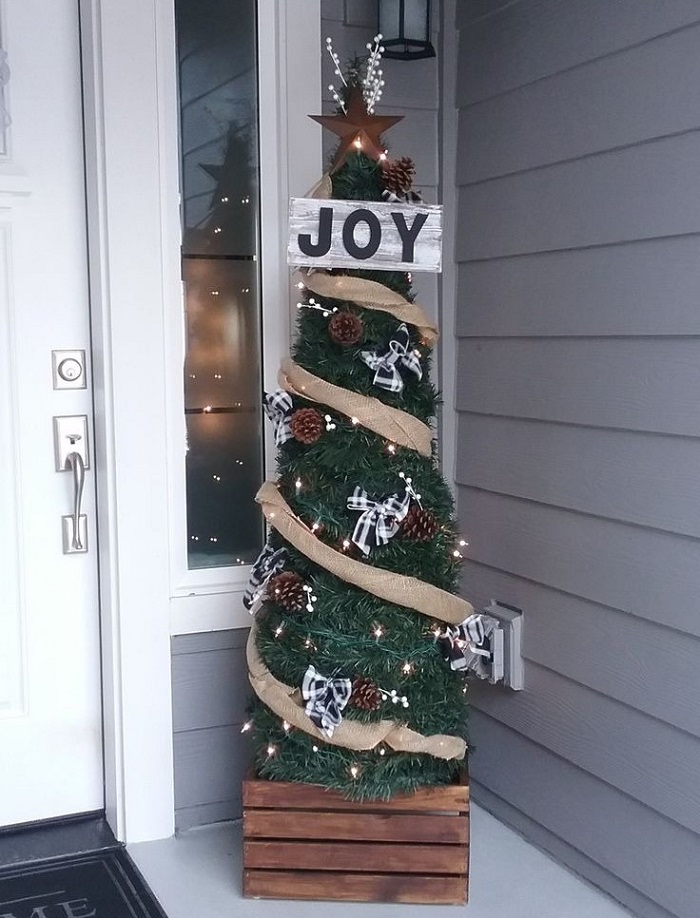 Elevate your Christmas office decorations with a dash of inventiveness and style—choose Tomato Cage Christmas Trees. These unusual trees provide a space-saving, inexpensive, and adaptable option for a crowded office where every square foot counts. They become the focus of the holiday without requiring the laborious preparation of traditional trees and never lose their endearing quality.
50. Christmas Tree Made of Poplar and Macramé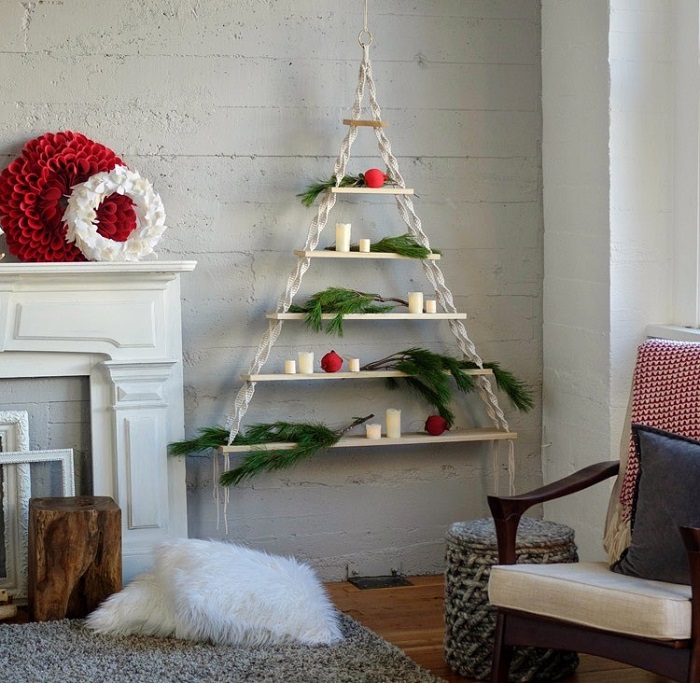 If you need a Christmas tree but don't have much room, you can build one mounted on the wall instead. Poplar and macramé combine to provide a striking contrast in this modern and rustic choice. After it's installed, you can decorate it however you choose to suit your taste.
51. Boots Holiday Tree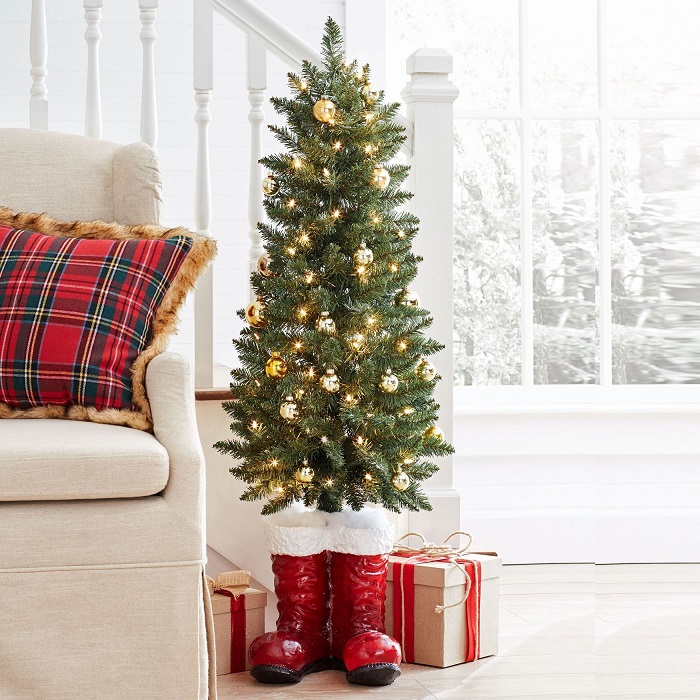 Create a DIY Christmas tree out of boots to add a whimsical and creative touch to your workspace and turn it into a joyful paradise. Adopt a more out-of-the-box attitude and brighten up your office with offbeat design. Imagine a tree decked with bright boots, each one bearing a unique tale and adding to the overall fabric of festive spirit
52. Christmas Tree From Gifts Boxes
This is a great office Christmas tree to decorate your workplace for the holidays without breaking the bank. There must be a lot of empty picture frames and boring office artwork floating around. Put them in gift wrap, and you have an immediate pick-me-up for the holiday season!
>>> Maybe you're interested in:
In conclusion, adopting Christmas office decorations adds flair to the workspace, cultivating a sense of camaraderie and festive spirit among coworkers. The potential is enormous, from making winter wonderlands out of cubicles to encouraging group efforts on decorating projects. Spread the cheer of the holidays around the office to make it a place where people want to spend time.