With Christmas fast approaching, it's time to deck the halls and enter the season's spirit. As we get ready to deck the halls and make our homes into winter wonderlands, it's time to focus on a space of home that's frequently overlooked: the walls. In this enchanted tour of Christmas wall decor ideas, Oh Canvas will look at various options for bringing the holiday spirit into every space.
Cheap Christmas Wall Decor Ideas For Any Space
1. Drawings of Christmas Ribbon Bows
If you don't want to buy new prints for Christmas wall decor ideas, you can make any wall art look more festive by draping some leftover ribbon across the frame and tying it in a knot. Simply repeat this with multiple frames to create a festive gallery wall.
2. Advent Calendar Decoration on the Wall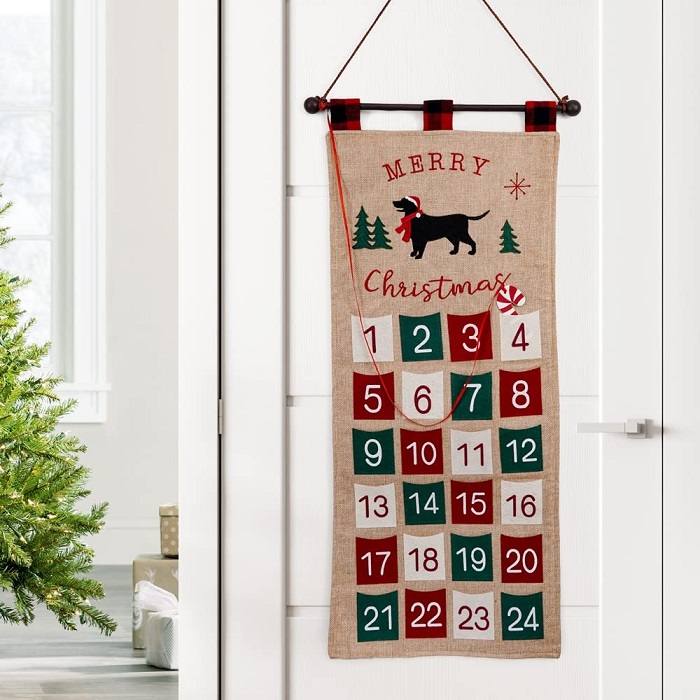 A wall-mounted advent calendar is here to occupy the kids in the days leading up to Christmas. You can make one with cloth or paper or find something from your local craft store. Put it up and encourage the kids to take a treat or gift from a pocket each day—a wall decoration and a surprise all in one!
3. Stockings for the Holidays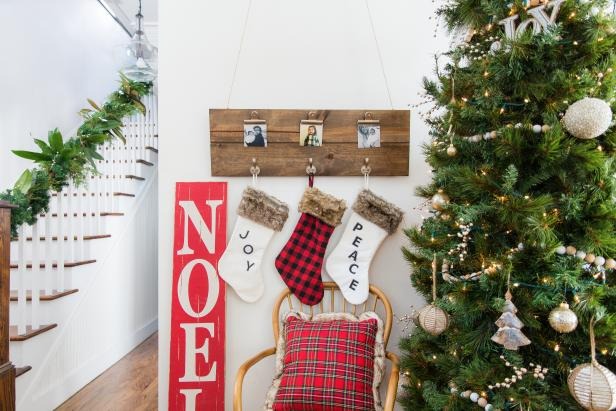 Hang your Christmas stockings from the wall instead of the mantel this year. You may hang them from your coat rack and decorate them with plants and lights to make a statement. You can hang your stockings anywhere in the house; Santa has a sixth sense for finding them.
4. Traditional Christmas Wall Art
You shouldn't leave any space bare this holiday season, not even the squished area beneath the stairs. A modestly framed sign of an appropriate size can bring joy to a compact room without overwhelming it. Unlike cumbersome garlands and figurines, artwork can be left up all year.
Personalized canvas paintings are the first-trend choice if you want to add a bit of personality and uniqueness. This vintage artwork will have the names of your loved ones inscribed on it, making it a heartwarming sight to behold.
5. Fairy Lights for Wall Decorations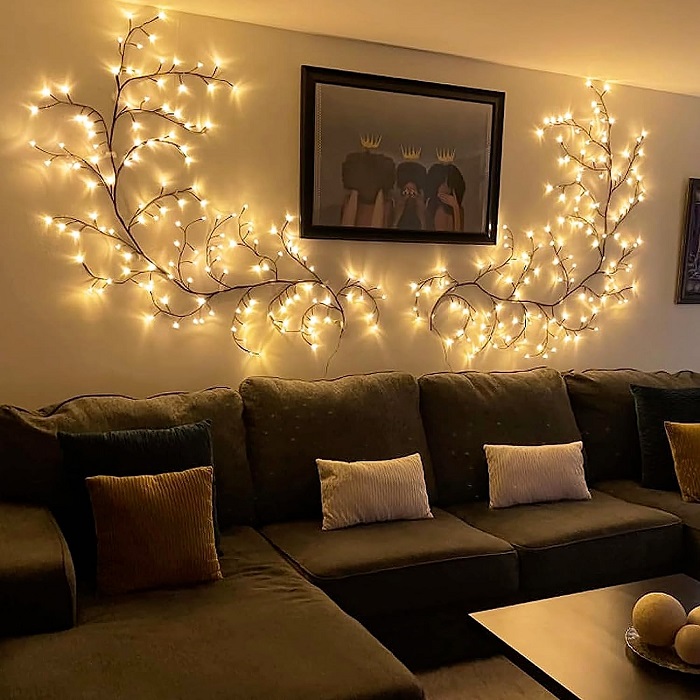 One of the most useful features of fairy lights is their diversity in design. There are various fairy lights to suit everyone's tastes, from the traditional white lights that conjure a wintry scene to the multicolored strands that get into the holiday spirit.
Add dimension and personality to your Christmas wall decorations by playing with different shapes and sizes, such as globe lights, starbursts, or string lights in unusual patterns. The easiest way to add light to your living room is to hang a light from a dry tree and attach it to the wall. These Christmas wall decor ideas can brighten your living area instantly.
6. Waterfall of Baubles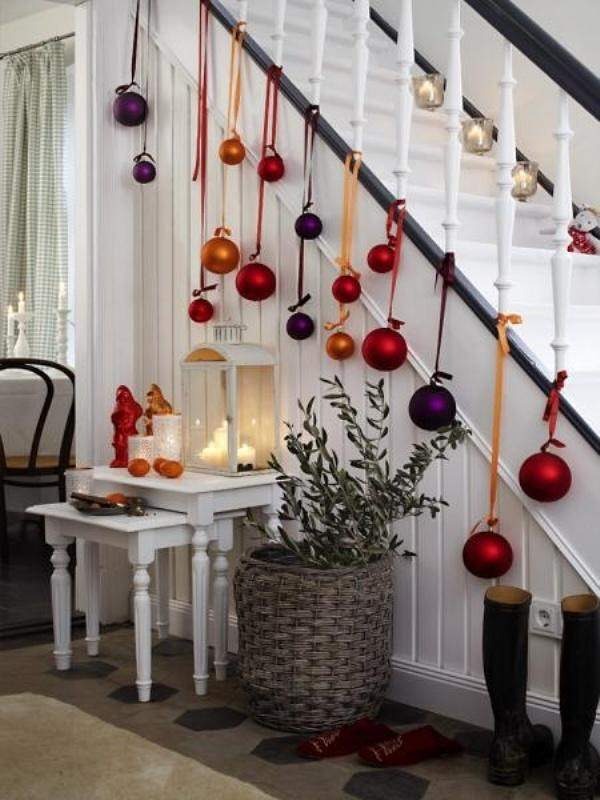 Christmas decorations aren't limited to hanging on trees. When hung from fine spools of ribbon, the traditional Christmas decorations can make any wall pop with color, glamor, and sparkle. Use them as a plinth to conceal the ribbons by suspending them from the top of door frames and picture rails. Be sure to put the Christmas ornaments up high if you plan to utilize this method to decorate your home and if you have young children or pets. Instead of glass ornaments, use acrylic ones.
7. Christmas Paper Decorations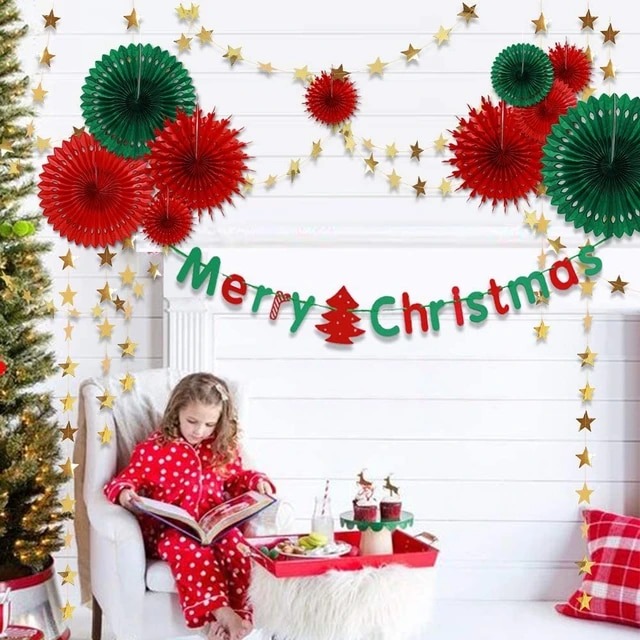 Paper decorations are perfect for Christmas wall decor ideas with seasonal cheer and to celebrate the season. Paper decorations like pompoms and huge fans may quickly and cheaply cover a broad area, allowing for a more pronounced visual impact. You can save money by making your own decorations instead of buying them together as a family, which can be a lot of fun.
8. Photos Gallery Decorations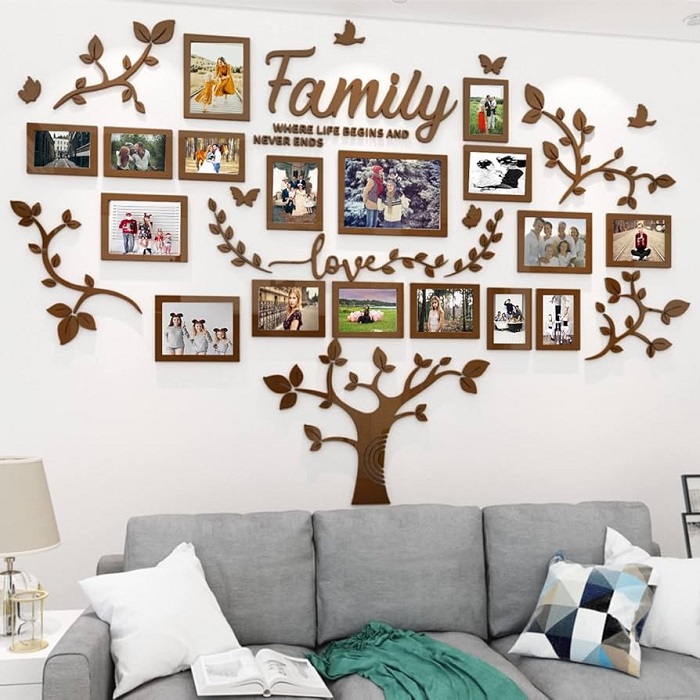 A straightforward Scandinavian design serves as the inspiration for this alternative tree, which is a wall hanging. The treelike appearance of the suspended structure suggests its intended function as a stand-in for the genuine thing. This one is great since it adds a touch of personalization and may be displayed on a wall.
Try decorating it with images of loved ones. Whether you outfit your home to the nines with Polaroids or dust up the old photo books, this is a wonderful way to welcome guests to your home for the holidays.
9. Christmas Gift Box Tree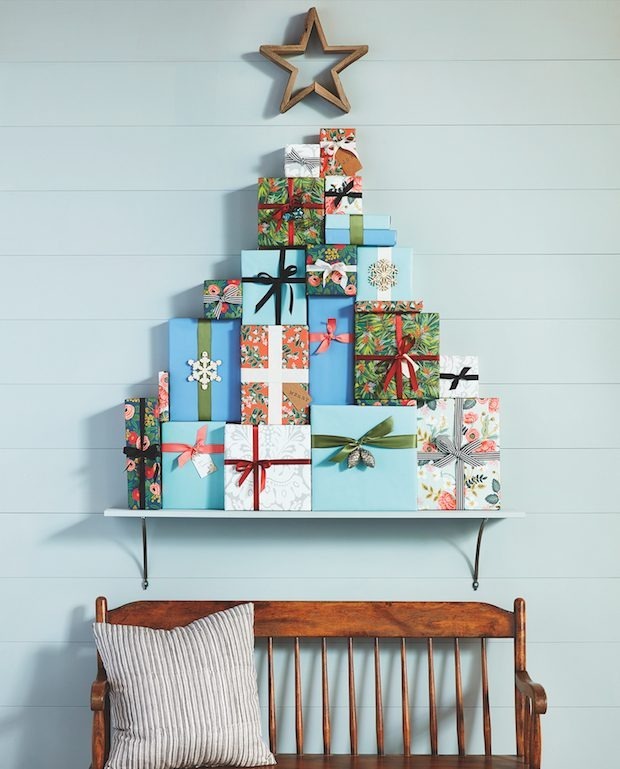 To temporarily decorate a plain wall and display lovely Christmas gift-wrapping ideas, consider piling up nicely wrapped items you get before Christmas Day. We suggest decorating a console table or bench with empty boxes wrapped in holiday paper instead of presents. We can leave the presents under the tree, and if any of them get broken in the crowded hallway, it won't be a big deal because they're only decorations.
10.  Holiday Card Display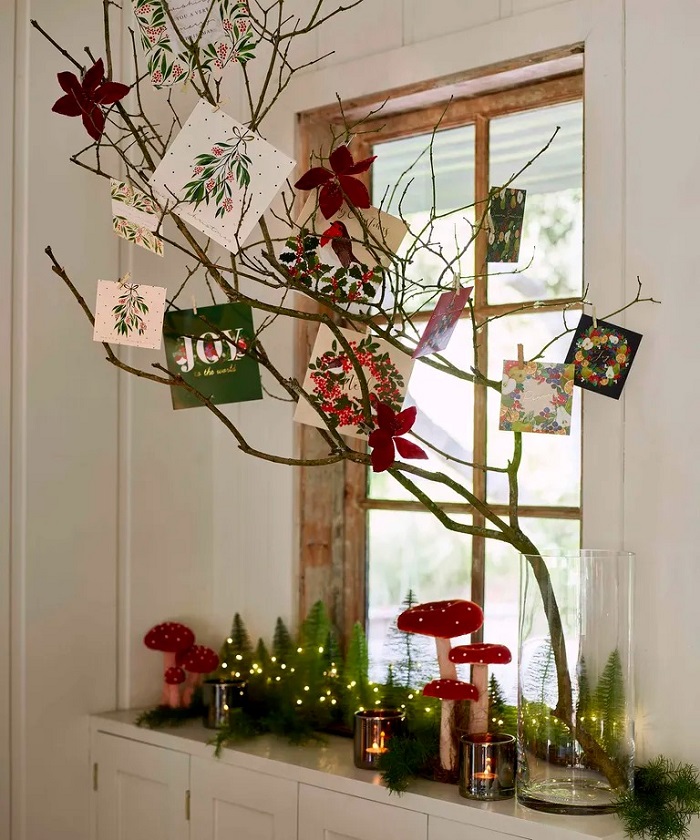 This is not only a great way to decorate your home for Christmas, but it can also be used to showcase your holiday cards. First, collect all the cards in different colors and position them randomly on the tree. Finish the arrangement by attaching it to a picture hook or nail and topping it with fresh foliage secured with florist's wire.
11. Christmas Linen Tea Towel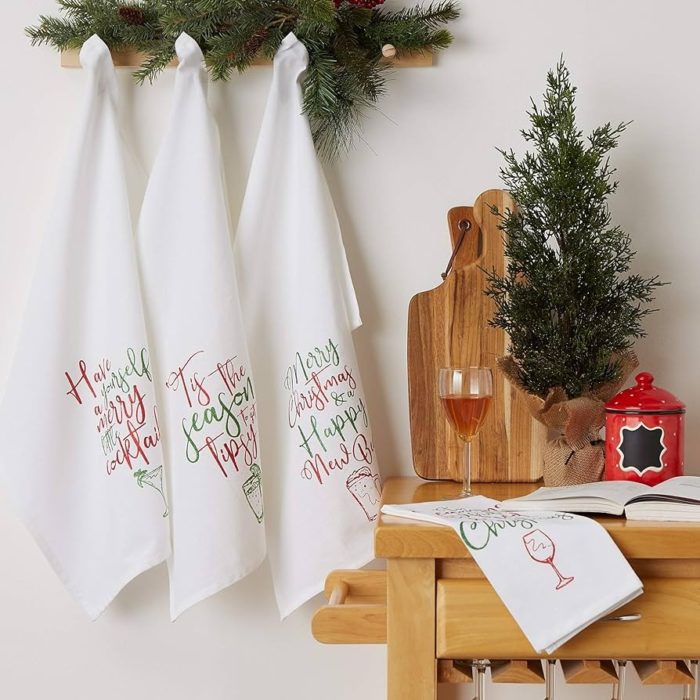 No one will ever realize this magnificent Christmas wall art is crafted from discarded tea towels. Vintage tea towels or striped linen remnants can be ironed and used to create your own versions, which can be displayed in recycled picture frames. You can hang it over a fireplace or on a kitchen wall. A collection of sizes and shapes will grab everyone's attention. If you want something unique, customized tea towels in a store are the best options.
12. Decorations of Green Foliage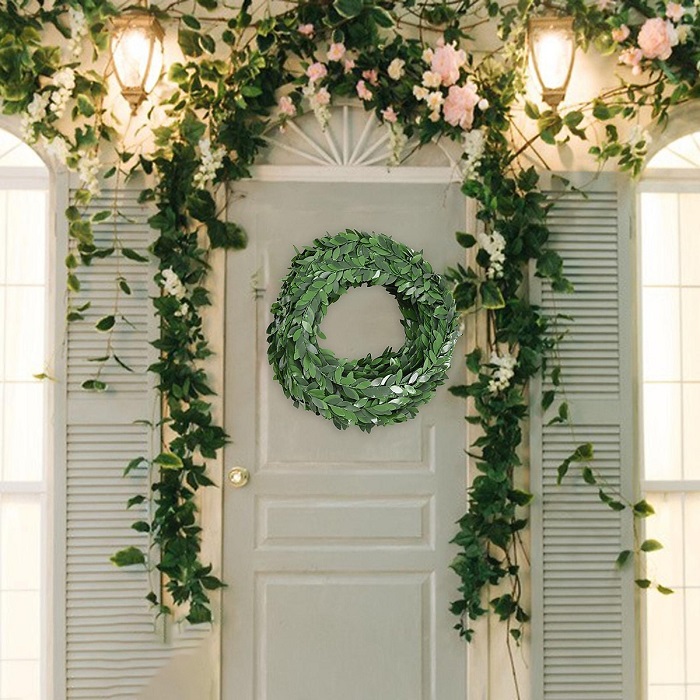 Green Christmas wall decor ideas have been all the rage for the past year, but if you're looking for a color scheme that can convey the spirit of the holiday season and the promise of spring, consider using greenery as your backdrop instead. If you've lately gone green, consider building on it with more verdant tones from organic sources.
13. Wall Hangings and Shelf Decor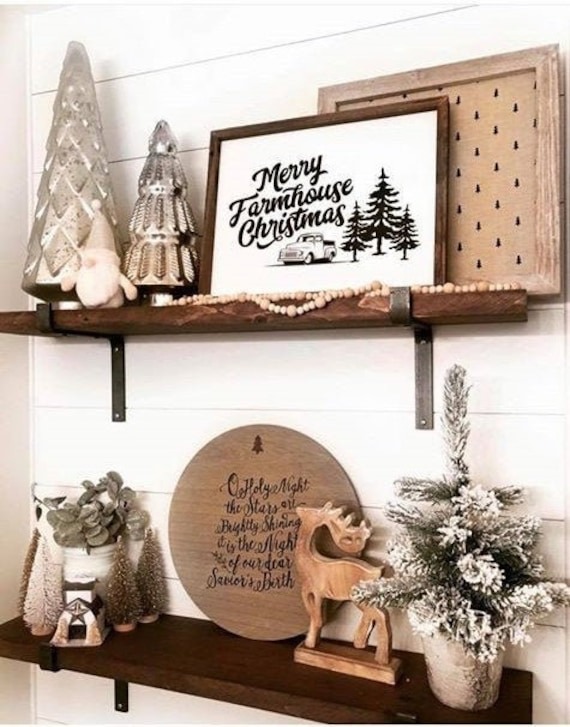 Hanging Christmas wall decor, such as banners and ribbons, may turn ordinary wall signage into a festive addition to the festivities. A white ribbon and stringed ruffles add a festive touch to the plain white "Gather" sign. Little Christmas trees of varying sizes and shapes of candleholders are arranged below the board.
14. Christmas Ladder Shelves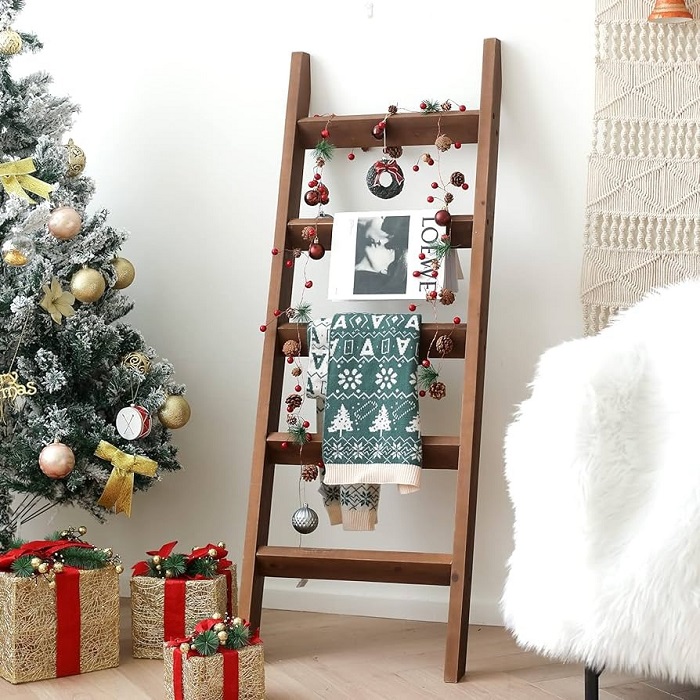 These adjustable shelves are perfect for showcasing treasured ornaments. Anyone who comes to your house will surely be impressed. We usually decorate the ladder shelves with Christmas lights, fresh evergreens, and lovely decorations to create a stunning vertical display for the most prized holiday belongings.
15. Hallways Decoration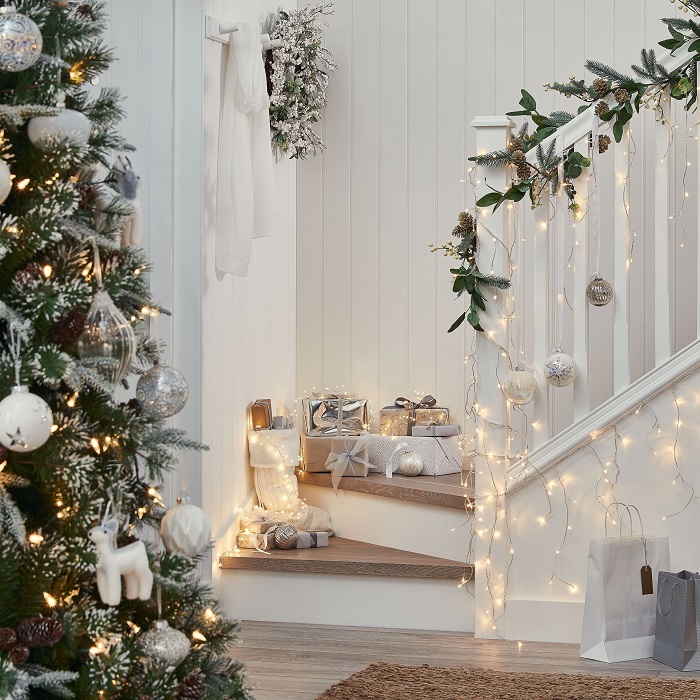 Remember the hallway; don't just focus on the living room and bedroom when decorating for the holidays. Foliage, signboards, ribbons, lights, and traditional red and green wreaths pop against the neutral furniture in this welcoming entryway. The best way to make your home look festive without cluttering the floor is to mount decorations on a hallway wall.
Lighting Mason Jar Lanterns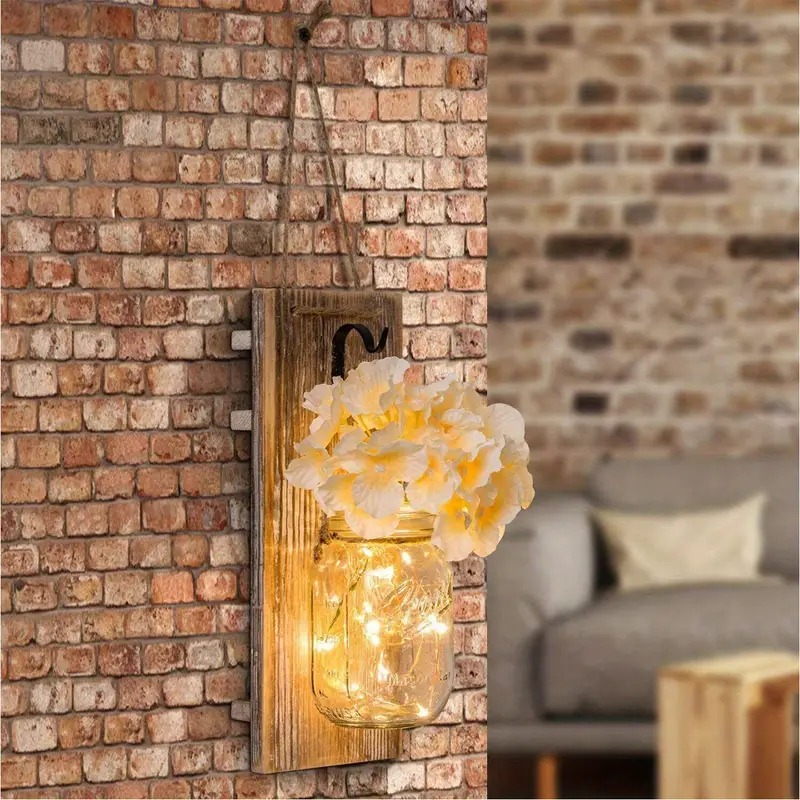 When mason jars can glow, why let them gather dust? Garnish them with fake snow, pine sprigs, or fairy lights. Hang them staggered or line them up on a wooden shelf. The walls will come to life with an ethereal radiance.
16. Macramé Christmas Tree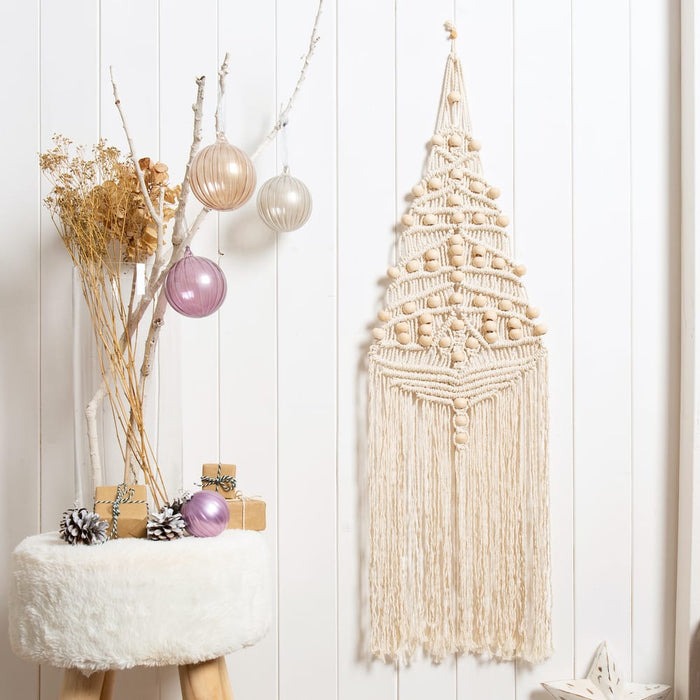 If you don't have room for a tree but still want one, mounting it on the wall is a terrific solution. This well-liked macramé choice manages to look both contemporary and natural. Once it's up, it's fair game for any embellishment!
17. Gallery Walls for the Holidays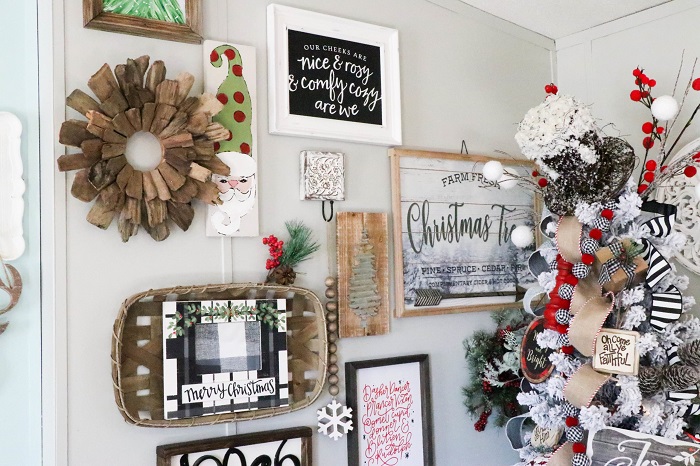 You can make a gallery wall look festive for the holidays, and there are great Christmas wall decor ideas in 2023. Christmas signs, artworks, varied pictures, wreaths, garlands, marquee lights, letters, quotes, and even a deer head in a scarf can be added to the existing decor after considering the room's style.
18. Old-fashioned sled decoration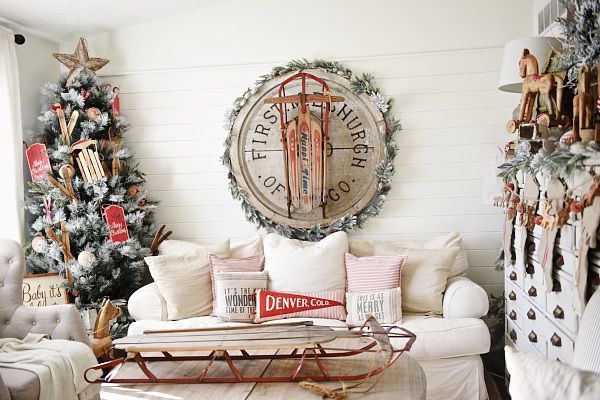 The Vintage Sled Wall Ornament is the perfect way to decorate with memories. When mounted on the wall, the antique sled ornament becomes a gorgeous focal point that adds a touch of rustic elegance to your holiday decor.
19. Oversize Ring Bells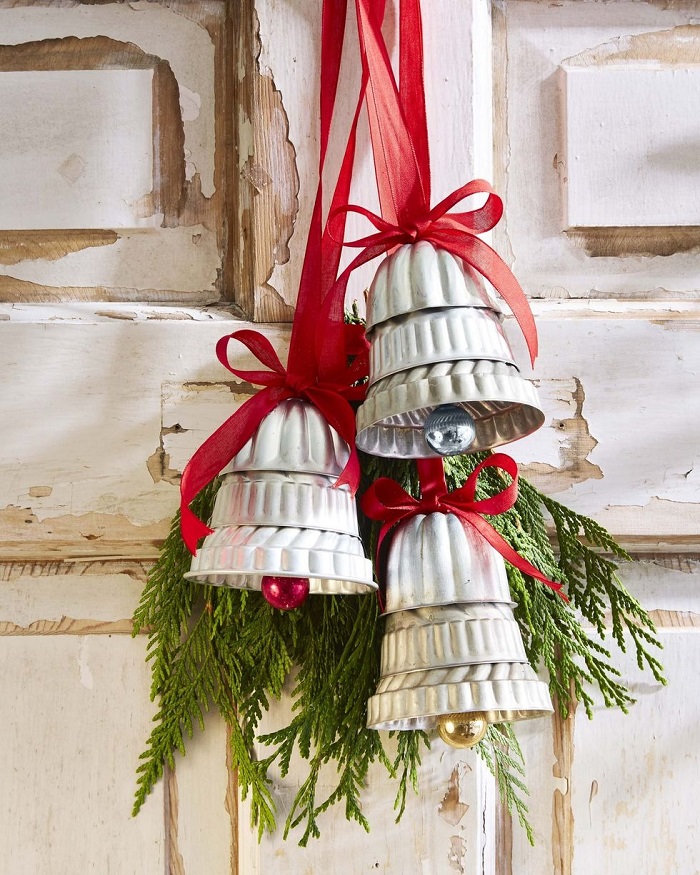 You can make a bold and happy statement with big bell decor. These gorgeous bells add an air of grandeur to any space and immediately bring to mind the forthcoming holiday season. When placed on the wall, they create a striking focal point that adds elegance and sophistication to any setting.
20. Wall-hanging Christmas Tree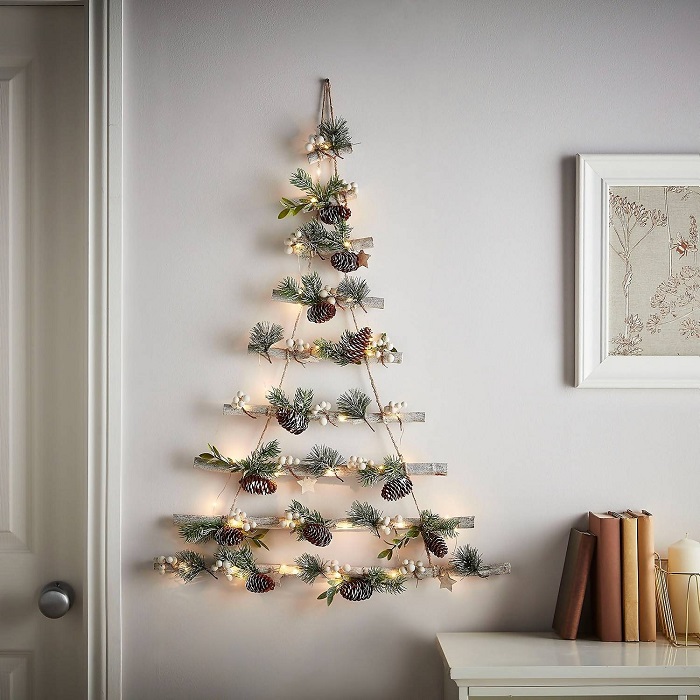 If you are a resident of a microapartment, read on! Why not put one on the wall if you don't have room for a traditional Christmas tree? A wall-mounted tree is just as festive-looking as a real tree, but it won't eat up any of your valuable floor space. It's also a good idea for people short on space in their homes, as they won't have to drag out the fake Christmas tree every year.
21. Clocks with Wooden Decorations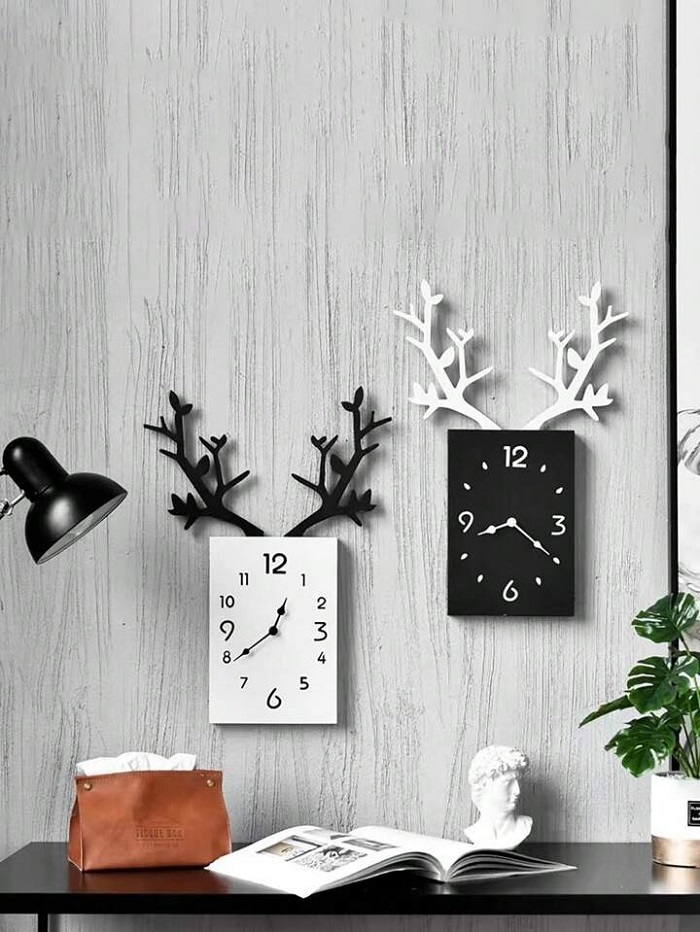 With Christmas right around the corner, it's time to get your house in holiday shape. While ornaments, lights, and tinsel all play a role, wooden clocks add a unique and timeless touch to Christmas wall decorations. Antique wooden clocks, whether ornate grandfather timepieces or simple wall clocks, exude warmth and charm.
Christmas Wall Decor Above The Fireplace
22. Display Mantel Mirrors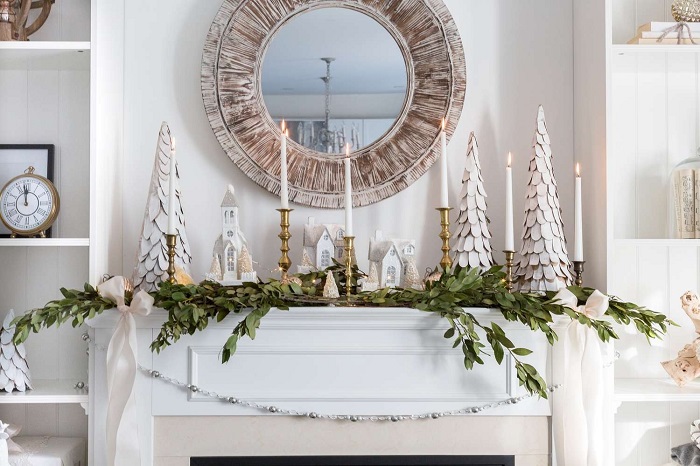 The mirrors in antique frames look lovely on the wall. They are perfect for Christmas decorations because of their reflective features and classic appeal. Decorated logs, a wooden snowflake, and homemade candleholders complement the gallery wall of mirrors.
23. Hang Christmas Stocking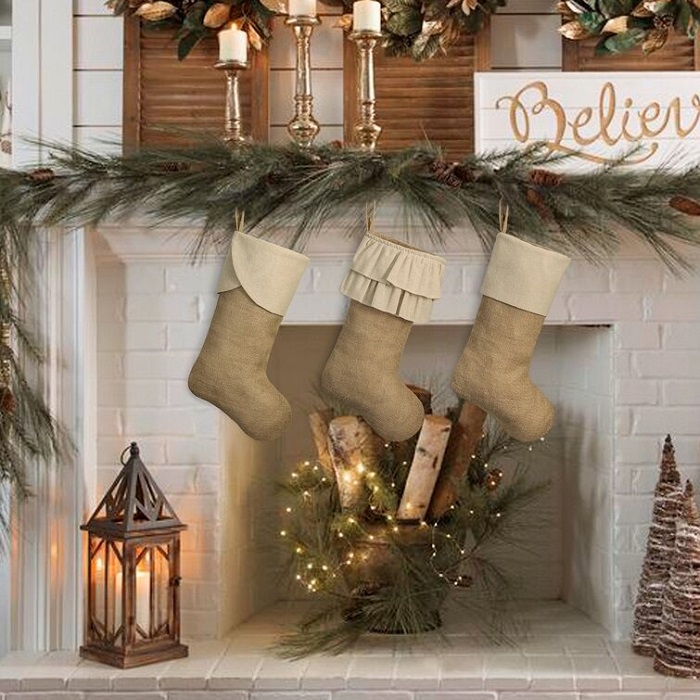 Nothing says "Christmas" like stockings hung by the chimney with care. Choose unique stockings for each family member and hang them with care from ornamental hooks or a rustic ladder. To complete the holiday feel, try including some greenery or ornamental touches.
24. Put Farmhouse Wooden Christmas Signs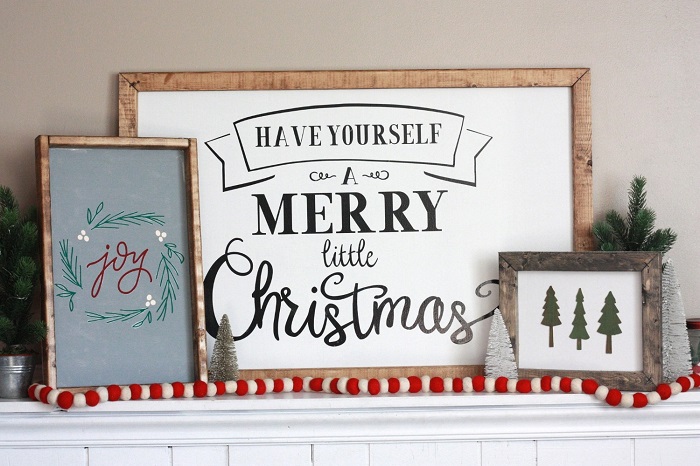 Let's turn up the rustic appeal! Painted with warm and fuzzy holiday sentiments, rustic wooden signs are all the rage. These Christmas wall decoration ideas are as comforting as mom's homemade cookies. Put them on display in a warm and inviting area of your home.
25. Choose Candles and Flowers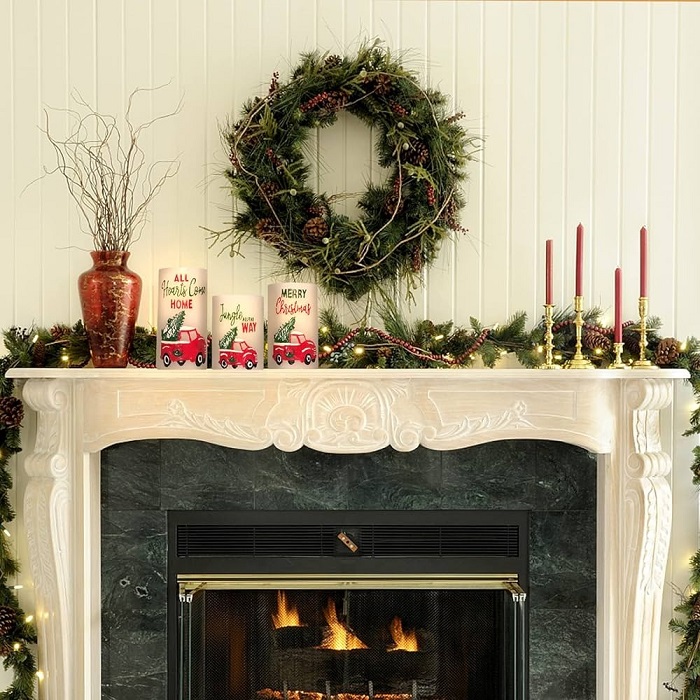 You can't go wrong with candles and flowers as Christmas wall decor ideas above the fireplace. Keep things uniform regarding material and quality, but don't feel like you must locate an exact match; mixing and matching designs at varying heights creates a lovely, unexpected effect.
26. Exhibit of Flowers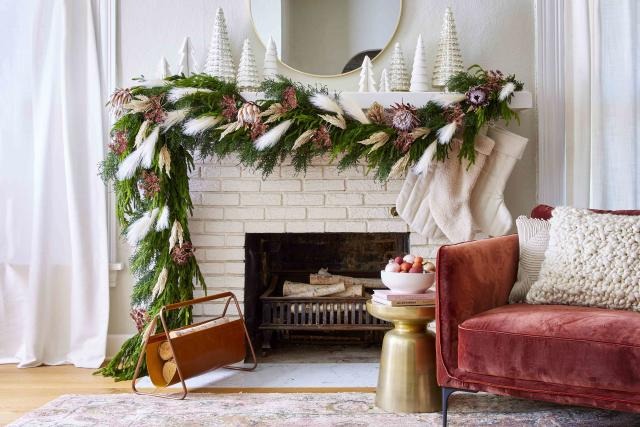 Adding a stunning Christmas foliage treatment to a simple open fireplace is the finest way to elevate the space. The flowers may only be around for a few days, but the branches can stand on their own as an attractive natural decoration for much longer. If you want your flower arrangement to last longer, you may either replace the fresh flowers with dried ones or use both. A luxurious garland draped over the mantel is a time-honored tradition at Christmastime.
27. Add Some Fragrance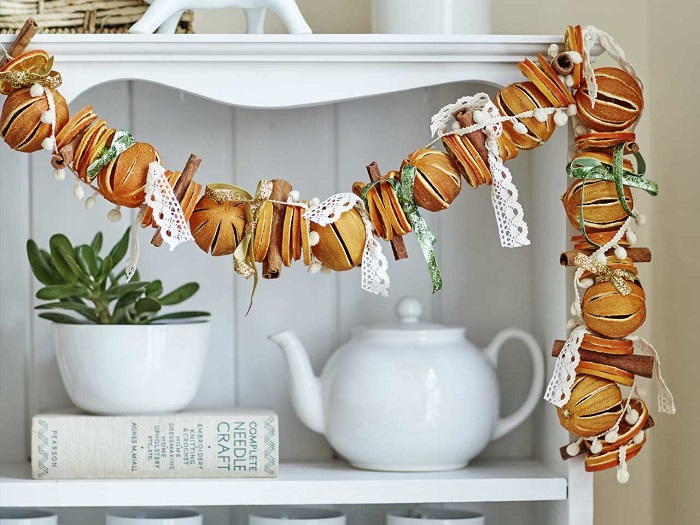 Add seasonal fragrance to your garland to make it work harder. You'll be taken back to Christmas morning by inhaling the aroma of pine needles, eucalyptus, and balsam fir. Details with texture, such as hessian ribbon, seed heads, and thin twigs, can be added to the garland to round it out.
>>> Recommended reading: When to Decorate for Christmas 2023: A Festive Timeline
Wreath for Christmas Wall Decorations
Wreaths are fantastic Christmas wall decor ideas for any event, not just Christmas, and if you have some wreaths at hand or can manufacture them quickly, you may build a wreath arrangement on the wall. Wreaths come in a wide range of shapes, sizes, and materials. You can customize them to match the aesthetic of your home by adding elements like bottle brush trees, ornaments, ribbons, and more. They can be hung directly on the wall, on hooks, or strung together to make a beautiful display.
28. The Classical Holiday Wreath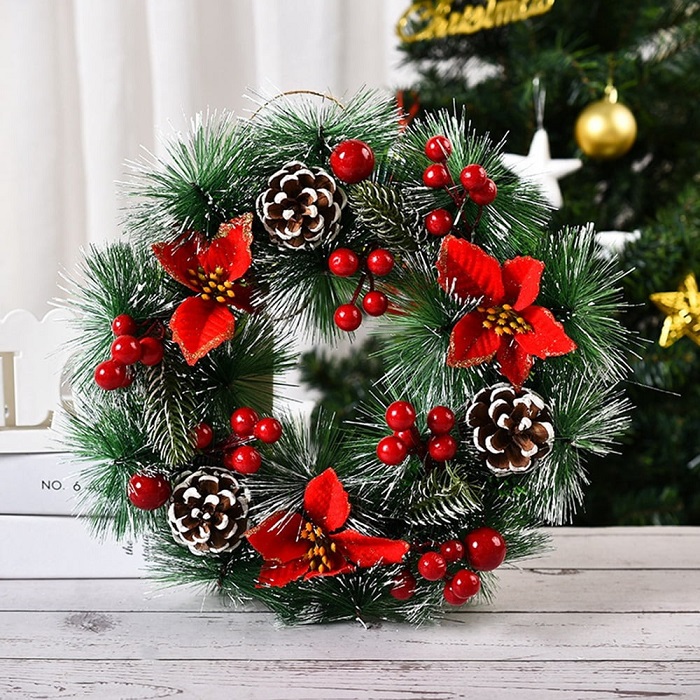 Hanging a seasonal wreath is an evergreen Christmas wall décor concept that looks just as nice now as it did decades ago. You can hang one over the hearth, in the foyer, or on the backsplash of your stove. You can go for a minimalist modern appearance by keeping it green and bare, or you can go all out by decorating it with bows, pine cones, and tinsel.
29. Headboard Hoop Wreath Decor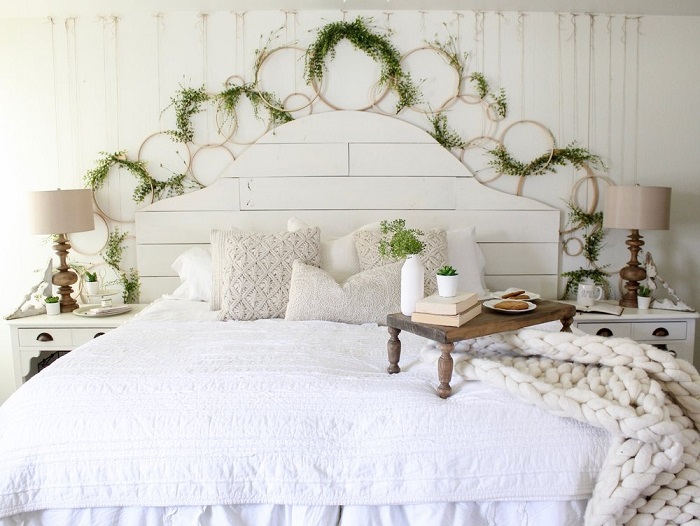 The bedroom may not be the first place you decorate for Christmas wall decor ideas, but that doesn't mean you should scrimp on festive spirit there. Hang several hoop wreaths across the headboard with some invisible thread for a splash of holiday cheer. Hang some delicate touches by decorating them with winter greens and crimson berries. Put fairy lights along the headboard, light a candle that smells like Christmas, and settle in for a magical night.
31. Mini Wreaths Galore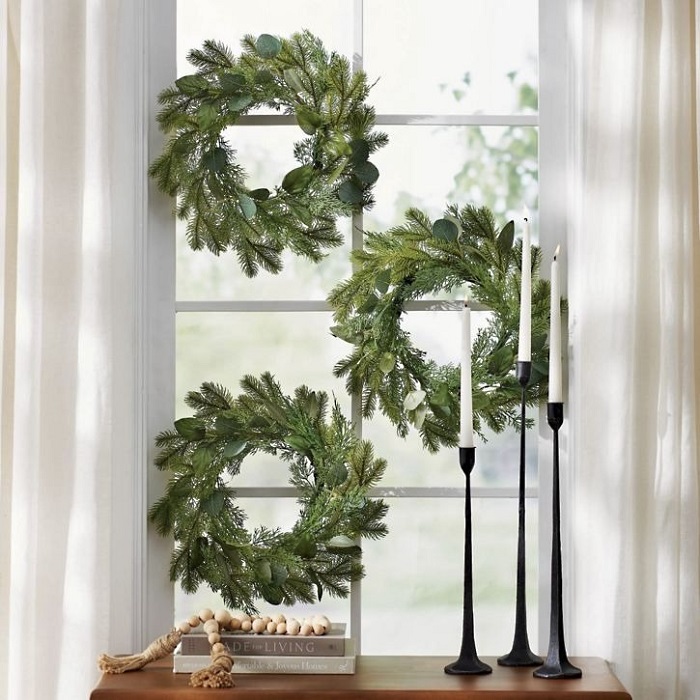 The significance of a wreath cannot be understated. Hanging the same number of wreaths—two or several small wreaths hung at varying heights—has a big visual impact. Additionally, they're easy to build yourself with only a few inexpensive materials. They look beautiful hanging in the foyer, over the door, or even over the bed.
32. Balloon Garland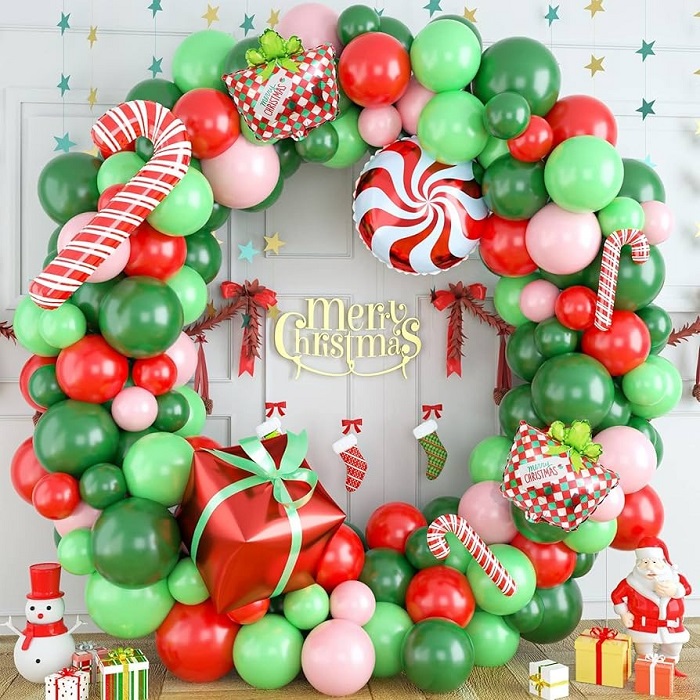 Going without holiday decorations is unnecessary if you're trying to save money. Why spend more when Christmas wall decor ideas can be this stunning for a buck? You can make this inexpensive ornament garland with just a bag of colorful balloons, mirrored paper (for the ornament tips), and some rope. Display it above the fireplace or on a sideboard for your next Christmas get-together.
33. Garlands of Herbs and Citrus Fruits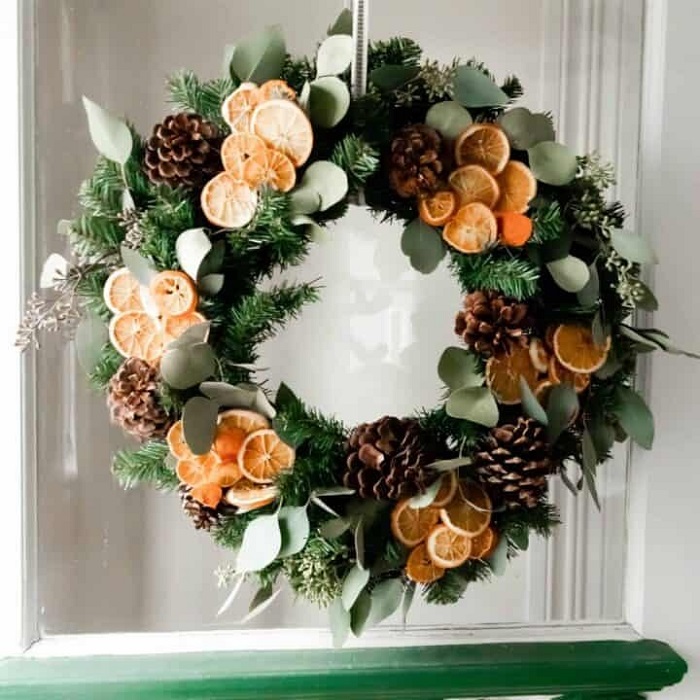 You can make aromatic garlands by stringing together herbs like rosemary and thyme. They're pretty, have a wonderful fragrance, and can be used in Thanksgiving meal preparations. Dehydrated orange and lemon slices make for vibrant and one-of-a-kind garlands. Brighten your kitchen or dining room with citrus or herb-based Christmas garland this holiday season.
34. Kitchen Cabinet Wreaths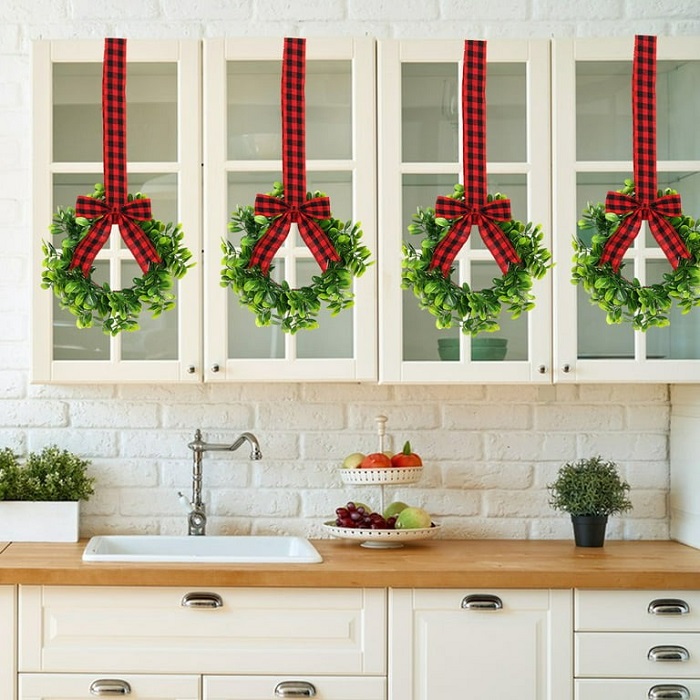 An easy way to add some holiday cheer to your kitchen? Add wreaths to the kitchen cabinets. You may make these Christmas wall decor ideas yourself or buy them premade, precut, and ready to hang with festive ribbons.
35. Bauble Wreath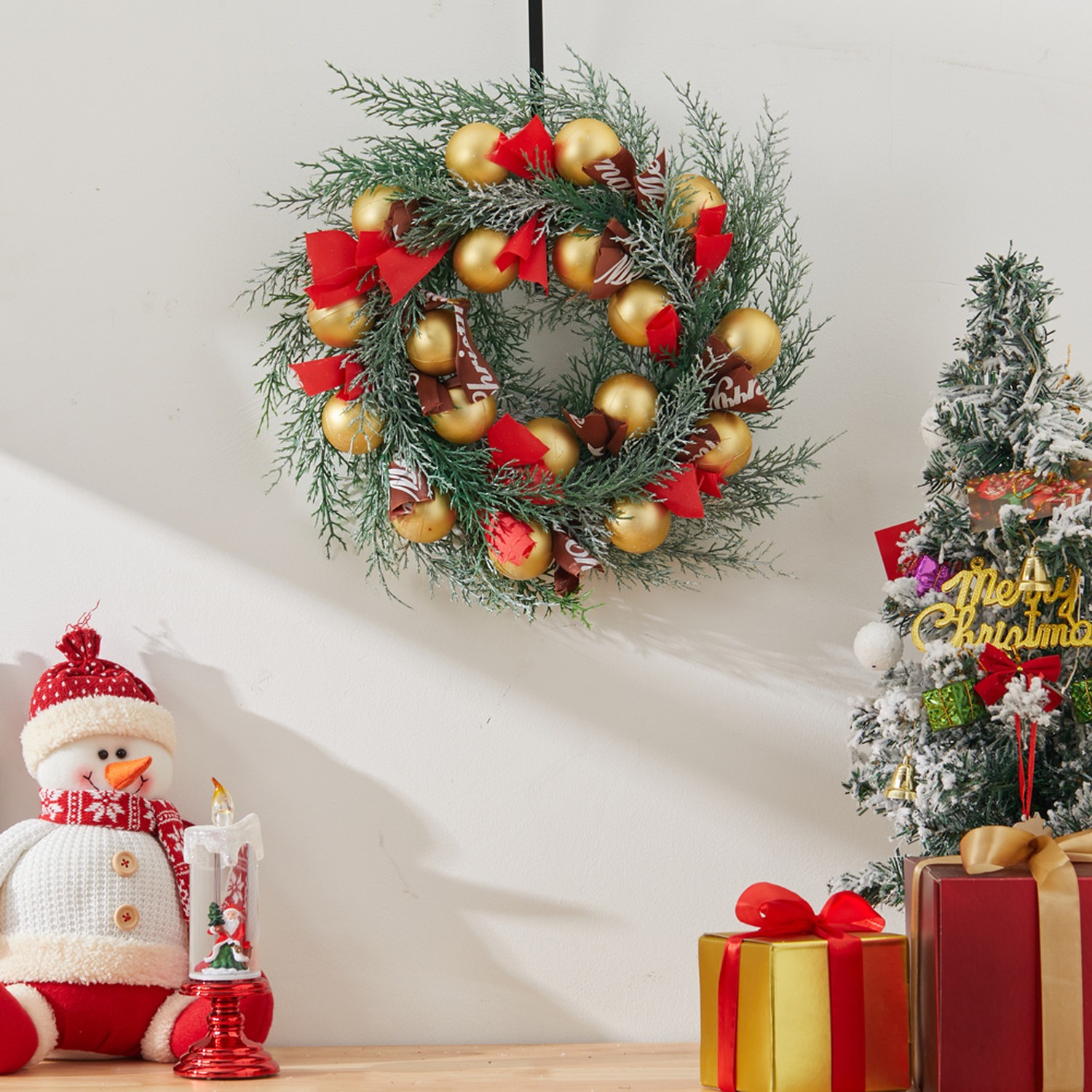 Traditionally, holiday decor includes leafy wreaths, but why not switch things up this year? Adding Christmas cheer to your home is as simple as hanging up a wreath decorated with colorful baubles. To make one, tie or ribbon a collection of small ornaments onto a circular wire frame. By hanging it on the wall, your home will feel more festive.
>>> Maybe you're interested in:
Don't forget the walls as you embark on your Christmas decoration adventure. Many Christmas wall decor ideas are available to help you transform your home into a magical winter wonderland, from wreaths and ornaments to light shows and homemade crafts. Use your imagination, combine different concepts, and, most of all, have a good time as you decorate your home from top to bottom for the holidays. Happy decorating!