One of the groups that are easiest to shop for is cat lovers. They'll probably be as captivated as a kitten if you simply find them some cozy cat pajamas or another cat-themed present. It takes a bit more work to find more greatest gifts for cat lovers, though, if you've already looked everywhere else. Let's read this Oh Canvas's article to find more best gifts for your cat fans.
Toys and Accessories gifts for cats
1. Smart Cat Feeder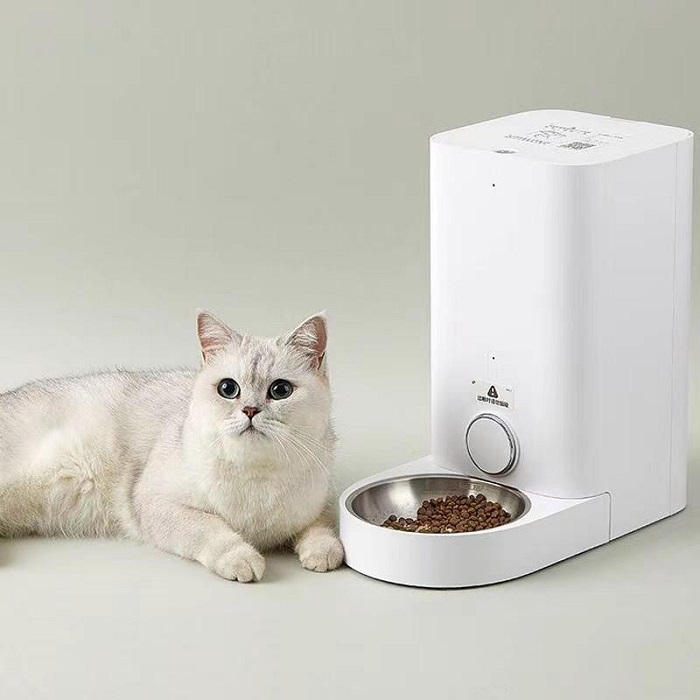 With this automatic feeder that feeds kibble at their preferred time, your cat lover may free up some of their time. You can feed your cat from a distance using the feeder's app, which also keeps track of your cat's weight, caloric intake, and nutritional needs.
Oh Canvas Tip

Pay close attention to your cat's skills. If they're known to open doors, leap on tables, or knock things over, chances are you will need to offer your feeder extra protection, or consider acquiring a unit made of heavier and tougher materials. Your unit may also require additional security if your cat prefers to live and eat outside.
2. Cat Spring Spiral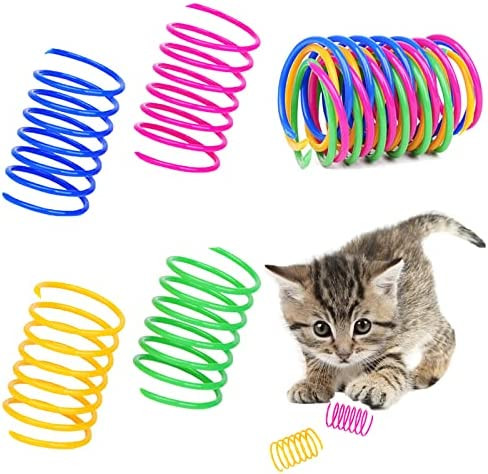 There are so many different cat toys that you can give if you're looking for a gift for a new cat owner. The bright colors and random motion will engage your cat's innate hunting instincts while also offering beneficial mental and physical stimulation. If you have a cat, or know someone who does, this toy would be a wonderful addition to their collection.
3. Cat Bed Cave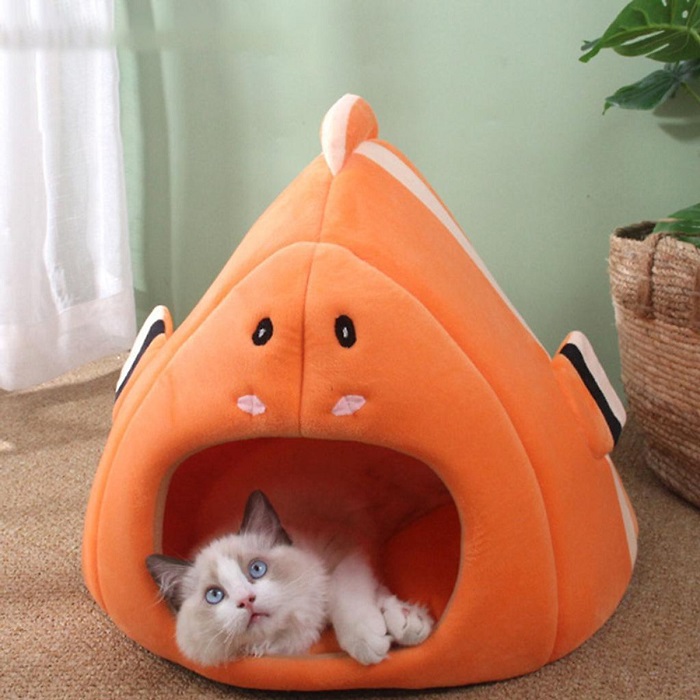 Cats normally sleep for at least 12 hours each day. This chic cave bed is a great option and has almost a five-star rating. It is ideal for usage all year round because it provides cats with a secure location to hide and rest while also keeping them warm in the winter and cool in the summer.
4. Dip Bowl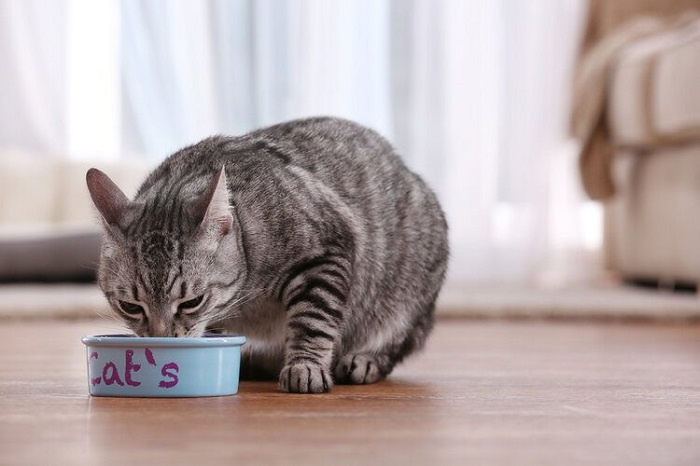 A dip bowl for cat is a perfect addition to any cat lover's home. This dip bowl will bring joy to any cat owner, whether it's used to store cat-shaped crackers or catnip dip for feline visitors. The shallow, wide shape, which seems to float softly above its base, gives your cat fans a lot of space to eat and a charming look.
5. Cat Bed Kip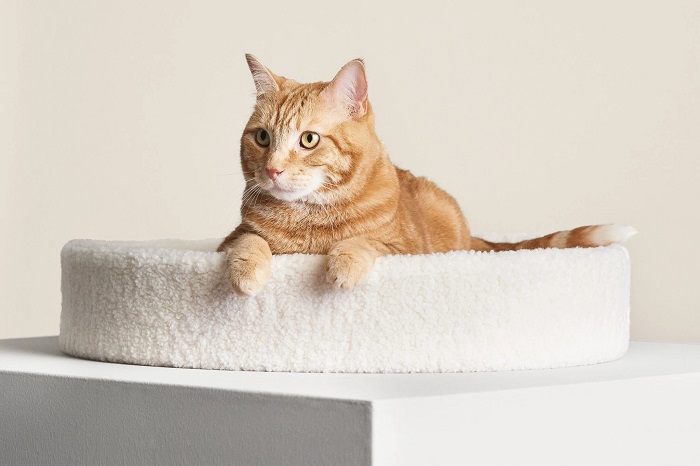 The Cat Bed Kip provides a warm and secure place for your pet to rest. This bed for cats is made of soft material and has a cushioned seat for your pet's comfort. The raised sides will make your cat feel safe, and the open top will make it simple for her to enter and exit.
6. Backpack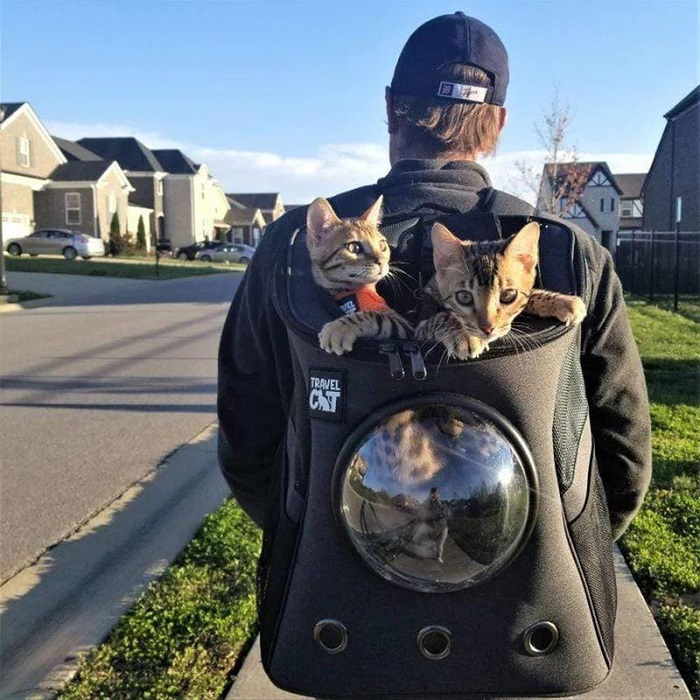 Nothing is worse than scrambling out of your seat to reach your bag in the overhead compartment! This compact backpack fits all of your cat lover's travel necessities and can be stored beneath the seat with plenty to spare. Your friend will value having a cute cat backpack to pack their belongings on vacation.
7. Pet Massager for Cats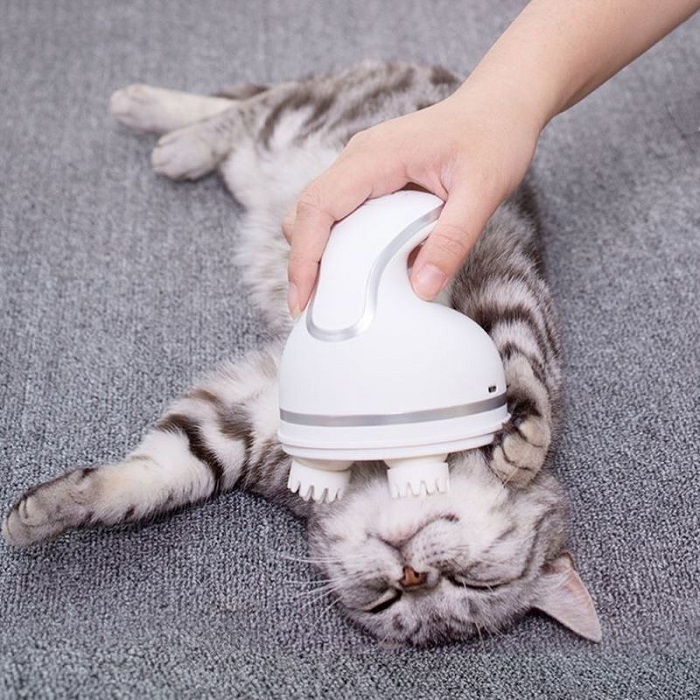 Not just because people deserve a day at the spa! Cats also deserve a relaxing day. The rolling prongs on this practical tool gently massage their cat's cheeks. To help your cat relax, relieve muscle pain, and increase blood flow, this device has a number of massage nodes that may be adjusted in intensity. If you know a cat person who loves to spoil their pet and ensure its health and happiness, this device could be a wonderful present.
8. Cat Toys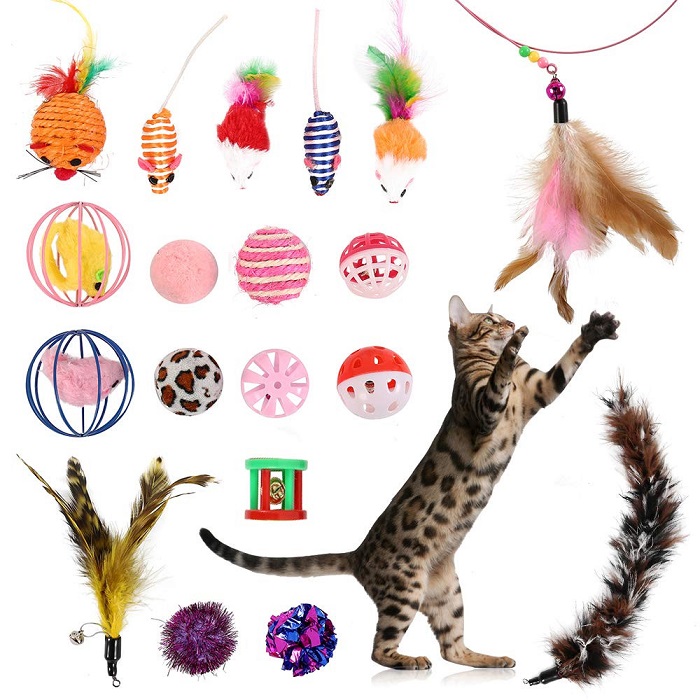 Cats enjoy playing and are skilled at destroying toys. These toys are top-notch materials and are enjoyable to play with on a dull day. Wool, feathers, and synthetic fur are all used to make toys that appear and feel like actual prey animals. When you can't be present to play with your cat, puzzle toys are a great alternative. You may stuff them with treats and watch your cat work to get them out of the various compartments.
Oh Canvas Tip

Toys for cats don't have to break the bank. Toy manufacturers like Armarkat provide their shelves with abundant, affordable, yet engaging playthings. Remember that things like ping pong balls, plastic shower curtain rings, and cardboard boxes may make some of the best (and safest) toys.
>>> Recommend reading: 53 Awesome Gifts for Dog Lovers and Their Beloved Pets
Beauty and fashion gifts for cat lovers
9. Custom Portrait Necklace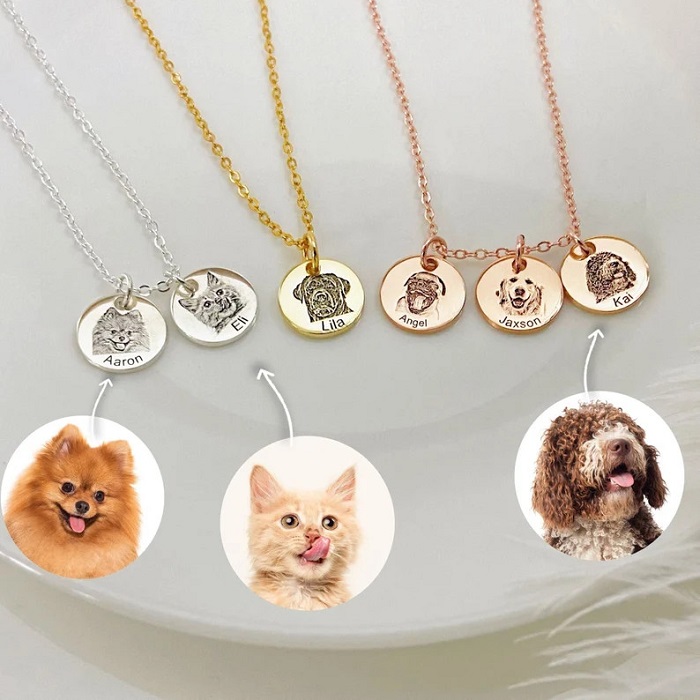 This necklace would be a wonderful gift for any pet parent who carries a special place in their heart for their four-legged member of the family. These thoughtful gift ideas are perfect for cat lovers, and they will be treasured for many years to come.
10. Cat Earrings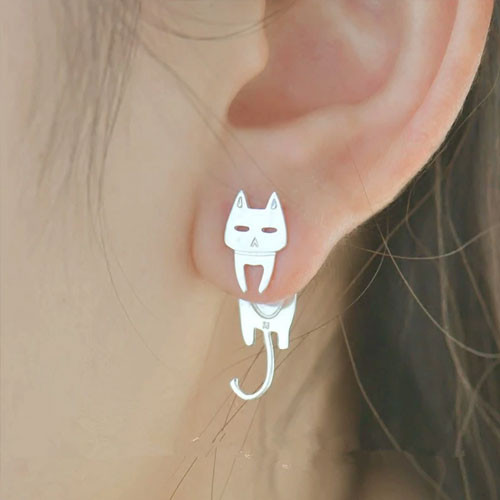 The tails of these kitties are holding them up! Any person who wears earrings can look trendy, whether they do so for daily use, work, or both. These silver-plated earrings would make thoughtful gifts for cat lovers.
11. Wearable Hooded Blanket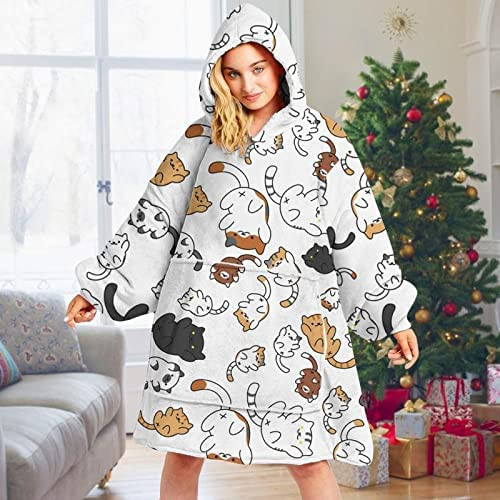 What an adorable option for a blanket that can be worn! Because there are seven distinct colors and patterns that feature cats, the most difficult part of the process will be selecting which pattern to place an order for.
12. Cat Hair Pin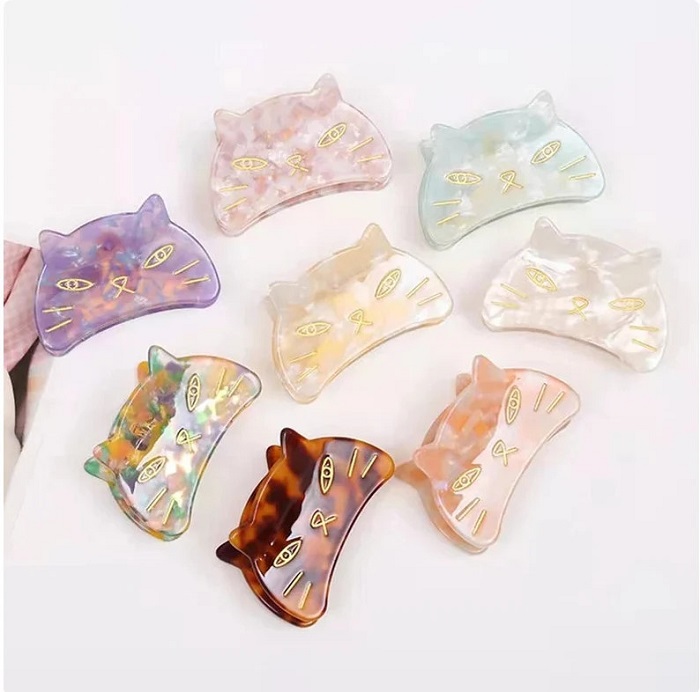 These are undoubtedly contenders for the cutest hair clips ever created. We are aware that this is not the most logical reasoning, but you get the idea. There are reasonably priced gifts for cat lovers that they will appreciate.
13. Custom Paw Print Ring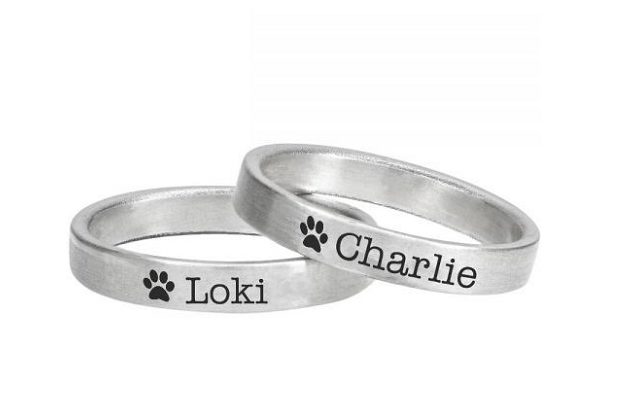 This adorable finger piece of jewelry is a gorgeous present that would be perfect for the recipient if they have a passion for jewelry. Due to the fact that it is a personalized present, you are free to decide what you would like to have engraved on the ring.
14. Cat Headphones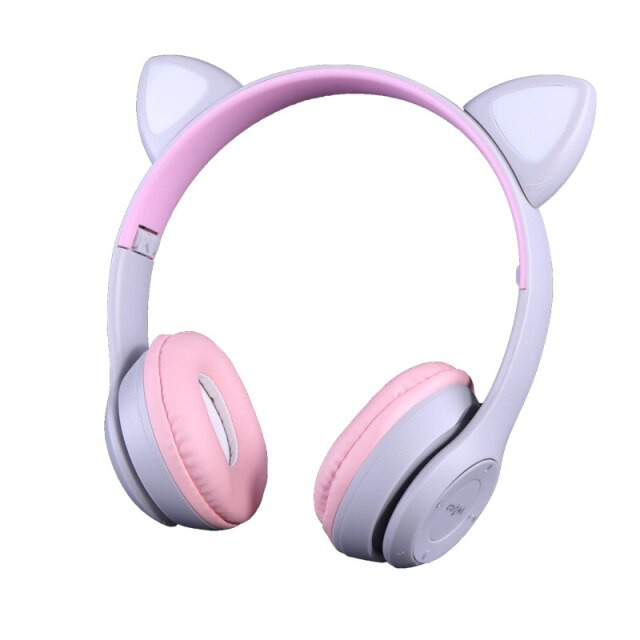 These shiny metal ears adorn your head like a headband with cat ears. Simple, cozy, and yes, a tiny bit adorable. These cat headphones are one of the best gifts for cat lovers you should consider.
15. Pajama Set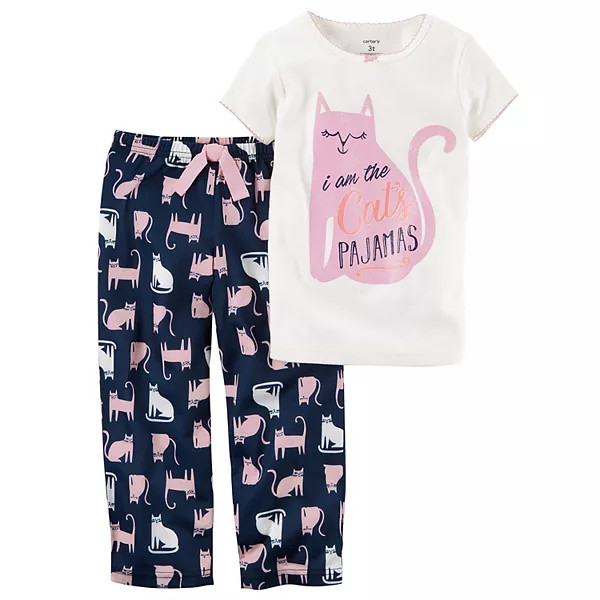 Why not celebrate the fact that they dream of cats every night? Some of these pajama sets may feature amusing cat sayings or prints. Cotton, silk, and flannel are just a few examples of the materials that may be used to make these goods, and they can be found in a wide range of sizes, designs, and hues to satisfy individual tastes. These cozy pajama sets are cute gifts for cat lovers that they will be amazed.
16. Sweatshirt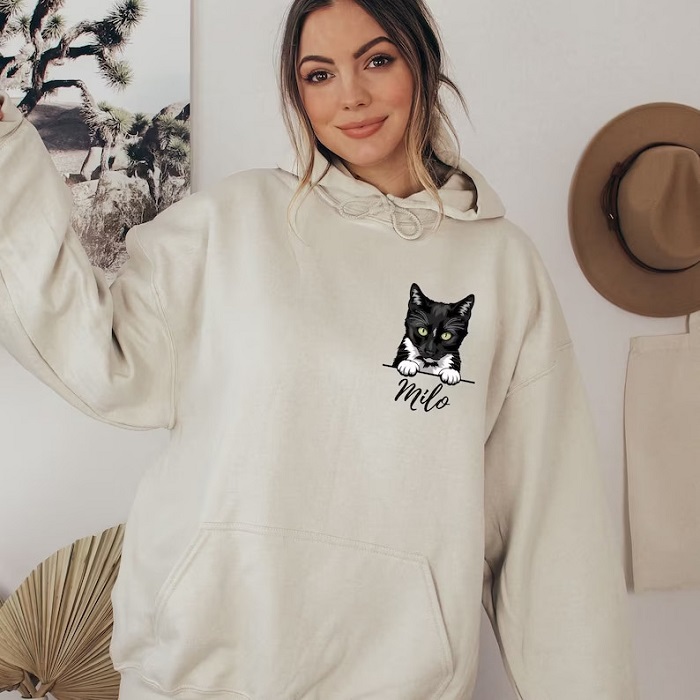 These warm hoodies have quickly become a staple for cat-themed Christmas presents. Cat lovers would constantly come up with an excuse to wear these. It would be best just to give them one of these for Christmas.
Home gifts for cat lovers
17. Macrame Cat Hammock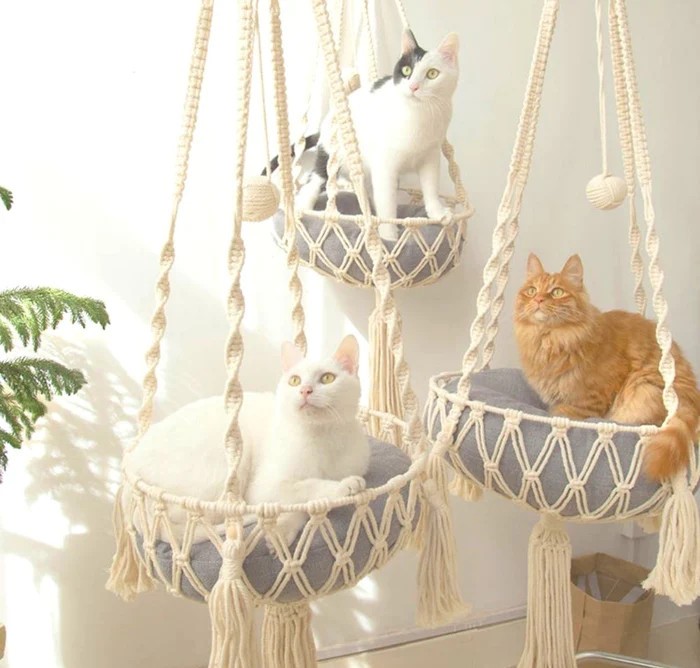 These cat hammocks are helpful gifts for cat lovers. These chic macrame hammocks save floor space, allow your best friend to nap at a higher level (perhaps next to a window), and look great on any wall. And the hanger works well as a plant hanger if their cat doesn't take to it.
18. Cat-Themed Welcome Mat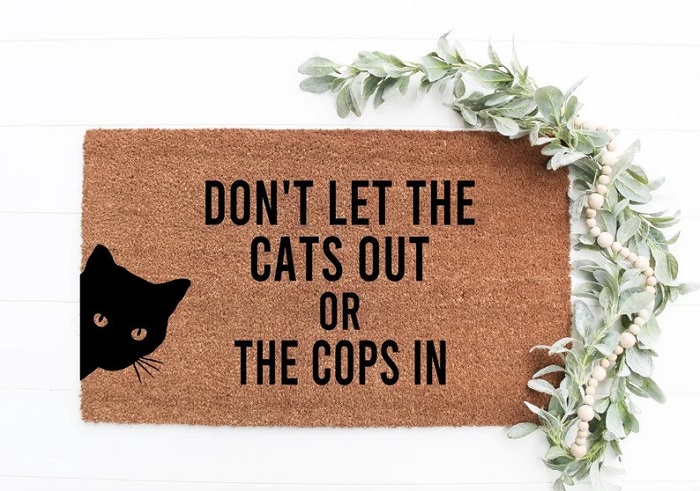 The majority of cats don't typically greet visitors at the door. If your friend's cat has a history of running away when the doorbell rings, give them this cat gift that welcomes visitors in its place. It's the perfect way to greet guests at the door with a lovely cat face and a vibrant design.
19. Cat Shower Curtain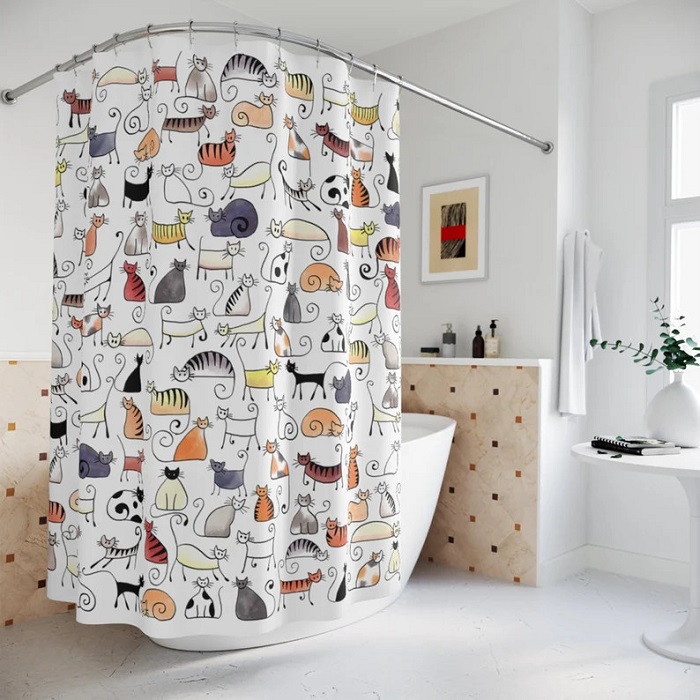 A shower curtain with a cat theme can make everyone smile and bring a splash of color to the bathroom. Start with the shower curtain for a striking statement if you want to turn your cat lover's bathroom into a cat-themed space.
20. Planter Cat
In a little wool cat planter, a tiny succulent can only look prettier. Because of their soft texture and neutral colors, these cute gifts for cat lovers are great for adding a little indoor gardening to any home.
21. Cat String Lights
The best approach to giving a home a homey mood and ambiance is with string lights. You can make the environment a little cuter with these lovely cat string lights. These string lights are everything a cat lover could want on a chilly winter night. Additionally, they make a sweet accent to liven up spaces throughout the year. For a fun accent and adorable illumination, hang them above a bed or above a doorway.
22. Cat Wall Clock
With this stunning wood clock hanging on their wall, the cat lover in your life will always be ready to see the time. This cat wall clock is destined to become a favorite piece of home décor due to its cute and unusual design that is sure to generate a conversation whenever it is displayed.
23. Embossed Rolling Pin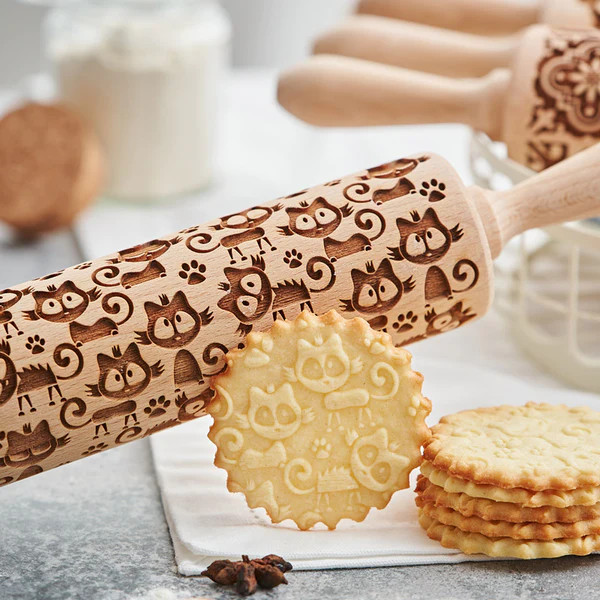 With this rolling pin, they will be able to bake cookies, pie crusts, and more with adorable cats stamped on them. This rolling pin is perfect for any cat person who enjoys spending time in the kitchen, whether it's for a special occasion or just for fun. It's also a perfect present for the baker who loves cats in your life.
24. Cat Umbrella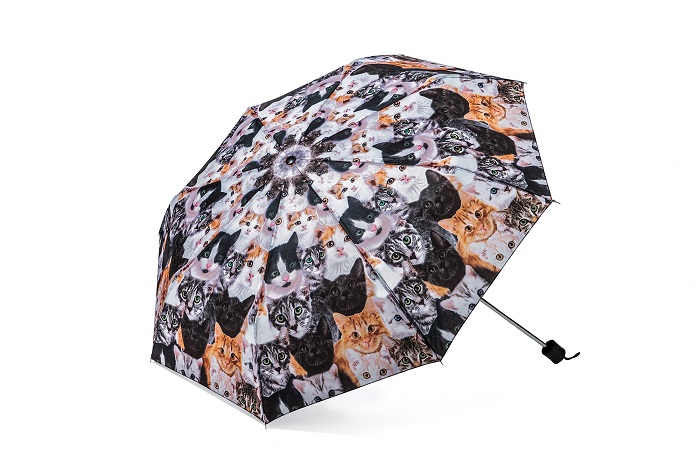 This small umbrella tucks up into a bag or backpack with ease. A cute cartoon cat is peering out, keeping an eye out for raindrops. This is one of the very few times when the cat gets wet instead of you.
25. Christmas Canvas Painting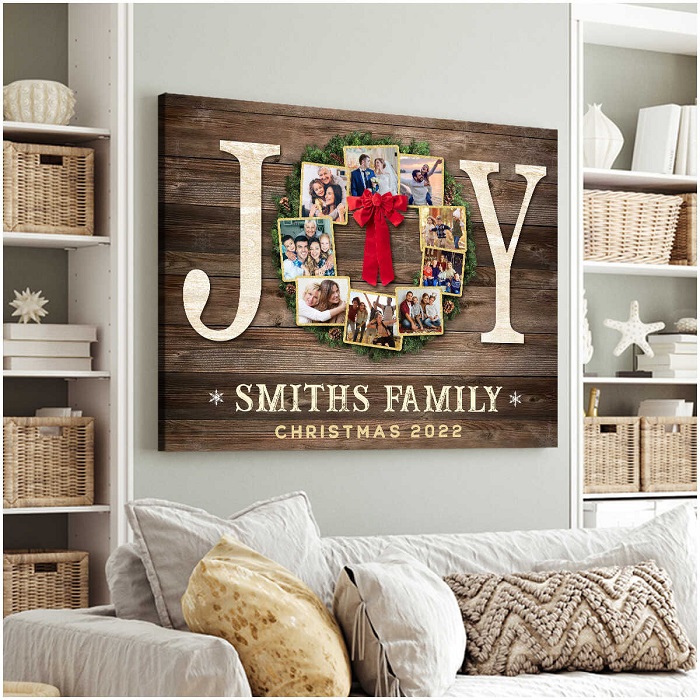 Shop Now
Which Christmas present ideas for cat lovers are the best? One of the best Christmas gift ideas for cat lovers is this painting, which makes every member of the family—including kittens picture-perfect.
26. Cat-paw Seat Pad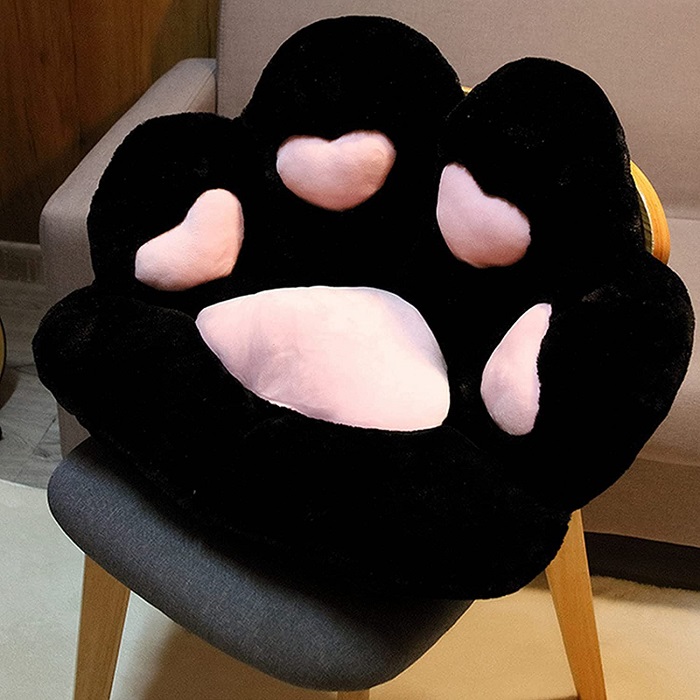 With this charming cushion in the form of a (big) cat paw, they can make their WFH setup a little cozier. Any workplace chair will be more comfortable thanks to the velvety-smooth texture and plush cushioning; just be careful not to nap while working!
27. Cat Blanket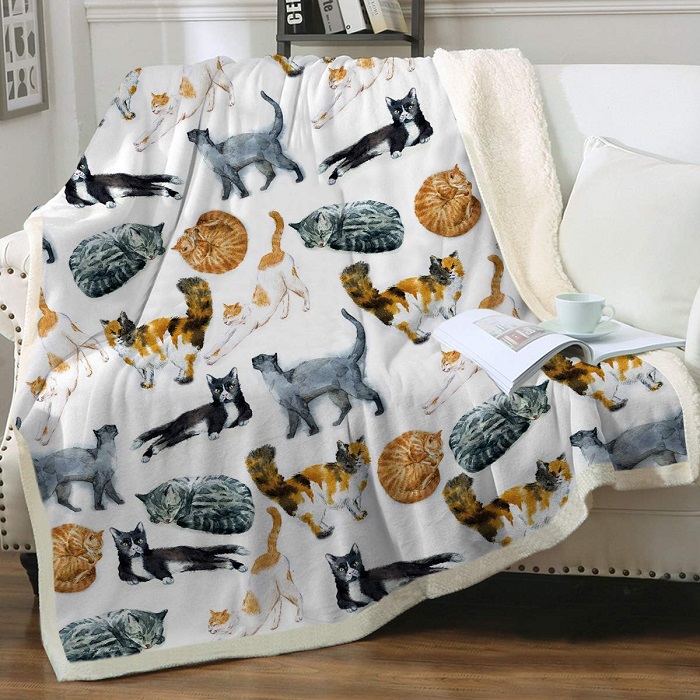 It's a unique sensation to curl up in this adorable kitty throw blanket during the chilly Christmas season. This blanket is the perfect combination of attractive and cozy. It's a present that will ensure your recipient's comfort over the holiday season.
>>> Recommend Reading: 25 Best Gifts For Dolphin Lovers They Will Never Forget
Unique gifts for cat lovers
28. Cat Airport Holders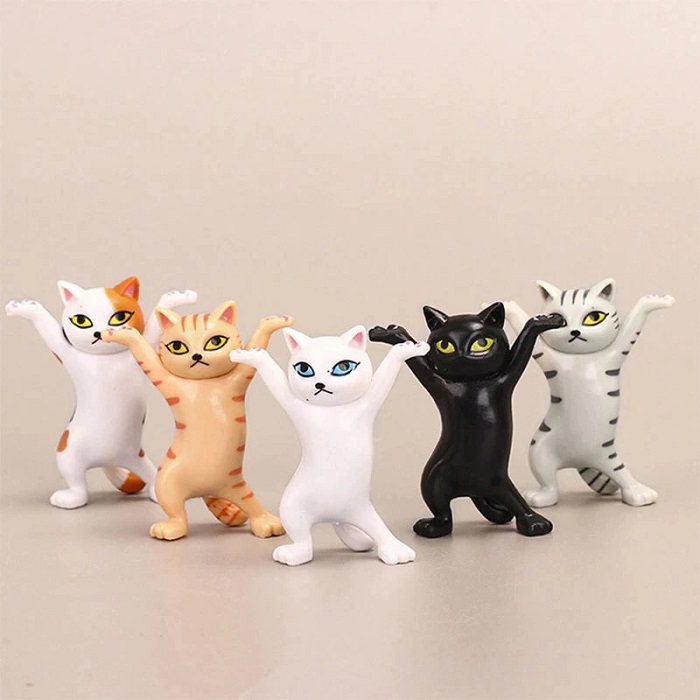 Use this set of novelty cat figurines to spruce up their workspace. These adorable, sassy cats can be used as decorations only or to carry tiny office supplies.
29. Personalized Cat Canvas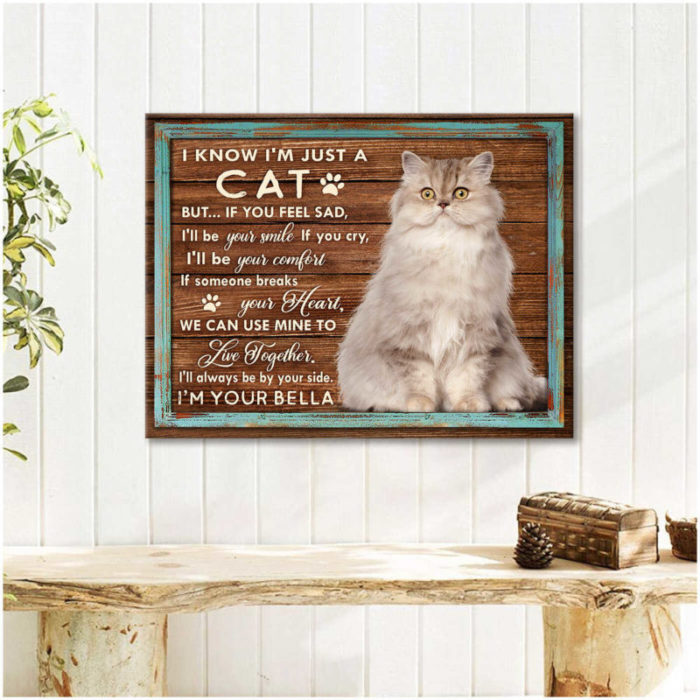 Shop Now
There's no doubt you want to find a keepsake to preserve the bond between your cat enthusiast and their cat. Painting on canvas is a great way for cat owners to express sentiments like "I Know I'm Just a Cat" or "You're my Best Friend!" to their adorable pet.
30. Bag Sealer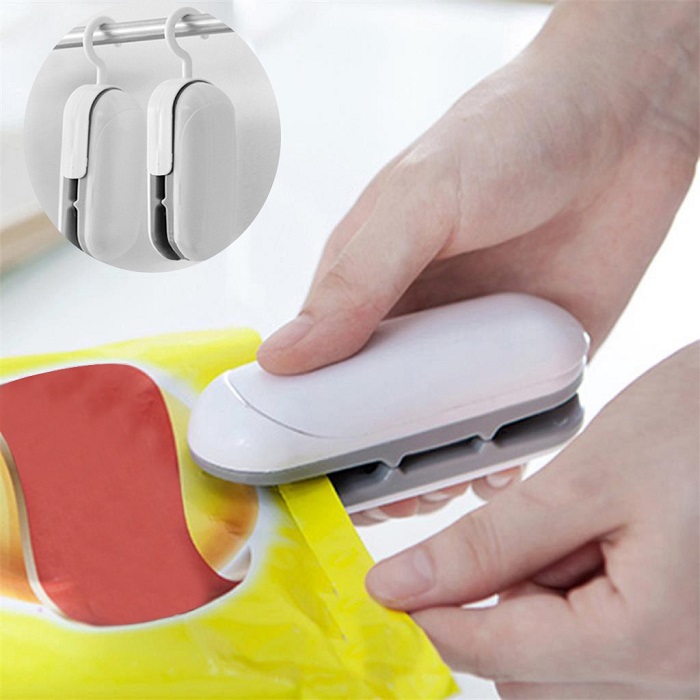 These bag sealers are a good choice if you're looking for wonderful housewarming gifts for cat lovers. They'll maintain the freshness and crunch of snacks and dry goods (or be perfect for holding cat treats). Even the cat food bag can be sealed with them, which the feline will like.
31. Cat iPhone Case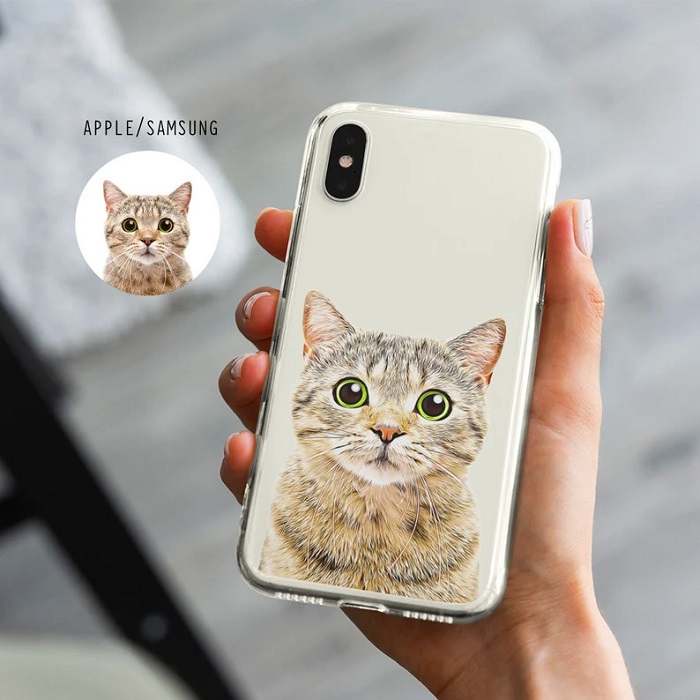 Pet enthusiasts will always have a furry friend nearby when you offer them customized pet phone cases as gifts. All you need is a clear photo of their pet and knowledge of the phone's model.
32. Photo Album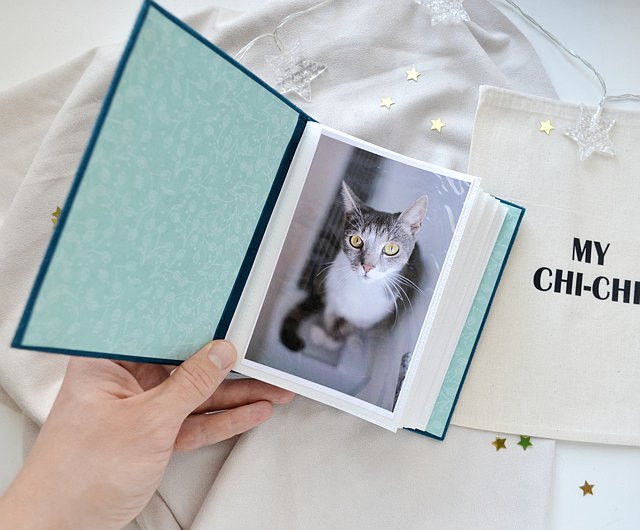 A photo book of all their fondest moments spent with their cherished pet will be cherished by that particular someone. Grab some photographs from their phone or Instagram to create the prettiest photobook.
33. Planner Notebook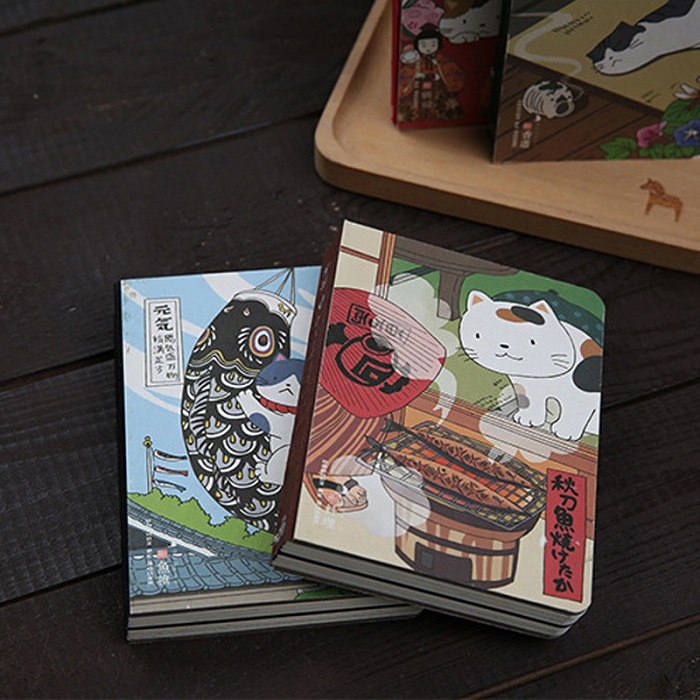 Give your pal their own work planner to help them keep their work and personal lives distinct and ordered. This work planner features a simple, minimalist design and is tiny enough to fit in any bag or purse. Because of its bright colors and simple layout, this planner could make anyone's work more fun.
34. Cat Business Card Holder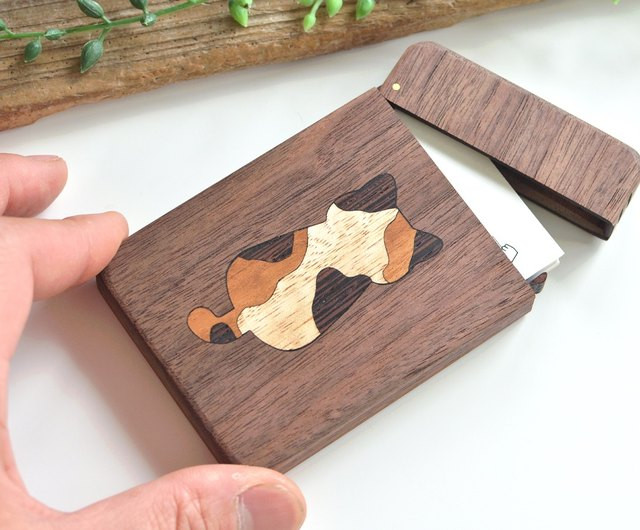 If your cat fans need a place to show off their business cards, this thoughtful present is fantastic! A lovely black cat can peeking around the corner of several business cards in this tiny metal artwork.
35. Funny Mugs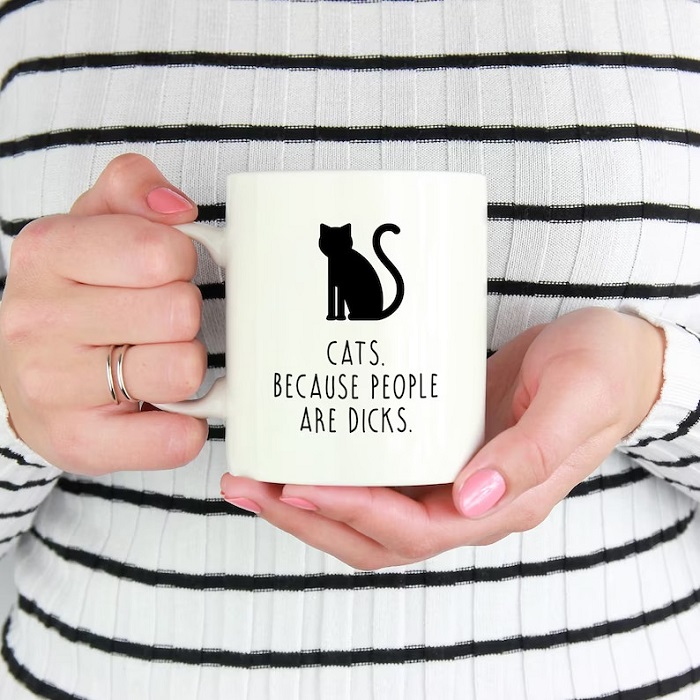 Let's face it: cats have always been aggressive. Raise a coffee mug, or paw, in honor of their ferocity. With this mug, you may improve your early-morning routine while enjoying a cup of coffee.
36. Funny Cat Canvas Art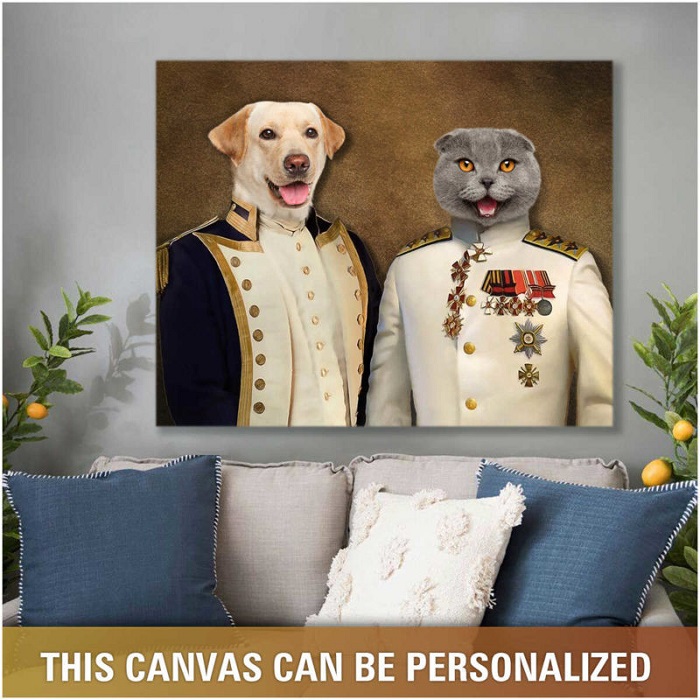 Shop Now
The combination of her cat's royal image and the dog's funny expression on canvas will have your friend in fits of laughter. It's the perfect present for those who adore both cats and the Victorian era. If you want to spruce up her workplace or home without worrying about it going out of style, go with this.
37. Tea or Kitty Mug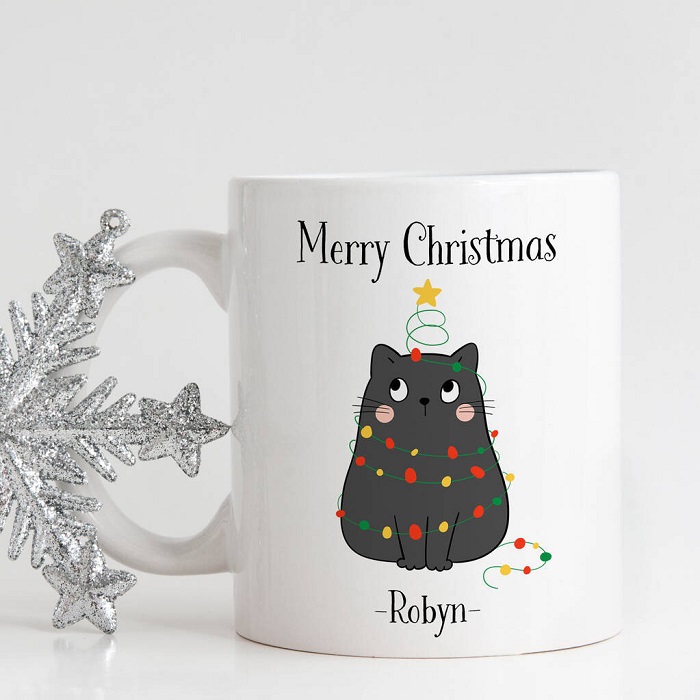 Every cat enthusiast deserves a personal work mug. This adorably adorable coffee cup features a charming cat face and ears. They can keep their cat at the office. Just watch out—their officemate might admire this adorable mug!
>>> You can also read: Top 38 Awesome Gifts For Animal Lovers In Your Life
Funny gifts for cat lovers
38. Butt Out Magnets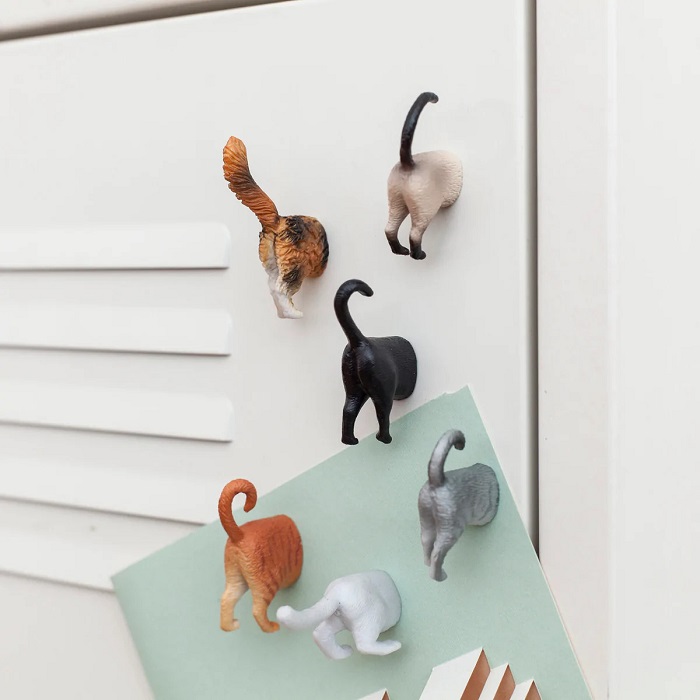 Everyone would smile at the sight of these amusing magnets. These pretty gifts for cat lovers would truly be a work of art. With the butts of their beloved pets, they would be able to hang notes from their fridges.
39. Cat Coasters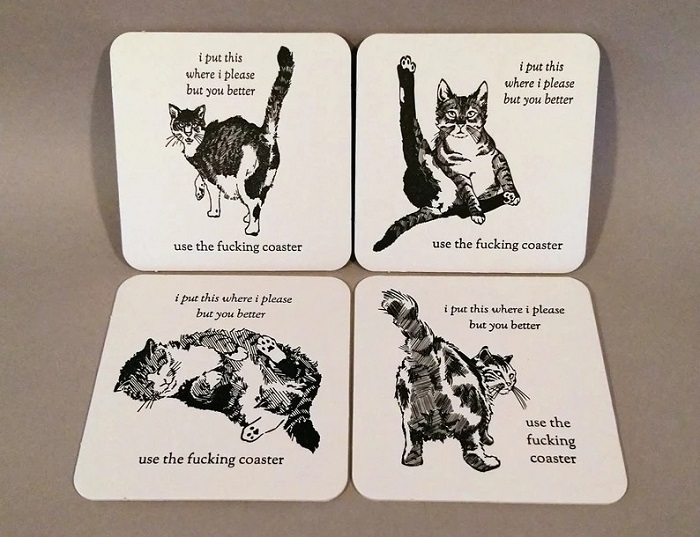 This would be great as a housewarming gift or as a small token of appreciation for a friend who loves cats. These simple, bright hues complement nearly any type of interior design. They'll give your surfaces a little kitty appeal while protecting them.
40. Cat-themed T-shirt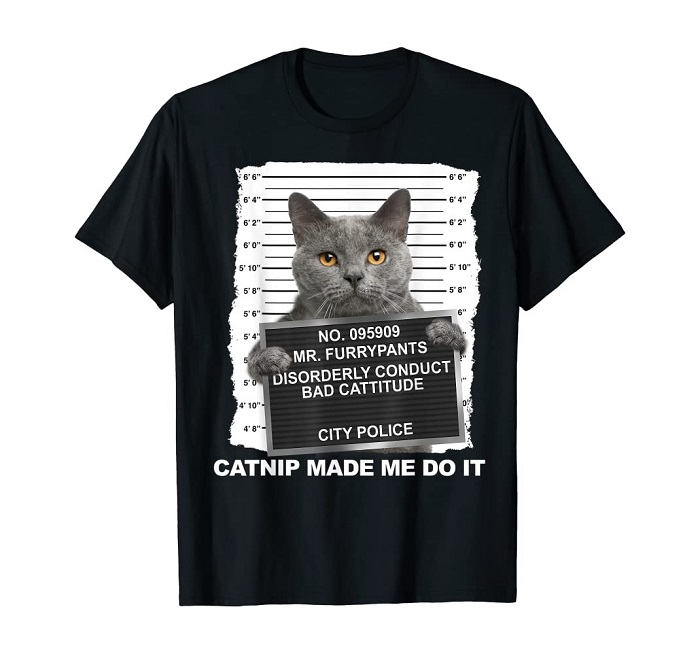 What a funny shirt this is. Let's just say the cat in the image isn't in the mood for anything. Some days, cats simply don't care what you are doing. All day long, they'll want to sleep. Even people who are not cat lovers would find this shirt appealing.
41. Cat Candle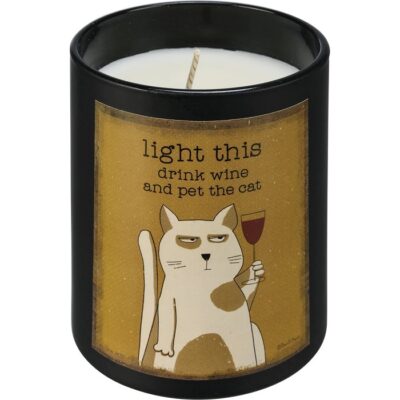 This unique present is great for a witchy cat lover looking for a candle that is both comforting and eerie. These cat candles are perfect for use at home to create a cozy atmosphere for cat lovers everywhere.
42. Cafe Cat Tower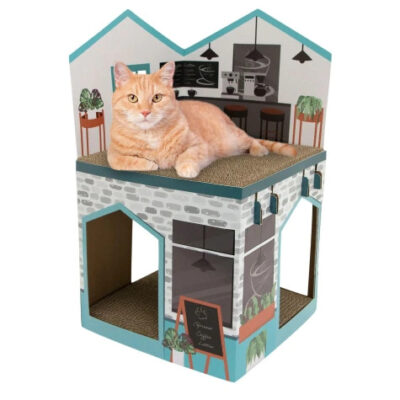 Tea towels and puddles are never enough. As your cat lovers stir the milk, think about how patiently their furry best friend is waiting for a bite.
43. Theme-Cat Soap Bottle
These vegan soap bars with cats on them make great gifts for cat lovers who care about the environment. They are made with natural ingredients like organic coconut oil, organic fair trade shea butter, and cocoa butter.
44. Cat Scarf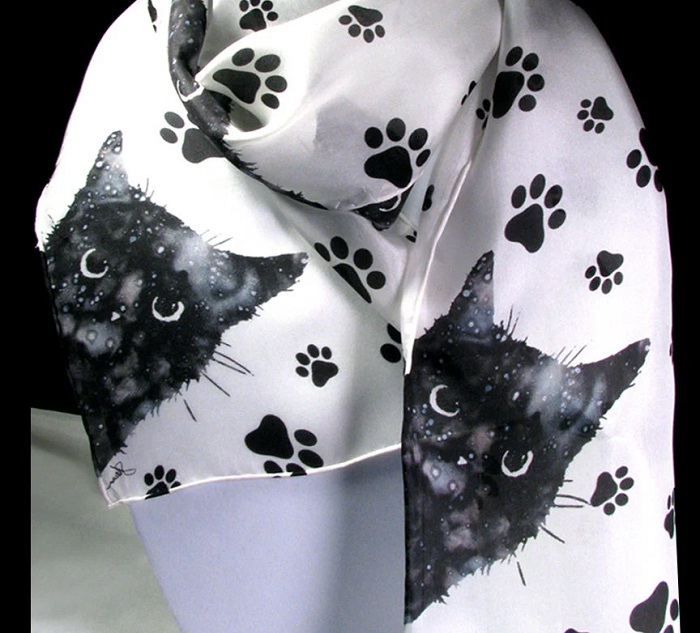 Upgrade your cat lover's appearance with this stylish scarf around their neck. Additionally, they can attach it to the handle of their bag or to their hair. And it comes packaged nicely and ready to give.
45. Furry Cat Slippers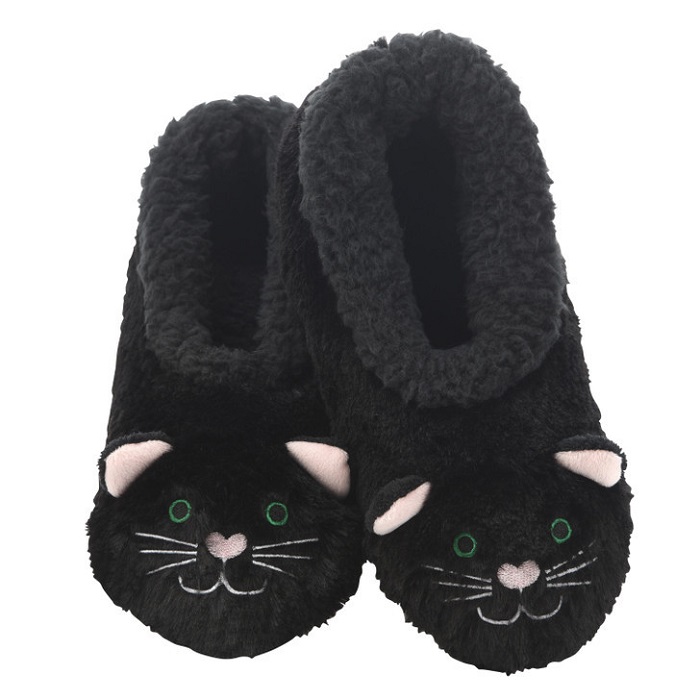 You can't go wrong with these cat slippers as Christmas gifts for cat lovers. The warmth and fur of these shoes rival that of a genuine cat. They are even machine washable and have a sherpa fleece lining inside.
46. Baking Glove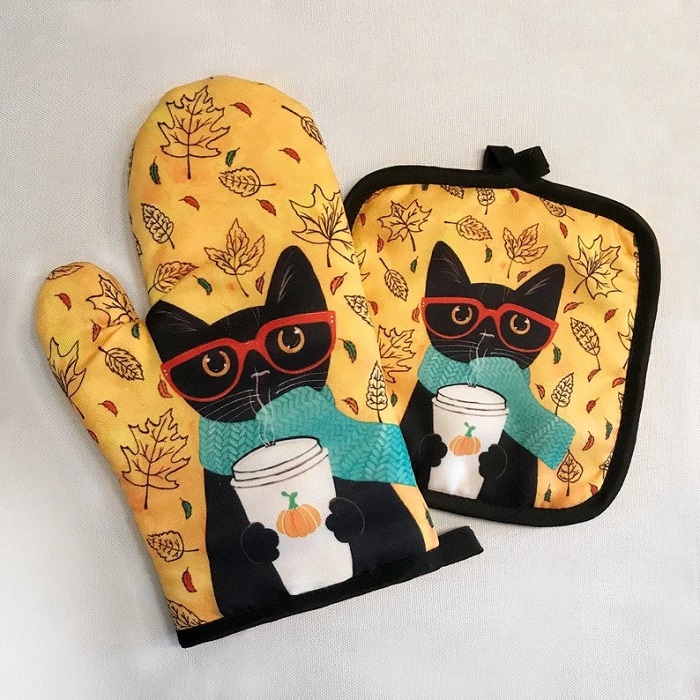 These amusing oven mitts will add some humor to their kitchens. This wonderful Christmas present is useful for your cat lover, especially while making those incredible holiday delicacies. Your hands will be protected while baking. Additionally, it can make dinner guests laugh.
>>> Recommend Reading:
It will be appreciated by your close friends and family that you took the effort to choose a present with their pet in mind. Need any more suggestions for gifts for cat lovers? Visit our selection of photo presents right away.