Farmhouse interior style is inspired by the farms in the peaceful countryside of France, Italy, England, etc. Initially, it was not a design plan with the purpose of home decoration, but simply the Creativity from practical needs. However, gradually because of the creativity in interior design, the farmhouse style is widely popular and divided into many different farmhouse styles. The prerequisite for having a satisfactory and beautiful farmhouse-style house is choosing the right farmhouse color. Here are some suggestions for you on a stunning farmhouse color palette and how to match it with the interior.
See also:
What is farmhouse style?
The Farmhouse style has its origins in Europe throughout the 16th and 17th centuries. Following that, it swiftly spread to the United States, where it was elevated to a new level by inventive interior designers and thrived. It is easy to see the simplicity and comfort of a house created in the Farmhouse style once you have come across one. Obviously, its initial function was to be a place for farmers to live and work, therefore building materials were used to the utmost extent possible.
 
What Gives a Color Its Name Farmhouse Design?
You can be perplexed as to what defines a farmhouse color style. Farmhouse color offers a gentle, weathered appearance. There should be no extremes of brightness or darkness. You'll want to go for a neutral farmhouse color with a hint of gray or a slight gray undertone. White, gray, greige, beige, blues, and greens are some of the color families that belong under this group. If you're painting an entire house or just a single room, soft and delicate neutrals can help you get that fixer-upper aesthetic. 
Although modifications and innovations in farmhouse design are made to fit various preferences and demands. The following characteristics still influence the farmhouse color.
Accents in natural wood: The Farmhouse interior design is characterized by large wooden panels that keep their natural rough tone. The house has a remarkable contrast between the dark wood hue and the light wall color. The area is opened to the exterior to let as much light as possible into the room. 
When it comes to picking a farmhouse color for your home, one idea is to think about the ambiance or vibe you want to create in your space. This will make choosing colors much easier. Comfortable, light furnishings in soothing colors should be present in a relaxing room.
White palette
In particular, the typical Farmhouse style house will have a special highlight on the porch, and simple details. You can easily recognize it through the color, light, and rustic look of the furniture. This style is for those who love the classic, comfortable and unfussy. You will really enjoy the country feeling right where you live. Therefore, white tones are very popular in this decorative painting style. However, simply white or white doves will make your house boring. In this post, I highly recommend using different shades of white like extra white or snowbound.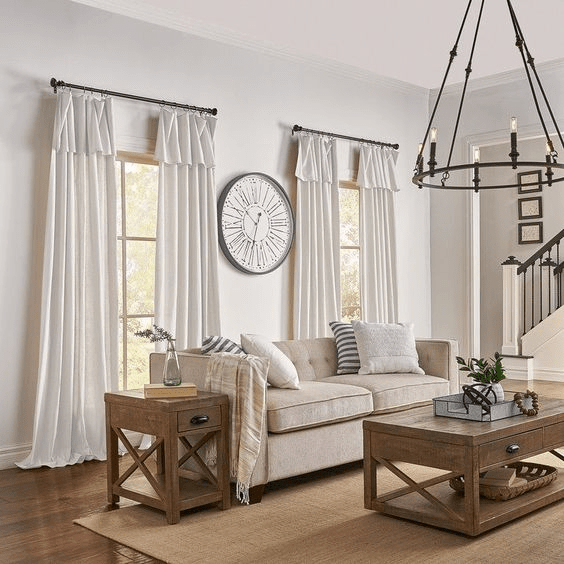 Grays palette
Another farmhouse color that you can choose to have a true farmhouse is gray. The farmhouse style that brings a sense of warmth and comfort doesn't mean it can't use the gray palette that is often associated with simplicity and coolness. Instead, if you know how to combine neutral colors like white and beige or classic wooden furniture, then gray gives you a different look at the farmhouse style.

With gray tones, you can choose warm gray (Sherwin Williams Repose Gray) or cool gray (Benjamin Moore Stonington Gray) depending on the style you want to choose to show your beloved home.
Read more: 25 Easy DIY Farmhouse Decor Ideas For Your Home In 2021
Stonington Gray is a light cold gray with a tiny blue undertone that is hardly noticeable. This is a color that I think to be highly flexible and it works well as a backdrop to any color scheme. Another favorite of mine that I've used in a number of my client's projects.
The color Repose Gray is a mild warm gray with a greige undertone. Because it has more gray tones overall, I wouldn't classify this color as greige. When I'm seeking a gray with a hint of warmth, I like to use this color.
Beiges palette
you may want your house to be in the safe zone in choosing farmhouse colors. However, white is too boring. So try giving your home a vintage yet timeless color, Beiges palette. From clothes, furniture, tools. Beiges have always been popular all the time. With a rustic and vintage vibe, beiges could be just what you've been looking for in your home. Interior decoration and color combinations are easy if you choose beiges. Or a house that completely owns beiges and wood colors is also popular in the farmhouse style. Or refer to the beiges palette below to be able to choose for yourself the most suitable color tone.

Blues/green palette
If you are a lover of the sea and nature. You should definitely consider a blue and green family color palette for your home. Using a blue or green color palette brings a fresh, cool feeling. That's exactly what I love about entering a new home. Decorating your home with trees is also for that purpose. For these 2 palettes, creativity knows no bounds. You can choose from indigo batik to sea salt green to refresh your home space. Note one thing, however, because blue and green paints stand out from the basic farmhouse colors of the farmhouse style. Therefore, you can use many different blue tones for the house but should not be more than 3 tones to avoid causing clutter to your home.
Read also: Coastal Canvas Wall Art – Best Home Decoration Ideas In 2021

Deep hues palette
With the deep hues color palette, it will match the modern farmhouse trend more than other farmhouse colors. Although it is quite difficult to match with other styles, it still can't stop its unique beauty for your home if you know how to decorate and coordinate it properly. If you love the modern farmhouse style, this palette is sure to work for you. You can choose the farmhouse color tone according to your preference, but if you still have no specific idea for deep hues, I recommend you 3 basic deep hues:
– Outerspace: Outerspace paint takes on changing colors depending on the light and time of day. It might seem almost navy at times, but it can also look like a dark gray or a deep denim blue.
– Iron ore: Let it be known to that the iron ore farmhouse color is an extremely dark, nearly black hue. It has a hint of gray/blue undertones, making it an excellent choice if you want something that isn't quite as severe as black.
– Gauntlet gray: Gauntlet Gray is a dark gray with brownish-taupe undertones rather than black. Gauntlet gray is a beautiful exterior paint color that also looks excellent on cabinets, wainscot, and trims. It's a fantastic hue for an accent wall in a space with a lot of natural light because it's a deeper gray. Gauntlet gray might be the winner if you're seeking a gray charcoal color.
Check out Ohcanvas bestsellers