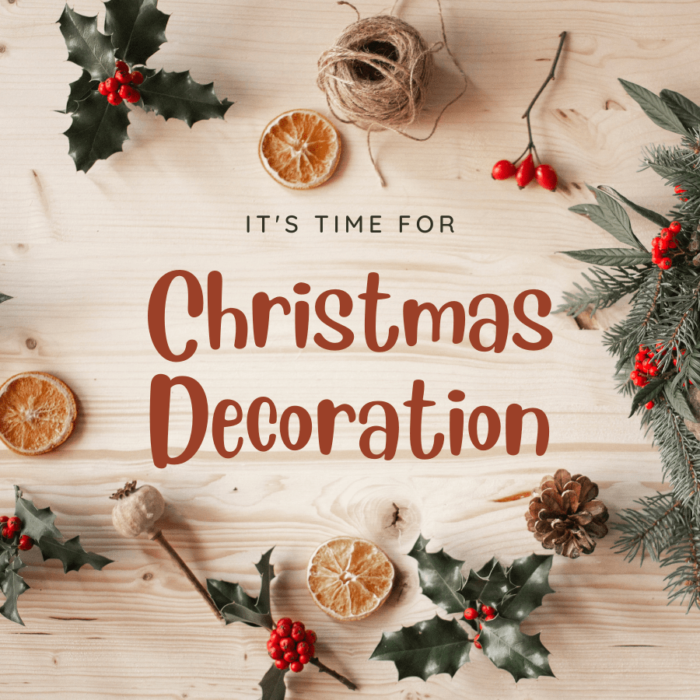 Since the most magical time of the year is coming, our home should be decorated as soon as possible to get the best holiday vibe. There are a variety of styles to dress up a house in this festive season. However, if you're targeting warm and rustic farmhouse Christmas decor for your home, this post is an inspirational source of ideas for you. Revise Ohcanvas's unique tips below and get ready to invite the joyous season to your cozy nest.
1. Christmas Farmhouse Decor Ideas For Your Living Room
Farmhouse Christmas mantel decor
Rustic fireplace mantel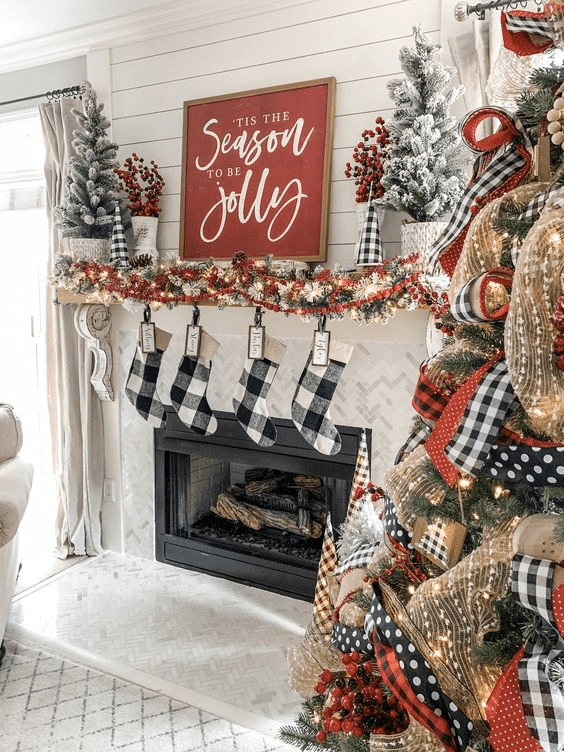 Turn the mantel into a focal point of your living room by decorating it with warm and antique accessories. The red sign with a wood frame, gingham stockings, and bottle brush trees are a perfect combination to get the holiday look. Pair the stockings with some nameplates to earn a more unique appearance for this farmhouse Christmas mantel decor. 
Black and white Christmas fireplace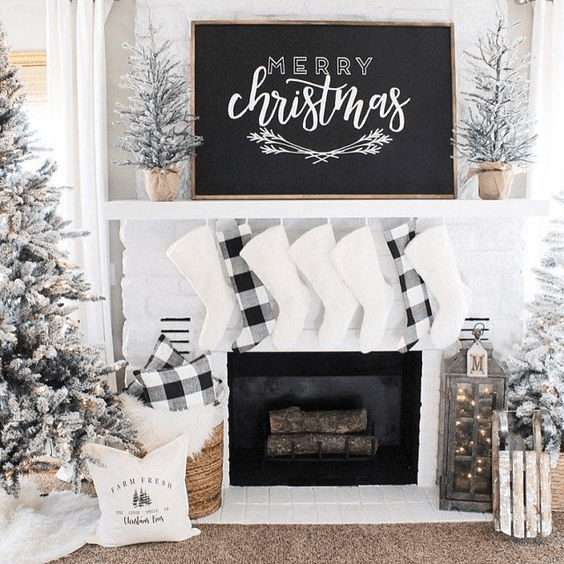 If colorful ambiance is not your favorite choice for the farmhouse Christmas mantel decor, the black and white theme is a magical style that you should try this year. Place a black sign with white letters on top of the mantel to gain a cheery look. Opt for stockings and throw pillows in white or black gingham to support the theme. Besides, tiny trees with faux snow are plus points for this rustic farmhouse Christmas decor.
Farmhouse Christmas tree decor
Winter white pine cone Christmas tree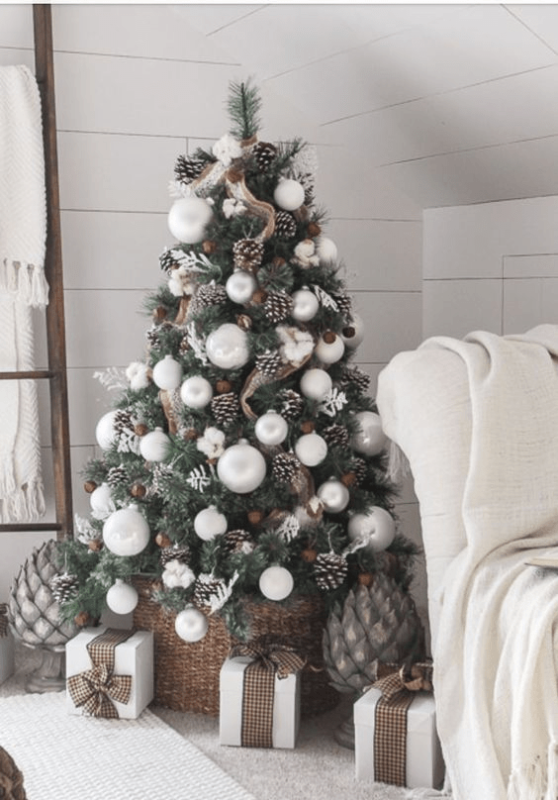 Use the pine cones with faux snow as the main adornments for your Christmas tree. Add white or silver balls and cotton to get the gorgeous wintery look. The brown ribbon along the tree and the rattan basket are elegant touches of farmhouse Christmas decor for this tree style.
Old fashion Christmas tree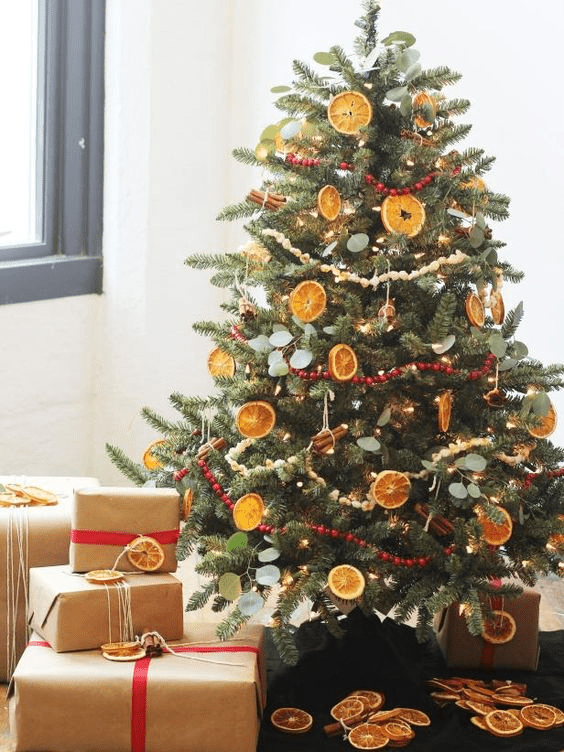 Stay nostalgic with old fashion trees with salt-dough ornaments, dried orange rounds, felt-ball garlands, cinnamon sticks, and clip-on lights. This is an antique farmhouse Christmas tree decor that's able to bring warmth and memories to your home.
Vintage Christmas trees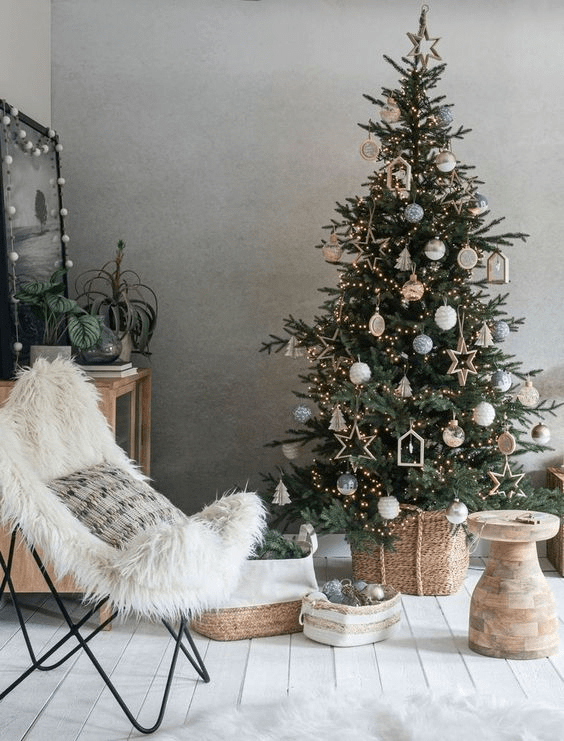 Holiday spirit may be found in this vintage Christmas tree. To achieve the look, place the tree in a rattan basket. Then decorate it with ornaments in different shapes but minimalist colors. Wooden accessories are perfect choices for a vintage look and rustic farmhouse Christmas decor.
Mini potted Christmas tree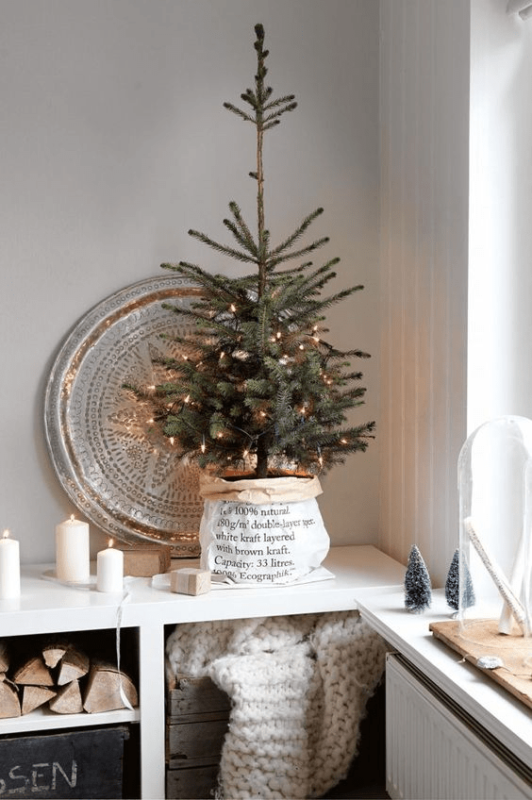 Looking for a rustic and greenery touch of holiday in your bedroom or kitchen? The potted Christmas tree won't let you down. The tree can be put in a base covered by neutral fabric, burlap, or wood to create a vintage look. Add neon lights around it and you'll get a stunning piece for your room decoration.
Holiday tree from pine cone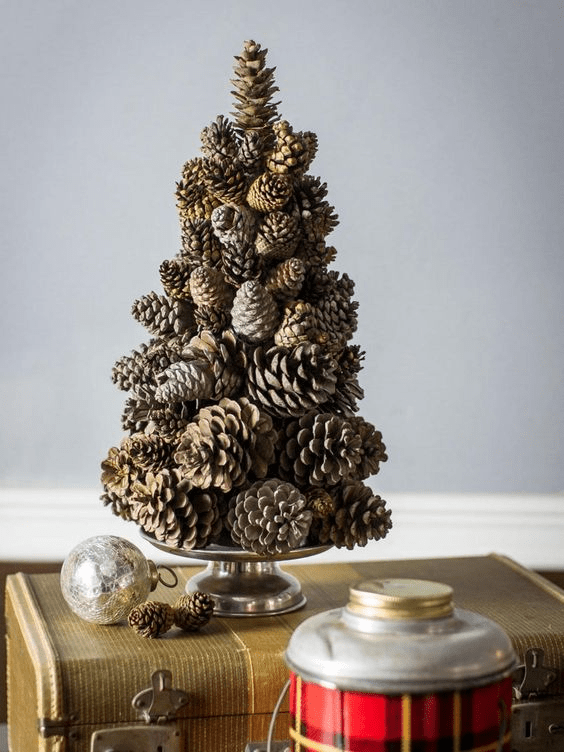 If you have time to make farmhouse Christmas tree decor from the start, why not try the pine cone tree? This tree can be made from one or more pine cones with faux snow or extra decoration to get the seasonal look. The earthy tone of it is an additional touch of rustic style that's brought to your home.
Farmhouse Christmas wall decor
Christmas canvas prints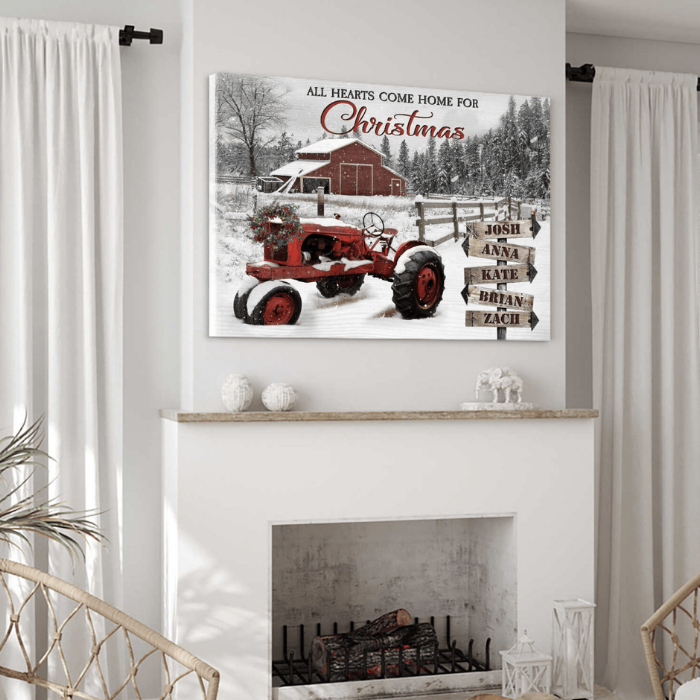 You can't go wrong with Christmas wall art when adding touches of rustic farmhouse Christmas decor to your home. Ohcanvas is excited to share with you our adorable pieces of canvas prints that can make your rooms homey and festive. These pieces never go outdated. You can hang them throughout the holiday, year by year.
For more stunning canvas prints for the holidays, visit our Christmas canvas to find your favorite items for decoration. 
Rustic Christmas grapevine wreath
The holiday is incomplete without grapevine wreaths for house decoration. Besides hanging a gorgeous wreath on your doors, try to have some on the living room wall to get a fresh and elegant look. These rustic farmhouse Christmas decor ideas will make your home look instantly elevated.
Rustic signs in living room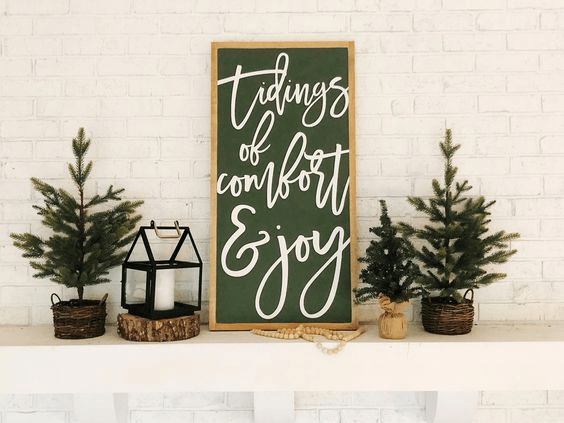 Wooden signs are excellent decorative pieces in farmhouse style. This season, brighten up your living room using Christmas signs that are painted with holiday colors. These pieces will elevate the cheery and vintage look of your farmhouse Christmas decor.
Christmas sheet music decor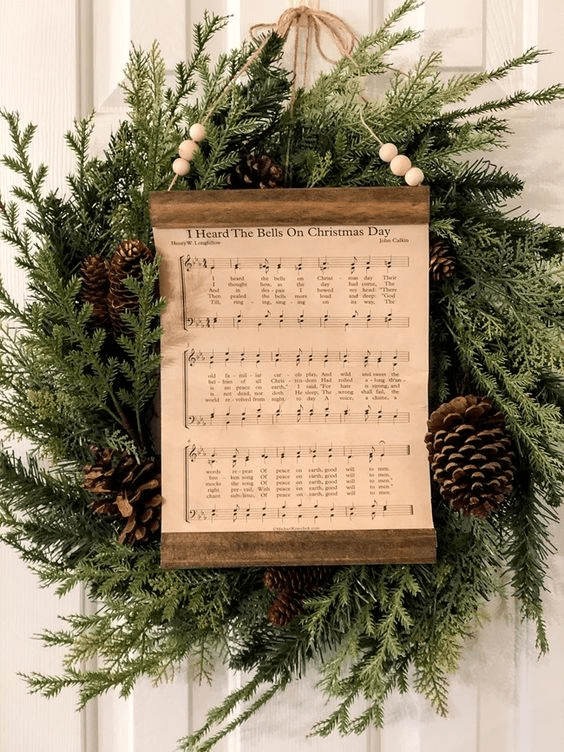 Sheet music is one of the most creative and rustic farmhouse Christmas decor ideas to spruce up your home this season. Have some combined with the wreaths, Christmas trees, or just hang them above the mantel. These old sheets in earthy tones add a touch of laid-back charm to any decoration they go with.  
2. Farmhouse Christmas Kitchen And Dining Room Decor
Farmhouse Christmas dining room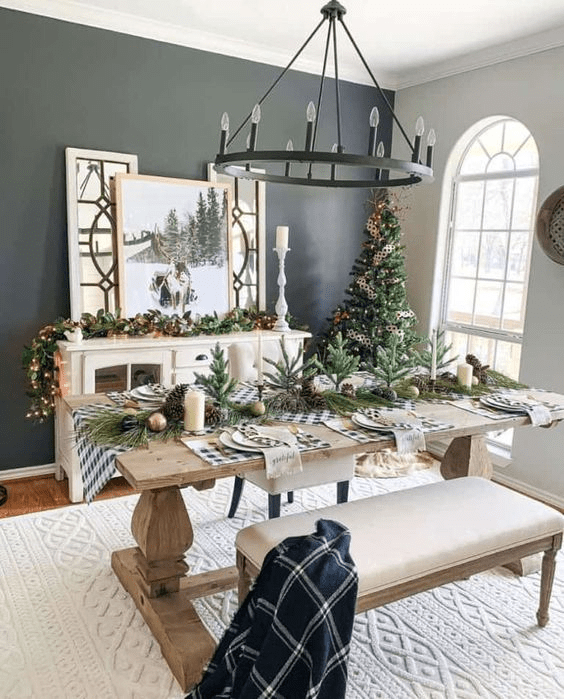 Besides the living room, the dining room is where to provoke all your creative decorations for the holidays. If this room is spacious enough to place a Christmas tree, it's perfect. Or else, the natural vibe can be added via tiny branches, pinecones, and garland. Wintery artwork and gingham pieces are also excellent for farmhouse Christmas decor.  
Pops of red farmhouse Christmas kitchen decor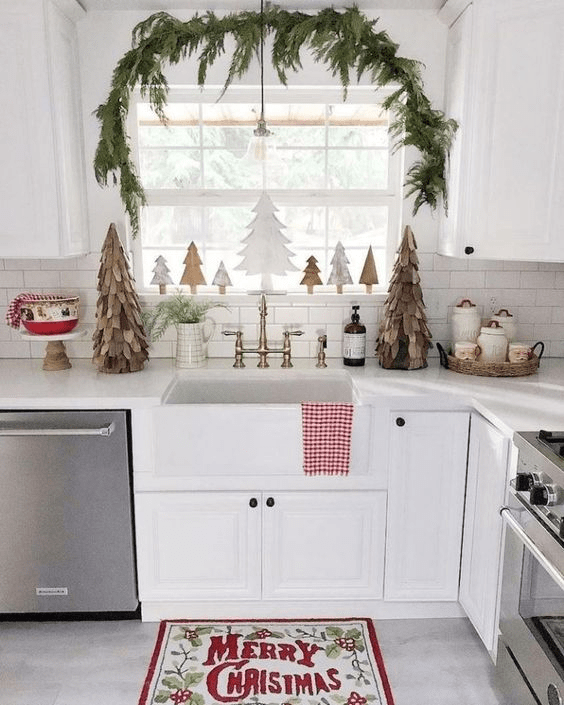 Red is a signature color of this season. When having pops of red in your kitchen, you're feeling that Christmas is all around you. A combination of a red bowl, red cups, a carpet patterned in red, or red tartans is enough to provide a festive and eye-grabbing look for your space.
Plaid Christmas Decor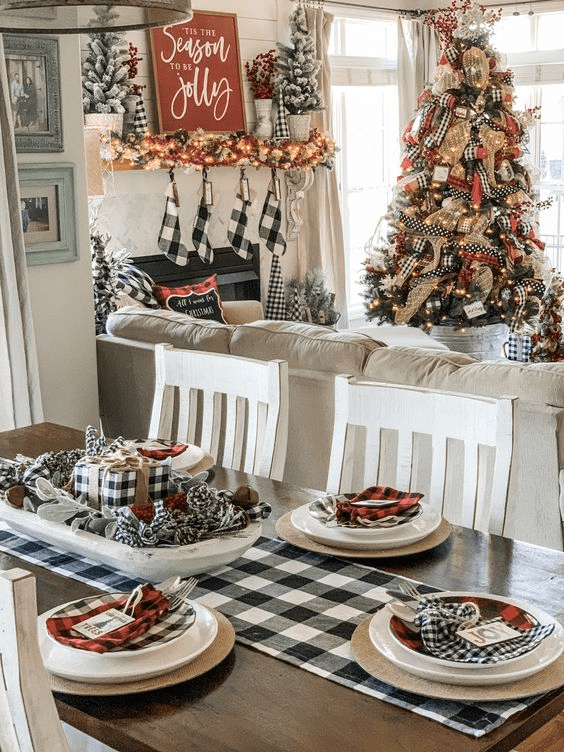 Plaid farmhouse Christmas decor ideas are brilliant choices for anyone who's pursuing warm and cheery looks. Gingham or tartan appears beautifully in form of table runners, napkins, or ribbons, creating a fresh and unique vibe for the dining room.
Christmas farmhouse chandelier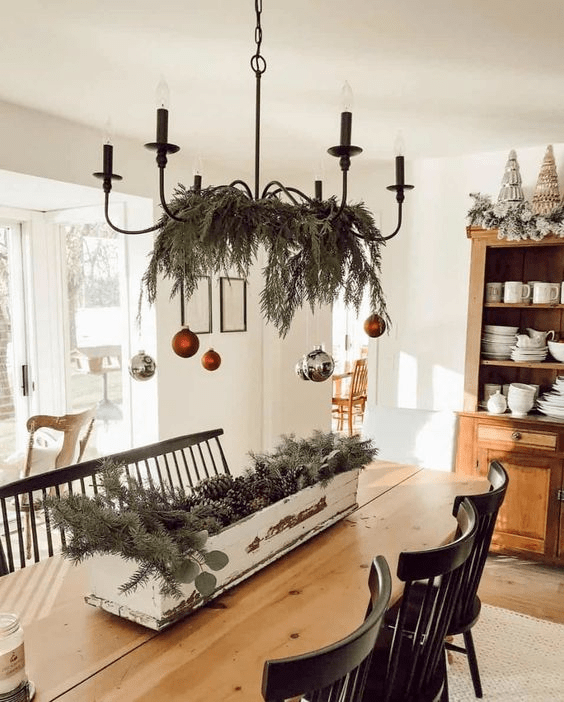 A big part of the dining room that can turn into a stunning Christmas item is the chandelier. By adding some pine branches and colorful ornaments, the chandelier helps spruce up the whole eating space. When the light is on, it'll become much more attractive and gorgeous. 
Farmhouse Christmas table decor
Farmhouse centerpiece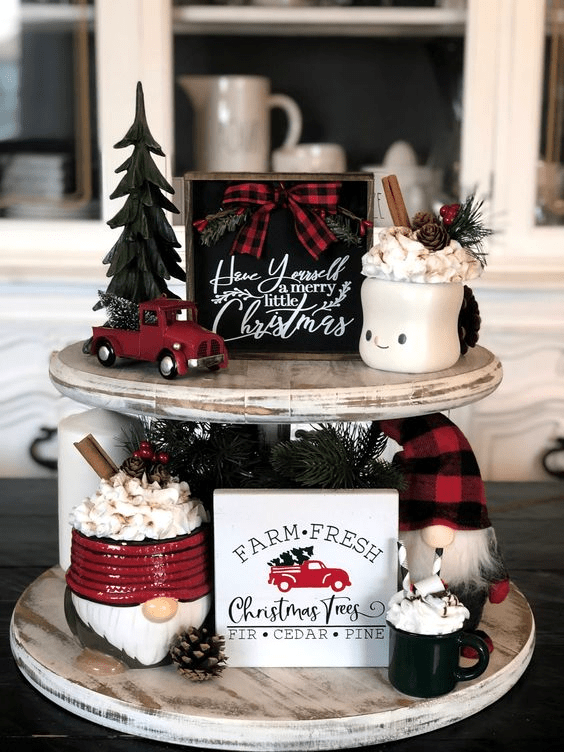 When it comes to farmhouse Christmas decor for the dining table, the Christmas centerpiece is an irreplaceable part. There are a lot of ways to make a seasonal centerpiece. Among that, a tray or a cake tier is usually utilized to display tiny trees, candles, colorful adornments, and so on. 
Vintage table setting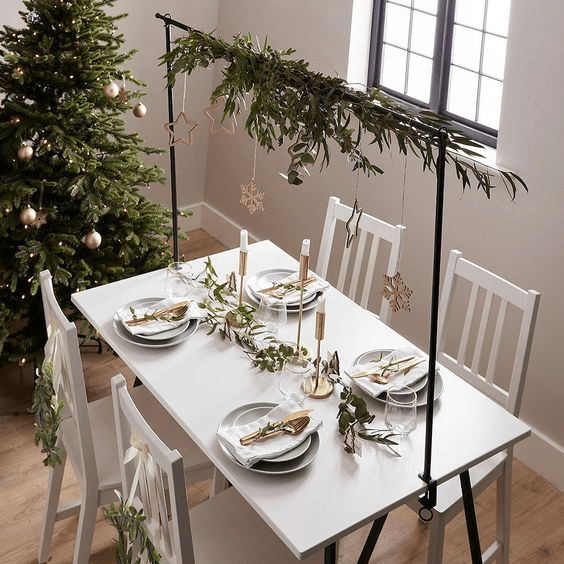 If you're looking for a special way to set up your dining table, try this simple and elegant style with minimalist colors. White napkins, golden silverware, pure glasses, and romantic candles combine in a vintage way. A green touch of tree branches is an extra Christmas charm for the overall arrangement.   
Christmas decorated mason jars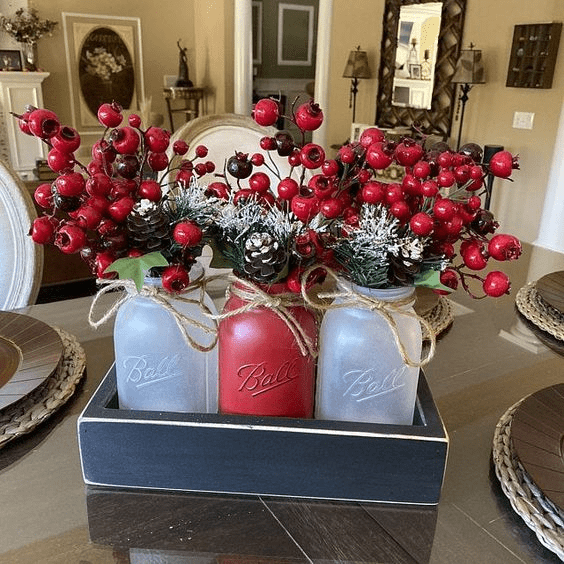 The mason jars are magical pieces for farmhouse Christmas table decor. They bring both an old-fashioned look and a holiday theme to your dining table. By painting the jars with seasonal colors, you'll get amazing vases for displaying different Christmas ornaments.
3. Rustic Farmhouse Christmas Decor Ideas For The Bedroom
Simple elegance Christmas decor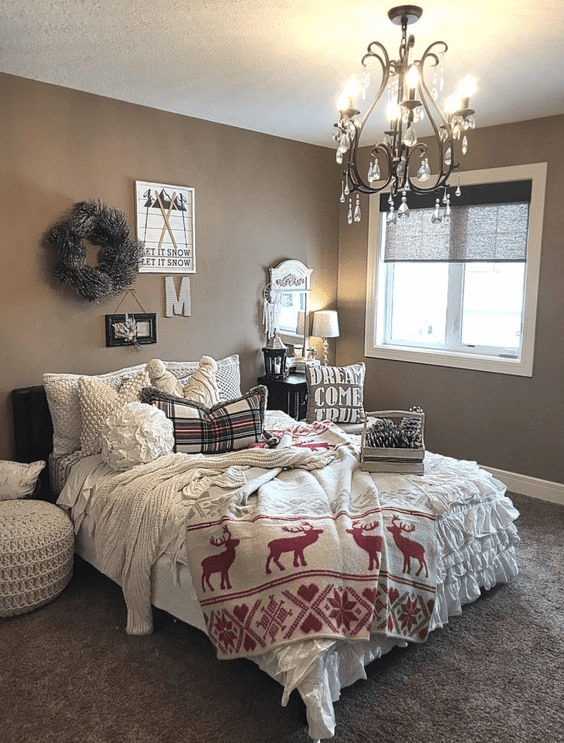 A single wreath is enough to create a holiday vibe in your bedroom. It adds a touch of greenery as well as freshness, making you more cheerful and comfortable. Besides a wreath, an on-theme blanket or pillow is a warm and festive item that fits the season.  
Modern farmhouse Christmas decor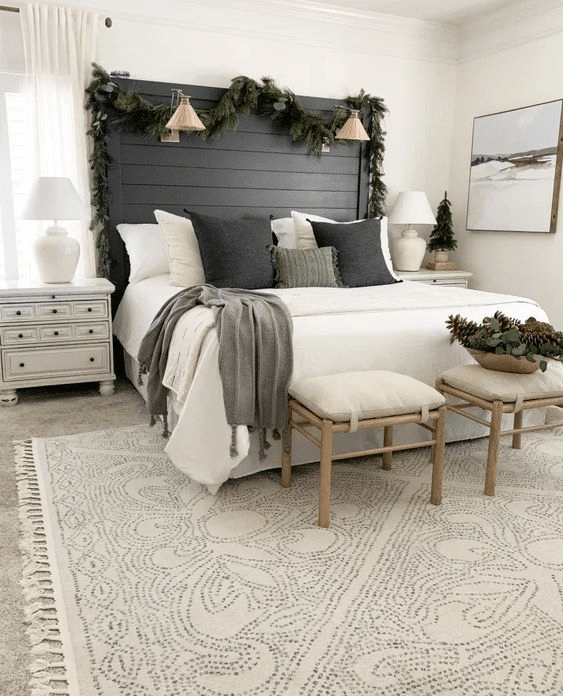 It's not too complicated to complete modern farmhouse Christmas decor for the bedroom. With a mini X-mas tree, a garland over the headboard, and a tray full of seasonal specialties, the look is successfully achieved. 
Cozy farmhouse bedroom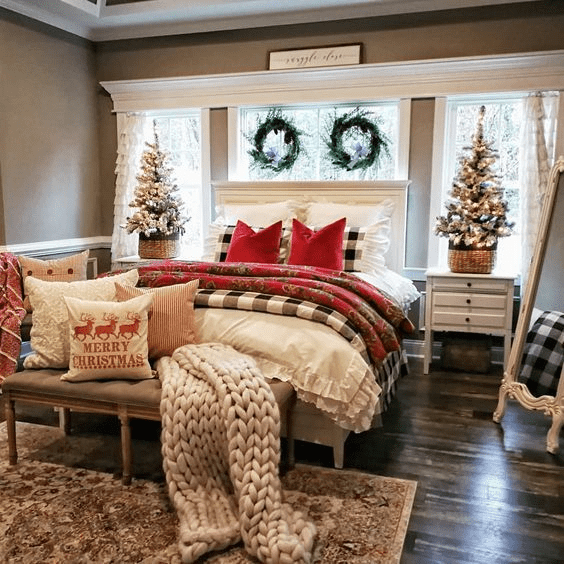 Warm your bedroom up with red and neutral textiles featuring the holiday theme. Besides, adding mini Christmas trees with yellow lights sets your room to a much cozier mood. All the elements combined and lull you right to a warm and sweet sleep.  
Dreaming of a white Christmas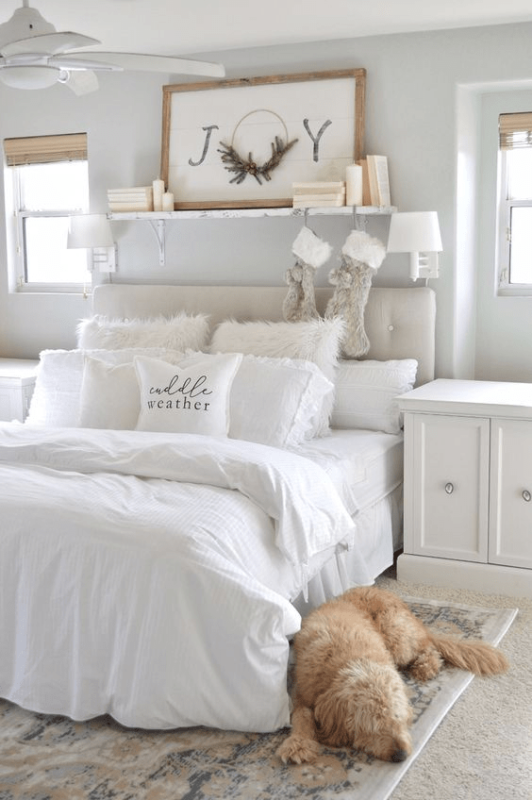 Are you craving a white bedroom this winter? If so, start making some modern farmhouse Christmas decor in your room by using bedsheets, pillows, and blankets in white or bright colors. For the holiday spirit, hang some white or light gray stockings. A wooden sign with a small touch of green is still nice in the whole room.
4. Charming Farmhouse Staircase Decor
Nature-Inspired Staircase – Fresh greenery Christmas decor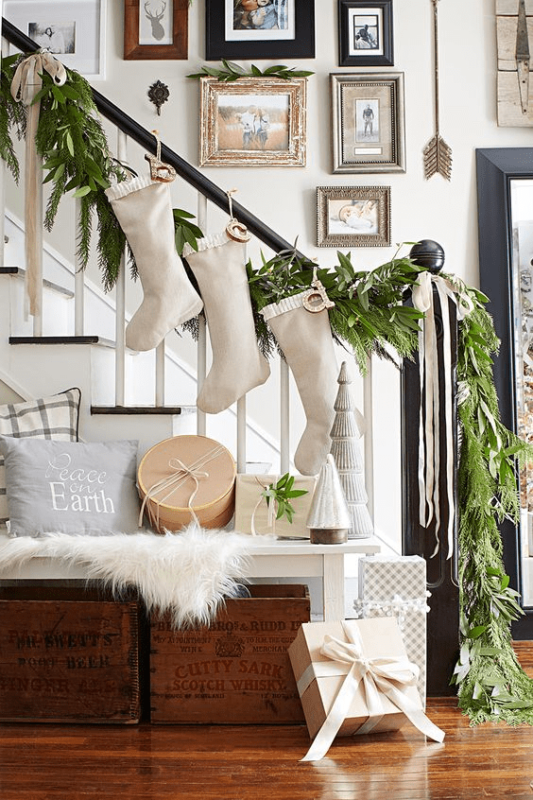 Make your staircase fragrant and distinctive with a green and fresh garland hung on the handrail. To accomplish a more elegant look, hang some neutral stockings. They'll merge nicely with the cream ribbons used to tighten the garland.
Winter wonderland staircase decal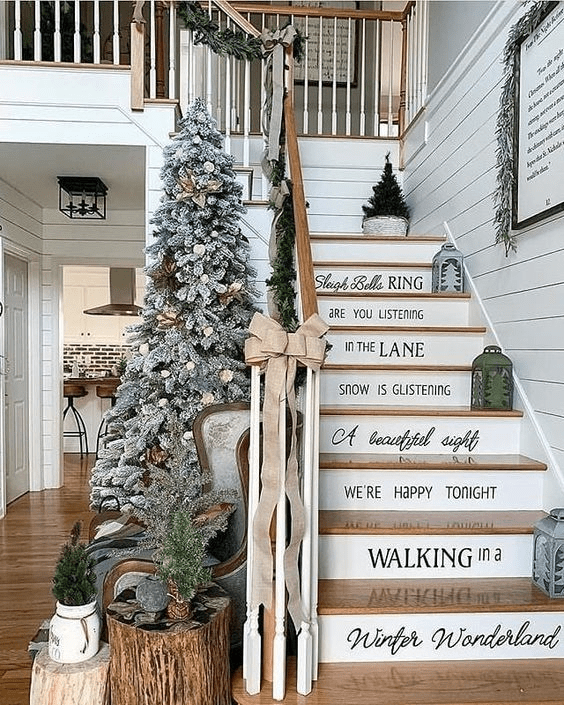 How amazing it is to own a staircase with adorable Christmas decals. It breathes a warm and distinctive glow to your home, making every step more cheery and special. If you have kids, we're sure that they adore this idea a lot.  
Embroidery hoop wreath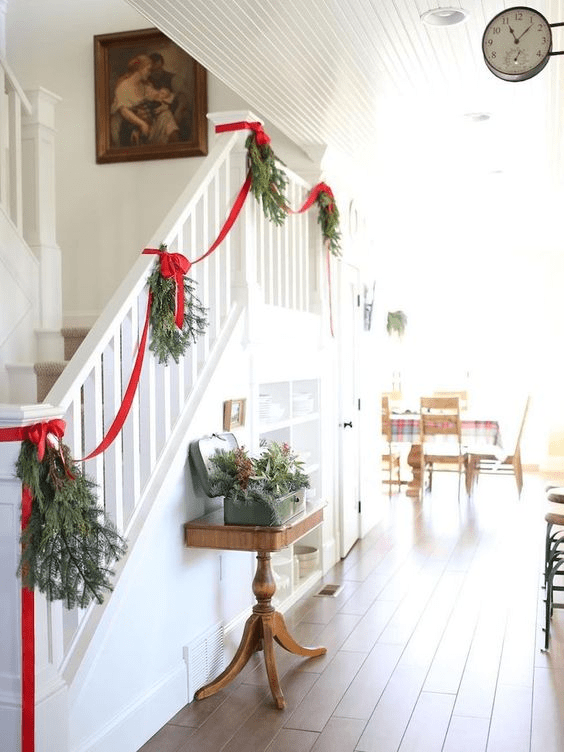 Make a delight on your stairwell by inserting festive hoops with strings of greenery or berries. Secure the hoops to the handrail with red or green ribbons to call for the cherish season. This farmhouse Christmas decor will brighten up every corner of your space.
5. Cozy Christmas Decorated Entry
Seasonal wooden signs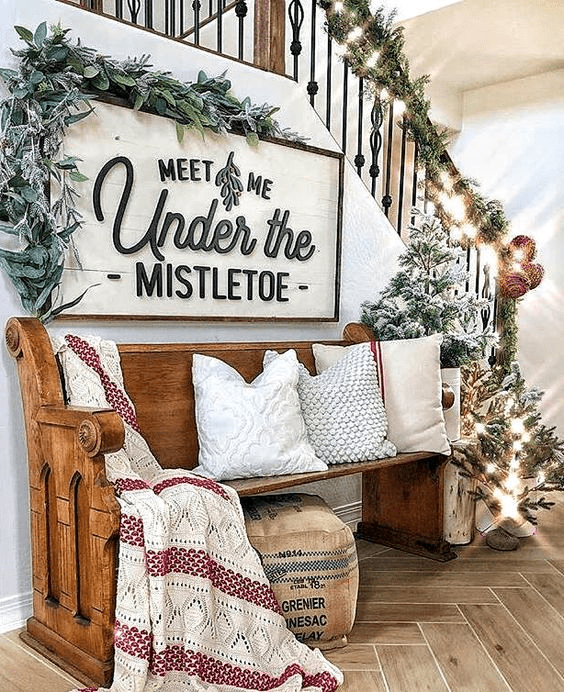 Customize the wooden sign with short holiday phrases – "Let it snow" or "Tis the season", for example. This decorative piece fills the entryway with rusticity and holiday spirit. If you want it more attractive, insert a green garland around. 
Woven baskets for a cozy entry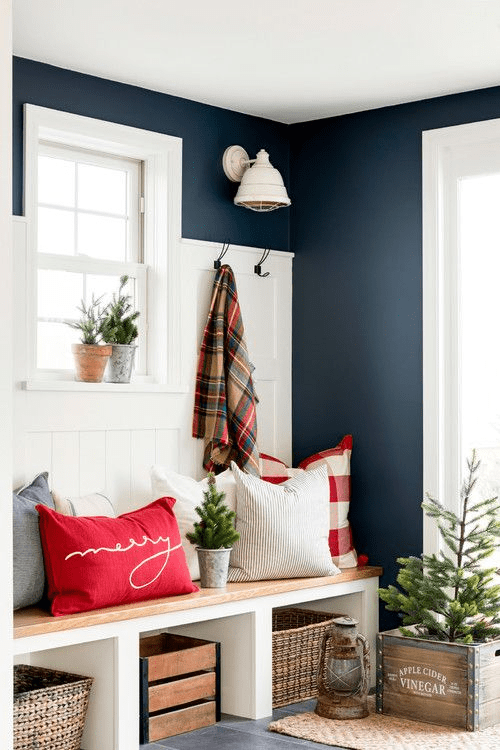 Dress up the entryway with woven baskets and mini Christmas trees. Other decorated pieces might be gingham throw pillows and blankets, old lamps, and any of your rustic flea market finds. 
Fresh apple garland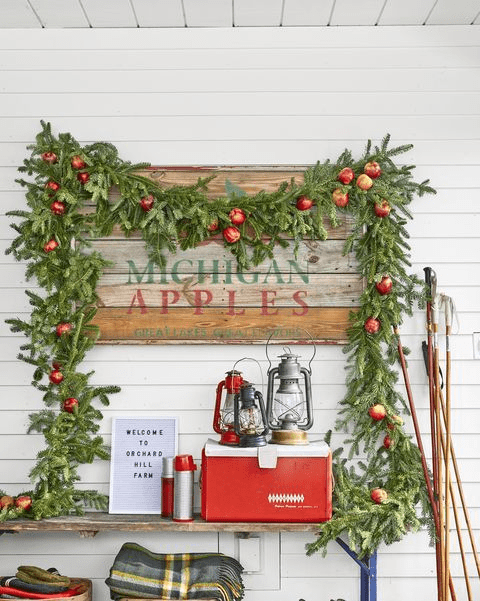 Besides berries, apples play an excellent role in breathing a holiday mood into the house. The fresh apple garland is an amazing piece of farmhouse Christmas decor that's decorated at the entryway. It'll bring an unexpected accent that helps you greet your guests in the most magical and joyous way.
6. Farmhouse Christmas Front Porch Decor
Evergreen door decorations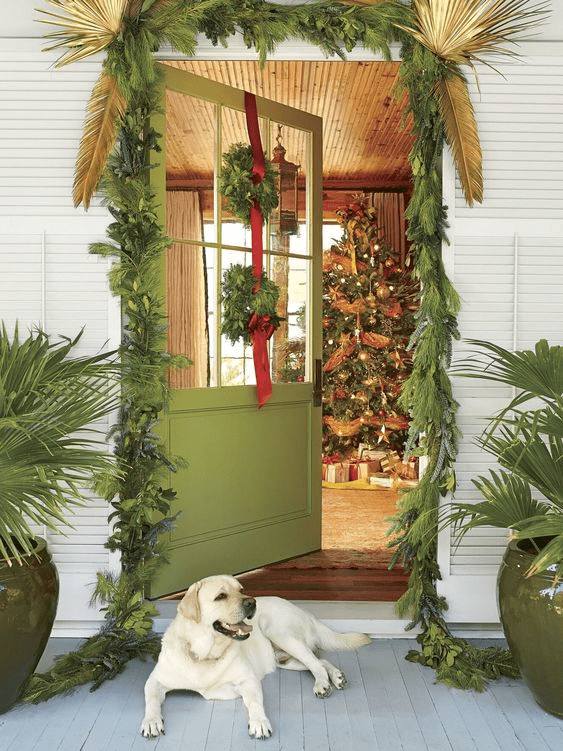 Make this Christmas full of green by inserting evergreen garland and wreaths right on the front door. These farmhouse Christmas decor pieces help bring a warm and fresh glow to your cozy nest.
Rustic front porch with a touch of tartan Christmas decor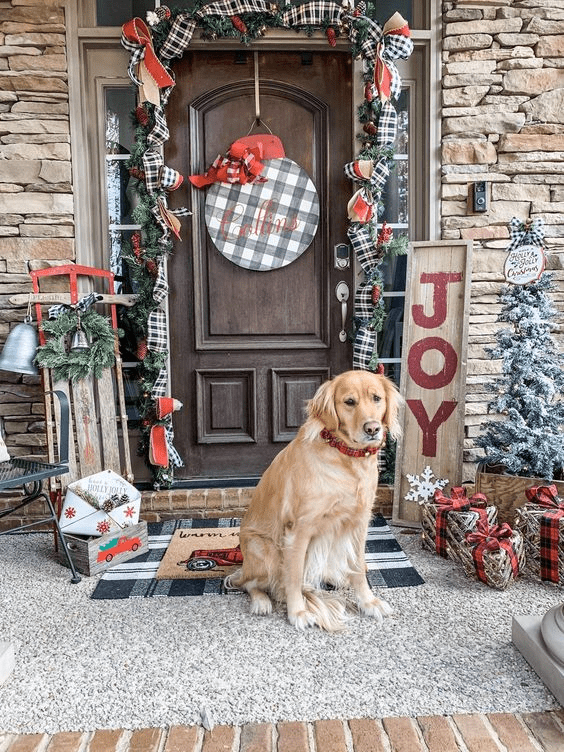 Embrace the festive mood with tartan decoration for the front porch. Tartan doormat, wreath, and garland will fill your home with joy and rusticity. Choosing red, green, or black-white tartan is a brilliant way to gain the best look. 
Christmas outdoor chalkboard project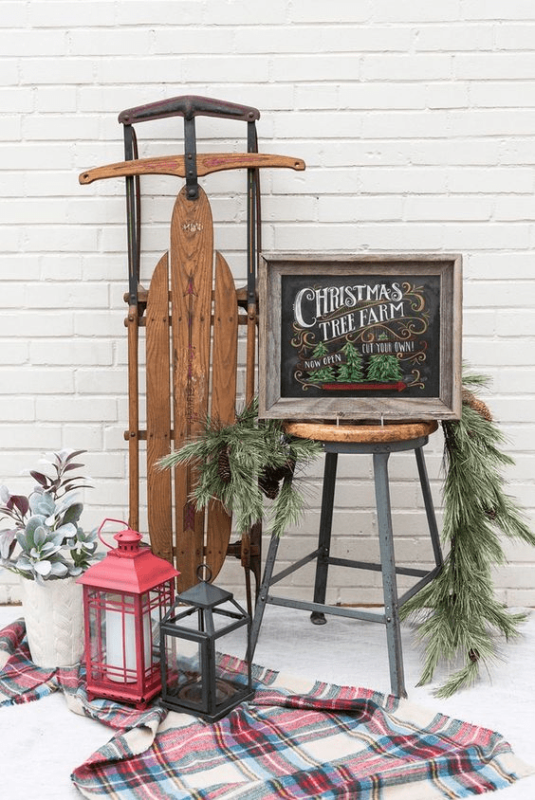 Put the finishing touches on farmhouse Christmas front porch decor by adding a vintage chalkboard. It's a sweet and unique welcome that you can make for your home.
By applying these tips for farmhouse Christmas decor, we believe that you'll have the warmest holiday to celebrate with your family and friends. In case you're thinking of vintage canvas artwork for your living space, visit Ohcanvas site for the most rustic and stunning pieces. We have a wide range of Christmas farmhouse canvases which are able to add festive touches to your house. Our prints are also excellent Christmas gifts for your family, relatives, colleagues, and more. Don't hesitate and start the home transformation now!